Bali is an enchanting and magical Indonesian island that has grown increasingly popular among digital nomads and travelers looking for a chilled-out vibe over the years. With the increasing number of tourists, it makes finding a relaxed and peaceful neighborhood more of a challenge.
That's where Kerobokan really shines. It's a chilled and relaxed neighborhood that's close enough to the buzz of Seminyak, but far enough away to offer serenity and calmness.
When choosing a place to stay in Kerobokan, you're going to need to look for something authentic and unique, to really feel like you're living the Bali lifestyle. Villas in Kerobokan offer just that. Staying in a villa is the most traditional and comfortable form of accommodation on the island.
Villas are a luxury experience that allows you to unwind in your own slice of Balinese paradise. You're often surrounded by tropical plants, have your own chic pool, and have incredible views of the ocean or the rice paddies. They're also kitted out with all the comforts of home.
So if this sounds enchanting and idyllic to you but you don't know where to find the best villas in Kerobokan, don't worry, because this guide reveals the best of the best…
In a Hurry? Here's Where to Stay in Kerobokan for One Night
FIRST TIME IN KEROBOKAN
Stunning and Unique Villa in Kerobokan
This beautiful villa is an excellent option for those looking for an unforgettable place to stay in Kerobokan. The villa is sparkling, with modern amenities and contemporary furnishings. It has three comfortable bedrooms and features an indoor-outdoor living space. With a large outdoor swimming pool with a little beach on the side, your kids will adore playing in this spacious backyard.
NEARBY ATTRACTIONS:
Batu Belig Beach
Barbacoa Restaurant
Masceti Temple
Is this amazing Kerobokan Villa booked for your dates? We've got your back with our other favorite properties below!

Unlock Our GREATEST Travel Secrets!
Sign up for our newsletter and get the best travel tips delivered right to your inbox.
Staying in a Villa in Kerobokan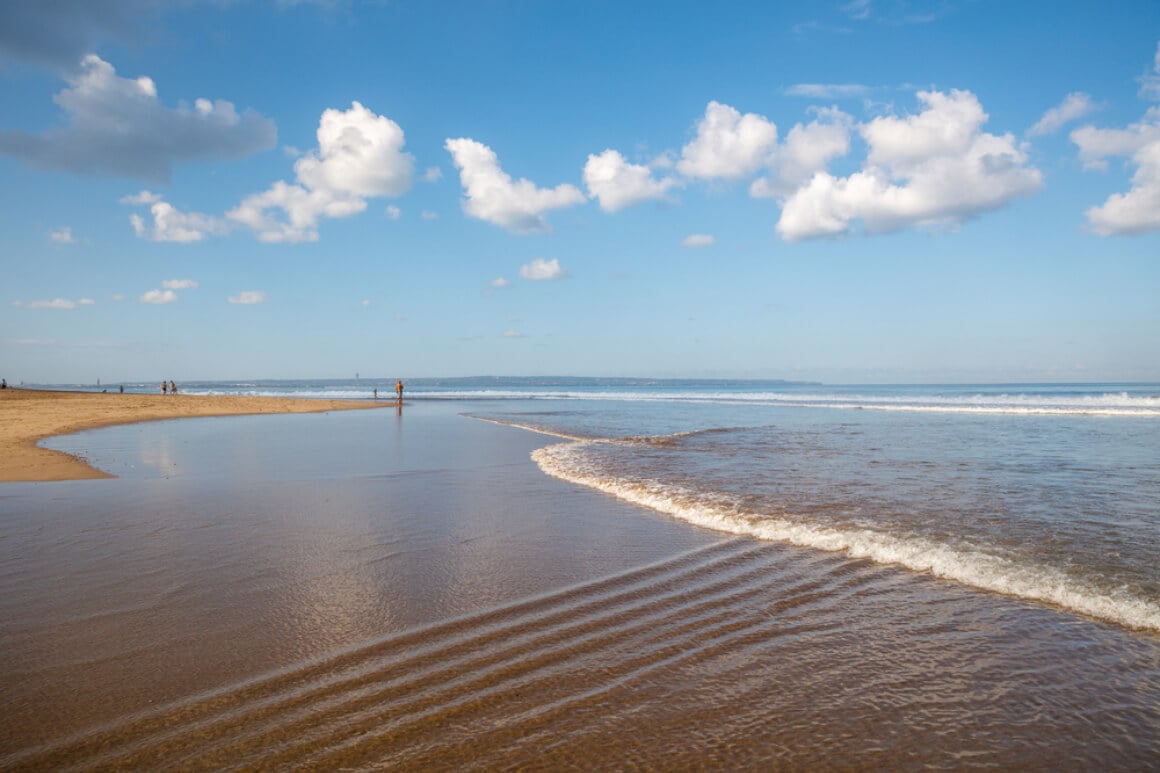 Everyone wants to travel to Bali, and it's really easy to see why. It's affordable, it's beautiful, and it has this enchanting atmosphere that just instills calmness and tranquility.
One area in Bali that really gives this vibe is Kerobokan. It's just 10 minutes out of the buzzing neighborhood of Seminyak but offers a more peaceful environment.
When choosing a place to stay in Bali, you should always consider a villa. Villas come as an entire rental unit and feature all the modern conveniences of home, such as fully equipped kitchens, comfortable bedrooms, and spacious living areas. Because it's Bali, it's more common than not for them to come with a pool, too.
Villas in Kerobokan range in size and budget. You can find lavish villas with sprawling grounds that feel more like a private resort than a vacation rental. You can also find small one-bedroom studio villas that would suit a couple or solo traveler.
You can also expect villas to have a secluded garden featuring native plants and forna, which adds to the calm and peaceful vibe that comes with all villas in Bali.
It's also common to see inside-outside living spaces, where double doors open up to allow the living area to become part of the outside. In fact, many villas have their kitchens outside under covered patios. The design of Bali villas has been well thought out to offer nothing but a sense of calmness.
What to Look For in a Villa in Kerobokan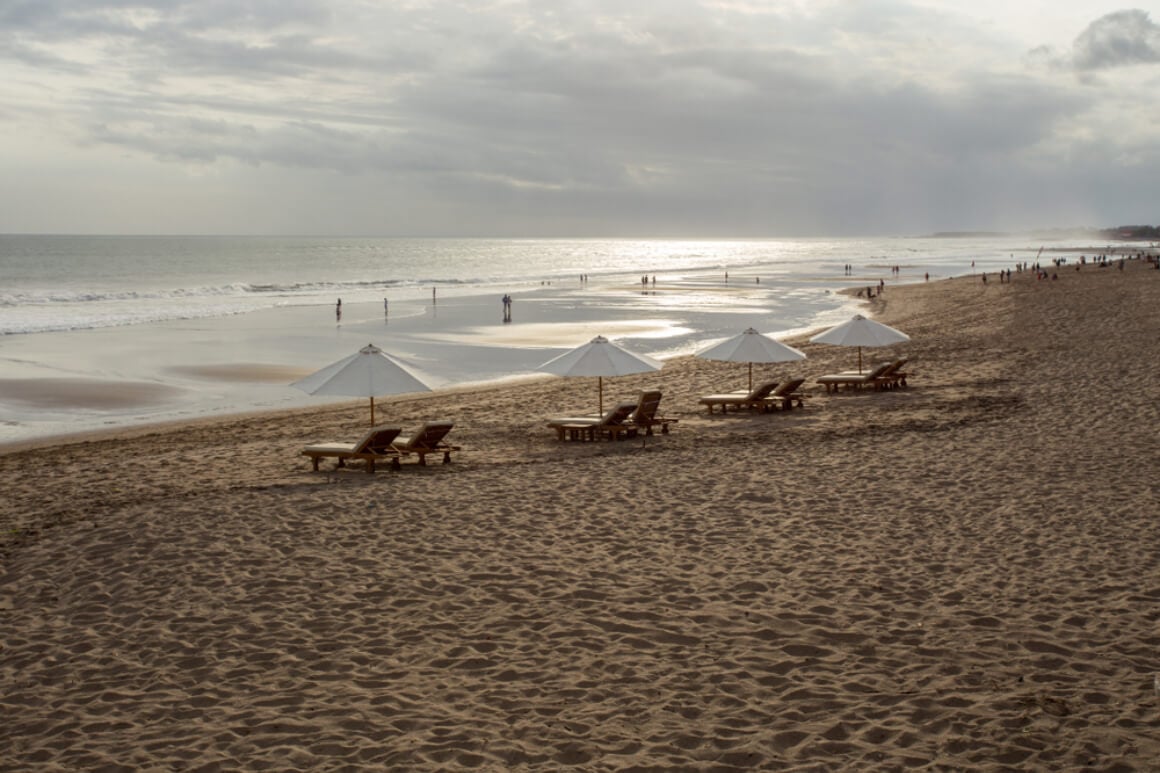 When you're looking for the perfect villa in Kerobokan there are a few things to look out for. The first is the location. Kerobokan is located just a short drive out of the neighborhood of Seminyak, which is popular among travelers. You'll want to stay somewhere close to the goings-on, but far enough away to be quiet.
You should also be aware of construction noises. Fortunately, Kerobokan isn't anywhere near as loud as Canggu or Kuta, but you should be mindful that it's an up-and-coming area and choose a place to stay that doesn't have noisy builders nearby.
One of the draws to a villa in Bali is the indoor-outdoor living vibe. It's common to find villas with a pool, but make sure it has been maintained.
You should also make sure the villa has a decent level of security. Bali is safe, but petty crimes such as bag and scooter theft happen, so make sure your scooter is in a place that's secure. You should also make sure there's a property manager nearby in case there are any problems.
Bali is a warm place, but it's also becoming more eco-conscious, which means air conditioning isn't always a given. If you need A/C, then check if the villa has this. You should also check the WiFi connection is strong, as this can be spotty all over the island.
Overall Best Villa in Kerobokan
Overall Best Villa in Kerobokan
Stunning and Unique Villa in Kerobokan
> $$
> 6 Guests
> Close to beach
> Private pool
Best Villa in Kerobokan for Couples
Best Villa in Kerobokan for Couples
Quite Romantic Private Villa
> $
> 2 Guests
> Breakfast available
> Private pool
Best Villa in Kerobokan for Groups of Friends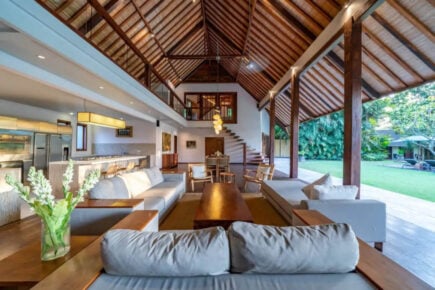 Best Villa in Kerobokan for Groups of Friends
Lavish Luxury Villa for 16
> $$$
> 16 Guests
> Large private grounds
> Beautiful property
Best Villa in Kerobokan for Digital Nomads
Best Villa in Kerobokan for Digital Nomads
Chic One Bed Villa with Pool
> $
> 2 Guests
> Fast Wi-Fi
> Work station
Best Budget Villa in Kerobokan
Best Budget Villa in Kerobokan
Private Room in Balinese Villa
> $
> 2 Guests
> Communal kitchen
> Private terrace
Best Villa for Backpackers in Kerobokan
Best Villa for Backpackers in Kerobokan
Traditional Private Villa
> $
> 4 Guests
> Located near restaurants
> Private pool
Amazing Luxury Villa in Kerobokan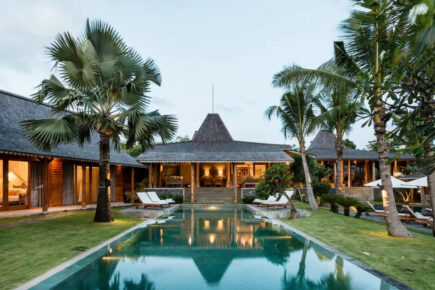 Amazing Luxury Villa in Kerobokan
Traditional Bali Villa Near Batubelig Beach
> $$$$
> 16 Guests
> Large private grounds
> Private chef available
The 10 Best Villas in Kerobokan
Now you know what to expect and what to look for, it's time to take a look at the overall best villas in Kerobokan.
These villas range from high-end luxury to cozy and budget-friendly. No matter what kind of traveler you are, the perfect villa is waiting for you on this list.
$$
6 Guests
Close to beach
Private pool
This stunning villa in Kerobokan is the perfect base for a dreamy Bali vacation. Whether you're traveling with friends, family or just feel like staying somewhere extra special, it has everything you need for a comfortable stay.
The spacious rooms allow for plenty of space for all six guests to spread out and be comfortable, and the beachy decor makes for the perfect laid-back ambiance. The whole villa has been designed with modern interiors and fixtures, and its professional staff is always on hand to help out.
There's also the added bonus of having a large swimming pool and garden to kick back in, plus a little beach for kids to play in. Not only that, but you also get gym access too. Location-wise, you'll find this property close to the beach and within walking distance of local eateries.
$
2 Guests
Breakfast available
Private pool
This beautifully decorated villa in Kerobokan is perfect for couples looking for somewhere to spend time together in paradise. With polished concrete floors, curving dark-wood furnishing, and tropical gardens, you may not even want to leave.
The one-bedroom villa comes with its own private pool, but the highlight of the villa is the en suite bathroom, which features indoor-outdoor living with a dreamy open-air bathtub and shower.
Even though the villa is near to local amenities, it feels very secluded so you can always get a good night's sleep. Breakfast is also available each day which is an added bonus. Housekeeping staff are available each day to make sure the villa is kept clean and tidy and the staff are really friendly and accommodating.
$$$
16 Guests
Large private grounds
Beautiful property
If you're traveling with a group of friends, then this lavish seven-bedroom villa will be the ultimate home base. Perfectly located among the lush rice paddies of Kerobokan, this Bali Airbnb is pretty much a mansion with an enormous 2,800 square meters of land.
The villa can sleep up to 16 guests and has been creatively designed to offer a mix of modern with traditional Balinese style. Like most villas, it features an indoor-outdoor living space, which opens up onto a huge lawn with a pool that's shaded by trees.
In the evenings, you can light the BBQ, enjoy meals around the al fresco dining area and take a dip in the 25-meter private pool. It's also just a 10-minute drive from the bars and restaurants of Seminyak.
$
2 Guests
Fast Wi-Fi
Work station
If you're a digital nomad looking to live and work in Bali, then you'll find everything you need and more at this amazing villa. It's the perfect set-up for those who are looking for a balance between somewhere quiet to get work done and somewhere to simply kick back and unwind.
The villa is well located within easy reach of beach clubs, cafes, and the nightlife of Seminyak or Batubelig. It has a spacious white-washed bedroom that opens up to the refreshing plunge pool. The pool is the centerpiece of the villa and connects the polished en-suite bathroom and kitchen.
Is This the Best Travel Pack EVER???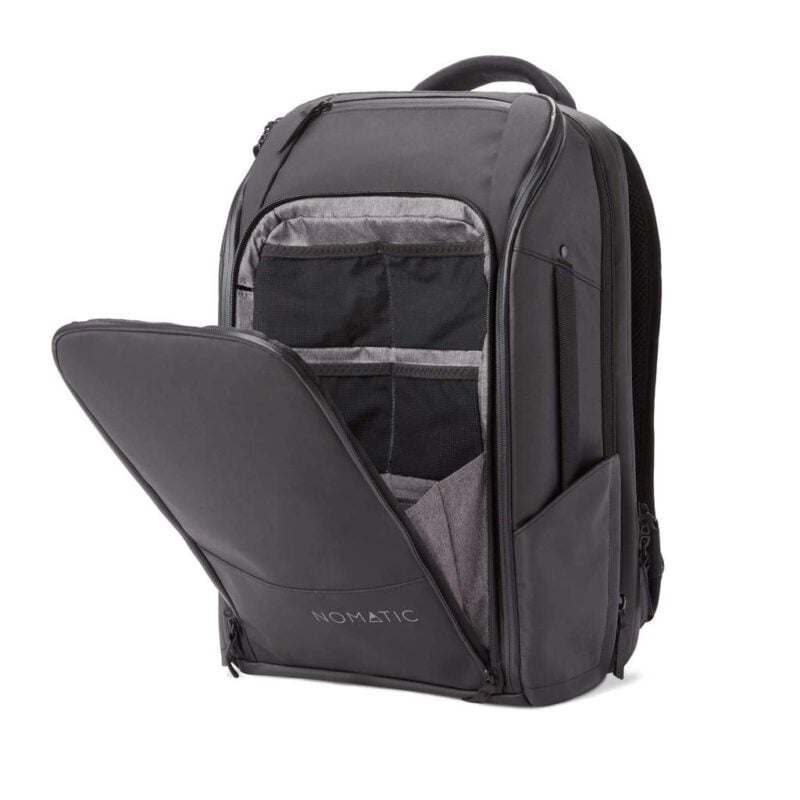 $
2 Guests
Communal kitchen
Private terrace
Staying in a villa in Bali does not need to break the bank, and to prove that, just look at this place! This private room in a shared villa offers the luxury of a high-end villa but at the fraction of the price. The entire villa has been decorated with a traditional and modern blend.
It's run by a super friendly couple who'll make you feel right at home, which is always nice after a long flight. The room is decorated in a rustic, beachy style and comes with its own private bathroom. Guests also have access to a shared kitchen and use the villa's large swimming pool, too.
The location of the villa is also good. It's not directly among a busy tourist area, but still close to all the best things to do in Bali. And the best bit? A fresh breakfast is served up each morning. Dreamy.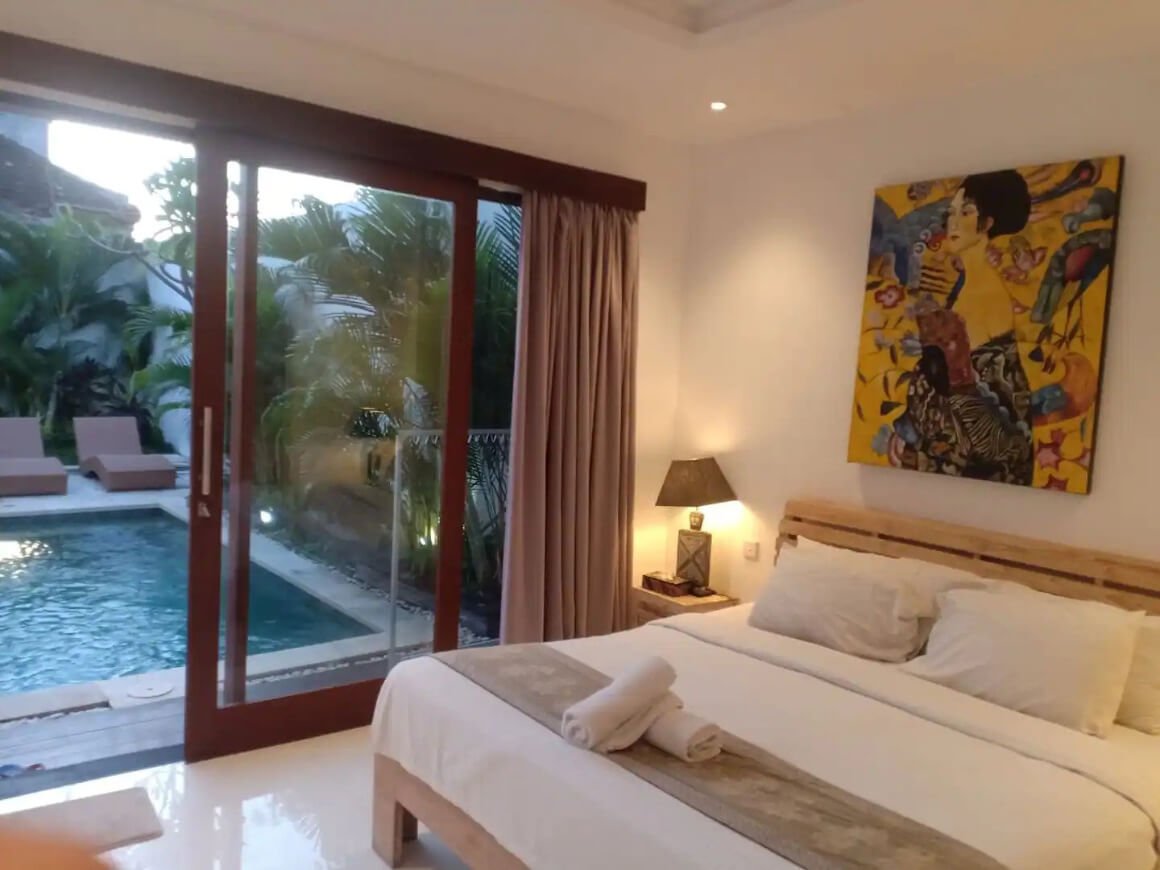 $
4 Guests
Located near restaurants
Private pool
When backpacking, it's common to feel drained in the hostel crowd, so for a few nights of peace and quiet, you won't find much better than this villa. The typical Balinese-style villa is tucked away in a quiet spot, just a few minutes' drive from the beach and a choice of eateries such as Conato Bakery.
With two bedrooms that open up onto a pool and living area, you'll still feel like you're in paradise even without the noise of other travelers around. The modern living and dining area is small but well equipped, while the kitchen has everything you need for whipping up a meal.
One of the best things about the villa is that you'll have the use of your own swimming pool. Bliss!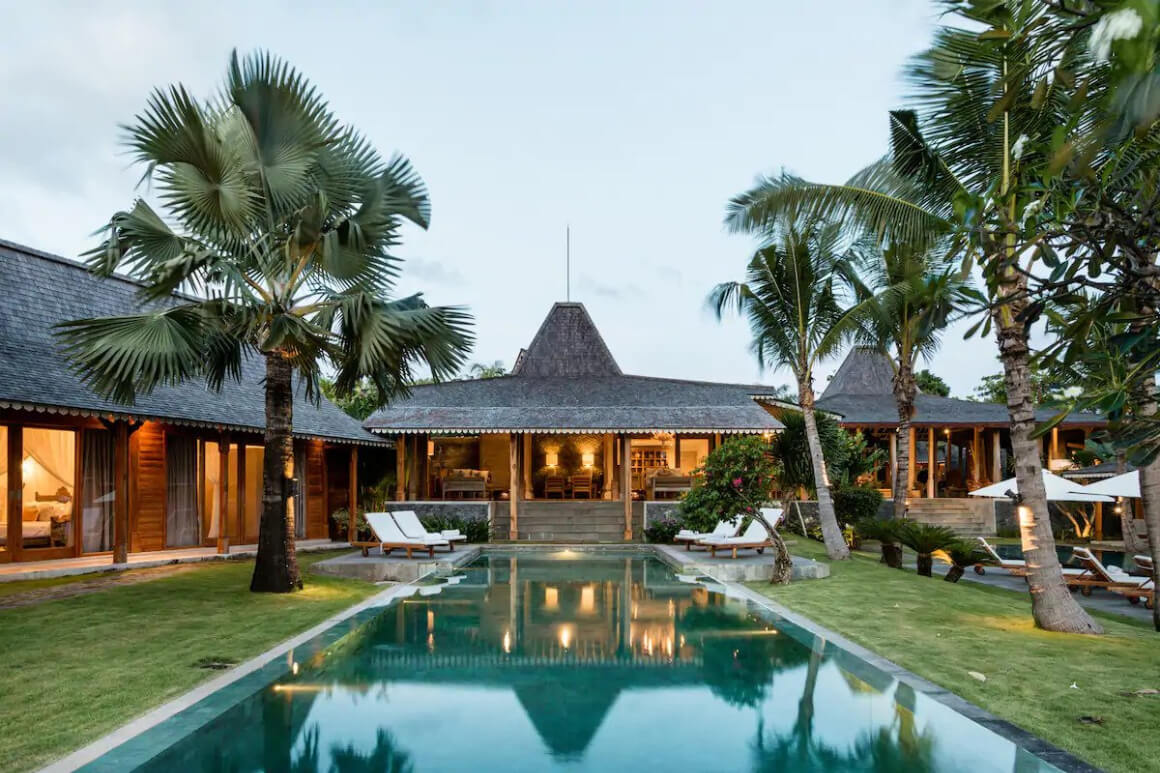 $$$$
16 Guests
Large private grounds
Private chef available
Live out your dream Bali vacation in true style at this luxury villa in Kerobokan. Located in an idyllic setting amongst lush rice fields, the villa looks like something out of a glossy travel magazine.
Everything here has been designed to the highest standards. The architecture is based on traditional Balinese buildings and is blended beautifully into the villa's grassy gardens.
With enough room to sleep up to 16 guests in 8 bedrooms, there's not much more you could ask for if you're planning a family holiday (or special occasion). Each of the rooms feels like they're part of a 5-star resort and come with its own en-suite bathroom. There are even outdoor showers and private pavilions edging the palm-lined swimming pool.
And for when you can't bear to lift a finger to cook or look for somewhere to eat dinner, there's the option to request a private chef, or perhaps you could book a massage. Now that's what I call luxury…
$$
2 Guests
Secure location
Minimalist Japanese Design
This villa is perhaps a little different from the others that I've shown you so far. It's a minimalist design, but it's clean and cozy and comes at an affordable price for a solo traveler.
The local neighborhood is laid back, and there are plenty of places to grab breakfast such as 7AM Bakery, shop for groceries or withdraw from ATMs. It's also just a five-minute scoot from the iconic Berawa Beach.
The spacious villa has a large bedroom, huge bathroom, and a sunken sofa in the lounge which offers the perfect place to unwind and relax in the evenings. There's also a small kitchen so you can make yourself some meals.
$$$
4 Guests
Amazing roof terrace
Pool rope swing
Only in Kerobokan for the weekend? Then get yourself booked into this amazing villa. Offering great value for money, it's the perfect spot to spend a couple of days chilling out in paradise. The whole property has been designed with tropical minimalism in mind – think white-washed walls, natural wood flooring, and crisp white linen sheets.
The villa's glittering outdoor pool takes center stage. Edged by lush plants, the pool area has a cool sunken seating area ideal for poolside drinks, and there's even a rope swing to try out. Elsewhere, the bedrooms feel like you're staying in a high-end resort (each also comes with a polished en-suite bathroom).
Head upstairs and you'll find the rooftop terrace, which offers the perfect backdrop for BBQs and drinks before heading out to enjoy Bali's nightlife. As for location, this villa is situated around a ten-minute drive from the beach and within walking distance of local shops and eateries.
It's the perfect base for exploring all the best places to visit in Bali.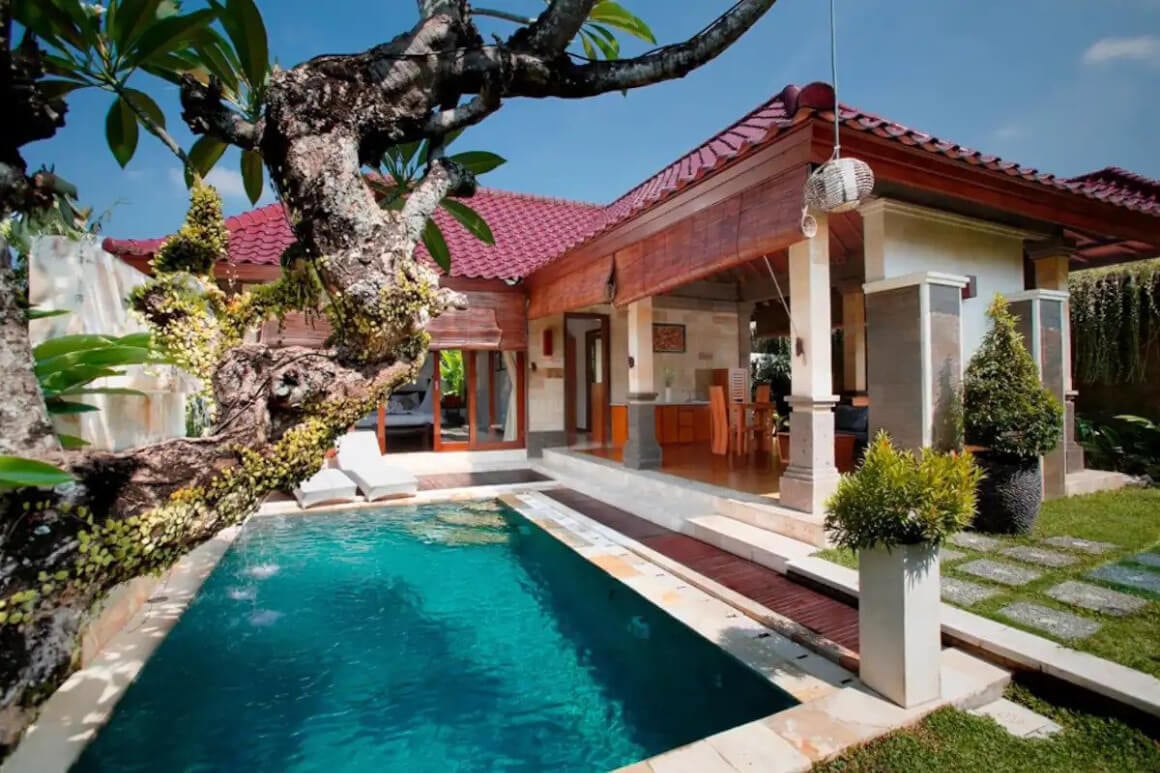 $$
2 Guests
Al-fresco bathroom
Private pool
This amazing villa is a beautiful and peaceful place to base yourself while exploring all the attractions on your Bali itinerary. With one large bedroom, the spacious property has plenty of room for you and your partner to relax together in style. Honeymoon villas in Kerobokan don't get much better than this.
You can start days together as newlyweds tucking into fresh fruit breakfasts and then cool off in your very own private pool. The secluded villa grounds are planted with tropical plants and there's even an outdoor bathroom complete with statues and fountains.
The location is also pretty amazing. It's located in a quiet area, but still only a 30-minute drive from Bali International Airport and five mins by car to Seminyak Beach. The resort where the villa is located also has a restaurant, swimming pool, spa, and 24-hour security.
Don't Forget Your Kerobokan Travel Insurance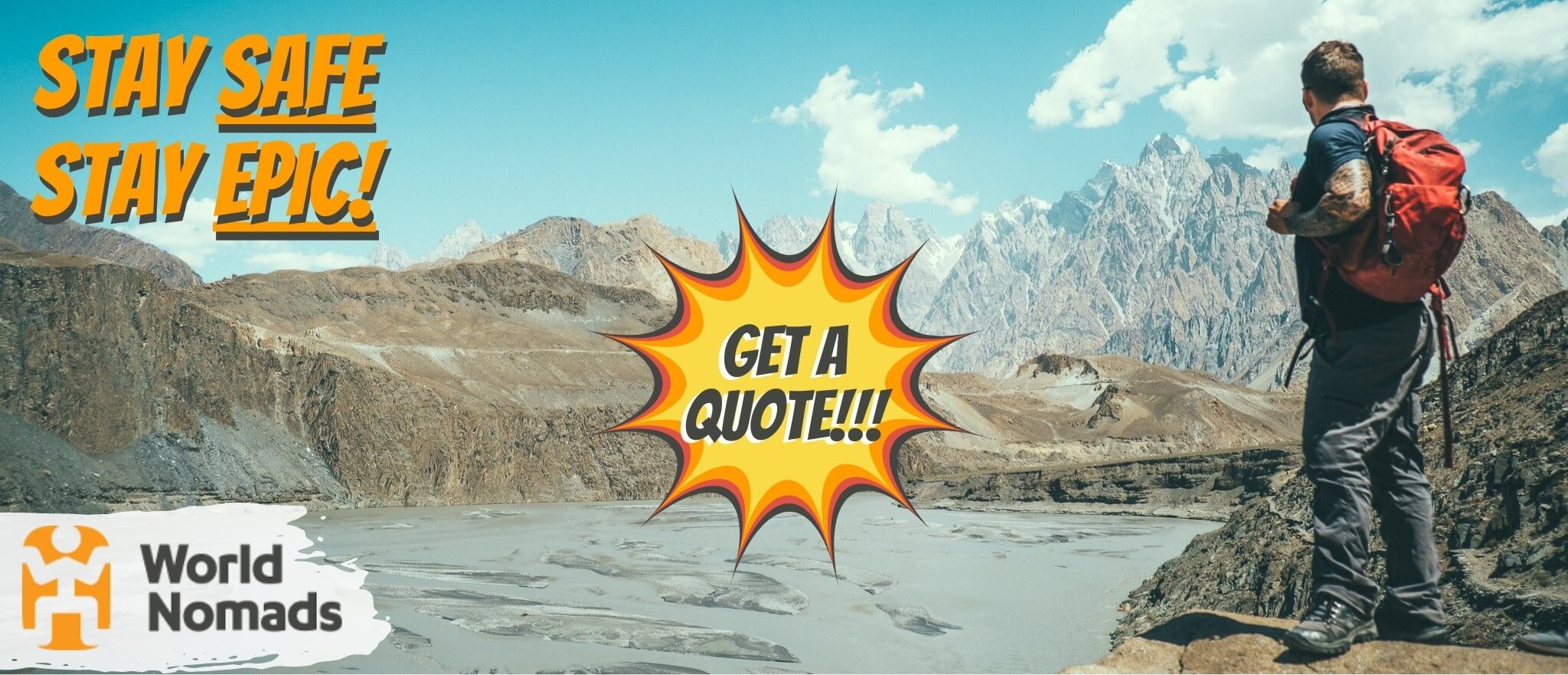 World Nomads' mission is to support and encourage travellers to explore their boundaries. They offer simple & flexible travel insurance, and safety advice to help you travel confidently.
They've been doing it since 2002 – protecting, connecting, and inspiring independent travellers just like you.
Get a quote below or read our in-depth review!
World Nomads provides travel insurance for travelers in over 100 countries. As an affiliate, we receive a fee when you get a quote from World Nomads using this link. We do not represent World Nomads. This is information only and not a recommendation to buy travel insurance.
Final Thoughts on Villas in Kerobokan
As you can see, there's a lot to offer when choosing a villa in Kerobokan, but I hope this guide has helped you narrow down your options. Whether you need a villa with enormous grounds, private courtyard swimming pools, or a romantic setting, you'll find all of this and more in these villas.
If you're still unsure about which villa is right for you, I invite you to take another look at my overall favorite. It's been chosen as my top pick because of its excellent location, high-end amenities, and affordable price tag – you can't get much better than this!
Whichever villa you decide to stay at, you're guaranteed to fall in love with Bali and the quiet and tranquil neighborhood of Kerobokan.
---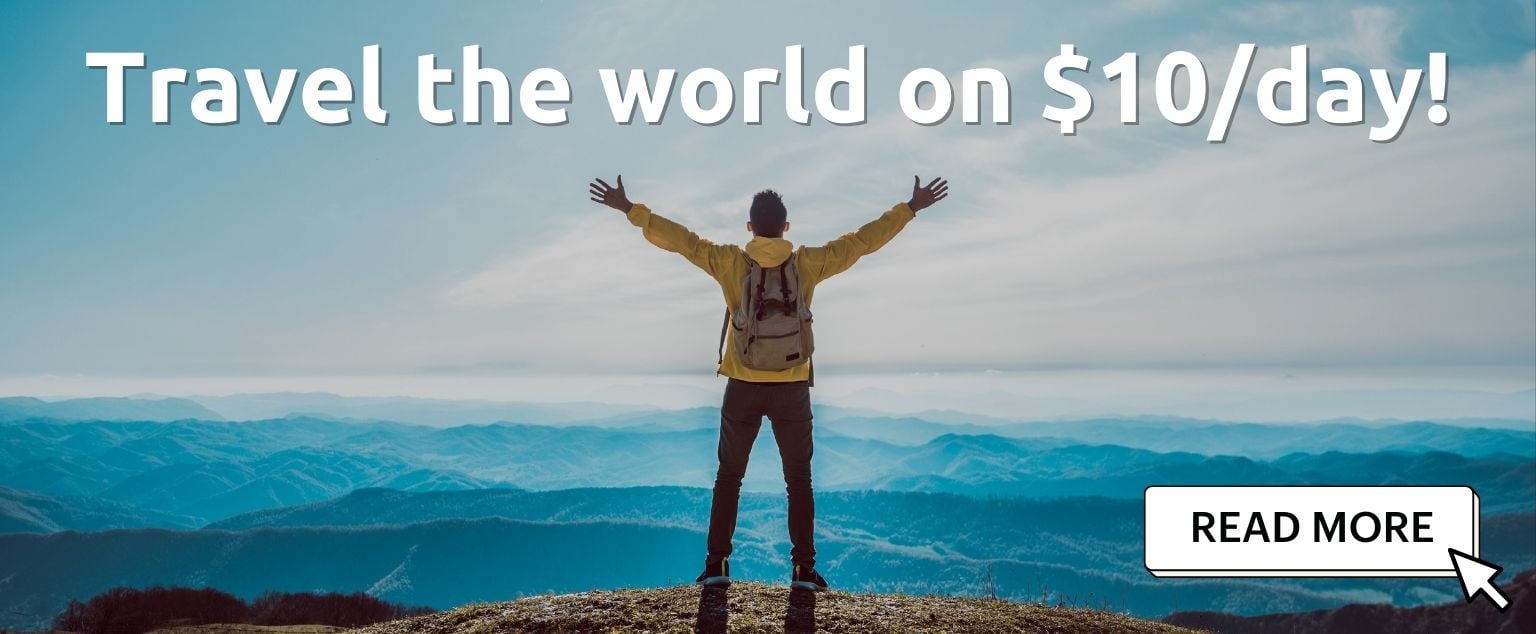 And for transparency's sake, please know that some of the links in our content are affiliate links. That means that if you book your accommodation, buy your gear, or sort your insurance through our link, we earn a small commission (at no extra cost to you). That said, we only link to the gear we trust and never recommend services we don't believe are up to scratch. Again, thank you!