Literally, one of the most fun and beautiful places in Indonesia, the Gili Islands also have a reputation for being a place where backpackers can kick back, chill, party, snorkel and dive all in the same place. And with two main islands to choose from – Gili Air and Gili T – it's like the world is your oyster!
But… in August 2018 there were a series of earthquakes in Lombok that affected the Gili Islands, slightly to the north-west. So you might be wondering: Is it safe to go? Are the hostels closed?
Well, it's ok! Most hostels on the islands are open for business. And what's more, we've gone through and categorised the best hostels on Gili Air and Gili T to make things a lot easier for you!
We reckon there'll be a hostel here to suit you, so let's have a look…
Quick answer: The Best Hostels in Gili Islands
Best Hostels in Gili Islands
If you are backpacking Indonesia or Bali, then the Gili Islands is a truly worthy addition to your itinerary.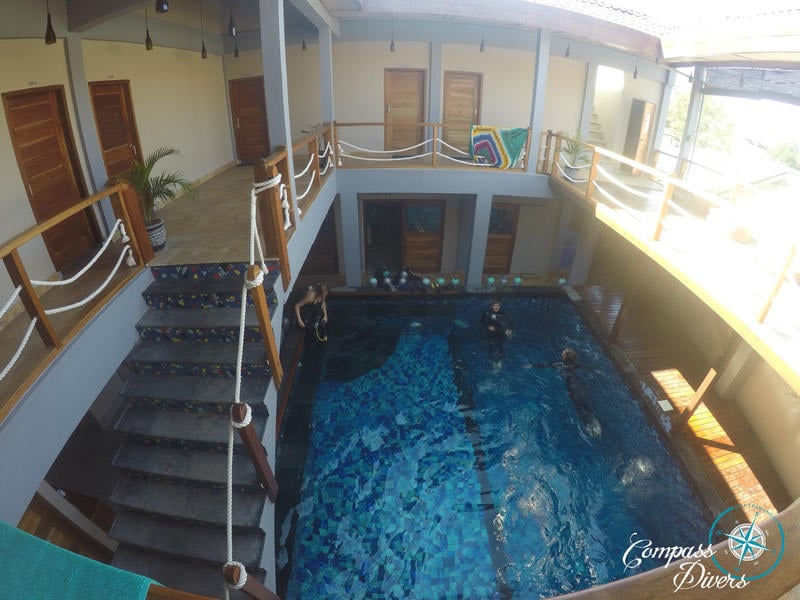 $$
Swimming Pool
Free Breakfast
Air Con
Sure, this boutique-style recommended hostel in Gili Islands might cater to people who wanna go diving, but that doesn't stop it being a great hostel in itself. In fact, we'd say it's not only the best overall hostel in Gili T but the best hostel in Gili Islands, too.
This is down to the decent free breakfast, the very chill chill-out areas on the 1st floor and out front, the super nice and helpful staff, as well as the location, which is just about close enough to the harbour area with its clubs and bars. Definitely a solid, solid option; even better if you're keen on diving!
Best Party Hostel in Gili Islands – My Mate's Place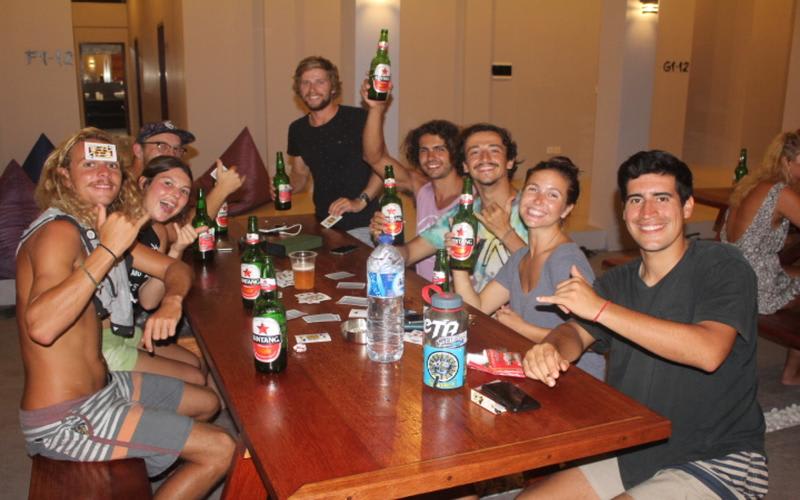 $
Bar
Free Breakfast
Airport Transfers
Well, it's in the name, isn't it? This top hostel in the Gili Islands has a top-notch atmosphere that gets everyone involved and talking to each other, which is (sorta) the reason you're travelling the world, right? It's also a little bit of a party hostel – if you wanna get involved, that is.
Once the bar closes, the staff take you to the best places in town. Of course, if you don't want to go, you don't go. Simple. Overall though, it's the staff who really know how to make sure everyone feels welcome. Sick place, easily the best party hostel in Gili T.
Best Hostel for Solo Travellers in Gili Islands – La Favela
$$
Super Social
Towels Included
Bar
Speaking of staff making you feel right at home, how about this place – though we're not sure whether it's ok to be calling this La Favela, it's still easily the best hostel for solo travellers. And, yep, the staff are the best thing about this lovely little place.
So it's simple to get chatting and make friends with all the other backpackers checking into this Gili T backpackers hostel. Other great points include amazingly clean rooms and being just a 10 min walk to the beach.
Best Hostel Cheap Hostel in Gili Islands – Begadang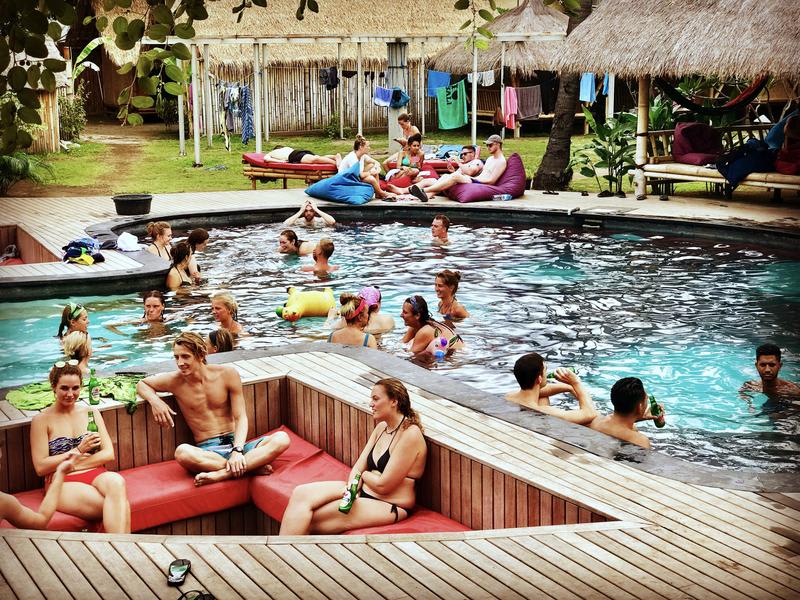 $
Swimming Pool
Bar & Restaurant
Luggage Storage
This is a very cool hostel in Gili Air and it feels a lot more expensive than it is. I mean (and this is amazing), they have a mushroom-shaped pool – allegedly, they say, the first in the world. It's surrounded by decking and a garden where you can play giant connect 4 and fun stuff like that.
Other than that, though it's a 15 min walk from the noisy-ish harbour area, it IS only 200 metres to Gili Air's Sunset Beach where you can have a drink or three and some decent food, too.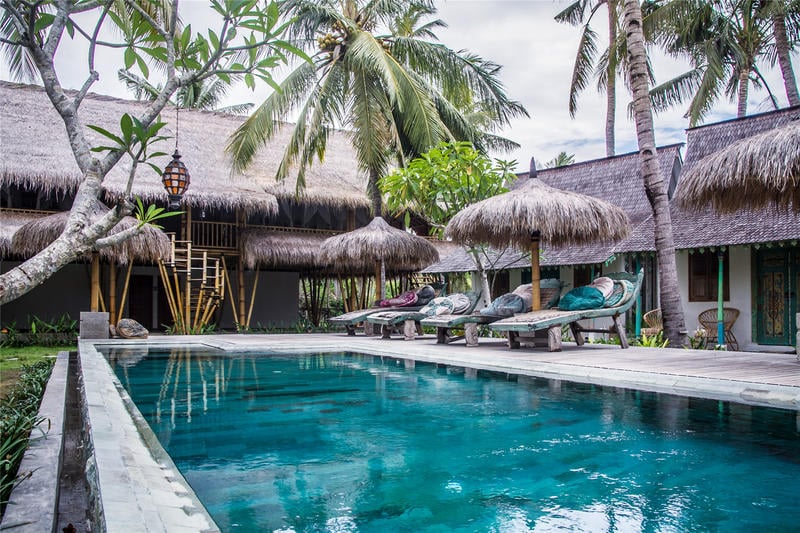 $$
Hot Water
Swimming Pool
Free Breakfast
Though the name sounds more like a party hostel, Captain Coconuts (lol) is actually a super – and we mean SUPER – chill place to stay in Gili Islands. Set a few mins walk from Gili Air harbour, the order of the day is lounging around and relaxing.
That's why we've picked it as the best hostel for couples in Gili Islands. With the nicely done bamboo bungalows, pool and top quality food in its restaurant, you'll feel like you're on a properly exclusive couples' getaway when really it's a top hostel in Gili Air.
Best Hostel for Digital Nomads in Gili Islands – M Gili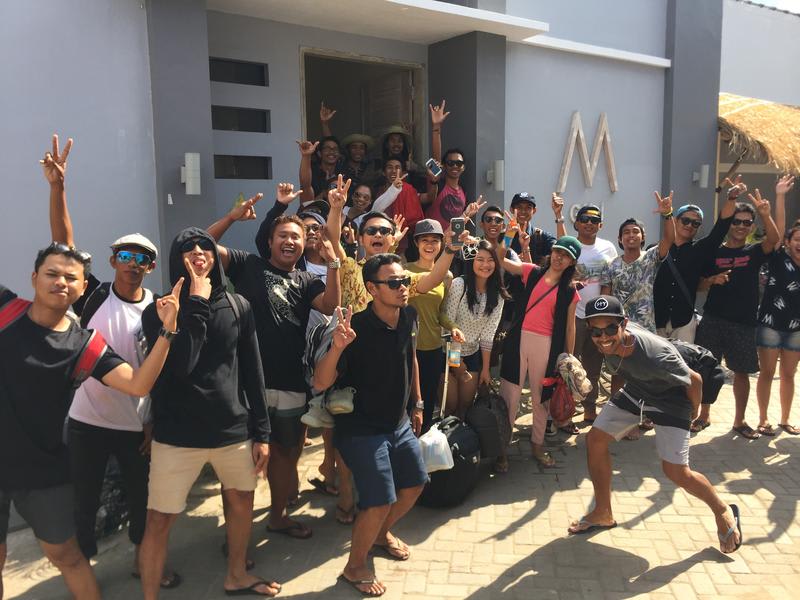 $$
Super Cool
Air Con
Swimming Pool
This top hostel in Gili Islands also runs one in Seminyak, Bali, so the style easily makes it one of the coolest hostels in Gili T, that's for sure. The rooms are super stylish, making you feel like you're staying in a hotel.
The atmosphere might be a bit lacking, but then again you could just say that it's quiet. Depends what you're looking for. But we reckon it's the best hostel for digital nomads in Gili Islands. If you're on the road long-term, a calm, hotel-y sorta stay (like this one) would be perfect for you.
Best Hostel with a Private Room in Gili Islands – M BOX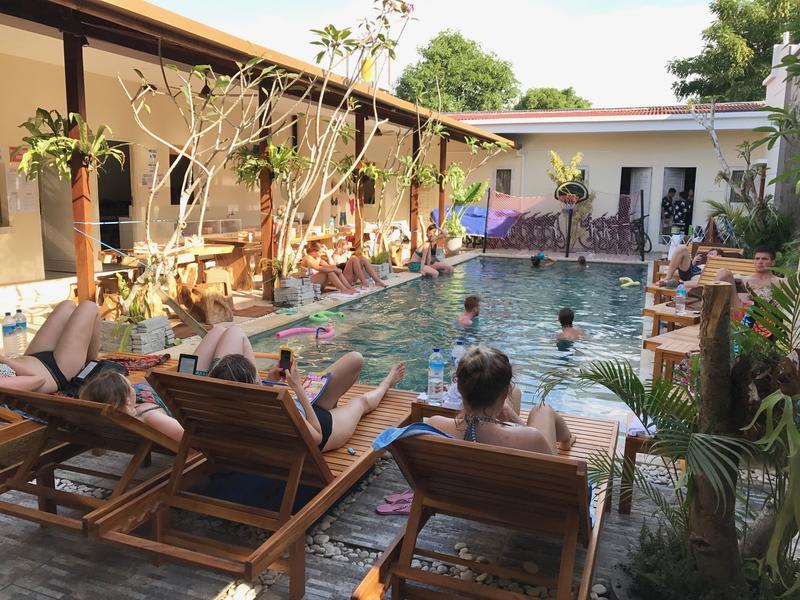 $$
Bar & Restaurant
Bicycle Hire
Swimming Pool
Run by the same folk who do amazing things at the nearby M Gili, M BOX is a bit more lively – a great vibe to meet people but also enough of a chilled place that you can actually get to sleep at night. Coupled with the unreal private rooms, it's easily the best hostel with a private room in Gili Islands.
What's also cool about this Gili T backpackers hostel is the amazing staff – plus the opportunity to go on a pretty sick (and affordable) snorkelling trip, which is kinda what this place is all about. But yeah, those rooms… Such a cool Gili Islands hostel, seriously.
Things DO go missing sometimes…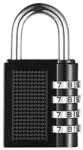 Psst! Heading to a hostel? Don't forget to pack a padlock! It's well worth having one so you can secure your locker and protect your stuff!
More Best Hostels in Gili Islands
$
Late Check-out
Free Breakfast
Tours/Travel Desk
This budget hostel in Gili T is a fun place to stay – it's awesome if you wanna socialise and meet new people. At the same time, it's got a pretty chilled vibe, and that's despite being only 5 mins away from the main hive of activity on Gili T.
Facilities at this recommended hostel in Gili Islands may by a little basic, sure, but they definitely do the job: think air con that works and you're off to a pretty good start. The floors are sandy and the bathrooms suck a bit, but what are you gonna do? This is paradise! For cheap!
$
Free Bicycle Rental
Free Breakfast
Air Con
Well, they said it. It's simply a fantastic bamboo hut. Or a collection of fantastic bamboo huts. Either way, it's easily one of the coolest hostels in the Gili islands. It's a pretty fun and surprisingly comfy experience!
What also makes Gili Air backpackers hostel so nice is – as always – the staff. They're just… Ultra friendly, I think is the right way to describe them. And helpful too. An extra cool point is that you can borrow the bikes for free and cycle around the island. Amazing!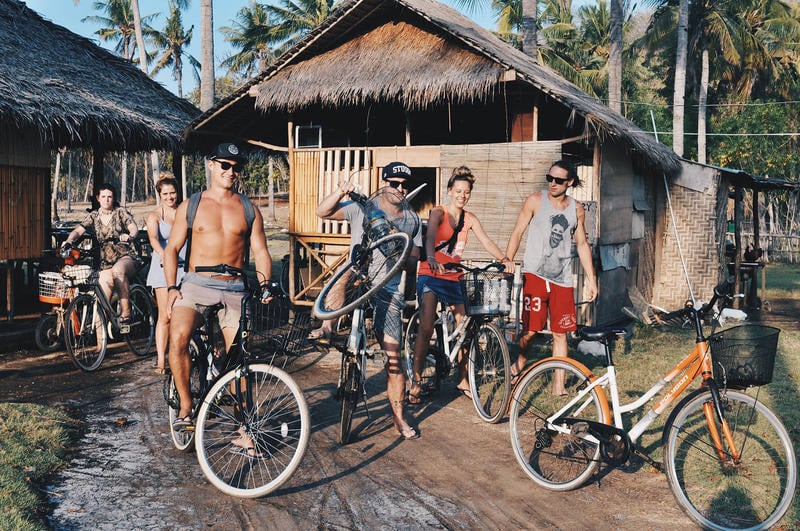 $
Nightly Events
Swimming Pool
Ping Pong Table
Want a chilled hostel with an amazing friendly vibe? Broken Compass is a decent choice. One of the top hostels in Gili T, this place may be located near a mosque (meaning a quite loud call to prayer throughout the day), but that's fine when everything else is SO GOOD.
The burgers, I mean, they're super tasty. There's even an infamous event that they run here called Beats n Burgers – plus other activities (nightly, BTW) like pub quizzes. The rooms are clean, the pool area is so good for chilling out in… definitely one of the coolest hostels in Gili Islands.
The BEST Travel Backpack?!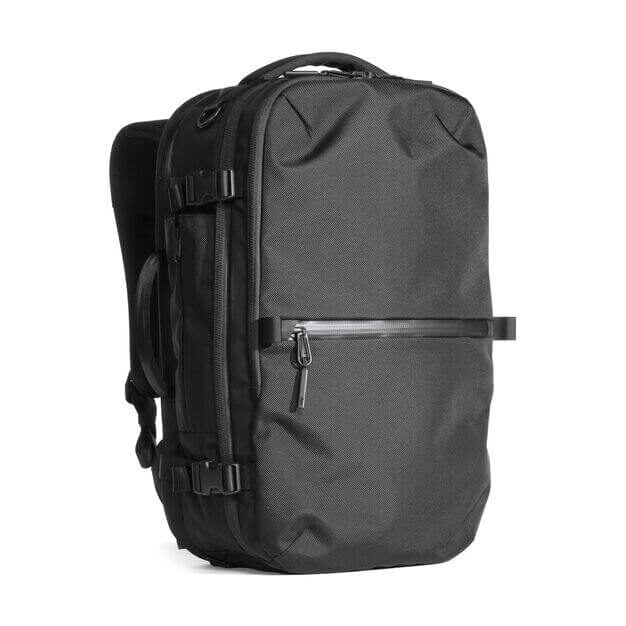 Pssssst! Not picked the perfect travel backpack yet? The Broke Backpacker team has tried out over thirty backpacks this year! Our favourite travel backpack is the Aer Travel Pack 2.
View on AER
What to Pack for your Gili Islands Hostel
We don't often travel without these essentials.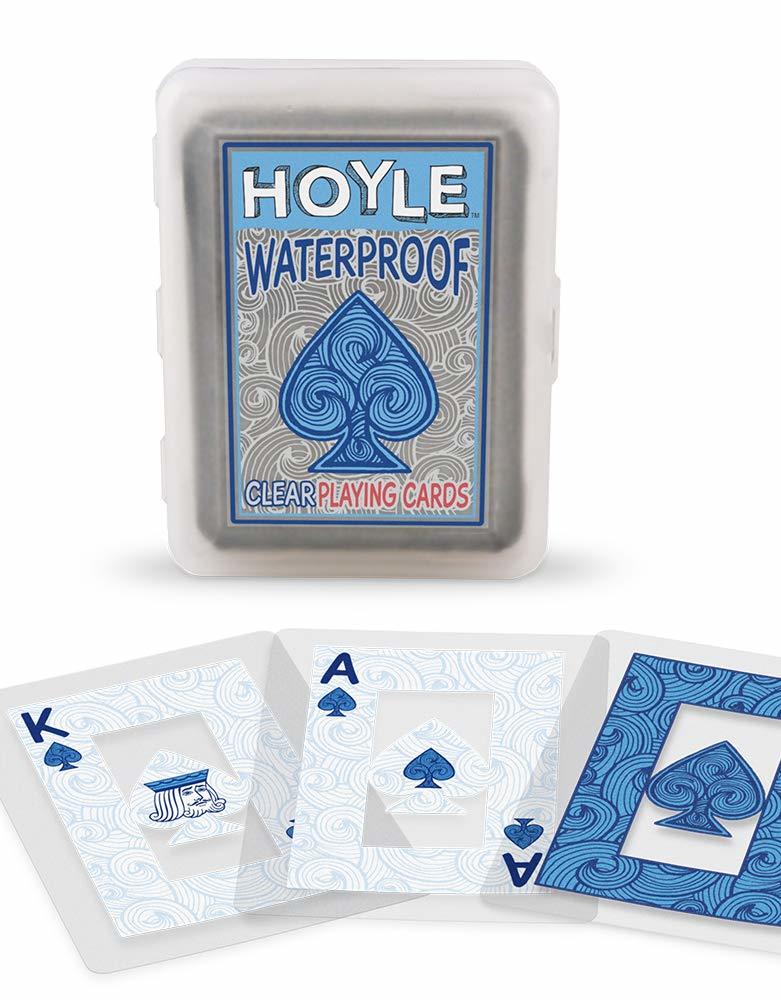 1. Playing Cards: Name your ideal night: I'm for a few cheap beers and some card games. Oh, and you don't even have to be drinking to enjoy a game – having cards with you traveling definitely helps out on those long airplane or beach days! Make sure to snag a waterproof deck to protect from the pool, ocean or Chang.
2. Active Roots Toiletry Bag: Keep your bath-and-beauty items organized and in the right place with this water-resistant bag. With large compartments, mesh and enclosed clear sections, you can fit everything you might need inside. Hang it up or let it stand on its own – this bag is a must-have for dorm-lifers.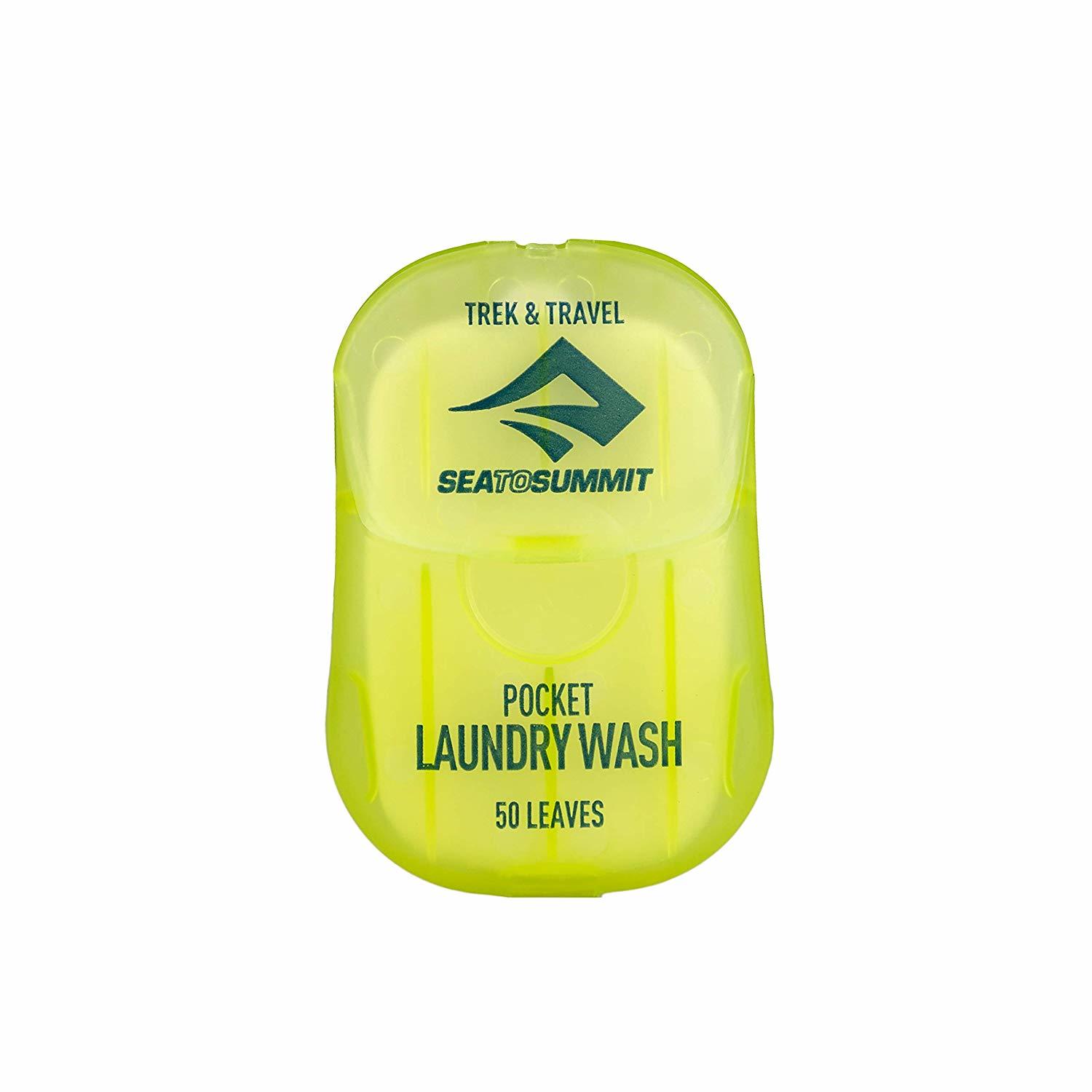 3. Sea to Summit Travel Soap: When dirtbagging around the globe, hygiene sometimes comes a bit short. This Sea to Summit Travel Soap can wash your hands, clothes or anything else, wherever you are. The soap strips are dry and super thin but dissolve in contact with water, so you can even take it easily through security in a carry-on.
4. Headphone Splitter: You're the one with the Netflix account and your friend wants to watch too? But you don't want to share headphones? And you're good people who wouldn't disturb your dorm mates? That's not going to be a problem with this Headphone Splitter! Plug in two pairs of headphones at the same time, so both of you are able to listen to music or watch shows simultaneously. It comes in handy and won't weigh you down.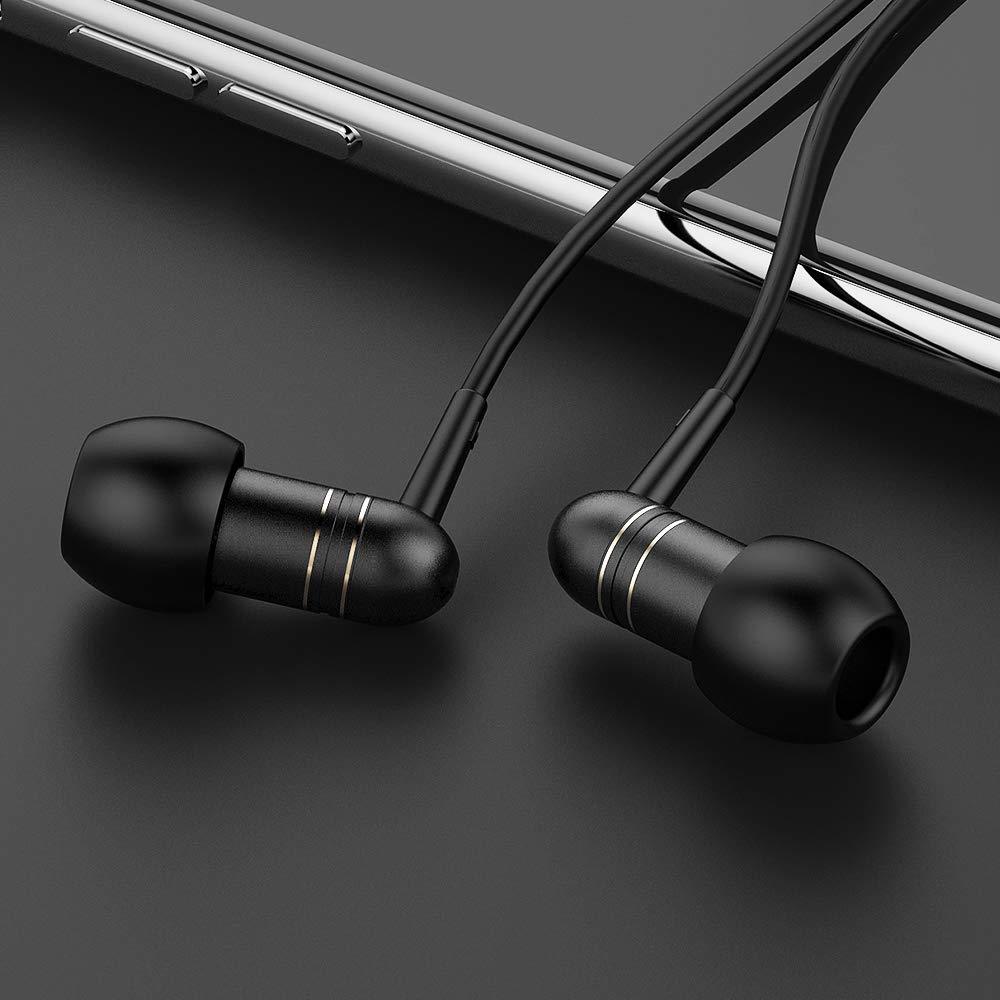 5. Noise-Cancelling Earbuds: Noise in hostels… is a thing. Your bunkmate coming in late, motorbike traffic just below your window, construction on the property or the round-the-clock rooster that seems to follow you to every f*cking hostel. Having a way to escape the noise while you sleep makes for a well-rested morning. Noise canceling ear-buds are a great solution, just put on your favorite artist or load a quick Netflix episode to fall asleep too.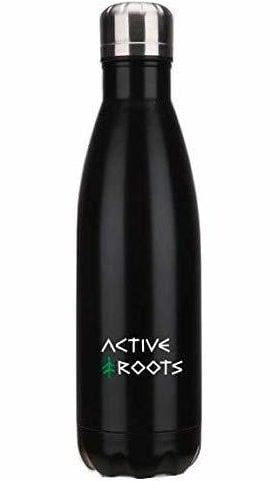 6. Active Roots Water Bottle: Sturdy and durable, the Active Roots water bottle survives the roughest adventures while keeping your drink cold or hot for at least 24 hours. Vacuum-sealed and made from stainless steel, the bottle can fit 25oz, which is plenty to keep you hydrated. Super cool bonus: the bottle isn't just super useful, it helps to reduce the single-use plastic waste – save the planet by filling up your bottle.
Why you should travel to Gili Islands
There you have it. The top hostels in Gili Air and the best hostels in Gili T to get you super excited for your next trip!
Sure, there may be a reputation for partying in the Gili Islands (and you can definitely find that), but when it comes to a blissed-out atmosphere and some seriously friendly people, these are the islands you need to get yourself to!
There's everything from super comfy bamboo huts to Bali-esque villa accommodation, and all of it so affordable.
But if you still can't decide? Just go for the best overall hostel in Gili Islands, Compass Divers Hostel, and get packing.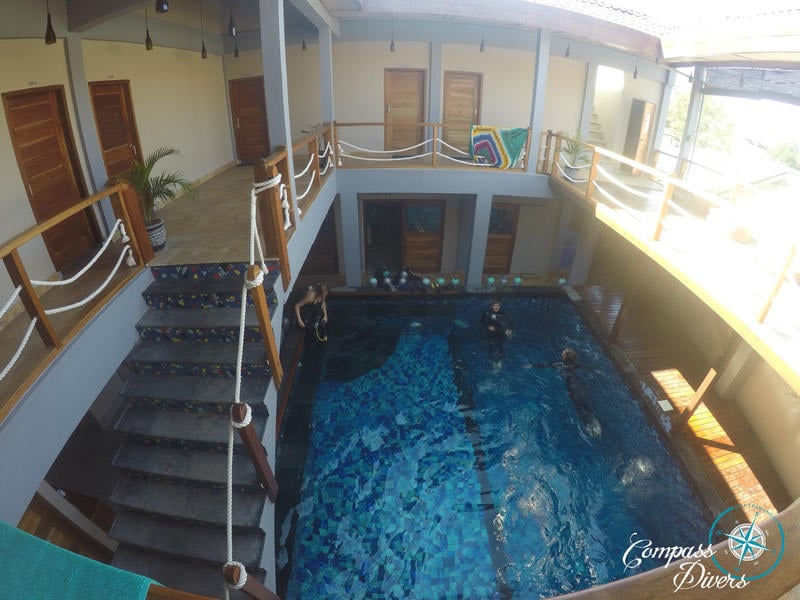 Travel Safety Tips for Gili Islands
And don't forget Travel Insurance! We've put together a roundup of Travel Insurance for backpackers – check it out here, or if you're low on time, get a quote from World Nomads, our favorite travel insurance provider.
Getting an estimate from World Nomads is simple – just click the button or image below, fill out the necessary info, and you're on your way!

More Epic Hostels in Indonesia and Southeast Asia
Hopefully by now you've found the perfect hostel for your upcoming trip to Gili Islands.
Planning an epic trip all across Indonesia or even Southeast Asia itself?
Don't worry – we've got you covered!
For more cool hostel guides around Southeast Asia, check out:
Over to you
By now I hope our epic guide to the best hostels in Gili Islands has helped you choose the perfect hostel for your adventure!
If you think we've missed anything or have any further thoughts, hit us up in the comments!
"Find out how YOU can support the site. We work hard to put out the best backpacker resources on the web, for free! It's all about helping out our tribe of awesome backpacker readers [that's you!]. Please visit the link to find out how you can help keep the site going 🙂
For the sake of transparency, some of the links in our content are affiliate links. This means that if you book your accommodation, buy a book or sort your insurance, we earn a small commission at no extra cost to you. I only link to stuff I've actually used and never endorse products or services that are not up to scratch. Thanks for your support.