The country of Indonesia has 147 volcanoes – the third most in the world. Whilst Indonesia gets the bronze medal for the number of volcanos owned, it gets my gold medal for having the most beautiful ones.
Visiting a volcano is by itself is a timeless and soul-stirring experience, Indonesia adds extra spice to it. Not only are volcanoes some of the most impressive natural sights on our planet earth, but they emit a special kind of energy too.
This energy from the sheer magnitude and power of Indonesian volcanoes is indescribable yet so real. It makes you feel incredibly insignificant, but also alive at the same time. Often a real reminder of how wonderful the natural world is… and how lucky we all are to be conscious and present on nothing more than a floating hot rock.
Indonesia is home to some of the most stunning craters and volcanoes in the world. And the good news is, they're safe to climb!
So, without further ado, this list is to inspire you to discover what life is really all about: crazy MAD volcanic visuals.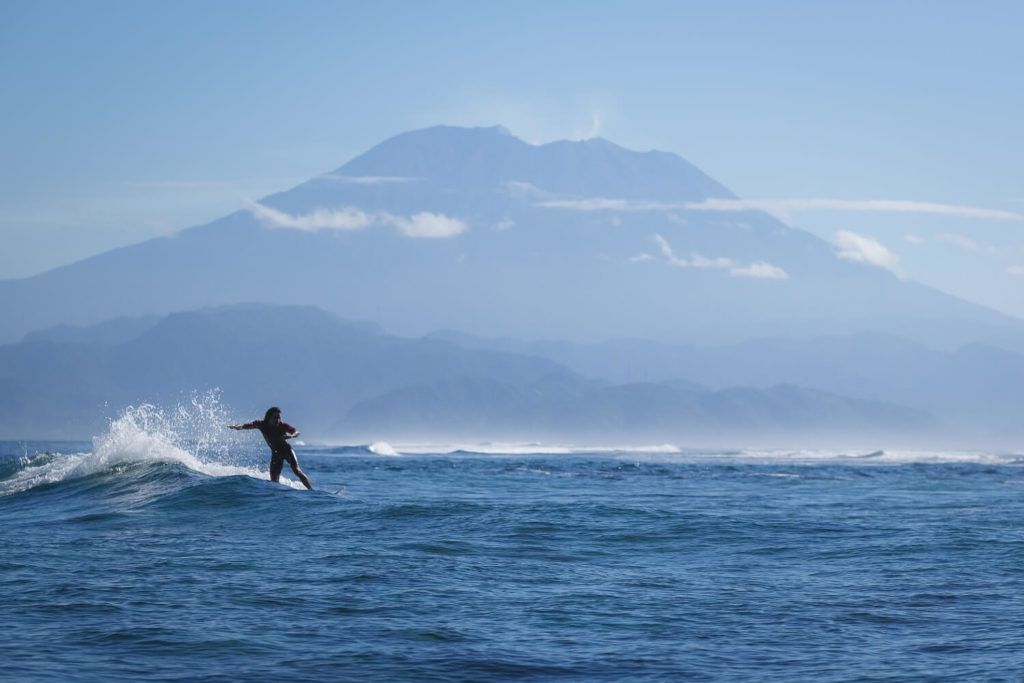 The 5 BEST Volcanoes to See in Indonesia
It was tough to pick just five out of Indonesia's 147 volcanoes, but I've done it. You're welcome. Here is my handpicked best of a very explosive bunch, ENJOY.
1. Mount Bromo, East Java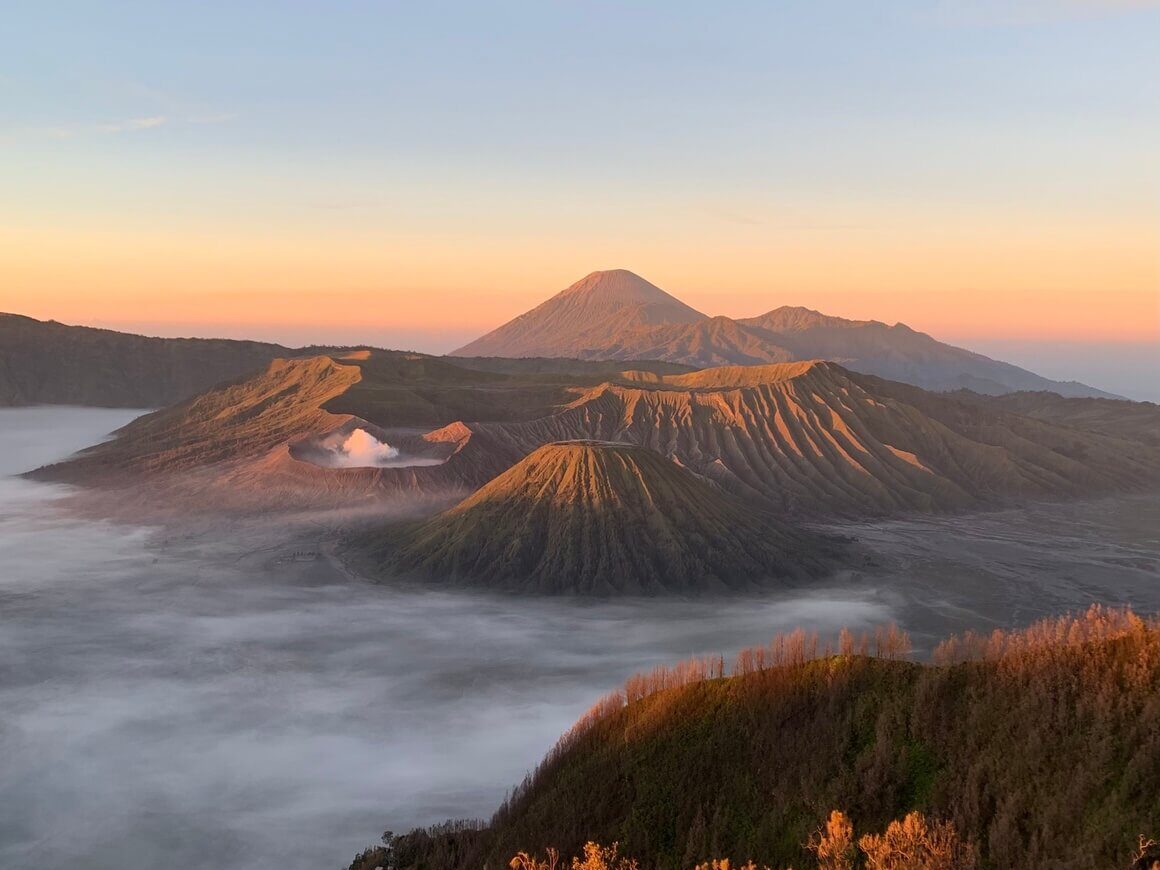 Introducing the reigning, defending, undisputed, BEST volcano in the worlddddd, MOUNT BROMO!
In my opinion, this is not only the most beautiful volcano in the world, it is THE single most amazing thing I have ever seen. Shit looks like a laptop screensaver. I can't believe this thing exists in real life!
For anyone travelling to Indonesia, a visit to Mount Bromo in East Java should surely be on the bucket list. An adventurer's paradise, a photographer's wet dream and an all-around mosh pit of magnificence, Mount Bromo is the real deal guys.
Sunrise is when this girl is at her prettiest. Total slay. Possibly the best sunrise spot in the world, maybe? Or maybe I just have a weird obsession and crush on this place (I do).
You can visit at any time of course, but waking up early for this one is definitely worth it.
Top Tips for Visiting Mount Bromo:
Bring a wide-angle camera lens
Many people choose to get a group tour here as it's kinda in the middle of nowhere. I had to stay in Surabaya and leave my hostel at 2 in the morning to make it on time.
A popular plan of action to see Mount Bromo is a multi-day tour (two days and one night) including the number three volcano on this list. I would recommend this, especially for solo travelers as it was nice to have made friends on the first trip to take with me for the second one.
After marvelling at the sunrise view spot, you can go down to the giant dusty plain surrounding Mount Bromo and explore the volcano itself. All sorts of mad activities occur here; dirtbikes, horse riding, and even walking around the volcano crater, it's kind of a free-for-all.
Nevertheless, it's a relatively quick and easy climb up a staircase to see into Bromo. It's a great place to bash out an activity and simply sensational to see the beast up close.

Unlock Our GREATEST Travel Secrets!
Sign up for our newsletter and get the best travel tips delivered right to your inbox.
2. Mount Rinjani, Lombok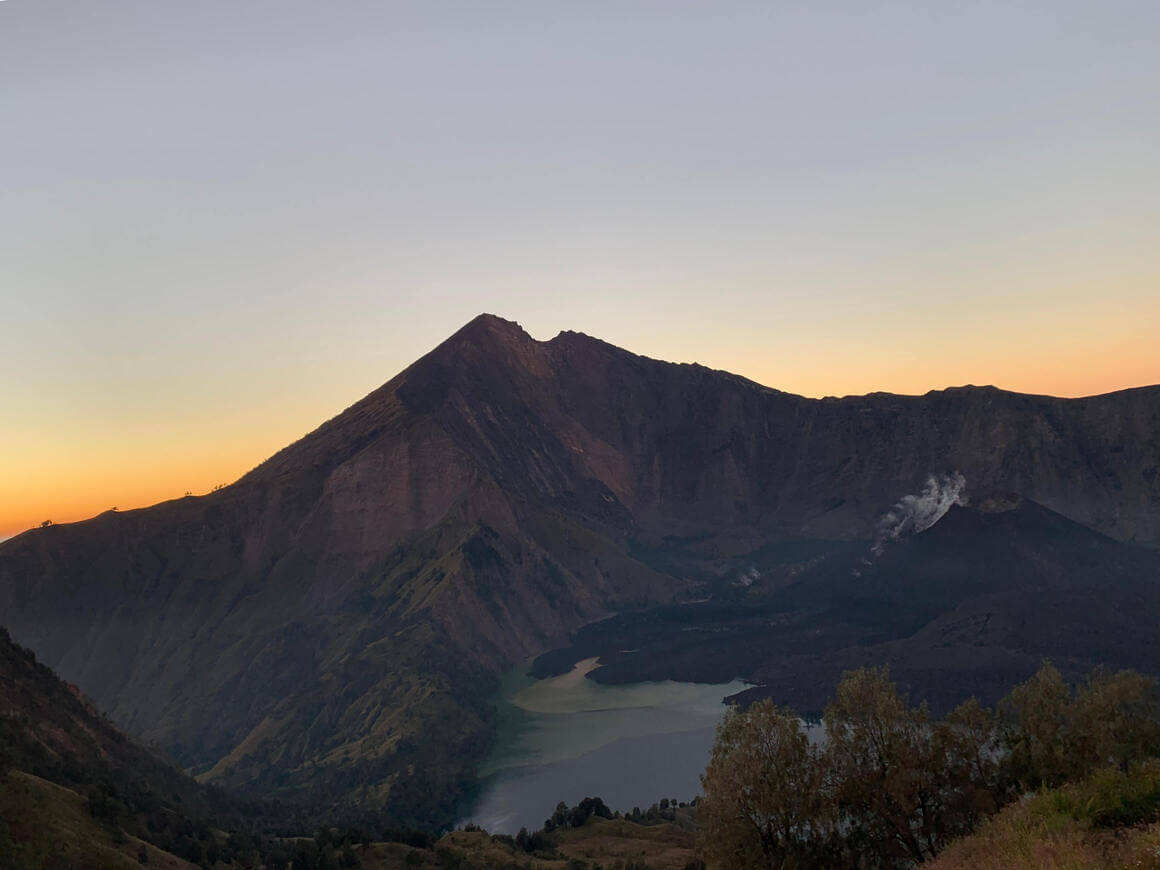 In second place, we have the one and only, Mount Rinjani in Lombok – an absolute must-do on anyone's Lombok itinerary. As the island of Lombok is situated right next to Bali, this is the ideal volcanic excursion for all backpackers in Bali seeking some real adventure.
Hiking up this thing is different gravy, it's not for the faint-hearted. But boy oh boy is it worth it. In order to see the EPIC crater, you're gonna need to graft; but that's just how we like it.
Mount Rinjani stands at an impressive 3,726m above sea level. The hike to the summit is a four-day and three-night hike, pretty hardcore stuff. Many tours only go to the crater rim though. DO NOT attempt this without an official guide guys, don't be stupid.
Whilst the hike may seem extreme, over the four days it ain't half bad and it's not all about making it to the top. There are various different viewpoints on the way up making for an all-round awesome adventure.
Top Tips for Visiting Mount Rinjani:
Bring lots of snacks and water.
A good pair of shoes is a MUST.
Hiking with a reputable company is a must for this one. Trekking tours are very popular for this hike. The food they prepared was amazing, the gear was top notch and the sherpas were ANIMALS (hiking in flip flops true Indonesian style and carrying bags bigger than the ones that live under my eyes).
One of the highlights of this multi-day hike for me was actually the stunning starry skies visible from Rinjani. On all of the nights, we saw the Milky Way galaxy and dozens of shooting stars (I'm serious).
I didn't even know that was possible, but my sleep seriously suffered from counting stars instead of sheep. In conclusion, maybe don't do as me and stay up all night and you'll have the time of your life on this hike.
3. Mount Ijen, East Java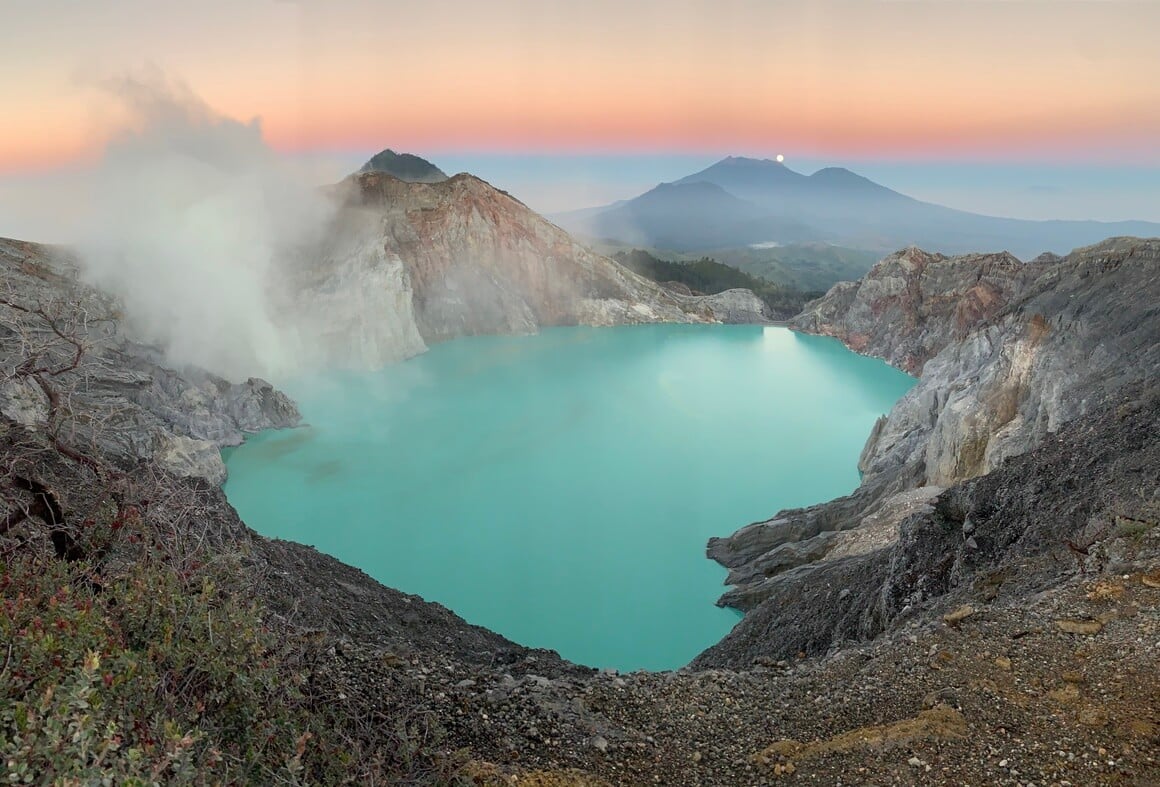 Ijen is all about the crater. So much so it is usually referred to simply as Ijen Crater. This is one of the coolest day activities in Indonesia and makes for badass-looking photos too. You can actually push it to the limits and find a homestay near the Ijen Crater, so you can immerse yourself in the experience.
Essentially, the trip to Ijen can be done independently, but this trip is the second half of the aforementioned Bromo tour for most visitors. The day starts at 1 am and you take a Jeep to the base before the ascent begins in the dark.
The colour layers on show, as the sun rises over the world's largest acidic lake crater, look like a painting. This combined with the bright blue colour of the sulfuric crater lake creates some bonkers visuals – for you and your camera.
As the crater lake is sulfuric, a gas mask is provided to ensure you don't inhale all that smelly eggy goodness. This is great because you can pose for a photo without ruining the backdrop with your face, result!
Oh, and don't worry about the fumes. Visiting Indonesia is always safe, as is Ijen Crater.
Top Tips for Visiting Mount Ijen:
Get there as early as possible to beat the crowds
Bring a wide-angle camera lens
Get a good night's sleep beforehand!
Despite the view itself being so mindblowing, the locals managed to steal the show. Some of the bravest and most hardcore blokes I've ever seen call this crater the workplace. They go into the toxic gas, mine sulfur and then carry it back up and down the volcano, EVERY DAY.
I tried to dead-lift what they carried on their shoulders and failed, miserably. These guys are machines and deserve the utmost respect. Really puts our privileged backpacker lives into perspective.
If you're interested in a trip to Ijen and Bromo, I used this sunrise tour and found it to be perfect. It wasn't a luxurious experience, but it was a crazy good time, awesome sunrises and the guides really went above and beyond to make sure we had a memorable time.
4. Mount Agung, Bali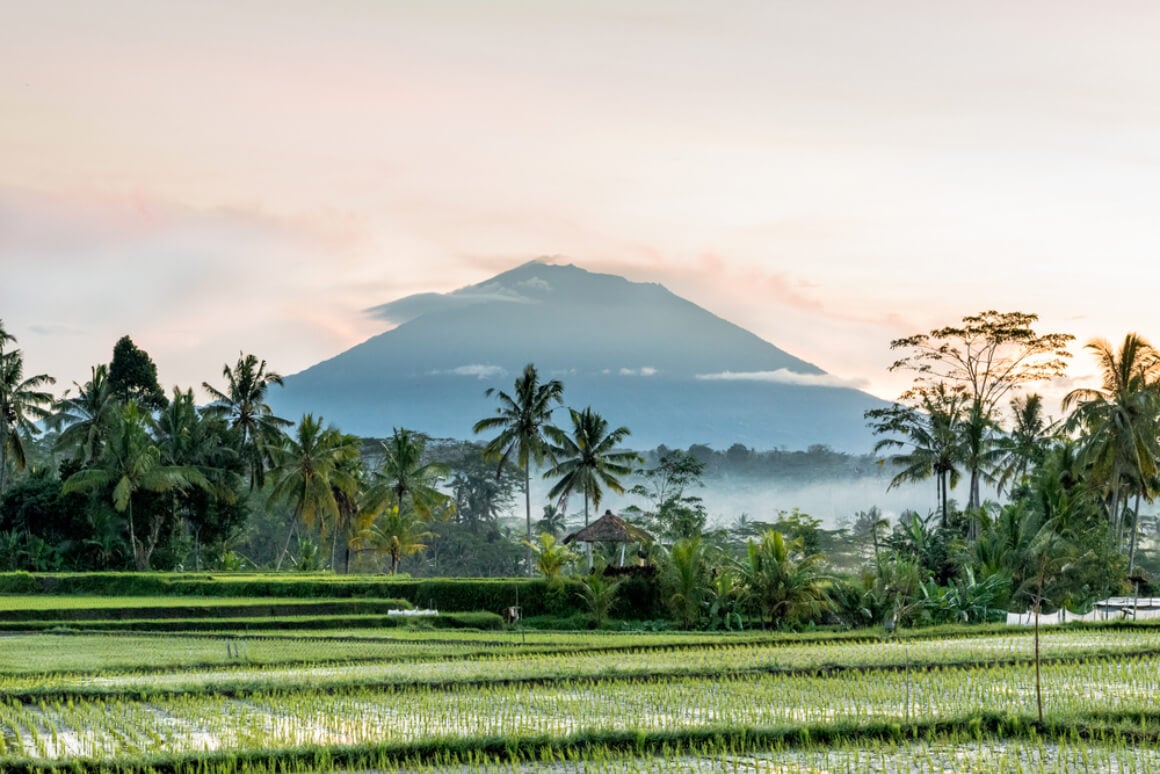 At over 3000m above sea level, Mount Agung is the highest point on the popular vacation island of Bali. It is known as the most sacred mountain on the entire island and is one of the best things to do in Bali.
To scale Mount Agung takes a fit individual between 5 and 7 hours from Besakih. It's a challenging hike, but very doable, especially with an experienced guide. I wouldn't recommend hiking Agung without a guide.
There are two popular routes to hike Gunung Agung. The most popular is from Besakih Temple, south of the volcano, this is the route that takes between 5-7 hours and is fairly challenging. there is an alternative way that takes 3-5 hours from the Pasar Agung Temple.
Top Tips for Visiting Mount Agung:
Pack modest clothing for a temple visit
Plan your route with your guide
As with many treks, I actually found the descent of this hike more challenging than the ascent. While the climb is difficult, leaning forward put a strain on your muscles, but the descent is very tough on the joints. My ankles and knees were weak, to say the least.
I would strongly recommend you ensure that the footwear and gear you take on a big hike such as this one are up to scratch. Check out the gear section below for some ideas on what you could bring.
Ladies & Gents, It's Time to Step Your GEAR Game Up. 😉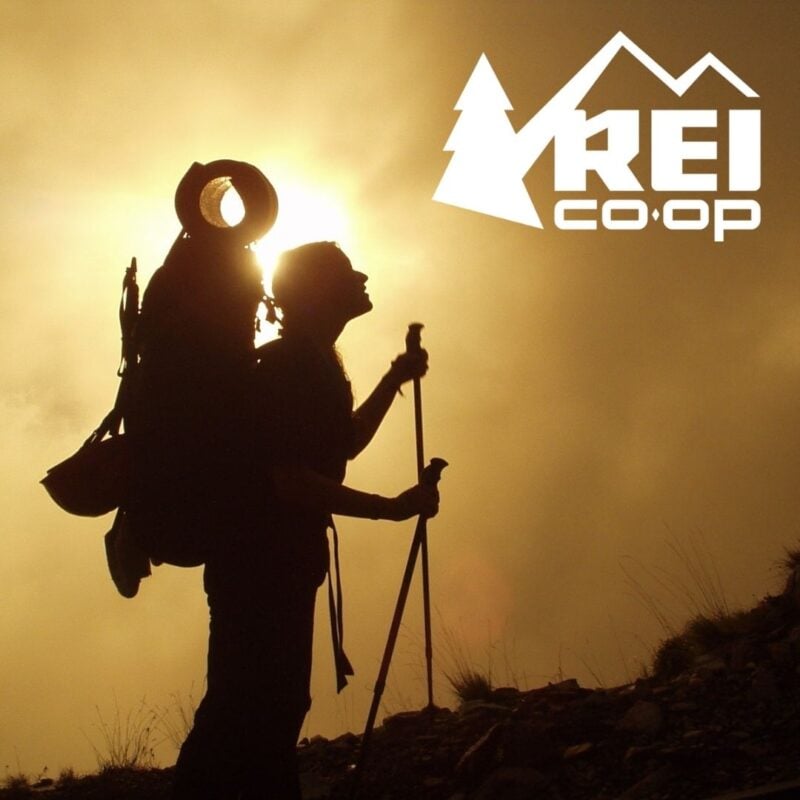 REI is one of America's biggest and most-loved outdoor gear retailers.
Now, for just $30, get a lifetime membership that entitles you to 10% OFF on most items, access to their trade-in scheme and discount rentals.
Join REI Today!
5. Mount Batur, Bali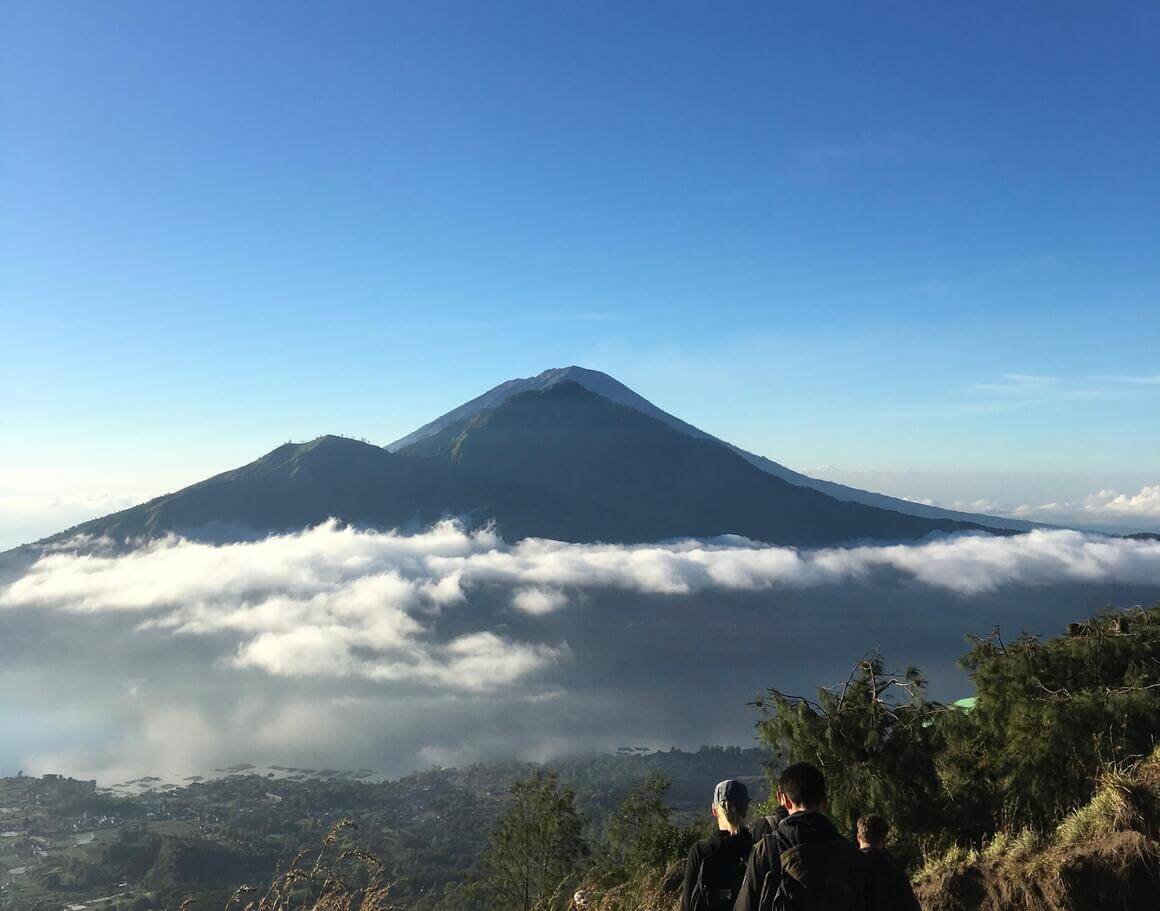 At 1,717m, this is one of the most accessible volcanoes in Indonesia. Mount Batur is a hike for everyone to enjoy.
It's a super popular tourist destination, so don't expect the views for yourself. Nevertheless, if you're in Bali, you'd be silly to miss this day hike.
Another popular sunrise spot, Mount Batur attracts hundreds of tourists a day. It shouldn't be very difficult to find a guide to accompany you on your Mount Batur Volcano trek if you're already in Bal.
Top Tips for Visiting Mount Batur:
Go as early as possible to beat the crowds.
Pack light – it's a quick hike
Admittedly, hiking Mount Batur is less likely to make your brain erupt with dopamine compared to some of the other volcanoes in Indonesia. However, not everything has to be extreme to be beautiful. This is still a stunning sunrise and 100% a must-see volcano for those in Bali.
It's a relatively short hike to the summit across varied terrain and shouldn't take you more than 2 hours to complete. On the ascent, you can find some volcanic vents that are very hot and smoky, and make for cool photos.
Mount Batur is still active, but also very safe to climb. If it's not already, this trek belongs on everyone's Bali itinerary. Despite this hike being relatively simple to complete, taking the right gear is always the best way to go.
Be Prepared – Bring the Right Gear!
In this section, I am showcasing examples of some hiking gear that I take with me when exploring volcanoes in Indonesia. Good gear is paramount to any trek, hike, or adventure. I have selected some of my personal favourites to recommend to you guys.
Whilst some items on this list aren't cheap, good quality stuff never is. This gear is reliable, tried and tested and The Broke Backpacker approved.
Trusty day bag – I have the Osprey Daylite Backpack – A good and reliable day bag is arguably the most important piece of gear to bring volcano visiting. A strong and comfortable bag to carry your supplies is essential.
Good pair of hiking boots – I use Lowa Renegade GTX Hiking Boots – Not lava-proof, unfortunately. But waterproof with excellent comfort, ankle support and durability. Ankle support and waterproofing are a great idea as most of these hikes involve some questionable terrain.
Quality Headlamp – For any sunrise, sunset, or overnight hikes such as Mount Rinjani, this is non-negotiable. I've got the Fenix HM60P Headlamp which is BRIGHT.
Filter water bottle – Bottled water doesn't only create litter, it's extremely heavy and inconvenient to hike with. Filtered and purified water on the go is not – so I carry a GRAYL Geopress.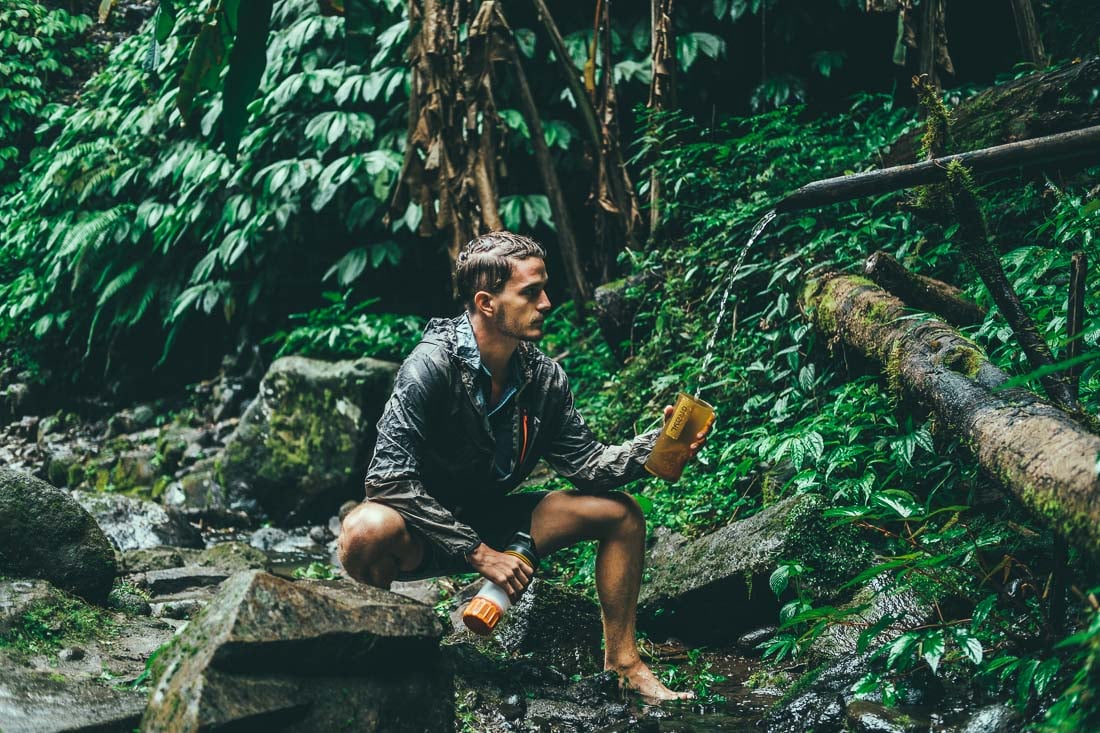 Hiking Volcanoes can be Dangerous – Stay Protected Folks
The chances of a volcano erupting on you are low, but injuring yourself or getting altitude sickness isn't unheard of. I would recommend ALWAYS getting good quality insurance when travelling, especially adventure style.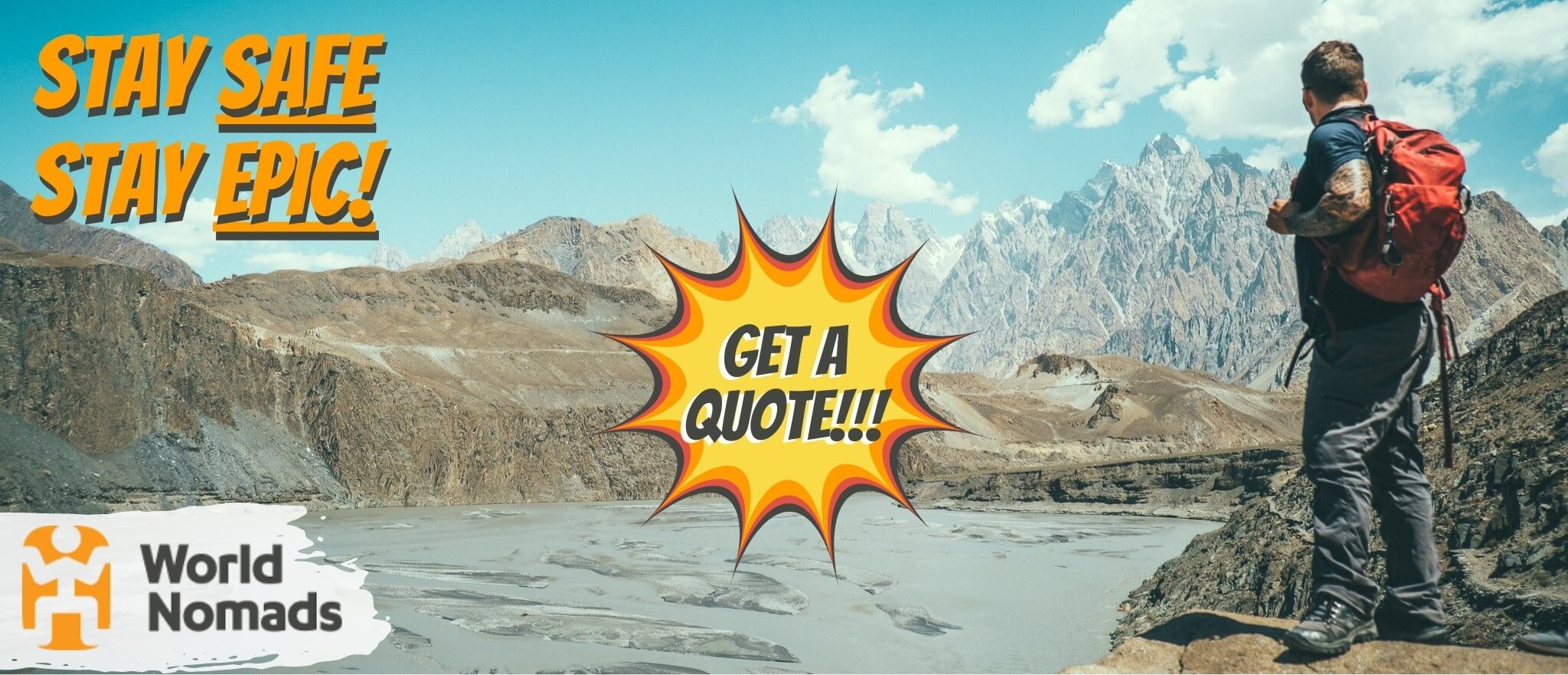 World Nomads' mission is to support and encourage travellers to explore their boundaries. They offer simple & flexible travel insurance, and safety advice to help you travel confidently.
They've been doing it since 2002 – protecting, connecting, and inspiring independent travellers just like you.
Get a quote below or read our in-depth review!
World Nomads provides travel insurance for travelers in over 100 countries. As an affiliate, we receive a fee when you get a quote from World Nomads using this link. We do not represent World Nomads. This is information only and not a recommendation to buy travel insurance.
FAQs About Visiting Volcanoes in Indonesia
Final Thoughts on Indonesia's 5 Best Volcanoes
Indonesia has a myriad of volcanoes, so many that it was impossible to pick a handful of them to write about. I hope this list inspires you to get out there and visit some of these beautiful places. Let me know what you think about my list in the comments section below.
Mount Bromo is undoubtedly the volcano I would recommend EVERYONE to visit. It's super accessible, it's super sexy and overall is just a no-brainer. If you're going to Bromo, you may as well book a tour to see Ijen while you're at it as they are so close to each other.
To sum up, if you're more of a hiker, Mount Rinjani is an epic excursion that I would also recommend to anyone of a decent fitness level. And if you're in Bali, check out Mount Batur or Mount Agung.
However, if you're heading west, there are other crazy volcanoes to discover in Central America. So find your destination and enjoy every moment.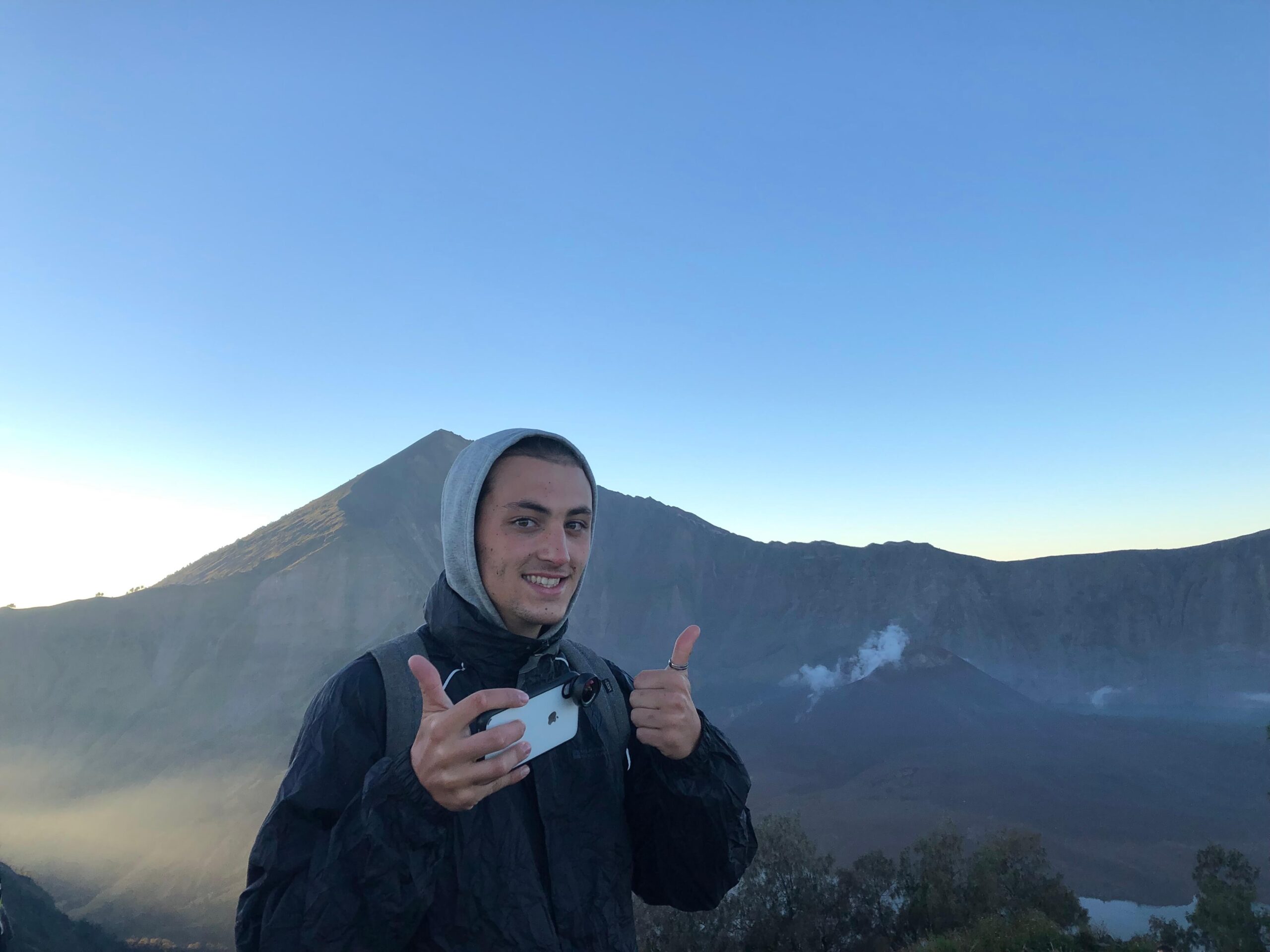 ---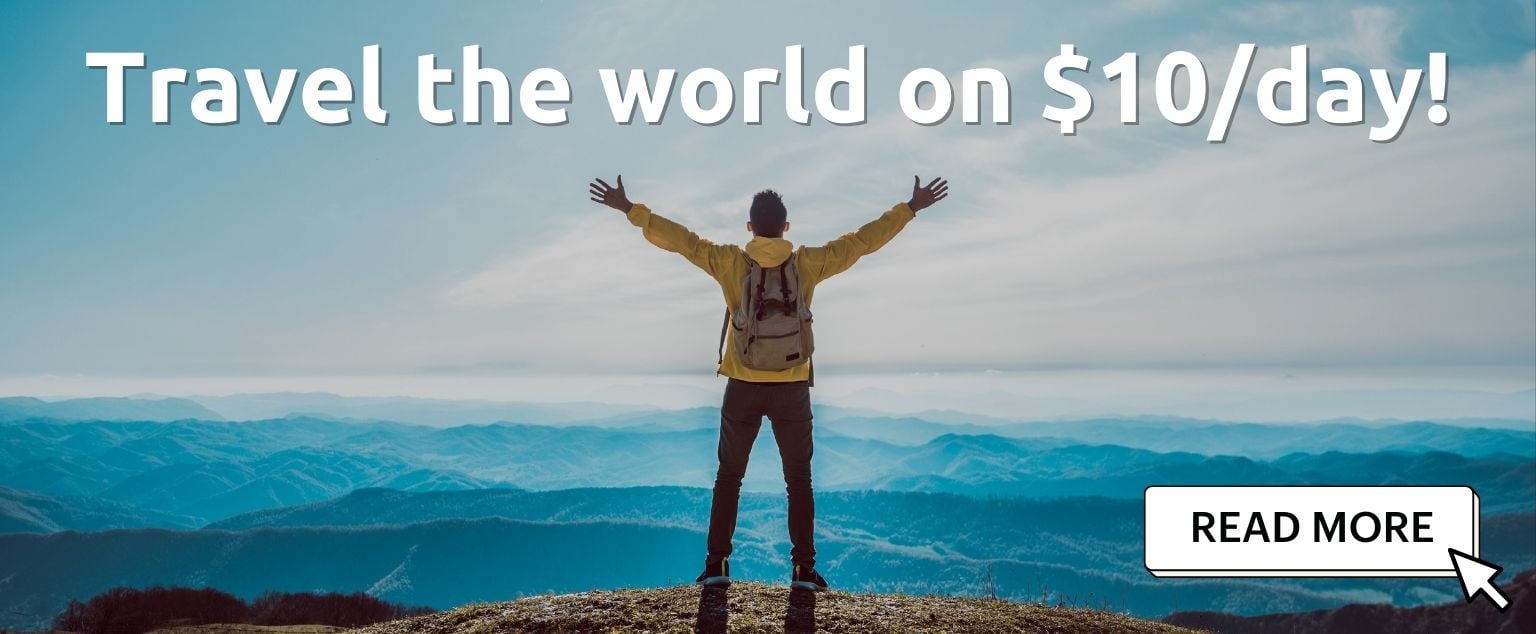 And for transparency's sake, please know that some of the links in our content are affiliate links. That means that if you book your accommodation, buy your gear, or sort your insurance through our link, we earn a small commission (at no extra cost to you). That said, we only link to the gear we trust and never recommend services we don't believe are up to scratch. Again, thank you!