Nothing screams adventure like climbing an active volcano. Adrenaline, power, and danger – all parts of a recipe that will make scaling volcanoes a highlight of your life! I can tell you from personal experience, hiking a volcano is life-changing…
Volcano climbing is insanely humbling and empowering. I don't think there's any feeling in the world greater than the one you get after conquering one of Mother Earth's active, giant, fire-fuelled pimples.
Summits and craters are always astonishing sights. But, as with life, much of the joy can be found in the journey, not just the destination (cliché but true).
That's why hiking volcanoes in Central America is so rewarding. The views at the top are earned, making them even sweeter.
Central America is home to some of the most beautiful volcanoes in the world. There's some serious nature porn on offer here, guys. Or as we volcano nerds would say, it's a very hot spot. 😉
Just like people, volcanoes are not created equally. Here's your list of the 10 top volcanoes to hike in Central America. We'll talk both active and dormant volcanoes of various hiking times and difficulties to ensure there's something for everyone.
Right guys, enough talk. Let's jump in (not literally, please) and allow me to show you some of the best volcanoes in Central America to hike, that you HAVE to see for yourself…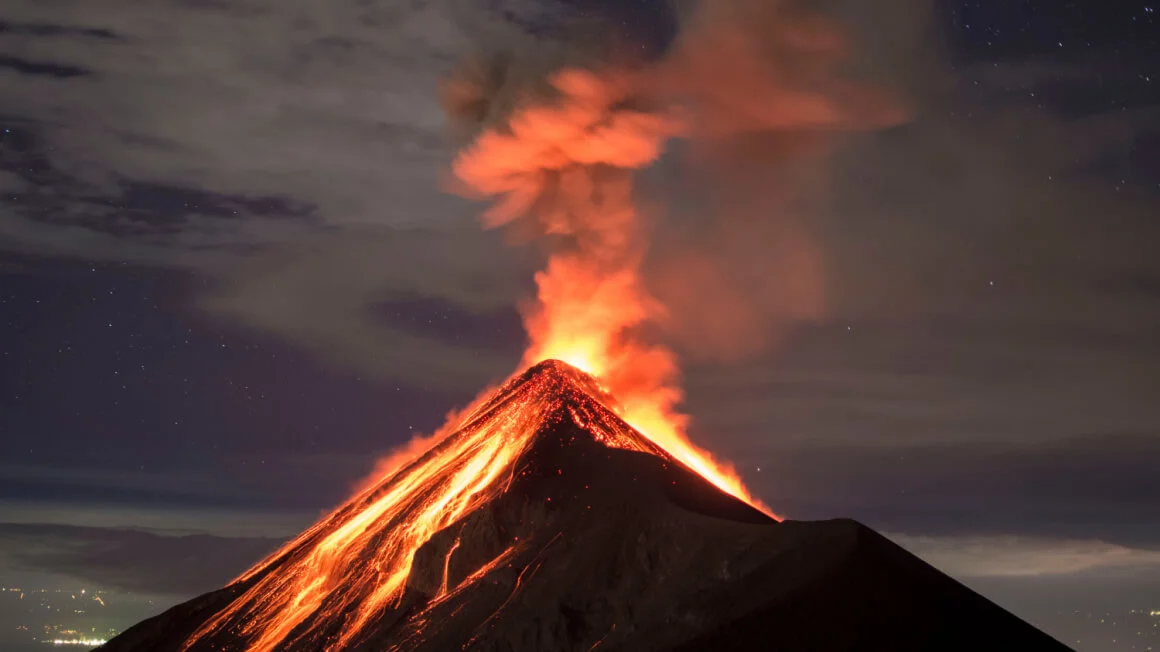 5 BEST Volcanoes to Hike in Central America
Welcome to the best list on the internet about volcano hiking in Central America, beginning with my top 5. This list packs some serious heat. If I were you, I'd get my notepad out…
1. Acatenango & Fuego, Guatemala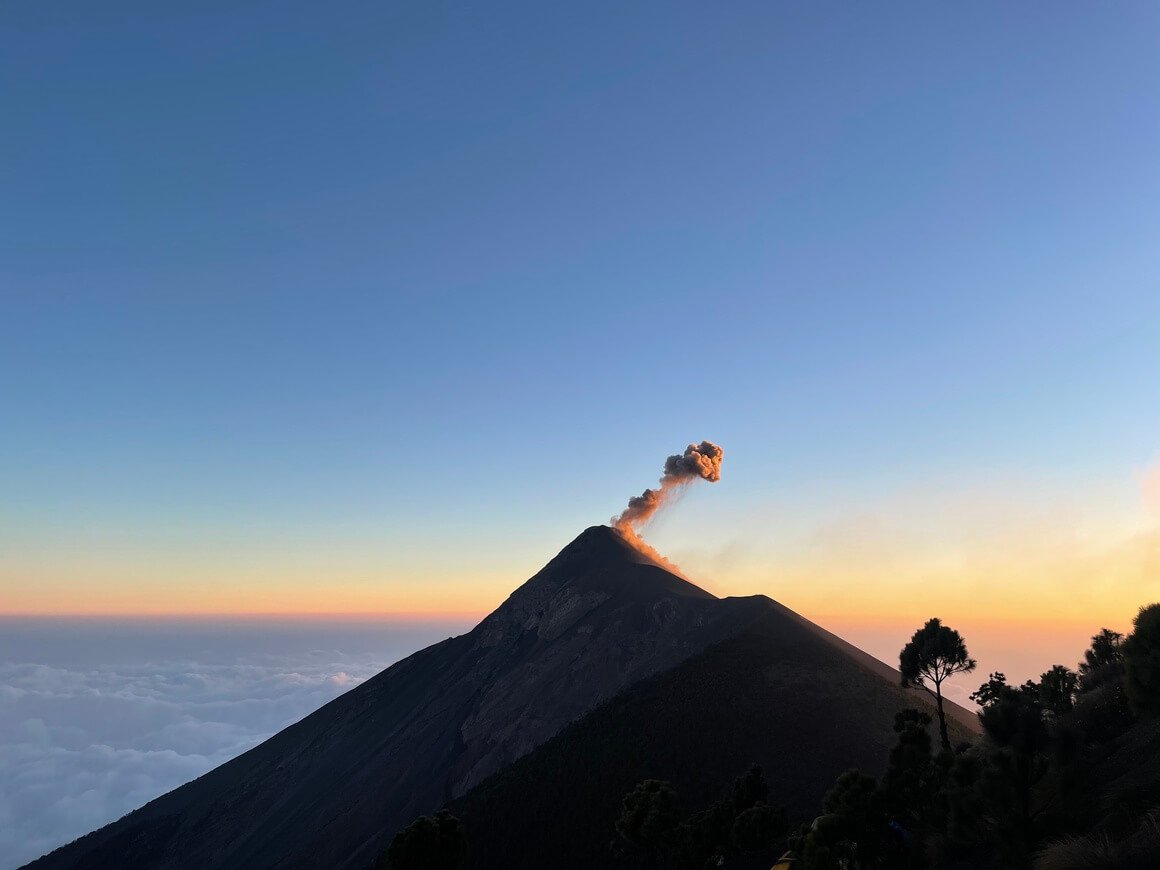 Difficulty: Hard
Hike Time: 2 days
Price: $45-80
Best Bit: Eruptions every 15 minutes
Starting off with a bang here. Climbing Acatenango and Fuego was the best day of my life! I'm not exaggerating – this volcano hike attracts people from all over the world every day – not just those backpacking in Guatemala.
Acatenango and Fuego are two separate volcanoes close to the city of Antigua in Guatemala. Acatenango is an inactive volcano which makes it ideal for climbing, but Fuego is one of the most active volcanoes in Central America.
Fuego erupts roughly every 15 minutes, creating some seriously stunning views from the Acatenango basecamp – especially at night. I have never seen a more impressive sight than a volcano spewing lava right in front of my eyes.
Climbing Acetanango is not easy. It's the third tallest volcano in Central America. This is an overnight/two-day hike. I would recommend using a reputable company to hike with like OX expeditions and NOT attempting this hike unguided.
Top Tips for Hiking Acatenango:
Use the sticks locals rent at the start of the hike
Pack plenty of water (minimum 2 litres) and warm clothing. It gets FREEZING at nighttime
Book in advance – tours sell out quickly!
The 18km round trip hike tests even the fittest individuals. It's not for beginner hikers. The altitude is nearly 4000m here – extreme stuff.
For the hardcore lot, there is an unofficial hike back down part of Acatenango and up the neighbouring Fuego (and back) before nightfall. It's unofficial because it's not 100% safe.
Nevertheless folks, life is for living, and I would recommend this to anyone of a good fitness level. Just ask your guide and they should be happy to take you for an extra $25.
Hiking up Fuego and seeing (and hearing) volcanic eruptions up close is simply indescribable. A true once-in-a-lifetime experience.
The entire hike involves breathtaking, panoramic volcanic views, smells and sounds. If I haven't sold it to you, there must be something wrong with you (no offence).

Unlock Our GREATEST Travel Secrets!
Sign up for our newsletter and get the best travel tips delivered right to your inbox.
2. Santa Ana Volcano, El Salvador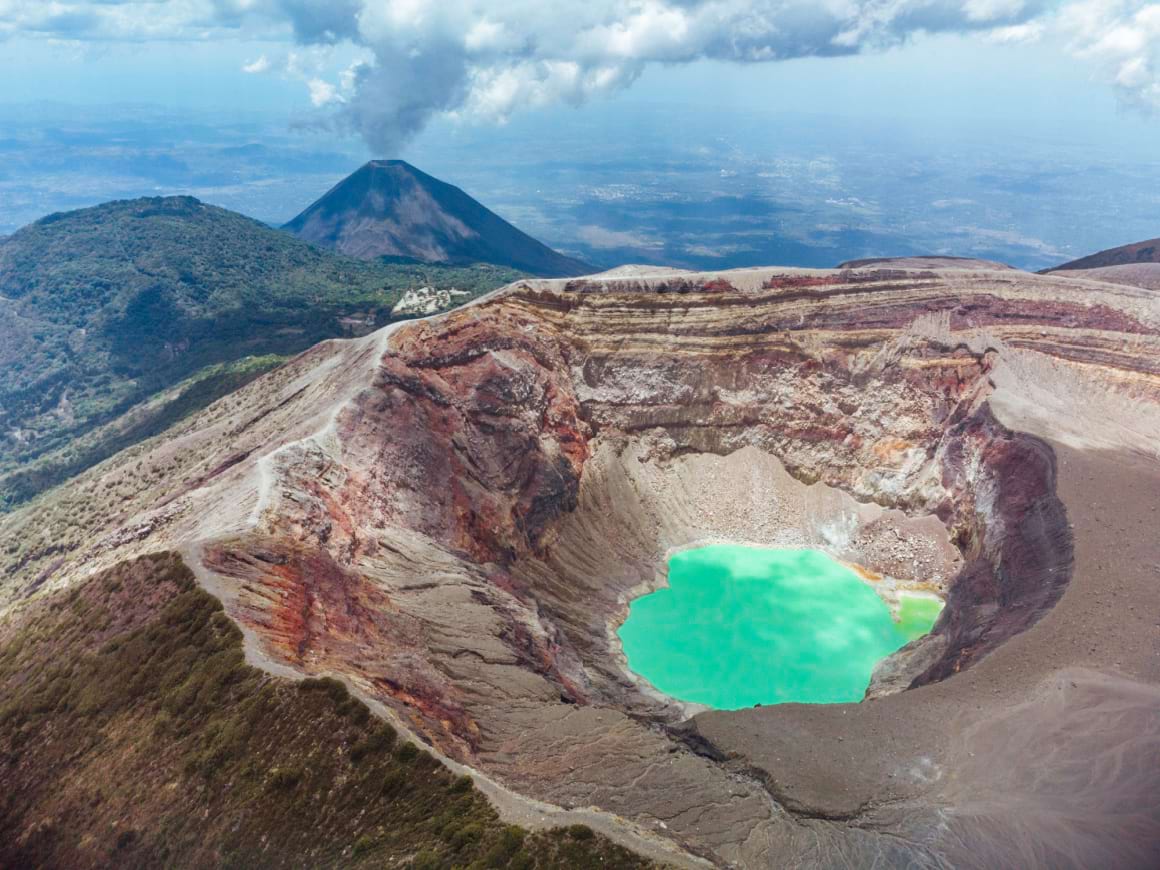 Difficulty: Intermediate
Hike Time: 3 hours
Price: $12
Best Bit: Stunning Crater Lake
Santa Ana Volcano, also known as Ilamatepec, is a 2,381m tall volcano in El Salvador. This country is often overlooked by backpackers in Central America, but not volcano nuts like me! In fact, El Salvador is unofficially known as the land of the volcanoes.
Santa Ana Volcano is (in my opinion) the creme de la creme of El Salvador (and its volcanoes). The hike is moderately challenging but the stunning light blue/green colour of the crater lake is some serious eye candy and a photographer's dream.
Santa Ana is actually an active volcano which last erupted in 2005. For this reason, as with many of the volcanoes on this list, it's not 100% safe.
So, make sure to check with guides that it's a safe time to climb. Scientists are constantly doing seismic monitoring though, so realistically there's not much to worry about.
Top Tips for Hiking Santa Ana:
Entrance to the national park costs $3 and the hike itself is $6. They are usually done in groups but it is possible to hike Santa Ana solo, although not recommended (the locals won't take well to it).
Join the early group to avoid crowds and get the best photos! Guides are often free or no more than $3, but make sure to tip them for their hard work, please.
Because of the Sulphur, it stinks of eggs up here, bizarre I know. Nevertheless, if you're in El Salvador, you'd be silly to skip this delicious day hike.
3. Poás, Costa Rica
Difficulty: Easy
Hike Time: 1-2 hours
Price: $15
Best Bit: The HUGE crater
Poás is a must-visit location for anyone travelling in Costa Rica. It's conveniently located just an hour or two away from San Jose, making for a great day trip from the Costa Rican capital.
Poás Volcano has one of the biggest craters in the world. It has a marvellous crater lake to feast your eyes upon. Make sure to pack your wide camera lens for this one!
Luckily, this hike is super easy and accessible for almost everyone with a basic fitness level. It takes no more than 2 hours and is a wonderful activity for anyone looking to hike their first volcano.
Top Tips for Hiking Poás:
Go at 8 am to avoid crowds
Pray to Vulcan and Zeus for good conditions
Tickets are to be bought online at the SINAC Website. They won't let you purchase them in person, so be aware of this.
There is an abundance of extra activities in and around the Poás Volcano National Park, including some epic waterfalls, coffee plantations, and exotic wildlife to be spotted (if you're lucky). The La Paz waterfall actually features the world's largest butterfly garden which is an enchanting experience itself.
This hike is best organised alone to save money. But, if you are low on time in Costa Rica, or money isn't tight, you can find a tour which includes all of the above activities and the Volcano hike itself for around $150.
4. Cerro Negro, Nicaragua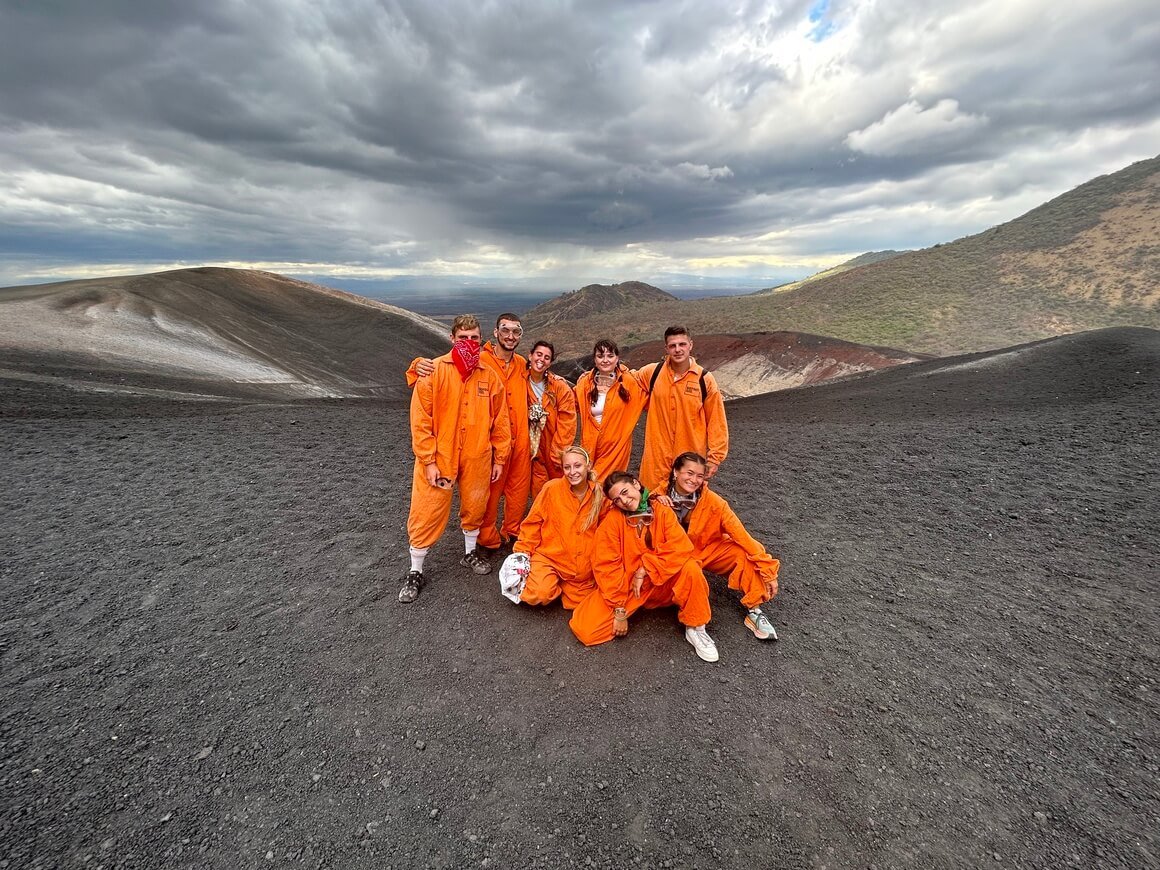 Difficulty: Easy
Hike Time: Around 1 hour
Price: $33
Best Bit: Volcano Boarding!
Cerro Negro in Nicaragua is definitely not one of the highest volcanoes in Central America. But, it may be the most fun and unique!
This volcano is a bit different to the others on the list – but that's why it's so great! This activity isn't about the hike, it's all about the descent. Cerro Negro is the home of volcano boarding tours.
Yes, you read that right. Forget snowboarding or surfing, volcano boarding is where it's at.
Top Tips for Hiking Cerro Negro :
Make friends at your hostel before the trip
Prepare for a hangover the next day
Bring a balaclava for the dust!
I booked a tour with Bigfoot Hostel, the most popular hostel in Leon. It's a party hostel – be warned.
Their volcano boarding trip cost me $30 and was wild, to say the least. The tour starts at 9 am and officially finishes at 2 pm – that's when the party begins.
The hike was light and easy. The tour included many freebies such as alcohol and a stylish t-shirt. There are many other companies you can use, but I can recommend Big Foot as it was great fun.
The ride down is thrilling and dusty. They use a speed gun to record your speed on the way down, I scored a respectable 58km (it's a serious competition)! Overall, it was a super unique day – one to remember for sure.
5. Concepción or Maderas, Isla Ometepe, Nicaragua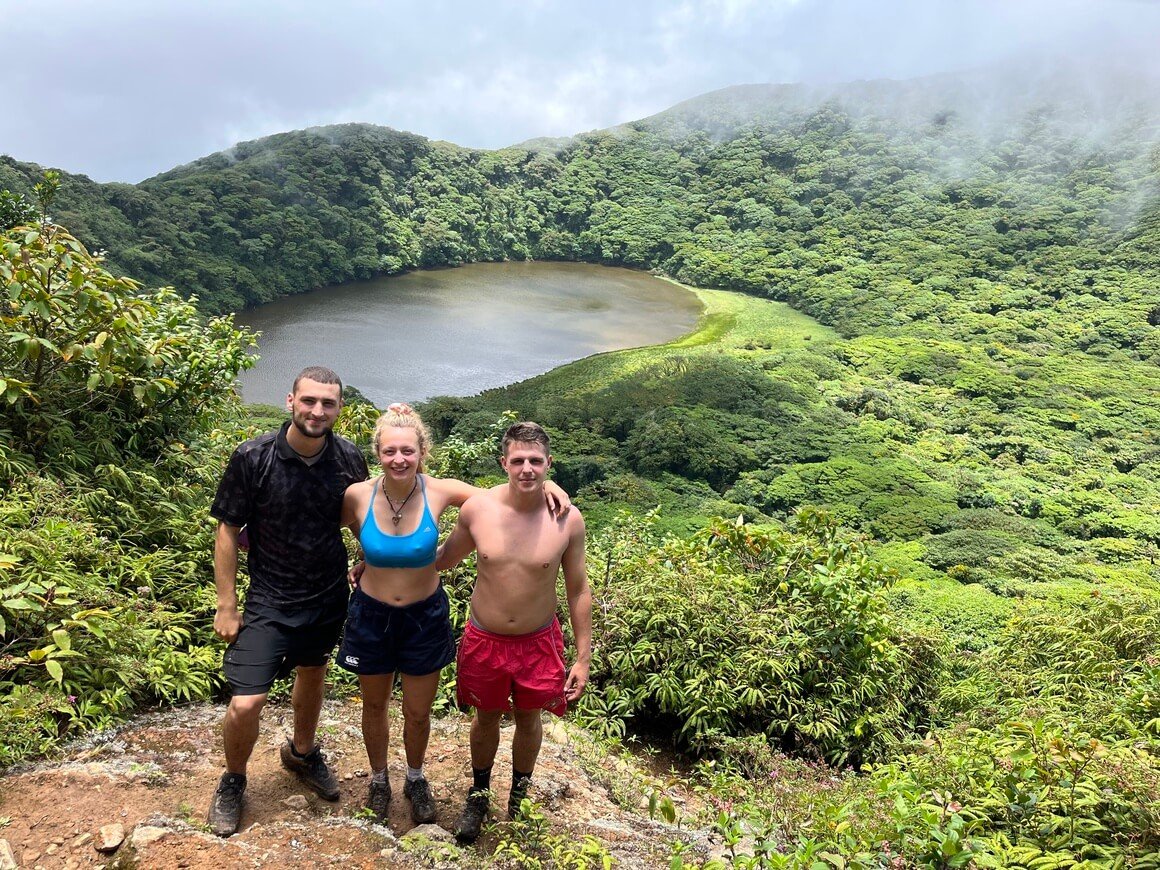 Difficulty: Hard or Intermediate
Hike Time: 10 or 8 hours
Price: $15-20
Best Bit: 360° island views
Ometepe is an island in Lake Nicaragua formed by two volcanoes – Concepción and Maderas. It's a stunning location that anyone heading through Nicaragua surely shouldn't miss.
I would absolutely recommend choosing one of these iconic volcanoes of Central America for a day hike. Concepción, on the northern side of the island, is the bigger of the two volcanoes at 1,610m while Maderas sits at 1,394m.
Concepcion is active and Maderas is inactive. For this reason, I opted to hike Maderas due to an earthquake on Ometepe the day before my hike (I'm hardcore, but not an idiot). The hike was kinda tough, and Concepción is known to be even more challenging.
Top Tips for Hiking Concepción or Maderas:
Hire a local guide (and tip them if they deserve it!)
Bring binoculars to look out for wildlife.
Stock up on snacks and water.
Both Maderas and Concepción are day hikes. So, despite the terrain being standard, there is an element of difficulty here as you need to get up and down before it gets dark. Concepción is rocky, whilst Maderas is very muddy, so you'll need very solid hiking boots for both.
My tour guide for Maderas cost $15 per person and was so friendly and knowledgeable. He pointed out so much wildlife for me to see including monkeys, cicadas, and so many cool birds.
The rewards from the summits are equally as impressive. Concepcion provides 360° views of Isla Ometepe and Maderas has a beautiful lake crater which is visible when the clouds clear. However, the journey through the dense green Nicaraguan tropical rainforest was what made Maderas so enjoyable.
Ladies & Gents, It's Time to Step Your GEAR Game Up. 😉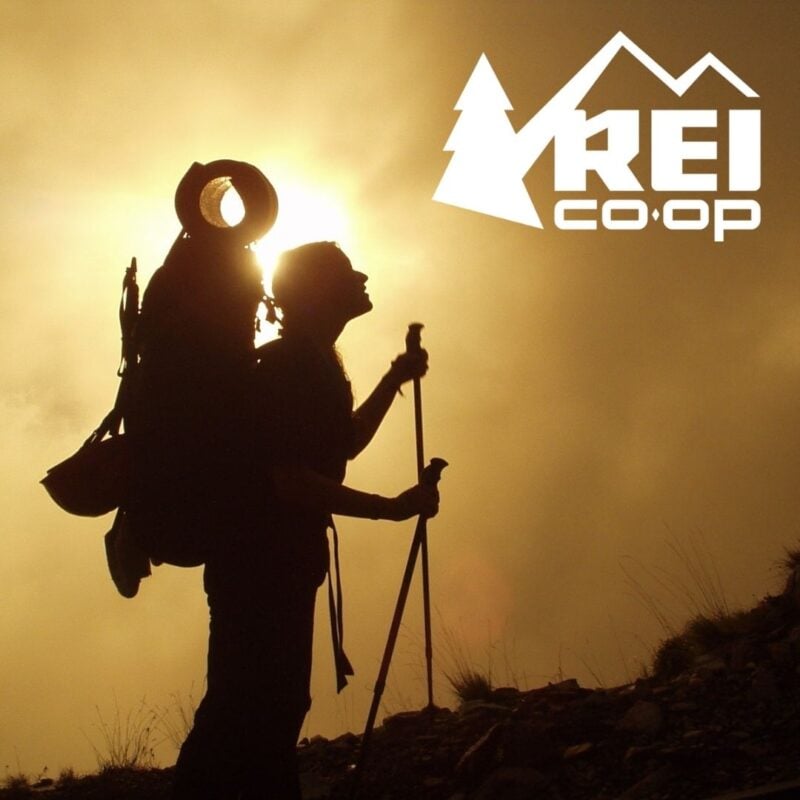 REI is one of America's biggest and most-loved outdoor gear retailers.
Now, for just $30, get a lifetime membership that entitles you to 10% OFF on most items, access to their trade-in scheme and discount rentals.
Join REI Today!
Another 5 EPIC Volcano Hikes in Central America
If you've not found your cup of tea yet, here are five more of the best volcanoes in Central America.
6. Pacaya, Guatemala
Difficulty: Easy
Hike Time: 3 hours
Price: $25
Best Bit: Pizza at the top!
Pacaya is very active so caution is required, but it's extremely accessible and is hiked daily. Staying safe on your Central America trip here means hiring a guide. This is non-negotiable for this hike.
Hiking Pacaya is an activity everyone can enjoy. This is a super beginner-friendly hike with a tasty reward waiting for you at the top… Pizza and Marshmallows!
There is a local serving thermally cooked pizza in one of the volcanic vents – a truly unique meal! If you're not into Pacaya Pizza, you can roast some marshmallows provided by your guide in the same spot.
7. Barù, Panama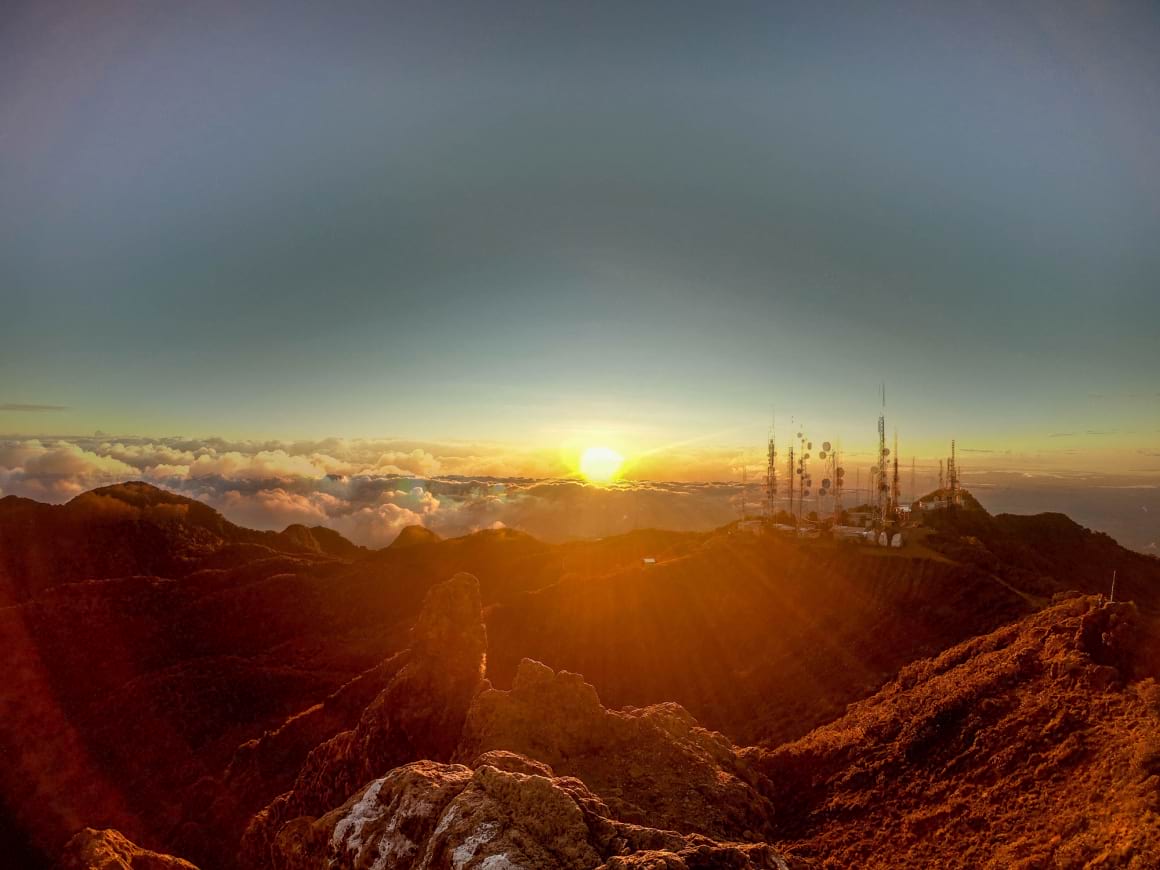 Difficulty: Hard
Hike Time: 7-9 hours
Price: $5 solo, $40 for a guide
Best Bit: See two oceans at once! (Maybe)
Barú is in the top 10 tallest volcanos in Central America, located near Boquete in Panama. It's nearly 2500m tall and is the highest point in Panama.
The Volcán Barú National Park is famous for its rich and biodiverse birdlife. But what makes this hike so amazingly unique is that, on super clear days, you can actually see the Caribbean AND Pacific Ocean at the same time. It's the only place in the world where this is possible according to Tourism Panama.
Volcán Barú has seven craters, yes seven. It also has numerous hiking trails, with varying difficulty levels. So, most people with decent fitness can enjoy this hike with sufficient planning.
8. Masaya, Nicaragua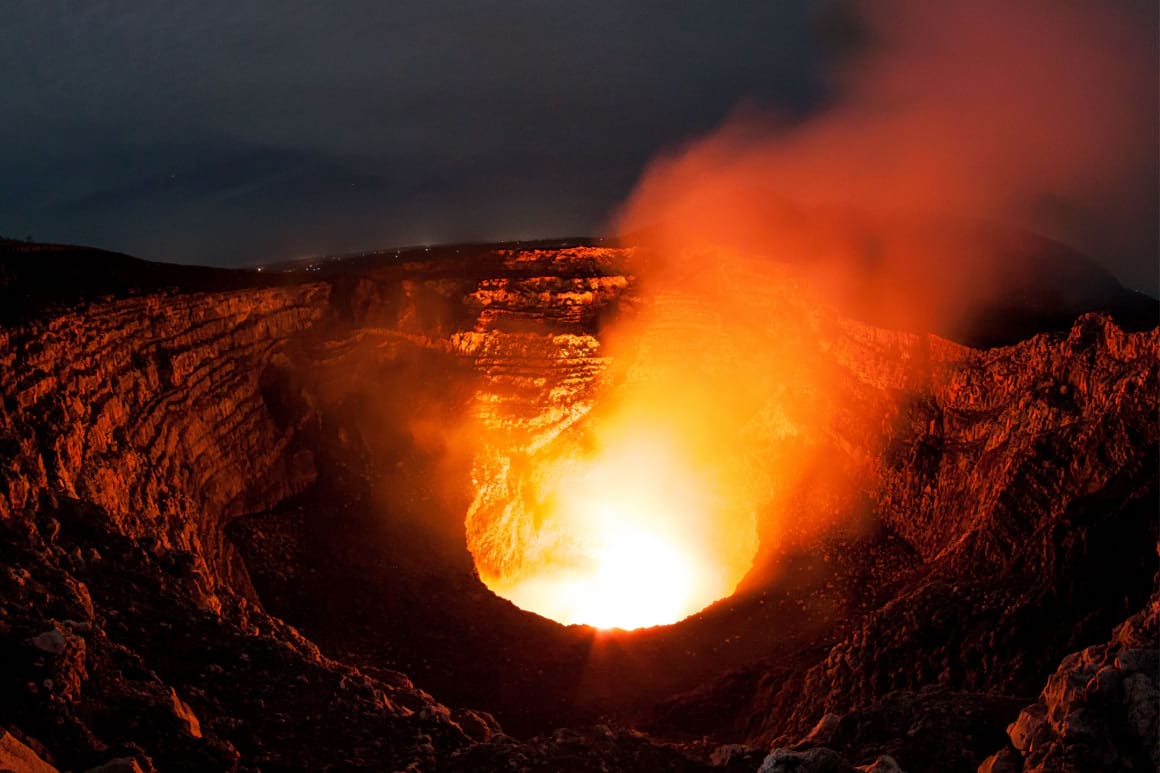 Difficulty: Easy
Hike Time: 1-2 hours
Price: $10
Best Bit: Lava Views!
Masaya is one of the world's most active volcanoes! The visible, constant bubbling lava pit is simply hypnotising. Nicaragua's 16th Century Spanish invaders actually called Masaya 'The Mouth of Hell' and I can see why.
Because the lava steals the show here at Masaya, it's best visited in the darkness to be fully appreciated. Night tours are a good option.
To hike independently, the entrance fee is $10. I did a tour from my hostel in Granada as I had made a nice group of friends there the day before. This cost me about $35 and was decent.
9. San Pedro Volcano, Guatemala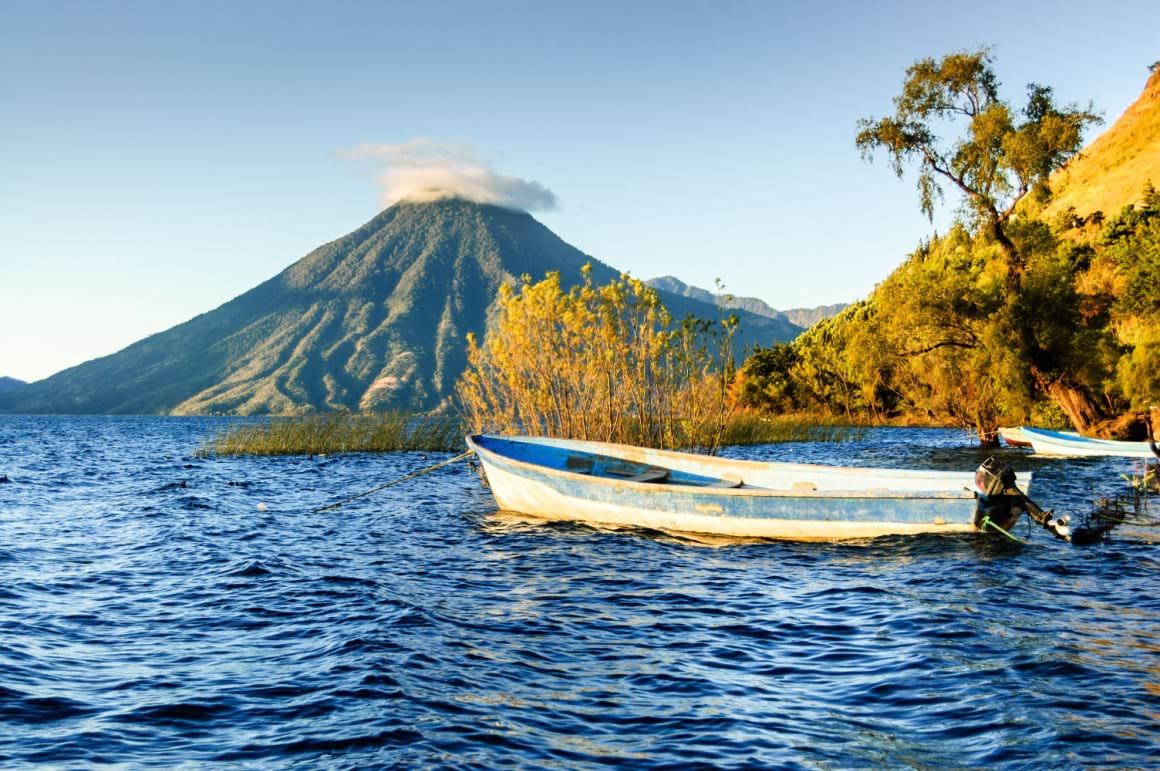 Difficulty: Intermediate
Hike Time: 3 hours
Price: $13
Best Bit: Views of Lake Atitlan
Hiking San Pedro is one of the coolest things to do in Lake Atitlan, one of Guatemala's hit backpacker destinations. I would recommend doing this hike in November-March to get the best views and avoid pesky clouds.
San Pedro Volcano is just over 3000m tall and is a very well-marked trail. You can hire a guide if you would like but it's not 100% necessary. This hike only takes under 2 hours to summit – so if you're hardcore get there for sunrise for the best views of Lake Atitlan.
10. Cerro Chato, Costa Rica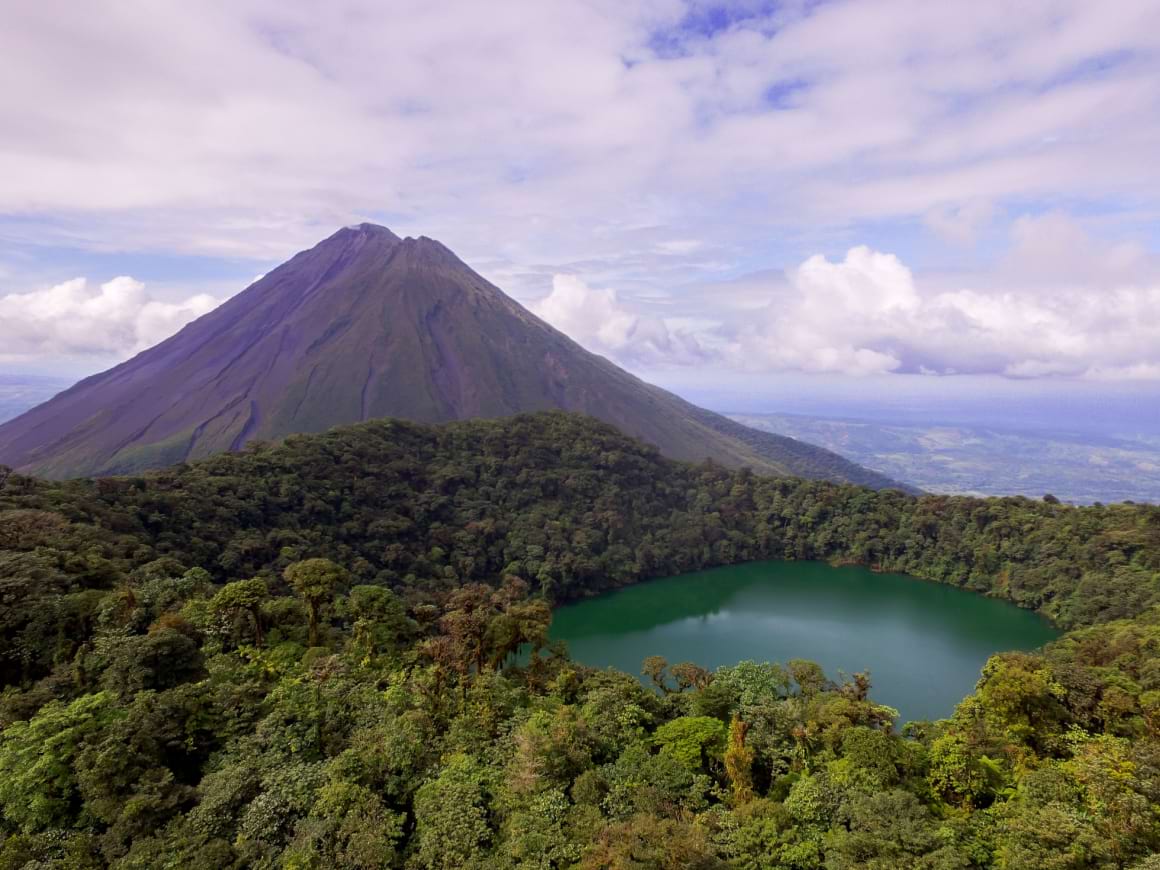 Difficulty: Easy-Intermediate
Hike Time: 3-5 hours
Price: $10
Best Bit: Crater Lake Swimming
Cerro Chato is Arenal Volcano's lesser-known neighbour situated close to La Fortuna – one of the coolest places to stay in Costa Rica. The reason Cerro Chato is on this list and not Arenal (one of the most famous volcanoes in Latin America) is that hiking Arenal isn't permitted.
Cerro Chato is a great alternative and provides some stunning views of Arenal. Chato is dormant, and therefore very safe to hike.
There is a sweet reward waiting for hikers at the top too. Why not take a dip in the crater lake to cool down after a nice leg workout up the steep trail?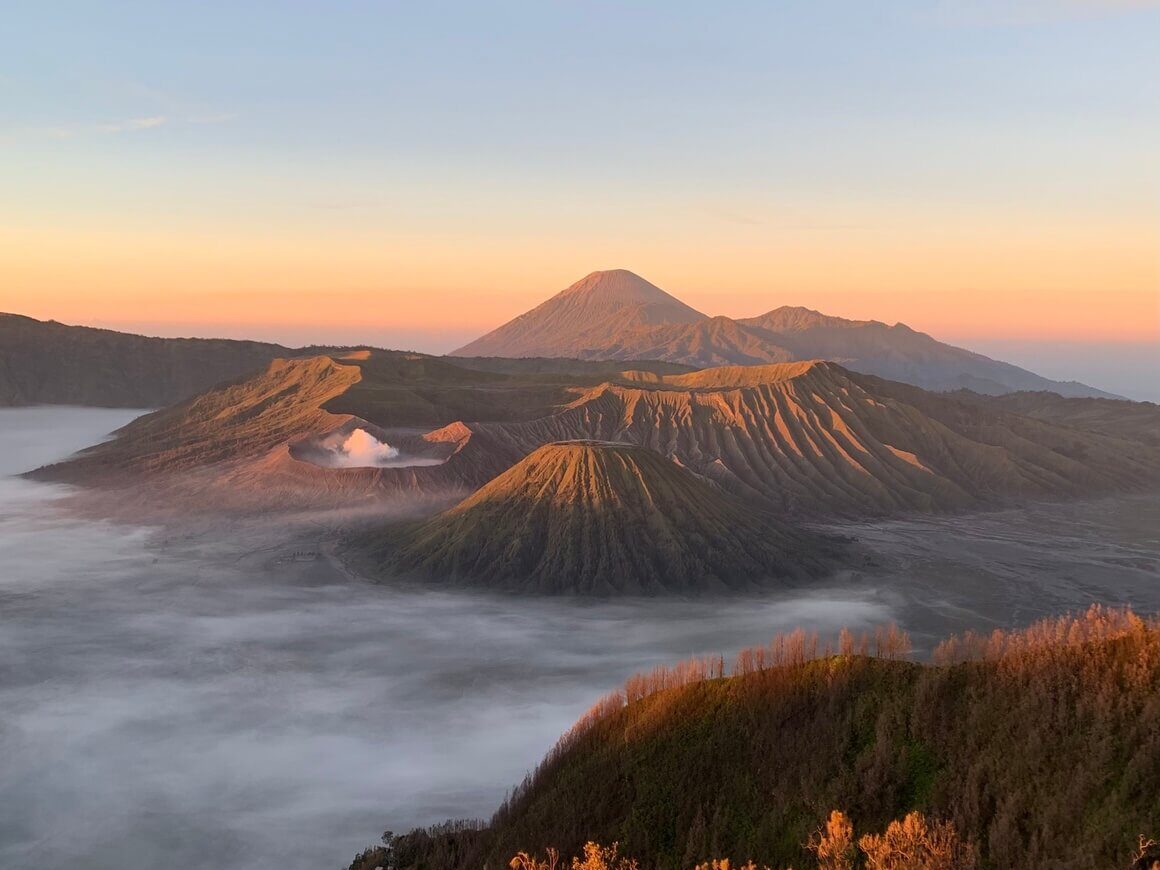 Be Prepared – Bring the Right Gear!
Hiking volcanoes underprepared is a nightmare – trust me; I've been there. There are some simply essential items to bring with you. Here I'm showcasing some gear to take hiking with you.
Whilst some items are pricey – smart investments last. I own a couple of these items myself and they've lasted me years and many hikes. They're reliable, tried and tested and The Broke Backpacker approved.
Trusty day bag – I have the Osprey Daylite Backpack – A day bag is about the most important piece of gear you'll need. A strong and comfortable bag to carry your supplies is paramount.
Good pair of hiking boots – I use Lowa Renegade GTX Hiking Boots – Not Lava proof, unfortunately. But waterproof with excellent comfort, ankle support and durability. Ankle support and waterproofing are a great idea as most of these hikes involve some questionable terrain.
Quality Headlamp – I think it goes without saying that for those sunrise, sunset, or overnight hikes, this is a non-negotiable. A proper headtorch that's super bright. I've got the Fenix HM60P Headlamp. This headlamp is so good, my Fuego guide insisted he borrow it to lead the way.
Filter water bottle – Carrying litres of bottled water is heavy and wasteful. Filtered and purified water on the go is not – so I carry a GRAYL Geopress. Central American tap water is now drinkable!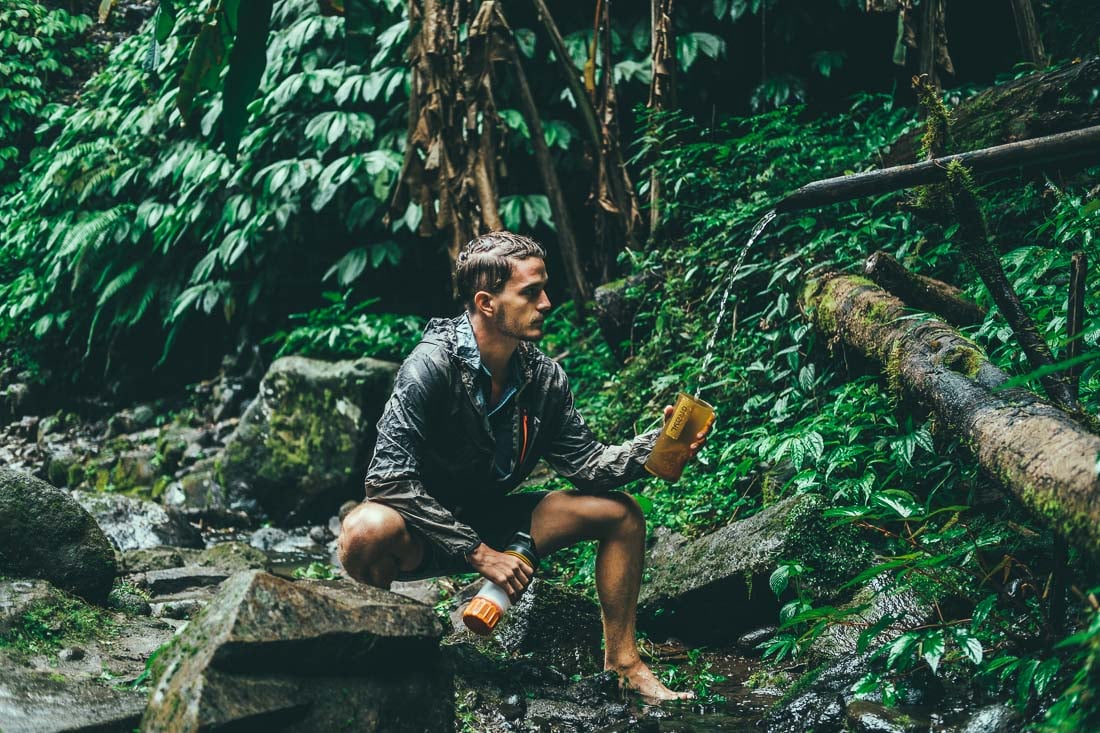 Hiking Volcanoes can be Dangerous – Stay Protected Folks
The chances of a volcano erupting on you are low, but injuring yourself or getting altitude sickness isn't unheard of. I would recommend ALWAYS getting good quality insurance when travelling, especially adventure style.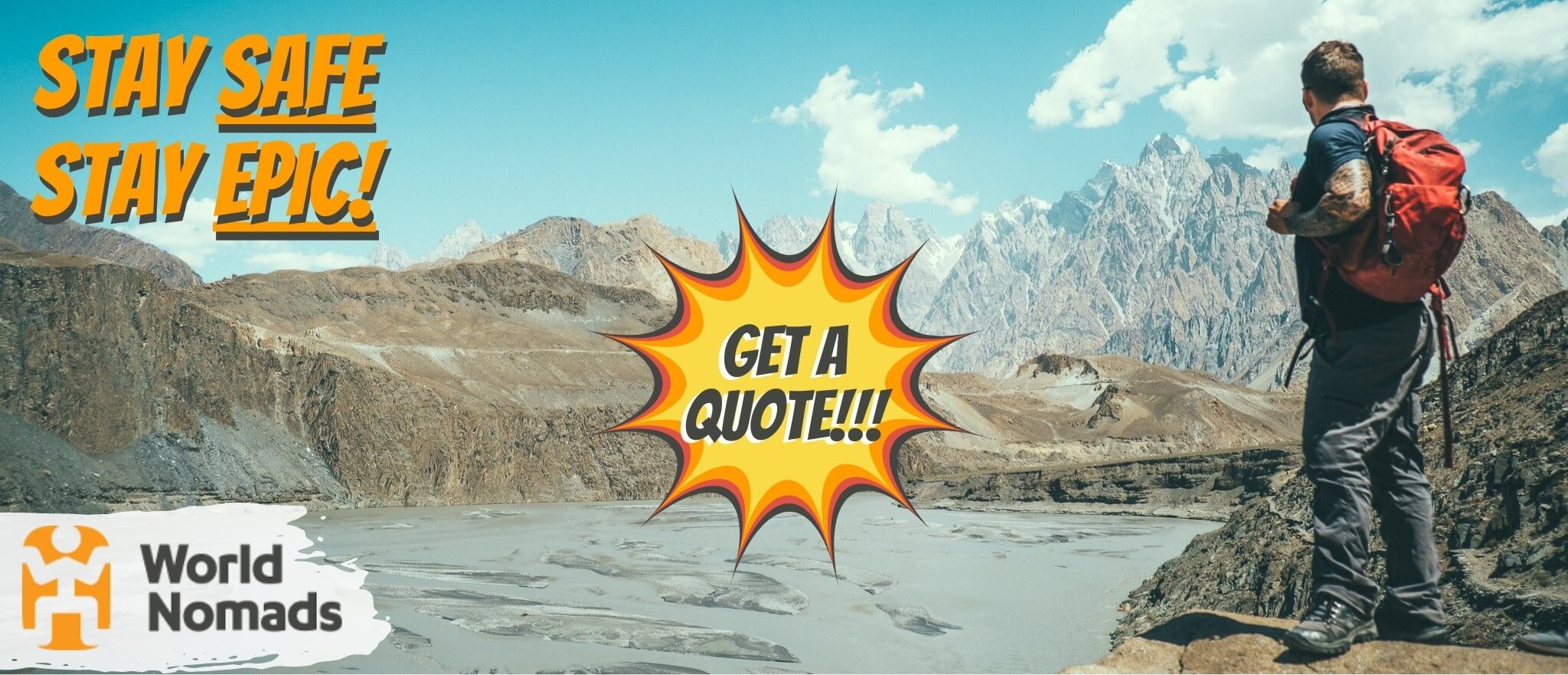 World Nomads' mission is to support and encourage travellers to explore their boundaries. They offer simple & flexible travel insurance, and safety advice to help you travel confidently.
They've been doing it since 2002 – protecting, connecting, and inspiring independent travellers just like you.
Get a quote below or read our in-depth review!
World Nomads provides travel insurance for travelers in over 100 countries. As an affiliate, we receive a fee when you get a quote from World Nomads using this link. We do not represent World Nomads. This is information only and not a recommendation to buy travel insurance.
FAQs About Volcanoes in Central America
Here are some FAQs about hiking volcanoes in Central America. Ask your own questions in the comments section below.
Final Thoughts on Hiking Volcanoes in Central America
If you've never hiked a volcano I hope I've inspired you to give one of these ago, especially if you find yourself in Central America. I promise you'll fall in love with it.
Unsurprisingly, I would 100% recommend anyone who has the opportunity to hike Acatenango and Fuego in Guatemala to snatch it up INSTANTLY. For anyone who wants to get into volcano hiking, or considers themselves to be of a low-medium fitness level, I would suggest starting with an easy hike such as Cerro Negro or Pacaya.
Finally, I would always recommend hiring a knowledgeable local guide. Oh, and always respect the risks associated with volcano hiking and take appropriate gear and safety measures.
Now what are you waiting for? Get your ass out there and see what the fuss is about.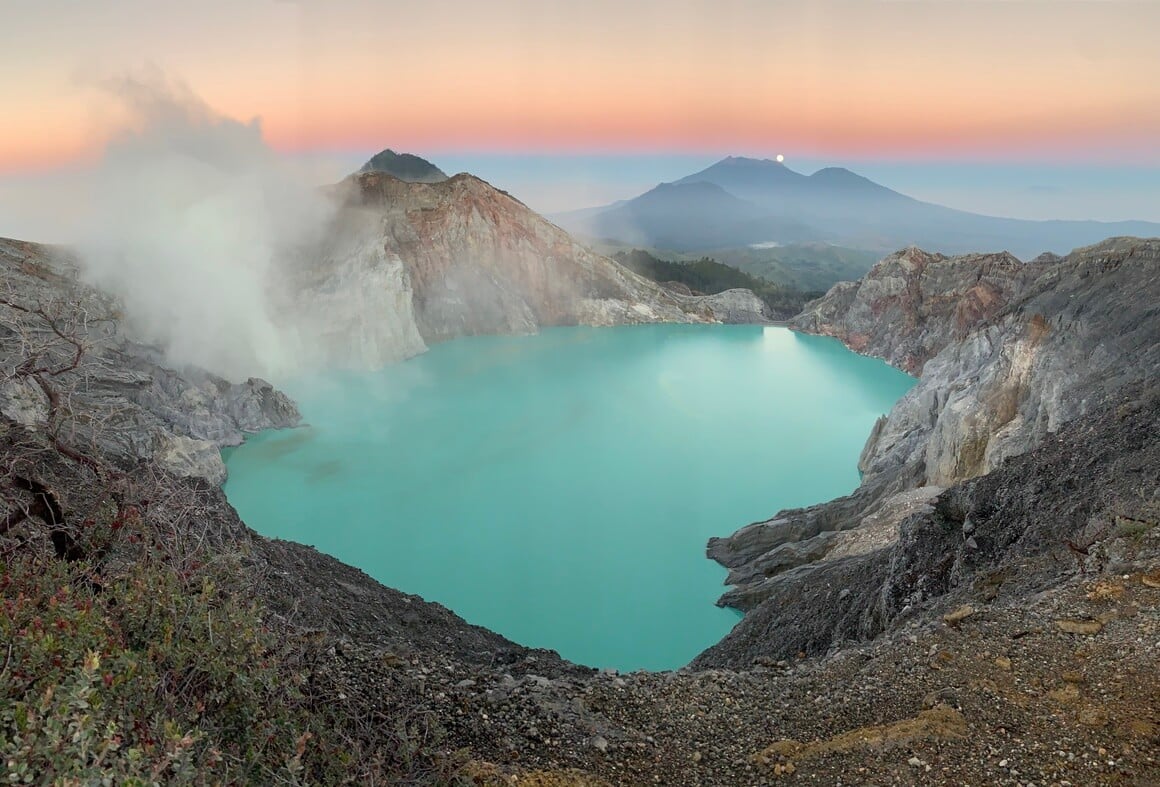 ---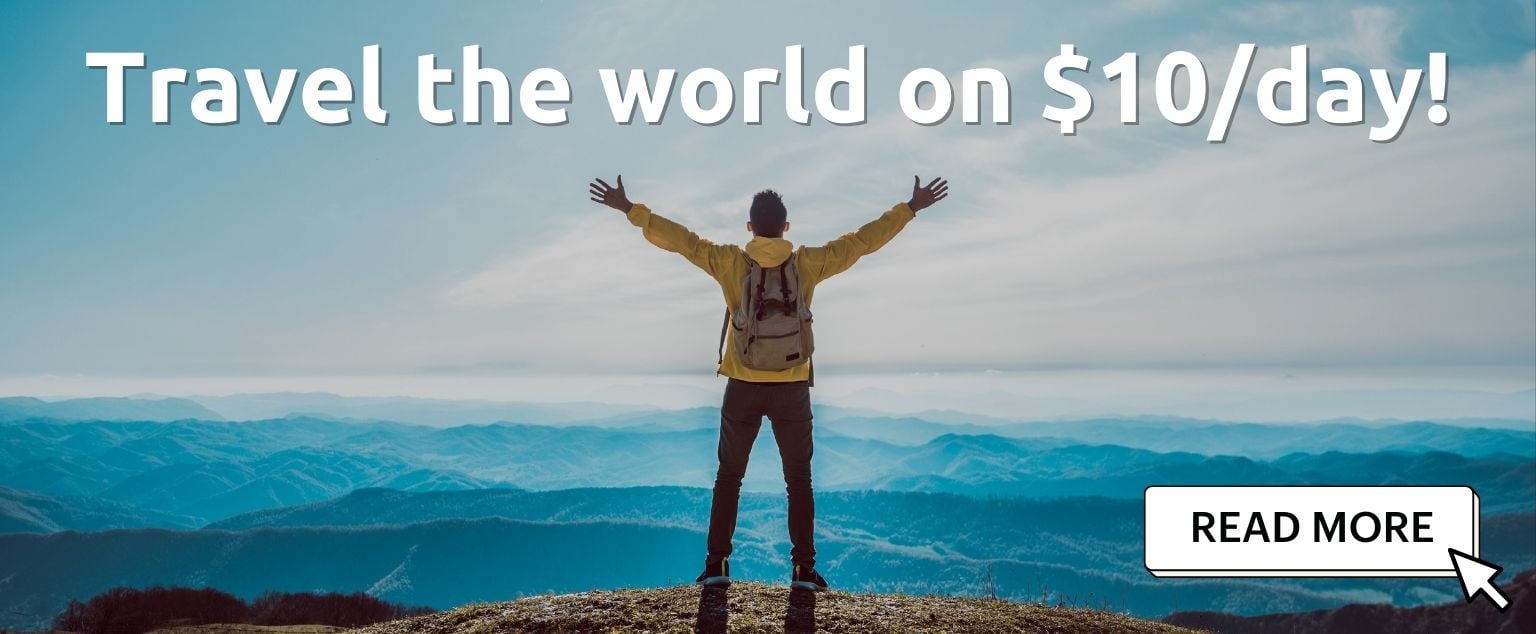 And for transparency's sake, please know that some of the links in our content are affiliate links. That means that if you book your accommodation, buy your gear, or sort your insurance through our link, we earn a small commission (at no extra cost to you). That said, we only link to the gear we trust and never recommend services we don't believe are up to scratch. Again, thank you!