We all could use a little bit of Costa Rica in our lives right now…. If you've stumbled upon our post here, then I sure hope you're heading off soon. If that's the case then— lucky you!
Costa Rica is a gorgeous Central American country that has coastlines on both the Caribbean and the Pacific Ocean. When you think of it, you probably draw images to mind of luscious rainforests, pristine beaches, and epic volcanoes. That's right!
When staying in Costa Rica, expect a perfect blend of relaxation and adventure. Or what the locals call it pura vida (pure life). What is not quite as fun as hiking a volcano or hanging out with monkeys, is figuring out where to stay in Costa Rica. With so many incredible places and so many choices of lodging in Costa Rica, it can be a headache trying to decide where to stay and where to go!
So I've called in my travel experts and created this wicked guide of all the best areas to stay. Wondering where should I stay in Costa Rica? Then, read on readers! The answers to all your questions are below!
Backpacking Costa Rica can be a real blast. But only if you know where to stay. Doing some research before you start your trip can really pay off. To help you out a bit, check out the following epic places to stay in Costa Rica.
With so many incredible places to stay in Costa Rica, it's hard to narrow it down to just three top places to stay! That being said, we're sure that you will love these astounding options in the best cities to stay in Costa Rica!
Hotel Terraza del Pacifico is a beachfront hotel in Jacó. It's a beautiful hotel that has two large outdoor pools with plenty of sunbeds. It's a tiny bit outside of the city centre of Jacó, but it is indeed located right on the beachfront of Playa Hermosa Beach. And, nearly all of the rooms have sea views! From the pools to the gardens to the delectable breakfast overlooking the sea, you're sure to have an incredible stay at this hotel. Plus, there are lots of different-sized rooms to choose from. (From more affordable standard rooms to private villas).
This Airbnb in Costa Rica looks like it is straight out of a magazine! It is a truly unique Airbnb that offers guests an unforgettable experience. You'll be in a glass box loft perched over the mountainside. With an incredible amount of privacy, you'll be able to soak up the gorgeous views of Monteverde every single second of the day.
This is no ordinary hostel. Luz en el Cielo is your home away from home in the jungle. Expect a peaceful stay in a classy hostel that has lots of beautiful eco touches. Complimentary local breakfast is included in the price of a room or a dorm bed. It's no ordinary breakfast either. It's a bio-organic breakfast that includes incredible from small, local farms. How awesome is that?!
Ahh, Costa Rica. It kinda needs no introduction really but I'm obliged to right one! If you're here you already know that this small country has endless amounts to offer, but where the hell to stay?
This incredible country in Central America is a nature lovers' paradise. With beautiful beaches, dense jungles like the Monteverde cloud forest and even relaxing hot springs. There's a lot to plan when you're considering a visit, and whereabouts to stay is one of the most important.
Tamarindo: This is THE Costa Rica you've come to explore. It's set right next to some amazing beaches and is super close to an amazing jungle-lined national park. It's not only the perfect spot for nature lovers but there's plenty of great nightlife too.
Puerto Viejo: Puerto Viejo de Talamanca sits in the southeast of Costa Rica. It's right on the gorgeous Caribbean coast and is renowned for its black sand beach, and epic surf break at Salsa Brava!
Monteverde: Monteverde is a small town in Puntarenas, snuggled in nice and tight in the Cordillera de Tilaran mountain range. The Monteverde cloud forest reserve is world-renowned for its bird watching and biodiversity. When staying in Costa Rica staying in Monteverde is a must!
San José: As the capital city of Costa Rica, San José, is packed with history. Curiously enough, it sits nearly smack-dab in the middle of the country and is also the largest city in the country.
Montezuma: This area of the country is well known for its beautiful beaches, incredible surf and some of the country's best walking trails. It's kinda like a mini Costa Rica all in one easy-to-navigate spot.
La Fortuna: With the famous Arenal Volcano national park, it sure is the place to stay in Costa Rica for adventure. If you're looking to explore Costa Rica's wild side with hot springs, waterfalls and more, then this is the perfect spot. The national park here is one of the most incredible in the country.
Jacó: As Costa Rica's most visited beach, you simply can't miss out on staying in Jacó! This awesome beach town is known for its surfing as well as its many national parks, hiking, fishing and wild nightlife.
Now that you've got an overview let's get into the specifics to see which areas work best for your trip.
It's time to detail a more detailed look at the best neighbourhoods to stay in Costa Rica! Each is a little different than the last so be sure to pick the area of the country that's the right fit for you and your travel style!
1. Tamarindo – Overall Best Place to Stay in Costa Rica
Tamarindo is an incredible Costa Rican beach town that is packed with all that you could love about Costa Rica! Situated in the Guanacaste Province, on Costa Rica's Pacific coast, Tamarindo has plenty of incredible places to offer. It has beautiful beaches, a wild nightlife, and is actually a huge hub for surfers.
What's more, is that Tamarindo is sandwiched right between two national parks! That means that there are plentiful mountains and nature right at your fingertips, or should I say right around the next bend of the road.
When staying in Tamarindo, arguably the best city in Costa Rica, you're going to want to stay as close to the beach as possible! It doesn't matter which beach, as long as you're close to the shore you are sure to have a blast.
Jardin del Eden Boutique Hotel is STUNNING! This place really is a proper boutique hotel. It's rated 9.2 on Booking.com too so I'm clearly not the only person who thinks so. It features luxury amenities such as a spa and wellness centre and an on-site poolside restaurant. Rooms have free WiFi and contain noise-reduced air conditioning, a flat-screen TV, a mini fridge and a coffee maker. The beach is a mere stone's throw away and the friendly staff here are known to go above and beyond to make guests feel at home.
Rent this darling studio apartment for a steal. You'll be just three blocks from the beach and one block from the nightlife! This is the absolutely perfect spot for your Costa Rica vacation. This Airbnb's yard is also known to be home to iguanas, hummingbirds, and even the occasional monkey. The apartment has a fully equipped kitchen, cosy couches, and plenty of space to move around.
At this delightful boutique surf hostel, you'll be staying in style. Relax in the jacuzzi pool, or curl up with a good book in a sun chair and you'll feel right at home. The hostel has its own private surf instructor and plenty of surfboards to rent. You'll be staying just a three-minute walk from one of the absolute best-surfing beaches in all of Costa Rica! Surfs up, friends. There are some great hostels in Tamarindo but this is right up there.
Top Things to Do in Tamarindo
Spend the day relaxing on Playa Tamarindo (Tamarindo Beach) one of Costa Rica's most incredible white sandy beaches.
If you want a bit more action, check out the nearby Playa Negra, Playa Grande and Avellanas beaches, some of the country's best surfing beaches.
Take a sunset cruise along the Pacific Coast, a perfect way to end the day.
Head out onto the Pacific Ocean on a scuba diving or snorkelling trip, many of which stop at the stunning Catalinas Islands and Bat Islands.
Go on a kayaking or SUP adventure through the mangrove ecosystem of the Tamarindo Estuary.
2. Puerto Viejo – Most Romantic Place to Stay in Costa Rica for Couples
When trying to choose the most romantic place to stay in Costa Rica, I sure had my job cut out for me. There are so many romantic towns and beaches in Costa Rica that positively make me swoon! However, Puerto Viejo on the Caribbean coast stole my heart and I'm sure you can see why.
There are abundant rainforests and mangroves in the area as well as the famous black sand beaches— so you and your sweetheart will love exploring the land and the sea!
Make sure to note that there is more than one Puerto Viejo in Costa Rica, so if you're searching around for more accommodation options yourself, definitely search using the full name: Puerto Viejo de Talamanca.
While staying closer to the Costa Rica national parks in the area is an exciting option to consider, when travelling on a romantic getaway, I always think it's better to stay close to the beach! What's better than a morning coffee with sand between your toes and the warm Pacific Ocean lapping at your feet?
Best Hotel in Puerto Viejo: Villas La Paz
Alright lovebirds, it's time to crack open the piggy bank! If you're able to splurge a little bit, then Villas La Paz is for you. This boutique hotel offers private villas and a beautiful private plunge pool. There's also a tranquil garden to enjoy. Also, for the sake of being exact—you'll be just a 2,700 feet walk from the beach. You are sure to make beautiful memories at Villas La Paz.
Best Airbnb in Puerto Viejo: La Boheme
This Airbnb is one for the books! It's a two-bedroom home that is eco-style with tons of wood and natural decor. Plus, getting to relax in the hammock on the balcony is the recipe for true relaxation. Inside the house is a wonderful kitchen in which free drinking water is provided. You'll be within easy walking distance of the beach, and all the shops and restaurants in Puerto Viejo!
Best Hostel in Puerto Viejo: Casa Wolaba
Casa Wolaba is a cosy hostel nestled right on the Main Street of Puerto Viejo. Offering both dorm rooms and private rooms, you and your significant other can decide whether you want some extra privacy or to save some dough. It's a cute hostel that has a beautiful outside garden with its own coconut and mango trees! It's one of Puerto Viejo's best hostels so if you're on a budget you'll still have somewhere awesome to stay.
Things to See and Do in Puerto Viejo
Hop between the many incredible beaches along this stretch of the Pacific coast including Playa Cocles, Playa Chiquita, Playa Blanca, Playa Vargas and the black sand beach of Playa Negra.
Discover how chocolate is made in a sustainable way on the Caribbean chocolate tour.
Visit the largest indigenous group, the BriBri tribe and learn all about their traditions, culture and way of life.
Take a hike in Cahuita National Park which takes a beautiful route along the Pacific coast.
Go white water rafting on the incredible Pacuare River.
3. Monteverde – Coolest Place to Stay in Costa Rica
Monteverde is a little bit of a tourist hotspot, so be aware that this small misty town is filled with lots of foreign visitors too. Don't let that deter you, because there are so many things to do in Monteverde that you absolutely need to check off your Costa Rica bucket list! From flying down a zip-line course to trekking in a forest canopy, there are lots of different ways to explore the cloud forests.
Since Monteverde is a small mountain village, you can't go wrong when deciding which part of the town to stay in because you'll always be close to all you need!
Hotel Claro de Luna is a beautiful hotel that offers guests a tranquil stay. It's set amidst abundant trees and greenery. Plus, it's not sitting right in the heart of town, so you have guaranteed peace and quiet! Situated just over two miles from the Monteverde Cloud Forest, you'll love eating at the delectable onsite restaurant.
Oh my goodness gracious, you need to book this Airbnb! It has to be one of the absolute most unique Airbnbs out there— and at an affordable price. Stay in a glass loft that is perched over the Monteverde reserve. Experience both privacy and unparalleled views in this gorgeous glass loft.
Monteverde Backpackers is definitely one of the best hostels in Monteverde. With a great social atmosphere, bright and beautiful murals, and the option between dorm rooms and private rooms, you'll love the options available at Monteverde Backpackers. I LOVED my stay here. Mainly due to the friendly staff and amazing free breakfast each morning with cereal, eggs, fruit, coffee and more.
Top Things to Do in Monteverde
Witness incredible biodiversity and spot the Resplendent Quetzal, a stunning teal bird found in the Monteverde cloud forest.
Explore the cloud forest by night and seek out armadillos and sloths with a local guide.
Monteverde is an incredible place to see chocolate and coffee being made too.
Relax at the Tabacon and Paradise hot springs.
Have a wild adventure and zipline through the canopy of Selvatura Park or Sky Adventures Monteverde Park, you can also bungee jump 143 meters over the forest and tackle a Tarzan swing too!
If you have a head for height but don't fancy jumping off anything, then take a walk over the many hanging bridges to see the forest from above.
4. San José – Where to Stay in Costa Rica on a Budget
Since the capital city sits right in the middle, consider San José your central hub— the perfect spot to explore all the other top places to stay in Costa Rica! San José shouldn't be overlooked, especially by backpackers, you'll find some of the best budget hotels and hostels here.
From taking a tour of the National Theatre of Costa Rica to visiting the Museo del Jade, there are so many things to do in San Jose.
The historic San Jose city centre is very compact— which means that it is easy to get around on foot! It definitely has some of the cheapest accommodation options in the country. Moreover, the price of food is very low as well. When looking to avoid cracking open that beloved piggy bank, staying in San José is definitely the way to go!
When staying in San Jose— the best city to stay in Costa Rica on a budget— it's best to stay as centrally located as possible. Stay close to the National Theatre and Central Park to ensure an easy travel experience as well as easy access to San Jose international airport.
This San Jose hotel is a shining star of Costa Rican accommodation for budget travellers out there. It's nestled right in the San Jose city centre and offers mega budget-friendly room rates! (Way cheaper than the popular Gran Hotel Costa Rica). The rooms are clean and have comfortable beds and offer complimentary breakfasts for their guests.
This Airbnb is run more like a bed and breakfast, so enjoy a cosy, private room with lots of common areas to enjoy— from a backyard to a dining area. The location is right in the heart of the capital city, close to the central market and plenty of restaurants. You'll be just a seven minutes walk from the National Theater of Costa Rica! Also, The continental breakfast sure makes mornings easy as pie.
Hostel Del Paseo is truly an incredible option for streaming your lodging in Costa Rica budget to the maximum! You won't be far from the San Jose capital city area, situated in the Paseo Colon district. You'll be within walking distance of everything you need! This hostel has several common areas, from a billiards table to a ping pong table, to plentiful couches and TVs! It's one of the best hostels in Costa Rica and a cheap option.
Top Things to Do in San José
If you're looking for free things to do in San José, make sure to enjoy the parks. San José has lots of beautiful parks that are filled with tropical plants, statues, gazebos, and statues!
Each day there is a free two to three-hour-long walking tour of the city. You'll get to stroll the city streets and get a great introduction to San José— for free. Perfect for people arriving from the International Airport who don't plan to stick around.
Visit the lavish National Theatre, you can enter for $10 for a look around or come back later for a show!
Get to know the country more by visiting the striking yellow building of the Museo Nacional De Costa Rica.
Check out the Pre-Colombian Gold Museum, it contains the largest collection of artefacts from this era, many dating back thousands of years.
Get your camera ready for the hike to the giant hand at La Chimba Coffee Farm, this insta famous spot will light up your feed!
Go for a day-trip to the stunning Poas Volcano.
Hit up the nightlife! This place can be a real party town on the right nights.
5. Montezuma – One of the Most Unique Places to Stay in Costa Rica
Montezuma sits on the southern shore of Costa Rica on the Nicoya Peninsula. This beach town is renowned for an incredibly long stretch of soft, white sand beach simply called Playa Montezuma right on the Pacific Ocean.
What makes Montezuma the most unique place to stay in Costa Rica, is its bohemian vibes and abundance of artists living there!
If you're a beach lover, staying nearly anywhere in Montezuma will put a smile on your face as most accommodation options will put you within easy walking distance of the beach and the warm Pacific Ocean.
Best Hotel in Montezuma: Hotel Nya
Hotel Nya is arguably one of Costa Rica's best boutique hotels. Guests are offered a truly comfortable stay here. The facilities both inside and outside your hotel room are state of the art and all the amenities are truly top-notch. Including the stunning outdoor pool! If you're willing to indulge in a little bit more expensive stay, Hotel Nya is for you.
This cute cottage is absolutely jaw-dropping! From the hut itself, right outside the windows, you'll see colourful birds and tons of monkeys. Situated outside of town right next to Palmeras Beach you can be sure of a peaceful and relaxing vibe. If you do need to go into town, it's just a 15-minute walk away too.
El Cielo Eco Hostel is a truly memorable hostel, nestled right in the jungle with the city centre of Montezuma just around the bend of the road. You'll be close to the beach and to the jungle! Moreover, this hostel has been newly renovated with plenty of exciting bells and whistles— from lockers to personal fans to USB charger ports! The locally sourced eco-breakfast is positively divine too.
Top Things to Do in Montezuma
Visit the Saturday morning farmer's markets, you can pick up great handmade art and will likely hear some great local music.
Visiting the Montezuma Waterfall is a must-do! You can soak up the waterfall spray and the relaxing ambience while taking a dip in the natural pools.
There is a beautiful walking trail that meanders through the jungle and will bring you to the popular surf spot: Playa Grande.
Sitting just behind the Playa Grande beach is the Romelia Wildlife Reserve and a turtle sanctuary. If you're lucky, you might even get to witness turtle eggs hatching. No matter what, you're sure to spot groups of capuchin monkeys in the forest— so cute!
Go snorkelling at Isla Tortuga (Tortuga Island) just off the coast of the town, this volcanic island with white sand beaches has perfect conditions to spot marine life.
Check the tides and walk over to Isla de Cabuya, and wander through the picturesque old cemetery engulfed in the jungle.
6. La Fortuna (Arenal Volcano) – Where to Stay in Costa Rica for Adventure
Arenal Volcano is the backdrop of the town of La Fortuna. It's a cute, charming, little town that is only a few streets wide with just a handful of restaurants and shops. La Fortuna is the best launching spot for the rest of your adventures. Activities include explo through natural hot springs, waterfall chasing and many more.
Arenal Volcano is an active volcano in northwest Costa Rica. Sitting just 90 kilometres from San Jose, getting to Arenal Volcano is pretty easy!
Immersed in luscious tropical gardens, this boutique hotel is positively dreamy. It's super modern with crisp, clean rooms and tiled floors. There is free parking and complimentary breakfast served daily. There is also an outdoor pool to enjoy! This hotel really goes above and beyond to promise guests all they could wish for during their stay.
This cabin is a private property one-bedroom home with three beds and one bathroom. It's well-stocked with everything you need from a smart TV to a hairdryer to a refrigerator! You'll be just a quick 15-minute walk to La Fortuna, so you will be immersed in nature while not being in too remote of a location. Also, you'll be situated just 700 meters (walking distance) from the Hot Springs Resort and Spa.
If Arenal Backpackers Resort would let me move in— I would stay there forever! This is a hostel that really doesn't feel like a hostel. While there are wickedly affordable dorm rooms, this hostel does feel more like a hotel. They really have earned the right to put the word "resort" in their name! It's a beautiful property with abundant gardens and a drool-worthy pool! Plus the views of the volcano are amazing from this hostel, it's the perfect spot to go for a hike in the cloud forests.
Top Things to Do in La Fortuna
Arenal Volcano sits at the heart of the Arenal Volcano National Park and you are free to wander around the national park as you like! Make sure to pack accordingly for your Costa Rica trip, especially when planning such adventures.
After zip-lining through the forest canopy or taking an aerial tram to an incredible observation point, you can also soak in the Arenal Volcano hot springs and enjoy a therapeutic bath in the jungle.
If you need another dose of adventure you can hike to La Fortuna Waterfall!
You can also go spelunking in the Venado Caves or walk across the Arenal Hanging Bridges. What did I say? This area is packed with adventure activities!
Take a walk to Costa Rica's largest lake, Lake Arenal. Sitting in the shadow of the incredible volcano the area is famous for, it's quite the sight!
Explore the network of marshes and rivers in the Cano Negro National Wildlife Refuge. This protected area is teeming with amazing opportunities to spot the unique wildlife of Costa Rica including Jaribu storks, roseate spoonbills, and egrets.
7. Jacó – Where to Stay in Costa Rica on the Beach
Located on the Pacific coast of Costa Rica, just southwest of San José, Jacó is known for its epic surfing spots and raucous nightlife!
If you're interested in everything from kayaking to hiking to surfing, then Jacó is for you! When travelling to Costa Rica, you sure don't want to miss out on all that Jacó has to offer.
When you're staying at arguably the best beach town in Costa Rica, you're going to obviously want to stay close to those amazing beaches. And make sure to note that if you stay a little further away from the centre of town, that doesn't always mean you're far away from the beach!
Hotel Terraza del Pacifico is a stellar beachfront hotel situated right on Playa Hermosa Beach. And if you don't feel like getting salty water, you can always enjoy the two hotel pools here! There are 61 different rooms, including private villas available. While I wouldn't describe this hotel as budget-friendly, it certainly won't make you cringe when you see the prices either.
This Airbnb is perfect for solo travellers and couples. This loft has beautiful interior decor and is nestled just outside the city. The beach is only 5 minutes away making this a perfect spot for keen surfers to kip and rest up. If you can't make it to the beach, you can make use of the shared pool and loungers outside. With a fully-equipped kitchen and good restaurants nearby, you can eat whatever your heart desires. If I haven't sold you this place yet, just check out one of their 100 positive reviews from other guests.
Room2Board is mere steps away from the beach and has a super cool atmosphere! With ridiculously affordable priced dorm rooms available, you'll love saving a few dollars and enjoying the party vibes at this cool hostel. There are yoga classes offered daily as well as surf lessons available. This is definitely one of Jaco's best hostels.
Top Things to Do in Jacó
Explore the Carrara National Park with its abundant scarlet macaws.
If that's not enough, then next check out the Pura Vida national park which will lead you through a meandering path in the rainforest to the Bijagual Waterfall!
Hit up the big waves at Hermosa Beach or take in the interesting grey-sand beach of Jacó Beach.
Hike up to the Miro Mountain View Point for incredible views over Jacó below.
Visit Los Sueños Adventure Park for some awesome ATV, Ziplining, canyoning and even a chocolate tour!
Jacó is world-famous for its birdwatching opportunities. Here you can see toucans, various birds of prey and the famous Scarlet Macaw.
Here's what people usually ask us about the areas of Costa Rica and where to stay.
Look, I know buying travel insurance sounds very unexciting. But believe me, you can't plan for everything. If you do come to need it, it really can be a lifesaver.
ALWAYS sort out your backpacker insurance before your trip. There's plenty to choose from in that department, but a good place to start is Safety Wing.
They offer month-to-month payments, no lock-in contracts, and require absolutely no itineraries: that's the exact kind of insurance long-term travellers and digital nomads need.
SafetyWing is cheap, easy, and admin-free: just sign up lickety-split so you can get back to it!
Click the button below to learn more about SafetyWing's setup or read our insider review for the full tasty scoop.
Costa Rica is an incredible country to visit filled with spectacular biodiversity, pristine beaches, and colossal adventure opportunities! I would recommend it to anyone who loves natural travel anywhere near as much as I do. It's not the cheapest country in Central America but it's well worth it.
Whether you're looking to relax on the white sands a stroll away from the beach town of Jacó, go for a hike in the cloud forests in the Arenal Volcano area, or check out all the street art in San José, you're sure to have an awesome trip to Costa Rica! Especially when you stay in one of our Airbnbs, hostels, or hotels in Costa Rica that I've hand-selected to meet all your travel needs – you're very welcome.
---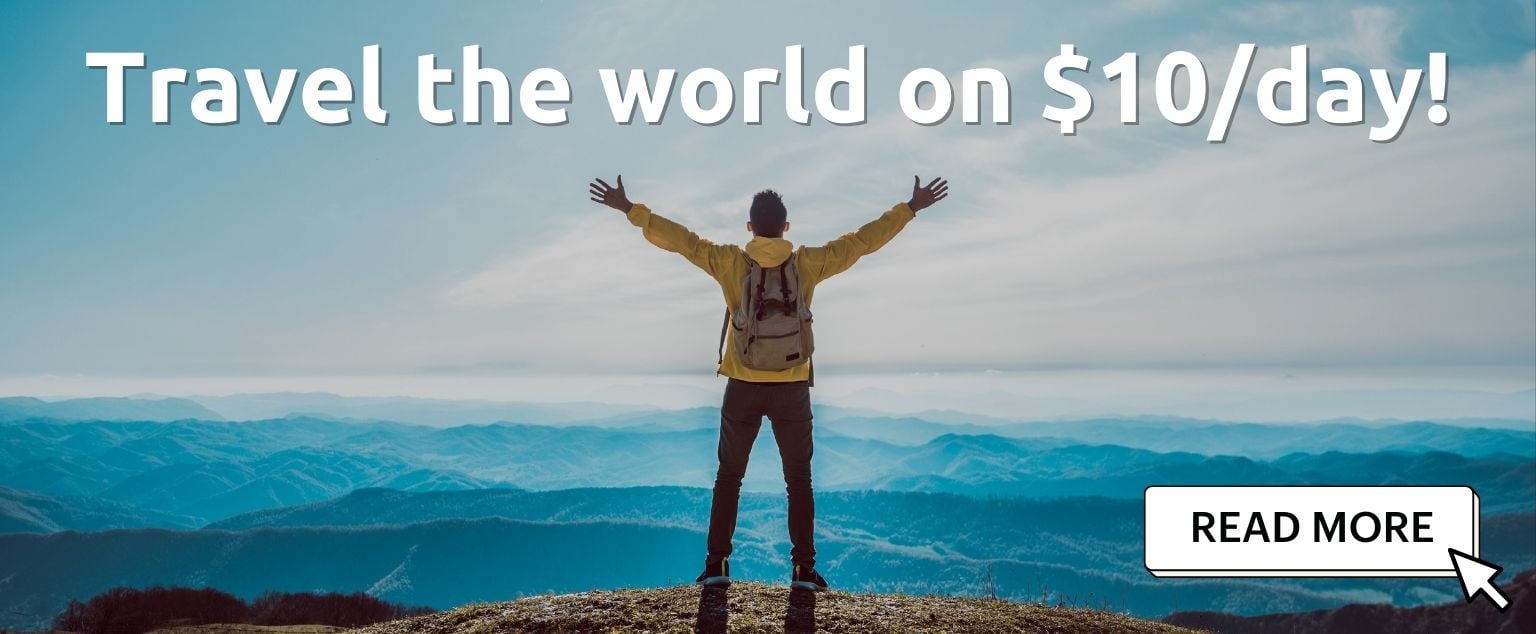 And for transparency's sake, please know that some of the links in our content are affiliate links. That means that if you book your accommodation, buy your gear, or sort your insurance through our link, we earn a small commission (at no extra cost to you). That said, we only link to the gear we trust and never recommend services we don't believe are up to scratch. Again, thank you!
Updated June 2023