If Costa Rica is known for anything, it is for its incredible national parks and nature reserves, which play host to some of the world's most magnificent wildlife and flora.
In fact, the relatively small Central American country currently has 28 national parks, encompassing more than 28% of the country's total land area. It's fair to say Costa Rica has its fair share of natural wonders just waiting to be explored!
Costa Rica's progressive stance on conservation and ecotourism is to thank for the impressive parks and landscapes across the country. Costa Rican national parks are globally renowned for their impressive focus on sustainability, paving the way for national parks in other countries across the globe.
From crystal clear shores to towering volcanoes and steamy rainforests, Costa Rica dazzles tourists with its exquisite natural beauty and abundance of flora and fauna. A visit would simply not be complete without a trip into some of these ecological paradises.
What are National Parks?
A natural park is defined as an area of land owned by the government which is dedicated to conserving and protecting the land and its wildlife and plants. In a world with skyrocketing populations and evolving cities, it's more important than ever to provide a safe sanctuary for our most precious natural resources – flora and fauna.
Costa Rica's natural reserves and national parks consist of a variety of lush rainforests and freshwater and saltwater marine reserves. Not to mention the 800-mile-long coastline along both the Caribbean and Pacific Oceans, providing a habitat for some of the area's most exciting and endangered marine life.
Sprawled across the landscape, these parks, along with reserves and wildlife refuges, encompass 28% of land in the country. As a matter of fact, this is one of the highest densities of protected areas in one country in the world.
Costa Rican parks are overseen and managed by the Sistema Nacional de Areas de Conservacion (SINAC). The organization oversees over 160 protected areas, of which only 28 are national parks.
With conservation at the heart of the organization, it is no wonder Costa Rican national parks are home to some of the most beautiful natural environments in the world.
National Parks in Costa Rica
Home to some of the most incredible tropical landscapes, Costa Rica is overflowing with natural parks waiting to be explored. Read on to hear a bit about some of the best national parks in the country.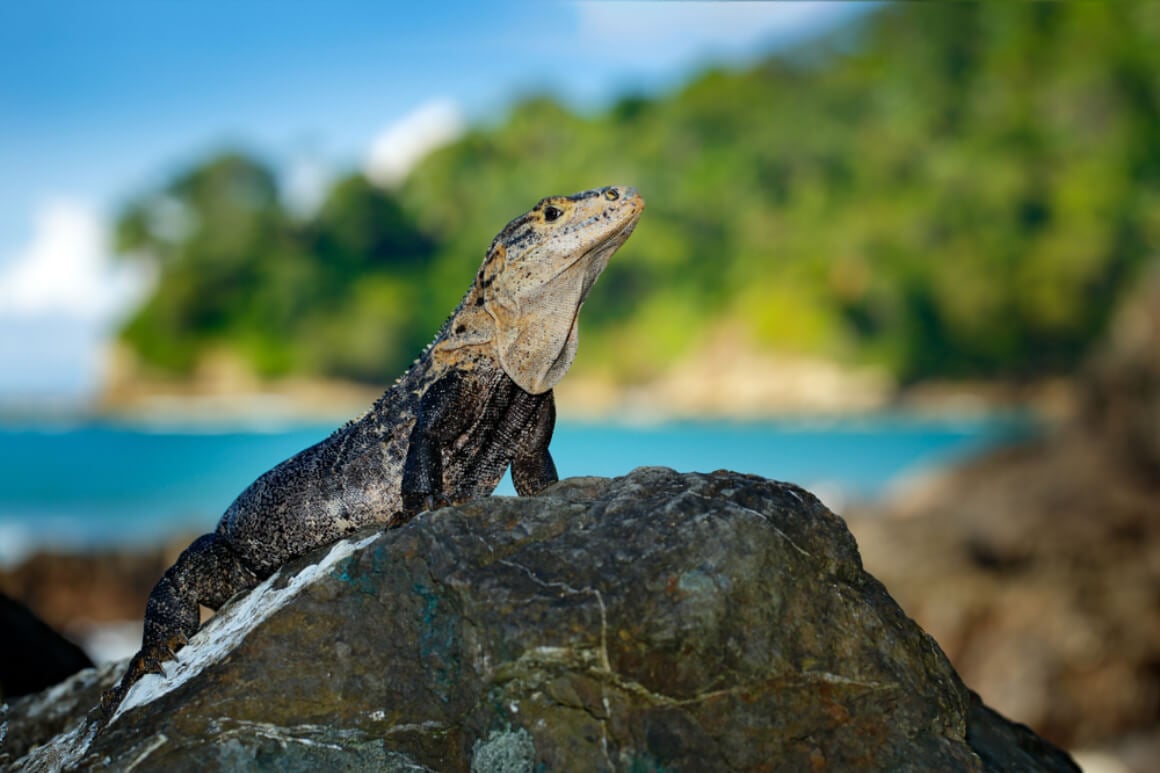 Size: 20 square miles
Location: Just north of Jaco
Entrance Fee: $10 Adults / $5 Children
Located at the northernmost part of Costa Rica's Pacific coastline, Carara National Park is a wet and wild place famous for its dense forest landscape and massive bird population. The park is home to over 400 species of birds, including a colorful collection of trogons, hummingbirds, and parakeets.
However, it is most famous for its wild scarlet macaw population, which attracts birdwatchers from across the globe. Besides bird watching, the park is a dense and exciting place to visit, packed with unique flora and exciting wildlife.
On a hike through the park, you might encounter a sloth hanging from a tree above you, monkeys swinging from the tree canopy, and even a crocodile sunning itself along the banks of the Tarcoles River, which curves its way through the park.
The Tarcole River Crocodile Bridge is an impressive bridge that reaches 16 feet across the river. There are also two main hiking trails through the park, the 0.6-mile Araceas Nature Trail and the longer 2.7-mile Laguna Meandrica Trail.
Besides its flora and fauna, this national park in Costa Rica boasts an incredible history, as uncovered by the archeological ruins in the center of the park. These ruins date back two millennia, making Carara one of the most unique sites to experience historical and natural wonder at the same time, and certainly one of the top national parks to visit in Costa Rica.
Where to Stay near Carara National Park:
This gorgeous villa is set above the forest ground in a treehouse structure. With 360-degree ocean and forest views, it is an extraordinary place to stay when visiting the gorgeous Carara National Park.
Size: 7.66 square miles
Location: Pacific Coastline, south of Quepos
Entrance Fee: $16 Adults / $5 Children
Locally known as the jewel of the country, Manuel Antonio National Park was listed as one of the most beautiful national parks in the entire world by Forbes Magazine. Although the smallest park by area, it boasts some of the most impressive landscapes and exquisite views.
Landscapes vary from white sand beaches to lush tropical foliage to incredible mountains rising into the sky. Of course, venturing into the ocean around the park opens up an entirely different world of coral reefs and tropical dreams.
The park features various trails and paths that weave throughout the dense forest floor, acting as a natural amphitheater for the extraordinary biological life living within the undergrowth.
The Sloth Trail is one of the most popular paths, offering visitors a chance to see two and three-toed sloths hanging out amongst the trees. Whichever trail you follow, you will be rewarded with impressive views over the coastline and mangrove swamps.
This Costa Rican national park is open daily except for Tuesdays, from 7 am to 4 pm local time. Espadilla Norte (the public beach just outside the park) is open from 5 am to 6 pm.
With its pristine Costa Rican beaches, crystal clear water, and incredibly dense rainforests, this is the ultimate park for nature lovers, eco-tourists, or just those looking for a relaxing day on the beach.
Where to Stay near Manuel Antonio National Park:
With a view of the national park, the Millenium Manuel Antonio isn't just the most convenient place to stay, but also one of the most beautiful.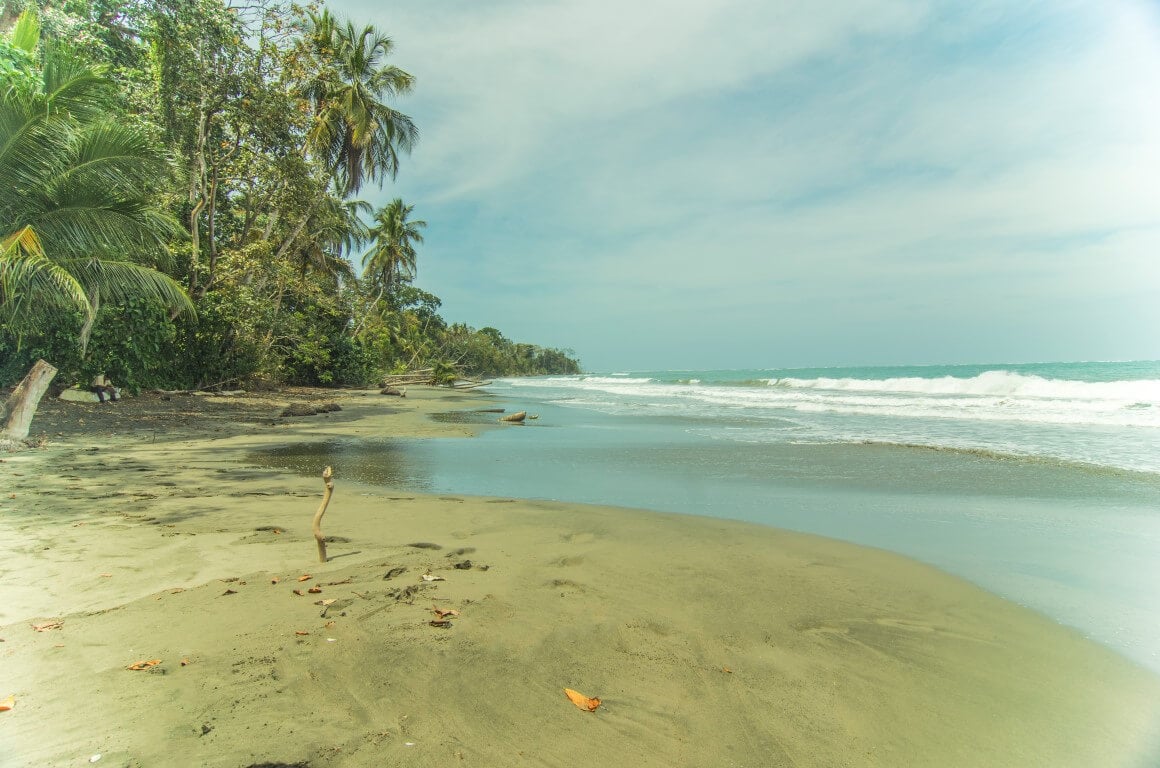 Size: 4.12 square miles (land), 86.49 square miles (marine)
Location: Cahuita, Limon Province (Carribean Coast)
Entrance Fee: $5.65 Adults or a charitable donation
Best known for its expansive coral reefs and the myriad of tropical fish and colorful species that live in them, Cahuita National Park is a gorgeous marine area near Puerto Viejo. The park was dedicated as a national park to protect the marine area and reefs, including its beaches, which are a popular nesting ground for sea turtles.
The 86 square miles worth of reef boasts over 35 species of coral, 140 species of mollusks, and 123 species of tropical fish, all creating an underwater wonderland for snorkeling. To protect the coral, snorkeling is only allowed with a guide.
If you're planning to take advantage of the crystal clear water, the best time to visit for snorkeling is between February and April, when water visibility is best. There are even a few shipwrecks in the shallow water, overgrown with intricate corals and sponges.
The beachy coastline of this Costa Rican national park, although small, packs a punch when it comes to wildlife. You could find raccoons, sloths, anteaters, other fascinating small mammals, and an exciting variety of tropical birds.
The park is the only one in Costa Rica not to charge an official admission fee, relying on the kind donations of visitors to fund its conservation efforts.
Where to Stay near Cahuita National Park:
Offering beachfront accommodation with a rustic twist, Playa Grande Lodge has everything you need for a luxurious vacation near the Cahuita National Park.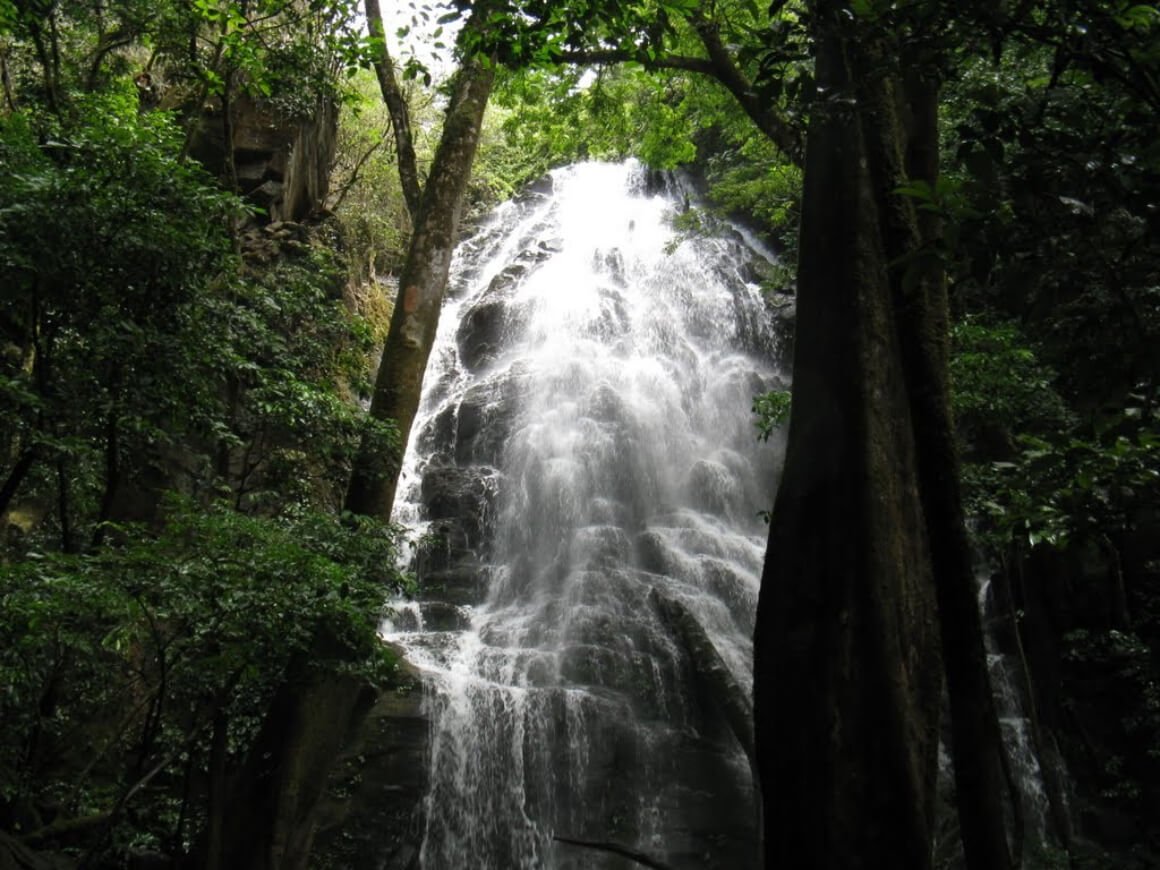 Size: 54 square miles
Location: Liberia
Entrance Fee: $15 Adults / $5 Children
The first of many volcanic national parks on this list, Rincon de la Vieja is only a 35-minute drive from Liberia. Unsurprisingly, the park is famous for its volcanic activity and attractions. However, it is also a hotspot dense in waterfalls, mineral pools, and adventure tours.
While named after the iconic Rincon de la Vieja volcano, which towers over the park, there are, in fact, two other volcanoes in the park.
The volcano's name translates to 'Old Woman's Crook' in English. Legend has it that a local princess fell in love with a member of an enemy tribe, who was thrown into the volcanic crater by her father when he learned of their affair.
One of these national parks in Costa Rica's main attractions is the Rio Negro Hot Springs. These springs offer a natural spa you would hardly believe is real, with bubbling mud running down the slopes of the volcano.
Make a stop at the Adventure Center to check out what adrenaline-pumping activities you can do in the park, ranging from horseback riding to ziplining to tubing through the rivers.
Visitors can enjoy tons of hiking trails that run throughout the park. Of course, the busiest routes climb the summit of the volcano itself.
One of the most popular trails leads to the Las Pailas, translated to 'boiling mud pots' in English. This easy walk will take only 20 minutes along primarily flat ground, in each direction. The Catarata La Cangreja trail is another famous trail that leads to an impressive waterfall.
Where to Stay near Rincon de la Vieja National Park:
Set in a tropical rainforest surrounded by crystal mineral pools and botanical gardens, the Blue River Resort and Hot Springs is a down-to-earth luxurious resort worth every penny. Spend some time by the pools or just relax in your private cabana for a vacation you will never forget.
Size: 7.7 square miles
Location: Cartago
Entrance Fee: $15 Adults / $5 Children
If there's one thing we know about Costa Rica, it's that the country is teeming with volcanoes – some active, some dormant, others extinct. Irazu Volcano is the highest active volcano in the country, with its last eruption having occurred in 1994.
The most beautiful (and popular) feature of this national park in Costa Rica is the Diego de la Haya Crater, which features a bright green lagoon at its center.
A bunch of hikes and trails take visitors to the top of the volcano, which towers 11 thousand feet above the ground. The views from the top are spectacular, offering panoramic views across a never-ending ocean of clouds below.
While the clouds add to the mystique of it all, for the best views, visit the volcano during the morning before the daily clouds submerge the volcanic peak. On a clear morning, you'll be able to pan your eyes across the Caribbean Sea to one side and the Pacific Ocean to the other.
One of the best things about this park is its accessibility. It's only an hour and a half drive from the capital of San Jose, which can be traveled by bus or car. It also has convenient tourist amenities, including a cafeteria, parking, toilets, and picnic areas scattered throughout the park.
Where to Stay near Irazu Volcano National Park:
Far from the noise of the city of San Jose, this luxurious yet rustic guesthouse boasts valley and mountain views of the Irazu Volcano National Park. It's set in the trees for ultimate privacy and even has a hot tub on the balcony.
Have you sorted your accommodation yet?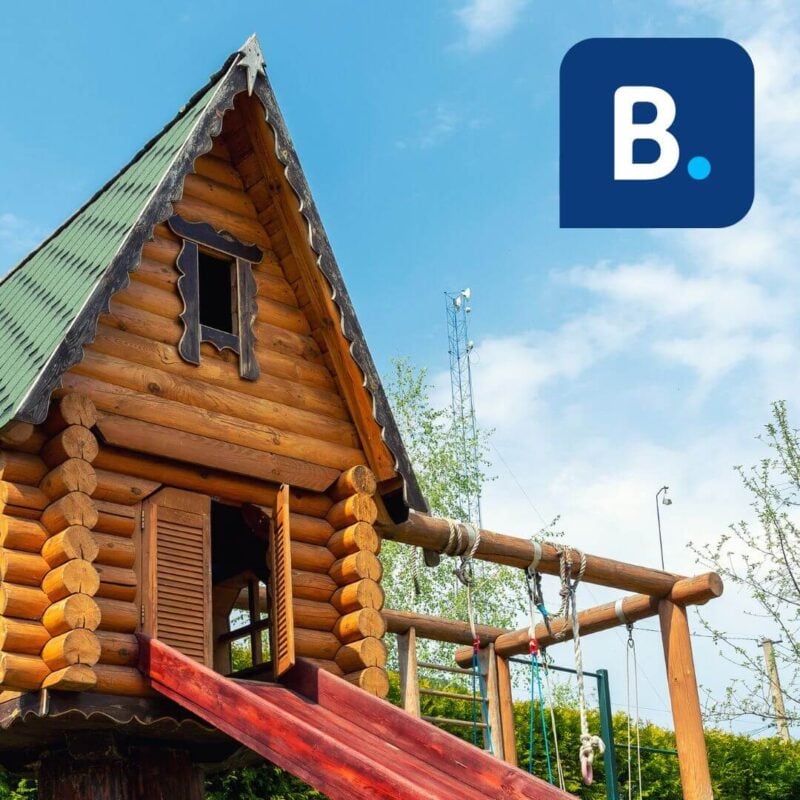 Get 15% OFF when you book through our link — and support the site you love so dearly 😉
Booking.com is quickly becoming our go-to for accommodation. From cheap hostels to stylish homestays and nice hotels, they've got it all!
View on Booking.com
Size: 49.8 square miles
Location: Fortuna
Entrance Fee: $12
Tenorio Volcano National Park in Costa Rica isn't just another volcanic attraction. It is most well known for the Rio Celeste, a turquoise blue river with a waterfall believed to be the most spectacular in the country.
The river is famous for its bright blue color, which looks almost unnatural at first glance. The bright color of the river is caused by the mixing of acidic and neutral waters, which create a particle concentration that reflects light to create a blue effect. If this doesn't make sense, the effect is similar to glacier lakes in alpine regions.
This phenomenon happens at Tenideros, which is where the two rivers meet. This point in the hike is just a few miles from the park entrance and is an extraordinary sight to see with your own eyes!
The Rio Celeste Trail is a hiking trail that travels 1.9 miles each way between the entrance of the park and the waterfall itself. A relatively easy trail; it will only take you around 30 minutes to walk to each way.
A bit further along, the Borbollones, or 'bubbling hot pot' in English, is another part of the river overflowing with geothermal volcanic energy.
Although the Tenorio Volcano is dormant, there is still a lot of geothermal energy in the area, with hot geysers shooting water into the sky and bubbling hot springs rising from the ground. The springs below the river create an unpleasant sulfur smell which will tell you when you're in the right place.
Where to Stay near Tenorio Volcano National Park:
Set on a 60-hectare cocoa farm, Finca Amistad Cacao Lodge is a gorgeous wooden lodge, just a short hike from the famous Rio Celeste Waterfall in the Tenorio Volcano National Park in Costa Rica.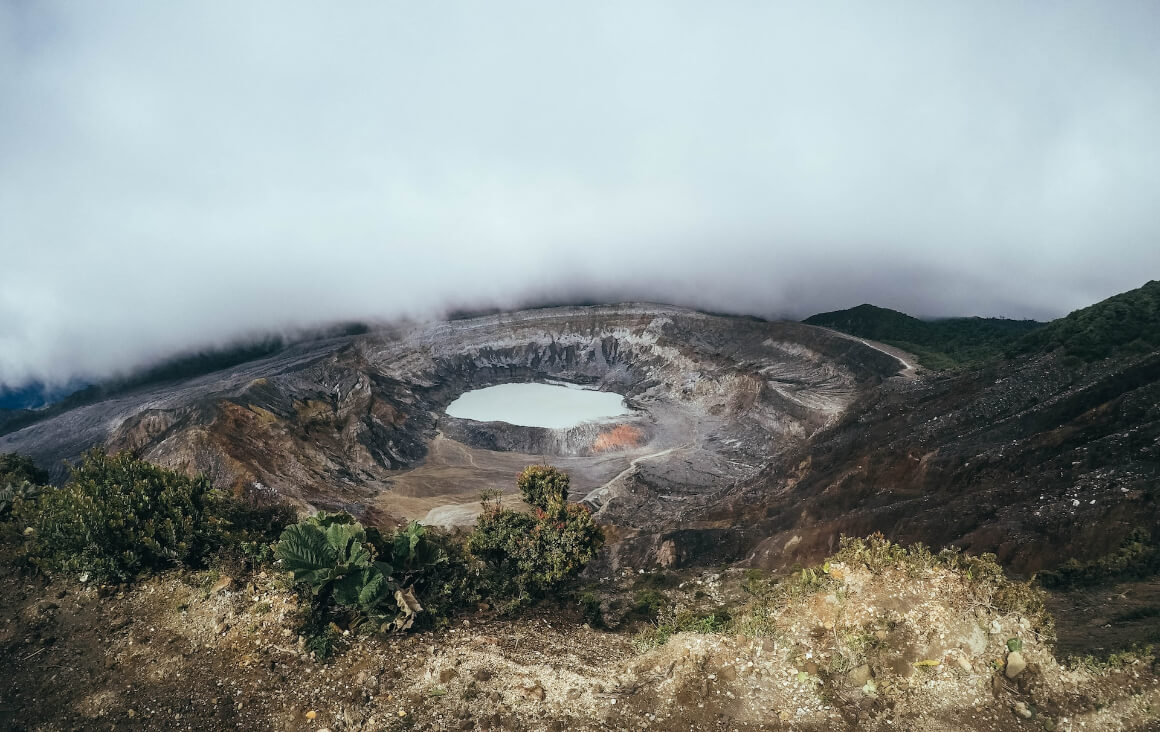 Size: 25 square miles
Location: Alajuela Province
Entrance Fee: $15 Adults / $5 Children
Unlike the other dormant and extinct volcano national parks, Poas Volcano is a very active volcano that is often closed to visitors due to the dangerous sulfurous gasses released from underground.
The last major eruption was between 1952 and 1954. However, the volcano briefly erupted twice during the year 2019, so make sure you check if it is open before visiting!
If an active volcano isn't exciting enough, Poas is located in the heart of inland Costa Rica. This is one of the world's largest open volcanoes, and the main crater is 950 feet wide and often shows off its incredible power with bubbling gasses and geothermal activity.
The park is near San Jose and Alajuela, making it a good spot for a day trip from either of these cities. There are tours and buses that run between the cities daily, and the best way to experience the park is to book a tour with an expert guide.
During your tour, you'll be given a hard hat to wear before strolling along the crater's edge to a pinnacle viewpoint, where you can gaze down into the sulphuric acid lake. You'll need to purchase tickets in advance online to enter the park.
Like most volcanoes at a high altitude, the best time to visit this Costa Rican national park is during the early morning or afternoon, when cloud cover is minimal.
Where to Stay near Poas Volcano National Park:
Hidden in the valley of the volcano in Vera Blanca, Peace Lodge is a five-star lodge with a luxurious touch. The property has a swimming pool and a restaurant decorated with a uniquely Costa Rican / jungle-inspired flair.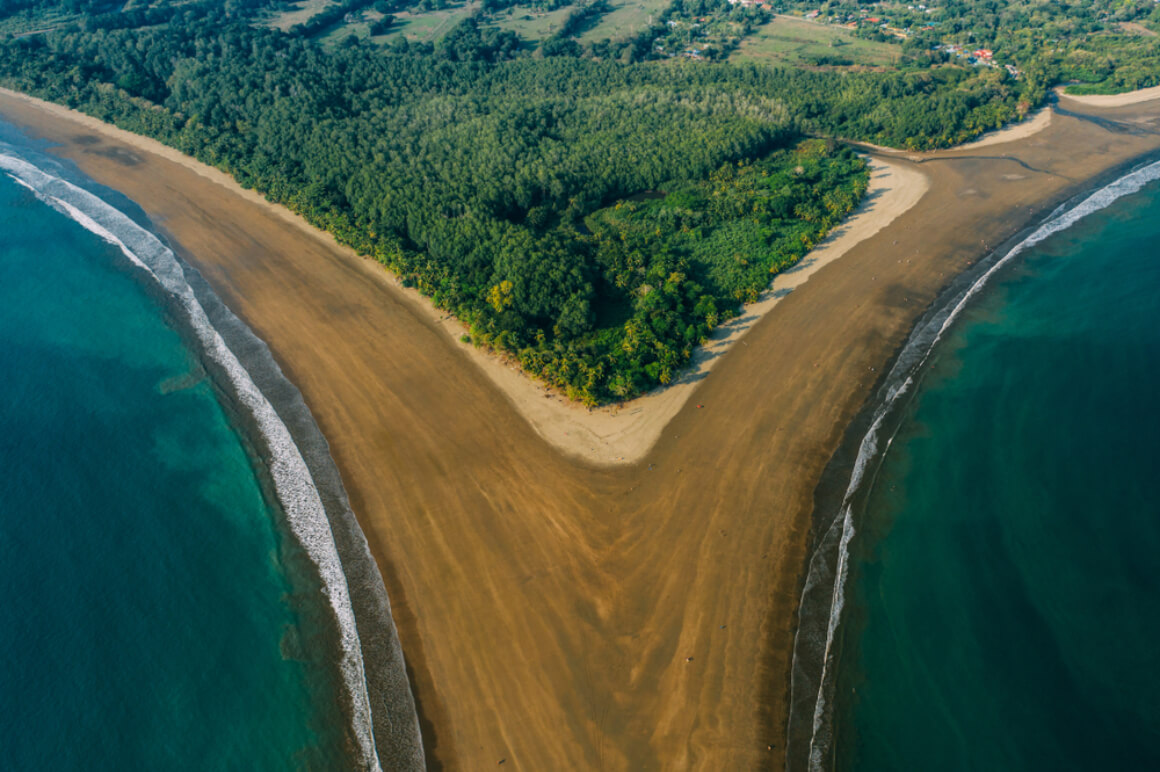 Size: 20 square miles (marine), 0.6 square miles (land)
Location: Uvita, Puntarenas Province
Entrance Fee: $6
Perched along the Pacific coastline of Costa Rica, Ballena Marine National Park is a marine reserve with more sea surface area than land. It is named after the humpback whales that make their way through the area between July and October and again from December to March.
In fact, Costa Rica has eleven times more marine surface than it has land, so it only makes sense that this park is dedicated to conserving the beautiful marine ecosystem below the surface.
The park's main feature is the iconic 'Whale Tail,' which is essentially a sandbar and reef that juts into the water from the coastline in the shape of a whale tail. It's all very fitting for a whale migratory marine reserve to have a natural whale tail sandbar, isn't it?
Visitors come to hike along the rainforest-lined coastline and enjoy leisurely walks along the beach. If you visit this national park in Costa Rica at low tide, you can even walk along the Whale Tail. Alternatively, you could also join a whale-watching boat tour that heads towards Cano Island.
Where to Stay near Ballena Marine National Park:
Bungalows Ballena offers gorgeous low-key accommodations just a few meters from Uvita Beach. Each bungalow has a kitchen and private bathroom and includes access to a shared swimming pool.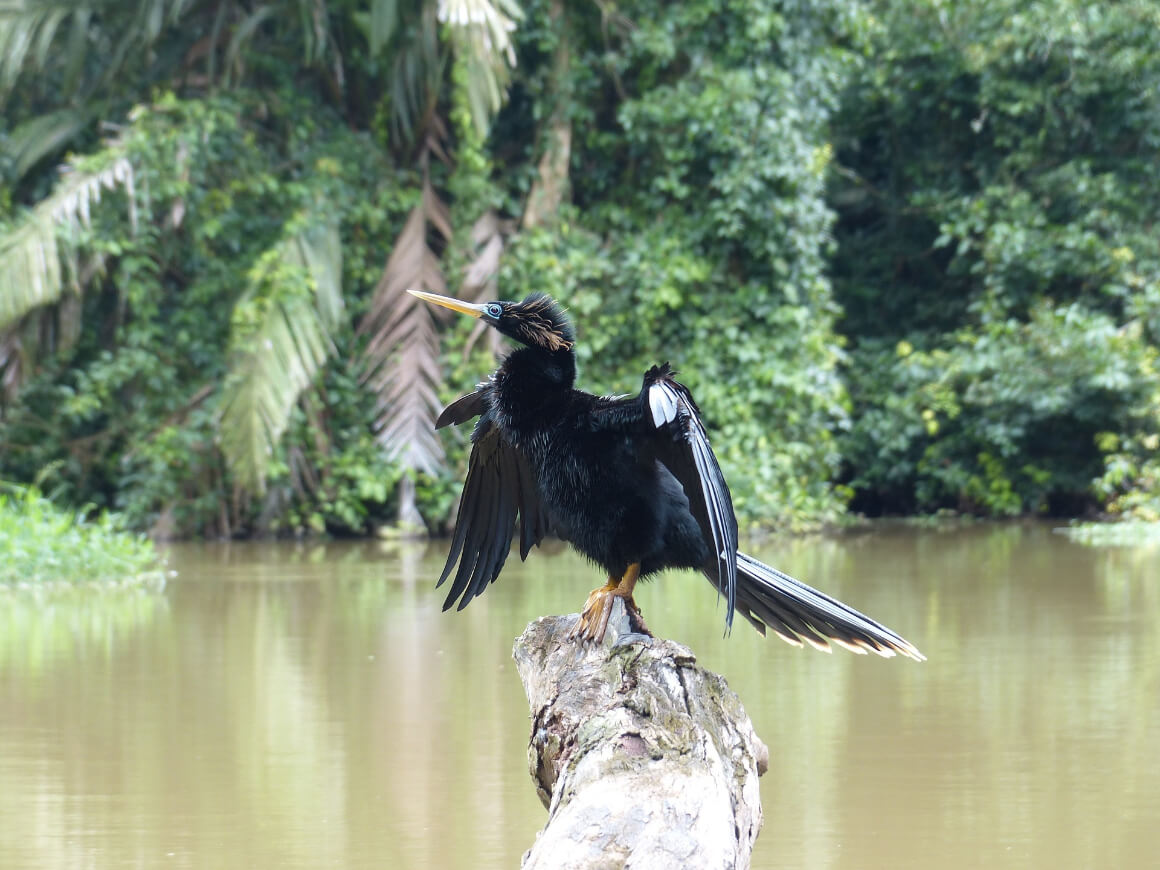 Size: 194 square miles
Location: Limon Province
Entrance Fee: $15 Adults / $5 Children
Accessible only by boat or airplane, Tortuguero National Park is one of the most remote and secluded destinations in the country. However, even being hard to access, the park is still one of the most popular in Costa Rica, attracting thousands of visitors to its dense jungle landscape each year.
Set in the heart of the Caribbean coastline, the reserve has eleven different habitats, making it one of the world's most flora and fauna-diverse parks. You could explore the undergrowth of a rainforest, paddle through a mangrove forest, wander tropical beaches and explore crystal-clear lagoons all in one park.
The scenery changes before your very eyes every few miles in this magical national park in Costa Rica. Watch out for crocodiles, manatees, and sea turtles along the coastline and mangroves, and monkeys, toucans, and sloths in the dense rainforest.
The park is as tropical as they come, with a humid climate supporting various tropical plants, wildlife, and bird species that are threatened by climate change in other parts of the world.
Tortuguero National Park has been internationally recognized for its rich biological diversity and ecosystems. It even forms a corridor with another protected park known as the Indio Maiz Biological Reserve in the neighboring country of Nicaragua.
Where to Stay near Tortuguero National Park:
For an authentic experience, why not spend a night in this exquisite local Costa Rican home in Tortuguero? The beautiful house features an open-plan interior with tons of natural light and airflow through the large windows.
Final Thoughts
Coupled with the laid-back atmosphere and peaceful charm, the natural beauty in Costa Rica makes this country one of the top destinations for nature lovers.
From dreamy beaches to humid and dense rainforests, tourists visit the country to explore and admire the exciting wildlife and flora living in some of the most naturally beautiful environments in the world.
While all of the parks on this list come highly recommended, I can confidently say that my favorite park to visit was the Tortuguero National Park, which is one of the best places to visit in Costa Rica. The sheer diversity of landscapes and habitats in this region is enough to make any nature lover fall in love with this national park in Costa Rica.
No matter which part of the country you visit, the incredible landscapes, flora, and fauna on show in Costa Rica offer an abundance of excitement and beauty for all types of travelers. Get ready for an adventure, and get a booking!
---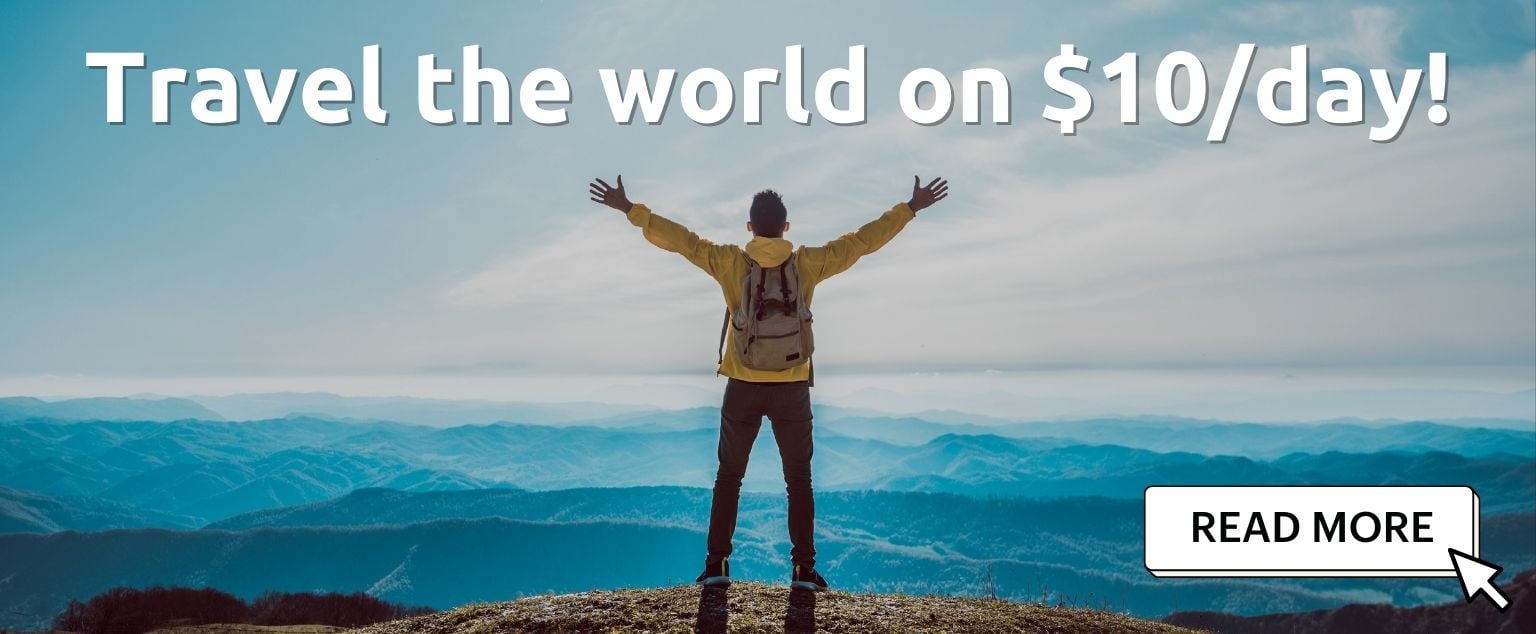 And for transparency's sake, please know that some of the links in our content are affiliate links. That means that if you book your accommodation, buy your gear, or sort your insurance through our link, we earn a small commission (at no extra cost to you). That said, we only link to the gear we trust and never recommend services we don't believe are up to scratch. Again, thank you!