Costa Rica is a country famous for its breathtaking natural beauty and ecological biodiversity. Travelers have been flocking to this magical country for decades in search of Pura Vida (Pure Life). Backpacking Costa Rica is a rite of passage for any backpacker keen on exploring South or Central America.
Costa Rica is definitely the jewel in the Central American crown for a variety of reasons. The country is packed with a vast array of prime backpacker destinations. Think endless adventure opportunities for the adrenaline junkie, perfect surf beaches, steamy cloud forests, and quite possibly the most chilled out vibe anywhere on earth.
You have been hearing about Costa Rica ever since you were old enough to read a map. Life has brought you to the fortunate crossroads of deciding where your next backpacking adventure will be, eh? Good on you for choosing Costa Rica! If you have the adventure travel itch, backpacking Costa Rica offers up the perfect scratch for all of your backpacking hopes and dreams.
This Costa Rica travel guide will teach you everything you need to know to have the best possible journey exploring this truly special country. Vamos amigos!
Why Go Backpacking in Costa Rica
There is no shortage of fabulous places to go backpacking in Costa Rica. The country truly has mind-boggling diversity. Due to its relatively small size and reliable bus system, it is possible to see a majority of the country in a short amount of time.
Spending time on the Pacific Coast is definitely a must if you are keen to surf or just love the beach. For adventure sports, hiking, and epic wildlife head to the mountainous interior. The Caribbean coast has a markedly different atmosphere than the Pacific. The surfing is not as good (or non-existent), but the landscapes, culture, and people are amazing.
Any way you play it, backpacking Costa Rica is non-stop fun. Too much fun at times! Whether you have a few weeks or a few months, there is a Costa Rica backpacking trip for everyone.
Best Travel Itineraries for Backpacking Costa Rica
Below I have listed several travel itineraries for backpacking Costa Rica trips! If you have a month or more to visit Costa Rica, it's easy to combine a couple of these itineraries and put together a larger Costa Rica backpacking route.
Backpacking Costa Rica One Month Itinerary #1: Costa Rica Highlights
If you have a month or more to commit to backpacking Costa Rica, then you can cover a lot of ground! Costa Rica really has so much to offer, and the only way you can see the whole country in one trip is to have a decent chunk of time.
If you are entering the country from the north, then the Nicoya Peninsula is an obvious starting point. Likewise, if you are entering from Panama in the south, starting around Puerto Viejo makes sense.
My advice to split your time between the coast and the interior. Unless you are a die-hard surf maniac, visiting the lush cloud forests, raging rivers and stunning mountains are a must.
Keep in mind that the beaches close to San Jose will be more crowded and can be more pricey any time of year. Once you establish what your priorities are you can go from there.
There are a lot of awesome places to visit in Costa Rica – so many that you might not even be able to fit them all in during your stay. When visiting Costa Rica, you can be sure that every day will be an adventure!
Backpacking Costa Rica Two Week Itinerary #2: The Pacific Coast
For this Costa Rica itinerary, I suggest at least two weeks. The Pacific Coast of Costa Rica boats world-class surf beaches, delicious seafood, and stunning national parks.
This backpacking Costa Rica route can be travelled north or south from the capital San Jose. If you are entering Costa Rica from Nicaragua then the obvious choice is to start in the north and work south.
The Nicoya Peninsula is dotted with sleepy surf towns that feel remote even if many backpackers pass through every year. Travel on the Nicoya Peninsula is some of the slowest in all of Costa Rica. The roads are not very well maintained so the bus rides can feel longer than they should be.
Mal Pais and Montezuma are classic Costa Rican surf towns where one could easily spend a week soaking up the sun and surf.
Further South lies more beautiful beaches and the famed Corcovado National Park, known for the most biodiverse eco-system in the world. I suggest picking a few places that offer up a good mix of beach, jungle, and party.
Getting to know an area for a few days is much more rewarding than taking a bus every single day. The pace of life is slow in Costa Rica. On the coast time seems to be an irrelevant aspect of life.
Adapting to the mellow Tico lifestyle is easy. Be careful! Your two week Costa Rica travel itinerary to the Pacific coast might turn into a few months once you get a taste!
Backpacking Costa Rica 10 Day Itinerary #3: Costa Rica's Cloudforest
The mountainous interior of Costa Rica could not be more different than the coast. In this itinerary, you can get the best of both worlds. You can easily spend a few days chilling out on the beach before heading to the hills.
The Monteverde Cloud Forest Reserve is one of my favourite places in the whole country. If you love wildlife, trekking, and cooler temperatures, then welcome to the cloud forest! Next head to the Arenal region. The Arenal Volcano is just a few hours away from Monteverde. Pop over to the town of Fortuna and explore the surrounding area for couple days.
If you have a few extra days head south to Chirripó National Park. Climb Cerro Chirripó, which at 3,820 meters (12,530 ft) is the highest mountain in Costa Rica, though you have to book ahead! The park is home to numerous species of rare wildlife including jaguars, pumas, and tapirs.
These jungle-mountains are some of the most bio-diverse places on Earth. Due to the wildness of central Costa Rica, there is ample opportunity to get off the beaten path and really explore, so make sure you pack a backpacking tent and spend a couple of nights under the stars!
Backpacking Costa Rica 10 day itinerary #4: The Caribbean Coast
Which coast is the best coast? That is for you to decide, amigos! In my opinion, both coasts of Costa Rica are fucking phenomenal. The country isn't named Costa Rica (Rich Coast) for nothing right?
Backpacking the Caribbean coast does offer up some distinct differences than its Pacific counterpart. For one, the landscape is lusher and wetter. The jungle is booming with life and so are the few sleepy coastal towns.
A visit to Tortuguero National Park is bound to be a highlight of your time backpacking Costa Rica. The park isn't easily accessed, however it is one of the most beautiful places in the whole country. Tortuguero is definitely worth the effort! What makes it so special? Every year thousands of sea turtles hatch on the beaches in Tortuguero National Park.
The Tortuguero area is also one of the wildest places in Costa Rica. I would avoid the ugly port city of Limon. There is nothing on offer for backpackers except maybe a bus out of town.
Further south lies some of Costa Rica's best beaches, nightlife and all around fun. Puerto Viejo is the quintessential Costa Rican party town where locals and gringos let loose and chill out. The town has a bit of a rasta vibe happening, and it is not surprising that many expats from abroad choose to make Puerto Viejo their home.
The town feels like it was made for backpackers. It is touristy but not in a negative way if that is possible. Expect heaps of backpackers but also get ready for heaps of fun.
Further south still lies the quieter town of Manzanillo. There are some excellent hikes in the area that weave between beach and jungle and offer up all of the associated dramatic views and wildlife. Down here the pace is slow and everything tastes like coconut. The abundance of delicious seafood, cold beer, and cheap weed makes the southern Caribbean coast one fantastic place to spend some time.
This 10 day Costa Rica backpacking itinerary follows the obvious route if you are planning to backpack Panama next.
Places to Visit in Costa Rica
Now that we've covered some of the best travel itineraries for backpacking Costa Rica, let's dive in and explore some of the best places to visit in Costa Rica on your adventure…
Backpacking San Jose
For most backpackers, San Jose is more of a travel hub than it is a destination. I found San Jose to be pretty chill in comparison to other Central American capital cities.
To be honest, San Jose can't really be avoided as you move about the country. Many parts of the country can be accessed from buses departing the main bus station. The "Coca-Cola" bus terminal as it is called is located in a sketchy neighbourhood. You shouldn't experience any problems in San Jose; however, keep an eye out for pickpockets and scammers.
If you have a day or two to kill in San Jose, I recommend heading to the Avenida Central area. This busy boulevard makes for a good base to explore the downtown area, shops, restaurants, and museums.
The Costa Rica National Museum is pretty good value and makes for an afternoon well spent.
San Jose is definitely not as sketchy or dangerous as say Guatemala City is; however, think twice before roaming around unknown neighbourhoods after the sun goes down.
If you're planning on staying for a couple of nights, make sure you rest your head in one of the great San Jose Hostels – trust us, there are plenty of great ones. Start exploring San Jose recharged and ready to go!
Backpacking Playa Del Coco
Playa Del Coco is a popular beach town located on Costa Rica's northern coast. If you are coming across the border from Nicaragua, the beach is only a few hours away by bus.
Playa Del Coco has really exploded with development over the last decade. A stopover here is fun, but I would not recommend staying more than a day or two. There is a fun nightlife scene and great scuba diving off the coast.
Playa Del Coco is notorious for a large number of sex workers operating here. If a "local" girl is flirting with you just a little too hard at the bar, then you know why. Something to be aware of is that I have heard a number of the sex workers in Playa Del Coco are minors (under 18).
Backpacking the Nicoya Peninsula
The Nicoya Peninsula is famous the world over for its fabulous surf breaks and reputation for being a paradise for backpackers. Alas, the reputation is true! I thoroughly enjoyed my time cruising around the Nicoya for a number of reasons.
The beaches truly are incredible and if you are looking to try surfing for the first time, you have come to the right place. My ex-girlfriend who had the balance of a drunken sailor even managed to catch a few waves down here.
Parts of the Nicoya Peninsula are sparsely inhabited. The towns are small and still have dirt roads running through them. If you are looking for an alternative reality for a week or more, look no further than the Nicoya Peninsula!
Backpacking Montezuma
Though Montezuma is located in a remote part of the NP, there is plenty to keep you busy here. The secret is out and Montezuma has a well-developed infrastructure for hosting travellers. There is a great community of backpackers based in Montezuma and if you have even the slightest hippie tendency you will make friends in no time flat.
Surfing and beer drinking are the obvious official activities here. Inland you can find a handful of stunning hikes and waterfalls. If you prefer water sports, go scuba-diving or sea kayaking. You can also head on a day trip to Playa Grande. You'll find even more surfing options here, as well as some awesome Playa Grande hostels for budget backpackers that want to stay a bit longer.
There are a handful of yoga retreat places around town too if you're looking for that sort of thing. Or if you want to really channel inner healing, you could opt for a mediation retreat or spiritual retreat in Costa Rica.
Backpacking Santa Teresa
Another surf mecca town on the NP is Santa Teresa. If you haven't gotten the message by now, this region of Costa Rica lives and breathes surfing. I can't think of a better place to learn.
The town of Santa Teresa hasn't got much going on other than its main strip of hostels, surf shacks, and cafes. If you are interested in epic cameras and photography, head to the beach at sundown and capture the sky as it explodes with color over the sea. The beach at Santa Teresa is one of the most beautiful places I have found myself whilst backpacking anywhere in the world. Check out this post for a full guide to Santa Teresa.
Spend your days catching waves and your evenings chilling out with your new mates on the beach. If this isn't paradise I don't know what is. There's also awesome great hostels in Santa Teresa to stay at too.
Backpacking Quepos
If you are coming to Manuel Antonio National Park then you will pass a night or two in Quepos. Quepos is nice enough but the real draw here is without a doubt, the national park. The Rainmaker reserve just north of Quepos is a great alternative to the crowds of Manuel Antonio National Park.
If you are in town for the weekend, definitely hit up the Quepos Farmers Market. As a general rule, you should be eating as much avocado, bananas, and mango as humanly possible whilst backpacking Costa Rica!
Backpacking Manuel Antonio National Park
Manuel Antonio National Park is beautiful and it is also an extremely popular Costa Rican National Park. There are a number of hiking paths that weave between jungle and the beach that offer. I recommend that you come to the park as early as possible to avoid the crowds. You will never avoid them completely; however, there are parts of the Manuel Antonio park where certainly fewer people go.
The beach at Playa Biesanz is one of the less visited gems of the park. This beautiful cove is a great place to go swimming and just chill out on the beach with some snacks. If you leave food out of your backpack while you are swimming, you can be pretty sure monkeys will steal it. Manuel Antonio also offers quite a few hostels which are worth checking out – rest your head in a comfy bed and start the next day recharged and ready!
Backpacking Corcovado National Park
If you thought Manuel Antonio was beautiful but too crowded then you will be blown away by Corcovado.
Corcovado National Park is a place filled with deserted beaches, lush rainforest, and a system of awesome hiking trails.
Camping in the park is possible, though only near the ranger stations. One must book these in advance and spots are limited, so jump on making reservations if you can.
Since Corcovado is a pretty wild place there is an abundance of wildlife around every corner. Crocodiles live in the rivers so be careful when you cross them!
I have heard that backpackers can no longer do multi-day hikes in the park without a guide, and it can be quite expensive. I cannot speak to how strictly this is enforced. If you do end up taking a guide, remember to shop around and find the best deal for yourself.
Backpacking Pavones
Costa Rica's southern Pacific coast is dotted with charming beach towns. Pavones ranks pretty high on the list. It is a place where the real world ceases to exist. Surfers, hippies, and backpackers come here every year and never leave. Between Pavones and Punta Banco, there are a series of freshwater swimming holes that really hit the spot on those sweltering sunny days.
The second longest left breaking surf wave in the world can be found in Pavones. Surfboard rentals are a bit expensive here ($15+/day). I advise splitting the cost with a friend or two and taking turns throughout the day.
It is quite the effort to arrive at Pavones because of its geographical location. If you make it this far south, you will be rewarded with one of the best beaches and coolest vibes anywhere in the hemisphere. The nearby town of Uvita makes for another good spot to base yourself. Uvita is home to the legendary Envision Music and Arts Festival which usually takes place in February every year.
Backpacking Monteverde
Oh Monteverde. For the last 30+ years, Monteverde has been attracting nature lovers from around the globe like a magnet.
The Monteverde Cloud Forest Reserve is one of the most visited places in Costa Rica. That said, I believe it is a must-visit destination on your journey backpacking Costa Rica.
The absolutely stunning scenery and biodiversity make up its unique charm. Hiking in the reserve is a once in a lifetime experience. Due to its size, it is easy to find yourself alone for extended periods in the park. It is also possible to arrange a nighttime visit to the park to experience all of the nocturnal creatures that come out to play in the dark.
The town of Monteverde boasts a fun nightlife and a selection of fine cafes serving up some of the tastiest goddamn coffee in the whole country. Monteverde's hostels can be considered some of the best and you'll definitely enjoy staying here.
Bring a good rain jacket as the downpours can be sudden and fierce.
Backpacking La Fortuna
La Fortuna makes for a great base if you are planning to explore the region around the Arenal Volcano. The town is extremely touristy, though the surrounding area is gorgeous and definitely worthy of exploration. You shouldn't spend too much time in town unless you are eating or sleeping. Speaking of sleeping – there are a couple of great hostels in Fortuna that will offer you a bed to rest your head and a free breakfast if you're lucky.
Going for a hike in Arenal Volcano National Park and soaking in natural hot pools rank as favorite activities here. You do not need to have a guide to go to the national park. There are many folks on the street in La Fortuna who will try to get you to hire them. Hiking in the park is very easy to sort out on your own, so don't fall for it!
If adrenaline sports are your thing, there are an infinity of operators willing and ready to fulfill your canyoning or rafting dreams.
Backpacking San Isidro de El General
San Isidro is a typical Tico town in many respects. It is conveniently located just an hour away from the Dominical beach. Costa Rica's highest mountain, Cerro Chirripo is only a short drive away. If you are looking to explore this part of Costa Rica, San Isidro makes for an easy base to explore the surrounding region and national park at Cerro Chirripo.
Climbing Cerro Chirripo (12,533 feet) is definitely worth the effort! On a clear day, you can see both the Pacific and Caribbean coasts from the summit. The 11-mile hike to the top can be stretched over two days, with an overnight (or wild) camp at the ranger's station.
The Nauyaca waterfalls are roughly 30 minutes from the town center and make for an excellent day trip complete with a swim below the falls!
Backpacking Tortuguero National Park
One of the most beautiful and wild places in Central America? Yes. A budget backpacker destination? Not exactly. Let's face it. Costa Rica can be an expensive place to travel at times.
With a visit to Tortuguero, there is simply no avoiding incurring some steep cost. Tortuguero is very remote and difficult to access. All of the supplies from the outside are brought in by boat. The prices reflect that.
With that said, a trip here is bound to be ultra rewarding. Its beaches are famous nesting grounds for sea turtles, including endangered green turtles. The park's freshwater creeks and lagoons, which can be navigated by boat or canoe, shelter spectacled caimans, and river turtles.
The jungle is so dense and untouched it gives you a feeling of what the landscape looked like across Central America before human development. If you are prepared to pay a bit for the pleasure of visiting Tortuguero than you will find some of the best off the beaten path adventure in Costa Rica.
And if you're looking for somewhere remote that offers serenity and peace, there are some awesome Costa Rican Airbnbs in and around the national park that offer just that.
Backpacking Puerto Viejo
Puerto Viejo is one of my favorite places in Costa Rica. Despite it being brimming with gringos and pricier than it should be, Puerto Viejo is one fine place to spend some time.
Located at the southern end of Costa Rica's Caribbean coast, Puerto Viejo has a lot going for it. There are ample diving and surfing opportunities as well as a vibrant international party scene.
There is an endless amount of accommodation options here too spanning all budgets. It is possible to pitch your tent at one of the surf camps for about $8/night. Puerto Viejo has a variety of fantastic places to eat as well, showing off the diversity of its inhabitants.
One thing I found frustrating is the fact that there is no clean drinking water in Puerto Viejo. They really gouge you on the price of water bottles ($2-3 per liter). Plus you end up buying heaps of plastic and contributing to the destruction of the planet.
I recommend filling up your bottles at your Puerto Viejo hostel if they have a filtration system. Or as stupid as this sounds, bring several gallons (or more) with you from another city. You will definitely save some money. I did it, and I did not feel stupid hauling water around with me.
Backpacking Manzanillo
Located just a short drive south from Puerto Viejo is Manzanillo. If the party scene has become too much for you or you are just seeking some quieter environment, come to Manzanillo. The beaches are great and a hike through the jungle just out of town is not to be missed!
The Gandoca Manzanillo Wildlife Reserve has some excellent hiking trails and almost no people.
One of the best nights of my life was spent at the Nature Observatorio tree house in the middle of the jungle. This is by far the most expensive lodging I have ever paid for on a backpacking trip but I must say it was totally worth it.
The tree house is literally in the middle of the jungle. The super cool builder/owner even hikes out a hot meal of your choosing along with a bottle of wine!
A 30-meter climb into a masterfully constructed treehouse complete with a hot shower and ultra-comfy mattress in the canopy of the rainforest is every bit as dreamy as it sounds. If you are looking for one cool and unique experience where you sleep suspended in the air as toucans, parrots, and monkeys mill around, I highly recommend staying here for a night! If ever you were going to blow your budget on something, do it here!
The great news is that there are tons of epic treehouses in Costa Rica, and if you're looking for a truly unique experience, we highly recommend you book a stay at one.
Getting Off the Beaten Path Travel in Costa Rica
Despite Costa Rica being one of the most popular travel destinations on earth, there is still room to travel off of the beaten path. Explore the national parks, numerous nature reserves, and remote coastlines. In most places, it only takes a little effort to escape the crowds.
The Caribbean and Pacific Coasts are teaming with adventure possibilities to explore. The wild nature of the interior also provides endless hiking and exploration potential.
Top Things to Do in Costa Rica
Whether you love the beach, the mountains, or the jungle, Costa Rica has something incredible to discover in each of its distinctly different regions. The possibilities are endless really. Explore until your heart's content and love every single minute of it.
I have listed the top 10 most popular and best things to do in Costa Rica below to get your ideas flowing for your next trip backpacking Costa Rica!
1. Visit Corcovado National Park
Want to see some of Costa Rica's unique wildlife? Come to Corcovado and explore the park on foot.
2. Learn How to Surf
Costa Rica has some of the best waves in the world. Want to make your daily routine something straight out of Endless Summer? Shouldn't be too hard to achieve that.
3. Study Spanish
Though you can get by in Costa Rica with English alone, learning Spanish will certainly open doors for you. Knowing a bit of Spanish will allow you to connect more easily with locals, get better prices, and will generally make travelling easier for you in Latin America.
Global Work and Travel Spanish Program
In fact, if you are MUY SERIOSO about improving your Spanish, Global Work and Travel, a platform offering volunteer, remote work, and language learning opportunities, has an immersive Spanish program that could keep you grounded in Playa Samara for a few weeks. They'll even help you find accommodation, and assist you every step of the way with a 24/7 global help-line, help with VISA processing and airport transfers should you need it. The Global Work and Travel Spanish program provides you with 4 hours of classes a day and other complementary activities in the evenings. Don't forget to pack your dancing shoes!
4. Climb Cerro Chirripo
Explore one of Costa Rica's most beautiful areas whilst climbing the highest mountain in the country.
5. Explore the Monteverde Cloud Forest Reserve
A hike through the Monteverde Cloud Forest Reserve is bound to be another great Costa Rica backpacking experience. See how many different orchids you can spot?
6. Stay in a Tree House in the Jungle
It requires some cash, but the stay in the tree house in the middle of the jungle was by far one of the coolest experiences I have ever had in my many years of traveling. If I had to choose between budgeting a beer tab for three weeks or staying in a jungle tree house for one night, I'd go with the tree house every time!
7. Drink Rum on the Beach
Rum is abundant. It is cheap. And rum on the beach with some good friends? A damn good time.
8. Watch a Coastal Sunrise and Sunset
I implore you to catch one of each on both coasts if you can swing it. I believe in you! In most cases, you will have the beach to yourself to catch the sunrise.
9. Kayak Tortuguero National Park
You have made it this far into Tortuguero now explore the hidden gems of the park under your own steam.
10. Scuba Dive in Costa Rica
Scuba Diving isn't the cheapest activity, but if you can afford a dive or two, the diving is world class and will leave you grinning like a fool.
If you're up to it, travelling can be the perfect time to focus on your fitness goals. We're super excited that WanderFit is now offering fitness holidays for the first time in Latin America, so you might find us there more often in the next few years.
Backpacker Accommodation in Costa Rica
Most regions in Costa Rica have a wide variety of budget accommodation options. These range from your standard backpacker hostel, crude surf camps on the beach, vacation rentals, or affordable retreat. Many of the towns with a more developed tourism infrastructure have pricier hotels and mountain lodges.
Almost always though, it is possible to find a budget option. Prices vary but the average price of a dorm bed throughout Costa Rica is between $10-15 USD. If you are traveling as a couple it usually ends up making sense to go for a private room as the price will be about the same.
If you are keen to camp, many hostels in Costa Rica offer camping as an option. Camping prices also vary greatly but in my opinion, they are more expensive than they should be. A campsite at a hostel or surf camp (with your own tent) will run you back between $5-10 per night.
Otherwise, Couch Surfing is the cheapest (free) way to go, and a great way to meet other locals; however, some of the places will not have much of a couch surfing scene. I believe Costa Rica suffers from too many backpackers looking for Couchsurfing, which has resulted in hosts that receive far more requests than they can or want to handle.
And as a quick insider tip: If you want to see all – and we mean ALL – hostel options in Costa Rica, be sure to check out HOSTELWORLD. You can even filter your personal travel needs to find the perfect place for you.

The Best Places To Stay in Costa Rica
Costa Rica Backpacking Costs
If you have been traveling around South or Central America, the high prices in Costa Rica will come as a shock. At times Costa Rica can be an expensive country to travel. They don't call it the Switzerland of Latin America for nothing.
If you are on a long-term backpacking trip, budget accordingly, and don't forget to save a little cash for something spectacular that you really want to do!
A Daily Budget in Costa Rica
Backpacking Costa Rica on a budget is quite easy really. During my time backpacking Costa Rica, I spent on average $30 USD a day. I'd say it is possible to backpack Costa Rica for as little as $15-20 a day if you are really budget conscious. $10 a day would be pushing it. That said, there are plenty of surf bums doing just that.
Money in Costa Rica
The currency in Costa Rica is the Costa Rican Colon. US dollars are excepted widely, however not everywhere.
ATMs are widely available everywhere, but you can expect a withdrawal fee for international bank cards, which is why I travel with a debit card that refunds me for transaction fees. (Americans, I recommend checking out Charles Schwab!)
Travel Tips – Costa Rica on a Budget
Camp: With plenty of gorgeous places to sleep out, Costa Rica can be a great place to camp in the rural areas. Check out this post for a breakdown of the best tents to take backpacking. Or, if you're feeling really adventurous and want to save some cash, consider picking up a backpacking hammock.
Cooking: If you are camping a lot or really want to save some cash, it could be worth bringing a portable backpacking stove so you can do some of your own cooking.
Couchsurf: Costa Ricans (Ticos) are awesome, and I am so grateful I was able to explore its cities with local friends. Check out Couchsurfing to make some real friendships and see this country from the perspective of locals.
Hitchhike: Where appropriate, hitchhiking is a great way to save money on transportation costs.
Pack a travel water bottle and save money every day!
Why You Should Travel to Costa Rica with a Water Bottle
Plastic washes up on even the most pristine beaches… so do your part and keep the Big Blue beautiful
You aren't going to save the world overnight, but you might as well be part of the solution and not the problem. When you travel to some of the world's most remote places, you come to realise the full extent of the plastic problem. And I hope you become more inspired to continue being a responsible traveller.
Plus, now you won't be buying overpriced bottles of water from the supermarkets either! Travel with a filtered water bottle instead and never waste a cent nor a turtle's life again.
Best Time to Travel to Costa Rica
Costa Rica has two distinct seasons: A dry season that runs from December through April, and a rainy season that runs from May through November. When Americans and Europeans are tired of freezing their asses off in the winter, they usually head down to Costa Rica en masse. December to February are very busy months in Costa Rica.
Make sure to book far in advance during Semana Santa (Latin America's Easter holiday week). Many domestic tourists will be on holiday. Americans also have this week off.
If you plan on spending a lot of time doing outdoor activities, then the dry season is the obvious choice to visit. If your backpacking trip is more focused on doing yoga, Spanish, or permaculture schools, then really you can come any time of the year. November and June are great months to visit. The prices and crowds are at their lowest.
What to Pack for Costa Rica
Staying Safe in Costa Rica
In my experience backpacking Costa Rica, there was never a time when I didn't feel safe. Costa Rica has very low rates of violent crime when compared to other countries in the region. Use your common sense and avoid being out late at night in the unfamiliar areas of big cities.
In general being out late, drunk, and alone is a recipe for trouble anywhere in the world. There have been reports of backpackers getting held up on remote sections of beach on both coasts. Odds are you should be just fine. If ever you run into a hold-up situation give them what they want and don't resist. Your Iphone and wallet are never worth dying over, ever!
Pick yourself up a backpacker security belt to keep your cash safe on the road, and check out Backpacker Safety 101 for tips and tricks to stay safe whilst backpacking Costa Rica.
I strongly recommend travelling with a headlamp whilst in Costa Rica (or anywhere really – every backpacker should have a good headtorch!) – check out my post for a breakdown of the best value headlamps to take backpacking.
Be aware that Costa Rica is home to many species of poisonous spiders, snakes, and other dangerous creatures. Always watch your step when trekking through the jungle. Apart from that, we can say that Costa Rica is pretty safe. Just keep in mind: never stick your hand somewhere you haven't first seen with your eyes.
Sex, Drugs and Rock 'n' Roll in Costa Rica
Costa Rica is definitely a place where locals and backpackers like to get down. While beer and liquor are relatively cheap, night after night of partying can burn a huge hole in your pocket. A variety of drugs are readily available also.
Cheap weed of varying quality can be found as easily as bottled water in many of the popular surf towns. This is especially true on the Caribbean coast and in Puerto Viejo in particular. Cocaine is also pretty free-flowing at times. While sniffing a little coke can be fun, remember the industry you are funding is responsible for hundreds of thousands of deaths all over South and Central America.
There is no legitimate argument for ethical cocaine, however, the choice is yours to make. I would be a hypocrite if I told you to stay away from it all together.
Ticos love a good party and they are happy for gringos to join them for a good time. Remember to pace yourself. A night out doesn't have to involve slamming beer and shots as fast as you can.
Travel Insurance for Costa Rica
World Nomads' mission is to support and encourage travellers to explore their boundaries. They offer simple & flexible travel insurance, and safety advice to help you travel confidently.
They've been doing it since 2002 – protecting, connecting, and inspiring independent travellers just like you.
Get a quote below or read our in-depth review!
World Nomads provides travel insurance for travelers in over 100 countries. As an affiliate, we receive a fee when you get a quote from World Nomads using this link. We do not represent World Nomads. This is information only and not a recommendation to buy travel insurance.
How To Get Into Costa Rica
Costa Rica has two international airports, one in San Jose, and the other in Liberia near the northern Nicoya Peninsula. You can fly into whichever is most convenient for your itinerary.
There are also border crossings from the north and south. Most people cross into La Cruz from the southwestern part of Nicaragua, or cross into Panama near Puerto Viejo and Manzanillo by bus.
Entry Requirements for Costa Rica
Costa Rica has pretty lax requirements for citizens of many countries. Citizens from the EU, USA, Canada, and Australia do not need to apply for visas before arriving. So before you book your flights, check the complete list of countries that do not need to apply for visas before arriving.
There is decent public transportation linking the international airport in San Jose to the city center. Do not opt for a taxi unless absolutely necessary!
If you are arriving at a land border, you must present a return ticket home or a ticket out of the country within 90 days. This is very important! They will not let you pass through into Costa Rica without this information! If you are not in possession of a plane ticket, you can buy an international bus ticket with an open date on it.
The two most common border crossings are at Penas Blancas in Nicaragua (which is an awesome backpacking destination too) and Paso Canoas in Panama.
How To Get Around Costa Rica
Costa Rica has a pretty solid network of buses that seem to run on time for the most part. I found the public transportation in Costa Rica to be efficient, but also the most expensive anywhere in Central America. For ease and convenience, buses are definitely the way to go.
Taxi are abundant as well if you are needing to get to a place where buses don't run. I would personally avoid taxis at all costs because they tend to be very expensive. If your haggle game is on point you might be able to get a decent rate, but don't count on it. Uber is available too, especially in San Jose and it's a cheaper alternative to getting a taxi.
Onward Travel from Costa Rica
Getting to one of the countries neighboring Costa Rica is easy and straightforward. You can take a bus to the border and then walk across to catch another bus or taxi on the other side. For land borders, you must pay a departure tax of $7 USD.
If you are leaving via the international airport in San Jose then you must pay a $29 USD departure tax! I have paid this damn tax three times on my various backpacking trips, and every time it is annoying. Annoying but mandatory. C'est la vie.
Working in Costa Rica
Costa Rica is widely regarded as one of Central Americas most liveable nations and there is a considerable expat community living and working in the country. It is also buzzing with Costa Rica gap year goers.
Recent digital nomad statistics show that Costa Rica is becoming increasingly more popular among traveling workers, too!
Work Visa's in Costa Rica
In order to legally work in Costa Rica, you need to either be a citizen or a legal permanent resident. Work visas can be difficult to obtain in Costa Rica as country does not like when foreigners take jobs that can be filled by citizens, and there are laws protecting this idea.
Volunteering in Costa Rica
Volunteering abroad is an amazing way to experience a culture whilst helping your host community. There are plenty of different volunteer projects in Costa Rica including teaching, construction, agriculture, and pretty much anything.
Costa Rica has experienced strong economic growth over the past few years and is by no means a developing country. However, that doesn't mean volunteer help isn't appreciated. Whether you've got skills in teaching, farming, hospitality, or love working with animals, you'll find plenty of opportunities to volunteer in Costa Rica. You won't need a special visa either, as the 90-day tourist visa will cover you for most volunteering programs.
If you want to find volunteering opportunities in Costa Rica, then we recommend that you Signup for Worldpackers – a volunteer platform that connects local hosts directly with traveling volunteers. As a Broke Backpacker reader, you'll also get a special discount of $10 when you sign up. Just use the discount code BROKEBACKPACKER and your membership is discounted from $49 a year to only $39.
Volunteer programs run through reputable work exchange programs like Worldpackers are usually very well-managed and reputable. However, whenever you are volunteering, do stay vigilant especially when working with animals or children.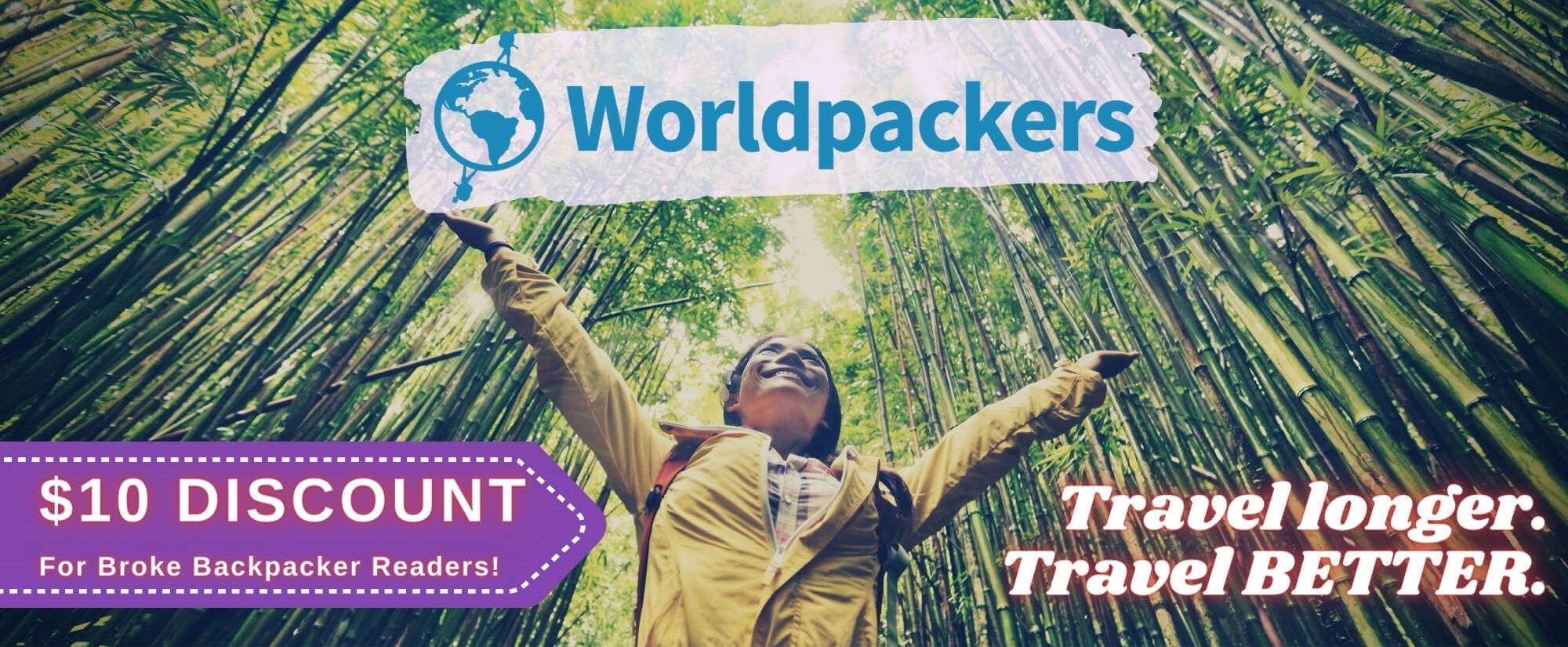 Worldpackers: connecting travellers with meaningful travel experiences.
Teaching English in Costa Rica
One opportunity for jobs in Costa Rica is teaching English. The only two requirements you really need to teach English in Costa Rica are a TEFL/CELTA certificate and being a native English speaker. Most countries in Latin America don't even require degrees of any kind for teaching English.
What To Eat in Costa Rica
From fresh fruits and coconut water to tasty Gallo Pinto and fresh seafood, Costa Rican cuisine is some of the best in all of Central America! The local soda restaurants will be your cheapest option for eating out.
As you travel around be sure to hit up the various farmers markets each town has to offer. Buying at local markets is a great way to have the freshest produce and it supports local farmers! Your backpacking Costa Rica experience will not be complete unless you are hauling around a backpack full of mango and banana on occasion!
Gallo Pinto: The national dish of Costa Rica! It consists of rice and beans stir-fried together in a pan to create a speckled appearance. It is usually served for breakfast along with scrambled or fried eggs and sour cream or cheese
Casado: A typical lunch dish involving some sort of meat or fish, fried plantains, and salad.
Chifrijo: A fried crispy pork dish served with rice and pico de gallo, a fresh salsa, and tortilla chips. The perfect bar snack!
Olla de carne: A hearty stew containing beef, cassava (a starchy tuber used in Tico cooking), potatoes, corn, green plantains, squash or chayote, and other vegetables.
Ceviche: A popular seafood dish found throughout Latin America. Ceviche is made up of raw fish marinated in lime juice, tomatoes, onions, cilantro, and chili. Always a personal favorite of mine!
Drinking in Costa Rica
Imperial Beer: The national beer of Costa Rica. The beer and the tank-tops baring its likeness can be found everywhere within the country.
Batidos: Fresh fruit smoothies made from every variety of fruit imaginable. Usually contains milk.
Ginger Beer: Homemade ginger beer can be found in various parts of the Caribbean Coast.
Fresh Coconut Water: Perhaps no other beverage on earth can bring as much joy as a fresh cold sweet coconut water on a hot day.
Guaro: A cheap, abundant sugar cane spirit that is the base for a number of local mixed drinks.
Books to Read About Costa Rica
These are some of my favorite travel reads and books set in Costa Rica which you should consider picking up before you begin your backpacking adventure…
Useful Travel Phrases For Costa Rica
Learning a bit of Spanish is a great way to get the most out of your trip. When I became fluent in Spanish, it really changed the way I was able to travel in Costa Rica and beyond. It is such a useful language to know! You can speak it in over 20 countries!
Here are a few helpful Costa Rica travel phrases with English translations for your backpacking Costa Rica adventure:
A Brief History of Costa Rica
Costa Rica's egalitarian traditions have subsisted throughout its history. Even though the introduction of banana and coffee plantations in the nineteenth century gave rise to a small oligarchy, the nation has been able to maintain democratic ideals.
The modern era of democracy in Costa Rica began after the elections of 1889, which are considered the first free elections in the country's history. This democratic tradition has experienced problems only twice: once in 1917 and 1918 when Federico Tinoco declared his government a dictatorship; and again in 1948 when a disputed election brought forth a civil war in which more than 2,000 people lost their lives.
The most prominent Costa Rican of the modern era is probably Oscar Arias Sánchez, who was president of Costa Rica from 1986 to 1990, a significantly troublesome time in Central America, with disturbances in El Salvador, Nicaragua, and Panama. Although Costa Rica enjoyed peace within its borders, it was not insulated from regional conflicts.
The instability in the neighboring countries at this time discouraged investment and tourism. Moreover, the country experienced a flood of Nicaraguan and Salvadoran refugees, which impacted the economy and placed additional strain on educational and health institutions.
Modern Day Costa Rica is a nation at peace. Fun Fact: Costa Rica has no standing army.
Some Unique Experiences in Costa Rica
Trekking in Costa Rica
Costa Rica is home to some of the best hikes in Central America. As a nation bursting with natural beauty, you must absolutely make time to tackle a few epic treks! Costa Rica has amazing national parks filled with hiking trails. Here I have listed a few of my personal favorites.
Monteverde Cloud Forest Hike: Soak in the sights and sounds of one of Costa Rica's ecological gems.
Arenal Volcano National Park: Hike amongst an active volcano? Why the hell not? Most of Costa Rica's 850 species of bird can be found here, including the endangered quetzal. The park is home to white-faced monkeys, jaguars, coati, and toucans.
Try the sweet hike to the Chato Volcano – one of the best volcano hikes in Central America. The hike takes you through lush rainforest, and old lava beds. At the end, you are rewarded with a nice lake in an old crater.
Corcovado National Park: If you want to experience a real multi-day hiking adventure, come to Corcovado. You will need to take a guide, but after seeing what you have to navigate, you'll be happy you took one.
Rincon de la Vieja National Park: If ever Yellowstone had a little brother who spoke Spanish, he would live at Rincon de la Vieja National Park. Geothermal pools, waterfalls, and mysterious puffs of steam make up this sulfur-scented landscape. Come and explore this totally unique part of Costa Rica. Trails begin from the Santa Maria ranger station and wind throughout the park. Avoid taking detours in this park. You don't want to end up falling into a hole filled with boiling water.
Scuba Diving in Costa Rica
Costa Rica is blessed with great diving on both coasts. The diving is very different mind you. Those folks who have experience diving in tropical waters might find diving in the Pacific Ocean a little less "wow." The visibility is not as good; however, it is still a fine time. If you do go diving, make sure you go on a day when the sea is relatively calm.
Some folks might not agree with me and say the diving is in fact better on the Pacific side. It all depends on your experience, the conditions, and what you were able to see!
Scuba Diving in Costa Rica can be a bit expensive. If you really want to go diving I can understand. I recommend picking one or two places where you are really keen on diving and going for it. That way you can get some diving in without spending too much checking out a bunch of different sites.
Rumor has it that Cahuita National Park and Gandoca Manzanillo Wildlife Refuge offer up the best diving and snorkeling in the whole country. Get your wetsuit on and find out for yourself!
Scuba Diving Costa Rica on a Liveaboard Trip
Really love diving? One of the best ways to discover the wonders of scuba diving in any country is to go on a Liveaboard Trip.
Liveaboard trips provide the opportunity to really get to know some truly off the beaten path dive sites with a group of like-minded folks. Plus you get to travel and sleep on a sweet boat as well.
Scuba dive by day, socialize by night, and oh yeah: eat tons of good food along the way…
Sounds pretty dreamy right?
Keen on Diving? Join a Costa Rica Liveaboard scuba diving adventure!
Joining an Organized Tour in Costa Rica
Just like most countries, solo travel in Costa Rica is the name of the game. That said, if you are short on time, energy, or just want to be part of an awesome group of travelers you can opt to join an organized tour. Joining a tour is a great way to see a majority of the country quickly and without the effort that goes into planning a backpacking trip. However—not all tour operators are created equal—that is for sure.
G Adventures is a solid down-to-earth tour company catering to backpackers just like you, and their prices and itineraries reflect the interests of the backpacker crowd. You can score some pretty sweet deals on epic trips in Costa Rica for a fraction of the price of what other tour operators charge.
Final Advice Before Visiting Costa Rica
Backpacking Costa Rica can be one hell of a party at times. Take it from me, it can be easy to get carried away. It is important to keep in mind that you are an ambassador for your country, which is awesome. We can make a positive impact on people when we travel and get rid of any ugly stereotypes that may be associated with your country.
Avoid eating at fancy gringo-owned restaurants. I don't care how badly you want that lasagne and red wine. You make a choice with every dollar you spend. Try to spend your money in places where the experience is mutually rewarding.
I know it can be hard, but do your best to use the least amount of plastic water bottles that you can. Refill the ones that you do buy! Use a Grayl Geopress. Refill at your hostel! There are plenty of ways to reduce plastic!!!
Backpacking Costa Rica or any country for that matter often illuminates some of the great socio-economic inequalities of the world. Never take it for granted that you are healthy and financially able to go traveling. Show the world around you some gratitude and help to make a positive impact on it.
I hope you have enjoyed this Costa Rica backpacking guide. You are now ready to get your boots on the ground and experience this magical country for yourself amigos! Backpacking Costa Rica was one of the most fun and rewarding times of my life. I remember finding myself thinking "damn, is this place for real?" whilst I was traveling there.
Yes amigos. Costa Rica is a real place. It is truly fucking paradise. I hope you love every minute of your time there!
---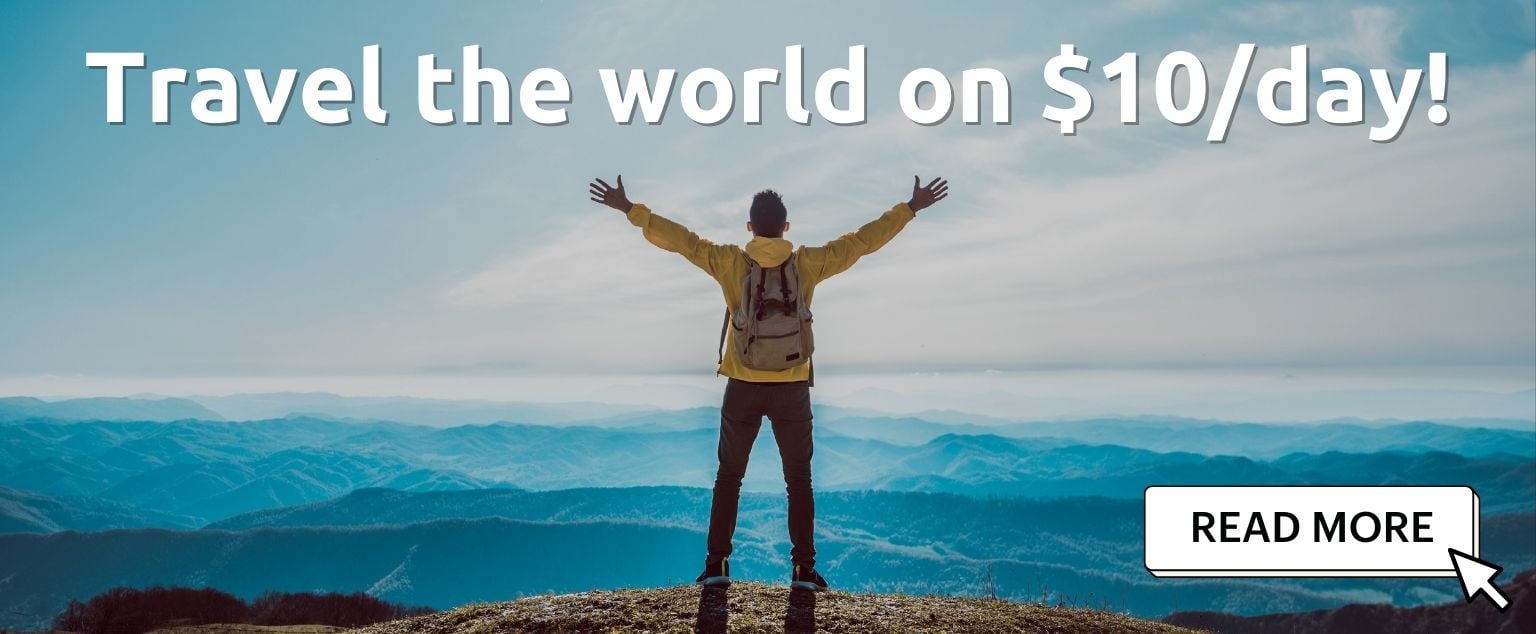 And for transparency's sake, please know that some of the links in our content are affiliate links. That means that if you book your accommodation, buy your gear, or sort your insurance through our link, we earn a small commission (at no extra cost to you). That said, we only link to the gear we trust and never recommend services we don't believe are up to scratch. Again, thank you!