I slowly open my eyes and I see it's still dark outside. It's 5AM, but I feel rested and at peace after a long and deep sleep. I hear the sound of waves crashing on the shore as the abundant wildlife around me awakens. Birds and crickets are chirping, and howler monkeys are roaring as they welcome the new day.
I slowly make my way out of my comfortable double bed and walk out of my bedroom to find an untouched, pristine jungle overlooking the ocean. The morning sunlight caresses the surrounding nature, and the temperature outside is not too humid, not too hot. I venture down through the lush gardens to a red wooden chair that faces the vast stretch of beach and wild ocean.
As I gaze at the horizon, I let my eyes rest on the spectacular landscape in front of me. My sleepy mind takes a few minutes to process where I am. As it does so, I am overwhelmed with a feeling of gratitude for being here and now. This week, I am in a Rest & Restore Yoga Retreat at Blue Osa Beach Resort & Spa.
Who is Blue Osa in Costa Rica?
Blue Osa Beach Resort & Spa is a yoga center offering Costa Rican yoga retreats and 200-hour yoga teacher trainings (200-YTT) in beautiful Costa Rica. It's nestled in the virtually untouched Costa Rican rainforest of the Osa Peninsula – the country's most remote destination and one of the most "biologically intense" places on earth, according to National Geographic. The area hosts more than 50% of Costa Rica's animal and plant species while covering only 3% of the country's land area.
Blue Osa can accommodate up to 38 guests, making it very intimate. Since it's so remote, you won't have any of the distractions you're probably escaping from. However, if you do need to get out of the resort for one reason or another, you can reach the closest town, the charming Puerto Jimenez, within a 15 minutes drive.
Blue Osa is 100% off the grid, meaning that the Beach Resort & Spa does not use water nor electricity coming from the city. Instead, it praises itself for being completely eco-friendly and sustainable by using a micro-grid. This runs mostly on solar power to leave the smallest carbon footprint possible to respect the surrounding environment and wildlife.
Everything at Blue Osa is eco-friendly. Activities offered at the resort are designed to leave the lowest impact on the surrounding nature. The laundry detergent is biodegradable, meals are farm-to-table with fresh ingredients arriving daily to guests' plates from the organic farm located across the road and fishermen next door. Any leftover food is used as compost to grow more food. Partnerships are solely with eco-friendly businesses. On top of all of this, it has 93 panels to generate electricity all across the facilities.
Putting it into statistics, the entire Blue Osa resort consumes the same amount of energy that the average US family of four does per month. Blue Osa truly leads by example when it comes to sustainability.
Facilities in Blue Osa
The facilities at Blue Osa were beyond my expectations – even though they were already high after viewing the resort's Instagram page.
As I arrived at the resort, I was welcomed by a team of smiling and enthusiastic staff. The open lobby offers a generous view on the jungle and the ocean, and it also has sofas, chairs, benches, and a large open kitchen area where you can watch dinner being prepared. The place is decorated tastefully, creating a very peaceful and relaxing vibe.
After checking-in and nibbling on some snacks and juices, the staff walked me to my bedroom. The bedroom consists of two queen-sized beds, a large en-suite bathroom, a comfortable couch, and a spacious wooden wardrobe. From the room, I could hear the sound of the waves and could even see the ocean from my windows. The accommodation also came with a fan, which I didn't need to use during my stay but it might have come in handy if there had been a heatwave.
My bedroom was right underneath the shala, which overlooked the jungle and the ocean. Beautifully decorated, I felt at peace the minute I walked in the yoga room and couldn't wait to attend my first yoga practice.
The rest of the resort consists of a communal outdoor swimming pool located in front of the spa. To get there, we walked through what looked like flowered wedding walkaways. The pool & spa area is extremely relaxing. With long chairs and a yoga platform with couches and pillows, I knew it was the perfect place to go to if I needed some me-time. Surrounded by nature, we spotted a few monkeys playing in the trees only a few meters away from us.
Who are the Other Guests at Blue Osa?
There were only nine of us, which was perfect as we all had the chance to really get to know each other. Most of the guests were from the United States and had integrated yoga into their lives one way or another.
Some were yoga teachers, others owned a yoga studio, and there were also some of us who just wanted to take a break from their busy lives to relax, unwind, and unplug. The name (Rest & Restore Yoga Retreat) provides a spot-on summary of the experience.
Whatever the reasons were, we all ended up here with the same interests, the same passion, and on the same journey. The part that I like the most when attending this type of retreat is that I get to connect deeply with others and exchange valuable insights with like-minded folks, even though we have different backgrounds and life stories.
As for me, I am a passionate yoga teacher. I got into yoga two years ago and after months of forcing myself to attend classes, knowing that it would calm my monkey mind, I completely fell in love with it. I always made fun of people who said it changed their lives until it changed mine.
When I found Blue Osa online, I instantly knew that this was a place where magic would happen. Joining Blue Osa, I spent time practicing, learned new postures, philosophized with new friends, and connected with myself on a deeper level. More importantly, I left inspired.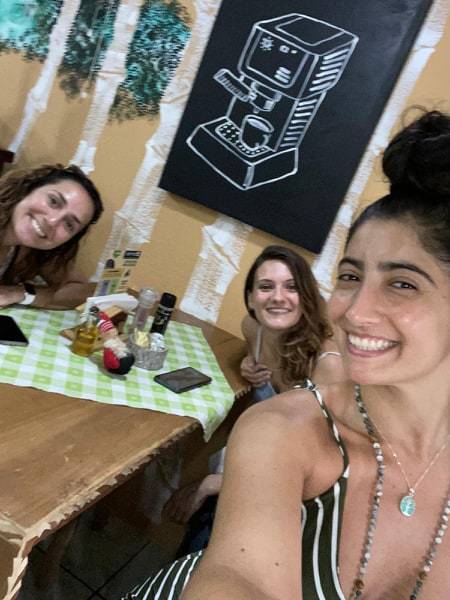 Yoga Classes and Teachers at Blue Osa
The yoga teachers at Blue Osa were super knowledgeable and their classes were exactly what I was hoping for. We were offered two yoga classes per day – one in the morning and one in the afternoon. As a yoga teacher, I have been exposed to a myriad of different teachers, and I have become a little bit more selective with teaching styles.
However, Macarena and Angela, the teachers, offered classes that really responded to what my body needed. The type of classes they taught was yin, restorative, gentle, reiki, vinyasa, meditation, and stationary yoga. They knew perfectly well how to feel the group's vibe and intuitively made sure we all reaped the most benefits from them.
The new moon occurred on Tuesday and we went down to the beach for the occasion. After lighting a bonfire, Angela led a beautiful guided meditation focusing on our chakras whilst doing reiki on each of us. This was such a memorable and unique moment as we were all sitting in a circle, by the fire, on the wild beach with a sky full of stars. There were some lightning bugs all around us, making the experience a touch more magical. Following the meditation we just hung out there, telling each other stories, going for a swim, or watching the stars.
On top of all those yoga and meditation classes, two of the volunteers at Blue Osa, Katie and Shaz, also offered some yoga classes. I really enjoyed attending their classes too, and it really made the most of my stay there.
The Food at Blue Osa
OMAGAD. I could write a whole book about the food at Blue Osa, and I'm sure it would not do it justice at all. For real though, the food was beyond words.
Marie is the French main cook and quite an impressive woman. She owned the land twenty years ago with her family and now supervises Blue Osa's kitchen. Back in the day, it was a holiday house in the middle of the jungle where she would surf with her family. She later sold the land to Blue Osa and became really good friends with Aaron, one of the owners. I don't know what she does in the kitchen but, oh boy, she sure works her magic.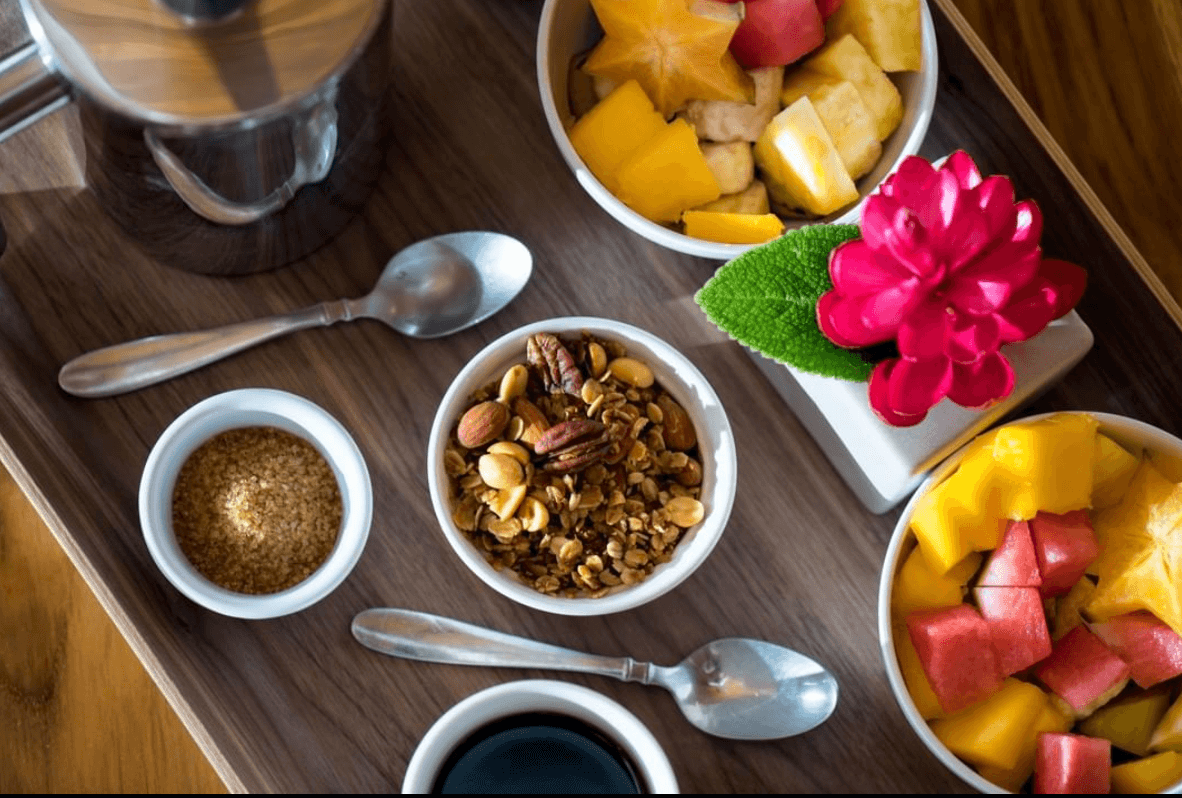 Being vegan and backpacking Costa Rica, it's always a hit or miss for me when it comes to prepared meals. I remember staying in a resort for a month in Cambodia where the vegan food on offer was the same meal without meat (aka: rice and sauce) – it was slightly sad. However, the food at Blue Osa blew my mind and my taste buds!
Blue Osa asked our food preferences prior to the retreat and made sure there was something for everyone, even though that meant cooking two completely different meals. For example, they cooked a tart one night that wasn't vegan and prepared a mango mousse for us vegans. They also offered fish or meat twice during the week for dinner and had gluten-free options too.
I felt like I was cleansing my whole body and soul. Healthy, fresh from the farm and organic, our stomachs were spoiled with flavoured and colourful meals. I couldn't help but go for a second round each time, even though I was usually satisfied after my first plate.
Breakfast usually was pretty light, consisting of a fruit salad, cereals/nuts, and pastries. Lunches and dinners were always surprising. Most of the time, we weren't sure what we were eating as it was completely new to us, from taste and flavours to appearance and consistency. However, it never failed us.
Obsessed with the feasts, most of us decided to buy Marie's cookbook before leaving, hoping to reproduce any of her masterpieces. We were always joking that going back to normal food would be very hard once we left Blue Osa and I have to admit that my first Soda's Casado (traditional Costa Rican dish) after I left the Blue Osa retreat was a sad reminder that Marie was far behind me.
Relaxation packages at Blue Osa
Blue Osa is a sacred place for healing, whether that's for our body, mind, or spirit. It takes us on a journey of relaxation, contemplation, self-discovery, and full immersion with nature. It truly is an ideal place for anyone needing some mental, emotional, or physical space and to find a respite from their everyday world.
The resort really wants to take care of its guests and offers extra day spa packages for them to make the most out of their stay. As part of the detox component, it offers a full-service spa with facials, body scrubs, therapy massages, as well as Chinese Medicine acupuncture. What's more, your Blue Osa retreat package includes a $50 spa gift certificate for any spa service.
One of the volunteers at Blue Osa told me that guests emerge from their massages feeling like a new person. I, therefore, treated myself to the Blue Osa Body Deep tissue massage. The masseur gave me a very holistic massage, using a combination of acupuncture, energy healing, deep tissue, and Thai massage practice. The volunteer was spot on, I walked out feeling renewed and restored.
Similarly, one of the other guests had some back issues and talked about how much emotional baggage also felt heavy on his shoulders. For this reason, he decided to book a massage package and get a massage per day. By the end of the retreat, he told us that he felt like most of his emotional and physical knots and blockages were gone. The masseur apparently told him, "I will fix you before the end of the week," and he did.
Activities at Blue Osa
Blue Osa offers a variety of eco-activities for its guests to explore the lush and incredible surrounding jungle and wildlife during their stay.
There is a farm tour organized on the first day where we get to learn more about the food we're eating at the resort – from where it's coming from, to the local products and how it is harvested and prepared. This is an excellent way to better understand the local ecosystem and what we're about to treat our belly with.
Other tours on offer include canopy/zipline, surf classes, hikes in the jungle and the Corcovado National Park, kayaking, fishing, tree climbing, and waterfalls visits. The prices are affordable when compared to travel agencies in the area. Also, Blue Osa will pack generous lunches and give us breakfast if we're gone for the day.
I personally attended the half-day waterfall hike, which was an awesome way to discover the surrounding jungle. There we saw different types of monkeys and birds, and we ended the hike at a waterfall where we swam to freshen up. We left early in the morning, came back before lunch, and had the afternoon to relax and nap around the pool or at the beach. (Don't forget to bring a good travel towel.)
A typical day at Blue Osa
A typical day at Blue Osa is rather atypical. We were joking with the other guests that all we were doing was relaxing, eating and sleeping; and how digesting healthy food on a long chair whilst sipping fresh juice by the pool was a hard life. Seriously though, the only worry we had at Blue Osa was whether going to bed as early as 8:30 PM was socially acceptable or not.
Fully immersed in the wildlife and in harmony with the environment, we experienced balanced, mindful living. But instead of preaching, let me talk you through a typical day at Blue Osa so you can judge it for yourself.
7:30AM: Silent time, coffee, and natural teas. Some of us slept, others (like me) watched the sunrise by the beach. Being silent in the morning gave us space to reflect, and to keep this part of the day for ourselves. It's an ideal time to journal, meditate, take a mindful walk on the beach or… sleep.
7:30AM: Light breakfast. We all gathered around a table and had breakfast together, discussing our plans for the day.
8:30AM – 10AM: Yoga asana practice and meditation. The morning practice usually was a vinyasa flow which is a perfect way to start the day as it energizes our bodies, spirits, and minds.
10AM – 12PM: Free time.
12PM: Lunch. Lunch was always fresh and delicious.
12PM – 4PM: Free time. Most of us would either have a siesta, go to the pool or the beach, or get a massage/facial/scrub.
4PM – 5:30PM: Yoga practice and meditation. Usually restorative or yin yoga, the quiet and gentle flow was a perfect way to roll into the evening. The open shala offers a splendid view on the ocean and we were flowing as the sun was setting and monkeys were jumping from tree to tree right before our eyes.
6:30PM: Dinner. Dinner started with everyone gathering around the buffet, holding hands, and giving gratitude to ourselves, the food, nature, and others. The kitchen staff introduce what they've prepared. Wifi is turned off during dinner, so we fully get to connect with the present moment and with one another.
>6:30PM: Free time. We would hang out in the lobby and go to bed by 10PM. It gets dark really early in the Osa Peninsula and since we were waking up early in the morning, we'd be knackered after dinner.
How can I experience Blue Osa?
Three ways. You can enjoy a full Blue Osa retreat package, participate in a yoga teacher training course, or simply book few nights in a room and discover the region.
If you decide to come as an individual guest, you won't have access to ALL classes (some are private), but you will still be able to join one to two public yoga classes per day. The package also includes two juices per day, domestic flights (from Sam Jose to Puerto Jimenez), shuttles from the airport to Blue Osa, a half-day hiking trip (pack a good daypack), 160 minutes spa treatment, and the three meals per day.
>> Join an upcoming Blue Osa retreat <<
>> Join Blue Osa as an individual guest <<
>> Reserve your spot for your YTT-200 in Blue Osa <<
What else is awesome in Blue Osa?
One last thing I completely forgot to mention, yet really made an impact on my stay, is the furry babies at Blue Osa.
The three dogs – Fiona, Destiny, and Pete – are adorable and just want to be loved and pet. If we said "beach," they'd go crazy and run to the beach with us. We even swam in the ocean with them, and they patiently waited on the sand for us to be done and to walk us back to the resort.
The three cats, Max, Mike, and Sukha, are super laid back and would just walk around us or sit next to us on the couch and sleep. They're super easy going and cute, and happy to be loved by guests. I'm not a big cat-lover (and I think it's mutual), but I have to admit that those three really grew on me.
Final Thoughts on Blue Osa
One of my ex-boyfriends always said "a healthy mind in a healthy body." I feel like this motto perfectly summarizes my week at Blue Osa. I cleansed both my mind and my body during my stay through organic food and products, pure air, creating space in my head and body, and positive, healthy, inspiring new connections.
Funnily enough, one of the staff members asked me to draw two tarot cards on my last day. I've never really related to them but always try to keep an open mind with anything new in life, so I played along. The two cards I pulled were energy and advancement. This is exactly how I felt after my retreat at Blue Osa: filled with new energy and ready to advance in life.
I will sure miss Blue Osa, and my Osa tribe. I could not recommend Blue Osa enough. Whether you want to recharge for your next adventure or just deepen your practice in the yoga country, you will leave Blue Osa with much more than what you would have expected. Blue Osa has something magical to it that honestly is hard to describe, something that I hope you will just have to experience yourself.
Ready to go to Blue Osa? Pack using our Costa Rica packing list and book your stay with them already!
---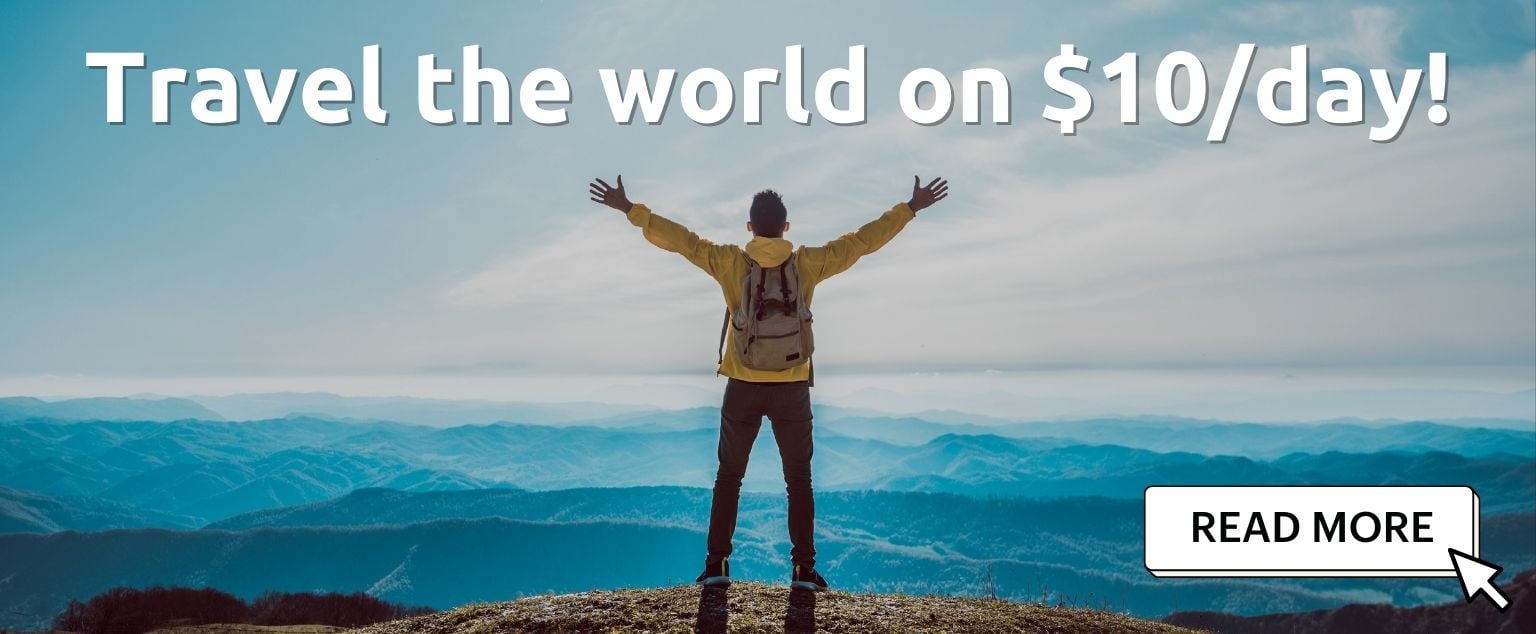 And for transparency's sake, please know that some of the links in our content are affiliate links. That means that if you book your accommodation, buy your gear, or sort your insurance through our link, we earn a small commission (at no extra cost to you). That said, we only link to the gear we trust and never recommend services we don't believe are up to scratch. Again, thank you!