Who knew you could pack such a variety of adventures in such a small country – one about the size of the state of West Virginia? Well, Costa Rica proves that you can! With awesome beaches, rain forests, jungles, waterfalls, hot springs, volcanoes, surfing, diving, hiking, spelunking… What does this incredible backpacking destination NOT offer? We can't think of much either.
And while sun, tropics and beach probably first to come to mind when thinking about Costa Rican travels, you may be surprised that there's a lot more to consider that will affect what to pack for Costa Rica. Even though the country is tropical, its many different elevations result in a dozen different climatic zones with varied weather conditions. But the key is to pack smart and to pack light while covering off on all of your essentials for any condition you encounter along the way.
And we're here to help! Here you'll find an all-you-need-to-know guide for what to pack for Costa Rica – complete with a packing list of top 22 travel needs, recommendations on what to wear in Costa Rica and what to pack by season – with a special section for guys and gals – and what NOT to pack.
Let's get started so you can get through the packing part and move onto the fun stuff – getting yourself to Costa Rica for an unforgettable adventure!
Top 22 NEEDS for Costa Rica – Costa Rica Packing List
#1 – Nomatic Travel Bag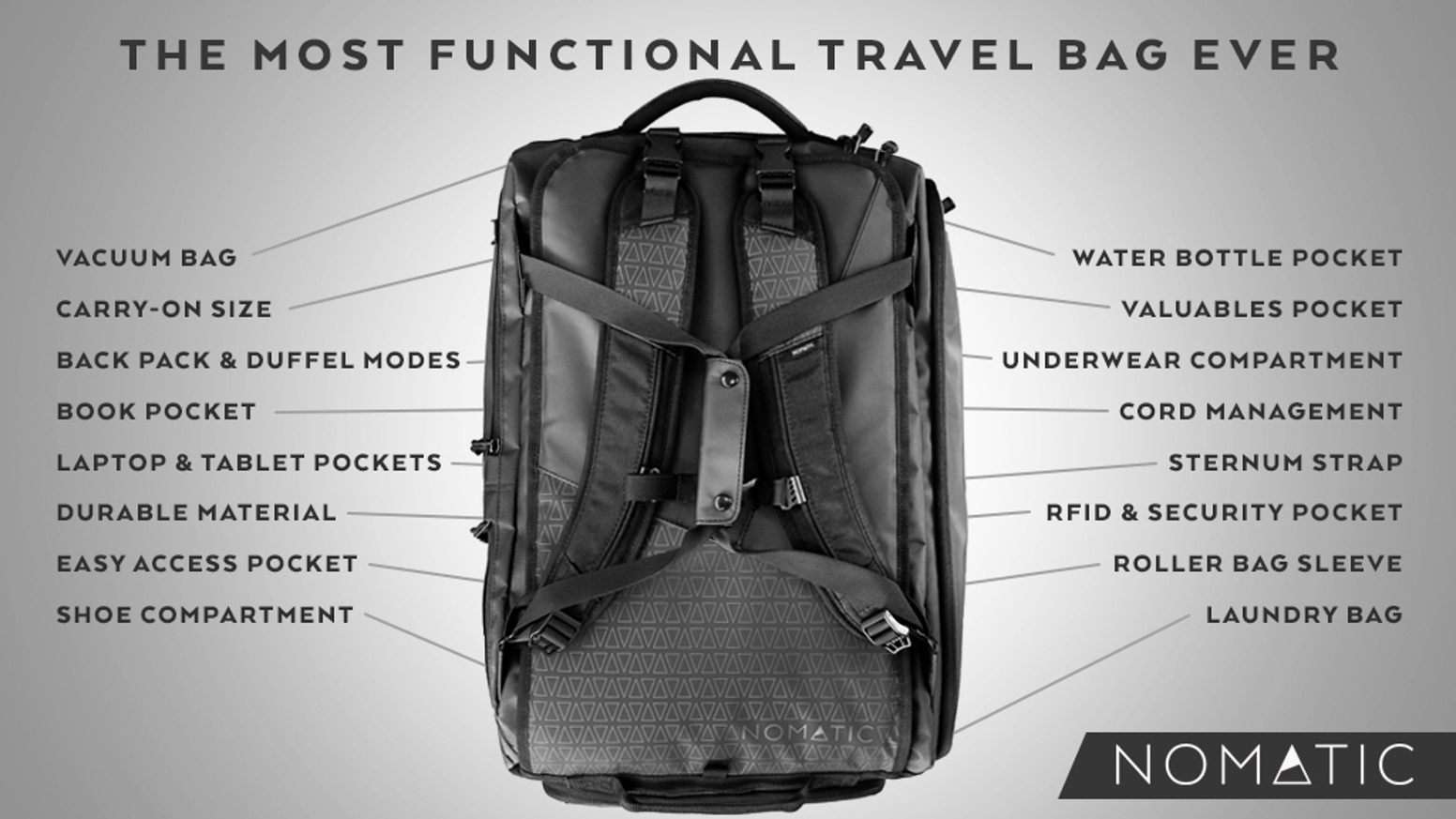 A wide variety of adventure covering a wide variety of conditions means needing a reliable backpack that can handle anything. We highly recommend the Nomatic Travel Bag as such bag. It's made of waterproof durable material and has lots of cool pockets and compartments that you'll be very thankful to have when trying to pack it all in. We love how innovative and smart this travel bag is, and we're sure you will too!
#2 – Active Roots Security Belt
Safety issues shouldn't dissuade you from traveling Costa Rica. It's one of the more stable countries in Latin America, but it wouldn't be true to say that crime doesn't happen, especially theft and pickpocketing in high-tourist areas. The best way to keep your belongings safe is to keep them hidden on your person, like with the Active Roots Security Belt. Having valuables out of sight in its hidden inner zipper pocket will help keep your mind at ease. Check out our in-depth review here.
Need a little more storage?
When moving from place to place, you should keep your travel documents and other valuables on your body. Your carry on isn't safe, even when it's under your seat or overhead.
A full-sized money belt that stays tucked under your clothes keeps your documents and cash organized during your travels and assures nothing critical gets left behind or stolen.
#3 – Travel Insurance
No backpacker or globetrotter should find themselves caught off guard without travel insurance. Our recommendation is getting coverage from World Nomads Insurance because they'll not only cover you in emergency situations, they'll also replace stolen or lost items and cover the cost of unexpected travel cancellations, like hotel rooms or flights. You can't put a price on this kind of peace of mind!
#4 – Active Roots Water Bottle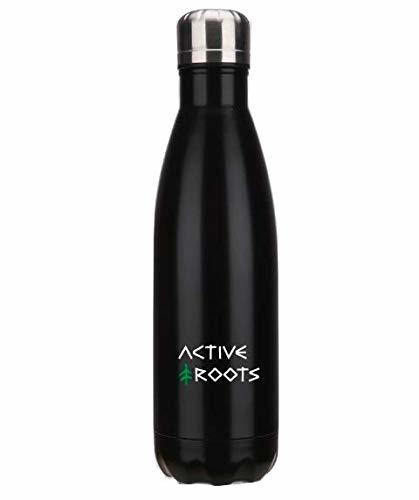 Costa Rica's tropical weather requires constant, readily available hydration. And if you plan on being particularly active, like jungle and rainforest treks and cave spelunking, you definitely want to pack as much drinking water as possible. We love the Active Roots Water Bottle because, with its 25-oz size, it holds 8 more ounces than comparable bottles. Plus, it's stainless steel, so it keeps your water refreshingly cold even in hot conditions.
#5 – Combination Lock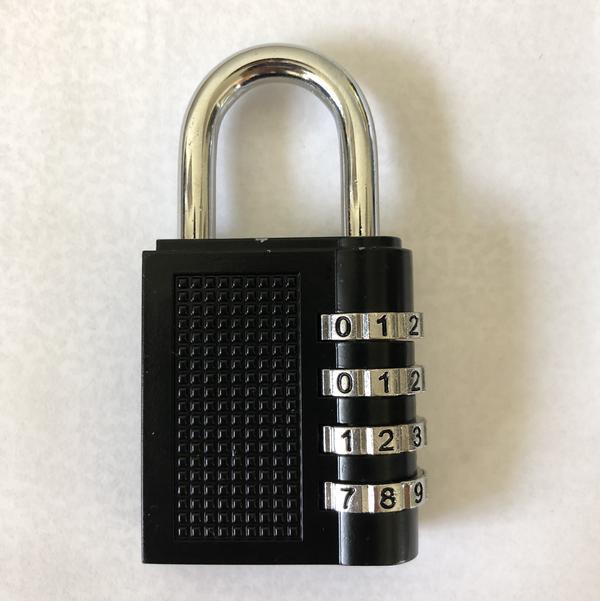 It doesn't matter where you're staying in Costa Rica, you don't want worries of theft to affect your happy travels, so the smarter you are about safety, the better. While transporting from one place to the other, or when leaving your travel bag unattended, always have it locked. A small, simple one like the Active Roots Combination Padlock is a perfect one to get the job done. We especially like that it locks with a resettable combination, so losing a small key or forgetting your combination isn't something to worry about!
#6 – Skeletool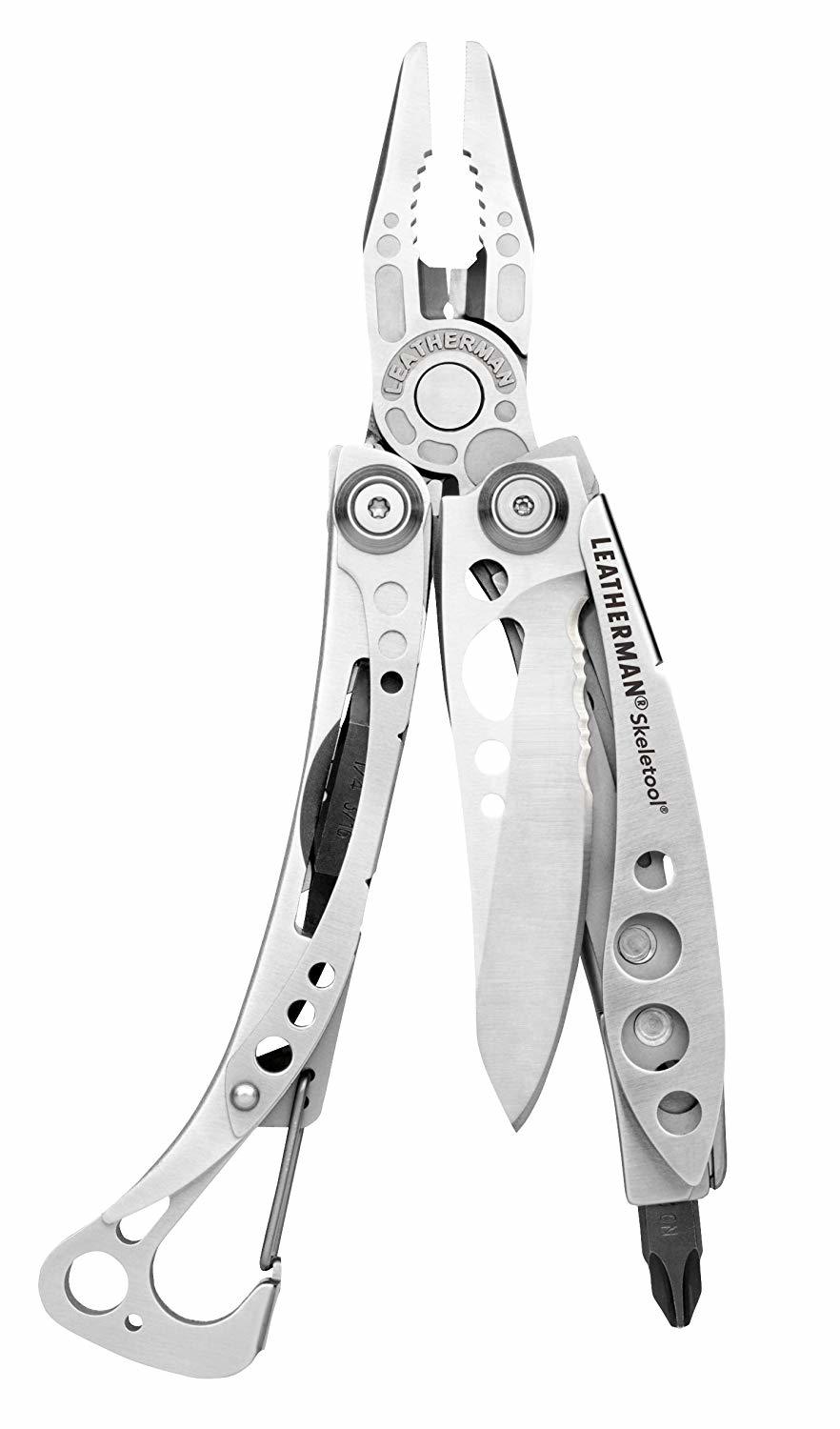 Chances are you'll encounter many different scenarios while backpacking Costa Rica, whether traveling through San Jose or zip lining through the jungle. A multi-tool, like the Skeletool, can be really helpful in a variety of situations. You'll be surprised how many uses you can find for an all-in-one knife, bit driver, wire cutter, pliers and bottle opener when you're in a pickle! Just keep it in your daypack, and it'll always be there if you need it.
#7 – Active Roots Microfiber Travel Towel
All backpackers should travel with their own towel– you don't know what you're going to get from your budget-friendly accommodations. You want one that's quick-drying and compact enough to carry around in your everyday bag. Our favorite is the Active Roots Microfiber Travel Towel. Not only does it fold down into the size of a lightweight small book, but it also dries in under an hour and is made with anti-bacterial material, so it won't get stinky – which is a huge plus!
#8 – Active Roots DayPack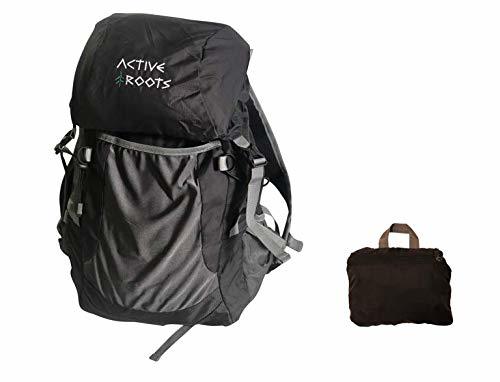 It's always worth having a daypack with you whenever you travel but often NOT worth carrying something bulky around. The Active Roots adventure daypack is hands down the best foldable day pack around, it comes with a water bottle holder, folds down super small yet provides plenty of space for your day-venture and is tough and sturdy.
#9 – Fairywill Electric Toothbrush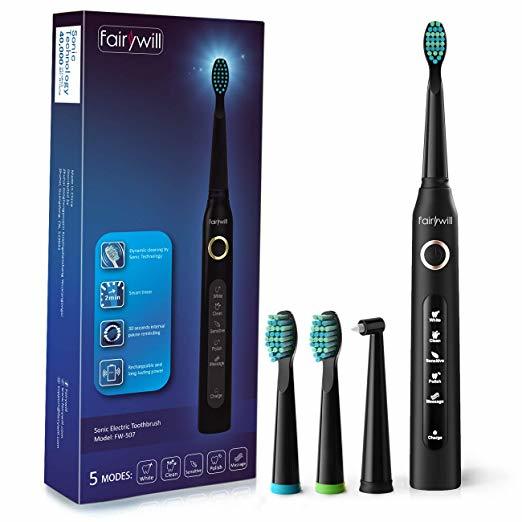 We're huge fans of the Fairywill Electric Toothbrush, and highly recommend you get one for all your travels. It weighs just 55 grams and needs just 4 hours of charging for 30 days of use, but you can get a model with easy USB charging capability should it need a recharge. Once you feel how extra clean your teeth feel with its three different modes – clean, sensitive and massage – we're pretty sure you'll be hooked too!
#10 – SunGod Sunglasses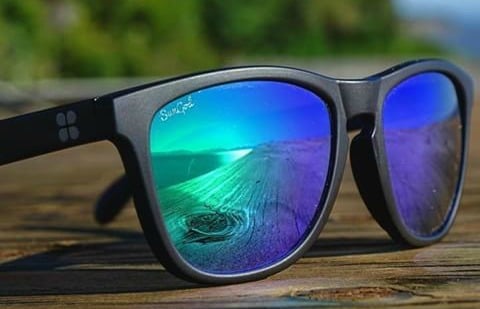 Sunglasses are a must-have for any kind of Costa Rican travel. Especially if you're doing adventure activities, you'll love SunGod Sunglasses. They have 100% full UV protection, and wow, are they built to last! They're made from SunGod's trademarked Adventureproof Frame Material for ultra durability and triple-layer scratch resistant lenses. They're practically unbreakable – but if you should find a way, SunGod will repair them free of charge. Doesn't get much better than that!
#11 – Multi-functional Headwear
Also called a UV buff or headband, this thing is super versatile for such a small piece of material to pack. You can use it a lot of cool ways – as a headband to keep hair out of your face, as a bandana to wick away moisture, as a head/neck area cover for sun protection, also as a face shield – Costa Rica's dirt roads get very dusty in the dry season. Especially if you're renting a scooter or bike, you'll want something to help keep the dust out of your nose and mouth!
#12 – Sunscreen
You definitely want to bring your own good 30+ SPF sunscreen to Costa Rica. Not because they don't sell sunscreen in Costa Rica, but if you rely on buying your supply there, be ready to pay up to four times as much – ouch! Plus, if you have a brand you like better because of how it feels and works on your skin, you may not find it there. You're better off bringing it in from home.
#13 – Travel Jungle Gym Set
Whether you're traveling for a weekend or for a year, it's difficult to keep your usual workout routine on the road. There are loads of workouts online to print and follow, but there's nothing like being in a gym with proper exercise equipment. Enter: Monkii Bars. You can set up your workout station anywhere – hotel rooms, mountainsides, your backyard – and the pocket gym comes with its own app so you can learn the ropes (cough, cough) of staying fit on the road!
#14 – After-sun lotion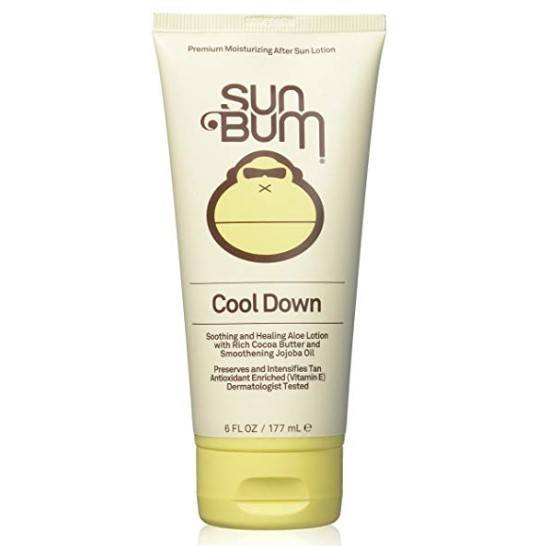 Even being prepared with sunscreen, if you forget or are unable to re-apply enough, it's very easy to get sunburned. Remember the sun in Costa Rica is very strong, so a stinging sunburn is not unlikely, no matter how careful you are. A cooling product like an after-sun lotion with aloe vera and cocoa butter will help calm and repair the skin. Like with sunscreen, it's best to pack your own because a similar product is very expensive to buy in Costa Rica.
#15 – Jungle Formula Mosquito Repellent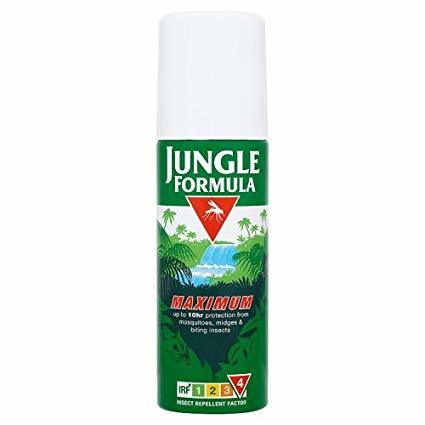 Mosquitoes are no strangers to Costa Rica's tropical climate, so be ready for these annoying guys at all times. Worse than being annoying, these mosquitoes can be nasty carriers and transmitters of diseases, like dengue, so please protect yourself. Packing mosquito repellent with DEET is your strongest safeguard. We like Jungle Formula Maximum Range because it's been tested against mosquitoes found in tropical destinations and contains 50% DEET, which is the strength recommended by the WHO.
#16 – Waterproof Mobile Phone Case
Phones take a lot of abuse during travel ventures. In Costa Rica, they'll likely get dragged through the jungle and rain forests, trekked to waterfalls, hauled to beaches – leaving them very susceptible to water, sand or accident damage. Rather than dealing with the headache of a broken phone, protect it with a waterproof phone case that will keep it safer in all environments. Most mobile phones are sensitive, so it's best to give them some extra care!
#17 – First Aid Kit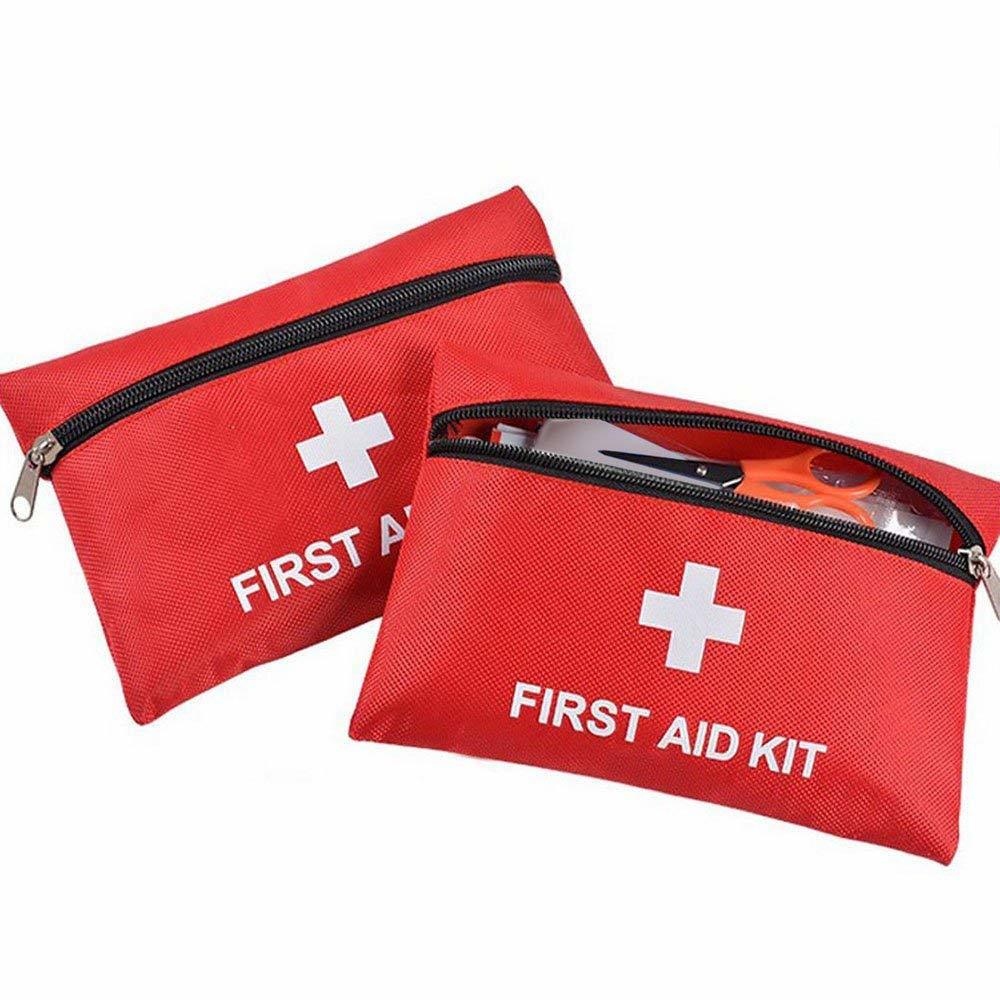 We're big proponents of all backpackers carrying around a small first aid kit, at least to cover off the essentials. The availability of so many viable adventure activities like zip lining, diving, hiking, rainforest trekking, surfing…leaves one highly vulnerable to the possibility of collecting some cuts and scrapes. Being ready with a disinfecting ointment and simple bandage will be key in treating minor injuries before they become more serious.
#18 – Camera or Cell Phone Camera Accessories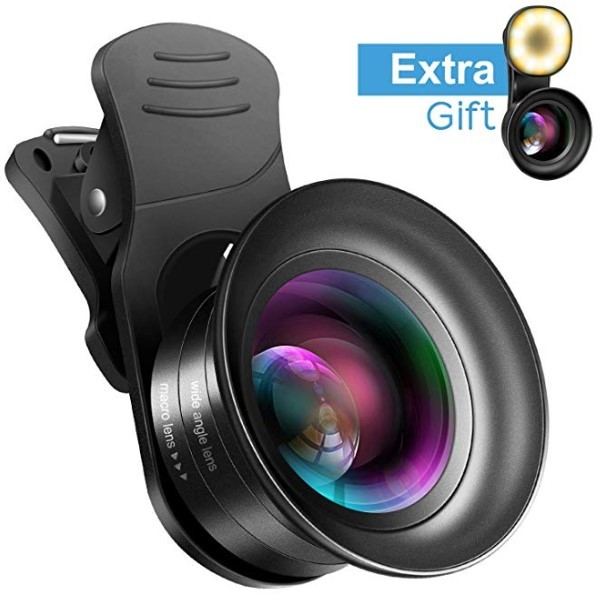 You'll want to want to capture your adventures and the beautiful scenery Costa Rica provides. If you have a digital camera or GoPro, you definitely want to pack it. If you rely on your handy cell phone to be your main camera, you should consider getting the most picture you can by adding a simple accessory that will make your phone pics pop. One option is cell phone camera lens kit to enhance clarity and sharpness to those awesome shots.
#19 – Packing Cube Set
If you've never used a packing cube set, or even thought of using one, we really think that you should. Living out of a backpack can be frustrating – no matter how awesome the bag – and it often feels like you're constantly packing and unpacking it to find the one item you need. A packing cube set can simplify things by keeping you organized. Just stay consistent and remember what you pack in each cube, so you're not back to square one!
#20 – AR Toiletry Bag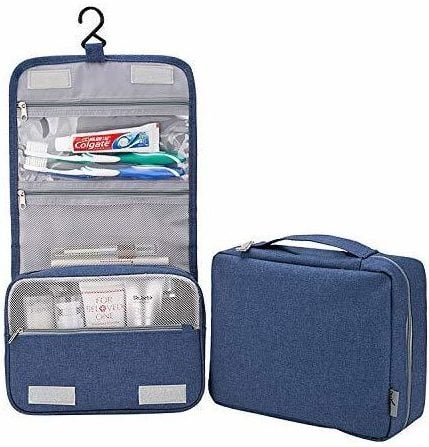 Another backpacker favorite for staying organized is a hanging toiletry bag. It's extremely helpful to have all of your accessories neatly gathered in one bag that you can hang for easy accessibility, especially when counter space isn't plentiful or even available. A well-organized bag is worth having whether you're tree whilst camping or a hook in the wall – it helps to have quick access to all your stuff.
#21 – Travel Pillow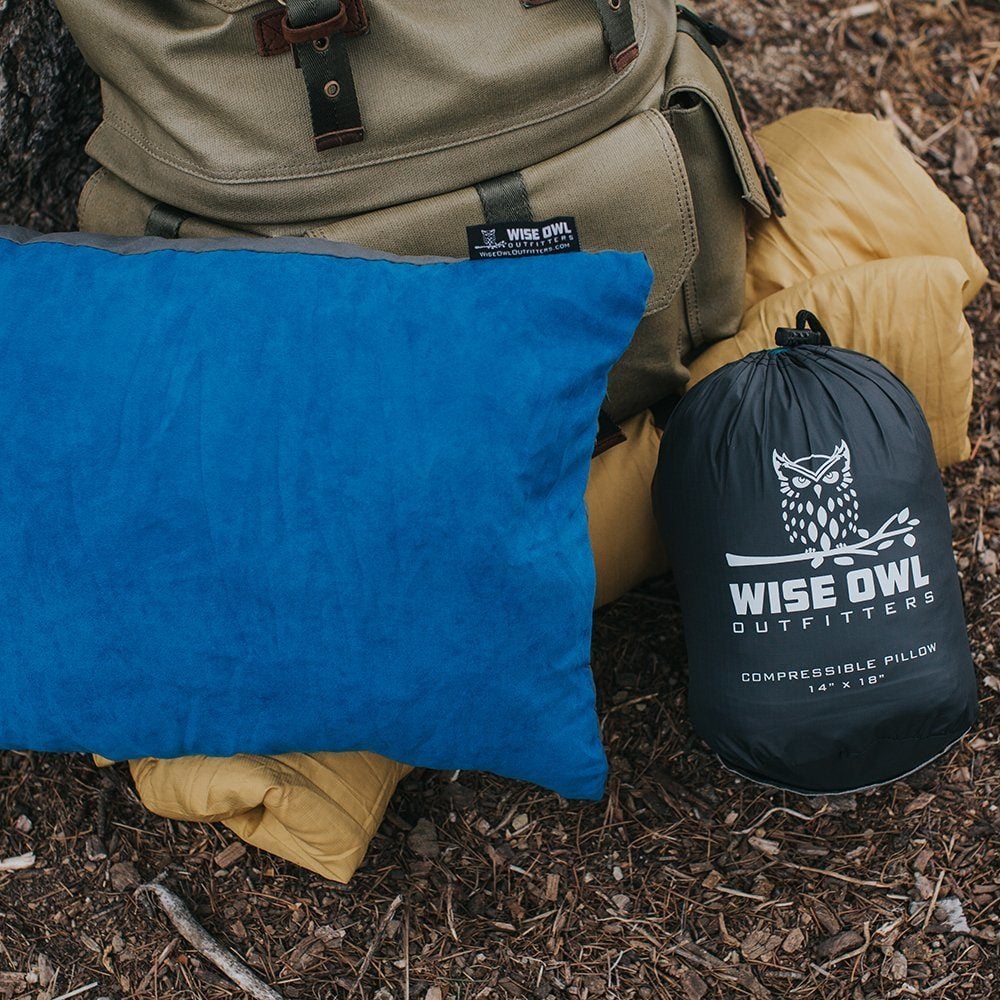 Whether your hostel has decent bedding, or you end up with a cracker-thin pillow to rest your head on, it's always nice to have your own. Having a travel pillow that can be compressed into an easy-to-pack, compact size – or clipped onto your main travel bag – can make not-so-luxurious sleeping arrangements more comfortable; not to mention make for more comfortable flights and other long-haul transportation.
#22 – Biodegradable Sanitizing Hand Wipes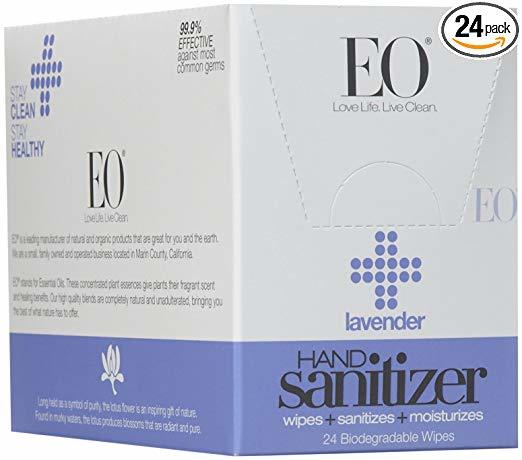 As a backpacker, we're sure you've come across many occasions where you've been thankful for – or wish you had – a good wet wipe. Having biodegradable sanitizing hand wipes in your daypack is essential for all travel because you just never know when or if a good sink and soap will be conveniently accessible. Plus, eco-friendly ones make you a responsible guest in Costa Rica's environment. We say: stay clean and environmentally friendly!
What to Wear in Costa Rica
Costa Rica is warm year round and is generally broken up into two distinct seasons: dry and rainy. However, Costa Rica has several microclimates, which means that while you may have a heavy rainy season in one area or coast, you could have very dry conditions on the opposite coast. So where you want to stay in Costa Rica will affect when you want to go. Either way, you can expect rain in some form in all seasons, so a light rain jacket should be a packing staple for all travelers heading to Costa Rica.
For the beaches and coastal towns, you'll want light summer clothing – shorts, t-shirts, tank tops, lightweight pants, sundresses, and flip flops are all perfectly acceptable. The style in the beach towns is casual and beach attire is expected. If you're traveling north or in the mountains, you'll want to replace your swimwear for a pair of waterproof pants and long-sleeve shirt for possibly chillier conditions.
Please be mindful of dressing etiquette in the non-beachy parts of Costa Rica, like in its largest city and capital, San Jose. You'll always see locals dressed in long pants, as shorts are considered distasteful when worn in public. Simply avoid upsetting or possibly offending Costa Rican locals by respecting their culture and wearing a pair of pants (or a long skirt for women).
Visiting Costa Rica in Summer
The traditional months of June, July and August fall right in Costa Rica's rainy season, aka green season. Rainy afternoons are the norm, but mornings are often still sunny. You'll find less rain on the northwest coast, making this a good time to visit that area. The South Pacific, like Drake Bay, and mountains will experience heavy afternoon showers.
The green season months are a good choice for backpackers interested in Costa Rica's lush forests, white water rafting enthusiasts, retreat go-ers, or for surfers hunting down some large-swell surf. This is also the low season, so you'll have fewer crowds and better deals! Air temperatures in Costa Rica stay fairly consistent year round with average annual temperatures between 70-80° F.
For summer travel, you should pack lightweight clothing, as temperatures are still warm. Plus with high humidity and lots of rain, dry-fit or wicking material will feel more comfortable and dry faster. Pack lightweight cotton t-shirts and long-sleeve shirts, lightweight pants that are movable and waterproof, shorts, and a rain jacket. You'll encounter plenty of mosquitoes, so keeping your arms and legs covered is a good idea as an extra layer of mosquito bite protection. Think breathable items that work well for layering, should the temperatures cool down or heat up depending on where you go.
Visiting Costa Rica in Fall
September, October, and November mark the pinnacle of the rainy season. Be aware that, unless you're a big-wave surfer, you'll want to avoid the South Pacific; many hotels even shut down during these months because of the excessive rain. On the flip side, you'll find the Caribbean coast's driest and best weather in September and October, so if you're the Caribbean type, this would be your season!
With most of Costa Rica experiencing its most rainfall, it's when it will experience its least amount of tourists – a definite plus if you're looking to avoid the crowds and get the most budget-friendly accommodations and deals. Also, if you want some sunny beach time, you can always escape off to the Caribbean coast!
Our recommendation for packing for fall is still to keep it light – lightweight material that will dry quickly is your best bet. A rain jacket or shell is a must, and you may want to consider packing waterproof pants, especially if you plan to be out exploring. T-shirts and cotton long-sleeve shirts that you can layer under your rain jacket will come in handy. Bring along your beachwear if the Caribbean is on your itinerary.
Depending on what season it is, you may be staying in one part of x or another. Pick the most

perfect hostel in Costa Rica

and use it as a base of exploration!
Visiting Costa Rica in Winter
December, January, and February mark the beginning of Costa Rica's much sought-after dry season that brings the high season – and tourist crowds – with it. This is the season for beachgoers and sun seekers wanting to avoid the rain as much as possible. Though, bouts of rain can happen at any time, so you should still be prepared! This is the best time to book a stay in one of these awesome treehouses in Costa Rica and you can truly immerse yourself in nature.
In addition to crowds, keep in mind that travel during the holiday periods is much more expensive. The weeks of Christmas are typically twice as expensive than you'll find in shoulder months, like in October, November or May. If you plan on having a Costa Rican Christmas, it's recommended to book travel and accommodations a year in advance – things fill up quickly!
Temperatures don't fluctuate much with average highs at 80° F and lows at 65°. But with sunnier and drier days, plan on dressing accordingly to stay comfortable. Beachwear, shorts, sundresses, t-shirts and tanks, and light pants are all good choices. If you're going north or in the mountains, be sure to have long hiking-style pants and a rain jacket too, as the weather can feel much cooler in these parts.
Visiting Costa Rica in Spring
March, April, and May are still considered Costa Rica's dry season, so you'll find sunny days and tourists aplenty! But towards the end of spring, rain does start to hit the North and Central Pacific coast, San Jose and southern Costa Rica. Showers typically hit late May, creating a soft start to the rainy reason. Be aware that the weeks of Easter and Spring Break – that usually occur in late March/April – are just as expensive as Christmas holiday travel. Plan and book well ahead if you're set on traveling during this spring rush.
Many consider May to be an ideal time for Costa Rican budget travel because the weather isn't too rainy yet, but the tourist crowds drastically decrease while good travel deals increase. Late spring is a good compromise for travelers wanting the best of both worlds – pleasant weather and cheaper prices!
Packing for spring is much like packing for the summer. Lightweight, dry-fit, wicking, cool, breathable – these all describe the clothing items to pack. A combination of short and long movable pants, t-shirts, a long-sleeve shirt or two, and swimwear should all make your list. Oh, and don't forget your light rain jacket!
What Shoes to Pack for Costa Rica
You'll be able to get by in casual-style Costa Rica without needing multiple pairs of shoes, so you shouldn't worry about having to stuff your backpack with a lot of shoe weight. Most of your destinations will involve either water or lots of walking, or both. So we recommend you have shoes that cover these two conditions.
Flip-flops are a no brainer. They're a beach staple and, if comfy enough, can work for walking around the cities and towns. If they're leather or something fashionable, they'll even work great for nicer dinners or nighttime outings when paired with shorts and a collared shirt for guys, or with a sundress for gals.
For any hiking or off-the-beaten-track jungle, mountain or rain forest exploration, we recommend having a durable, waterproof hiking shoe or hiking sandal. You'll want shoes with good traction and support to keep you standing upright on any rough terrain and/or slippery surfaces you encounter. Zip lining with flip-flops isn't exactly ideal, as you can imagine!
Since the above-mentioned shoes won't take up much space (you'll need to be wearing at least one pair!), a third option could be a running/sports shoe for other exercise activities or a comfortable pair of flats for city walking or nighttime outings.
Females – What to Pack for Costa Rica
Ok, ladies, let's talk special items just for you as you prepare what to pack for Costa Rica!
For Fashion
Whatever your itinerary for Costa Rica prescribes, you will need a few clothes.
the good news is that it doesn't take very much to "dress up" for Costa Rica when the occasion calls for it, or if you just feel like taking it up a notch for some cute photos. A maxi dress is a perfect item to pack because it's lightweight, flowy and will keep you cool while dressing up your look. Bring one or two pieces of inexpensive jewelry, like a layered necklace or hoop earrings. Remember not to attract unwanted attention with expensive jewelry, so leave the diamond earrings at home! But there are plenty of low-cost accessories to choose from to jazz you up for a nice dinner or a night out on the town.
Pack accessories that keep you safe!
Infinity scarves are chic and classy, but some even provide a hidden pocket to keep your valuables.
The Active Roots Zipper Scarf is your run-of-the-mill infinity scarf but with a hidden pocket that's big and sturdy enough for a night's cash, your phone, a passport and (hell with it) some snacks too!
For sun protection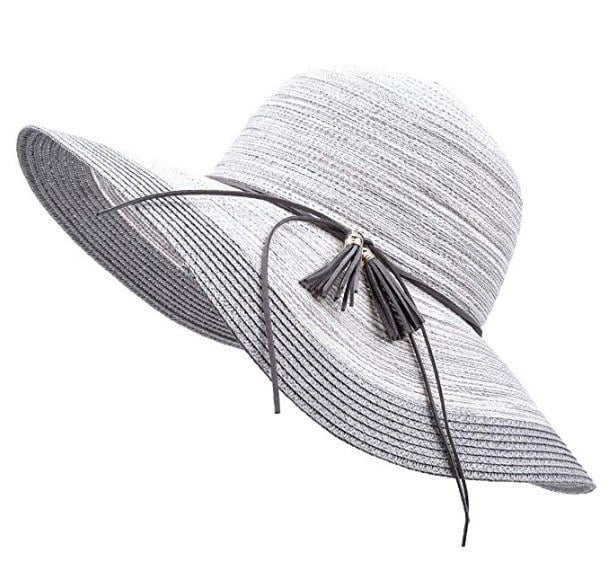 even with sunscreen, you want to protect your sensitive face area as much as possible (wrinkle-prevention tip #1!) A foldable, packable wide brim hat will give your face and neck area extra protection from the sun while looking fashionable doing it! They're practical to wear on the beach or out walking around as a cute accessory with a sundress.
Males – What to Pack for Costa Rica
Now for you guys, here are some recommendations of what to pack for heading out to Costa Rica:
For Fashion
regular t-shirts or shirts displaying your favorite sports team are totally fine for outdoorsy and adventure-focused activities, but you also want to have one or two options for when you're cleaned up and ready to hit the town. Pack at least one collared shirt and a solid-colored t-shirt. A polo shirt and a black or navy blue v-neck short-sleeved shirt are great choices. Pair them with a pair of cargo shorts or light pants, and you'll look much more polished for nighttime outings.
For sun protection
the Costa Rican sun is very strong, and extra protection becomes necessary, especially if you're in the water a lot. Guys, you should pack a swim tee rashguard shirt to cover up for prolonged sun exposure. They're perfect for swimming, surfing, snorkeling or any water activity. And since they're quick-dry and breathable, they could also be used for other active ventures, like rain forest treks and rappelling. They're versatile and easy to pack, and you'll be glad to be prepared with one!
What NOT to Pack for Costa Rica
Just as important as what to pack, is what NOT to pack for Costa Rica – let's talk about some of the top things to leave behind:
Don't bring flashy or expensive valuables. We've mentioned that Costa Rica isn't a crime-free destination, so reduce your chances of being a target by not drawing attention to yourself with fancy items, like expensive jewelry or watches.
Don't pack heavy books. Books are a great past time, but they can weigh you down quickly. Pack an e-reader instead, or download material on a reading app on your mobile phone.
Don't bring warm clothing. First off, sweatshirts and jeans are bulky and heavy. Secondly, you won't need them! A rain jacket over a long-sleeve shirt will be the most warmth you'll need in Costa Rica's climate.
The Best Backpack to Pack for Costa Rica
We've included our top backpack recommendation as the first item on your 22-needs packing list – and we want to delve deeper because what you trust to carry your livelihood while traveling is THAT important! Let us explain why the Nomatic Travel Bag is the best backpack to pack for Costa Rica.
One of the main reasons the Nomatic Travel Bag is our favorite is that the design of this bag is the smartest we've seen yet. It has special built-in pockets and compartments for so many things – from a water bottle to underwear. It has a RFID and security pocket that you'll definitely appreciate in higher-risk theft locations like the busy areas of Costa Rica. It even has a cord management system and a laundry bag – brilliant!
We're also big fans of its innovative strap system that lets you convert from backpack to duffel bag-style carrying. Every backpacker knows that lugging around a backpack can get heavy after a while, so you'll appreciate its expertly-designed detachable waist straps and sternum straps to make the load more manageable and comfortable for your back.
As for durability for Costa Rica's often wet and adventure-focused conditions, not to worry; the Nomatic's waterproof, durable material will endure the most diverse of backpacking environments.
Trust us, this bag will quickly become your best friend!
Final Thoughts on What to Pack for Costa Rica
Now you're fully equipped with all you need to know about planning your Costa Rican adventure – your 22-needs packing list, a seasonal breakdown with tips on what to pack and what to wear, special packing considerations for men and women, and what backpack we highly recommend as the best for your travels.
Once you have the essentials taken care of, don't worry about the rest. Costa Rica is all about going with the flow and enjoying life – so get out there and experience Costa Rica's enchanting "la pura vida" to the fullest!
Buen viaje, amigos!
Also – don't forget to sort your travel insurance! We've put together a roundup of the best travel insurance for backpackers, or if you're low on time, get a quote from World Nomads now, our favourite travel insurance provider.
Yay for transparency! Some of the links in this post are affiliate links. This means that if you book your accommodation through the site, The Broke Backpacker will earn a small commission at no extra cost to you. Your support helps me keep the site going.
---
Need More Inspiration?
Like this post? PIN ME!!!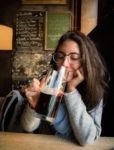 Writer and Editor, Ana Pereira is a California native, inspired by Earth exploration and introspection. Recently, she spent several months exploring Africa and South Asia. She spends most of her "down-time" out in the wilderness, climbing, hiking, and beyond, and is feverishly passionate about travel and health.