Wondering whether Costa Rica is safe to visit? You're in the right place to find out.
Costa Rica is a true wonderland with jungles, beaches and friendly people. But, there are some very scary stories going round which may make you wonder whether it's worth it?
Don't worry! We are here to make sure you know the score when it comes to safety in Costa Rica! The travel experts at The Broke Backpacker have written this guide for staying safe in Costa Rica to help assuage your concerns.
In this guide, we are going to be covering a wide variety of topics ranging from transport to traveling alone to traveling as a female in Costa Rica. We're going to answer a whole lot of questions along the way, like "is the food safe to eat in Costa Rica?" (Spoiler alert: yes!) and more.
As a group of adventurers, enthusiasts and fearless travellers, it pains us to tell you this, but the fact is that most travel is currently not safe, and in many countries, not possible because of the COVID-19 outbreak.
Nations across the world are fighting to contain the outbreak and flatten the infection curve – an effort that every citizen and responsible traveller should be part of.
For the most up-to-date safety information and what you should be doing to help, please consult the WHO and your local government.
How Safe is Costa Rica? (Our take)
How safe is backpacking in Costa Rica? Costa Rica suffers from many of the same problems that plague most Latin American countries, like drug trafficking, poverty, and economic struggles. That being said, Costa Rica is still pretty safe when compared to some of its more violent neighbors. There are moments where you may feel threatened but we believe that most of the time and most areas in Costa Rica are safe.
It's important to know that security in Costa Rica is still developing. Petty theft (pickpocketing around tourist areas/on public transport) definitely happens. Violent crime such as muggings, particularly late at night, isn't uncommon either. Gang-related crime is on the rise, but it mostly occurs in and around San Jose.
A lot of people are currently wondering how safe is San Jose Costa Rica – if you do visit, we recommend staying in a nice San Jose hostel or a backpackers lodge. Check the reviews to see what previous guests had to say about the place.
Don't let this spook you – crime is often a case of wrong place, wrong time. Being vigilant and listening to your gut is a good way to avoid danger.
The government also has your back as it's keen to keep Costa Rica a comfortable place for people to travel – after all, the tourism industry contributes significantly to the country's GDP. Overall, it's helping to reduce poverty in the country.
I am guessing that being robbed or dying isn't top of your itinerary for Costa Rica right? So let's talk about facts and get into the nitty-gritty of how to stay safe in Costa Rica…
Is Costa Rica Safe to Visit? (The facts.)
Well is it safe to travel to costa rica right now?
We're going to break this to you first: crime is definitely a thing in Costa Rica.
Over the last several years, criminal offences have been on the rise. Since 2015 the murder rate has risen above the World Health Organisation "epidemic threshold" of 10 per 100,000. This is a very new trend – and is quite converse to Costa Rica's paradisaical reputation – but experts are starting to target the causes.
The increased violence is not stopping tourists from visiting though. Foreigners have been traveling to Costa Rica since the 1990s and the country had a record-breaking year in 2015, with over 2 million tourists visiting the country. That's pretty popular if you ask us.
But is Costa Rica safe for tourists?! The really crazy part – Costa Rica is still not on the top 10 of Latin America's most visited countries. Many of the more popular Latin countries, like Brazil, Mexico, and Colombia, are among the most dangerous countries in the world too! Local crime certainly doesn't people from traveling to these countries and, in the grand scheme of things, Costa Rica isn't nearly as bad as these.
Of course, there are ways to travel safe, which we're going to get into now.
How Safe is Travel to Costa Rica Right Now?
Wondering is it safe to travel to Costa Rica now? You may be surprised to know that Costa Rica is actually one of the most stable Latin American countries. No army (abolished in 1949!) means funding goes to better things – like amazing healthcare.
With tourism contributing majorly to the country's GDP, and those tourist dollars going some way to eliminate poverty (albeit slowly), the government is focused on making the country accessible and comfortable for tourists.
But it's stable, it's prosperous, respects freedom of the press, and the rights to expression. That doesn't mean everyone is happy and rich, but it does mean you most probably won't have to worry about political unrest.
Crime has been steadily on the rise including violent crime. However, this is mainly gang-related and rarely impacts visitors.
Do you need Travel Insurance for your trip? Even if you're only going for a few days, that's more than enough time to get smote by wrathful angels. Have fun in Costa Rica, but take it from us, overseas medical care and canceled flights can be seriously expensive – insurance can, therefore, be a life-saver.
Travel mishaps can and do happen and it is well worth thinking about insurance before you leave home.
We have used World Nomads for years now and I have personally made several claims. Why not get a quote from them yourself?
Do be sure to read the terms and conditions to make sure that the policy covers your needs.
Getting an estimate from World Nomads is simple – just click the button or image below, fill out the necessary info, and you're on your way!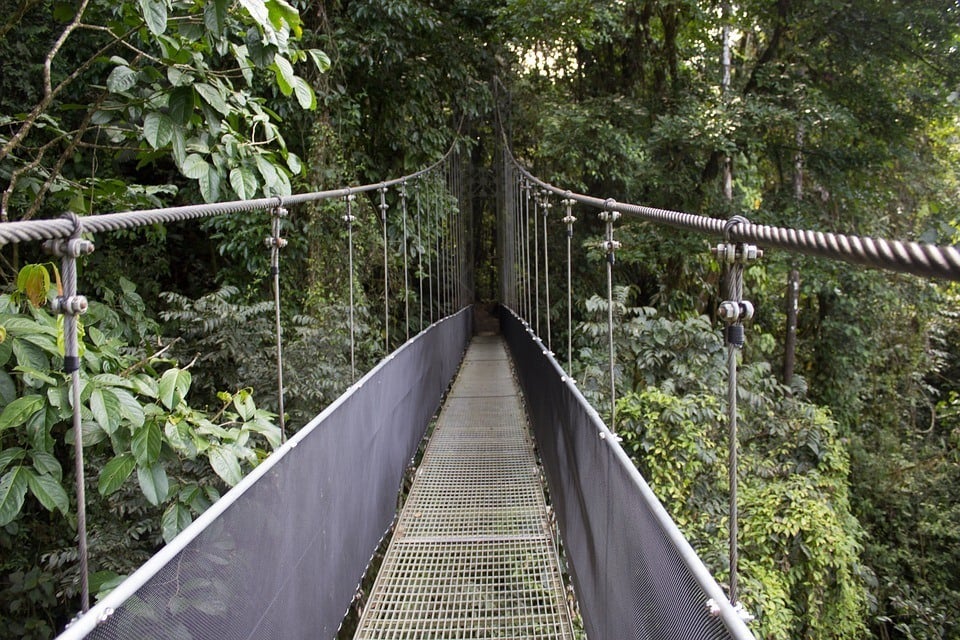 So whilst Costa Rica is generally a safe place to visit, there's always more you can do to make sure you're as safe as can be. So here are a few top tips for staying safe in Costa Rica.
Inquire with the staff at the hostel/hotel you're staying at – they'll know best about the area.
Make friends – exploring urban areas with a group of travelers deters would-be robbers.
Don't walk alone at night – avoid streets that look sketchy…
Take a taxi instead of walking at night. – remember that licensed taxis are red (or orange). Anything else is illegal and risky
Avoid people that want to 'help' with your bags – this is a scam.
Split up your cash strategically – don't put one huge wad of bills in your luggage!
Carry a small amount of cash when you go out – if something happens it's a small loss. Using a money belt is an excellent way to hide cash.
Don't wear expensive accessories – seeming rich makes you a target for thieves.
You HAVE to carry your passport – but avoid losing it by copying it (ID page + Costa Rica visa) instead.
Don't hang your bag or purse on the back of your chair – this is easy pickings for a thief.
Don't leave your bags unattended at the beach – this is a rookie-level mistake.
Look busy at bus stations – looking lost is gold dust for scammers wanting a 'tip' for helping you.
Don't use the overhead lockers on buses – get a ticket for the luggage compartment under the bus.
Use a flashlight or backpacking headlamp when walking at night in rural areas – you don't want to step on something bitey!
Speaking of which, don't forget mosquito repellent! Costa Rican mozzies are relentless
Stay away from drugs – it's really not worth getting yourself mixed up in the gangs related to them. You're not making the country any better by buying them.
Stay at a good lodge with genuinely good reviews – Costa Rica tourism safety officials advise you choose your digs wisely. It is not worth staying somewhere dirt cheap that doesn't have helpful staff in case something happens, or if you need advice.
By following our handy safety tips you'll get to enjoy more of the amazingness that Costa Rica has to offer. It's all about traveling smart so you don't have to worry about anything!
Some General Safety Tips from the OG Broke Backpacker
Keeping your money safe in Costa Rica
Pickpocketing happens all the time in Costa Rica. To guard your cash against would-be thieves you're going need something smarter than they are…
Introducing the Active Roots Security Belt. This travel money belt is simple, straightforward, and gets the job done. This belt is versatile and can be used at home or abroad. Your money is 100% hidden and nobody will know it is there except for you. We love it and so should you.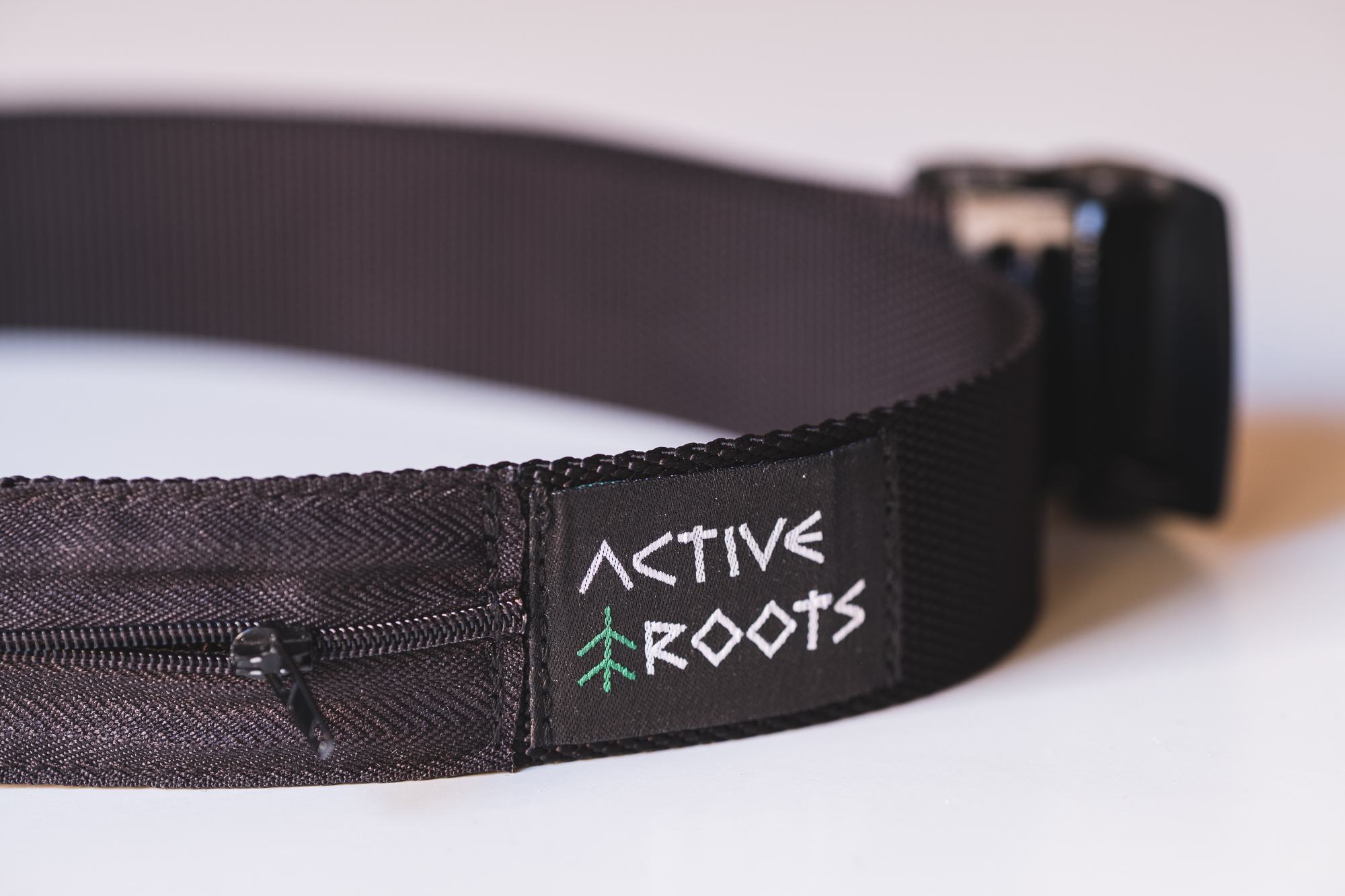 It features a large zippered pouch on the underside of the belt so hiding and accessing your cash is easy. The belt itself is made from a super durable nylon material that can take the inevitable beating traveling brings.
If all that wasn't enough, for every belt sold, some of the proceeds go to supporting an Elephant Conservation Center in Laos.
If you are looking for a practical, stylish money travel belt that will protect your cash on any given backpacking adventure, look no further than the Active Roots security belt. For the price, you absolutely cannot beat it.
If you need a little more room for your passport and other travel valuables, have a look at a full-size money belt that tucks under your clothes instead.
If neither of those options appeals to your refined fashion sense, don't compromise! Opt for an infinity scarf with a hidden zipper pocket.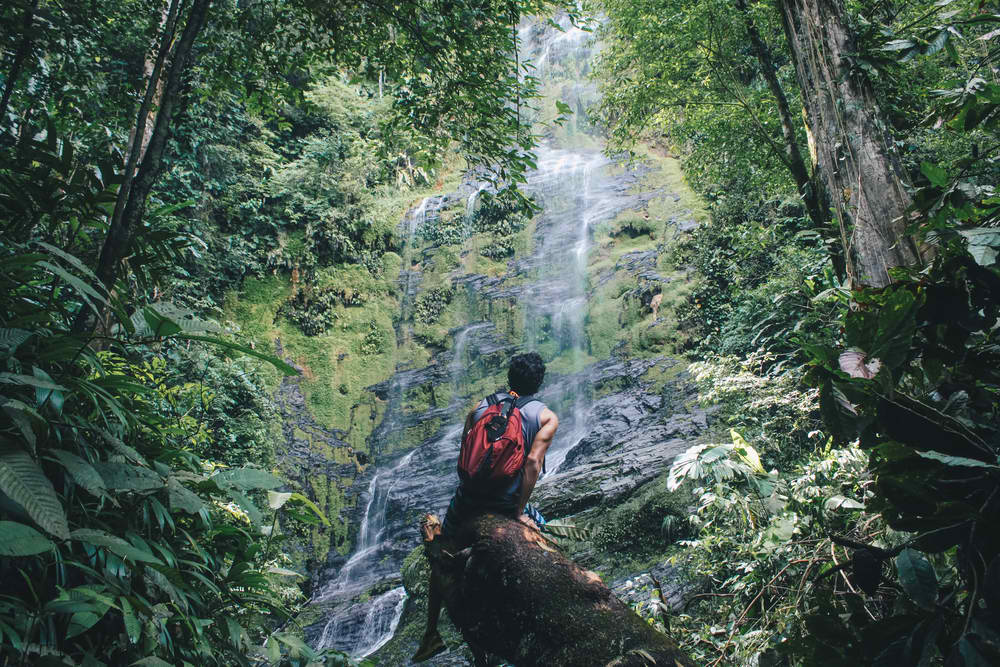 Is Costa Rica a safe place to travel alone? Travel to Costa Rica by yourself is totally doable and is one of the best ways to experience the country!
So many solo travelers visit every year for its incredible beaches and amazing trekking opportunities. It's all geared up for tourists here, plus there are tons of guesthouses and backpacker hostels in Costa Rica so you can meet other solo travelers, too.
Sure, it may be easy but that doesn't mean it's a breeze.
But don't worry. It isn't difficult to travel to Costa Rica by yourself, but there are a few things you can bear in mind to make sure you optimize having fun on your trip.
Learn some Spanish. You're in a Spanish-speaking country after all and it makes traversing the bus network much easier. Bus drivers aren't famed for their English either. You can actually enroll in Spanish classes for a couple of days too.
You'll most likely want to meet other people on your travels, right? So unless you're totally into your own company, then head to destinations where other travelers congregate. Some of the better places for solo travelers in Costa Rica are Santa Teresa, Nosara, Puerto Viejo and of course Tamarindo – perhaps the safest place in costa rica.Excursions and tours are a good way to meet other people and there are plenty of places to go in Costa Rica for awesome adventures, like the Arenal Volcano National Park.
And a top tip for beating the solo traveling blues, just get out and about – new experiences and people will never be too far away.
Costa Rica is safe to travel alone in but don't forget that anything can happen anywhere. Just because you're traveling doesn't mean you're immune to danger. Take care!
Is Costa Rica safe for solo female travelers?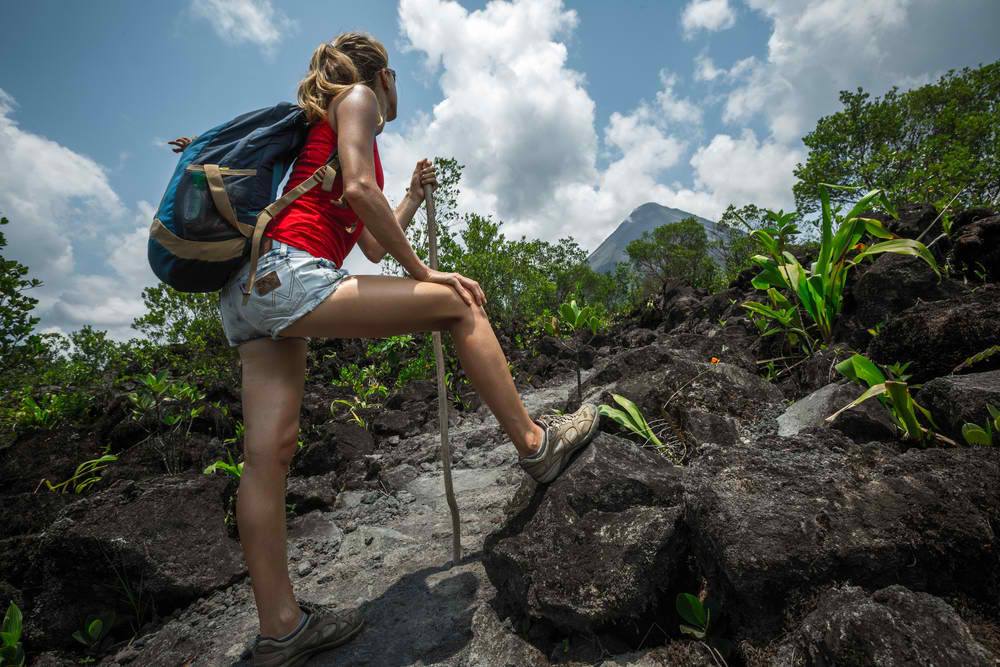 Is it safe to vacation in Costa Rica for women? Unfortunately traveling alone AND being a female can often mean you have to be extra careful. Costa Rica can be risky for women, of course.
This isn't a reason to NOT visit Costa Rica. Incidents like this happen everywhere, even in your own home country. We, as humans, just tend to focus on tragic events, which are, in reality, rare occurrences.
So here are some crucial things to keep in mind when you're out there in Costa Rica so you can stay as safe as possible on your travels.
Be confident, even if you don't feel like it. Looking confused, standing around lost, is a good way to attract unwanted attention – anywhere in the world. If you're really lost, walking confidently (even if you have no clue where you are) to somewhere that looks safe – a shop, a library, etc. – and find a member of staff to ask for help.
That's another thing: don't be afraid to be direct and ask for help or directions. This will most likely be better than accepting help from someone who initiates the conservation with you. Don't worry about saying a firm 'no thank you' and walking away if someone is bothering you.
Avoid walking alone at night. That is a surefire way for negative attention from the wrong sort of people. Get a licensed taxi home or walk with a big group of friends from your hostel, but don't walk home alone. It just isn't worth it, even if the distance seems short.
Once you arrive in Costa Rica, make friends – women more than men are often targeted by criminals and having a good crew with you helps to scare away attackers. Hang around the touristy areas to meet fellow travelers.
Look at what the local women your age are doing – what they're dressed like, how they're behaving. If people seem to be covering up with long skirts and shoulders covered, it's probably a good idea to do the same. Beach areas are different, of course.
Catcalls do happen. If you don't want that kind of attention, ignore them and move on.
Know the emergency numbers! Seems simple but it's easily neglected. Keep them in your phone at the top of the list.
Don't lose your money to a pickpocket! 
There are tons of ways to store valuables and goods while traveling but a travel scarf has to be the least obtrusive and the most classy.
The Active Roots Zipper Scarf is your run-of-the-mill infinity scarf but with a hidden pocket that's big and sturdy enough for a night's cash, your phone, a passport and (hell with it) some snacks too!
Generally speaking, Costa Rica is safe for female travelers. Keep your wits about you, follow your gut instinct (if something looks dodgy, it probably is) and you should be fine. It's about being sensible as much as it is about keeping an open mind and having the best experience you possibly can.
Is Costa Rica safe to travel for families?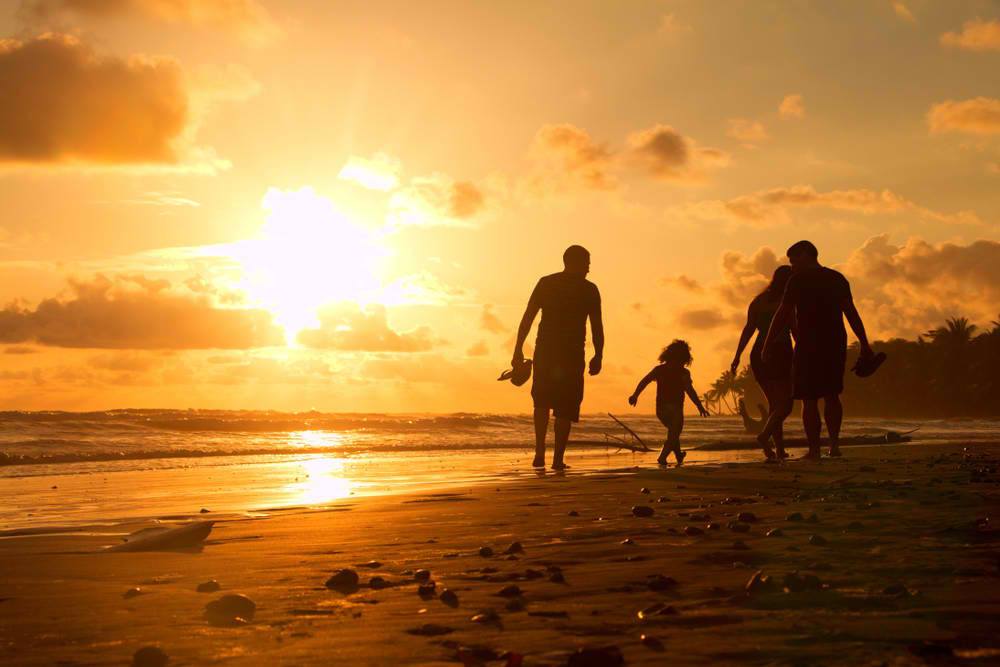 How safe is Costa Rica to visit with the whole fam? Costa Rica is a fun-packed place and a total playground for any adventure-loving families out there. If you're traveling with kids this is a great chance to unplug from technology and get out into nature.
The best way to have a safe trip to Costa Rica with your family is to plan your trip beforehand. Spend time doing research and find out where you want to stay in Costa Rica exactly. The right place is the one that suits your family's needs. You can even use a company that will plan your trip for you.
Both the jungles and the incredible beaches in Costa Rica draw tourists in, and these can be great fun for you and your kids. Make sure you ask locals about where is the safest to swim: riptides can be deadly. Go with a guide on hikes. They'll spot dangerous wildlife way before you do.
Ask your doctor about vaccinations. Otherwise make sure you bring all the usual medical supplies (just in case), sun protection, and get ready to have a blast in Costa Rica. Also, make sure your Costa Rica travel insurance includes the children.
Is it safe to drive in Costa Rica?
If you don't want to rely on buses (and their crazy time schedules) and want to be a little more independent in your travels, renting a car could be a good idea. Before doing so though, you'll need to have an idea of what driving is like in Costa Rica.
Road conditions vary from spotless highways to bumpy dirt tracks and spontaneous river crossings. Around the capital, roads are usually smooth; it's once you get out into the countryside that things turn practically offroad.
There's not a lot of signage, there are potholes, drivers frequently overtake at what you'd DEFINITELY call unsafe places, and you'll need to be careful in the rainy season when landslides can occur and the road can literally wash away.
Police checkpoints are a thing close to borders with neighboring countries. They might want to see your passport and might want to know where you're going: don't panic. It's standard procedure.
So if you're a confident motorist (offroading experience is a plus), then driving in Costa Rica is going to be a positive experience.
Is Uber Safe in Costa Rica?
Uber is actually very normal to use in Costa Rica. It's most popular around San Jose, but Uber also covers Alajuela, Cartago, and Heredia.
Uber is safe in Costa Rica: it's quick and cheap and you won't be overcharged. It's especially great to use from SJO Airport to your accommodation.
Are taxis safe in Costa Rica?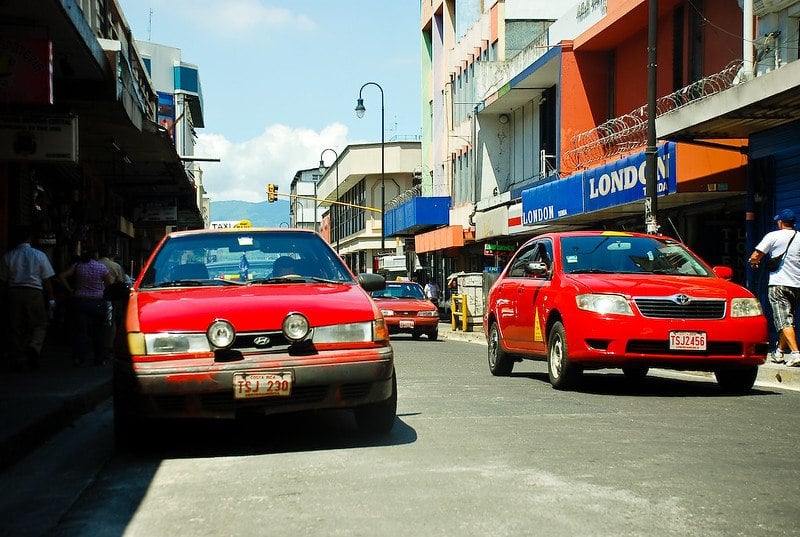 It's common to take a taxi and you'll see them almost everywhere. The color of licensed taxis, as we've said already, is RED. That's the legal type and anything else that calls itself a taxi most likely is not.
But are taxis safe in Costa Rica? Depends on what kind of taxi you use.
If you take the legal kind, then yes, taxis are safe in Costa Rica. The cars themselves are decent and the drivers tend to be pretty good. It's a legal requirement to use the meter (called a MARIA) and you can report them if they refuse.
It's the taxis piratas or literally "pirate taxis" that are not safe. The cars they drive are old, they often have no insurance, and they charge whatever they want. You'll know them from the old cars and the fact they run over to you and ask if you want a taxi.
For female travellers, sitting in the back seat is best. And as side note Costa Rican taxi drivers like their cars. So don't slam the doors or make a mess and they'll be happy with you!
It's been said a million times, but make sure you carry small denominations. Use a big bill and you may be greeted with the old 'no change' line. It wouldn't hurt to learn a bit of Spanish to direct you from A to B. Plus for a bit of conversation with the taxi drivers themselves.
At the end of the day, taxis are safe in Costa Rica. Like all aspects of travel and staying safe in Costa Rica, using taxis just requires common sense.
Is public transportation in Costa Rica safe?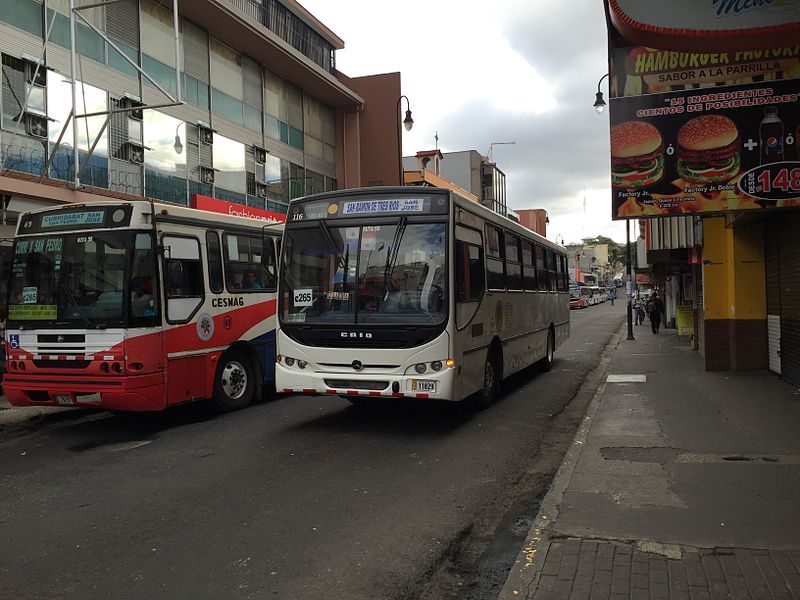 Thankfully, public transportation is safe in Costa Rica so long as you're being as vigilant as usual.
Most of the time, your biggest problem will be figuring out the timetables and systems. You'll be battling with confusion while riding the bus in Costa Rica, which may or may not make the situation worse. The easiest thing to actually figure out about the buses in Costa Rica are the fact that their destinations are written on paper and posted on the front of the bus. So if a bus says it's going to Guadalupe, that's where it's going.
As we mentioned earlier, the bus drivers usually aren't well versed in English so here's where you'll be busting out your bus Spanish basics.
If you're going to catch a bus from San Jose to anywhere else during holiday time you're going to have to book ahead of time at a bus station. Again, basic Spanish would be helpful. When it comes to safety, start with paying for your bus tickets in Costa Rican colones. You don't want to be sharing a bus for hours with a potential thief who thinks you've got loads of US dollars. Plus, the bus driver isn't a currency exchange.
If anyone looks suspicious, they may well be. Keep an eye on them.
Don't be afraid of the luggage storage under the bus. We mentioned this earlier, but no one can get to your bag down there. Putting your bag in the overhead shelf puts it and your valuables at risk.
Bus stations can be hotbeds for petty theft like pickpocketing and people trying to help you with your bags (they'll then demand money from you). Be aware of your surroundings and make sure that you hold onto your bag whatever you do.
There are no trains in Costa Rica. The whole train network in Costa Rica was shut down in 1991 following a bad earthquake. There's an urban service up and running in San Jose that's safe and efficient. But like any place where many people congregate, train stations are perfect for pickpockets.
Keep everything on you in transit!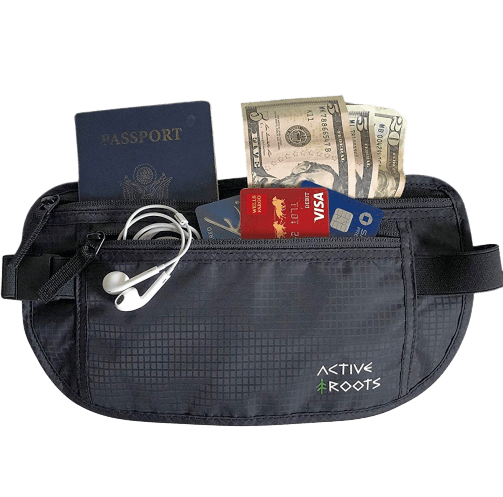 When moving from place to place, you shouldn't store travel documents in a bag, even if it's under your seat or overhead.
A full-sized money belt that stays tucked under your clothes keeps your documents and cash organized during your travels and assures nothing critical gets left behind or stolen.
Is the food in Costa Rica safe?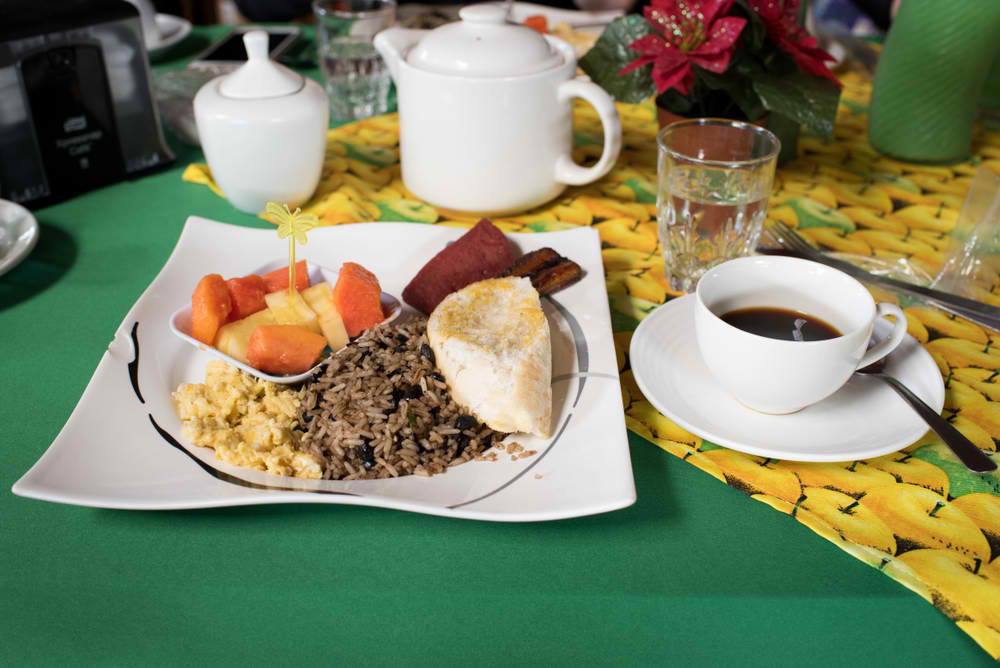 Get ready for an absolute feast. Costa Rican cuisine is supremely delicious. Expect plenty of hearty portions of totally fresh ingredients that will have you asking for seconds every time.
Because the food in Costa Rica has a big focus on fresh ingredients being freshly cooked, the likelihood of getting sick from something you ate is actually relatively low. This means that most of the time, the food in Costa Rica is safe to eat and shouldn't be a huge concern for you.
But to be extra sure, you should follow our guidelines below. Do so and sampling everything that Costa Rica has to offer food-wise should be a piece of cake.
First of all, and always the most obvious thing: salads. These are always a little bit risky as they almost always involve no cooking. If it looks super fresh go for it, if not, pass.
Eating at a soda (not to be confused with the beverage) is usually a good idea. Not only are these going to be pretty delicious, but spending your money here is going to be supporting the local community since they're family-run. Otherwise, a cantina is good for food AND drink as well as a dose of culture.
A good rule (for anywhere in the world) is to eat at places where a lot of people seem to be eating. Popular restaurants are less likely to have sanitation issues.
Street food stands are cheap and amazing. Things are cooked before your very eyes so you won't have to worry about things sitting in the sun all day. If you're still worried, don't be afraid to ask for fresh food (comida fresca).
The fruit here is so good and it's not usually the fruit itself that will make you ill – it's the amount you're going to be eating! Remember: too much fruit can give you the runs So limit yourself or you will pay the price…
And a basic rule of thumb: if it looks busy, it's probably good.
Traveling with an allergy? Research ahead of time how to explain your allergy. Keep in mind that store owners and restaurant staff might not know all the foods that contain allergens, so it's helpful to know the names of some of these too. If you're gluten-free, pick up a handy Gluten-Free Translation Card with descriptions of Celiac disease, cross-contamination risk, and local Costa Rican ingredients in Latin American Spanish.
At the end of the day, thanks to the focus on freshness, the food in Costa Rica is safe, nutritional and tasty. Food is a source of national pride and will offer you an insight into local culture, too. All we can say is we're pretty jealous of your trip right now.
Can you drink the water in Costa Rica?
Well, actually, yes. It's safe to drink the tap water in Costa Rica.
It's actually pretty tasty too! (Must be all that volcanic soil).
That being said, more rural and undeveloped portions of the country may not have the same benefits that the cities have, so you may want to avoid tap water out in the sticks.
If you feel like being extra cautious you may want to buy plastic bottles of water. If your hotel has water filters for guests to use, we'd recommend you use a refillable travel bottle instead.
Alternatively, take a decent water bottle and water purification tablets to be on the (extra) safe side. UV pens or a Grayl Geopress are also very effective and, if you drink a lot of tap water, can be very wise investments.
Want to save the world?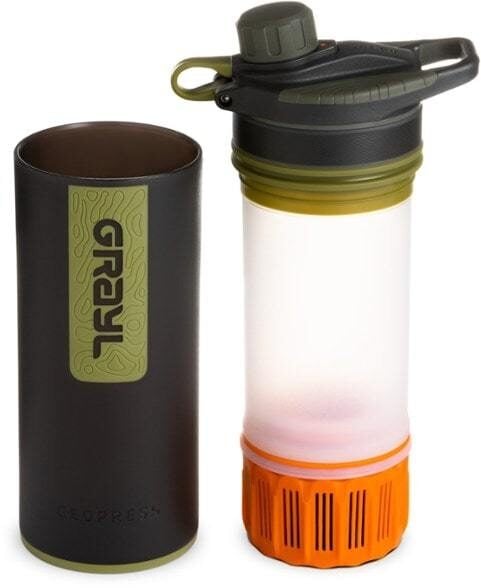 Single-use plastic bottles are a huge threat to Marine Life – Be a part of the solution and travel with a filter water bottle.
The GRAYL GEOPRESS water bottle is the ONLY all-in-one filter water bottle setup you'll need. Whether you need to purify the water from a hostel sink in Kathmandu or a stream trickle in the Andes, the Geopress has got you covered.
Read our full review of the GRAYL GEOPRESS!
Is Costa Rica safe to live?
Is Costa Rica a safe country to live in? If the thought of all that healthy food and all those dazzling beaches have you wanting to move to Costa Rica, whilst your friends and family think you're nuts, you could be in for an absolute treat; and an amazing adventure!
There's a comprehensive expat community in Costa Rica, with many being retirees from the US (as many as 50,000 as of 2013). Many expats live in the Central Valley, an area close to the capital. If you want beach living, the Southern Zone is a good shout.
Tamarindo is also becoming a digital nomad hotspot. Stay in a Tamarindo Hostel, and you'll probably see quite a few people splitting their tome between their laptops and the beach.
Living in Costa Rica is not always as cheap as you think it's going to be, nor as straightforward as you might want it to be. Work visas can be tricky to apply for: you have to prove that you're filling a position that a Costa Rican can't.
Living in Costa Rica is safe but you need to be aware of certain issues. Burglary is one of the most common crimes, as are vehicle crimes, so you may want to invest in security and, obviously, insurance. And as a Westerner, you'll stand out in tourist areas, so pickpockets may target you.
In rural areas, there can be power outages, and wildlife might get a little too close for comfort. Earthquakes and volcanoes can pose a risk wherever you're situated, so knowing what to do when disaster strikes is very sensible!
And it goes without saying, but learning Spanish would be helpful.
How is healthcare in Costa Rica?
So how is the healthcare in Costa Rica? Really, really good.
The World Health Organisation ranks Costa Rica high when it comes to life expectancy; in 2000 a WHO survey ranked Costa Rica higher than the US when it comes to their healthcare system!
The public healthcare in Costa Rica is universal. It's called caja and it's open to all residents, insured, uninsured, undocumented immigrants – anyone. Emergency care is provided free of charge to all residents. Basic dental care is also provided for.
Given the quality of the system, the private healthcare makes Costa Rica a pretty popular destination for medical tourism.
Many medicines and drugs can be bought from pharmacies without a prescription. It's common for locals to first visit a pharmacy: there's often an onsite doctor who can diagnose and treat you there and then! Any further treatment and they'll send you to the hospital.
Helpful Costa Rica Travel Phrases
Learning a bit of Spanish is a great way to get the most out of your trip. It is such a useful language to know! You can speak it in over 20 countries!
Here are a few helpful Costa Rica travel phrases with English translations for you to use while backpacking Costa Rica:
Hello – Hola
How are you? – Como estas?
Good Morning – Buenos dias
I don't understand – No entiendo
How Much – Cuánto cuesta?
Stop here – Te detienes aquí
Where are you going? – A donde vas?
What Is This? – Que es esto?
Sorry – Lo siento
Help! – Ayudame!
Cheers! – Salud!
Dick head! – Cabron!
Final thoughts on the safety of Costa Rica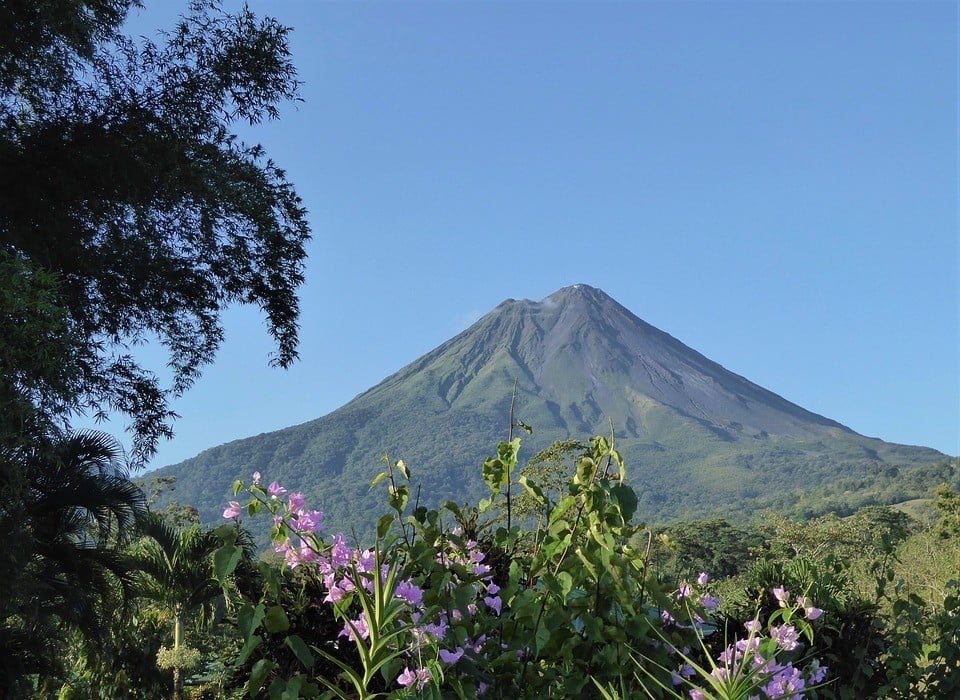 Is Costa Rica Safe? Our Final Thoughts
It's no wonder that Costa Rica is one of the most popular countries on Central America's backpacking trail to visit. A wealth of history, crazy good food, and literally amazing nature make it perfect for many different people. And that's not even mentioning its stunning beaches, which are as popular for sunbathers as they are for surfers. It's an adventure alright.
There are things to bear in mind, of course – taxis can be fraudulent, female travelers can be more susceptible, and pickpockets are in full-force. With common sense and a good understanding of the country though, you can avoid these problems and be safe in Costa Rica.
Thanks to this guide, you'll now have some great travel tips to know exactly how to stay safe while traveling in Costa Rica. That means less time worrying, more time having the best time ever. Having the right travel insurance will also give you peace of mind!
Is it safe to travel to Costa Rica? Yes! Have a great trip!
Disclaimer: Safety conditions change all over the world on a daily basis. We do our best to advise but this info may already be out of date. Do your own research. Enjoy your travels! Some of the links in this post are affiliate links which means we earn a small commission if you purchase your insurance through this page. This costs you nothing extra and helps us keep the site going.