Costa Rica is a vibrant and exciting country to travel. With awe-inspiring coastlines, magnificent rainforests and buzzing, bustling cities there is something for every kind of traveller in Costa Rica.
Packed with adventure, and never a dull moment, travelling Costa Rica can be done affordably and has a ton to offer.
One of the best ways of travelling affordably is staying in hostels. But there are hundreds of hostels in Costa Rica…. and not all of them are great. Which is exactly why I've put together this guide to the best hostels in Costa Rica!
While it might seem like a small country, there is a lot of ground to cover, and this list of the best hostels in Costa Rica will guide you through the areas and the hostels you have to visit! And just as importantly, make sure you don't end up in any hostels you won't want to visit.
Then you can focus on the fun stuff! You can brush up on your Spanish and learn to surf in Tamarindo or reconnect with nature in the Manuel Antonio National Park. Whatever you are interested in, Costa Rica has got you covered on fun, and we've got you covered on the best hostels.
Let's jump into the top hostels in Costa Rica!
Quick answer: The 5 Best Hostels in Costa Rica

Do You Want to Travel FOREVER??
Pop your email in below to get a FREE copy of 'How to Travel the World on $10 a Day!'.
What to Expect from Hostels in Costa Rica
Now, looking for hostels and actually finding the right one are two completely different things. To save you time scrolling through the search engines to find the best hotels for backpacking Costa Rica we have compiled this ultimate list for you. We've listed our absolute favourite 5 hostels in Costa Rica down below (with a few added bonus hostels). Check them out!
Costa Rica is relatively affordable to travel to. But, it's expensive compared to the rest of Central America. The kind of prices you can expect to pay differ throughout the country and the size of the dorm, but on average you can expect to pay…
Dorms (mixed or female only): $10-30
Private Rooms: $35-$75
Make sure to book earlier during peak seasons to ensure a better price!
Read on to find the best hostels for solo travellers, digital nomads, party animals and more. My choices are distributed in Costa Rica's awesome areas.
La Fortuna
Tamarindo
Manuel Antonio
Puerto Viejo
Monteverde
And as a side note: If you want to find even more epic hostels, have a look at HOSTELWORLD. I 100% recommend booking using Hostelworld, it has reliable reviews and is often cheaper than going direct to the hostel. Above all, this platform offers a super safe and efficient booking process. You can also filter all of your personal travel needs and find the perfect place for you.

The 5 BEST Hostels in Costa Rica
Ok, here we go! Now, before we start, just note this…. The following list is comprised of some of my favourite hostels in Costa Rica. Most of which I have stayed in before or visited. So, I can vouch for their awesomeness.
I have tried to also incorporate into this list some of the highest-reviewed hostels in Costa Rica. Enough about me, this list is for you! This list is broken down into categories to help you find the Costa Rican Hostel that's perfect for you.
With this guide, you'll be able to explore the wonders of Costa Rica without worrying about your accommodation. I have tried to include one Hostel from each popular Costa Rican destination to ensure there's somewhere for you to stay no matter where you find yourself in the land of pura vida.
Info & Tours Desk
24hr Security
Arenal Backpackers Resort is my favourite of all the hostels in La Fortuna. It's great for solo travellers who want the resort-style holiday feel with the La Fortuna backpacker hostel vibe. With privates from $50 and Dorms from $20 it's definitely not the cheapest option, but boy is it worth the price.
Arenal Backpackers is well located just a short stroll away from some local restaurants and bars. Unfortunately, you'll need this because there is no kitchen here. It is however equipped with all the other basics a hostel would need, plus a whole lot more. It also boasts a swimming pool, pool table, large hammock garden, information and tours desk and more!
Why you'll love this hostel:
Spectacular views of Arenal Volcano
Hammock garden
Beautiful pool area
Their swimming pool is THE place to hang out, you'll meet loads of like-minded, chilled-out travellers there throughout the day and long into the night.
They have a variety of accommodation offers here to suit a backpacker on any type of budget. This is partly why I think it is the overall Costa Rican hostel GOAT (greatest of all time for all of you living under a rock).
If you're loaded, you can splash on a romantic private cylindrical pod with a view of Arenal Volcano. And for you true broke backpackers, their dorms or new deluxe camping option is a great shout. Ideal for travellers on a budget who want to experience something a little bit different in La Fortuna.
To top it all off, grab a drink from the on-site bar and head to the hammock garden. From the best hammock spots you can sneak a view of the incredible Arenal Volcano, it doesn't get much better than that, right?!
2. Best Hostel in Costa Rica for Solo Travellers – Monteverde Backpackers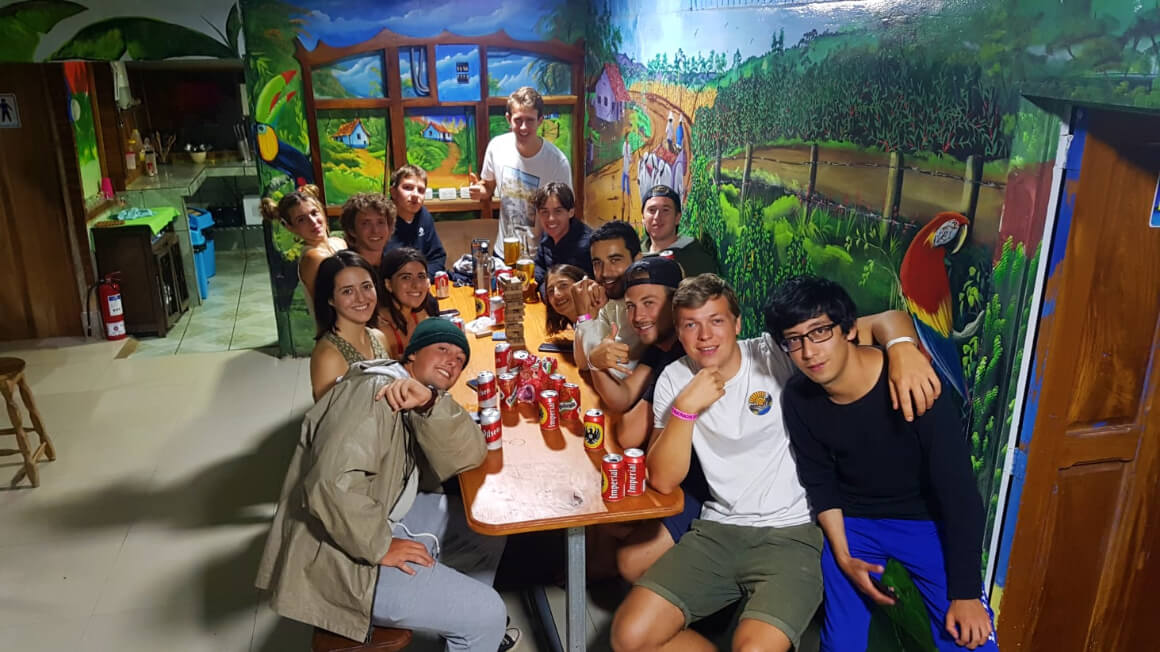 Towels Included
Laundry Facilities
Monteverde Backpackers is a super social hostel perfectly located centrally in Monteverde. This could have been one of my best nights' sleep in all of Costa Rica. I'm not exaggerating when I say the dorm beds are ultra comfy.
Admittedly basic, this hostel lacks luxury items such as a swimming pool or on-site restaurant. However, it does have a kitchen, ping-pong table and great Wi-Fi.
Why you'll love this hostel:
Great Social Atmosphere
Most amazing staff members
Ultra comfy beds
Ok guys, I'll be honest, not only is this one of the best hostels in Monteverde, this one is actually my personal favourite hostel in all of Costa Rica. I have visited this hostel myself twice (so good I came back). This is mainly down to one thing… the staff.
From the moment I arrived here, the staff were so incredibly helpful and friendly. I had a few medical issues which they helped me with and I then went on to chat to the receptionist for ages. He showed me all the best local things to do (including free activities) and then also gave me a free beer as I watched the football with him. I can't remember the dude's name for the life of me, but he was a Manchester United fan so you know he was a top g.
Oh yeah, and did I mention the guests are usually very social and up for a night out? You're bound to meet a whole load of friends here just as I did. This is why I've chosen it as the best hostel for solo travellers.
Self-Catering facilities
Laundry facilities
Talking of partying, Playa 506 Beachfront Hostel is my pick for the best party hostel in Purto Viejo or possibly even Costa Rica. Prices are anywhere from $70 for a private room and dorms are from $19.
Playa 506 Beachfront is easily the best party hostel in Puerto Viejo. Playing the reggae music loud from dusk til dawn, hosting a happy hour every night and their own open mic evenings too the Playa 506 team know how to have a good time. With just the right amount of drinking culture teamed with laid-back beachy vibes, Playa 506 is one of the best hostels in Puerto Viejo overall too.
Why you'll love this hostel:
Located right on the beach
On-site Bar with craft drinks
Activities on offer like Horseback riding and surfing
Although it's not the same party vibes you would normally associate with a hostel, this is more of a chilled-out, drinking vibe. They have a wonderful selection of craft drinks available at their on-site bar here, and it's located right on the beach. Making it perfect for finding your special someone for the night and talking all night on the beach.
I will say it's a bit of a trek to get into town, so I would recommend hiring bicycles when staying here. But overall, I had a really fun night here.
The team will help you max out your time in Puerto Viejo. They can hook you up with surf lessons, day trips to secret waterfalls or even rent you a bicycle so you can get yourself into town. The dorms are pretty cosy but perfect if you're just looking for a place to crash.
4. Best Hostel in Costa Rica for Solo Female Travellers – Selina Tamarindo
Tours and Travel Desk
Luggage Storage
This Selina is exceptional. It's definitely the best hostel for solo travellers in Tamarindo. There's so much to do and so many people to do it with! Not like thaaaaat! You know what I mean! Anyway, at Selina Tamarindo as a solo traveller, you can hang by the pool, and join in with a yoga session, a salsa class or even a surf lesson.
Whilst I know some of you hardcore backpackers aren't the biggest fans of Selina hostels. This one is good, trust me. As always with Selina, the dorms are clean, tidy and basic. They always have super comfy beds, air conditioning, luggage storage and excellent (but expensive) private room options. There's a lot to love about Selina Tamarindo and with sister hostels across Costa Rica no doubt you'll become part of the Selina-fam!
Why you'll love this hostel:
Nice pool area
Surf Lessons
Social Atmosphere
Imagination time folks let's picture a whole day staying here. At Selina Tamarindo, you are located within walking distance of the beach, so we can wake up and go straight for a morning surf. Starting off well aren't we!?
Ok, next we can come back to the hostel for a coffee and a smoothie bowl by the pool. You can then play some ping pong with your new friends. After that, hire a bicycle and cycle around Tamarindo for the afternoon. In the evening, hit up the on-site bar and get social with all your new friends before crashing out into your super comfy bed after a nice hot shower. Sounds like a dream to me.
5. Best Hostel in Costa Rica for Families – Selina Manuel Antonio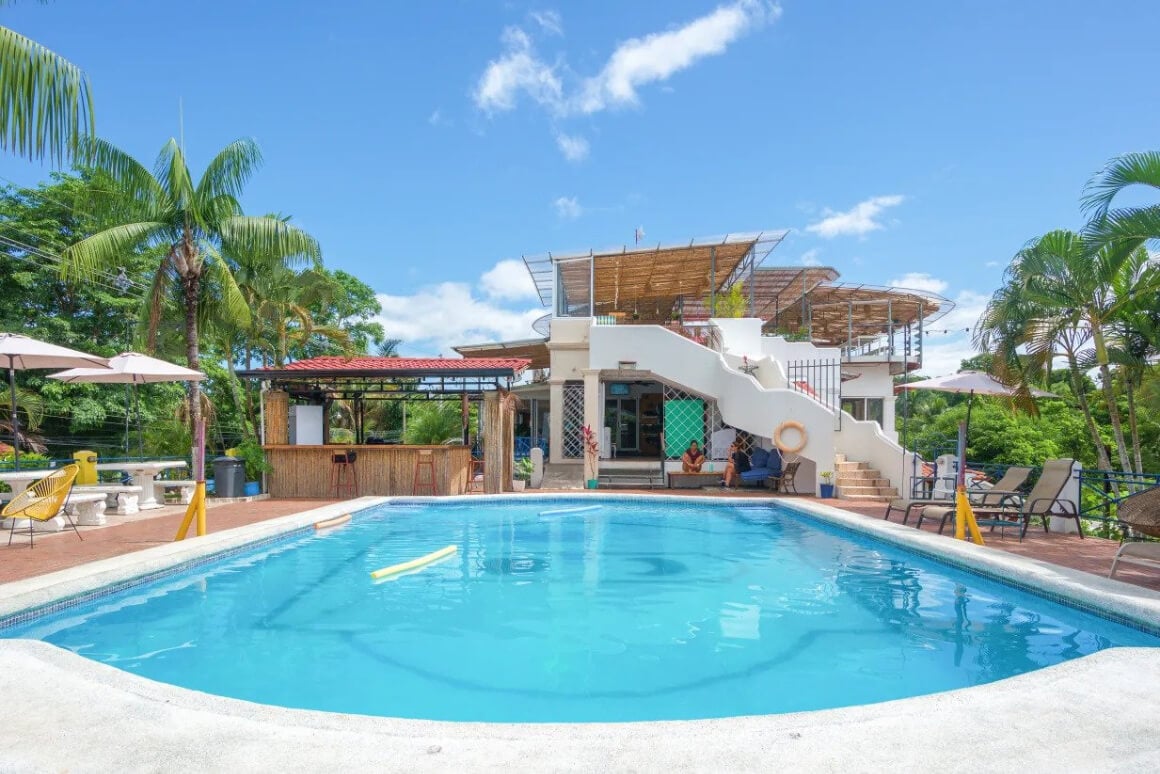 On-site Bar/Restaurant
Tours and Travel Desk
What? Another Selina? I bet that's what you're thinking. Hear me out, guys. Selina Manuel Antonio is definitely one of the best Selina's and it's well located just four metres away from the high tide. (Usually a 15-minute walk). This hostel is huge so it's ideal for those of you who want a more peaceful and luxurious stay.
Selina Manuel Antonio offers both dorm and private room options. Although it's not the cheapest, I would compare this property to a hotel rather than a hostel so it's worth the cash. The facility is equipped with a kitchen, book exchange, swimming pools, air conditioning, an outdoor terrace, a yoga deck and more.
Why you'll love this hostel:
Massive property grounds
THREE swimming pools
Pets and children allowed
This hostel is ideal for families as they have a unique situation here where pets are allowed for an extra $10 a day, and children under 5 stay free!
When I visited here, I found the tours and travel desk to be extremely helpful when planning my day trips and they offered fair prices on tours too. They have great WiFi here too, which I took advantage of to get a load of work done whilst I was here and the on-site bar and restaurant offer very premium food and drinks (although not the cheapest).
On top of all this, the staff were lovely and organised daily activities and games for the guests which really helped me to make some friends while visiting here, I would really recommend it to anyone, not just families.
More of the Top Hostels in Costa Rica
If you haven't found your dream hostel yet, it's time to panic… Just kidding… do not worry!
I've got a few more stunning hostels up my sleeve, starting off with one of my personal favourites….
Arenal Poshpackers is one of the best hostels in La Fortuna. It's especially great for couples. With a heap of private rooms and a handful of dorms too, this place is ideal for couples who want the privacy of a room but the social feel of a hostel.
Their backpacker's bar is a cool little hangout, no doubt you and bae will make yourself some new drinking buddies here. The sun-trapped garden complete with hammocks is the best place to relax after a day of exploring the waterfalls, volcanos and jungles that surround La Fortuna. Be sure to ask the team for directions to the picnic spot at the swimming hole, there's a romantic travel day right there!
Is This the Best Backpack EVER???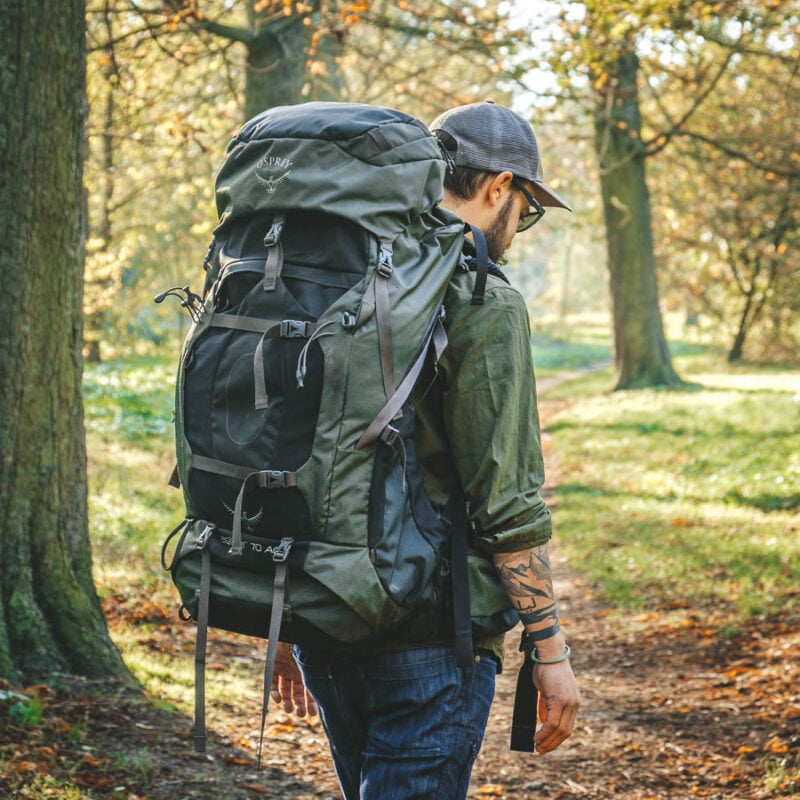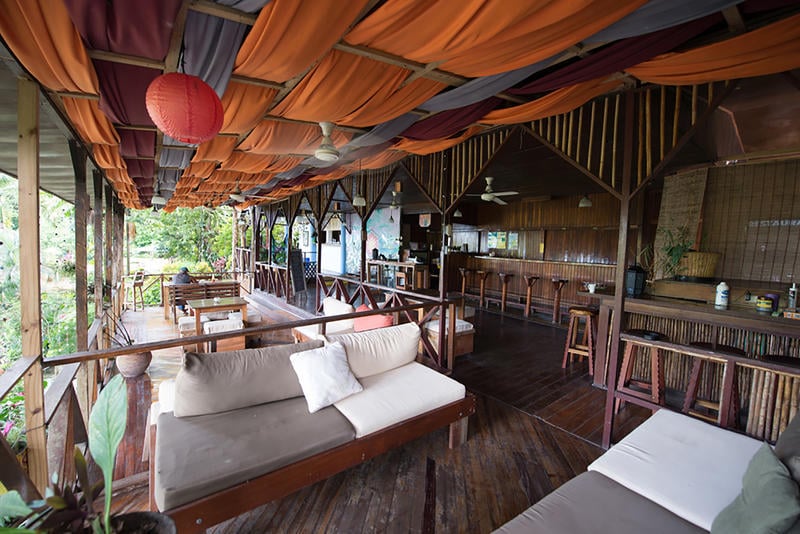 One of my favourite hostels in Manuel Antonio is Hostel Plinio, this place is sick! With its own swimming pool and garden area that looks out over the Manuel Antonio National Park, Hostel Plinio ticks all the right boxes. Breakfast is included in your room's rate, as is WiFi, access to the guest kitchen and laundry facilities too.
Hostel Plinio is one of the best hostels in Manuel Antonio and it's not hard to understand why. The staff are genuinely caring and will go out of their way to ensure you have a great stay. For couples seeking a more low-key, quiet hostel come B&B then the Hostel Plinio sister B&B is just down the road and offers the same great service and value for money.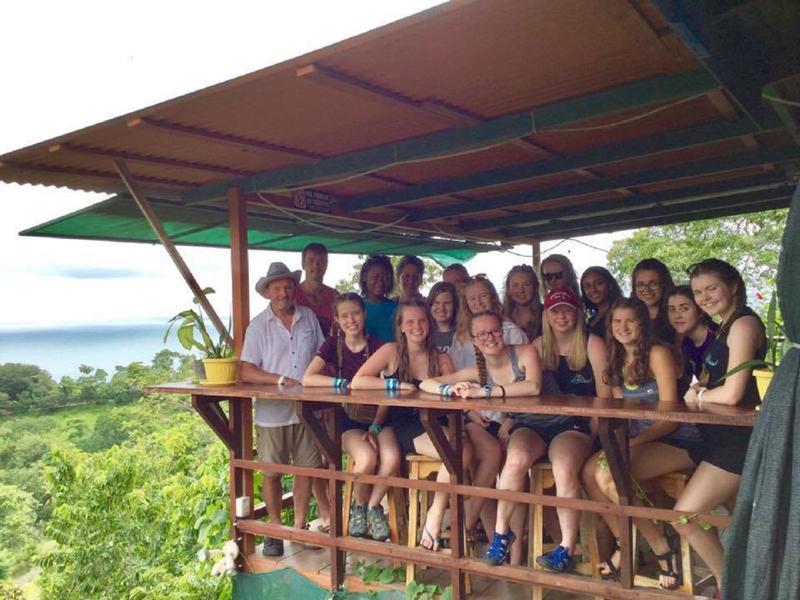 Another Manuel Antonio hostel, this one is ideal for you digital nomads. Offering not only a great internet connection but a great working environment too. If you're looking to strike the right work-life balance as a digital nomad in Manuel Antonio then Hostel Vista Serena is the place to stay.
You can work while dangling your legs over the edge of the swimming pool or while sipping a cocktail at the hostel bar. There's a great vibe here making it the coolest hostel in Manuel Antonio for sure. The staff are super helpful and keep this boutique-style hostel in tip-top condition. Interior design geeks get your Insta at the ready!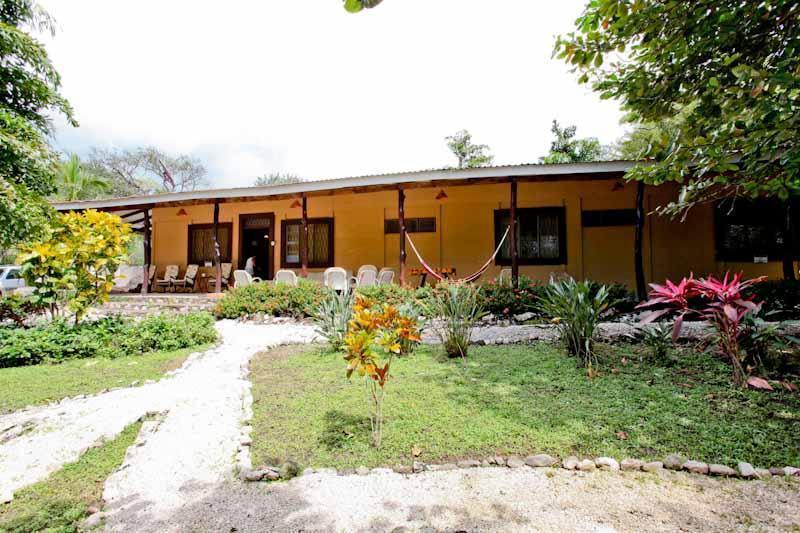 Offering male-only and female-only dorms Nosara Beach Hostel is the overall best hostel in Nosara. If you're looking for the best location in Nosara, look no further. Located just 200m from Playa Scripts you couldn't stay closer to the beach if you tried. In the garden, you'll find perfectly positioned hammocks, a ping-pong table and a table football too.
There's plenty to keep you entertained once you've finished up on the beach for the day. Although there are a number of great cafes and bars in town Nosara Beach Hostel offers guests use of the community kitchen should they want to cook up some home comforts. It's a small and homely hostel that has just 5 rooms. It never gets overcrowded but equally, there are always enough people around to keep the hostel vibe on point.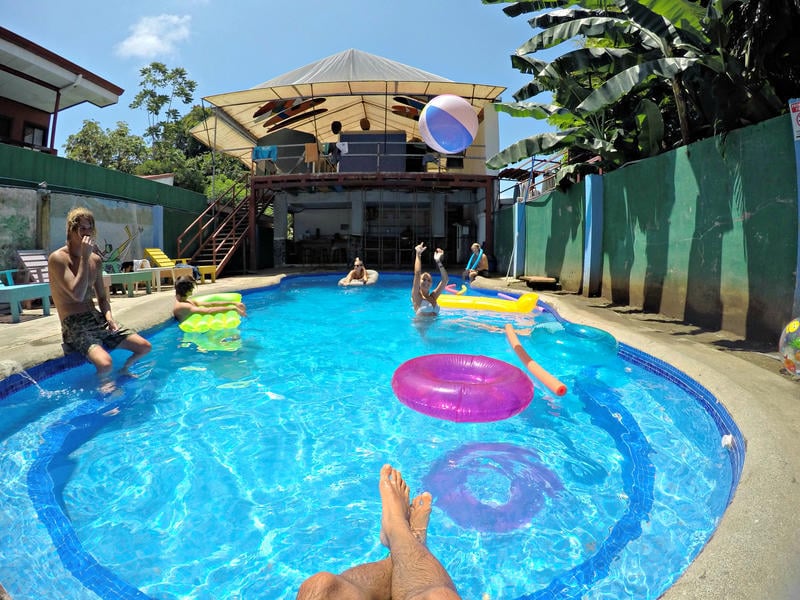 The overall best hostel in Jaco is Hostel De Hann. With a little bit of everything Hostel De Haan ticks all the boxes for every kind of traveller. You can learn to surf, brush up on your Spanish or just chill the hell out! The swimming pool is famed for its pool parties and no doubt you'll wanna get in on the action too.
The dorms are clean, tidy, and pretty spacious. Most importantly the beds are comfy and all the rooms have ceiling fans. Wilson is the hostel's hero, if you need anything just holla at him, and he'll sort you out. Super chilled out and super friendly Hostel De Haan has those Costa Rica hostel vibes on point.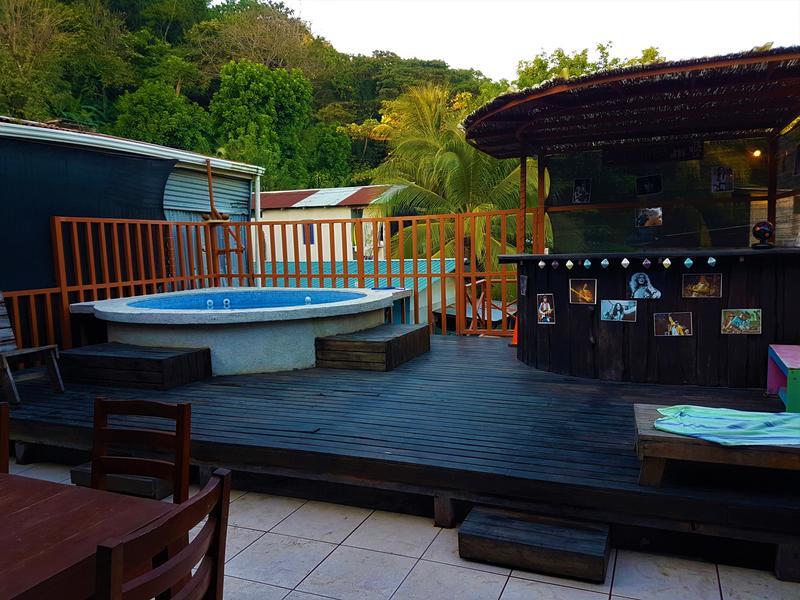 Slow Monkey is the best party hostel in Santa Teresa. Not the same party vibes that you'd find in an inner-city hostel in Europe but the best kinda party vibes; the chilled out, chilled beer and the chilled sea lapping against the sand kinda party vibes. Bliss!
Slow Monkey has their own hostel bar, jacuzzi pool, pool table and outdoor BBQ area. If you're looking for a super relaxed hostel in Santa Teresa with an opening and welcoming feel and an affordable nightly rate then Slow Monkey is a great shout. FYI, the Slow Monkey team can help organise all your tours and travel arrangements.
Casa Aura is one of the best hostels in Tamarindo, a little pricey I'll admit but it's well worth it. Established in 2015, Casa Aura is modern yet homely, stylish yet understated. Right on the beachfront, you're only ever a matter of steps away from the sea; dreams do come true. Casa Aura is a kind of beach mansion rather than a beach hut!
If you want a taste of the high life when in Taramindo then this is the place to stay. The Casa Aura team offer a great free breakfast and guests have access to the hostel's free WiFi too. There are tonnes of places to laze around, to chill out. Whether you wanna sneak a couple of chapters while swaying in a hammock or catch up on the diary in the lounge you're free to do as you please at Casa Aura.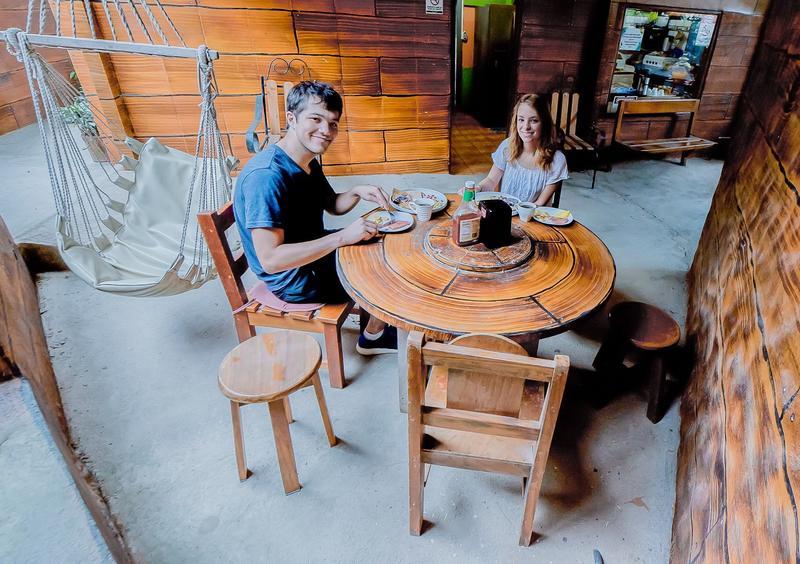 Offering private rooms with a hostel vibe Cabinas El Pueblo is the best hostel for couples in Monteverde. Not only is breakfast included in your room rate but they have their own hostel cafe on site too, so once you've checked in you don't need to lift a finger!
The rooms are spacious and really comfortable, although a little basic some may argue. If you and your lover wanna get out and about and experience authentic Monteverde then swing by reception and book onto a couple of their tours. The Cabinas El Pueblo team can arrange everything from ATV tours to bird watching, from horse trekking to coffee plantation tours. There's never a dull moment at Cabinas El Pueblo that's for sure.

Our GREATEST Travel Secrets…
Pop your email here & get the original Broke Backpacker Bible for FREE.
FAQs about Hostels in Costa Rica
Here are some frequently asked questions from backpackers like you about hostels in Costa Rica.
Travel Safety Tips for Costa Rica
Central America and Costa Rica especially are usually safe to travel to, but you never know what can happen out there. Stay protected with travel insurance!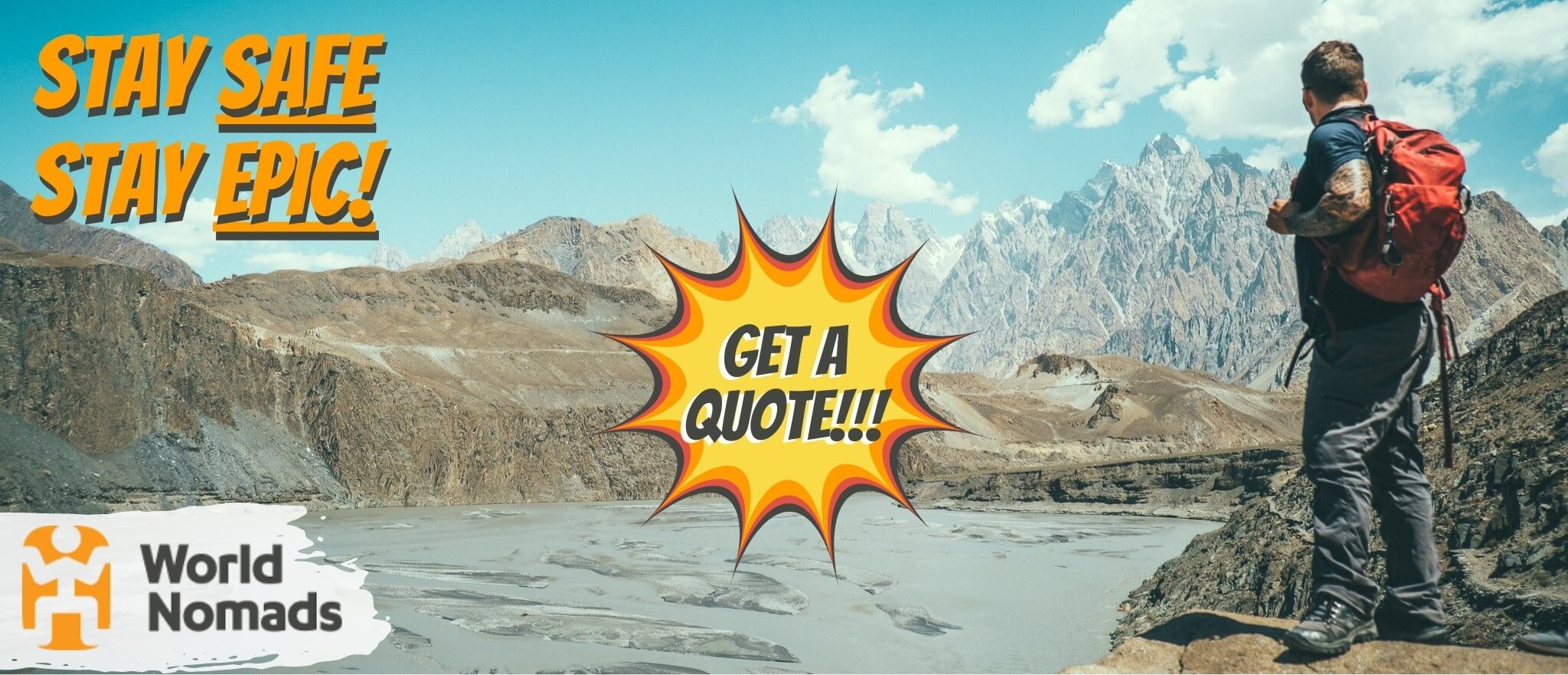 World Nomads' mission is to support and encourage travellers to explore their boundaries. They offer simple & flexible travel insurance, and safety advice to help you travel confidently.
They've been doing it since 2002 – protecting, connecting, and inspiring independent travellers just like you.
Get a quote below or read our in-depth review!
World Nomads provides travel insurance for travelers in over 100 countries. As an affiliate, we receive a fee when you get a quote from World Nomads using this link. We do not represent World Nomads. This is information only and not a recommendation to buy travel insurance.
Final Thoughts on the Best Hostels in Costa Rica
With so many beautiful sites, fun people and places to party, it's difficult to have a bad time in Costa Rica.
And with the help of this ultimate guide to the best hostels in Costa Rica, you now know exactly where to stay while you are in the land of pura vida. Whether you are a solo traveller looking to party, or a couple looking for some privacy, our list of the top hostels in Costa Rica covers hostels for every type of traveller.
By now I hope our epic guide to the best hostels in Costa Rica has helped you choose the perfect hostel for your adventure! If you're really looking to immerse yourself in nature, why not switch it up a bit and stay in one of these awesome treehouses in Costa Rica? You'll be surprised to find a few gems here that will fit your tight budget!
If you think we've missed anything or have any further thoughts, hit us up in the comments! Good luck out there guys!
---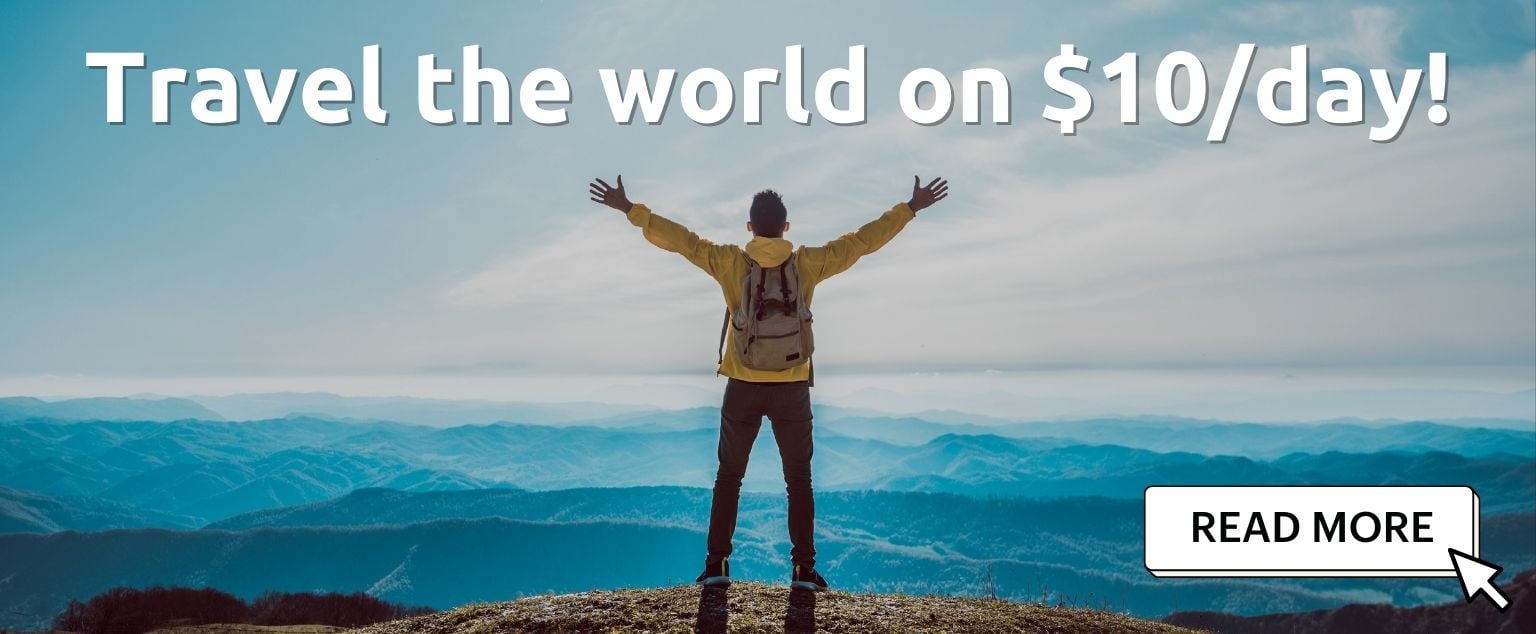 And for transparency's sake, please know that some of the links in our content are affiliate links. That means that if you book your accommodation, buy your gear, or sort your insurance through our link, we earn a small commission (at no extra cost to you). That said, we only link to the gear we trust and never recommend services we don't believe are up to scratch. Again, thank you!
Updated June 2023