Costa Rica is the most visited country in Central America, and it's easy to see why. The country boasts some of the most incredible beaches, an expansive biodiversity from dense rainforest to forested mountains and, of course, year round delightful weather.
Not only that, but Costa Rica has some of the friendliest locals who love to share their culture with tourists. If you really want to immerse yourself in the culture of Costa Rica, staying in a plain old hotel room just doesn't cut the mustard. I mean, with so much incredible nature, world-class beaches and quaint colonial towns, why stay in a hotel when a historic villa or beach house is available?
Airbnbs in Costa Rica are the best way to experience the true essence of the country. They are usually located in the best locations, allowing you access to the countries diverse landscape right from your doorstep.
You'll find beach shacks, historic homes, treehouses, villas, eco-lodges, and so much more. In fact, there are so many options, that sifting through the variety is a long-winded and daunting task. No matter, because I'm here to help.
In this guide, I'll be showing you 15 of the best Costa Rica Airbnbs, suitable for any type of traveler. Ready to get your feet wet? Let's not waste any more time and take a look at the best Airbnbs in Costa Rica.
Quick Answer: These are the Top 5 Airbnbs in Costa Rica
Overall Best Value Airbnb in Costa Rica
Overall Best Value Airbnb in Costa Rica
Boho Chic Loft with magnificent views
> $
> 4 Guests
> Gym
> Swimming pool
Best Budget Airbnb in Costa Rica
Best Budget Airbnb in Costa Rica
Apartment near the airport
> $
> 2 Guests
> Pool
> Close to Everything
Best Airbnb for Couples in Costa Rica
Best Airbnb for Couples in Costa Rica
Bohemian eco-lodge
> $$
> 2 Guests
> Breakfast
> Yoga Class
Best Villa in Costa Rica for Families
Best Villa in Costa Rica for Families
Modern home in beach town
> $$
> 8 Guests
> Beach access
> Free parking
Over the Top Luxury Airbnb in Costa Rica
Over the Top Luxury Airbnb in Costa Rica
Villa close to the beach with pool
> $$$$
> 19 Guests
> Concierge
> Beach access

Unlock Our GREATEST Travel Secrets!
Sign up for our newsletter and get the best travel tips delivered right to your inbox.
What to Expect from Airbnbs in Costa Rica
Have you polished your surfboard and packed your diving gear yet? Well, before you do that, it's a good idea to think about where to stay in Costa Rica. The country is massive and there's so much to see and explore. From bathing in the hot springs below the Arenal Volcano to hiking in the dense rainforest of Monteverde Cloud Forest Biological Preserve, or bathing on the serene beaches of Parque Nacional Manuel Antonio, it's all about location, location, location…
One thing I love about Costa Rica Airbnbs is that you can leave the urban jungle and be at one with nature, and still be close to the town. Airbnbs allows you the chance to be a few minutes' walk from the beach and still be less than 20 minutes' drive away from the town. Talk about having the best of both worlds!
However, I do recommend hiring a car to get from A to B. The best thing about vacation rentals in Costa Rica is they allow you to stay in more remote locations. The downside to staying in an Airbnb in Costa Rica is they can be in remote locations. A car will make your trip so much easier.
Once you've figured out where you want to stay in Costa Rica, and you have your car sorted, you're ready to start thinking about the type of accommodation that suits you best. Here are the most common types…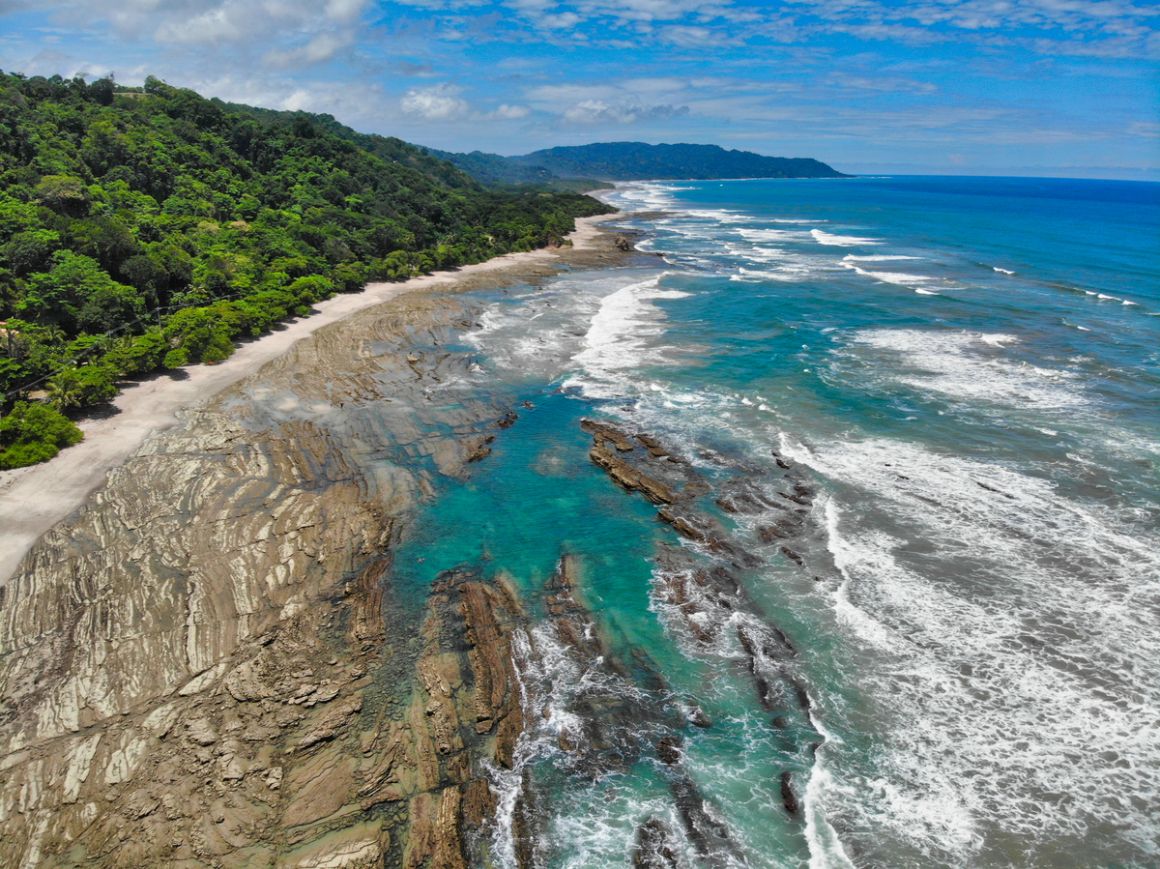 Apartments
Mostly found in cities and urban areas, apartments can be small enough for a lone backpacker in Costa Rica or big enough for a family of six. With apartments, you can have an entire rental unit which gives you private spaces all to yourself. But if you do want to mingle with other travelers, you can enjoy the company of others in shared areas such as in a gym or by the pool.
Apartments, for all intents and purposes, pretty much function like your house at home. They come with all the comforts of home such as kitchens and living areas and often have entertainment facilities too. The only downside to an apartment over a hotel is you have to do your own laundry. But, at least you won't lose your socks!
Eco-Lodges
Costa Rica is moving to become one of the most economical countries on the planet. So, if you're an environmentally conscious traveler, lucky for you there are a ton of eco-lodges in Costa Rica. Eco-lodges are excellent options for nature lovers since they are often located in or by the rainforest or beaches.
You get the opportunity to stay as close to nature and wildlife as possible without disturbing them. Plus, you can wake up to their sounds, and from the comforts of your room. Imagine being serenaded by the sounds of toucans and parrots while you lie on your hammock and read a book – bliss.
Eco-lodges come in private rooms or entire rental units and are ideal for all types of travelers, be it single, couples, or families.
Villas
Grand, opulent, and possibly the most expensive option on this list, are villas. These are luxury properties that sometimes come with extra services such as housekeeping and private chefs. Villas are the way to go if you want every single thing taken care of on your trip and to live a life of luxury.
Think stylish décor, marble countertops, a fully-equipped kitchen with a stove Michelin star chefs will drool over, smart home controls, infinity pools, outdoor hot tubs, and amazing views. If budget is not an issue for you, then it's the best choice.
Why Stay in an Airbnb in Costa Rica?
Not sure why you should choose Airbnb over a hotel? Oh my friend, allow me to tell you! Here are just some reasons Airbnb is a better choice…
Unique Properties: I can guarantee you that you'll never run out of interesting places to stay when you go for an Airbnb in Costa Rica.
Safety: Hosts, as well as guests, are vetted on the platform so you'll have peace of mind. Plus, there's 24/7 support to assist you with your needs.
Privacy: Interact with your host as much or as little as you like with features such as self-check-in and private entrances.
Affordability: Hotel rooms are not only boring they can be expensive too. Numerous Airbnbs in Costa Rica are cheaper and come with much of the same amenities.
Staying Long-term: Staying for a month? Some hosts will be more than happy to provide long-stay discounts.
Top 15 Airbnbs in Costa Rica
Now you know roughly what to expect from a Costa Rica Airbnb, let's take a look at some of the most beautiful and most amazing Airbnbs in the country!
This is definitely the perfect accommodation in San Jose for a couple or a group of four! This loft boasts an excellent location close to all the top things to do in San Jose. Restaurants, shopping malls, banks, parks, pubs, cafes, museums, and bus stations, name it and it's all within your reach.
The building has shared amenities such as a gym, library, cinema (are you kidding!?), laundry facilities, and swimming pool, as well as fitness activities for guests such as sunset yoga.
This loft is every gastronome's dream as it is only a few steps away from Barrio Escalante, a trendy neighborhood where you can have as much of the delicious local cuisine as you like. Comfortable and stylish, the loft is the ideal place to come home to after spending the day exploring San Jose and discovering what Costa Rica has to offer.
2 Guests
Close to attractions
Not only is this apartment easy on your pocket, but it also has an excellent location to boot! A restaurant is located just behind it where you can fill your tummy with the best Costa Rican meals at an affordable price. You can even have the food delivered right to your doorstep! How nice is that?
The airport is only about 10 minutes away by car and a plethora of shopping malls, restaurants, and bars are nearby too if you feel like painting the town red!
You can save money by taking public transportation to nearby areas as numerous buses run from a bus stop just 25 meters away. Perfect for getting to all the spots on your Costa Rica itinerary! You don't even have to hire a private car. Your wallet will be thankful.
A private accommodation with a hot tub for your exclusive use at an affordable price? What's not to like about this hut in Santa Cruz? It's not only close to the beaches but everything you need for a comfortable stay, such as banks, supermarkets, pharmacies, and recreation areas. Within walking distance are a variety of restaurants where you can gorge on local cuisines.
Don't feel like leaving this unique but quiet abode for the day after doing work on your laptop? There's plenty for you to do aside from lounging in the hot tub. The grounds are beautiful and there's a relaxing hammock out back where you can read a book or take a nap while listening to the monkeys in the trees. They might also pay your balcony a visit too.
Oh, and did I mention there's a pool with loungers? Send me to heaven, oh wait, it's here.
Is This the Best Backpack EVER???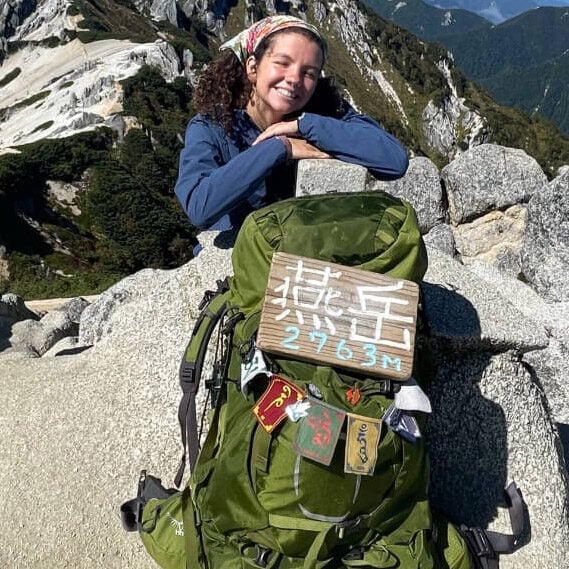 This opulent, elegant, and massive villa can comfortably accommodate 19 people, ideal for a group of friends or families. Perched on top of a hill where there's plenty of breeze, it boasts seven bedrooms, three living rooms, and two dining areas (one inside and another outside) and an interior design that looks like it should be in magazines.
If you don't like cooking, I mean, you are on holiday, don't worry because this property comes with a cook to make you breakfast for free. If you don't have the time to do the grocery shopping yourself, they can do it for you for an additional fee. Just let them know what you'd like, and your wish will be granted.
You can have a few laps in the pool that's kitted out with floaties or work on your tan on the loungers. The villa has a basketball court, just in case you need more fun after time in the pool.
The balcony is the place to be for awesome views of Tamarindo, but when it's time to get out and about, you're only a 10-minute walk from town.
6 Guests
Indoor and outdoor shower
If you have been wanting to get out of the city and into nature's embrace, this is the place to be. This jungle villa is surrounded by lush greenery and you'll love nature's beautiful sounds lulling you to sleep each night. Both bedrooms come with air-conditioning but other areas such as the kitchen, living, and dining rooms are all open air.
Be sure to make good use of the deck and the hammock and swing your worries away. Don't forget to give the outdoor shower a try too because that's a real treat!
There's a river only five minutes away and a few minutes' drive away is a grocery store and the beach. The property is approximately five hours away from San Jose in a secluded place, so a car is necessary. Don't worry though, there's free parking on the premises.
2 Guests
Close to entertainment
Located in a quiet residential neighborhood in Jaco, this loft has stunning industrial décor and is the perfect home for those who want to escape from the city but not be too far away from hustle and bustle.
Ideal for surfing, the beach is only a mere five minutes away on foot and Jaco is famous for its great surf throughout the year.
The outdoor space has a shared swimming pool, loungers, and a place where you can enjoy a meal al fresco. Plus, laundry facilities are available in the premises for a minimal fee. The fully-equipped kitchen is ready and waiting for guests to prepare sumptuous meals in but if you'd rather not worry about what to eat in Jaco.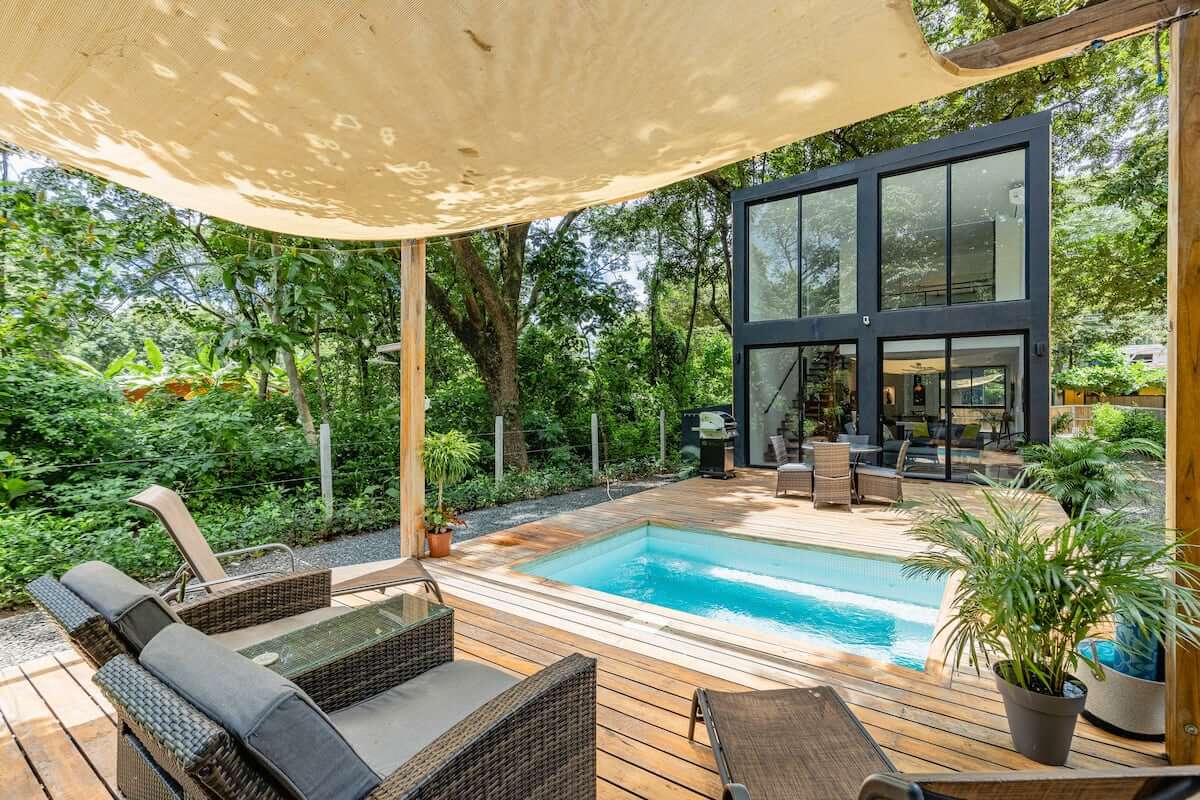 4 Guests
Laundry facilities
This gorgeous Instagrammable two-story home in Potrero is spacious enough for four people, and looks even better in person. Located nearby are a plethora of restaurants and cafes, so if you don't feel like cooking, you can just walk for a few minutes and you'll find yourself surrounded by the most delicious food.
The lovely villa is only a few minutes away from Flamingo, Danta, and other beaches, perfect for beach bums and surfing enthusiasts.
You can soak or cool off in your private pool after your sojourn at the beach and just relax on the outdoor deck, a great place to have your meals. Oh, there's a gas grill too if you're up for a barbecue. In-house massages and chef services are available at an extra fee.
Best Airbnb in Playa Hermosa for a Group of Friends | Home with Ocean Views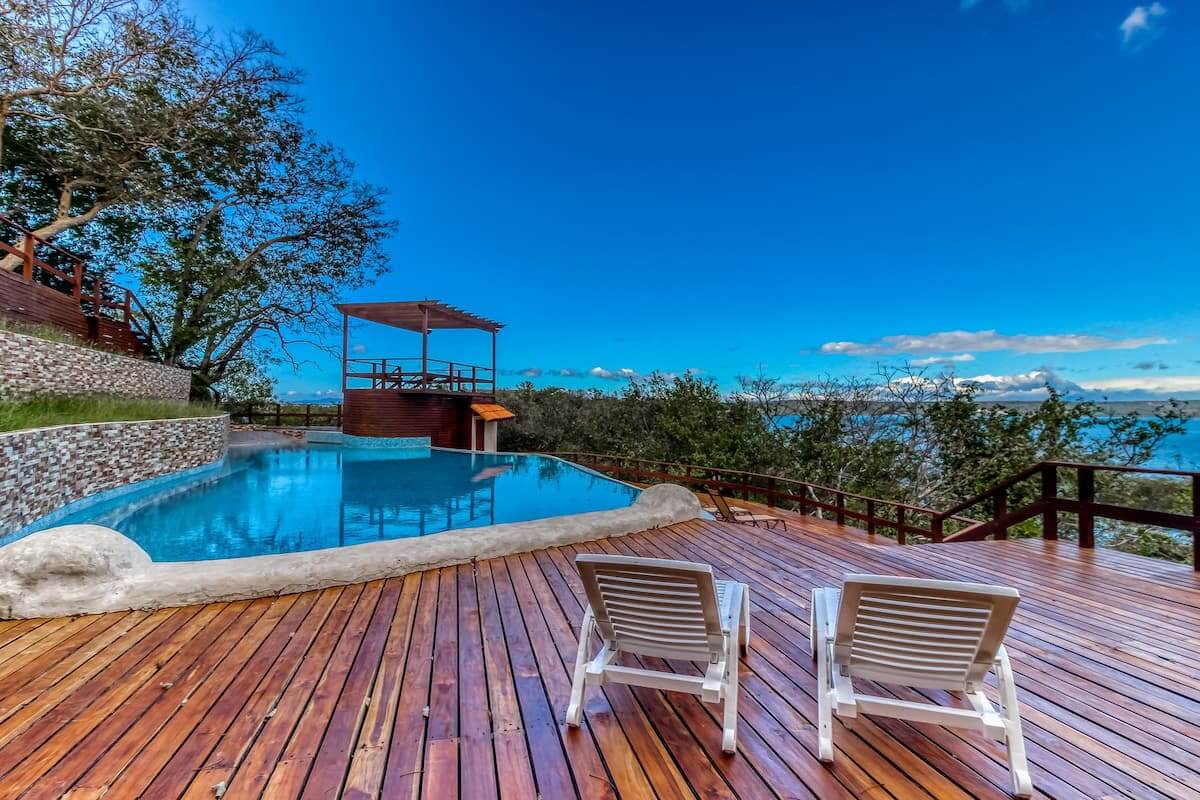 8 Guests
Excellent location
This luxurious beach home in Costa Rica is an excellent choice for you and your friends if you want to spend time in Playa Hermosa. The home is highly rated for its excellent location, as you are within walking distance of a beautiful white sand beach.
You'll find plenty of restaurants and bars nearby, so you have endless choices when it comes to food and drinks. If you prefer to cook, the kitchen or large gas grill in the gazebo make for the perfect cooking grounds.
The outdoor space is perfect for getting together, making plans, getting a tan, relaxing, and spending a day at the pool while feasting your eyes on amazing views of Golfo de Papagayo. There's never a dull moment here.
Aside from the pool table and the swimming pool in the property, you can try scuba diving, snorkeling, kayaking, fishing, and paddleboarding nearby too.
Best Villa in Guanacaste for Families | Modern Home in Coco
This beautiful villa is located in the paradise beach town of Playas del Coco and is a fantastic accommodation for families with young kids.
The property is on the main road and only 25 minutes away from the international airport in Liberia. You get the best of both worlds when it comes to location, far enough from all the noise but close enough to walk to town, the beach, and all the best places to visit in Costa Rica.
There's plenty to keep the kids entertained such as the pool, the bikes, and the trampoline. The well-stocked library has plenty of books waiting to be discovered. The well-equipped kitchen has all the modern appliances you need to prepare a feast for your family and opens up to a terrace where everyone can enjoy the food al fresco.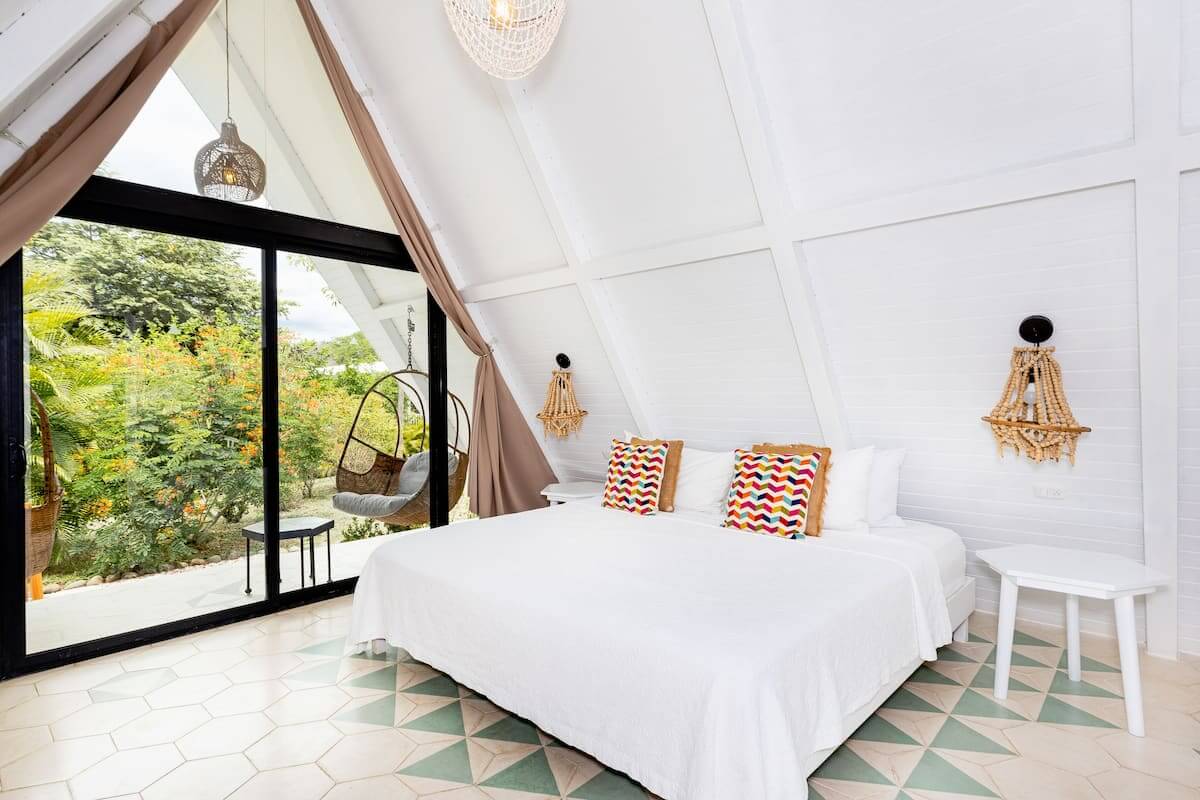 2 Guests
Free homemade breakfast
I know this is a private room that's a part of a bed and breakfast but I just had to include this on the list because look at how gorgeous it is! Just a few minutes from Tamarindo, this is perfect for couples who are into or want to try surfing, as it's only a few minutes from Avellanas, a popular surf beach.
This independent bungalow is the love shack you've been looking for where you can enjoy a fresh homemade breakfast in the morning before you hit the beach or spend some more time snuggling on the comfy king bed with your partner.
The private terrace with its cocoon chairs and hammock, as well as the zen-style pool are spots that beckon you to just leave your worries behind and enjoy the moment.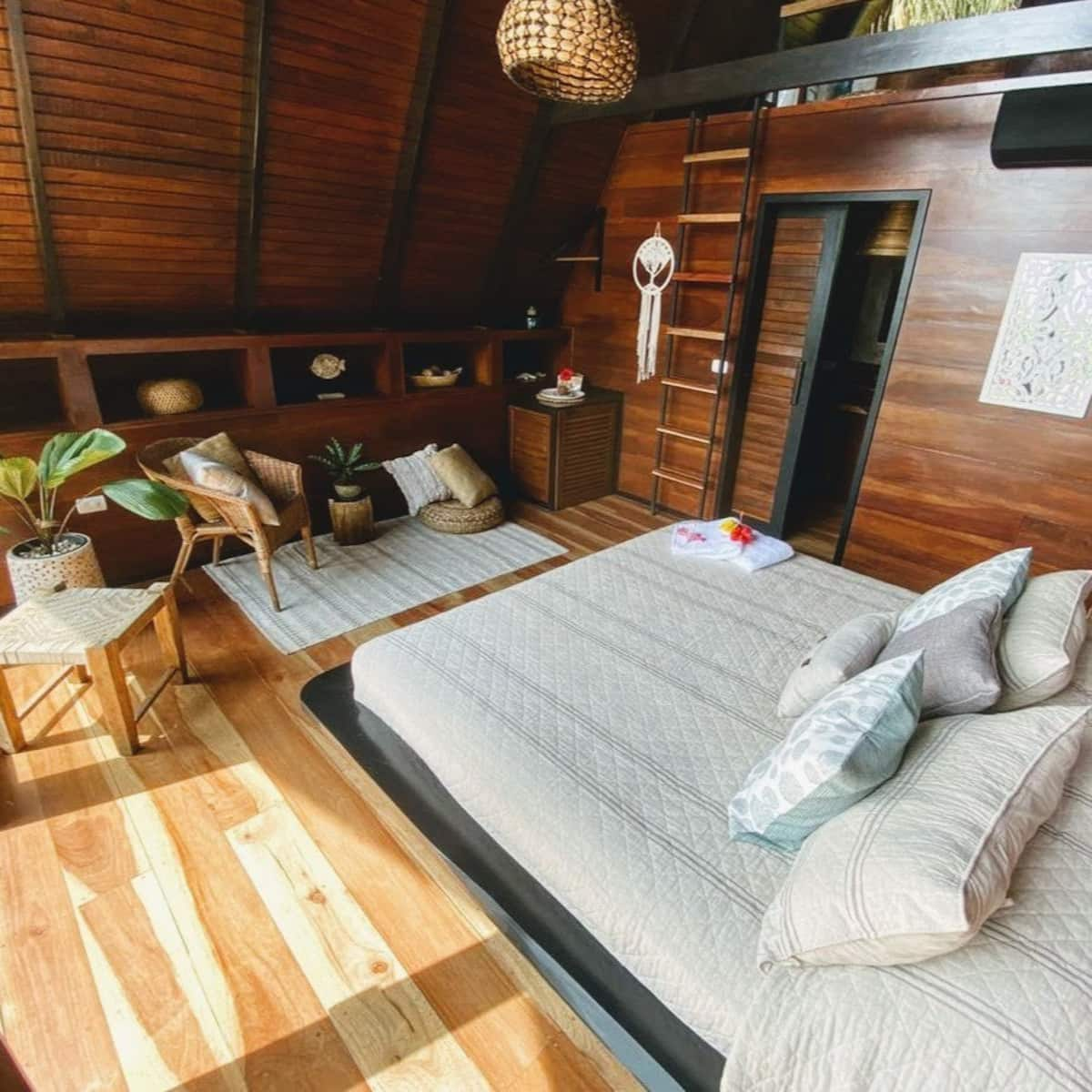 Surrounded by lush greenery, this Bohemian bungalow is an excellent choice for couples who want to reignite the romance in their relationship and reconnect with nature at the same time. You'll wake up in the morning to the sounds of birds and other wildlife and have a wonderful breakfast with magnificent views on the ocean deck. An excellent way to start the day, don't you think?
Stretch your limbs in an on-site yoga class or have a walk through the organic garden which leads to nature trails.
If you and your partner are the adventurous type, you'll be hyped to know that various sporting activities are nearby such as surf lessons, and the hosts are more than happy to connect you with the right person. To cap off the day, take a relaxing dip in the pool with your favorite cocktails in hand.
This secluded and breathtaking hideaway deep in the jungles of Costa Rica has spectacular views of the ocean and the country's native whales.
Situated in a yoga retreat community, this stylish villa has all the amenities you will ever need for a comfortable stay. You'll need to rent a car to get around easily and comfortably though but there is a quaint town nearby with plenty of restaurants and shops that have everything you need.
Guests have access to the lake close by, and the infinity pool and hot tub are perfect for relaxing in. You're guaranteed to feel rejuvenated after your stay here.
The kitchen, living areas, and dining areas open up to the pool, surrounding you with picturesque sights as you relish your meals or enjoy your drinks. The rental includes a full staff that cleans the house and provides services as and when guests need them.
Best Airbnb in San Jose Near Nightlife | Studio Close to Bars
If you're in San Jose for a weekend but want to check out the city's nightlife, this beautiful studio is the place to call home. Just a couple of blocks away from the city, you are close to shopping malls, restaurants, and local attractions.
Get ready to paint the town red at night with the many bars and clubs located nearby, just a few minutes of walking and you're there!
The condo has 24-hour security and is easily accessible on foot or by car, so you need not worry when returning home in the wee hours of the morning after all partying. Crash on the comfortable queen bed when you get home and jolt your senses when you wake up in the morning with a fresh cup of coffee.
Don't forget to check out the gym and the outdoor heated pool too, it's perfect for relaxing.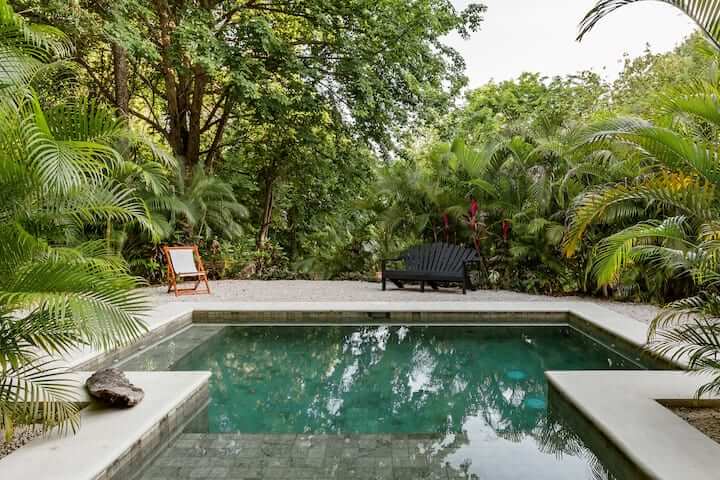 6 Guests
Near groceries and restaurants
Tired of the urban jungle and just want to disconnect and go somewhere you'll not be disturbed? I have just the place for you, a rustic jungle villa in Santa Teresa!
With spacious enough for six people, it is close enough to town for you to walk to and be in the thick of things again, but I guarantee you, you won't grow tired of the peace and calm of the beautiful villa. You won't even notice time passing by when you lounge in the incredible outdoor area.
After you're done taking a dip in the saltwater pool, you can rinse off in the partially outdoors shower. The patio is an excellent place to hang out and the sound of the surrounding nature such as the birds, kitties, and monkeys is music to the ears.
You'll even hear the sound of the waves crashing from the comfort of the hammock while you're enjoying meals al fresco in one of the many outdoor seating areas.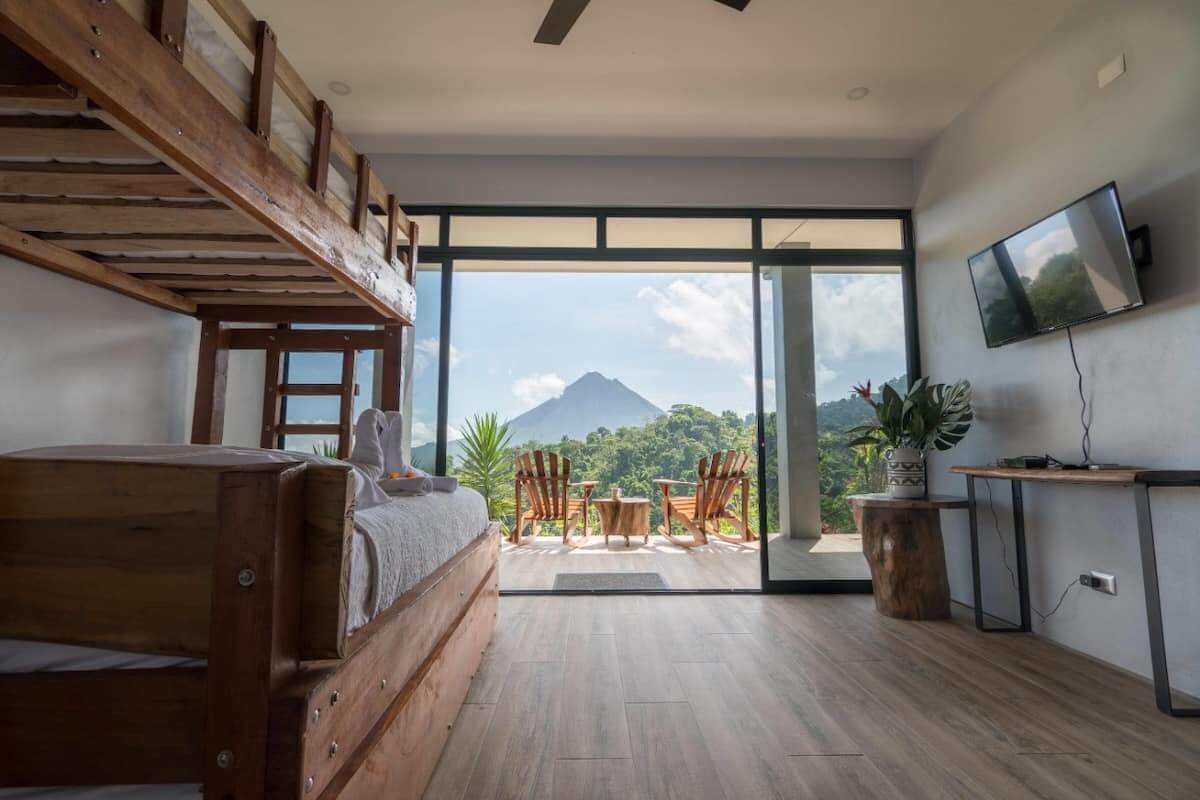 Aptly called Mystic View, this villa in El Castillo boasts magnificent views of the country's rainforest and Arenal volcano. With an elevation of more than 2,000 feet, you get the unique opportunity to marvel at the beauty of mother nature from your private terrace as the volcano rises through the mist while the sounds of the monkeys, toucans, and parrots play in the background. This is the perfect base for those who want to enjoy Costa Rica's top hiking trails!
All rooms in the villa have views from picture windows so everywhere you look, you will see nothing but beauty. The property comes with its very own waterfall, as well as a swimming hole at the edge of the river.
If you're up for some action, various beautiful walking trails abound near the river and you can opt to go boating, fishing, or indulge in other water sports. Renting a four-wheel drive vehicle is highly suggested to make your stay more convenient as the road to the villa is uphill and rocky.
Top 5 Airbnb Experiences
There's more to do in Costa Rica than just ride the waves and stay at the beach all day. After all, the country has a diverse landscape and a rich culture, so why not take advantage of all the great things the country has to offer and make your vacation more memorable at the same time?
How? Through Airbnb Experiences! We have taken the time of checking the activities in the country and narrowing down the list to just five which we think are exciting, from kayaking in bioluminescent waters to learning how coffee and chocolate is produced, and you can book all of them on the same platform.
$33/person
60 mins
Up to 10 people
This amazing and highly-rated activity is ideal for couples. Be amazed as what appears to be normal water suddenly lights up when you touch it.
The activity starts as darkness falls and guests step into their kayaks and prepare themselves for the excitement ahead. However, everyone is encouraged to come early before sunset to enjoy a nice cup of local coffee and some snacks while watching the beautiful sunset over the bay.
After a quick safety briefing, you'll spend a full hour paddling the waters, where you'll be simply astounded as everywhere your paddle touches lights up and forms a path in the water. Algae does not glow on its own, so you need to activate it with your paddle or your hands. The tour is suitable even for beginners in kayaking and guests are advised not to consume any alcohol before the activity. The price includes biscuits, coffee, water, and the equipment.
Get to know Costa Rica and its history and its people better through this foodie walking tour which takes you through the streets of San Jose, and even preparing coffee and making tortillas. Your tour starts in the morning with a jolt of caffeine in a café located in the Central Market where you will be introduced to your guide and meet the other guests.
You will journey through the vibrant market and taste the local fruits and snacks and among the attractions, you will see along the way are wonderful parks and the National Theater.
Listen attentively to your host as they tell you stories and give you bits of information about the country. To end the tour on a high note, you'll head to a specialty coffee store where you'll learn how to prepare coffee and make tortillas properly.
When in Costa Rica, one of the must-try activities is surfing, and where better to learn than in beautiful Playa Hermosa. This activity starts with lessons on awareness, safety, etiquette, and what to do in different situations while surfing. After which, you'll proceed to a light warmup session and learn basic surf techniques in the sand.
Once everyone is ready, you'll go to the water and showcase your newly-acquired skills on the waves. Sounds fun, right? Guests are reminded to bring their own water bottle, swimwear, and rash guard. The price includes water, tropical fruits, coconut water, and equipment. Don't forget to bring your energy and enthusiasm.
$70/person
2 hours
Up to 8 guests
Ride into the sunset just like in the movies with this horseback riding experience in Jaco. Have a super fun time even if you haven't tried horseback riding before with friendly horses and accommodating guests. The activity begins with an introduction to the horses and a demonstration of proper and safe horseback riding.
The trail takes you to a mountain where you will find a variety of wildlife and verdant greens. The viewpoint boasts spectacular views of the city and the Gulf of Nicoya, so make sure your phone or camera is fully charged for the hundreds of photos and videos you're surely going to take.
Drinks are included in the price. You'll then make your way down for the highlight, the beautiful sunset ride. Don't forget to take photos when you stop by the trunk of memories.
$32/person
2.5 hours
Up to 10 people
If you've ever wondered how coffee and chocolate are produced, this is the best opportunity to find out. This activity teaches you all the process that goes behind the production of two of the world's most beloved and popular products, from when they are tiny seeds until the time they are freshly served in a cup. You will even have the chance to manually grind using traditional devices and design your very own chocolate bar.
Throughout the tour, your knowledgeable guide will explain the importance of each production step, such as drying, roasting, peeling, and packing. Questions are most welcome but we think the most interesting part is tasting different types of chocolates. The price is inclusive of chocolates and hot coffee. Don't forget to bring your curiosity, a camera, and mosquito repellent. Wear comfortable shoes and clothes too.
Don't Forget Your Costa Rica Travel Insurance
ALWAYS sort out your backpacker insurance before your trip. There's plenty to choose from in that department, but a good place to start is Safety Wing.
They offer month-to-month payments, no lock-in contracts, and require absolutely no itineraries: that's the exact kind of insurance long-term travellers and digital nomads need.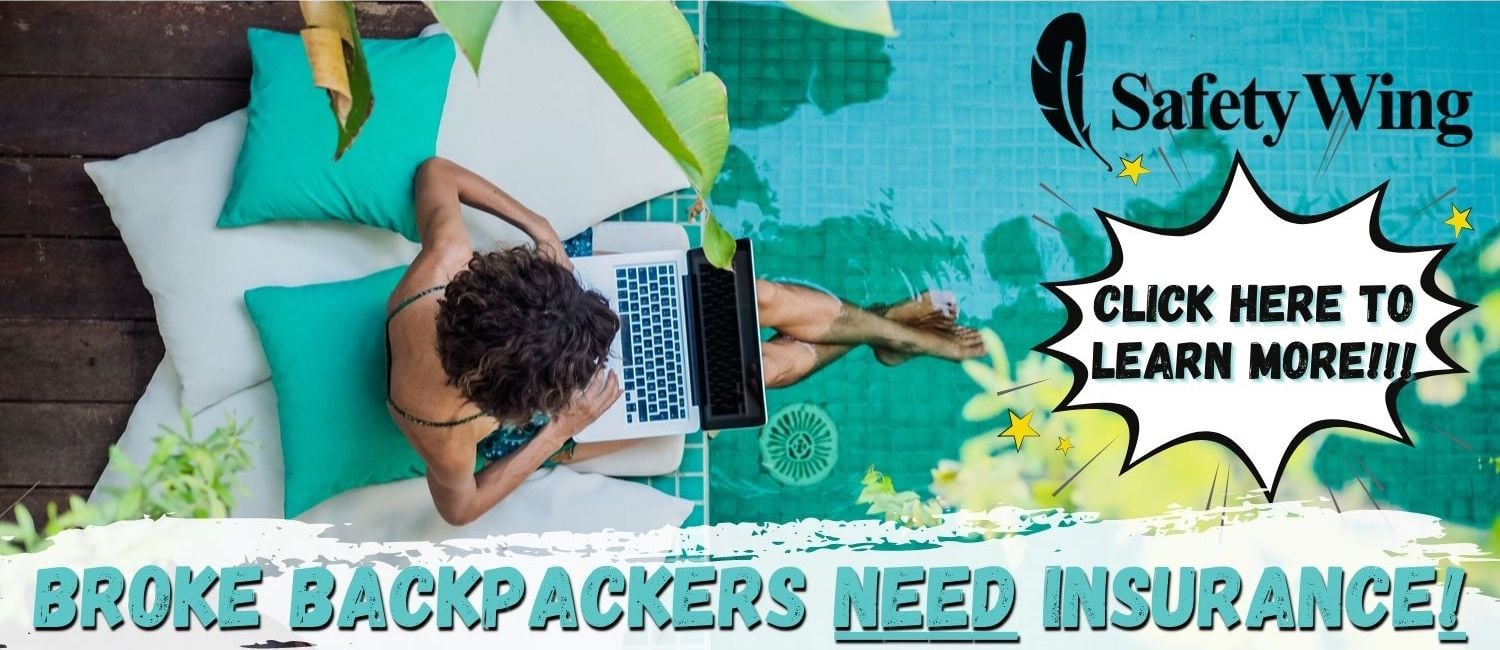 SafetyWing is cheap, easy, and admin-free: just sign up lickety-split so you can get back to it!
Click the button below to learn more about SafetyWing's setup or read our insider review for the full tasty scoop.
Final Thoughts on Costa Rica Airbnbs
There you go, folks! I have just given you some of the most amazing, functional, stylish, and coolest Airbnbs in Costa Rica that have the best locations too.
In addition, I found a few interesting activities worth trying that are surely going to give you sweet, sweet memories. Costa Rica may be popular for surfing, but there are other fun things you can do aside from water sports, so keep an open mind.
I hope that I helped make things easier for your getaway. But before you hop on your flight, take out travel insurance! It's an essential that is going to give you peace of mind while you have a grand time in Costa Rica.
---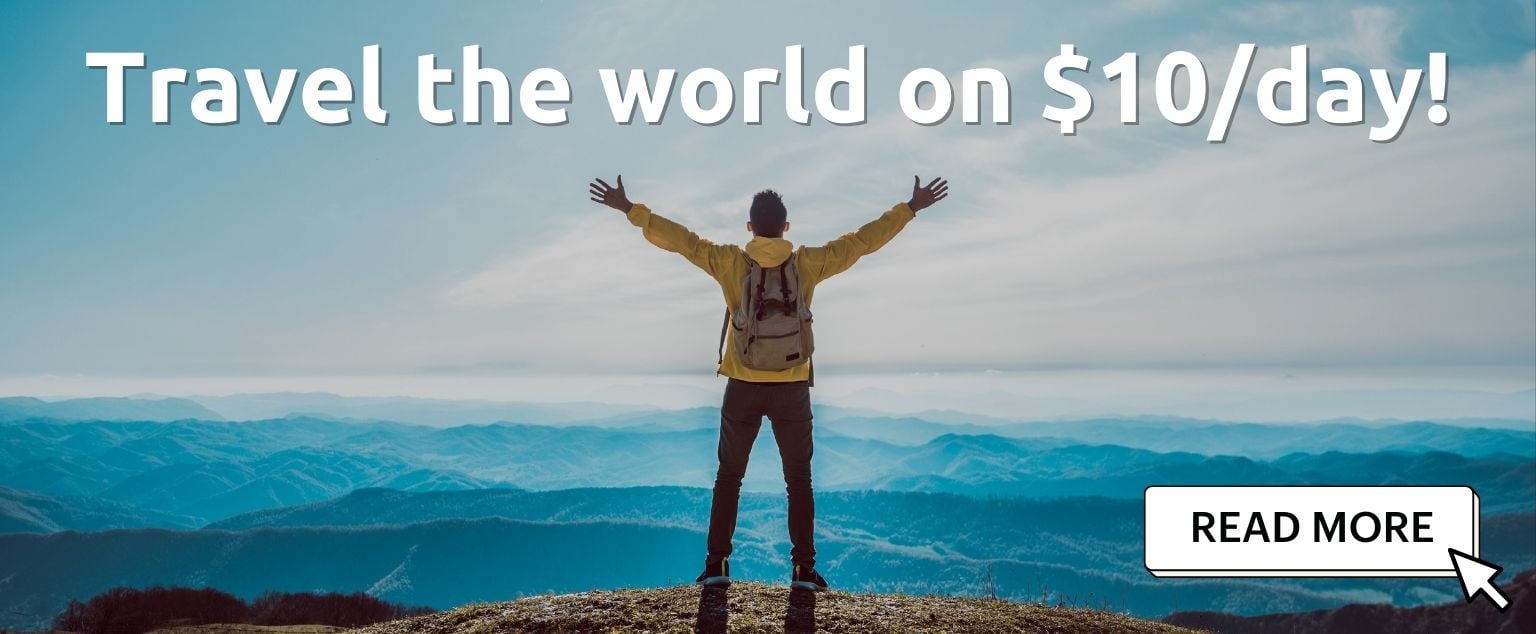 And for transparency's sake, please know that some of the links in our content are affiliate links. That means that if you book your accommodation, buy your gear, or sort your insurance through our link, we earn a small commission (at no extra cost to you). That said, we only link to the gear we trust and never recommend services we don't believe are up to scratch. Again, thank you!