Costa Rica is the home of pura vida – the pure life. This country is all about its wildlife, its organic food, fresh fruit and vegetables, and lush swathes of tropical jungle. Not only that, but its two stretches of shoreline – one on the Caribbean Sea, one on the Pacific Ocean – give it some amazing coastal credentials.
These two things, oodles of nature and plenty of sea to go around, make it an awesome destination to stay in a beach house. With an incredible 28 national parks (three of which are UNESCO-recognised), even being close to the beach means you're never too far from some incredible slices of Costa Rica's natural environment.
You'll find beach houses here in all shapes and sizes: in gated communities, in resort areas, nestled near the rainforest, or on hilltops with stunning ocean views. In short, there's no better place to eschew a hotel, hostel or guesthouse for your own private slice of natural seclusion.
Sound good to you? Great, because you're in the right place. In this guide to the best beach houses in Costa Rica, you'll find options for any type of traveler. So gear up and get ready to experience the pura vida for yourself.
In a Hurry? Here's Where to Stay in Costa Rica for One Night
FIRST TIME IN COSTA RICA
Osa Beachfront Bamboo House Casa Troya
Definitely one for nature lovers, this back to basics beach house isn't just rustic – it's also stylish. Packed with everything you'll need, days here are all about chilling on the deck simply taking it all in. Not bad, right?
NEARBY ATTRACTIONS:
The town of Puerto Jimenez
Blue Osa Yoga
Bird watching on Cabo Matapalo
Is this amazing Costa Rica Beach House booked for your dates? We've got your back with our other favorite properties below!

Unlock Our GREATEST Travel Secrets!
Sign up for our newsletter and get the best travel tips delivered right to your inbox.
Staying in a Beach House in Costa Rica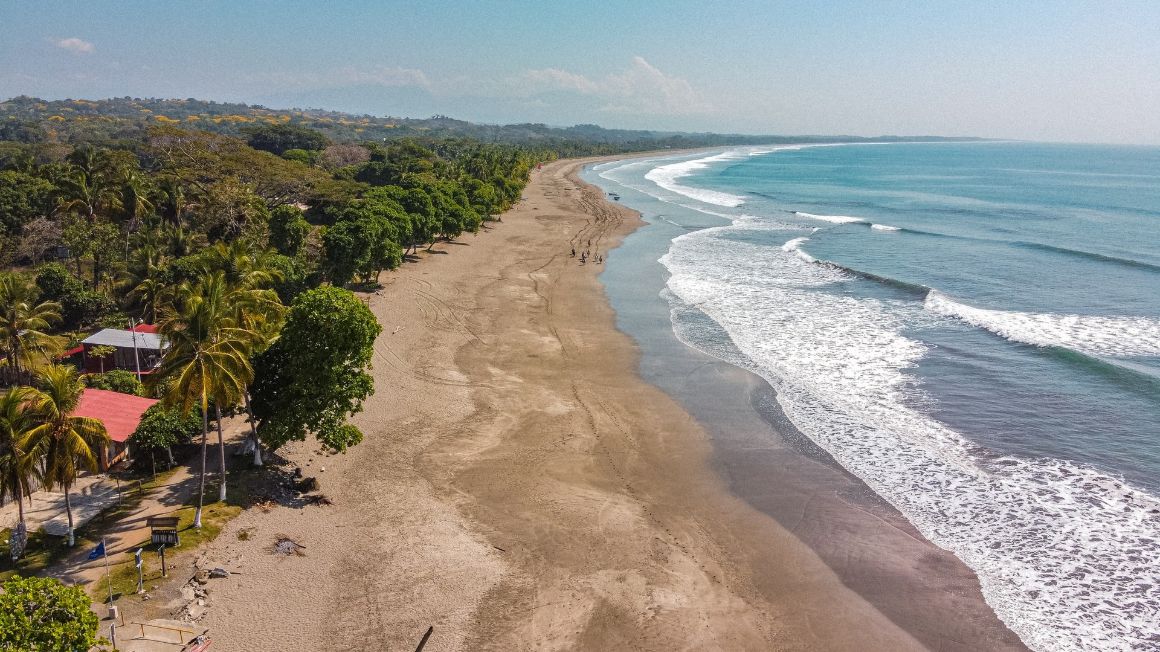 If you're wondering what you should expect of beach houses in Costa Rica, well, I don't blame you. This isn't the usual property you'd think of when you think about Costa Rica. For many, this Central American nation is better known for its eco-lodges, green hostels, and resort areas.
This is probably because of just how famed Costa Rica is for its nature. Even though it only covers 0.03 percent of the world's surface, Costa Rica boasts 6% of the earth's biodiversity. There's a lot going on here, both in the rainforests and in the two seas flanking it, that makes it an absolute haven for nature lovers. Especially if you love hiking, Costa Rica is for you.
But that doesn't mean you won't find beach houses here. Far from it, in fact. Many of the best beach houses in Costa Rica really make use of their natural credentials, set in their own lush, tropical gardens, with opportunities to spot wildlife right from the deck or patio. And all with some prime stretches of sun, sea, and sand mere steps from the property. It's an awesome place to be.
The types of beach houses you'll get here really do range in size, style and budget. There are some that do live up to the country's eco vibes, looking like rustic lodges smack in the middle of jungle areas (with the beach a stone's throw away).
There are yet more beach houses that are set in residential gated communities, that feel safe and secure. And there are private properties that somehow combine beautiful secluded settings with the convenience of being a few minutes' stroll away from the best places to visit in nearby towns.
You'll get swimming pools, rooftop terraces, decks, patios, fully-equipped kitchens, and sometimes even on-site amenities to make use of (think kids clubs). And all wrapped up in a stylish design that will suit any Instagram fiend down to the ground.
What to Look For in a Beach House
The first thing you need to consider is your location. Where you stay in Costa Rica could easily make or break your vacation. Sadly, not all towns and villages in Costa Rica are safe to visit for tourists, so you should try to pick somewhere on the tourist path.
Since beach houses are relatively cheap in Costa Rica, you can make the most of gated communities if you want to be somewhere that's secure (for your peace of mind). However, since this is the home of pura vida, it would be crazy not to stay somewhere that's set in some crazy beautiful tropical paradise location. That's what you should opt for.
Because most beach houses in Costa Rica are by the best beaches or near the jungle, you should make sure to check for a property that comes with a mosquito net or some kind of bug repellent – it is Central America, after all, and this is a thriving ecosystem for bugs.
It's also super hot, but air conditioning is not a standard. It's quite expensive to use electricity in Costa Rica, so you might find that a lot of properties don't come with fans and air con – so make sure you select this in your search filters.
Other things that you should consider looking for are self-catering facilities, outdoor seating areas, and maybe even if beach supplies like umbrellas and kayaks might be offered, which is sometimes the case.
You'll find a ton of these beach houses on Airbnb. The variation is great, and they're often illustrated with very decent photos; the ability to chat directly to hosts of these sorts of properties is the cherry on top. Booking.com and Vrbo are good, but just not as good as Airbnb in Costa Rica.
OVERALL BEST VALUE BEACH HOUSES IN COSTA RICA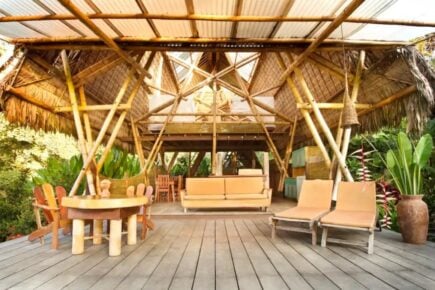 OVERALL BEST VALUE BEACH HOUSES IN COSTA RICA
Osa Beachfront Bamboo House Casa Troya
> $$
> 4 Guests
> Tropical garden
> Unique natural architecture
BEST BUDGET BEACH HOUSES IN COSTA RICA
BEST BUDGET BEACH HOUSES IN COSTA RICA
Old Harbour Lodge
> $
> 4 Guests
> Sunny terrace
> Security credentials
BEST BEACH HOUSES FOR COUPLES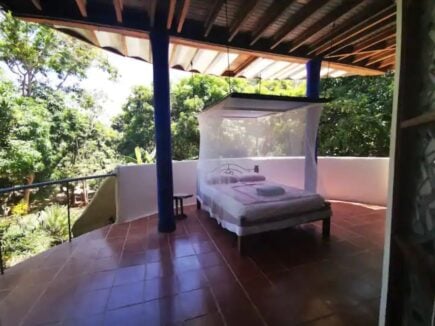 BEST BEACH HOUSES FOR COUPLES
Montezuma Beach Jungle Artist House
> $
> 2 Guests
> Private Garden
> Unique Property
BEST BEACH HOUSE FOR A GROUP OF FRIENDS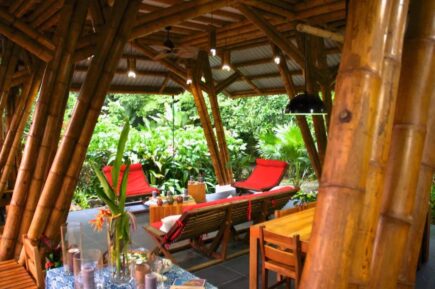 BEST BEACH HOUSE FOR A GROUP OF FRIENDS
Atrevida Luxury Beachfront House
> $$$
> 10 Guests
> Surf spots nearby
> Private swimming pool
OVER-THE-TOP LUXURY BEACH HOUSE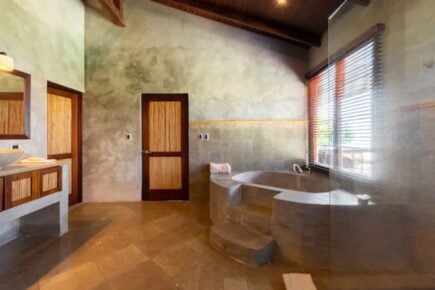 OVER-THE-TOP LUXURY BEACH HOUSE
Ventanas Villa
> $$$$
> 14 Guests
> Infinity pool
> Incredible views
BEST BEACH HOUSE FOR FAMILIES VISITING COSTA RICA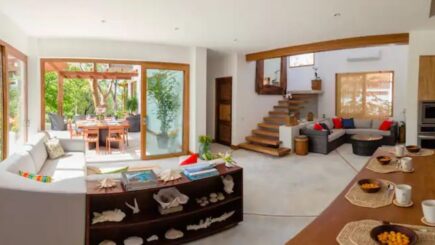 BEST BEACH HOUSE FOR FAMILIES VISITING COSTA RICA
Plumeria Guest House
> $$$
> 6 Guests
> Outdoor swimming pool
> Gated community
BEST BEACH HOUSE FOR BACKPACKERS IN COSTA RICA
BEST BEACH HOUSE FOR BACKPACKERS IN COSTA RICA
Beautiful Nature House
> $
> 2 Guests
> Great for nature lovers
> Well-equipped kitchen
The 15 Top Beach Houses in Costa Rica
Now that you know what to expect from beach houses in Costa Rica, it's time to take a look at my list. These are the best of the best and are suitable for any type of traveler. Get ready to be inspired!
Overall Best Value Beach House in Costa Rica – Bamboo House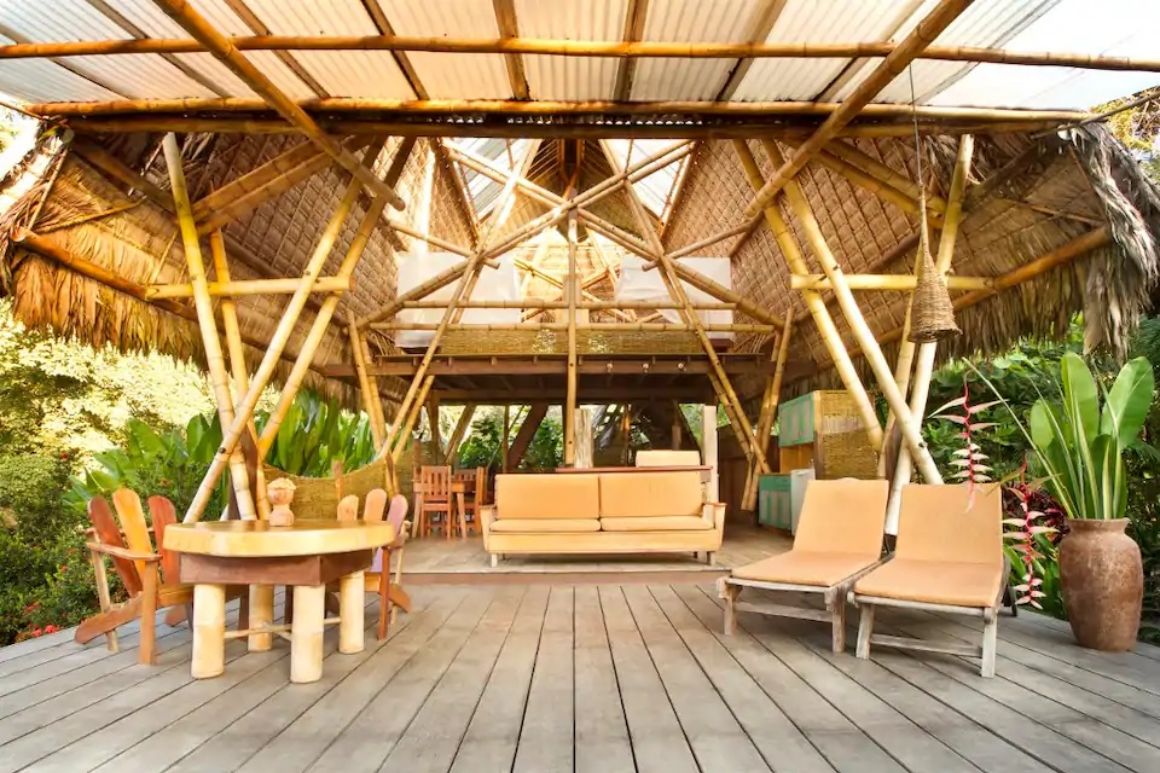 $$
4 Guests
Tropical garden
Unique natural architecture
We kick off with this beauty – a strong contender for the best beach house in Costa Rica for its value for money. Reflecting its natural surroundings, this rustic-chic property allows you to kick back in tropical luxury, right near the beach.
It's the kind of place where you can do a spot of yoga on the deck, take surf lessons, and enjoy meals out on the front porch. It's an absolutely magical place to stay – all backed by jungle.
Best Budget Beach Houses in Costa Rica – Old Harbour Lodge
$
4 Guests
Sunny terrace
Security credentials
Offering some serious value for money, this property is a great place to stay that's close to local life, secure, and comfortable. The property is scattered with house plants, which is fun and has a fully-equipped kitchen.
Outside there are hammocks to kick back on and the beach is steps away. It may not be the most luxurious, but if you're backpacking Costa Rica and looking for a beach house on a budget, you could do a lot worse than this place. A masterclass in budget excellence.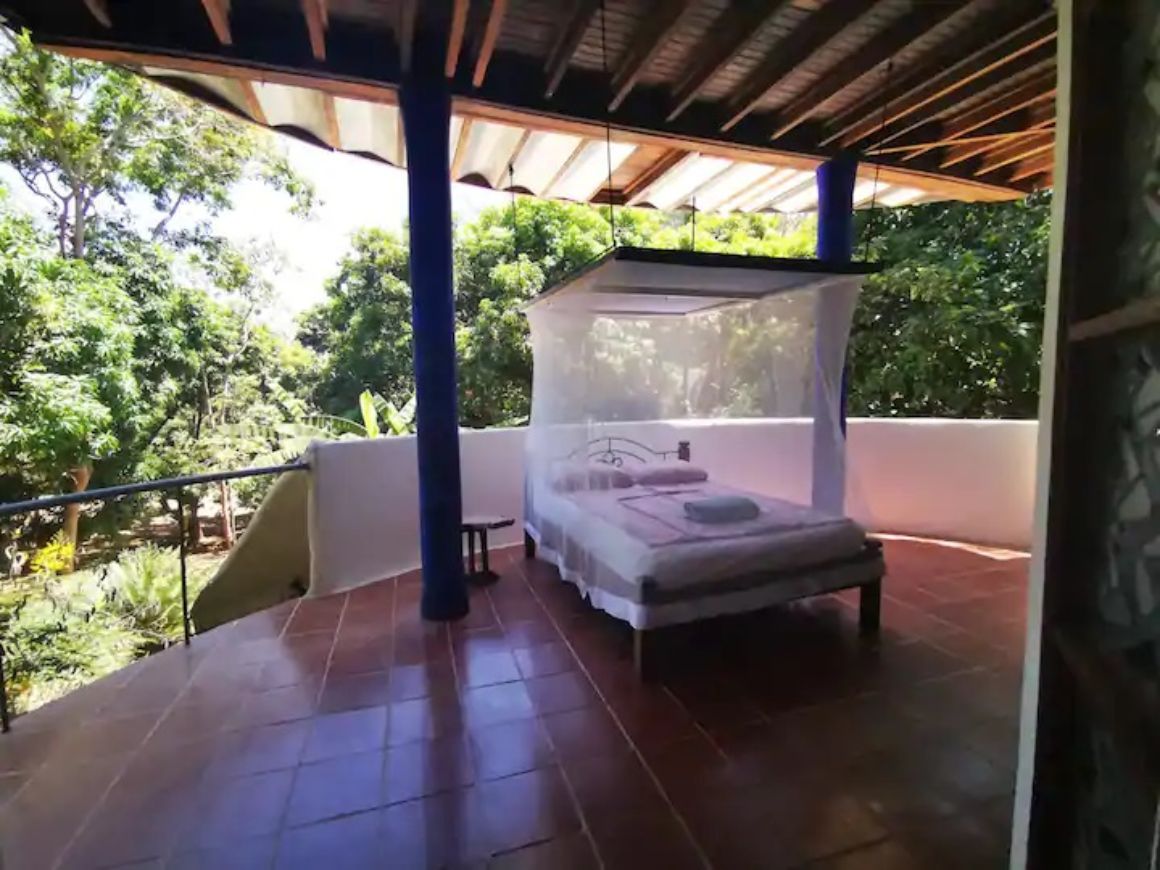 $
2 Guests
Private Garden
Unique Property
This little slice of unique accommodation in Costa Rica is ideal for couples looking for something a bit different. Situated just meters from Los Cedros Beach, between Montezuma and Cabuya, this vacation rental in Costa Rica is a beautifully designed space that features plenty of colour.
It's an amazing spot to soak up nature; you can see iguanas and monkeys in the trees, and spend your time lounging around on the beach. The property is also well equipped and comfortable, with a small town nearby so you can enjoy meals out and buy any essentials you might need.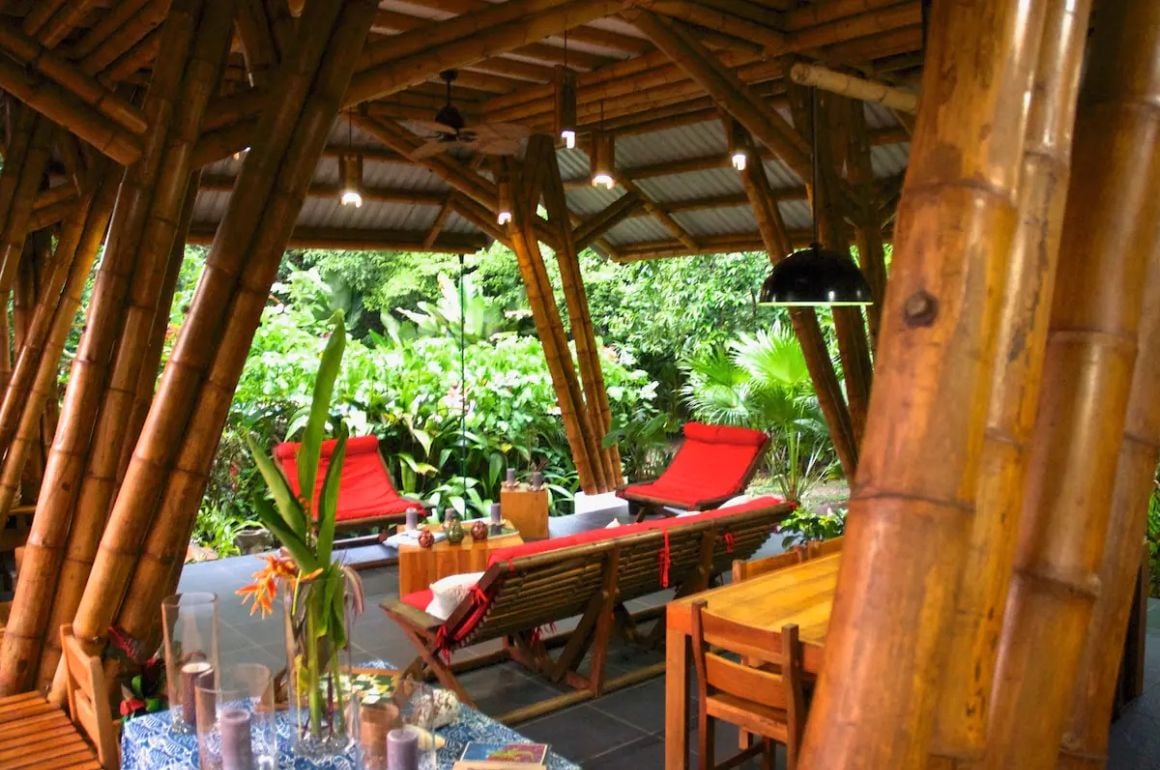 $$$
10 Guests
Surf spots nearby
Private swimming pool
Situated in a private refuge on the beach in Puerto Jimenez, here you can soak up the natural setting on the Osa Peninsula.
You and your buddies will be able to appreciate the sea and the surf from your chilled-out property. Though it looks rustic, you get a lot for your money: five bedrooms, five bathrooms, a large kitchen and dining area, and even a swimming pool.
Each of the rooms has an awesome view of the natural surroundings. The bonus, obviously, is being right on the beach, while the conveniences of Puerto Jimenez village are a stone's throw from here.
Is This the Best Backpack EVER???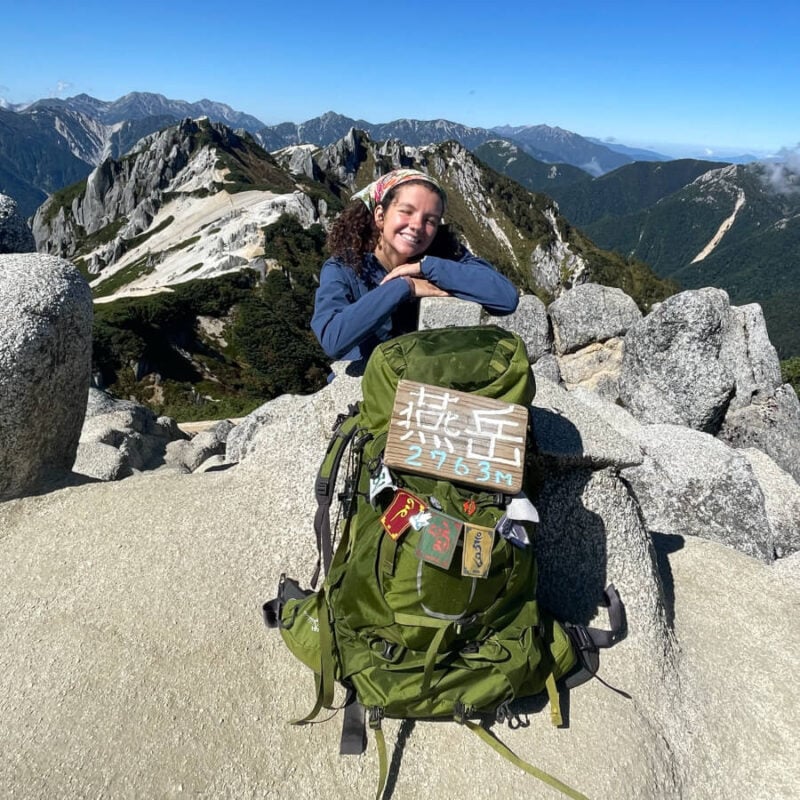 $$$
6 Guests
Private swimming pool
Indoor-outdoor living
Treat you and your friends to a stay in this stunner of a beach house. This picture-perfect property is located at Santa Teresa Cove, just a hop, skip, and a jump away from the beach, and with bars and eateries nearby, too. The interiors here have been seamlessly designed to allow for indoor-outdoor living.
Evenings here are all about getting together with your mates, enjoying views of the Pacific Ocean, and cooking meals together in your own gourmet kitchen. It's cool, too – one of the most stylish beach houses in Costa Rica.
Over-the-Top Luxury Beach House – Ventanas Villa
$$$$
14 Guests
Infinity pool
Incredible views
If you want to feel like a high roller in Costa Rica, then book yourself into this hotel-quality beach house. It's insane. Situated mere meters from the ocean on the Dominical coastline, here you'll be close to restaurants and nightlife in the nearby town. But it's the beach house you're here for.
With its 25-foot ceilings, enormous sliding glass doors, and six huge luxury bedrooms, you won't ever want to leave. The villa ticks a lot of boxes; it's even got a barbecue area, infinity pool, and sundeck. A very, very decent place to unwind.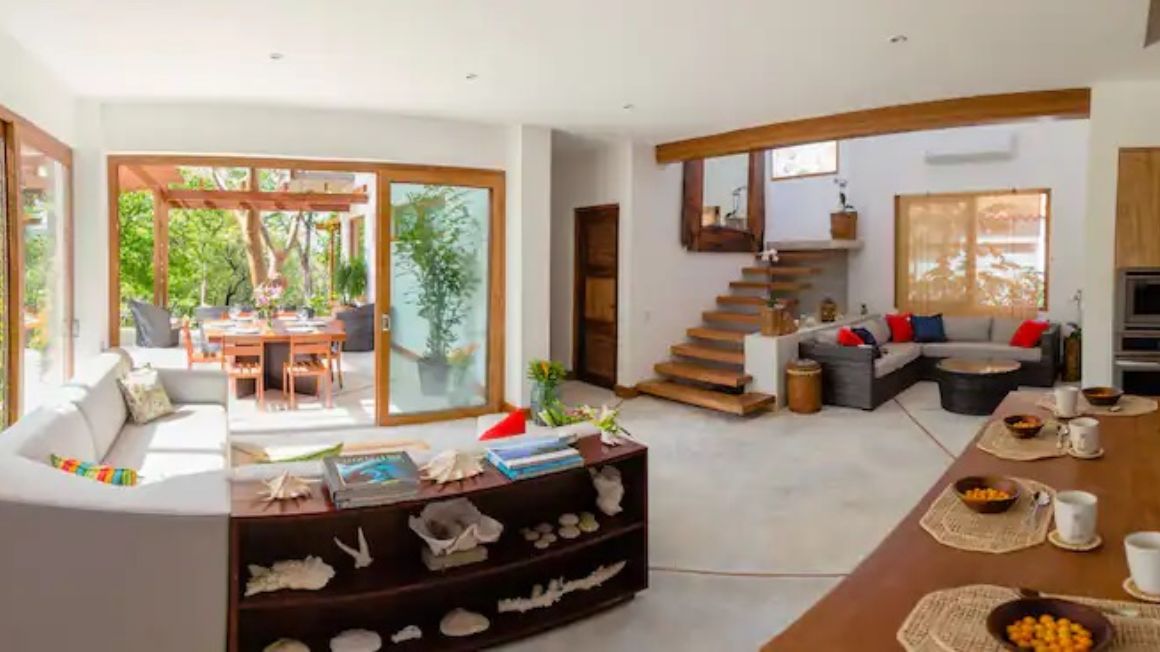 $$$
6 Guests
Outdoor swimming pool
Gated community
This is the idyllic beach house in Costa Rica for your much-deserved family vacation. Tucked away inside a safe and secure gated community in Santa Cruz, this beautiful three-bedroom beach house is set right on the sand of Avellanas Beach. From here the quiet beach town of Tamarindo is just a five min walk away, plus some excellent gold courses.
Back at the house, you can make memories together, spending afternoons splashing in your own private pool and generally enjoying the clean comforts of this modern property. It comes with everything families will need for their stay to run absolutely smoothly.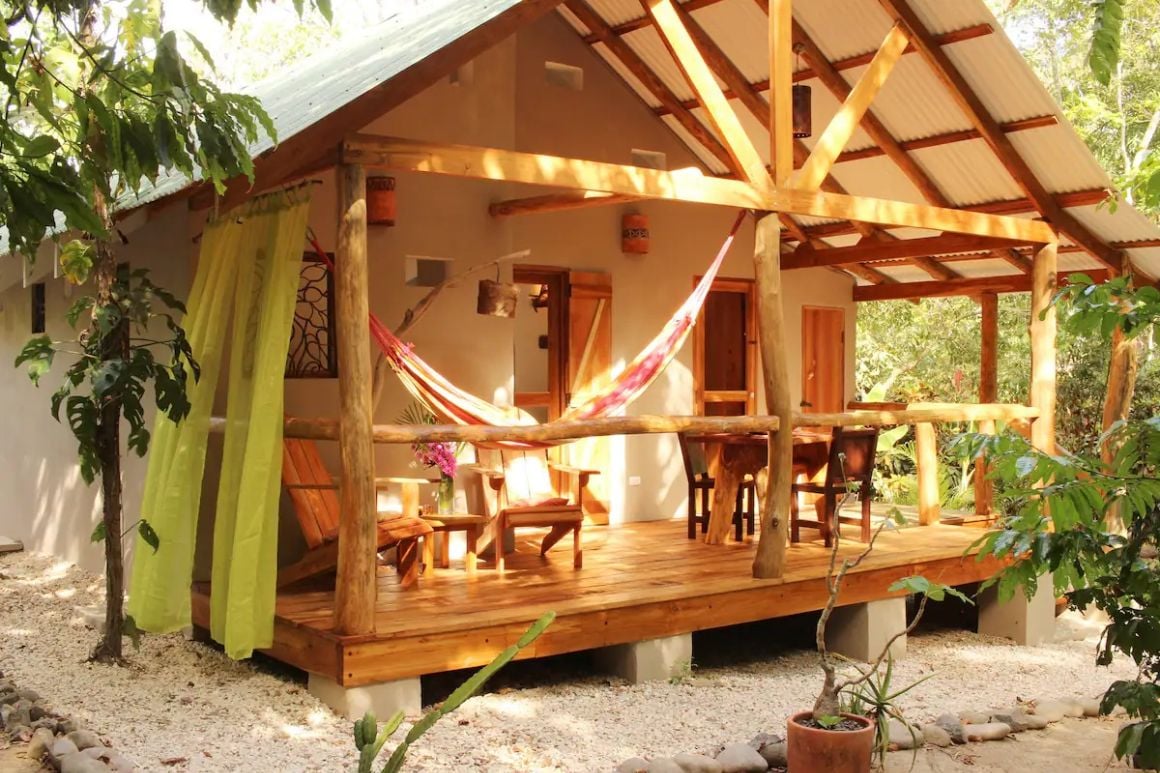 $
2 Guests
Great for nature lovers
Well-equipped kitchen
Why not make your backpacking adventure to Costa Rica even more unforgettable and book a few nights at this incredible beach house? Literally surrounded by nature, with wildlife (monkeys, birds, you name it) and tropical trees as company, the beach is a stone's throw from the rustic vibes of the house.
Plus, it is literally close to everything you should be adding to your Costa Rica itinerary. The beach itself is great for sunsets and surfing alike. It's an idyllic place to stay for a backpacking couple (or a couple of friends) who want a change of scenery from hostels and cheap guesthouses.
Natural wood, hammocks, smartly designed interiors with a clean, contemporary kitchen. It's awesome.
Amazing Luxury Beach House in Costa Rica – Boho Dream Home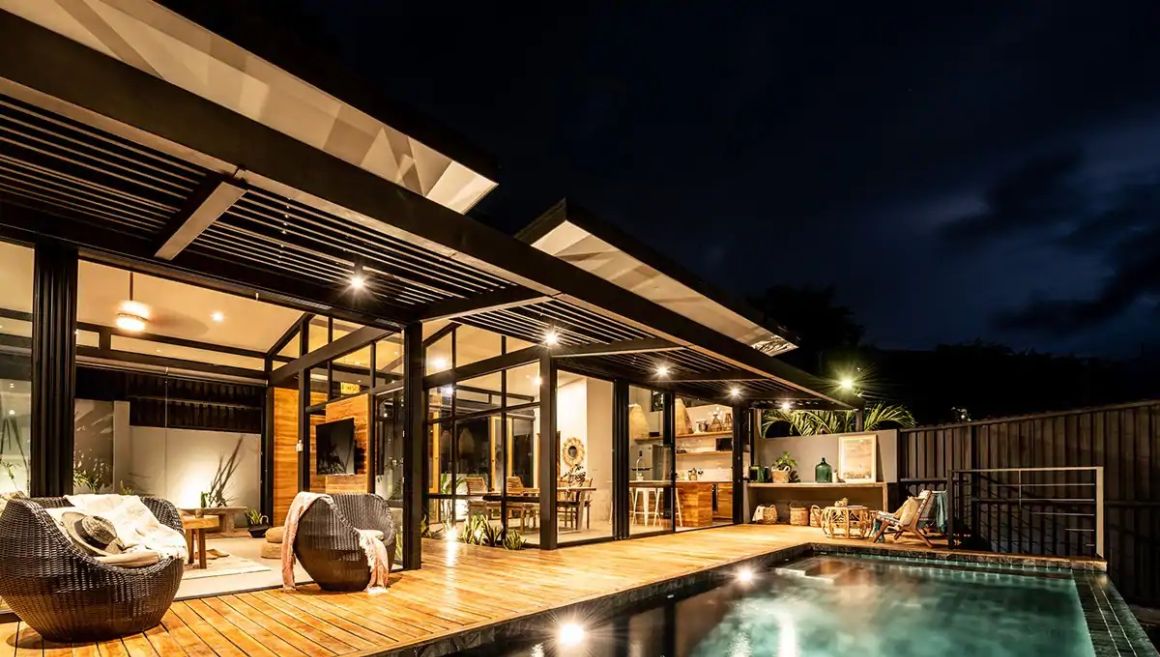 $$$
6 Guests
Open plan living
Private swimming pool
Treating yourself to a luxury vacation has never been easier. Forget the 5-star hotels: this deluxe beach house in Costa Rica is where it's at. Anyone looking for a space to relax and enjoy the finer things in life should definitely be noting this place down.
The newly built house is completely spotless and crammed with high-end contemporary design, from the open-plan kitchen and comfy bedrooms to the chic swimming pool and patio area. The concept is all open, with plenty of glass meaning you can soak up all the surrounding nature.
Best Beach House for Solo Travelers – Casa Marina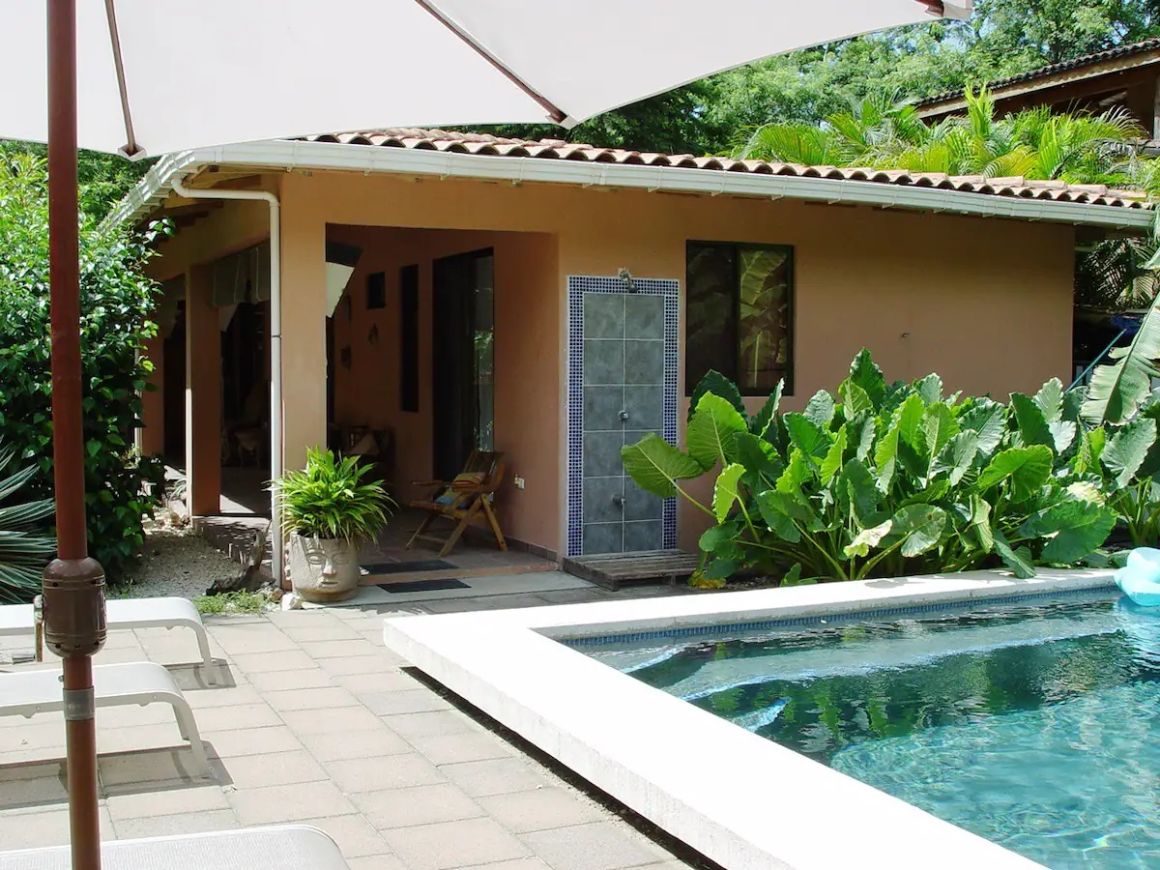 $$$
1 Guests
Private swimming pool
Gated residential community
With its walled garden, private swimming pool, and patio, you'll feel safe and secure staying at this cute beach house in Costa Rica. Situated inside a quiet and secluded gated residential community – all surrounded by tropical gardens – you'll find this property very near to Playa Grande, Guanacaste.
The house itself literally sits on the borders of Las Baulas National Park, where you can spot leatherback turtles laying eggs, among other natural wonders. Not only that but there's a small grocery store nearby and several restaurants within walking distance. It's perfect for solo travellers.
Best Beach House for a Weekend in Costa Rica – Ocean Home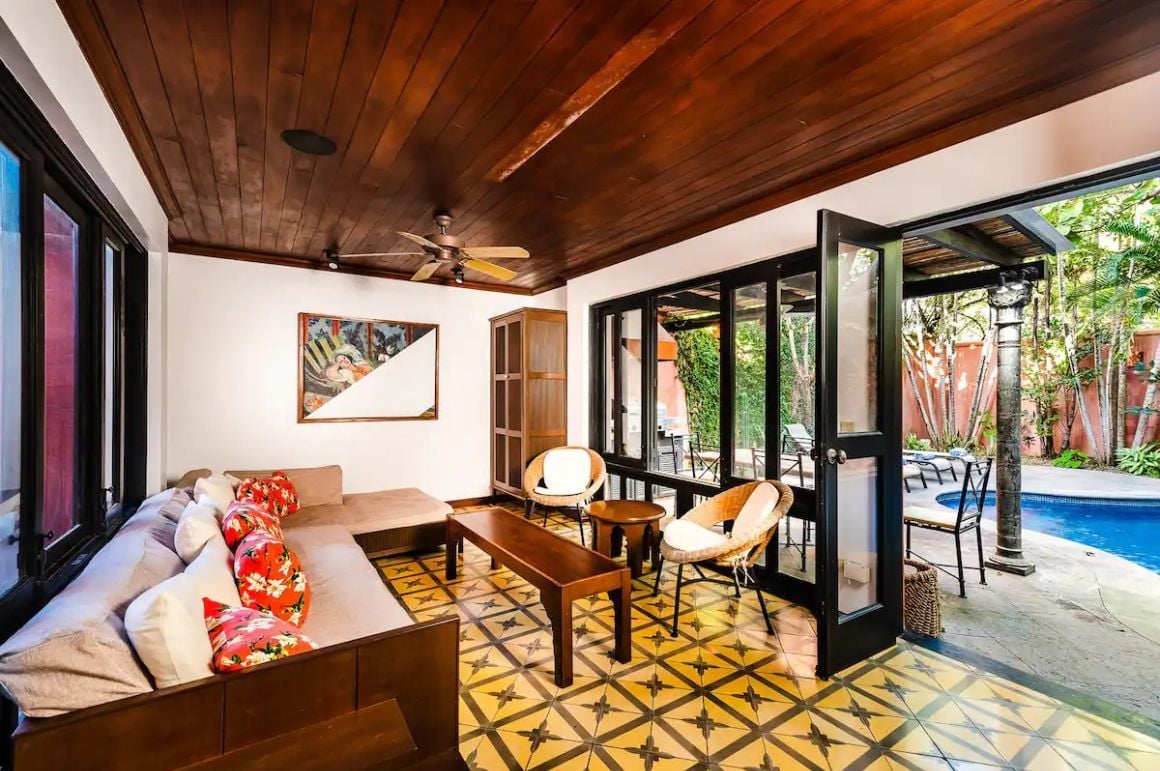 $$
5 Guests
Free parking
Beach access
This chic colonial-style home is the perfect place to spend a chilled weekend in Costa Rica. Conveniently located in a high-end neighborhood at Playa Langosta, with the town of Tamarindo nearby, there are plenty of restaurants and bars on the doorstep for you to indulge in across the weekend.
Back at the property, it's all about kicking off your shoes and soaking up those beachy vibes – catch some rays by the pool and all that – for your ideal tropical vacay. You may even be greeted by a howler monkey on arrival.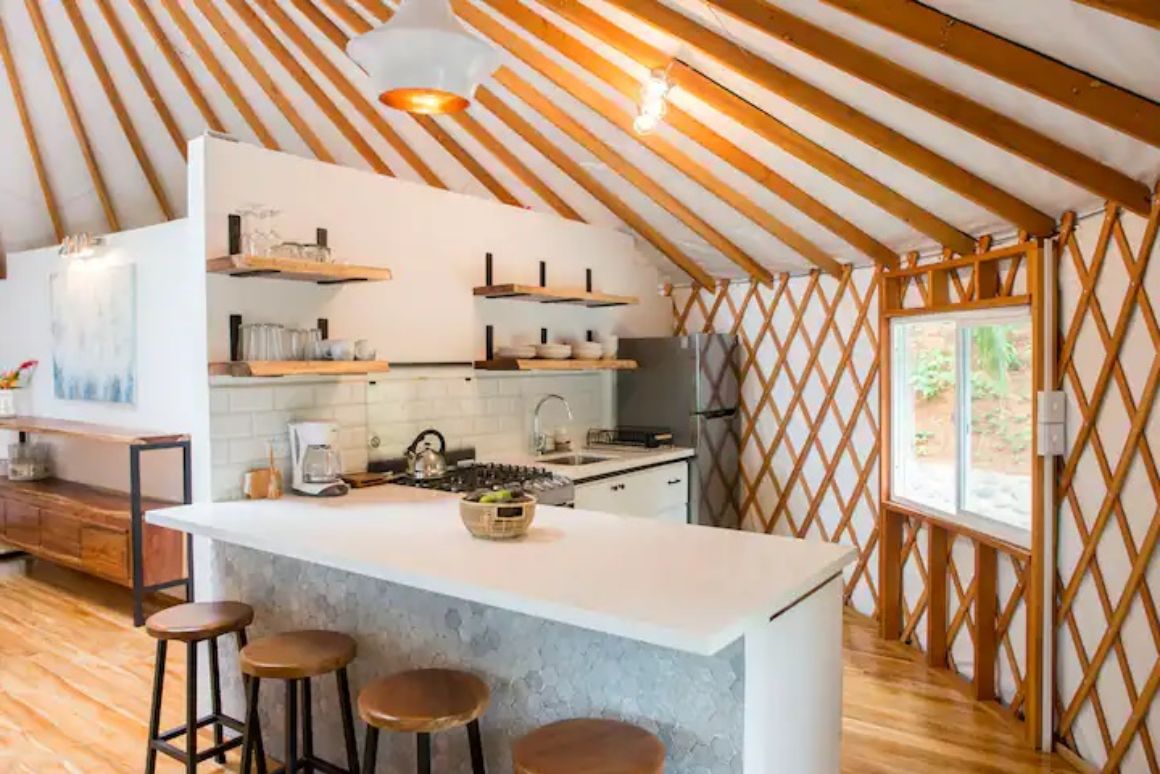 $$
2 Guests
Hot tub with epic views
Secluded setting
If you're looking for unique accommodation in Costa Rica, well, you've just found it. This yurt will do the trick. With an outdoor hot tub that boasts sweeping panoramic views across the glittering ocean, you definitely won't be complaining about the location, either. This is an ocean-front luxury in all its glory.
Interestingly, the yurt was built with low environmental impact but still manages to mix modern comforts and style with its green credentials. The secluded setting of this property makes for the ideal spot to spend time getting back to basics in nature. Once you leave you'll be booking this place again.
Best Beach House for Views – Casita Home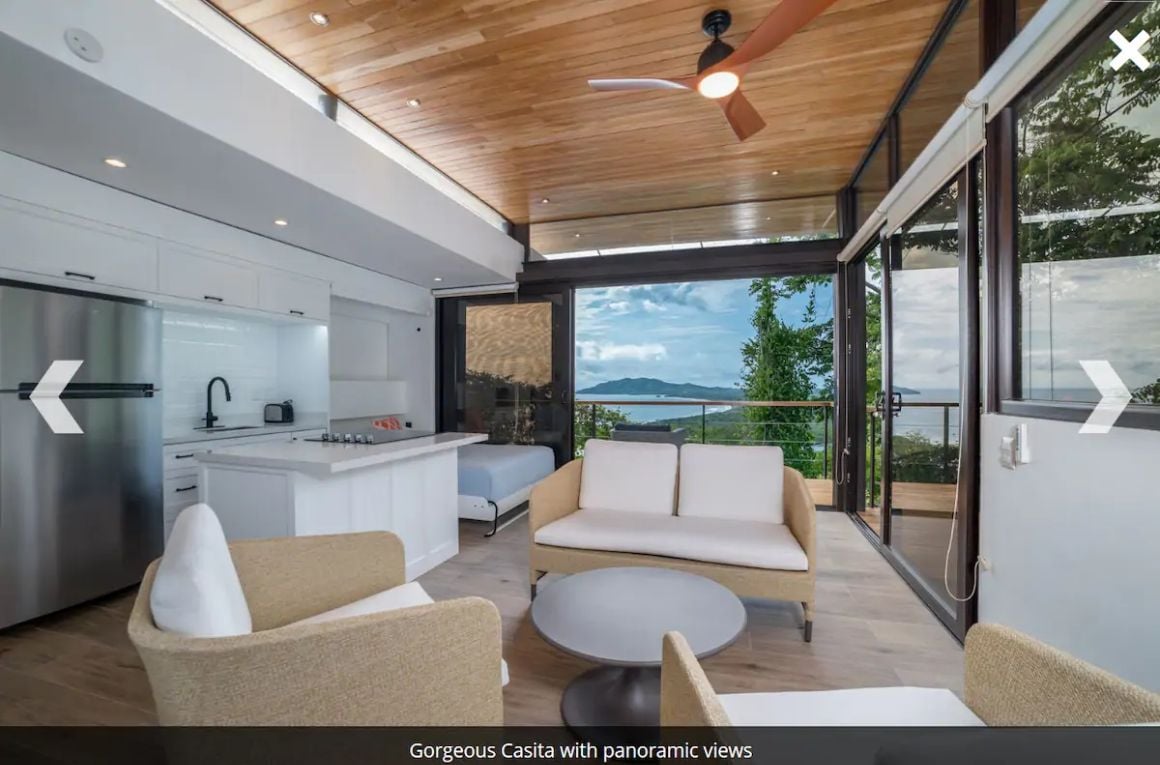 $$
3 Guests
Private swimming pool
Rooftop terrace
Sitting up high above Tamarindo Bay, you will get a truly all-encompassing ocean view from this property. And while the views are beautiful, the property itself – a contemporary beach house – is spotlessly clean, cool, and stylish.
There's a breezy covered terrace where you can soak up the view, a rooftop lounge area, and even an ocean-view pool to kick back in. Guests can spot local wildlife from the garden (or just gawp at the view) while grilling up a storm – or stroll down to the sand for some beach action.
$$
4 Guests
Infinity pool
King size bed
This classic property – designed with homeliness in mind – is set in a secluded spot that makes it ideal for honeymooners looking to get away from it all.
The villa is beautifully decorated with wooden floors, features high-end appliances, and boasts an enormous bed. The large windows here offer views of both the rainforest and the ocean.
The location, just above Nicoya Bay, offers some amazing vistas and allows for some chilled days at the beach. There's also an infinity pool and a beautiful patio area. The neighborhood is also private and away from any tourist spots.
Most Beautiful Beach House in Costa Rica – Pool Villa Sombra
$$$
6 Guests
Chic newly built property
Saltwater swimming pool
Smart, stylish, surrounded by lush tropical gardens – no wonder this place made it on our list of the best beach houses in Costa Rica. This property boasts its own saltwater pool and private garden but also has access to amenities nearby such as a kids club and a yoga studio.
The interiors have been carefully designed with rainfall showers, chic bedrooms, and with considered materials, to ensure that the beach house is the utmost in style. The location puts it tucked away on a quiet street in the heart of Guiones, close to the beach, shops, and restaurants.
Don't Forget Your Costa Rica Travel Insurance
ALWAYS sort out your backpacker insurance before your trip. There's plenty to choose from in that department, but a good place to start is Safety Wing.
They offer month-to-month payments, no lock-in contracts, and require absolutely no itineraries: that's the exact kind of insurance long-term travellers and digital nomads need.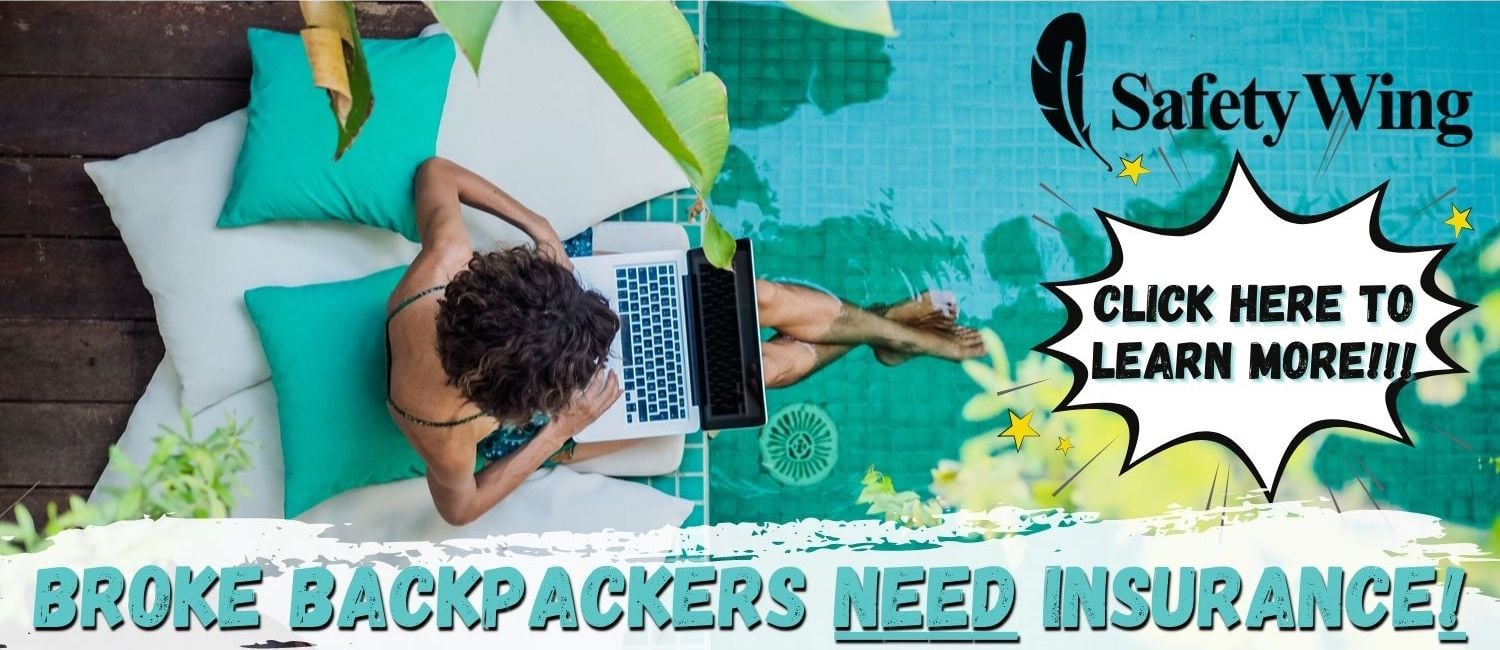 SafetyWing is cheap, easy, and admin-free: just sign up lickety-split so you can get back to it!
Click the button below to learn more about SafetyWing's setup or read our insider review for the full tasty scoop.
Final Thoughts on the Best Beach Houses in Costa Rica
There you have it: those were the best beach houses in Costa Rica. I mentioned the pura vida right at the start of this guide, and I'll mention it again now – it's the philosophy behind pretty much all of the places I picked as part of my considered list of properties.
They've got tropical gardens, often have opportunities to spot wildlife from the deck, patio, or rooftop terrace, and have wide-open views of Costa Rica's bountiful nature.
If that isn't the perfect showcase of the pura vida in beach house form, then who knows what it is. Either way, these beach houses provide the ideal location to relax, unwind and get back to basics.
Now it's time to think about travel insurance. It can be a hassle to figure out, or maybe you just can't be bothered, but maybe you should be bothered. It's a good idea to be covered by insurance, you know, just in case.
---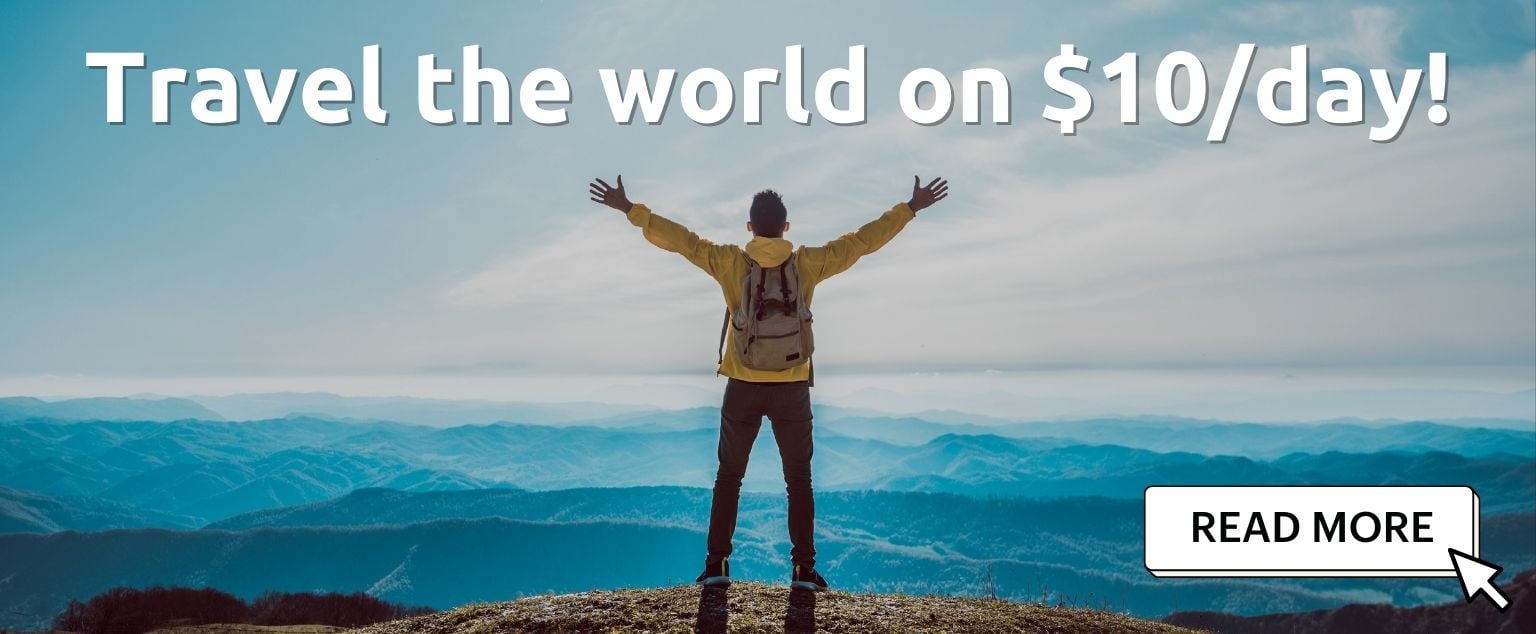 And for transparency's sake, please know that some of the links in our content are affiliate links. That means that if you book your accommodation, buy your gear, or sort your insurance through our link, we earn a small commission (at no extra cost to you). That said, we only link to the gear we trust and never recommend services we don't believe are up to scratch. Again, thank you!