In case you've never heard of it, Costa Rica is a Central American country that lies somewhere between the Caribbean and the Pacific Ocean. Its tropical climate and luscious rainforest attract thousands of tourists every year!
The eco-concious nation has recently made some major moves to protect its natural wildlife and landscapes, throwing down the gauntlet to the rest of the world.
Named as one of the top countries to visit by Thrillist Magazine, Costa Rica is growing in popularity as a tourist destination with each year. With many adventure activities as well as more relaxed tours for nature lovers, there's no lack of entertainment!
If you're planning a trip to Costa Rica and need some info then welcome! You've found the best Costa Rican travel itinerary on the whole, entire internet! Stay tuned for inside tips on where to stay, what to do and what to eat!
The temperature variations between Costa Rica's dry season and the wet season isn't much. The main differentiating factor between these seasons is the amount of rainfall that this region experiences. The rainy seasons bring daily heavy rains, occasional flooding, and an increase in water and mosquito-borne virus'.
That said, visiting Costa Rica during rainy season is still very much possible and some even prefer it as it's slightly cheaper visiting Costa Rica at this time.
And remember, it's thanks to Costa Rica's wet season that everything is so lush and that's part of what makes it a great tropical getaway!
If you're wondering what the best time of year to backpack through Costa Rica is, take a look at the table below to find out what you can expect during each month.
Note that going during Costa Rica's tourist season doesn't always mean that you're going at the best time! If you enjoy a bit of peace and quiet, then down season is probably more suitable for you.
Costa Rica is one of the most stable countries in its region, making it one of the safer tourist destinations in Latin America! That said, there are still risk in traveling here which we will look at further in this post.
With lots of unique and different areas, it can be hard to decide where you want to stay in Costa Rica. San Jose, the capital city of Costa Rica is home to over 300 000 people. This makes it the most populated city in Costa Rica.
This city is a must-stay while on your visit to Costa Rica as it's home to so much of the country's interesting culture! In all likelihood, you will at least pass through San Jose so its makes time to stick around for a while. A lot of the best hostels in Costa Rica are in San Jose so it's a great place to stay and get your bearings.
Rohrmoser is a neighborhood in San Jose that has become very popular among young professionals in the city. It's laid back feel is a definite drawing card; as well as its easy access to anything you need. Convenience is key, especially as a tourist when transport can be tricky!
You'll be glad to know that Rohrmoser is close enough to most of the tourist attractions in San Jose without having the hustle and bustle of city living, right outside your window!
If you're into a more upmarket feel, try staying in Escazu, also known as "Little America." You'll be sure to bump into a lot of North American expats while staying here! This neighborhood has a more sophisticated feel and is home to luxury condominiums as well as some of Costa Rica's finest restaurants!
This conveniently placed hostel is just a 5-minute walk from the center of Santa Elena but is far enough away to be quiet and have a suburban feel.
Camino Verde is a bed and breakfast style experience. Expect views of the forest that stretch out for miles while you sit and relax on the balcony! These wooden cabins have a treehouse feel to them. Settle down for the night, nestled between the trees to feel like you're apart of the nature that surrounds you. This may be the best hostel in San Jose.
This place is right in the middle of Costa Rica's biggest metropolitan. This condo makes you feel right at home, and safe with 24-hour security. It's so clean, and the bed is freaking heavenly. It also has everything you need from laundry to the kitchen. Oh, and if you walk a block away, you'll find sweet bars and lounges.
Best Budget Hotel Costa Rica – Diquis Del Sur
Just a 9-minute drive from Playa Ventanas, Diquis Del Sur is a great place to stay if you're on a budget!
The Diquis Del Sur has a pool open to all the guests and each dwelling has a view of the jungle-like garden that gives it a very Costa Rican feel.
Take a stroll through the tropical gardens that surround your hotel room to embrace the Costa Rican feel of this budget-friendly accommodation!
The Gilded Iguana Hotel boasts a five-star rating and there's no question as to why! This incredibly beautiful establishment offers nothing less than the best!
This hotel is one of the best-rated accommodations in Nosara. Just a 300m stroll from the hotel will land you on the white sandy beaches of Costa Rica!
Check out vacation rentals in Costa Rica for more accommodation inspo!
Costa Rica is a fairly easy country to travel through, with the exception of some of the bigger cities – where you may experience traffic. Transport is very easily accessible to most places!
There are lot of things to do in San Jose but you will need to leave the capital at some point to really experience the magic of Costa Rica.
The easiest ways to travel around Costa Rica is to drive or take the bus. Central and South American busses are a backpackers rite of passgage and you will love and loathe them in equal measure. Busses are frequent and pretty cheap. Note that for some reason the drivers blast the bus with very cold AC so no matter how hot it is outside, you will need a blanket for the bus-ride.
If you're traveling with a group, it may be a good idea to hire a tour bus or tour van that will take care of all your transport needs while in Costa Rica!
There are also 14 destinations with domestic flights if you're needing to fast-track your travel time.
If you have the privilege of spending a weekend in Costa Rica, here are a few things you should add to your itinerary.
Britt Coffee Tour | Central Avenue | Jade Museum | National Theatre | Metropolitan Cathedral | Central Market
Day 1 / Stop 1 – Britt Coffee Tour
Why it's awesome: Learn how coffee beans are grown, processed and finally roasted to perfection, before becoming the addictive energy boost we consume every morning.
Cost: $58.61
Food nearby: La Carretica is only a 2-minute drive from the Britt Coffee Tour. It boasts a 4-star rating and is the best way to get to know Costa Rican cuisine. As for the portions – Let's just say you won't be going hungry for a while!
There's no better way to start your morning than with a steaming cup of coffee. In fact, 64% of all Americans start their day this way (and 101% of Italians).
At Barva de Heredia coffee farm you'll learn about the process that each bean goes through before landing in your cup. As well as some interesting facts about the history of the coffee industry in Costa Rica! The whole tour generally takes about 2 hours.
If you like their special blend, order a bag or two and they'll drop it off at your hotel. What a bonus!
Day 1 / Stop 2 – Central Avenue Boulevard
Why it's awesome: Being central to all of San Jose, this walkway holds so many of the great tourist attractions that bring people to the city!
Cost: FREE
Food nearby: Lolo's is not your average pizzeria! Grab a slice while zoning on the interesting decorative choices. Plates and swords hang on the walls from ceiling to floor which make for a unique view!
This mile-long pedestrian walkway divides San Jose into North and South and makes for a very interesting cultural experience.
A stroll along this boulevard will give you a first-hand experience of the enthusiastic way in which Costa Ricans tackle their day!
Along the way, you'll come across museums, historical congress buildings, and markets that are well worth exploring!
Day 1 / Stop 3 – The Jade Museum
Why it's awesome: Learn the cultural, ecological and societal impact that Jade has made on Costa Rican civilizations at the Jade Museum.
Cost: $15 +
Food nearby: Tin Jo Asian Restaurant – Beautifully presented Asian food in an authentically Asian setting.
Located on Central Avenue Boulevard, this museum educates about everything Jade and has some very interesting artifacts to examine. Be sure to check out all the rooms. Topics vary widely, so you'll be sure to find something that interests you!
The museum was founded in 1977 and houses many pre-Columbian artifacts. These include stone tables, ceramics, ceremonial heads and other decorative pieces dating back to 500 BC.
Day 1 / Stop 4 – The National Theatre
Why it's awesome: Built between 1891 and 1897, the incredible architecture includes marble statues and wall to ceiling murals with European style influences.
Cost: $10
Food nearby: Tenedor Argentino is a restaurant practically right on the doorstep of The National Theatre that serves fantastic Argentinian cuisine!
The National Theatre is a must see while you're in San Jose! Try to catch a show while you're there, but if that's not a possibility, the architecture alone is enough to draw you into this incredible building.
If you'd like to splurge on a tour of The National Theatre, you'll learn a lot about the history and workings of the theatre that you otherwise wouldn't have known.
The mechanically operated ballroom floor is something quite spectacular, but count yourself lucky if you get to see it in motion! This floor is raised and lowered for theatre productions or ballroom events only. It's something you'll get to learn more about if you decide to opt for the guided tour.
Day 1 / Stop 5 – Metropolitan Cathedral of San Jose
Why it's awesome: The Metropolitan Cathedral is a very large church in the heart of San Jose and is home to a Christ Figure that dates back to the 17th century.
Cost: Free
Food nearby: El Patio Del Balmoral is a casual and cozy dining spot that is great for people-watching! They also have a great selection of food to take away or for on-the-go snacking.
The original Metropolitan Cathedral was built in 1802 but fell victim to an earthquake soon after. The Cathedral was then rebuilt in 1871. The outside of the cathedral is not much to look at but the colonial-style interior is nothing short of breath-taking!
Although the exterior of this church is rather plain, it houses wood carvings, cherub statues, and stained glass windows and is incredibly beautiful no matter your religious disposition.
The Christ figure that was built sometime in the 1600s is a must see and quite the opposite to what you'd expect when looking at the building from the outside.
Day 1 / Stop 6 – San Jose Central Market
Why it's awesome: There isn't a more authentic way to experience a country's culture than to visit a market!
Cost: Free
Food nearby: There are plenty of stalls that serve food at the market. However, if you prefer to have your meal while seated at a restaurant there are plenty of options in the area. La Casona Tipica is a cozy restaurant that is popular among the locals and would hold yet another authentic Costa Rican experience.
The San Jose Central Market is a bustling hub of entertainment. Everywhere you look you'll experience new sights, aromas, and cultural interactions!
This market takes place in a complex of narrow alleyways and contains over 200 stalls and cheap restaurants which in Costa Rica, are referred to as Sodas.
This is a great place to taste authentic Costa Rican cuisine! We advise that you stay away from buying the overpriced touristy trinkets you'll find at this market. However, there are plenty of things found at the market worth their price.
If you're planning to stay in San Jose for an extended period of time, this is a great place to do your grocery shopping as you'll find the freshest and cheapest of deals!
Insider Tip: Tens of thousands of people visit this market every day. If you're in San Jose during the busy season, (November – April,) be sure to make your visit to the market early, before the crowds have descended.
Tamarindo Horseback Riding | Massage on the Beach | Surf | Antares Cruise | Snorkel | Tamarindo Turtle Tour
Day 2 / Stop 1 – Tamarindo Horseback Riding Tour
Why it's awesome: Start your day at dawn with an early morning ride. Horseback is possibly the best way to explore the countryside, and the ranch offers a diverse range of terrain!
Cost: $55
Food nearby: La Palapa Restaurante is the perfect place to stop off for breakfast after a morning ride! Sit on the beach with your feet in the sand while filling up on some much-needed refreshments.
The Tamarindo horseback riding tour is one not to be missed! So don't let the early start put you off. The ranch caters for beginners as well as experienced riders.
The ride will provide some incredible views as you look over the Guanacaste forests. This horseback riding tour will take about 2 hours. If you plan on going during the busy season, then booking a few weeks ahead is essential!
Day 2 / Stop 2 – Massage on the Beach
Why it's awesome: Massages reduce stress and pain while boosting your energy levels! Why not have a massage in one of the most relaxing settings on earth?
Cost: $50
Food nearby: Enea's La Vera Cucina Italiana is a cute little Italian restaurant that has an earthy but clean feel. As you've probably guessed they serve a variety of pizzas and pasta. A great place to do some carbo-loading before tackling the rest of your day!
After all that riding, your muscles will be a little tense. Take a lie down on the beach and let someone work out all those knots for you. You've done the hard work. Now it's time to reap the rewards.
A massage on the beach is a must-have tourist experience. There's no place more relaxing than a beach, watching the waves roll in while your worries roll out! If you really want to relax, you could consider staying at a yoga retreat in Costa Rica which comes with beachside yoga and mediation, and then an afternoon free for exploring.
Day 2 / Stop 3 – Surf
Why it's awesome: Surfers from all around the world come to surf at Tamarindo bay.
Cost: Cost varies
Food nearby: Pangas Beach Club is a great place to stop off for another 'meal-on-the-beach' experience! The food is as tasty as it is well-presented.
Although the waves at Tamarindo beach are pretty gnarly, if you're just beginning on your surf journey, there are plenty of surf schools around to show you the ropes.
Almost every shop along the beachfront offers surfboard rental, so there'll be no shortage of options and you can shop around for the best price!
If surfing is a little too hard-core for you, most places rent out stand-up paddle boards too. If this is more your pace, it's a far more relaxing way to explore the bay.
Day 2 / Stop 4 – Antares Sailing Sunset Cruise
Why it's awesome: Experience natural beauty at its finest on board an 80-foot Schooner that sets sail from Tamarindo Bay.
Cost: $86.90
Food nearby: A six-course meal will be provided on board (vegetarian options are available)
Antares Sailing Sunset Cruise is an all-inclusive sailing experience! Set sail in the late afternoon and enjoy 5 hours of cruising through the ocean until just after sunset.
Make use of the open bar while breathing in the salty sea air. There are plenty of opportunities to spend time swimming, snorkeling and sunbathing while the afternoon passes you by.
Live entertainment will be provided on board if hopping in the water is not for you!
Day 2 / Stop 5 – Snorkel
Why it's awesome: Get the opportunity to swim with uniquely Costa Rican marine wildlife!
Cost: Included in the sailing experience
Food nearby: A six-course meal will be provided on board (vegetarian options are available)
During your sailing trip from Tamarindo bay with Antares Sailing Sunset Cruise you'll get the opportunity to snorkel. This is a great experience for those that love the ocean!
There's no better way to experience the ocean than by getting in and exploring. So they encourage you to do just that!
Tamarindo bay has some excellent snorkeling spots because of the many islands, caves, reefs, and rocks that are located along the coastline. This is the perfect place to explore the underwater world!
Day 2 / Stop 6 – Tamarindo Turtle Tour
Why it's awesome: This very unique experience allows you to see sea turtles nesting. A rare sight for anyone who has not visited Costa Rica before.
Cost: $50
Food nearby: Restaurant Pizzeria Venezia is a nearby restaurant that is open late. Here you'll find great Italian food at a reasonable price. Their portion options are also a great addition! You'll be eating late so you probably won't be wanting to order a full large meal.
Playa Minas is one of the most important nesting sites for turtles in Costa Rica! This is where you'll be taken on the Tamarindo Turtle Tour.
This tour takes place after dark. You can expect to see black turtles and if you're very lucky, a rare glimpse at the elusive leatherback turtle.
The guides will provide infrared lights that will allow you to see the turtles and take your own pictures.
Cahuita Sloth and Wildlife | Zipline | Rio Celeste | Cloud Forest | Night Walk Through Tapir Valley
If you're lucky enough to spend more than two days in Costa Rica, here are a few things you should try to add to your travel itinerary!
Cahuita Sloth and Wildlife Sanctuary half-day tour
Take this half-day tour for just $89.77
The tour will take approximately 4 hours
You'll be taken on a guided boat trip down the river Estrella
Spend half the day admiring these wonderfully slovenly creatures! A 12-minute presentation will mark the start of your tour. During this time, you will learn about the way of the sloths and their natural habitat.
You will then get to meet and photograph the oldest sloth at the sanctuary, as well as 4 others! After a meet and greet with these friendly creatures, it'll be time for your boat trip.
The boat which holds a maximum of 5 people, excluding the guide, will be your transport for the next 40 minutes. Along the way, you'll come into contact with many forms of wildlife, sloths being one of them.
Birds and other wildlife are also a common sight on this tour as you wind down the river Estrella surrounded by jungle-like vegetation!
You'll then take a 20-minute walk through the vegetation where you'll see plenty of sloths, birds, butterflies, and monkeys, among many others!
Zipline, Hot Springs and Water Slide in the Jungle
This adventure experience will cost you $158 per adult
No booking required for this adventure, even during busy season
You'll want to spend at least 9 hours at this adventure park. There is so much to do an experience, you won't want the fun to end!
Take this adventure tour and dive deep into the rainforests of the Rincon de la Vieja on this incredible adventure.
Sit back and relax in the bubbling hot springs while enjoying the luscious vegetation that surrounds the springs! After spending some time relaxing in this tropical setting, go flying down the waterslide that winds its way through the forest.
Spend some time exploring the trails that snake their way through the Rincon de la Vieja forest. Keep your eyes for wildlife, coatis, jaguars, cougars, kinkajous and more than 300 bird species that have made this park their home.
When you're ready for a more heart-pounding adventure, try out the zipline. Whizzing over the treetops at great speeds, you'll catch some amazing views of the forest canopy below – if you dare to look down! This zipline tour contains 11 platforms, so there'll be no shortage of opportunity to show off your Tarzan moves!
Rio Celeste Blue Water River
Take a trip off the beaten path, this is not a part of the itinerary for most tourists but it's one you'll definitely not regret.
There are tour groups that can take you on a guided hike to the river and waterfalls all although if you'd like to save a pretty penny, you can do the hike without a guide.
The rare turquoise blue color of the water is nothing less than Instagram worthy! The color of the water is caused by a chemical reaction of minerals from the Tenorio volcano.
The Rio Celeste river is located in the Arenal area, which is not a popular area for tourists in Costa Rica.
The hike tends to take around 4 hours, even although it is a meager 7 km long! The muddy path that winds its way through the rainforest tends to slow down most hikers.
We recommend this hike for intermediately fit individuals as it can be challenging at times, however, it is definitely worth the extra effort!
Along the way, you'll spot plenty of wildlife in the tropical forest! You'll pass natural hot springs along the way. Stop for a quick dip and some photos before continuing along the path.
The track will then lead you to the ultimate destination, the Rio Celeste waterfall. This view is nothing short of breathtaking!
Monteverde Cloud Forest
Monteverde forest is home to 2.5% of the world's biodiversity.
50% of Costa Rican flora and fauna is found in the Monteverde cloud forest.
Guided tours through the reserve are offered for those wanting to learn more about the plants and wildlife that have made Monteverde Cloud Forest their home.
A cloud forest occurs in tropical, mountainous environments. The atmospheric conditions of these areas allow for constant cloud cover. This cloud usually takes the form of mist, that hangs over the upper canopy of the forest. The mist then condenses on leaves and drips down to the plants below.
This low hanging mist allows you to actually walk through the clouds, especially if you take a hanging bridge canopy tour through the Monteverde cloud forest in Costa Rica!
Because of the moisture levels in the forest, moss grows on trees and rocks, which creates an eerie feel throughout the forest.
Taking a walking canopy tour on the suspended bridges that run through the forest is a must-do activity while you're in Costa Rica – better yet, why not fully immerse yourself in nature and spend a night at one of these awesome treehouses in Costa Rica! Unfortunately, due to climate change, the cloud that hangs over the forest might not be as thick and misty in the future as it is right now!
Bird watching expeditions are most successful in the early morning when the birds are first rising. Other popular activities in the forest include visiting the butterfly farm and the insect museum.
Night Walk Through the Tapir Valley
See wildlife that you wouldn't see out in the open during the day
Make sure you wear long pants, boots and a long sleeve top (these are all protective measures)
You can expect to see lots of creepy crawlies, including tarantulas so be careful where you put your hands.
Many of the wildlife found in the Costa Rican forests are nocturnal creatures – this means they only come out at night. Taking a tour through the rain forest during the day is beautiful, but doing a night walk is a completely different experience!
Night walks through the Monteverde forest are also great but you are likely to see as many humans as you do animals. These forests are very tourist focused so it's better to go somewhere less explored by tourists. This will ensure an authentic jungle experience! This is why we recommend the Tapir Valley night walk.
Although there are no guarantees you'll come across any tapirs while exploring the jungle in Tapir Valley, you'll have a much better chance of a sighting here than on any of the other night walks in Costa Rica!
Over recent years the chances of a Tapir sighting have increased because Tapirs have become habituated. This is due to a ban on poaching that came into effect in 2013.
Costa Rica is widely renowned as been the safest country in the Central American region. However, with El Salvador, Mexico and Nicaragua for competition, that's not neccesarily saying a lot.
What this means is that Costa Rica doesn't have the gang wars, crime spree's or high homocide rate of its neighbours. However, petty crime is still very common and robbery is a concern.
To stay safe in Costa Rica, don't carry a lot of money on you! Take the amount you know you'll be needing for your days trip and maybe a bit extra in case of emergency. Keep your money in a secure bag with a zipper that you carry with you at all times! Don't wear expensive looking jewellery and be careful about pulling expensive phones out in public places.
One of the most common crimes that take place in Costa Rica is bag theft, especially at the many beaches along the coastline. Make sure there is always someone from your group watching over your possessions!
You generally don't have to worry about theft in hotels. If you're staying in an area that has a problem with crime there will usually be a 24-hour guard. If, however, you'd like to take some extra precautions, there's no harm in buying a padlock for your bags to keep your valuables safe!
If you have an emergency or a crime has just taken place, call 911 and they will dispatch the right officers to assist you in your crisis!
Don't Forget Your Travel Insurance for Costa Rica
ALWAYS sort out your backpacker insurance before your trip. There's plenty to choose from in that department, but a good place to start is Safety Wing.
They offer month-to-month payments, no lock-in contracts, and require absolutely no itineraries: that's the exact kind of insurance long-term travellers and digital nomads need.
SafetyWing is cheap, easy, and admin-free: just sign up lickety-split so you can get back to it!
Click the button below to learn more about SafetyWing's setup or read our insider review for the full tasty scoop.
Day trips are a great way to fill up your itinerary for your trip to Costa Rica, especially if you plan on spending more than 3 days in Costa Rica. Many guided tours are offered all around the country! These are the trips we highly recommend:
Pacuare River White Water Rafting Tour from San Jose
On this 11 hour tour, you'll be white water rafting down the Pacuare river that winds its way through the luscious rain forests towards the Caribbean sea.
The Pacuare River is considered to be one of the best rivers to whitewater raft in the world! This adrenaline-pumping adventure is a thrilling experience for experienced and beginner rafters!
Look out for wildlife in the forest and surrounds. You might be lucky enough to spot monkeys and butterflies during your trip down the river. Along the way, you'll stop off to enjoy a lunch at Siquirres to fill up and give your arms a break!
Nicaragua One Day Tour from La Fortuna
This 12-hour tour from Costa Rica to Nicaragua will take you across the border in the early morning. You'll then go on a historical tour through the city streets and learn about the history, culture, and background of the Nicaraguan people.
Next, you will take a speed boat to the Solentiname Archipelago, which consists of 36 islands that are filled to the brim with natural, archeological and historical riches! These have been declared as a Nicaraguan monument!
You will visit 2 of these islands during your tour. Zapote and Zapatillo are also known as the "bird Islands." Here you will get to see a variety of birds in their natural habitat!
After visiting the Islands you will stop for lunch at the San Fernando Island where you'll eat fresh fish straight from the lake.
Full Day in Sarapiqui biking, hiking, and kayaking
Spend 12 hours a rocking biking route from San Jose to Laguna dal Hule. Here you'll stop for a break and to enjoy the view of the beautiful lake. Then you'll hike through the mountains, enjoying the scenery and wildlife until you get to the lake itself.
At the lake, you will start the kayaking leg of the journey! You'll kayak for about 2 hours until you reach 3 beautiful lakes.
Here you'll be able to take your time, paddling around the lakes to take in all the aquatic life that this area has to offer! If you paddle in close to the banks you might spot armadillos, capuchin and congos that have made this area their home.
Gravity Falls: Waterfall Jumping and Extreme Canyoning
The Gravity Falls extreme Canyoning Tour has been referred to as one of the most extreme tours in Costa Rica!
Your guides will lead you from your hotel, deep into the jungles that are so abundant in Costa Rica. You will then be suited up in protective gear that includes a harness and helmet.
You'll start off with a rappel down a 140 ft waterfall and move on to hiking and jumping off 10 to 30 ft waterfalls into large canyoning pools.
Rainforest Aerial Tram from San Jose
The Aerial Tram is a modified ski lift that carries you through the upper canopy of the forest. A birds-eye view of the forest and secret unexplored gardens give you a unique perspective on the forest you may have visited before.
The tram covers a distance of 2.6 kilometers through the Costa Rican rainforest. The main focus of this tour is to give visitors a chance to experience the most unknown parts of the forest. Namely: the upper canopy.
The tour is very quiet, giving tourists a chance to hear the birds and listen to the multitude of wildlife noises that make up the cacophony of sounds emanating from the forest below!
Find out what people want to know when planning Costa Rica itinerary.
Conclusion
We hope this itinerary for Costa Rica has helped you plan out your next trip! No matter what time of year you decide to indulge your senses with a vacation to Costa Rica, you'll be in for a treat!
This tropical country will have you coming back for more in a flash! The activities and places that Costa Rica has to offer are based mainly around rainforests, beaches, and Costa Rica National Parks, which creates a very tropical experience.
The activities listed in this itinerary are a great place to start but you should spend some time exploring each town and city by foot to create the most authentic experience possible!
---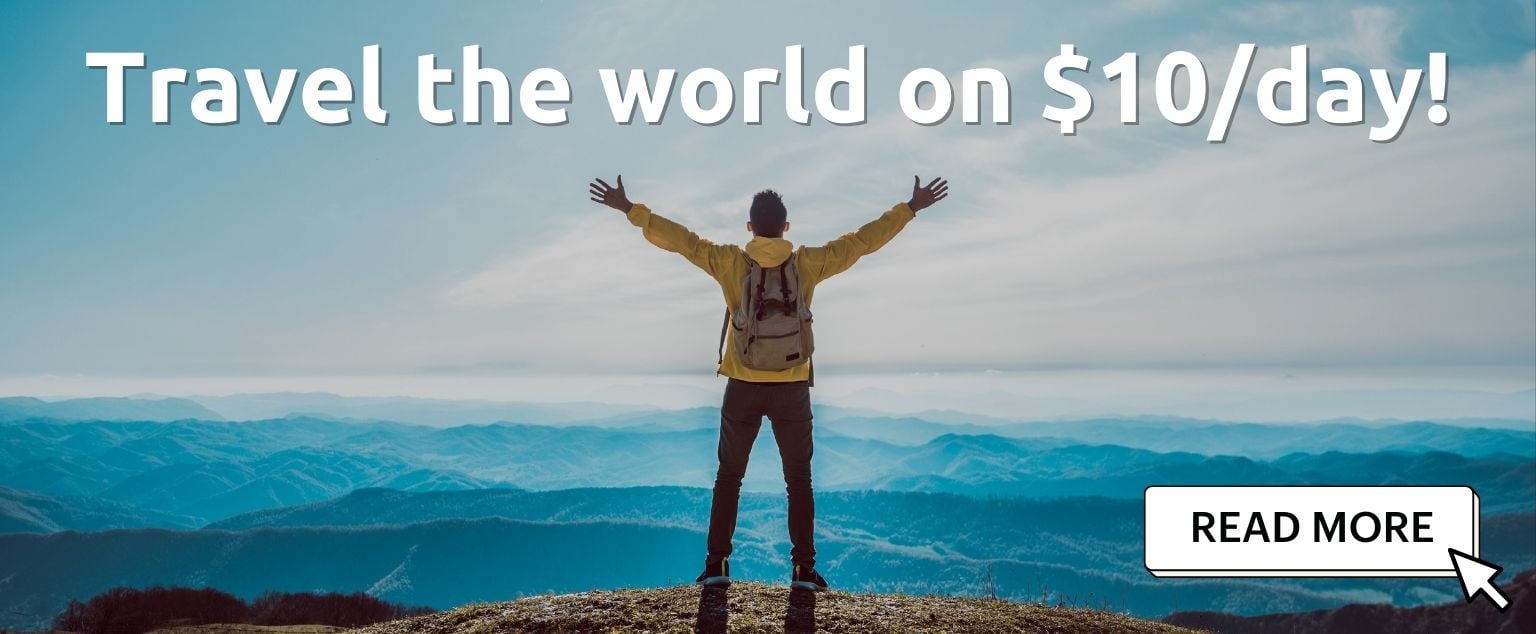 And for transparency's sake, please know that some of the links in our content are affiliate links. That means that if you book your accommodation, buy your gear, or sort your insurance through our link, we earn a small commission (at no extra cost to you). That said, we only link to the gear we trust and never recommend services we don't believe are up to scratch. Again, thank you!