Costa Rica is a tropical wonderland of jaw-dropping natural scenery. The home of pura vida, a phrase that simply means 'pure life', it's a country that is all about relaxation, enjoying the little things and leaving all your worries behind you.
As well as the laid-back atmosphere, it also has two expansive coastlines, dense rainforests, mysterious volcanoes, and a whole lot of exciting wildlife to see.
But if you're wondering "is Costa Rica expensive?" then you've come to the right place. While people generally think of Central America as an affordable place to visit, depending on how you travel, the expenses can add up.
That's why I've prepared this guide, so that you can visit Costa Rica with a full knowledge of the expenses that may come up. I've also included some tips to help you enjoy your vacation while also keeping your wallet happy.
First things first. Let's look at the average Costa Rica trip cost. Here, I'll look at some main costs including:
How much it costs to get there
Food prices
Expenses and travel cost
Prices of things to do and see
Cost of sleeping arrangements
Costa Rica can cost a lot, or a little, it depends on your budget. Wherever you're going in the world, carving yourself out a decent travel budget for your trip (and one that suits your travel style) is well worth your time and energy. This should take into consideration all the big costs – flights and accommodation – and the things that add up, like transport, food, drink, and souvenirs.
The travel costs listed in this guide are estimates and subject to change. Prices are listed in US Dollars.
Costa Rica uses the Costa Rican colon (CRC). As of July 2022, the exchange rate is 1 USD = 689.76 CRC.
2 Weeks in Costa Rica Travel Costs
Here's a helpful table summarising the general expenses of a two-week trip to Costa Rica:
ESTIMATED EXPENSE: $197 – $1,980 USD for a roundtrip ticket.
If you're wondering whether or not Costa Rica is expensive for plane tickets, well, it depends where you're flying from. If you're simply jetting over from the US, you can usually find relatively cheap flight. From Europe? Not so much.
It is possible to find budget-friendly flights to Costa Rica if you're flexible with your timing. January through March is high (i.e. expensive) season, while around two weeks before Christmas and just after New Year is also pricey. For better prices, try the shoulder seasons of July and August; November also tends to be more affordable.
Juan Santamaria International Airport (SJO) is Costa Rica's largest and busiest air travel hub (the second-busiest in Central America). The airport is located approximately 17 kilometres (10 miles) from the Costa Rican capital, San Jose. Public transport or a taxi from the airport, taking around 30-35 minutes, should be factored into your budget, too.
So how cheaply can you get there from various places in the world? Here's a brief summary of what you can expect travel costs to Costa Rica to be from a few major cities:
New York to Juan Santamaria International Airport: 9 – 428 USD
London to Juan Santamaria International Airport: 360 – 610 GBP
Sydney to Juan Santamaria International Airport: 2,330 – 2,927 AUD
Vancouver to Juan Santamaria International Airport: 481 – 718 CAD
If you're wondering where you should be looking for plane tickets to Costa Rica, check out a site like Skyscanner. It's just better to have all those cheap flights lined up in front of you rather than trawling a million sites yourself.
ESTIMATED EXPENSE: $15 – $100 per night
After you've bagged yourself a low cost flight to Costa Rica, you're second major expense is going to be your accommodation. Costa Rica's hotels, hostels, and Airbnbs, can vary hugely in price depending on where it is and how many amenities it offers.
So is Costa Rica expensive for accommodation? The answer is no, it really doesn't have to be.
There's actually a decent choice of low-priced hotels and guesthouses, often situated in some pretty amazing beachside houses, as well as on the edge of lush jungles.
Here's an introduction to some of the best budget accommodation in Costa Rica, including hotels, hostels, and Airbnbs to help you get started with planning your trip.
Hostels in Costa Rica
If you want to spend your time in Costa Rica hopping from one cool hostel to the next, then you're in luck. Costa Rica's hostel scene is fairly diverse and offers up a selection of cool, modern hang-outs, family-run stays, and backpacker-friendly prices.
The cheapest hostels in Costa Rica start at around $12 per night.
These sorts of places will give you a bed for the night in a basic dorm, but if you shell out a couple more dollars a night you can usually get a more polished affair. Think clean rooms, well-maintained shared spaces, and fun group activities. You might even get a free breakfast thrown in as part of the price of a bed for the night.
Of course, there are some luxury hostels too. These tend to be in more desirable locations such as in the heart of the city or opening up right onto the best beaches in Costa Rica.
For those of you who are interested in bunking up in a hostel in Costa Rica, here are a few for you to take a look at.
In The Wind Hostel and Guesthouse – This chilled hostel in San Jose is the perfect place to unwind during your city explorations. Run by travellers for travellers, rooms are clean and there's a free breakfast included. 
Pipe House Playa Grande – This super cool eco-friendly hostel, right by the beach in Tamarindo, shows that a bit of style in Costa Rica doesn't have to be expensive. You get your own pod set in a section of giant concrete pipe (better than it sounds) and access to a whole bunch of amenities.
Hostel La Posada – Also by the sea, this easygoing hostel in Santa Teresa is run by friendly staff. It's got its own swimming pool, bar, and a relaxing, surfy atmosphere. A firm favourite of travellers.
Airbnbs in Costa Rica
Airbnbs in Costa Rica has been offering low-cost travel for years now, and they also come with some of the best rooms in local areas.
The country has a lot of options on Airbnb, providing all sorts of travellers with a wide selection of amazing places to stay – from stylish rooms in a friendly local's house to large, multi-room jaw-dropping architectural masterpieces surrounded by nature.
With all that choice you can rest assured knowing there's something that suits your budget and travel type.
If you're someone who prefers privacy, vacation rentals in Costa Rica like those on Airbnb are a better option than hostels. You can find Airbnbs for as little as $40-100.
For independent travellers wanting to connect with the locals, booking into an Airbnb can be a dream. A private room in a local's house is usually cheaper than a night at a hotel, and you will also get access to a long list of useful amenities such as a kitchen and laundry facilities. Sometimes you may even have the use of a swimming pool!
So, if you're looking to save some cash on accommodation then you may want to consider an Airbnb for your trip. Not only can they help keep costs low, but Airbnbs also means you can get off the beaten track and see more of the real Costa Rica and connect with the local community.
Sound like something you might like? Take a look at this little round of Airbnbs in Costa Rica…
Beachfront Modern Home – This stylish Airbnb is all about its aesthetic credentials: think polished concrete, natural wood, and minimalist meets cottage-core interior design. The bonus? It's right on the beach.
Playa Hermosa Studio – Another beachside locale, this studio rental has everything you need for a stay overlooking the sea. Interiors reflect the tropical setting; guests also have access to a shared pool and yoga/lounging decks just steps from the surf.
Little Jungle Paradise – Surrounded by jungle, staying here means drifting off to sleep with your own natural soundtrack and waking up to toucans and other exotic birds. The beautifully curated space even has its very own private pool.
Hotels in Costa Rica
Hotels in Costa Rica vary dramatically depending on your budget. In fact, you might put off booking a trip if you're wondering whether Costa Rica is expensive, and then you take a look at what some of the prices hotels are charging per night. But don't worry: there are also some cheap and mid-range hotels to choose from, too.
You can expect to pay around $80 per night for budget-friendly hotels.
While hotels are the priciest accommodation option in Costa Rica, there are some advantages to paying a bit extra. For one thing, if you're not sure where to stay in Costa Rica you can always find a hotel in the heart of the cities or lining the golden sand beaches.
In fact, there are plenty of big resorts to opt for that charge some serious cash for the night, but they do usually come with all-inclusive amenities, so you might be able to save back on dining out.
There are also the more low-key hotels – these are the cheapest hotels but they lack in amenities. You may still be in a great beach-side location, but you won't see all the bells and whistles you get with Airbnb. Staying in a hotel in Costa Rica is primarily all about convenience over experience.
Here's a selection of some of the best hostels in Costa Rica.
Hotel Iguana Verde – Located in Orotina, this hotel is all about its peaceful ambiance. It's a chilled spot for families and couples and makes for a comfortable oasis away from the tourist trail. Amenities include an outdoor pool, onsite bar, and free breakfast.
San Rafael Ecolodge – This hotel allows you to soak up some beautiful natural surroundings during your stay. It's a little slice of paradise set in San Carlos, and a great alternative to the more touristed La Fortuna just down the road.
Hotel El Icaco Tortuguero – A classic beachside hotel, except situated in Tortuguero National Park. Think green turtle nesting grounds nearby, kicking back in hammocks, and cooling off in the sizeable pool.
Unique Accommodation in Costa Rica
There's a saying in Costa Rica: pura vida. While it literally means "pure life", it's used in a few different ways – sort of like "no worries", for example – but most famously it refers to Costa Rica's natural and environmentally-friendly credentials. Think organic food, eco-resorts, golden beaches, protected national parks and reserves, jungles, and mountains. It can't be beaten.
To enjoy the pura vida, you will want accommodation in the heart of it. That's where treehouses in Costa Rica come into play. In Costa Rica, a treehouse takes on a whole new meaning of the pura vida ethos as they are usually located right in the thick of a jungle, and often have eco-friendly practices – think rainwater storage, solar energy, wooden materials, and more.
Some treehouses are complete luxury, others are more basic, so with that they don't come at equal price. For something more basic, it's around $70 per night, while more high-end eco-lodges can cost around $150 per night.
If that sounds good already, just wait 'til you feast your eyes on these treehouses:
Treehouse with butterfly and exotic fruit farm – This Balinese-inspired take on a treehouse, this property is located a stone's throw from world-class surfing, eateries, and nightlife of Playa Hermosa and Playa Jaco. It's the perfect spot for relaxing and soaking up nature.
The Big Tree House – Views. If you're looking for views from up high, then this treehouse in Costa Rica is for you. The huge windows and spacious tree-height deck affords some incredible vistas down over the hills and to the sea. Bonus: there's a pool.
Rainforest Tree House with Hot Springs – With its authentic treehouse vibes, this place has been handcrafted and seamlessly integrated into the acres of the surrounding rainforest. Staying here is an amazing experience. There's even access to natural hot springs and forest trails nearby.
ESTIMATED EXPENSE: $0 – $50 USD per day
There's a varied selection of transport on offer in Costa Rica. So much so that it can seem pretty daunting trying to work out how to get from point A to point B without getting lost. The cost of it all depends on exactly what sort of transport you get: buses, 4X4s, trains, ferries, even charter flights are available.
The public transport in Costa Rica is generally pretty good, but depending on your budget, it can be even better; pay a little extra, and you'll be able to get yourself off of crowded local buses and into the air-con'd goodness of a shared private shuttle or a plush taxi.
Trains aren't that big a deal. Urban train lines in San Jose provide a way for commuters to get to and from work, and there are a few scenic tourist-oriented routes elsewhere in the country. But if you're planning a cross-country Costa Rican itinerary, it's not really possible to use trains.
Though it's not exactly the eco way to see a very eco country that is Costa Rica, domestic flights are a convenient way to cover as much ground as possible in a short amount of time. Not exactly cheap, however; and as for private charter flights, they're even more expensive.
Buses are the most convenient way to see the country, but they can be long and uncomfortable. They are generally cheap, depending on the distance and how "luxury" you want the bus to be.
Let's take a look in detail at public transport in Costa Rica, what it's like, and how much it's going to cost you.
Bus Travel in Costa Rica
Buses are one of the most popular ways to get around Costa Rica. With various types of buses and hundreds of routes in cities alone – not to mention regional buses – you'll be spoilt for choice when it comes to getting around by bus.
The main transit hub for any sort of travel in Costa Rica is San Jose, the capital. But it's not exactly centralised; regional bus companies have various terminals dotted all over the city, and there's no central bus station.
No matter where you are in the country though, there are two main choices of public bus: directo or colectivo. Directos, as you might be able to tell from the name, are a direct service, while colectivos have many more stops along their routes.
Buses can be crowded in Costa Rica – sometimes you can feel completely crammed in. They can take much longer than the planned schedule advertised, and won't always be on time, either.
Are they expensive? Not really. Prices start at around $1 and run to around $15.
For something more reliable, tourist shuttle buses will be your friend. These are more expensive, and more limited in their destinations, connecting up only the most popular tourist destinations. These are usually booked through your accommodation or a local tourist agency.
Five different companies (with great names) run the shuttle buses: Gray Line, Monkey Ride, Interbus, Tropical Tours, and Easy Ride.
Prices vary depending on which places you visit in Costa Rica, but generally cost upwards of $20. One example fare is the route from San Jose to the coastal village of Manuel Antonio, which costs around $50 via a shared shuttle bus.
Ferry Travel in Costa Rica
Costa Rica is a nation with a lot of coastlines. It straddles two different seas: the Caribbean and the Pacific Ocean. There are national parks stretching along these shorelines, with islands to visit and places like the stunning Peninsula de Nicoya to explore.
Ferries, then, really open up these natural hotspots. In fact, you literally won't be able to get to some of them without hopping on a boat; that's because sometimes there's no road access, sometimes it's just quicker, and sometimes, well, it's an island.
Boats also head up and down canals that run inland from the coast. These can be a little difficult to arrange, however, but tourists can book water taxis as a way to get around the waterways.
Boat travel in Costa Rica is of a fairly good standard. It's also pretty reliable in terms of time. One example is the Coonatramar ferry, which connects Puntareanas with Playa Naranjo, making several trips per day ($2; 1 hour 5 minutes).
Over on the Caribbean side, there are plenty of different options (e.g. the boat that links Cariari and Tortuguero via La Pavona, which costs $6).
Ferries generally don't make super long journeys but prove very helpful in connecting up these remote destinations for all your sightseeing, and nature-exploring needs.
Getting Around Cities in Costa Rica
Is it expensive in Costa Rica to travel around cities? Not really. There are so many different ways to get around – walking is one of them (which is free, obviously) – that you won't be trapped into paying over the odds for just one type of transportation system.
San Jose is the natural place to start. First and foremost, this bustling capital city is choc-a-bloc with bus routes. Buses are king here. The bus network can be a bit daunting to use at first. For many years, buses here were re-used old school buses from the US.
Nowadays, buses are a more polished affair in San Jose, although they're just as busy as ever. Most local buses will pick passengers up from wherever they hail them on the street, but there are also official bus routes and stops.
It's a cheap and cheerful way to get around, with bus journeys generally costing between $0.30 and $0.70.
And aside from San Jose, local buses can also be found mainly in Puerto Limon, San Isidro de El General, and Puntarenasand Golfito.
If you want to get around quickly, taxis are the best option. In San Jose, the taxis are easy to come by and usually fairly reliable. The capital's taxi fleet is metered; it's illegal for them to not have a metre. Fares cost upwards of $5.
Outside of San Jose taxis don't generally have metres, so you'll have to agree on a price beforehand.
If you prefer things more eco-friendly, then bicycles provide a good way to get around (surprisingly). There are a growing number of cycle paths available in San Jose, and the cycling scene is getting more popular, too.
Cycling is also a nice way to get around coastal towns and more out-of-the-way, tourist-focused destinations. The cost of hiring a bike for the day is $10-20.
Renting a Car in Costa Rica
For the adventurous traveller, car rental provides an awesome way to see Costa Rica at its best. There's some exquisite natural scenery to soak up along the country's many highways, incredible viewpoints, local roadside eateries to stop off at, and far-flung destinations to explore.
There's a huge amount of freedom that comes with having your own set of wheels, not having to rely on buses or any public transport. Simply throw your bags in the trunk and off you go.
It also can be pretty affordable, especially if you're travelling as a couple, a family, or in a group.
However, driving does come with some caveats. Roads in Costa Rica aren't always in the best conditions and, depending on the route, you'll probably have to invest in a 4X4 (especially during the rainy season). In fact, some places will insist that you opt for a 4X4.
Is Costa Rica expensive for car rental? Well, not always – prices can vary wildly. It can cost anywhere from $40 to $160 per day, and the cost is usually very dependent on exactly where you're renting it from. For example, you can expect to pay more if you're hiring a car from the airport. Obviously, during the high season (January through March), prices will also surge.
Other costs to factor in include insurance – it's mandatory that you get it from government-run Instituto Nacional de Seguros, even if you've got it at home – and fuel, of course. Fuel is around $1.48 per litre, but costs more in remote areas.
Want to save some cash and explore Costa Rica by rental car? Use rentalcar.com to find the best deal possible. There are some great prices on the site and they aren't difficult to find.
ESTIMATED EXPENSE: $10-$30 USD per day
Pura vida comes up a lot in Costa Rica, but it's perhaps best applied in the realm of food. The country's cuisine is all about fresh produce. Forget the fiery, spicy food you may associate with Central America: here it's fairly mild with the ingredients themselves being the star of the show.
Generally speaking, food is not expensive in Costa Rica. You can eat very well here for a fraction of the price it would cost you to eat only organic fruit and vegetables in your own country, no doubt about it (probably).
Tourist restaurants serve up pizza and hamburgers, but dig deeper: it's worth trying Costa Rican food. Try these morsels on for size…
Arrozo con pollo – A staple. Translating to chicken and rice, you'll see it everywhere; it's a lunch favourite. Look at the price, it's a good indicator of how expensive a restaurant is. Can cost between $2-15.
Casado – Casado is an all-around delicious dish that is basically a mini buffet. Usually based around rice, and comes with portions of black beans, plantains, salad, picadillo (fresh salsa) and chimichurri. Costs around $7.
Gallo pinto – This is leftover rice and black beans. Usually served at breakfast time with a side of scrambled eggs. Tasty, filling, national dish level cuisine. Priced around $4-7.
While these meals are fairly cheap in themselves, there are ways to make your gastronomic adventures around Costa Rica even cheaper…
Avoid tourist restaurants – Home comforts can be tempting, but they can also be expensive. Interestingly there's a big import tax in Costa Rica, so anything that's been imported – "international" cuisine included – is going to be expensive.
Cook your own stuff – If you're in a hostel or Airbnb, it just makes sense to prepare at least one of your daily meals for yourself. Picking up local ingredients and whipping them up into something just makes things cheaper. Plus hostels often come stocked with basic stuff like oil, seasoning, etc., making it extra convenient for all you cooks out there.
Stay at a hotel with a free breakfast – Breakfast is a filling experience in Costa Rica. It's not just a slice of toast and coffee, more like beans, eggs, fruit, bread, and rice. Opting for accommodation with this included just helps your budget go further.
Where to Eat Cheaply in Costa Rica
A few affordable dishes, check. Some decent tips on how to save money while eating well in Costa Rica, check. Now, how about some info on a few inexpensive establishments where you can get your fill and stay very much in budget?
Sodas – Not the drink, sodas are small local eateries that serve classic Costa Rican food. Meals are based around the traditional rice and beans foundation, with meats and salad on the side. A very filling meal will set you back around $5. Plus it's an authentic local experience.
Local markets – If you're in the market for browsing fresh produce, then a market is where it's at. At these places you can find fruits you've probably never seen before for low prices, as well as affordable snacks and sweet treats for journeys.
Go big on lunch – Lunch is more of a thing than dinner in Costa Rica, and there are often good deals and huge portions involved. That means you can fill up at lunchtime and have a snack or a lighter meal for dinner.
And when you're looking for snacks or produce to make your own meals with, then – if you're not heading to markets (which can be a daunting experience, I'm not going to lie) – it's all about supermarkets. Here are the cheapest supermarkets in Costa Rica…
Walmart – Yes, the US chain has made it over here. You can find it everywhere. There's a good mixture of value and selection of products. They also own other stores such as MasXMenos, Pali and Maxi-Pali.
Auto Mercado – Popular with expats, this chain has an amazing selection of food. The variety really is impressive, and you're unlikely to find much of what they stock elsewhere. They have discounts on Wednesdays and Fridays.
ESTIMATED EXPENSE: $0-$20 USD per day
Is alcohol expensive in Costa Rica? Answer: it can be. Surprisingly, having a few alcoholic beverages on an evening can really eat into your budget here. The key is knowing what brands to go for, where to buy them, and what establishments to drink at or avoid.
For example, in a supermarket, you can expect to pay an average of around $10 for a bottle of wine. In a restaurant, it's $5-10 for a glass of wine. A beer at a restaurant costs approximately $2-4, while a spirit with a mixer (or a cocktail) can cost at least $10.
If you're looking for a few local tipples to try on a trip to Costa Rica, make sure you sample these two:
Guaro – This is the national liquor, a rum-like spirit distilled from sugarcane. Ranges between 30-35% ABV (but can be stronger). It's cheap and popular. One interesting way to try it is in the form of a Bloody Mary-esque shot called a chili guaro.
Imperial – This is one of the most popular local beers. First brewed in the 1930s, and based on a Bavarian-style pilsner, it's not super cheap but it's one of the best beers you're going to find in Costa Rica. Priced at around $1.90 per bottle.
The easiest way to make drinking alcohol cheaper in Costa Rica – at least while you're out and about – is to head to restaurants and eateries touting happy hours. These restaurants may not be the ones you'd usually want to eat at, but with 2-for-1 or half-price deals on cocktails and other drinks, they're good places to kick off an evening.
ESTIMATED EXPENSE: $0-$35 USD per day
With an eye-popping amount of natural scenery to explore – from beaches and coastal nature reserves to volcanoes and rainforests – Costa Rica makes for an incredible destination for those who love the great outdoors. There's culture, of course, but nature takes centre stage here.
The jewel in the crown is the truly impressive Arenal Volcano National Park. Rising up out of a jungle canopy like a Central American Mount Fuji, the volcano is surrounded by a rich treasure trove of flora and fauna.
Hiking up the volcano, or through the park, as well as soaking in hot springs, horseback riding, ziplining, and visiting butterfly gardens are all part of the experience of visiting this national park.
However, this and other national parks throughout the country do come with a price. Arenal Volcano National Park, for example, costs $15 (plus tax) to enter. Other national parks charge the same, including Rincon de la Vieja National Park and Irazu Volcano National Park.
Other activities outside national parks, such as surfing, will also have costs attached, either for lessons or surfboard hire. So you'll need to factor this into your budget and do some research ahead of travel.
Whatever you choose to do in Costa Rica, here are a couple of tips to help keep things within budget during your trip:
Not all national parks charge admission – While you'll have to factor in the cost of entrance into the big-hitter national parks, not all of them charge the same amount. Some, such as Cahuita National Park among others, are free, while others are cheaper; Parque Nacional Marino Ballena has a $6 entrance fee, for example.
Hit the beach – Unless they're in a national park that charges admission, beaches in Costa Rica are free. That means you can spend your days soaking up the sun on some prime stretches of sand lapped by turquoise seas without spending a penny.
Check out the churches – It's not all about nature in Costa Rica. Being a Catholic country with a long colonial history, the nation features more than one historic city core, each of which has at least one church or cathedral. Many of them are free to enter or require a discretionary donation, but they're all pretty much stunning.
So far, it's not looking as though Costa Rica is overly expensive, right? There are a few big things to factor in, of course – unavoidable costs like your flight and accommodation – but apart from that, travelling around Costa Rica, eating well, and even seeing the sights is very doable on a budget.
However, there are also unforeseen costs to add to your budget, too. These can range from low-cost things – luggage storage, a postcard, small souvenir – to things that could be more expensive, like a spur-of-the-moment stay at a fancy hotel because you've had enough of hostels.
For these sort of things, I'd say set aside 10% of your overall budget.
Another thing to consider is…
Tipping in Costa Rica
You might think tipping would be a big thing in Costa Rica, but it's actually not part of the country's culture to tip here, there, and everywhere.
Unlike in the US, where tipping is expected and is part of the culture, in Costa Rica tipping is more for good service received at restaurants or on tours.
However, in more touristed areas, tipping is more prevalent. For example, you might notice a tip jar on the desk at hotels and cafes. For these, generally speaking, leaving the small change from a purchase would be appreciated, but it's by no means mandatory. Note that you tip in colones, not US dollars.
You won't be expected to tip in restaurants. A service tax at restaurants is usually included in the bill (usually around 10%). If you feel like you want to leave something because you've had a good experience, then leaving around another 10% of the total bill for the waitstaff is fine.
It's not really the done thing to tip in bars. Again, in more touristed areas, you'll see the service charge added when you pay for drinks in more swanky bars.
If you've been staying at a hotel and you've received great service from the housekeeping staff, then a few dollars' worth of colones would be much appreciated. The same goes for bellhops and concierge services.
For drivers of taxis and shuttle buses, you can give them a tip if you want; a good rule of thumb is to round up to the nearest hundred colon.
You can leave around $5 per person for private tour guides who you think have done a great job. But again, if you don't want to, don't feel like you have to.
Get Travel Insurance for Costa Rica
You may not be thinking that travel insurance would be part of your budget for travelling to Costa Rica, but this might be the time to consider factoring it in. Because who knows what's around the corner; for example, everyone remembers what happened to the world of travel and hotels in 2020…!
Granted, not all scenarios are going to be that serious, but going without a care in the world and having no travel insurance could quite easily make a trip to Costa Rica expensive. It could be lost luggage or having to rebook a flight for whatever reason, but these things can add up.
ALWAYS sort out your backpacker insurance before your trip. There's plenty to choose from in that department, but a good place to start is Safety Wing.
They offer month-to-month payments, no lock-in contracts, and require absolutely no itineraries: that's the exact kind of insurance long-term travellers and digital nomads need.
SafetyWing is cheap, easy, and admin-free: just sign up lickety-split so you can get back to it!
Click the button below to learn more about SafetyWing's setup or read our insider review for the full tasty scoop.
Last but not least, here are some final tips to make sure you stick within your budget and keep your bank balance looking positive on your Costa Rica jaunt…
Visit at low season – High season might be the dry season, but if you can stand the rain and the humidity, visiting during low season (i.e. the cheapest time of year) is going to save you money. Pretty much any time from May through August, and also November, is going to be cheaper for accommodation, tours, car rental and even flights.
Eat local – You're on holiday, so why eat what you eat at home? Visiting Costa Rica is your chance to try a whole load of amazing local and regional foods – the sort of thing that would probably cost three or five times as much back in your home country. Avoid restaurants at hotels and in heavily touristed areas; you'll see them a mile off.
Visit free attractions – Everything from national parks to historic churches can be visited freely. Beaches are also free (if they're not in national parks). Even hot springs, along the Tabacon River, are free to soak in. You really don't need to shell out the big bucks to experience the wealth of culture and nature in Costa Rica.
Travel in a group – If you travel with your family or friends in the first place, splitting the cost of Airbnbs, hire cars and even private transport can make the trip so much more affordable for everybody involved.
Use the local currency – You won't always get a good exchange rate if you pay in US dollars; in fact, you probably never will. Things will be cheaper, and also – surely it's just good manners to pay in colons where you can.
In general, no. Costa Rica isn't a country that I'd call expensive. There are ways to make it pricey, of course – eating at tourist restaurants, getting a tour at every given opportunity, always using private transport (or worse: chartering a plane) – but it really doesn't have to be.
You can have an amazing trip in Costa Rica without spending too much money – and without skimping out on comfort.
But if you scoff at comfort, and you really stick to the budget-friendly accommodation, the cheap local eats, and doing free activities as much as you can, it is also possible to travel Costa Rica on a shoestring.
What we think the average daily budget for Costa Rica should be:
In general, if you stick with all the money-saving tips mentioned in this guide, your average daily budget for Costa Rica should be in the realm of $100-$150.
---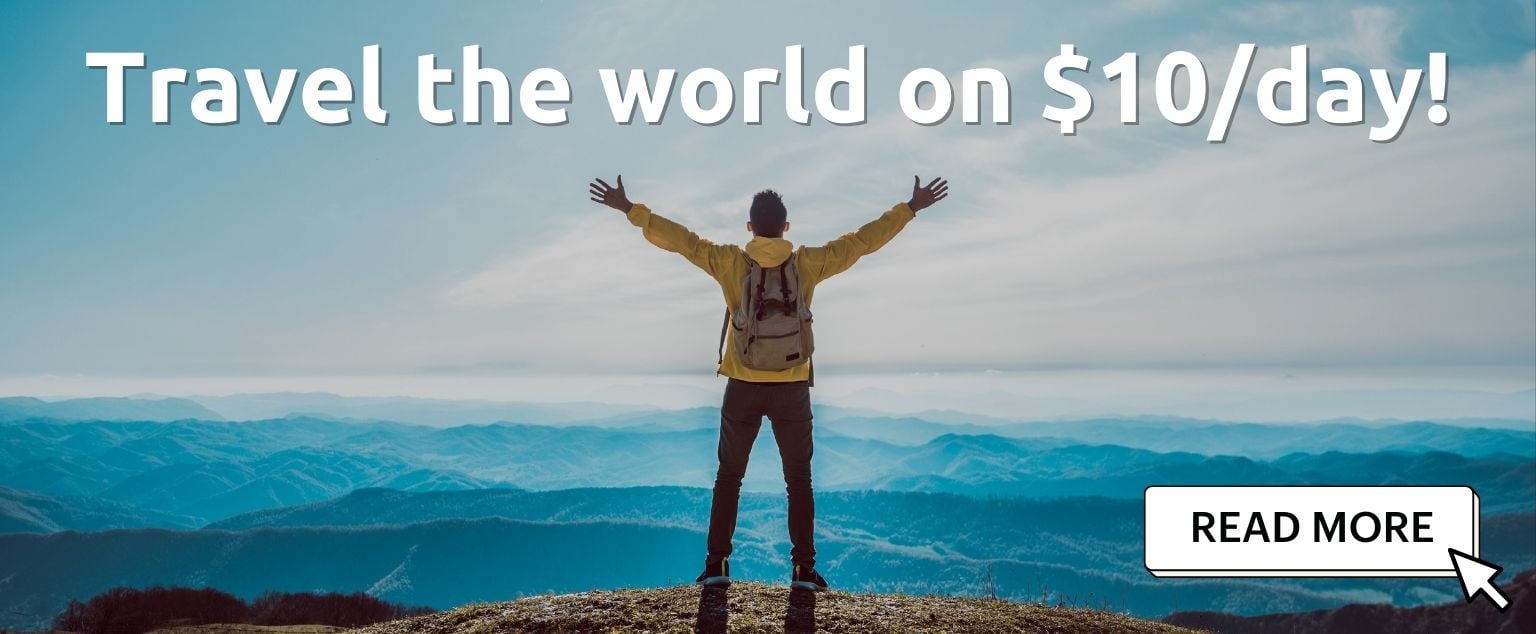 And for transparency's sake, please know that some of the links in our content are affiliate links. That means that if you book your accommodation, buy your gear, or sort your insurance through our link, we earn a small commission (at no extra cost to you). That said, we only link to the gear we trust and never recommend services we don't believe are up to scratch. Again, thank you!