Costa Rica is one of the most biodiverse countries in the world. It's full of lush forests, postcard-worthy beaches, volcanic landscapes, and oceans perfect for surfing and diving.
The local population values this abundance of natural beauty. This respect translates to providing eco-friendly accommodation, which is designed to have the smallest environmental impact possible. From beach cabins to glamorous villas and treehouses, there's a huge variety to choose from.
The best eco-lodges in Coast Rica use solar power, rainwater collection tanks, and locally sourced or sustainable building materials. To help you find the best eco-lodge travel needs, we've listed all the best options here.
In a Hurry? Here's Where to Stay in Costa Rica for One Night
FIRST TIME IN COSTA RICA
Garden of Eden: Fuego
This Balinese-inspired stone and wood bungalow is hidden in the jungle in Ojochal in Costa Rica. Offering ocean and forest views, the eco-lodge is a peaceful retreat with easy access to some of the country's best beaches.
Places to visit:
Diamante Verde Waterfall
Dominical Beach
Cola de Ballena Beach
Is this amazing Costa Rica Eco Lodges booked for your dates? We've got your back with our other favorite properties below!

Unlock Our GREATEST Travel Secrets!
Sign up for our newsletter and get the best travel tips delivered right to your inbox.
Why Stay in an Eco-lodge in Cost Rica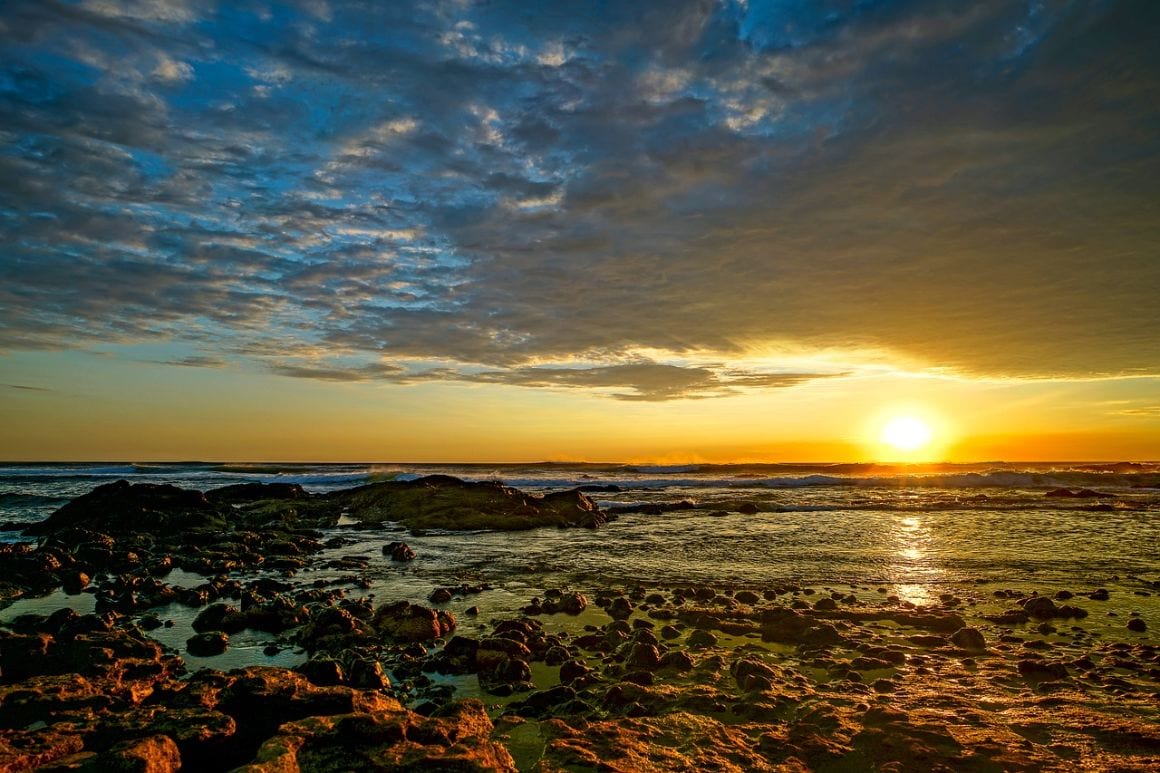 Costa Rica is arguably one of the most beautiful destinations in Central America. So, it's fitting to choose the accommodation that allows you to properly experience the natural wonders in a sustainable manner.
Travelers are becoming increasingly aware of their impact on the environment. At the same time, many countries are investing in ways to accommodate travelers in a more eco-friendly way.
Costa Rica is very focused on the preservation and conservation of its natural resources. It's created various options for travelers who want to respect locals, the wildlife, and the planet. Eco-lodges in Costa Rica are popping up everywhere, so everyone can play their part.
What is an Eco-lodge?
An eco-lodge is any accommodation that strives to minimize its impact on the planet and the local population. Some use solar power and collect rainwater, others use eco-friendly products and support local communities.
While this is still a relatively new concept, it is growing in popularity. Eco-lodges will vary in their initiatives, but at the core of each is a desire to protect the environment, local people, and culture. So, as a traveler, you'll know that you're making a positive contribution to the greater good.
OVERALL BEST VALUE ECO-LODGE IN COSTA RICA
OVERALL BEST VALUE ECO-LODGE IN COSTA RICA
Garden of Eden "Fuego"
> $
> 2 guests
> Live in harmony with nature
> Peaceful eco-cabin in the heart of the jungle
BEST VALUE ECO-LODGE IN COSTA RICA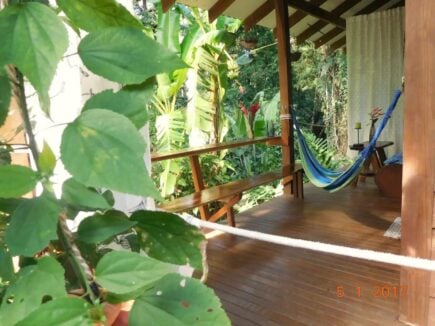 BEST VALUE ECO-LODGE IN COSTA RICA
Casa Lina Eco Lodge
> $
> 2 guests
> Affordable cabin without sacrificing comfort
> Treehouse living
BEST ECO-LODGE FOR COUPLES
BEST ECO-LODGE FOR COUPLES
Glamping Tent
> $
> 2 guests
> Glamping at its best
> Spectacular views and jungle chorus
MOST ECOLOGICAL ECO-LODGE IN COSTA RICA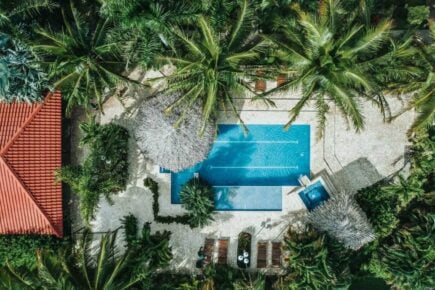 MOST ECOLOGICAL ECO-LODGE IN COSTA RICA
Drift Away Eco Lodge
> $$
> 5 guests
> Built using recycled and naturally sourced materials
> Biodegradable and natural cleaning products and toiletries
OVER-THE-TOP LUXURY ECO-LODGE
OVER-THE-TOP LUXURY ECO-LODGE
Villa Tropical
> $$$$
> 9 guests
> Eco-living without sacrificing style
> Secluded hillside villa
BEST ECO-LODGE FOR FAMILIES VISITING COSTA RICA
BEST ECO-LODGE FOR FAMILIES VISITING COSTA RICA
Casa Limoncillo
> $$$
> 10 guests
> Chemical-free salt-water pool
> Authentic Costa Rican living
BEST ECO-LODGE FOR BACKPACKERS
BEST ECO-LODGE FOR BACKPACKERS
Corcovado Ecolodge de Dos Brazos de Rio Tigre
> $
> 16 guests
> Newly built ecotourism community centre
> Perfect stop for hikers, campers, and backpackers
The Top 15 Eco-lodges in Cost Rica
We've listed the best eco-lodges in Costa Rica to help you find one that best suits your budget and needs. Whichever one you go for, you can rest easy knowing you're doing your part in protecting everything around you.
Overall Best Value Eco-lodge in Costa Rica – Garden of Eden "Fuego"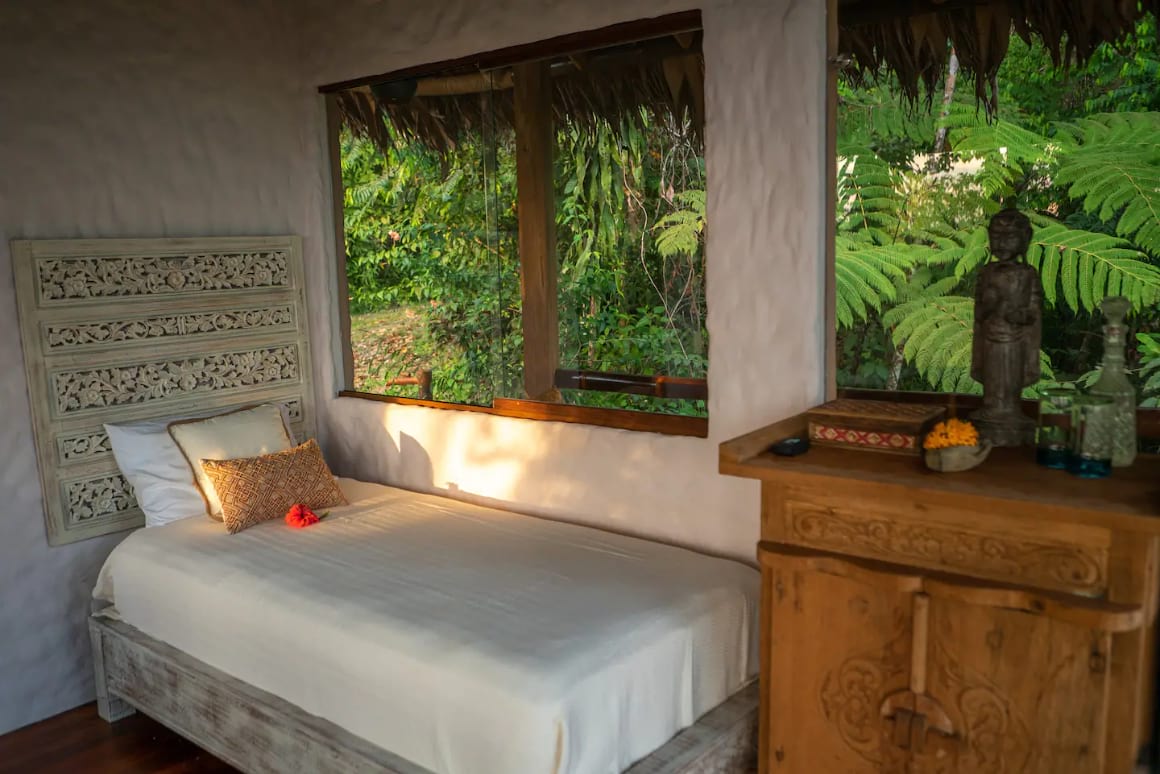 $
2 guests
Live in harmony with nature
Peaceful eco-cabin in the heart of the jungle
The Garden of Eden eco-village is home to a community of environmentally conscious residents living in harmony with the land. The Balinese-inspired Fuego bungalow is surrounded by verdant jungle, features both forest and ocean views. Guests can also enjoy the sounds of the river and over 400 species of birds.
Activities include jungle trekking, swimming in pristine waterfalls, yoga, meditation, and massage all on or near the property. A short drive takes you to some of the most beautiful beaches in Costa Rica. Here, you can surf, spot whales and dolphins, or canoe in the mangroves.
$
2 guests
Affordable cabin
Treehouse living
This eco-friendly treehouse in Costa Rica offers a pared-back style without sacrificing comfort. Surrounded by lush jungle, this hand-built wooden cabin features a spacious terrace overlooking a small river and verdant jungle foliage. On the property, you'll find a garden sprawling with fruit trees and tropical flowers.
Spend your days relaxing in a hammock or doing yoga on the deck. If you want to explore, you can hire a bicycle and visit local restaurants, bars, and a supermarket. The beach is also right nearby, as well as mountains and protected waterways.
Best Eco-lodge for Couples – Glamping Tent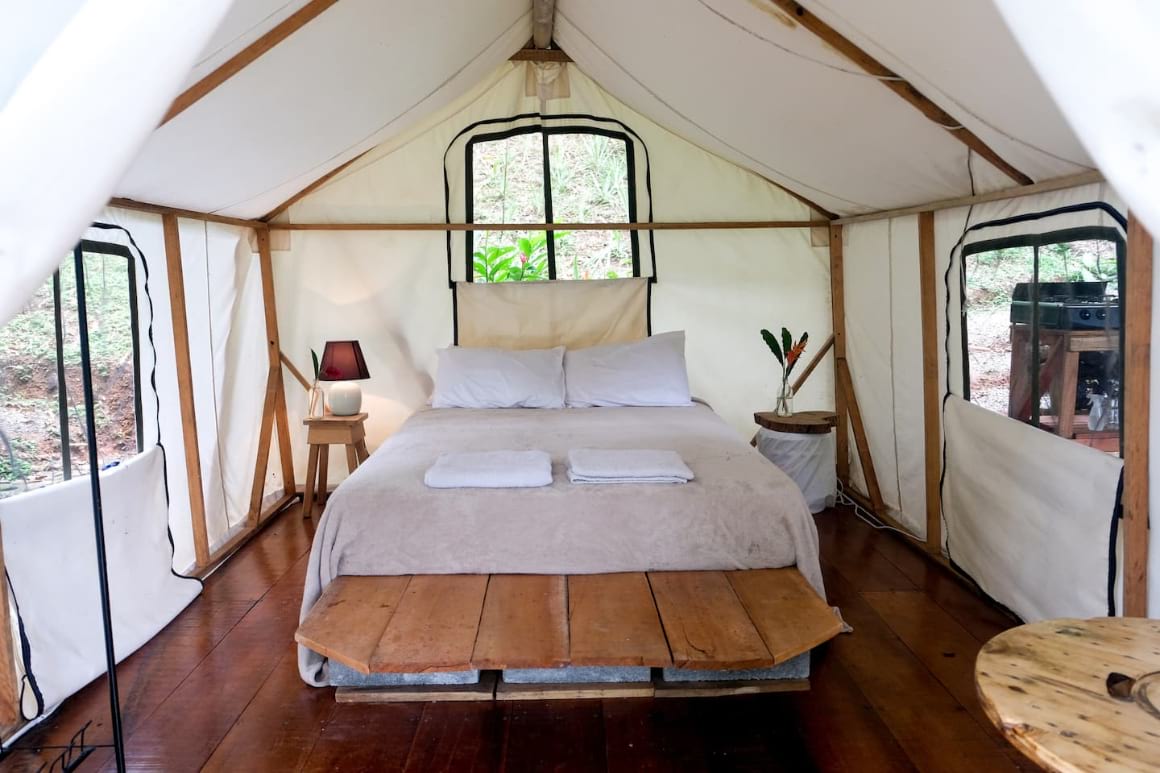 $
2 guests
Glamping at its best
Spectacular views and jungle sounds
Set high on a ridge overlooking the San Juan de Dios Valley, these tents offer luxurious accommodation while still being close to nature. There's also a private patio with a hammock – perfect for kicking back and enjoying the sounds of the jungle.
Nearby, you'll find permaculture gardens, orchards, and hiking trails through the 30-year-old reforestation project. The area is known for its exquisite waterfalls and pools which you can explore on your hikes.
Most Ecological Eco-lodge in Costa Rica – Drift Away Eco Lodge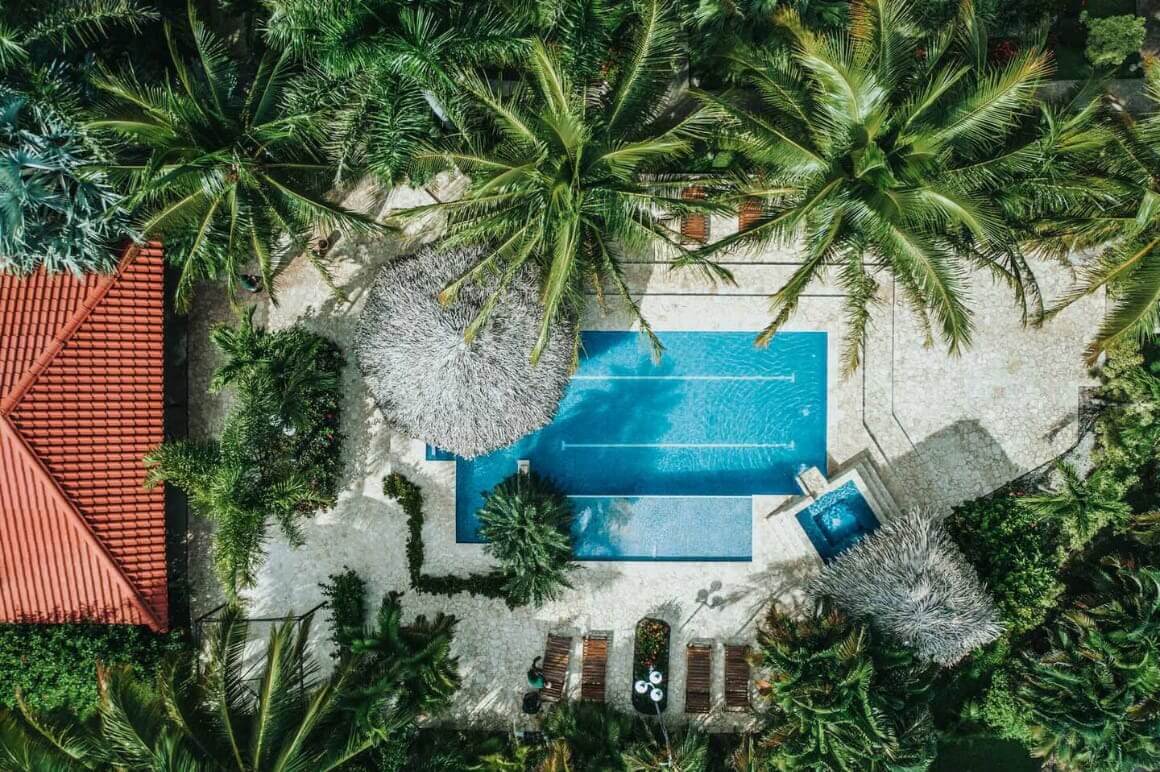 $$
5 guests
Built using recycled and naturally sourced materials
Biodegradable and natural cleaning products and toiletries
Ideally located in a tranquil area, Drift Away Eco-lodge is a palm-fringed paradise for ocean lovers. It's close to the Plata Lagartillo beach – ideal for those wanting to go swimming or surf in the ocean.
The pool has a unique filtration system allowing for the use of fewer chemicals. Water and electricity conservation measures are also in place, but won't impact the guest experience. This place is perfect for families or groups looking to travel sustainably.
An Eco-Friendly Traveller NEEDS an Eco-Friendly Backpack!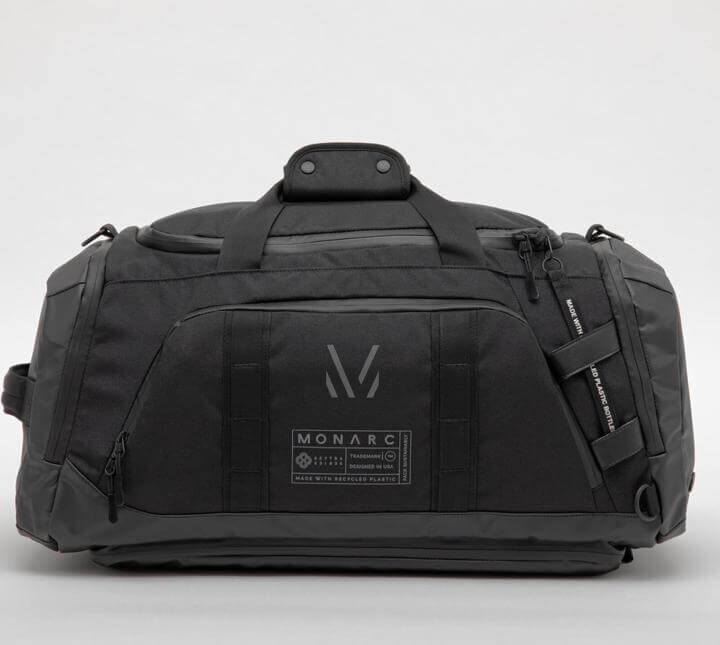 50 recycled plastic bottles – that's what goes into every Monarc Settra: the world's MOST SUSTAINABLE backpack.
Whether you're rocking duffel mode or backpack mode, if you're a traveller that gives a flying hoot about their environmental impact, then there's only one backpack you should consider – the plastic-negative Monarc Settra.
Learn More Now!
Over-the-Top Luxury Eco-lodge – Villa Tropical
$$$$
9 guests
Eco-living without sacrificing style
Secluded hillside villa
This contemporary Airbnb in Costa Rica sits between the lively seaside town of Tamarindo and the quiet beaches of Playa Flamingo. Exquisite interiors offer a chic space to relax, enhanced by the half basketball court, infinity pool, and sprawling lawns. A chef and masseuse are optional.
Solar heated water is recycled and used for the gardens. All light bulbs are energy-efficient LEDs, and the open-plan design used the cool mountain breeze as a natural A/C system.
Guests can access the nearby golf course, go snorkeling, diving, and fishing, as well as stand-up paddleboarding and hiking. Tamarindo is the perfect place to enjoy a night on the town at one of the many restaurants and bars.
Best Eco-lodge for Families visiting Costa Rica – Casa Limoncillo
$$$
10 guests
Chemical-free salt-water pool
Authentic Costa Rican living
This family-friendly eco-lodge in Costa Rica sits on the edge of the jungle just outside vibrant Tamarindo. It offers a shared outdoor area with a fire pit, roofed lounge area, and salt-water pool. At night, you'll get some of the best stargazing around.
In addition to an incredible jungle gym with a climbing wall and trampoline. Away from the property, you'll have access to great surfing beaches, a national park with exceptional wildlife, and restaurants.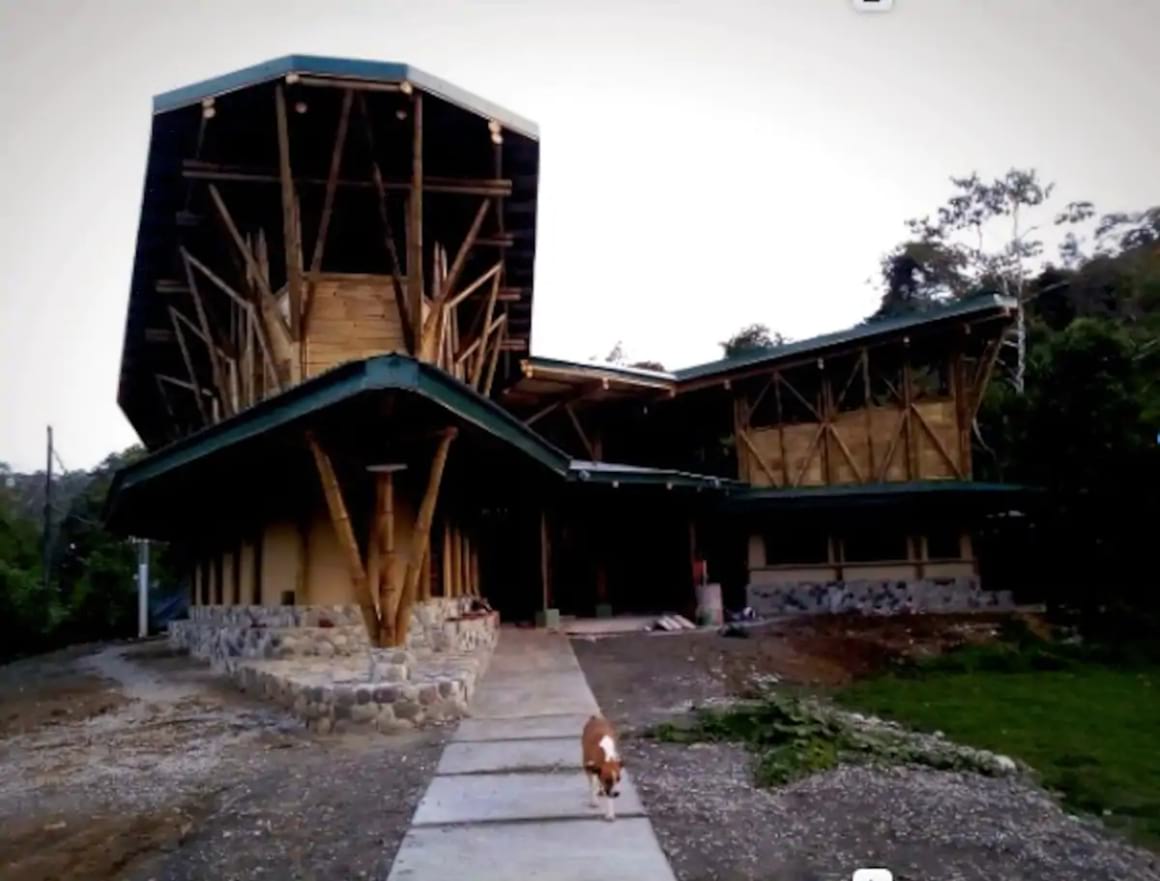 $
16 guests
Newly built ecotourism community center
Perfect stop for hikers, campers, and backpackers
Built to complement the natural landscape, this community center is perfect for those backpacking Costa Rica on a budget. On-site, there's an information center where staff can help you plan your travel itinerary. The center offers meals and modern amenities, and you'll be sleeping in tents in a community of guests.
The lodge sits in the Corcovado National Park, so you'll have plenty of single and multi-day hikes to try. Other activities include night tours, gold mining tours, horseback riding, cooking classes, and many more cultural and adventure activities.
Amazing Luxury Eco-lodge in Costa Rica – Turquoise View Villa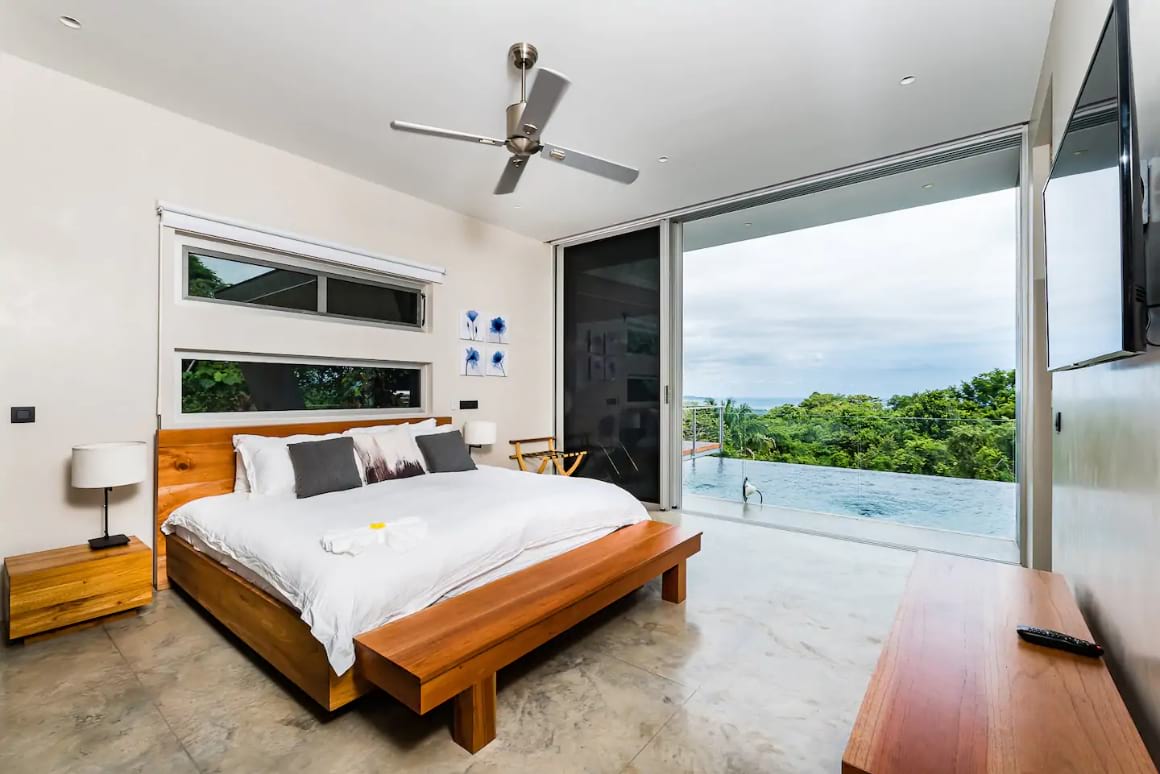 $$
9 guests
Energy-efficient appliances
Expansive designer villa with state-of-the-art finishing
This modern villa has been consciously created to blend in with the surrounding landscape while offering luxury amenities. From the exquisite kitchen to the private infinity pool, every detail has been thoughtfully considered.
In addition to supporting local communities through the management agency, this property features energy-efficient appliances and design. Eco-friendly and cruelty-free cleaning products and toiletries are provided.
Guests can enjoy private beach club access at Playa Azul, zip-lining, and canopy tours. If that's not enough, there's snorkeling and paddleboarding, surfing, and a nearby turtle nesting refuge to discover.
Best Eco-lodge for a Weekend in Costa Rica – 3 Bamboo Eco Lodge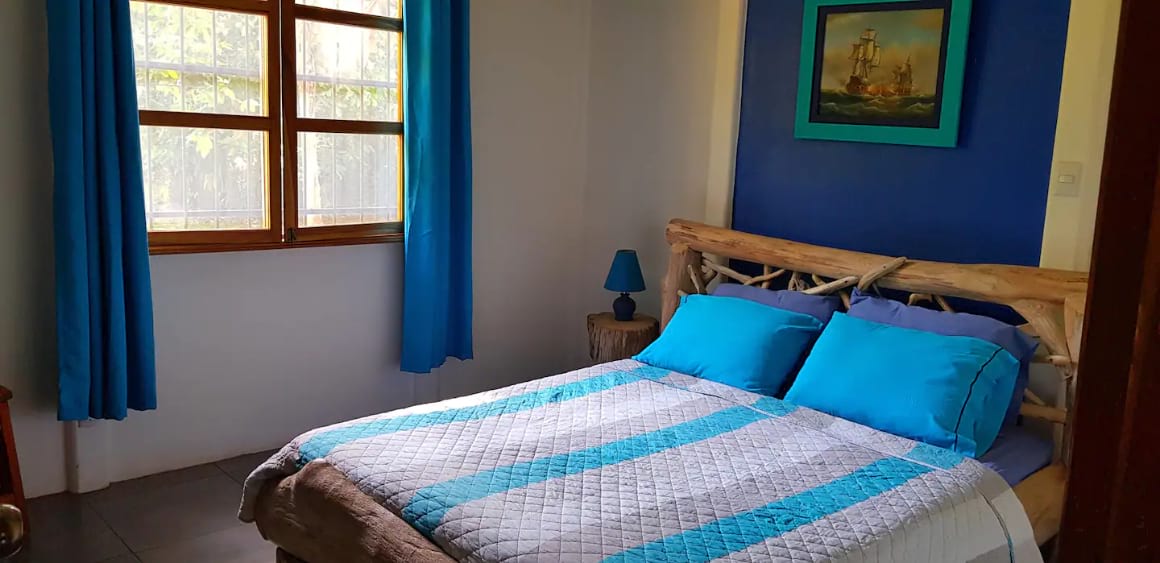 $
6 guests
Eco-friendly products and wildlife-friendly setting
Centrally located ecolodge, perfect for couples and families

Situated just three kilometers from the beach at Cahuita, this eco-lodge is tucked amid a leafy tropical garden that is frequently visited by wildlife. The house features a private terrace, as well as a shared pool and hot tub. Closeby, you'll have shops, restaurants, and bars.
Out of respect for the wildlife, the garden is not lit up at night to allow the animals to pass through undeterred. The rooms are cooled by fans instead of aircon, and are comfortably furnished.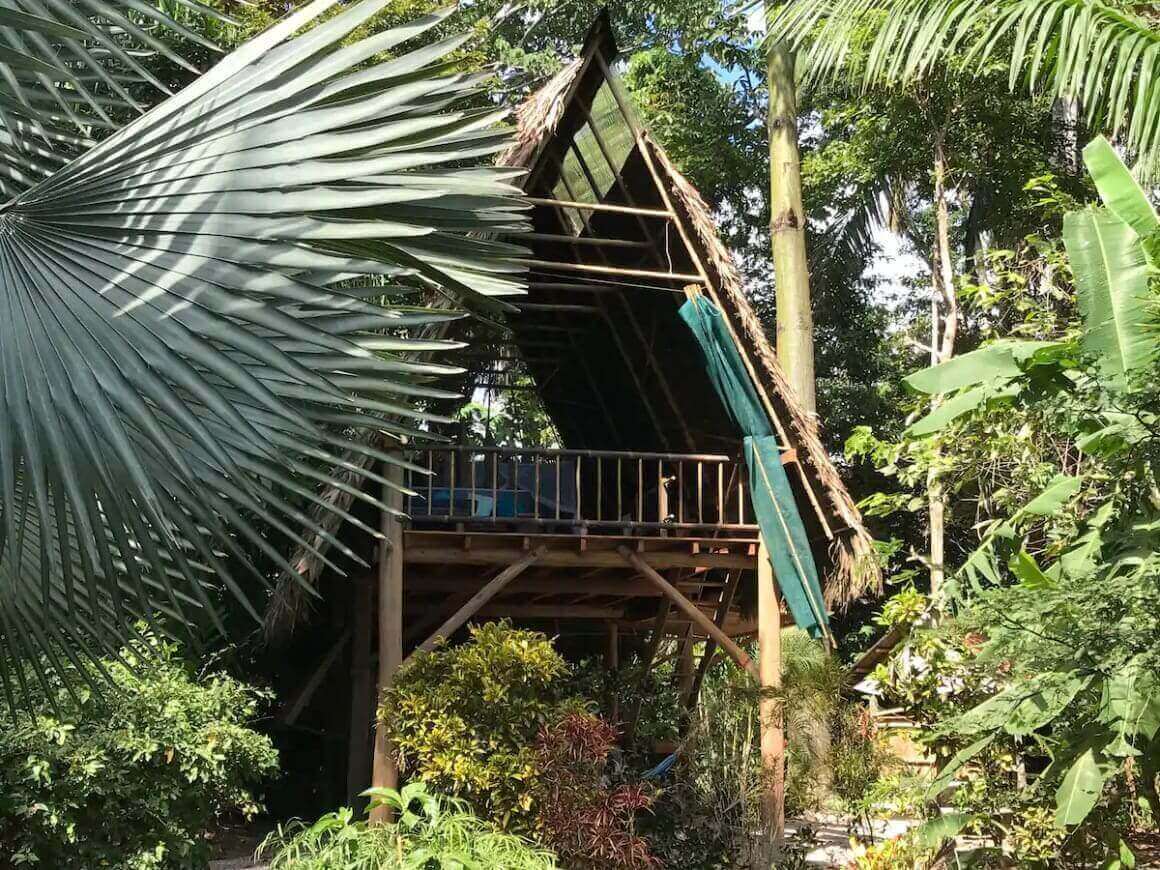 $$
4 guests
100% off-grid property using solar energy only
Elevated treetop cabin overlooking the beach
Located in a remote corner of the Osa Peninsula, the Ojo del Mar beach house is a two-storey treetop cabin. Hidden by tropical foliage and overlooking a pristine stretch of beach, the resort offers travelers a slice of paradise.
This eco-cabin is built entirely from local materials and powered only by the sun. There's an on-site pool for guests, and the beach is a stone's throw away. Thanks to the epic location, you'll be surrounded by the sounds of the birds, monkeys, and the ocean.
Another Great Eco-lodge with an Epic Location – Casa Roja
$$
8 guests
Off-grid living in paradise
Remote and private wilderness retreat
Located on the northern tip of the Osa Peninsula, Casa Roja is an off-grid wellness retreat accessible only by a private boat. Everything you'll need for a comfortable stay is provided for you, including food sourced either from the property or local farms.
A private guide will take you on jungle hikes, waterfall tours, visits to private beaches, and secluded snorkelling spots. You'll also get the chance to go whale and dolphin spotting and explore the mangroves, among many other unique activities.
Best Eco-lodge for Views – Casa Sol
$$
2 guests
Sustainably built open-air bungalow offering 360° views
Jungle-meets-beach location
The unique indoor-outdoor living concept at Sola Vista Eco-lodge offers guests panoramic views from just about anywhere in the bungalow. Overlooking the ocean and the jungle, it's located in a biologically diverse area of Costa Rica. You'll be able to spot plenty of native wildlife here.
Fishing, swimming, and horseback riding are just some of the activities on offer, in addition to surfing and yoga. The peaceful village of Punta Banco is a short walk away, where you'll find a small grocery store and a restaurant.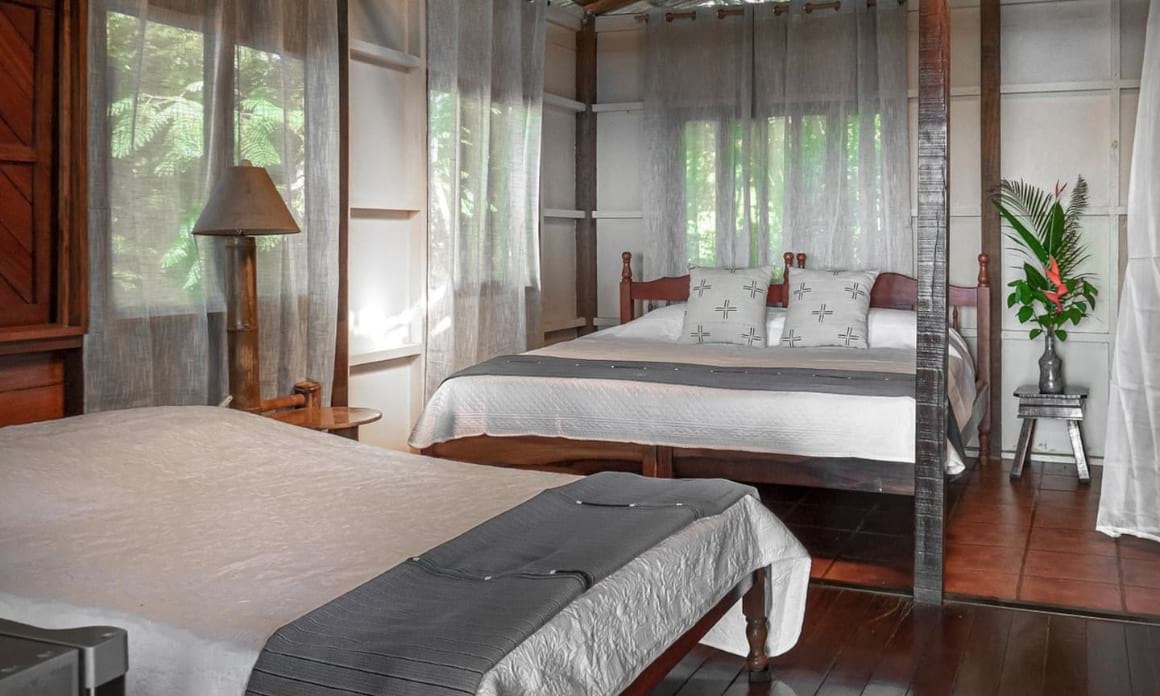 $$
4 guests
Eco-friendly home-away-from-home
Forested hillside location with magical views
Perched high on a hillside among dense foliage, the aptly named Pacific Edge offers views of the waves and the shoreline stretching off into the distance. The property features a pool, patio area, and two look-out towers where guests can enjoy the amazing views.
An on-site art gallery offers guests the chance to purchase local handicrafts, art, and jewelry. A portion of all proceeds goes back into the community and to local charities. Activities here include surfing, snorkeling, kayaking, horse riding, and even zip-lining.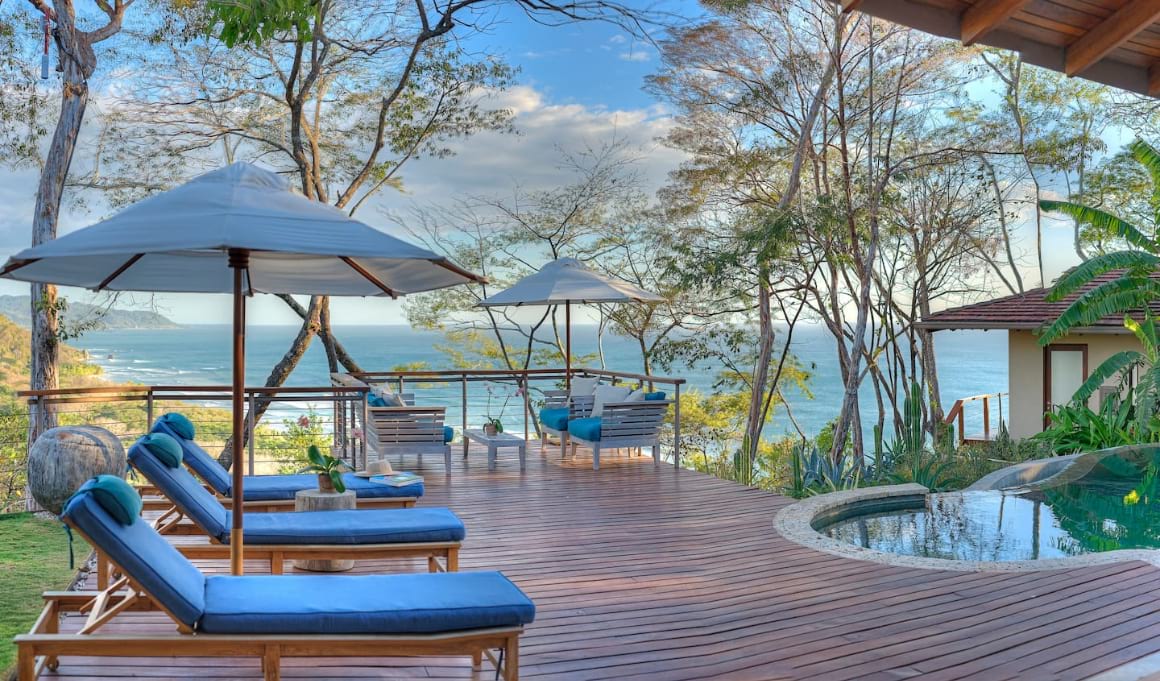 $$$$
12 guests
Mountainside villa in a private location
Indoor-outdoor living in tune with nature
The gorgeous Rancho Cielo is located on a scenic mountainside overlooking the Playa Hermosa in Santa Teresa. This out-of-the-way location offers guests privacy and tranquillity in a luxurious setting.
From the infinity pool to the spacious interiors, the villa offers an environmentally conscious experience without compromising on luxury. Spend days enjoying the views from the pool, or put on your hiking boots and head off on one of the many jungle trails.
If you're interested in staying in this area but you're on a backpacker budget, then check out the best hostels in Santa Teresa.
Another Beautiful Eco-lodge in Costa Rica – Pura Vida Eco-lodge
$$$
7 guests
Award-wining eco-lodge in a gorgeous location
Panoramic sea views and beautiful architecture
Pura Vida Ecolodge offers a luxurious retreat overlooking the jungle canopy and offering panoramic sea views. The house offers exceptional chic design and top-of-the-range (but eco-friendly) amenities. It runs on solar panels and uses water direct from the source in the mountain. It's even got a rainwater catchment system to minimize its impact on the environment.
When you're not relaxing at the base, there are plenty of jungle walks to discover and beaches nearby. A short drive will get you to national parks Corcovado and Manuel Antonio, some of the coolest places to visit in Costa Rica. There's a concierge service to assist with arranging activities such as kayaking, snorkeling, scuba diving, and more.
Don't Forget Your Costa Rica Travel Insurance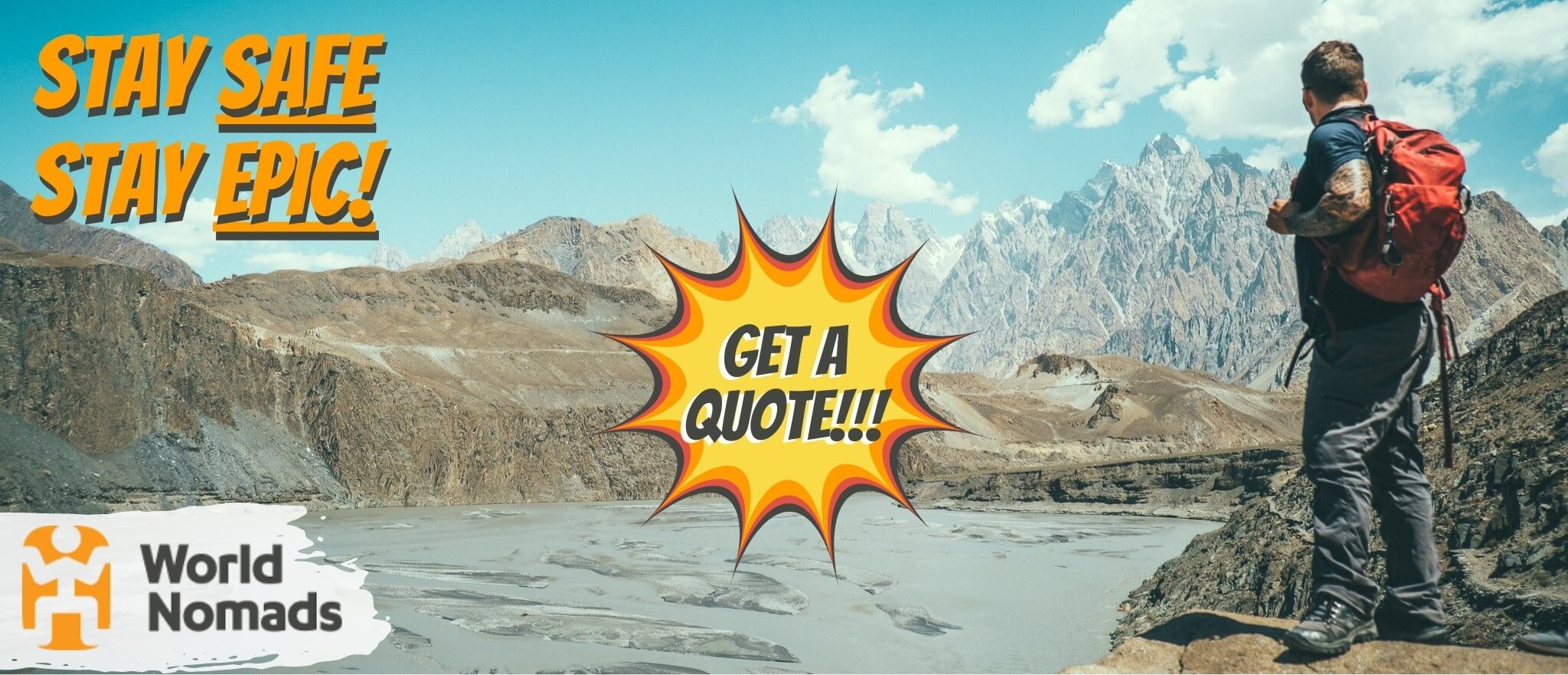 World Nomads' mission is to support and encourage travellers to explore their boundaries. They offer simple & flexible travel insurance, and safety advice to help you travel confidently.
They've been doing it since 2002 – protecting, connecting, and inspiring independent travellers just like you.
Get a quote below or read our in-depth review!
World Nomads provides travel insurance for travelers in over 100 countries. As an affiliate, we receive a fee when you get a quote from World Nomads using this link. We do not represent World Nomads. This is information only and not a recommendation to buy travel insurance.
Final Thoughts on Eco-lodges in Costa Rica
Costa Rica is the leader of the pack when it comes to eco-travel, and the options are seemingly endless. There's a bounty of unique accommodation in Costa Rica to choose from, and by now you'll have seen 15 of the best options out there.
In a country sandwiched between two oceans and offering a wealth of natural resources, it's no surprise that there's a strong desire to respect the environment. No matter which one of these eco-lodges in Costa Rica you pick, you'll be playing a part in preserving the natural surroundings.
---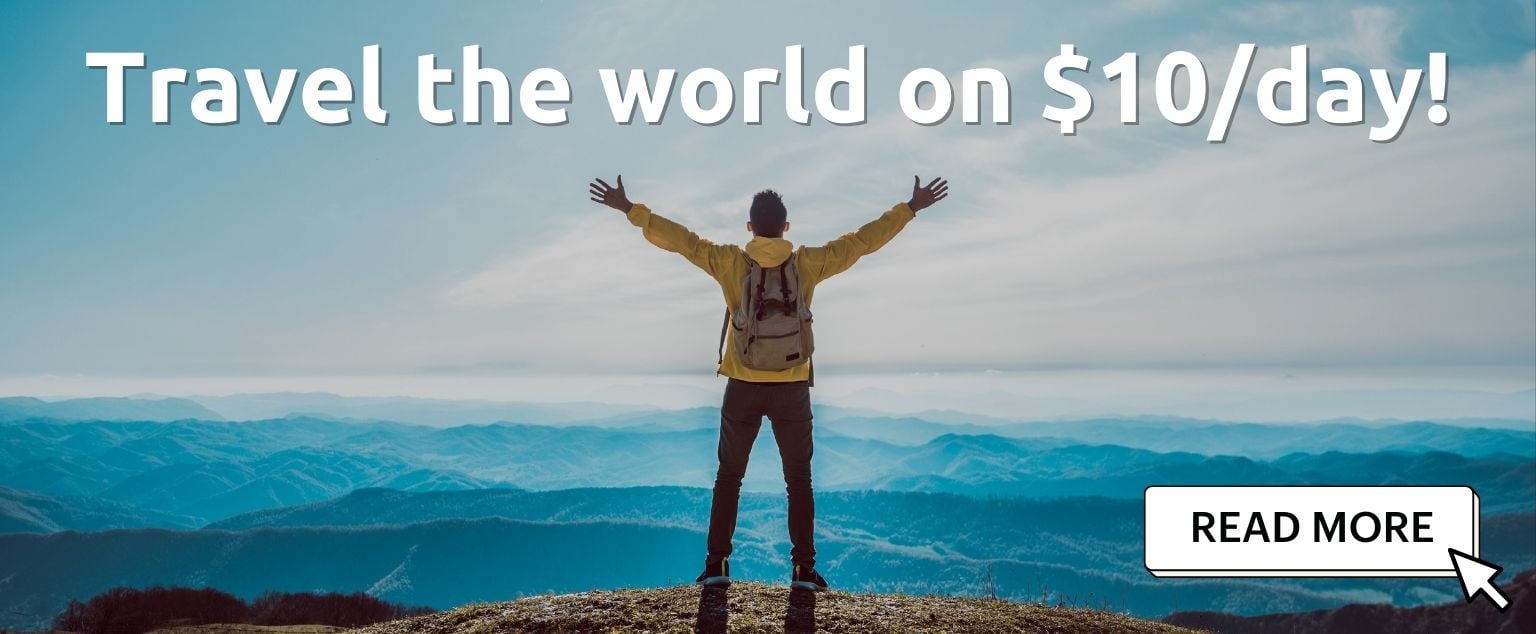 And for transparency's sake, please know that some of the links in our content are affiliate links. That means that if you book your accommodation, buy your gear, or sort your insurance through our link, we earn a small commission (at no extra cost to you). That said, we only link to the gear we trust and never recommend services we don't believe are up to scratch. Again, thank you!