Costa Rica has to be one of my all time favourite places in the world. It's true what they say, once you visit Costa Rica, you'll never truly leave! I've left my heart here time and time again with the diverse landscapes from impeccable paradise like beaches to dramatic jungle lined volcanos drawing my back year after year.
Whether it's the tropical climate, incredible food, opportunity for adventure or just the laid back vibe, theres an endless number of reasons to head to this wonderful country. Whilst some things here we've found to be a little more expensive than other Central American countries, accommodation and vacation rentals remain super affordable.
In fact, if you're looking for the perfect pad for your Costa Rica Trip, we highly recommend forgoing the hotels and checking out the wide range of awesome vacation rentals instead. We've personally stayed in many of the ones we've listed here and we love the way they allow you to get to know the local culture in much closer detail.
Whether you're looking for zenned-out treehouses, eco-friendly cabins or gorgeous beach villas, you'll find it here and at a fraction of the price you might expect. Not only that but the variety of properties on offer means there's something for everyone. From beach bums to active adventurers, nature enthusiasts to culture seekers, there's the perfect base for your unique trip.
Not only do vacation rentals offer you the chance to live like a local, but if you want, some even give you the chance to live alongside them. The Costa Rican's are known for being some of the friendliest people in Latin America, so you know you'll be in good hands with your host.
So, after many years of exploring all this diverse country has to offer, we feel it's time to put together this epic list of the best Costa Rica vacation rentals. With our personal knowledge and experience, you can rest assured knowing your perfect pad awaits.
Check it out!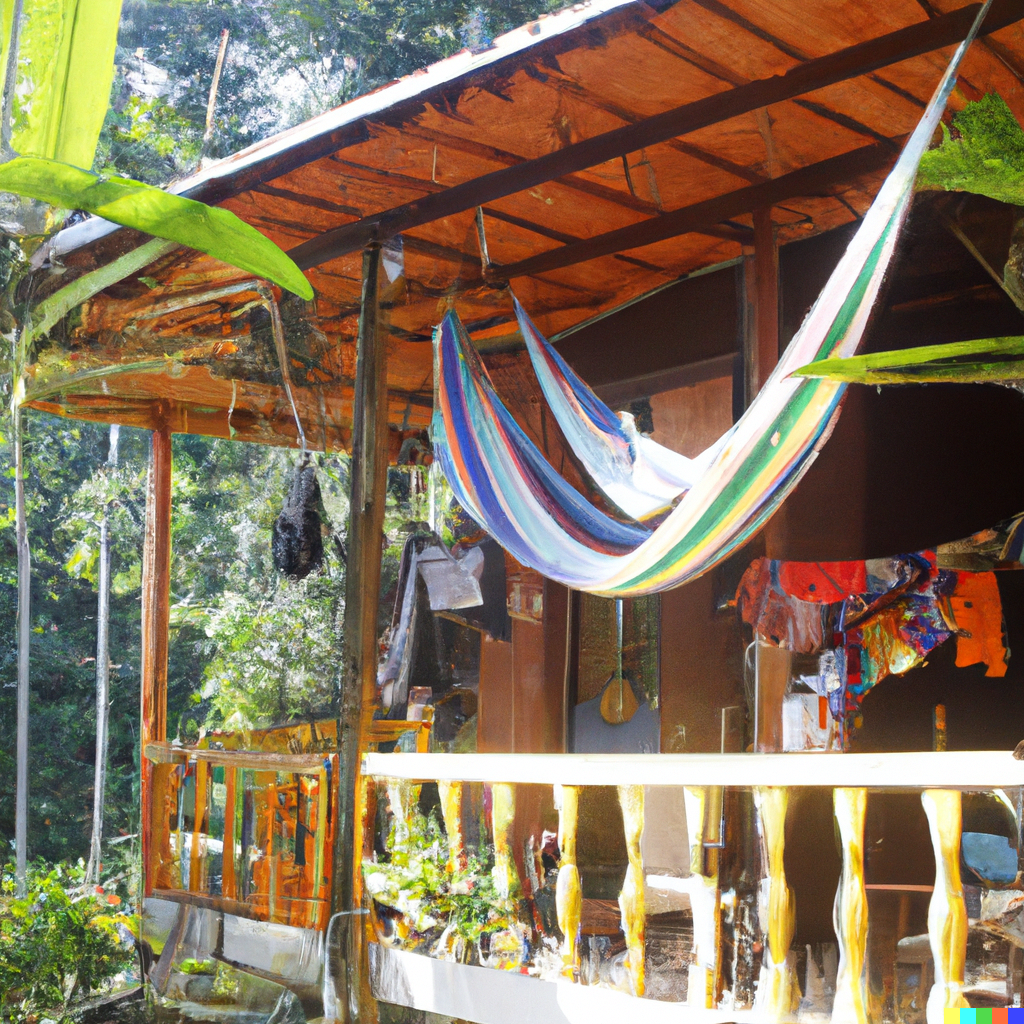 Quick Answer: These are the Top 5 Vacation Rentals in Costa Rica
Overall Best Value Vacation Rentals in Costa Rica
Overall Best Value Vacation Rentals in Costa Rica
Contemporary 1 Bed Treehouse with Panoramic Views
> $$
> 4 Guests
> Fully equipped treetop home with Jacuzzi and hammocks
> Located in the tropical village of Matapalo, close to bars and restaurants
Best Budget Vacation Rentals in Costa Rica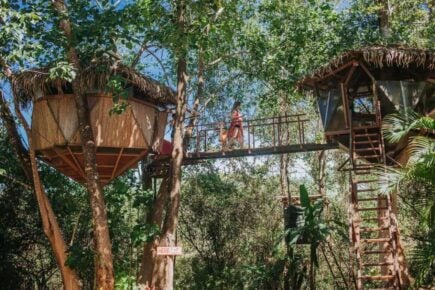 Best Budget Vacation Rentals in Costa Rica
Alternative Geometric Treehouse for 2
> $
> 2 Guests
> Rustic outdoor treehouse with bridges and ladders
> 15 minutes from the beach in a tropical jungle setting
Best Vacation Rentals for Couples in Costa Rica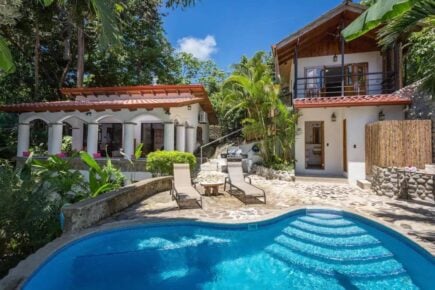 Best Vacation Rentals for Couples in Costa Rica
Classic 1 Bed Villa with Pool
> $$
> 2 Guests
> Luxurious Spanish style villa with pool and deck area
> Hidden in a private rainforest, nearby the coast
Best Vacation Rentals for Families in Costa Rica
Best Vacation Rentals for Families in Costa Rica
Rustic Luxury Thatch Bungalow with Pool
> $$
> 4 Guests
> Gorgeous outdoor living home with jungle views and luxury fittings
> Located in Manzanillo Jungle, close to quiet beaches
Over-the-Top Luxury Vacation Rentals in Costa Rica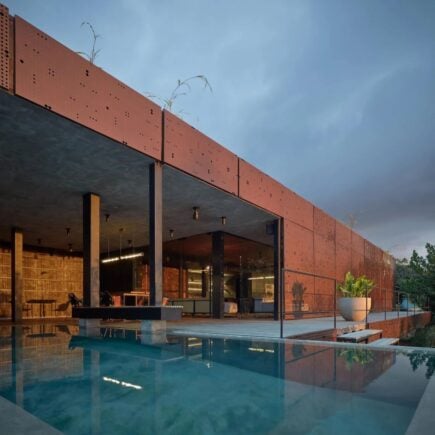 Over-the-Top Luxury Vacation Rentals in Costa Rica
Ultra-Modern 3 Bed Villa
> $$$
> 6 Guests
> Glass and metal home with top-of-the-range fittings
> Overlooking Playa Hermosa with jungle and beach views

Unlock Our GREATEST Travel Secrets!
Sign up for our newsletter and get the best travel tips delivered right to your inbox.
Types of Accommodation in Costa Rica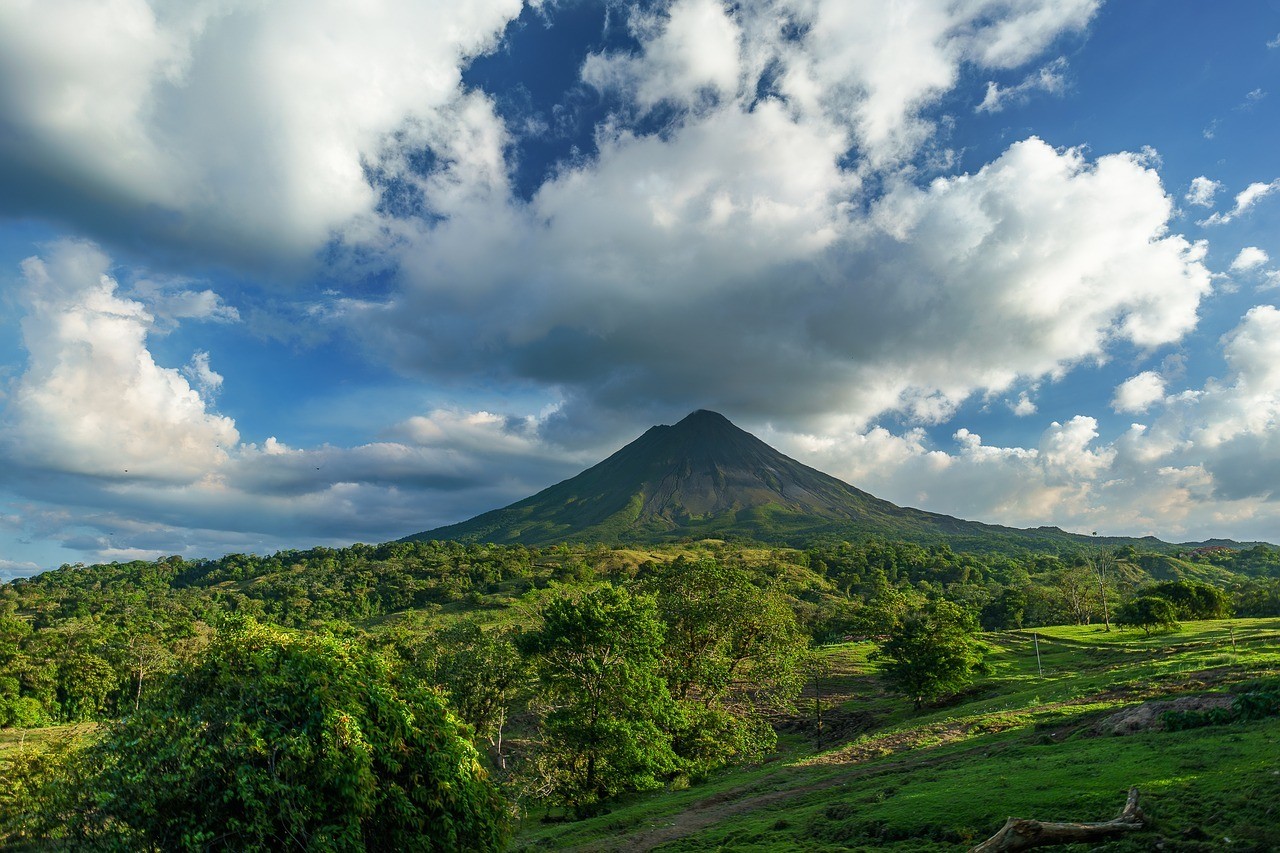 Luxurious Tents and Domes
What you might consider a 'unique' vacation rental in many countries is simply considered traditional in Costa Rica. Mostly found inland where the jungles are dense, the country is filled with interesting tents, tipis, and dome homes. Personally, I love spending a night in a tent in the jungle, it just seems to me to be what this country is all about, nature and adventure.
Often constructed using all eco-friendly materials with glass walls overlooking stunning mountain vistas, domes are a wonderful option for couples traveling on honeymoon. They're private, fitted with basic self-catering amenities, and are located in some of the country's most biodiverse regions.
These homes use minimal energy and water, and are a great option for travelers considering their impact on the planet. Even more, they are the best option for stargazing!
Beach Villas
Of all vacation rentals in Costa Rica (excluding hotels of course), beach villas will financially set you back the most. They're typically large homes built to be rented to vacationers or expats, and are designed to be your ultimate home-away-from-home. Often once I've spent a few nights in a jungle tent, I am ready to hit the beach and move on to a villa, it's a great combination.
Beach villas are fitted with everything you might need, including basic toiletries, chef-standard kitchens, pool toys, and beach chairs. You name it, these luxury rentals have it. Ranging in size from two to ten bedrooms, these homes are ideal for anyone who enjoys the beach, including large families, groups of friends, and even digital nomads and long-stay visitors.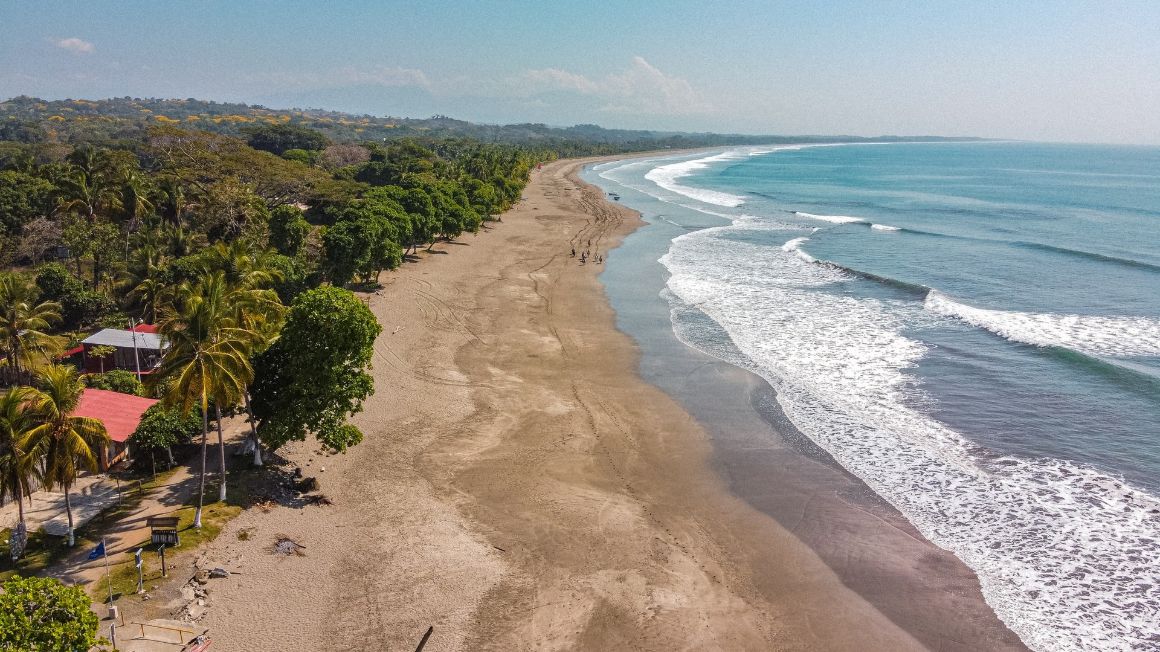 Eco Cabins and Treehouses
Other unique (in traditional terms), yet common Costa Rican accommodations are eco-cabins and treehouses. These vacation homes are beautifully positioned in tropical rainforest regions, often flaunting world-class views from above the treetops.
Unlike domes and tents, these homes are usually better equipped with full kitchens and bathrooms. Some even have private Jacuzzies or dipping pools. Their secluded location makes them a great option for couples, but they can also accommodate small families and groups of friends. When I am not in a tent, but I'm out exploring the trails, you'll find me in a treehouse reliving my youth!
Top 20 Vacation Rentals in Costa Rica
From modest log cabins to unique transparent dome homes to beach mansions with swimming pools and Jacuzzies, let us take a look at the amazing vacation homes available to rent in Costa Rica: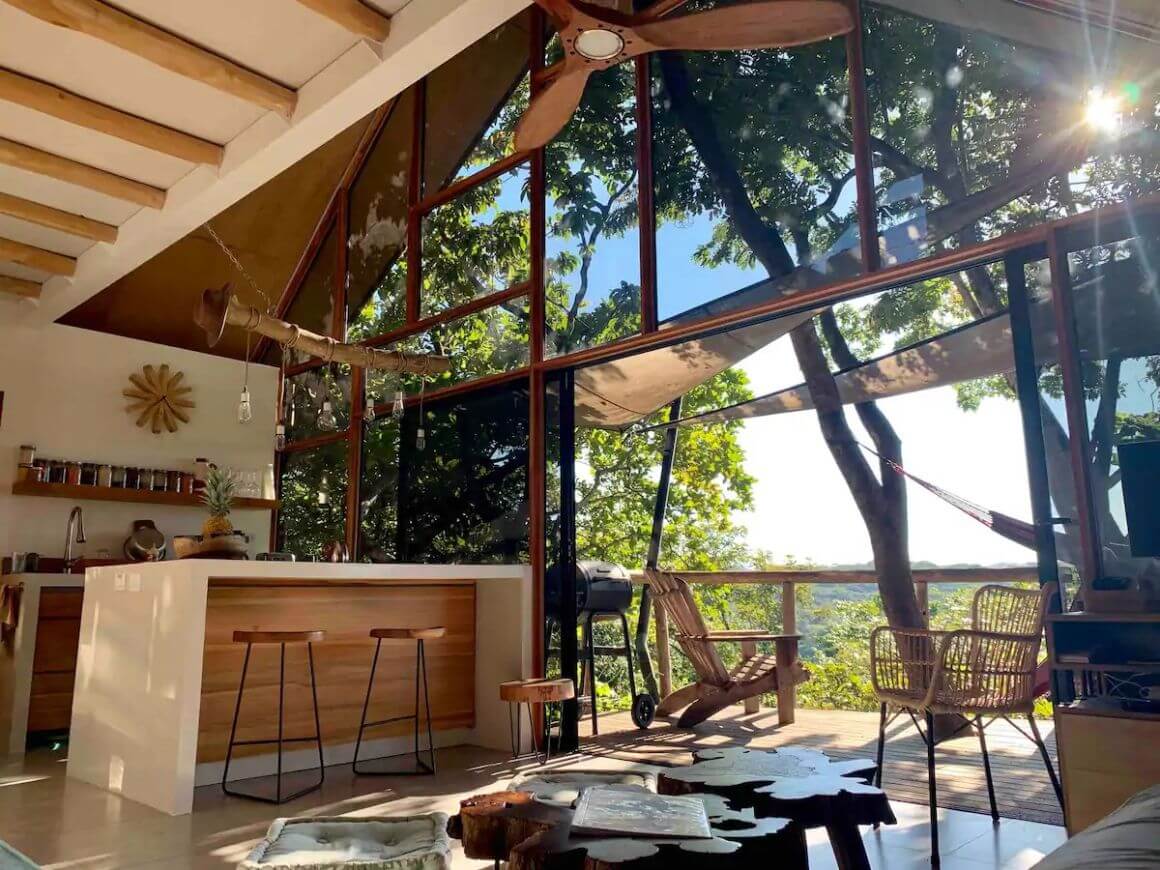 $$
Located in the tropical village of Matapalo
4 Guests
Fully equipped with Jacuzzi and hammocks
The only thing better than a glass house in a rainforest is a glass treehouse in a rainforest. Towering over tropical trees, all you'll be able to hear the sound of rustling leaves and birds from this secluded sanctuary in the jungle.
A stunning modern home, it does well to blend contemporary style with rustic simplicity. The best example of this is the inclusion of exposed wood in the interiors, including a raw log kitchen light feature.
The best part of this vacation rental in Costa Rica is its expansive glass windows, which make you feel like you're living as one with nature. Its private Jacuzzi which hangs high in the trees is the perfect spot to enjoy sundowners above the tree canopy.
$
15 minutes from the beach in a tropical jungle setting
2 Guests
Rustic outdoor treehouse with bridges and ladders
Who knew you could rent out a private treehouse in the jungle on a budget? This basic spot is fitted with the bare necessities for those who prefer the simple life. As long as you cover your bed with the mosquito nets provided, you're set to go in this rustic tropical paradise.
Each room is its own separate treehouse structure, joined together with rickety wooden bridges and ladders. You might want to make sure you aren't afraid of heights (or bugs) before renting this gem out. Even paying budget prices, you'll be blessed with panoramic jungle views from every 'room' in this spot.
For me, being a big kid at heart, this is one of my go-to accommodations when I'm feeling like a bit of fun and adventure on my Costa Rica trip.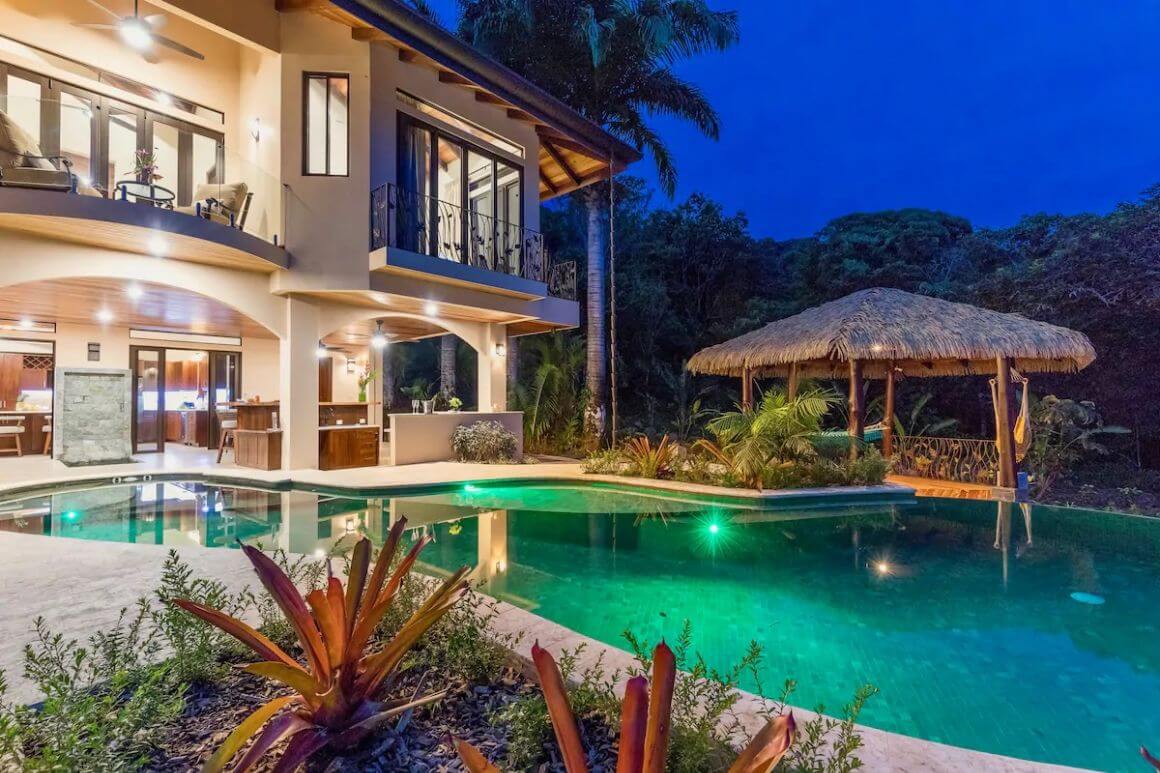 $$$
Located in the Escaleras mountains
6 Guests
Immaculate and spacious villa with top-quality amenities
Beauty truly is in the eye of the beholder. However, in our opinion, this villa could pass as beautiful for anyone. Designed to look like a Tuscan home surrounded by an organically shaped swimming pool and immaculate tropical gardens, you'll feel right at home in this spacious holiday rental in Costa Rica.
Large arched doorways open onto a huge outdoor living space with a dining area, private bar, lounge area, and fountain feature. The infinity pool looks like it extends from under the covered patio into the distant oceans. My favorite part about this home is definitely the large concrete outdoor bath. I can just imagine ending a day in the bathtub under the stars.
Is This the Best Travel Pack EVER???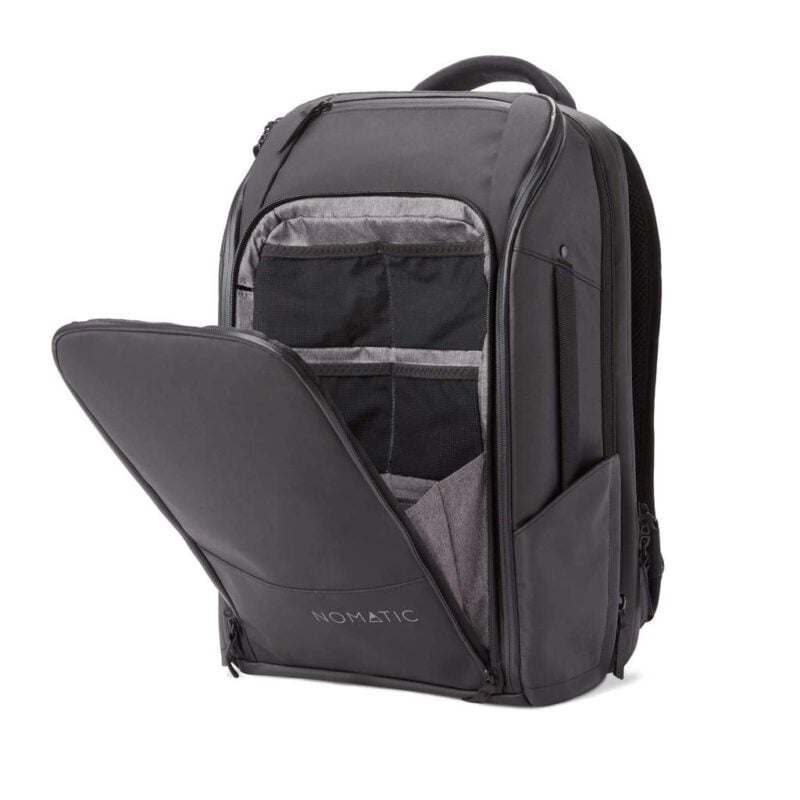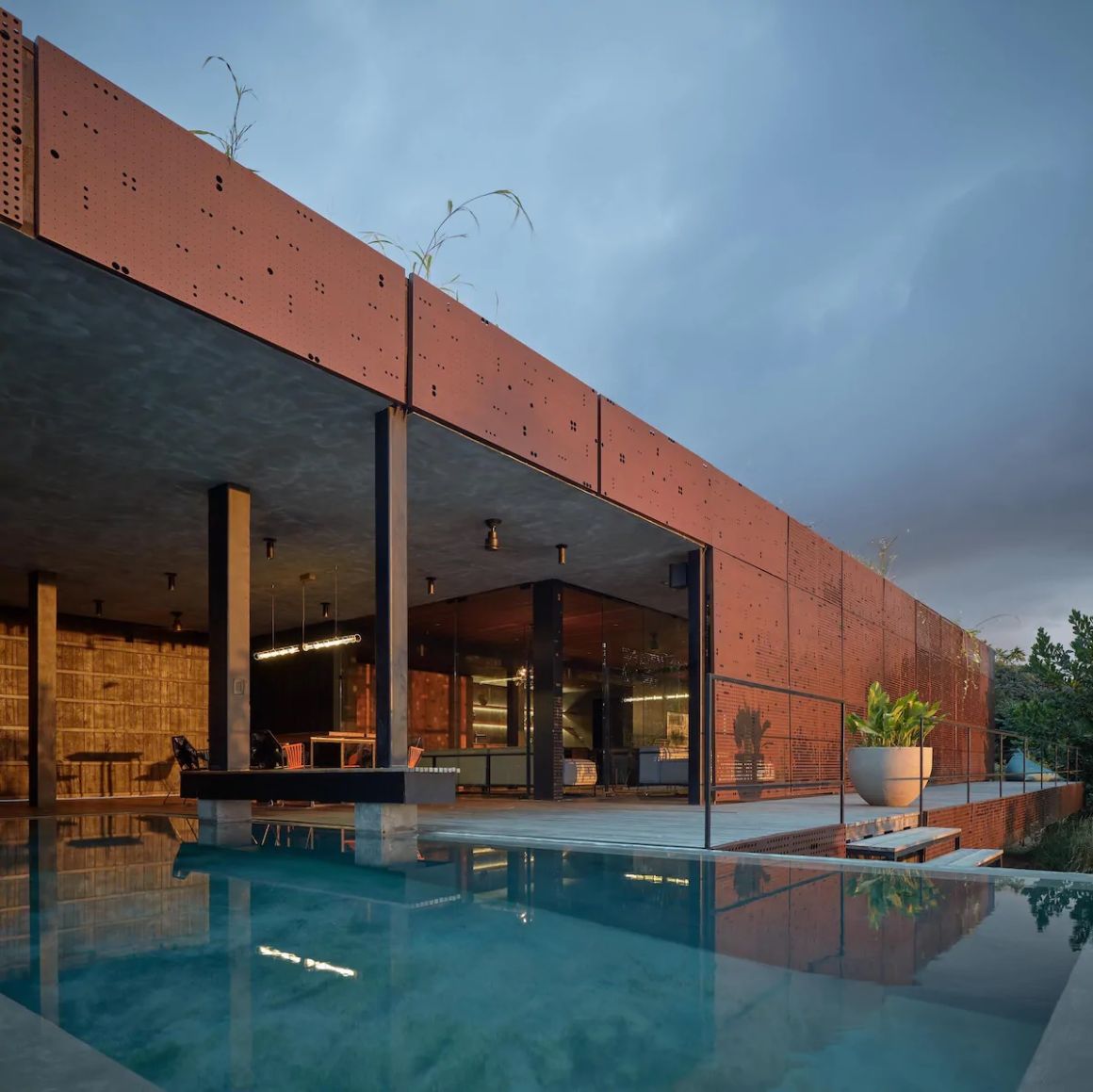 $$$
Overlooking Playa Hermosa with jungle and beach views
6 Guests
Glass and metal home with top-of-the-range fittings
Straight out of an architectural magazine (and possibly from another planet), this modern villa is luxury on steroids. It truly is one of the most striking and otherworldly buildings in the area, combining dramatic lines, glass, metal, and wood throughout. You can slide open the floor-to-ceiling doors to make it feel like you're outside, even when you're not.
The villa and its large pool overlook the beach and the jungle, perfectly positioned for an unforgettable stay. If you thought this villa wasn't child-appropriate, think again. It includes access to a kid's playroom which is shared with surrounding villas. It is the perfect holiday home in Costa Rica for an extravagant escape.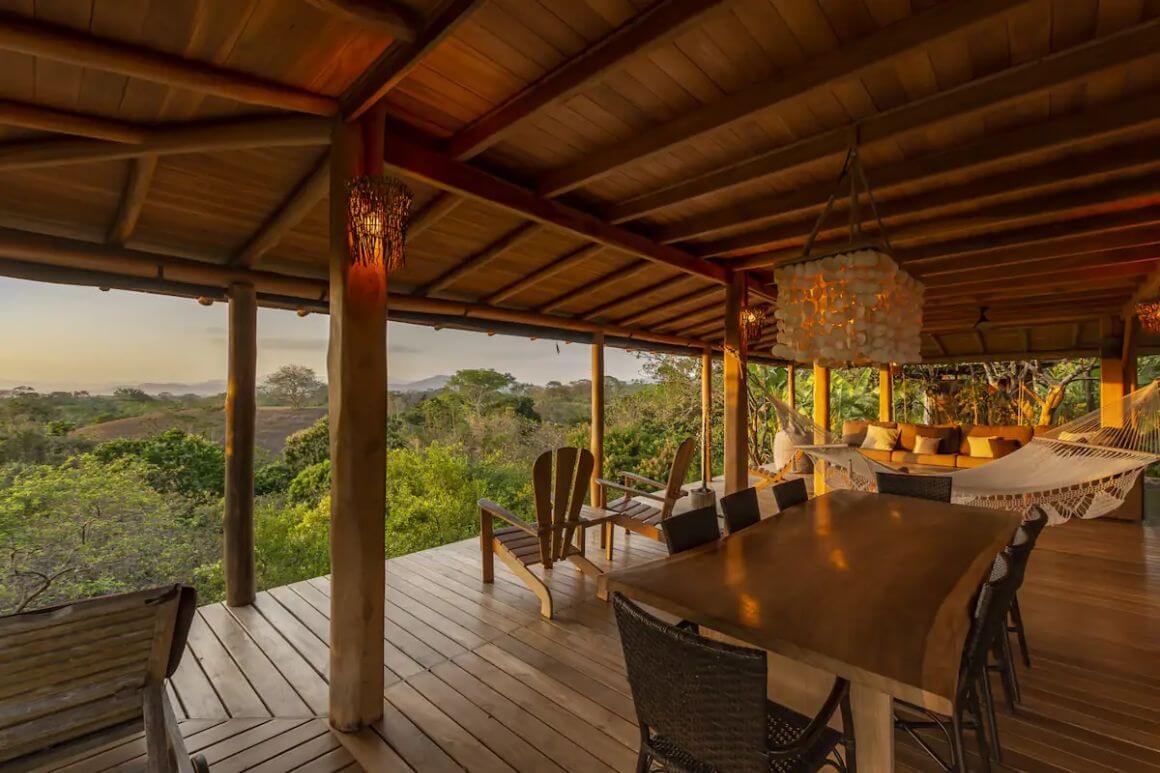 $$
Located in Manzanillo Jungle, close to quiet beaches
4 Guests
Gorgeous outdoor living home with jungle views
What's better than a family vacation in a secluded bungalow with an expansive swimming pool overlooking the Costa Rican Jungle? This spot has created the perfect balance between simple outdoor living and luxury. It urges you to be one with nature with large wooden windows and doors opening out into the surrounding jungle.
This spot has a secluded and dedicated workspace perfect for cracking away at a computer, making it one of the best vacation rentals in Costa Rica for digital nomads. However, we advise you spend most of your time on the exquisite swimming pool deck with a BBQ area, hammocks, relaxed seating, and 180-degree island views.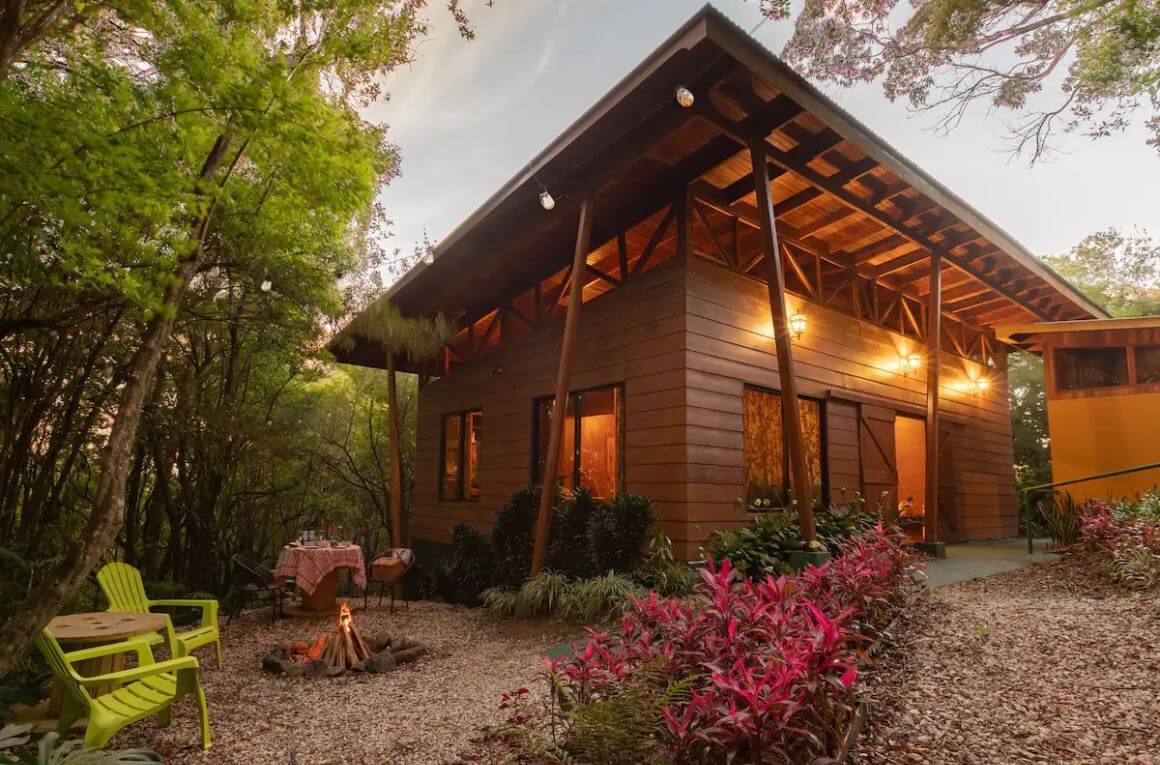 $
Located nearby Santa Elena center
3 Guests
Quiet forest cabin with indoor Jacuzzi and firepit
Wondering where the best spot would be to stay for a quick weekend getaway in Costa Rica? This cabin is designed with all your short stay needs in mind. It's located in a tourist zone nearby restaurants and activities, with plenty of things to do in the area.
The cabin includes a continental breakfast, prepared daily by your hosts. This is ideal for those not wanting to stock a fridge with food for such a short stay.
If you have a special celebration, the home can be decorated and set up for events. For those planning a birthday or anniversary getaway, you won't have to worry about the small details – leave it to your competent hosts to organize a special surprise!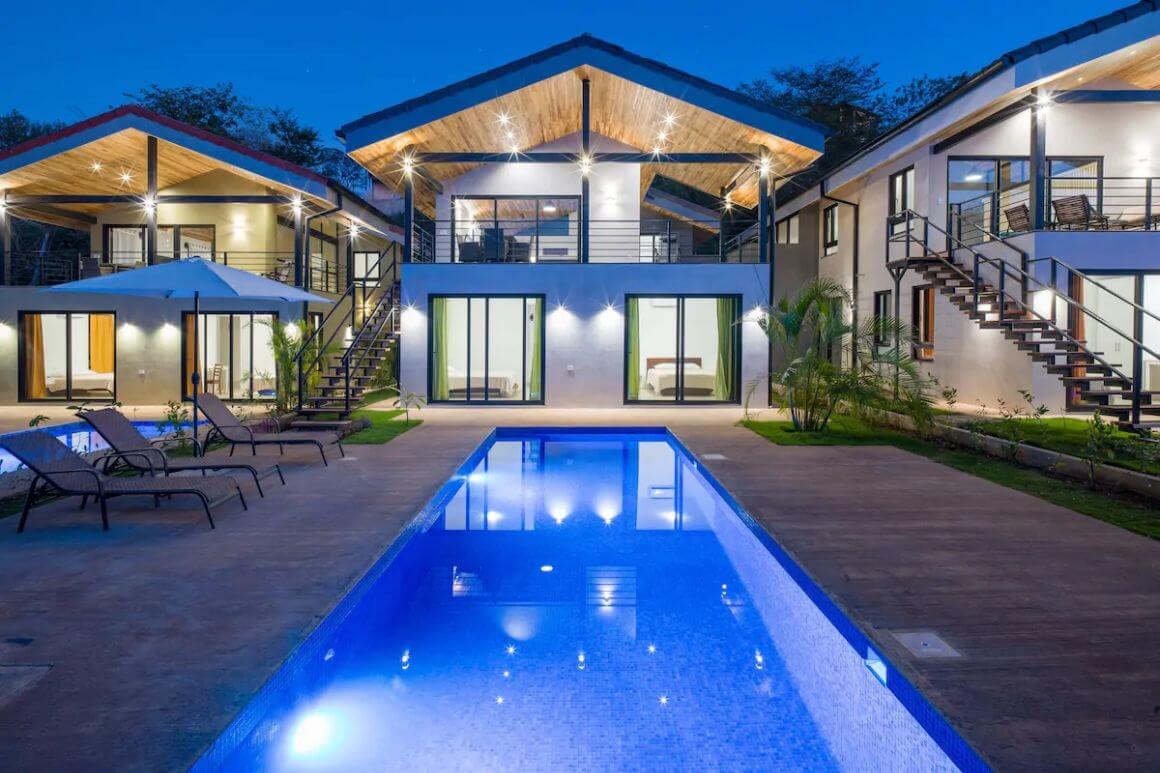 $
Located in Tamarindo in a gated community
7 Guests
Spacious and bright villa with swimming pool and Jacuzzi
This beautiful modern villa has all the bells and whistles for a holiday in Costa Rica. Adequate sleeping space, a central swimming pool, and a spacious shared living area will serve you and your guests well.
Newly built, the home is located in the heart of a quaint village called Tamarindo, and is only a few minutes' walk to quiet beaches. The best part of this spot is without a doubt the private Jacuzzi, which sits in a glassed-in conservatory just off the master bedroom, hidden by tall tropical plants.
$
Walking distance to beach, restaurants, and supermarkets
6 Guests
Modern home with no stairs and wide passageways
Warm wooden cabinetry, contemporary concrete touches, and clean finishes bring a sense of peace into this stylish condo. The home is designed to maximize space, and without any stairs, it's the ideal rental for wheelchair users and others with limited mobility.
Located in an eco-friendly complex, you'll be able to do your part for the environment, even on vacation. Tons of storage space and shelving will make you feel right at home here. However, my favorite part about this rental is the modern kitchen which is fully equipped with everything you might need from a self-catering vacation rental in Costa Rica.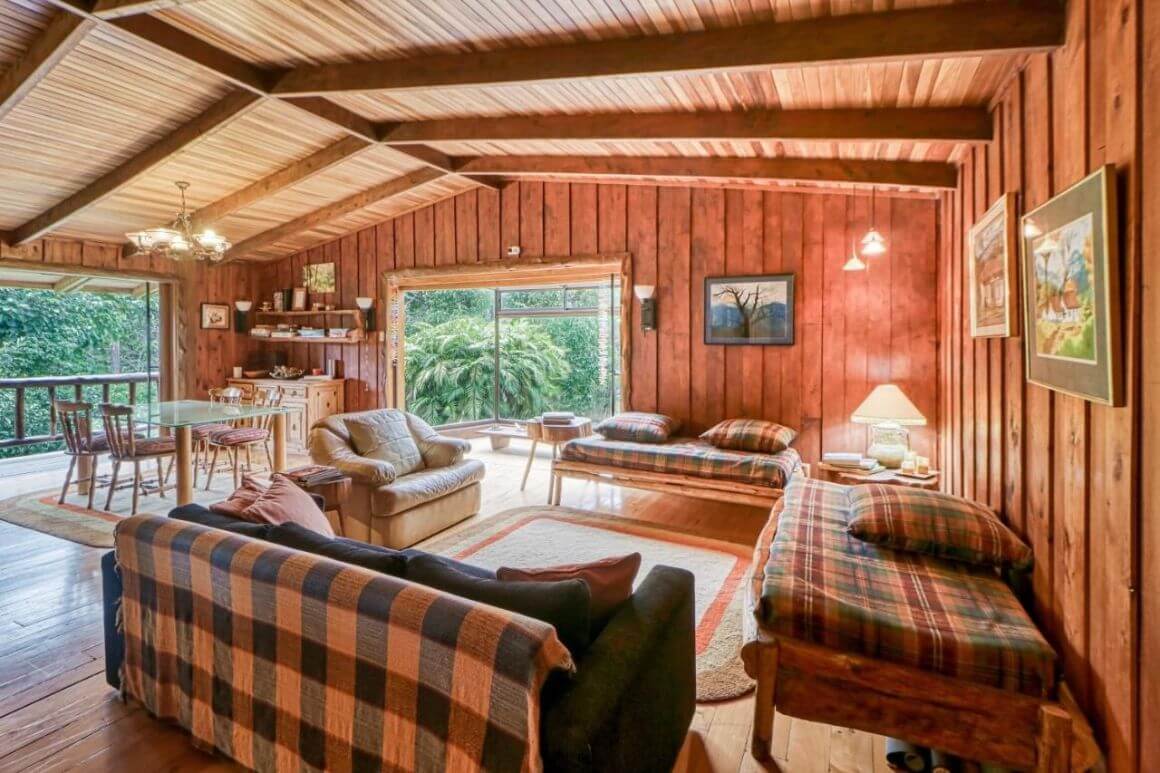 $$$
Located just outside the hustle and bustle of central San Jose
8 Guests
Large cabin with jungle views, rustic wooden interiors
It might not seem fitting, but this European-style cabin in the Costa Rican jungle perfectly compliments the tropical surroundings. Built completely from timber, exposed beam ceilings and wooden furniture give the home a super warm and inviting feel. On a cool day, you can take advantage of the wood-burning fireplace, which comes in handy in the high altitude.
From the cabin, you'll be treated to acres worth of walking and hiking trails. However, we believe the best part of any adventure in the area is arriving home to this cozy and quaint cabin in the forest. In fact, it's here where I usually choose to base myself when travelling with a group of mates, it's the perfect spot to spend some time together away from our busy lives.
Best Vacation Rental for a Large Family | Luxury Modern Villa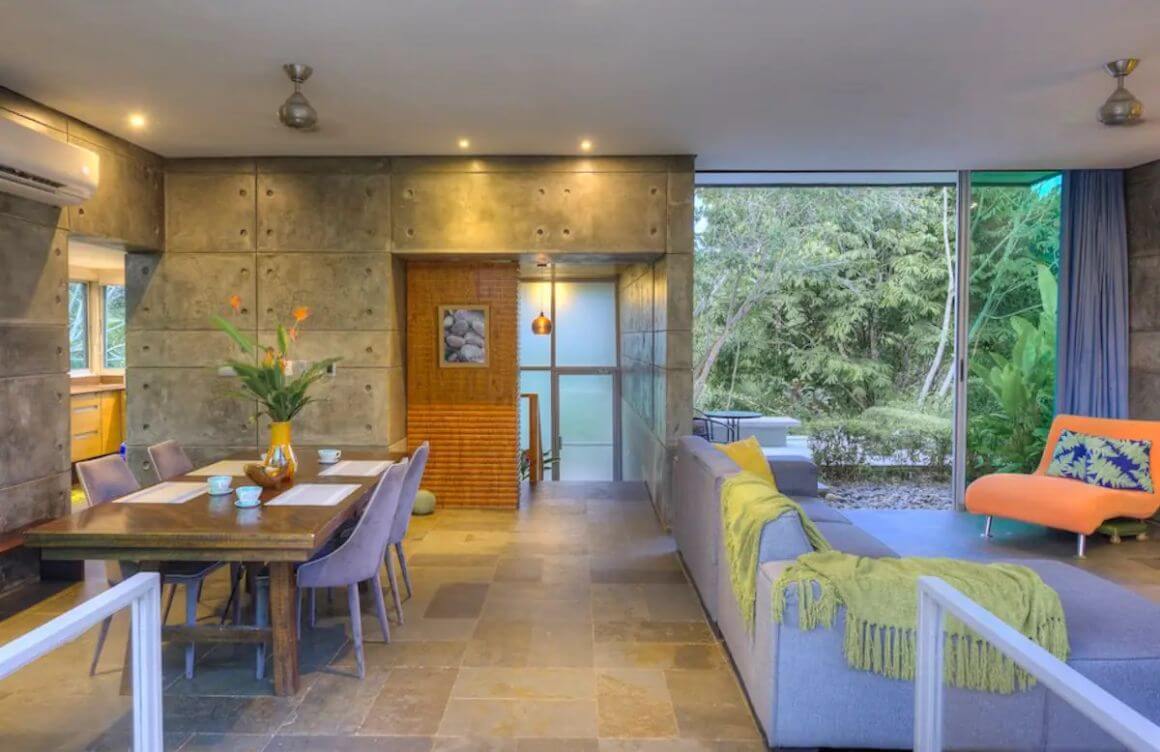 $$
Surrounded by acres of forest, close to top-rated beaches
6 Guests
Spacious home with private swimming pool
If you're searching for a spacious home big enough to fit a large family, this spot hits the nail on the head. It's large, secluded, well-equipped, and has enough spacious bedrooms to offer privacy when mom and dad need a little bit of space. The views from the villa are so unreal, it almost looks like the windows are greenscreens projecting an idyllic screensaver.
With tons of raw concrete, glass, and clean lines, the home stands out for its architectural uniqueness, which blends contemporary modern with natural beauty.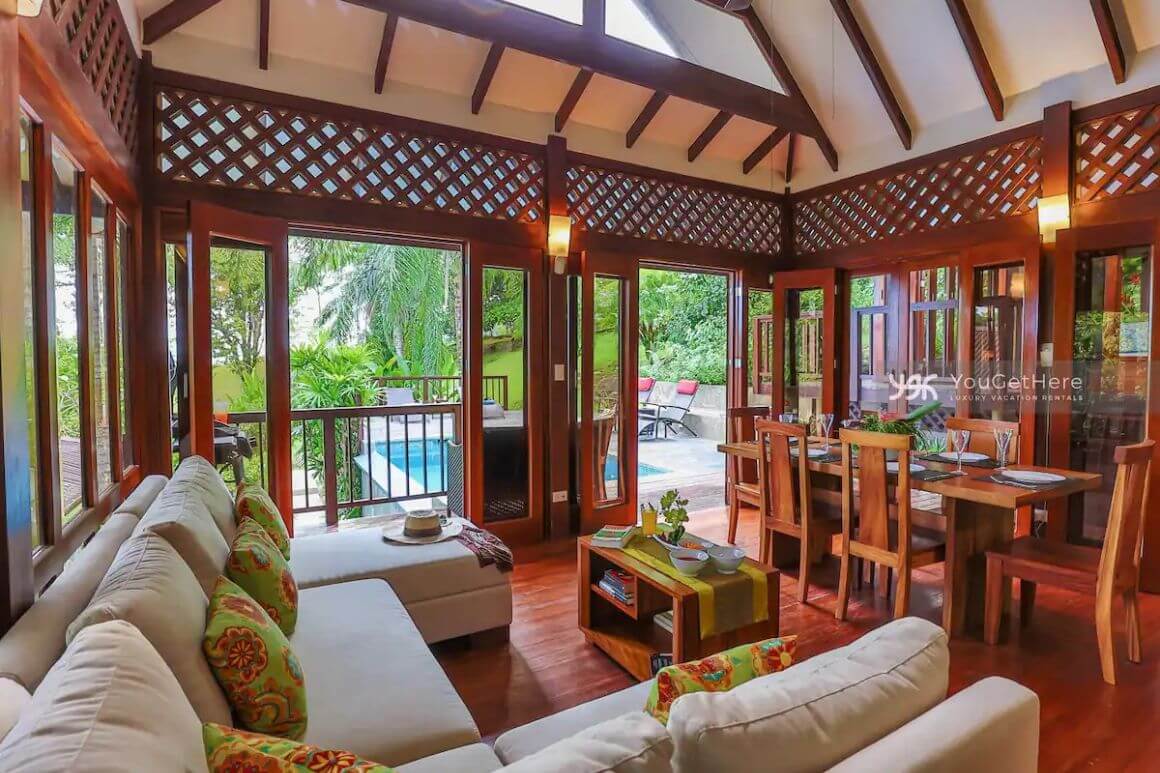 $$
Isolated in the jungle, moments away from stunning beaches
5 Guests
Large open-plan Bali style villa with yoga pavilion and pool
Located close to idyllic beaches, this is one of the top beach vacation rentals in Costa Rica for many reasons. It's stunningly designed and fitted with Bali-inspired interiors. A swimming pool, open-plan living space with huge windows and tons of natural light, and a fully equipped kitchen are all you'll need during your stay in paradise.
Gorgeous ocean views allow you to feel like you're on the beach and in the jungle at the same time. You know what they say: 'a home is not a home without a garden'. Well, this spot doesn't disappoint with either. The beautiful home is surrounded by immaculately manicured gardens and lawns.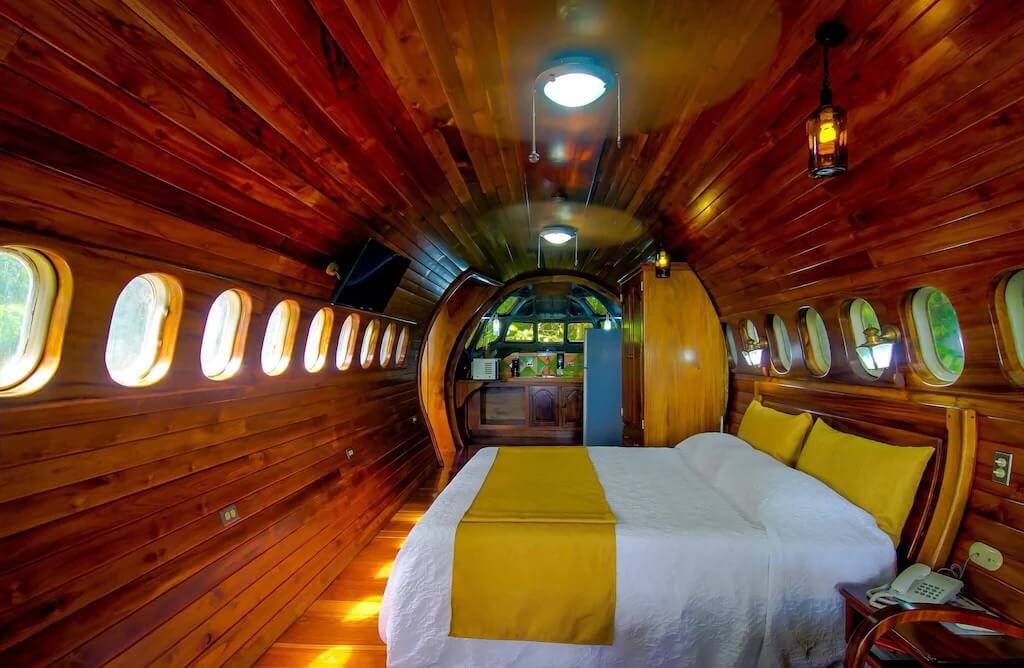 $$$
Located in the Manual Antonio National Park, near the beach
2 Guests
Private bungalow in a discarded airplane in the jungle
Trust us when we say, you'll sleep even better in this unique airplane spot than you would in a first-class seat. This old airplane has been featured on hundreds of television shows. You'll enter the cabin (quite literally, an airplane cabin), from a hanging draw bridge, which will surprise you with newly renovated wood paneling, and a comfortable king-sized bed.
With a small kitchenette in the cock-pit overlooking stunning views from a balcony at the back of the plane, you'll be set for a good time in this unique holiday rental in Costa Rica. Your only neighbors will be the chatty monkeys, sloths, and parrots. Talk about first-class privacy!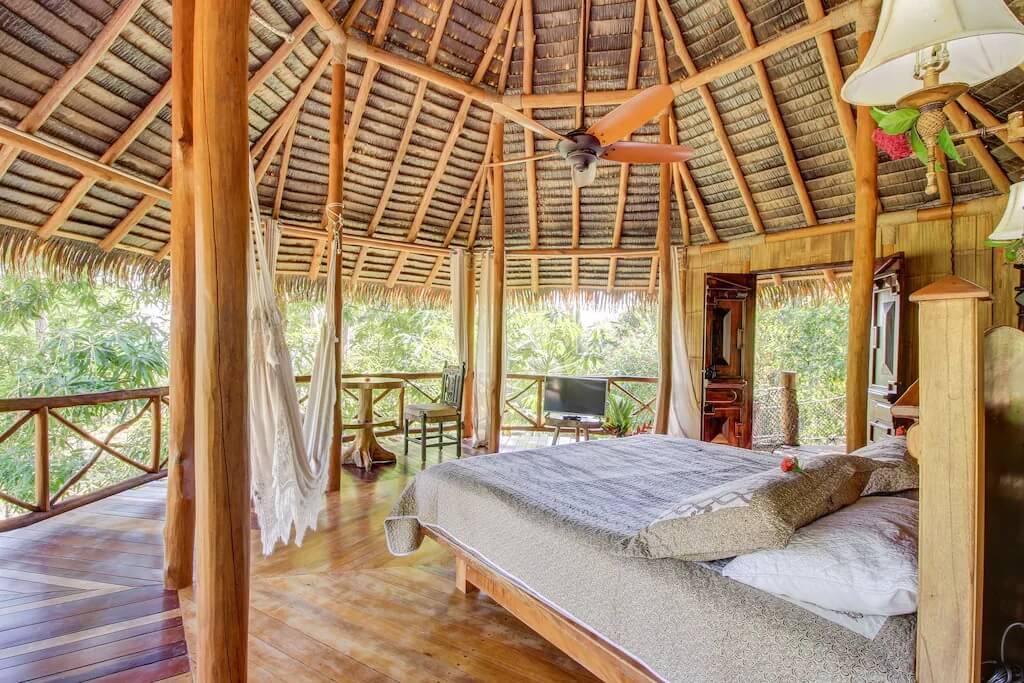 $$
In a jungle on the beach in Cabo Matapalo
2 Guests
Round treehouse with bathtubs, outdoor kitchen, and hammocks
Step into your private oasis on the beachfront. This might just be the most private bedroom you've ever seen. Antique wooden doors lead into a geometrically shaped bedroom, fitted with an insanely comfortable bed boasting unreal jungle views.
The most special feature is the triple-level bath and shower, which overflows from one small pool into another. Lit with dim warm lights which reflect under the palm-thatched ceilings, this holiday rental will have you feeling relaxed from the moment you step inside.
$
Located in a gated community in the hills above San Jose
3 Guests
Spacious, bright, and contemporary loft with tons of windows
This condo in San Jose is perfectly located for those who want to spend the night out on the town. Surrounded almost completely by glass windows and doors, all overlooking the San Jose area and its forest landscapes, this vacation rental in Costa Rica is the ultimate party house.
Large open spaces, tons of natural light, and a huge balcony make this ideal for hosting friends for some pre-party cocktails. I can just imagine watching the sunset with a drink in hand from this stunning loft.
$
Located in La Fortuna, with views of Arenal Volcano
4 Guests
Charming one-bedroom house with two balconies
Views are certainly not hard to come by in this lush tropical country. That being said, this A-frame cabin has spectacular views of the famous Arenal Volcano, which is less common than the typical beach and jungle views.
The home is simply decorated with basic furniture and amenities. However, with unmatched volcano views and a low cost per night, you couldn't ask for more in this prestigious natural region. Even better, with a balcony on either side of the home, you can enjoy both sunset and sunrise in comfort.
$$
Hidden in a private rainforest, nearby the coast
2 Guests
Luxurious Spanish style villa with pool and deck area
A romantic vacation with your loved one calls for a few things in Costa Rica. Privacy and seclusion are paramount. As well as a clean, spacious, and beautiful home with all the amenities. Lastly, an outdoor pool area that will make you never want to leave the home. This Tuscan-inspired villa has all three, making it one of the best vacation rentals in Costa Rica for a honeymoon vacation.
From the outside living space, gaze through the white archways into a crystal clear pool hidden by tropical jungle leaves. This space is so secluded, you'll feel like you are the only people on the island.
$$
5-minutes from the tropical beaches of Santa Teresa
4 Guests
Contemporary villa with infinity pool and ocean views
This beach villa manages to strike a balance between modern and homey. Oftentimes, clean lines, metal bars, and raw concrete can make a home feel cold and formal. In this case, the architecture has incorporated tons of warm-toned wood and natural light, bringing the warmth of the outdoor tropics into every corner of the home.
The best thing about this holiday home in Costa Rica is the pool and outdoor living area. The infinity pool extends towards the jungle and into the ocean, which is only a quick walk away from the house itself.
If you're interested in staying around here but you're on a budget, then check out the best hostels in Santa Teresa instead.
Most Authentic Vacation Rental in Costa Rica | Costa Rican Family Home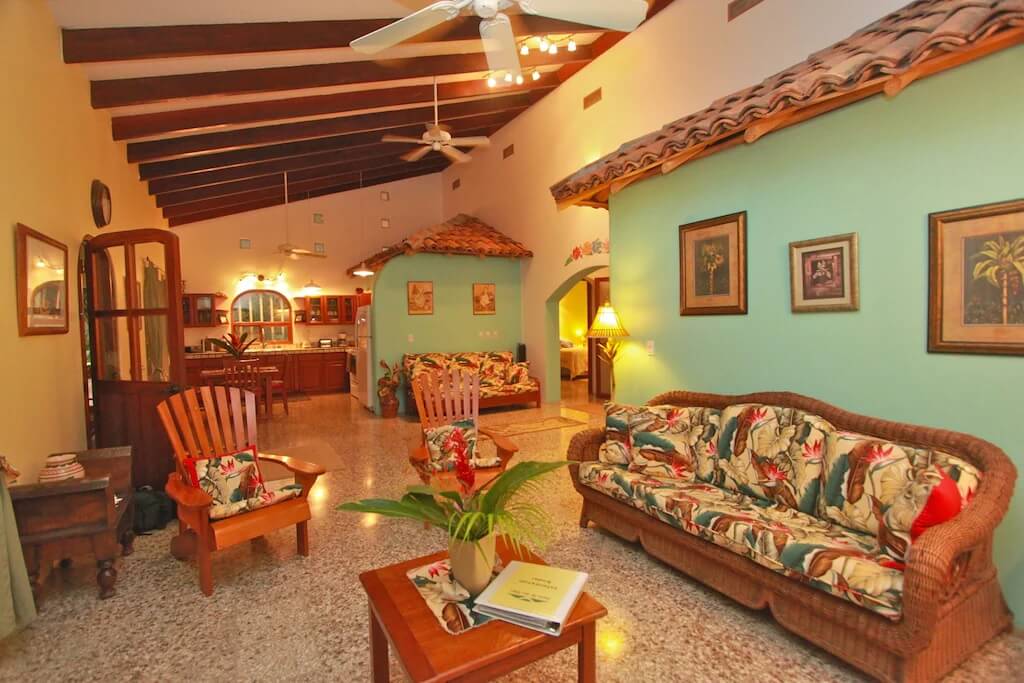 $$
Located a few steps from the beach
4 Guests
Authentic home with full kitchen, surfboards, and bicycles
If you're up for a more authentic Costa Rican experience, this might just be the place for you. It's a local house that has been transformed into a homey and welcoming guest rental. Painted with pastel green walls, floral touches and fitted with colorful art and furniture, this home has everything you might need on vacation.
You'll even get access to surfboards and bicycles included in your stay! I love the idea of arriving back at the house after a surf to enjoy a cold drink in the colorful woven hammocks.
$
Located in Tamarindo, secluded, yet close to activities and grocery stores
2 Guests
Boho inspired home with aircon, Wi-Fi, and pool
This home is perfect for solo digital nomads! It's located out of the hustle of a big town, yet close enough to visit Tamarindo with ease. The homey space has comfortable furnishings, tons of natural light, and spaces to sit and work.
There is a gorgeous outdoor living area, making it possible to work outdoors. It also has a stunning outdoor bathtub, which is something to look forward to after a day of work. Finally, the home is equipped with everything you might need to work from home, including air-conditioning, a basic kitchenette, and quality Wi-Fi.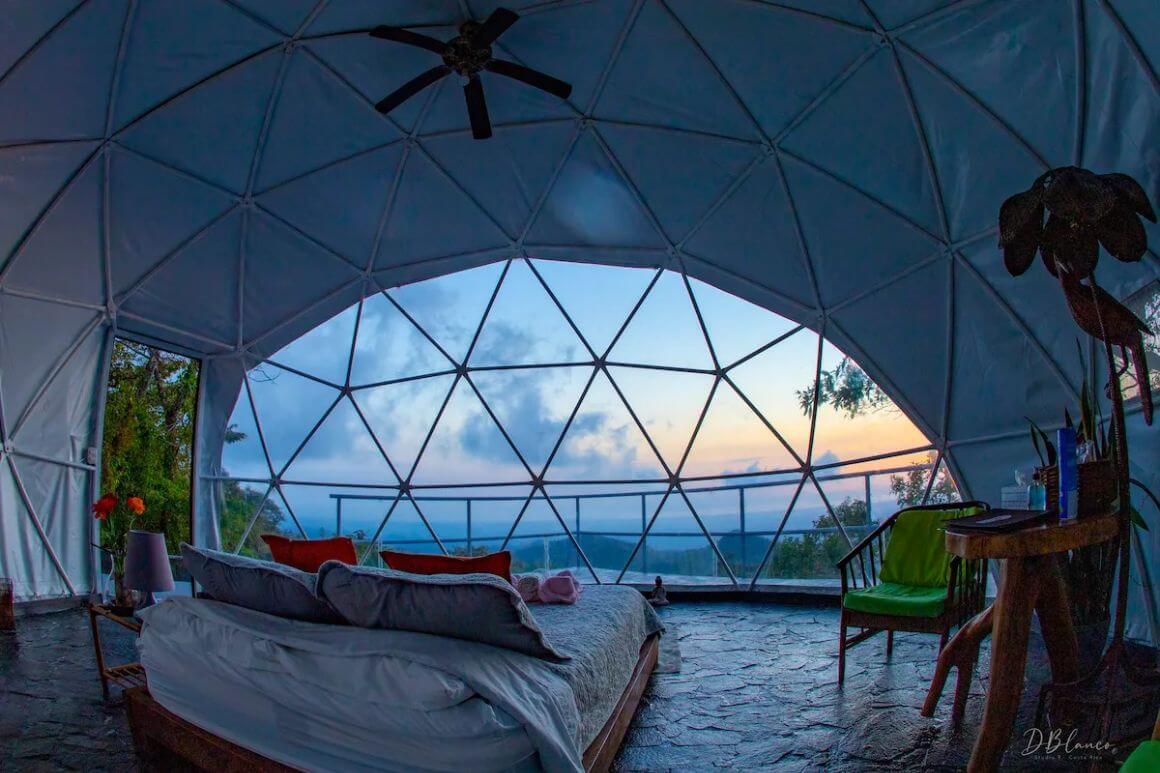 $
Located in Miramar jungle, with views of the jungle, beach, and starry sky
2 Guests
Unique transparent dome in the trees with pool access
It's not difficult to find a remote vacation rental in Costa Rica. In fact, many holiday homes are so secluded they feel pretty remote, even if they're just outside a large city. This dome home sits in the middle of the Miramar Jungle, surrounded by nothing but trees and clouds. Wake up to the birds singing above you, and fall asleep to the frogs croaking beneath you.
The best part about this spot? It has to be the views. Panoramic jungle and island vistas ooze from every panel of dome window, which truly makes you feel like you are one with nature.
Don't Forget Your Costa Rica Travel Insurance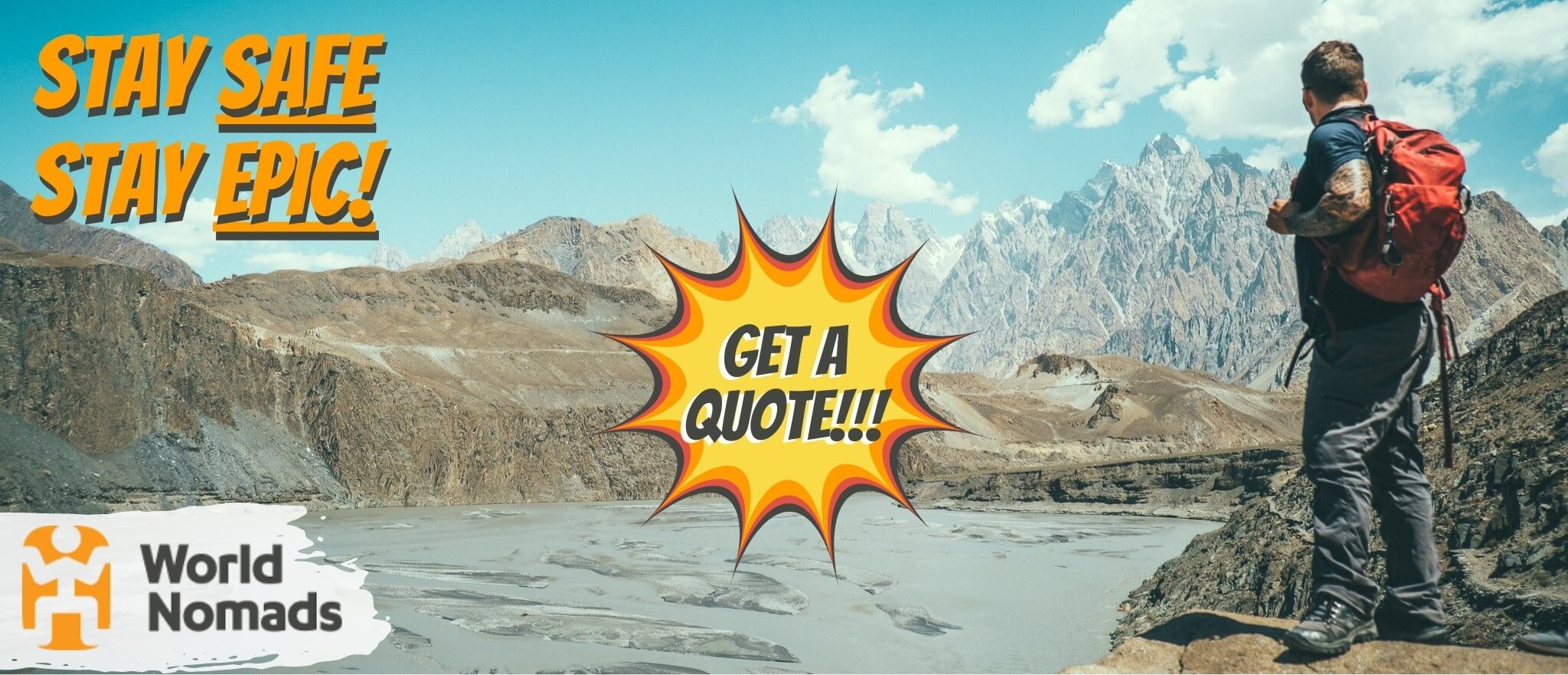 World Nomads' mission is to support and encourage travellers to explore their boundaries. They offer simple & flexible travel insurance, and safety advice to help you travel confidently.
They've been doing it since 2002 – protecting, connecting, and inspiring independent travellers just like you.
Get a quote below or read our in-depth review!
World Nomads provides travel insurance for travelers in over 100 countries. As an affiliate, we receive a fee when you get a quote from World Nomads using this link. We do not represent World Nomads. This is information only and not a recommendation to buy travel insurance.
Final Thoughts
In the bustling capital city of San Jose, you'll find plenty of culture and history alongside modern condos and apartments. Around Tortuguero, which is filled with interesting wildlife and Caribbean cuisine, take advantage of the jungle treehouses and dome tents. If you prefer the tranquil coastal towns of Manuel Antonio and Quepos, the beach houses and villas will be sure to tickle your fancy!
Both jungle and beach vacation rentals in Costa Rica seem to have struck the perfect balance between luxurious, rustic, sustainable, and affordable. Don't believe any place could be this perfect? Why not come and find out for yourself!
---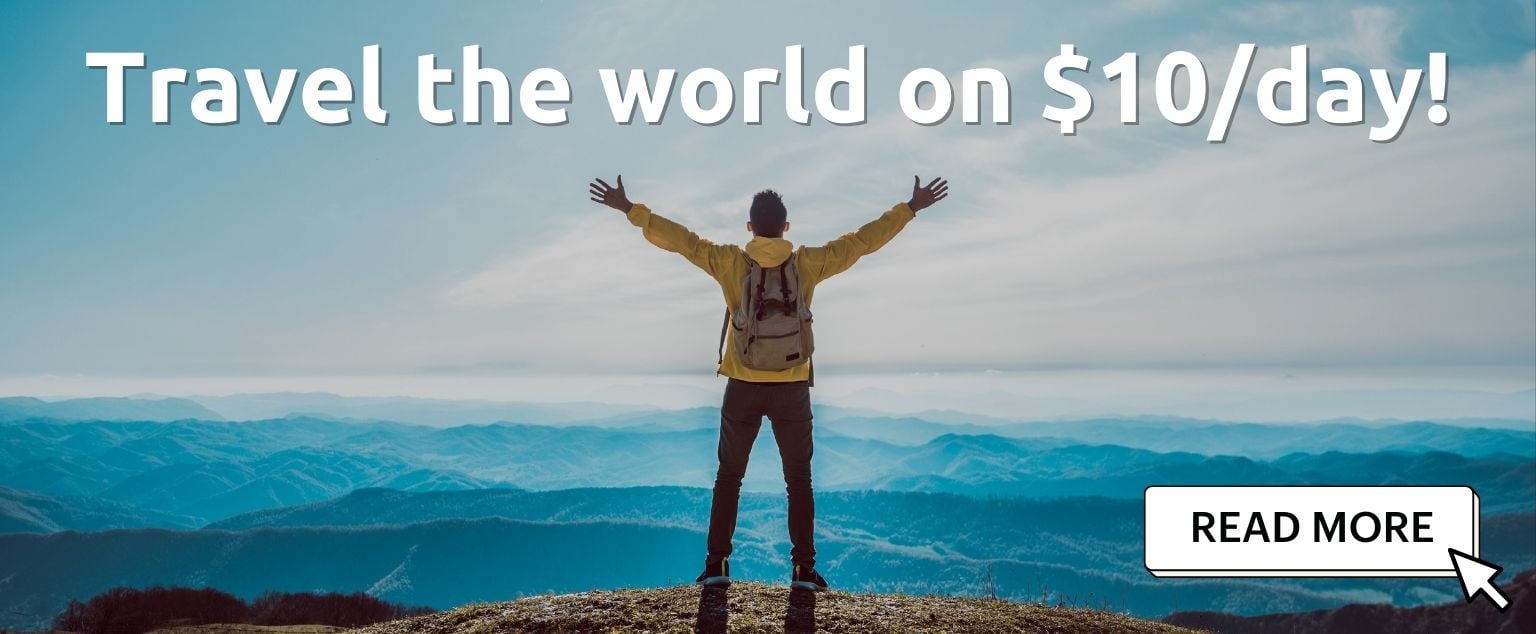 And for transparency's sake, please know that some of the links in our content are affiliate links. That means that if you book your accommodation, buy your gear, or sort your insurance through our link, we earn a small commission (at no extra cost to you). That said, we only link to the gear we trust and never recommend services we don't believe are up to scratch. Again, thank you!