Costa Rica is a gem of a country in Central America that boasts sandy beaches, tropical rainforests, and green valleys. It's a nature lover's paradise, with 5% of the world's biodiversity found there. It's not just an insane destination for nature enthusiasts, but lovers of culture will get lost in the vibrant cities and the charm of the Tico people (that's what we call the locals!)
Costa Rica isn't just an amazing country to visit, it also has many great volunteer projects you could get involved in. From taking care of turtles, to projects that empower kids in low socioeconomic communities, there are many ways you can lend a hand to leave Costa Rica even better than you found it.
Whether your thing is social justice, or environmental conservation, there's a project that'll spark your interest.
This article will take you through some of the epic volunteering opportunities in Costa Rica, and other important things you need to know. Let's get stuck in!

Do You Want to Travel FOREVER??
Pop your email in below to get a FREE copy of 'How to Travel the World on $10 a Day!'.
Top 4 Volunteer Projects in Costa Rica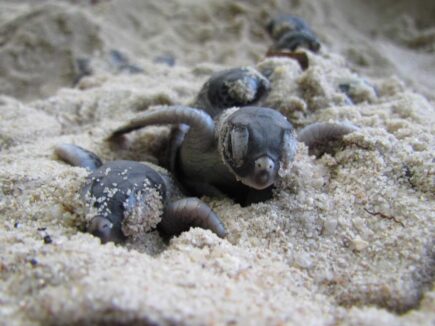 Sea Turtle Conservation
> Protecting and monitoring marine turtles
> Ostional
Environmental Conservation Project
> Gardening, construction, animal care.
> Cabin
Non-profit Organisation Empowering People with Disabilities
> Photographer, web designer, community manager, activity organisation.
> San Jerónimo de Desamparados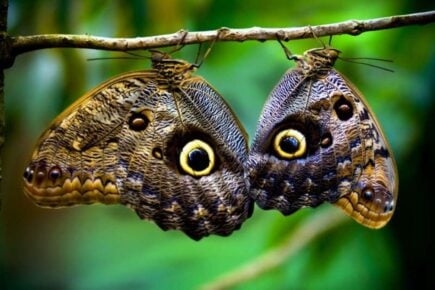 Educational Butterfly Program
> Butterfly husbandry, gardening, sustainability, childcare.
> Monteverde
What You Need to Know About Volunteering in Costa Rica
There are a huge range of volunteer projects in Costa Rica you can get involved in.
If you're passionate about the environment and conservation, there are ton of environmental projects around, from animal protection to permaculture communities.
Maybe people are your thing – then you can lend a hand at a community group. Or, if you've got a knack for teaching, hop onboard a teaching English program. You can polish up your Spanish while you're at it!
All of these causes are in need of volunteers so they can keep helping communities. Instead of packing your bikini and getting beach pics, why not give up some time to leave a genuine, positive mark.
Volunteering isn't your average holiday, although you will get days off. Those looking for a relaxing tropical trip, or just want to do it for the social media clout – just don't. Volunteering is hard work, and it's all about doing something good or those who need it – furry or otherwise.
You can find amazing cultural exchanges on sites like Workaway and Worldpackers. With trusted reviews from previous volunteers and everything laid out for you, these sites are some of the best for finding legit volunteer opportunities in Costa Rica.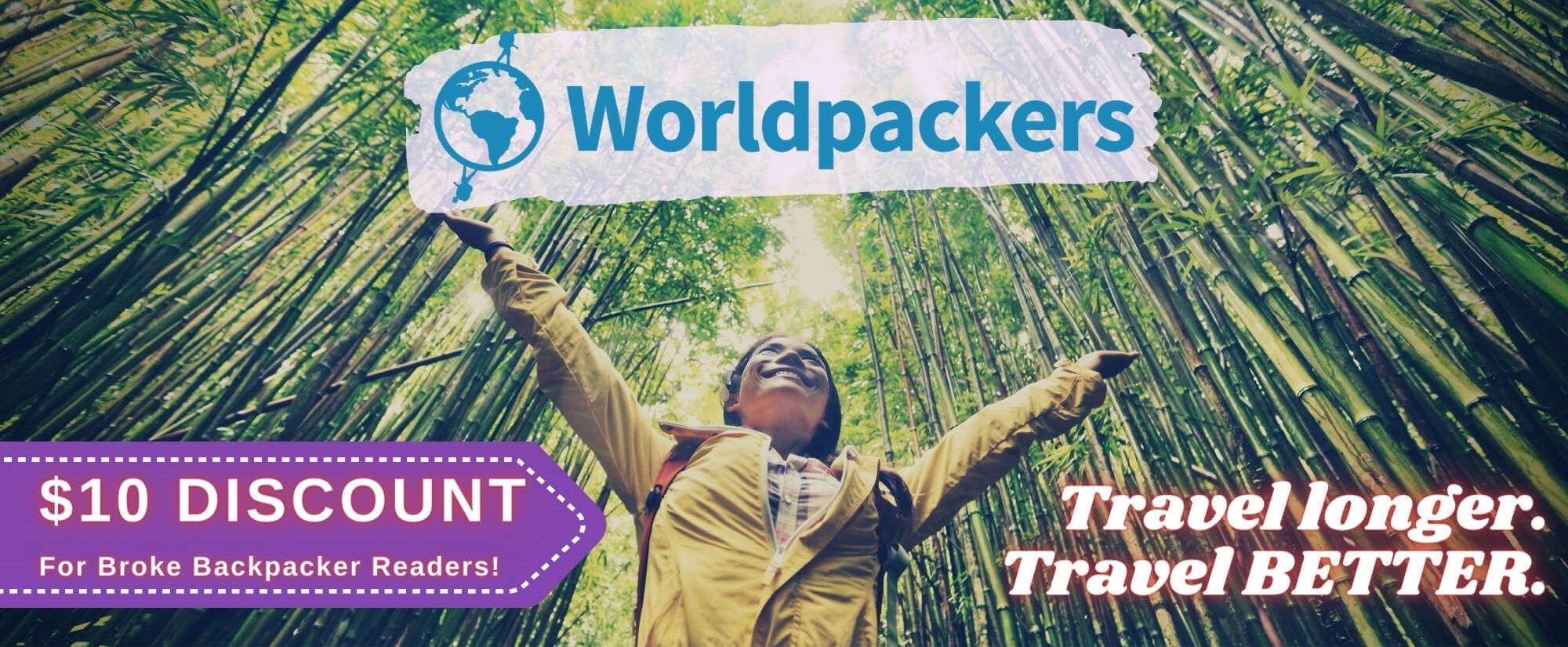 Worldpackers: connecting travellers with meaningful travel experiences.
Why Volunteer in Costa Rica
Everyone volunteers for a different reason, but in the end it always benefits the community.
Here are some of the reasons why you should volunteer in Costa Rica;
Have an authentic local experience – Is it an authentic trip if you stick to the tourist trail? Nah uh! Getting involved in a volunteer project is a great way to really experience the local culture.
Give back to the community – Volunteering is a fulfilling way to spend your free time. Not only does it fill your cup with good karma, it helps the community, and you can build meaningful connections in the process.
Polish up on your Español – Learning any language is awesome, and studying Spanish is super rewarding, especially if you want to travel central and south America. The best way to learn is to throw yourself into a culture. You'll be hablando Español in no time!
Meet new people – You can meet interesting locals, and make deep connections with other travelers.
Support important work – Many projects don't get government funding and rely on the generosity of donors and volunteers to keep fighting the good fight.
Follow your passions – There's no better feeling than doing things that we are passionate about. Even better if it helps others in the process!
Before You Volunteer in Costa Rica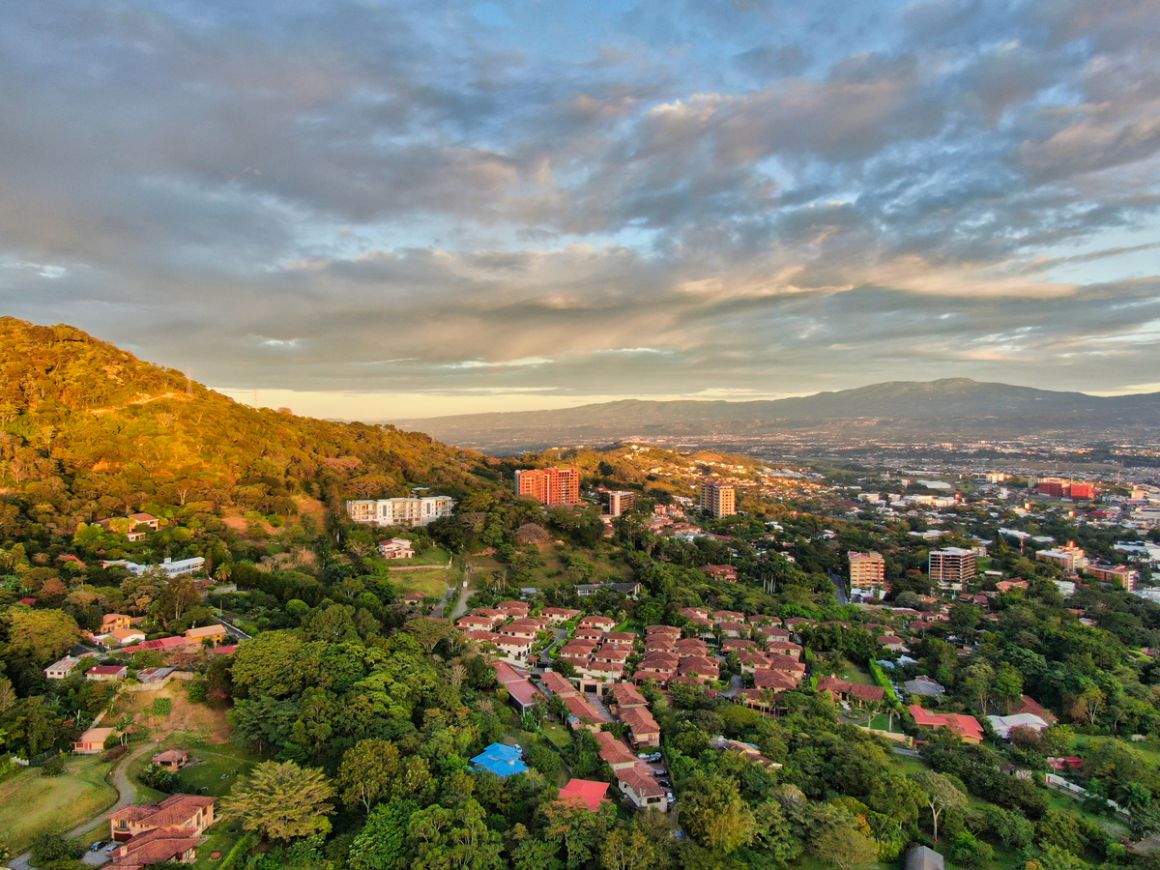 This is not the most exciting part, but we gotta do it. It's time to visa and vaccinations – wahey!
Ahh, the trials and tribulations of being a traveler.
So, what do you need to know about visas and vaccinations before volunteering in Costa Rica? Here we go..
Visas
If you want to go to Costa Rica as a volunteer, you need to have a provisional visa. You will need apply for it at the Costa Rican consulate in your home country. This can be a slow and expensive process, so plan ahead.
In saying that, many volunteer programs fall under the category of a tourist visa. You may not need to organize a provisional visa after all.
A 90-day tourist visa for Costa Rica is available on arrival in the country. If you plan to stay for more than 90 days, you can do a quick-n-easy 'visa run' at the border of a neighboring country, such as Panama or Nicaragua, and get another 90-day stamp when you re-enter Costa Rica.
If you're unsure, check with your volunteer organization about what visas the recommend.
Vaccinations
Several vaccinations are recommended for traveling to Costa Rica including hepatitis A, typhoid, yellow fever, rabies, and tetanus.
While Costa Rica itself isn't in a high-risk place for yellow fever, proof of vax is required if you're traveling from countries that do have a risk.
You've gotta take some extra care with mosquitoes as diseases like dengue and chikungunya hang around in these parts. You can't take a jab for these, but you can your best to avoid getting bitten by using repellent, wearing long loose clothes, and using a mosquito net at night.
Remember folks, we're travel experts and not doctors. Your best bet when it comes to your health is to have a chat with a doctor or a travel nurse.
Costa Rica At A Glance
Currency – Costa Rican Colón
USD 1 = 637.152 CRC as of Nov. 2021
Capital City – San José
Official Language – Spanish
Costs of Volunteering in Costa Rica
We hate to be the bearers of bad news, but it's not always free to volunteer in Costa Rica.
It can even be expensive. That may come as a nasty shock, however, consider it as an extension of your goodwill. The fees you pay are used to support the organization's projects and running costs.
Don't sign up to any old project and hand over cash. Be sure to check reviews from previous volunteers, and do a quick google search to check their credibility.
When you choose a project through Workaway or Worldpackers, the arrangement is an exchange of your time for accommodation and food. You may be asked to contribute a daily amount to cover expenses, though it's usually more affordable than when you find organizations yourself. The specifics vary from project to project.
As well as the cost of the program, you'll need to factor in your spending money. Think airfares, travel insurance, accommodation before and after your program, and day trips. While there are many ways to cut costs when traveling (we've got more than a few), it's worth considering how much you might need to avoid any trouble, or becoming stranded in paradise.
Choosing a Volunteer Project in Costa Rica
Everyone has different talents, and something unique they can offer to the world. Think about what project could use your strengths! You'll do a better job, and make more of an impact, if you like what you're doing. Both you and the project will benefit if you're having a good time.
There are so many different projects to choose from. From teaching, eco and conversation projects, social organizations and more. Let's break some of these down.
Social Support – The range of social projects and NGOs that need volunteers in Costa Rica is huge. You can get involved in projects that encourage social inclusion by teaching, mentoring someone professionally, playing sport, and more. There are endless ways to give back, and there's always a need for an extra pair of hands.
Environmental and Animal Conservation – Remember what we said about the incredible biodiversity in Costa Rica? We need to care for our environment, so we can keep enjoying it. This kind of work may involve caring for rescue animals, helping with turtle conservation or scientific research.
Agricultural Assistance – Got a passion for permaculture, or interested in learning about it? There are a ton of eco communities in Costa Rica that encourage us to be more connected to nature and sustainable. These kinds of projects usually involve getting a bit grubby, working with the land, gardens, and animals.
Construction and Renovation – There's a lot of projects in Costa Rica in need of handy people. If you've got a background in construction, you'll be hot property for these kinds of ogranizations. You could help out building a classroom, an eco bungalow or a community centre!
The length of a volunteer placements in Costa Rica will differ. Some projects are happy to have volunteers for just a couple of days, but others want a bigger commitment, and welcome volunteers to stay for weeks, or even months! Check-in with project organizers to see the kind of help they need. They can give you suggestions on the best time of year to come, depending on how much time you have to volunteer.
Save $$$ • Save the Planet • Save Your Stomach!
Drink water from ANYWHERE. The Grayl Geopress is the worlds leading filtered water bottle protecting you from all manner of waterborne nasties.
Single-use plastic bottles are a MASSIVE threat to marine life. Be a part of the solution and travel with a filter water bottle. Save money and the environment!
We've tested the Geopress rigorously from the icy heights of Pakistan to the tropical jungles of Bali, and can confirm: it's the best water bottle you'll ever buy!
View on REI
Read the Review
Top Volunteer Projects in Costa Rica
Okay, so we've covered most of the things you need to know and consider before volunteering in Costa Rica. Now you know what to expect, let's have a look at the top projects you can get involved in!
Opportunity: help make a difference to the marine life by protecting and monitoring marine turtles
Location: Ostional
What else could be better than watching tiny turtles hatch and keep them protected? This and so much more awaits you at this Global Work and Travel Volunteering Program in Costa Rica. Help save and protect the local marine life while enjoying the beauty of Ostional.
The best thing though: you hardly have to plan anything. Global Work and Travel offers fully guided volunteering trips as well as a 24/7 support line. You'll get help with sorting visas, airport pick up transfers and finding accommodation.
Your volunteering spot at the Turtle Conservation is guaranteed and all costs apart from flights and insurance are covered. It's the perfect escape for a purposeful gap year.
The program itself can take anything between two to twelve weeks. If you come during peak season, August-October you can expect to see tens of thousands of Sea Turtles on the beach at once.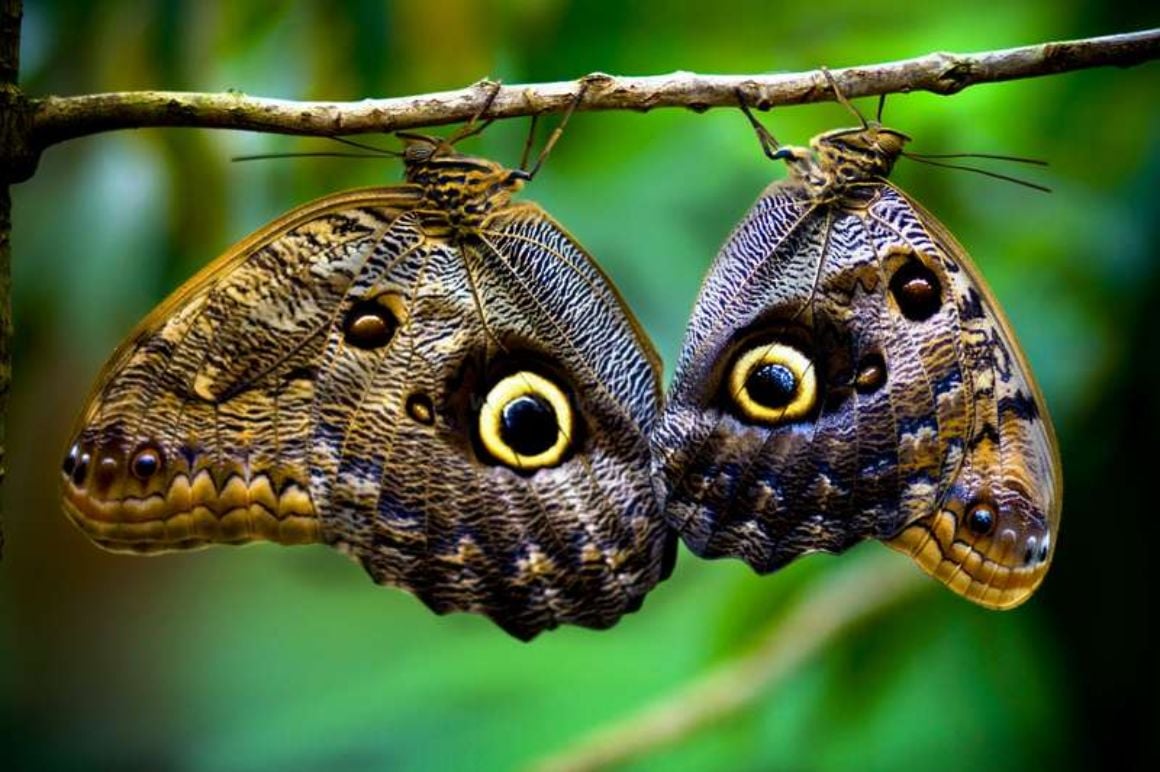 Opportunity – Butterfly husbandry, gardening, sustainability, childcare.
Location – Monteverde
If you don't mind creepy-crawlies and getting your hands dirty, this program in Monteverde is a great opportunity to learn about insects, biology, and jungle life in Costa Rica.
The project is at an educational facility that has been working with butterflies for the last 25 years, with a huge garden open for visitors. They want volunteers who are willing to help out in a few different capacities, including working with the butterflies, garden maintenance, construction, childcare, and various sustainability projects. Let the organizer know your skills and interests, and they will be able to put you to good work!
Here's a big plus for those of us who like to live and travel sustainably – the shared volunteer facilities are 100% off-grid, and volunteers enjoy vegan and vegetarian meals. There are lots of ways you can enjoy your spare time in this pretty corner of the world, though the hikes and nature around Monteverde (and the grounds of the program itself) are absolutely stunning!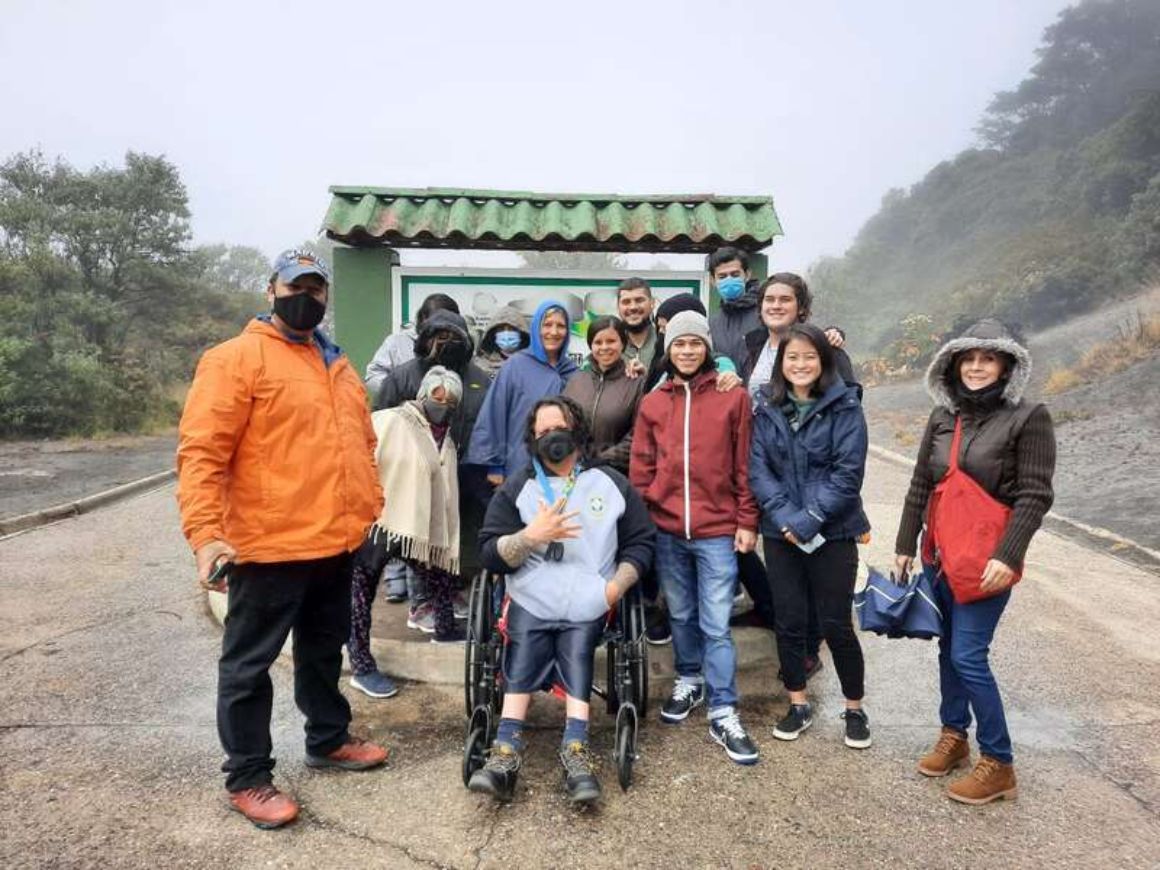 Opportunity – Photographer, web designer, community manager, activity organisation.
Location – San Jerónimo de Desamparados
This project is a non-profit organization that works to promote the participation of people with disabilities in social, cultural, work, and sport environments. They organize activities, including excursions, sports, dance, and more, with the aim to create a non-discriminatory and inclusive environment. Eventually, they hope to expand their work across all of Costa Rica. You can help with those goals!
The kind of work you can do with the organization varies according to your skills. They need helping hands for things like photography, web design, community management, social networking, database management, and organizing activities.
Volunteers will live with a local family and have their own room. While a few family members speak some English, you'll have the perfect opportunity to practice your Spanish.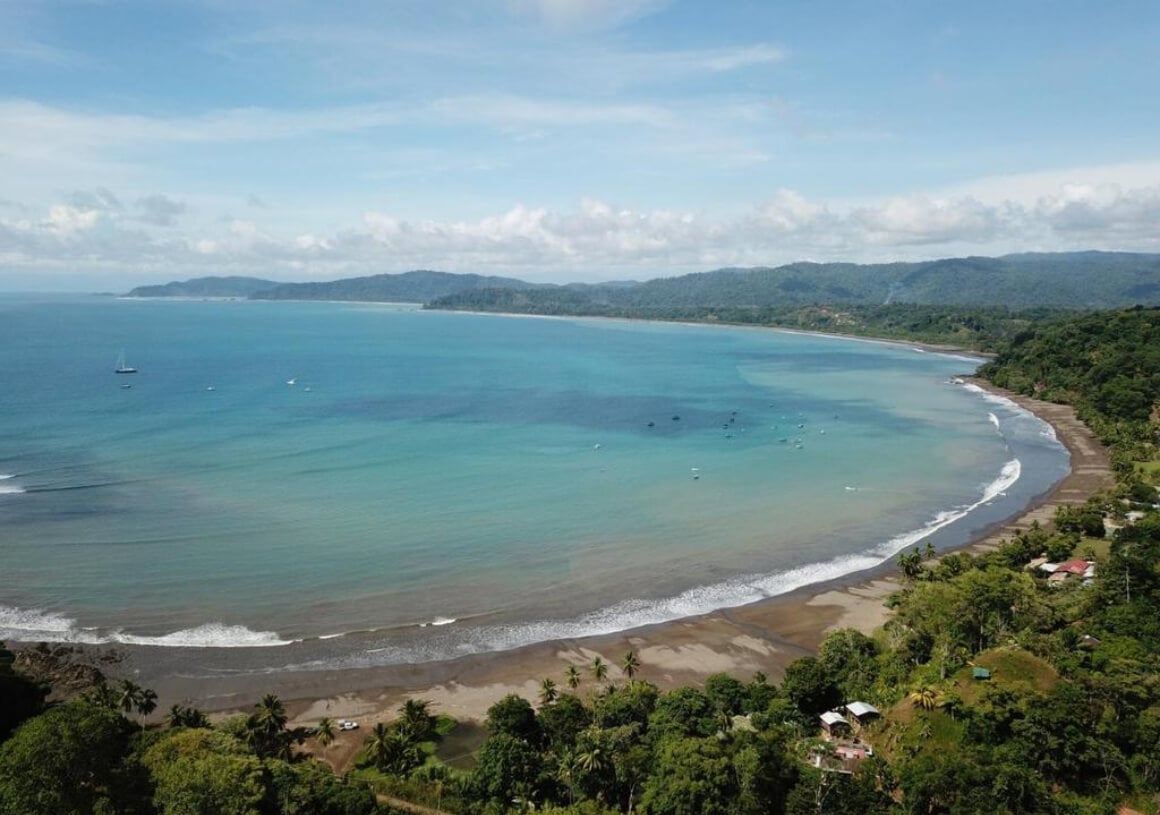 Opportunity – Teach language to community members
Location – Bahia Drake
Are you passionate about education and the environment? This program is calling out for language teachers and helping hands in their coastal community. It's a family-run program located in a pristine coastal community called Bahia Drake. You'll really get immersed in the local community!
While you don't need to have a formal background in education, they ask that volunteers are enthusiastic and enjoy working with kids. The teaching approach here is based on an interactive learning style with games and activities, rather than a structured classroom dynamic.
You'll also have the chance to help out with conservation projects and the protection of the beautiful coast, as this community runs multiple conservation projects that need helping hands.
With your $10USD contribution, meals are included and you'll sleep in a dorm room with other volunteers.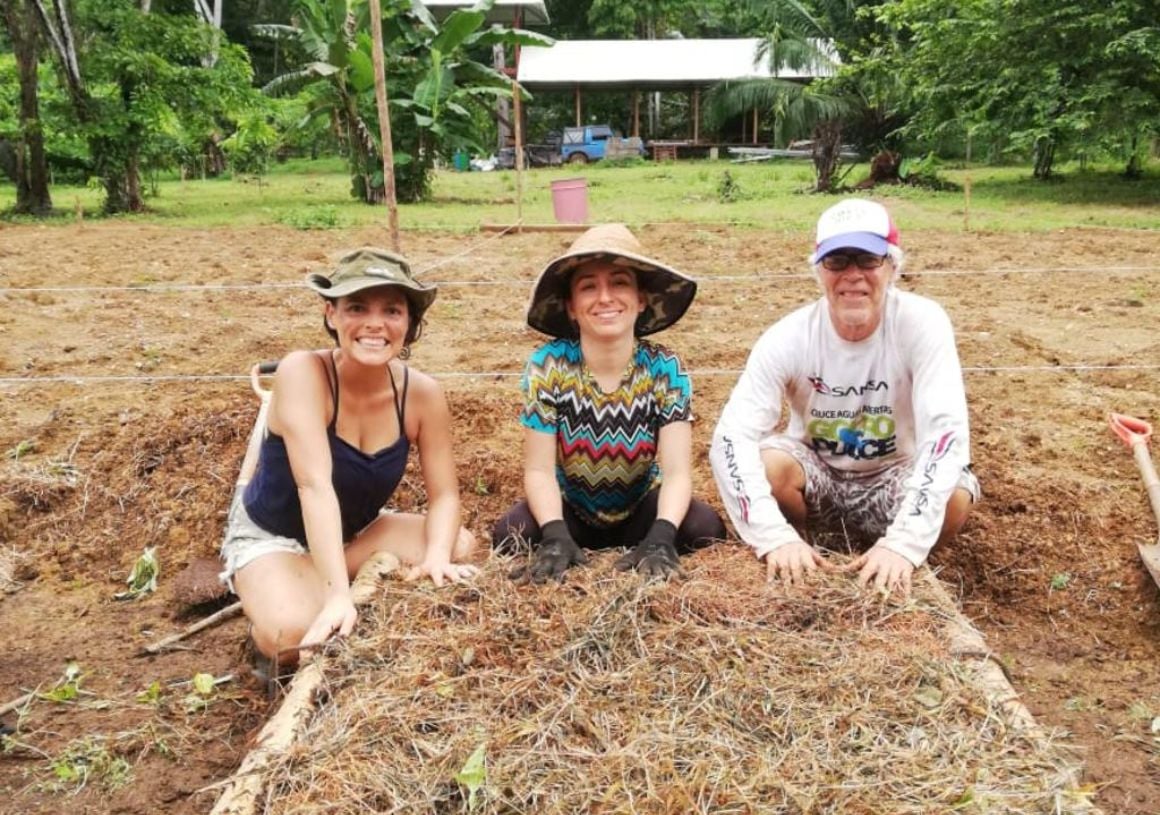 Opportunity – Gardening, construction, animal care.
Location – Drake Bay
Do you feel called to work on the land? This is an ecological program where they need extra help for greenhouse cultivation and animal care. You'll also have the chance to spend time surrounded by the nature of the beautiful Drake Bay.
Get your hands dirty, connect to la Pacha mama and learn some new skills as you go. If you're already an old hand at gardening and odd jobs, even better. The project of course loves to have people with unique skills and experiences to bring the intention of their project to life. This is a cool opportunity to connect with local cultures and spend time in nature, and yes, you'll get to practice your Tico Spanish!
In addition to time working with the land, this project asks that volunteers contribute $7 USD per day to help cover expenses, such as food, accommodation, and transport to and from the project.
Not sure how to start your volunteering journey?
One of the easiest ways to find the right Volunteering Program for you is through Global Work and Travel. Get the best offers, amazing guidance throughout the whole trip and enjoy an unforgettable trip. With our promo code, you can even get $100 off your next adventure!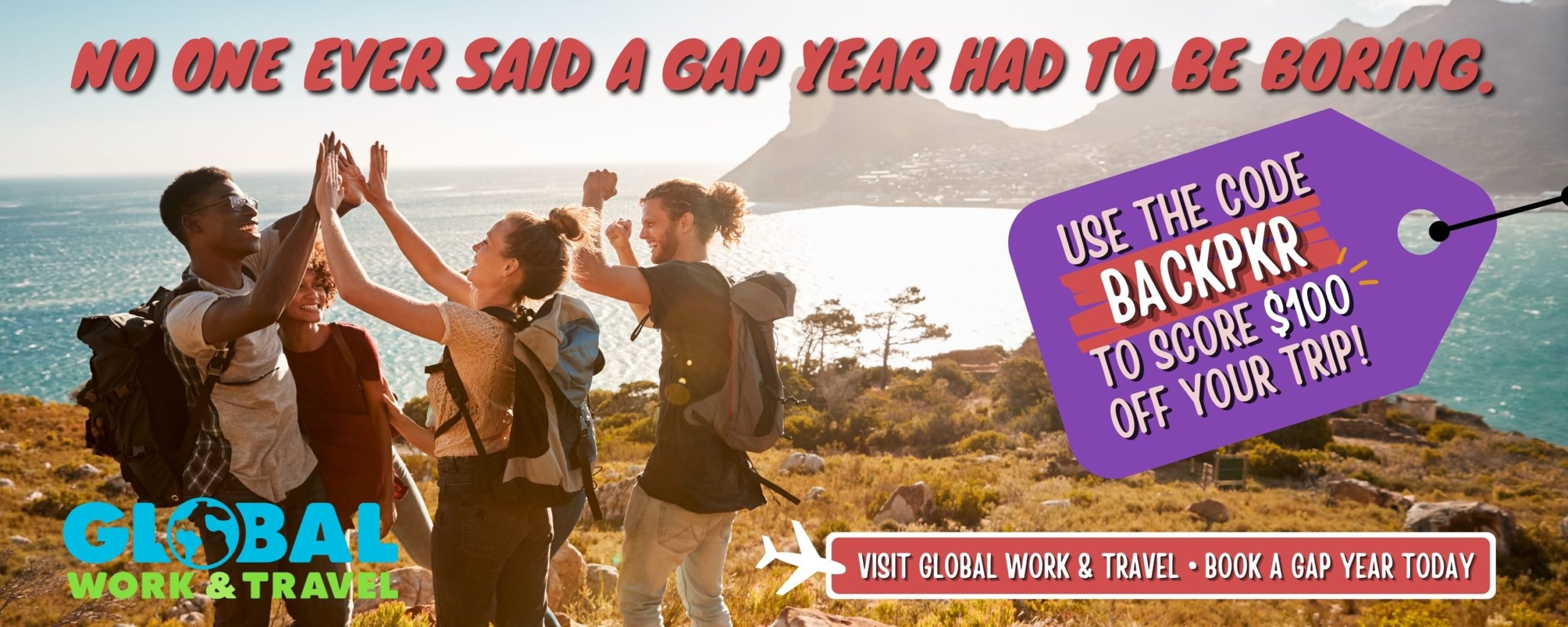 Is This the Best Backpack EVER???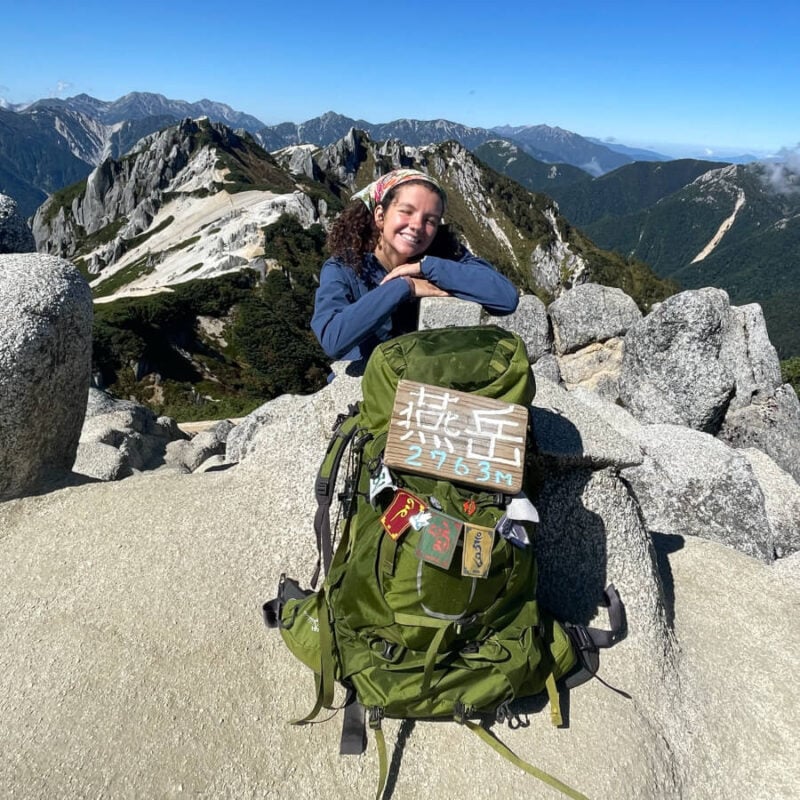 DIY Volunteering in Costa Rica
If you didn't feel called by any of those projects, there are still so many volunteer opportunities in Costa Rica that are run through independent organizations.
Try out some DIY volunteering! Step one, the internet is your friend. If you've got a particular organization in mind, you can contact them directly about their programs. Many will have websites and social media where you can learn more about their work.
Even a cheeky "X type of volunteering in Costa Rica" google search can bring up some cool results. Be mindful that if you take that approach, you shouldn't just sign up for any program you find. Make sure it's a reputable organization and not a group that wants to take advantage of a prospective volunteers, or an organization that uses "poverty porn" to get people involved. Always check for volunteer testimonials and reviews to cover your back!
Here are some great NGOs and volunteer projects making a difference in Costa Rica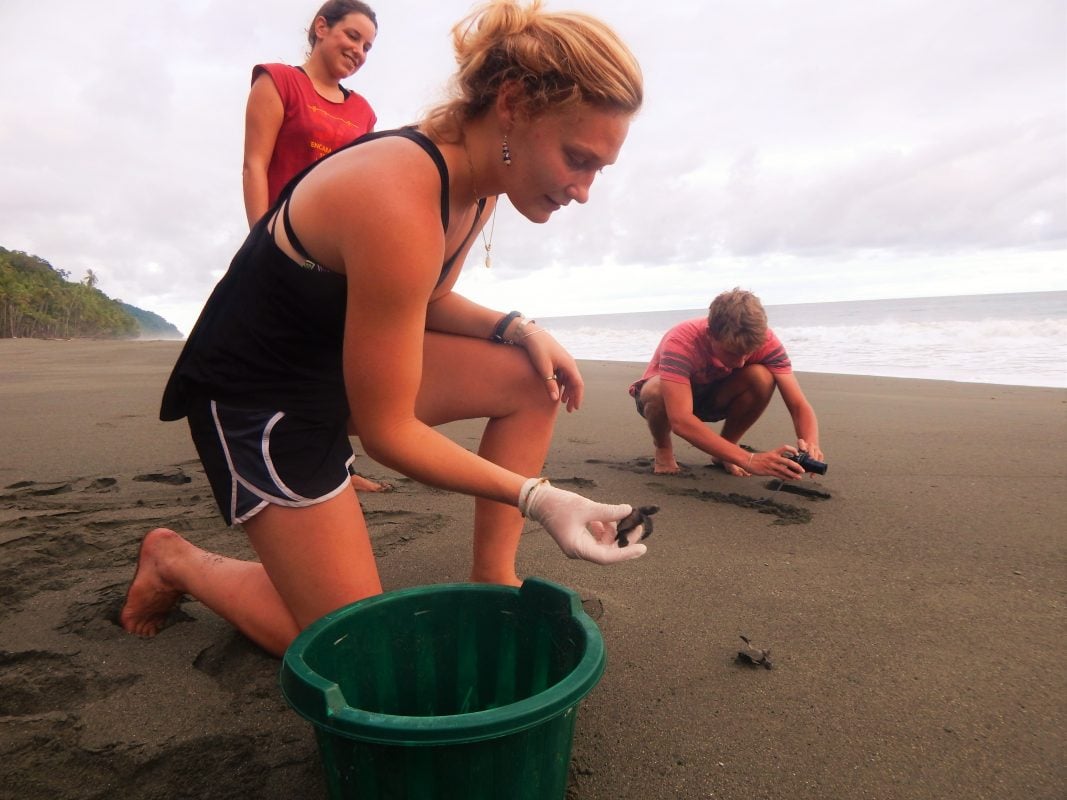 Osa Conservation supports the biodiversity of the Osa Peninsula, an area which National Geographic has named the most "biologically intense areas in the world". Sounds pretty epic, right?
They accept volunteers year-round for their sea turtle and general volunteer projects, research field assistants, and internships from Washington DC. The work varies depending on the project, but you'll work alongside a team of conservationists doing tasks like hands-on work with animals, science research, and administration.
The work schedule for this project is on the longer end of things. It's not cheap to get involved either. Volunteers work eight hours a day, six days a week, so don't sign up for this project if you're expecting a walk in the park. It's all for a good cause to protect this unique part of the globe.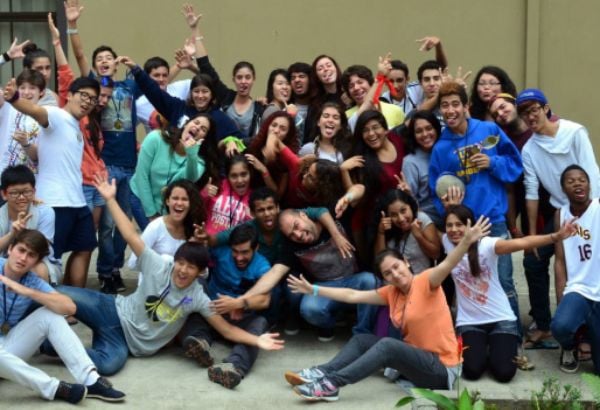 El niño y La Bola is a non-profit organisation that works with young people from at risk communities to empower community leadership and opportunity. They provide professional mentorship, small group workshops, language exchanges and sport workshops, all with the intention of equipping the youth and their families with the skills they need to thrive as leaders in their community.
They have a focus on education, empowerment, and compassion. That's how we nurture the leaders of tomorrow! They invite volunteers as individuals, student groups, and even companies who want to involve themselves as a part of their corporate social responsibility. Get in touch and see how you can get involved!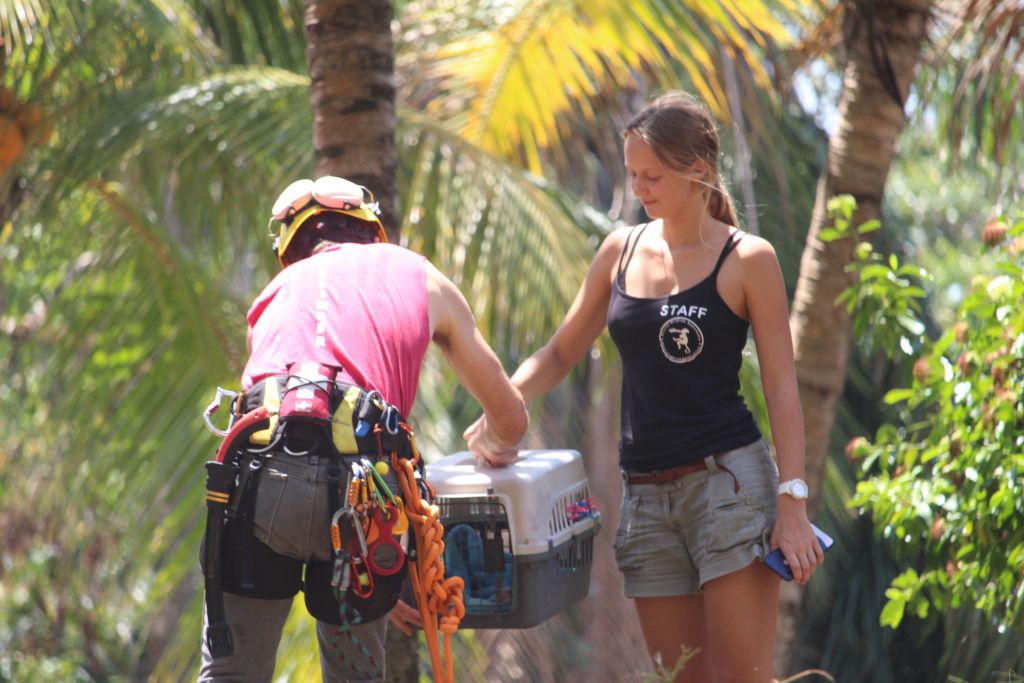 Do you love animals? Volunteering with Alturas gives you the chance to work in wildlife rescue, rehabilitation, and conservation. This project is a non-profit organization that's dedicated to the rescue and rehabilitation of sick, injured, and orphaned wildlife in Costa Rica. They take in many animals rescued by police from illegal ownership and rescue from roads or nets, focusing on the animal's recovery, and whenever possible, their release back to the wild.
The sanctuary serves as an education center and runs tours for tourists to raise awareness and funds for their projects. They practice a 'hands off' approach to protect the animals in their care. There will be no problematic animal selfies here, folks.
As a volunteer you can actively participate in their work, assisting with animal husbandries like cleaning, feeding, and enclosure maintenance.
DON'T DIE OUT THERE! …Please 🙂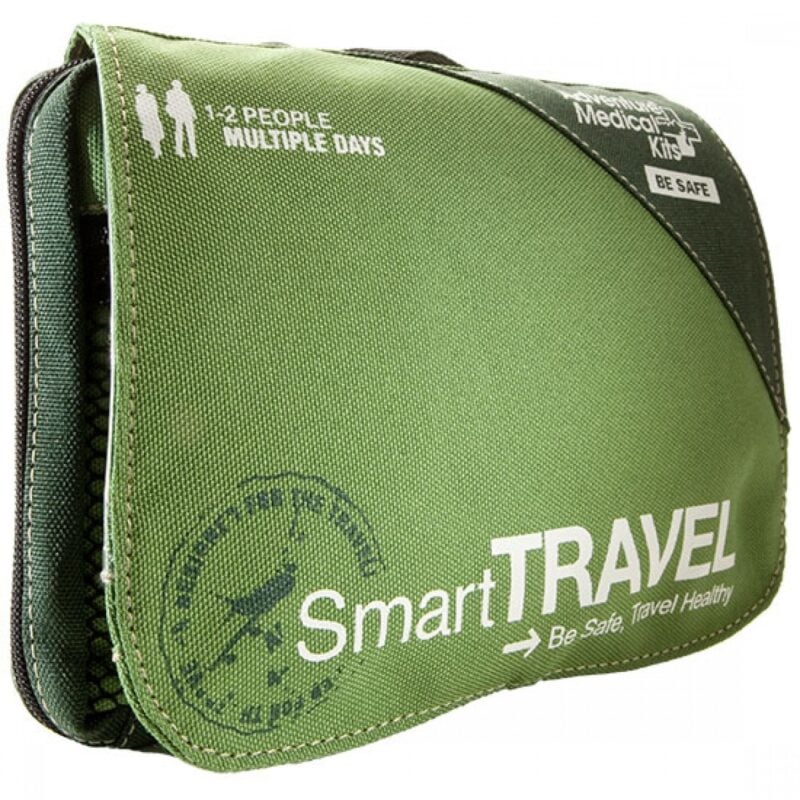 Things go wrong on the road ALL THE TIME. Be prepared for what life throws at you.
Buy an AMK Travel Medical Kit before you head out on your next adventure – don't be daft!
Buy on REI
What to Expect When Volunteering in Costa Rica
We will say it over and over like a broken record, the specifics of each volunteer project in Costa Rica are going to differ. We always suggest getting in touch with organizers and asking questions so you know what you're in for!
Accomodation
On volunteer projects where accommodation is arranged, you can expect all kinds of options. You might be staying in a shared dorm with other volunteers, have your own private room in a family home, or be set up in a tent in the jungle. Like all things, it varies from place to place.
On the other hand, If you prefer to organize your accommodation yourself, take a look at trusty platforms like Hostel World and Airbnb. Both of these have listings all over Costa Rica and beyond!
Work Hours and Days Off
When you volunteer through Workaway and Workpackers, you can work anywhere from three hours per day to a long workday of nine+ hours. On DIY volunteer projects, chances are you'll work a longer day, as those projects tend to be more focused on the impact of the work rather than being a work exchange. On the more intense options, you'll likely have food included.
What did we tell you? It varies!!
As for days off, most places will give you one or two full days off per week for you to relax and explore the area.
A little side note here – be mindful of projects that expect you to work super long hours. We know all too well that volunteering and work exchanges can be a mutually beneficial arrangement where everyone wins, but there are some folk out there who will take advantage of your time and labor. These people are few and far between, we want to stress that! However, be mindful it's not your responsibility to do things out of your comfort zone or perform tasks you didn't agree to.
As always, we say you should double-check specifics with your project organizer beforehand so you can arrive knowing what to expect.
Getting around
The best way to get around in Costa Rica is by local bus. This system is reliable, damn cheap and covers some pretty remote areas. A lot of travelers like to hire a car to have a bit more freedom, but if you choose this path, note that roads can be tricky to navigate and full of potholes.
If your volunteer project is located in a remote area, the organizers usually offer to pick you up from a town close by.
Do ask your host questions before you get there about the expected hours, days off, accommodation, etc!
Do check reviews from past volunteers on the project to see what they thought. You can do this on Workaway, Worldpackers and Google.
Do play to your strengths! Tell your hosts what you like and are good at so they can best harness your talents.
Do communicate with your hosts what your expectations are.
Do embrace local culture! Ticos are famous for being welcoming people, you'll get more out of your experience if you embrace their way of life.
Don't stick around if things don't feel right. Remember, this is an experience you're supposed to benefit from. You're under no obligation to stay in a situation that feels uncomfortable.
Don't be a slacker! Remember you're there to play part of a team, pull your weight and get into the team spirit.
Don't forget to have fun! While the reason to volunteer varies, remember you're there to enjoy yourself too.
Final Thoughts
So, my friends, there you have some tips to get you on your way to Costa Rica for the volunteer trip of a lifetime!
Getting involved in a volunteer project is an amazing way to travel. It can give purpose, and add structure and routine, to your trip. You'll get to experience a unique side of local culture and heck, you might even save some cash along the way.
Hopefully, this post has answered some questions about how you should get prepared. Now get packing and we will meet you there.
Hasta luego!
But don't forget to sort your travel insurance before you leave!
Month to month payments, no lock-in contracts, and no itineraries required: that's the exact kind of insurance digital nomads and long-term traveller types need. Cover yo' pretty little self while you live the DREAM!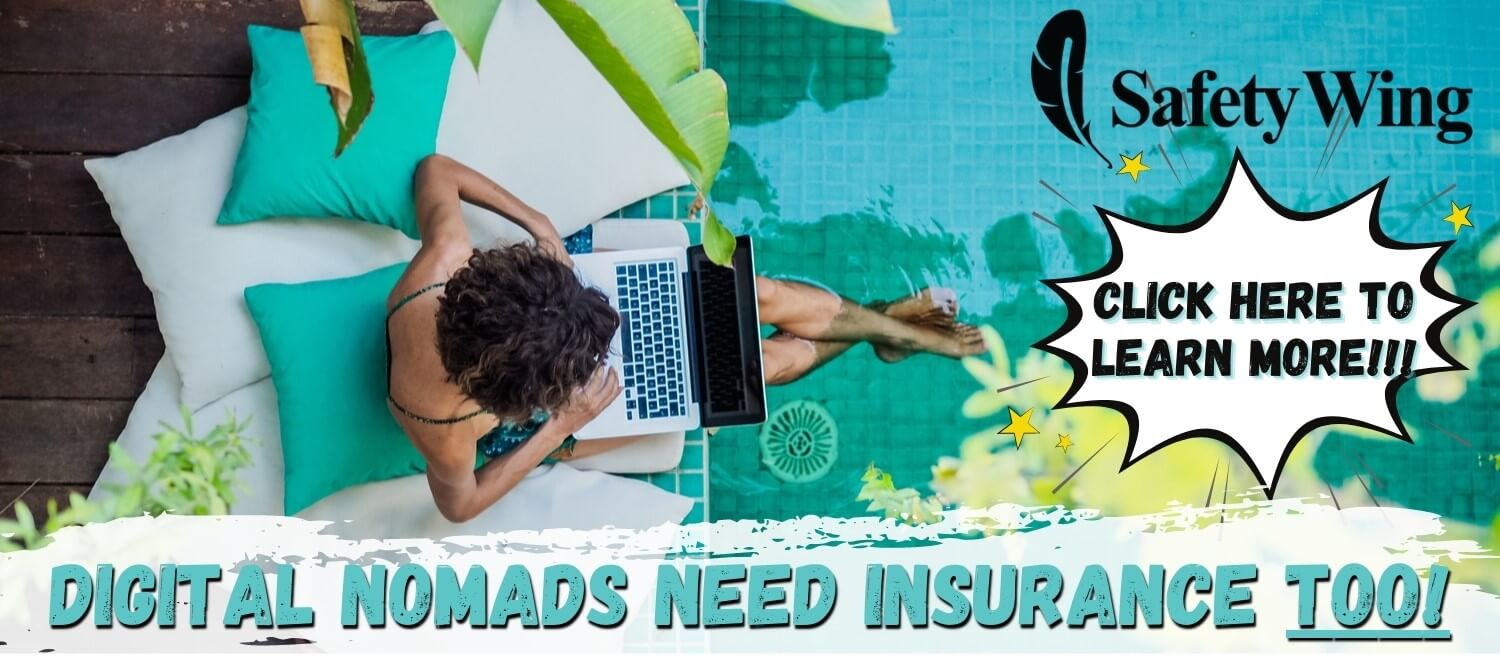 SafetyWing is cheap, easy, and admin-free: just sign up lickety-split so you can get back to work! Click the button below to learn more about SafetyWing's setup or read our insider review for the full tasty scoop.
---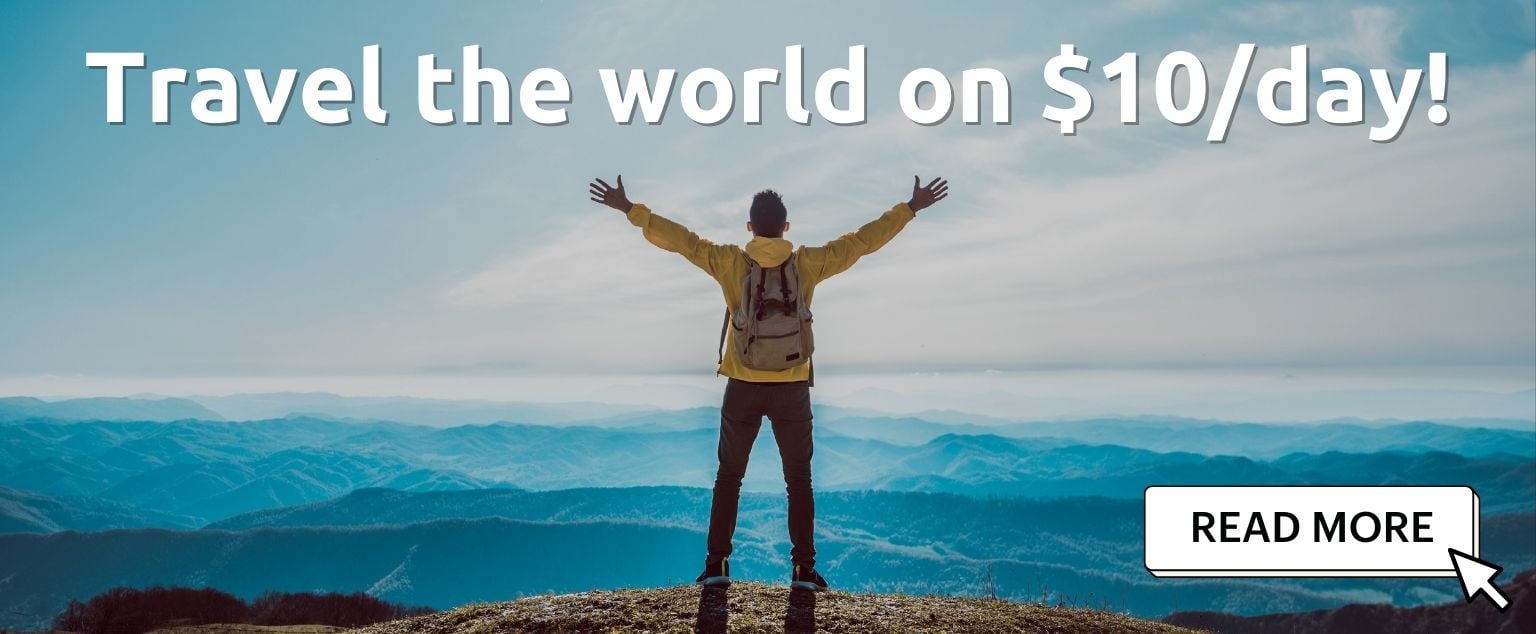 And for transparency's sake, please know that some of the links in our content are affiliate links. That means that if you book your accommodation, buy your gear, or sort your insurance through our link, we earn a small commission (at no extra cost to you). That said, we only link to the gear we trust and never recommend services we don't believe are up to scratch. Again, thank you!