Panama is kind of like the middle child of Central America. For some reason or another, it is often overlooked. Maybe it is because people gravitate towards its more famous and over-developed kin, Costa Rica, or maybe it's because travelers are just overly excited to arrive in Colombia, which is understandable. Either way, not many people go backpacking in Panama.
So you may be asking yourself at this moment: "is Panama worth visiting?"
The answer is absolutely YES! In reality, Panama is one of the most surprisingly beautiful countries in all of Central America. It cannot be reduced down to a simple canal or breeding ground for money launderers; this would be an unjust condemnation of a great country.
Over the course of this Panamanian travel guide, we'll cover a wide range of topics, from how to go backpacking Panama on a budget to where the best beaches are found to where you'll find the best hostels in the country.
By the end of this article, you'll be equipped with everything that you could possibly need to have an awesome time in this country. Just follow the travel advice for Panama as laid out by us and you'll be sitting pretty, mis amigos.
Why Go Backpacking in Panama?
Panama is one of the quintessential Central American countries; complete with jungles, beaches, marine parks, plantations, and lots of parties! There are all sorts of things to do and places to see when backpacking in Panama.
We're going to break down where to stay in Panama and which of the awesome places you need to visit, but before I get to that let's talk about specific routes for backpacking Panama.
Below are a couple of itineraries meant give you some ideas. Each one is specially drafted to give you the best possible experience. Though if you wish, please feel free modify them in any way you like.
Afterward, we're going jump into the meat of the article – the destinations – and then follow up with more specific information e.g. Costs, Food, Diving, etc.
By the end of this guide, you'll be equipped with all of the necessary tools to go backpacking around Panama on a budget!
Best Itineraries and Routes for Backpacking Panama
Below is a list of four travel itineraries for backpacking Panama. They cover Panama City and the Azuero Peninsula, the End to End (of the country), and The Best of Panama. These vary from 1 week to 2 weeks in length and cover the majority of the best places to travel to in Panama.
Backpacking Panama 4 Day Itinerary #1: The San Blas Islands
If there was ever a reason to visit Panama, even just for a moment, then it would be to visit the San Blas Islands. These are among the most beautiful islands in all of Central America.
You'll need 3 to 5 days to experience the San Blas Islands properly. This way, you'll have plenty of time for swimming, fishing, and exploring. Remember that it takes time to sail to the San Blas Islands from Portobelo or Colombia in the first place.
Since this itinerary only visits one part of Panama, feel free to add it to the others below for a well-rounded trip.
For more information on organizing a trip to the San Blas Islands, refer to its specific summary in the Places to Visit in Panama section.
Backpacking Panama 1 Week Itinerary #2: Panama City and the Azuero Peninsula
With only 7 days in Panama, any itinerary is going to feel a little rushed so we're going to have to make the most of your time! This backpacking route will give you a taste of the mountains and beaches in Panama.
Start in Panama City and enjoy the pleasures of the big city. Once you've had your fill, move to El Valle de Anton for a little decompression and lots of nature. Finally, head south to either Playa Venao or Santa Catalina for some quality beach time.
At the end of this itinerary, you may be wishing you had more time in Panama! No worries though, amigos! You'll be back soon and there are plenty more options when you return.
Backpacking Panama 10 Day Itinerary #3: From End to End
During this 10 day itinerary in Panama, you'll get to see many of the country's top destinations! Start at one of the end of the country and work your way across, catching glimpses of the best of Panama.
Check out Panama City and experience the new and old. Go island hopping in the Bay of Chiquiri and then visit the highlands of Boquete.
Go crazy in Bocas del Toro or, if you're feeling a little burnt out, relax on Bastimentos, which is one of the quietest and most relaxing islands in Panama.
Backpacking Panama 2 Week Itinerary #4: The Best of Panama
This is the most complete itinerary for Panama that one can have on a standard 2-week vacation. You'll see many of Panama's greatest attractions, more so than any other itinerary on this list.
Bathe in the mineral waters at El Valle de Anton; dive in Santa Catalina; island hop in Chiriqui; drink coffee in Boquete; party in Bocas del Toro; all of this and more is possible on this ultimate backpacking route for Panama!
Places to Visit in Panama
Backpacking Panama City
Panama City is the capital and economic center of the nation. On a larger scale, it is one of the most promising and rapidly-growing cities in all of Central America and the Caribbean. It has been likened to many of the world's most glittering metropolises including but not limited to Dubai and Miami.
The most arresting feature of Panama City is its skyscrapers who rise quite prominently to the skies much like a jungle canopy. These are the result of huge amounts of foreign investment and business brought by the Panama Canal. The best views of the skyline are along Avenida Balboa, Accon Park, or from a rooftop bar, like Panaviera or Rooftop 62.
You need a bit of information before you can decide where you want to stay in Panama City. There are two important historical quarters: Casco Viejo and Panama Viejo. Panama Viejo was one of the first settled parts of the city but now a series of ruined colonial buildings, most of which are being retaken by the jungle. Be careful when visiting this area as there are several rough neighborhoods nearby.
Casco Viejo, which was founded right after Panama Viejo, has a lot more colonial architecture and is much more integrated into the actual city.
Of course, the famous Panama Canal is located very close to the city as well. It's an extremely important landmark, not only in Panama but the entire world, and has an interesting story.
The experience of visiting it is boring as fuck though as it's just a giant concrete channel. Unless you're interested in the history of the Canal, you can probably skip it.
Though the city is beautiful to look at times, it gets dull quite quickly. There are a couple of cool places in Panama City to visit (e.g. Amador Causeway, Bridge of the Americas) but once the charm wears off, you'll want to get out ASAP. However, you can make your short stay even better by choosing one of the epic hostels you'll find in Panama City – rest your head before you head on to the next adventure!
Backpacking San Blas Islands
The San Blas Islands are one of the best places to visit in Panama and all of South America for that matter,. They are simply gorgeous, ridiculously so.
Most people visit the San Blas Islands on their way from Colombia to Panama and vice versa. This means that they are, aside from being a destination in themselves, an excellent way of connecting the two countries.
Of course, you can organize a tour to the San Blas sans Columbia if you like. You can also fly to the islands but then you'll miss half the fun.
If you want to sail to the San Blas Islands, you'll have to reach out to a local tour company. There are several operators based in Panama City that can help you. If you want to go to the source, head to Portobelo where the docks are. You'll probably get a better deal if you haggle here and will have a chance to inspect the boats.
Be very mindful when booking a boat and be sure to note the condition of the life jackets, kitchen, toilets, bunks, and fire extinguishers. You're about to live on this boat for 4-5 days and safety/comfort are not always guaranteed.
Be sure to inquire if you'll be sleeping on the boats or camping on the San Blas Islands. While staying on the boat can be ideal, sleeping on the islands can be a once-in-a-lifetime experience.
Once you set sail for the San Blas Islands, it's just a matter of letting go. You'll be in paradise without a care in the world. Go for a swim, have a snorkel, chill on an abandoned beach, visit a local Kuna village, whatever. Just let the world pass you by in the San Blas.
Backpacking El Valle de Anton
Thanks to its relatively close proximity to Panama City and its stunning natural setting, El Valle de Anton is one of the best eco-retreats in Panama and a favorite getaway for locals. Situated in the heart of a caldera and surrounded by leftover volcanic monoliths on all sides, Anton is a great place to go hiking or just escape to somewhere more bucolic.
Several buses connect Anton with Panama City and the surrounding province. Once you arrive in the village, your own two feet will be enough to get around, although renting a bike will be the best form of transport.
El Valle de Anton is primarily an eco-retreat. People from all over Panama come here to reap the health benefits that the volcanoes provide.
Mud baths are popular here as is the local produce, which is thought to be superior thanks to the mineral-rich soil. There is an orchid nursery in the village as well that is particularly beautiful and one of a kind.
Some of the best outdoor activities in El Valle de Anton include visiting one of the many waterfalls and/or mountains around the village. El Macho is the most popular cascade near Anton. Some awesome mountains irresistible to trail runners and hikers would be Cerro La Silla, Cerro Cariguana, and Cerro Picacho.
Backpacking Playa Venao
Not to be confused with the Venao, the beach very near to Panama City, this Playa Venao is located down south on the Azuero Peninsula, and is much better.
Here, like most of the Pacific Coast, there is little in the way of infrastructure, tourism, and, best of all, crowds! There is no better place to start backpacking the Panamanian coast than Playa Venao de Azuero.
To get to Playa Venao, travelers must first get to Pedasi and then grab a local minibus. Upon arriving in Venao, you will be dropped off in the town, which may or may not look empty. If it's empty, great! Welcome to the real Panama, the one that is devoid of geriatrics and shitty tourists.
The town of Playa Venao, like most Panamanian towns on the Pacific Coast, is pretty sleepy. There are a couple of (overpriced) markets around the village and several restaurants. Also, like the rest of the west coast, there is not a whole lot to do here besides lay on the beach and maybe surf a bit.
The actual beach of Playa Venao is quite long and shaped like a large crescent moon. It's a good beach and there should be no problem finding a quiet spot.
The bay picks up pretty good surf and the breaks have gained quite a reputation among the community. Rent a board at a local hotel or shop around and give it a shot. If you're feeling a bit timid, there are stand-up paddle boards available as well.
Don't forget to check out the small waterfall located very close to Venao. A little freshwater bathing will do you good.
Backpacking Santa Catalina
Santa Catalina is ground-zero for the best surfing in Panama! Here are lots of sweet breaks that are appropriate for all skills levels. Aside from the surf, Santa Catalina is also in close proximity to the spectacular Coiba National Marine Park, which is considered one of the best places to go diving in Central America.
To get to Santa Catalina, you must arrive at the town of Sona and then take a local bus to Santa Catalina. The bus ride is 1-2 hours long and a bit bumpy.
Santa Catalina itself is very small and somewhat undeveloped. If it wasn't for the dive centers, the odd mom-and-pop store, and the sizeable expat community, this would be a dead-end town.
Surfing is Santa Catalina's claim to fame and it has several beaches that offering varying levels of waves. La Punta is the most famous surfing beach, renowned for its consistent breaks from April-October. Nearby, Playa Estero is a bit tamer. Beyond Estero is Punta Brava and the waves pick up in intensity here.
Note that there is a lot of sharp, volcanic rock in the shallows around Santa Catalina and so water socks are highly recommended. Try not to hit your head either.
There are several more beaches around Santa Catalina that are good for lounging. Some notable beaches include La Coquita, Punta Roca, and Playa Santa Catalina. For some really remote beaches, try renting a kayak and then making the journey out to Isla Santa Catalina.
Divers will rejoice at the prospect of exploring Coiba National Marine Park. This underwater menagerie is an absolute paradise for diving and perhaps considered the single best place to go diving on the Pacific Coast of Central America.
Local marine life includes migrating humpbacks, whale sharks, manta rays, dolphins, and maybe even orcas.
Backpacking Chiriqui
Chriqui is one of the most prosperous regions in Panama. Located on the Pacific Ocean, it is an extremely fertile place, not to mention, drop dead gorgeous.
David is the capital of Chiriqui. It is a modern city, located right off the Pan American Highway, and makes for a good base for exploring the nearby countryside. The club scene is reportedly very good but that's about the only thing exciting going on.
Nearby to David is the real draw: the Gulf of Chiquiri. This area is home to some of the best places in Panama. Here is some world-class diving and awesome coastal communities.
Some places in the Gulf of Chiriqui, like Las Olas and Boca Chica, are bit more developed due to their position on the mainland and these can be visited by vehicles. Other, more remote locations like Boca Brava, the Islas Secas, and Isla Parida, are less developed, harder to access, and far more Arcadian.
To reach one of the islands in the Gulf of Chiriqui head to the docks at either Boca Chica or the smaller Pedregal. From these, you can take a boat to many of the Gulf islands including all of thee aforementioned ones.
The islands themselves are very raw and have little in the way of lodging. You can stay at one of the local hotels or try to find a camping spot in a safe place.
The best things to do in Gulf of Chiriqui are go diving or laze away on the beaches. Here are some of the most untouched landscapes in Central America – the jungles are virgin, the beaches are pristine, and the reefs are like palaces.
Backpacking Boquete
Boquete is a small hamlet located in the high cloud forest of the Chiriqui mountains. It is a very refreshing place to visit, with brisk mountain air, whitewater rivers, and dozens of little plantations dotting the edge of the village. Those who want to relax in the jungle with a cup of organic, local coffee or enjoy adventure sport will like Boquete very much
Boquete isn't what I'd call a hidden gem though; at least not these days. Boquete has been the subject of a lot of tourism in recent years and, as such, has become more developed.
It's still a very charming place to visit, for sure, but there's no lost temple in the middle of the jungle that Indiana Jones might stumble upon.
Wander around the village in Boquete and visit the many farmers markets, cafes, and coffee plantations, for which Boquete is famous for. Boquete is also well-loved for its abundance of flowers and a grand festival to these is held in January.
Boquete is a great jumping point to many outdoors activities. The Quetzal Trail is significant because it passes through one of the few remaining habitats of the very rare Resplendent Quetzal.
Volcan Baru, which is the highest mountain in Panama at 3500m, is very close to Boquete and famous for its summit. From the top of Volcan Baru, you can see both the Pacific and the Atlantic Oceans on a clear day.
Other outdoor activities in Boquete include whitewater rafting, rock climbing, and ziplining. Be sure to drop by the Caldera Hot Springs after a long day of adventuring to give your body some R&R.
Backpacking the Lost and Found Hostel
Those traveling from Boquete to Bocas del Toro have to make a pit stop at the legendary Lost and Found hostel. Located about halfway to Bocas on a cliff overlooking the Valle de Hornito, this hostel has practically become a destination unto itself! The parties are rowdy, the bunk rooms are towering, and the views are superlative.
Aside from the lodging itself, the Lost and Found hostel is famous for organizing both treks and treasure hunts into the surrounding cloud forest. Some of the more popular trips from Lost and Found include the Los Cangilones cliffs and Celestine Falls.
At Los Cangilones, you can jump into the river canyons and then try rock climbing your way back out; this was one of the most fun things to do in Panama! Horseback riding, coffee tastings, and night safaris are also available via the hostel.
Drop by Lost and Found hostel for a couple of days of seclusion or stay here for the rest of your trip. You wouldn't be the first backpacker to fall victim to the hostel's siren calls and be "lost" in the jungle here…
Backpacking Bocas del Toro
Bocas del Toro is, to put it bluntly, a complete shitshow at times. We're talking, drunk and falling off a pier, bottle of rum in the bicycle basket, bad sex on the top bunk, shitshow. It was, at least for me, one of the best and worst places I saw in Panama, and certainly one of the most fun.
That is not to say Bocas is a complete zoo, as there are definitely some redeeming qualities to it – the beaches here are fantastic, like something out of Robinson Crusoe, and the diving is among the best in Panama. Since it's actually a part of a larger archipelago, there are lots of opportunities to get away from the madness too.
To get to Bocas del Toro, you'll arrive at Almirante and then catch a water taxi to Isla Colon, which is where the town of Bocas del Toro is located. You'll notice that Bocas is not a very big village at all and navigating it should be quite easy. You should definitely rent a bike to explore the rest of the island though!
When riding around Bocas, be sure to visit Playa Bluff, Playa Boca del Drago, and Playa Estrella. That last one, named for the plenitude of starfish residing in the shallows, is one of the most popular on the island.
Definitely look into island hopping in Bocas del Toro. Very nearby to Colon is Carenero, famous for the rowdy Aqua Lounge. Further abroad is Isla Bastimentos, which is much quieter than Bocas. Here is some amazing diving, abandoned beaches, and barely a soul in sight.
Red Frog and Wizard are the two most well-known beaches on Bastimentos. Aside from the occasional local party, they're pretty quiet. Palmar Beach Lodge, which is one of the best hostels in Panama, is right on Red Frog. If this hostel doesn't expect your expectations, don't worry. There are plenty other awesome hostels in Bocas del Toro that offer comfy beds, a safe place and a chance to meet like-minded travellers.
Off The Beaten Path Travel in Panama
For all the attention it receives from foreign investors and expats, there is still a lot of Panama that is hidden away. Some of these off the grid locations are paradises while others are just that: off the grid away from any sort of civilization or safety for that matter.
For those who want to go on a real adventure and get away from the usual touristy spots, here are a couple of ideas for you…
Backpacking the Darien Gap
The Darien Gap is literally off the beaten path; in fact, there are hardly an paths at all. This portion of Panama is pure jungle – twisted and overgrown and sheltering all kind of malcontents – and, consequently has zero development. There are no roads, no hotels, and no help if you get into trouble.
The Darien Gap is also a well-known hiding place for drug traffickers and paramilitary groups. It goes without saying that these groups have no problem using civilians for their own means. Kidnappings and even executions happen here quite frequently. For these reasons, the Darien Gap is considered one of the most dangerous places in the world.
The Darien Gap can be visited, but only with an experienced guide and we mean this very seriously. In a place where just about anything can kill you, regardless of whether or not it's a human, you need to know where to go and where to step. But for those who are willing to brave the jungles of the Darien Gap, it is certainly a doable task.
You can organize a trip to the Darien either online or in Panama. Panama City will probably be your best bet for organizing a tour. If anyone has any leads on a good operator and where they are based out of, please leave a comment at the end of the article.
Once inside the Darien, you'll be greeting by a wall of jungle, the likes of which hides all kinds of cursed treasures. Exotic animals, lost tribes, and rebel legends are all present in this place. Know that, if you make it this far, you're one of the only travelers to do so.
Backpacking Las Lajas
If a murderous jungle crossing sounds too intense for you, how about a nice beach instead? Las Lajas is located in the remote coastal section of the Chiriqui province and will soon be one of the most desirable places to visit in Panama. With only a few bungalows and a huge stretch of sand, Las Lajas is one of the quietest and most relaxed beaches in Panama.
Getting to Las Lajas is thankfully not very difficult as it's just off the Pan-American Highway. Grab a bus to the intersection of Route 461 or even farther down this road if you can. You might have to hitchhike a bit.
When we said that there is nothing in Las Lajas, we really meant it! There are only a few restaurants and hotels, and certainly no supermarkets or ATMs for that matter. Be sure to bring cash and your favorite snacks with you because you won't be able to find them.
When in Las Lajas, the only things to do really is lay on the beach. You may find a couple of locals offering horse rides or surf boards if you really look around.
You can also visit two islands called Islas Silvas off the coast of Las Lajas, but you'll need to organize a boat. These really are the definition of "desert islands" and neither has hardly any sort of human development present aside from the occasional backpacker.
Backpacking the Pearl Islands
Many of you may have already seen the Pearl Islands without knowing it. They have been the setting for one of the most popular series in modern television that has, ironically, become synonymous with the very concept of "getting lost" or "remoteness."
The premise of this TV show is simple: strand a group of strangers on an island and watch them compete to survive. What program could this be?
Survivor has been filmed on the Pearl Islands for over 3 seasons due in part to its combination of virgin rainforest, pristine beaches, and relative solitude. If you have ever been a fan of this show, then you will know the producers try very hard to choose a setting that is both difficult and gorgeous at the same time.
Those backpacking around Panama can visit the Pearl Islands via a ferry departing from Panama City. In a mere 2 hours, you can be on some of the best beaches in Panama.The Pearl Islands consist of several islands ranging in size. Contadora Island is the most developed and home to the majority of the archipelago's services including the docks. There are several beaches around Contadora that can be visited on foot.
Visiting the other Pearl Islands requires either a chartered, private boat or the limited ferry service. The latter visits Saboga, Viveros, and San Miguel Islands in addition to Contadora.
Prices are expensive on these islands, and there are little to no budget options. You can stay at an expensive hostel on Contadora; otherwise, there is a good campsite on nearby Saboga Island.
When visiting the Pearl Islands, expect everything you would from a deserted island paradise: little infrastructure (outside of Contadora), abandoned beaches, and intimidating jungles.
Top Things to Do in Panama
1. Tour coffee plantations in Boquete
Panama produces some of the finest coffee beans in the world. Caffeine junkies should go absolutely crazy for the local plantations here and thoroughly enjoy touring them.
2. Get "lost" and then "found" in the Valle de Hornito
The Lost and Found Hostel is infamous among the Central American backpacking community and has become a bit of a right of passage by now. Visit this amazing lodge for some great food as well as thrills.
3. Go diving
Panama has some amazing dives sites that could easily compete with the likes of Honduras or Costa Rica. Check out some of the most famous sites at Coiba National Marine Park and Isla Bastimentos.
4. Relax in the Valle de Anton
El Valle de Anton is one of the premier eco-retreats in Panama. Bathe in the mineral-rich waters of this valley or go for an invigorating hike in the highlands.
5. Sail in the San Blas Islands
Sailing and camping in the San Blas Islands is one of the most fun things to do in Panama! While sailing around the islands, you'll visit abandoned beaches, local villages, and eat straight from the sea. These islands are just stunning.
6. Party in Bocas del Toro
For those who like beach parties, no place does them better than Bocas del Toro! Grab a beer and head for the piers where most of the other backpackers gather. Careful not to fall off, unless that's what you want.
7. Surf on the Pacific
The best surf in Panama is found on the Pacific side of the isthmus. The waves here are larger and more consistent than what the lazy Caribbean Sea could offer.
8. Visit the Panama Canal
If you're a lover of history, the Panama Canal is one of the best places to visit in Panama City. This endeavor is a triumph of modern engineering and there are many interesting facts to learn about it.
9. Celebrate a religious holiday
The biggest celebrations in Panama are usually religious by nature and the entire population turns out for them. If you really want a glimpse into Panamanian life and culture, attend one of the country's many holy holidays.
10. Try something adventurous
Like its more famous northern neighbor, Panama is full of adventurous outdoor activities! Even more, just about everything in Panama is cheaper than Costa Rica!
Backpacker Accommodation in Panama
Move over Costa Rica! There's some new hot shit in Central America. No longer the helpless country dragged into the dirt by the drug trade and foreign intervention, Panama is quickly becoming one of the top destinations in Central America. More and more people are traveling to Panama and falling in love with it.
Everyday, new lodges and retreats are opening up in Panama that cater to all sorts of visitors. Whether you are the shoestring sort of backpacker or the luxury traveler, you'll be sitting pretty thanks to the plethora of accommodation options in Panama.
There are lots of hostels in Panama and most of them are of an exceptional quality. Legendary lodges, like the Lost and Found and Bambuda, are often ranked among the best in all of Central America. Often, these hallmarks are worth visiting by themselves.
Few exceptions aside, just about every location in Panama worth-seeing has a hostel nearby. Even some of the really remote areas have at least one hostel in town.
If you wanted to skip on the bed and save money, you could, of course, try Couchsurfing. Staying with a local is a great way of seeing the more authentic side of a country.
Camping is also an option and there are lots of opportunities to do so in Panama. Look into bringing a good tent as well as a sleeping mattress. If you're feeling extra crazy, maybe consider a hammock instead – just make sure it's sealed because, remember, you're in the jungle.
Best Places to Stay in Panama
Panama Backpacking Costs
By Central American standards, Panama is slightly more expensive than the average country, though not nearly as much as Costa Rica or Belize. This is still Central America though, which means that you can definitely go backpacking in Panama on a budget!
With the right habits, you may even get by for as low as $10/day!
The average daily budget for backpacking Panama will be around $30-$45. This will get you a bunk bed, grocery money, and some extra cash for entertainment.
Hostels in Panama will cost an average of $10-$15. Backpacker lodges in some of the more remote areas, like Santa Catalina or Playa Venao, will be more expensive. Panama City has a nice diverse selection of hostels that range from basic and cheap to pretty luxurious.
If you need to cut costs on lodging, try Couchsurfing or camping. Both can you save you quite a bit of cash. If you plan on camping and want to save even more cash, consider investing in a wilderness stove so you can cook your own food as well!
A good meal in Panama should cost no more than $4-5 if you're eating at a local joint. Careful how much you do this though – the costs of eating out, even at a cantina, can add up quick.
Transport in Panama can be dirt cheap if you stick to public transport. Minibusses usually cost less than a dollar and the long haul buses cost on average about $1/hour traveled.
Avoid taxis and private cars as best you can as these can be expensive and frustrating for travelers.
Drinking in Panama is relatively affordable. Beers can cost as low as $0.50 during happy hour and mixed drink maybe around $2-3. Pick your poison and try to be mindful of how much you're spending, especially in honeypots like Bocas del Toro.
A Daily Budget in Panama
Money in Panama
The balboa is the official currency of Panama. Interestingly, it behaves in the exact same way as the USD does and is completely equal to the USD in terms of value e.g. 1 USD=1 Panamanian balboa.
Balboa coins are made to be identical to US coins in weight, composition, and dimensions, albeit with different engravings. If you were to have any balboas leftover after backpacking Panama, you could totally use them at American vending machines or parking meters!
US currency is accepted at all businesses in Panama. When paying with US dollars, you may receive balboas back as change. Some vendors may hesitate to take large bills because they are afraid of counterfeits.
Those who travel to Panama with Euros or Pounds can sell them at one of the many currency exchange businesses, but may not get a good deal. If at all possible, try to bring US dollars with you to avoid changing currencies.
If you need more cash, ATMs are widely available throughout the country. American cards should almost always work. Withdrawing cash may be troublesome for other international bank cards depending on which ATM you are using.
Be sure to alert your bank that you're traveling to Panama, just in case.
Top Tips for Broke Backpackers
Camp: With plenty of gorgeous places, Panama can be a great place to camp. Make sure you bring your backpacking tent! Or, if you're feeling really adventurous and want to save some cash, consider picking up a backpacking hammock.
Cook your own food: If you are on a tight budget, you can save money by cooking your own food. I recommend bringing a portable backpacking stove.
Book your transportation early: Both plane and bus tickets are much cheaper if you purchase them in advance.
Couchsurf: Panamanians are awesome, and I am so grateful I was able to explore its cities with local friends. Check out Couchsurfing to make some real friendships and see this country from the perspective of locals.
Pack a travel water bottle and save money every day!
Why Should You Travel to Panama with a Water Bottle?
Plastic washes up on even the most pristine beaches… so do your part and keep the Big Blue beautiful
You aren't going to save the world overnight, but you might as well be part of the solution and not the problem. When you travel to some of the world's most remote places, you come to realise the full extent of the plastic problem. And I hope you become more inspired to continue being a responsible traveller.
Plus, now you won't be buying overpriced bottles of water from the supermarkets either! Travel with a filtered water bottle instead and never waste a cent nor a turtle's life again.
When to Travel to Panama
Panama is subject to a typical tropical climate and only observes 2 distinct seasons: a hot, rainy summer season and a cool, dry winter season. Thanks to its warmer weather and lack of extreme meteorological events, Panama can be visited at any time of the year.
Temperatures are fairly consistent in Panama year-round and show little variation or extremeness. Daily lows rarely go below 75 Fahrenheit in the winter and rarely climb above 90 in the summer.
Summer (December-April) is when the majority of rain falls in Panama. These rains come in the form of afternoon storms, which is great for people that like to be active in the mornings. Temperatures may feel warmer during this time because of the increased humidity.
Winters (May-November) in Panama is generally the time when people travel to Panama. During this season, rain is sporadic and the skies are generally clear. This is also the busy season, which means prices will be higher.
There is some climatic variation within Panama. The highlands around Boquete are definitely cooler than the rest of the nation, due in part to their increased elevation. Also, the Caribbean generally receives more rainfall for more months of the year. Thankfully, this rain almost never comes in the form of a hurricane as Panama lies outside of the hurricane zone.
Panamanians love to party! It seems like every weekend there is some sort of festival going on, be it religious, cultural, or just a good ol' fashioned shitshow. Those backpacking in Panama should have a lot of opportunities to get up and get down!
Many of Panama's celebrations are religious in nature. Being a part of a pretty devout Catholic nation, Panamanians tend to take these festivals somewhat seriously as well. Expect massive closures or empty cities as on the big Catholic holidays as Panamanians travel for the celebrations.
Biggest festivals and parties in Panama:
Panama Jazz Festival (January) – One of the largest and most important jazz celebrations in the world. Lots of international acts. Held in Panama City.
Flower and Coffee Festival (January) – As the name suggests. Offers some truly gorgeous flower displays and the best coffee that you'll ever have. Held in Boquete.
Carnaval de Las Tablas (February/March) – The biggest party in Panama! Celebrated during the 4 days leading up to Ash Wednesday. Lots of eating and drinking. Celebrated nationwide but the grandest parties are around the Azuero Peninsula.
Festival de la Mejorana en Guararé (September) – In honor of the Virgin of Mercy. Huge celebration of Panamanian folklore. Held in Guararé.
Festival del Cristo Negro (October) – Pilgrimage to the Church of San Felipe and the statue of the Black Christ. Held in Portobello.
Independence Days (November) – Commemoration of Panama's succession from the Spanish Empire as well as being separated from Colombia. Celebrated all month long.
What to Pack for Panama
On every adventure, there are six things I never go traveling without:
For plenty more inspiration on what to pack, check out my full backpacking packing list.
Safety in Panama
Safety in Panama is a bit deceptive. While it can be one of the safest places in Central America – a region notorious for crime – danger can definitely sneak up and surprise the shit out of you. Don't be fooled by Panama's glittering towers or pristine resorts – there are still lots of hazards to be aware of when backpacking in Panama.
Be sure to exercise all of the usual safety practices when you travel to Panama. For a refresher course, check our Backpacker Safety guide.
When in Panama City, be sure to check in with your lodge manager about what areas to avoid since crime is constantly moving from district to district. Some neighborhoods that have been historically rough are El Chorrillo, San Miguelito, Caledonia, Pedregal, and San Miguelito.
Those backpacking Panama should avoid the town of Colon, period. There's nothing going on here and crime is rampant.
When sailing around Panama, you may run into a small freighter or "banana boat" coming to and from Colombia. These are often used for trafficking coke. Avoid situations where you come into contact with the local cartels. Trust me, you don't wanna get caught up in the drug trade here.
The Darien Gap should receive special attention. Historically, the Darien Gap has been a refuge for drug cartels and rebel groups. Abductions, executions, and other acts of violence towards foreigners are not uncommon here.
The Darien Gap is the Wild West, amigos – venturing in the Darien Gap is doable (and possibly amazing) with the proper aid, but you must be aware that is one of the most dangerous places in the world. Only travel to the Darien Gap if you have proper guidance.
Sex, Drugs, and Rock 'n' Roll in Panama
There are a lot of opportunities to get fucked up in Panama; a lot. Between the decadent parties in the capital city, the many annual festivals, and the beach raves, party people will have no trouble getting their kicks in while backpacking around Panama.
For the more refined backpacker, the most elegant parties are in Panama City. Aside from the many rooftop hotel bars spread throughout the urban core, the majority of the best clubs in Panama City are found on Calle Uruguay. Here you'll stumble upon the staples of the Panama City nightlife, including Alejandro's, The Palace, The Londoner, and Praga.
The Casco Viejo district has an awesome nightlife scene as well, though it is more laidback and artsy. There are a lot of cool little haunts like Stranger's, Gatto Blanco and Habana Panama that make for a great night out. There's even a brewery, the Rana Dorada, complete with a taproom and pseudo-industrial design that will make hipsters feel right at home.
Outside of the city, the best parties are usually found at the main beaches. Bocas del Toro, of much infamy, is one the best parties in Panama and can get pretty wild.
Barco Hundido and the Aqua Lounge are two of the most notorious bars in Bocas del Toro. Other local legends include the Bookstore, Bibi's, and the Blue Coconut.
I'll wrap this section up by reminding everyone about proper drug use. Since Panama is along the established drug trade route, you're probably going to see a lot of coke here.
Indulge if you like but remember to be smart and especially conscious of who you're buying from. Rumors circulate that dealers will often set up tourists on stings so that they can split the bribe money with the cop that solicited it from said tourists.
Travel Insurance for Panama
Traveling without insurance would be risky so do consider getting good backpacker insurance sorted before you head off on an adventure.
I have been using World Nomads for some time now and made a few claims over the years. They're easy to use, professional and relatively affordable. They may also let you buy or extend a policy once you've started your trip and are already abroad which is super handy.
World Nomads' mission is to support and encourage travellers to explore their boundaries. They offer simple & flexible travel insurance, and safety advice to help you travel confidently.
They've been doing it since 2002 – protecting, connecting, and inspiring independent travellers just like you.
Get a quote below or read our in-depth review!
World Nomads provides travel insurance for travelers in over 100 countries. As an affiliate, we receive a fee when you get a quote from World Nomads using this link. We do not represent World Nomads. This is information only and not a recommendation to buy travel insurance.
How to Get into Panama
If you aren't arriving into Panama by road from Costa Rica or by boat from Colombia – both of which are covered in greater detail in the Onwards Travel section – then you'll most likely arrive via Tocumen International Airport, located just outside of Panama City.
There is an international airport in David but – aside from one flight to/from Costa Rica – all flights stop at Tocumen to clear customs anyway, so I wouldn't really consider it applicable.
Tocumen International Airport is well serviced by flights from the rest of the Americas. Flights to and from the USA in addition to Panama's neighbors – Costa Rica and Colombia – are usually the cheapest and most frequent.
The popular airlines offering flights to/from Panama City are Copa, America, United, and Spirit. There are a few flights coming from major European cities like Paris, Istanbul, Madrid, Frankfurt, and Amsterdam.
There are several private and local buses leaving Tocumen for Panama City; both cost $1.25. Note that you'll need a fare card to use the public bus and cash is not accepted. On the other hand, private buses only accept cash. For directions to the bus stops, look for signs at the airport or inquire with the information desk.
Taxis that travel to Panama City have set rates of around $25-$30. Uber is available in Panama City but also charges a flat rate of $25 for a city transfer.
Entry Requirements for Panama
Panama offers visa-free travel to several foreign countries. Those who qualify may enter the country on a free tourist visa for up to 180 days. These visas can be extended on a case-by-case basis. For a list of countries that qualify for a free visa, refer to the map below.
Those who have a passport that does not qualify for a free Panamanian visa, but have a residence permit with any EU nation, Canada, USA, Japan, Australia, Singapore, or South Korea can still enter Panama visa-free. Applicants will need to provide proof of a multi-entry visa and/or the proper residency documents.
Visa runs to Costa Rica are a popular way to extend a Panamanian visa, but acquiring these has become more difficult in recent years. In an effort to crack down on immigration, Panamanian customs is now stricter and requires additional criteria for re-entry into Panama.
Before returning to Panama after a run, you will need to 1) stay outside of Panama for more than 72 hours, 2) have a return ticket to your home country, and 3) provide evidence that you have at $500 to your name.
Even with these items, you may still be denied re-entry into Panama if your customs agent is a dick. Be prepared if you're going to do a visa run to Costa Rica from Panama both with the proper paperwork and for the reality that this may not be enough.
How to Get Around Panama
Panama has a great public transportation system! Public buses can take you just about anywhere, from inside the cities to deep into the countryside. Using buses as a means of traveling is a great way to go backpacking in Panama because they're convenient but, most importantly, they're cheap!
Those who plan to ride the bus should check this website for a list of routes and timetables.
The Pan-American Highway is the main artery in Panama. It is a comfortable paved highway that links the Americas, well, aside from the Darian Gap.
Outside of the Pan-American, the roads can be pretty rough and generally degrade in quality as you travel further away from the main highway. But if a mainliner bus can't get you to where you want to go because of road conditions, then you can always grab a local bus.
The local minibusses that crawl through the cities and towns are called diablos rojos or "Red Devils." Like most chicken buses found in Latin America, these devils are brightly decorated and packed like a tuna can. Fares cost a matter of cents. Be careful of your surroundings and pickpockets when riding one of these.
Hitchhiking in Panama is a reasonable and acceptable way of getting around that is practiced by both the locals and many broke backpackers. Hitchhiking in Panama is pretty standard and follows the usual rules like any other country.
Onwards Travel from Panama
Since Panama only shares borders with two other countries, that makes the decision of where to go next pretty easy! Either head back to Colombia via the San Blas Islands or travel onto Costa Rica.
There are three land crossings between Panama and Costa Rica: Paso Canoas, Rio Serrano, and Sixaola-Guabito.
All of the borders open at 7 am but close at different times – Paso Canoas and Rio Serrano both close at 11 pm, though the former closes at 9 pm on the weekends. Sixaola-Guabito closes at 6 pm every day.
It's very important to remember that Costa Rica lies in a different time zone. Upon crossing into Costa Rica, the clocks will go back an hour so keep this in mind.
The most popular border crossing is at Paso Canoas. This is a very, very busy crossing and receives a shit ton of traffic. Everyone here – police, bus drivers, commuters, everyone – is in a bit of a mood and may be difficult to work with. There are the usual "border helpers" looking to score a quick buck for aiding you and you can use these people if you think they're necessary (I usually don't).
Since there are no overland routes across the Darien Gap between Panama and Colombia, the only way to travel between the two countries is by sailing through the San Blas Islands.
This trip is among the best things that you can do in Panama and is a great reason for connecting the two countries! For more on what to do and how to get around the islands, see the Backpacking San Blas Islands section of this guide.
Working in Panama
Panama is quickly becoming a top digital nomad hotspot in Central America. Few other countries in the region can compare with Panama's low cost of living, manageable cost of living, and reliable WiFi. For those beach bums who like to spend their days between the laptop screen and beach, Panama is a great place to base oneself.
Lots of hostels in Panama are starting to double as co-working spaces. This, coming from Lonely Planet, means that travelers will almost immediately have access to a productive ecosystem.
Internet is easily found in all of Panama's urban areas as well as in the larger tourist ones. Many restaurants and lodges may offer free WiFi to paying customers. In the more remote parts of the country, internet becomes dodgy.
Teaching English is also a possibility in Panama. Panama City is the most common place to find English teaching jobs in Panama although there are more adventurous opportunities in the small villages around the country
You will, of course, need a TEFL certificate to start teaching legitimately in Panama. We suggest you obtain yours here at MyTEFL. Broke Backpacker readers get a 35% discount on TEFL courses as well! Simply enter the code BACKPKR when checking out.
Volunteer in Panama
Volunteering abroad is an amazing way to experience a culture whilst giving something back. There are loads of different volunteer projects in Panama ranging from teaching, to animal care, to agriculture to pretty much everything!
Panama may be a highly developed country, but there are still many opportunities for backpacker volunteers. You'll find opportunities in any number of sectors, from teaching and social work to decorating and video making. Panama offers 180-day tourist visas as standard, and you'll be able to volunteer on this throughout your trip.
If you want to find volunteering opportunities in Panama, then we recommend that you Signup for Worldpackers – a volunteer platform that connects local hosts directly with traveling volunteers. As a Broke Backpacker reader, you'll also get a special discount of $10 when you sign up. Just use the discount code BROKEBACKPACKER and your membership is discounted from $49 a year to only $39.
Volunteer programs run through reputable work exchange programs like Worldpackers are usually very well-managed and reputable. However, whenever you are volunteering, do stay vigilant especially when working with animals or children.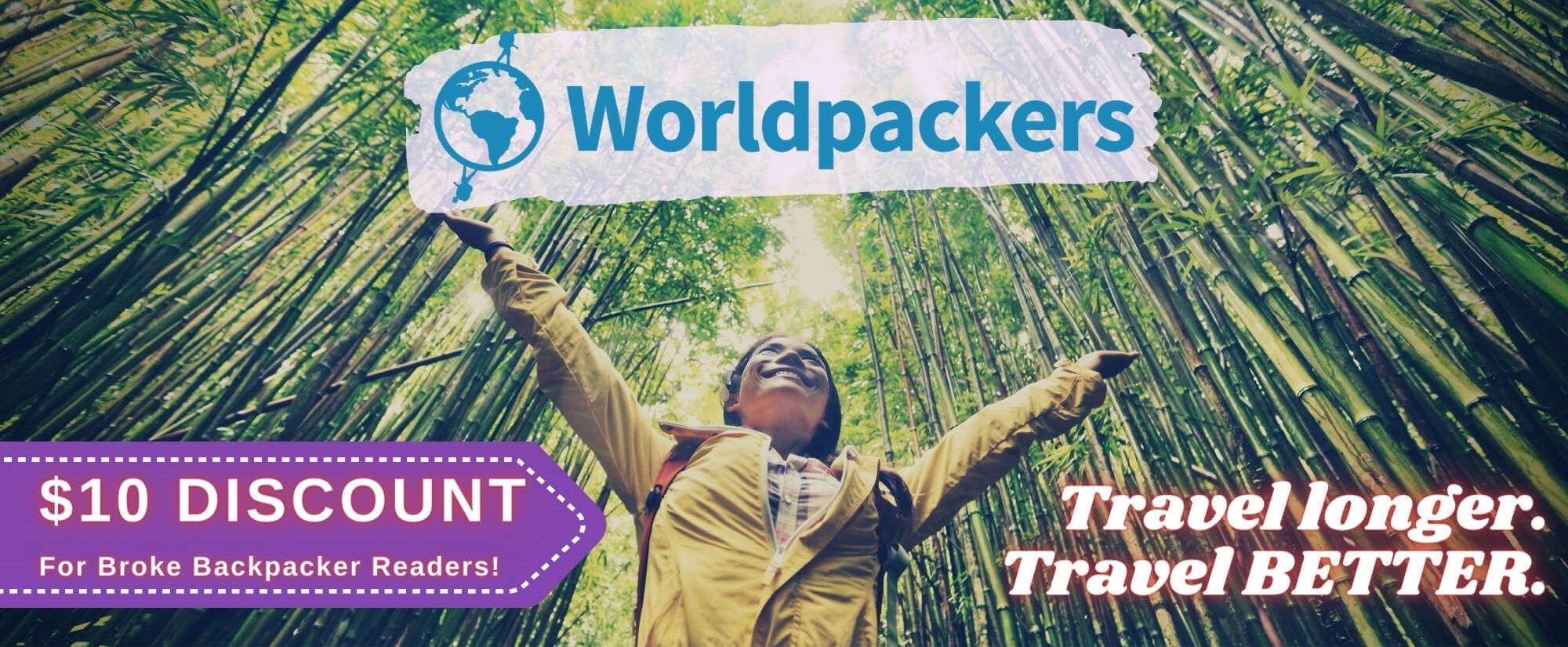 Worldpackers: connecting travellers with meaningful travel experiences.
What to Eat in Panama
Like the rest of Central America, the food of Panama can be a pretty hearty affair. Unlike its neighboring countries, where beans and/or chicken paired with rice become monotonous, Panamanian food is, thankfully, a little more varied.
Due to a strong Caribbean influence and the proximity of South America, Panama has much more spice, flavor, and general diversity of cuisine.
Of Native American heritage, corn is used to great extent in Panamanian cooking, mostly as a filler. Rice is obviously present to great extent. More exotic ingredients like yuca and plantains also make an appearance in Panamanian food.
Being a maritime nation, seafood is plentiful in Panama. Beef is also common due to the country's many cattle farms. As always, chicken is ubiquitous.
Like Costa Rica, fresh produce is almost always available and tastes delicious. Be sure to stop by one of the local markets to try fresh mango, passionfruit, and other tropical varieties.
Best Panamanian Foods
Panamanian Culture
Panamanian people are an extremely diverse bunch; perhaps the most diverse in all of Central America. Since their roots come from all over the world, Panamanian lineage is an enormous melting pot.
African slaves, mestizo broods, European settlers, American expats; all of these cultures have contributed to the Panamanian identity and have made it what is today.
Panamanians are also an extremely welcoming crowd and love to have a good time. While I was backpacking in Panama, they reminded me of Brazilians in that they were very enthusiastic and somewhat pious at the same time. Other values, like the importance of family, hygiene, and a nice wardrobe, seemed to be shared by both cultures.
On the other hand, Panamanians do differ from their more southerly neighbors in a lot of ways. Panamanians can be pretty reserved at times and somewhat overly concerned with their social standing.
Panamanians care deeply about saving face and will for that matter be polite to the bitter end in order to appear civil. You will not see many Panamanians sacrificing their reputation for anything.
Panamanians, like most cultures out there, are very proud of their food as well and don't take kindly to criticisms or alterations of it. Meat and starches are used in excess in this country and refusing or looking down upon either can appear insulting.
Vegans and vegetarians who scorn animal products may be the recipients of some mockery. This, I feel like, is a common response in all of Central America.
Useful Travel Phrases for Panama
Spanish is the official language of Panama and spoken by nearly every citizen of the country. The local dialect is very similar to the Spanish spoken in the rest of Central America. Those who learned any sort of North American style of Spanish will have no problem speaking with Panamanians.
There are several local indigenous languages, like Yuna Gala, that are still spoken in Panama, but these are only found in remote locations. You might hear or see a word or two when backpacking in Panama's more off the beaten track places (e.g. San Blas), but rarely will you hear full conversations in any of these languages.
English should be somewhat common around all of the major tourist attractions in Panama. Non-native speakers will vary in proficiency but they should be good enough at English.
To really tap into the local scene and impress the Panamanians, you should try and speak a little Spanish. Most Panamanians will be more receptive to you; otherwise, they already speak English and would prefer to communicate that way.
Here are a few helpful Spanish travel phrases with English translations for your trip to Panama.
Books to Read while Traveling Panama
These are some of my favorite travel reads and books set in Panama, which you should consider picking up before you begin your backpacking adventure…
Brief History of Early Panama
Panama's early history is much like that of the rest of the Americas – white people showed up, white people killed everyone, and then white people started telling everyone what to do. (Forgive me for the abridged version but I don't feel like mincing words.)
Let's be more specific though…
European explorers first arrived in Panama in the 16th century, whereupon they discovered a land filled with treasure, agriculture, and less-than-enthusiastic natives.
Following the arrival of European explorers like Christopher Columbus and Rodrigo de Bastidas and the subsequent "handling" of the local Indigenous population in the 16th century, Panama became a vassal of the Spanish Empire.
From the get-go, Spain recognized the economic potential of Panama and was, to put it somewhat gently, enamored with the country. They quickly developed the region, which included the importation of African slaves and established trade routes.
Panama remained a part of the Empire until New Granada, which was the royal title given to Spain's holdings in Northern South America, started causing a ruckus. New Granada eventually gained independence from Spain, an act which technically freed Panama from Spanish rule as well.
Panama quickly removed several Spanish customs including the harmful encomienda policy. It was soon reabsorbed into South American politics by the Gran Colombia, which had become the dominant power after New Granada.
Modern Panama
Panama never lost its place as an economic stronghold in the eyes of the world. For much of the 19th and 20th centuries, it would act as the bridge for globalization and international business.
The idea of a Panama Canal was tossed around by several nations and was eventually brought to fruition. The Panama Canal was completed in 1914 by American means, resulting in the transplant of American politics and to, a somewhat indirect degree, the separation of Panama from Colombia.
At this point, Panama became an oligarchy, dominated by businessmen and foreign dignitaries. The people were not too happy about this political system and there were several riots in the years to come.
Populists leaders, like Omar Torrijos, rose up and promised Panamanian hegemony, only to replaced by proxy politicians, most notorious of which was Manuel Noriega.
Manuel was a quintessential figure in contemporary politics. Accused of lying in bed with the American government and committing huge atrocities for reasons that are both selfish and cryptic, he was a polarizing figure.
His time in Panama was marked by chaos and, ultimately, invasion as the American military entered Panama and removed him forcibly.
Since Noriega, things have calmed down a bit in Panama. The drug trade, once rampant because of Noriega, is somewhat repressed these days. The economy is stable again and foreign interest is as strong as ever.
Panama actually owns its own Canal for the first time in history, which, if you ask me, is a step in the right direction.
Final Advice Before Visiting Panama
There are a ton of good times to be had while backpacking in Panama but everyone, myself included, can get carried away sometimes. It is important to keep in mind that you are an ambassador for your country, which is awesome.
We can make a positive impact on people when we travel and get rid of any ugly stereotypes that may be associated with your country.
If you visit villages or small communities outside of the Panamanian cities always ask before taking photos, especially when it comes to taking photos of women (you should ask in the cities as well). The people who live in these villages are not exhibits in a museum. They are normal folks just living their lives. Always show them the complete respect that they deserve.
When buying local crafts or knick-knacks, do not haggle so low that the price is unfair to the person who spent countless hours crafting it. Pay people what they are worth and contribute to the local economies as much as possible.
Backpacking through Panama, or any region for that matter, often illuminates some of the great socio-economic inequalities of the world. Never take it for granted that you are healthy and financially able to go traveling.
Show the world around you some gratitude and help to make a positive impact on it. Most of all have the time of your life and spread the love in Panama!
---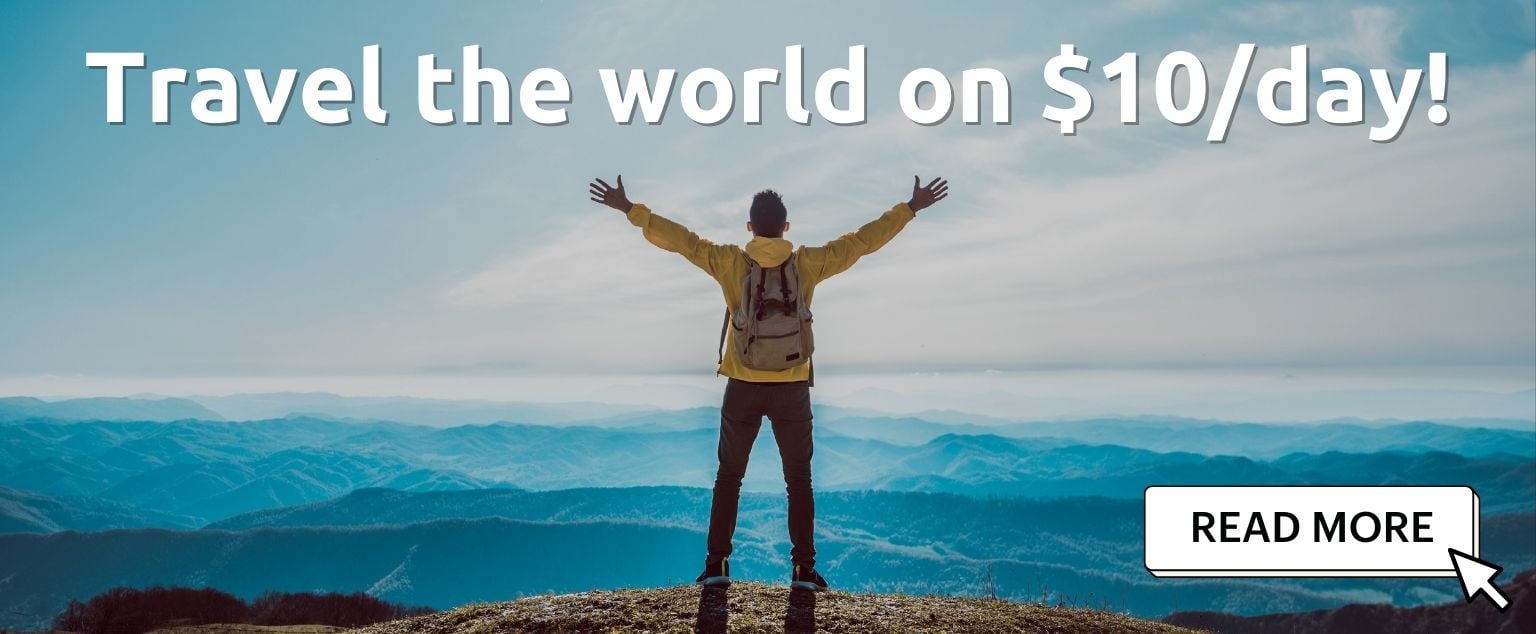 And for transparency's sake, please know that some of the links in our content are affiliate links. That means that if you book your accommodation, buy your gear, or sort your insurance through our link, we earn a small commission (at no extra cost to you). That said, we only link to the gear we trust and never recommend services we don't believe are up to scratch. Again, thank you!