Panama is truly blessed with everything from untamed rainforests, deserts and incredible beaches and islands. With exceptional coastlines on both sides of the country, there's plenty of opportunities for a perfect beach holiday.
Palm-fringed and powdery beaches, luscious rainforests and warm hospitality await you in this beautiful country of paradise. Because of its epic biodiversity, Panama is famed for its jungle wildlife and water sports, whether you're into bird watching, whitewater rafting, surfing, snorkelling, or diving, there is plenty to do and explore in Panama.
But while the country thrives in wildlife and nature, because of its historical mining initiatives, the ecosystem has often been overlooked.
Until now.
Eco-tourism has become a booming trade across the world, and in countries like Panama that flourish in nature, it's becoming increasingly important to offer tourists more sustainable options.
Staying in an eco-resort does not mean giving up your homely comforts. In fact, some eco-resorts in Panama offer quite luxurious stays, and the list of options is extensive and varied.
And because it is so diverse, we have put together this list of some of the best eco-resorts in Panama, so you can enjoy a magical holiday without sacrificing comfort, while still being responsible for the local people and environment.
In a Hurry? Here's Where to Stay in Panama for One Night
Is this amazing Panama Eco-resort booked for your dates? We've got your back with our other favorite properties below!
Why Stay in an Eco-resort in Panama?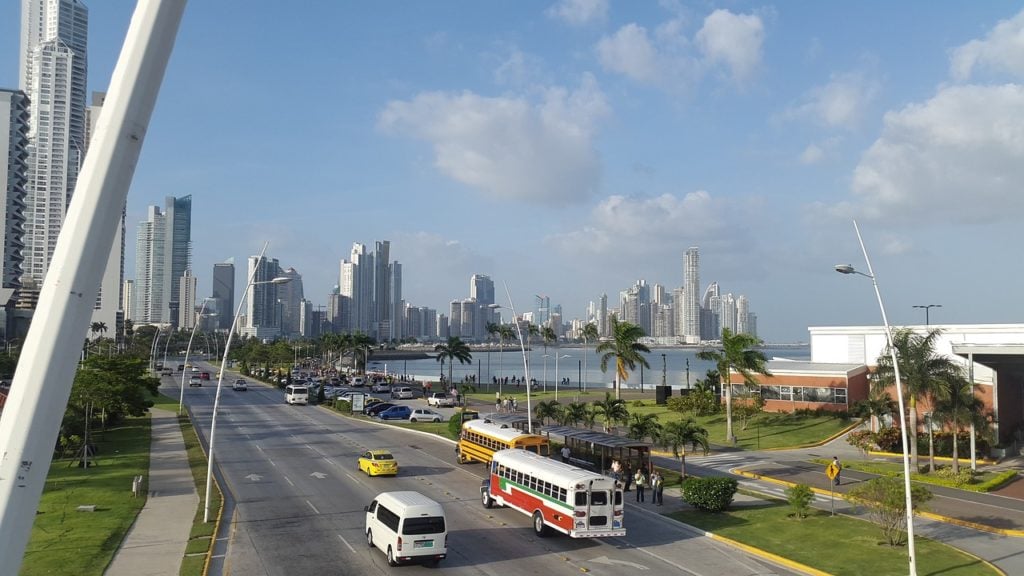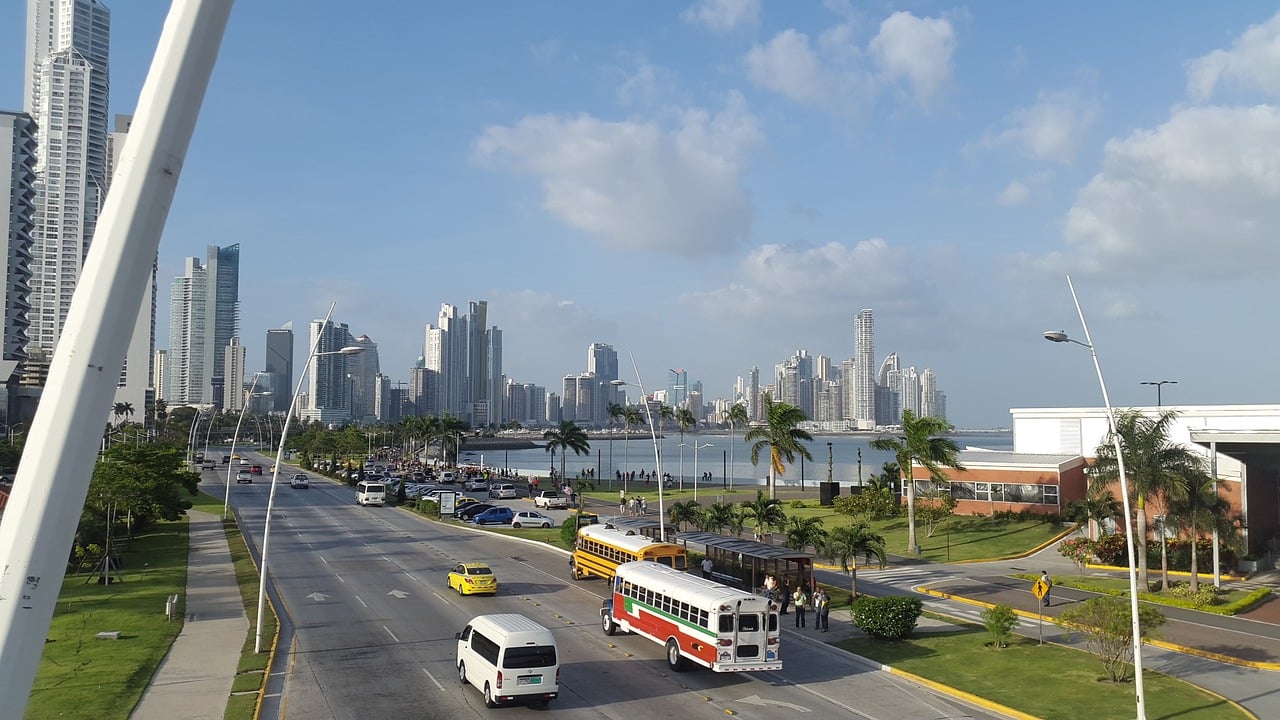 Choosing to stay in an eco-resort allows you to explore this exceptional country and all of its unspoiled natural beauty while also staying in unique accommodation in Panama. Whether you choose something modern and stylish or something with a bit more authenticity, your stay will be comfortable, and with a conscience. 
Not only will you be staying close to nature (and sometimes directly in it), but you'll enjoy a memorable experience that leaves only footprints in the incredible wilderness areas that you visit.
Staying in an eco-resort means contributing to the overall sustainability of the country, and the planet. In many cases, staying in an eco-resort also means you'll be supporting local communities and businesses, rather than large corporations that have a negative impact on the planet. 
All sounds great, right?
What is an Eco-resort?
Eco-resorts are types of accommodation that are committed to sustainable operation. While not all eco-resorts will employ the same methods to minimize their environmental impact, they all share a commitment to reducing their carbon footprint and doing what they can to be environmentally friendly. 
In addition to things like having basic methods such as recycling or composting facilities, eco-resorts might also choose to make use of renewable energy in the form of solar power, wind power or even hydropower.
Using no flush and compostable toilets, collecting rainwater, and building the property from locally sourced, natural materials, are just some of the popular ways that eco-lodges can minimize their footprint. 
Overall Best Value Eco-resort in Panama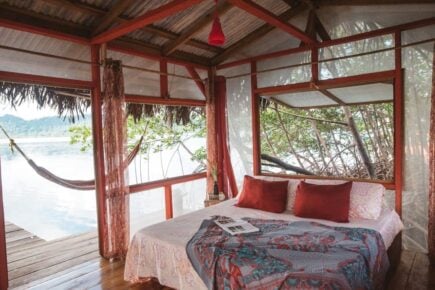 Overall Best Value Eco-resort in Panama
CocoVivo
> $
> 2 Guests
> Coral-filled, bioluminescent bay
> Rustic cabins surrounded by nature
Best Budget Eco-resort in Panama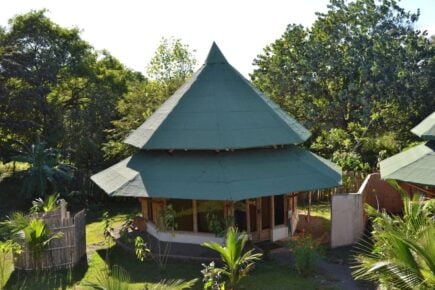 Best Budget Eco-resort in Panama
Casa Bambù
> $
> 4 Guests
> Built entirely from bamboo
> Rustic bungalows in a tropical setting
Best Eco-resort for Couples
Best Eco-resort for Couples
The Firefly
> $
> 2 Guests
> Authentic Caribbean neighbourhood
> Hip, rustic beach house
Most Ecological Eco-resort in Panama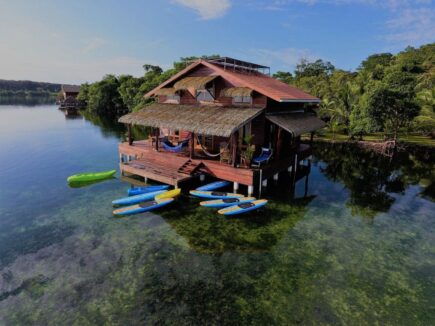 Most Ecological Eco-resort in Panama
Casa del Mar
> $
> 6 Guests
> Carbon-neutral resort
> Caribbean villa built over the water
Best Eco-resort for Families visiting Panama
Best Eco-resort for Families visiting Panama
Panama Eco House
> $
> 12 Guests
> Constructed using reclaimed materials
> Modern house in the forest
Amazing Luxury Eco-resort in Panama
Amazing Luxury Eco-resort in Panama
La Residencia Natural 3-bed
> $
> 12 Guests
> Solar-powered paradise
> Reachable only by boat
Best Eco-resort for Solo Travellers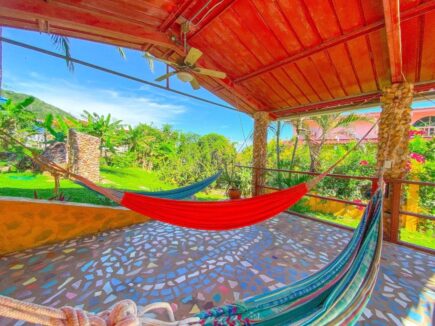 Best Eco-resort for Solo Travellers
Cerrito Tropical Eco Lodge
> $
> 2 Guests
> Part of Travel Sustainable programme
> Views of Panama Canal entrance
The Top 15 in Eco-resorts in Panama
So while we can all agree that staying in an eco-resort is a great idea, choosing one that meets your desired needs and levels of comfort is another thing altogether. No worries, because traveling sustainably does not mean scrimping out on luxuries.
We've gathered this list of the best eco-resort in Panama to help you find that perfect property that ticks all of your boxes and meets all your requirements. So when you're ready, start scrolling!
Overall Best Value Eco-resort in Panama – CocoVivo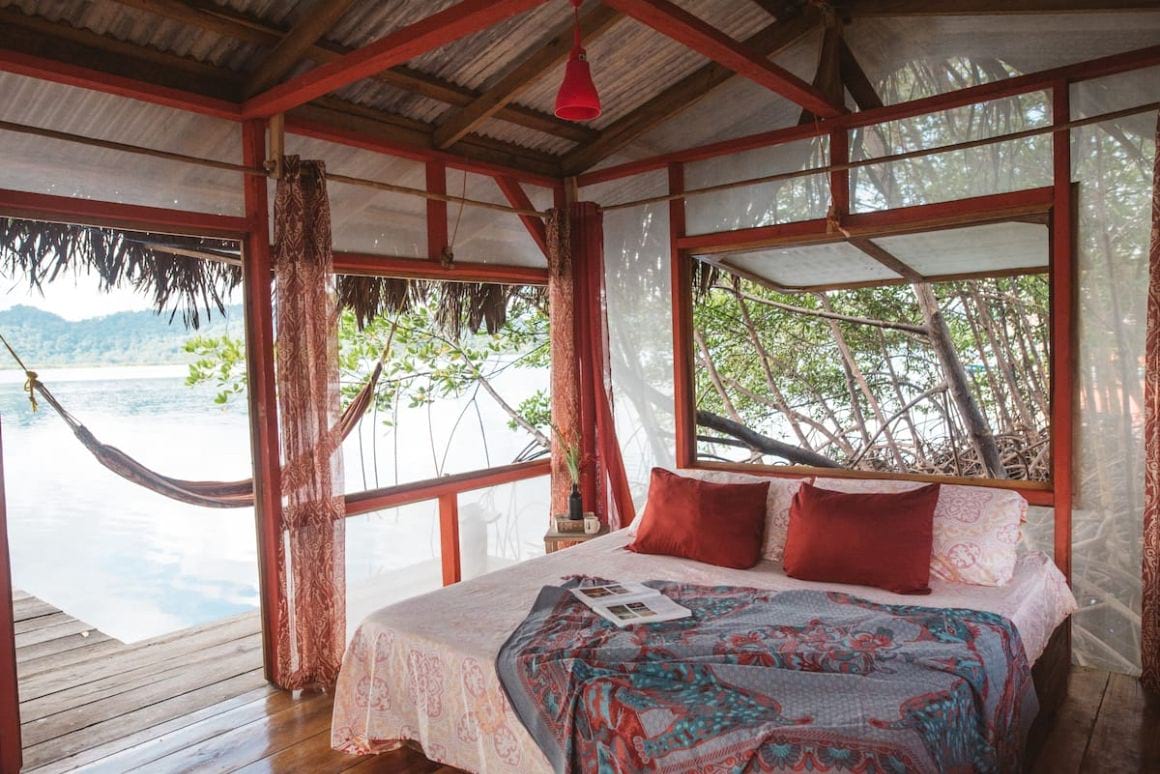 $
2 Guests
Coral-filled, bioluminescent bay
Rustic cabins surrounded by nature
CocoVivo lies on the southern tip of Isla San Cristobal in the Bocas del Toro Archipelago. The rustic cabins lie between the jungles and the coral reefs, and at night, the bioluminescent waters create a magical atmosphere. 
The private cabins are deep in nature, and you're likely to encounter many species of plants and animals, from howler monkeys to parrots and dolphins to name a few. You'll need a good eco-friendly insect repellant when staying at this property, but you can't deny that sleeping within nature is an unmissable experience.
Each cabin is located right on the water and comes with a king-size double bed, and to save water, each cabin has composting toilets. 
When you're not relaxing in your cabin, the magical coral reefs that surround the resort make for an excellent spot for snorkelling, kayaking and stand-up paddling. There are plenty of hiking trails around the property to explore, and if you're interested, there are longer hikes that can be arranged by the property that offer a greater insight into the biodiversity of the jungle.
Best Budget Eco-resort in Panama – Casa Bambù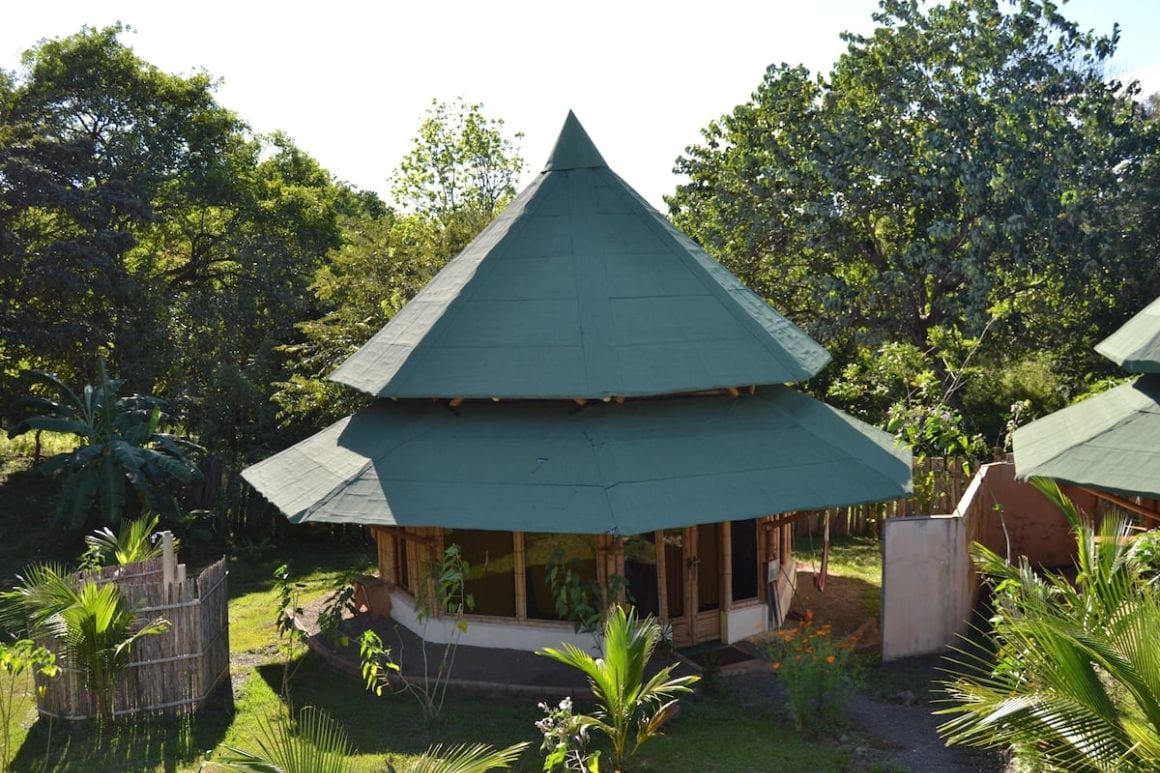 $
4 Guests
Built entirely from bamboo
Rustic bungalows in a tropical setting
Casa Bambù is located in the small town of Santa Catalina. The resort is surrounded by lush Panamanian jungle in a peaceful setting near to the ocean. 
The resort is the first eco structure in Panama, made entirely from a species of Columbian bamboo. The bungalows have a double roof to maximise ventilation, similar to air conditioning, but without the need for electricity. 
Guests staying at this property will have their own bungalow, which is complete with a kitchenette, a bedroom, and a private bathroom. Each bungalow will have a double bed, equipped with mosquito nets and a shower with hot running water. The shower has a transparent roof, so you can fully immerse yourself in the Panamanian jungle and still have some privacy.
The remote location of this unique accommodation in Panama makes this the perfect place to unwind in nature and truly relax. Activities here include swimming and sunbathing at the beach, diving, and walking, as well as yoga at the yoga school on the property.
Best Eco-resort for Couples – The Firefly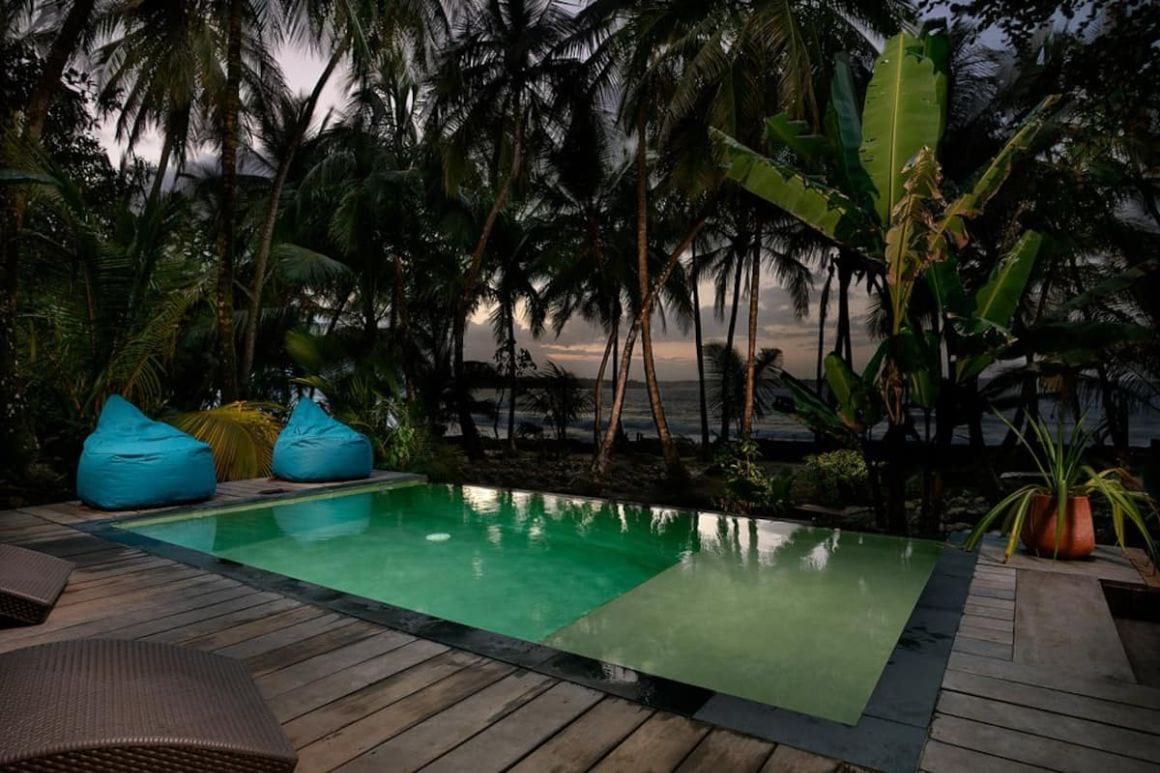 $
2 Guests
Authentic Caribbean neighbourhood
Hip, rustic beach house
The Firefly is a hip B&B just outside of Old Bank. The neighbourhood is an authentic Caribbean experience – children playing, chickens roaming, and very colourful decor throughout.
The ocean is a mere steps away and a variety of activities are within easy reach, such as surfing, snorkelling, stand-up paddleboarding or yoga. You can also relax on a daybed with a cocktail, read a book in a hammock, or try local flavours at one of the great bars and restaurants nearby. 
The resort offers a truly authentic Panamanian experience in an idyllic tropical setting within a typical local neighbourhood so you can experience daily life in Panama. There are only five rooms on the resort, so you can enjoy peace and quiet in your secluded beachside retreat. If you fancy being social, there is a shared outdoor swimming pool.
Each of the rooms comes with a 4 poster bed, iPod dock, memory foam mattress and private bathroom. 
The structures are made from timber and do not have air conditioning to keep energy usage down, but because of their excellent design, there is no need for AC. 
Most Ecological Eco-resort in Panama – Casa del Mar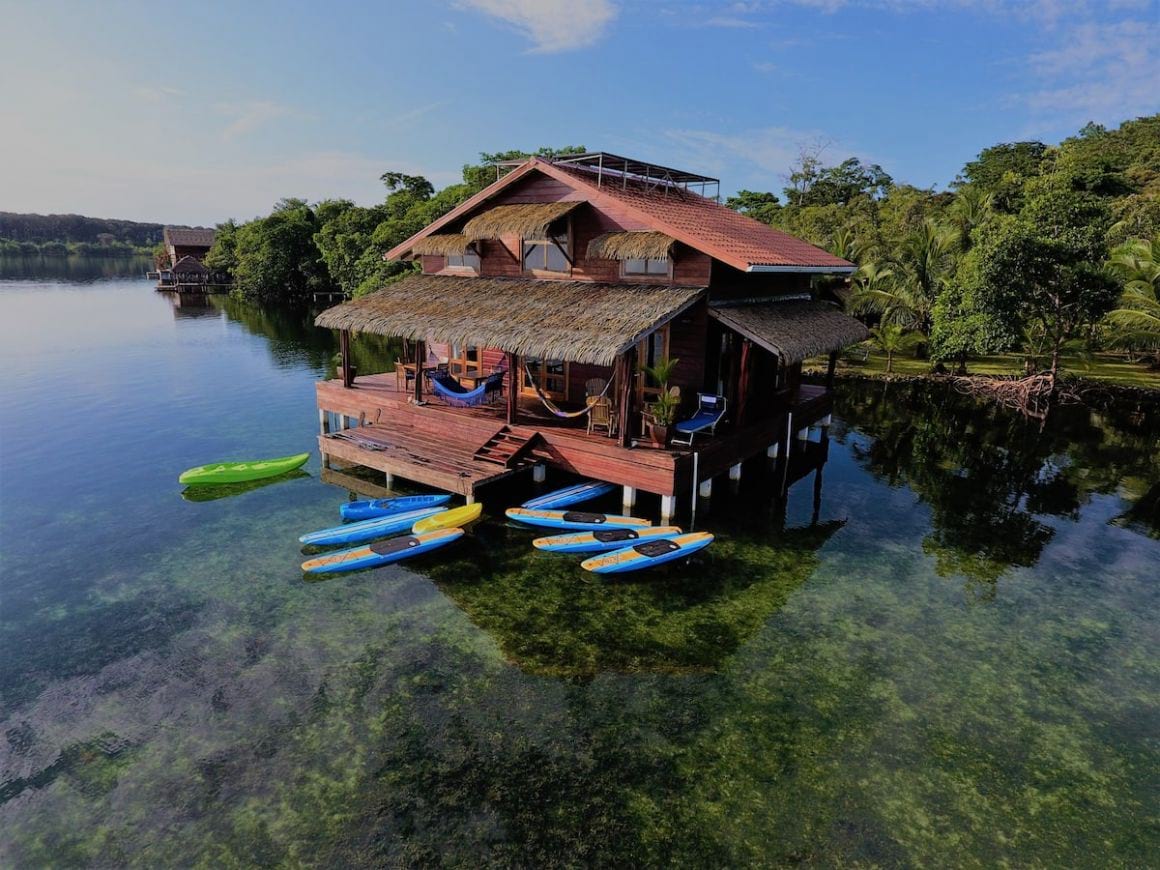 $
6 Guests
Carbon-neutral resort
Caribbean villa built over the water
Casa del Mar is located in the Dolphin Bay off Isla Cristobal in the Boca del Toro Archipelago. Built over the waters along a mile-long coral reef, the villa offers an intimate experience with nature. 
Constructed from local materials, as well as using advanced renewable energy systems such as solar panel energy and double-filtered rainwater for drinking – this is without a doubt one of the most ecological eco-lodges in Panama. There's also an advanced engineered waste system. 
This is a small and intimate villa, with just 3 bedrooms and 2 full bathrooms. There is a separate outdoor bathhouse located on land behind the villa, and for a truly unique stay, there is an authentic thatched tree house casita at the back of the property in the jungle.
The treehouse does not have water or power, but lanterns are provided to guests sleeping in the treehouse casita, but you do have use of the outdoor bathroom. All the rooms at this property come with queen-sized beds.
From the resort, you can head out on a variety of adventures and excursions or simply relax in a hammock with a good book. Visit nearby islands and beaches, go hiking, horse riding, scuba diving or zip-lining. Other excursions include a visit to a chocolate farm or a community tour.
Best Budget Eco-resort in Panama – Saboga Ecolodge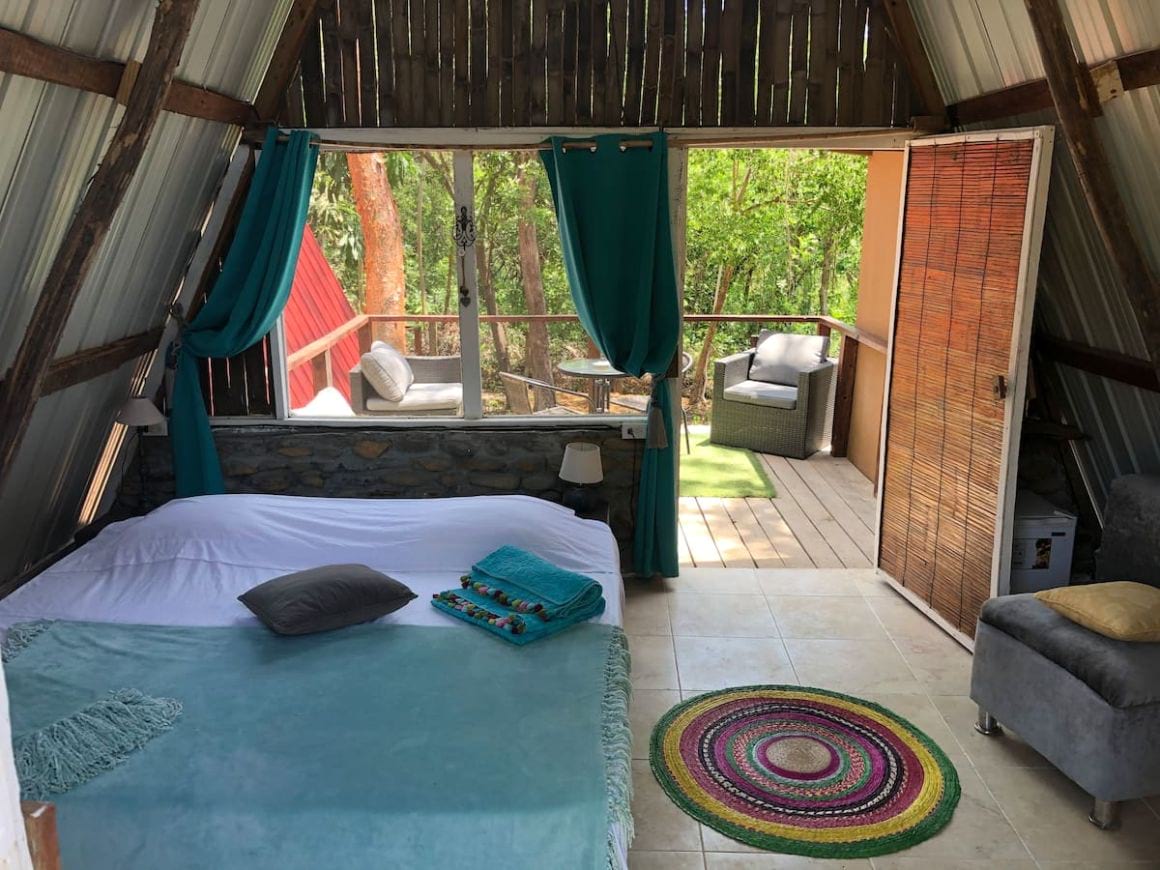 $
2 Guests
Simple living in nature
Wild setting and deserted beaches
The ecolodge is located on the island of Saboga, in the Perlas Archipelago in the Gulf of Panama. A 75-minute ferry ride will take you from Panama City to this island paradise for a remote and unpretentious stay. 
As one of the most affordable eco-resorts in Panama, the cabin is rustic and basic, with only the essentials – this is the perfect eco-resort for backpackers in Panama who prefer to travel minimalist.
Made from local timber and glass, with an A-frame corrugated roof, the cabin is comfortable and simply furnished. The wild and beautiful setting can be fully appreciated from the wooden deck. 
Excellent beaches are within easy reach of the cabin, and guests have free access to the Paula Nani Beach Club on one of the island's finest beaches. This access includes watersports like kayaking, snorkelling, and paddleboarding, as well as access to the restaurant, which serves lunch daily. 
Best Eco-resort for Group Retreats to Panama – Panama Eco House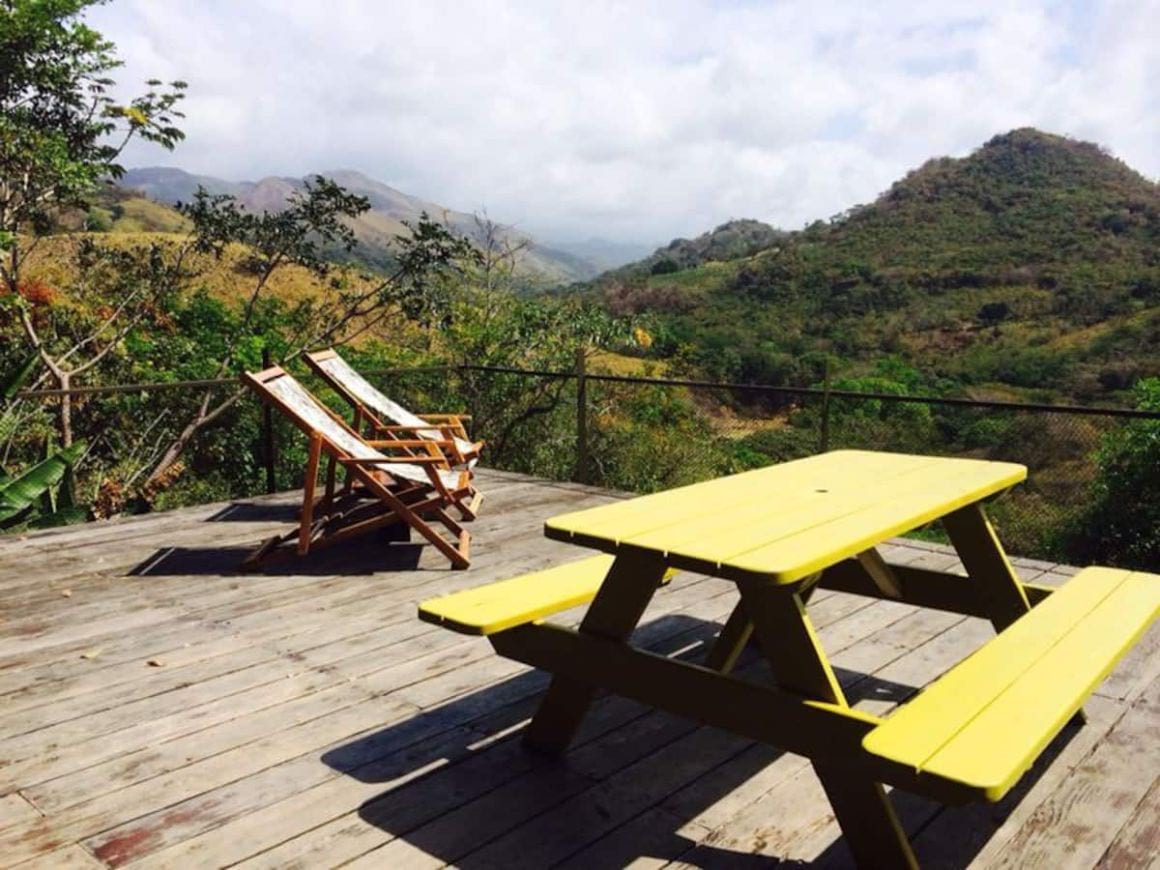 $
12 Guests
Constructed using reclaimed materials
Modern house in the forest
Panama Eco House is situated in El Cope, an area rarely visited by tourists and that offers an authentic experience of traditional Panama. The town centre and various nature experiences are all within easy reach, but far enough away that you can enjoy total peace and tranquility from the property. 
The house has been cleverly designed to maximise airflow eliminating the need for air conditioning or other cooling methods. The wood and steel beams used in construction were all reclaimed from the historic US military bases in Panama City. 
The surrounding area offers beautiful forests, swimming spots, deep pools, small waterfalls, and plenty of seclusion and privacy. Further out, guests can enjoy the nearby river, hiking, bird watching and exploring in the national park. 
This is the ideal spot for groups of friends who are looking for a relaxing retreat away from the hustle and bustle of Panama City.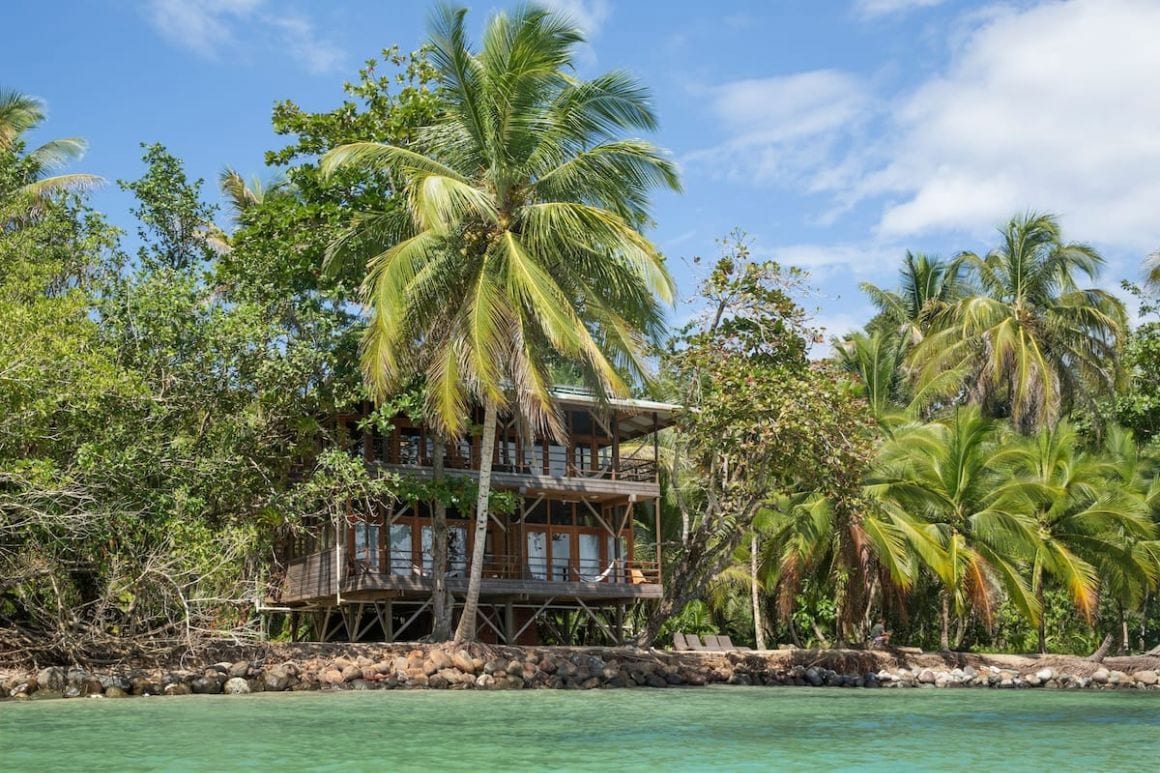 $
6 Guests
Solar-powered paradise
Reachable only by boat
La Residencia Natural is located on a secluded beach on Punta Vieja on Bastimentos Island. The lush, private setting overlooks the reefs and islands of Zapatillas, and is within easy reach of many great beaches and the National Park in the heart of the island. 
The house is made largely from local timber and glass and was constructed by local builders. They also use solar panels for electricity and collect rainwater that is then used throughout the property. The owners provide each guest with drinkable water to be used throughout their stay.
Guests staying here will have total access to the whole property, where you will find three very spacious bedrooms, a large terrace for social gatherings and a full, open-plan kitchen and dining area.
The sandy beach in front of the house is perfect for sunbathing and playing beach bats, while the nearby lagoon is perfect for swimming. The Indian village of Salt Creek is within walking distance where you can learn more about local life and the culture of the area.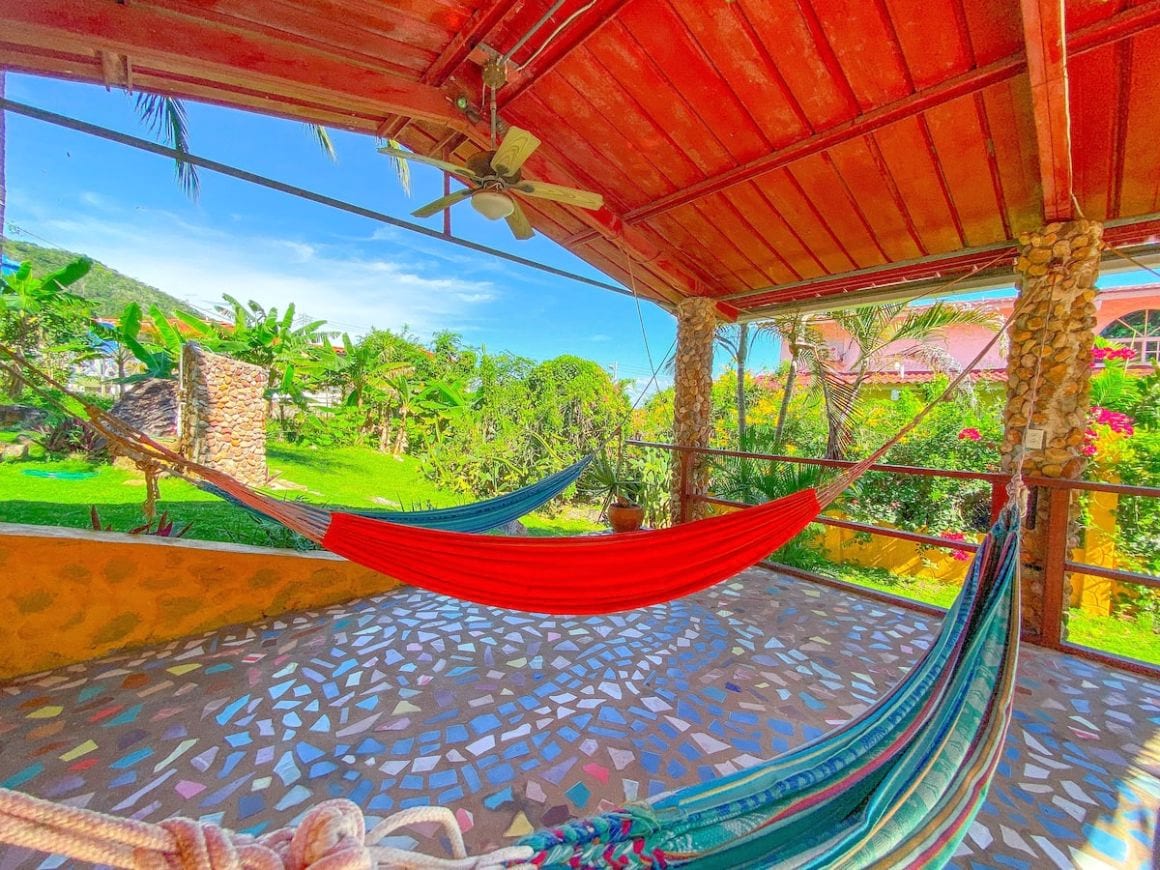 $
2 Guests
Part of Travel Sustainable programme
Views of Panama Canal entrance
Located on Taboga Island, Cerrito Tropical Eco Lodge lies in the village, but is still close to the forest and ocean. While the coast is nearby, the closest swimming beach is a 10-minute walk away. 
The property is part of the Travel Sustainable programme, where it has taken big measures to minimize the environmental impact it has, including introducing recycling and reducing the amount of single-use plastic, introducing water-saving initiatives, and ensuring they support local businesses and communities.
Travellers visiting this eco-lodge will stay in a comfortable private bedroom with a double bed and ensuite bathroom. There is also a balcony with a garden and ocean view. For birdwatchers, it is said there is up to 124 species of bird recorded on Taboga.
There's plenty of communal space to relax in, including the gardens, fruit orchard, and beside the small pool. Whale watching, snorkelling, walking tours and mountain tours are also on offer at this unique accommodation in Panama.  
$
4 Guests
Supporting local communities
Private beachfront setting
Red Frog Bungalows is located on the beautiful Red Frog Beach in Bocas del Toro, tucked between the jungle and the sandy shores. The surrounding area offers exceptional beaches, unspoiled coral reefs, and a pure Caribbean paradise. 
The bungalows are purposefully designed to maximise their idyllic setting. The resort is fully solar-powered and harvests rainwater to minimize the environmental impact it has on the planet. The resort also strives to support local communities and businesses.
There is also a private beachfront restaurant on the resort, serving up freshly caught fish and seasonal ingredients grown by local farmers.
The resort has a fleet of boats and the most experienced guides to ensure that your experience of the island is the absolute best. From the resort, you can explore the island and all of its natural beauty or kick back in a hammock and truly unwind. 
$
6 Guests
Off-grid living in paradise
Quirky, artistic décor
Located in an area of sandy beaches, palm trees, and coral reefs, the Bay of Floating Palms Beach House is an idyllic adventure resort. From its location on Bastimentos Island, the resort enjoys gorgeous views of the Zapatillas islands. 
The beach house offers complete off-grid living, as it is run by solar power and all the water is harvested and filtered rainwater. 
The property can sleep up to six guests in its two bedrooms, and has a fully stocked kitchen and there is purified drinking water from the faucet that is safe to drink. The whole bottom floor is a giant covered patio that leads to the beach. You will also have two bathrooms, both with outdoor showers so you can enjoy the outdoors while still maintaining privacy.
To make the most of your stay, make sure to visit the Nobe community for fascinating cultural insights or head out into the jungle on a hike with your Nobe guide. You can also relax in a hammock on your deck, enjoy some sun on the beach, while the kids go for a paddle in a kayak.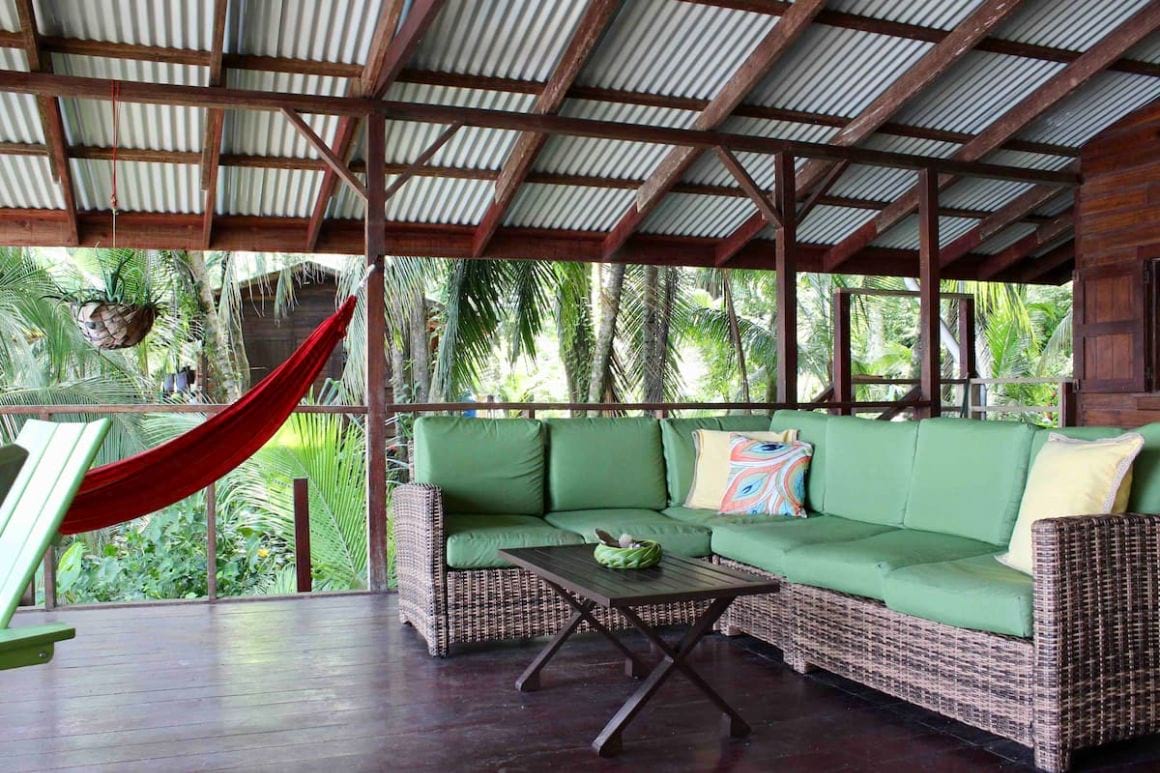 $
3 Guests
Solar-powered, rainwater catchment
Island getaway stilt home
On the island of Bastimentos in the beautiful Bocas del Toro archipelago lies this epic eco-resort in Panama. Located on the beach and surrounded by lush tropical vegetation, this charming property is also home to incredible wildlife, making it one of the best eco-resort experiences in Panama.
The beach house has been built mostly from timber to blend seamlessly into the surrounding jungle. There's a rainwater harvesting system that provides water for showers, and solar panels that provide electricity. 
Swimming and paddling are accessible from your doorstep. The beautiful Red Frog Beach and Wizard Beach are also within easy reach. Those wanting to make the most of their visit to Panama, can opt for one of the many island tours that can be arranged by the property.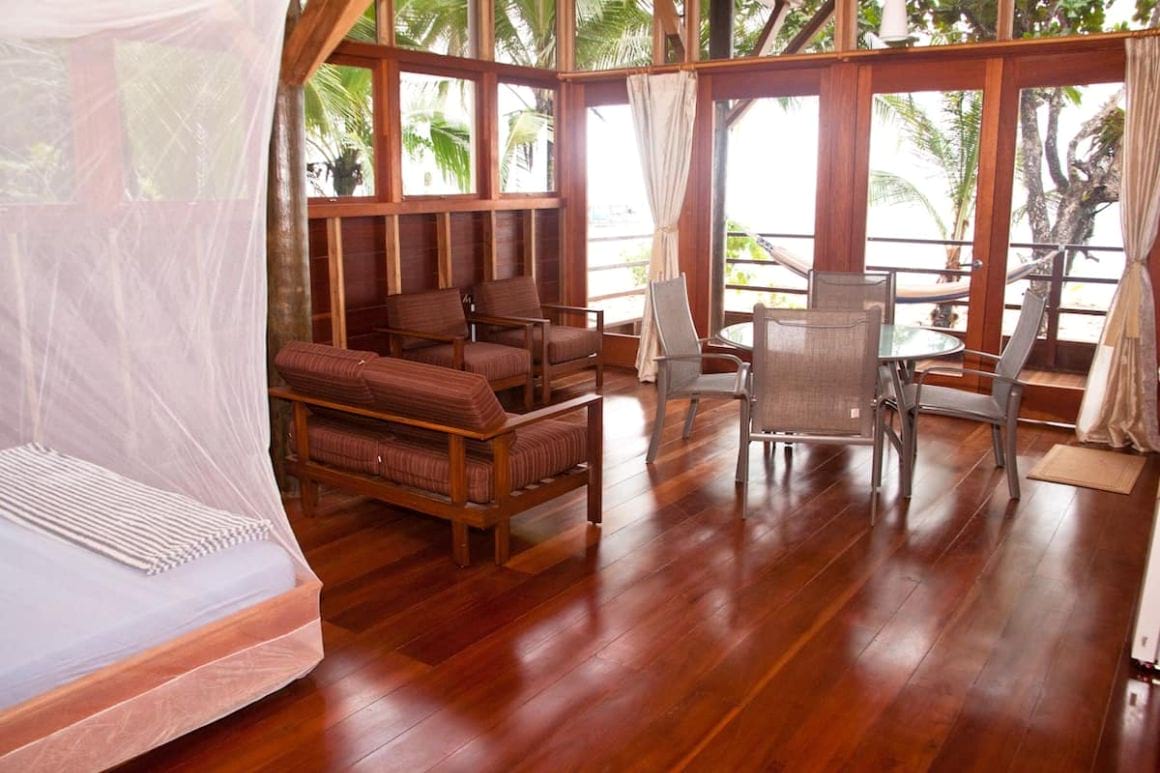 $
4 Guests
Off-grid in paradise
Secluded villa overlooking the beach
Located in a lush, secluded setting of Punta Vieja on Bastimentos Island, La Residencia Natural overlooks the ocean and coral reefs, as well as the Zapatillas islands. There are many excellent beaches and the National Park within easy reach of the resort. 
Enjoy off-grid living here with solar power and innovative rainwater harvesting to minimize the environmental impact by the resort.
The house was constructed by a team of local builders using mainly natural materials. While there is only one bedroom, there is a separate loft space with additional sleeping arrangements, as well as a fully-equipped kitchen, private bathroom, and terrace overlooking the ocean.
The house is just a stone's throw from the pristine sandy beach, which is the perfect place for sunbathing and strolling. The lagoon nearby is perfect for a refreshing swim.
The nearby village offers guests the opportunity to meet local tribespeople and learn more about local the traditional way of life. If you're backpacking Central America and only have a short while to experience the best of Panama, this is where you should head.
Best Eco-resort for Long-term Travellers – Mar Onda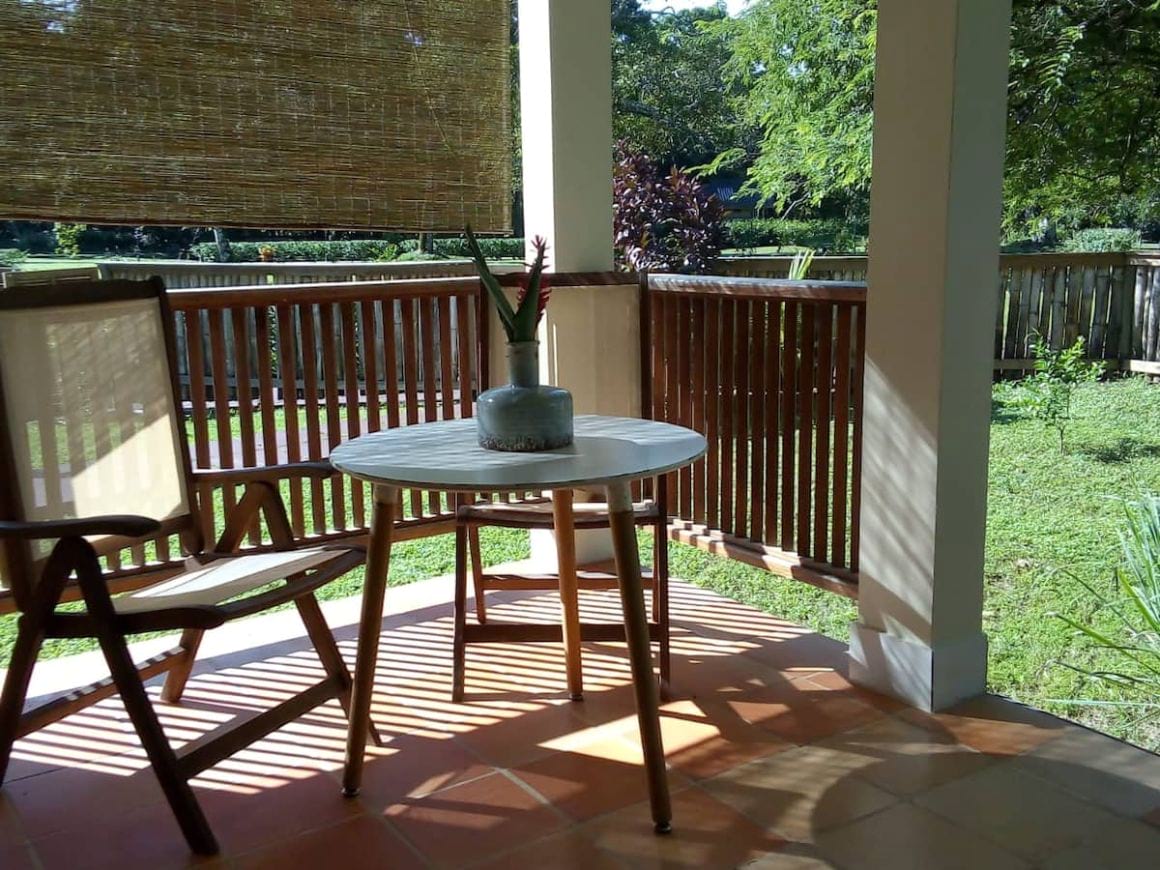 $
3 Guests
Locally grown food
Eco-elegance in Bluff Beach
Located on Bluff Beach, just a few steps to the ocean, Mar Onda is a custom-built resort offering all the comforts of home. The resort is surrounded by lush green lawns and well-kept gardens. 
From solar power energy to rainwater harvesting, the resort strives to be gentle on the environment while still maintaining homely comforts.
All food is locally sourced, and much of the décor and furnishings on display has been made by local craftsmanship.
From the resort, you can take a stroll through the lovely gardens, visit the horses on the property, or relax on your private terrace. The sandy beach nearby is perfect for long walks, sunbathing, and swimming. 
Best Eco-resort for Honeymooners – The Tree Cabin
$
2 Guests
Built around an ancient tree
Romantic, raised wooden cabin
The Tree Cabin at Quinta Pavo Real is a romantic cabin tucked into the lush setting. The cabin is located just one hour outside of Panama City in an idyllic country setting complete with verdant surroundings and animals of all kinds.
The cabin has been constructed using local timber that has been cured using traditional methods. An ancient tree provides the support for the cabin which has been constructed respectfully around the trunk. A greenhouse on the property produces various seasonal vegetables for consumption.
With lush vegetation all around, the cabin offers a truly secluded feel, and also welcomes a variety of local species including peacocks, monkeys, and squirrels. Guests can relax on the spacious terrace where they're more than likely to spot animals roaming the surroundings.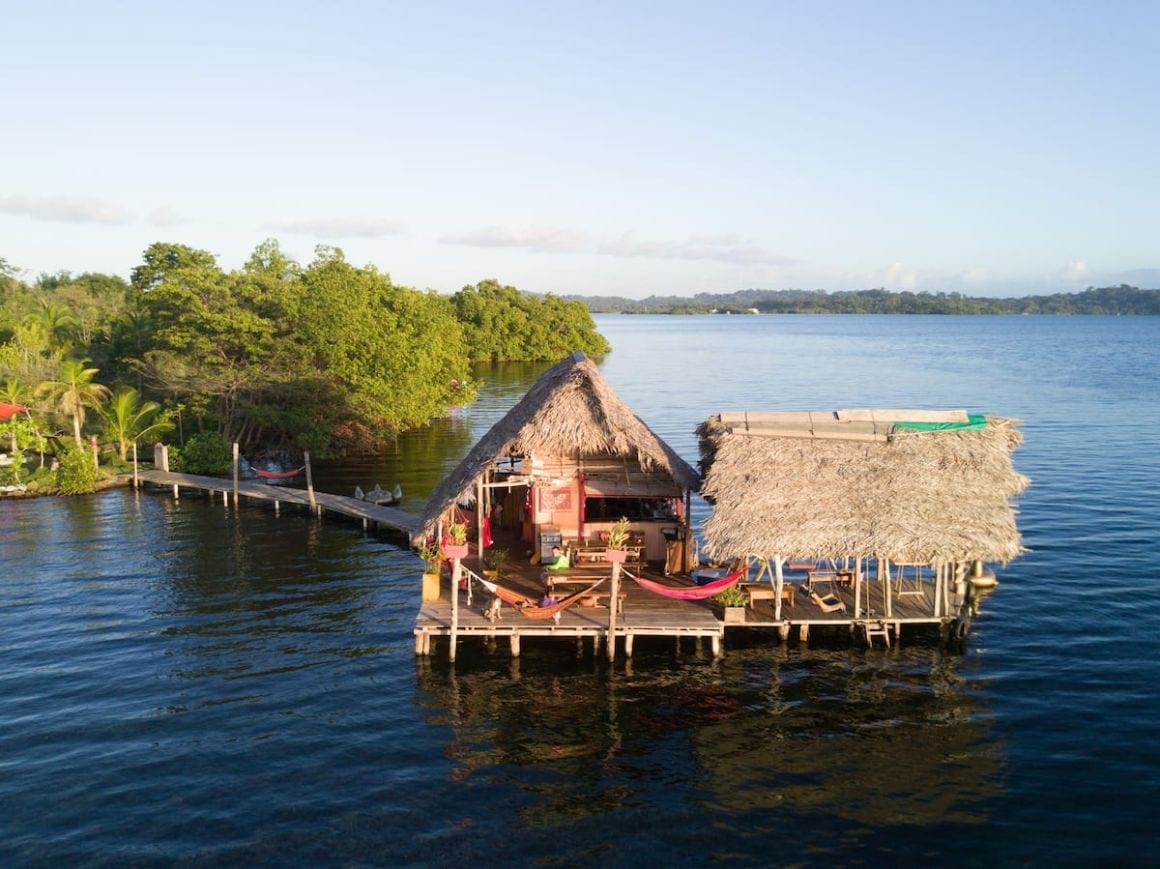 $
16 Guests
Coral reefs, and lush jungles
Exclusive-use property
The Exclusive Jungle Retreat is located in a beautiful region on the top of Isla San Cristobal in Bocas del Toro Archipelago. The rustic cabins lie between the jungle and the sandy beach, and can be completely rented out by up to 16 guests.
At night the bay lights up with incredible bioluminescence. The communal areas provide an awesome place to hang out, including the Reef Center where guests can enjoy free wifi and hammocks, or borrow snorkel equipment, standup paddleboards, and kayaks.
The resort can be occupied exclusively by a group or a large family. The rustic cabins, made from natural materials, are equipped with eco-friendly composting toilets. Situated deep in nature, the cabins are surrounded by incredible plant and animal life. 
The resort is surrounded by pristine coral reefs, perfect for those looking for relaxation and water sports. Explore the biodiversity of the jungle on a hike through the jungle or on a guided jungle tour. 
Final Thoughts on Panama's Eco-resorts
Panama offers idyllic beaches, exquisite islands, nature reserves, coral reefs, and lush jungles – it's no wonder why more and more travellers are stopping by here.
Nature lovers and outdoor enthusiasts will delight in all the beauty that this destination has to offer, and what better way to experience it, than from an eco-friendly accommodation in Panama. 
All of the eco-resorts on our list offer a truly comfortable stay in paradise with the added benefit of being ecologically sensitive and sustainable. Choosing a favourite is no easy task, but if we had to choose, we would opt for the CocoViva resort because of its unique location and affordability. Did you have a favourite on our list? Let us know in the comments.
At this point, you may also want to explore some travel insurance to offer you the peace of mind of knowing that should your travels not go to plan for any reason, you're covered. 
And have you thought about getting Travel Insurance for your trip? We've put together a roundup of Travel Insurance for backpackers – check it out here, or if you're low on time, get a quote from World Nomads, our favorite travel insurance provider.
Getting an estimate from World Nomads is simple—just click the button or image below, fill out the necessary info, and you're on your way!

---
Find out how YOU can support the site.
We're a big site with a big team and this job isn't always easy. But we do it because we love it – we love providing epic and free content. We love the knowledge that our content keeps you adventuring. We don't ask for money, but if you'd like to find out how you can help the site in more organic ways, click the button below.
Thank you for your support 🙂
And for transparency's sake, please know that some of the links in our content are affiliate links. That means that if you book your accommodation, buy your gear, or sort your insurance through our link, we earn a small commission (at no extra cost to you). That said, we only link to the gear we trust and never recommend services we don't believe are up to scratch. Again, thank you!