Drone technology has a come a long way since the early years, and high-quality drones have never been easier to travel with. This guide will review the best travel drones on the market.
Remember your dad's friend who used to make his own absolutely massive drones in the garage? Or maybe you received one of those little toy helicopters for Christmas? Well, today's drones are way more useful and cooler!
Modern drones are so affordable and portable that just about anyone can use them, including backpackers and travelers!
Those who travel to the world's farthest corners can take their own aerial photographs and absolutely stun their friends.
Why wait for a fancy videographer to visit your favorite location when you can go yourself!?
If you're looking to up your game and buy a drone, this guide has you covered! We assembled this list of the 10 Best Drones for Travel in 2022 for you to refer to.
We highlight some of the top drones on the market and explain why each one is more or less awesome for traveling.
Study this guide well and then choose from the best travel drones to capture your most adventurous moments!
Overall Best Drone for Travel – DJI Mavic Air
Best Budget Drone for Travel – DJI Spark
Best Travel Drone for Professionals- DJI Mavic 2 Pro
Best Travel Drone for Beginners – DJI Phantom 3
Best Travel Drone that isn't a DJI – Parrot Anafi
Best Selfie Drone for Travel – JJRC H37 Elfie
Jump to -> The List of 10 Best Drones for Travel
The DJI Mavic Air offers the best combination of size, optical quality, and flight features among all of the drones listed in this guide and for a very reasonable price. For these reasons, we are confident when we say that the DJI Mavic Air is the best overall travel drone, hands-down.
The most redeeming quality of the DJI Mavic Air is its portable size. When folded for packing, the Mavic Air is probably about the size of a tablet albeit a little thicker.
Weighing only 430 grams, this drone can easily fit in an everyday bag —it doesn't need its own special backpack — or maybe even a large jacket pocket, making for quicker deployment and ease of travel.
The controller for the DJI Mavic Air can be collapsed to a smaller size as well by removing certain components.
The controller pairs well with your phone, thanks to a physical plug, and the DJI app is fairly responsive if it's not busy with metrics. That said, switching between shooting modes in the smartphone app can be a bit of pain because of overcrowding.
It is very easy to fly the DJI Mavic Air. The controller is responsive and the drone itself has lots of intelligent obstacle avoidance systems that are quite effective. Flight time is rated at 22 minutes and the range is 2.5 miles/4kms, which is pretty good for a consumer drone.
It's worth noting that Mavic Air has a series of QuickShot modes that allow for some pretty cool photos/videos.
The DJI Mavic Air has a 1/2.3" CMOS sensor and a 24mm (35mm equivalent) lens. Images are crisp though dynamic range and resolution are still not as impressive as some of the more expensive drones. Video quality is much more impressive in the Mavic Air with 4k possible up to 30fps and 1080p at 120 fps.
DJI has spent a lot of time and money on R&D and has, consequently, become the most advanced developer of consumer-grade drones. Having access to this kind of tech should require a massive investment from you though, right?
Wrong! I submit to you the DJI Spark. This model comes with much of the technology that has made DJI drones so successful and is, at the same time, amazingly small. Best of all it costs less than $500, thus making it the best budget travel drone on the market, at least in our eyes.
The DJI comes equipped with many of the features that it's more expensive brethren have. Various in-flight features like object avoidance, creative QuickShots, physical image stabilization, and even gestures, though that last bit is still a little rough.
The other noteworthy aspect of the DJI Spark is that it's freakin' small. Measuring only 143×143×55 mm and weighing about 300 grams, the Spark is about the size of a soda can. You could easily fit in a small backpack. The DJI Spark could also take the crown for "best selfie drone" or "best small drone," but it's so much more than that.
Despite its diminutive profile, the DJI Spark is pretty steady when it comes to flying, and sturdy when stopping. The drone does suffer a bit in the wind but this is to be expected from such a small package.
Flight range and time are not the best with the DJI Spark. Battery life will only last about 10 minutes and the drone cannot travel far since it's only using WiFi to connect to your phone. The WiFi connection likes to drop as well.
Image quality is good but limited. There is no 4k shooting. 1080p at 30 fps and 12 Mp stills are possible.
Ultimately, this drone isn't as good as its big brother Mavic Air, but it's still an incredible drone for the price, and one of the best travel drones because of its size and affordability.
For professionals who are looking for the best travel drone possible and available at the moment, the DJI Mavic 2 Pro is the clear winner.
Because it's DJI's latest drone has the most up-to-date technology, the Mavic 2 Pro is the most competent in the series. If you're willing to pay for a drone that can do anything and remain compact, then the DJI Mavic 2 Pro is the drone for you.
If you've been reading about other DJI drones up to this point, then you know that the company is one of the world leaders in R&D. The Mavic 2 Pro has all of DJI's most advanced technology including obstacle avoidance, QuickShots, and all of the other bells and whistles.
The tech is arguably more fully-realized than previous DJI models, which makes the Mavic 2 Pro even better at flying.
One thing that we haven't talked about yet is the DJI smartphone app, which is used by all models. It's a bit cluttered and can frustrate users.
We haven't held this against DJI up to this point because what do you expect from such a complicated tool? But if you're forking out this much money it would be nice to have an app that is a little more efficient.
In terms of overall design, the Mavic Pro 2 is still small and is easy to pack up. The controller is responsive and reportedly effective up to 5 miles, though I doubt anyone will want to fly a drone that far. You do get up to a whopping half hour of flight time though and combined with the Sports Mode, which allows the Mavic to fly at 45 mph, you can sure go a lot of places.
Thanks to the 20 Mp 1" CMOS sensor, image and video quality are the best out of any drone on this list. 4k is possible up 30 fps and dynamic range is much improved over other drones.
The lens is sharp and has 28mm equivalent FOV though it would've been nice to be able to change the lens given the amount of money you're paying.
If you're just looking to dip your feet in the proverbial drone pond, then the DJI Phantom 3 may be the drone for you.
This DJI drone has been one of the most tried and trued models in the lineup and has performed very well over the years.
Recent price cuts have made it even more affordable, so much so that it's now within reason for novices to commit. For this reason, we think that the DJI Phantom 3 is the best travel drone for beginners.
The DJI Phantom series has proven to be one of the most reliable and loved out of all of the DJI's drone models. Image and video quality are excellent, thanks to a combination of a 12 Mp sensor and 3-axis gimbal stabilization.
This particular model does not come with the ability to shoot 4k unfortunately, but for beginners, 4k might be a bit much anyways. If you wanted 4k, then look into the more expensive Pro version.
The DJI Phantom 3 has much of the company's patented and effective in-flight technology, but not all of it. There is no obstacle avoidance nor certain positioning sensors that make it easier to track. If you wanted this tech, you'd either have to upgrade to a Pro version or the Mavic line.
The DJI Phantom is effective up to 3.5 miles away and is rated to last between 22 and 24 minutes, which are both respectable numbers.
Like most DJI drones, the Phantom is very sturdy, much more in fact because of its rigid build. This does make packing the drone very difficult.
DJI isn't the only company that makes capable drones. One of its biggest competitors is Parrot and their flagship model is Anafi.
This drone takes very impressive photos/videos and, like the Mavic Air, is built for travel. Thanks to these two main features, the Parrot Anafi is one of the best drones for travel and a worthy alternative to a DJI.
The most impressive aspect of the Parrot Anafi is its optical performance. The Parrot Anafi can take stills with a staggering 21 Mp resolution and record video up to 4k at 30fps or Cinematic 4k at 24 fps.
Most notably, the Anafi's can also zoom in and rotate a full 180 degrees up and down and to the sides, making it more adaptable than many DJI drones.
The Parrot Anafi is very thin and lightweight, even more so than the Mavic Air – the former is actually 100 grams lighter. Amazingly, very little is sacrificed in the way of battery life, which is usually the first to go in smaller models. The Parrot Anafi is rated to fly for up to 24 minutes straight.
Due to its smaller frame and lack of in-flight correction software, the Parrot Anafi is pretty hard to fly. The drone tends to drift even during optimal conditions and responsiveness drops after it travels close to a half mile.
There is no obstacle avoidance software either, which will lead most novices and even many experienced users to inevitable crashes.
The Parrot Anafi is otherwise fairly quick to pair with your phone and is an agile machine.
Novices will become frustrated by its learning curve, but if you have experience flying drones then consider the Parrot Anafi a great drone for its optics and portability.
If you just want something cheap and easy that is only meant for selfies, then the JJRC H37 Elfie is our recommendation. With enough in-flight controls to get a steady shot and the ability to adjust the camera angle, you'll be sure to nail that awesome selfie.
Best of all, it won't cost much or take up a lot of space. Ditch the pole and invest in one of the best travel drones for the best selfies!
The JJRC H37 is a pretty straightforward drone that has a singular purpose – capture selfies and the occasional vista. This drone is nowhere near capable of long-distance flights or capturing professional grade videos.
The camera only has HD 720p resolution, the effective distance is 100 meters, and flight time is between 10 and 15 minutes per battery. If you are aware of these truths and just want a portable travel drone for selfies, then you'll really enjoy the JJRC H37 Elfie.
The JJRC H37 Elfie is very small and could easily fit in a purse. Since the drone is controlled via a smartphone app, you won't have to carry around a controller. Some users complain about the drone app's quality, but it's not like you're demanding a lot from the drone. Most likely, you'll just be flying it 5 meters away for a quick photo.
The JJRC H37 does have enough sensors and features to stabilize itself in flight. Thanks to a simple barometer, you can make it hover in the air at a certain elevation, which is all you really need for basic photos.
The Bebop 2 is Parrot's entry-level drone that caters to new drones pilots and anyone who doesn't want to spend much cash. Like the DJI Phantom 3, the Bebop 2 lacks many features that would otherwise make it a great drone, but it's still fun to use.
If you're looking for something simple that won't break the bank, the Parrot Bebop 2 is the best travel drone for you.
The Parrot Bebop has a comparable design to the Parrot Anafi – it's slender, lightweight, and ultimately very portable. It's a fast drone and actually surprisingly durable given its price point.
The motors of the Bebop 2 are quite strong and will enable the drone to travel fast and remain stable when necessary. You'd think that all of this tech would be a major energy hog but the Parrot Bebop still gets an awesome 30 minutes of flight time.
The Parrot Bebop 2's controller is a bit on the cumbersome side but offers some decent performance. It can communicate with the Bebop 2 for up to 1.5 miles.
Parrot's smartphone app works in conjunction with the controller. There is even a set of goggles that allows you to mount the phone in front your eyes for a more intuitive experience.
The Parrot Bebop 2 can execute a number of autonomous functions and flying modes but only after you purchase these from the app store. Many of these modes come included in other drones, which is a bit irritating.
The Parrot Bebop 2 takes pretty good images if the conditions are right but video can be a mixed bag. Contrary to other drones, this one uses a fisheye lens and takes images from a specific part of the sensor. This means that videos are usually smooth and shake free but can suffer from issues like flare and glitchiness. 4k is predictably missing, which is understandable given the drone's price.
If we could, we'd name the ZEROTECH Dobby as one of the best luxury selfie drones that one could buy. Alas, this kind of drone is a bit of a middle child – not advanced enough to be an effective drone, but not cheap enough to be a good deal.
Regardless, ZEROTECH owners will be happy to know that the ZEROTECH Dobby is very portable and offers solid image capabilities and stability. Those who are honestly looking for a more expensive selfie drone should check out the Dobby.
The ZEROTECH Dobby is a very small drone that is comparable in size to a small smartphone. The body is made from high-grade plastics and is, contrary to its diminutiveness, not that fragile.
The ZEROTECH Dobby is pretty stable in flight. The addition of several internal electronic image stabilizers means that videos will be nice and smooth.
The ZEROTECH Dobby cannot fly very far though because the battery life is horrendous – only 5 minutes – and the drone is only connected to your phone via WiFi, which offers a limited range.
Using your phone as the sole controller means you won't have to carry a separate controller around, but it also means that you'll have to deal with the interface, which is hit and miss. Using the automatic tracking features of the Dobby is often easier than manual control.
The camera of the ZEROTECH Dobby shoots 4k images and records up 1080p at 30fps. The aforementioned image stabilization is great for getting crisp, clean images/videos but we still wish that video was a bit better.
The Yuneec Typhoon H Pro is a great alternative to the DJI series, not to mention one of the best drones overall. Travel with this bad boy may be difficult, however, because of its bulkier design, so in good faith, we could not rank it among the other best drones for travel.
Regardless, it still offers excellent recording, a superior flight experience, and one of the most intuitive controllers on the market.
The Yuneec Typhoon H Pro has one of the most intimidating looking frames out of any of the drones on this list. With 4 retractable legs, 6 arms, and a hanging gimbal, this drone looks military-grade.
The Yuneec Typhoon H Pro flies at a pretty fast pace (40 mph) and is overall very stable. Yuneec also states that if a rotor breaks on the Typhoon mid-flight the others will compensate, which is pretty cool.
This drone is also lighter than it seems weighing in at 3 lbs, though it's still heavy enough that you'll probably need to register it with the local authorities.
The Yuneec Typhoon H Pro is bulky and a bit of a headache to pack/unpack. You'll need a special bag to carry this drone and then need to spend some time getting it ready before a flight.
Performance-wise, there's not a whole lot to complain about. Video and still quality are excellent and the inclusion of 360-degree rotating gimbal is very convenient. The Yuneec Typhoon can shoot 4k video of 30 fps and produce 12 Mp stills.
The controller for the Yuneec Typhoon H Pro is awesome but really big at the same time. There's a built-in touchscreen that is very responsive.
The controller can stay connected with the drone for about a mile and a half before failing, which is also admirable. Several automated flying modes are available as well and these all function as they should.
The Hover Camera Passport gets a lot of attention because of its unorthodox design. It is, at the end of the day, a very capable drone, one that can deliver excellent images and is very easy to use.
Though it may be a bit pricey for what it does, the Hover Camera Passport still deserves a nod as one of the best drones for travel.
The Hover Camera Passport has a unique physical form that a) makes it portable and b) makes it fairly sturdy. Near perfectly level and able to fold up for storage, the Hover Camera Passport turns out to be a winner in the design department. When laid flat, it's about the size of an open book and weighs only 242 grams.
The Hover Camera Passport is made of carbon fiber and is quite durable. The rotors are protected by a cage, which in turn also protects the user's hands. This is great as we get the impression this drone is meant for up close and personal use and not for sweeping cinematography.
The Hover Camera Passport cannot fly very far and will not last very long in the air. Flight time is only 10 minutes and effective range is a microscopic 65 feet. Again, given the nature of this drone as a glorified selfie stick, it's not so bad.
Image and video quality are solid in the Hover Camera Passport. 4k is possible, as are 13 Mp photos. A nice touch is the inclusion of a flash, which will come in handy during those indoor shots.
Combined with the Hover's excellent facial recognition software, which does a superb job of tracking, selfies have never been easier.
Below is a list of considerations that one must take into account before deciding on the best travel drone for themselves. Take note of these aspects and you'll have a better idea of what you're looking for.
Weight
Drones vary in weight somewhat, but thankfully they are rarely cumbersome. Depending on the quality of the drone, and excluding the ultralight selfie ones, you can expect a drone to be between a half pound and 3 pounds.
The greatest factors that determine a drone's weight are its construction and tech. Generally speaking, the more advanced a drone's features and build are, the heavier it will be. There are sometimes exceptions but, for the most part, this is a unanimous rule.
A heavier drone has its merits. Aside from being technologically more powerful, heavier drones are more resistant to environmental factors. Wind, which is the bane of every drone's existence, will have less of an effect on larger drones.
While lighter drones can be driven off-course by as little as a 10 mph gust, larger ones can handle closer to 20 mph. Though given this generalization, even the largest drones will struggle in adverse weather and can fall to the ground.
Given that heavier camera kits can weigh more than 30 lbs when packed, carrying a drone that is less than 5 lbs doesn't seem so bad. Even the customizable drones – the ones that allow for different lenses – won't get much heavier at the risk of failing to fly.
Size and Shape
Although drones are usually light enough to avoid scorn from photographers, the size and shape of them can be very frustrating. Bulky, rigid, and sometimes fragile, drones can be very inconveniently shaped.
Considering how many drones are unable to fold, you can see why this is number one reason many photographers shun drones altogether.
There are two types of drone shapes: fixed bodies and foldable bodies. Each has its own set of strengths and weaknesses.
Fixed bodied drones are the most conventional and common type of drone. Some manage to be packable but in the process often sacrifice a lot in the way of technological features. Most are shaped in such a way that requires special attention. Models like the DJI Phantom and the Yuneec Typhoon will almost always require a special camera backpack to be carried.
Foldable drones are becoming more common these days, thanks to improved R&D, and are generally preferable for travel. Foldable drones are easier to pack and often don't even need a special compartment. On the other hand, foldable drones can be more prone to breaking due to the extra moving parts involved.
Be aware of what drones are constructed from as well. Plastics are used to cut weight and costs but are more prone to breaking, obviously. Higher quality materials, like carbon fiber, are more resistant but cost a lot more. Consider how much you are willing to pay for durability.
Image Quality
I'm going to preface this section by saying that no drone within a reasonable consumer budget can match the image quality of a DSLR. Without sacrificing an arm and leg or maybe your firstborn child, you're going to have to temper your expectations when it comes to drone's image quality.
But you're buying a drone for the ridiculously cool compositions that you can capture anyway, not necessarily the ability to shoot into the sun.
Most drones have smaller sensors that are less than 1", the likes of which are commonly found in bridge and point and shoot cameras. As such, drone sensors will generally be less adept at handling harsh lighting or dimly-lit situations; that last condition is a bit of moot point since you shouldn't be flying your drone in the dark anyway!
Drones with larger sensors, like the DJI Phantom 4 Pro or Mavic 2 Pro will have greater dynamic and image sharpness thanks to their larger, full 1" sensors.
Some drones only offer a fixed FOV and some have the ability to zoom. Most drone lenses are wide to capture those sweeping landscapes, but some drones do have lenses with a narrower angle, which may be good or bad, so take notes.
Drones with zoom lenses are almost always more expensive and offer only a little bit of extra focal flexibility.
Future consumer-level drones will most likely have the ability to change lenses. Rumors are already spreading about the DJI Phantom 5 and its potential ability to use different glass. This bodes well for professional drone pilots.
Fight Time and Distance
This is a biggie – how far and how long you can fly your drone plays a huge part in the nature of your photography or videography. Longer distances and times mean that you can capture more and get some pretty wild compositions in the process.
Having less flight time generally means that your pretty limited what you can capture, so much so that you may only be able to get a selfie.
Most drones get between 10-25 minutes of flight time. Drones that can only fly for 10 minutes are pretty shit and will probably be useless to a lot of people. An ideal drone can fly for at least 20 minutes or more.
The effective range of drones can get pretty wild. The best drones can travel as much as 5 miles before failing. Let it be known that you shouldn't go near this number for risk of losing the drone altogether.
Being able to travel such distances brings new considerations. Will your battery be enough to get your drone to its maximum effective range and then back again? Do you feel comfortable letting your drone go out of sight? Think about these things.
How fast a drone can travel will obviously play a part in its range and lifespan but I wouldn't worry too much about this. Most fly at about 35 mph and the best drones will travel at 40+.
Only in special circumstances will a drone travel less than 30 mph and we'll be sure to tell you about those.
Ease of Use
Not every drone is easy to fly; hell, some of them are so difficult that you'd think they had a deathwish! There are a lot of variables that come into play when trying to fly a drone, from environmental conditions to onboard sensors to your own competence. If one of these things are out of whack, your drone could be in danger of failing or crashing.
That's why many of our top picks for the best travel drones have instruments to help novice and consumer flyers.
Drones have sensitive sensors to help them navigate and avoid crashing. Instruments like GPS, compasses, and radio receivers are vital to a drone's success in the field, and any of these can fail.
I'm sure every drone owner first laughed and then cried at the sight of their drone "going down the toilet bowl" because the compass was screwed up.
Moral of the story? You should be aware of how well a drone's sensors work. Each manufacturer makes more or less better parts for their drones and each drone is more or less better at flying. Even a good drone pilot can be unnerved or undone if all they have to work with is a shitty machine.
Does a drone tend to drift in flight, which is an indicator of poor sensors? Does connectivity drop suddenly mid-fight and cause your heart to suddenly stop? Keep questions like these in mind when looking for the best drone for travel.
Ready to Fly
A drone is not necessarily ready to fly straight out of the box. Some require extra assembly or firmware updates in order to function. Completing these extra steps does require a bit of skill as well, and screwing up an assembly can compromise your drone.
When deciding between the best travel drones, look out for the following acronyms on the box, which indicate if your drone is ready to fly immediately or requires extra work:
RTF – Ready to Fly. Pretty self-explanatory though a little setup may be required. Examples of minor setups include installing propellers, updating the firmware, and connecting the drone to the controller.
BNF – Bind and Fly. This type of drone comes without a controller so you'll either have to use one that you already have, your smartphone with the proper app, or go out and buy another one. It is very important to make sure that a drone and controller are compatible. Even if they have the same frequency, they may fail to connect because of different manufacturer protocols. Make sure to do your research.
ARF – Almost Ready to Fly. These are DIY kits that require extra assembly and parts. Transmitters and/or receivers are common items that you'll have to purchase if you buy one of these kits, but all sorts of parts may be missing. Since each AFR package comes with different parts, you'll have to read about their contents very carefully and decide if the extra effort is worth it.
Replacement Parts and Accessories
Shit happens; drones break, so you need to be able to fix your drone when things go downhill. Buying a drone that has parts readily available on the market is super convenient because this can mean the difference between a brief flight suspension and throwing out a drone completely.
Luckily, most of the major brands, like DJI, have parts available for purchase. If a situation should arise where you can't fix your drone, it's probably because the drone is of a cheaper quality and not meant to be fixed, or the company is not large enough to offer replacements.
There are a couple of extra accessories that drone pilots would be smart to carry. An extra set of props would be handy in the case of a mechanical failure. Extra batteries and a portable charger would also be smart. Most importantly though, it's is vital to have a cover for the gimble as it can break very easily.
Some drones can accommodate filters, like polarizers and NDs, for creative use. Many drone manufacturers produce their own sets of filters for their respective drones, but there are some third-party sellers as well. Do some extra research before buying a set for your new travel drone.
Flight Regulations
Flight regulations are applicable to everyone. Due to safety regulations, legal issues, and the rights to certain airspaces, the use of drones is not guaranteed everywhere. In fact, you'll probably find that you'll be unable to actually use your drone more often than ought.
There is a whole code of conduct that one needs to consider when looking for their first travel drone. Study the ethics of flying a civilian drone before buying one and decide if the restrictions are worth your time or not.
Still have some questions? No problem! We've listed and answered the most commonly asked questions below. Here's what people usually want to know:
---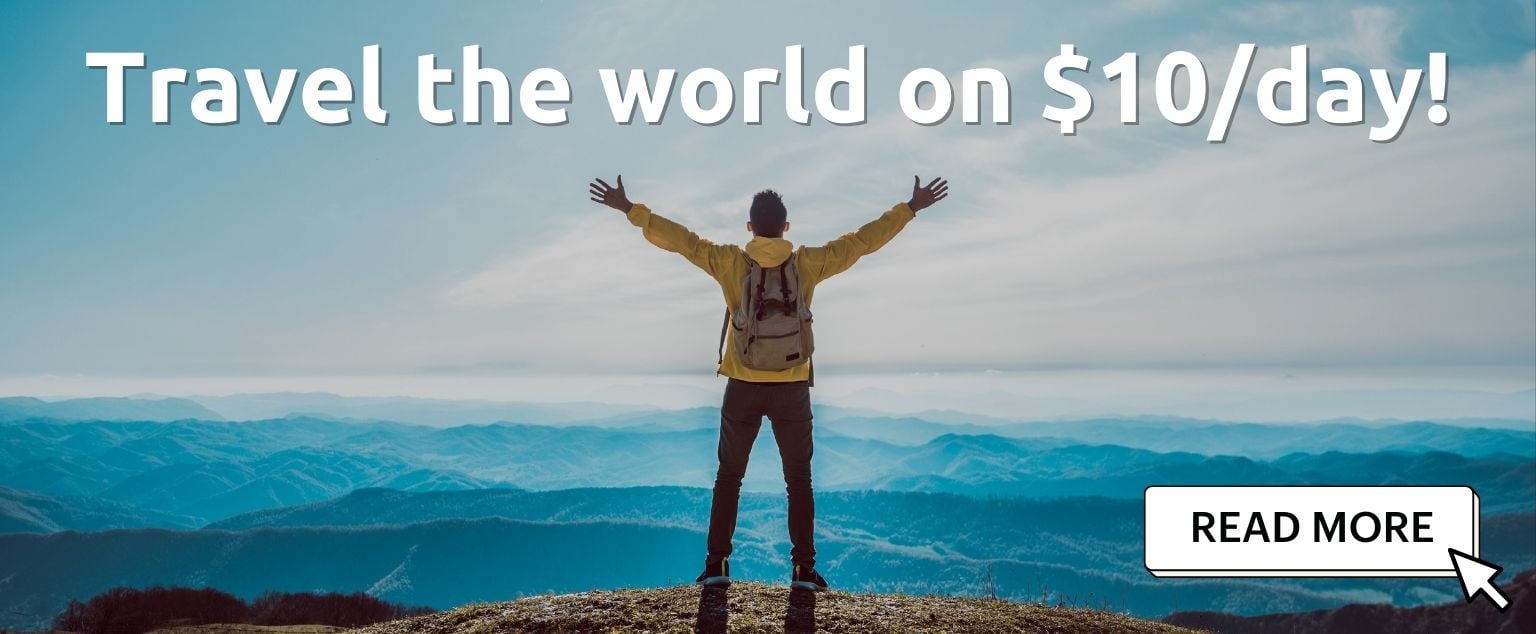 And for transparency's sake, please know that some of the links in our content are affiliate links. That means that if you book your accommodation, buy your gear, or sort your insurance through our link, we earn a small commission (at no extra cost to you). That said, we only link to the gear we trust and never recommend services we don't believe are up to scratch. Again, thank you!