While it's always been on the backpacker map, Leon is starting to really gain a lot of popularity as a must-visit destination while in Nicaragua.But with dozens of hostels available, in a city that can still be a bit dangerous, it can be overwhelming to figure out where to stay. Which is exactly why I wrote this list of the best hostels in Leon, Nicaragua.I've put this list together with YOU in mind. What sort of hostel do you need in Leon? A hostel that caters to couples? Meeting people? Getting some work done? Or maybe you just need the cheapest bed you can find.Whatever your travel needs, this list of the best hostels in Leon, Nicaragua will help you book your hostel quickly so you can explore this cool ass Central American city.
Quick answer: The Best hostels in Leon, Nicaragua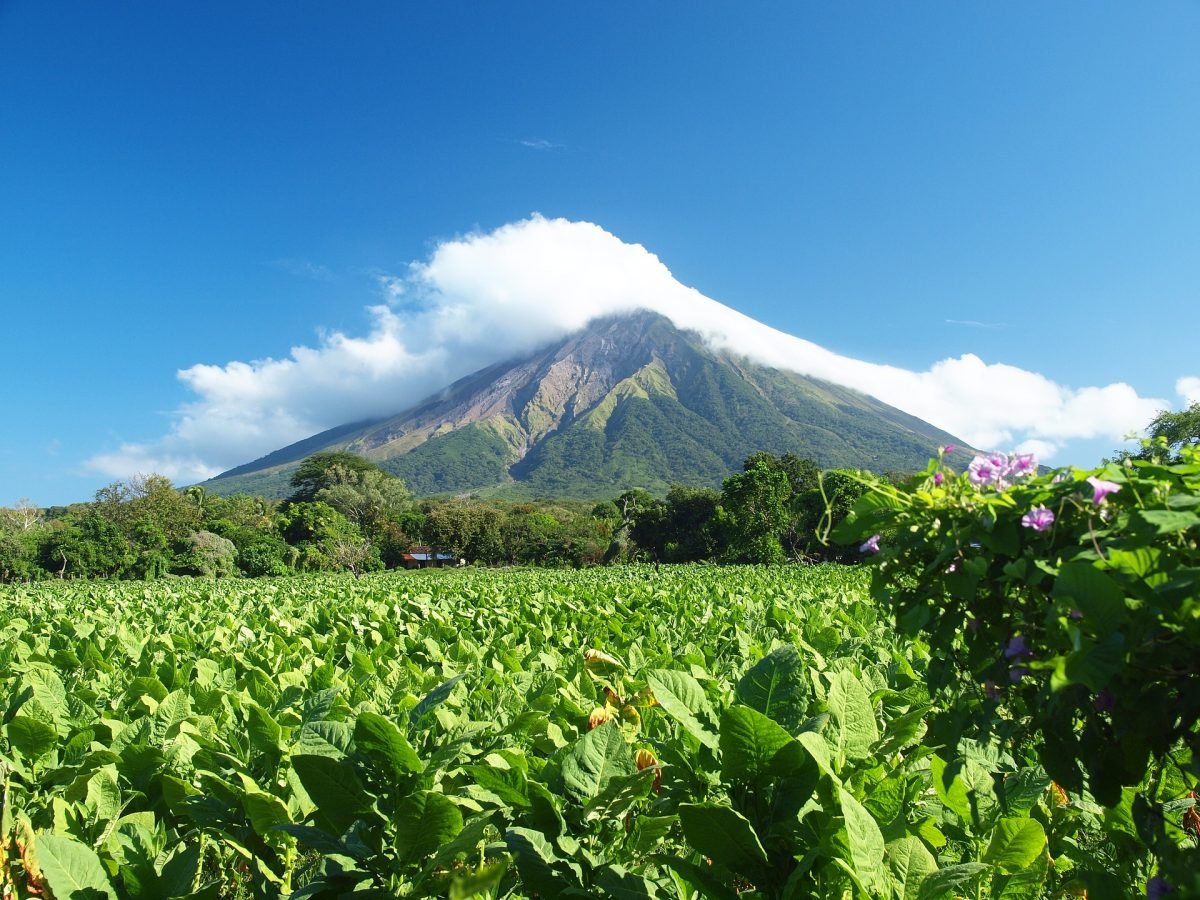 The 20 Best Hostels in Leon, Nicaragua
Backpacking Nicaragua? Awesome, make sure you stop over in Leon! As one of the most charming cities in Central America, lots of travellers are drawn to exploring the area. Luckily, there are quite a few awesome accommodation options around.
The main things you want to look for when booking your hostel are facilities, location and safety. Nicaragua is pretty safe, but thieves exist everywhere in the world, so keep your eyes open for safe lockers and places to store your backpack while you're out exploring.

Do You Want to Travel FOREVER??
Then pop your email address in below and we'll send you a FREE copy of 'How to Travel the World on $10 a Day!' – make travel your LIFE.
Best Party Hostel in Leon – BigFoot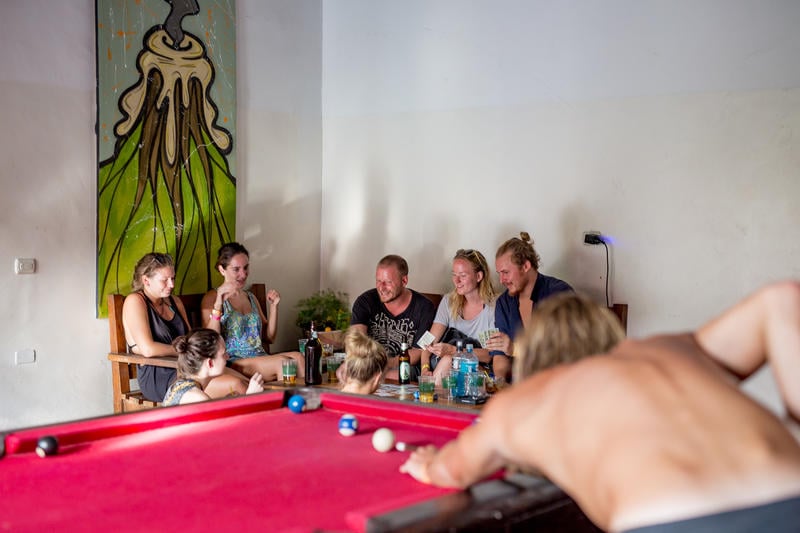 $$
Bar & Cafe Onsite
Swimming Pool
Self Catering Facilities
If you're down for a good time you should book a bed at BigFoot, the best party hostel in Leon. The BigFoot bar is where it's at! With a great selection of booze at backpacker friendly prices and an on-point party vibe, you better book your bed ASAP. BigFoot is one of the only backpackers with a swimming pool, making it the coolest hostel in Leon, probably! The BigFoot team run volcano-boarding tours every morning, be sure to book your spot when you walk past reception on the way to the bar. It's a must-do when in Leon that's for sure.
Best Hostel for Solo Travellers in Leon – ViaVia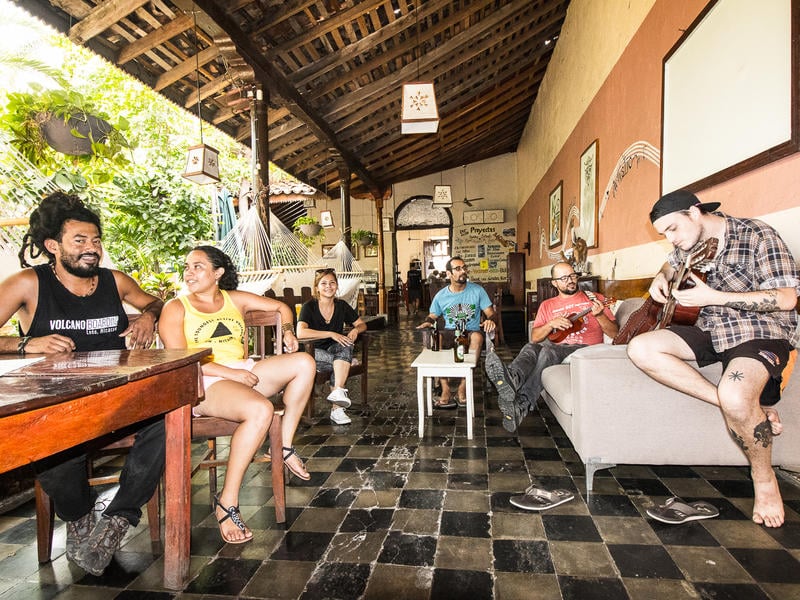 $$
Free Breakfast
Bar & Cafe Onsite
Security Lockers
ViaVia is a highly recommended hostel in Leon and has a great little bar, the perfect hang out spot for those lazy travel days. They have a cracking selection of cocktails, make sure you sample a few before you leave. ViaVia has plenty of hammocks to laze about in but being so close to Leon's must-see tourist hotspots you may not have that much time to relax. Given that the dorms are super affordable you may just have to extend your stay by a few nights.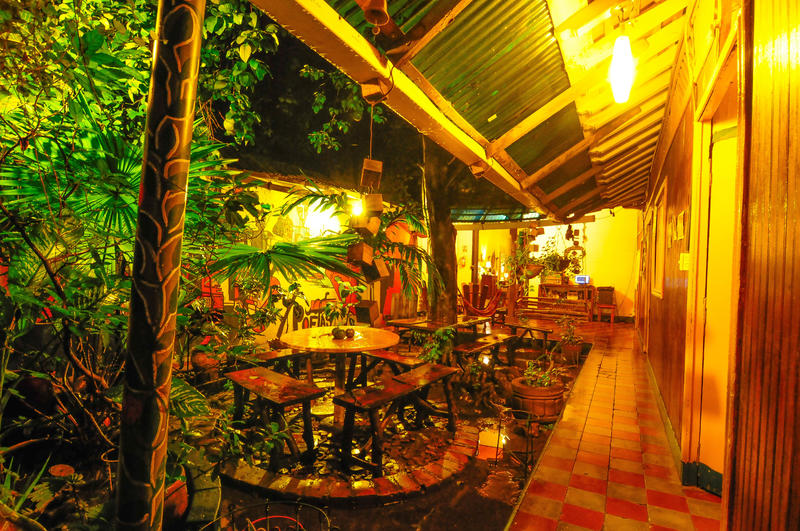 $
Free Breakfast
Bar & Cafe Onsite
Self Catering Facilities
As the best hostel for solo travellers in Leon, Hostal El Albergue de Leon is set in a quintessentially Nicaraguan house in the heart of the city. Hostal El Albergue de Leon is the perfect place for solo travellers to meet and mingle, with a buzzing bar and outdoor terrace there's plenty of places to make new travel buddies. As a top hostel in Leon, Hostel El Albergue offers a free breakfast and a guest kitchen to help solo travellers keep on top of the food budget. Hostal El Albergue de Leon is very well known so getting a taxi to the front door is no problem at all.
Best Budget/Cheap Hostel in Leon – Hostal Casa Ivana
$
Bar & Cafe Onsite
Self Catering Facilities
Airport Transfers
Easily the best cheap hostel in Leon is Casa Ivanna, offering cheap and cheerful dorm beds throughout the year. As the best budget hostel in Leon Casa Ivanna has a great little bar of its own including a pool table and darts board. Safe to say there is never a dull moment around here! For backpackers trying to keep costs down, you can pick up some veggies at the local market and whip up a decent feed in Casa Ivanna's fully equipped guest kitchen. Casa Ivanna is set in a colonial-style building and has two big dorm rooms. Do book early though!
Best Budget/Cheap Hostel in Leon (2) – Serendipity Hostel
$
Self Catering Facilities
Common Room with Pool Table
Laundry Facilities
One of best budget hostesl in Leon is Serendipity Hostel for its just five minutes away from the city's breathtaking cathedral. As the best hostel in Leon in 2021 Serendipity offers guests access to their super chilled out gardens complete with slackline, hammocks and big cushioned loungers. The staff are super chilled out but always around to help if needed. Be sure to chat to them about getting a good deal on volcano boarding and other must-do backpacker activities in Leon. The Serendipity team will gladly pick you up from wherever you arrive in Leon.
Is This the Best Backpack EVER???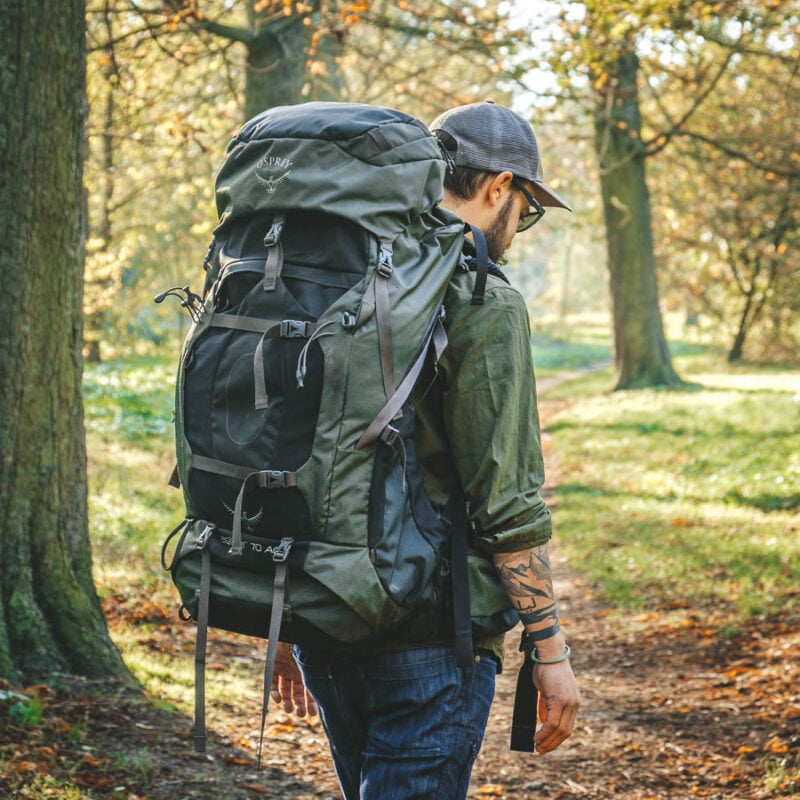 $$
Free Breakfast
Bar & Restaurant Onsite
Laundry Facilities
Trailwinds is hands down the best hostels for couples in Leon. To be fair, it was a close contender for best hostel in Leon full stop! Clean, spacious, bright and offering the best private double rooms in town, Trailwinds is a real treat. They have their own onsite bar and restaurant called Imbir, serving over 30 craft beers from around Nicaragua. Trailwinds has a super cute, sun trapped garden complete with giant hammocks; big enough for two! Be sure to swing by their tours desk to see if you can get a deal on a romantic day trip from Leon.
Best Hostel for Digital Nomads in Leon – Poco a Poco
$$
Bar & Cafe Onsite
Self Catering Facilities
Tours & Travel Desk
The best hostel for digital nomads in Leon has to be Poco a Poco, their free and unlimited super fast WiFi is just the beginning! Poco a Poco is one of the only Leon backpackers hostels to have a rooftop terrace, featuring dozens of hammocks digital nomads can literally live the dream here! Offering guests use of their great guest kitchen or the option of nipping downstairs to their own little cafe. The Poco a Poco team is keen to get backpackers socialising so once the laptop is shut digital nomads can join with their dorm mates for BBQ nights, live music and even salsa classes.
More Best Hostels in Leon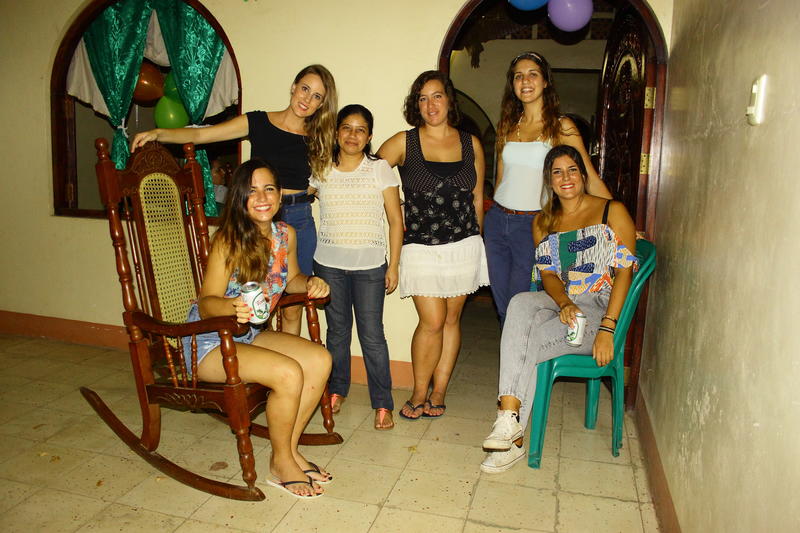 $
Free Breakfast
Self Catering Facilities
No Curfew
El Punche de Oro Guesthouse is a fantastically affordable budget hostel in Leon. With private doubles coming in cheaper than some dorm rooms in other parts of Leon you'll be asking what's wrong with this place! There's very little to find fault with in all honesty! Rooms are basic, yes but clean, tidy and spacious. The free breakfast is the icing on the cake! Tourist hotspots like the Cathedral of Leon, Museo Rubén Darío and Museo de Leyendas are all within a 10-minute walk of El Punche's front door. Definitely one to consider!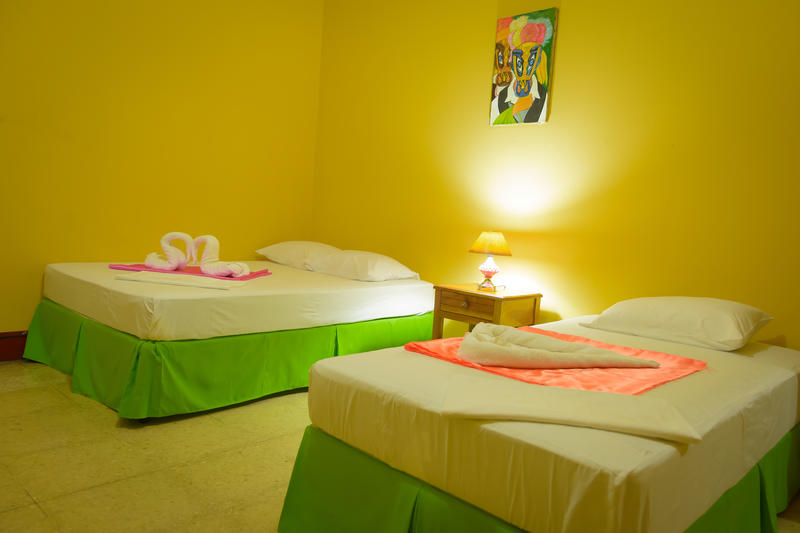 $$
Free Breakfast
Laundry Facilities
Tours & Travel Desk
As the most highly recommend hostel in Leon there is very little to find fault with at Hostal Fachente. This little known Leon backpackers hostel offers guests a free breakfast and use of their fully equipped guest kitchen too. Hostal Fachente offers more private rooms than it does dorms but that doesn't take away from the hostel vibe at all. Their private rooms are super cheap so if you fancy an escape from the shared dorms while in Leon Hostal Fachente is just the place.
$
Free Breakfast
Bar & Cafe Onsite
Self Catering Facilities
Blue Hat Hostel was high on the shortlist for best budget hostel in Leon as they have dead cheap dorm rooms and a free breakfast too. On top of this, Blue Hat offers guests free coffee (YAAS!) and filtered water refills too. You'll find Blue Hat just a 10-minute walk away from Leon Cathedral. Blue Hat is a great youth hostel in Leon and has everything backpackers could need on the road within an easy walk; everything from pharmacies to gyms are accessible from here. Be sure to ask the super helpful Blue Hat staff for directions.
$$
Free Breakfast
Cafe Onsite
Tours & Travel Desk
Hostal El Jardin is a top hostel in Leon, particularly for those who like to have a garden space to hang out in. Hostal El Jardin is a simple but happy hostel, offering guests a free breakfast every morning of their stay. The Jardin team are super helpful and have a wealth of knowledge to share with their guests. If you want to arrange onward transport or tours up to the Cerro Telica & Black volcanos just say the word.
$
Self Catering Facilities
Swimming Pool
Laundry Facilities
Mango's Hostel claims to be the number one backpacker's spot in Leon and they're not far off. They're definitely a highly recommended hostel in Leon and you'll be welcomed with open arms. Mango's is one of only a handful of Leon backpackers hostels with a swimming pool which is a major bonus, especially if you're used to cooler climates! If you're looking for a mix of laid-back vibes, helpful staff and plenty of space to chill, Mango's Hostel is for you.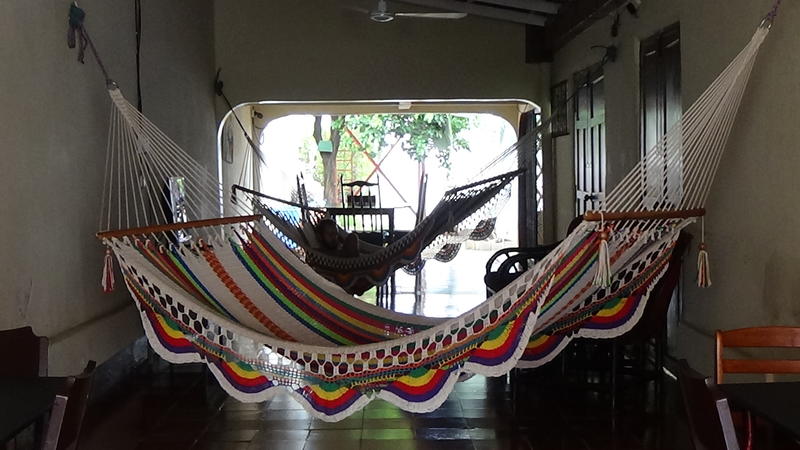 $
Free Breakfast
Cafe Onsite
Self Catering Facilities
Hostal Las Vacaciones is one of Leon's more family-friendly hostels, with a calm and chilled out vibe this is not really a party hostel. That's not to say there's no fun here, far from it. The Las Vacaciones team are always up for a good time and are keen to join guests to play pool or have a relaxed beer or two. As a top hostel in Leon Las Vacaciones offers a free breakfast, free parking and free WiFi throughout the building.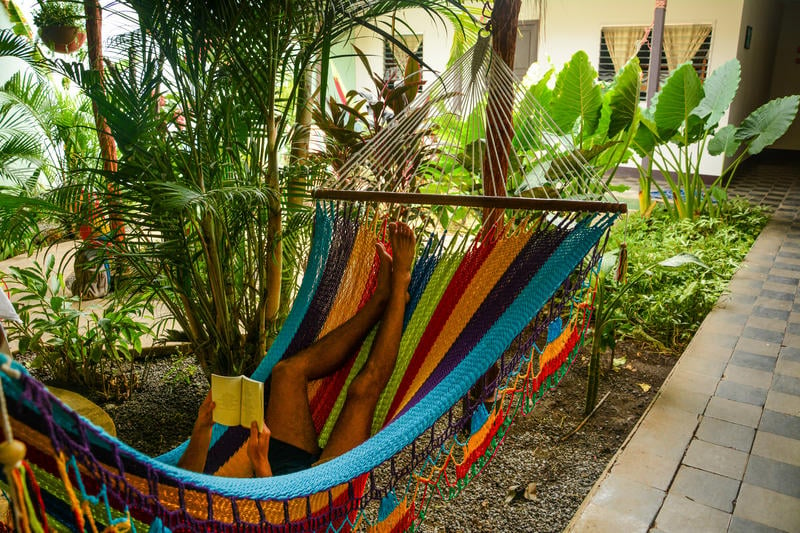 $
Self Catering Facilities
Cafe Onsite
Garden
Luna Azul is a great little budget hostel in Leon. Offering guests the choice of clean and comfy dorm rooms or more spacious ensuite private rooms. Luna Azul has private rooms able to sleep up to four people at a time, this is a great way to save a few Cordoba if you're travelling with friends. The Luna Azul garden is super nice and of course, has plenty of hammocks to go around. Less than 20km from Poneloya beach, Luna Azul is a hidden gem.
$$
Cafe Onsite
Swimming Pool
Outdoor Terrace
Lazybones is a great youth hostel in Leon and is often overlooked! With a gorgeous swimming pool and a great selection of rooms Lazybones definitely deserves its place on the shortlist for best hostel in Leon, that's for sure. As its name suggests Lazybones is a super chilled out hostel, ideal for those looking to slow down a little during their Central American adventures. With both private rooms and dorm available Lazybones is great for solo nomads, backpacking couples or a travel troops of friends.
$$$
Free Breakfast
Cable TV
Late Check-Out
Hostal San Antonio is one of the newest Leon backpackers hostels to open and is set to become super popular. At the moment San Antonio's only offers private rooms but in a dorm style, ideal for those travelling as a group and want that bit of privacy and space to crash. For anyone looking to stay in a quiet and authentic Leon neighbourhood, Hostal San Antonio is bang on as they are located a bit further from from the heart of the city. What makes San Antonio a top hostel in Leon is the air-con in all the rooms. A major plus, especially in the scorching summer months!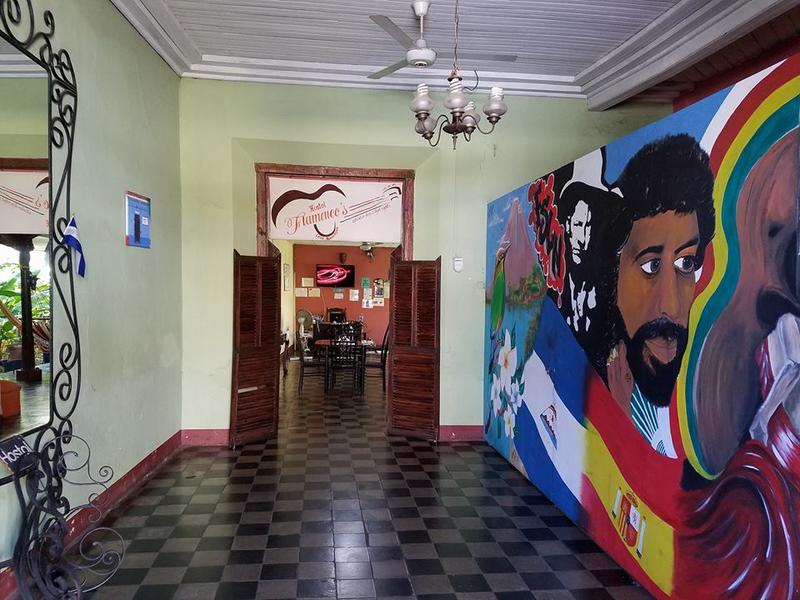 $
Self Catering Facilities
Cafe Onsite
Tours & Travel Desk
Despite being a top hostel in Leon Hostal Flamenco's is often overlooked. Hostal Flamenco's could possibly be the best budget hostel in Leon, although admittedly the calm, quiet vibe is not for everyone. Cheap and cheerful Hostal Flamenco's offers everything a traveller in 2021 could need; free WiFi, airport transfers, and a self-catering kitchen. There is a homely, cosy feel to Hostal Flamenco's. By no means the coolest hostel in Leon, Hostal Flamenco's is ideal for travellers seeking a laid-back home from home.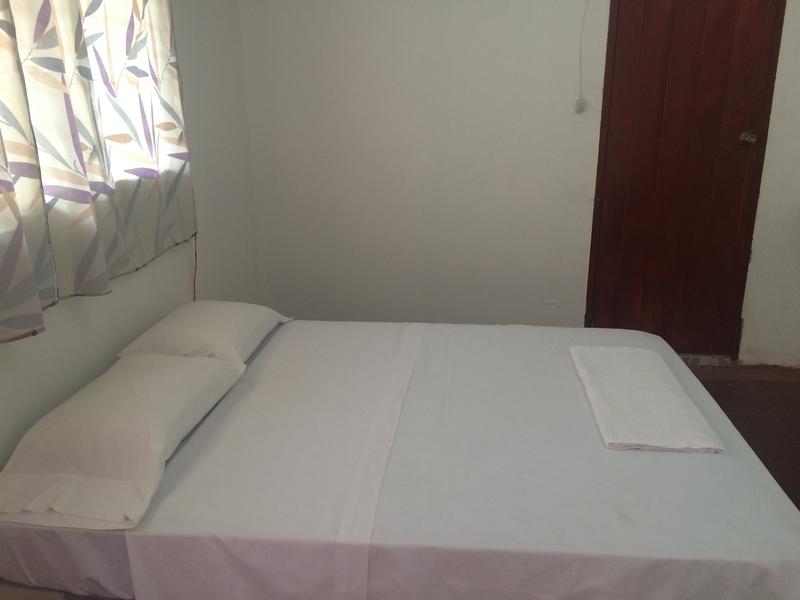 $
Free WiFi
Outdoor Terrace
No Curfew
Cute and cosy, Cipres Guest House is a charming youth hostel in Leon, one of the closest hostels to the Main Square and Central Park. If you're on a tight budget and are seeking for a simple, friendly Leon backpackers hostel Cipres may just be the place for you. All your linen is included in your room rate, including towels. The Cipres Guest House staff are semi-fluent in English but always try their best to communicate and will go out of their way to ensure you make the most of your time in Leon.
$$$
Free Breakfast
Bar, Cafe & Restaurant Onsite
Swimming Pool
Somar Lodge would definitely be the best hostel in Leon in 2021, if only it were actually in Leon! To be fair, it's only 30-minutes away and they offer a shuttle into Leon city centre daily. With its own pool and just meters from the beach, Somar is the perfect retreat for anyone seeking a classic holiday vibe and the chance to hit the surf. The beachfront bar is heavenly! As a highly recommended Leon backpackers hostel, Somar Surf Camp and Lodge is a must visit, even if that means mixing up your plans a bit. Just do it!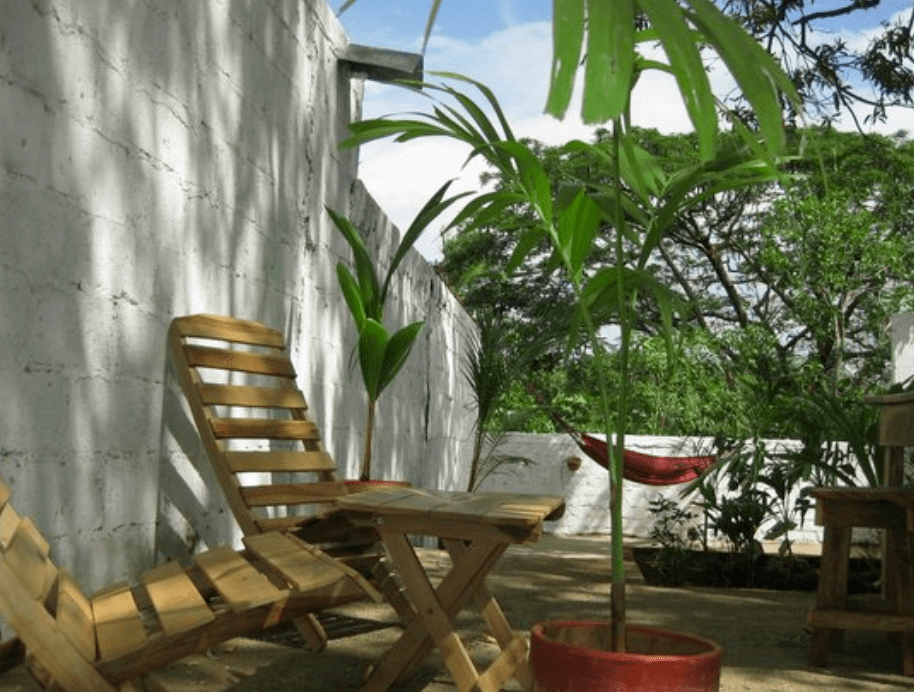 $$
Free Breakfast
Bar & Cafe Onsite
Tours & Travel Desk
Hostal Malinche is a highly recommended hostel in Leon, especially for couples or travelling duos. To be fair, Malinche is more of a bed & breakfast than a Leon backpackers hostel as they have only private rooms. That said, there is a hostel feel to the place, if you head to the cafe and bar on the ground floor you'll be welcomed by a classic backpacker kinda vibe and colourful hammocks too. Free coffee throughout the day puts a big tick next to Hostal Malinche for the best hostel in Leon in 2021!

Unlock the The Broke Backpacker's GREATEST Travel Secrets!
You pop your email here, and we promise to send you only travel content that's actually relevant — sounds like a pretty good deal to us!
What to Pack for your Leon Hostel
Pants, socks, underwear, soap?! Take it from us, packing for a hostel stay is not always quite as straight forward as it seems. Working out what to bring and what to leave at home is an art we have perfected over many years.
Check out our definitive Hostel Packing list for our top packing tips!
Why you should travel to Leon, Nicaragua
Leon (and Nicaragua as a whole) is a backpacking gem that is slowly getting very popular. Hopefully with the help of this post, you can confidently book a hostel in Leon, and enjoy this cool ass country.
And remember, if you are having a tough time picking a hostel to book, we recommend BigFoot. It's got an energetic vibe, a pool and plenty of activities!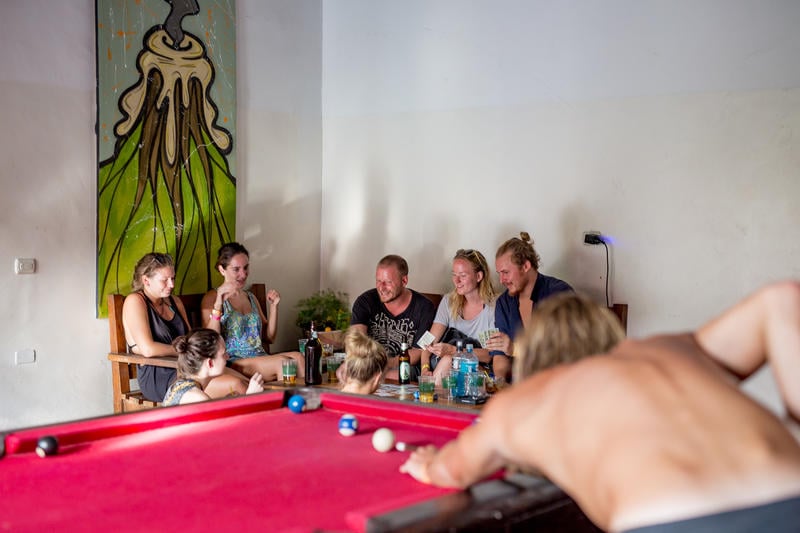 FAQ about Hostels in Leon, Nicaragua
Here are some questions backpackers ask about hostels in Leon.
Travel Safety Tips for Leon, Nicaragua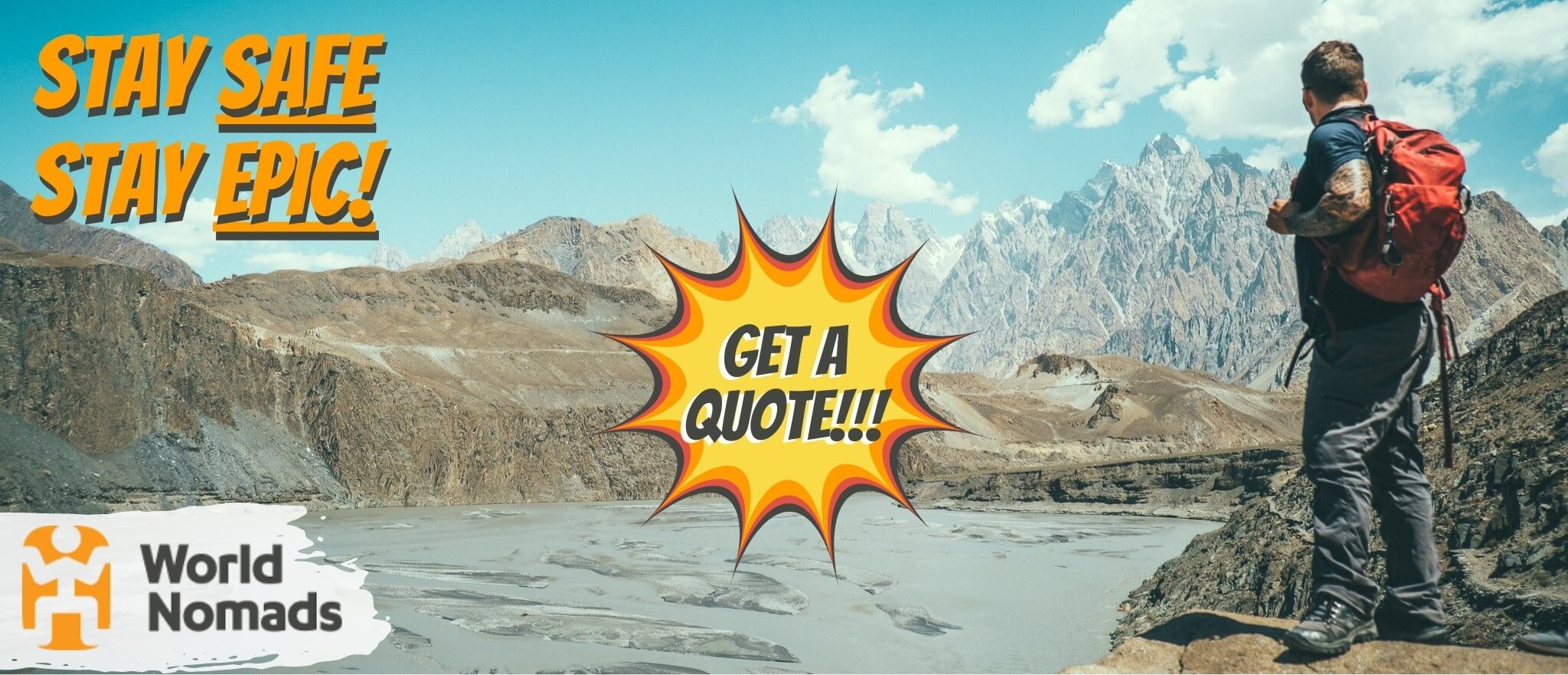 It's good to get lost sometimes, but it's also good not to get too lost. There are people that want you home in one piece.
There's one travel insurance provider The Broke Backpacker trusts for all his wildest shenanigans… World Nomads!
Click the button below to get a quote on your insurance or read our in-depth review of World Nomads' coverage. And then… let the shenanigans begin. 😉
More Epic Hostels in Nicaragua and Central America
Hopefully by now you've found the perfect hostel for your upcoming trip to Leon.
Planning an epic trip all across Nicaragua or even Central America itself?
Don't worry – we've got you covered!
For more cool hostel guides around Central America, check out:
Over to you
By now I hope our epic guide to the best hostels in Leon, Nicaragua has helped you choose the perfect hostel for your adventure!
If you think we've missed anything or have any further thoughts, hit us up in the comments!
---
Thanks for reading – that was fun! 😀
We bring you epic FREE content!
Find out how YOU can help support us.
We're a big site with a big team and this job isn't always easy. But we do it because we love it – we love providing epic and free content. We love the knowledge that our content keeps you adventuring. We don't ask for money, but if you'd like to find out how you can help the site in more organic ways, click the button below.
Thank you for your support 🙂
---
Bye for now, but not forever!
If you want MORE top-tier Broke Backpacker content like this, then sign up for our weekly newsletter below to get the latest and greatest!
And for transparency's sake, please know that some of the links in our content are affiliate links. That means that if you book your accommodation, buy your gear, or sort your insurance through our link, we earn a small commission (at no extra cost to you). That said, we only link to the gear we trust and never recommend services we don't believe are up to scratch. Again, thank you!