Nicaragua lies at the heart of Central America. As a region full of natural beauty to explore, be it lakes, rainforests, volcanoes, or beaches, it's no wonder millions of tourists visit the country each year.
Because Nicaragua has such a diverse ecosystem, from hot deserts, dry grasslands to wet rainforests, it has a plethora of wildlife that call it home. Jaguars, pumas, three-toed sloths, ocelots, armadillos, and northern tamanduas are just a few of the unique species that live in Nicaragua.
But its wildlife population is rapidly decreasing, which is why eco-tourism is becoming more popular, and also more important, in the region.
Eco-tourism provides a way for those millions of visitors to have an experience close to nature, but with a small environmental footprint on the country's ecosystem.
Not only is the country blessed with exceptional nature, but it offers a unique blend of cultures and warm hospitality. When choosing to stay in an eco-lodge in Nicaragua, you not only get to protect the environment but support the local community, and in some cases, get to experience the culture at a more intimate level than you would if you stayed in a hotel.
Today, there are quite a number of eco-lodges to choose from, which is why I compiled this list of the best eco-lodges in Nicaragua to make it easier for you to find somewhere that's right for you. Whether you're planning a visit with family or are looking for something a bit more intimate, there's sure to be something for everyone on this list.
Best Eco-lodge for Couples
Best Eco-lodge for Couples
Isleta El Espino Ecolodge
> $
> 2 Guests
> Completely solar powered
> Serene private island
Best Budget Eco-lodge in Nicaragua
Best Budget Eco-lodge in Nicaragua
Ensueños Tree House
> $
> 2 Guests
> Timber and palm-thatch treehouse
> Palm trees and sandy shores
Amazing Luxury Eco-lodge in Nicaragua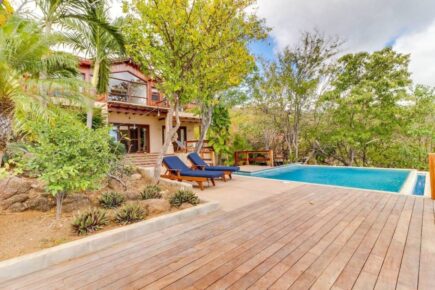 Amazing Luxury Eco-lodge in Nicaragua
Casa de Amigos
> $
> 4 Guests
> Natural materials and textures
> Private beach
Why Stay in an Eco-lodge in Nicaragua?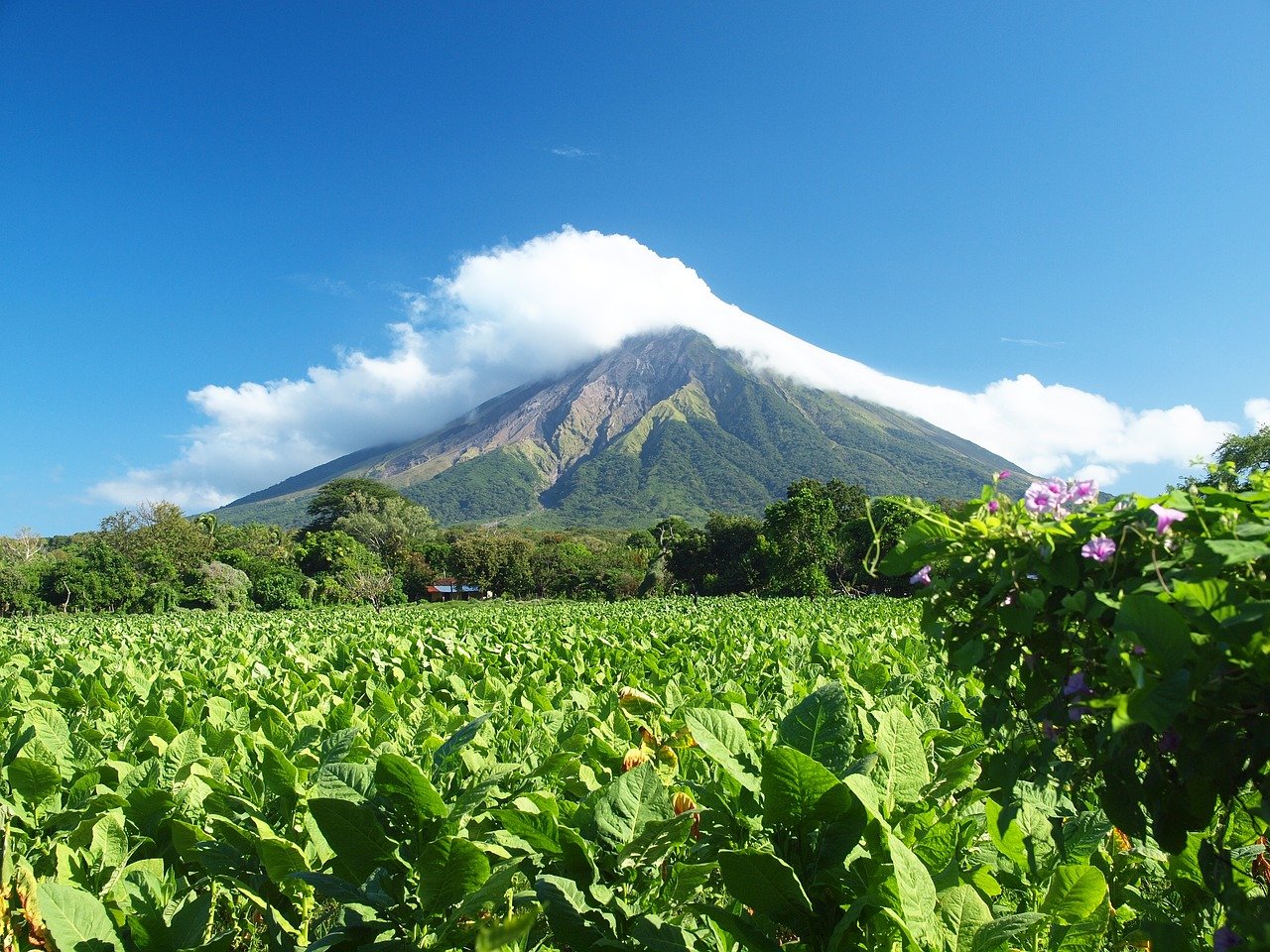 Nicaragua is a fairly underdeveloped country. But travellers in Nicaragua are not scarce due to the stunning nature and amazing vibe surrounding the Central American country.
After many years of fighting a civil war, much of the infrastructure was demolished. Today, things are starting to turn around and its safety is slowly improving, but basic amenities such as electricity can still be extremely expensive.
When choosing a place to stay, you might find that an eco-lodge that chooses to use 'off-grid- infrastructure is cheaper than a built-up hotel. Not only that, but eco-lodges tend to be located in unobtrusive places within nature, so you can stay somewhere that is within the natural landscape that makes Nicaragua so famous.
Often eco-lodges are made using natural materials sourced locally and using the help of the local community. In addition, many of the best eco-lodges in Nicaragua make an effort to support local businesses and producers wherever possible, creating viable tourism economies that benefit both travellers and local communities alike.
What is an Eco-lodge?
The term eco-lodge describes an accommodation option, usually unique and close to nature, that is committed to reducing the impact of its operations on the environment. While this can be demonstrated in a variety of ways, most commonly it includes using renewable energy like solar power, implementing water-saving initiatives, and making use of locally sourced natural materials for its construction.
Supporting local communities is also part of being an eco-lodge, and many of them are committed to supporting local businesses and promoting local artisans as much as possible. Sharing fascinating insights into local culture and history with guests forms part of this as well.
The 5 BEST Eco-lodges in Nicaragua
So now I've introduced eco-lodges to you, it's time to look at my carefully selected list of the best eco-lodges in Nicaragua.
I have rounded up the best of different varieties, so you are sure to find one that matches your taste, budget, and needs. All options offer a comfortable and well-operated stay while making a real effort to be sensitive to the local people and planet.
Let's take a look!
1. Overall Best Eco-lodge in Nicaragua – Mano a Mano
Constructed using recycled materials
On the beach, great surfing
Mano a Mano is located in the small town of Las Peñitas, overlooking one of the best surfing locations in Central America. Not only this – Las Peñitas was one of my favourite overall locations in my recent Central American visit.
The lodge is adjacent to Juan Venado Nature Reserve and is within easy reach of a variety of restaurants. The rustic lodge is dedicated to sustainability and aims to be as eco-friendly as possible. The lodge has been built by hand, using largely just recycled, upcycled, and natural materials, including wood, earth bricks, and bamboo.
When you stay at Mano a Mano, you will have your own private room with a queen-sized bed with a mosquito net and fan. There is a private bathroom as well.
From your eco-lodge, you can relax in a hammock with a view of the ocean, do some yoga on the sunset deck, or head to the beachfront bar for an excellent piña colada or fresh fruit juice. The beach in front of the lodge is perfect for sunbathing and surfing.
2. Best Budget Eco-lodge in Nicaragua – Ensueños Tree House
Timber and palm-thatch treehouse
Palm trees and sandy shores
Set in an almond grove in a quiet region on Little Corn Island off the East coast of Nicaragua, Ensueños Tree House overlooks the sandy shore and the turquoise waters of the Caribbean Sea. The lush and remote setting in one of the Caribbean's best islands makes this the ideal secluded getaway.
The rustic treehouses are constructed from natural materials in a way that blends in with the surrounding grove of trees. The palm thatch and timber used to construct this unique accommodation in Nicaragua have all been sourced locally.
When you stay atEnsueños Tree House, you will have your own private hut right next to the ocean, so you can be lulled to sleep by the sound of the waves. The electricity is run by solar energy and all cooking is done over an open fire, so you have a real eco-experience that's close to nature.
The sandy beach nearby is perfect for sunbathing and the crystal waters are perfect for a refreshing dip. From your hut, you can take long strolls on the sandy shore, head out on the water in a boat for some world-class diving and snorkelling, or simply kick back in a hammock and relax.
3. Best Luxury Eco-lodge in Nicaragua – Casa de Amigos
Natural materials and textures
Private beach
Set high on the cliffs overlooking La Redonda Beach, Casa de Amigos is surrounded by lush vegetation and dramatic cliffs. From the lodge, guests can enjoy exceptional views of Pie de Gigante.
The house has been cleverly designed to maximize its natural location. Ceramic and stone floors keep the interiors cool, while large windows allow plenty of natural light and a cooling breeze.
From this home, you can spend lazy days on the private beach, or beside the pool. Snorkel gear, kayaks, and stand-up paddleboards are provided. Other thrilling activities on offer here include hiking, off-roading, kitesurfing, and ziplining. And what's best, is you get to experience this whole property all to yourselves.
4. Best Eco-lodge in Nicaragua for Families – Hacienda Iguana
Natural light, great ventilation
Excellent surfing location
Hacienda Iguana is situated about half a mile from the beach in Iguana on the west coast of Nicaragua. This unique accommodation in Nicaragua is conveniently located near the private beach club, to which you'll have access.
Built to maximize its surroundings, the house features high ceilings, excellent ventilation, and plenty of natural light to minimize the need for electricity. As electricity here is costly, guests are requested to use this consciously.
The nearby beach club offers restaurants, a children's playground, a putting green, and a swimming pool. Top surf spots are within easy reach of the house for those seeking good waves.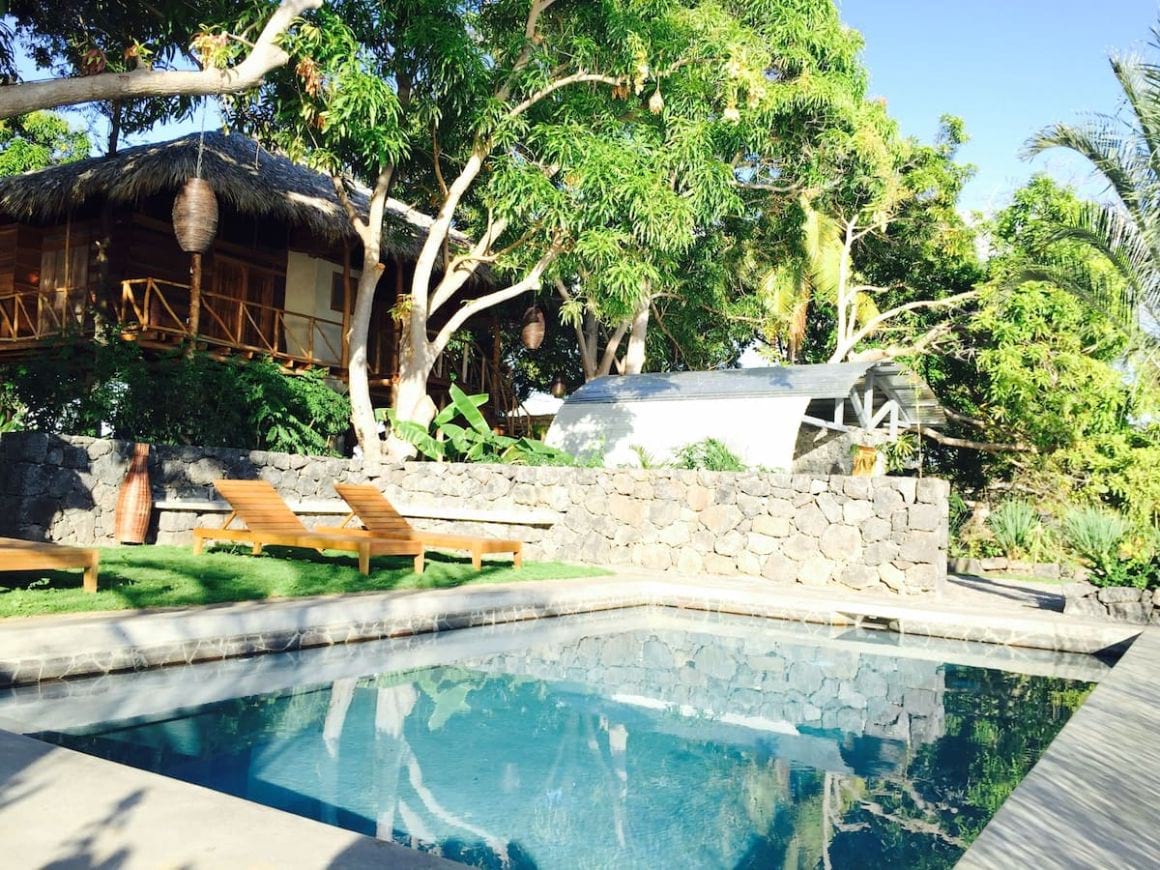 Completely solar powered
Serene private island
Set on a secluded island, one of many tiny islands in the Bay of Granada, Isleta El Espino Ecolodge offers an idyllic island escape in nature. The town of Grenada is within easy reach, and the lodge enjoys perfect views of Volcan Mombacho.
The treetop lodge has five rooms and is perched in the canopy of a mango grove. This offers a lush, leafy setting that attracts a variety of birds, monkeys, and insects. All electricity is provided by solar energy and the entire lodge functions without grid power.
From your double room at the lodge, you can sit out on your veranda, head out to relax beside the swimming pool, do some yoga, or enjoy a revitalizing massage or spa treatment at the lodge. From the nearby beach, you can head out in a kayak, or on a hiking trail to explore the island.
5 MORE Stunning Nicaraguan Eco-Lodges
Not found what you're looking for yet? Never fear, I have 5 more epic choices here (plus a sneaky bonus choice for you)!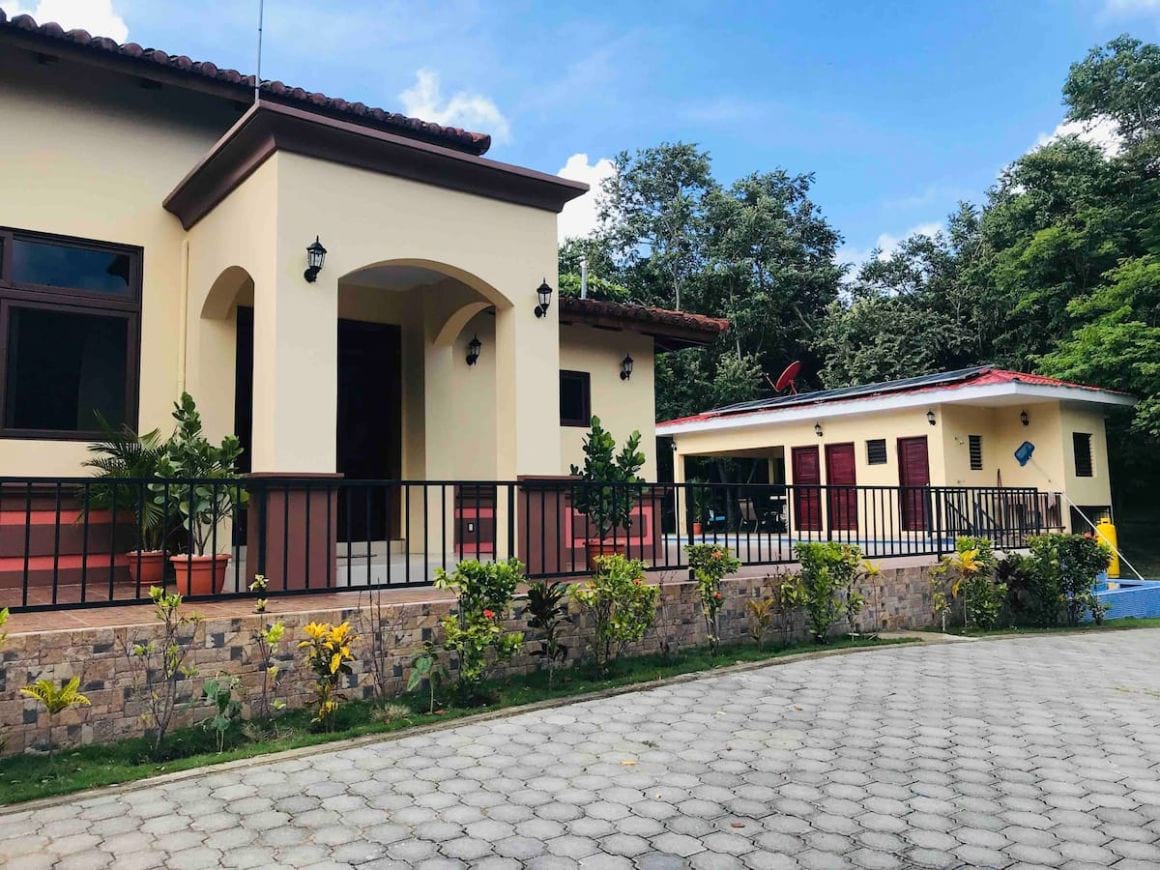 Luxury off-grid living
Peaceful and private
Casa Borealis is a part of La Vista Properties eco-development, located on a hillside in Tola, adjacent to other top lodges and surrounded by nature. Hacienda Iguana Beach Resort is next door, with its restaurants and bars, and shops.
Solar power provides all the electricity for the entire house, enough to power all the appliances in the home. Filtered drinking water is provided.
The home has a spacious porch, pool, and poolhouse where you can recharge and reset. The nearby Iguana area has a range of shops, restaurants, and a spa for you to enjoy. The hills surrounding the home have excellent hiking trails and offer great birdwatching.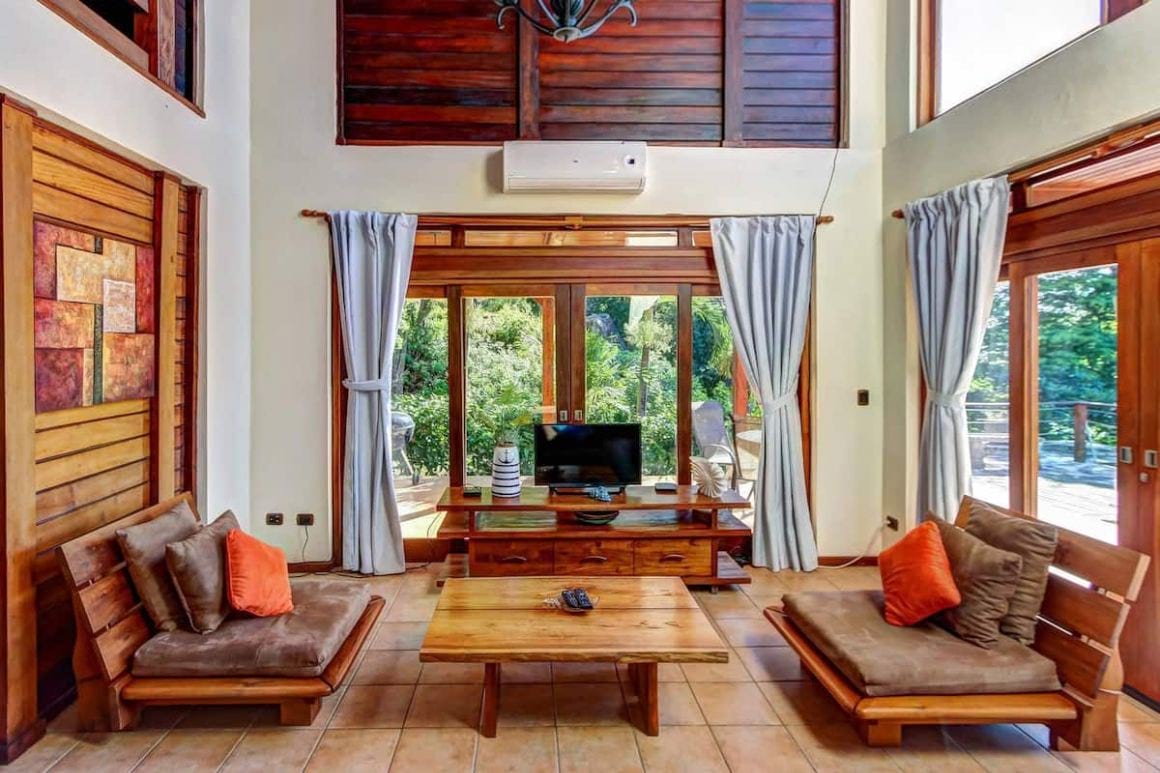 Local timber finishing
Prime view of Pie de Gigante
Casa Vista Bahia is situated on a clifftop overlooking Redonda Bay and the beautiful Pie de Gigante in the distance. The property is surrounded by trees, providing a secluded and tranquil spot to escape to.
The house was built using local timber and glass to let in the natural light. Large windows and doors open up to allow the refreshing breeze into the house. The pristine setting of this unique accommodation in Nicaragua is a haven for birdlife, with its lush, jungle-like surroundings.
Guests have access to all the amenities at the nearby Aqua Wellness Resort, including a private beach, spa treatments, and open-air yoga classes. Various watersports are on offer, from snorkelling to surfing, and the rugged cliffs in the area make for great hiking.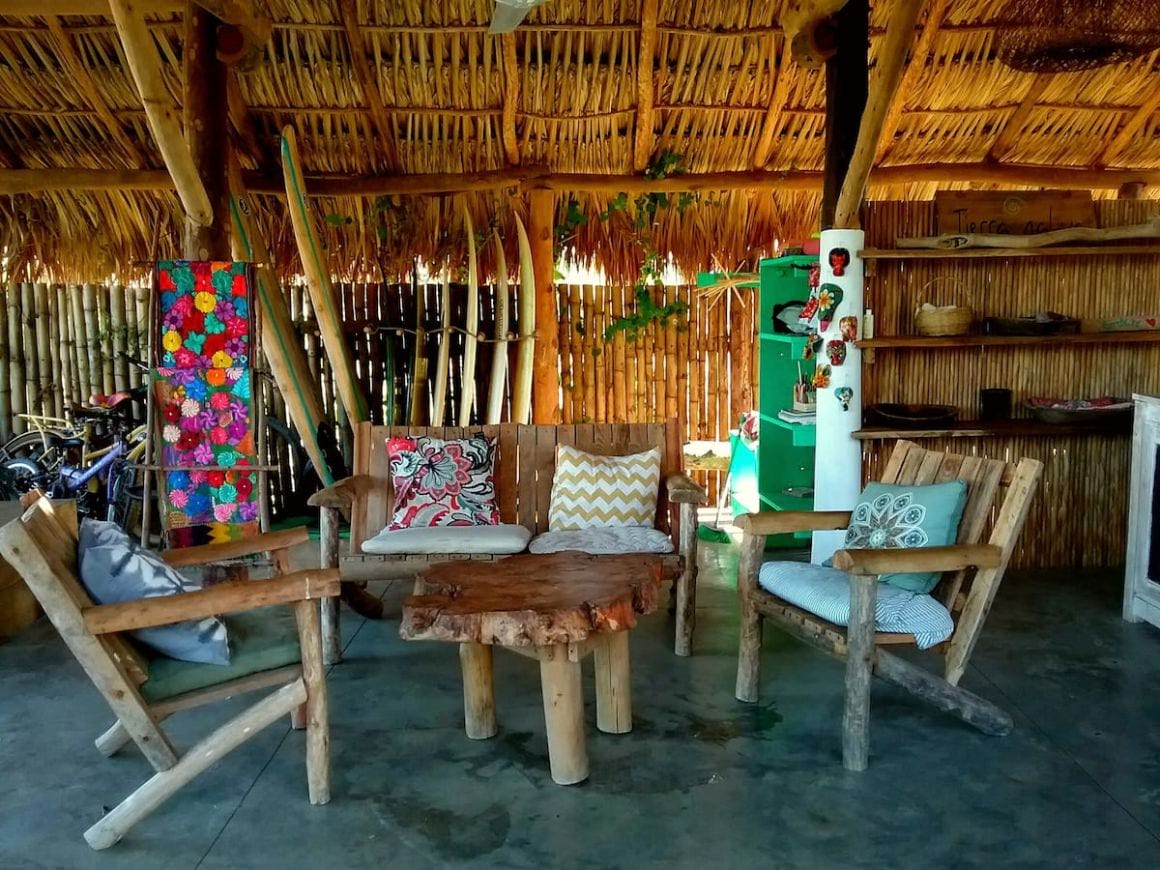 Ecologically built home
Private terrace and patio
Tierra Nahua Eco Lodge is situated in a quiet and safe area of Limon, on the west coast of the country. It is one of the best eco-lodges in Nicaragua, situated just 150 meters from the beach. The villa is also within easy reach of restaurants, and shops. It's visited daily by trucks selling fresh fruit and vegetables and other locally grown produce.
The villa features a unique architectural design, making use of natural materials like coconut fibre in the walls, and traditional palm thatch. Surrounding the villa are lush gardens that attract plentiful birdlife as well as monkeys.
From the villa, you can relax on your private terrace or enjoy a soothing soak in the traditional wood-fired communal hot tub. Private yoga sessions and massages are also available.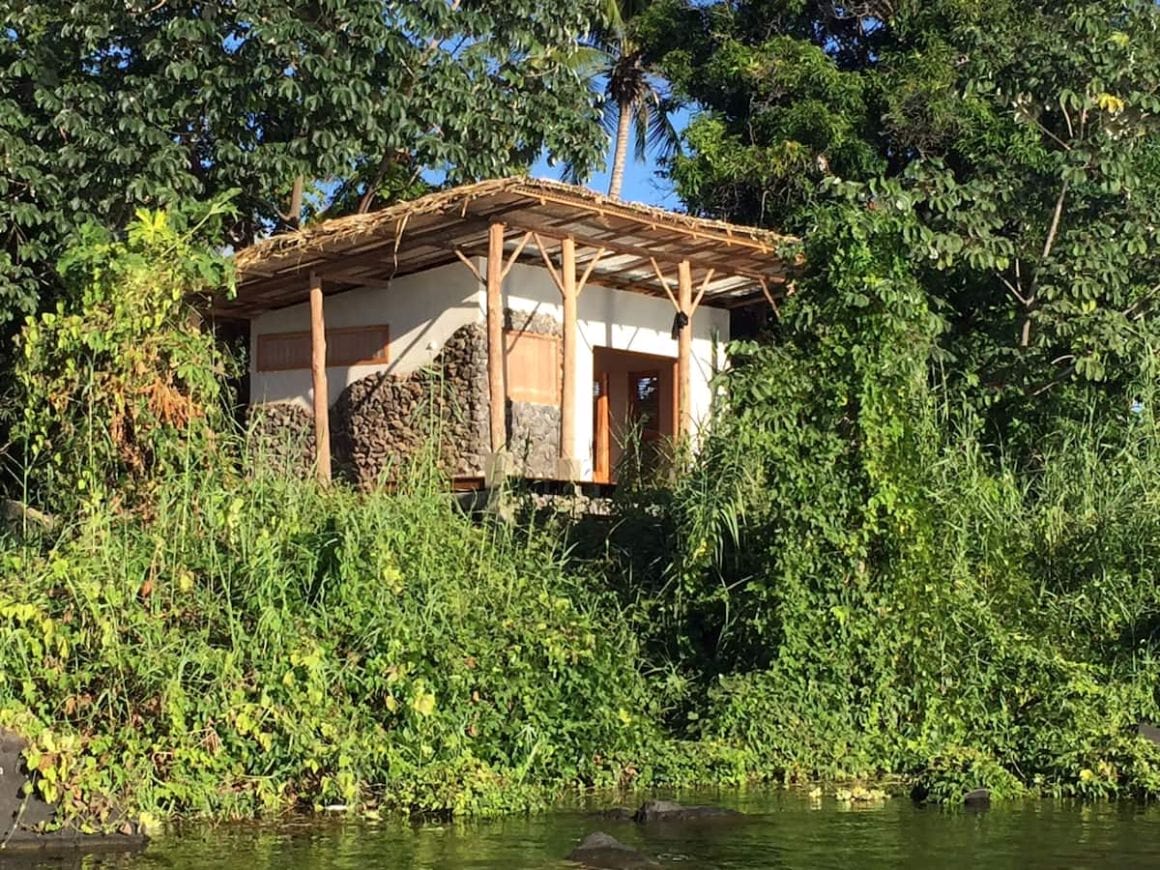 Entirely solar powered
Serene private island
The Casita is located on a private island in the Isletas de Granada – a sprinkling of hundreds of small islands in Lake Nicaragua. The city of Granada is a short boat ride away from the island which offers a remote and tranquil natural setting.
The rustic house overlooks the lake and volcano from its setting amid lush vegetation which attracts a variety of birds and monkeys. The house is fully solar-powered and off-grid. Natural materials such as local timber and stone have been used in the house's construction.
In addition to boat trips to explore Granada, guests can enjoy yoga, kayaking, and spa treatments. Alternatively, you can relax in a lounger on the deck or enjoy a refreshing swim in the pool.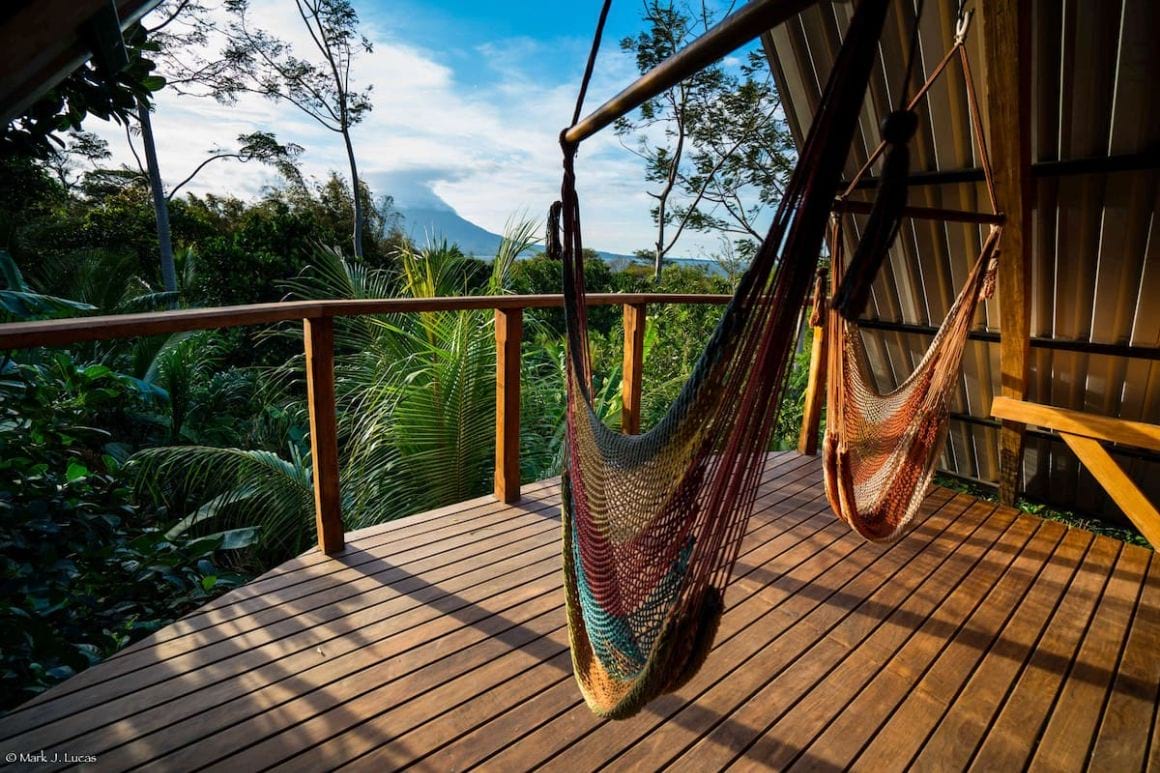 Hand-built jungle house
Organic sustainable gardens
Selvista Jungle House is surrounded by the lush, forested UNESCO Biosphere Reserve. Guests of the Jungle House have access to the second and third floors of the house with views of the lake and volcano.
Located on the slopes of the Maderas volcano on Isla de Ometepe in Lake Nicaragua (one of the best volcano hikes in Central America), the structure has been constructed by hand by a local team using all-natural bamboo, wood, and stone. The bathrooms are equipped with eco-friendly flush toilets. Guests are also treated to seasonal produce from the organic gardens.
Days can be spent exploring the property which includes superb gardens and farm animals. You can also head out on one of the many trails through the jungle or simply relax at the house and enjoy a holistic massage.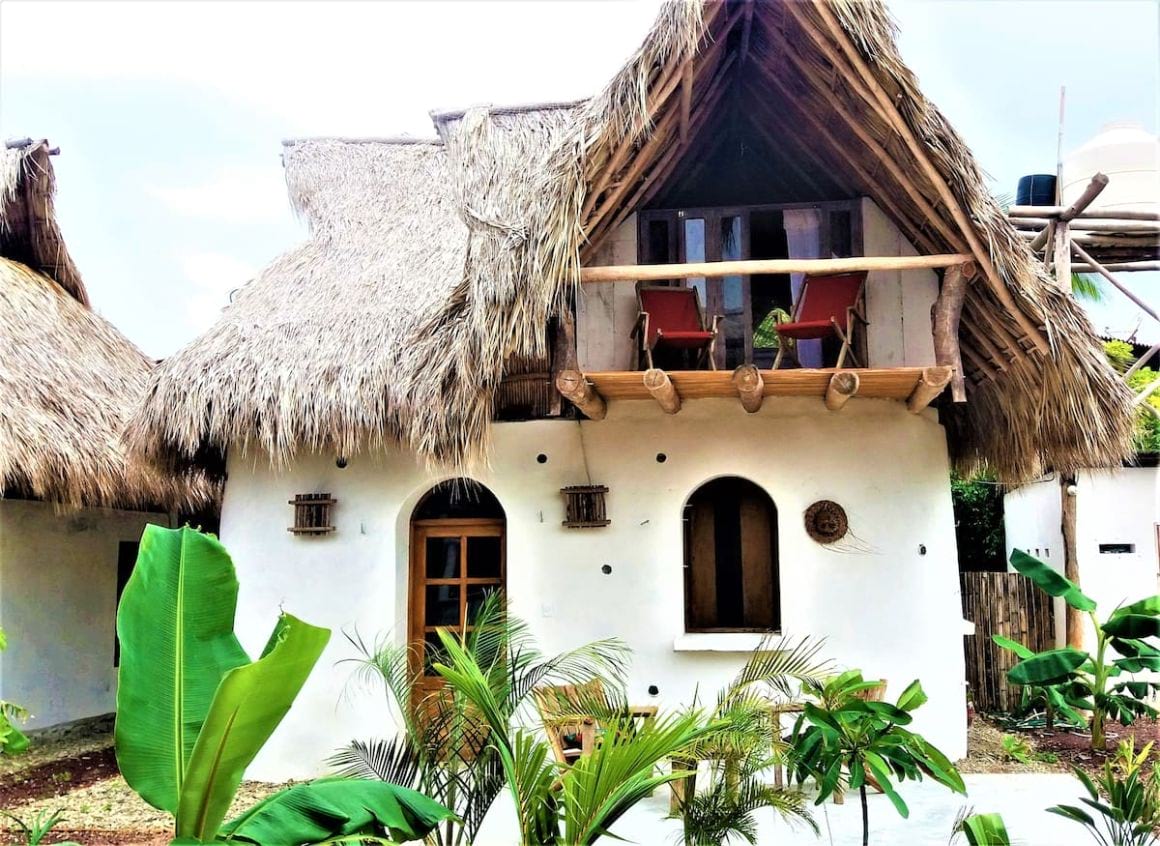 House made from natural materials
Natural breeze and plenty of light
Located in a peaceful setting on the west coast of Nicaragua, near the popular beach at Popoyo, Tierra Nahua Eco Lodge Casa Tierra is a contemporary eco-villa and one of the best eco-lodges in Nicaragua. Just steps from the beach, and surrounded by dense tropical vegetation and gardens, the villa is a peaceful retreat.
The villa features a unique architectural design, constructed using local and natural materials, including mud bricks for the walls, plenty of local timber, bamboo, stone, and a traditional thatch for the roof. You can harvest your own fruits and vegetables from the gardens to enjoy.
Spend your days relaxing days on a lounger beside the small pool, head down to the beach to purchase fresh fish from the fishermen, relax with a book in a hammock, or catch some waves on a surfboard.
Don't Forget Your Nicaragua Travel Insurance
Travelling with insurance is non-negotiable. Ensure you stay protected, especially in a country like Nicaragua.
ALWAYS sort out your backpacker insurance before your trip. There's plenty to choose from in that department, but a good place to start is Safety Wing.
They offer month-to-month payments, no lock-in contracts, and require absolutely no itineraries: that's the exact kind of insurance long-term travellers and digital nomads need.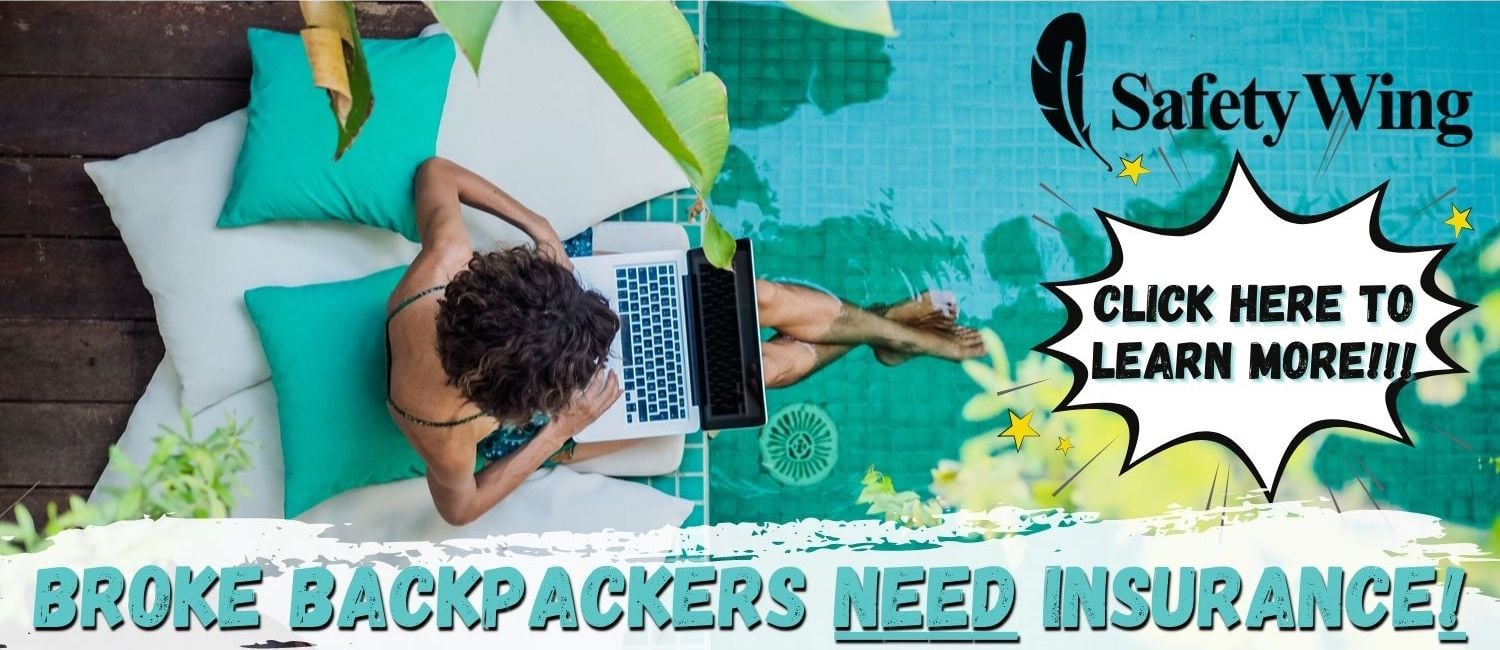 SafetyWing is cheap, easy, and admin-free: just sign up lickety-split so you can get back to it!
Click the button below to learn more about SafetyWing's setup or read our insider review for the full tasty scoop.
FAQs About Nicaraguan Eco-lodges
Final Thoughts on Nicaragua's Eco-lodges
Nicaragua is becoming a popular eco-tourism destination with immense natural beauty. Whether you're looking for a beach holiday with excellent surfing, or are more into hiking and sightseeing, Nicaragua is a destination that certainly won't disappoint.
Whichever unique eco-lodge in Nicaragua you choose, you're in for some warm hospitality, a comfortable stay, and a memorable experience.
My list of the best eco-lodges in Nicaragua caters to a wide range of budgets and travel styles and offers a little something for everyone, from families to couples, and even long-term travellers to Nicaragua. Do you have a favourite from my list? Let us know in the comments.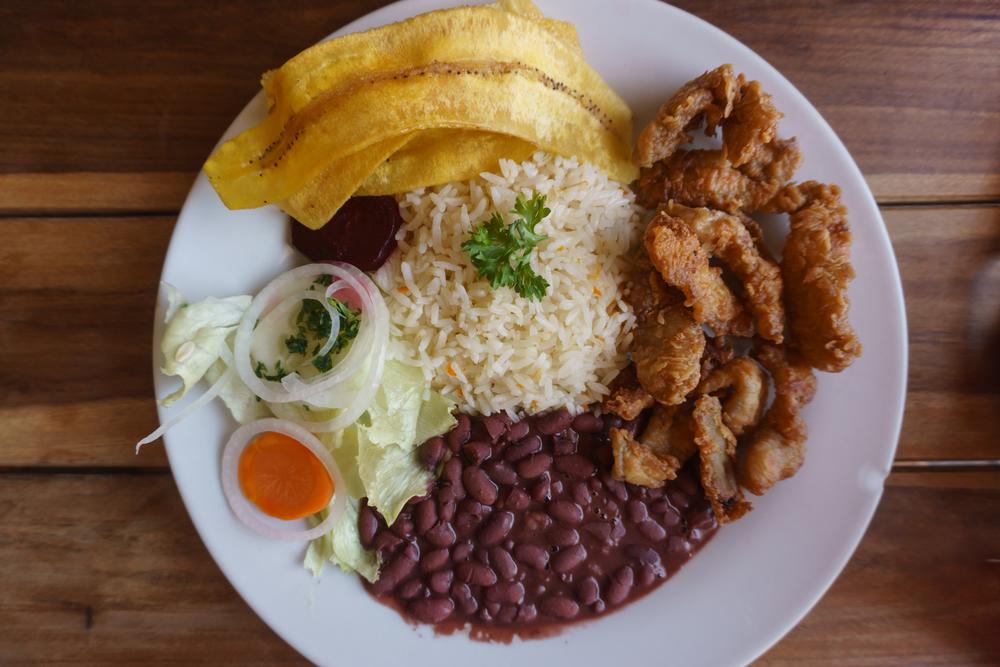 ---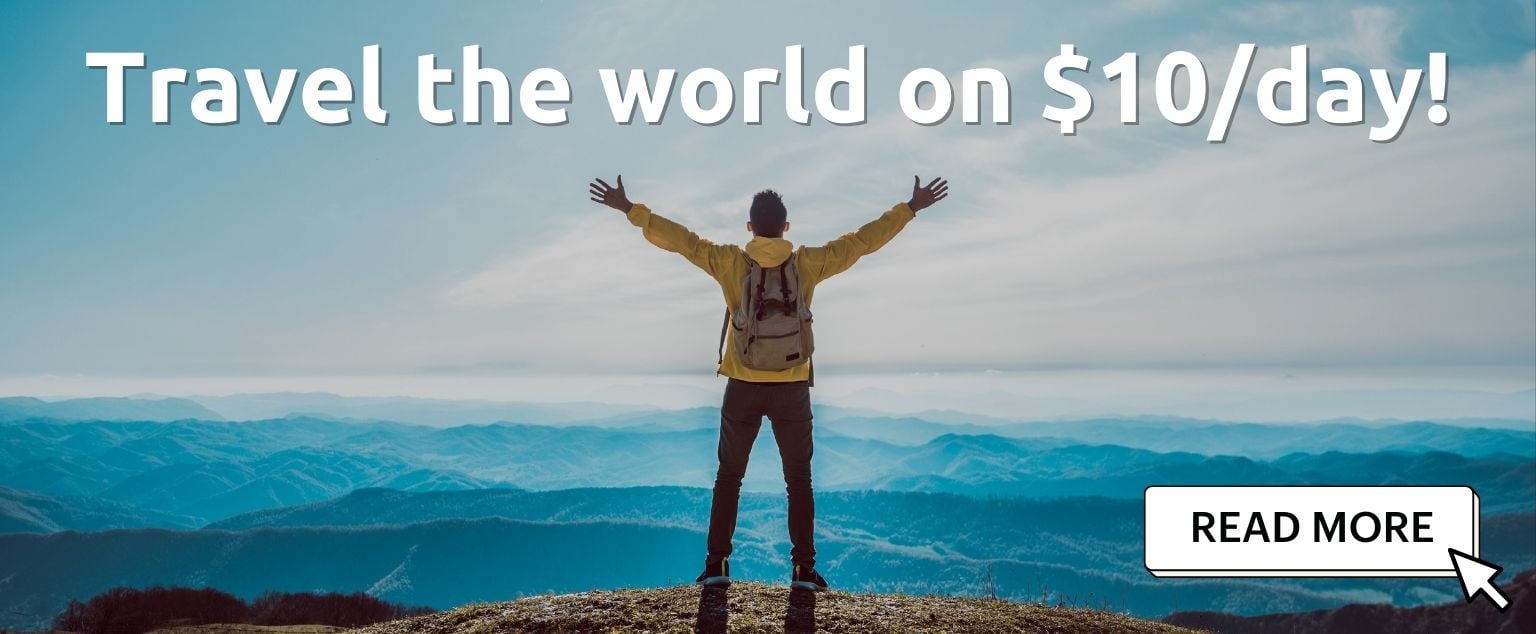 And for transparency's sake, please know that some of the links in our content are affiliate links. That means that if you book your accommodation, buy your gear, or sort your insurance through our link, we earn a small commission (at no extra cost to you). That said, we only link to the gear we trust and never recommend services we don't believe are up to scratch. Again, thank you!