Nusa Lembongan is like a vacation from a vacation – where mainland Bali is becoming more and more overrun by tourists these days, Nusa Lembongan still holding on to it's low key island vibes. Ultimately, it's a very chilled-out place that offers a decent selection of activities to those who make it here.
There are plenty of things to do on Nusa Lembogan from surfing to diving to just hanging out at one of the many beach bars. Most itineraries for Nusa Lembongan include at least one of these. When you've finished doing all of these, there's still plenty more to do.
This travel guide is dedicated to Nusa Lembongan and includes everything that you will need to visit. We'll cover many topics like where to stay, when to visit, and how to get to Nusa Lembongan. I'll also share with you some of my favorite restaurants and bars on the island, which, if we're being honest, is my favorite part of the place.
So pay attention my fellow broke backpackers – you're about to be given everything that you need to have an awesome vacation and, by the end of this article, will know exactly what to do on Nusa Lembongan. Follow my advice and you're sure to have an amazing time here!
There are a lot of lodges and hotels on Nusa Lembongan these days and in all sorts of varieties. We're talking beach bungalows, upscale resorts, local homestays, hostels, whatever; you name it, Nusa Lembongan has it.
When it comes to accommodation price on Nusa Lembongan, I'd say that prices are slightly higher here than on the mainland area of Bali. That being said, most places are not prohibitively expensive. This is still Bali after all – it's still famous for offering some of the best deals on the most epic villas!
Choosing where to stay on Nusa Lembongan really comes down to your personal tastes. There's certainly something for everyone here.
To help you sort through the options, here are some of our favorites lodges on the island. For more awesome and cheap places, be sure to read our Nusa Lembongan Hostel Booking Guide.
Even though Lembongan Hostel is not located in Jungut Batu, it is still very near to some of the best landmarks and beaches on Nusa Lembongan. Dream Beach, Sandy Bay, and the Devil's Tear are all very close and can be reached in a matter of minutes. The hostel itself is built in a traditional Balinese manner and the owners are quite welcoming.
Suba Homestay – Best Place to Party on Nusa Lembongan
Full disclaimer: this homestay is not a party hostel per say but it is located near to some decent bars on Nusa Lembongan. For those who like to go out after dark, this hostel is a convenient place to base yourself. Spend the night being merry and then crash at the pool the next day.
This homestay is a bit more expensive than some other accommodation on Nusa Lembongan but the extra price is worth it. At Nyuh Gading, you'll be able to take advantage of a great pool area, private rooms, and a good social scene. It's not the fanciest hotel on Nusa Lembongan but it's pretty close.
Our Favorite Place on the Mainland?
Tribal Hostel – Bali's first purpose-built co-working hostel and perhaps the greatest hostel in the world!
An ideal hub for Digital Nomads and backpackers, this very special hostel is now finally open…
Come on down and enjoy amazing coffee, high-speed wifi and a game of pool ?
How to Get to Nusa Lembongan
Most of the boats that leave from Bali to Nusa Lembongan depart from Sanur. There are lots of companies in Sanur that offer transfers and these usually have multiple departures each day. Between these, there's a boat leaving about every 60 minutes.
If you're making a day trip to Nusa Lembongan, know that the first departure usually leaves Sanur shortly after sunrise. The final return is usually shortly before sunset.
The boat from Sanur to Nusa Lembongan takes around 20-30 minutes and will drop you either at Mushroom Beach or Jungut Batu. You should double-check where your lodge is before booking your ticket and then choose the appropriate arrival point in order to avoid an unnecessarily long taxi ride.
Ticket prices range depending on the company and if you get a round trip ticket. The average price is around 200,000-250,000 rupiah for a one-way journey. Some companies will offer free-transfers with tickets and it goes without saying that these ferry tickets are usually more expensive.
On a side note, I was actually told by the owner of a guesthouse in Sanur that it's a good idea to barter for tickets. Since most of the boats look to have set prices, I can't imagine actually doing this (let it be known that I love to barter). But give it a shot if you want!
If you have a tight schedule consider booking your boat to Nusa Lembongan ahead of time. Use Direct Ferries to check for prices online and reserve a spot.
Getting Around Nusa Lembongan
First off: Nusa Lembongan is a tiny island to visit when compared to traveling Bali. Exploring it shouldn't be a problem at all, even for day trippers.
The question is: how do you want to travel around Nusa Lembongan?
There are a couple of ways:
By private transport – A lot of people decide to hire a private driver for the day to shuttle them around and avoid stress. A smart idea although cars can't go everywhere that scooters do. Drivers can be found for around $25/day.
By taxi – Others opt to just pay as they go but this is only good if you're going to a couple of attractions on Nusa Lembongan or Ceningan. For the prices they'll be charging you, just get a private driver.
By tour – There are a shit ton of locals offering islands tours of Nusa Lembongan; transport is obviously included in these.
By renting a scooter – Renting scooter gives you the most freedom, costs the least amount of money, and will allow you to go most places. At the same time though, this is arguably the most dangerous way of getting around. You need to be cautious here.
Any way you choose to travel around Nusa Lembongan, you won't have to worry too much about long distances. Again, Lembo and Nusa Ceningan are both really small and chances are you'll be able to see both of them in a short amount of time.
Renting a Scooter on Nusa Lembongan
A lot of the natives have unofficial scooter-hire businesses and you can see their signs everywhere. If you see one, just walk up and start talking shop with them.
Most will try to rent a scooter to you starting at 100,000 rupiah per day but you should definitely barter with them. You can often get the price down to at least 70,000, maybe even more if you're renting for multiple days. I rented a scooter in Nusa Lembongan for 3 days at 50,000 per day, which was a good deal for all parties involved.
In regards to the roads, most are paved and are good quality. If you're experienced with a motorbike, then the streets will be manageable for you. If this is your first time, you may want to practice a bit in an open field.
Always, ALWAYS be mindful of oncoming traffic when driving, especially around blind corners. Honk your horn when coming up on these to let people know you're there. Helmets are also a smart idea though it seems half the people on this island don't bother.
There are some dirt tracks around, primarily on Nusa Ceningan, and it goes without saying that you should be extra careful on these. Don't gas it out or hit the breaks whilst turning too sharply on one of these – this is sure way to slide and eat shit.
Riding a scooter can be a great and inexpensive way of traveling around Nusa Lembongan. Although you don't need a license to rent a scooter, most travel insurance companies will ask for a valid motorbike license to be able to claim if you crash! Always make sure that you have travel insurance with a motorcycle-riding coverage.
No island tour of Nusa Lembongan and Ceningan is complete without visiting these locations!
Jungut Batu
Jungut Batu is the main settlement on Nusa Lembongan and is generally where all the travelers hang out. As such, there is a good selection of lodges, restaurants, bars, yoga studios, surf schools, all those and then some located here.
Most people gravitate towards Jungut Batu Beach. Here, you'll be able to find just about anything you could want, be it a cold coconut, Bintang, or surf lesson. My favorite stomping grounds ended up being right outside Ginger & Jamu where there were some nice beach chairs, right in front of Santosha Yoga Institute. Good times, folks.
Jungut Batu is just an easy place to be in. There are cafes everywhere, the town itself is tiny, and the beach is never too far away. If you just wanted to relax and do nothing, this is the place for that.
South of Jungut Batu Beach is Coconuts Beach (Resort), which is where a lot of surfers would cast off. North is Pasir Putih Beach – a decent stretch of sand that gets waaaayyy less visitors. The seafood restaurants around here are quite good.
Panorama Point
If you arrive at Mushroom Bay and then taxied to Jungut Batu, then you probably passed Panorama Point once already. It's located between the two at the top of a hill and is probably the best view on Nusa Lembongan. From here, you can Jungut Batu, the bay, and Mt Agung, which dominates everything else.
The best time to visit Panorama Point is at sunrise before everyone else has woken up. The chances are generally greater too that you'll get clear skies.
Visiting Panorama Point during the day can be a little frustrating because hawkers will often pester you. It's more sad than annoying though sometimes, because the hawkers are children who looked forced to do the job.
There are a couple of restaurants at the point but I would worry too much at eating at them. There is a good cafe called Two Towers right around the corner though (LOTR reference FTW).
Mangrove Forest
The Mangrove Forest is on the northern end of Nusa Lembongan and I will admit that I didn't actually go to it. Reasons being:
You have to have a guide to go there.
You can explore it only by boat.
Once you've seen one mangrove forest in your life, the rest kinda look the same.
So I didn't really feel an enormous desire to explore this particular patch of mangrove. Don't get me wrong: it could be an amazing mangrove forest that's hiding all kinds of cool and unique shit. I just didn't feel like finding out at the time.
I did get a chance to look around the village at the mouth of the forest though and can say that it by itself is worth visiting. The village was essentially a collection of swampy bars and warungs and had a weird, almost Cajun-esque vibe to it. It just seemed weird and interesting and I would be very curious to hear if anyone felt the same way.
Mushroom Bay
Mushroom Bay is where most people will arrive after they take the boat from Bali to Nusa Lembongan. It's essentially just a port with a beach but there are enough bars and restaurants here to keep you entertained.
Near to Mushroom Bay is the oft-visited and hidden-away Tamarind Beach. This was formerly a private beach for a now defunct resort but is now open to the public. It's small (really small) and there isn't much room to explore. That being said, some of the best snorkeling on Nusa Lembongan is around Tamarind.
Staying in Mushroom Bay would be a quieter alternative to staying in Jungut Batu. There are plenty of chalets around Mushroom Bay, tucked away into little, quiet corners of the island.
Sandy Bay Beach Club
If you're looking for somewhere to just lounge and have a drink, Sandy Bay Beach Club will probably appeal to you. Drop by here to grab a quick drink, eat some snacks, and laze a bit but don't expect much more than that.
There is an actual beach here but the tides can be quite rough so people generally stick to the infinity pool. At sunset, said pool is usually full of loungers but the crowd is still nothing compared to some mega beach clubs back on Bali.
When you think about it, it's actually kind of endearing how Sandy Bay Beach Club is able to exist without being over the top. I really like how humble this place is compared to some of the other places for nightlife in Bali, and that's honestly why I keep going back.
Devil's Tear
The Devil's Tear: a place on Nusa Lembongan that is both loved and feared. People travel from all over Bali to see the mighty waves that break upon these rocks, and a lot of them are tragically swept out to sea.
The Devil's Tear is essentially a portion of the coast that gets hit with a lot of big waves. During swells, the waves barrel into the rocks here, shooting up water and spray on impact. The sound alone from the crashing of them is deafening sometimes and can sound like thunderclaps.
Now, you'd think that with a name like "The Devil's Tear," most people would be a little cautious when they visit. Unfortunately, there are a lot of ding-bats who come here; Instagram fiends, daredevils, drunken holidayers, people who generally don't exhibit a lot of awareness. They go to the edge of the rocks to strike a post and then get knocked on their ass (or worse) by a surprise wave.
Now I'm not saying you need to be a complete wet towel at the Devil's Tear but just be really careful. Wear sturdy shoes, go with someone who can keep an eye on you and, as the expression goes, "never turn your back on the ocean." Do these and you will get that epic photo without ending up like this girl.
Thanks to it's perfect western-facing direction, Devil's Tear is also a great place to watch the sunset. If the Devil's Tear is just swarming with tourists, then consider heading up a bit to Sunset Point – it's much more quiet and offers views that are just as good.
Dream Beach
Dream Beach is on the other side of the Devil's Tear and is a much more relaxing place to visit. There are no dramatic waves or jagged rocks here – just some cute chalets and a nice strip of sand to lounge on.
From both the parking lot and some parts of the Devil's Tear, you get a pretty good view of the beach. There's a swing (everyone's favorite photo prop in Bali) here though I think it was broken when I visited.
The beach itself is intimate and not too hectic. In the morning, you may see some couples going for runs here or doing yoga. All-in-all, it's one of the more peaceful beaches on Nusa Lembongan.
Yellow Bridge
The Yellow Bridge is a famous landmark on Nusa Lembongan that connects the island to Nusa Ceningan. The bridge itself is nothing special – it's literally just a bridge that's yellow – but is good for a photo op or two.
The water around the bridge is actually gorgeous and is an absolutely brilliant shade of blue. There are a couple of seaweed farms in the shallows here as well and you should spot the occasional farmer or two working.
On both sides of the bridge are some excellent restaurants. Nusa Ceningan actually has some of my favorite bars in the region and I would rather spend my time at these than at the ones in Jungut Batu. Definitely hit up local legend Sea Breeze while you're here.
Blue Lagoon
For me, the Blue Lagoon is a bittersweet place to visit on Nusa Lembongan. Whilst the water here is undoubtedly some of the most beautiful I have ever seen, the overall scene is kinda tarnished by recent development.
When I visited the Blue Lagoon (May 2019), there was a big resort being built on top of the cliff and it was kind of an eye sore. Granted, the lagoon itself was untouched but it was still unfortunate.
If you'd like to get away from the construction site, you can walk around and the edges of the cliff to some more secluded spots. If you walk to the left, you'll actually find one of the best cliff jumps on Nusa Ceningan! Just be mindful of the path and if the ocean is too rough to actually jump in.
Mahana Point
Going to Mahana Point is actually one of my favorite things to do on Nusa Ceningan for a couple of reasons:
The beach here is never too crowded.
The bar offers awesome views of big-wave surfers.
More cliff jumping!
The beach itself is accessed via a small pathway to right (if you're coming from the Blue Lagoon). You'll know it immediately from all of the parked motorbikes.
If you wanted to get an alternative look at the beach and Mahana Point though, then there's an abandoned bar/villa with some excellent views. Just go down the road next to Warung Nyoman and try to end up here.
The bar at Mahana Point is a great place to end the day. Here, you'll have an awesome vantage point from which to see surfers, who are way closer to you then at Blue Point, and the sunset. There are two diving platforms at the bar as well but you have to pay to use them. Whether or not you're willing to do so is up to you.
"The Old Tree" of Nusa Ceningan
I like this spot on Nusa Ceningan. I like this spot a lot. Partly because of the tree but mostly for the overall tranquility of the place.
The "Old Tree of Nusa Ceningan" generally refers to a small promontory on the far southwestern corner of the island. This little slice of land is gentle, grassy, and quite nice for just laying around on. One could easily doze off here as they lay down and listen to the waves lap against the cliffs.
The tree itself is a fairly small feature in the area and, honestly, I don't even know where the actual "old tree" is. But that never really bothered me much – I just enjoy all of them.
The road to the Old Tree used to be a bit rough but it's fully paved now. Getting here has never been easier.
The Rest of Nusa Ceningan
When I first took a tour of Nusa Ceningan in 2014, I was unable to explore the eastern portion of the island. And that really bothered me. For the next 5 years, I would think about what treasures that side of the island could possibly be hiding and couldn't wait to get back…
Well, I finally returned to this part of the island in 2019 and can only say that I got myself amped up for no reason.
The eastern side of Nusa Ceningan is pretty fuckin' empty. The only things that you'll find here are broken roads, empty villas, and dead end drives. You can certainly dedicate an hour of your Nusa Ceningan itinerary to seeing this part of the island but anything more may be a waste.
Here are a couple of points of interest on this part of Nusa Ceningan:
Secret Beach – A small strip of sand owned by local Villa Travelly. Nice but not great. The pool is probably the more popular place to hang out.
Ceningan Cliffs – A restaurant with a pretty good view of the water and Nusa Penida. Would be a nice, quiet escape for the day if needed.
Old villas – I'm not going to tell you where but there are some abandoned resorts in the hills of Ceningan that actually have amazing views. Sneaking into one for sunset beers was an idea we batted around for some time.
Bias Munjul – Sometimes, Google's suggestions for things to do on Nusa Ceningan are NOT always right…
Be sure to knock out these activities when planning your own itinerary for Nusa Lembongan and Ceningan!
1. Go surfing in Nusa Lembongan
Lembongan actually has some really good surf spots, which may or may not be news to you. If you want to get away from mad Uluwatu or Kuta, then try hitting the waves here.
2. Go cliff jumping on Nusa Ceningan
A day trip to Nusa Ceningan is worthwhile just to go cliff jumping! There are so many hidden spots around here that are just ripe for a good leap. See if you can find a new one!
3. Eat the best seafood in Bali
If you're stranded on an island, there's really only one choice of food: seafood. The restaurants on Nusa Ceningan and Nusa Lembongan serve fresh fish everyday and is seriously some of the best in Bali.
4. Catch the sunrise at Panorama Point
It's one of the best views on the island as you can see everything from Jungut Batu to Mt Agung. If you can wake up early, you will be well rewarded at this viewpoint.
5. See the power of the Devil's Tear
The Devil's Tear is probably the most infamous attraction on Nusa Lembongan. The waves are absolutely epic here and have even been known to drag people out to see. Visit to feel the power but always remember to show the ocean respect.
6. Grab a sundowner on Jungut Batu Beach
At sunset, everyone heads to the beach drink a beer and watch the sun dip below the horizon. Local beach bars set up fire pits, put on their most chilled music, and really know how to set the mood. Grab and drink and reflect on your day.
7. Practice or learn yoga at Santosha Yoga Institute
There are few places more appropriate for gaining some spiritual enlightenment than Santosha Yoga Institute. Situated right on the beach and above Ginger & Jamu, you can take shorter classes or longer certification courses. Either way, it's a great idea to drop by.
8. Explore Nusa Ceningan by motorbike
Touring Nusa Ceningan (and Lembongan, for that matter) is best enjoyed on 120cc motorbike. You'll get to go wherever you want be it a beach, a cafe, or just a secret that only you know about (please do share).
9. Go diving with mantas
This really is one of the coolest things to do in Bali, not just in Lembo or Penida. Swimming with mantas is a humbling experience as these giants glide through the water and make you feel pitifully small.
If you simply want to go snorkeling around Nusa Lembongan, there are plenty more options available as well.
10. Get some work done at Bali Eco Deli
There's not a lot of good WiFi on Nusa Lembongan. BUT I can personally attest that the connection at Bali Eco Deli is very good, maybe the best on the island. The food and coffee is also quite nice so have a snack while you're at it.
Need a little extra help when planning your island tour of Nusa Lembongan? Here are some more details that will make your trip even better.
When to Travel to Nusa Lembongan
Nusa Lembongan's weather is pretty much the exact same as mainland Bali – hot and rainy in the summer, mild and dry in the winter. Temperatures are pretty consistent throughout the entire year and hover around 85 Fahrenheit (30 Celsius) or so. Summers can feel extra-warm thanks to the increased humidity.
The high season coincides with the winter season as this is by far the most pleasant (and safest time) to visit. During winter, Nusa Lembongan's hotels and guest houses will be more expensive and somewhat less available. That being said, there seems to be no shortage of rooms from what I saw.
Winter is also the best time to go diving around Bali. Manta Rays are most easily seen in the early winter months while the infamous Mola Mola are most often spotted in late-winter. Summer months can be problematic because of storms and poor visibility but you can still go diving if given the proper window.
Summer can be a good time to visit Nusa Lembongan if you don't mind a little rain and have patience. Road conditions can deteriorate in heavy rain and the ferries from Sanur to Nusa Lembongan can be canceled if there's a large storm. If you're indeed stuck, I suggest grabbing a cocktail and watching the epic thunderstorms – they can be mesmerizingly powerful.
Nusa Lembongan Essentials
Make sure you bring these important items with you when you head to Nusa Lembongan!
For more ideas on what to bring, be sure to read our comprehensive Bali packing list!
Why You Should Travel to Nusa Lembongan with a Water Bottle
Plastic washes up on even the most pristine beaches… so do your part and keep the Big Blue beautiful
You aren't going to save the world overnight, but you might as well be part of the solution and not the problem. When you travel to some of the world's most remote places, you come to realise the full extent of the plastic problem. And I hope you become more inspired to continue being a responsible traveller.
Plus, now you won't be buying overpriced bottles of water from the supermarkets either! Travel with a filtered water bottle instead and never waste a cent nor a turtle's life again.
Diving around Nusa Lembongan
Though Nusa Penida usually gets the spotlight, there is still some very good diving around Nusa Lembongan. The water is warm, visibility is crystal-clear sometimes, and the marine life is spectacular in places. Reef sharks, barracuda, groupers, parrotfish, and turtles are all commonly seen around Lembo. Even the occasional whale shark has been known to show up.
The primary draw for divers at Nusa Lembongan is the chance to see manta rays and the mysterious mola mola. These fish are generally seen around Nusa Penida though and most dive operators will end up taking you there. The winter months are the best time to spot these leviathans.
In the literal vicinity of Nusa Lembongan, there are a couple of good dive sites. The most notable is called the Blue Corner and it is reportedly one of the best dive sites in all Bali. S.D. Point and Pura Red are two more dive sites nearby and are supposed to be quite easy to drift around.
Diving at Nusa Lembongan and Nusa Penida can be quite dangerous due to very strong currents. If you're a beginner diver, you probably stick to the Lembongan dive sites. Go diving at Penida only if you feel confident.
If you'd like to learn how to dive on Nusa Lembongan, there are plenty of dive operators that offer PADI courses!
Surfing at Nusa Lembongan and Nusa Ceningan
There is actually some solid surfing at Nusa Lembongan and Nusa Ceningan. Whilst the beaches in Uluwatu and Kuta get all of the attention, the waves here are less well-known but arguably just as good.
The best places to going surfing are in Jungut Batu Bay at Nusa Lembongan and Mahana Point at Nusa Ceningan.
Jungut Batu Bay has three different surfing spots:
Playgrounds – the easiest break, both to get to and ride. Simply grab a board, head to Coconuts Beach (Coconuts Resort), and start paddling. Breaks both ways and gets different-sized waves.
Lacerations – Named for the shallow reef that can really cut you up if you fall. Great left-handers and barrels. Waves can get big too. Crowds can also be a problem sometimes.
Shipwreck's – During the right swell, the best waves in the area. Further out in the bay as well, which means fewer crowds and the need for a boat.
Nusa Ceningan's only surf spot is Mahana Point and it's a gem. There are some real BBWs here (big beautiful waves) and most of the time you'll only see pros attempting these.
If you'd like to just chill, the bar at Mahana Point is literally right above the surf. You'll get better views here than at Blue Point in Uluwatu and, on the right day, semi-tolerable house music.
If you do plan on surfing in Nusa Lembongan, it is highly recommended to wear a wet suit to protect you from coral. There's a lot of it around the island plus some remnants of defunct seaweed farms, which means odd bits of metal.
If you'd like to learn how to surf on Lembongan, I highly recommend hitting up Tabbu!
Restaurants and Nightlife in Nusa Lembongan
Hanging out at the many cafes and bars is actually one of my favorite things to do on Nusa Lembongan. The selection on the island is actually quite diverse. There are beach shacks, organic cafes, seafood restaurants, boutiques eateries, local warungs, and lots more; all have really great vibes.
The top restaurants in Nusa Lembongan are in Jungut Batu. Ginger & Jamu is hands-down one of the best places to go as everything they have is delicious. Kayu is a newcomer to the island but makes a pretty bomb brekky. For some local fair, visit Nida's Warung, hidden away in an alley behind Ohana's.
Aside from the usual Indonesian/Balinese affair, seafood reigns supreme here. For around $7-$8, you can have amazing fresh fish, which to me is an instant win. Lemongrass gets a lot of attention though I find it overrated. For the best seafood restaurants on Lembongan, visit the northern part of the village around Pantai Mahagiri.
If you want to mix things up, I highly recommend hitting up the joints around the Yellow Bridge. On the Ceningan side, you'll find local-legend Sea Breeze, complete with those stereotypical sea swings and hammocks. On the Lembongan side, I seriously had one of the best tuna steaks of my life Sunday Beach.
For those digital nomads who need to do some work, the best WiFi is at Bali Eco Deli. They also have a proper espresso machine here to get you going.
In terms of nightlife on Nusa Lembongan, there isn't a whole lot going on. Most people end their day drinking beers at one of the many beach bars, but it's a far cry from Legian or Seminyak. Visit Coconut Hut if you feel like dancing.
ATMs on Nusa Lembongan
There are a couple of ATMs on Nusa Lembongan that work regularly. There's a BNI at Jungut Batu Harbor that I regularly used and was never out of order. Another is over near Mushroom Beach.
But even though both appeared to be flush with bills, I would recommend bringing the bulk of your cash to the island with you. If said ATMs were to break or run out of cash, then you'd kind of be forced to head back to the mainland to get cash, which is just inconvenient.
Also, I always suggest bringing a stash of US dollars, pounds, or euros with you. If you are in a pinch, you can change them at local currency exchange and some local businesses will even take them. Just make sure you keep your cash in a safe place.
Nusa Lembongan Day Trip or Overnight?
A day trip to Nusa Lembongan is certainly possible as it – plus Nusa Ceningan – are small enough to see in a short amount of time. In 8 hours, you could totally see all of Nusa Lembongan's attractions, like the Devil's Tear and Blue Lagoon, and still have time to grab a drink before traveling back to Bali.
But these islands are pretty lax and both could certainly be enjoyed over the course of several days. With more time, you could go surfing, diving, and, crucially, spend more time at the awesome beach bars on Nusa Lembongan.
In the end, it's all a matter of preference. Would you rather spend your time on mainland Bali or on a smaller, chiller island?
To help through these decisions, here are some reasons to visit Nusa Lembongan on a day trip or for several days:
Nusa Lembongan & Nusa Ceningan Day Trip
Islands are compact enough to see in a half-day.
Plentiful ferry options for arriving at the islands.
Easy to rent a scooter/private driver.
Nice break from hectic Bali beaches.
Staying in Lembongan and Ceningan for Several Days
Often described as Bali 30 years ago.
Great food and lax bars on Nusa Lembongan and Ceningan.
Time to go surfing and diving.
Chance to take a day trip to Nusa Penida.
Nusa Lembongan or Nusa Penida?
Right off the bat, I'm going to say that if you have the chance to visit Nusa Penida, DO IT! Nusa Penida is hands-down my favorite spot in Bali and probably my top destination in Indonesia overall. The beaches here are ridiculously gorgeous and the scenery is beyond words.
There are a decent amount of hotels on Nusa Penida but the island is so much bigger than Lembo that they can be really far apart. Unless you're okay with sleeping in a local guesthouse, you'll need to stick to the more developed north shore. This can be inconvenient because the best places on Nusa Penida are in the south.
Furthermore, Nusa Penida does have a reputation for being pretty rough around the edges. The roads can be horrendous, the safety standards are not totally up to par in some places, and there's not a whole lot to do if you don't care about scenery. Many people decide not to deal with these shortcomings and just decide to do a day trip to Nusa Penida instead.
Nusa Lembongan is smaller, more accessible, has better restaurants and bars, and is generally the more convenient island. If you're a surfer, Lembongan is definitely the better choice.
Ultimately, Nusa Lembongan is not (nearly) as beautiful as Nusa Penida but it is easier to enjoy. If you did want to get a taste of Nusa Penida, day tours are leaving all the time from Lembo. You just have to be willing to share all those stunning locations with the hordes of other day trippers.
How to be a Respectful Backpacker in Nusa Lembongan
The Balinese have to deal with a lot of shit from horrible backpackers: half-naked photo shoots in front of temples, shit-faced groups wandering into the rice paddies. This kind of behavior reflects poorly on travelers and isn't anywhere near the best way to experience Bali.
Get Insured Before Traveling to Nusa Lembongan
The first thing that most Balinese people say to is "hello;" the last thing that they say is usually "be careful."
Bali is a safe destination, but accidents do happen all the time. Whether it's a scooter crash, complications from diving, or a case of Bali belly, there are lots of ways that your trip can be derailed.
Traveling without insurance would be risky so do consider getting good backpacker insurance sorted before you head off on an adventure.
I have been using World Nomads for some time now and made a few claims over the years. They're easy to use, professional and relatively affordable. They may also let you buy or extend a policy once you've started your trip and are already abroad which is super handy.
If there's one insurance company I trust, it's World Nomads.
ALWAYS sort out your backpacker insurance before your trip. There's plenty to choose from in that department, but a good place to start is Safety Wing.
They offer month-to-month payments, no lock-in contracts, and require absolutely no itineraries: that's the exact kind of insurance long-term travellers and digital nomads need.
SafetyWing is cheap, easy, and admin-free: just sign up lickety-split so you can get back to it!
Click the button below to learn more about SafetyWing's setup or read our insider review for the full tasty scoop.
Before I sign off here, I would like to remind everyone visiting Bali to be very careful when it comes to drinking. There is a lot of bootleg alcohol on the island – mixed sometimes with dangerous amounts of methanol – and you DO NOT want to drink the wrong batch.
Buy liquor from trusted vendors and don't accept drinks from random dudes. Go to legit bars in Nusa Lembongan and not to roadside shacks. Sticking to bottled Bintang beer is a sure way to avoid this shit as well.
---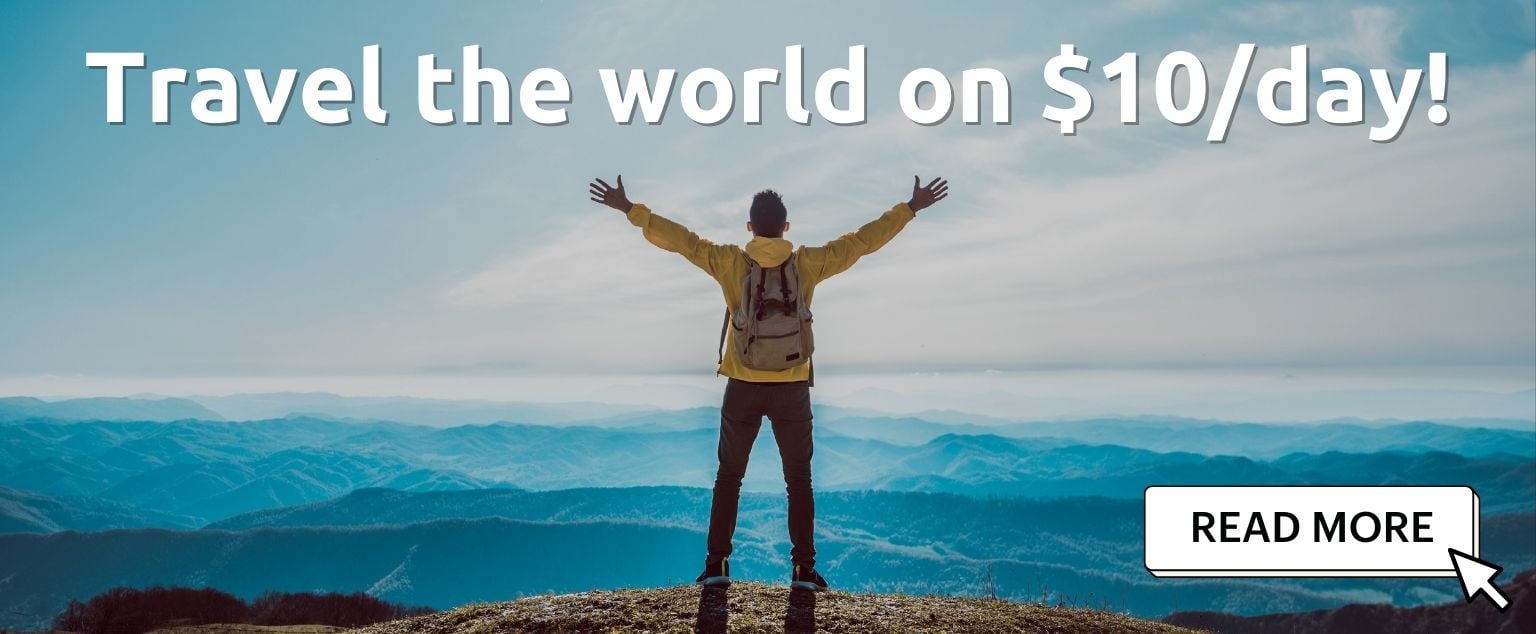 And for transparency's sake, please know that some of the links in our content are affiliate links. That means that if you book your accommodation, buy your gear, or sort your insurance through our link, we earn a small commission (at no extra cost to you). That said, we only link to the gear we trust and never recommend services we don't believe are up to scratch. Again, thank you!