A trip to Yogyakarta is a must when visiting the island of Java, Indonesia. Yogyakarta is also sometimes called Jogjakarta, Jogja or Yogya by travelers and locals alike. So if you see it spelled differently, know that Yogyakarta is what is being referred to. This Yogyakarta itinerary will take you to see the best sights, activities, and hostels.
Yogyakarta is the capital city of Indonesia's Special Region of Yogyakarta. It is regarded as an important center for classical Javanese fine arts and culture, as it is the only Indonesian royal city still ruled by a monarchy.
Yogyakarta is also a major tourist destination. Travelers love visiting as it is packed with all the ingredients that make a good travel destination. It's inexpensive, has hidden treasures of bygone days, narrow alleys, and a vast array of cuisine choices. Most importantly though, it's close to two of the largest and most sacred Buddhist and Hindu temples.
From all the places you must visit in Java, this is the one place you cannot miss.
The best time to travel to Yogyakarta would be in the drier months from April to October in order to avoid the possibility of rain putting a damper on things when touring Yogyakarta.
Taking a vacation in Yogyakarta is still fun in the rainy season for it usually only rains in the evening for a couple of hours, so you can still do everything on your itinerary in Yogyakarta. The day starts really early, and you'll find a bustling city by 6am.
European, American, and Australian tourists peak mid-year when humidity is low and they have school/university holidays.
Yogyakarta is probably the biggest tourist destination in Indonesia for Indonesians. Public holidays, such as Idul Fitri (or Eid al-Fitr) are celebrated around the end of May or the beginning of June and create a massive influx of local tourists to Yogyakarta.
Check out the helpful guide below to decide for yourself when to visit Yogyakarta!
There is plenty to see and do in Yogyakarta from sightseeing and immersing yourself in history, to enjoying fresh and delicious food and incredible natural surroundings. The city covers an area of 46 square kilometers and is divided into 14 districts, so it is a good idea to choose your accommodation based on the Yogyakarta attractions that you wish to visit.
A good, central neighborhood to stay in for a first-time visit to Yogyakarta is Malioboro. The main street is famous for its shopping and nightlife and is close to many Yogyakarta points of interest. This area also has a great selection of local cuisine and has many restaurants and street food stalls to enjoy.
If you're planning a visit to Yogyakarta with the family, we highly recommend that you stay in the eastern part of the city. The East of Yogyakarta is a fun and lively region that offers plenty of fun activities and is dotted with numerous Yogyakarta landmarks. This is a good neighborhood to choose to keep every member of your family entertained and excited.
The eastern side of Yogyakarta is also a great base if you're interested in exploring beyond the city and plan on adding a few day trips from Yogyakarta.
For more information on the various neighborhoods, check out our guide on where to stay in Yogyakarta.
EDU Hostel is the first modern city hostel in Indonesia. This brand new, purpose-built hostel has a spacious lobby area, big dormitories, and intimate and private family rooms.
We loved this hostel as it is centrally located and close to Malioboro Street, the shopping strip of Yogyakarta.
If you are visiting Yogyakarta for the first time, it can be a bit intimidating to walk around the busy streets. That's why it's important to have a place to calm down. This well designed Airbnb gives you the opportunity to have a quiet evening after a busy day. Modern and equipped with every important amenity, you'll feel comfortable and have everything you need.
Best Budget Hotel in Yogyakarta – Benetta House
Benetta House is located in central Yogyakarta, not far from Scientific Park. It is close to important Yogyakarta landmarks and is great for travelers interested in city trips street food and shopping.
The guest house is quaint, neat and tidy, and the owners are wonderful hosts that put in the extra effort to make it feel homely.
The Phoenix Hotel Yogyakarta – MGallery Collection has been providing luxury accommodations in a historical building since 1918. The 5-star hotel offers a spa, a fine-dining restaurant, spacious rooms, and a pool.
The restaurant serves a variety of fine meals in an elegant courtyard. Cocktails and wine can be enjoyed in the lobby bar.
Once you've booked your trip, pack your bags using our Yogyakarta packing list!
Yogyakarta is quite small, so getting around the city is easy and inexpensive. The city does have a decent public transportation system with 19 city bus lines and taxis equipped with meters.
Buses are the main form of transportation in Yogyakarta, of which there are two kinds – regular and patas. Patas buses (or TransJogjas) tend to be more popular with tourists as they are air-conditioned, generally safer than regular buses, and have longer operating hours.
For short distances, traveling on foot is always a good option, but for something more comfortable try the traditional rickshaw or a horse-cart as an alternative. They are very popular with travelers, especially among shoppers on Malioboro Street.
Horse carts, or andong, are an enjoyable way to observe Yogyakarta. Horse carts are a little more expensive than rickshaws or taxis, though they become more reasonable if you hire them at an hourly rate.
Rickshaws or becaks, can accommodate up to three adult passengers. Prices are negotiable and it is best to agree on the price before you get on board.
Some Yogyakarta attractions are not reachable by public transport, so you may need to hire a car or take a taxi to do everything on your Yogyakarta itinerary.
So, wondering what to do in Yogyakarta? To answer this for you we have compiled a Yogyakarta itinerary so that you can get an idea of the best places to visit in Yogyakarta. We have drawn up a rough plan with points of interest for spending two or three days in Yogyakarta.
Borobudur Temple | Klipoh | Ullen Sentalu Museum | Merapi Volcano Museum | Jogja Bay Waterpark | Museum Affendi | Prambanan Temple
The first day on our two-day itinerary in Yogyakarta includes visits to two of the most historic and sacred religious temples in Indonesia. We highly recommend you visit these temples even if you only spend one day in Yogyakarta! The itinerary also includes insightful stops at cultural museums and some adventure too.
Day 1 / Stop 1 – Borobudur Temple
Why it's awesome: It's the world's largest Buddhist temple. It's over twelve centuries old!
Cost: $ 25 USD
Food recommendation: Grab some fresh fruit and some local delights at RM Duku cafe, just down the road.
Possibly the biggest reason to visit Yogyakarta's Borobudur Temple is not in the city, but it is a 40-minute drive away in the Kedu Valley, Central Java. The Borobudur Temple Compounds is one of the greatest Buddhist monuments in the world, and Indonesia's most visited attraction.
It was built in the 8th and 9th centuries AD during the reign of the Syailendra Dynasty. It was abandoned in the 14th century as the population converted to Islam. Now a UNESCO World Heritage Site, it has since been restored and has only been open to the public for less than 50 years.
The temple is a lotus-shaped pyramid and consists of nine stacked platforms (six square and three circular), topped by a central dome. The overall form of the temple symbolizes the cosmetology of the universe according to Buddhist teachings.
A visit to the temple is a truly humbling and possibly spiritual experience. Looking up at the gigantic structure makes you feel small, yet looking down at the views makes you feel on top of the world.
Insider tip: The best time to visit the temple is around sunrise, when the views are truly spectacular!
Day 1 / Stop 2 – Klipoh, Pottery Village
Why it's awesome: A village with a long and proud history in pottery-making
Cost: Free
Food nearby: For a quick bite to eat, head to Kedai Nujiwa cafe
Just down the drive from Borobudur temple is a small village in Karanganyar regency well-known for producing pottery. Reliefs carved in Borobudur displaying a pottery-making process, suggest Klipoh could have existed since the ninth century.
Eighty percent of the villagers currently make pottery for a living. The pottery-making skills are passed on from generation to generation.
A day in the life of Klipoh residents revolves around the wet clay. The women are responsible for making and drying the pottery, while the men are in charge of the firing process.
The villagers offer a wide array of pottery, including small and big plates, jugs, vases, and pots. There is also a chance for visitors to get their hands dirty and take a pottery class.
Day 1 / Stop 3 – Ullen Sentalu Museum
Why it's awesome: Get a great introduction to Javanese culture, history, and local customs.
Cost: $7
Food nearby: Tuck into a hearty meal at the onsite restaurant.
A visit to the Ullen Sentalu Museum is a nice way to learn about Javanese culture on your Yogyakarta itinerary and is arguably one of the best museums in the city. The museum gives great insight into how the city looked in the old days. You will find photographs of Yogyakarta back in the day, as well as ancient batik, period paintings, and even antique manuscripts and letters.
Tour guides are available to guide you around the museum. Visitors are not allowed to take pictures on the tour, which is a good way to make sure you pay attention to the exhibits.
There is also an option to browse the museum alone and enjoy a leisurely walk through the history of Yogyakarta at your own speed.
Day 1 / Stop 4 – Merapi Volcano Museum
Why it's awesome: Learn all about the devastating effects of the 2010 eruption, and the history of volcanoes in Indonesia.
Cost: < $1 USD
Food nearby: Sit down to something substantial at Mas Ayu Resto, only a short distance away.
Another must-visit on any Yogyakarta itinerary is a visit to the active volcano of Mount Merapi! A stop at the Merapi Volcano Museum gives visitors the chance to learn more about the Merapi Volcano and is also the starting point for lava tours and hikes up to the mountain summit.
The museum is housed in an architecturally-impressive angular structure that resembles a volcano. Exhibits dedicated to Merapi include a scale model, which demonstrates eruptions from the 18th century until today and how they altered the mountain's shape.
There are vintage seismometers on display, along with a motorbike excavated from molten ash. An earthquake simulator will shake the ground beneath your feet, and a cinema screens the story of the 2010 eruption and profiles covering volcanoes of Indonesia and the world.
Day 1 / Stop 5 – Jogja Bay Waterpark
Why it's awesome: Cool off from the midday heat at a pirate-themed waterpark.
Cost: $ 6 USD
Food nearby: Enjoy tasty noodle dishes at Bakso Tengkleng KITAku.
Jogja Bay Waterpark is one of the largest waterparks in Southeast Asia and is becoming an increasingly popular Yogyakarta attraction with locals and tourists. This water park is unique in the sense that there is a storytelling between the Jogja Tradition and European pirates. Which is poured through live shows, characters, water rides, and merchandise.
Jogja Bay Waterpark is an old Pirate village with nuances of tropical paradise filled with greenery and old pirates. There are exciting water slides and rides that can be enjoyed, some of which are very challenging and fun!
Entrance tickets are very affordable and provides great fun for the whole family. If you can't get to the coast, you can enjoy relaxing on the artificial beach with waves too!
Insider tip: Cheaper tickets can be purchased online.
Day 1 / Stop 6 – Museum Affendi
Why it's awesome: Admire the artwork of one of Indonesia's most prominent artist.
Cost: $ 7 USD
Food nearby: Miroso Chicken Soto offers local Halaal food, just a few feet up the road from the museum.
Affandi was one of the most famous artists in Indonesian history. Art-lovers will get a kick out of this stop on the Yogyakarta itinerary, an art museum that actually used to be the artist's former home and studio.
The museum sits to the east of the town center, on the banks of the Gajah Wong River. The painter Affandi designed and constructed the building as a home for himself, which also functions as a museum to display his paintings. The building is uniquely constructed, with a roof that resembles a banana leaf.
The museum has around 250 of Affandi's paintings, as well as some of his haunting self-portraits. As this used to be his private home, you will also find a variety of his personal effects including his car which is a colorful Galant from 1967.
A visit to the museum includes a small take-home souvenir and a free beverage of choice. Overall, there are four galleries and a coffee/souvenir shop.
Day 1 / Stop 7 – Prambanan Temple
Why it's awesome: The largest Hindu temple complex in Indonesia.
Cost: $ 25 USD
Food nearby: An all-you-can-eat buffet dinner at the Ramayana Resto restaurant comes highly recommended.
Equally impressive and historic is the Prambanan Temple, or Rara Jonggrang. This temple is a Hindu Temple built in the 10th century, dedicated to the Trimurti, the expression of God as the Creator, the Preserver, and the Transformer.
Prambanan was constructed to signal the rise of the Hindu Sanjaya Dynasty, supplanting Buddhism as the dominant religion. This UNESCO World Heritage Site is the largest Hindu temple in Indonesia, located 17km outside Yogyakarta.
In addition to being a historic and religious site, the temple compound also plays backdrop for dance and theatre performances of the Ramayana Ballet. The ballet is based on an ancient Hindu love story based on the tale of King Rama and Princess Shinta and features over 200 dancers in eye-catching costumes!
The ballet is an absolute must on a Yogyakarta trip itinerary for anyone interested in ethnic dances and performance art!
Insider tip: The temple is best visited at sunset, when the temple is lit up in the late afternoon light, and it can be combined with a ballet performance.
EDU Hostel is the first modern city hostel in Indonesia. Rest your head in this super modern hostel!
Kraton | Taman Sari | Sonobudoyo Museum State II | Gembira Loka Zoo | De Mata Trick Eye 3D Museum | Jalan Malioboro and Beringharjo Market | Alun-Alun Selatan and Beringin Trees
The second day of our two-day itinerary in Yogyakarta is a great mix of culture and historical insight, local interactions, and a bit of fun thrown in for good measure!
Day 2 / Stop 1 – Kraton(Royal Palace)
Why it's awesome: The seat of the reigning Sultan of Yogyakarta.
Cost: $1 USD
Food nearby: Enjoy some local cuisine in an elegant setting at Bale Raos Kraton, right next door.
The second day of the Yogyakarta itinerary starts off in the center of the city with stops at sites of historical importance. The Kraton Kasultanan Ngayogyakarta Hadiningrat, better known as Kraton, is probably the most famous attraction in Yogyakarta and is simply another name for the Royal Palace.
The walled city complex of pavilions and residences is home to around 25,000 people and encompasses a market, shops, cottage industries, schools, and mosques. Around 1,000 of the inhabitants are employed by the resident sultan.
The sultan and his family still reside here, although you can visit the Kraton Museum where you can learn more about the royal family as well as get an insight into traditional Javanese art and culture. There are Javanese cultural shows that take place daily in the morning, with each day bringing a different performance.
Day 2 / Stop 2 – Taman Sari (Water Castle)
Why it's awesome: Escape the city and stretch your legs in the park locals fondly call 'the mountain'
Cost: $ 1 USD
Food nearby: For delicious local noodle dishes head to Bakmi Doring, within walking distance from Taman Sari
As well as the famous Kraton or Royal Palace, no Yogyakarta itinerary is complete without a visit to Taman Sari, which is also often referred to as the Taman Sari Water Castle.
The castle is located to the southwest of the Kraton and would have been extremely grand in its prime. It is made up of a network of pools, streams, and royal buildings for the enjoyment of the sultan and his family.
Nowadays it has deteriorated slightly and much of the water palace is gently crumbling. However, this adds to the charm and experience while spending an afternoon exploring the graceful ruins which date back to the 1700s.
You will also find a section of underground tunnels that are not to be missed! You can either take a guided tour for a small fee or simply go it alone.
Day 2 / Stop 3 – Sonobudoyo Museum State II
Why it's awesome: The museum gives an in-depth view of Javanese culture and heritage, exhibiting ancient artifacts, and traditional puppet shows.
Cost: < $ 1 USD
Food nearby: Almost directly outside the museum, you'll find tasty local dishes at Special Bakmi dan Nasi Goreng Pak Pele.
Yogyakarta is a city covered in museums, and one of the best of these is the Sonobudoyo Museum. It is devoted to the appreciation of Javanese culture, and has an impressive collection of local art on display.
The Sonobudoyo Museum is a treasure trove of ancient wonders, with a collection of precious artifacts and relics which would impress any archeologist. On display are objects that include ceramics from the Neolithic age, statues and bronze articles from the 8th century, and wayangs (shadow puppets).
If you want to know more about art from the region, you can take a tour of the museum and visit galleries dedicated to Indonesian puppets, masks, weaponry, and textiles. The museum faces a courtyard which is covered in Hindu architecture, and you will find ornate carvings and statues aplenty.
One of the highlights of the museum is the puppet shows that also take place here. Another is the large collection of keris (traditional daggers), a symbol of power and of ethnic pride in most communities making up the Malay Archipelago.
Day 2 / Stop 4 – Gembira Loka Zoo
Why it's awesome: The zoo houses many local animals indigenous to Java, as well as others from around the Malay archipelago and beyond.
Cost: $ 2 USD
Food nearby: There is a restaurant inside the zoo where you can have a light meal and refreshments.
If you want to see some wild animals, then a visit to the Gembira Loka Zoo- located in the southeast of the city- is a good addition to your Yogyakarta itinerary.
The zoo has a large array of reptiles and birds with a pronounced emphasis on indigenous Indonesian species. The atmosphere of the zoo is calm and serene, and guests can enjoy a walk around lush and leafy surroundings, take in the tropical scenery as well as visit the different animal enclosures.
A visit to the Gembira Loka Zook is a recommended activity for young families visiting Yogyakarta. It is a great way to let the kids see some exotic animals and learn about the natural environment of Java in a fun and safe way.
Day 2 / Stop 5 – De Mata Trick Eye 3D Museum
Why it's awesome: Whimsical museum featuring exhibits with scenic backdrops to create interactive optical illusions.
Cost: $10 USD
Food nearby: Bale Bebakaran Umbulharjo offers sumptuous soups in a relaxed atmosphere, not far from the museum.
The next stop on the Yogyakarta itinerary is a whole lot of fun. The De Mata Trick Eye 3D Museum is a pioneer in the 3D arts in Indonesia. It promotes imagination and encourages you to see the world from new perspectives.
Through the use of cutting-edge augmented reality technology, the museum brings 3D art installations to life. You can also have some fun with your very own photo shoot in the Photo Studio Area. Try on some traditional costumes from various parts of the world, and strike your pose in front of a background of your choice!
Day 2 / Stop 6 – Jalan Malioboro and Beringharjo Market
Why it's awesome: A thriving area in Yogyakarta, packed with artisanal stalls, street food, and local wares.
Cost: Free!
Food nearby: There are plenty of food stalls and restaurants lining the street.
Jalan Malioboro is the most famous street in the city and as such is a must-see on any Yogyakarta itinerary. The street is also usually visited at the same time as the Beringharjo Market, and all along Jalan Malioboro, you will find items for sale such as clothes, batik fabrics, jewelry, sandals, and traditional Javanese arts and crafts.
If you want to explore the market then you will need to come here between 9 am and 5 pm, but if you just want to enjoy the most famous hub in the city and its sights and sounds, then try to come after dark when the street really comes alive.
If you are feeling hungry then you can also buy a range of delicious street food. Malioboro is one of the best streets to sample cheap local food, with plenty of street vendors serving small portions of rice with toppings, usually spicy sauce (sambal), dried fish, and tempeh, wrapped in banana leaves.
A visit to this street at night will be cooler than in the day, and it's a great way to fill up with delicious food in a vibrant setting!
Day 2 / Stop 7 – Alun-Alun Selatan and Beringin Trees
Why it's awesome: A vibrant park with a fun challenge, succeed and your wishes will come true.
Cost: Free!
Food nearby: Vegetarians can enjoy some tofu at Warung Brongkos Handayani, near the park.
The Beringin Trees in Alun-Alun Selatan are another of Yogyakarta's most famous points of interest. The area is cloaked in local myth and legend.
The site, as the name suggests, is made up of two large trees. Legend has it that if you are able to walk between them with your eyes closed then your wish for the future will come true.
This may sound easy, although it's amazing how many people don't manage to walk in a straight line. It can be almost impossible to walk straight in between the trees and many have failed. Therefore, the myth persists and continues to draw many people to come and try their luck!
People usually rent a blindfold from a local seller which ensures that you can't cheat, and you can try as many times as you like. Whether you believe the story or not, it is good fun trying to make it between the trees and this is one of the quirkiest spots in the city.
This area comes alive at night and is well worth a visit after dark too. You will mostly find Indonesian tourists and locals trying to do the twins Beringin tree challenge, enjoying the cool of the night, eating food, or riding a super blinged-up 'car'.
These are actually peddle cars, fitted with hundreds of bright lights and loud music! Some cars even come equipped with a small TV!
Insider tip: It is definitely worthwhile to experience the park at night!
Indrayanti Beach | Progo River | Kalibiru National Park | Kota Gede | Plaosan Temple
If you plan on spending at least three days in Yogyakarta when backpacking southeast Asia, then don't worry. There is still lots more to see and do! For your convenience, we have included extra attractions in Yogyakarta to provide the perfect three-day itinerary in Yogyakarta!
Catch Some Sun on Indrayanti Beach
One of Yogyakarta's more picturesque beaches.
Take a break from the city and enjoy the serene setting on the water's edge.
A great idea to combine a city visit with some beach time.
Indrayanti Beach is a perfect pitstop for beach lovers! The beach is located on the southern coast of Java, in Gunungkidul regency, surprisingly close to the city.
The strip of white sand coastline is clean and the water is clear, warm, and inviting. There is a range of small Indonesian cafes and stalls set up along the coastline where you can get some simple noodle dishes, refreshments, and coconuts.
Like other beaches in Yogyakarta, Indrayanti has beautiful panoramas that can be enjoyed anywhere on the coastline. The white sand and the amazing surrounding nature make the beach worth visiting.
Indrayanti beach is a long stretch of sand lined with the ocean on one end and gazebos, restaurants, and tiny shops on the other. This makes it great for leisurely walks, in addition to laying in the sun or cooling down with a refreshing swim in the sea.
The cool sea breeze and the calm atmosphere will refresh your mind and soul. You will not want to leave the beach once you have arrived and enjoyed the beauty!
Go White Water Rafting on the Progo River
Raft down some of the most treacherous rapids in Java.
A fantastic activity to get your adrenaline pumping.
Enjoy some amazing views of the surrounding vegetation and landscape from the water.
Add some adrenaline-fuelled fun to your Yogyakarta itinerary with a heart-pumping white-water rafting trip down the rapids of the Progo River! A visit to the Progo River is a great activity just a short drive from the city.
The river has some pretty high-difficulty rapids, so river rafting is not recommended for beginners. The lower Progo River has the highest difficulty in Java, having a grade V (AWA scale), the same as the Colorado River!
There are a few tour operators to choose from, where you can either rent your own kayak or go down the rapids with a group in an inflatable raft. If you have done this before and are a confident swimmer, then this will be a fun challenge for you!
The river basin is created by several small watersheds and just a glimpse of the water will set your heart racing – you know it will be a challenge. This river offers large boulders and big drops! Guides are always on hand to assist you through the experience, but it is a good idea to make sure they are experienced enough to ensure your safety on the river.
Take in the views of Kalibiru National Park
Stand above the treetops and get the best views of the landscape.
A photographer's dream, and anyone wanting to impress their Instagram followers.
Feel the wind blowing in your hair and zipline through the forest.
Kalibiru National Park offers a beautiful setting of nature and incredible views. For the more adventurous the park also offers fun outdoor activities, such as tree climbing, zip-lining, and tracking activities.
The mountainous landscape of Kalibiru National Park is located about an hour outside of Yogyakarta, with peaks reaching as high as 1,500 ft above sea level. The Park was opened in 2008 by the local community, but has only recently become ultra-attractive to tourist.
The popularity of Kalibiru National Park has exploded as more and more tourists started to post their pictures of the incredible views on social media. There are a number of wooden platforms high up in the trees, overlooking the valley and Lake Seramo below that make the perfect setting for amazing views and picture-taking!
There are also other activities available in this national park including hiking, zip lining, and rock climbing. There are a number of hiking paths around the park, ranging from one to four miles long. Zip-lining high up in the canopy also gives great perspectives of the forest and is an exhilarating way to experience the beauty of the park.
Visit the Cultural Village of Kota Gede
A quaint old town now found within the Yogyakarta city limits.
Explore this historical neighborhood's narrow streets and admire the old architecture.
Take a batik workshop and make your own batik keep-sake.
When backpacking through Indonesia, don't miss this great cultural stop on your three-day itinerary in Yogyakarta. Even though it has been engulfed by the city, this former town still retains its quaint charm.
It's the ideal place to discover the arts and crafts scene that Yogyakarta is famous for, as is well worth exploring. It feels like a village inside the city, with bicycles and rickshaws being more common than motorbikes and cars, and narrow backstreets leading into courtyards and artist workshops.
The houses that line the streets have beautifully carved wooden panels decorating the entrances, revealing which era the houses were from. Hindu houses have a lotus flower, Muslim houses are decorated with Arabic script, and colonial houses have the carving of a crown. You can't miss this. It's one of the best things to do in Yogyakarta!
Wander through a street market, and you will find it hard to resist the temptation to grab some tasty street food. You will also find some silversmith workshops with exquisite filigree items for sale.
There is also the chance to create your very own souvenir at a batik (cloth with traditional patterns) workshop. There are plenty of these workshops around as locals have a long and proud tradition of producing batik.
Visit the Plaosan Temple
Ancient Buddhist temple complex built in the 9th century.
One of the lesser visited temples.
Take in views of the river and surrounding rice paddy's from elevated vantage points.
The Plaosan Temple Complex, known locally as Candi Plaosan, is another impressive Buddhist temple, located close to the Hindu Prambanan Temple in the neighboring village of Bugisan.
The temple complex was built in the mid 9th century and covers a large area close to the Dengok River. Plaosan currently comprises two Buddhist temples, Plaosan Lor and Plaosan Kidul, and is surrounded by paddy fields along with banana and corn crops.
The Plaosan temple complex is made up of 174 small buildings, 116 stupas ,and 58 shrines, many of which have intricate inscriptions. Two of these inscriptions indicate that the temple was a gift of sanctuary.
The dates of the inscriptions are between 825-850 AD. Although similar to the Prambanan 856 AD date, the complexes are not related but have different building techniques that distinguish the Plaosan temples from Prambanan.
Yogyakarta is very similar to most other cities in Asia. There are wonderful sights to see, and the cheap prices lure a lot of tourists. However, as there is poverty there is always a small amount of crime that accompanies it.
You need to be vigilant over your belongings wherever there are crowds of people. There is a fair bit of petty crime like pickpocketing, scams, and street sellers inflating their prices.
Most of these occur around the Kraton, Jalan Malioboro, on buses and other tourists hotspots. Scammers will approach tourists and tell them about a government art center and will hire cheap transport to the 'genuine' gallery. If you're interested in buying batik, be prepared to haggle for a fair price!
Be cautious when walking in the city. The traffic is hectic and roads are often in poor condition. It is always a good idea to travel in groups when leaving the city or walking at night.
Mount Merapi is an active volcano, so there is always the threat of eruption to be mindful of. The city can also get very polluted, so asthmatics should beware that breathing may become difficult.
Don't Forget Your Travel Insurance for Yogyakarta
ALWAYS sort out your backpacker insurance before your trip. There's plenty to choose from in that department, but a good place to start is Safety Wing.
They offer month-to-month payments, no lock-in contracts, and require absolutely no itineraries: that's the exact kind of insurance long-term travellers and digital nomads need.
SafetyWing is cheap, easy, and admin-free: just sign up lickety-split so you can get back to it!
Click the button below to learn more about SafetyWing's setup or read our insider review for the full tasty scoop.
Many amazing locations are actually outside of the city, so do yourself a favor and check out the amazing day trips from Yogyakarta that we highly recommend taking!
Jurang Tembelan, Pine Forest, and Timang Beach
Witness the beautiful mists that form below the panoramic area of Jurang Tembelan. On a good day, the cotton-like clouds obstruct the whole panorama and make you feel like you're on top of the world!
From Jurang Tembelan, you'll be taken to visit the famous Pine Forest to enjoy the tranquil setting filled with the aroma of fresh pine. Wander around and discover more species of trees, such as mahogany, acacia, walnut, and eucalyptus.
The last stop on the day-trip will be Timang Beach, one of the most breathtaking beaches in Yogyakarta! Ride the hand-drawn gondola ride to the nearby island, and feast on a fresh-caught lobster lunch.
Dieng Plateau Golden Sunrise Trip
Take a day-trip to Dieng Plateau to witness the golden sunrise from Sikunir. Get the chance to stretch your legs with a hike to the Dieng Plateau sunrise viewpoint at the top of Sikunir Hill. On clear days, up to eight volcanoes are visible from the top!
From there you will head to the sulfurous Telaga Warna Lake and witness a phenomenon of the waters changing colors!
You will next visit Sikidang Crater, which is an open sulfur crater with bubbling mud and billowing steam. The last stop will be Arjuna Temple Complex which houses eight small Hindu temples that date back to the seventh century.
Jomblang Cave Tour
One of the most popular day trips from Yogyakarta, and a must-do on a three-day itinerary! Enjoy the amazing illumination of Jomblang Cave and witness the heavenly light where angels descend in this truly intriguing experience.
On this private tour, you will visit Jomblang Cave and experience sunshine streaking through the heavy air of the cave, making it appear heavenly! You'll get the chance to descend 190 ft to the bottom of the cave with the aid of rappelling equipment. Then it's just a short walk through a slippery muddy tunnel to the spot where you will catch this spectacular ray of light!
Selogriyo Temple Tour and Trek Through Java's Rice Terraces
Explore the intriguing and controversial temples located in the slope of Lawu Mountain, Central Java. On route to Cetho and Sukuh Temples, you'll have the chance to take in the impressive view of tea plantations and rice fields against a backdrop of hills and towering mountains.
This trip will include a visit to Mangkunegaran Palace, and Yogyakarta's sister city, Solo City. Explore this Javanese legacy at your own pace or hire a local guide to learn about its history.
After lunch explore the ancient Batik Museum. Admire the collections of pre-colonial and post-independence artifacts.
Instagram Tour: Volcano, Jungle Swing & Waterfall
Visit the most scenic sights around Yogyakarta where you can snap photos of this beautiful region. Immerse yourself in nature and local culture while exploring monuments and natural wonders.
Take in the beautiful mountainous views of Merapi Volcano, and the jungle scenes of Kalibiru Nature Park. Challenge yourself to swing above the valley and jungle at the 'Sky Swing' high up in the Menoreh hills. End your day by visiting the hidden waterfall and enjoy a refreshing swim!
You'll definitely want to bring your BEST travel camera for this one!
Find out what people want to know when planning their Yogyakarta itinerary.
Conclusion
By now you should have all the information you need to have a great stay in Yogyakarta!
Yogyakarta is loaded with cultural significance, fun activities, and tasty street food. It is also the perfect base from which to explore more of southern Java and find the amazing locations you've seen on Instagram!
If you are traveling elsewhere in Indonesia, be sure to check out our insider backpacker's guide for more itineraries, places to visit, and information on where to stay on a budget!
If you plan on visiting, be sure to read our in-depth Bali itinerary planner to get the most of your trip to the island. Alternatively, discover a unique way to travel and get closer to the locals. Find out more about the opportunity to live with locals villagers in our homestays in Indonesia.
---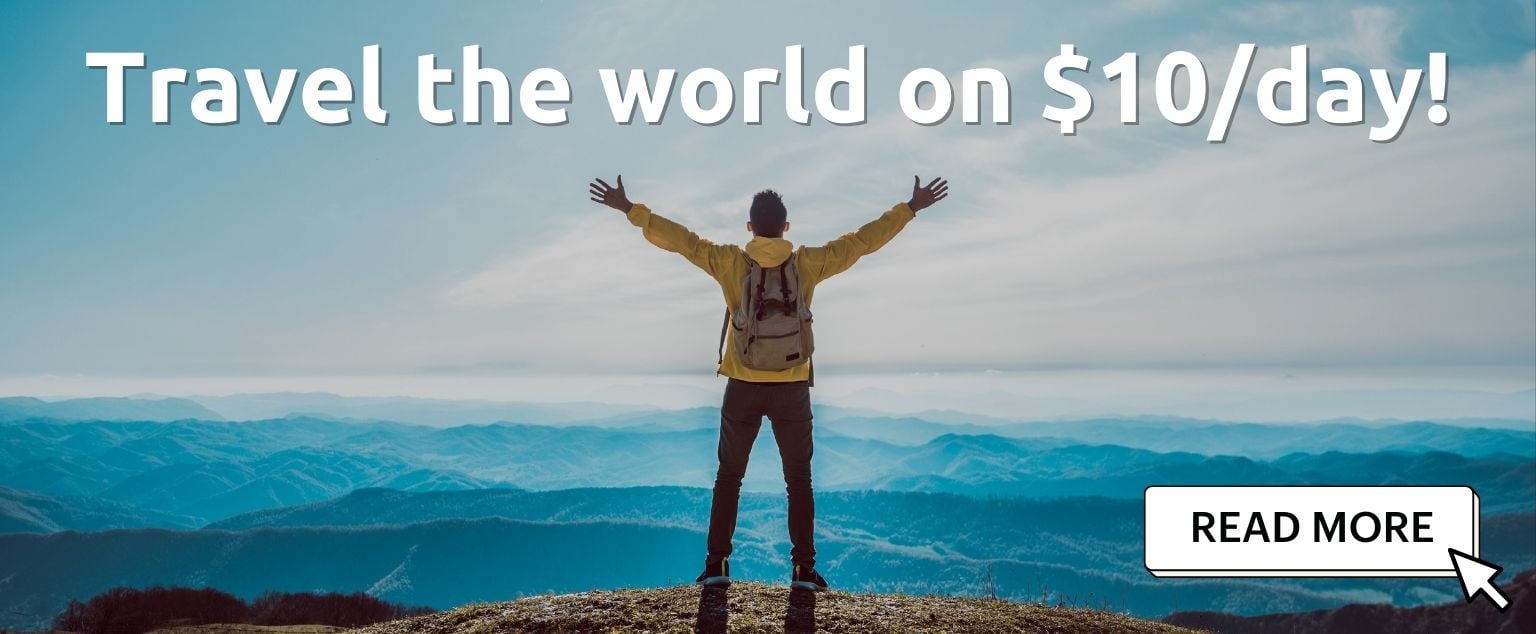 And for transparency's sake, please know that some of the links in our content are affiliate links. That means that if you book your accommodation, buy your gear, or sort your insurance through our link, we earn a small commission (at no extra cost to you). That said, we only link to the gear we trust and never recommend services we don't believe are up to scratch. Again, thank you!