A job in Bali means calling this spiritual island home. Working as an English teacher in Bali is all about the lifestyle – surfing after class, climbing volcanoes at weekends, and drowning in endless sunsets!
Teaching English in Bali is an excellent opportunity for young travelers to get a flavor of ex-pat life in a sunkissed tropical destination. However, you'll find the wage isn't sustainable in the long-run. It certainly isn't suitable for those with financial commitments like student debts and mortgages.
Tourism is the big player in the Balinese economy, accounting for around 80% of the island's GDP. Because of that, English is in hot demand. But jobs aren't as plentiful as you might hope. There are many, many applicants trying to land the top posts in Bali, so you'll need to make an impression.
Below, I've written all the details you need to know to teach English in Bali.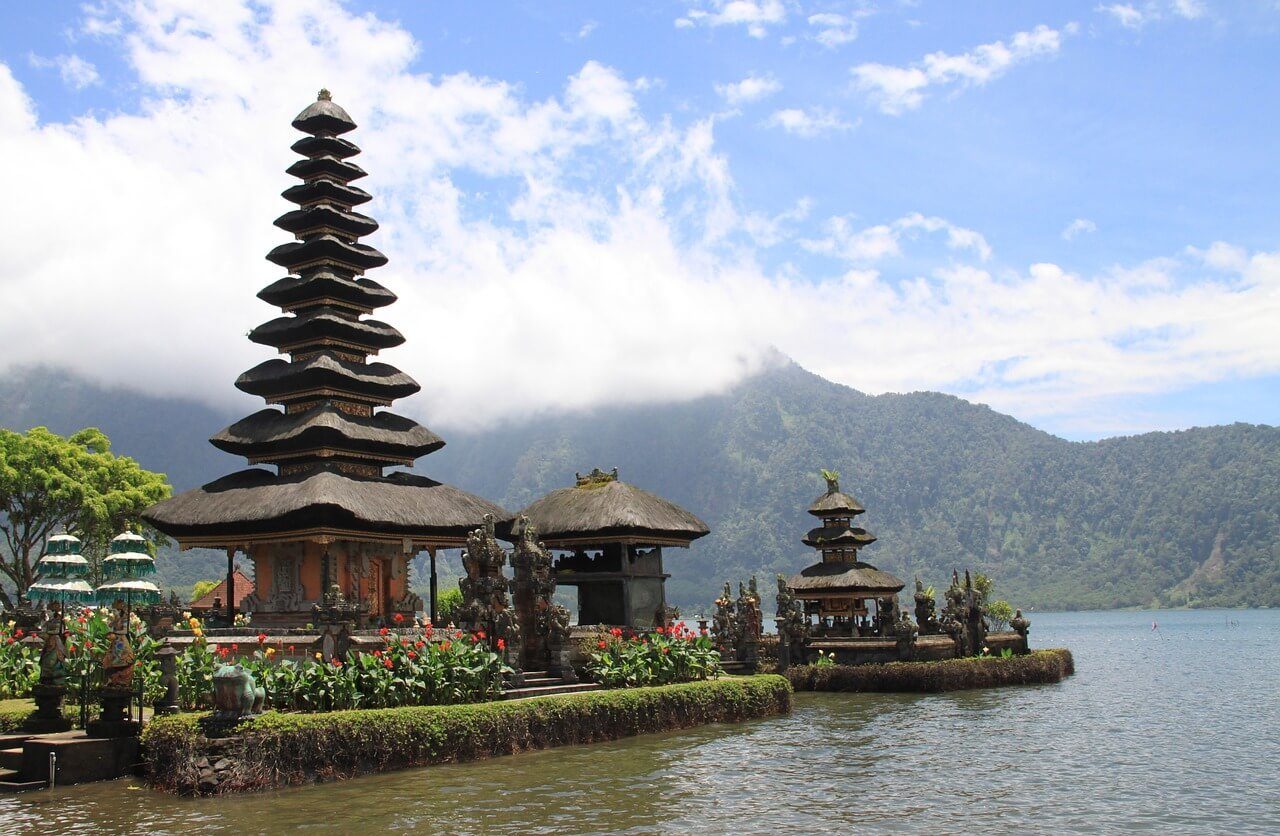 Why Teach English in Bali?
Your main motivation for teaching English in Bali is going to be the lifestyle. And while the logistics of working in Bali are complicated, the place itself won't let you down!
Pros | Why You NEED to Teach in Bali
Lifestyle: As I said, this is the main draw. Bali has a great vibe, and you can use your free time to experience a number of exciting activities the island has on offer. Surfing, scuba, yoga, the lot. With a booming ex-pat community and awesome locals, it's an easy place to make friends to share the experience with.
Travel potential: Bali is backpacker-friendly and loved for its natural beauty, with endless beaches, jungles, and mountains to explore. Although the salary is low, your income should allow you to explore other Indonesian islands on weekends and during annual leave. Basing yourself in Bali comes with terrific travel prospects – as long as you know how to budget.
Culture: Balinese culture is a joy to experience. Behind the dances, music, and shrines that tourists only see the surface of, you can actually dive in and experience the depth of Balinese hospitality.
Work hours: You will generally work 20-25 hours per week. This leaves ample time for exploring the island (did I mention it's beautiful?).
Contract length: Most contracts will tie you in for 12 months. After a year, your contract will be reevaluated. You will have the option to discuss with your employer whether they (and yourself) wish to renew for a second year. That means you're not committed to an extensive fixed term, but the option may be there if you want it.
Cons | What to Consider Before Teaching in Bali
Low salary: Although the monthly wage in Bali will cover your expenses and leave some rupiah to play with, you won't be able to save. Don't move to Bali planning to get rich.
Citizenship: Balinese schools will only accept native English speakers from countries where English is the first language. That's the likes of the UK, Ireland, South Africa, New Zealand, Australia, Canada, and the US. If you're not a citizen of these countries, unfortunately, you are not going to find work due to strict immigration regulations.
Education criteria: You'll also need a bachelor's degree and a TEFL certification before you teach in Bali. Four-year degrees are preferred, but not mandatory.
Visa: The Indonesian visa is notorious for its complicated and costly extension service for long-term tourists. Naturally, the visa requirements for foreign workers follow suit. You will need both a work permit (called an IMTA) and a temporary stay permit card. This is called a KITAS (Kartu Izin Tinggal Sementara). It's a complicated process, but your employer (your sponsor) will handle most of it.
Competition: While Indonesia has a roaring demand for English teachers, Bali is the most popular for aspiring teachers. Jobs are fiercely competitive.
Climate: Obviously, one of the main perks of Bali is its tropical climate. Sure, that's all fine and dandy when you're on holiday, but it takes a lot to work in the heat and humidity. It won't be a problem if you're teaching in a lovely air-conditioned classroom, but that might not be the case. Bali's rainy season is the worst time for air-feel and can make for some challenging commutes. Don't let this put you off, but do consider the sweaty consequences of working this close to the equator!
How Much Can Teachers Expect to Make?
The average salary of an English teacher in Bali is $650 – $1,050 USD (9,300,000 – 14,700,000 IDR) per month. Some teachers report earning slightly more, but don't hold your breath.
With a large ex-pat community, Bali has a scattering of international schools where teachers are in demand. These schools typically offer the highest salaries for teachers in Bali, but they only accept the top candidates. The curricula vary from school to school. Some follow the International Baccalaureate (IB), others the Australian, and so on. Teachers often work for 12 months then move on, so there is a high turnaround.
There are several language schools in Bali where international English teachers can find work opportunities. This may be teaching adults in the tourism industry, university students, or kids after-school. Language schools are at the lower end of the pay scale, with average hourly salaries sitting at around $5 per hour.
In case you're wondering, public schools aren't an option for non-Indonesians – unless you speak fluent Indonesian!
Requirements for Teaching in Bali
There are a number of essential requirements you will need to meet before you teach English in Bali.
You are very unlikely to get a job in Bali as an English teacher if you are not a native speaker. A school would love to have you, I'm sure; sadly, immigration has made it impossible for non-native speakers to get a visa.
TEFL Certificate: You will require a TEFL certificate to teach in Bali. You can study before you go or while in Indonesia – Bali has several options available. Both online and in-classroom courses are accepted.
Bachelor's degree: You need a degree to teach English in Bali. A four-year degree is preferred, and if you have a Masters, you'll catch more eyes. Your degree can be in any subject.
English teaching experience: Balinese schools will hire teachers who match the above criteria, and previous teaching experience isn't mandatory. However, we can't say enough how competitive the job market in Bali is, so having some experience would be a huge benefit.
Visa: As most contracts in Bali are one-year, you will require a work permit and a working KITAS (temporary stay permit). Your employer will sponsor you and help with the paperwork and documentation. You cannot get either of these prior to receiving a job offer. The Indonesian government will only grant jobs to foreigners in the case that there isn't an Indonesian available who is qualified to do the job in question. Your sponsor will cover the cost of the KITAS ( $1,200). Bear in mind that if you leave your post early, they might ask for some of the money back.
Health insurance: As part of the KITAS process, you'll need to show evidence of health insurance. Find out if your employer provides this.
Where to Get TEFL Certified
If you aren't already TEFL qualified, you will need to take the course before you start applying for a job in Bali. You can choose to do this from your home country or in Bali.
Online TEFL Certificates
| myTEFL Professional | myTEFL Intermediate | Let's TEFL | TEFL Pros |
| --- | --- | --- | --- |
| 120 Hours | 60 Hours | 120 Hours | 120 Hours |
| ✅ Live Tutor Included | ✅ Live Tutor Included | ❌ No Live Tutor | ❌ No Live Tutor |
| ✅ Job Assistance | ❌ No Job Assistance | ✅ Job Assistance | ❌ No Job Assistance |
| The most comprehensive TEFL course. | Best for getting a TEFL cert quick. | Great for brushing up on English knowledge. | Allows a free trial before buying. |
There are tons of places to get TEFL certificates online. Some of them are phoney. These are usually video-only courses where you don't talk to someone or lesson prep on your own and they won't help you teach English on the ground. Here are 3 good ones:
The myTEFL 120-hour course is the gold standard of TEFL certificates. This certification will be accepted by any country and the course prepares you for a career of English teaching and curricula. They have other certifications with fewer hours that will also work for your job in Peru but may not help you get a job somewhere more rigorous later on. MyTEFL does an awesome job at teaching the skills you need to manage a classroom and transfer your knowledge to your students.
Let's TEFL is the second-best online TEFL certificate and might be the best for those needing to review English rules themselves before they hit the classroom. Actually, if it's been a long time since you've taken a grammar class, you're going to want to brush up.
TEFL Pros isn't the most hands-on, but one of the best teachers at our institute vouches for the quality of their curriculum. Their course is usually the cheapest. Plus, they've got a free trial so you don't need to drop money to see what this is all about!
Getting Your TEFL in Bali
The other option is to get your TEFL in Bali. You'll get hands-on practical teaching experience at the same time as a sample of what it's like to live in Bali as an ex-pat. Bear in mind that the course will occupy the entire duration of your visa-free 30-day stay.
If you want to complete the course then spend some time exploring Bali and adjacent islands, you will need a visa. You can request a Visa on Arrival (VOA) at the airport, which may be extended to give you 60 days in the country. Alternatively, check out the Social Visa, which must be purchased at an Indonesian embassy before you travel.
The following schools run TEFL courses in Bali.
English First – English First is an organization that places English teachers in schools across Indonesia (plus, China and Russia – just FYI!). If you accept a teaching job with English First (more on that to follow), they will even sponsor your TEFL studies. If you're after a TEFL but are cash-strapped, this may be the best option.
Destination TEFL – Destination TEFL, Bali is the latest addition to this leading TEFL school based in several South-East Asian countries. This four-week course takes place on the border of thriving Seminyak and Canggu. It covers all manner of teaching methodology, including business English, phonics, classroom management, and lesson planning. You will complete six hours of teaching under observation and assessment. Accommodation isn't provided, but the school will help you negotiate a rental within walking distance of the school.
And don't forget that you can also be in Bali while you take your TEFL course online!
Living in Bali and Teaching Online
Bali is full of ex-pats and digital nomads who teach English online. This opens the door for non-native speakers and gives you more autonomy over your schedule.
The internet in Bali isn't bad; it's more reliable than many other teacher-nomad destinations. During the rainy season, power outages can lead to home internet dropping sporadically. In hotspots such as Canggu and Ubud, internet speed may lag at times. Fortunately, mobile data is cheeeeap in Bali, so you can hotspot your laptop with your smartphone if needed. Go with Telkomsel. They're super easy to use and have an app where you can reload on data.
You'll probably make more money in Bali as an online teacher than in a classroom. But of course, you won't connect with the community like you would be teaching in a classroom. Also, as an online teacher, you will need to take responsibility for and cover the costs of your Tourist or Social Visa extensions. This isn't a big deal, but is something to consider.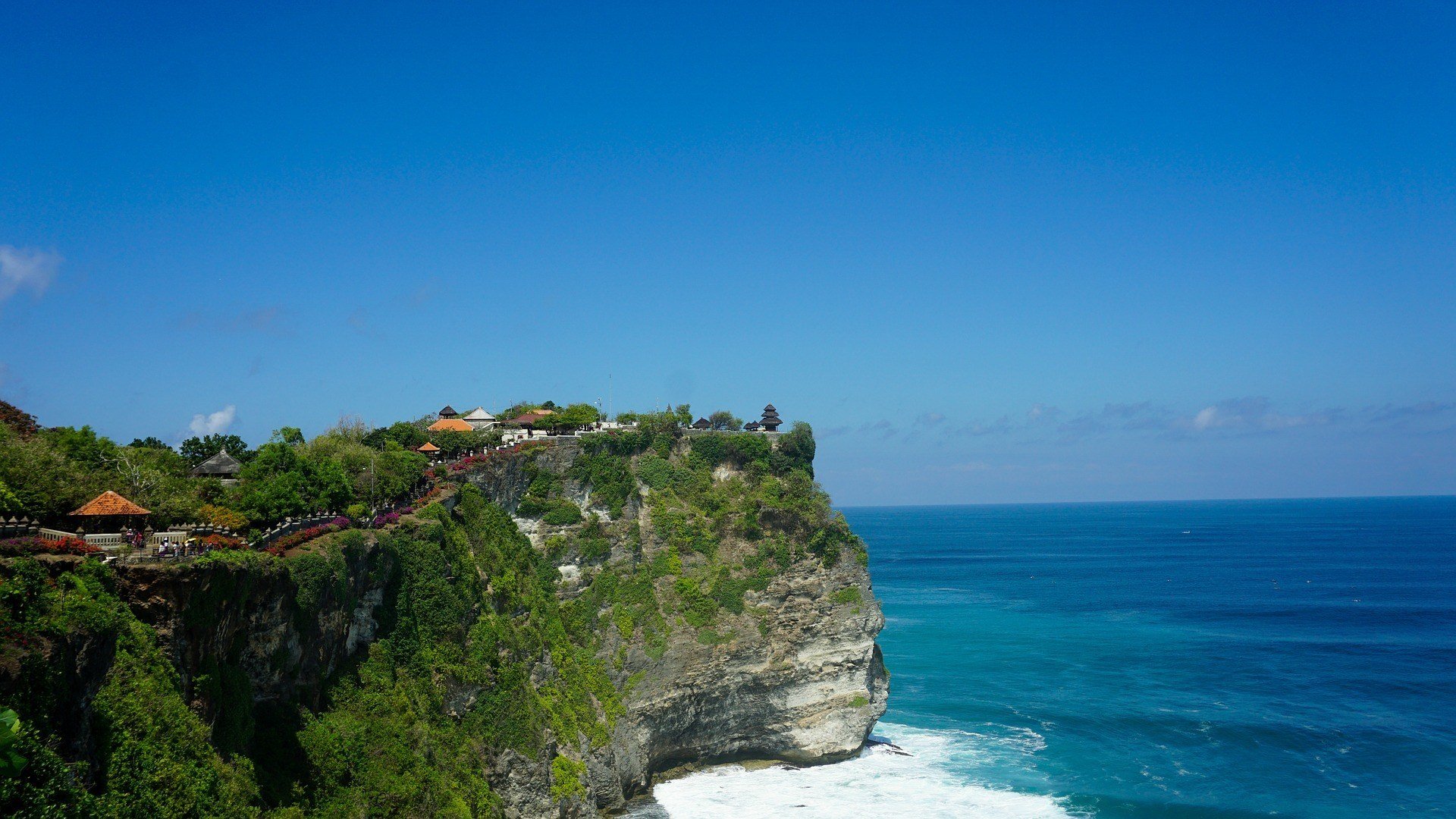 How to Find a Job in Bali
Due to the visa requirements that come with acquiring employment, it is best to apply for a job in Bali in advance. Unlike other South-East Asian nations where you can apply in the country, this isn't as easy in Bali.
Of course, if you are already traveling, you could always touch down in Bali and make some inquiries in person. Most nationalities are eligible for a visa-free stay of 30 days. If you use the time to seek a job, you'll need to leave Indonesia once your time is up. You can arrange your work permit and KITAS from home or elsewhere – KL, Singapore, and Bangkok are popular choices for getting Indonesian visas.
Apply for a Job in Bali Online
If you want to handle the application process yourself, you can search for job opportunities online and interview via your webcam.
Collate a list of all the international schools and language centers in Bali and visit their websites. In many cases, the schools advertise any vacancies they have. If they don't, you can email them a copy of your CV.
Email the school or center with your CV. Ensure it includes the following information:

Nationality
Your education
Details about your TEFL certificate
Any teaching experience

If a school likes the sound of you, they may invite you to attend an interview via Skype or equivalent. Treat this as seriously as you would any job interview. Dress professionally and modestly (note that Bali is a Hindu island in a Muslim country).
Be prepared to talk about your experience with children if applying for a job teaching kids. If you don't have experience teaching, talk about any other employment you've had which involved working with children.
At the end of the interview, you should confirm with the interviewer that they will sponsor your work permit and KITAS. Make sure you verify all the terms and conditions of the offer and have a copy sent over in writing.
Register With a Provider
One of the leading providers of jobs in Bali is English First. This is a good option to consider if you want the security of a major company taking charge.
Apply as a candidate via the English First website – a short application form takes five minutes to complete. You will need to answer a few quick questions, upload your CV, and write 100 words about your motivations for teaching English in Bali.
A few days later, you'll receive a call from English First if they like the sound of you and believe they can find you a job. Next, you will be invited to complete an interview with English First. Have details of your credentials and work experience on hand. Expect to be asked about your motivation for teaching and ideal start date.
If the interview is successful, English First will start the processing of finding you a job in Bali to suit your preferred start date.
Finding a job with English First will secure you a legal work permit and KITAS, and they cover the associated costs. Health insurance should be provided and, in some instances, they cover the costs of flights. For Bali, this isn't guaranteed, but it's worth enquiring. You will receive two weeks of accommodation, but after that, you have source and pay for your own.
English First do not charge teachers for their service, nor do their jobs provide higher salaries than you can get by going direct. Again, some tutors report earning around $5 per hour.
Living in Bali
Now things are heating up! Living in Bali gives you the golden opportunity to get to know the island and its people. A year of working with the community will provide you with a far richer experience than a fortnight holidaying under the sun.
Safety
Bali is a safe place to live on the whole. Violent crime is extremely rare, and as a resort island, it's exceptionally welcoming. Muggings are uncommon but can occur particularly around the densely populated Seminyak and Kuta areas. Thieves operate from motorbikes and target pedestrians and motorcyclists. Always ensure your bags and valuables are securely beneath your seat and keep your phone out of sight. Be mindful of your possessions in warungs, bars, and at the beach, and never leave valuables locked in your bike.
Break-ins do happen in villas from time to time. Keep your valuables locked away in a safe place and keep the door locked – as we're sure you do at home!
Traffic in Bali can be chaotic and busy in tourist areas and around Denpasar. Inexperienced motorcyclists can easily get into trouble navigating Bali's tiny roads, so have your wits about you. Living in Bali, you'll become a pro at driving a scooter. But holidaymakers aren't always the same – stay alert for those who might be driving drunk or have an inflated view of their driving skills.
Your main safety concern in Bali is the not-so-humble mosquito. As a tropical island, residents are plagued by them, and Dengue is a risk. Cover up with repellent and burn coils, especially during the rainy season.
Monthly Budget
Bali isn't expensive unless you're traveling on a Bali salary. As I said, you'll essentially break even each month on your wage – with a splash of cash to fund further travel.
| | |
| --- | --- |
| Flying to Dubai from the US | $500-$700 |
| Accommodation | $350 |
| Food | $200 |
| Transport | $60 |
| Entertainment | $150 |
| Total Monthly Expenses | $760 |
Keep in mind these numbers are what you'll need to get by. You'll make yourself a lot more comfortable by securing $1,000 or more per month.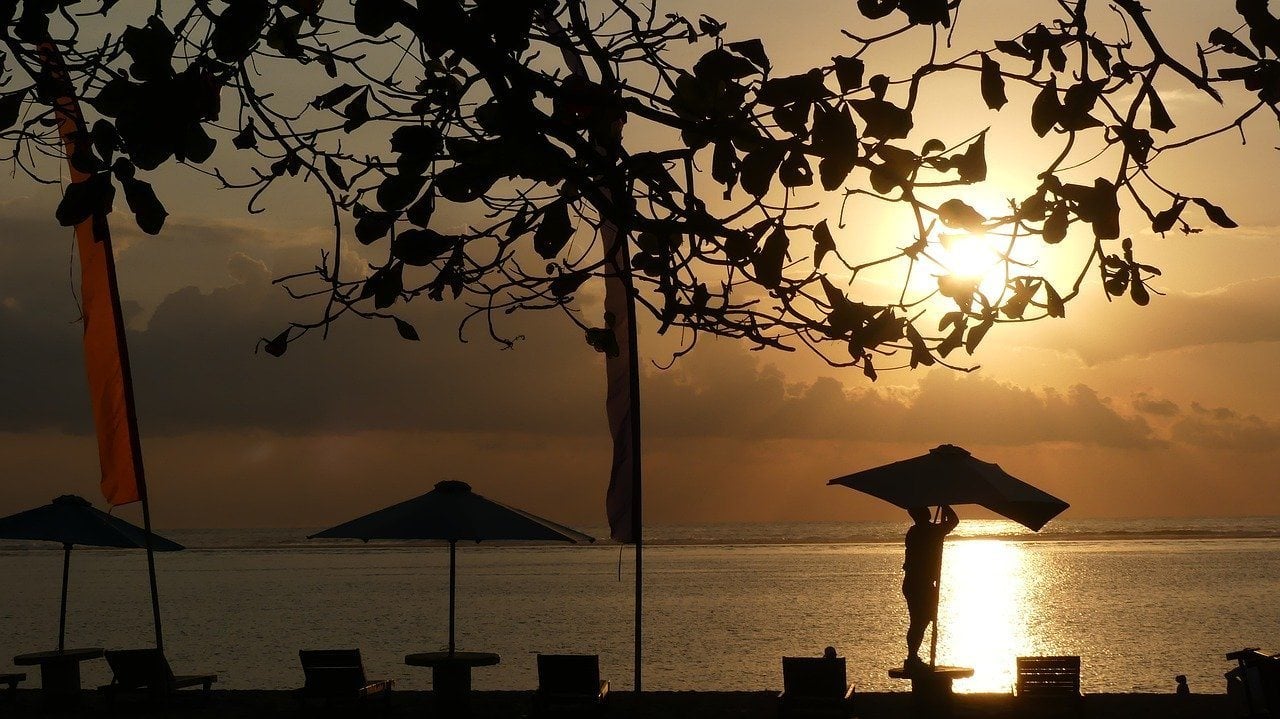 Money-Saving Tips
Accommodation in Bali is variable. If you want the full-on, private Balinese villa experience, you can wave goodbye to your hard-earned salary. But you should be able to score a private room in a shared villa between $350-$500 per month. Renting a small apartment or a spare room from a local family will cost less. Look at options further afield to decrease costs.
Transport in Bali is where you should spend the least. The cheapest way to get around is to hire a motorbike for the full 12 months. You should be able to negotiate $45-$55 per month (600,000-750,000 IDR). Gas is cheap as hell. If you're not comfortable driving, you can hop on the back of a Grab or Gojek. They provide cars too, but they cost more. Organize a ride-share if you really don't fancy scootering.
Food in Bali caters to all budgets. You can grab a meal for $2 (30,000 IDR) in a local warung. Bali is brimming with all kinds of Western restaurants offering food from around the world. Meals will start at $6 (85,000 IDR) but can exceed $15 in mid-range places. Groceries are reasonable: Balinese-grown fruits and veggies are cheap to buy, and fish is affordable. Quality meat is more expensive, so swap your chicken breasts for tofu and tempeh.
Entertainment is where you're going to feel a tug on your purse strings. Surfing, diving, trekking, massages, beach bars, and yoga classes are on every corner in Bali. You'll need to set a budget, say one massage once a week. If you love your watersports, it'll work out cheaper to buy a surfboard or diving gear than renting it each time you catch a wave or book an excursion.
Speaking the Language
The official language of Indonesia is Bahasa Indonesia. Each island has its own language, which will usually form the first language of any Indonesian. For example, Balinese is spoken by the Balinese, and Javanese by residents of Java.
Most signs in Bali are written in Indonesian and English. On the whole, its residents have a good command of English. Further away from the main tourist areas, English is less widely spoken.
You should learn the basics of Bahasa Indonesia (or Balinese) while living in Bali. It breaks down barriers and makes it easier to befriend locals. Your employers will thank you for it, and your students will love you. It's also helpful when bartering for goods, tours, and rent, or hiring your motorbike – you'll be at an advantage. And, it's a simple language. The vocabulary may be entirely new to you but the grammar is way simple!
Don't panic if you struggle. You'll still get so much out of your experience in Bali!
Final Thoughts on English Teaching in Bali
And there you have it – that's everything you need to know before you teach English in Bali!
Don't be disheartened by the low salary, but do make sure you've got some savings to fall back on before you take a job in Bali. This beautiful island with its warm inhabitants will steal your heart. Visiting is an experience you will cherish for years to come.
I wish you all the best on your job search.
---
Find out how YOU can support the site.
We work hard to put out the best backpacker resources on the web for free! It's all about helping out our tribe of awesome backpacker readers (that's you!). Please visit the link to find out how you can help keep the site going 🙂
For the sake of transparency, some of the links in our content are affiliate links. This means that if you book your accommodation, buy a piece of gear, or sort your insurance through our link, we earn a small commission at no extra cost to you. We only link to stuff that members of the Broke Backpacker team has actually used and never endorse products or services that are not up to scratch. Thanks for your support!