Travellers flock to Cambodia for a glimpse of the sun rising over the temples of Angkor Wat. Or for a white-knuckle tuk-tuk ride around its Phnom-enal capital city. But living in Cambodia as an English teacher will immerse you in this Buddhist-inspired culture and give you a beyond-the-bucket-list experience. We like the food and one-dollar beers too!
As Cambodia continues to recover from its turbulent recent history, the country's infrastructure is working hard to catch up with its neighbours. Because of this, the demand for English teachers is booming. You have a high chance of getting a job in Cambodia.
Teaching English in Cambodia provides backpackers with a job that gives something back to a country that has experienced more than any nation ever should. This pocket-sized country packs in a lot of diverse sights too, so you have plenty to fill your weekends with.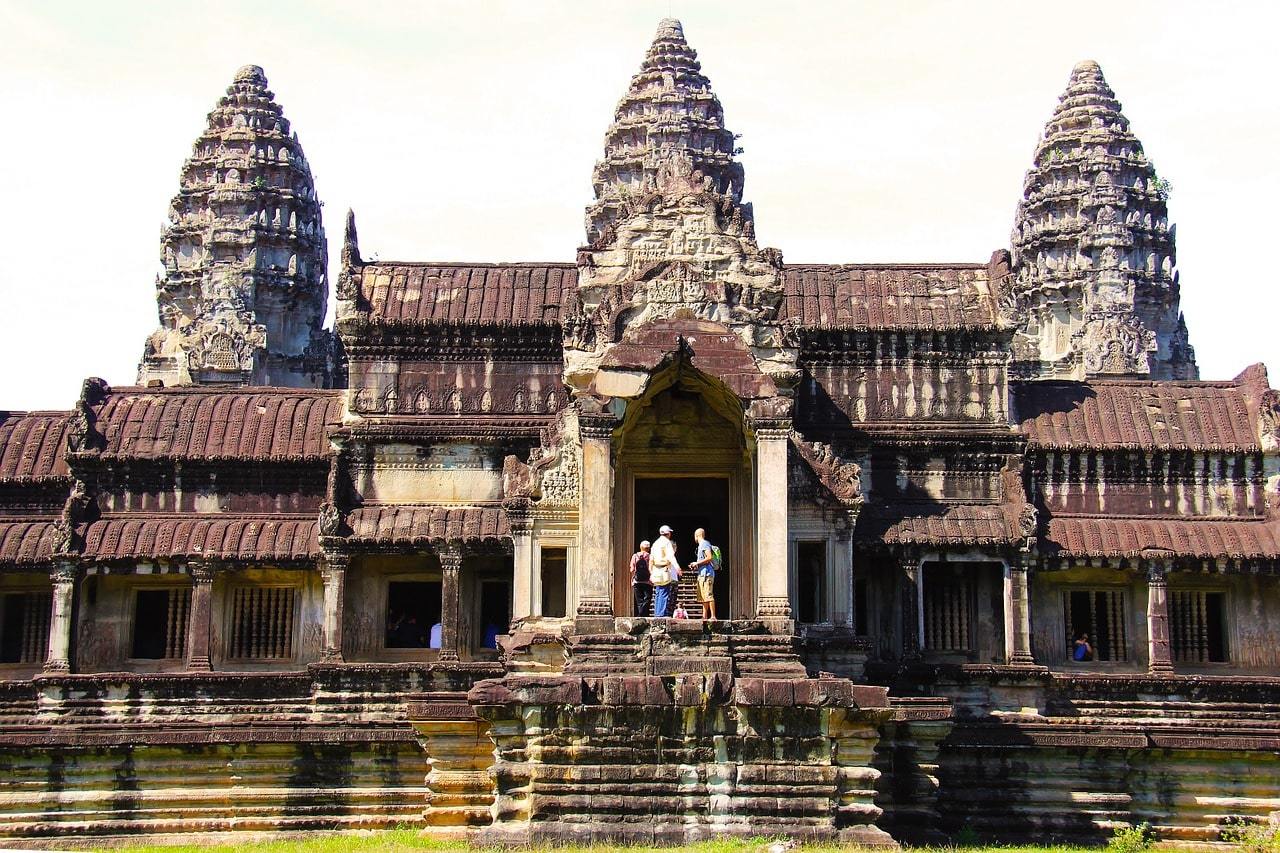 Why Teach English in Cambodia?
How cool would it be to live in the same country as the mighty Angkor Wat temples? Here are our top reasons why you might want to teach English in Cambodia.
Pros | Why You NEED to Teach in Cambodia
Travel opportunities: Cambodia has it all! Besides the temples, you can take your pick from pristine natural attractions. Cambodia isn't a large country, so you can make the most of your weekends!
Adorable students: Much of the work in Cambodia is focused on teaching kids in schools. Watch out – they'll steal your heart. Also, any English teacher in Cambodia will gain a real understanding of how resilient the people of this incredible country are.
Accessibility: You will need a TEFL certificate to teach English in Cambodia, but you won't need a bachelor's degree. Nor do you need to be a native speaker. Mind you, native speakers are still favoured, and you'll need fluency.
Year-round hiring: Whatever time of year you rock up in Cambodia, you can expect to get hired; demand is year-round. Note that many institutions will want to lock you down in a 12-month contract, or at least 6.
On-the-spot jobs are available: You don't need to apply for jobs before arriving in Cambodia. In fact, you're more likely to receive a job offer once you're in the country. It doesn't hurt to check job boards online first, but most schools don't even advertise online.
Visas: Cambodia offers one of the easiest visas for English teachers in the region. The Ordinary Visa (Type E) can be purchased online, at a Cambodian embassy, or just at immigration ($35, accepted in USD cash only). It can be extended without leaving the country – no need for a border run. The fee depends on the length of the extension required, either three, six, or twelve months (maximum fee – $300 USD). You will need to show your work permit to extend your visa. Once you have your offer of employment, your employer will arrange the permit for you.
Cons | What to Consider Before Teaching in Cambodia
Salary: The salary for an inexperienced English teacher in Cambodia will cover your overheads – plus a little extra for modest travel. Don't take a teaching job in Cambodia expecting to pay off your student debts, but experienced teachers can expect to earn more than newbies.
Living expenses: Cambodia is a very affordable country to live in as an ex-pat. However, if you accept the lowest salary and rent the cheapest apartment, you might miss some of your home comforts.
Scams: Cambodia sadly operates a number of scams that affect English teachers. Specifically, teaching English to kids in orphanages. If you consider volunteer teaching, be aware of orphanages who accept volunteers for less than three months or who charge volunteers a fee. If they don't ask you about your employment background, qualifications, or experience with kids, those are multiple red flags.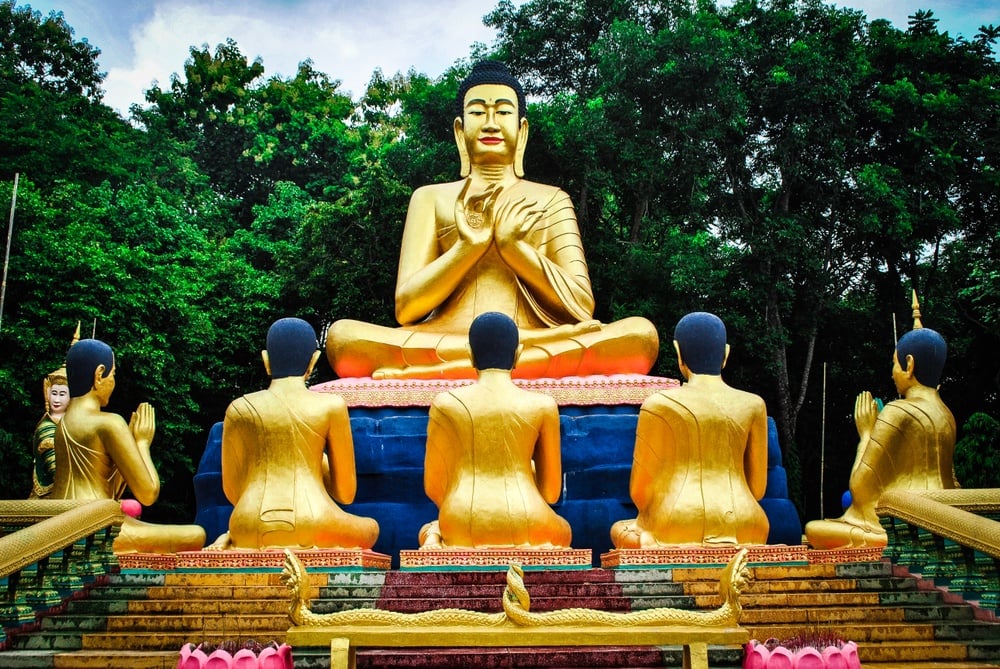 How Much Can Teachers Expect to Make?
English teachers in Cambodia can expect to make anywhere between $700 USD and $1,200 USD per month (2,796,500 – 4,943,315 KHR). The typical hourly rate is $10-12 USD (41,194 – 49,433 KHR), and most teachers are paid by the hour.
What you will earn depends on your experience level, your qualifications, and where you teach. A new teacher will be looking at the lowest threshold. If you have teaching experience, you can expect to start at $1,200, with the potential to earn more.
The majority of jobs teaching English in Cambodia are found in private schools. This is where both the highest salaries and the majority of jobs are found, so we hope you like teaching kids! You can teach either primary or secondary level children (age 6-18). Within the private education sector, Cambodia has a number of international schools that follow either an American, British, or French curriculum. Many have adopted the well-known International Baccalaureate. International schools usually pay slightly higher salaries than non-internationals – if you have experience.
Your other option is teaching in a private ESL academy (English as a Second Language). These cater to pre-school children right up to adults. There, you will teach during the evenings and weekends. You might teach kids or teenagers after they finish their school day – or you will teach adults in the evenings after work or at weekends.
Note that public schools very seldom employ non-Cambodian teachers. Institutions in Phnom Penh usually pay more than other popular teaching cities, such as Siem Reap or Sihanoukville. The capital has 50+ international schools and the highest quota of job opportunities in the country.
Requirements for Teaching in Cambodia
Native or near-native English proficiency: Cambodia is almost unique in the fact that schools welcome non-native English speakers to teach. They do prefer native speakers, but if English is your second language, you still stand a good chance.
TEFL Certificate: Most institutions will require a TEFL certificate. Usually, a basic TEFL certificate (120-hours) is all that's needed, so you can take a course online if you prefer. Or you can get certified while in Cambodia.
English Teaching Experience: If you're after a higher-paying job, you're likely to need prior experience teaching. Otherwise, you're fine going in with just a TEFL.
Ordinary Visa (Type E): To teach English in Cambodia, you need the Ordinary Visa (that's the official name, although it also goes by 'Business Visa'). This can be obtained on arrival or in advance via your nearest embassy. The visa can be extended by 3, 6, or 12 months for a fee while you're in the country. You'll need your work permit for the extension, plus up to $300 USD for the fee.
Work permit: Once you secure a job, your new employer will provide your work permit. It costs approximately $100 USD for one year, and you will need to show it when you extend your visa.
Those are all the requirements! You won't need a bachelor's degree, but having one will go in your favour. It's unusual to be asked to show a return flight out of Cambodia, but you should check that with your airline. While travel insurance is not mandatory for Cambodia, we recommend that you purchase cover for your stay.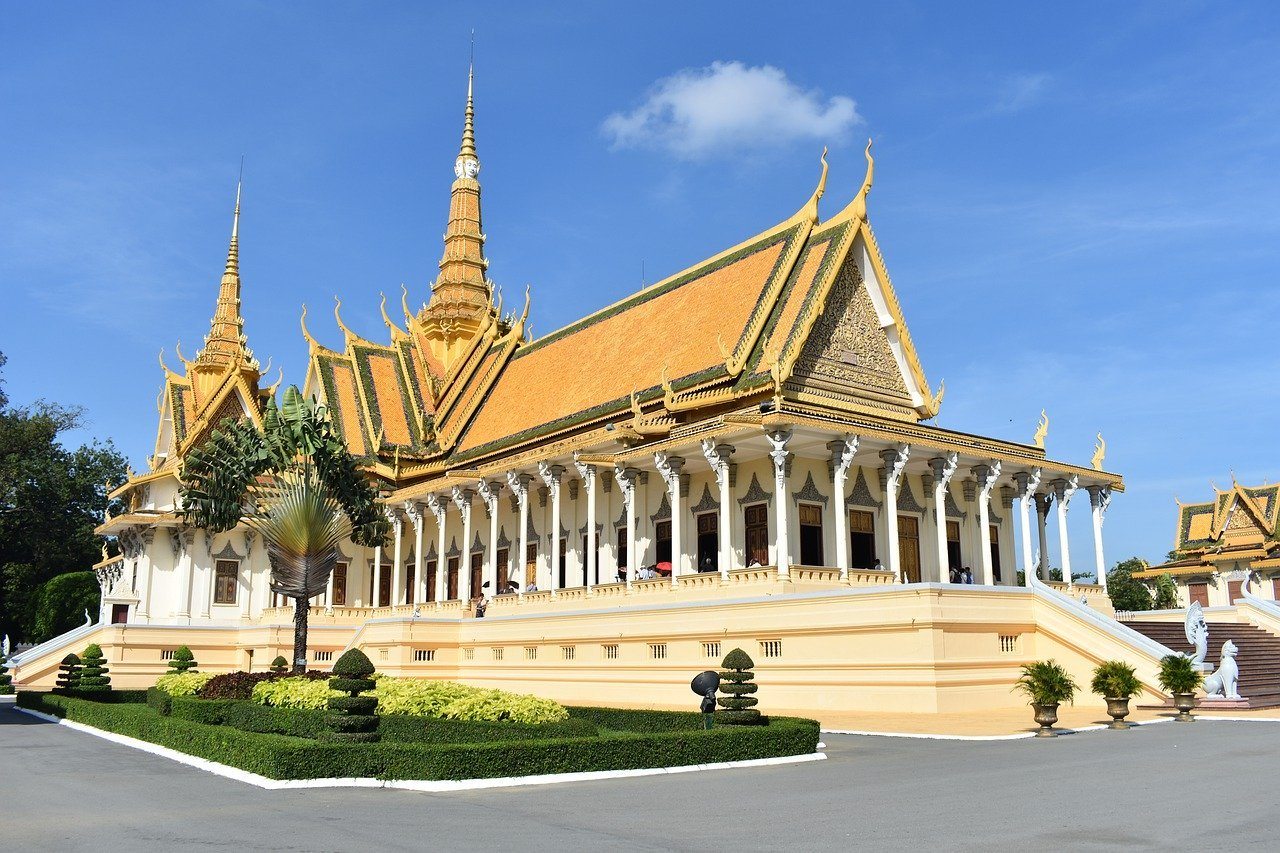 Where to Get TEFL Certified
It will help you find work if you have a TEFL certificate before you arrive in Cambodia. Some travellers report being able to find work without one, but this is rare, and typically lower paying. Most institutes in Cambodia are fine with an online TEFL course qualification.
Alternatively, you can get certified while in Cambodia, but this will eat into your time in the country and impact your budget.
Online TEFL Certificates
| myTEFL Professional | myTEFL Intermediate | Let's TEFL | TEFL Pros |
| --- | --- | --- | --- |
| 120 Hours | 60 Hours | 120 Hours | 120 Hours |
| ✅ Live Tutor Included | ✅ Live Tutor Included | ❌ No Live Tutor | ❌ No Live Tutor |
| ✅ Job Assistance | ❌ No Job Assistance | ✅ Job Assistance | ❌ No Job Assistance |
| The most comprehensive TEFL course. | Best for getting a TEFL cert quick. | Great for brushing up on English knowledge. | Allows a free trial before buying. |
There are tons of places to get TEFL certificates online. Some of them are phoney. These are usually video-only courses where you don't talk to someone or lesson prep on your own and they won't help you teach English on the ground. Here are 3 good ones:
The myTEFL 120-hour course is the gold standard of TEFL certificates. This certification will be accepted by any country and the course prepares you for a career of English teaching and curricula. They have other certifications with fewer hours that will also work for your job in Peru but may not help you get a job somewhere more rigorous later on. MyTEFL does an awesome job at teaching the skills you need to manage a classroom and transfer your knowledge to your students. They're also giving Broke Backpacker readers get a 35% discount on TEFL courses (simply enter the code BACKPKR).
Let's TEFL is the second-best online TEFL certificate and might be the best for those needing to review English rules themselves before they hit the classroom. Actually, if it's been a long time since you've taken a grammar class, you're going to want to brush up.
TEFL Pros isn't the most hands-on, but one of the best teachers at our institute vouches for the quality of their curriculum. Their course is usually the cheapest. Plus, they've got a free trial so you don't need to drop money to see what this is all about!
Getting Your TEFL in Cambodia
Of course, there are advantages to getting your TEFL certificate in a classroom rather than online. The first is that you'll get practical, hands-on learning in a classroom that you won't get from your web browser. It's great for networking and making new friends as well.
There are a couple of reputable options for getting a TEFL certificate while in Cambodia. One option is to do an online course while in Cambodia. Alternatively, here are two schools that offer classroom-based TEFL courses:
Teaching Nomad, Phnom Penh – Teaching Nomad is one of the most recommended TEFL providers across Asia. You'll gain 20 hours of observed teaching practise over the four-week programme. This all-inclusive course includes your accommodation in Phnom Penh and a guaranteed job at the end of it earning $1,000 – $1,200 USD.
ITTT (International TEFL and TESOL Training), Ko Kong City or Siem Reap: This four-week course encompasses the theory of teaching English, observation, and practical teaching. You will also prepare your own teaching resources. Non-native speakers who are proficient in English are welcome. ITTT can add accommodation to your package, or you can source your own digs for the duration of the course. We love that you can choose between two cities to study in!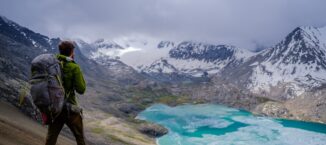 Do You Want to Travel FOREVER??
Then pop your email address in below and we'll send you a FREE copy of 'How to Travel the World on $10 a Day!'
Where to Teach English in Cambodia
All sounding good so far? Your next decision is exactly where you should teach in Cambodia. What we love about Cambodia is that it isn't too large a country. Wherever you decide to settle, you can easily explore other regions and cities at weekends using buses.
Teaching in Phnom Penh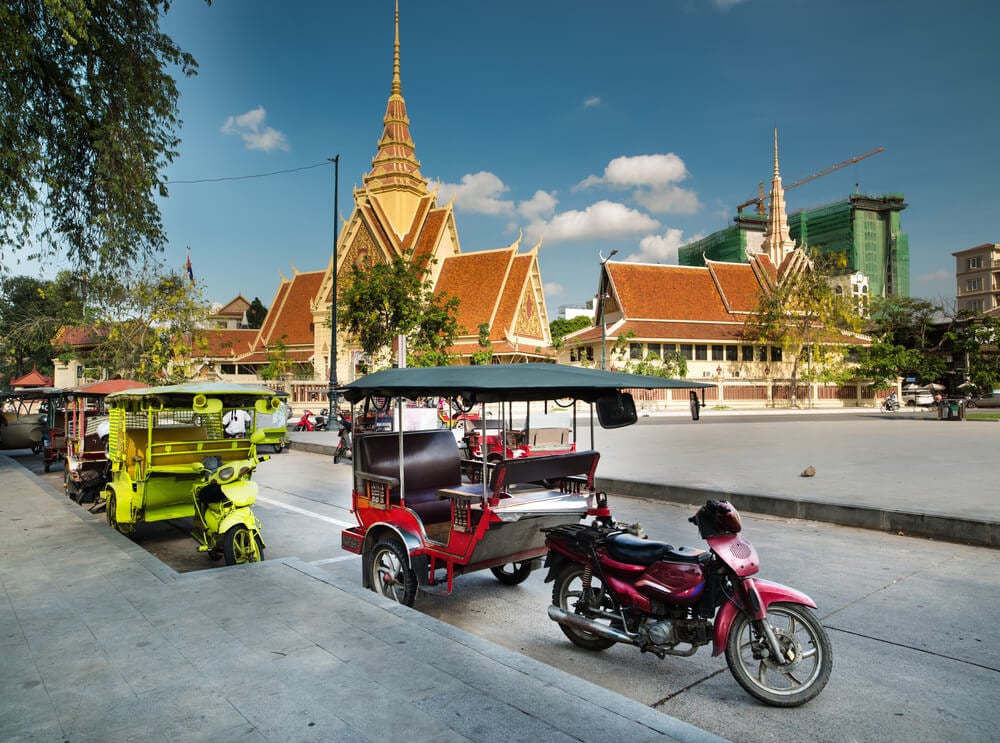 As the Khmer capital, Phnom Penh is a hotspot for jobs in Cambodia. 1.5 million of Cambodia's 16 million live in this bustling city. In Phnom Penh, you will find work teaching in a private school or an ESL academy. There are a number of international schools where you can chase higher salaries. You could even look at teaching business English to private clients.
Teaching in Siem Reap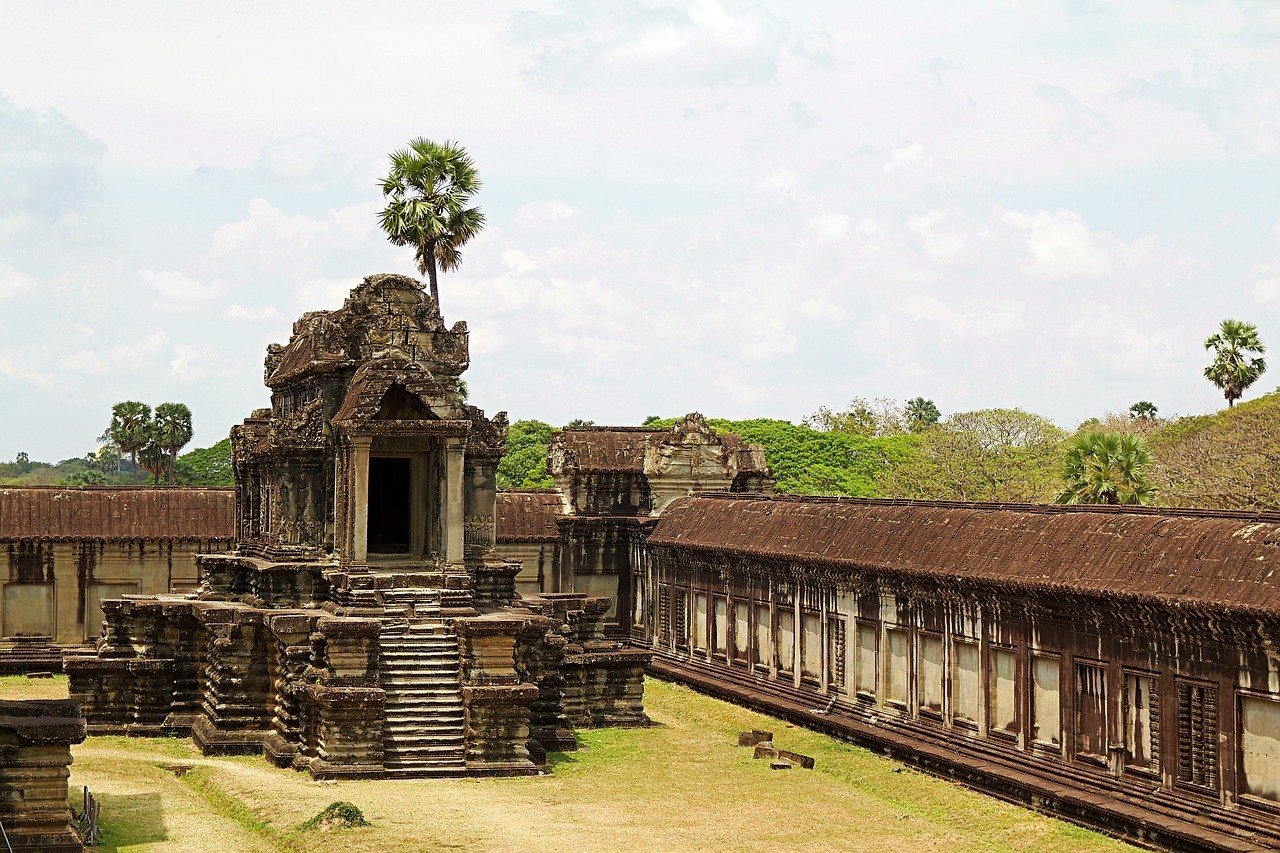 Siem Reap is a little boutique town which thrives off the tourism brought in by Angkor Wat. The 'City of Temples' is your second best bet for finding a plethora of job opportunities – again, mainly schools and ESL institutes. You've got 1,000 temples to discover on your days off, and the city is way more chill than Phnom Penh. However, you can expect the cost of living to be higher across all expenses.
Teaching in Sihanoukville
If you want a tropical home in Cambodia, Sihanoukville is a coastal resort town located in the south of the country. Much of the demand for teachers in Sihanoukville lies in teaching hospitality workers. You're more likely to find short-term or seasonal contracts in the region; however, there are fewer opportunities here as opposed to Phnom Penh and Siem Reap. If you'd rather teach adults than kids, check out openings in Sihanoukville.
Teaching in Rural Villages
If you want to get truly off the beaten track in Cambodia, break from the touristic and ex-pat hubs and head to the sticks. Paid work will be more challenging to find, but the villages are crying out for volunteer English teachers in local primary and secondary schools. This is an option for getting some experience before approaching private schools.
Living in Cambodia and Teaching Online
Your alternative option is teaching English online in Cambodia. You can actually do this from anywhere in the world, providing you have a good internet connection. The low cost of living in Cambodia means you'll have to work relatively fewer hours for clients in wealthy countries to make ends meet.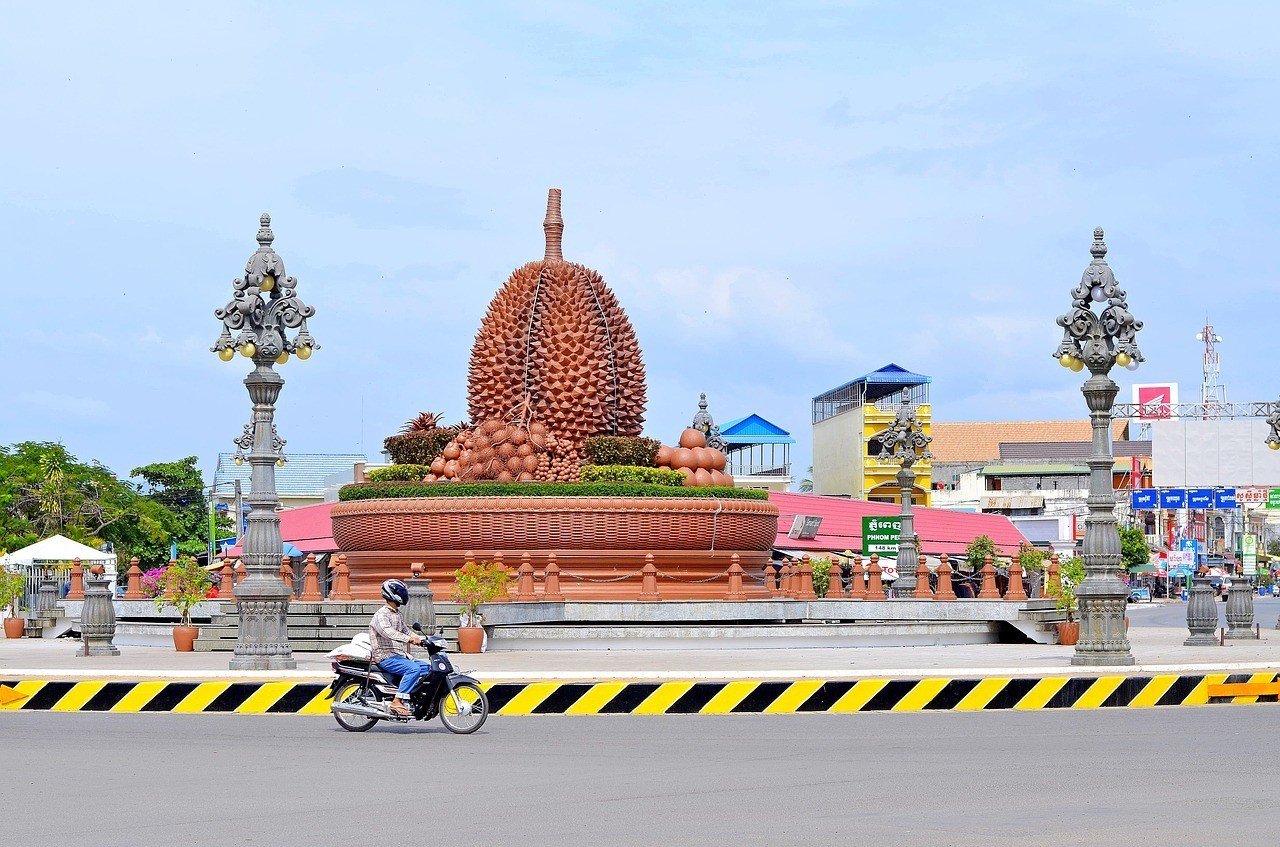 Cambodia's internet isn't as reliable as its neighbouring countries. In major cities, you should find an adequate connection, but don't expect too much from remote locations. You can do a few things to ensure success teaching online in Cambodia:
Get a Cambodian SIM card. If the wifi falters, your SIM card will have your back. Data is affordable in Cambodia. Metfone has the best overall coverage, while Cellcard and Smart have good service within cities.
Secure private clients. Losing signal during a class scheduled by the big online companies never goes down well. But if you build your own brand, your client is far likelier to forgive you and rebook when you've got full bars.
Adapt your working hours. Teach first thing in the morning or late at night when the servers are quieter and you have more bandwidth.
If you teach with a company like VipKid, you'll probably have a set schedule. Tutoring through marketplaces like iTalki and iTutor Group will pay less but allow more flexibility. Read more about online teaching platforms in our teaching ESL online article.
If you can source your own clients without being aligned to any of these platforms, you're onto something while living in Cambodia!
How to Find a Job in Cambodia
In terms of finding a job in Cambodia, you have two options – apply online or directly at a school once you're in the country. You can purchase your Ordinary Visa (Type E) at the airport without a work permit.
Apply for a Job in Cambodia in Person
Here are the ideal steps to take if you're going to get a job at an English institute or private school in Cambodia:
Decide which city you want to base yourself in. You might want to visit a few before committing.
Compile your CV, which should feature:

your full name
nationality
visa information
professional photo
English/educational background
teaching certifications
teaching experience (if applicable)

Dress smartly and visit schools you're interested in. You can do your research before you arrive in Cambodia and create a database of options. Present a copy of your CV and TEFL certificate to the administrators. If they have a position open, they'll tell you. If they don't, they're much more likely to reach out later on to an applicant who showed up in person!
When exploring your offers, ask specific questions about the terms.

Will they help you extend your Ordinary Visa?
Will they provide your work permit?
Does the school impose a minimum contract? 6 months? 12?
How many classroom hours are expected per week?
Are you expected to plan your own lessons? This can add significantly to your workload.
Will you be paid hourly? Most English teachers in Cambodia are.
Can the school help you find accommodation?
Can you talk to some current English teachers from the institute? Or past?
What benefits are available to you? Health insurance? Paid annual leave?
Apply Via Your TEFL School
If you study your TEFL while in Cambodia, the school should be able to help you find work upon completion. In fact, some institutions guarantee a job. Read the small print closely as some only guarantee an 'interview.'
Apply for a Job Online
Online job boards also advertise teaching positions in Cambodia and around the world. If you prefer, you could try and secure a job prior to arrival. Take note of any reviews available online of the school. Pay attention to communication during the process. Do you speak to only one member of the administration team? Do you feel like they are being vague about the terms? If you feel unclear or misguided, move on.
Most teachers who have worked in Cambodia say that it's easier to find work once you're in the country. Cambodian schools usually prefer to meet their candidates in person. It's worth researching in advance though; you'll get a sense of where the current demand is!
Living in Cambodia
Up next – what you can expect from living in Cambodia rather than merely passing through! For more details about things to do in Cambodia, check out our travel guide. For long-terming travelers, here's an essential guide to living in Cambodia.
Safety
Cambodia does have a shadier reputation in comparison to its neighbours. But on the whole, that's for petty crimes such as pickpocketing and property theft. Violent crime is uncommon, particularly against tourists and ex-pats.
You'll want to exercise caution when in large cities such as Phnom Penh and Sihanoukville, where theft is more common. Perpetrators are known to snatch bags from the backs of motorbikes or unsuspecting texters. Don't flaunt your phone or wave your cash around. In Phnom Penh, any tuk-tuk driver will instruct you to hold onto your bag securely.
To be honest, most areas that you will base yourself in while you teach English in Cambodia will feel as safe as your home country. Just read up on more thorough safety tips and listen to the recommendations of people around you.
Monthly Budget
This monthly budget assumes the lowest salary of $700 per month and will see you break even, with a little leftover. If you can find a job that pays $1,000+, you can choose to put some money aside or travel more.
| | |
| --- | --- |
| Flying to Cambodia from the US | $550 |
| Accommodation | $300 |
| Food | $150 |
| Transport | $50 |
| Entertainment | $100 |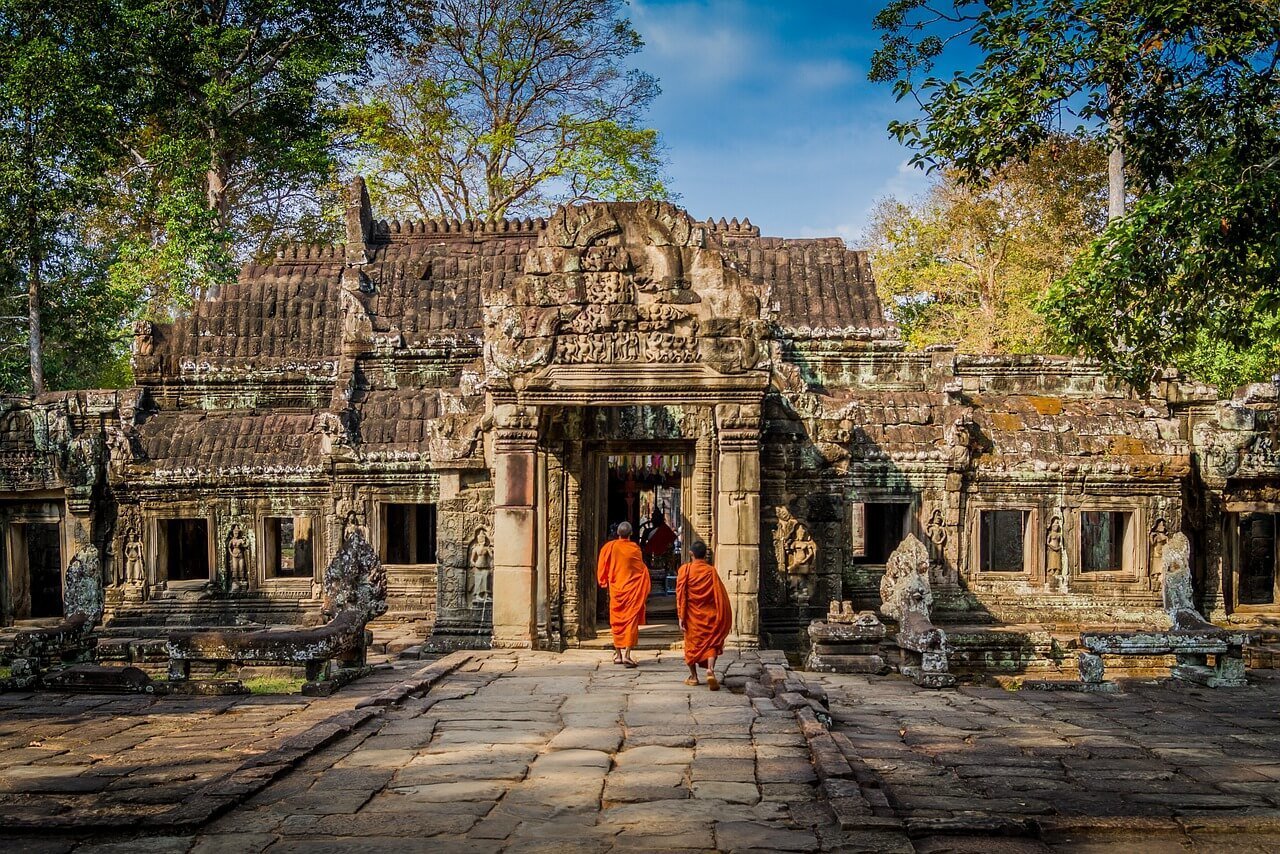 Money-Saving Tips
Exactly how can you stretch your humble salary while you're teaching English in Cambodia? Fortunately, living costs are low and can be made even lower! Let's chat about how to do this.
Accommodation in Cambodia will vary. On average, a nice apartment will set you back around $300 per month. If you're on a smaller budget, you can find accommodation that will be cheaper but less comfortable – i.e. no air-con. Rentals in Siem Reap are typically the most expensive.
Food culture in Cambodia straddles West and East. You can eat street food or surf food markets for around $1-$2 per meal. Cambodia actually has a heck of a lot of Western restaurants, where prices will start at $5. Choosing to shop at local markets instead of supermarkets will cut your grocery bills.
Transport can be remarkably cheap in Cambodia. Download the rideshare apps Grab and Pass App. These mean you never need to worry about haggling for a tuk-tuk again, and rates will be wallet-friendly! Alternatively, you can hire a motorbike for $50 – $70 for a month. If you are based in Siem Reap or Kampot, you'll be able to get around via bicycle or on foot. Cambodian cities are well connected by buses, which are cheap as chips.
Entertainment is the wild card, naturally. If you're in Sihanoukville or Siem Reap, your entertainment costs will likely be bloated. Throughout Cambodia, you can find massages for $5-$10, while a happy hour beer will cost a dollar. Tour prices will vary depending on what you want to see and do. A seven-day pass to Angkor Wat costs $72, while a tour of a national park might be a mere $10. To stretch your salary, ditch the tours – ride your motorbike or split a tuk-tuk with your new colleagues.
Speaking the Language
Cambodia's official language is Khmer, and it is spoken by 90% of the population.
More and more Cambodians speak English these days. You'll find that the older generations speak French, which until the '90s, was the dominant second language. There are a number of minority languages such as Cham, which you might hear on occasion.
If you are planning on calling Cambodia home for a few months, it would be polite to get your head around the basics. Your students and employers will appreciate any efforts made! However, you'll find that in the major cities and tourist areas, English is spoken to a standard. In most of the teaching destinations, you'll be able to get by without the local language, so don't fret too much if you struggle.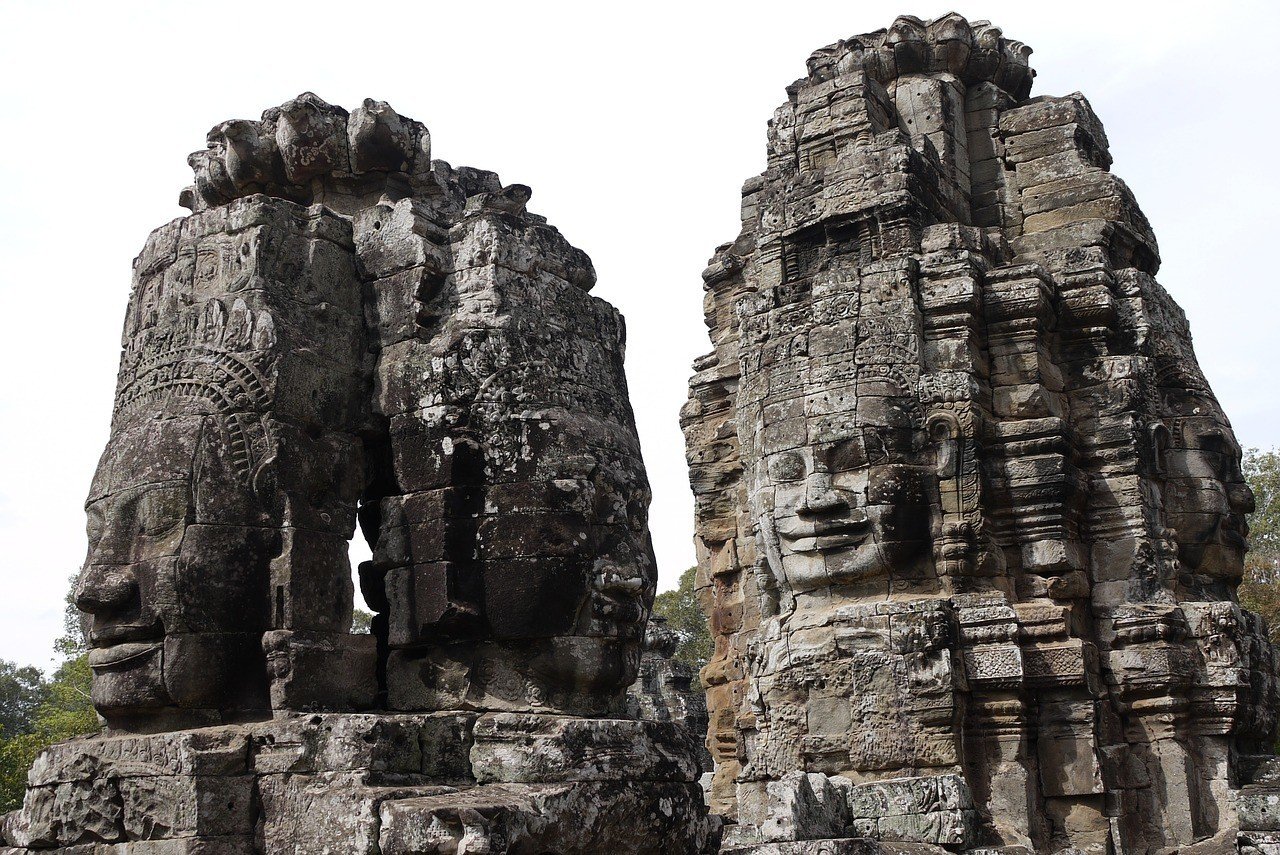 Final Thoughts on English Teaching in Cambodia
Cambodia is a fabulous place for English teachers who are looking to absorb this unique culture and captivating country! As we've explained, it's much more accessible than other destinations, so Cambodia is a good place to launch your nomadic career as an English teacher. Demand is high, so with the right attitude and credentials, you're likely to find work.
When you're not in the classroom, you have a wide variety of adventuring opportunities ahead of you. Strategically sandwiched between Thailand, Laos, and Vietnam, you can explore the finest sights in Asia!
And now you know all there is to know in order to teach English in Cambodia. Good luck!