Cambodia is firmly on the backpacking route through Southeast Asia, thanks in part to superlative attractions like Angkor Wat, Ko Rong, and the pink dolphins of the Mekong. It's also popular because most visits are trouble-free.
But theft is definitely an issue, and some nasty robberies do happen. So is Cambodia really safe? It's a genuine worry – we get it – especially if you're a first-time backpacker.
To help out, we've created this insider's guide full of information and tips on how to stay safe in Cambodia. You'll find everything you need to travel smart through this country – that's what we're about.
And when we say it's full of information, we really mean it. From the safety of the food on offer in Cambodia, all the way to how good (or not) Cambodia's healthcare system is – and just about everything in between – there's not much our epic guide isn't going into.
You may be going on your first adventure as a solo female and wondering if Cambodia is safe for you, or you may simply be wondering, "can I take my kids to Cambodia?"
Whatever it is, don't worry. Here at The Broke Backpacker, we've got you covered.
How Safe is Cambodia? (Our take)
Cambodia is definitely a firm favourite on the Southeast Asia backpacking route. Ancient temples, tropical islands, a ton of (not always so nice) history to soak up… It's an interesting destination.
But Cambodia doesn't exactly conjure up images of safety. It's been called the Wild West of Southeast Asia for many reasons:
Stories abound of assaults and robberies involving backpackers in Sihanoukville. 
Phnom Penh can be ropey at times.
Travelling at night on the roads certainly isn't advised.
And let's not forget the legacy left by the Khmer Rouge – A LOT of landmines remain…
But there's a whole wealth of things to see and do in Cambodia. From the laid-back, go with the flow vibes in Kampot to the lively Pub Street in Siem Reap, you're bound to find something to suit you.
While Cambodia certainly has a hectic reputation, it's not all carnage. In actuality, most of Cambodia is quite safe and, honestly, we think that places like Angkor Wat make it totally worth visiting still.
There is no such thing as a perfect safety guide, and this article is no different. The question of "Is Cambodia Safe?" will ALWAYS have a different answer depending on the parties involved. But this article is written for savvy travellers from the perspective of savvy travellers.
The information present in this safety guide was accurate at the time of writing, however, the world is a changeable place, now more than ever. Between the pandemic, ever-worsening cultural division, and a click-hungry media, it can be hard to maintain what is truth and what is sensationalism.
Here, you will find safety knowledge and advice for travelling Cambodia. It won't be down to the wire cutting edge info on the most current events, but it is layered in the expertise of veteran travellers. If you use our guide, do your own research, and practise common sense, you will have a safe trip to Cambodia.
If you see any outdated information in this guide, we would really appreciate it if you could reach out in the comments below. We strive to provide the most relevant travel information on the web and always appreciate input from our readers (nicely, please!). Otherwise, thanks for your ear and stay safe!
It's a wild world out there. But it's pretty damn special too. 🙂
Is Cambodia Safe to Visit Right Now?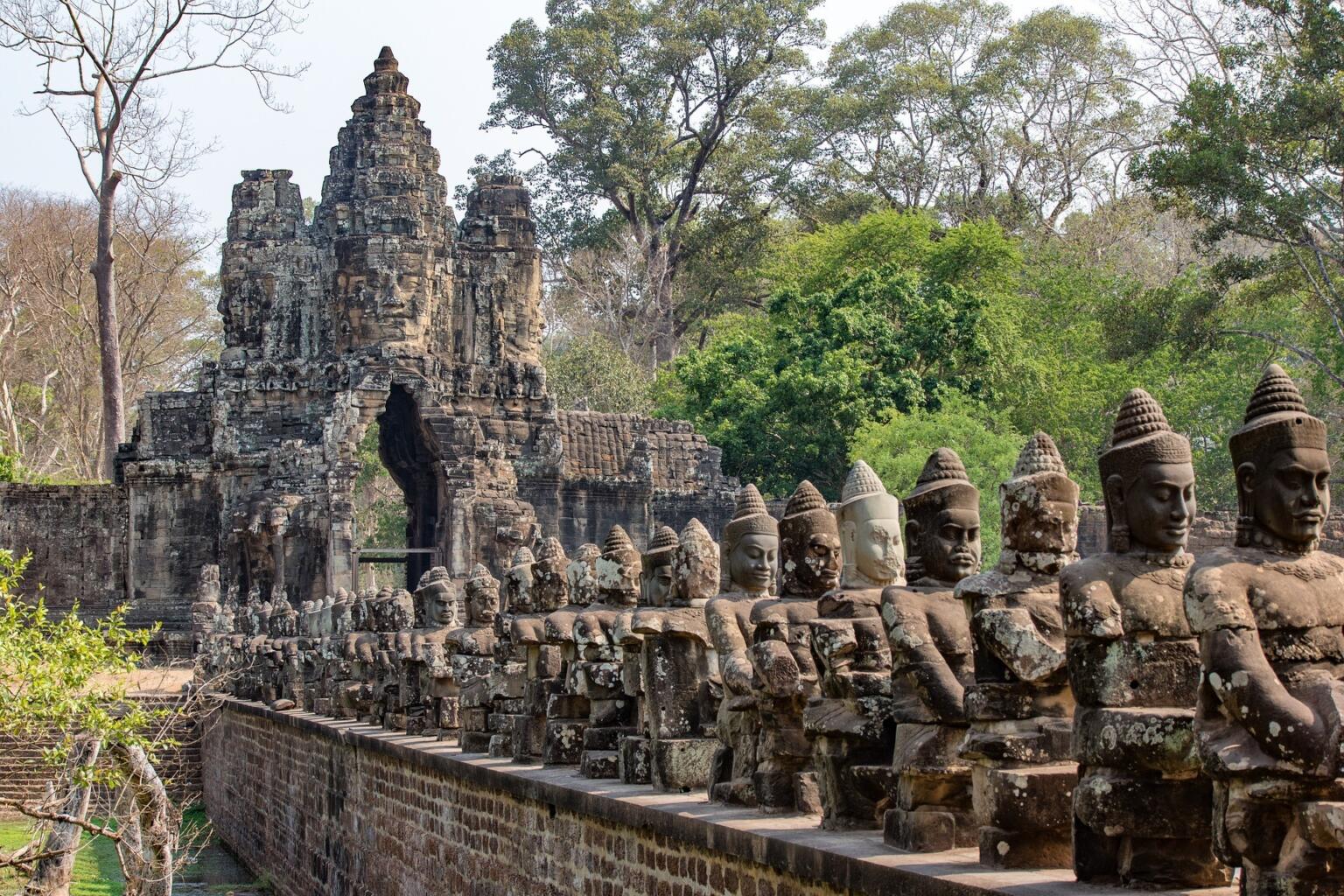 Cambodia is absolutely safe to visit right now, mostly due to the increased emphasis on tourism. The Cambodian economy is strongly reliant on visiting foreigners, who pour millions into the country.
Unfortunately, many people live close to or below the poverty rate, which can be very clear to see as you travel around Cambodia. Corporate and governmental corruption doesn't help this situation either.
Instances of petty crime do exist as well. Pickpocketing and snatching bags do happen.
More serious violent crime tends to grab headlines but doesn't make up the common experience of travellers in Cambodia at all. In fact, a lot of victims of violent crime are Cambodians themselves.
Politically, Cambodia is pretty much stable. This is down to a tough government stance on opposition parties and "illegal" protests. The most recent election passed without too much trouble and currently, there's nothing to worry about. 
When you visit Cambodia plays also into how safe it's going to be for you, too. The Mekong River can flood in the rainy season (June-October). Landslides aren't uncommon and poor drainage, even in the capital Phnom Penh, leads to pretty severe flooding during a storm.
Landmines and unexploded ordnance are always an imminent threat. Many haven't been cleared even to this day. So no wandering off the beaten track, unfortunately…
With all of this in mind, it's still very safe for tourists to visit Cambodia right now. Most visits don't see any trouble, and you'll be perfectly fine as well if you're cautious and use your travel common sense.
Safest Places in Cambodia
When choosing where you'll be staying in Cambodia, a bit of research and caution are essential. You don't want to end up in a sketchy area and ruin your trip. To help you out, we've listed the safest areas to visit in Cambodia below.
Koh Rong
Koh Rong is an island in the south of Cambodia, off the coast of the Sihanoukville area. It's actually the second largest island in all of Cambodia. This beautiful island is known for its bewitching coral reefs and for plentiful wildlife peeking out through the branches in the dense jungle terrain.
As the best city to stay in Cambodia when on a romantic getaway, Koh Rong is where unforgettable memories are made. You can party at Police Beach or go zip lining at the High Point Rope Park.
Very romantic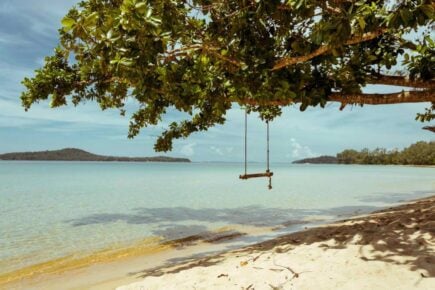 Very romantic
Koh Rong
From waterfalls, endless white-sand beaches, beautiful nature, and some of the friendliest locals, Koh Rong is the ultimate getaway in Cambodia. You'll make some unforgettable memories here, that's for sure!
Kampot
Kampot is one of the most unique cities in Cambodia, and it's also one of my best destinations in Southeast Asia in its entirety. It's a darling town, quite small in size, that offers guests incredible nature-based experiences. So much of Kampot feels untouched. It's a blissful place to stay.
Located in the south of Cambodia on the Preaek Tuek Chou River, Kampot is home to world-renowned pepper plantations and salt fields. Touring the La Plantation pepper farm is mind-blowing! You'll get to see and sample different kinds of peppers—think table salt and pepper kind of pepper— plus you'll get to see lots of tropical fruit grow too, from passion fruits to pineapples.
Super Unique
Super Unique
Kampot
Kampot isn't just an incredible place to visit, it's also the ideal spot if you're travelling on a budget. It isn't a large, bustling, tourist-trap of a city, so you'll have some chill moment, but could also opt for adventure and sightseeing.
Kep
Kep is a small seaside town in the south of Cambodia, and is the sister city to Kampot. They're just over 20 miles apart, and it takes about 45 minutes to get there by scooter.
Kep, also called Krong Kep or Krong Kaeb, is the best place to stay in Cambodia if you're looking to be a beach bum. Kep's long stretch of white sandy beachfront is starting to hit its tourism boom. It's sleepy, however, and not a place for party-goers, as the entire town of Kep feels a little drowsy.
If you're in the mood to get off the beach for a while, Kep also has a beautiful national park that has well-marked hiking trails. Also, there is a butterfly farm, called the Kep Butterfly Farm, that's just a short walk off the trails at the national park.
Beach Paradise
Beach Paradise
Kep
As one of the (still) hidden gems of Cambodia, Kep attracts travellers that value a quiet and peaceful atmosphere, breathtaking white-sand beaches and pretty much no nightlife action – it's the ultimate chill getaway!
Places to avoid in Cambodia
In order to have a safe visit, it's important to know the areas in Cambodia that aren't super safe. Keep in mind that no matter where you are, you will have to watch out for pickpocketing and petty theft. To help you out a bit, we've listed the places you should avoid below: 
Cambodia-Thailand border – there IS a dispute over sovereignty and it can be very tense
Sihanoukville, Siem Reap and Phnom Penh – if possible, completely avoid it at night!
Remote areas like Battambang, Banteay Meanchey, Pursat, Siem Reap, Pailin, and Kampong Thom – that's where most hidden landmines can be found
It's important to know that all of the places we've just listed CAN be visited, but we'd recommend doing this during the day and taking some extra caution. As long as you do your research and use your common sense while exploring, you'll be perfectly fine. Not walking into areas that look dodgy, avoiding small side streets and keeping on the main road is pretty much a no-brainer.
Cambodia Travel Insurance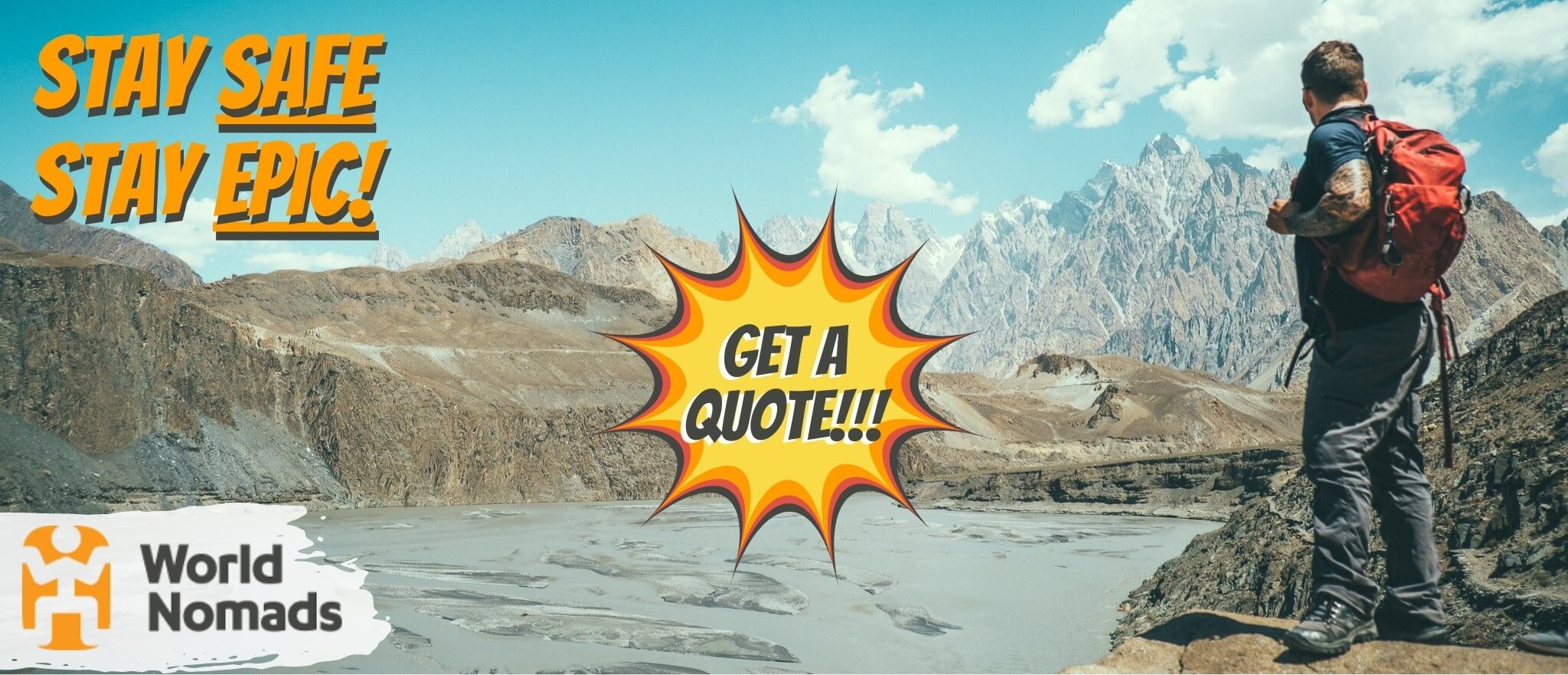 It's good to get lost sometimes, but it's also good not to get too lost. There are people that want you home in one piece.
There's one travel insurance provider The Broke Backpacker trusts for all his wildest shenanigans… World Nomads!
Click the button below to get a quote on your insurance or read our in-depth review of World Nomads' coverage. And then… let the shenanigans begin. 😉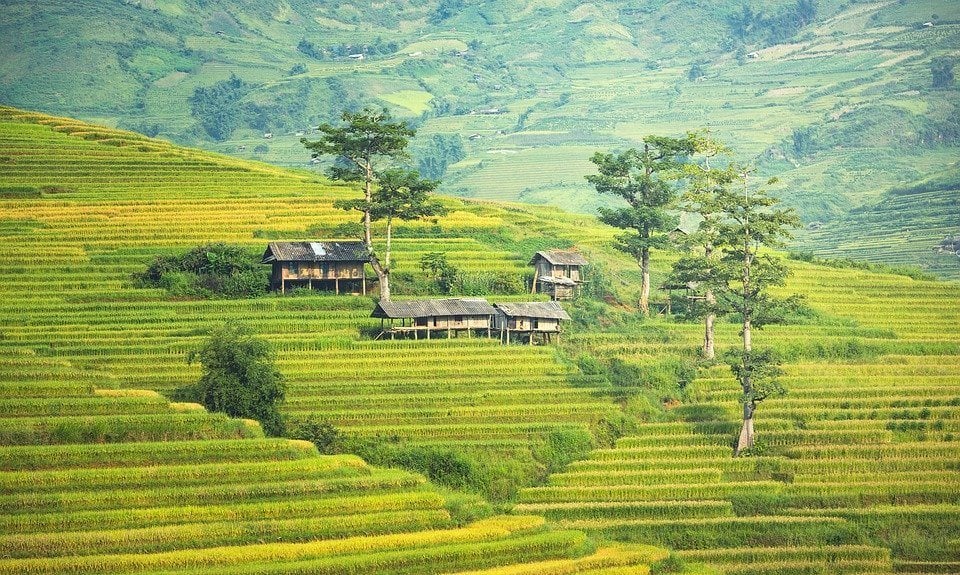 Cambodia isn't super dangerous, but it's also not the safest place in the world. Tourists can be seen as easy targets because they're (always) comparatively rich. Even backpackers can seem like kings.
However, that doesn't mean you can't travel around Cambodia safely – not at all. To make sure you stay safe, we've got a few travel tips for Cambodia to help you on your way.
Keep belongings close to you in tourist areas – this is where petty theft is likely to occur. Motorbike thieves exist also, so be aware.
Don't walk around looking like a tourist – designer clothes, SLRs, wearing expensive jewellery all screams "I'M RICH". An advert for thieves.
Be careful of pickpockets – especially walking around crowded streets and tourist areas. Consider investing in at travel money belt for the ultimate protection.
Dress appropriately – it's not ultra-conservative at all, but in temples, you need to be covering your shoulders and knees.
Be vigilant in the run-up to festivals – robberies increase as people get desperate for money. Take care.
Walking around with a smartphone isn't advised – you'll probably be ok, but still… Smartphones are expensive.
Watch out for overfriendly strangers – Cambodians are friendly. But if something seems weird, and the friendliness is too much, then they may not have the best intentions. Scams DO happen.
Be careful of drugs – cannabis may be easy to get hold of, but yaba is a different story. A horrible drug to get involved with.
On the subject… – drugs mean you'll have to deal with sketchy individuals and the police will ask for bribes if they catch you. You may even get set up.
Kids of the Cambodian elite carry a lot of sway – and some carry guns. If you're out at night, don't get into any scuffles.
Be wary of other travellers and expats – the lawless reputation of Cambodia attracts some shady characters. Be careful who you get involved with.
Keep all important things WITH you on a bus – this is the best way to prevent ANYONE getting to 'em.
Children will come up to you – it's your choice if you give them money, but there are loads of NGOs that you could help out instead. It's a good idea to read up on the impacts of tourists enabling beggars.
Don't lose your temper – causing a scene in Cambodia is likely to CAUSE A SCENE. Don't let a situation get heated.
Careful where you take photos – military installations, airports=not ok. It's also important to ask before you take pictures of ANYBODY.
Walking alone at night in rural areas isn't advised – increased risk of robbery.
Fake monks – they'll get you to pay money if you wander into a temple on the outskirts of Angkor Wat. Don't bother.
Protect against mosquitoes – cover up, use repellent, burn coils. Not nice to get bitten.
Watch out for dangerous wildlife – snakes are definitely present. When walking around rural areas keep your eyes peeled.
Cambodia is an awesome place. That said, you should be travelling safe and smart anyway. Watching out what's going on with your surroundings and not getting yourself into silly situations is going to help you travel Cambodia safely.
Insider Safety Tips from the Broke Backpacker Team
Travel SAFE and Make a Difference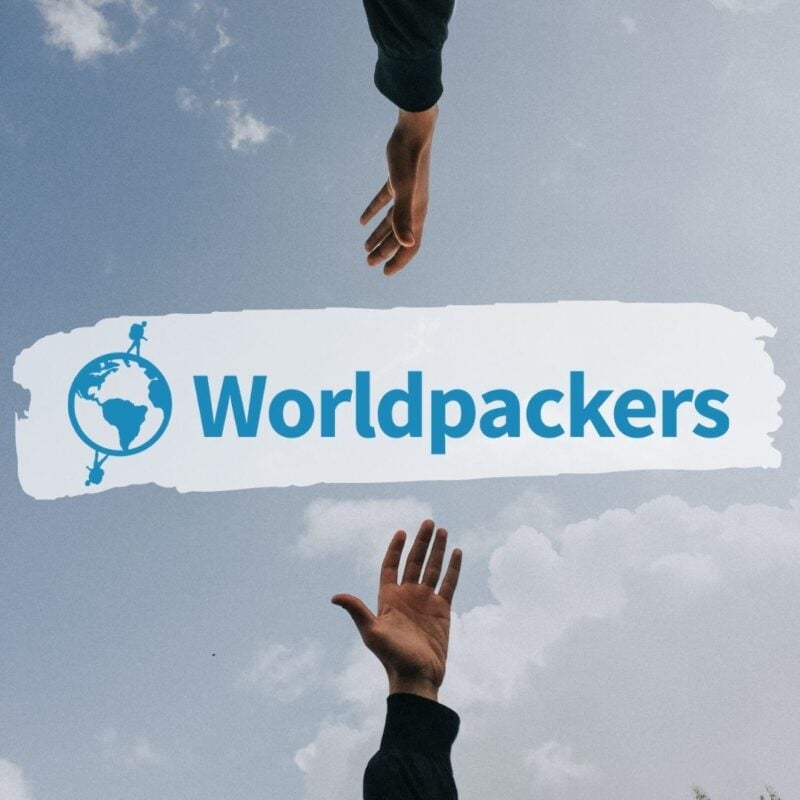 Worldpackers connects travellers with hostels, schools, NGO's and many more for work exchange opportunities. Chat with your host before you arrive to have a soft landing and then experience your destination differently! Local connections make your trip a lot safer – and open up a whole new culture experience.
Worldpackers trips are insured! They'll help you find a new host and cover up to 7 nights in a hostel so you're not left on your own if a host falls through.
Use the discount code BROKEBACKPACKER for a $10 discount. Plus, get 3 free months on your membership during their summer promo!
TRAVEL BETTER NOW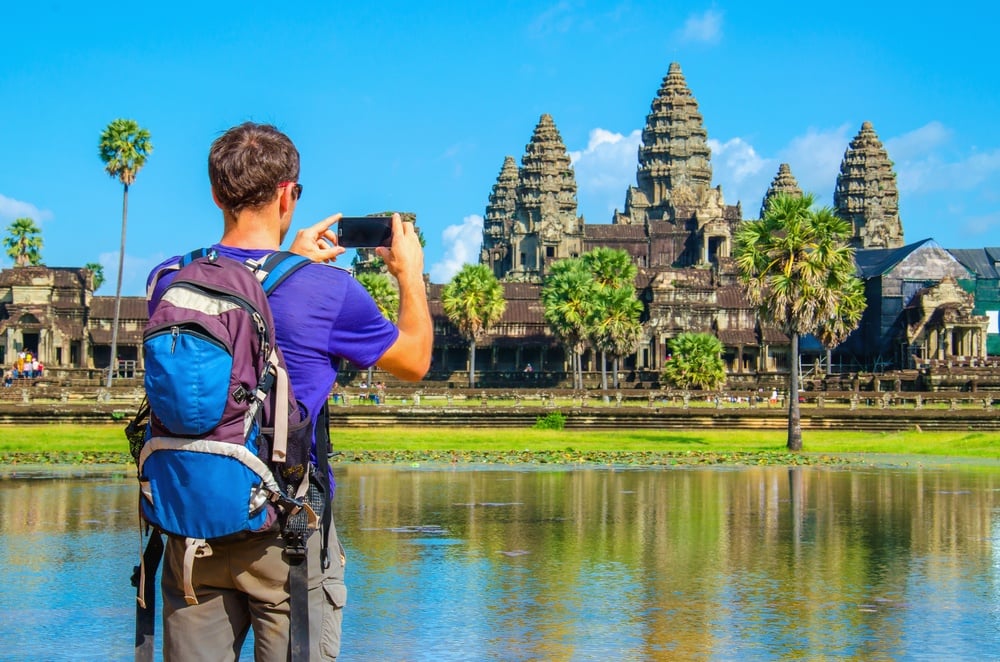 If you're thinking about solo travel in Cambodia and you've never done it before, well all we can say is you're in for a treat. There are plenty of reasons why solo travel is pretty much amazing. Mainly: It's YOUR trip and YOUR trip only!
BUT it is a challenge, of course, and there are always things to keep in mind when you're solo travelling anywhere in the world. So even though travelling alone to Cambodia is relatively safe, here are a couple of notes to keep in mind when you're out there.
We'd recommend staying in awesome hostels in Cambodia where you can meet other backpackers. It's not only cool to meet people who are doing the same thing as you, but it's also a good way to beat the solo travelling blues (it CAN get lonely sometimes).
When you're looking for a social hostel, make sure you find one with good reviews. You'll be amazed at the prices in Cambodia, but don't automatically go looking for the cheapest accommodation possible. 
Knowing a few new people is always great for sharing tours. This is handy, for example, when you want to see Angkor Wat or do a day tour of Phnom Penh or something.
Don't go getting crazy drunk, even on Pub Street. Things can be more sketchy at night too, which is when you'll be walking home.
Be careful at the beach after dark. Beaches are secluded areas and robberies, especially in Sihanoukville, have been reported.
And whilst we're on the subject, don't drink and swim. It's stupid.
We'd recommend leaving your stuff in your guesthouse. Don't take your valuables with you when you go out for the day. Leave it locked up in the safe if there is one.
Get yourself a data sim to travel with. This is a good way to keep in touch with people you meet on your trip. It's also a good way to let your parents and your friends back home know you're still safe.
Speaking of which, get yourself Maps.me. Google Maps may work offline, but not always. Maps.me is a reliable, offline maps app that'll help you pinpoint where you are in case you find yourself lost in the city.
Learn some Khmer. It's not the easiest language, but it's not tonal. Simple phrases will go a long way in impressing locals and building up relationships.
Don't get temple burnout! Also known as "temple blindness" or "temple boredom". There is a whole load of temples to see in Cambodia, so we'd recommend doing research on the best, most fascinating, historically relevant temples or the ones that will interest you the most. 
At the end of the day, YOU are the only one looking out for yourself. So being responsible and keeping your wits about you is going to go a long way.
Travel with peace of mind. Travel WITH a security belt.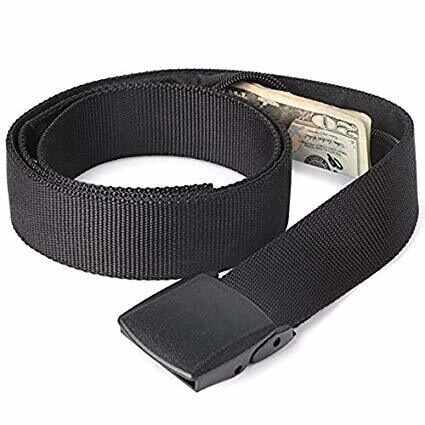 Get your cash stashed with this awesome Pacsafe money belt. It will keep your valuables safe no matter where you go.
It looks exactly like a normal belt except for a SECRET interior pocket perfectly designed to hide a wad of cash or a passport copy. Never get caught with your pants down again! (Unless you want to.)
Hide Yo' Money!
Is Cambodia safe for solo female travelers?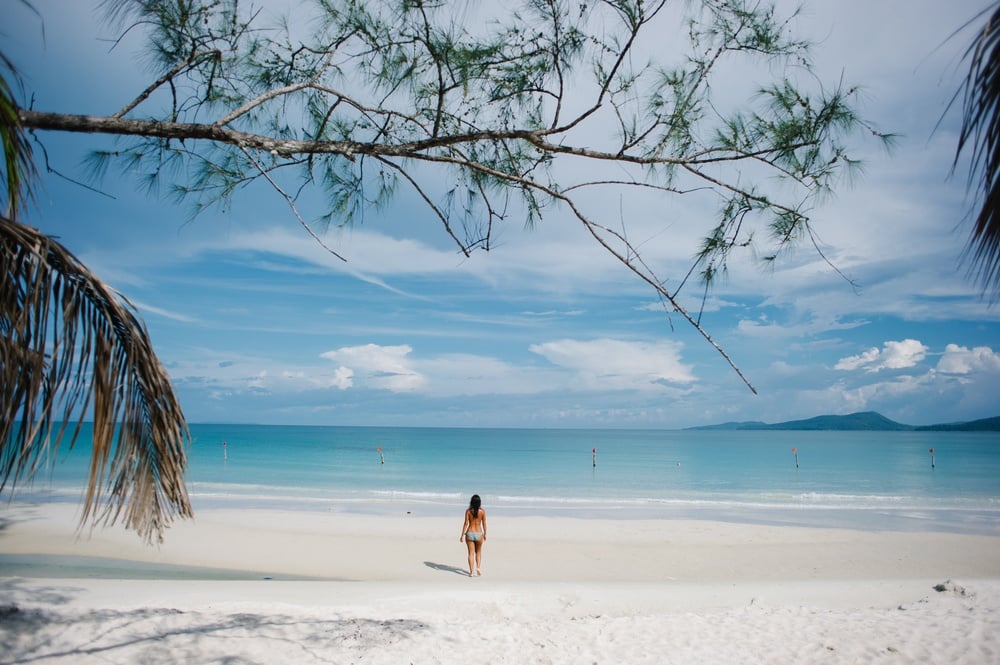 There's solo travel, then there's solo female travel. And unfortunately, being a woman makes the world a whole lot more unsafe. However, we're happy to say that Cambodia is a GREAT place for a solo female traveller.
With its laid-back, easygoing atmosphere, we'd even go as far as to say it's a good destination for a first-timer.
The sad thing is, as a woman you're often more at risk, no matter where you are. So travelling smart around Cambodia is going to make it a lot less stressful. Just to be sure, here are a few ways you can maximize your experiences as a solo female traveller in Cambodia.
Make friends with other female travellers, especially if it's your first time solo travelling. Not only do you get to meet some nice, like-minded people, but you'll also get some extra backpacking tips.
And the best way to get chatting with fellow travellers is by staying in a well-reviewed hostel. With a female-only dorm, if you want.
Cambodia's a pretty conservative country so covering up is respectful.  This is important mainly at temples, but wearing clothes that consistently cover your knees and shoulders just feels a lot more fitting. Look at what the local women are wearing – especially in more remote areas.
Don't touch monks! No, seriously. They're not allowed contact with women and they'll have to go through all sorts of rituals if you touch them.
If you're wandering around at night it's relatively safe BUT stick to busy, well-lit areas. Would you wander down quiet, dark backstreets at home?
Be extra vigilant if you're travelling alone at night by motorbike or bicycle.
Drink spiking has been on the rise lately so be careful. Only drink the drinks you buy for yourself.
BE CAUTIOUS in beach areas of Sihanoukville. This town has become a lot shadier in recent years and beaches at night time here are not the place to be by yourself.
Use your common sense. If a situation is getting weird, if someone seems sketchy, remove yourself or don't get involved at all. Find somewhere busy.
You may be seen as an easy target for bag snatchers, so keep things like that close to you. This has been reported as happening as women are riding in a tuk-tuk, so be extra careful in that sort of situation.
Regardless if you're a solo man or woman travelling in Cambodia, there are always risks. As a woman, you might have to be more cautious, even of other travellers.
Luckily, the lack of macho culture in Cambodia is a positive note for lone female travellers. This in addition to several other factors, makes Cambodia safe for solo female travellers on the whole.
DON'T DIE OUT THERE! …Please 🙂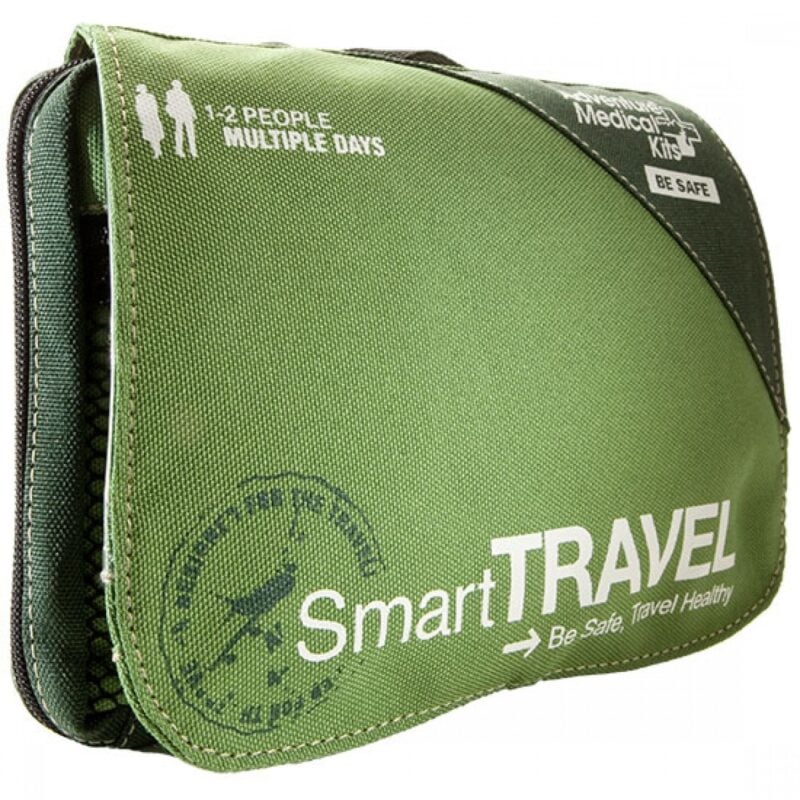 Things go wrong on the road ALL THE TIME. Be prepared for what life throws at you.
Buy an AMK Travel Medical Kit before you head out on your next adventure – don't be daft!
Buy on REI
More on Safety in Cambodia  
We've covered the main safety concerns already, but there are a few more things to know. Read on for more detailed information on how to have a safe trip to Cambodia.
Is Cambodia safe to travel for families?
Cambodia is a great place to take your children!
There are ancient temples here that your kids will freak out about. They're like something straight out of a film or a videogame. Sometimes they actually are from fiction!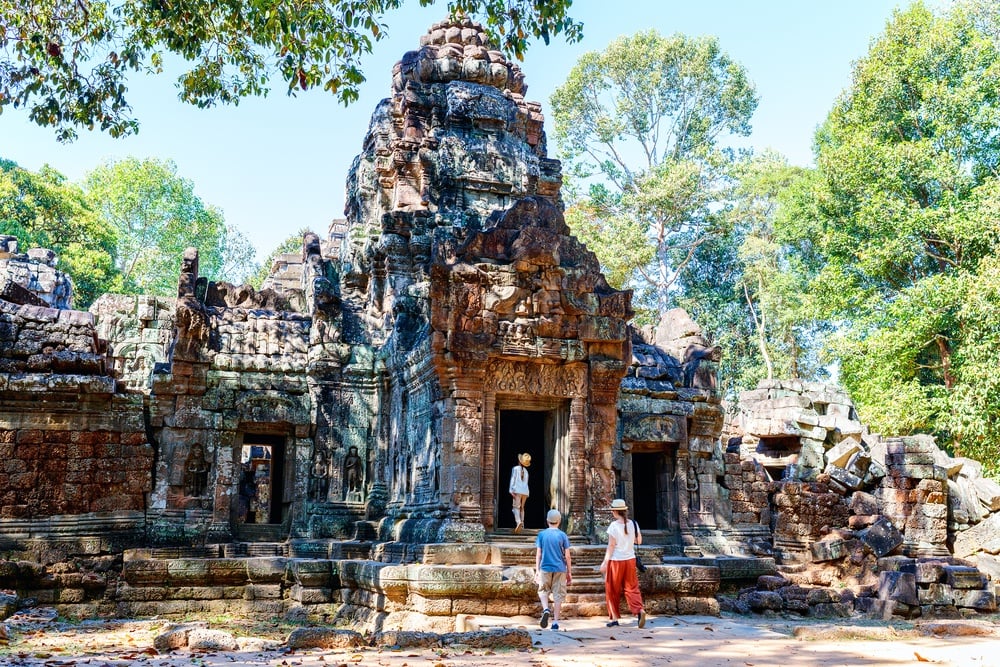 And sights aside, Khmer people are very friendly, especially to children. This will make a big difference and will make it pretty easy for your kids to find local playmates.
But obviously, there are some things you need to bear in mind:
One of these is long journeys on unreliable buses. Safety often isn't the priority on a bus; driving fast and not putting on the air-con is the norm.
Cambodia can get HOT. Make sure everyone stays hydrated and keeps out of the sun. Bring plenty of reusable water bottles.
Animal hazards include sandflies on the beaches (these can be BRUTAL) as well as snakes. Very dangerous.
It's also not always the cleanest of places, the infrastructure is sometimes lacking, and the healthcare isn't amazing…
So whilst Cambodia is safe to travel for children, it's better if you're an adventurous family.
Is it safe to drive in Cambodia?
No – we wouldn't call driving "safe" in Cambodia.
Why? Road accidents are the leading cause of death in Cambodia.
You may be tempted to hire your own car to avoid those sometimes very pirate-like minibuses, but it's really not worth it.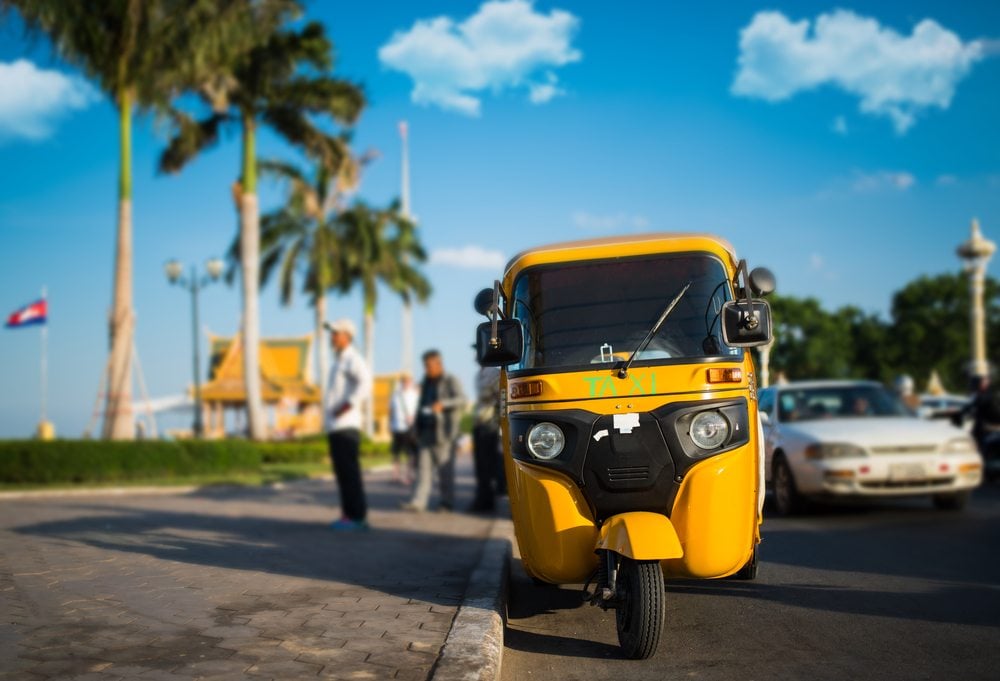 Let's go through a few of the hazards though.
The roads themselves are pretty atrocious. They're often not sealed and there are a ton of things to watch out for.
Cambodian drivers are pretty crazy. You can never be sure what they're going to do next…
If you DO want to hire your own motorcycle, just be sure you stick to a well-known part of the country and limit your drive times.
Motorbike theft does occur. Sihanoukville is a hotspot for this (amongst other crimes).
But when it boils down to it, we wouldn't recommend driving in Cambodia. And driving at night? No way.
Riding a motorbike in Cambodia
Is riding a bike in Cambodia safe? The simple answer is no.
Cambodia's roads are more than chaotic. There is a flow to the traffic, however, the general rule is if you got the bigger vehicle, you can go first.
If you've never been on a motorbike before, Cambodia is definitely not the right place to start. 
In case you're an experienced driver, and you're willing to take the risk of crashing, there are a couple of places you cant rent a bike from.
If you're looking for a normal scooter, you can rent them in Phnom Penh and other provincial capitals. Don't try to get your hands on a bike in Siem Reap, since it's technically still illegal to rent there.
Is Uber safe in Cambodia?
As of Spring 2018, Uber is DONE in Cambodia.
Southeast Asian rival Grab has moved in. Hail a taxi via the app, pay in-app (or cash – your choice), know the car you're getting into, the driver's name, rides are tracked. Follow the usual conducts of rideshares and you'll be safe.
They're not exactly the cheapest mode of transport though.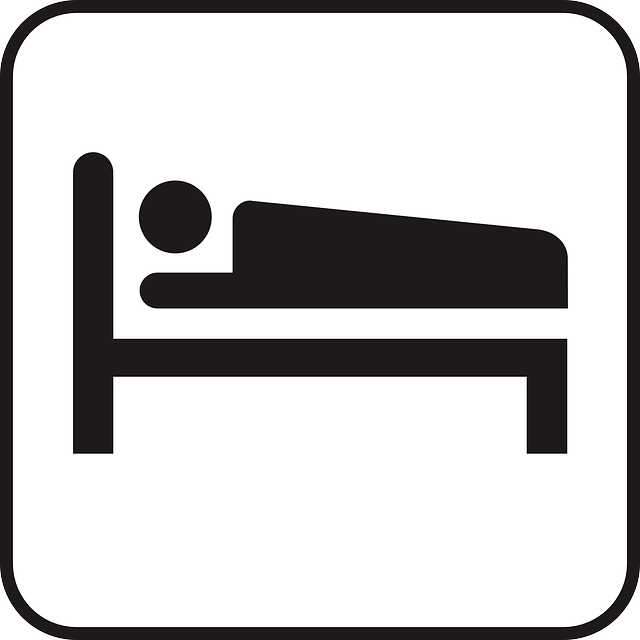 Sleep safe! Choose your hotel, hostel or Airbnb ahead of time so you're not last-minute booking a less-secure place.
You'll find our favorite accommodation sorted by neighborhood in the following guides:
Are taxis safe in Cambodia?
To be honest, taxis aren't very popular in Cambodia. There just aren't many around, at all!
You may find them around the airport, and there are a handful of metered operators in Phnom Penh. The cars are all red, all blue, white-red-and-blue, white with a blue stripe, any color combination really that resembles the flag. If you're worried, arrange transport with your hotel. 
Honestly, taxis are barely a thing in Cambodia. Really, in Cambodia, it's all about tuk-tuks. They are used all across the country and are safe.
You'll be hassled in pretty much every town with "tuk-tuk?" as you pass an idling driver. They're usually friendly enough and will leave you alone the instant you decline.
But if you do get a tuk-tuk off the street haggle the price before you get in.
The best way to get a tuk-tuk driver is through your hotel/guesthouse. These will be reliable drivers trusted by your accommodation and are often really friendly.
Is public transportation in Cambodia safe?
Honestly, there isn't much public transport in Cambodia. The stuff that does exist is mainly safe though.
Booking transport through wherever you're staying is the usual way to get around. More often than not this comes in the form of a minibus.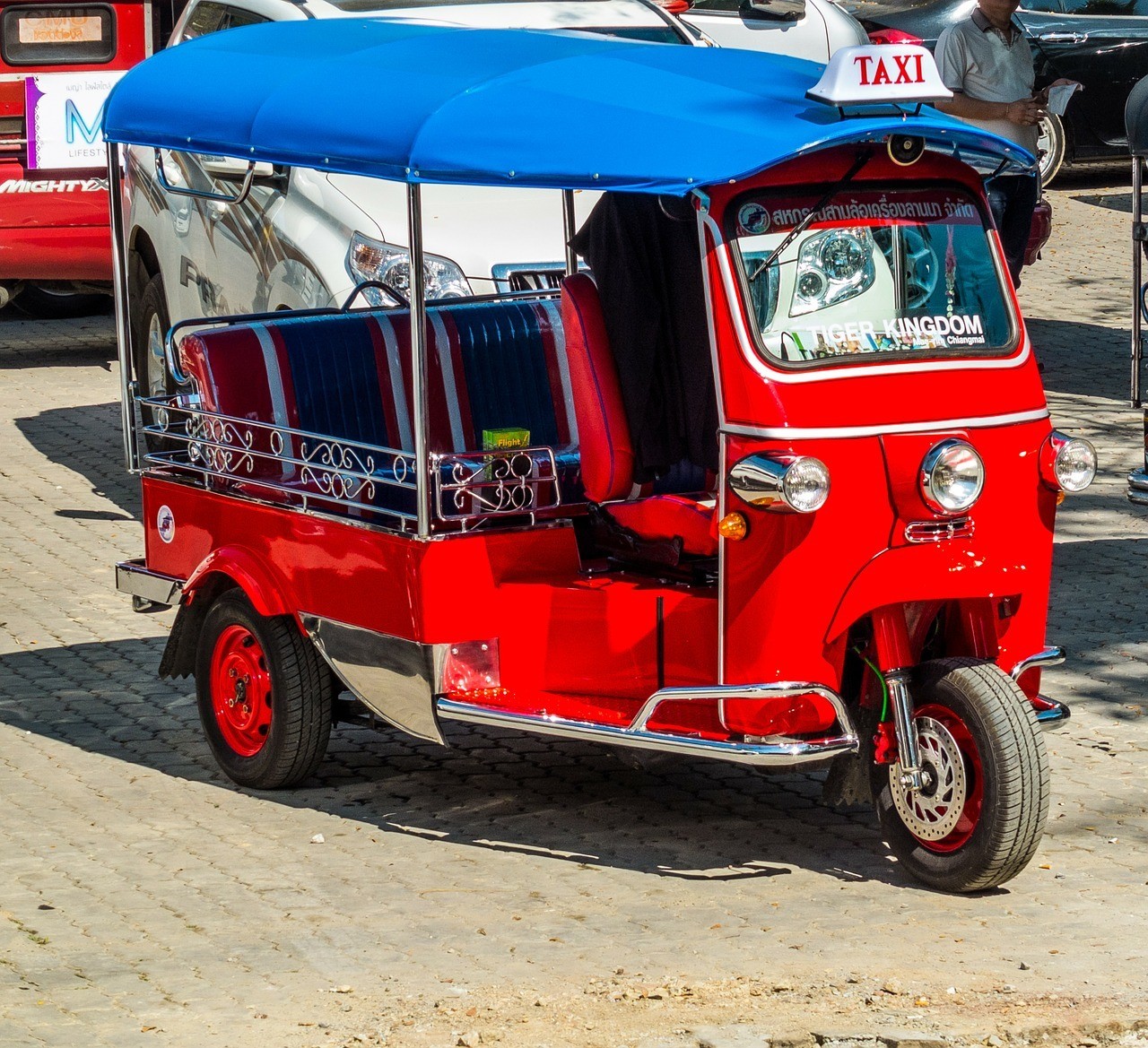 The minibuses drive fast and recklessly and aren't always in the best condition either.
That said, large air-conned buses do exist and these travel between large cities – the route between Phnom Penh and Siem Reap for instance. This is about as public as it gets. 
There's also a train called Royal Railways, which reopened in 2016. It's mainly for tourists and seldom runs. It's fun if you like trains, and they're planning to expand the lines, and it's definitely safe, but again – not what we'd call public.
Use Bookaway to find the best deals on transport – buses, planes, trains, and ferries. It'll save you a load of time when organising transport and you'll probably nab an EPIC DISCOUNT too!
Book your transport on Bookaway NOW. Get the best price for the best ride… then use those savings to buy the best feed in town!
Book Your Transport Here!
Is the food in Cambodia safe?
We're not going to lie: Cambodia isn't exactly famed for its food. Most people probably wouldn't be able to even name a Khmer dish. Let us be the first tell you – it's pretty tasty. There are curries to enjoy here, milder and richer than their Thai counterparts, amongst other things.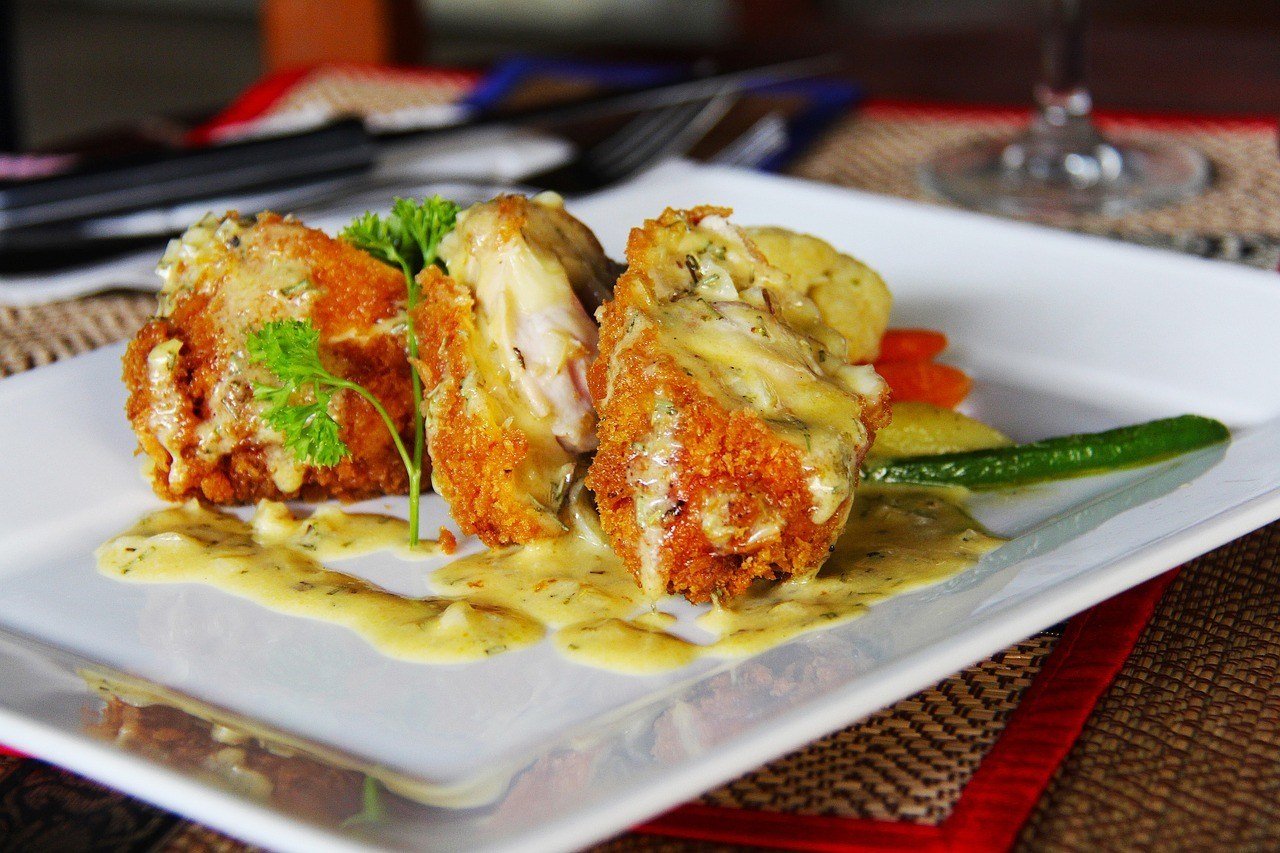 Vegetarians will love Cambodia as there's a lot of veggie food on offer. Find yourself a local market to walk around and you'll see the quality of ingredients on offer.
Refer to the following tips to help you avoid illness while on a gourmet tour of Cambodia.
If you're going to eat a Cambodian happy pizza, don't underestimate it. We can confirm that these definitely work. They can take a while to kick in, but when they do… Boy. Be careful.
Salads that are unwashed, vegetables and fruit you can't peel; avoid this stuff. This could make you ill.
If you're worried, go somewhere that looks busy. Usually, this means that it's going to a) be pretty tasty and b) not make you feel sick straight after you've eaten.
That said, don't just find somewhere and stick to it. Spread your attention around, do a bit of research, get on Google, TripAdvisor read some blogs.
Similarly, if you're a vegetarian – go online. There are plenty of vegetarian restaurants, mainly in the cities, that offer dishes ranging from traditional Khmer vegetarian food to more Westernized bean burgers.
Take snacks for long bus journeys. We assure you, the journeys are long and the snackage on offer when the vendors come on is… questionable.
However, make sure you check the sell-by date on said goodies. Even the imitation Oreos might have sat on the shelves for quite some time.
Feeling like some world-class street food? Awesome! Kralan (sticky rice with red beans steamed in bamboo) is pretty safe and delicious. But anything that looks like it's been lying around all day UNCOVERED, you should probably pass.
You might want to consider NOT eating a load of meat in Cambodia. You're never quite sure where it's come from. Unless it's chicken, other meats could be something you don't necessarily want to be eating. Not exaggerating.
Wash your hands! It's very dusty and dirty. The last thing you want is for your own hygiene to be ruining your trip.
Seafood can often be dodgy. If you're going to try some out, make sure it's super fresh. Trying out crab in Kep, which is famous for these critters, would be the place to do it rather than somewhere further inland.
Just follow our tips and trust your own instincts when it comes to food. Funny smells, old-looking food, places with bad reviews; all of that stuff is best avoided.
Can you drink the water in Cambodia?
Whilst SOME of the water MAY be ok to drink in Cambodia (and mainly in Phnom Penh), we wouldn't advise it.
Boiling tap water for 1 minute should make it safe to drink, however. For these purposes, you can also bring along your own refillable water bottle. If you really want to, bring a filtered water bottle or some water purification tablets too.
To be totally safe, we'd recommend bottled water. It's not exactly good for the environment but it's widely available and reliable.
Make sure you drink a lot of it because it really does get hot.
If you want to explore the countryside, we'd suggest bringing a top-quality filtered water bottle: ideally, the GRAYL GEOPRESS.
Save $$$ • Save the Planet • Save Your Stomach!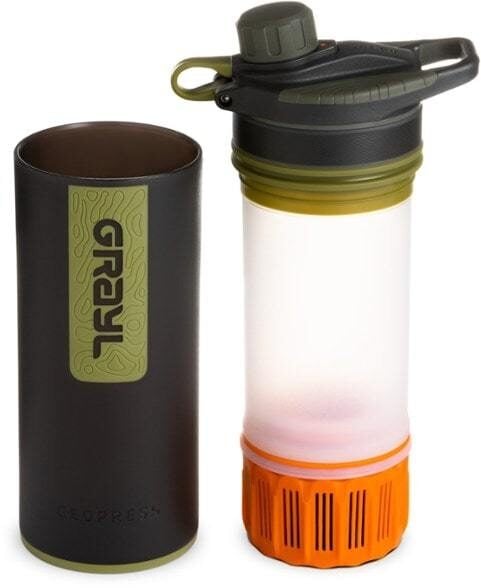 Drink water from ANYWHERE. The Grayl Geopress is the market's leading filtered water bottle protecting your tum from all the waterborne nasties. PLUS, you save money and the environment!
Single-use plastic bottles are a MASSIVE threat to marine life. Be a part of the solution and travel with a filter water bottle.
We've tested the Geopress rigorously from the icy heights of Pakistan to the tropical jungles of Cuba, and the results are in: it WORKS. Buy a Geopress: it's the last water bottle you'll ever buy.
Buy a Geopress!
Read the Review
Is Cambodia safe to live?
It's very safe to live in Cambodia but all of what we've said before still applies. Living in Cambodia doesn't automatically make the roads or beaches safe after dark.
Remember: Cambodia is still a developing country. You'll have to put up with crazy streets, power outages, and cockroaches in your apartment.
Having a secure place to live is really going to be something you'll want. Making sure you have locks that work and windows that can be secured (have locks of their own and/or bars).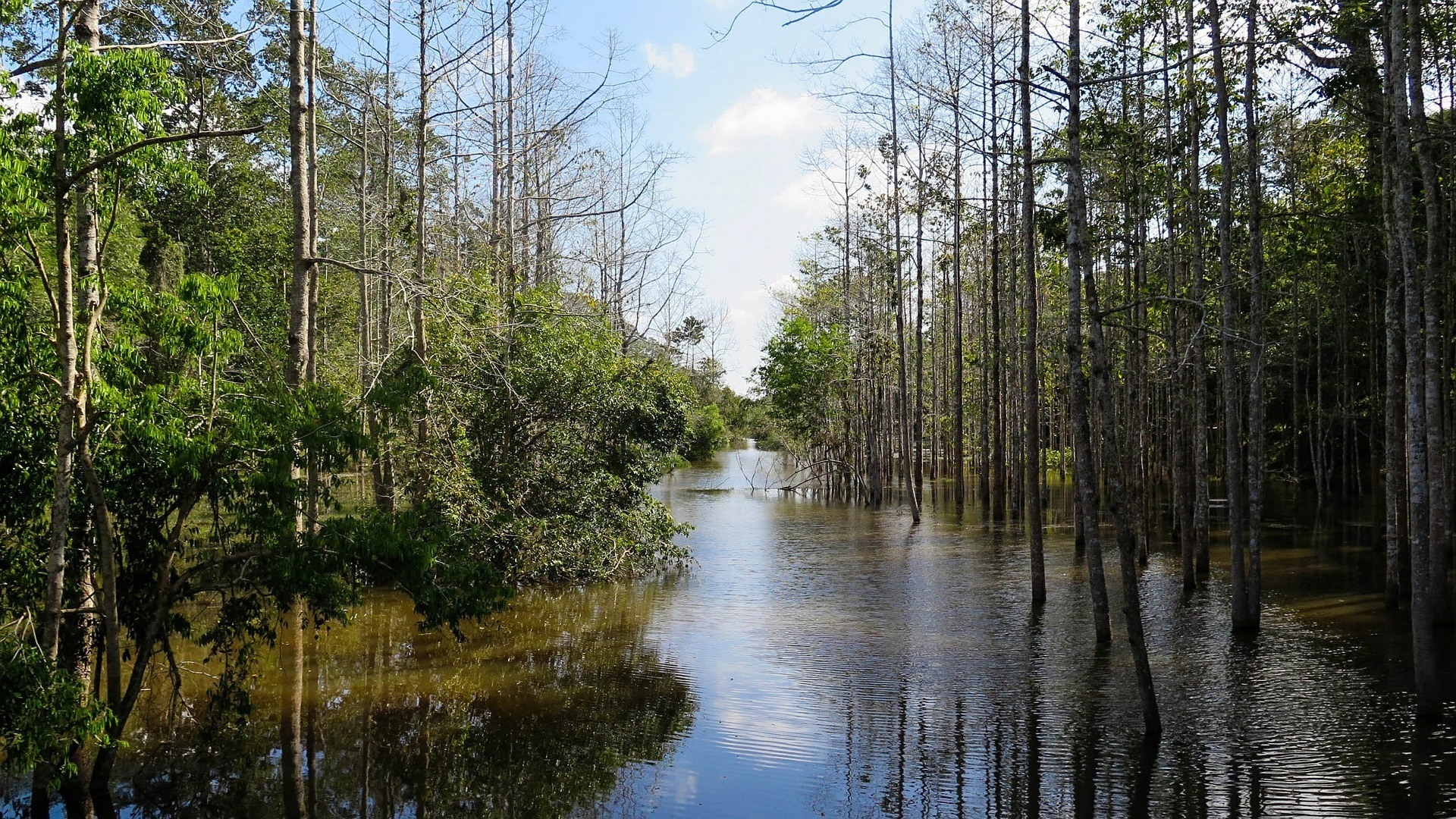 The main thing that you'll need to be concerned about is government corruption. Bribery isn't uncommon and putting up with this can not only be a pain but downright depressing when you think about it.
The cost of living in Cambodia is low but living like a Westerner in a non-Western country is always going to be more expensive. If you want to cut costs while shopping, you need to shop at local markets and buy local markets instead of Western ones.
Be aware that prostitution is legal in Cambodia and that HIV is widespread. Be mindful of this if you intend on taking a local home or having unprotected sex.
The Future of the SIM Card is HERE!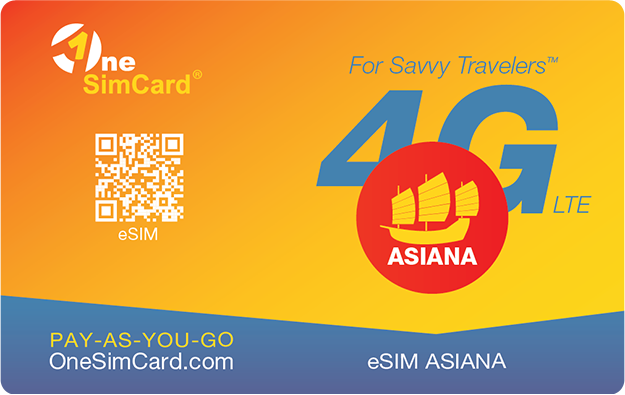 A new country, a new contract, a new piece of plastic – booooring. Instead, buy an eSIM!
An eSIM works just like an app: you buy it, you download it, and BOOM! You're connected. It's just that easy.
Is your phone eSIM ready? Read about how e-Sims work or click below to see one of the top eSIM providers on the market and ditch the plastic.
Buy an eSIM!
Is it safe to rent an Airbnb in Cambodia?
It's definitely safe to rent an Airbnb in Cambodia, but you'll have to choose the right area, obviously. With the reliable rating and review system, you won't just get to choose from awesome homes, but you can also read about the place you're about to book in full detail. With the previous guest reviews, you'll know exactly what to expect. 
But keep in mind that hosts can also review their guests. This normally guarantees a very respectful and easy visit from both sides. 
Is Cambodia LGBTQ+ friendly? 
Same sex relationships are legal in Cambodia, however, not seen very often. The country is generally pretty liberal, with very nice and friendly locals, but if you and your partner show a lot of public affection, you might get a couple of rude comments and a fair share of stares and weird looks. 
While it's not unsafe for LGBTQ+ travellers, we'd still recommend taking it easy and keeping the close affection in your private time. This doesn't just go for same-sex realationships, but for all others as well. 
You can find quite a big gay-scene in Phnom Penh, with lots of entertainment venues and even accommodations for LGBTQ+ travellers. Siem Reap is turning more and more focused towards the gay-community as well. 
FAQs on Safety in Cambodia 
Planning a safe trip to Cambodia can get quite overwhelming. That's why we've listed and answered the most frequently asked questions on safety in Cambodia. 
So, is Cambodia Safe?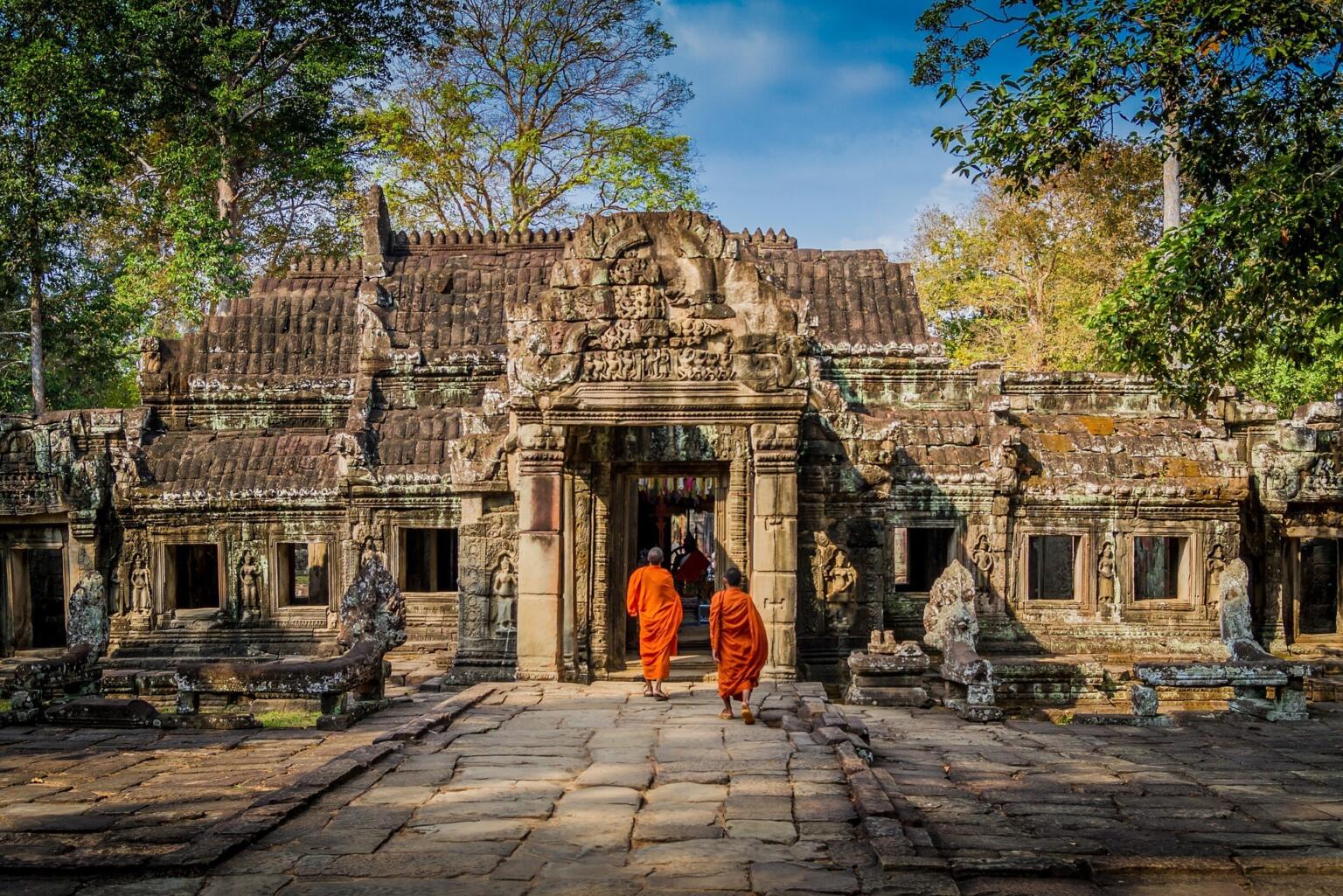 Yes, it can be safe, but Cambodia's safety really depends on what kind of traveller you are. If you use your common sense and stay aware of your surroundings, visiting Cambodia can be perfectly safe. if you're looking for trouble, you'll definitely find it.
It's easy to get a false sense of security when you're visiting Cambodia. Just because it's well-trodden and all the backpackers are having a great time getting wild, Cambodia is still poor and people can be desperate. You're most likely a lot, LOT richer than many people here and if someone thinks they can make their life better by swiping your phone, can you blame them?
To avoid that, however, it's all about being inconspicuous. This means having your phone out, dangling your bag around, and generally wandering about the place as if its a backpacker's theme park. Being oblivious to the local culture, taboos, and the situation just isn't smart.
That said, having fun IS par for the course in Cambodia! There are plenty of places to do it – trust us.
Just remember that you aren't immune to everything because you're a backpacker and 'not a tourist.' Ultimately, staying aware of your surroundings will help you ensure a safe and enjoyable voyage through Cambodia.
Don't Forget your Cambodia Travel Insurance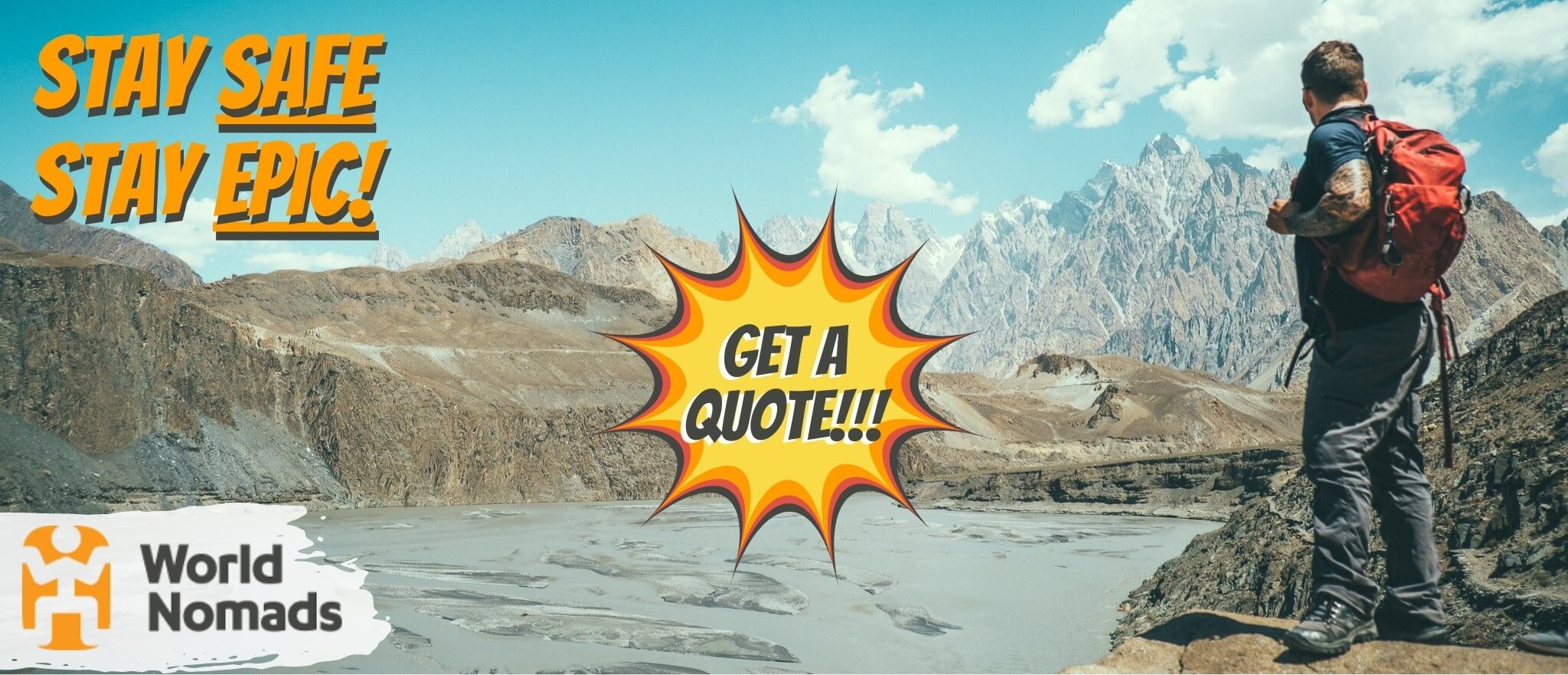 It's good to get lost sometimes, but it's also good not to get too lost. There are people that want you home in one piece.
There's one travel insurance provider The Broke Backpacker trusts for all his wildest shenanigans… World Nomads!
Click the button below to get a quote on your insurance or read our in-depth review of World Nomads' coverage. And then… let the shenanigans begin. 😉
Disclaimer: Safety conditions change all over the world on a daily basis. We do our best to advise but this info may already be out of date. Do your own research. Enjoy your travels!
---
Bye for now, but not forever!
If you want MORE top-tier Broke Backpacker content like this, then sign up for our weekly newsletter below to get the latest and greatest!
And for transparency's sake, please know that some of the links in our content are affiliate links. That means that if you book your accommodation, buy your gear, or sort your insurance through our link, we earn a small commission (at no extra cost to you). That said, we only link to the gear we trust and never recommend services we don't believe are up to scratch. Again, thank you!