Cambodia is firmly on the backpacking route through Southeast Asia, thanks in part to superlative attractions like Angkor Wat, Ko Rong, and the pink dolphins of the Mekong. It's also popular because most visits are trouble-free.
But theft is definitely an issue, and some nasty robberies do happen. The country is also known for drug trafficking.
So… is Cambodia safe to visit?
It's a genuine worry – we get it – especially if you're a first-time backpacker.
To help out, we've created this insider's guide full of information and tips on how to stay safe in Cambodia. Because this is a truly epic country that's absolutely worth exploring.
So let's dive into one of Southeast Asia's most underrated destinations.
There is no such thing as a perfect safety guide, and this article is no different. The question of "Is Cambodia Safe?" will ALWAYS have a different answer depending on the parties involved. But this article is written for savvy travellers from the perspective of savvy travellers.
The information present in this safety guide was accurate at the time of writing, however, the world is a changeable place, now more than ever. Between the pandemic, ever-worsening cultural division, and a click-hungry media, it can be hard to maintain what is truth and what is sensationalism.
Here, you will find safety knowledge and advice for travelling Cambodia. It won't be down to the wire cutting edge info on the most current events, but it is layered in the expertise of veteran travellers. If you use our guide, do your own research, and practise common sense, you will have a safe trip to Cambodia.
If you see any outdated information in this guide, we would really appreciate it if you could reach out in the comments below. We strive to provide the most relevant travel information on the web and always appreciate input from our readers (nicely, please!). Otherwise, thanks for your ear and stay safe!
It's a wild world out there. But it's pretty damn special too. 🙂
Updated February 2023
Is Cambodia Safe to Visit Right Now?
Cambodia is absolutely safe to visit right now, mostly due to the increased emphasis on tourism. The Cambodian economy is strongly reliant on visiting foreigners, who pour millions into the country. Tourist visas are can be obtained on arrival for most nationalities,
Unfortunately, many people live close to or below the poverty rate, which can be very clear to see as you travel around Cambodia. Corporate and governmental corruption doesn't help this situation either.
Instances of petty crime do exist as well. Pickpocketing and snatching bags do happen.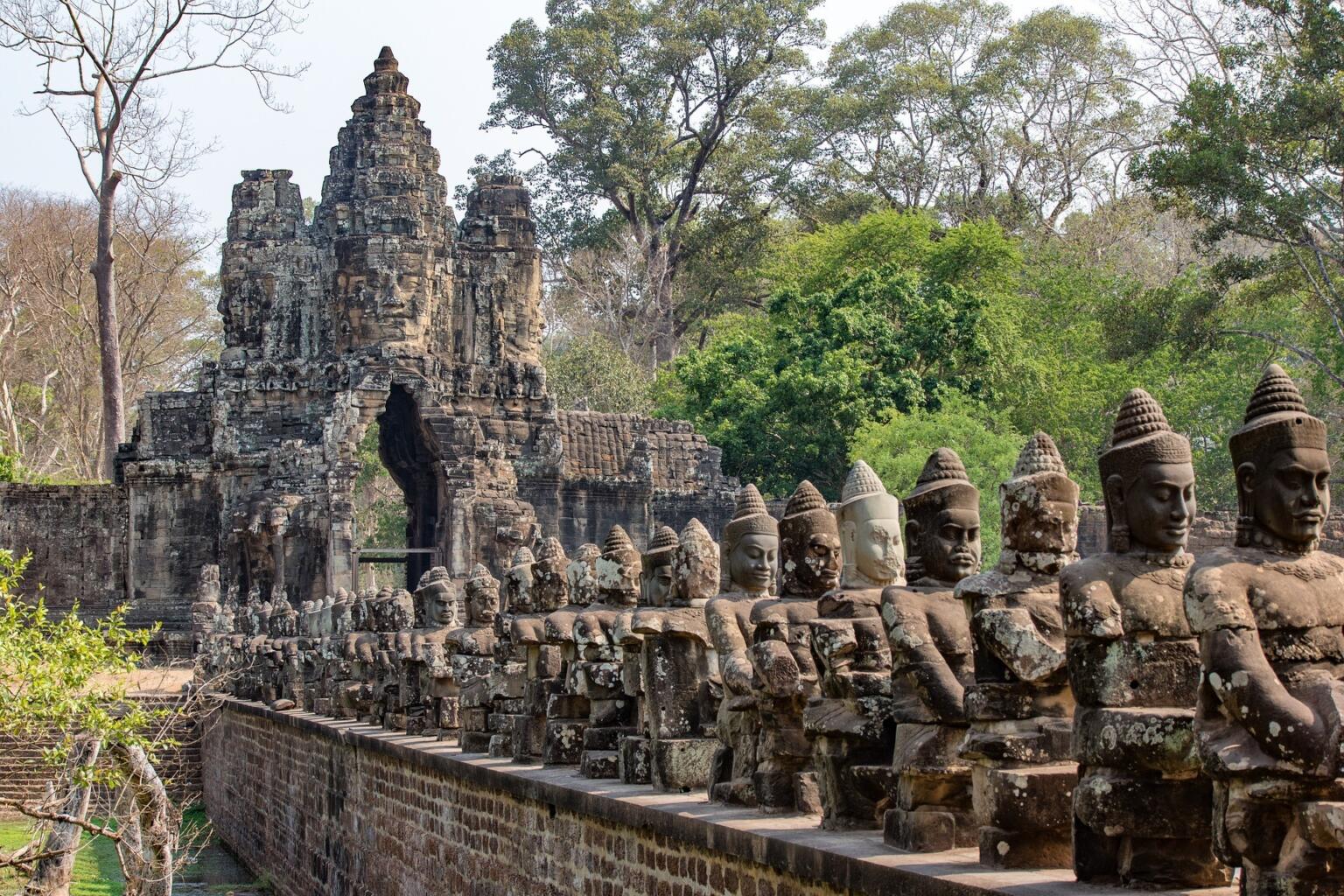 More serious violent crime tends to grab headlines but doesn't make up the common experience of travelers in Cambodia at all. In fact, a lot of victims of violent crime are Cambodians themselves.
Politically, Cambodia is pretty much stable. This is down to a tough government stance on opposition parties and "illegal" protests. The most recent election passed without too much trouble and currently, there's nothing to worry about.
When you visit Cambodia plays also into how safe it's going to be for you, too. The Mekong River can flood in the rainy season (June-October). Landslides aren't uncommon and poor drainage, even in the capital Phnom Penh, leads to pretty severe flooding during a storm.
Landmines and unexploded ordnance are always an imminent threat. Many haven't been cleared even to this day. So no wandering too far off the beaten track, unfortunately…
With all of this in mind, it's still very safe for tourists to visit Cambodia right now, and this is especially true for tourist hotspots like Siem Reap and the islands. Most visits don't see any trouble, and you'll be perfectly fine as well if you're cautious and use your travel common sense.
Safest Places in Cambodia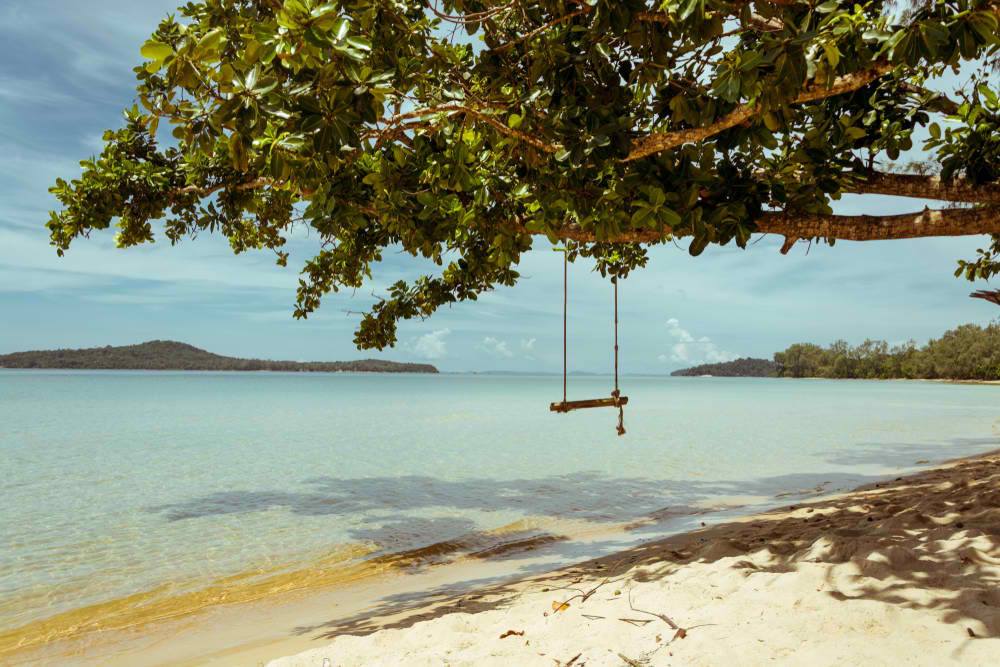 When choosing where you'll be staying in Cambodia, a bit of research and caution are essential. You don't want to end up in a sketchy area and ruin your trip. To help you out, we've listed the safest areas to visit in Cambodia below.
Koh Rong: Koh Rong is an island in the south of Cambodia, off the coast of the Sihanoukville area. It's actually the second-largest island in all of Cambodia. This beautiful island is known for its bewitching coral reefs and for plentiful wildlife peeking out through the branches in the dense jungle terrain.
Kampot: Kampot is one of the most unique cities in Cambodia, and it's also one of my best destinations in Southeast Asia in its entirety. It's a darling town, quite small in size, that offers guests incredible nature-based experiences. So much of Kampot feels untouched. It's a blissful place to stay.
Kep: Kep is a small seaside town in the south of Cambodia, and is the sister city to Kampot. They're just over 20 miles apart, and it takes about 45 minutes to get there by scooter. It's sleepy, however, and not a place for party-goers, as the entire town of Kep feels a little drowsy.
Siem Reap: Attracting millions of visitors tourists every year to its iconic Angkor Wat, Siem Reap is no doubt one of the safest and easiest places to travel in all of Cambodia.
Places to Avoid in Cambodia
Even though Cambodia has somewhat of a reputation for being unsafe, the following places are still VERY safe compared to most countries' places to avoid list.
Areas along the Northwest border with Thailand – that's where most hidden landmines can be found
Sihanoukville: A now overly-developed mess of Chinese-built casinos and hotels, this city is seedy and polluted. Minimize your time here when heading to the islands due to higher levels of crime.
Phnom Penh's riverside at night: While it's perfectly fine to stroll along the Mekong during the day, even local kids will warn you to avoid the riverwalk after dark.
20 Top Safety Tips for Traveling to Cambodia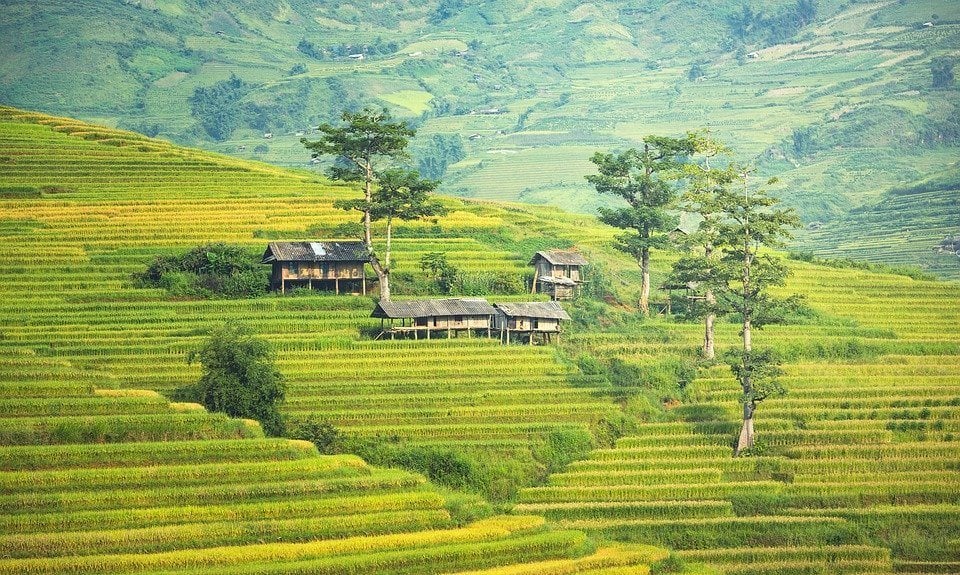 Cambodia isn't super dangerous, but it's also not the best place in the world when it comes to personal safety. Tourists can be seen as easy targets because they're (always) comparatively rich. Even backpackers can seem like kings.
However, that doesn't mean you can't travel around Cambodia safely – not at all. To make sure you stay safe, we've got a few travel safety tips to help you on your way.
Keep belongings close to you in tourist areas – this is where petty theft is likely to occur. Motorbike thieves exist also, so be aware.
Don't walk around looking like a tourist – designer clothes, SLRs, wearing expensive jewellery all screams "I'M RICH". An advert for thieves.
Be careful of pickpockets – especially walking around crowded streets and tourist areas. Consider investing in a travel money belt for ultimate protection.
Dress appropriately – it's not ultra-conservative at all, but in temples, you need to be covering your shoulders and knees.
Be vigilant in the run-up to festivals – robberies increase as people get desperate for money. Take care.
Walking around with a smartphone isn't advised – you'll probably be ok, but still… Smartphones are expensive.
Watch out for over-friendly strangers – Cambodians are friendly. But if something seems weird, and the friendliness is too much, then they may not have the best intentions. Scams DO happen.
Be careful with recreational drugs – Cannabis is cool and, but yaba is a different story. A horrible drug to get involved with.
On the subject… – drugs mean you'll have to deal with sketchy individuals and the police will ask for bribes if they catch you. You may even get set up.
Kids of the Cambodian elite carry a lot of sway – and some carry guns. If you're out at night, don't get into any scuffles.
Be wary of other travelers and expats – the lawless reputation of Cambodia attracts some shady characters. Be careful who you get involved with.
Keep all important things WITH you on a bus – this is the best way to prevent ANYONE getting to 'em.
Children will come up to you – it's your choice if you give them money, but there are loads of NGOs that you could help out instead. It's a good idea to read up on the impacts of tourists enabling beggars.
Don't lose your temper – causing a scene in Cambodia is likely to CAUSE A SCENE. Don't let a situation get heated.
Be careful where you take photos – military installations, airports=not ok. It's also important to ask before you take pictures of ANYBODY.
Walking alone at night in rural areas isn't advised – increased risk of robbery.
Fake monks – they'll get you to pay money if you wander into a temple on the outskirts of Angkor Wat. Don't bother.
Protect against mosquitoes – cover up, use repellent, burn coils. Not nice to get bitten.
Watch out for dangerous wildlife – snakes are definitely present. When walking around rural areas keep your eyes peeled.
Have travel insurance – Medical facilities in Cambodia aren't the best, so be sure to have insurance that covers medical evacuation.
Know what to do in the event of natural disasters.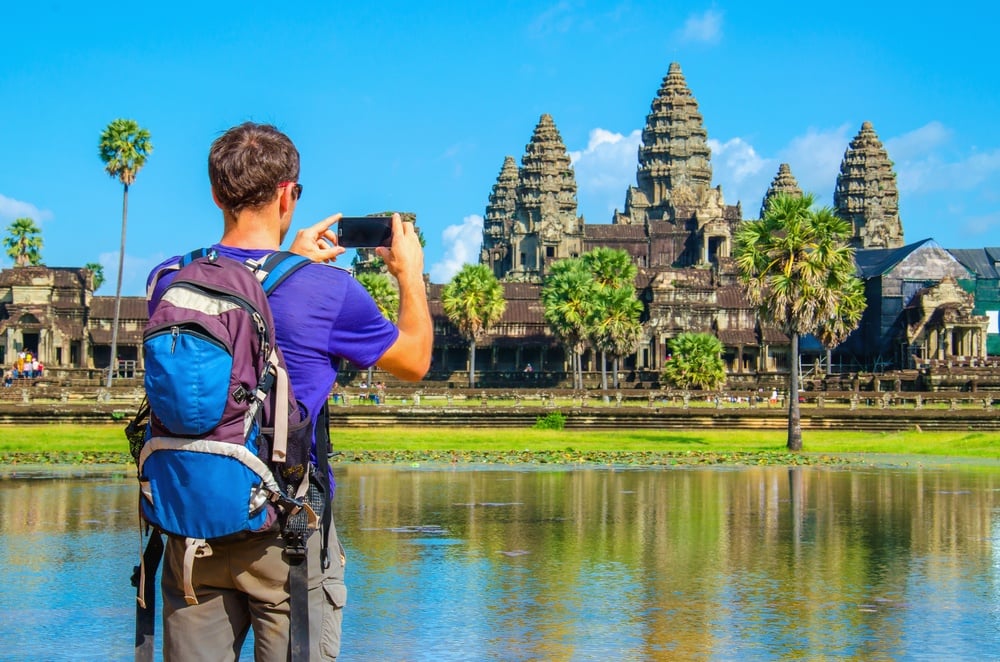 If you're thinking about solo travel in Cambodia and you've never done it before, well all we can say is you're in for a treat. There are plenty of reasons why solo travel is pretty much amazing. Mainly: It's YOUR trip and YOUR trip only!
BUT it is a challenge, of course, and there are always things to keep in mind when you're solo traveling anywhere in the world. So even though traveling alone to Cambodia is relatively safe, here are a couple of notes to keep in mind when you're out there.
We'd recommend staying in awesome hostels in Cambodia where you can meet other backpackers. It's not only cool to meet people who are doing the same thing as you, but it's also a good way to beat the solo traveling blues (it CAN get lonely sometimes).
When you're looking for a social hostel, make sure you find one with good reviews. You'll be amazed at the prices in Cambodia, but don't automatically go looking for the cheapest accommodation possible.
Knowing a few new people is always great for sharing tours. This is handy, for example, when you want to see Angkor Wat or do a day tour of Phnom Penh or something.
Don't go getting crazy drunk, even on Pub Street. Things can be more sketchy at night too, which is when you'll be walking home.
Save important phone numbers – know who to call if you needed emergency consular assistance.
Be careful at the beach after dark. Beaches are secluded areas and robberies, especially in Sihanoukville, have been reported.
And whilst we're on the subject, don't drink and swim. It's stupid.
We'd recommend leaving your stuff in your guesthouse. Don't take your valuables with you when you go out for the day. Leave it locked up in the safe if there is one.
Get yourself a data sim to travel with. This is a good way to keep in touch with people you meet on your trip. It's also a good way to let your parents and your friends back home know you're still safe.
Speaking of which, get yourself Maps.me. Google Maps may work offline, but not always. Maps.me is a reliable, offline maps app that'll help you pinpoint where you are in case you find yourself lost in the city.
Learn some Khmer. It's not the easiest language, but it's not tonal. Simple phrases will go a long way in impressing locals and building up relationships.
Don't get temple burnout! Also known as "temple blindness" or "temple boredom". There is a whole load of temples to see in Cambodia, so we'd recommend doing research on the best, most fascinating, historically relevant temples or the ones that will interest you the most.
At the end of the day, YOU are the only one looking out for yourself. So being responsible and keeping your wits about you is going to go a long way.
Is Cambodia safe for solo female travelers?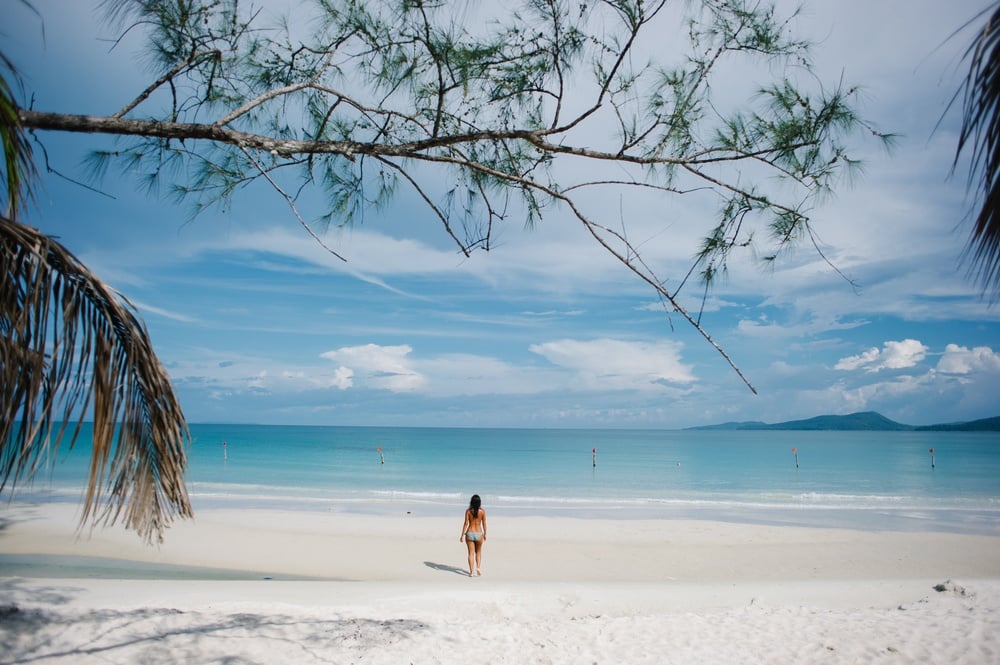 There's solo travel, then there's solo female travel. And unfortunately, being a woman makes the world a whole lot more unsafe. However, we're happy to say that Cambodia is a GREAT place for a solo female traveler.
With its laid-back, easygoing atmosphere, we'd even go as far as to say it's a good destination even for a first-timer.
The sad thing is, as a woman you're often more at risk, no matter where you are. Just to be sure, here are a few ways you can maximize your experiences as a solo female traveler in Cambodia.
Make friends with other female travelers, especially if it's your first time solo traveling. Not only do you get to meet some nice, like-minded people, but you'll also get some extra backpacking tips.
Keep up with local media – be aware of what's going on on the ground!
And the best way to get chatting with fellow travelers is by staying in a well-reviewed hostel. With a female-only dorm, if you want.
Cambodia's a pretty conservative country so covering up is respectful. This is important mainly at temples, but wearing clothes that consistently cover your knees and shoulders just feels a lot more fitting. Look at what the local women are wearing – especially in more remote areas.
Don't touch monks! No, seriously. They're not allowed contact with women and they'll have to go through all sorts of rituals if you touch them.
If you're wandering around at night it's relatively safe BUT stick to busy, well-lit areas. Would you wander down quiet, dark backstreets at home?
Be extra vigilant if you're traveling alone at night by motorbike or bicycle.
Drink spiking has been on the rise lately so be careful. Only drink the drinks you buy for yourself.
BE CAUTIOUS in beach areas of Sihanoukville. This town has become a lot shadier in recent years and beaches at night time here are not the place to be by yourself.
Use your common sense. If a situation is getting weird, if someone seems sketchy, remove yourself or don't get involved at all. Find somewhere busy.
You may be seen as an easy target for bag snatching, so keep things like that close to you. This has been reported as happening as women are riding in a tuk-tuk, so be extra careful in that sort of situation.
Is Cambodia Safe for Families?
Cambodia is a great place to travel with kids!
There are ancient temples here that your kids will freak out about. They're like something straight out of a film or a video game. Sometimes they actually are from fiction!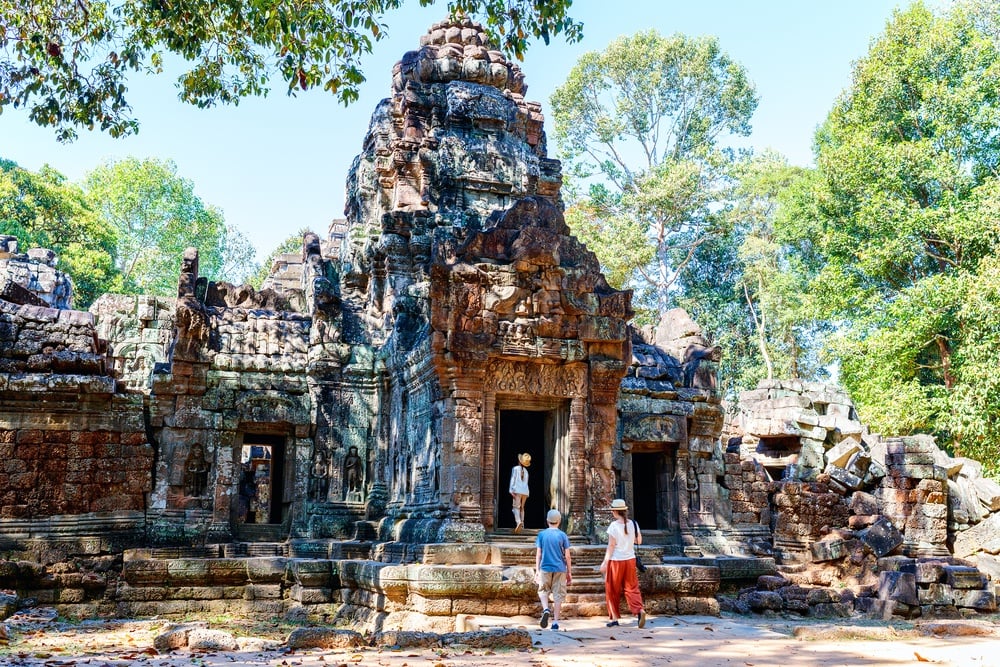 And sights aside, Khmer people are very friendly, especially to children. This will make a big difference and will make it pretty easy for your kids to find local playmates.
But obviously, there are some things you need to bear in mind:
One of these is long journeys on unreliable buses. Safety often isn't the priority on a bus; driving fast and not putting on the air-con is the norm.
Cambodia can get HOT. Make sure everyone stays hydrated and keeps out of the sun. Bring plenty of reusable water bottles.
Animal hazards include sandflies on the beaches (these can be BRUTAL) as well as snakes. Very dangerous.
It's also not always the cleanest of places, the infrastructure is sometimes lacking, and the healthcare isn't amazing…
So whilst Cambodia is safe to travel for children, it's better if you're an adventurous family.
Getting Around Cambodia Safely
We wouldn't call driving "safe" in Cambodia.
Why? Road accidents are the leading cause of death in Cambodia.
You may be tempted to hire your own car to avoid those sometimes very pirate-like minibuses, but it's really not worth it. While motorbiking is more common, the roads are absolutely hectic to say the least.
If you've never been on a motorbike before, Cambodia is definitely not the right place to start.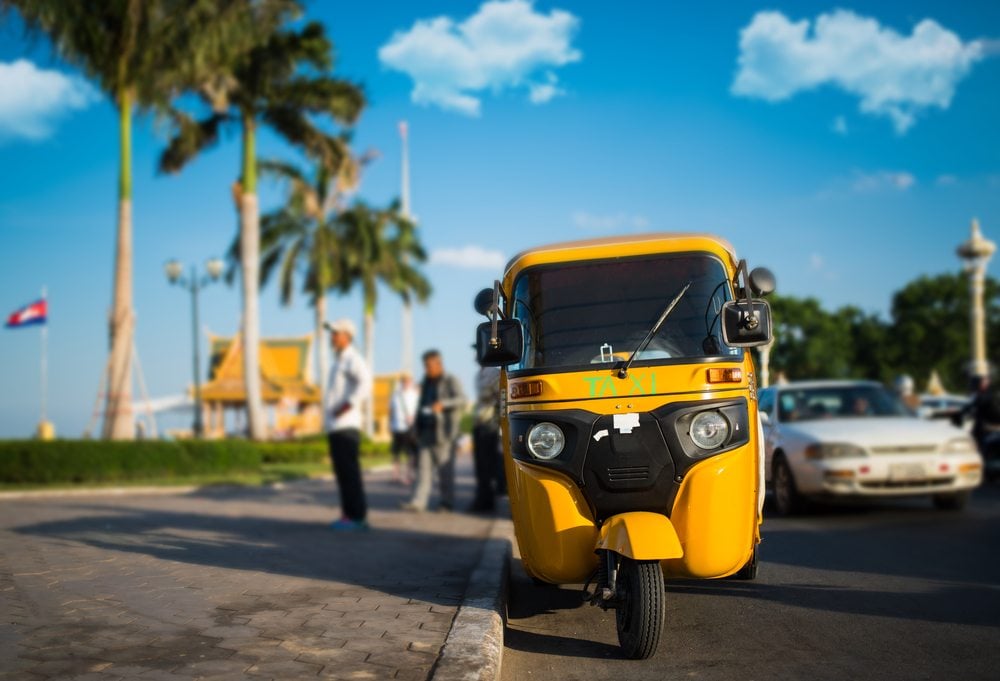 Really, in Cambodia, it's all about tuk-tuks. They are used all across the country and are safe.
You'll be hassled in pretty much every town with "tuk-tuk?" as you pass an idling driver. They're usually friendly enough and will leave you alone the instant you decline.
But if you do get a tuk-tuk off the street haggle the price before you get in.
Honestly, there isn't much public transport in Cambodia. The stuff that does exist is mainly safe though.
The minibusses drive fast and recklessly and aren't always in the best condition either.
That said, large air-conned buses do exist and these travel between large cities – the route between Phnom Penh and Siem Reap for instance. This is about as public as it gets.
Crime in Cambodia
Petty crime is by far the biggest issue tourists will face in the country. That doesn't mean you're guaranteed to experience it though–many do not. Police corruption is also rife–bribes are very much a thing, though you might only encounter this when crossing a land border. Meanwhile, drug trafficking is another major issue in the country, but not one that's likely to affect tourists.
Finding marijuana and other party drugs is very easy within backpacker enclaves. Both Siem Reap and Phnom Penh are known for their "happy pizza restaurants" that serve cannabis-infused pies and smoothies.
Just be aware that according to local laws, cannabis is illegal and thus should not be smoked in public.
Scams in Cambodia
While not as bad as infamous scam locales like New Delhi, Cambodia definitely has some to look out for. The most common experience you'll have is being overcharged for rides or items even after you agreed upon a set price.
Be firm and don't pay more than you've agreed on. You can also try to arrange tuk-tuk drivers through your hostel or hotel for some peace of mind. It's somewhat common to be charged more than the set price for a visa at land borders. As Cambodia is a poor country and local authorities can be corrupt, there's not much you can do.
You should also beware of touts at Angkor Wat, which is the massive temple complex that brings most tourists to the country. The easiest way to avoid them is to, yet again, pre-arrange with your hotel!
Getting Insured BEFORE Visiting Cambodia
Travel medical insurance is a must for Cambodia!
ALWAYS sort out your backpacker insurance before your trip. There's plenty to choose from in that department, but a good place to start is Safety Wing.
They offer month-to-month payments, no lock-in contracts, and require absolutely no itineraries: that's the exact kind of insurance long-term travellers and digital nomads need.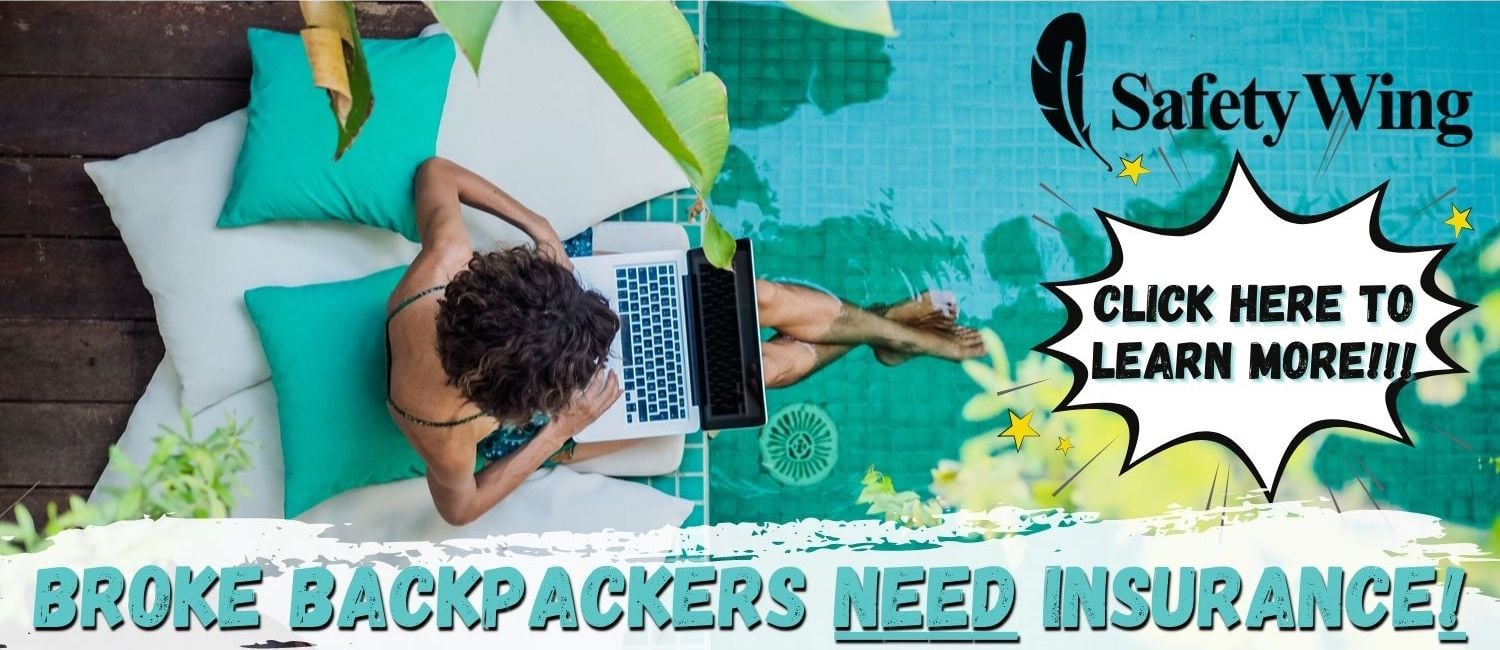 SafetyWing is cheap, easy, and admin-free: just sign up lickety-split so you can get back to it!
Click the button below to learn more about SafetyWing's setup or read our insider review for the full tasty scoop.
FAQs on Safety in Cambodia
Planning a safe trip to Cambodia can get quite overwhelming. That's why we've listed and answered the most frequently asked questions on safety in Cambodia.
So, is Cambodia Safe?
Yes, it can be safe, but Cambodia's safety really depends on what kind of traveler you are. If you use your common sense and stay aware of your surroundings, visiting Cambodia can be perfectly safe. if you're looking for trouble, you'll definitely find it.
It's easy to get a false sense of security when you're visiting Cambodia. Just because it's well-trodden and all the backpackers are having a great time getting wild, Cambodia is still poor and people can be desperate. You're most likely a lot, LOT richer than many people here and if someone thinks they can make their life better by swiping your phone, can you blame them?
To avoid that, however, it's all about being an inconspicuous, responsible traveler. This means having your phone out, dangling your bag around, and generally wandering about the place as if it's a backpacker's theme park. Being oblivious to the local culture, taboos, and the situation just isn't smart.
That said, Cambodia is safe to visit!
Just remember that you aren't immune to everything because you're a backpacker and 'not a tourist.' Ultimately, staying aware of your surroundings and following the laws in Cambodia will help you ensure a safe and enjoyable voyage.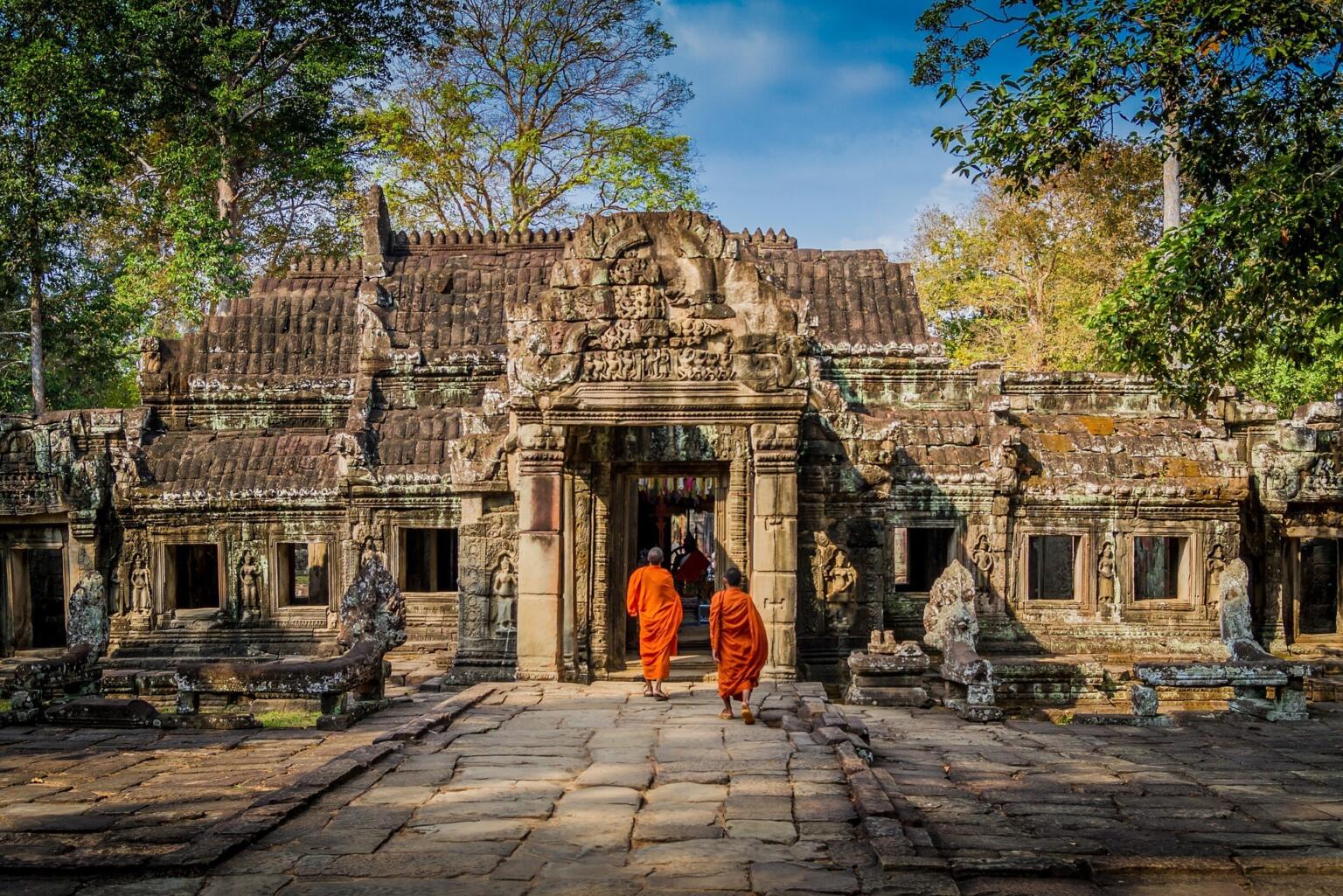 Disclaimer: Safety conditions change all over the world on a daily basis. We do our best to advise but this info may already be out of date. Do your own research. Enjoy your travels!
---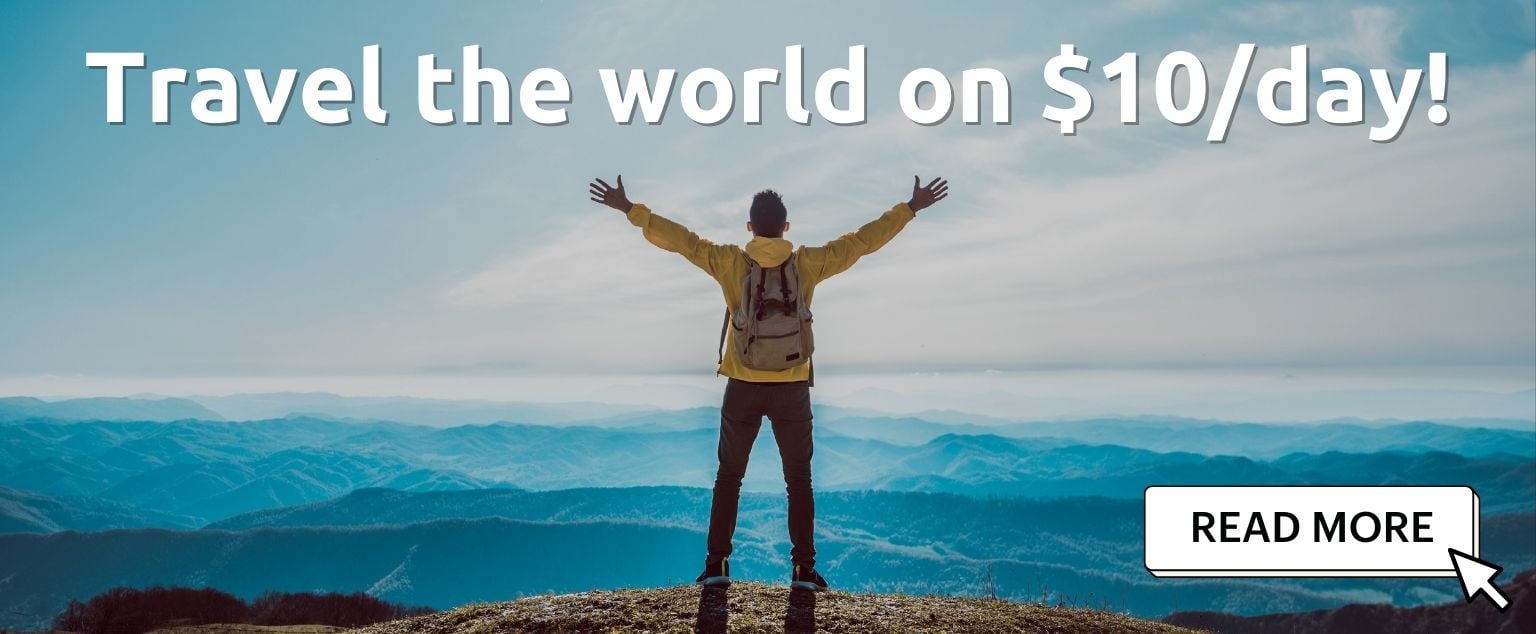 And for transparency's sake, please know that some of the links in our content are affiliate links. That means that if you book your accommodation, buy your gear, or sort your insurance through our link, we earn a small commission (at no extra cost to you). That said, we only link to the gear we trust and never recommend services we don't believe are up to scratch. Again, thank you!