As home to one of the seven ancient wonders of the world, Angkor Wat, Cambodia is a land of many more wonders than just this one! If you're looking to head over to Cambodia then I'm happy to be your guide.
I spent three months in Cambodia and cannot wait to share all the top places to stay in Cambodia with you. Wondering what are the best areas to stay in Cambodia and how to choose your hostels, Airbnbs, and hotels in Cambodia? Look no further than this guide here!
You're in for a real treat because I'm about to cover everything from the pepper farms in Kampot to the blue crabs in Kep to the snorkeling scene on Koh Rong. Ready for an adventure? Let's go!

Unlock Our GREATEST Travel Secrets!
Sign up for our newsletter and get the best travel tips delivered right to your inbox.
Quick Answers: Where to Stay in Cambodia
Map of Where to Stay in Cambodia
Siem Reap – The Overall Best Place to Stay in Cambodia
Even though Siem Reap isn't the capital of Cambodia, it has a buzzing energy that is usually reserved for the biggest and best cities in a country. In case you were wondering, the capital city of Phnom Penh has a population of 1.5 million whereas Siem Reap has a population of around 140,000.
Regardless of the numbers, Siem Reap is a first-rate city in terms of attractions, activities, and vibes! Siem Reap truly thrums with life, vitality, energy, and is a hit destination with backpackers in Cambodia. It also doesn't hurt that Siem Reap is home to the majestic Angkor Wat temple complex.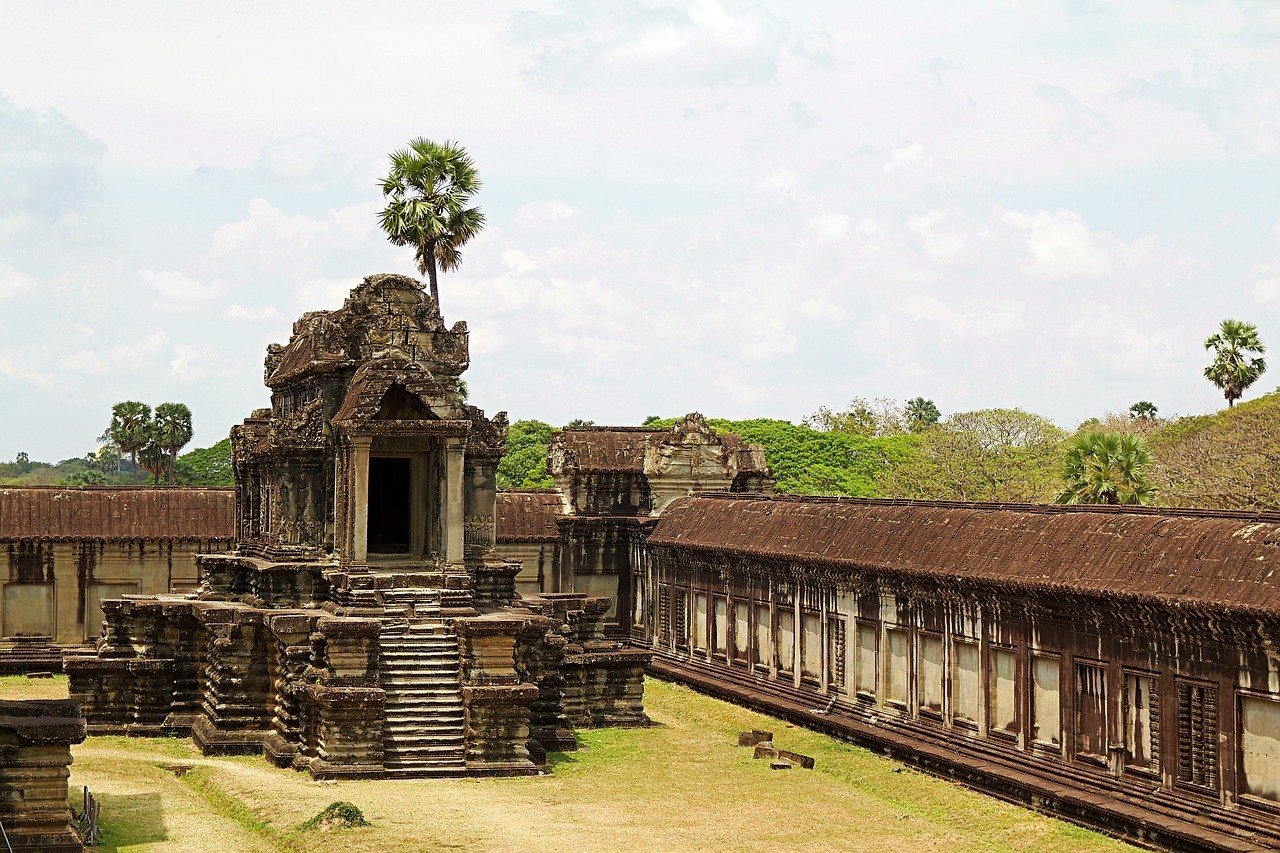 Angkor Wat is just the half of it. Siem Reap is also where the best nightlife can be found in all of Cambodia! With the popular Pub Street lit up nightly, nightlife can be truly riotous— even on a Monday night! There's also a vibrant night market where you can buy handmade souvenirs, popcorn, or even scorpions on a stick.
If you happen to be a foodie, Siem Reap also has amazing restaurants to visit. One of my favorites was Green-Go Garden, a vegetarian restaurant that makes a mean pizza and a mind-blowing jackfruit BBQ sandwich.
Best Places to Stay in Siem Reap
When looking for a place to stay in Siem Reap, the coolest city to stay in Cambodia, you're going to want to stay close to Pub Street and to the Night Market to take advantage of the epic nightlife scene.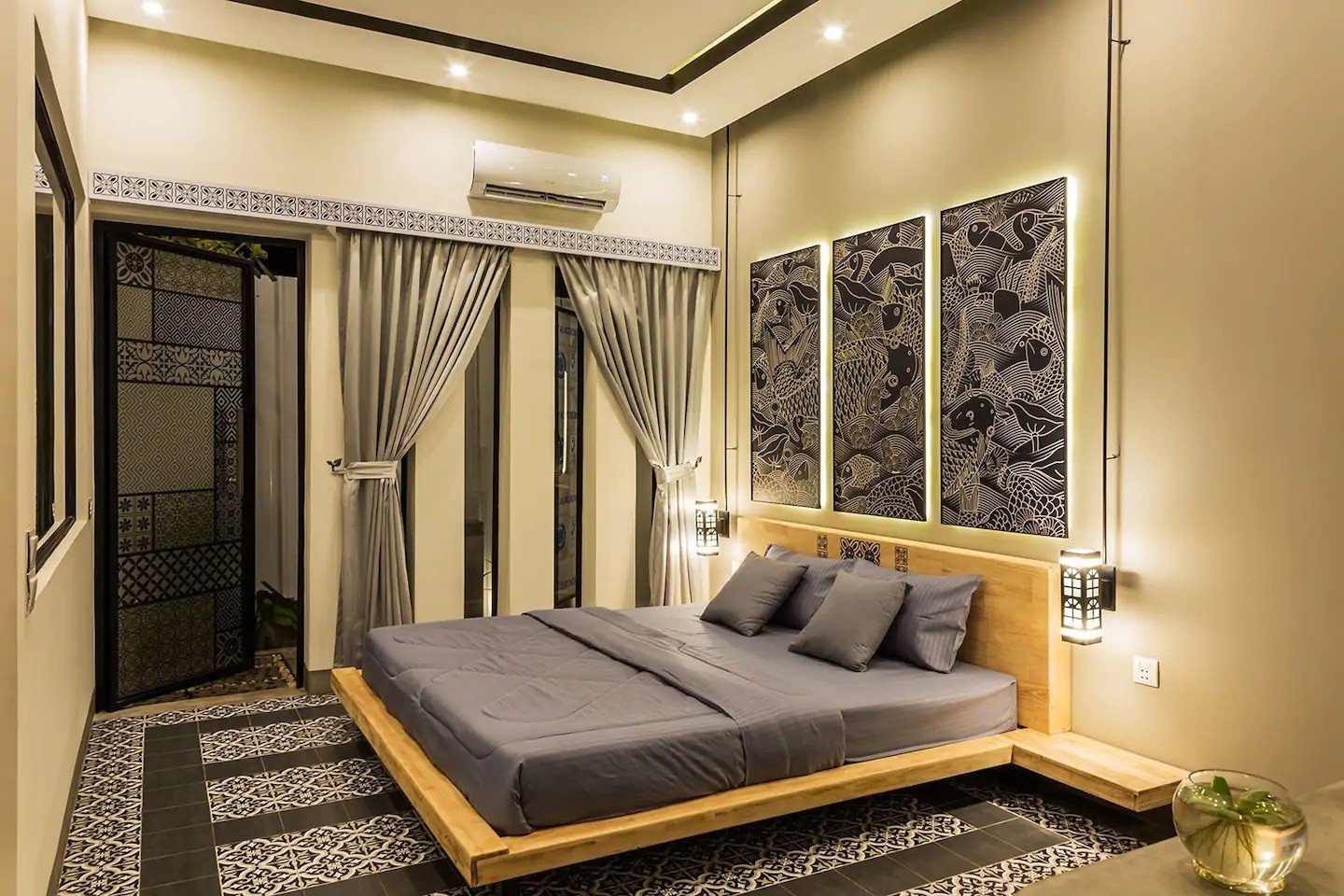 This private studio apartment is positively stunning. Gorgeous artwork adorns the walls, and the furnishings all are modern and highly unique. This Airbnb comes with a fully stocked kitchen, a working desk, and a small outdoor garden to enjoy. Hosts also provide free pickup from the airport or from the bus station!
Onederz Hostel is an epic party hostel situated right in the middle of Siem Reap. Just a few minutes walk to the Night Market and Pub Street, Onederz puts you right in the heart of all the action. Plus, with two pools to take advantage of— a ground floor pool and a rooftop pool— you're sure to soak up some relaxation or rage at a pool party or two!
Best Hotel in Siem Reap: eOcambo Village
EOCambo Village is positively dreamy. With lush green gardens and plentiful tropical vibes, you will feel like you're in your own private Cambodia wonderland. This spot is truly one of the best hotels in Cambodia. Also, you'll be just a quick walk to the delectable Hashi Restaurant— yum!
eOcambo Village is one of our favourites in Cambodia but they're not taking guests right now. We're not sure if they're closed for good but we hope they'll come back soon.
Siem Reap – Best Place to Stay in Cambodia for Families
Siem Reap is definitely the best city to stay in Cambodia with your family. While Angkor Wat may be the main draw, there are so many more things to see in Siem Reap with your family than just visiting the temples!
Why not go zip lining in Angkor? Or doing a cooking class in a rural village? Or how about getting creative and taking a pottery class? Siem Reap is filled with amazing things to do that will keep your kids entertained while having authentic cultural experiences.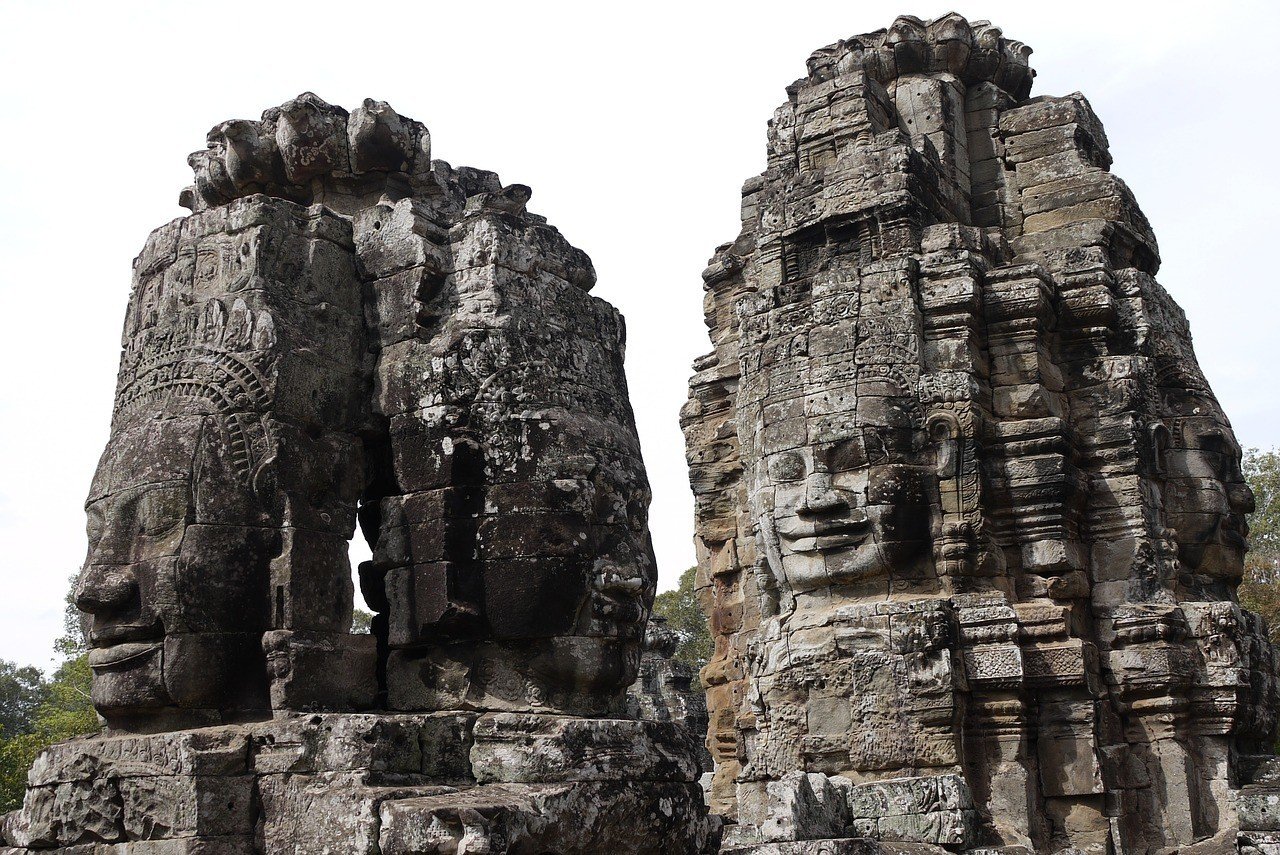 I would be remiss if I didn't mention the Phare Circus! Not only do they put on incredibly entertaining shows, but they have an honorable social mission where they provide schooling to disadvantaged people. So, going to see a wild and impressive Phare Circus show should definitely be on your family's must-see list!
And if the kids are getting hungry, head on over to Sister Srey Cafe for a delicious meal that will please even the pickiest eater.
Best Places to Stay in Siem Reap
Where should I stay in Cambodia with my family? Look no further than these three exquisite options below. We're skipping over Siem Reap's hostels this time; these places are best described as otherworldly in their opulence— and they're all affordable!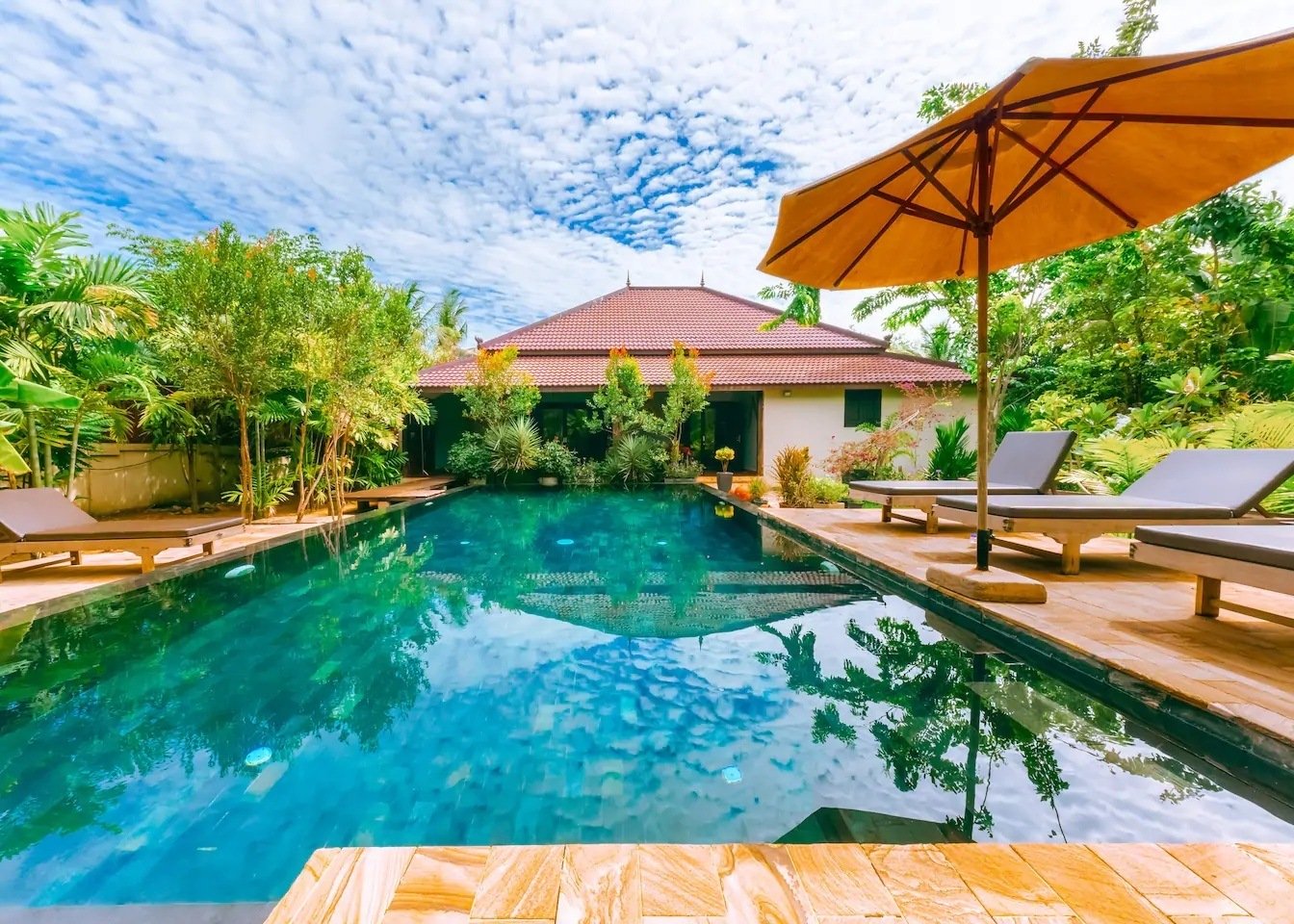 This private luxury villa can comfortably house eight guests in this three bedroom and three bathroom home. Situated close to the Angkor temples, this is the ideal spot for you and your family to stay in Siem Reap. Also, the kids will love taking a dip in the outdoor saltwater pool. What a treat!
Villa Indochine D'angkor is heaven on earth. This stunning property promises a peaceful stay for the whole family. Their family suite is luxurious, yet completely affordable. Also, the kids will love the pool. Lastly, the free airport pickup and drop off will make your life much easier— one less thing to fret about!
Best Resort in Siem Reap: Little Prince Resort and Spa
The family suites at the Little Prince Resort and Spa come with an outdoor private patio and pool views. This 5-star resort comes at a bargain price. So if staying at a 5-star resort is on your family's bucket list, check it off here at the Little Prince!
Little Prince Resort and Spa is one of our favourites in Cambodia but they're not taking guests right now. We're not sure if they're closed for good but we hope they'll come back soon.
Koh Rong – Where to Stay in Cambodia for Couples
Koh Rong is an island in the south of Cambodia, off the coast of the Sihanoukville area. It's actually the second largest island in all of Cambodia. This beautiful island is known for its bewitching coral reefs and for plentiful wildlife peeking out through the branches in the dense jungle terrain.
As the best city to stay in Cambodia when on a romantic getaway, Koh Rong is where unforgettable memories are made. You can party at Police Beach or go zip lining at the High Point Rope Park.
You can also go waterfall chasing, or just relax on the soft, white sands for the day. And saving the best for last, Koh Rong is also home to Bioluminescent plankton. You can wade into the waters at night and swim with the glowing plankton!
Talk about making unforgettable memories, right?!
Best Places to Stay in Koh Rong
If you and your loved one are looking for a more secluded stay, get a boat to Sok San and enjoy the tranquility of this remote part of the island. However, if you're both looking to party the night away, then definitely stay at 4K Beach or at Koh Touch, also known as Koh Tui. It's where the party never stops!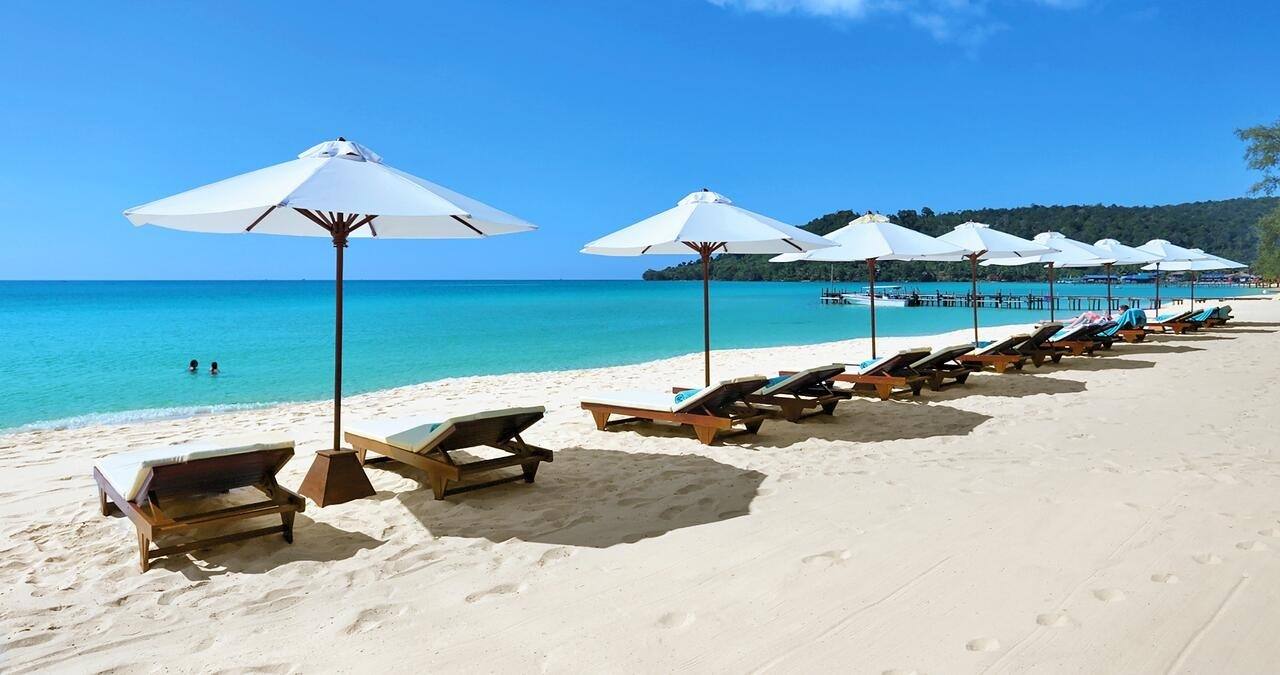 The White Beach Bungalow sits on Koh Touch Beach, just mere steps away from the water. There are a total of 17 rustic bungalows to choose from, and there is a bar and restaurant to enjoy. Choose a bungalow and call it your home away from home on your romantic getaway to Koh Rong!
Malibu Hostel is a lively party hostel situated on 4K Beach. If you and your significant other are looking to save a pretty penny, opt to stay in the dorms. If you can spring for the private rooms though, you're sure to appreciate the, um, privacy! At Malibu Hostel you'll love playing volleyball, going snorkeling, and hanging out at the beach bar.
Sok San Beach Resort is a paradise for couples. It's a peaceful beach resort that is the perfect place to take in the majesty of a Cambodian sunset. Looking for a hotel that is resplendent in charm plus is situated right on the water? This is the hotel for you and your partner! Also, breakfast is included in your stay which makes sleeping-in all the more alluring…
Is This the Best Backpack EVER???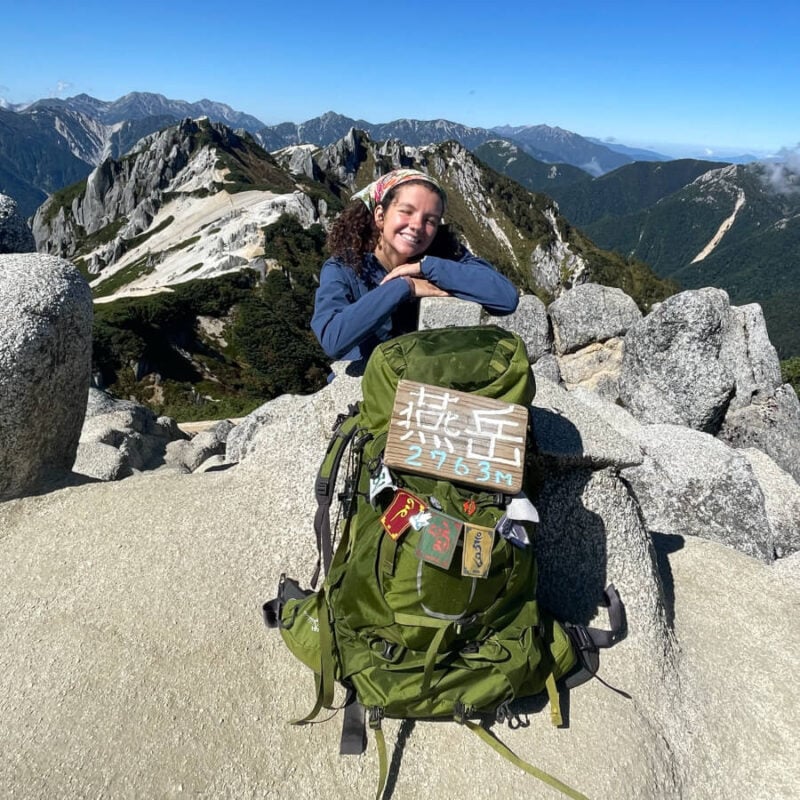 Kampot – The Coolest Place to Stay in Cambodia
Kampot is not just one of my favorite cities in Cambodia, it's also one of my favorite destinations in Southeast Asia in its entirety. It's a darling town, quite small in size, that offers guests incredible nature-based experiences. So much of Kampot feels untouched. It's a blissful place to stay.
Located in the south of Cambodia on the Preaek Tuek Chou River, Kampot is home to world-renowned pepper plantations and salt fields. Touring the La Plantation pepper farm is mind-blowing! You'll get to see and sample different kinds of peppers—think table salt and pepper kind of pepper— plus you'll get to see lots of tropical fruit grow too, from passion fruits to pineapples.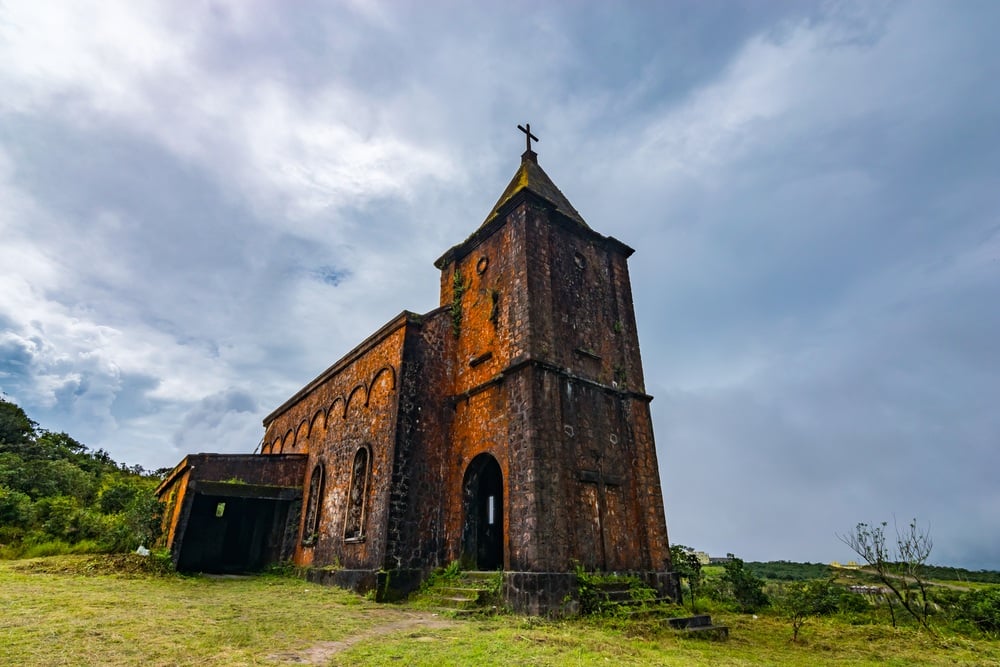 Going for a motorbike ride to the top of Bokor National Park is also quite the memorable experience! Just make sure to pack a jacket because it can get pretty chilly on the ride.
How does Taco Tuesday at Karma Traders sound? Feast on some tacos and enjoy live music!
Best Places to Stay in Kampot
If you're looking for unique options for lodging in Cambodia, Kampot is the place to find it. Some of the best and most affordable Cambodia accommodation choices are right here in Kampot—waiting for you!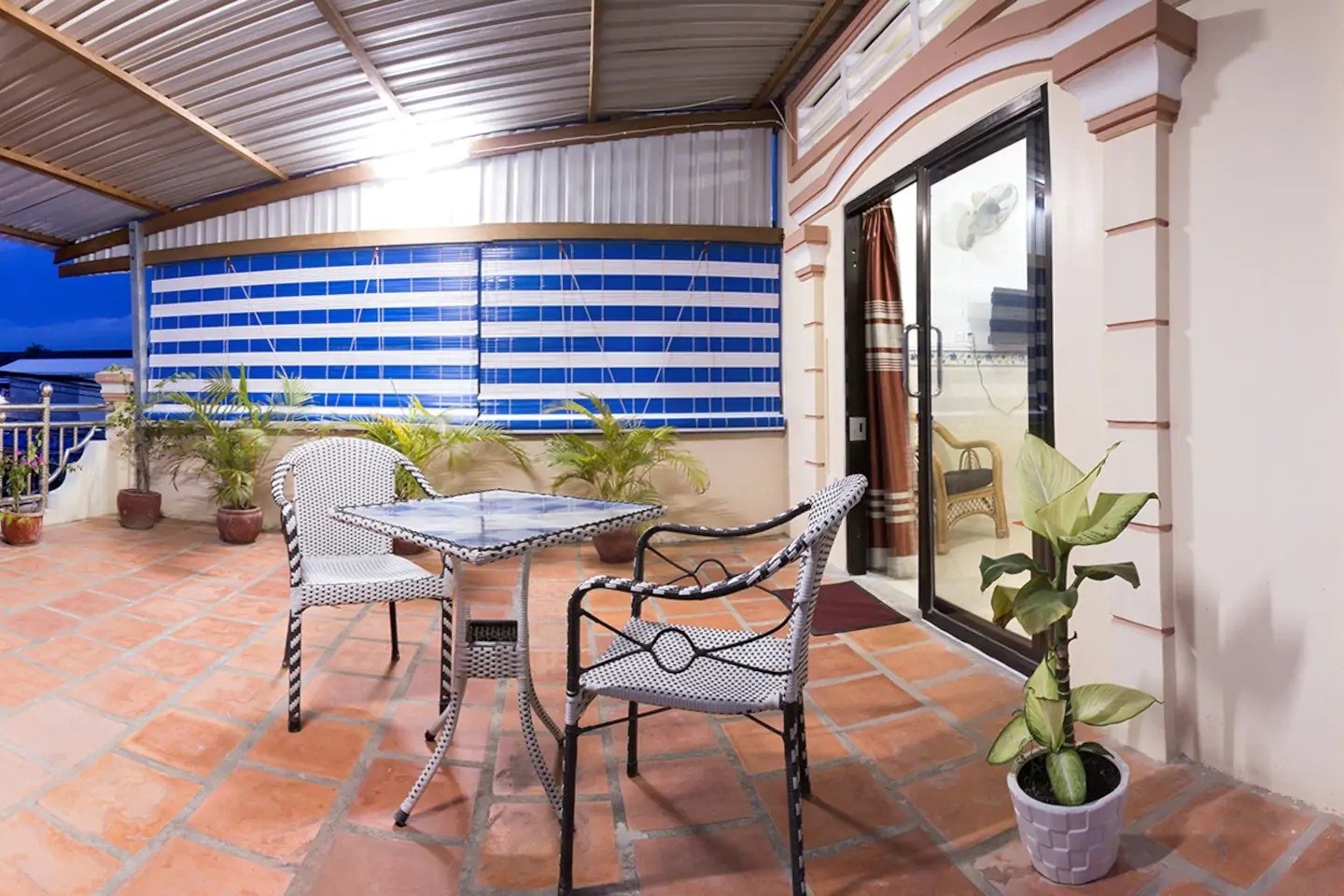 The Apartment Kampot is a private apartment that you can have all to yourselves! It's a one-bedroom, one-bathroom apartment, however, it actually can actually accommodate up to six guests as it has three beds! The location is beautiful, just one block from the riverside in an older neighborhood that has a French influence.
The Ganesha Eco Guesthouse is immersed in a luscious tropical garden, filled with fruit trees and bright flowers. There's also a natural swimming pool to enjoy— the perfect spot to watch the sunset. This isn't just another hostel in Cambodia. This hostel is where to stay in Cambodia if you're looking for a distinctive experience. It's a truly magnetic spot that will make you want to stay forever!
The Neakru Guesthouse and Restaurant is a budget-friendly hotel situated directly on the river. It has a lush green garden for guests to enjoy, as well as a sunny terrace. It's just a block away from Kampot's Night Market too!
Kampot – Where to Stay in Cambodia on a Budget
So, not only is Kampot the coolest place to stay in Cambodia, but it's also the best city to stay in Cambodia on a budget. Since Kampot is a small, more rural town, you know you're going to save some dough.
There's a touristy side to Kampot though, so you don't have to worry about being stuck in the middle of mud huts or anything. However, Kampot isn't a large, bustling, tourist-trap of a city. It's definitely a good choice to find budget accommodations in Cambodia and save a pretty penny, not just on lodging but also on activities.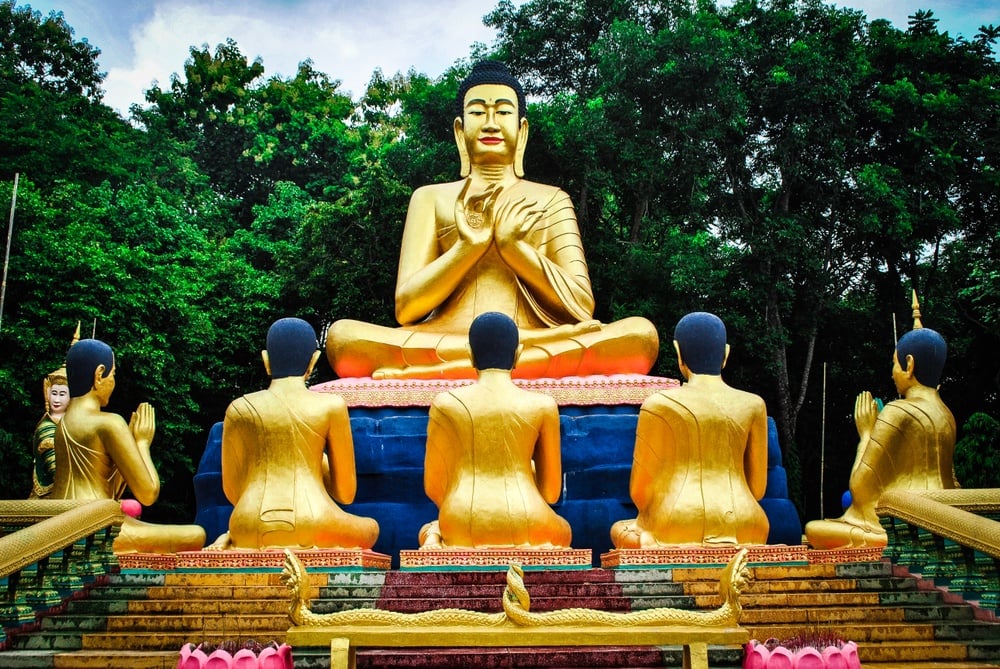 Rent a scooter and go on a ride through Bokor National Park. It's a beautiful mountain that has a wonderfully paved road that will take you all the way to the top of the mountain. It's a fun ride up and down, and it affords you sweeping views of the valley below.
Eating at the Night Market is also the perfect place to try cheap Khmer food, from noodle soup to mango sticky rice.
If you want to splurge—by splurge I mean to spend a few bucks—then rent a kayak or paddleboard and explore the mellow Kampot River in solitude.
Best Places to Stay in Kampot
Stay a little off the beaten path in Kampot to get the most bang for your buck! Soak up the beauty of nature all while keeping your wallet happy as a clam.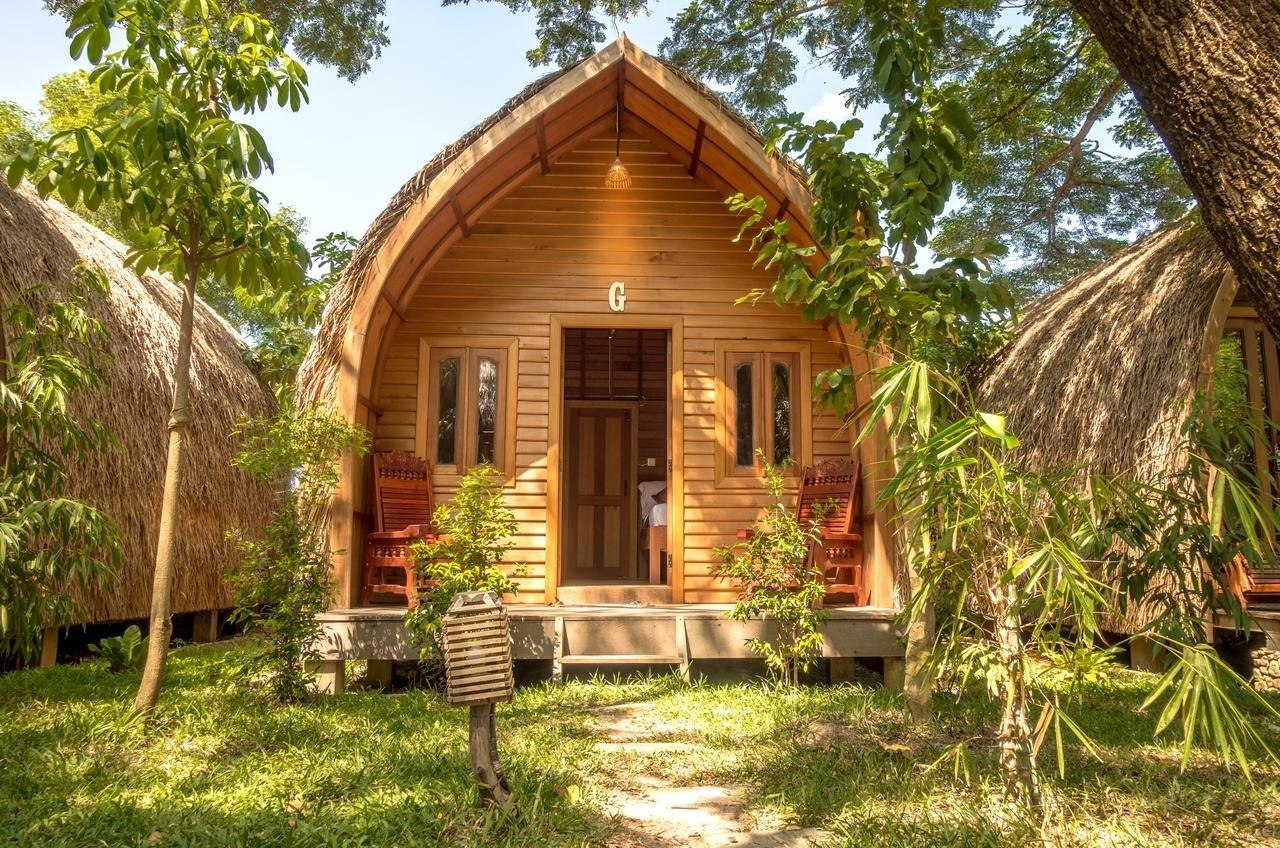 This private room in Kampot is a simple room with a private bathroom that actually comes with a large king-sized bed. You're welcome to utilize the entire building's common areas, including an upstairs area that has space for yoga and a hammock to chill in.
Mad Monkey Hostel is a party hostel that is about a ten-minute walk from the center of town. It's a hip hostel that has dorm rooms available for less than $5 a night. You can't go wrong with that price!
Stay in your own private bamboo bungalow in Kampot and enjoy majestic views of the Kampot River and Bokor Mountain from outside your door. It's the perfect spot to relax and enjoy some privacy. Amazing value for this unique spot!
The Future of the SIM Card is HERE!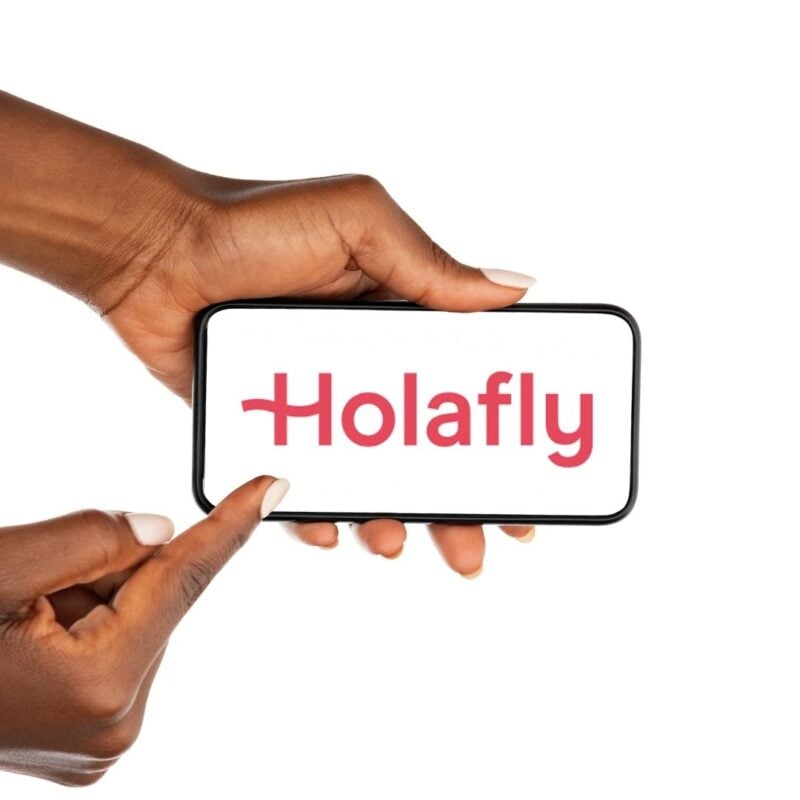 A new country, a new contract, a new piece of plastic – booooring. Instead, buy an eSIM!
An eSIM works just like an app: you buy it, you download it, and BOOM! You're connected. It's just that easy.
Is your phone eSIM ready? Read about how e-Sims work or click below to see one of the top eSIM providers on the market and ditch the plastic.
Grab an eSIM!
Mondulkiri – One of the Most Unique Places to Stay in Cambodia
When staying in Cambodia and seeking a truly unique and wholeheartedly authentic experience, Mondulkiri is the place for you. That's right, you won't find a palm tree or a rice paddy anywhere!
Mondulkiri is a sparsely populated province, with just four people per square kilometer. The best thing to do in Mondulkiri is to take advantage of the ecotourism projects like the elephant sanctuaries.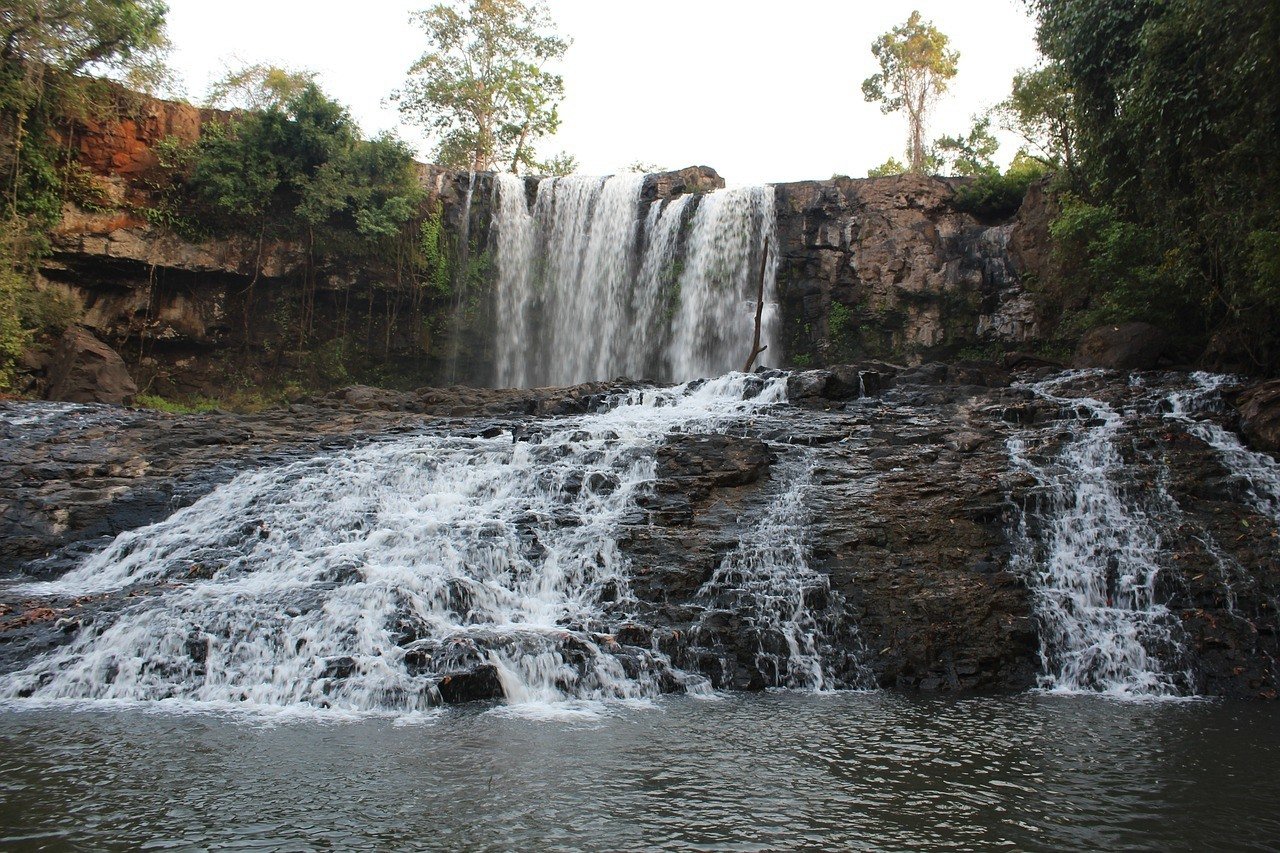 Also, Mondulkiri is home to the Bunong people, which actually only makes up one percent of Cambodia's population. Visiting the Bunong's villages is a special thing to do— to witness the indigenous population living a beautifully simple life.
Also, you can do a jungle trek with a Bunong guide. You can opt for an overnight trek and stay the night in a jungle lodge, or you can do day treks if you'd prefer.
Best Places to Stay in Mondulkiri
Sen Monorom is the so-called city center of the Mondulkiri province. However, there isn't much to do in the city itself other than use it as a home base for your explorations. If you can stay a little bit outside the city center, you're sure to love the extra privacy and a hefty dose of nature.
This Airbnb is a true beauty! It's a two-bedroom and two bathroom apartment inside a home that can comfortably house up to six people. It's a lovely space that is run similarly to a bed and breakfast, however, breakfast is available for an additional cost. It's situated just outside the city center surrounded by nature.
The Avocado is a budget-friendly Guesthouse located in Sen Monorom. It has comfortable and simple rooms that give you good value for your money. Also, it's just a block away from the Senmonorom Market and the Chomno Thmey Restaurant.
Greenhouse Retreat is a delightful hotel that is nestled right in verdant greenery. You're sure to appreciate feeling secluded while not being too far out of town either. There's also a restaurant on site that is notorious for whipping up delicious meals!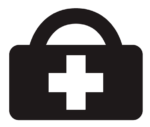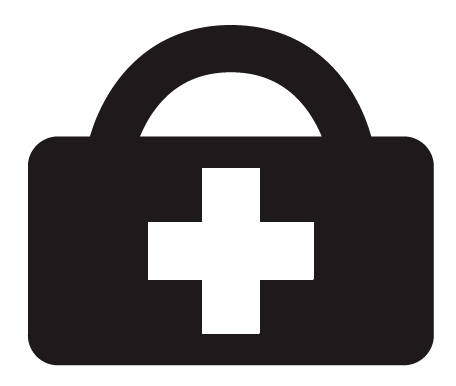 Cambodia is a very fun place and one could easily get carried away while visiting. It's important to remember that no country is perfect though.
Read our safety guide for Cambodia before planning your trip so you will be extra prepared when you arrive.
Save $$$ • Save the Planet • Save Your Stomach!
Drink water from ANYWHERE. The Grayl Geopress is the worlds leading filtered water bottle protecting you from all manner of waterborne nasties.
Single-use plastic bottles are a MASSIVE threat to marine life. Be a part of the solution and travel with a filter water bottle. Save money and the environment!
We've tested the Geopress rigorously from the icy heights of Pakistan to the tropical jungles of Bali, and can confirm: it's the best water bottle you'll ever buy!
View on REI
Read the Review
Kratie – Where to Stay in Cambodia for Adventure
Kratie is the capital city of the province of Kratie in Eastern Cambodia which is definitely the best area to stay in Cambodia for the adventure seekers and nature lovers out there! Kratie itself is a mellow riverside town, situated right on the mighty Mekong River.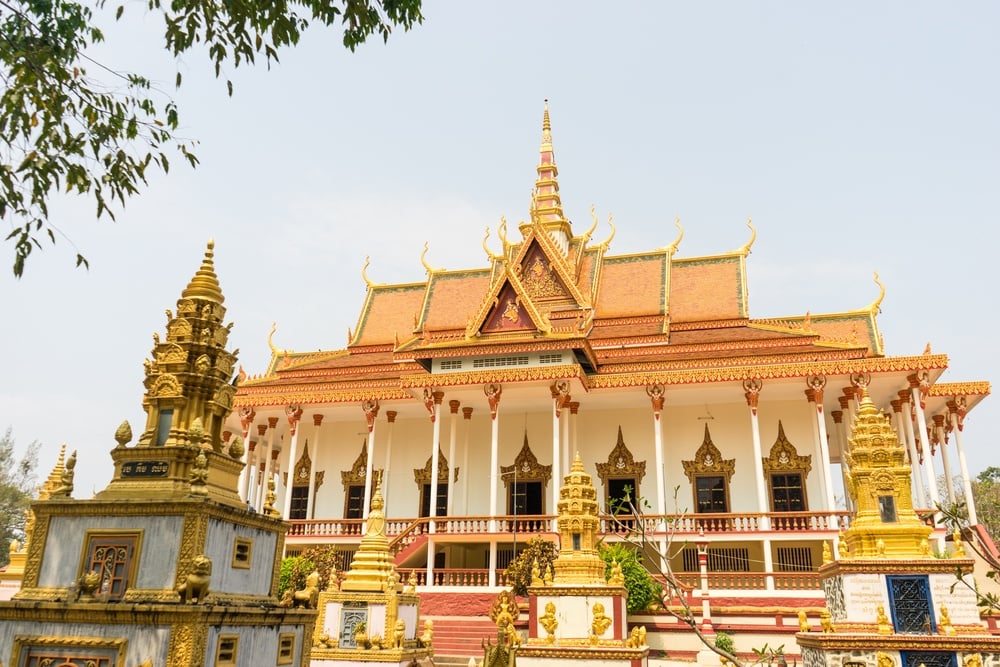 Kratie is home to the rare freshwater Irrawaddy dolphins, so going dolphin watching is a must! Also, grab a bicycle and cycle on Koh Trong Island, or take to the Mekong River for some water sports.
Don't miss out on visiting the Mekong Turtle Conservation Centre, or on visiting the Wat Sorsor Moi Roi Buddhist Pagoda, known as the 100 Pillar Pagoda. Fun fact: this pagoda actually has more than 100 pillars!
Best Places to Stay in Kratie
While Kratie is a somewhat large province, you're going to want to stay in the city of Kratie itself. There are very affordable quaint guest houses sprinkled throughout the town, and there is even one picturesque resort!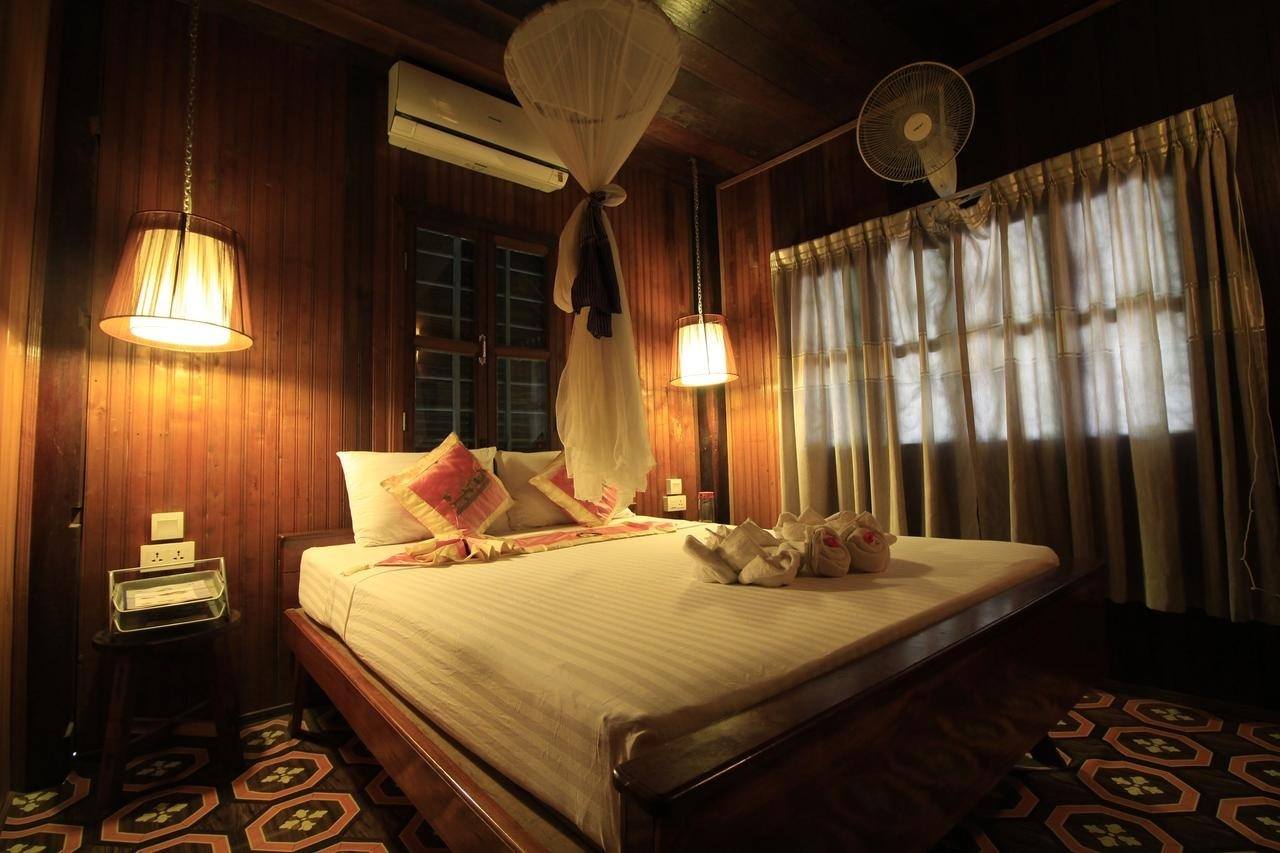 The Wooden House is located just on the outskirts of Kratie town. In fact, it's only a five-minute drive downtown. What makes this three bedroom and one bathroom Airbnb rental extra special is that it's surrounded by a garden filled with tropical fruit trees that you're allowed to pick and enjoy. Go get yourself a coconut or a bag full of mangoes!
The Rajabori Villas Resort promises guests a peaceful retreat and all the tranquility your heart desires. Situated just a 10-minute walk from the Wat Chong Koh Pagoda, and a 20-minute boat ride from the city of Kratie. It's a soothing Cambodian accommodation option that is truly best described as dreamy.
Best Guest House in Kratie: Le Tonlé Guesthouse
The Le Tonlé Guesthouse is a beautiful place to stay. The rooms are rustic and cozy. There is an also onsite restaurant that is known for being fabulous! If you don't want to rent a double room, there is also a dorm room available too.
Le Tonlé Guesthouse is one of our favourites in Cambodia but they're not taking guests right now. We're not sure if they're closed for good but we hope they'll come back soon.
Kep – Best Place For Beach Bums in Cambodia
Kep is a small seaside town in the south of Cambodia, and is the sister city to Kampot. They're just over 20 miles apart, and it takes about 45 minutes to get there by scooter. If you'd rather opt for public transportation, a bus regularly runs the route, and a one-way ticket is just $3.
Kep, also called Krong Kep or Krong Kaeb, is the best place to stay in Cambodia if you're looking to be a beach bum. Kep's long stretch of white sandy beachfront is starting to hit its tourism boom. It's sleepy, however, and not a place for party-goers, as the entire town of Kep feels a little drowsy.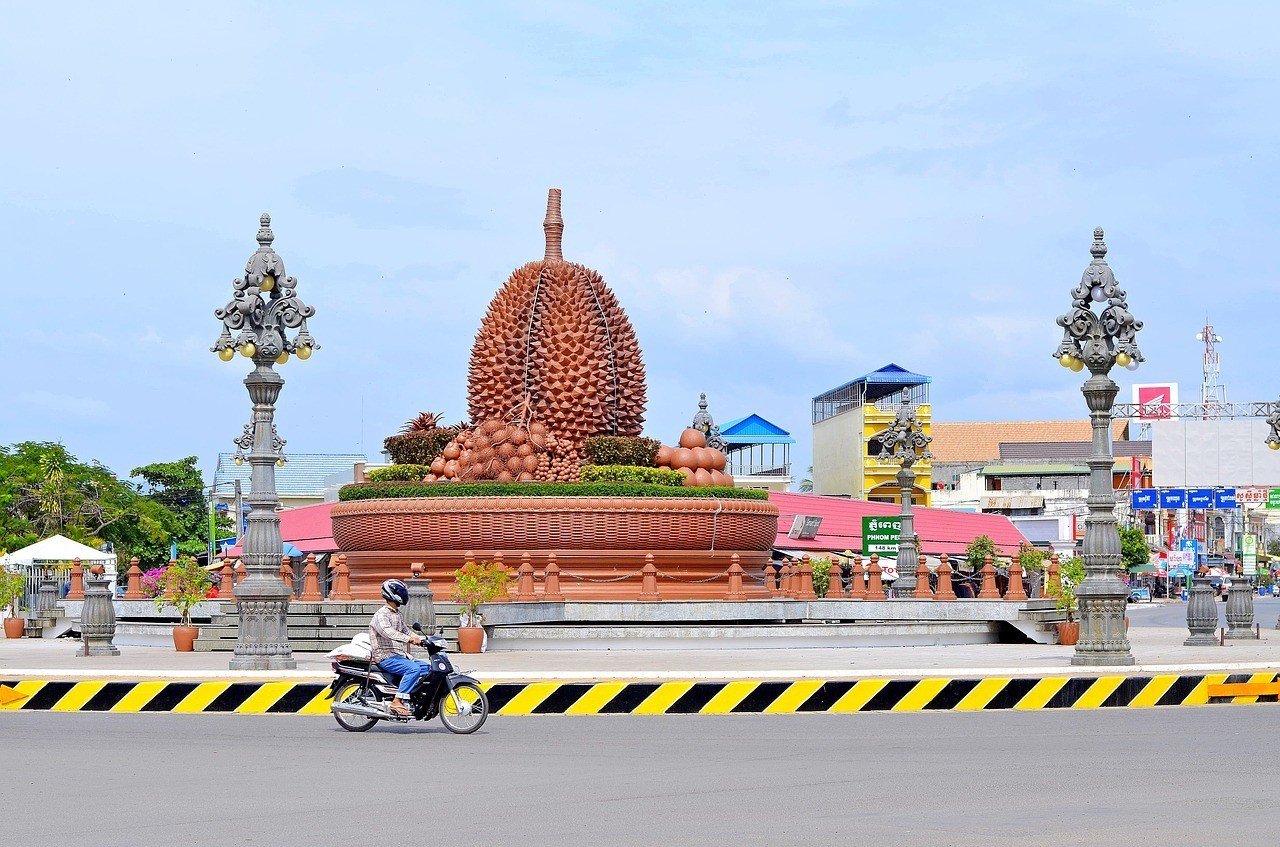 If you want to lay around on the beach, eat some delicious seafood— make sure to try the blue crab Kep delicacy— and be undisturbed on your holiday, then Kep is for you!
If you're in the mood to get off the beach for a while, Kep also has a beautiful national park that has well-marked hiking trails. Also, there is a butterfly farm, called the Kep Butterfly Farm, that's just a short walk off the trails at the national park.
Lastly, there's a pepper farm to visit too! It's called Sothy's Pepper Farm and is a unique eco-tourist experience that provides a glimpse inside what local farming is really like. While that might not sound exciting, trust me— the tour is rather mind-blowing!
Best Places to Stay in Kep
As Kep is a low-key, small town, you can stay anywhere and never feel too far away from the main areas.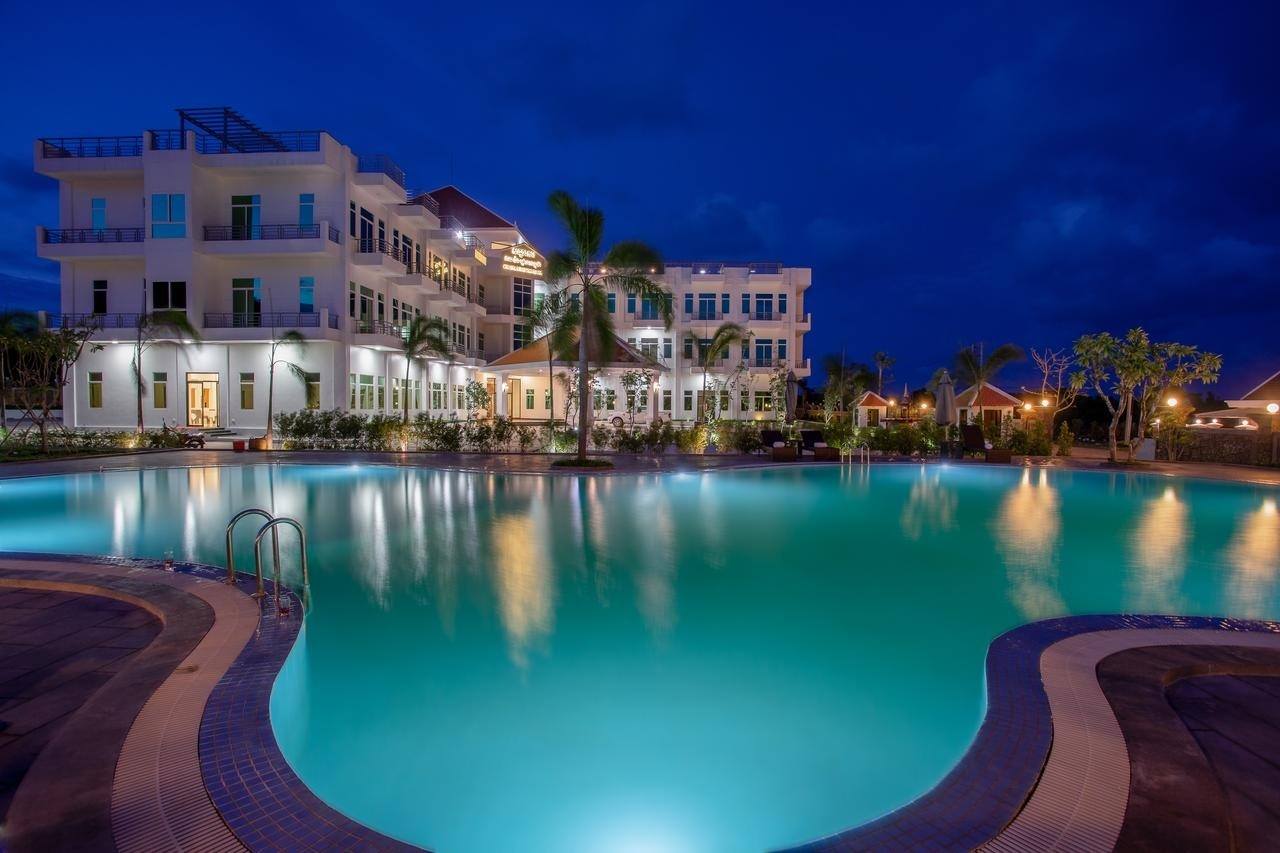 The Q Bungalow is a wooden house nestled in an eight-hectare garden that overlooks the beach. It's the perfect place to enjoy beautiful views of the Kep Bay, as well as the lush garden around it. The Bungalow also has a seawater pool, perfect for relaxing on a hot day.
The Khmer House Hostel is situated in Kep, just 2.6 km from the beach. Heavily inspired by nature, this hostel is filled with artisanal, handmade wood decor. It's also within walking distance to the national park and to the crab market too!
This Hotel really goes above and beyond! It's a stunning, very modern hotel that is spotlessly clean. From the hotel's doorstep, Kep Beach is under 1.5 miles away. However, there is a giant swimming pool that you can enjoy if you don't feel like venturing out of the hotel to relax by the water.
Top Places To Stay in Cambodia
With so many amazing budget accommodations in Cambodia and so many unique options for lodging in scattered around, choosing my top three places to stay was certainly not an effortless decision. That being said, these three Cambodian accommodation options really stand out as the all-stars.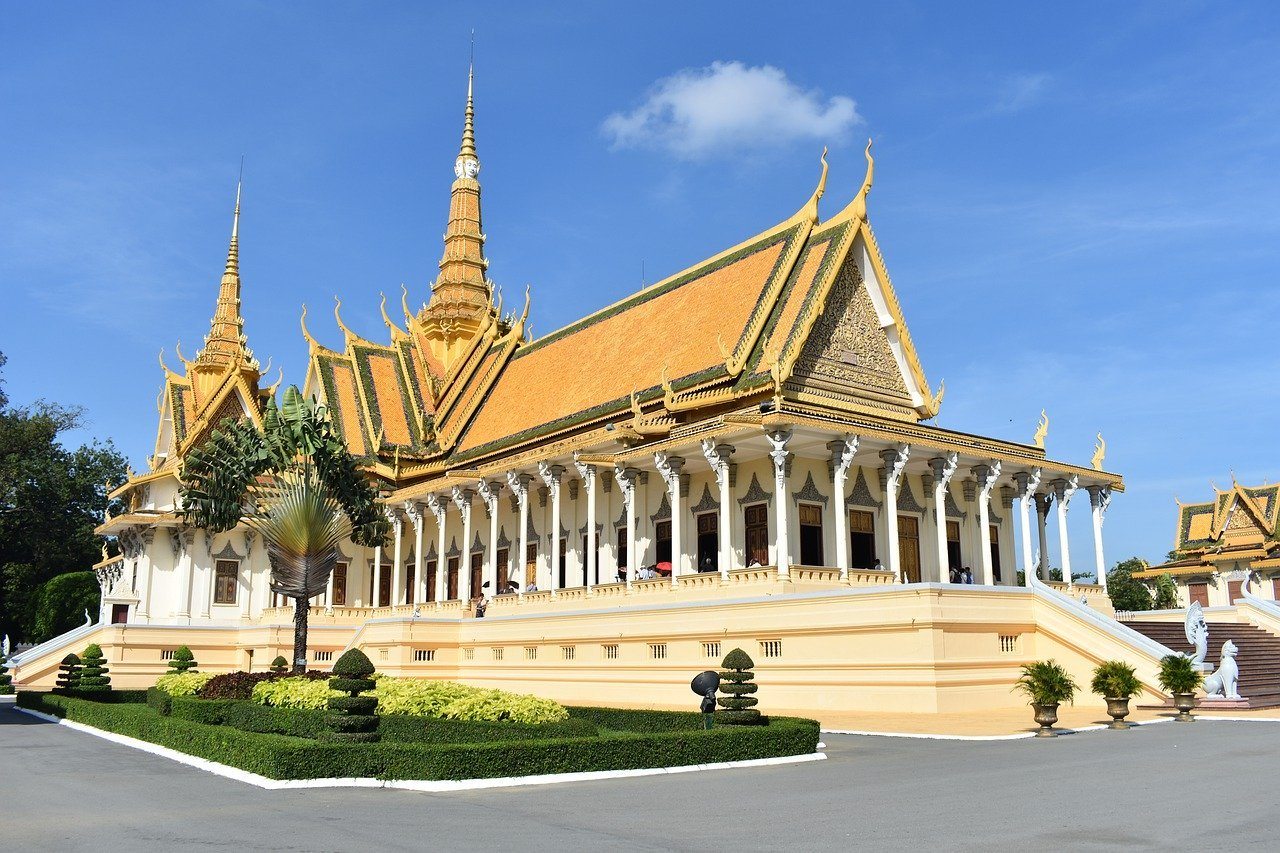 Get ready to be amazed because this Airbnb is absolutely divine. It's a designers studio apartment that is decked out with all the most drool-worthy decor. I mean, just look at that photo! The hosts also offer free airport or bus pick up too.
The Ganesha Eco Guesthouse in the idyllic town of Kampot is one of the best places to stay in Cambodia. It's secluded—located about a fifteen-minute drive from town— in a lush garden filled with tropical trees and flowers. It's a very relaxed hostel that has both dorm rooms and private rooms available. Also, their restaurant has some of the best pancakes in the whole country!
The Sangkahak Mith Hotel really is a shining gem where hotels in Cambodia are concerned. It's completely up to modern standards and is immaculately clean. You'll feel right at home in the bright, spacious rooms and with such a low price tag, your wallet will be happy too!
Books to Read on Cambodia
Below are my favorite books set in Cambodia:
A Cambodian Prison Portrait– There are many myths about the Khmer Rouge's bloodthirstiness and brutality, but there was at least one place where they all were real: Security Prison 21, the secret police's killing machine. Of the 14,000 or so prisoners who were brought there for questioning, only a handful survived. One of them were the artist Vann Nath (1946-2011). In this thin little book, he describes his horrifying year behind the barbed wired walls of S-21.
The Lost Executioner– The head of S-21, Kang Kek Iew, AKA Comrade Duch, is central in this remarkable book. In 1997, the photographer and journalist Nic Dunlop more or less stumbled upon Duch, who had been hiding since the fall of the Khmer Rouge in 1979.
Phnom Penh: A Cultural History– This book provides a colourful account of the troubled history and appealing culture of Cambodia's capital city. It sheds light on Phnom Penh's early history, when first Iberian missionaries and freebooters and then French colonists held Cambodia's fate in their hands.

Our GREATEST Travel Secrets…
Pop your email here & get the original Broke Backpacker Bible for FREE.
Don't Forget Travel Insurance for Cambodia
ALWAYS sort out your backpacker insurance before your trip. There's plenty to choose from in that department, but a good place to start is Safety Wing.
They offer month-to-month payments, no lock-in contracts, and require absolutely no itineraries: that's the exact kind of insurance long-term travellers and digital nomads need.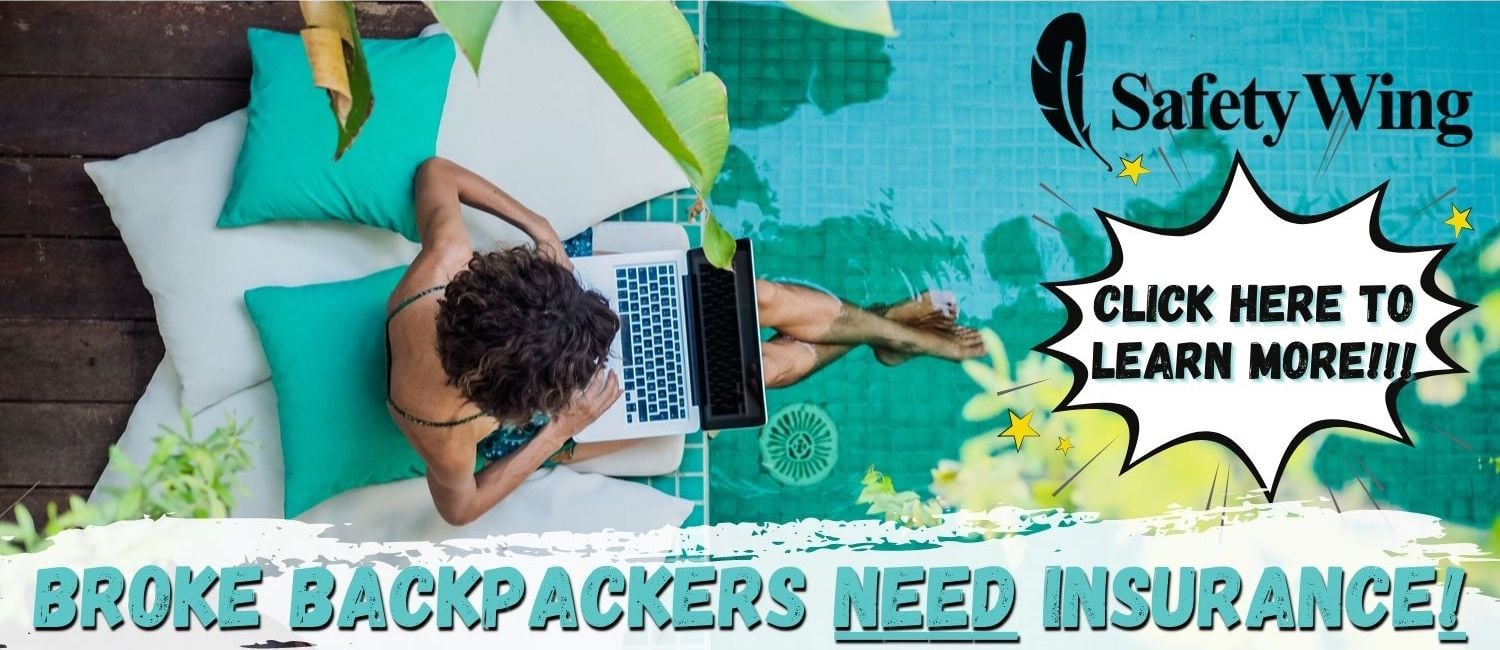 SafetyWing is cheap, easy, and admin-free: just sign up lickety-split so you can get back to it!
Click the button below to learn more about SafetyWing's setup or read our insider review for the full tasty scoop.
Final Thoughts on Where to Stay in Cambodia
My three months spent in Cambodia didn't feel like enough! I hope that when you're planning your trip, my Cambodia accommodation guide proves helpful and makes your itinerary feel more manageable. Whether you're heading to the beaches of Koh Rong or to see the dolphins in Kratie, I hope that my list of the best areas to stay in Cambodia has made trip planning a snap!
Do you own or run a kick-ass hostel? Want to be featured on this list? Get in touch at [email protected]
---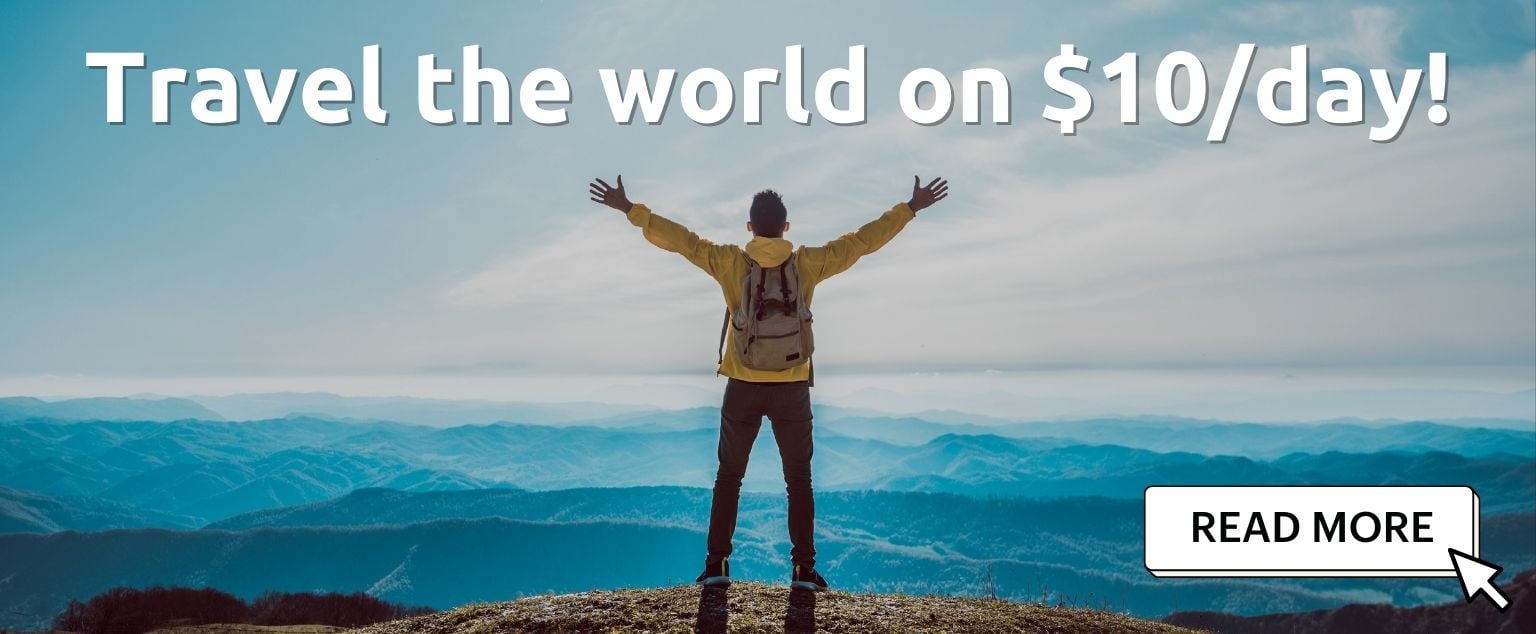 And for transparency's sake, please know that some of the links in our content are affiliate links. That means that if you book your accommodation, buy your gear, or sort your insurance through our link, we earn a small commission (at no extra cost to you). That said, we only link to the gear we trust and never recommend services we don't believe are up to scratch. Again, thank you!