If you're not too familiar with Cambodia, this highly underrated Southeast Asian country should be on your list of places to go! You know those EPIC jungle temples in the Lara Croft movie? Yep, that was in Cambodia. And I'm talking about the OG Tomb Raider with our girl Angelina, not the remake.
Unfortunately, like everywhere else in the world, Cambodia isn't immune to its fair share of problems. Beneath the amazing islands, vibrant night markets, and delicious food, Cambodia struggles with underprivileged communities, wildlife trafficking, and marine and terrestrial ecosystems on the verge of collapse.
I'll be the first to admit that I'm guilty of looking at each new place I travel to with rose-tinted glasses… but wouldn't it be incredible if instead of turning a blind eye to things that might make us uncomfortable, we thought about what we could do to help? If you're nodding in agreement, then maybe volunteering in Cambodia is something you should consider!

Do You Want to Travel FOREVER??
Pop your email in below to get a FREE copy of 'How to Travel the World on $10 a Day!'.
Top 3 Volunteer Projects in Cambodia
Teaching English to Kids
> English Teacher
> Peam Ro
Digital Marketing
> Digital Marketing, Video Making, Photography
> Takeo
Help on an Organic Farm
> All Around Farm-Hand
> Mondulkiri Province
What You Need to Know About Volunteering in Cambodia
There are options for days when it comes to placements and projects. You'll encounter building opportunities, working with local communities, conservation work, and SHOCKER, plenty of English teaching positions (not that we're complaining).
When it comes to real volunteer work, it's really important to remember that this won't be a volunteering holiday. Yes, you'll have free time, but while you're there you'll be expected to put in the hours, give it 100%, and behave respectfully. Now, if you were envisioning turning up on day one to get a cute photo with some kids then chilling out for the next few weeks, this isn't for you.
However, if you're excited at the prospect of really helping out a community or cause, but don't know where to start looking, you're in luck! There are plenty of sites out there to help you with this, personally, we love Worldpackers and think Workaway is awesome, too. These are easy to navigate, review-based sites where you can find safe and ethical places to volunteer, without the headache.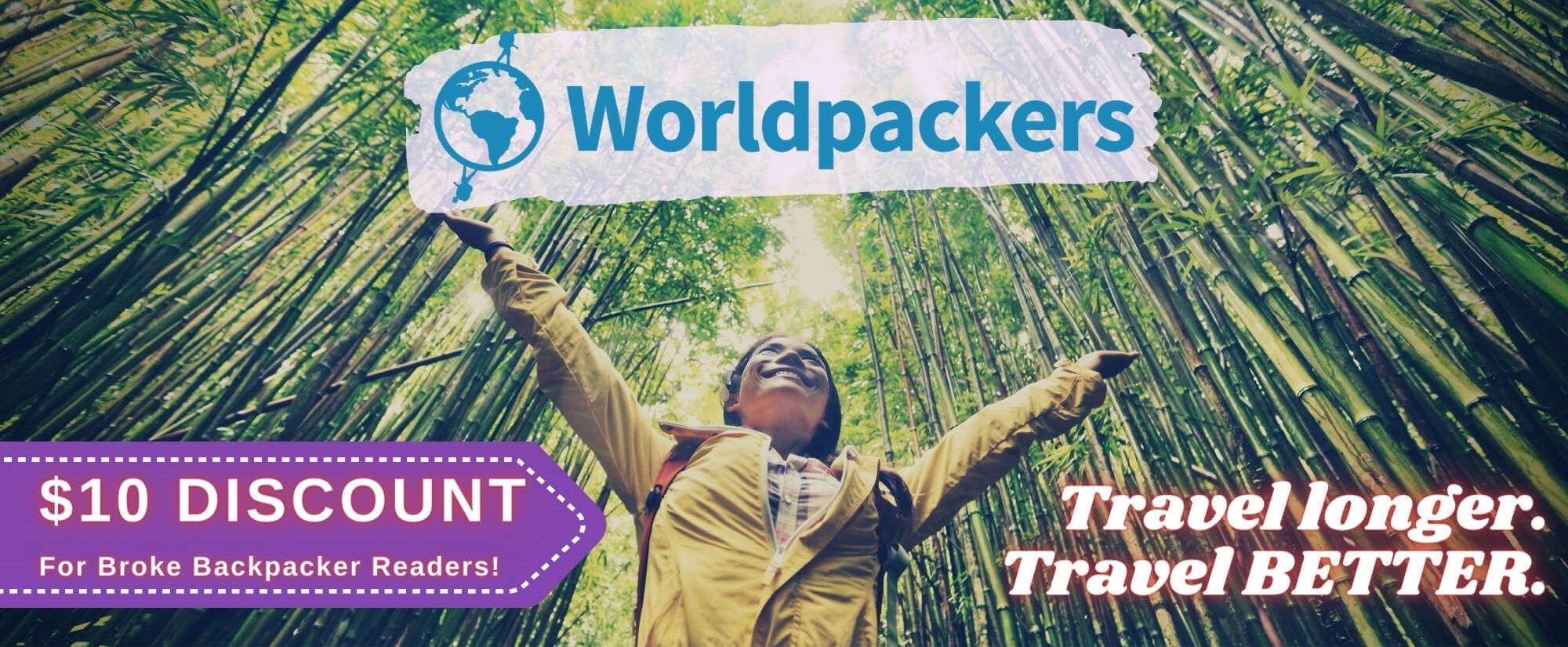 Worldpackers: connecting travellers with meaningful travel experiences.
Why Volunteer in Cambodia
So aside from that warm, fuzzy feeling you'll get from doing a good thing, why should you volunteer in Cambodia? Let me tell you:
Volunteering is a completely new way to experience a country. You'll see and understand it in a way your fellow travelers simply can't, with a unique insight into the culture, customs, and people!
This one seems trivial, but for a foodie like me, it's a big deal. Many placements include meals, which more often than not, are local dishes prepared by local people. Need I say more?!
These organizations really NEED you, not just for your manpower, but also for all the things your sign-up fee will help provide.
Volunteering not only makes you feel good, it also looks good. No, not on social media (well that too I guess), but on things like college applications and CVs!
If all that wasn't enough, volunteering really helps you to get to know yourself. You could find yourself partying it up in Thailand on your gap year OR you could find yourself helping others in need.
Before You Volunteer in Cambodia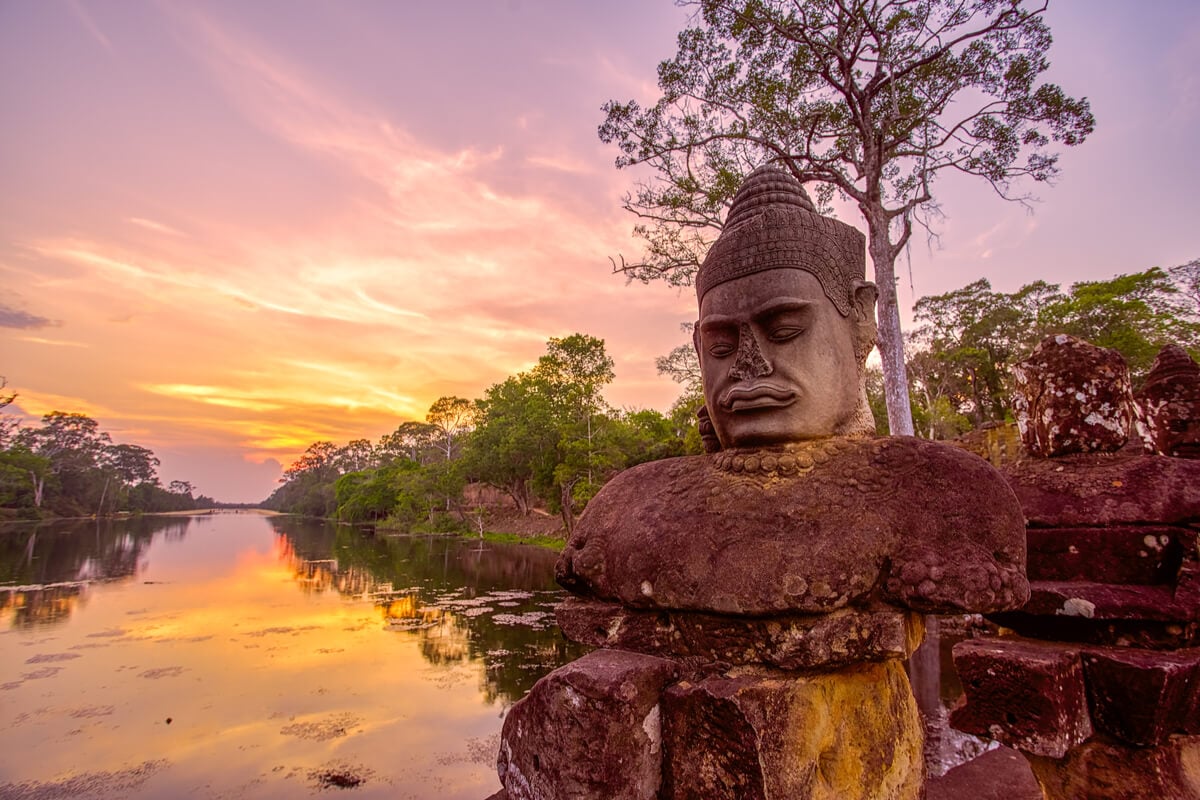 So before you go off rip-roaring to volunteer in Cambodia, let me tell you a few things which are kinda important to know. Visas and vaccinations may seem boring but wrapping your head around them with plenty of time to spare is a smart idea.
Visas
Many travelers volunteering short-term simply pay for a tourist visa (visa type T) on arrival at the airport or border control. However, if you're planning on volunteering for over two months, you will need to ask for an employment visa (visa type E).
Both of these visas will be valid for 30 days and can be easily extended in the country. Tourist visas can be extended for another 30 days, and employment visas can be extended for either 1, 3 or 6 months, or 1 year. If in doubt, speak with your placement beforehand as they can give you more information.
All of this, of course, applies to a glorious COVID-free world, and COVID has most likely thrown a spanner in the works.
Vaccinations
At the moment, travelers entering the country need to have a Yellow Fever vaccination if they're coming from a country with a risk of Yellow Fever transmission. It's also a good idea to visit your doctor or a travel clinic at least 6-8 weeks before your trip to get their advice on any other jabs.
For volunteering in Cambodia, your doctor will probably suggest Hepatitis A and B, Typhoid, and Rabies jabs. They might also offer you a Japanese Encephalitis vaccine and malaria tablets depending on the time of year and where you're going. But getting at least the basics is a good way to protect yourself in Cambodia.
Dengue risk is present in Cambodia, even in cities, and while there's no jab for this, keeping those pesky mosquitos away with bug spray will reduce the risk.
Cambodia at a Glance
Official Language – Khmer
Currency – Cambodian Riel | 1 USD = 4081 KHR (September, 2021)
Capital – Phnom Penh
Costs of Volunteering in Cambodia
It will probably be no surprise to you that volunteering in Cambodia, let alone anywhere, is not free. For those of you who are late to the party and crying out in outrage, yes, there are costs on top of you working for free. But if you're with a legitimate organization, then you can rest easy knowing your money is going to a good and worthy cause.
Where does it go?? I hear you asking. Well, these contributions go towards the daily running costs, paying full-time staff, funding research, and more. NGOs and nonprofits are sadly usually underfunded by the government and rely on you guys to keep them fighting the good fight!
On the bright side, this collaboration isn't totally one-sided. Most placements will provide you with free accommodation, meals, and transport to and from the project site! What they don't cover is flights, visas, internal transfers (some organizations do provide this), and any extra spending for while you're there. Which leads me nicely onto spending money…
It's always a good idea to have a little extra money squirreled away for essentials items, weekend trips, and don't forget SNACKS. If you go to SE Asia and don't try anything seaweed-flavored, did you really go?
Choosing a Volunteer Project in Cambodia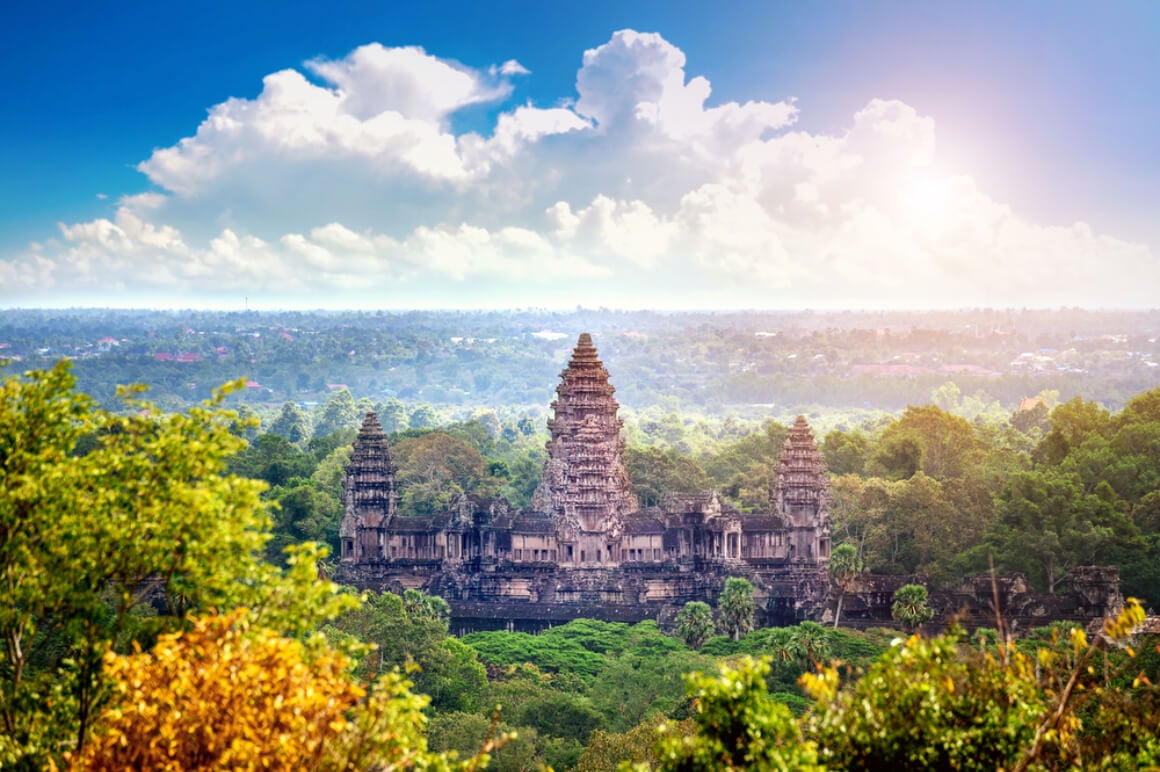 So now we've covered the basics on volunteering in Cambodia, let's get into the nitty-gritty details of choosing a project.
Think long and hard about this one. Choosing the right project can make or break your trip, and you deserve to have the best time possible! What are your skills? What are your likes and dislikes? These are all questions you should be asking before committing to anything.
Here are the kinds of projects out there:
Building – You may come across a project or two that involves some heavy lifting and building work. Many communities in Cambodia live in poverty and organizations seek to provide those in need with clean and comfortable shelter. Any kind of building is laborious, so make sure you're honest with yourself as to whether you're in tip-top condition and can undertake this task. You don't want to slow everyone else down, or injure yourself!
Teaching – This includes (but is not limited to) teaching English. If English isn't your forte, don't panic as there are plenty of opportunities out there to teach art, dance, sports, any useful skill you might have! Teaching projects are normally for underprivileged children but sometimes can be for adults too. Serious organizations will NOT just bung you in a room with a load of screaming kids and hope for the best. You can expect guidance, support, and teaching materials.
Conservation – Finding ethical conservation placements can be tricky in SE Asia, so take your time and do some digging on any organizations. Who endorses them? What will your duties be? I can tell you upfront that if you read anything about riding elephants or cuddling up to baby animals – run a mile. Most of the time you will be conducting scientific surveys, cleaning out enclosures, and only seeing the animals. That's still totally rad though!
Every project is different, and will have its own rules on the minimum (or maximum!) duration of your stay. Most places need at least a one or two-week commitment. Some types of volunteering, like in an orphanage, for example, have long minimum commitment times to provide stability for the children.
Save $$$ • Save the Planet • Save Your Stomach!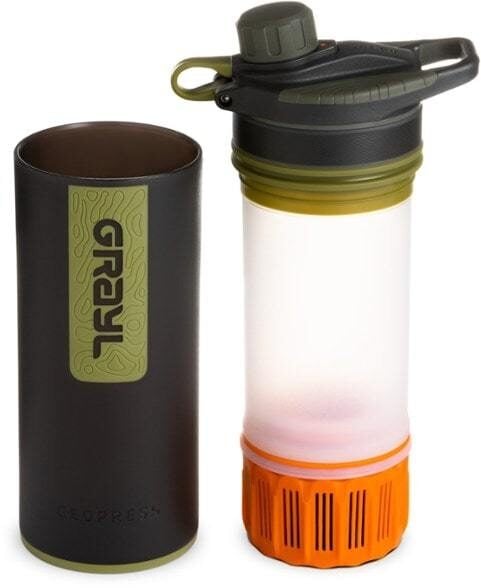 Drink water from ANYWHERE. The Grayl Geopress is the market's leading filtered water bottle protecting your tum from all the waterborne nasties. PLUS, you save money and the environment!
Single-use plastic bottles are a MASSIVE threat to marine life. Be a part of the solution and travel with a filter water bottle.
We've tested the Geopress rigorously from the icy heights of Pakistan to the tropical jungles of Cuba, and the results are in: it WORKS. Buy a Geopress: it's the last water bottle you'll ever buy.
Buy a Geopress!
Read the Review
Top Volunteer Projects in Cambodia
With so many options for volunteering in Cambodia, you might not know the best fit for you. Fear not kind reader, as we, your trusty travel bloggers, have done some research to bring you this baller list of projects: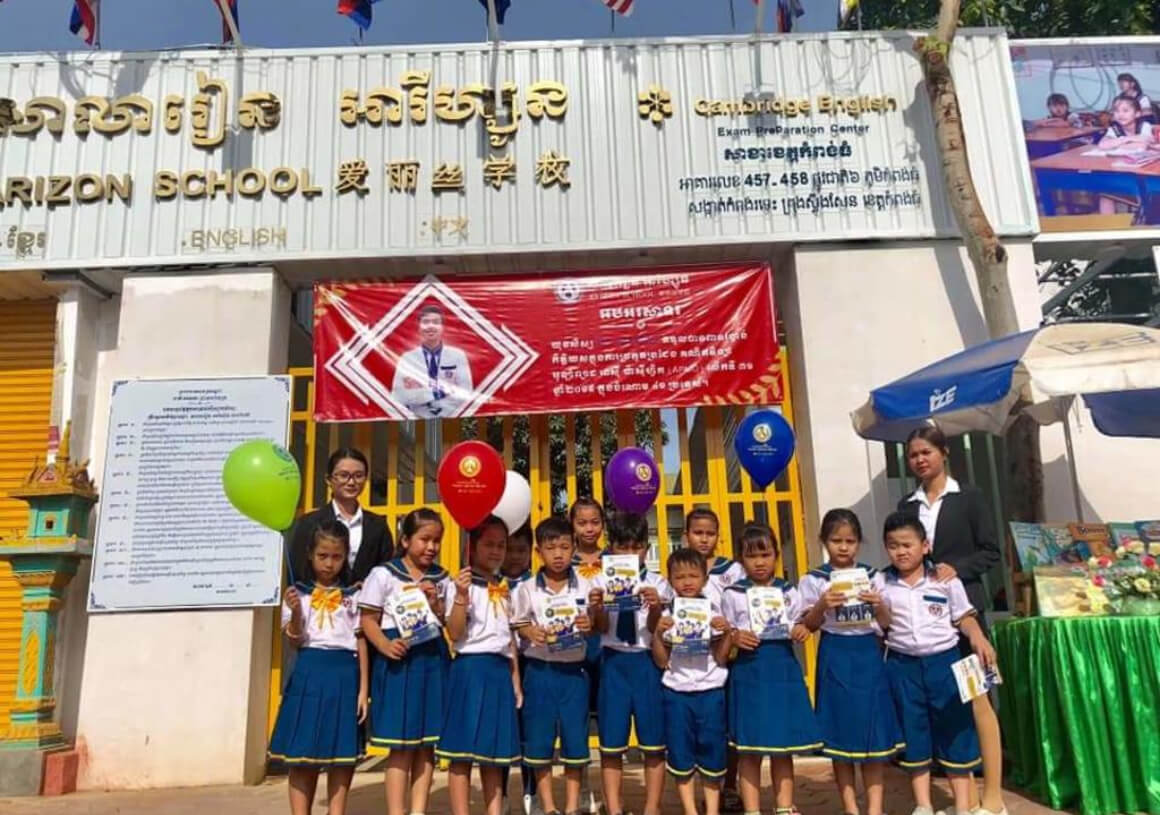 Opportunity: English Teacher
Location: Peam Ro
This is a fantastic position for those who are actually a little apprehensive about teaching. The position doesn't require any expert knowledge, just someone fun and upbeat for the kids to practice talking to. If this sounds great to you, then don't hesitate to apply.
You'll get private accommodation next to the school, have to put in a fun 25 hours a week, and get two days off! Breakfast, lunch, and dinner are included, as well as transfers to the property. This really is a great position for someone who's new to volunteering and wants a bit more of a relaxed experience. If you're super nervous, they accept pairs as well as solo travelers, so your bestie can tag along!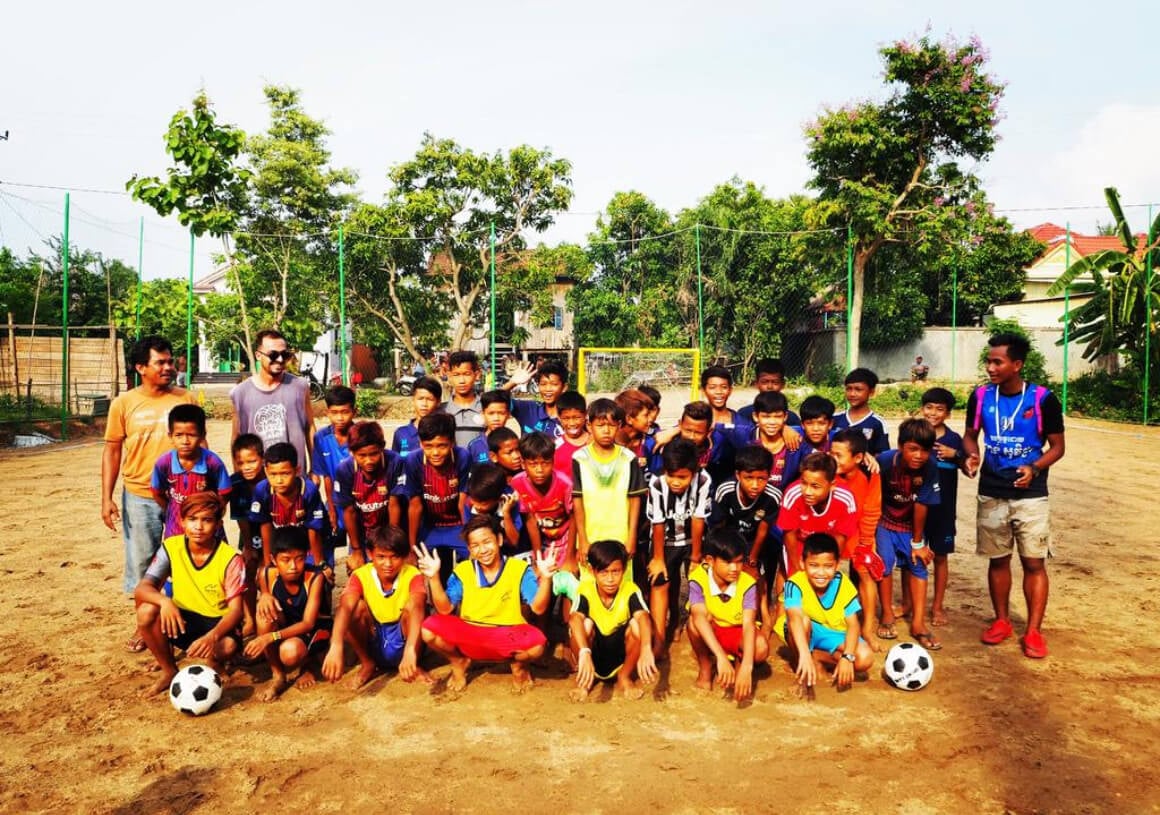 Opportunity: Teacher
Location: Phnom Penh
Another fantastic teaching position but a little more hands-on, this role includes teaching English to children and teenagers in Phnom Penh. Other activities include teaching them sports, hosting creative workshops, and environmental awareness like recycling!
They accept solo travelers and couples, with free accommodation in a dorm-style room on-site with free breakfast, lunch, and dinner. You'll be expected to work 22 hours a week and give a small daily contribution to pay for schooling materials for the kids, bills, and food.
Weekends will be free so you can hang around the dorm or head out to explore all that Phnom Penh has to offer!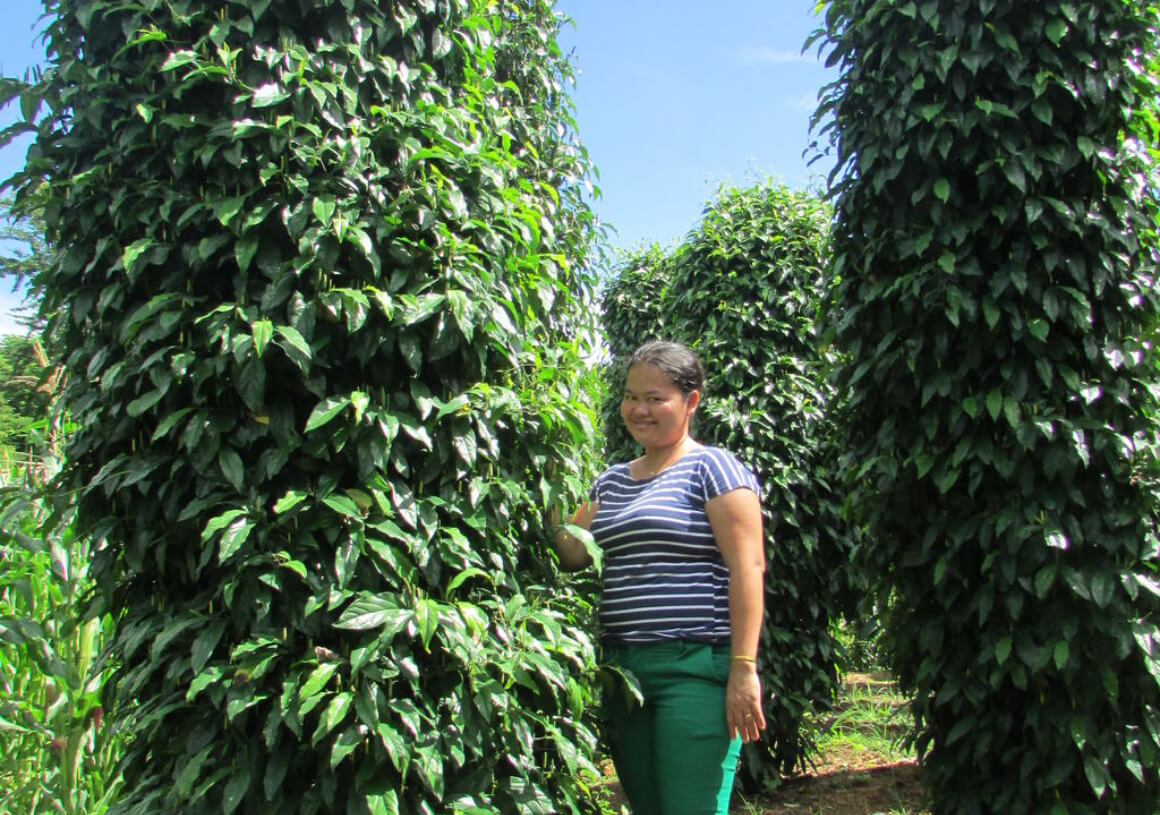 Opportunity: Digital Marketing, Video Making, Photography
Location: Takeo
If you're good with a camera, and know a thing or two about digital marketing, this is the project for you. You'll be working on a locally-owned pepper farm in rural Cambodia, with provided accommodation, breakfast, and lunch.
The aim of this role is to use your kick-ass marketing skills to create video and photo content to highlight not only the product (peppers) but the Khmer culture. This is all to increase sales locally and abroad. The project site is a ways away from the hustle and bustle of city life, so be prepared to slow down and reconnect with nature. Definitely bring a good book for when you're not exploring the local mountains and waterfalls.
Opportunity: All Around Farm-Hand
Location: Mondulkiri Province
This is a great project on an organic farm in rural Cambodia, doing all the things you'd expect to do on a farm! You'll be preparing the soil, planting seeds, harvesting crops, even feeding chickens. You'll get somewhere to stay, plus free meals too. For those of you who are into cooking, this is an amazing opportunity to learn how to cook traditional Khmer food as you will be helping out in the kitchen. You'll definitely pick up a thing or two!
We love this placement as it also serves as a cultural exchange with plenty of time to hang out with your local host and learn about Cambodian culture and traditions.
Opportunity: English Teacher, Social Media Work, Developing, And More!
Location: Lolei
We think this role is fantastic for anyone who is looking for a diverse set of duties with a big impact.
This locally run NGO is a children's charity where you will teach English, and help them with digital marketing. Help create video and photo content, managing their social media and website, as well as fundraising.
The working day is 4-5 hours with weekends off, so you'll be able to head to nearby Siem Reap for some epic adventuring. The NGO asks for a small daily contribution towards accommodation and food at a local homestay. Learn about the local culture whilst doing something really rewarding, as this little organization needs all the help it can get.
Is This the Best Backpack EVER???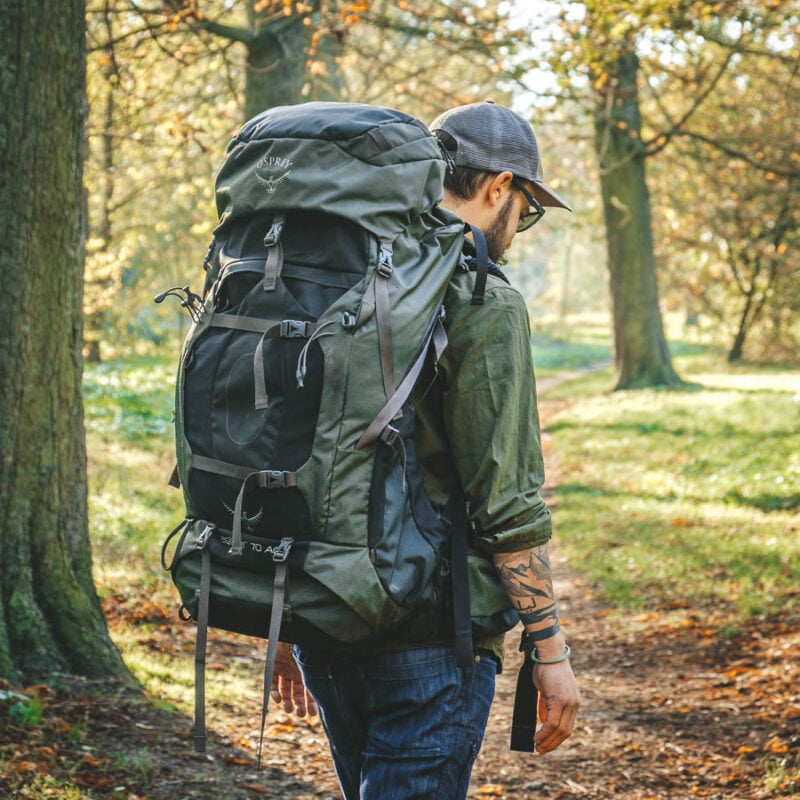 DIY Volunteering in Cambodia
Alright, so you weren't blown away by the above projects… Luckily for you (and my reputation), there are other ways to find incredible nonprofits and NGOs in Cambodia. This will require you to put your thinking caps on and hit the web for some DIY positions. Even though this may seem like a hassle, loads of amazing groups can't afford to or have the time to advertise.
A quick Google, Insta-search, or Facebook stalk should give you plenty of placements to consider. Otherwise hitting up your favorite travel blogs may be the way to go.
But, you know us and we always have your back, so keep scrolling for our top picks of DIY volunteer placements in Cambodia!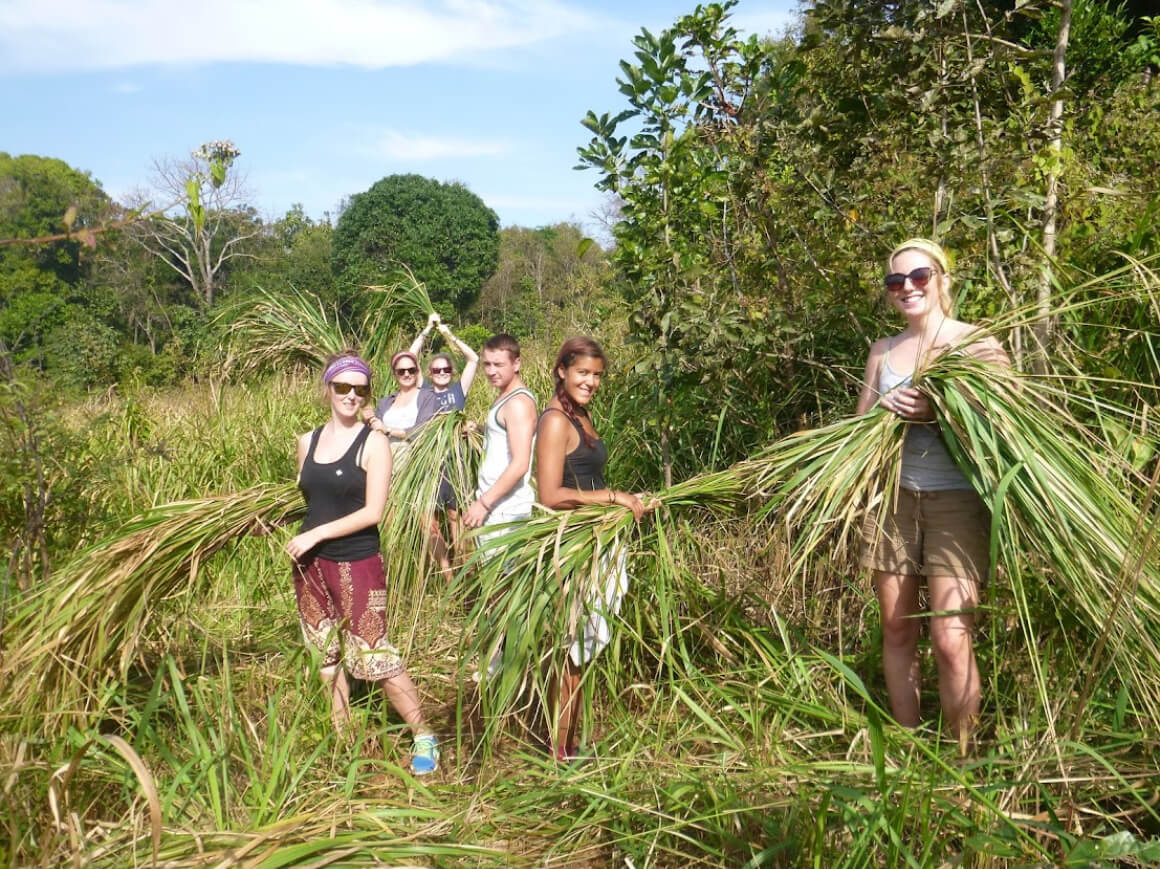 The Elephant Valley Project is an NGO that is centered around improving the health and wellbeing of captive elephants in Mondulkiri province. In addition to the sanctuary, they work to conserve the natural habitat of elephants, provide support to the indigenous community in conserving the forest, as well as providing work for locals.
Your work here will encompass all of the above, and activities include: growing and harvesting food for the elephants, planting trees, cleaning the treatment area, assisting with research, and much more! Best of all, you can observe the elephants in the sanctuary where they are free to move around as they please.
Volunteer Building Cambodia (VBC) founded in 2014, aims to help people living in poverty in the Siem Reap area by providing them with housing, solar power, toilets, and wells. Many Cambodians in rural areas do not have access to safe drinking water or sanitation facilities.
The program costs include airport transfers, accommodation, breakfast, water, and transport to and from the site. You will be needed to help build Khmer-style homes and toilets. Keep in mind that this position include hard manual labor!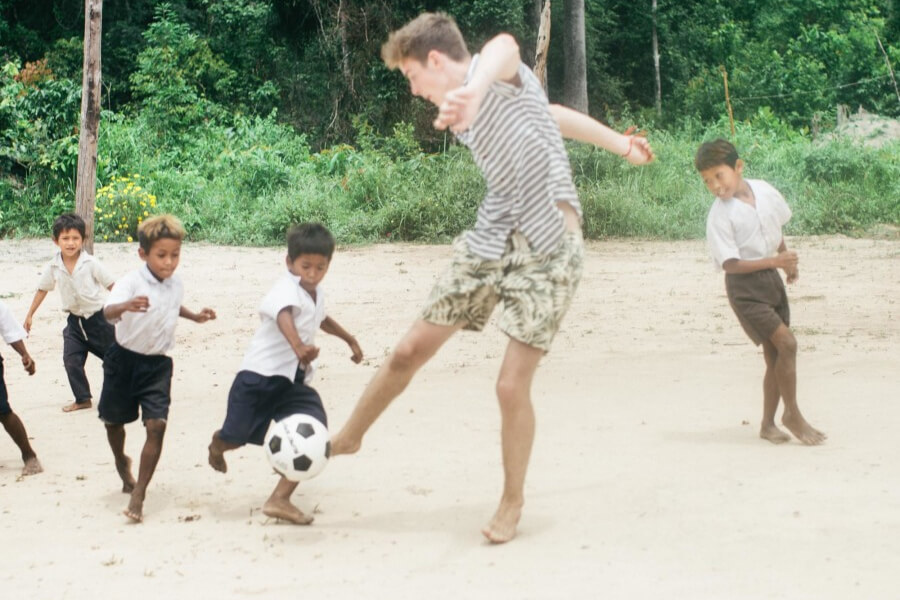 Kulen Outreach is a US-registered NGO that aims to give children in rural areas a quality education. They believe (rightly so) that the kids will have a better and brighter future, and help towards Cambodia's future development.
Volunteers will be helping the NGOs existing teachers in their enrichment program, which includes advanced English, IT skills, and arts. You may be needed to go to rural primary schools a few days a week to assist the teachers, and provide help with any infrastructure projects.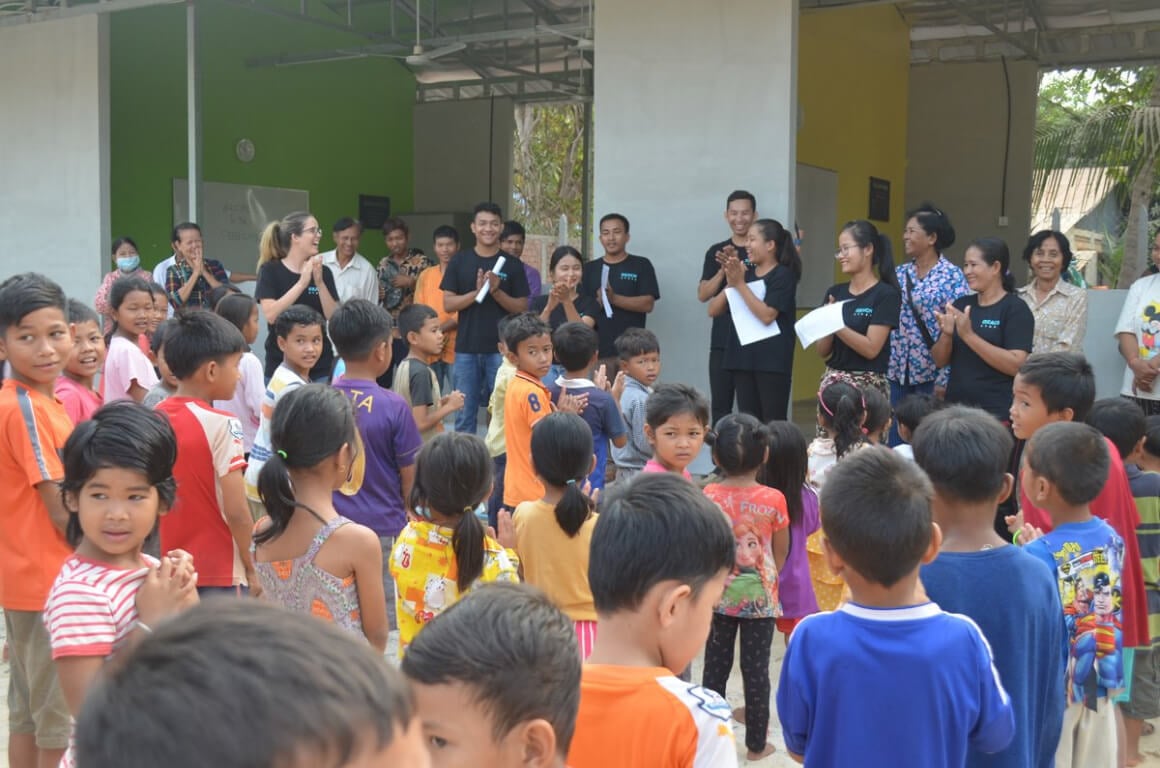 Reach Siem Reap is an NGO with an ethos to not only support kids by teaching them English, but to also ensure the day-to-day survival of their families, to one day leave poverty permanently.
There are a number of roles to choose from depending on what your skills are. This could be teaching English, helping the sports coach, assisting in the kitchen prepping meals, and more. Volunteers get the chance to host their own one-hour workshop where they can pass on any specific skills they have, like art, yoga, or dance!
Okay, as an ocean lover I'm biased, but this may be one of my top choices for volunteering in Cambodia. This grass-roots conservation group is based on their own PRIVATE island, Koh Sep. Don't be shocked to see a dolphin or a turtle or two either. Swoon.
You will be living, eating, and breathing on the island, but don't imagine some tropical beach vacation. Oh no, you will be put right to work in the field helping with research studies, community outreach programs, and learning practical skills. Anyone looking for a career in marine biology or conservation, this placement was made for you!
DON'T DIE OUT THERE! …Please 🙂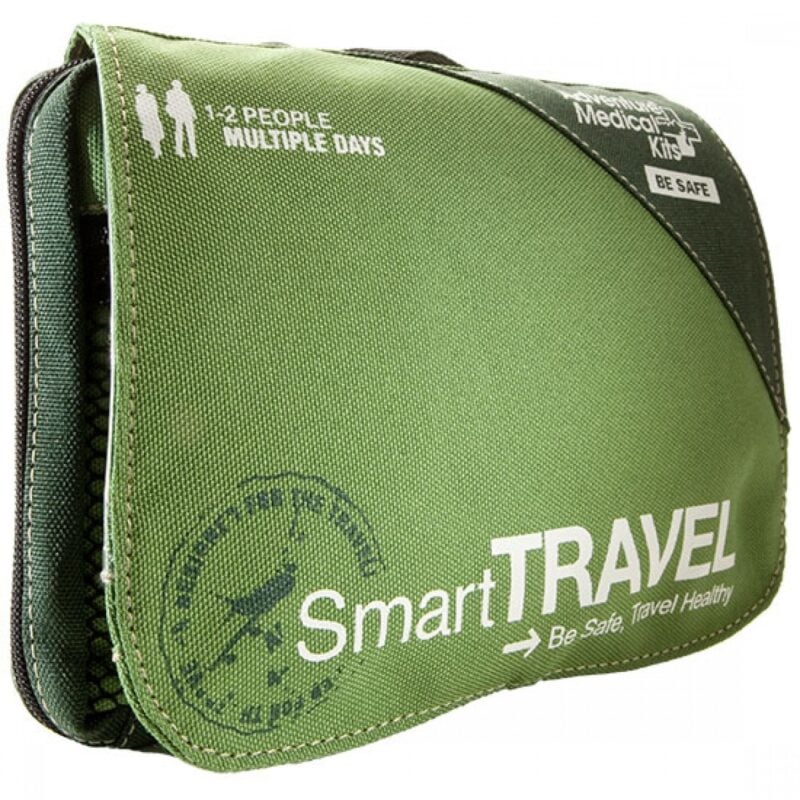 Things go wrong on the road ALL THE TIME. Be prepared for what life throws at you.
Buy an AMK Travel Medical Kit before you head out on your next adventure – don't be daft!
Buy on REI
What to Expect When Volunteering in Cambodia
I have no doubt in my mind that the above list of worthwhile causes has you just itching to hop on a plane (or train) and become the best volunteer Cambodia has ever seen. However, you might still have a question or three on what exactly to expect once you get there. Whilst I'm not an all-knowing oracle, I can give you a few pointers!
Accommodation
Just like all projects are unique in how long they'll need you to commit, they also differ in terms of accommodation. No matter the project though, you can always expect to stay somewhere clean and secure. One thing is for sure, do NOT arrive expecting five-star luxury.
Most placements offer dorm-type accommodation or a home-stay situation. These are great as you'll likely be with other volunteers (yay friends) or with a local family. There's usually a common kitchen, living area, and shared bathroom.
Sometimes your project won't offer you accommodation, and it will be up to you to secure somewhere to stay. If you're on a tight budget, nearby hostels, guest houses, or homestays are a great choice, otherwise, treat yourself to an Airbnb!
Days Off
Generally speaking, if you've found your volunteer position on a site like Worldpackers or Workaway, you'll probably be looking at 20-25 hours a week with two days off. Lots of projects organize fun activities on weekends or days off where volunteers can explore the nearby sites and hang out with locals. These aren't mandatory, so if you've got something else in mind, go ahead and plan!
Some top things to do in Cambodia are to check out the Angkor Wat temples, island hop in the south, and learn some of Cambodia's tragic history under the rule of the Khmer Rouge. No matter what you plan, this country is seriously beautiful with activities to suit everyone. You'll have a whale of a time.
Getting Around
For long journeys, buses are by far the best option and are hugely popular for both tourists and locals. They connect all the major cities and tourist spots, and have air-con so you won't be melting.
Shorter journeys can be made via tuk-tuk, but these are somewhat of a novelty and unless you have some serious haggling skills you may end up paying too much. It's a good idea to ask a local the going rate so you have a rough idea of how much you should pay.
Dos and Don'ts
Before I wrap this up, I'll just give you a few quick little dos and don'ts, suggestions really, about how to make sure you have the most incredible time volunteering in Cambodia!
Do think long and hard before going all-in with an organization. You'll want to make sure it's a good match so there's no regret later on.
Do be upfront about how much time realistically you can commit to. If you only wanna be there for two weeks, that's fine!
Do work to the best of your ability at all times, be a team player, and listen to your supervisors.
Do embrace the local culture whilst being mindful and respectful of their customs.
Don't shy away from voicing any concerns or doubts you have. The organization will work with you to work through any problems.
Don't forget to "stop and smell the roses", you're in Cambodia, having new experiences, and growing as a person! Enjoy it!
Final Thoughts
We are seriously impressed with the selection of volunteer projects in Cambodia! There is something for everyone, no matter what you're looking for. If these placements haven't sparked any interest in you, we highly suggest you do your own research as there are a TON of 10/10 worthwhile causes just waiting to be discovered.
Hopefully, we've been able to answer any questions you had about volunteering in Cambodia and have convinced you to pack up and go! If that's the case, that's amazing and I wish you a happy trip. *virtual high five*
But don't forget to sort your travel insurance before you leave!
Month to month payments, no lock-in contracts, and no itineraries required: that's the exact kind of insurance digital nomads and long-term traveller types need. Cover yo' pretty little self while you live the DREAM!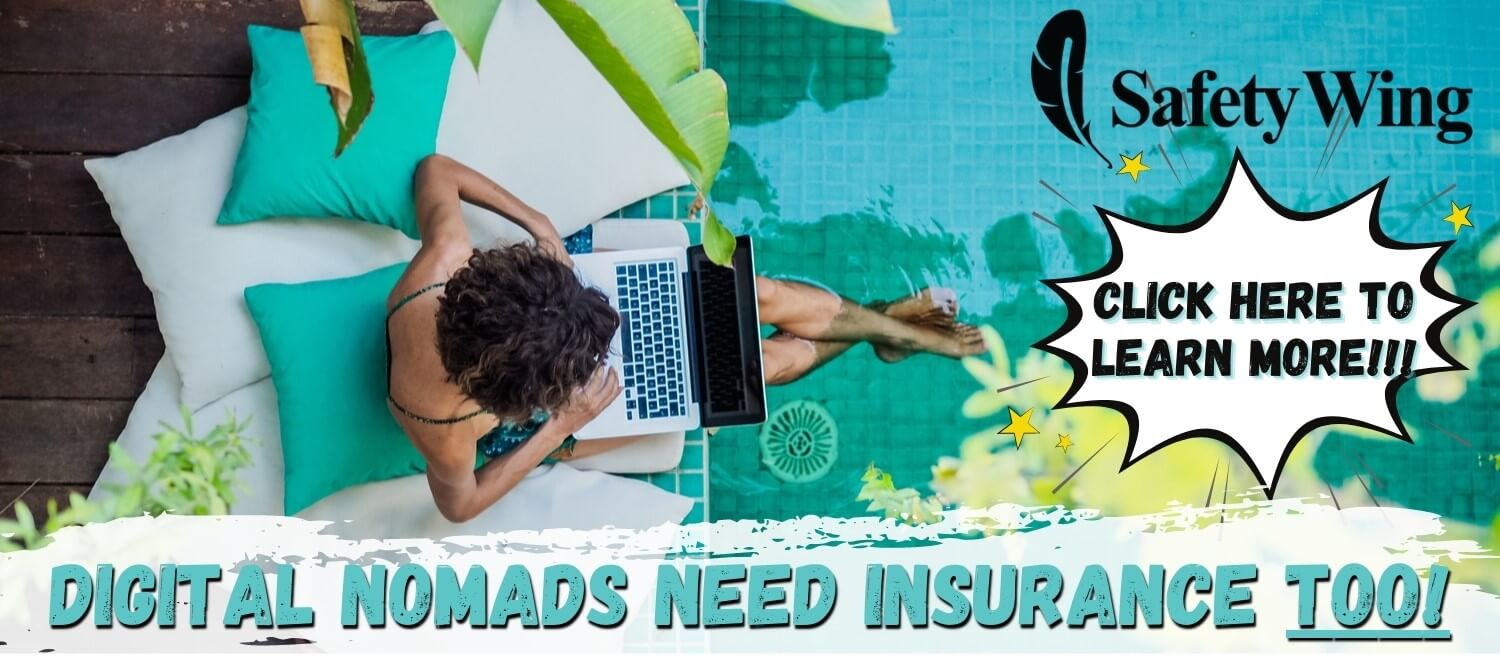 SafetyWing is cheap, easy, and admin-free: just sign up lickety-split so you can get back to work! Click the button below to learn more about SafetyWing's setup or read our insider review for the full tasty scoop.
---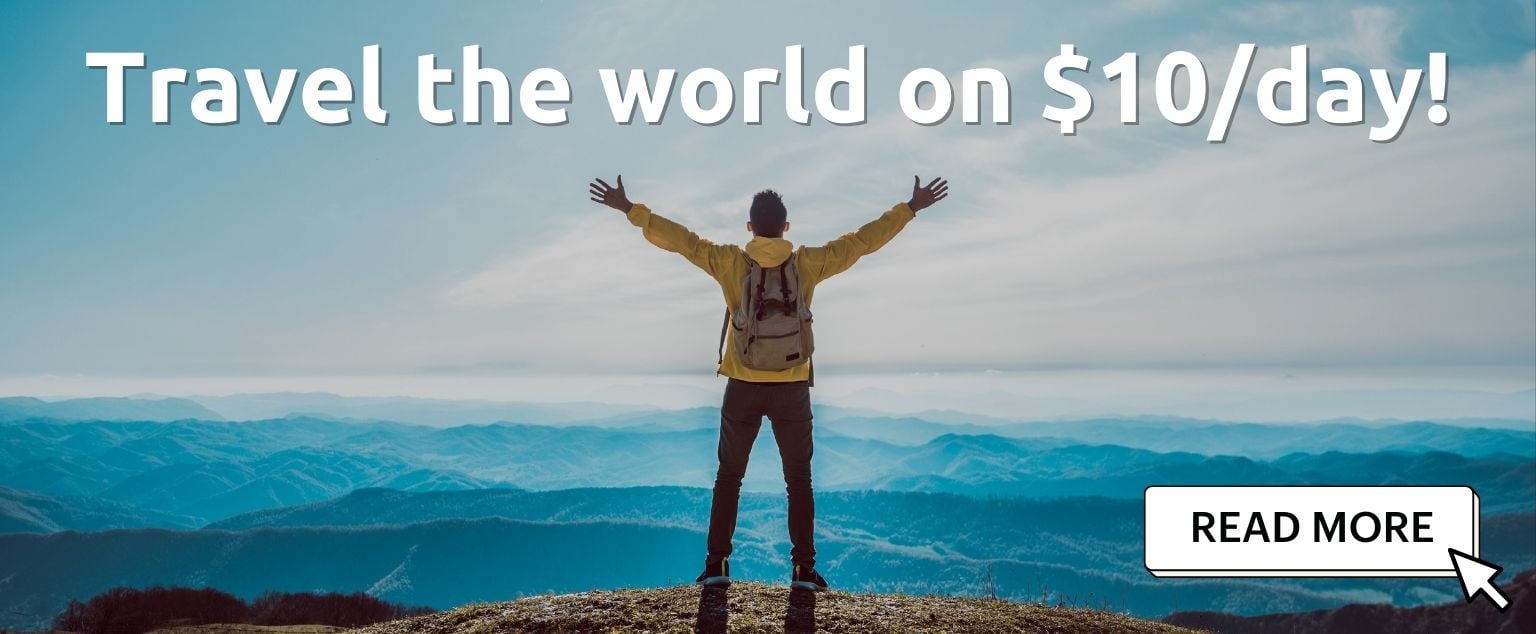 And for transparency's sake, please know that some of the links in our content are affiliate links. That means that if you book your accommodation, buy your gear, or sort your insurance through our link, we earn a small commission (at no extra cost to you). That said, we only link to the gear we trust and never recommend services we don't believe are up to scratch. Again, thank you!