Phnom Penh is Cambodia's bustling capital city, with an unfortunate past that has forged extensive cultural and historical attractions, and allowed a new blossoming from the ashes.
It's the biggest and wealthiest city in Cambodia, and was once the hub for both the Khmer Empire and French colonialists. It's also the cultural, commercial and political center of the country.
With a history that is hard to ignore and important to acknowledge – there are many Phnom Penh Cambodia points of interest that portray the dark past, as well as many newer Phnom Penh attractions that make it a great tourist destination.
Combining the historical significance with the astounding temples and palaces, there are many Phnom Penh things to do that attract travelers from all over the world.
If you're planning on heading to this lively junction at the confluence of the Tonle Sap, Mekong and Bassac rivers – this guide is for you. Depending on how many days in Phnom Penh you have to explore, there are many of the best Cambodia sights that you can fill your time with.
Planning a trip to Phnom Penh? This Cambodia itinerary will act as your Phnom Penh travel guide if you're wondering what to do in Phnom Penh, so you can maximize your time spent in this diverse city!
Phnom Penh is a year-round destination, but the best time to visit the city depends on the heat, humidity, rainfall and number of tourists.
Most travelers like to visit Cambodia between November and March when the monsoon season has subsided and the weather is at its prime.
If you would prefer to see the Phnom Penh attractions without hoards of tourists, you may prefer to go during the off-season, when the prices are lower and the crowds are more dispersed.
Even during the rainy season, you can expect blue skies in between the downpours, and find many places to escape from the rain. The downpours generally occur in the afternoons and rarely affect travel plans.
The countryside also tends to spring to life at this time – and it's the perfect time to get out into the scenic countryside. The flooded rice paddies can also be a sight to see!
Here's a monthly overview of the seasons in Cambodia to help you in planning your Phnom Penh travel.
As Phnom Penh's tourism has boomed in recent years, there has also been rapid growth in the hotel scene, providing many different options for all kinds of travelers. From stylish boutiques to luxury hotels and flashpacker hostels, you're likely to find just what you're looking for to create your Phnom Penh trip itinerary.
Let's have a look at the best areas to stay in Phnom Penh.
The area that surrounds Wat Phnom and the northern part of the city is where most people consider the city center. It's surrounded by colonial architecture and many upmarket bars and restaurants.
Boeung Keng Kang is an area located southeast of the Independence Monument and known as the foreigner or NGO or UN neighborhood. Expect to find many UN and NGO offices, as well as embassies, cafes, boutiques, spas and travel agents. It's a charming part of Phnom Penh with modern apartments and stylish restaurants.
Sisowath Quay is a long riverside boulevard lined with boutiques, bars, cafes, restaurants and luxury hotels. They run along the intersection of the Tonle Sap and Mekong rivers for about 3km, offering charming views and riverside walks.
Further out of the city, you'll find the Prek Leap district which is very popular among locals as a place to dine out and enjoy the nightlife. Most of the signposts around the area are in Khmer, while the venues offer authentic Khmer or Khmer-Chinese food.
Mad Monkey is located in the heart of the city and offers travelers a place to socialize, make new friends and create memories with a range of different cultural activities and local tours. They have a much-needed swimming pool and poolside bar to cool off and unwind after a day of exploring!
Insider Scoop: Check out our roundup of the best backpacker accommodation in Phnom Penh if budget living is more your style!
This studio is so chic, you will want to spend the day inside. Designed in an industrial, minimalistic style, the studio is a great place for everyone that visits the city for the first time. All hotspots are in walking distance, and you'll have numerous cafes and restaurants around you.
Penh House & Jungle Addition offers guests an on-site restaurant, outdoor swimming pool, a bar and a garden. This 4-star hotel boasts fully equipped rooms with garden views and sun terraces, as well as a flat-screen TV and air-conditioning for the heat of Cambodia.
This luxury resort is located in the heart of Phnom Penh, behind the Royal Palace. It features two outdoor pools with great views, as well as an on-site restaurant and bar. Free WiFi is available throughout the property and guests are free to use the fitness center and spa.
Whether you are spending one day in Phnom Penh as a stopover or planning on staying for 2 days in Phnom Penh or longer – it's worth planning your trip to Cambodia beforehand so you know about all the best Phnom Penh attractions and sites of interest that you'd like to include in your Phnom Penh trip itinerary. Here's our guide on the best places to visit in Phnom Penh.
While most of the city is easily walkable or accessible via bicycle, there are many landmarks that are a little out of the way. To get there, we recommend taking a bus or a remok (Cambodian tuk-tuk), because these are the cheapest options.
If you're in a hurry, using a taxi is always an option, but it's important to note that these are usually a lot priceier than other forms of transport.
In general it is best to go by foot or by bicycle when traveling short distances, as you'll get a chance to take in the beautiful scenery, and discover unique places not yet explored by many tourists.
Now that you know how to get around Phnom Penh, let's take a look at what you should be getting up to on your vacation in Phnom Penh.
Tuol Sleng Genocide Museum | Killing Fields | Royal Palace | Night Market | Eclipse Sky Bar
The first day of your Phnom Penh itinerary will see you getting to know the area and the culture a little more closely, as well as enjoy the Phnom Penh nightlife!
Day 1 / Stop 1 of Phnom Penh itinerary – Tuol Sleng Genocide Museum
Why it's awesome: Understand the enormity of what happened in Cambodia under the Khmer Rouge
Cost: $5 USD
Food nearby: Visit 350 BBQ Cafe to try one of their delicious breakfasts.
The Tuol Sleng Genocide is the memorial site of the S-21 interrogation and was the detention center in the Khmer Rouge regime. Although it is reminiscent of a tragic period in history, it's an integral part of Phnom Penh, and an unignorable attraction to better understand what happened in the Cambodian genocide in the late 1970s. There are so many incredible stories that need to be told from this era in Cambodian history.
It's the first stop of this Phnom Penh itinerary as it is an important part of the history of the city. The aim is for all visitors to be encouraged to be messengers of peace upon leaving such a tragic war zone.
The S-21 Museum is a former high school turned prison, where you can walk through old classrooms that were converted into single-prison cells. You'll see the hundreds of photos through which the story can be told and understood of how hundreds of prisoners were gruesomely deceived, tortured and executed.
The museum, despite being a heavy visit is one of the top things to do in Phnom Penh and offers visitors a new perspective on the timeline and history of Phnom Penh city. Phnom Penh is a very special place, and this part of its life is a big part of how it got that way – that's why we think this is an essential visit on your Cambodia itinerary.
Insider Tip: Wear appropriate clothing that covers your shoulders and your knees when visiting any religious and/or important and sacred place in Phnom Penh.
Day 1 / Stop 2 – Killing Fields
Why it's awesome: An important place to understand the history of Phnom Penh
Cost: $5 USD
Food nearby: Lot 369 Cafe is a great brunch spot to try between activities.
This is another stop that commemrates those lost in the horrific history of Phnom Penh. It's hard to imagine the events that took place on these peaceful orchard fields with flowers in bloom and birds singing in the trees.
You'll see the sites which acted as the Khmer Rouge's main killing fields, with many compelling stories from survivors, guards and executioners. A visit to Choeung Ek is a sobering one and is not for the faint-hearted, but is one of the most visited places in Phnom Penh, offering insight and context into this era.
Although dark tourism may not be for everyone, the purpose of turning these sites into a memorial site and tourist attraction to educate visitors about what happened here – and help them learn from it, as well as to commemorate those who lost their lives here.
Day 1 / Stop 3 – Royal Palace
Why it's awesome: It's the place of residence for Cambodian Kings since the year 1866 (except during the Khmer Rouge regime)
Cost: $10 USD
Food nearby: Indigo Indian Restaurant is the perfect place to have lunch during you first day in Phnom Penh
The Royal Palace is one of the most iconic Phnom Penh points of interest. It was built in 1886 after King Norodom had relocated the royal capital of Cambodia to Phnom Penh and was completed just before WWI.
You can expect to see ornate golden roofs and dramatic, gilded architecture throughout. The palace was built intentionally on the site of the old town, and is still the primary residence of the King of Cambodia.
It takes a couple of hours to see the extent of the massive complex, which includes the Silver Pagoda, the Palace, Throne Hall and Inner court. You can take a guided tour of the grounds and the beautiful quiet gardens, spending some time enjoying the silence of being slightly removed from Phnom Penh's bustling capital.
Admire the Khmer architecture with French influence, and see the elegant throne hall topped by a 59m-high tower that was inspired by the Bayon in Angkor Thom and is used for coronations and other ceremonies.
Day 1 / Stop 4 – Night Market
Why it's awesome: A unique dining opportunity and chance to mingle with the locals
Cost: Free to explore!
Food nearby: Try something from one of the many food stalls
The Night Market in Phnom Penh is full of the expected tourist T-shirts and dresses as well as many souvenirs that you'll need to bargain with the seller to take home with you. It's a great opportunity to step into the Cambodian lifestyle and eat some delicious street food in Phnom Penh.
Grab a plate of food and remove your shoes, finding a spot on the mats to feast on an array of flavors while socializing and enjoying the lively market atmosphere. The Night Market offers an open-air evening on the riverside of Phnom Penh with a buzzing atmosphere to contrast the day's solemn discoveries.
There's also a center stage for live performances like singers, musicians and dancers to perform to the public, creating a lively and fun market atmosphere to spend the evening enjoying.
Insider Tip: Remember to bargain with the stallholders, as you could just walk away with a steal. They usually charge inflated prices knowing the price will be bargained down.
Day 1 / Stop 5 – Eclipse Sky Bar
Why it's awesome: You'll get 360-degree views of the city
Cost: $1 – $10 USD
Food nearby: They serve an array of snacks and meals at the bar that are perfect for an after supper snack!
After all the excitement from the market, it's time to end off the first day of the 2-day Phnom Penh itinerary with a few drinks while enjoying the best view of the city, and a taste of the nightlife in Phnom Penh!
Eclipse Sky Bar is located on the 23rd-floor rooftop deck of the Phnom Penh Tower and is open from 5 pm daily. They serve some of the best cocktails that you'll get in Phnom Penh and give you a wonderful panoramic perspective of the city!
Unwind with a drink in hand looking at the night lights of the city – a great place to reflect on everything you've seen today.
They often have live music at the Sky Bar which makes for an incredible atmosphere and allows you to escape from the noise and constant movement of the city to prepare for the second day of this itinerary for Phnom Penh.
Insider Tip: The music continues into the early hours, so if you're in the mood for a wild night out, this is the place to be!
Central Market | Lakeside | Al-Serkal Mosque | Wat Ounalom | Daughters of Cambodia | Wat Phnom | Mekong River Cruise
If you're spending 2 days in Phnom Penh, you'll need a few more activities to add to your Phnom Penh itinerary. Here's what you should be getting up to!
Day 2 / Stop 1 of Phnom Penh itinerary – Central Market
Why it's awesome: It's a lively market that has served as a shopping center for the local people since it opened in 1937!
Cost: Free to explore!
Food nearby: Try some of the delicious food from any of the food stalls at the market
Central Market is located in one of the most iconic buildings in the city and the domed structure is filled with art deco. It has operated since it was built in 1937, making it an amazing part of Cambodian history and life in Phnom Penh.
Spend the morning checking out the goods on offer at the market, and maybe trying out your new bargaining skills. This market has everything, from fresh food to cheap electronic goods to gold and animals – literally everything.
If you're feeling hungry, the market is a good place to pick up a bite to eat from one of the many food stalls or restaurants and cafes that are scattered all around the area. You'll need the energy for a long day of exploring the sights of the city on this Phnom Penh trip itinerary!
Day 2 / Stop 2 – Lakeside
Why it's awesome: Wander along the lakeside district to discover the only place that street art is accepted in the city
Cost: Free!
Food nearby: Take some snacks and treats with you from the market
Street art is not an accepted form of artistic expression in Phnom Penh and so any graffiti or street art that appears is generally very quickly painted over.
The exception to this practice is the Lakeside district, a semi-abandoned space next to a lake that was once slated for huge developments. Today, these Phnom Penh streets offer free reign to artists from the world over to create their masterpieces on the dilapidated buildings, bringing them to life with some thought-provoking and colorful street art. You'll get to see a part of Phnom Penh that is majorly off the tourist radar and offers a new perspective on the city.
Day 2 / Stop 3 – Al-Serkal Mosque
Why it's awesome: It's the main mosque in Phnom Penh and a very interesting spiritual location
Cost: Free to view!
Food nearby: There are a few halal stalls and restaurants around the area. Try Tasleem Halal restaurant or Saron Thai Halal restaurant if you're hungry.
Al-Serkal Mosque is the largest principal mosque in the city and is one of the newest mosques in this majority Buddhist country. The mosque was inaugurated in March 2015 in an inaugural ceremony that was attended by more than 1,000 people.
It was a grand achievement for most of the 350,000 Muslims that call Phnom Penh home, and aimed to bring people closer together. Unfortunately, it had the opposite effect and created rifts in the very community it was built to unite.
It stands today as a palatial white mosque with two slender minarets rising high above the dome. The walls inside the two-story building are lined with rose and turquoise tiles that had been commissioned by the Algerian artisans, and feature incredible mosaic ceilings and a stunning chandelier in the central dome.
Insider Tip: Wear appropriate clothing that covers your shoulders and your knees when visiting any religious and/or important and sacred place in Phnom Penh.
Day 2 / Stop 4 – Wat Ounalom
Why it's awesome: It serves as the Buddhist headquarters of Cambodia
Cost: Free!
Food nearby: The nearby Chez Tonton makes delicious European style food!
Wat Ounalom is HQ for Buddhists in Cambodia. It's made up 44 structures in total, and is home to over 500 Buddhist monks. Interestingly, it's also known as the 'Eyebrow Temple', as the Buddhist shrine behind the main temple houses an eyebrow hair or 'ounalom' of Buddha.
On the second floor of the main building, you'll see a statue of Huot Tat, who was the fourth patriarch of Cambodian Buddhism and was killed by Pol Pot during the Khmer Rouge regime. He was 80 years old, and his murder was committed as a sign that Buddhism is no longer the driving force in the country.
The statue was made upon his death, and later thrown into the Mekong River by the Khmer Rouge! It was retrieved after 1979 and still stands to this day.
Wat Ounalom is one of the country's 5 original monasteries and is held in high regard in Cambodia. The temple was severely damaged during the regime, and so restoration is an on-going process. However, visitors are welcome to explore the grounds and pay their respects – and we recommend that you do just that!
Day 2 / Stop 5 – Daughters of Cambodia
Why it's awesome: It's an NGO that helps victims of sex trafficking in Cambodia
Cost: $1 – $5 USD
Food nearby: They have two cafes to choose from, called Sugar & Spice and Sugar & Spice Cafe respectively
These amazing cafes in Phnom Penh are open daily from 9 am to 5:30 pm and serve delicious and affordable food in support of victims of sex trafficking in Cambodia.
It's the perfect place to stop for a bite to eat, knowing that your money is going to a good cause. They also have a visitor center which provides information on Cambodia's sex trafficking and sex-exploitation industries, and what individuals can do to stop it.
Make sure that you check out the beautiful products made in the Daughters' Sewing Room, which include clothing, accessories like jewelry, bags and scarves, and stunning home furnishings.
There are a lot of cafe and shopping options in Cambodia, but Daughters of Cambodia is special – stop by, pick up a coffee or a souvenir, and support this business providing employment and opportunity for women who really need it.
Day 2 / Stop 6 – Wat Phnom
Why it's awesome: It's the most popular temple in Phnom Penh!
Cost: $1 USD
Food nearby: The Hard Rock Cafe or Hummus House are nearby food options
Wat Phnom is a Buddhist temple that sits on a hill in the very center of Phnom Penh. This popular religious site dates back to the year 1372, when locals were said to have raised the hill to house four relics that were found in the Mekong river.
The temple now stands 27 meters high, making it the tallest structure in the city! It's reached by climbing a steep staircase, guarded by lions and naga – the mythical serpent. The main staircase leads you up to a stupa that contains the ashes of King Ponhea Yat.
Today, many people visit this temple to pray for good luck and success in exams or business affairs. Once the wish has been granted, the faithful return to deliver on any offerings that they have promised, like a garland of jasmine flowers or a bunch of bananas.
Insider Tip: The temple can become a bit overcrowded – often with beggars, street urchins, women selling things, and children selling birds in cages. Don't pay to set these birds free as they are trained to return to their cage afterward.
Day 2 / Stop 7 – Mekong River Cruise
Why it's awesome: It's the best way to wind down at the end of the day in Phnom Penh!
Cost: Between $5 to $30 USD
Food nearby: Make sure you choose a cruise that includes dinner!
Get to experience the sunset on the Mekong River during a river cruise from the Tonle Sap River. You'll get to sail to the confluence of the Tonle Sap river with the Mekong, and get some really great Phnom Penh city views along the way.
On a sunset dinner cruise on the Mekong River, you'll start the evening with a cocktail as you board the boat, followed by an enjoyable sunset with live traditional Khmer music playing as you drift past the floating villages. You'll also see the Royal Palace and the incredible Phnom Penh skyline from a new perspective.
You'll get to enter the point where the Tonle Sap, Mekong and Bassac rivers meet, before enjoying an all-you-can-eat BBQ buffet that has been prepared on the boat with the freshest ingredients. It's the perfect way to end off a 2 day itinerary in Phnom Penh and see all of the Phnom Penh attractions that you have already visited in a new light!
Wat Langka | Independence Monument | National Museum | Old Market | Russian Market
If you are planning a 3-day itinerary in Phnom Penh, you may want to consider adding these historical, cultural and political tourist attractions before moving on to visit other beautiful areas Cambodia.
Wat Langka
One of the oldest and most significant temples in Phnom Penh
It was originally founded for monks from Sri Lanka
Attend hour-long meditation classes given by English-speaking monks
Wat Langka was a temple that was originally built to store Holy writings, and served as a meeting place for the Cambodian and Sri Lankan monks. It was named in honor of these meetings, with the word 'Langka' being derived from the Sri Lankan order that was based in the temple.
It's a temple that is of great importance in Cambodian Buddhism, as it is the main library for religious writings. Visitors are able to visit the colorful temple and can join in on hour-long meditation sessions that are occasionally held by the monks – definitely a special experience if you're able to make it!
Independence Monument
A 20-meter monument commemorating Cambodia's independence
See the design that was intended to look like a lotus flower
Pay respect to all the lives lost during Cambodia's gory war
This Angkorian-style tower is found in the heart of the capital and was built in 1958 to celebrate Cambodian Independence Day after winning back their independence from the French. The monument is one of the Phnom Penh points of interest that attracts many tourists to see the peculiar unique style that distinguishes it from any other buildings in the city.
It also serves as a cenotaph dedicated to the Cambodian men, women and children who died in the war. It was designed in the shape of a lotus by the Cambodian architect, Vann Molyvann, and is dualistic to the monuments that stand at Angkor and other Khmer historical sites.
You won't be able to enter the monument, but you can marvel at the impressive site from the outside, and at night time it is lit with blue, red and white light, making it a majestic sight indeed. The monument is surrounded by large fountains, giving it a serene and welcoming atmosphere.
Phnom Penh National Museum
The world's largest collection of Khmer art
Houses more than 14,000 artifacts which span history from the prehistoric times
It's the top archeological museum in Cambodia
The Phnom Penh National Museum is a fascinating historical place to visit, as it houses the world's largest collection of Khmer art, and all the history that comes along with it.
Its history goes back to the early 20th century, and was closed during the period of Khmer Rouge control from 1975 to 1979.
Tidied up after the revolution, the museum now houses one of the most impressive collections of Khmer cultural artifacts including sculptures, ceramics, and many ethnographic objects from the prehistoric, pre-Angkorian, Angkorian and post-Angkorian periods.
It's an interesting place to visit as part of a 3 day Phnom Penh itinerary as the museum promotes awareness, understanding and an appreciation of Cambodia's heritage.
Old Market (Phsar Chas)
Experience the daily lives of the local people at the oldest market
Purchase some Cambodian souvenirs to take home with you
Enjoy the chaotic vibrancy of markets in Phnom Penh
The Old Market is the oldest in the city and is frequented by both tourists and locals. On the eastern side of the market, you'll find picturesque displays of fresh fruit and hanging bird-houses. While on the west side of the market is the more chaotic and cramped stalls that sell food to the locals, and have less aesthetically pleasing displays (and smells) than the other side!
The Old Market is another fundamental part of life in Phnom Penh and offers visitors a cultural immersion into the daily lives of the locals. It's also the perfect place to try your bargaining skills to pick up some souvenirs to take home with you, or to try some more tasty street food that you'll only find at authentic markets like this.
Tuol Tumpang (Russian Market)
The best place to go to get some Phnom Penh souvenirs
It's the favorite market among tourists to visit in Phnom Penh
The place to buy discounted name-branded clothes and artifacts
Tuol Tumpang, which is more commonly known as the Russian Market, is filled with every item that you could possibly imagine! From spare motorbike parts to every type of name branding you can imagine – they have it all!
Since markets make up such a large part of the Cambodian life and culture, it's well worth visiting as many of them as you can on a vacation in Phnom Penh, and this is a favorite amongst tourists.
You'll be able to find plenty of cheap knock-offs, as well as some genuine articles that have been stitched and handmade in local factories. The name brands on sale will cost a third of the price of what they do back home, and there's a range of handicrafts and antiquities to peruse.
The market got its name as the Russian expat population shopped there in the 1980s. It's the place to go if you want to find miniature Buddhas, woodcarvings, silks, jewelry, musical instruments and so much more! They also have some really good food stalls if you're feeling peckish!
When traveling to any new city, one of the most relevant questions to ask is – Is Phnom Penh Safe? Cambodia is very safe to visit, and Phnom Penh is not as dangerous as people imagine, but as with any new place, it's best to take precautions and be aware of not putting yourself in harm's way.
There are incidences of theft, robbery and pick-pocketing that you should be aware of, but not enough to ruin your Phnom Penh vacation or alter what to see in Phnom Penh.
First things first, be sure to store your passport, ID and any emergency money in a safe at your hotel or hostel, and only carry things with you that are completely necessary. Instances of petty crime do exist and pickpocketing and snatching bags do happen occasionally. It's advisable to keep any bags close to your body and only get in tuk-tuks that have sidings or curtains.
Most importantly, keep your common sense intact and don't leave any of your belongings unattended and you should be fine.
Don't Forget Your Travel Insurance for Phnom Penh
ALWAYS sort out your backpacker insurance before your trip. There's plenty to choose from in that department, but a good place to start is Safety Wing.
They offer month-to-month payments, no lock-in contracts, and require absolutely no itineraries: that's the exact kind of insurance long-term travellers and digital nomads need.
SafetyWing is cheap, easy, and admin-free: just sign up lickety-split so you can get back to it!
Click the button below to learn more about SafetyWing's setup or read our insider review for the full tasty scoop.
If you are lucky enough to have more time left on your Phnom Penh itinerary, there are some exciting day trips that take you to further afield places to experience more Cambodia sights and tourist attractions.
Angkor Wat and Siem Reap
Angkor Wat is one of the most famous temples in Cambodia and completes any Cambodia itinerary. Many travelers who visit the capital hope to find Phnom Penh to Angkor Wat day trip. The best way to do this is to take a private taxi to Siem Reap to experience the majestic temples. Consider spending a night or two there checking out Ankgor Wat and other famous sites in Siem Reap or continuing from Siem Reap for your onward travels.
Tonle Bati and Ta Prohm Temples
Visit the incredible 12th-century temple of Jayavarman VII on a day trip from Phnom Penh. You'll travel to Tonle Bati and get to admire the awe-inspiring Ta Prohm temple, with many more important Khmer shrines along the way as you explore the cultural and spiritual history of Cambodia.
Oudong
If you have more time after touring Phnom Penh, visit Oudong! It was the capital of Cambodia from 1618 to 1866 and is one of the most sacred places in Cambodia. Expect to climb more than 500 steps to reach the most worthwhile views of the countryside, as well as the majestic Pagodas and Stupas that stood there for the Cambodian Kings.
Koh Dach (Silk Island)
Located just 6km from Phnom Penh, Koh Dach is an island that requires a Phnom Penh tour boat trip to get there, and gives you the chance to learn about the silk trade in Cambodia and see the weaving process, plus purchase some items to take home with you!
After a full day of exploring the island, be sure to bask in the sun at one of their incredible beaches. This is the best way to make the most of your weekend in Phnom Penh.
Kampong Cham
Travel to the longest bamboo bridge in the world and admire the appealing French colonial architecture in a quiet and off-the-beaten-track destination. If you're brave enough, why not walk across the bamboo bridge by foot? You can visit Kampong Cham on your own or jump on a tour that will take you from Phnom Penh.
You'll get to experience the real lifestyle along the Mekong river and admire an ancient temple dating back to the 12th-century!
Find out what people want to know when planning their Phnom Penh itinerary.
Conclusion
The booming capital of Cambodia offers a plethora of cultural and historical attractions if you are planning to travel to Phnom Penh. Experience some of the best Phnom Penh, Cambodia points of interest with this guided itinerary that leads you to the temples, museums and the Royal Palace.
You'll get some real insights into the recent dark history of the country, and at the same time get to experience the authentic way of life of Cambodian people today. Experience the vibrant markets, interesting neighborhoods and delicious food for 3 days in Phnom Penh to really embrace all that the bustling city has to offer!
Now, armed with these helpful tips about visiting Cambodia and Phnom Penh, it's time to decide on your favorite things to do and maybe plan some exciting day trips out of the city to make it everything that you want it to be!
Whether you are planning a weekend in Phnom Penh or just a 2-day itinerary, there's so much in this capital that is waiting to be discovered.
---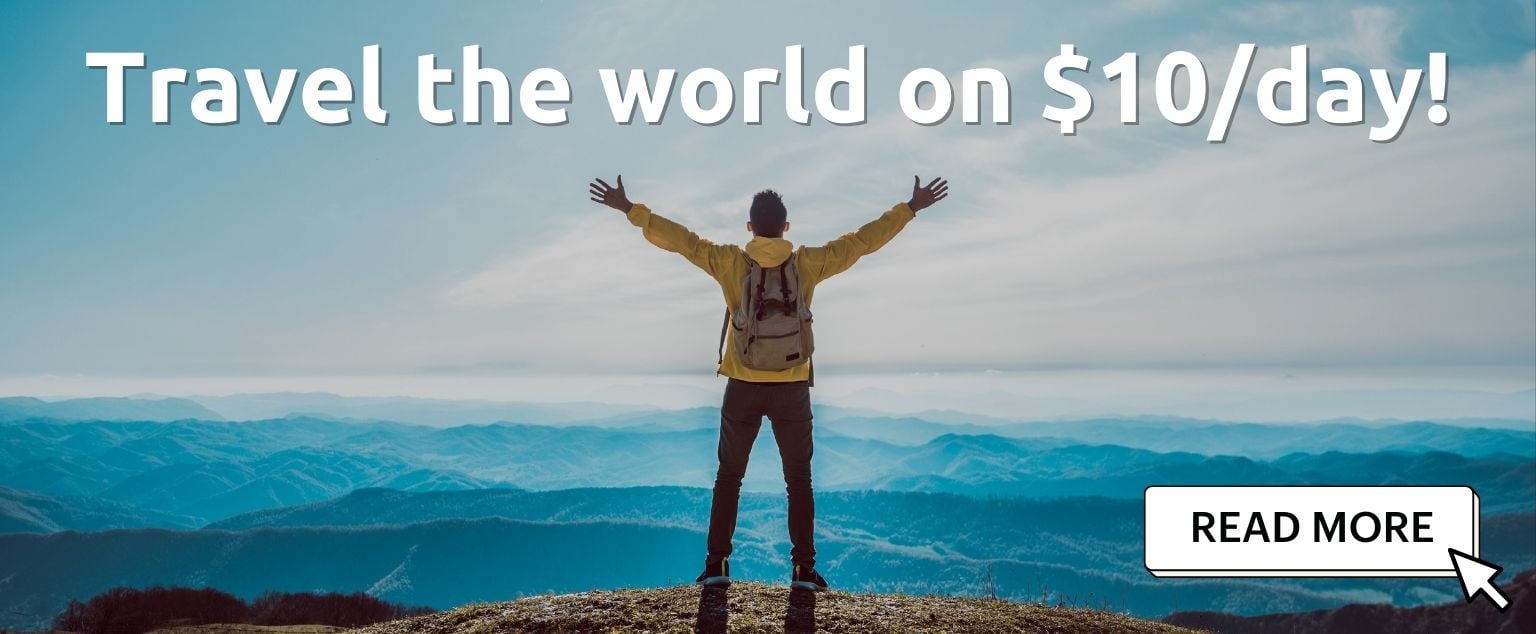 And for transparency's sake, please know that some of the links in our content are affiliate links. That means that if you book your accommodation, buy your gear, or sort your insurance through our link, we earn a small commission (at no extra cost to you). That said, we only link to the gear we trust and never recommend services we don't believe are up to scratch. Again, thank you!