Whether it's the proximity to Angkor Wat or the fame of Pub Street that that is bringing you to Siam Reap, we are here to help you plan out the rest of your Siem Reap itinerary! Krong Siem Reap is one of the most relaxed, yet wondrous jewels in the Cambodian crown and we've put together a Siem Reap itinerary that will take you from riverside shopping to ceramic making in just a matter of days!
When you're wondering what to do in Cambodia, Siem Reap is sure to crop up on your itinerary. It's a small city that still lives up to the traditions of the mighty Khmer Empire which once rules the region. Let's dive in.
Cambodia is in the middle of the tropics so Siem Reap stays warm all-year-round. The amount of rainfall however, does vary. Therefore, deciding when to visit Siem Reap is dependent on how you plan on spending your time in Siem Reap!
November to March is the dry season. This means low rainfall and warm, not hot, weather. This season is ideal for walking tours, visiting temples and cycle rides! However, it's also peak season so be prepared to share all the marvelous things to do in Siem Reap with the thousands of other tourists on vacation in Siem Reap!
April and May mean rising temperatures which can be uncomfortable, while June to November is monsoon season. Since the rains tend to come in the afternoons, it is possible to visit Siem Reap points of interest in the morning without getting wet although it will still feel very sticky. The bonus to touring Siem Reap in monsoon season is the lack of crowds!
Siem Reap is often just used as the gateway to Angkor Wat but there are so many other things to do in Siem Reap. Siem Reap is surprisingly small for its fame (there are only 180,000 local residents) and there are heaps of amazing places to stay for every kind of traveler!
If it's your first time visiting Siem Reap, then the best area to stay in has to be the Old French Quarter. It's situated in the heart of the city. The area is a medley of pastel-colored buildings and grand colonial-era monuments! There's never any need to wonder what to do in Siem Reap since there are so many beautiful attractions in the area! It also boasts excellent transport connections to Angkor Wat.
For those who prefer something a bit more alternative, we recommend Wat Damnak. It's a small, fashionable neighborhood on the east bank of the river. The area is home to many outstanding contemporary restaurants and the famous Night Market!
Despite its popularity, Wat Damnak remains a tranquil, refreshing place to escape the crowds! It's also well-connected to the rest of Siem Reap, has plenty of accommodation options for backpackers, and the vibe is just right.
Lub d Siem Reap gets perfect scores almost every time from its guests and there isn't a better recommendation than that! It's centrally located, within walking distance to some of the city's top attractions. This modern hostel has plenty of communal spaces: from the ultra-luxe swimming pool to a co-working space for digital nomads!
Ananda's is a Siem-Reap based co-living platform. The place is a renovated 20-year old shop in a vibrant, yet quiet area of Siem Reap's Kandal Village. The studio is located on the second floor, accessible via stairs (no elevator). It has air-conditioning and a ceiling fan. The room opens up onto a semi-private balcony, with a magnificent view on Wat Preah Prom Rath. The rooftop is accessible until 10 pm and is a perfect location to relax after a long day of sightseeing at the temples of Angkor.
Everyone loves having champagne on a beer budget and that's what you get at the fabulous Oriental Siem Reap! The hotel is in the center of Siem Reap, near the royal palace and the Old Market. From free WiFi to a 24/7 reception desk, it has extensive facilities for the convenience of its guests! Add helpful staff and spacious, clean rooms to the mix, and you've found yourself a winner!.
Golden Temple Boutique may be in the center of Siem Reap but you always feel worlds away once you're inside this inviting 5-star hotel! The hotel boasts a restaurant, bar, library, and spa. Guests enjoy the individualized attention from the friendly staff which means that every time you return to your room — however many times that is — it's sparklingly clean!
There is a lot to do in Siam Reap. With a treasure trove of Khmer temples and colorful markets on our Siem Reap itinerary, you'll really appreciate our insider access to the city!
Getting around the various stops on the Siem Reap itinerary is super easy! Once you're in the center of town, you'll find that the major landmarks in Siem Reap are in close proximity to each other. This means that there are plenty of opportunities for walking!
For longer distances, there is an array of transport options. Cycling is a particularly popular way of getting around your trip to Siem Reap! The roads are well-maintained, lined with trees and offer lovely views. Just watch out for the humidity and the odd speedster!
Another good option is to hire a tuk-tuk. The drivers are generally friendly and speak English. Most hotels have a fleet of tuk-tuks at their disposal, and some may even include it in your room rate!
It's also possible to hire a car for your weekend in Siem Reap. There's the usual Europcar and Avis fleets available in but it's maybe easiest to book through your hotel or guesthouse.
Cambodia Land Mine Museum | Angkor National Museum | Old Market | Kandal Village | Apsara Dance Performance
Day 1 of our 2-day itinerary in Siem Reap is packed with some incredible Siem Reap landmarks!
Day1/Stop 1 – Cambodia Land Mine Museum
Why it's awesome: This museum may be unsettling but it's the best place to learn about the wars in Cambodia in the 1970s.
Cost: Entrance is $5 USD.
Food nearby: Devatas Restaurant is a sure bet for yummy Asian snacks and meals. It also overlooks a small lake, less than half a mile from the museum.
The Cambodia Land Mine Museum was founded by an orphaned, former child soldier who wanted to show the world just how dangerous war is. In addition to providing information about the wars, the museum also has a relief center and school which are both funded from the entrance fee.
Siem Reap, as well as the rest of Cambodia, suffered enormous danger under the rule of the Khmer Rouge in the 1970s and the Vietnamese occupation of 1979. Today in Cambodia, there are still millions of land mines and unexploded ordnances that occasionally maim or even kill locals.
The museum's founder Aki Ra is passionate about clearing landmines: after the wars, he personally dug up and defused land mines using homemade tools! The exhibitions include guns, mortars, mines, and other weaponry, as well as history about the wars and Aki Ra's life. There's even a mock minefield where visitors need to try and find where the mines are.
Insider Tip: You can further support the work towards a mine-free Cambodia by buying souvenirs at the lovely gift store.
Day 1 / Stop 2 – Angkor National Museum
Why it's awesome: There are so many fascinating exhibitions that entering this state-of-the-art museum is like falling through the door to Narnia!
Cost: Entrance is steep at $12 USD but it really is worth it!
Food nearby: The variety of local and Western foods on offer at Slek Morn Restaurant is fantastic and they're all delicious!
After the harrowing exhibitions at the Cambodia Land Mine Museum, you'll find the world of the Angkor National Museum altogether airier and more pleasing! This sprawling museum is the perfect introduction to the Khmer civilization which built the famous Angkor Wat!
With thousands of ancient artifacts on display, the Angkor National Museum is a must-see during your 2 days in Siem Reap! To orientate yourself in this epic museum, visit the Briefing Hall for a 15-minute video explaining the history and layout of the museum.
The first of the eight galleries that you should visit is the Exclusive Gallery that houses 1000 statues of Buddha and religious relics! The most remarkable of these is the Sumedha Hermit which dates from the 12th century and it depicts an episode from the past life of Gautama Buddha. As a hermit, he had once laid down in the road for the Dipankara Buddha so that the holy man would not have to walk in the mud. The Dipankara Buddha then revealed that the hermit would become a Buddha himself, a prophecy that later came true in the hermit's future life!
Gallery A is the perfect place on your Siem Reap trip itinerary to learn about how the Khmer civilization came into existence! Be sure to admire the Standing Vishnu, a statue of the Hindu protector of the world that dates from the 7th century!
You'll learn more about the Khmer's religious beliefs in Gallery B. Alongside statues of divinities are rioting folk tales that bring it all to life! The statue of Ganesha is a highlight in this gallery so pay special attention to it.
Gallery C personalizes Khmer history with accounts of the lives of its four greatest kings, including the builders of Angkor Wat and Angkor Thom! Angkor Wat and Angkor Thom are the focuses of Galleries D and E so if you don't plan on hiring a guide at those sites, be sure to soak up all the information you can!
Gallery F has a collection of stone inscriptions that can be a select taste but Gallery G is certainly worth a look! It's all about the traditional Khmer Apsara dance and the beautiful garments worn by the dancers.
Day 1 / Stop 3 – Old Market
Why it's awesome: This is your one-stop destination for souvenirs and a vibrant local atmosphere!
Cost: Free!
Food nearby: There's no shortage of local delicacies at the Old Market! Try Bai Sach Chrouk, the local recipe for pork and rice.
You'll pass both tourists and locals alike as you head to Old Market. Although the two groups tend to shop for different things at the market, this cosmopolitan atmosphere is one of the best experiences you'll find on our 2-day itinerary in Siem Reap!
The section of the market on the riverside caters to tourists. There are brass sculptures, t-shirts, shawls, silverwork and everything you could imagine filling your suitcase with! There's also a large area with vendors selling precious metals. Although it's a treat for the eyes, it's probably best to avoid purchasing gold here since it's difficult to authenticate the items.
The other half of the market is geared towards locals. With plenty of raw meat on sale, the section tends to be humid and the smell can be off-putting. However, it's the more authentic side of the market where women bargain their way through their grocery lists!
Day 1 / Stop 4 – Kandal Village
Why it's awesome: Kandal Village is Siem Reap's trendiest neighborhood, with hip galleries and stores lining the streets!
Cost: Free!
Food nearby: For healthy snacks and the most refreshing drinks, head over to The Hive! If you're looking for hearty pastas, try Mamma Shop — trust us, it's good!
Kandal Village was once the French colonial quarter but it's quickly transforming into a creative, vibrant area! It's best to just take yourself on our DIY Siem Reap walking tour through this neighborhood.
Hup Guan Street is the main street that's home to some of the most innovative Siem Reap attractions. Louise Loubatieres sells a range of lacquer and ceramic homeware, as well as shibori silk textiles! For an eclectic take on Buddha statues, try Niko's Studio where the icons come in various hues of psychedelic colors!
Just a few stores down you'll find Trunkh, Cambodia's first lifestyle, and design brand. Although it may sound exclusive, the shop is inviting and has a range of items that blend Cambodian tradition with modern styles!
The heady scents wafting out of Saarti are worth following into the store! The eco-lifestyle brand has a range of beauty products, candles, and accessories made of ethically-sourced materials. Maison Sirivan, on the other hand, has a collection of airy island-style clothing and decor.
The best thing to do in Kandal Village, though, is just to stroll, soak up the vibe and find your own treasure chests. It's one of the best things to do in Siem Reap in 2 days!
Day 1 / Stop 5 – Apsara Dance Performance
Why it's awesome: You'll be blown away by the grace and beauty of the Apsara dances!
Cost: From $15 USD, often including dinner!
Food nearby: The Apsara dance show tends to be accompanied by a lavish Cambodian dinner!
Apsara dancing originates from Hindu and Buddhist mythology. Apsaras were gorgeous women who visited earth from heaven to entertain the gods and kings with their elegant dance! You can see depictions of the dance on temples dating from the Khmer era!
The distinguishing feature of Apsara is the use of hand gestures. In fact, there are more than 1500 of these and they each mean different things, such as worshipping the spirits of nature through the representation of a flower!
If you're wondering how the Aspara dancers manage to move so lightly across the stage, that's because they start practicing at a very young age when their muscles are naturally flexible! The costumes of precious jewelry, elaborate headdresses, and silk fabrics are also mesmerizing!
Aspara dance has become an iconic part of Khmer culture, particularly after the reign of the Khmer Rouge, and it's something you have to include on your Siem Reap itinerary! This is also the perfect way to celebrate one day in Siem Reap!
Insider Tip: The best place to catch a show is at The Fou-Nan. This restaurant-bar puts on Apsara shows thrice a week, and it also offers an intimate setting. The Angkor Village Resort Apsara Theater has a warm ambiance with velvet floor seats and lotus flowers! A guide book is also provided to help explain the meaning behind the many delicate hand gestures. Meanwhile, Raffles Grand Hotel D'Angkor puts on a show combining dance with martial arts in its tropical gardens!
Angkor Wat | Ta Prohm | The Royal Terraces | Phimeanakas Temple | Bayon
Angkor Wat is probably the reason you wanted to travel to Siem Reap It's easily the most famous areas in Cambodia hands down. Well… today is the day!
However, Angkor Wat Archaeological Park actually has plenty of landmarks from the Khmer era and you should have them on your Siem Reap itinerary as well!
Day 2 / Stop 1 – Angkor Wat
Why it's awesome: This is the landmark to visit when touring Siem Reap!
Cost: A one-day pass to Angkor Wat Archaeological Park is $37 USD, a three-day pass costs $62 USD and a seven-day pass comes in at $72 USD. Remember that this covers all of today's Siem Reap itinerary destinations.
Food nearby: Open from 07:00, Angkor Cafe is your best bet for breakfast: think sandwiches and fruit shakes, to take away if you want!
Angkor Wat Archaeological Park opens at 05:00 to cater to the hordes of tourists trying to snap a sunrise picture. Although it can be chaotic, the experience and photos can be worth it. You should definitely try to get to the park by around 09:00 since there is a lot to see!
The sprawling park was once the Khymer capital, Angkor Thom. It extended for around 360 acres, making it the largest pre-industrial city, and was home to as many as one million citizens! For this reason, the park is a UNESCO World Heritage Site! Because stone was only used in building temples, other structures have disappeared and only the temples remain.
Of around 70 temples in the park, Angkor Wat is the star attraction! It was built in the 12th century by King Suryavarman II and designed to depict Mt Meru, the home of the Hindu gods. The Cambodian kings each sought to build a bigger and better temple to their gods. Angkor Wat is the clear winner, and is thought to be the largest religious building in the world!
What's even more wonderful about Angkor Wat is that its mammoth size is almost dwarfed by its beauty! There are more than 3000 Apsara nymphs carved into the walls. Each of them is unique, and there are about 37 different hairstyles to examine! This is just one of the features of the 2600-foot-long relief!
Angkor Wat is a source of great pride for Cambodians who have almost continuously used the temple since it was built! To preserve the temple, there are parts that are off-limits and visitors shouldn't touch the stonework. As Angkor Wat remains a religious site, you also need to have your shoulders and knees covered! This is the definitive experience of a backpacking adventure in Cambodia. Enjoy it!
Insider Tip: Angkor Wat Archaeological Park is a sprawling ancient city so you'll probably want transport to get around today's Siem Reap itinerary! You can hire a tuk-tuk for around $30, as well as a taxi or private vehicle. You can also hire a bike or electric car near Angkor Wat itself, both of which do less damage to the site!
Day 2 / Stop 2 – Ta Prohm
Why it's awesome: Ta Prohm has almost vanished into the jungle as trees grow through the buildings and foliage covers the stone!
Cost: Included in the entrance cost for Angkor Wat.
Food nearby: For a refreshing break in an air-conditioned room, you can't go wrong with Khmer Village Restaurant! Its menu of Cambodian, Thai, Chinese and international dishes is pretty appealing, too! If it's just a cold drink you're after, try one of the informal vendors.
While most of your fellow tourists will head from Angkor Wat to Bayon, you can lose the crowd by mixing up the usual circuit and making a beeline for Ta Prohm. While Angkor Wat is grand and orderly, there's a sense of adventure and awe at Ta Prohm. It's not for nothing that it's sometimes called "The Tomb Raider's Temple" since it features in Lara Croft: Tomb Raider!
Ta Prohm is probably the most atmospheric of the park's many temples as it has almost totally been reclaimed by the jungle. However, it is one of the most popular Siem Reap points of interest and is undergoing restoration to protect it!
Ta Prohm was originally a Buddhist temple, built in the 12th century. It's so big that as many as 80,000 people had to maintain or attend the temple! Today, you can still explore the temple complex's towers, courtyards, and corridors. The large roots and mossy walls make it all the more adventurous, and it will probably be one of the most unique experiences to take away from your itinerary for Siem Reap!
Day 2 / Stop 3 – The Royal Terraces
Why it's awesome: This spectacular, decorated terrace is one of the few remains from the magnificent palace that once stood on the spot!
Cost: Included in the entrance cost for Angkor Wat.
Food nearby: Ktom Sre is ideal for a laidback afternoon snack. The rustic Cambodian eatery serves its meals in big bamboo leaves, just like the Khymer!
In keeping with the philosophy that only the homes of the gods could be built in stone, the royal palace of Angkor Thom was constructed from perishable materials. That means that we can only imagine the full splendor of the palace but fortunately, there are some clues to its grandeur!
The Royal Terraces is the most beautiful ruin of the palace. It stretches over 1200 feet and boasts impressive stone carvings of elephants whose trunks are so realistic you'd expect them to squirt water as you walk past!
There is also an enclosure (thought to have been a harem), a few sanctuaries and the remains of a palace wall, as well as the Royal Pond. The 500-feet pool has carvings of animals and sea monsters and would have been used to stage nautical events!
Day 2 / Stop 4 – Phimeanakas Temple
Why it's awesome: This pyramid style temple was the temple used by the royal family!
Cost: Included in the entrance cost for Angkor Wat.
Food nearby: Khmer Angkor Restaurant is usually teeming with tour groups but that's a good recommendation! Look forward to classic Khmer and Asian cuisine for lunch!
Dating from as early as 905, Phimeanakas Temple is a beautiful stop on your Siem Reap trip itinerary! It's smaller than many of the other temples you'll see and is built like a stepped pyramid, with three levels leading to the top terrace.
The upper-most platform is surrounded by vaulted galleries, which were probably the first of the kind to be built in the Khmer Empire. The design would later be copied on a larger scale at other Khmer temples!
According to legend, this platform was preceded by the Golden Tower. Inside lived the Lord of the Khmer Kingdom, a nine-headed snake that would transform into the body of a woman each night. It was the king's royal duty to sleep with this woman to appease the spirit! If he failed in his duty, disaster would strike. If the spirit chose not to appear to him, the king was likely to die! Keep this fascinating myth in mind as you explore!
Day 2 / Stop 5 – Bayon
Why it's awesome: Bayon was the central temple of Angkor Thom, with the four roads from the gates still leading to the site!
Cost: Included in the entrance cost for Angkor Wat.
Food nearby: If you want to have dinner surrounded by the wondrous temples, Chez Sophea is your best bet. It's open till 22:00, is atmospheric and has a superb menu centered around barbequed fish and meat!
It's hard not to be grateful to Khmer King Jayavarman VII when you see Bayon! It may have been built in the 12th century but it still exudes charm and majesty when you approach it today!
Bayon differs from other Khmer temples since it lacks its own moat and gate; since it was such an integral part of urban life, the city's walls and moat served to protect it. It was originally a Buddhist temple but was converted into a Hindu one when the state religion changed!
The stand-out feature of Bayon Temple is the carving of the stone into faces. There are almost 200 faces, the largest of which are around 8-feet-high! Archaeologists originally thought that the faces represented Brahma, the Hindu god of creation who has four faces. However, since Bayon was initially a Buddhist temple, the faces may depict Lokeshvara, the Bodhisattva of compassion. It's believed that the model for the faces was Jayavarman VII himself!
Angkor Pottery Center | Banteay Srey Butterfly Centre | Angkor Center for Conservation of Biodiversity | Khmer Massage | Pub Street & Night Market
Those who pack their bags and move on after 2 days in Siem Reap are missing out on so many fun experiences, such as a butterfly park and the rambunctious Pub Street! With our incredible 3-day itinerary in Siem Reap, we'll keep you busy for a few more days.
Angkor Pottery Center
Learn how the ancient Khmer made their fabulous pottery!
The friendly people at the pottery center will help you make your own very special souvenirs!
Classes can be as quick as 30 minutes and cost from just $7 USD!
Think back to the wonderful ceramics you saw at the Angkor Wat National Museum and you're sure to agree that the ancient Khmer knew what they were doing when it came to pottery! Fortunately, their expert techniques are alive and well, and now you can put a Khmer pottery class on your 3-day itinerary in Siem Reap!
The Angkor Pottery Center is run by Paruth Hann, a professional Cambodian potter, and has quickly become a favorite amongst those touring Siem Reap! Some tourists even put it amongst their top five things to do in Siem Reap!
The classes allow you to create a unique piece of pottery on a traditional Khmer potter's wheel. You don't need any prior experience as you will learn the techniques needed to operate this bit of ancient technology!
Banteay Srey Butterfly Centre
For an unbelievable experience in a gorgeous environment, this center is a must on your itinerary for Siem Reap!
This is the perfect introduction to the richness of Cambodian wildlife!
Revenue from tourist visits is redirected towards poverty alleviation and local conservation efforts!
Banteay Srey Butterfly Center is situated on a working butterfly farm in the Siem Reap countryside. These delicate creatures are not just pretty but incredibly useful since they are vital in pollinating crops — it's only fitting that they now have a tourist attraction that's all about them!
The entrance fee of $4 USD pays for a short tour of the facility. Your guide will explain how the metamorphosis of butterflies works and what exactly a butterfly farm does! All the butterflies at the center are native to Cambodia!
There's a butterfly display to teach you about the creatures before you head to the botanical garden. The display will let you see understand more about the butterfly life cycle, while the garden will give you the chance to gently touch the butterflies and pose for what promise to be beautiful pictures!
Angkor Center for Conservation of Biodiversity
With plenty of fascinating animals and a stunning natural environment, this is one of the best places to visit in Siem Reap!
The center is a home for injured or illegally domesticated wildlife who are rehabilitated before being released back into the wild!
Entrance is just $3 USD and includes a tour of the facility!
The Angkor Center for Conservation of Biodiversity is a work of true love! The center rescues animals from the illegal wildlife trade, as well as injured animals, and carefully prepares them for a life in their natural habitats. It also runs conservation breeding programs for threatened species. Supporting an organization like this is one of the best things you can do when you travel to Siem Reap!
There are around 550 animals at any time in the center which consists of about 45 different species! There are many turtle, tortoise and bird species, alongside small carnivores and gibbon. Make sure that you visit the impressive wading birds, including a large collection of threatened storks and the mighty Saurus crane!
Khmer Massage
This traditional massage is practiced all over Cambodia so don't miss out!
It's the perfect tonic for weary, aching bodies after going on a Siem Reap walking tour!
Since there are massages of all kinds across the city, there's sure to be one that suits your budget!
Traditional Khmer massages are good for releasing tension and stimulating circulation. Originally, they were used by monks to realign their bodies after long hours of meditation! They work quite deep into the muscle and rely on the body's natural oils so it's a no-fuss but extremely efficient experience to treat yourself to while on a weekend in Siem Reap!
On almost every street corner in Cambodia, there'll be someone offering you a Khmer massage, so it can be quite difficult to know where to go! Just decide on your budget and what kind of experience you're looking for.
If you're looking to get a taste of the Khmer culture while staying on budget, Master Feet on Hospital Street is a good bet! The facility is basic but very clean and has air conditioning. The staff is also well-trained and professional. A Khmer massage costs around $5 USD.
At $18 USD for an hour's massage, Lemongrass Garden is pricier but offers a few more frills to compliment the massage. A great advantage is that they offer kids massages so the whole family can enjoy the experience!
At the top end of the budget is Frangipani Spa. This is where you need to go if it's full-on escapism that you're looking for: with baths filled with flowers and aromatherapy oils, it's a luxurious retreat! Their famous four-handed massage allocates two therapists to you and costs $65 USD!
Pub Street & Night Market
In the heart of the city, Pub Street is the center of Siem Reap's lively nightlife scene!
Just a few blocks away, outside Old Market, is Night Market, the first of its kind in Cambodia!
With shops, bars, and restaurants open 24/7 in this area, it's your best bet for a fun night out!
It's probably best to start your evening with a visit to Night Market. Unlike many other south-east Asian night markets, Siem Reap's is not just about the goods on sale but about the place itself! The market comprises a series of traditional Khmer huts that have been stylishly built to accommodate shops!
There are over 200 shops to visit! You'll find everything from "Angkor What?" t-shirts to leather carvings on sale. One of the most unique stalls is the Rice-Art Painting which sells artwork made from well…rice!
Once you've shopped up a storm, head over to Pub Street for the many lively bars. Angkor What?, and the Temple Bar are the most popular places to party. As it gets later, the music gets louder and the bar spills out onto the street, making for an epic night!
When planning a trip to Siem Reap, it's comforting to know that the city is amongst the safest places in Cambodia! There are a number of things to bear in mind though.
There is a low rate of violence in Siem Reap but muggings do occur around cash points. You should aways be on the look-out for petty crimes like bag-snatching. Young children are known to rush by on motorbikes and try to quickly pull off your backpack. To avoid this, carry small bags that you can hold onto easily or get a bicycle with a basket cover to protect your bag.
Other than that, just exercise your usual vigilance and don't leave your belongings lying around in tuk-tuks or restaurants.
Remember that you should choose good, reliable travel insurance while planning a trip to Siem Reap. Our recommendation is World Nomads, a flexible and efficient service that covers almost every country!
Don't Forget Your Travel Insurance for Siem Reap
ALWAYS sort out your backpacker insurance before your trip. There's plenty to choose from in that department, but a good place to start is Safety Wing.
They offer month-to-month payments, no lock-in contracts, and require absolutely no itineraries: that's the exact kind of insurance long-term travellers and digital nomads need.
SafetyWing is cheap, easy, and admin-free: just sign up lickety-split so you can get back to it!
Click the button below to learn more about SafetyWing's setup or read our insider review for the full tasty scoop.
If you're searching for reasons to spend more than 3 days in Siem Reap, then look no further than these awesome day trips from Siem Reap! From a rural village to a neighboring province, it's amazing how much you can see in just a day!
Siem Reap: Floating Village Half-Day Tour
With stilt houses and a floating school, this has to be one of the most mesmerizing day trips from Siem Reap! It's based in the area around the famous Tonle Sap Lake!
Your first stop is a crocodile and fish farm where you'll learn about how locals make a living from the lake. This is also a great spot to take some incredible photos of your trip to Siem Reap!
The highlight of this tour, of course, is the boat ride through the floating village! We all have a hidden people-watcher inside of us and this is a good opportunity to let it loose! Remember, though, to get permission before taking photographs of locals.
Full-Day Kulen Waterfall and 1000 Lingas Tour
If crisp forest air and cascading waterfalls sound appealing, then you have to put a trip to Kulen Waterfall on your Siem Reap itinerary!
This day trip visits Phnom Kulen National Park. The Kulen mountain is considered to be the birthplace of the Khmer Empire and the waterfall is perfect for a refreshing dip!
The River of a Thousand Lingas is another stunning point of interest in the park. The river floor is covered with carvings of Shiva Linga and its water is considered holy!
Battambang Private Full-Day Tour from Siem Reap
Day trips from Siem Reap are excellent ways of getting to see more of Cambodia, especially if you're only spending 1 week in Cambodia! Battambang is a neighboring province that boasts an elegant capital city and picturesque scenery.
Battambang City has some pretty French buildings from the colonial era and a lovely river! Afterward, you'll take a train ride through the rural rice paddies — Battambang is actually known as Cambodia's "rice barn" since it produces the most rice in the country!
The fun doesn't end there since there is also a picnic, rural temples, isolated caves and colorful orchards to enjoy!
Full-Day Banteay Srei Temple Small-Group Tour
It takes days to see all the temples at Angkor Wat Archaeological Park and a day trip is ideal for visiting the more isolated ones! On this tour, you'll visit three temples with an expert guide.
Pre Rup Hindu Temple is the first attraction on this Siem Reap itinerary! It was built as early as the 10th century as an official state temple for the king.
Banteay Srei Temple is widely regarded as having the most intricate reliefs in Cambodia! You'll be able to process this wonder over lunch before heading to Preah Khan Temple. Nature has taken over this structure, with trees growing through the temple!
Back to Basics: Village Life Tour from Siem Reap
This is one of those rare day trips from Siem Reap that focuses exclusively on ordinary rural life in Cambodia with a strong focus on issues of sustainability.
You'll be exposed to traditional economic activities, like basket weaving, rice wine production and the construction of wells. The tour will also connect these activities to issues of political and environmental rights as you'll hear from this rural community about employment, water rights, and sustainability!
On the cultural side, you'll be treated to some Khmer music, as well as visits to the local school and temple! It's the perfect way to enrich your vacation in Siem Reap with a taste of local life!
Find out what people want to know when planning their Siem Reap itinerary.
Conclusion of Siem Reap Itinerary
Even if it's just a quick trip visiting Cambodia, you have to make room for a Siem Reap itinerary! From fresh street food to ancient treasures, this city has so much to offer that visitors often end up staying longer than planned.
Of course, you may have come for the glory and beauty of Angkor Wat but Siem Reap is so much more than the sum of its past! The city has firmly established itself as a leading Cambodian cultural center and trendy creative hub. Whether you're walking through trendy Kandal Village or taking in an Apsara show, you have to agree that Siem Reap is doing something right!
In addition to so many cultural wonders, Siem Reap also has a plethora of natural attractions! It's the gateway to the local jungle with all the waterfalls and mountains, as well as the center for the area's natural rehabilitation. It's this commitment to preserving the earth, in spite of all the city's man-made attractions, that will blow you away on this Siem Reap itinerary!
---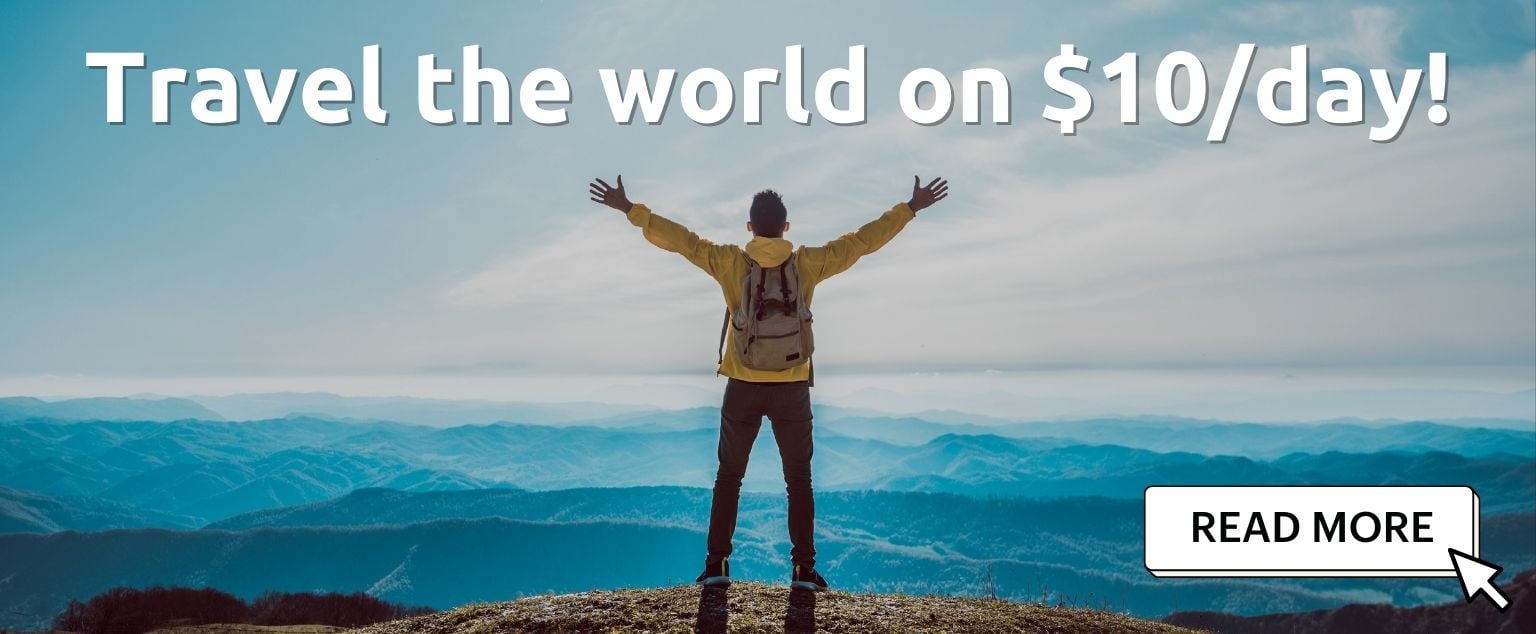 And for transparency's sake, please know that some of the links in our content are affiliate links. That means that if you book your accommodation, buy your gear, or sort your insurance through our link, we earn a small commission (at no extra cost to you). That said, we only link to the gear we trust and never recommend services we don't believe are up to scratch. Again, thank you!