Famous for its unique culture, incredibly friendly locals, and stunning landscapes, Bali is a travelers paradise. This well-worn tourist path has been on the 'must-see' list for decades. Millions of visitors trod the island all year round, often without giving a second thought to what kind of impact they leave behind.
In recent years – pandemic included – issues on the island have become unavoidable. Trash polluted oceans, illness-ridden animals, unpredictable weather affecting farming, expensive education and poverty all reap havoc – things you won't find on your favourite influencers Instagram.
We've all heard the phrase 'leave a place better than when you arrived'. This guide will lead you through volunteering projects in Bali that will help you leave a positive mark on this majestic island. You've enjoyed the stunning setting, now it's time to give something back.

Do You Want to Travel FOREVER??
Pop your email in below to get a FREE copy of 'How to Travel the World on $10 a Day!'.
Top 3 Volunteer Projects in Bali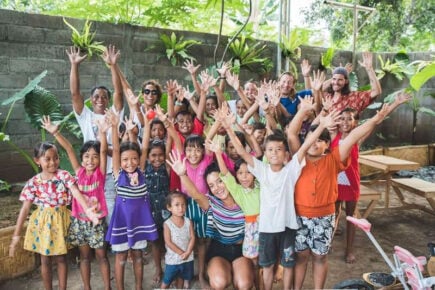 Women and Children's NGO
> Opportunity: building, eco-gardening, marketing, kitchen help, photography and classroom assistance
> Location: North West Bali
Teaching English and Culture Exchange
> Opportunity: teaching English, interacting with students, Skype lessons
> Location: Bangli
Marine Conservation Program
> Opportunity: building eco-systems, cleaning the ocean floor, teaching locals about marine conservation
> Location: Tianyar
What You Need to Know about Volunteering in Bali
Bali has a vast variety of volunteering options. You can teach English at a school, offer to assist in agriculture projects on farms, dive underwater to help marine conservation, even give a helping hand to the street dog crisis that is taking over the island.
It isn't about pulling out your phone and Insta-storying the process. Bali volunteering projects need hardworking, motivated people who are willing to give their time and skills to further their cause. If you are looking to knock off and relax for months, perhaps just try backpacking Bali.
You don't want to be running off to any old volunteering job you find on the internet. There's a couple of different ways to find roles in Bali. You can do independent research, or use a reputable and trusted site such as Workaway or Worldpackers. These reviewed and easy-to-use sites make signing up for a volunteer position simple. Everything is arranged for you, the requirements and offerings are clear, and you can tag along for something you really want to do.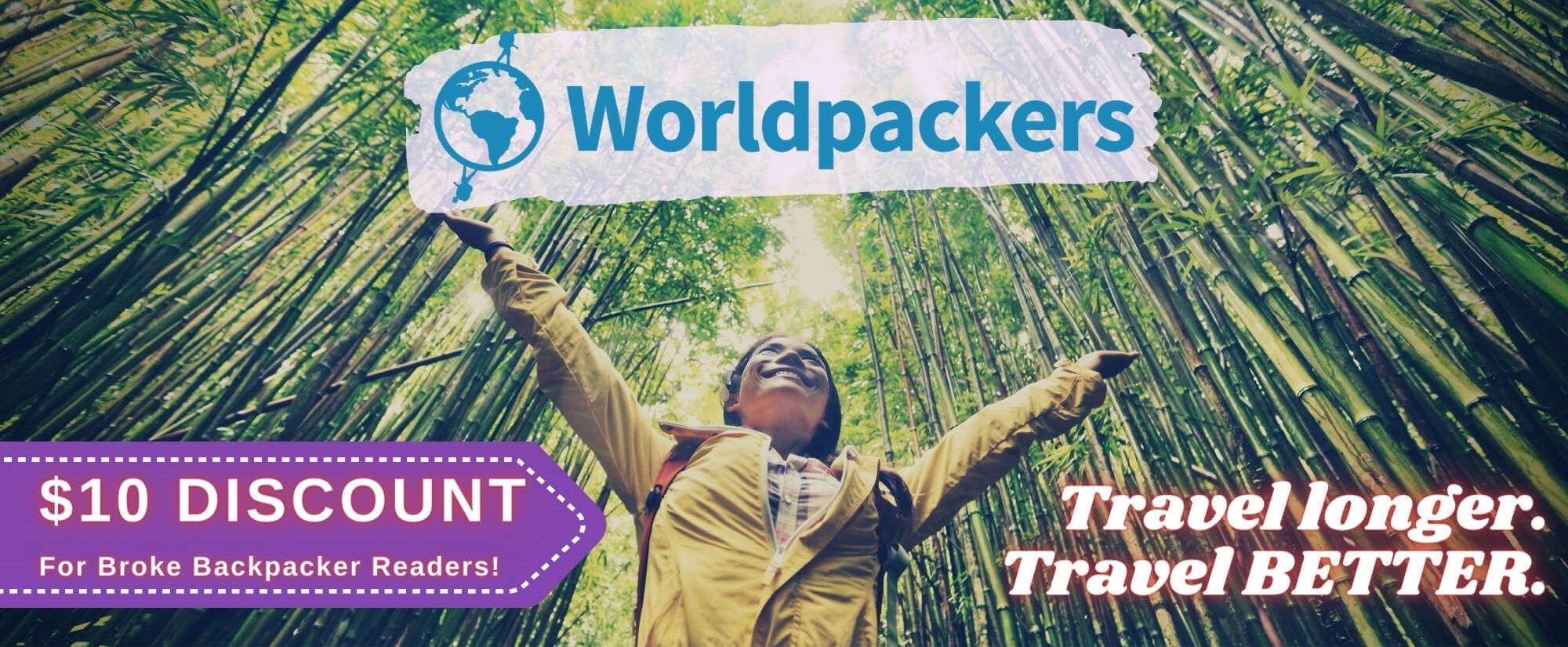 Worldpackers: connecting travellers with meaningful travel experiences.
Why Volunteer in Bali
You could offer your time and skills anywhere in the world, why should you volunteer in Bali?
Bali is a magnificent destination that has given many happy memories to millions of tourists over many years, it's time to give something back.
Volunteering is an amazing way to experience local culture and immerse yourself in the day-to-day life of the locals. Fall off the tourist track and become part of the family.
On a volunteering project you can pick up new skills such as permaculture or childcare with lots of hands-on experience.
Unlike Western countries, the Indonesian government doesn't assign funds to volunteering or charitable organisations. They are often self-funded and running off donations. Joining a volunteer program can greatly benefit a local project.
You will get a once-in-a-lifetime opportunity with unforgettable people who will make the whole experience so much more special and memorable.
And, why not get yourself a little bit of good karma! (Something very important to Balinese Hindus).
Planning to work while you volunteer?
Come visit Tribal Bali – Bali's first specially designed, custom-built hostel…
Bali's most special backpacker hostel is finally open…. Tribal Bali is a custom-designed, purpose-built hostel – a place to work, rest, play and stay. A place to find your tribe and hands down the best place in Bali to hustle hard and make new friends…
Before You Volunteer in Bali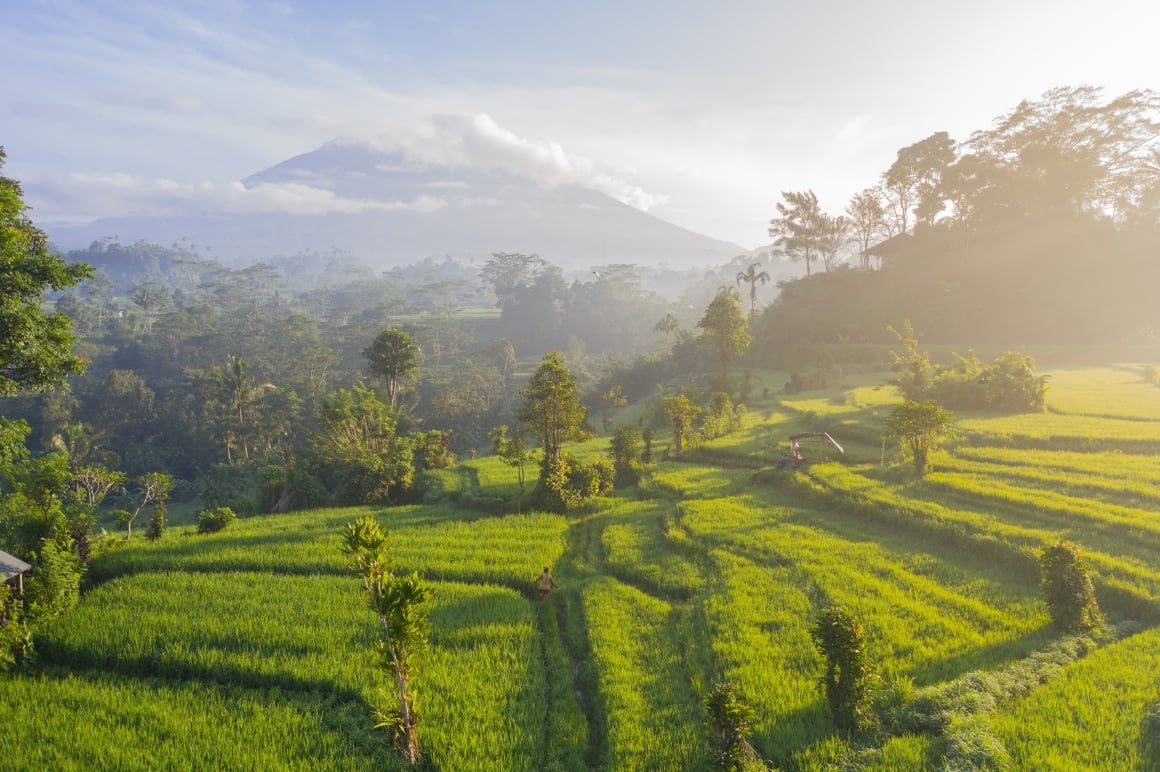 Before we get into the juicy bits of how to find the best volunteering programs, here's some quick info you should know.
Visa
There is no official volunteer visa for Bali. For the most accurate information, check with your program organiser about what kind of visa is needed, and whether you need to make prior arrangements.
Vaccinations
There are a few vaccinations that are highly suggested before travelling to Bali. Volunteers usually get Typhoid, Hepatitis A, Measles, Mumps and Rubella, and Diphtheria travel vaccines. Although not mandatory, they are worth considering along with a decent travel insurance.
Bali At A Glance
Currency – Indonesia Rupiah
USD 1 = IDR 14,275 as of Sept. 2021
Capital City – Denpasar
Official Language – Balinese and Indonesian
Costs of Volunteering in Bali
That's right, you have to pay to volunteer in Bali. But, don't get aggy about it. This money usually covers your living expenses and is fed back into the organisation. Think of it as a donation.
The cost of programs varies depending on the organisation and inclusions. If you want to join a super specialised option it could be at the higher end of the scale compared to a commonly found project. With all-inclusive options and those that don't include accommodation or meals, there is something for every budget.
If you have been saving for a traveling experience, why not use those funds to help support a local organisation and have an unforgettable time.
Remember that the cost of the program will not include flights and visas.
Choosing a Volunteer Project in Bali
Now we are getting to the good bit. What kind of volunteering project would suit you?
First, let's cover the kind of projects you can find in Bali –
Teaching English – this is a worldwide favourite. Many schools and orphanages in Bali are calling out for English teachers. As a tourism reliant island, if children and adults are able to have a good understanding of English, they are open to a wider variety of jobs and opportunities.
Animal Conservation – we aren't talking about cuddling up to monkeys and tigers here. We are talking about ethical projects that don't compromise the health and wellness of animals. Bali has projects that focus on turtle conservation, street dog health and assisting at the wildlife centres. Be prepared to get dirty in these projects.
Agricultural Assistance – join a farmstay, permaculture or agriculture project to tend to gardens and care for a property. This could vary from coffee beans to vegetables.
Social Support – this could be helping eldery in a local home or cooking meals in an orphanage, social support is a widely found kind of volunteering project in Bali. Assist a local family, help the less fortunate, and immerse yourself into local life. This kind of project is ideal for those who want to really get into the nitty gritty of Bali life.
Construction and Renovation – if you have a background in construction or building, these types of projects need you! It could be building a new community centre, a home or a school, these can be some of the most fulfilling volunteering options.
So, which should you choose?
Think about what skills you have and how they could benefit the organisation, or find a placement where you can learn new skills. Depending on what you are looking to get out of your experience, you are sure to find something for you.
Finally, volunteering projects can run from 1 week all the way up to a couple of months. How long do you have? If you want to turn a quick holiday into something meaningful then stick to a quick couple of weeks of good karma then head back home. Or, if you are looking to fill up a gap year, you could start and complete a huge building! The possibilities are endless.
Save $$$ • Save the Planet • Save Your Stomach!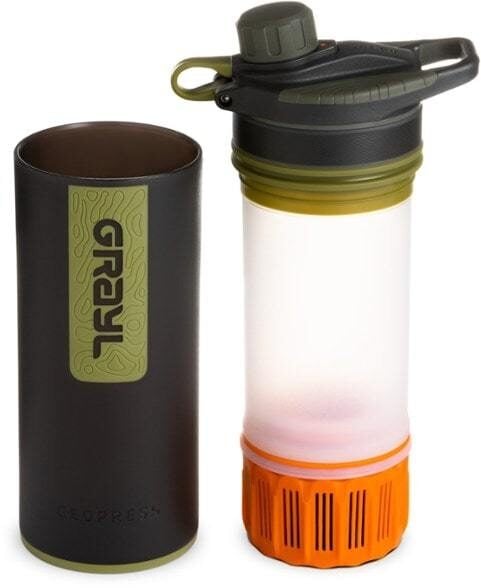 Drink water from ANYWHERE. The Grayl Geopress is the market's leading filtered water bottle protecting your tum from all the waterborne nasties. PLUS, you save money and the environment!
Single-use plastic bottles are a MASSIVE threat to marine life. Be a part of the solution and travel with a filter water bottle.
We've tested the Geopress rigorously from the icy heights of Pakistan to the tropical jungles of Cuba, and the results are in: it WORKS. Buy a Geopress: it's the last water bottle you'll ever buy.
Buy a Geopress!
Read the Review
Top Volunteer Projects in Bali
An organised volunteer project can make sure you are in a safe and comfortable environment with everything you need. Sites like Worldpackers and Workaway are trusted and reviewed with a lot of different project options.
Here are a few projects in Bali looking for awesome volunteers –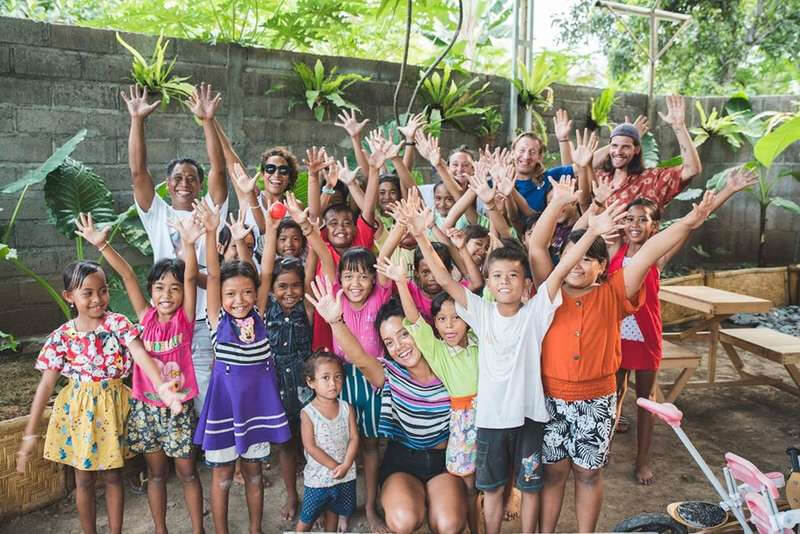 Opportunity: building, eco-gardening, marketing, kitchen help, photography and classroom assistance
Location: North West Bali
This NGO in the far North West of Bali is dedicated to supporting women and children who are escaping teen marriage, abuse and exploitation. They focus on educating and helping the victims. Keeping them in a safe setting where they can learn English, develop housekeeping skills and hopefully get a new lease on life.
The opportunities at this project vary from marketing and admin, to gardening and building. If you are looking for a worthy heartfelt cause to invest your time into, this is the perfect fit. You will make such a big difference in the lives of the women and children, I'm sure you will want to extend your stay.
Opportunity: teaching English, interacting with students, Skype lessons
Location: Bangli
Aspiring teachers will love this volunteer project. You can interact with students, helping them develop their English skills while exploring the island. Learn about the culture of Bali from the youngsters and impart your wisdom of Western life onto them.
This teaching opportunity will have you spending time in the classroom with students as well as having general conversations via Skype to help develop their English understanding. With plenty of time to tour Bali, and accommodations and meals included in the price, this is a great option for a first-time trip to the island.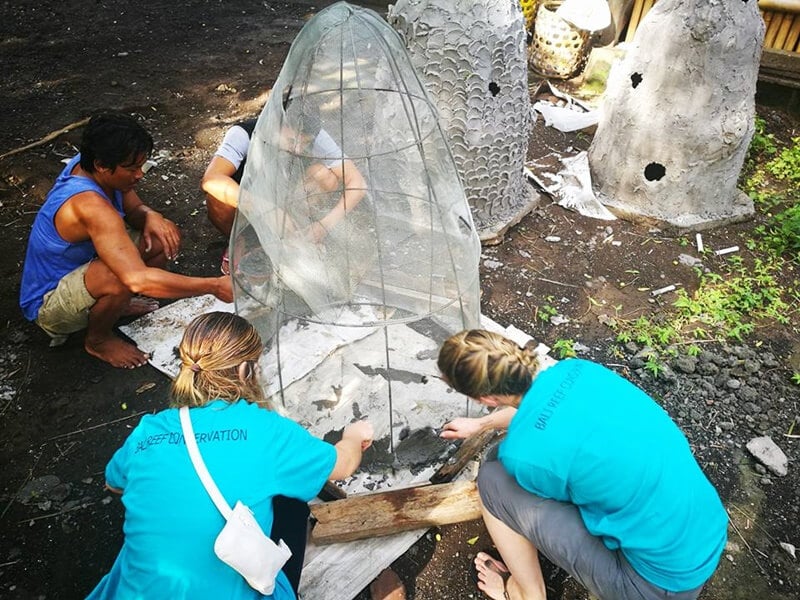 Opportunity: building eco-systems, cleaning the ocean floor, teaching locals about marine conservation
Location: Tianyar
Plastic is a huge problem in Indonesia. Waterways and oceans are filled with trash, destroying ecosystems. The fishing practices of locals has also had a detrimental impact on the health of the coral reef. This marine conservation program works closely with The Indonesian Nature Nature Foundation to build artificial ecosystems such as fish domes.
Although an ability to swim is very important for this volunteer program, anyone with an interest in ocean health is welcome. You will build your own fish domes, spend time cleaning the beaches, cleaning the ocean floor of plastic, and helping to teach the locals about sustainability and plastic hazards. It is a project that will have a huge impact on the lives of locals, and the health of the coral reef.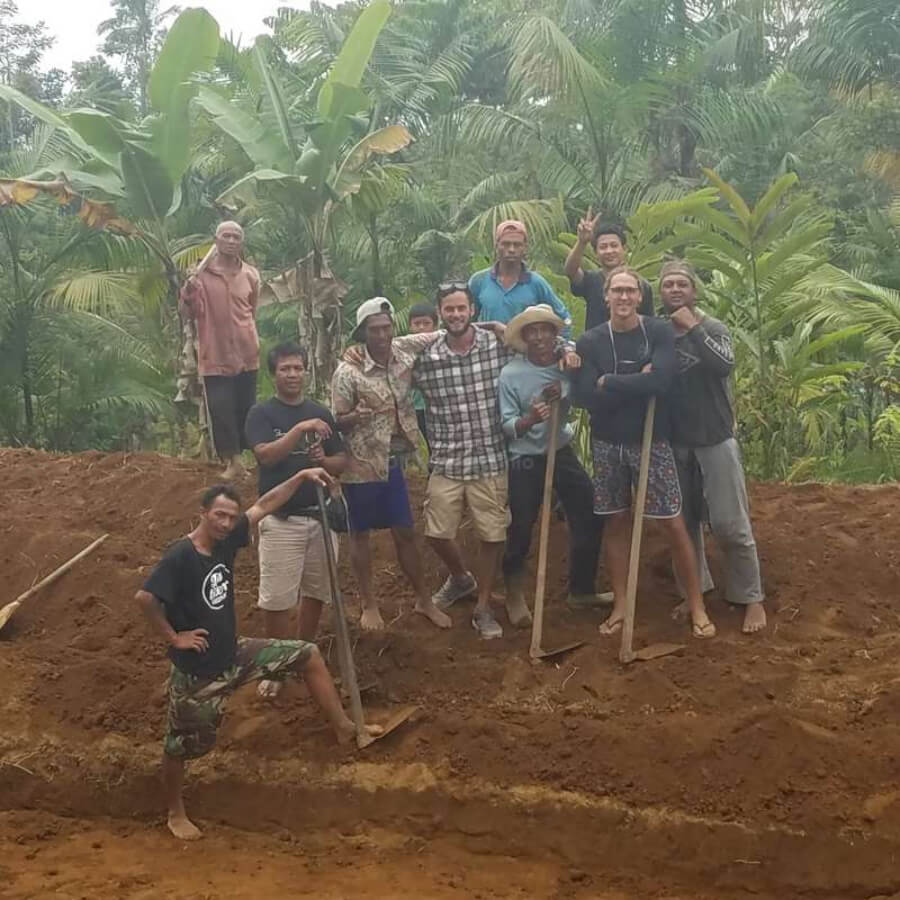 Opportunity: building, gardening, farmstay help, teaching
Location: North Bali
Get down and dirty at this agrotourism volunteer placement. Creating multiple small farms on a large piece of land in the North of Bali, this project will teach you about agriculture where you can eat the fruits of your labor.
Teach English to the local workers, help maintain the buildings and assist in photography and social media. There are so many skills that can be handy here. To get away from the tourist heart of the island and experience daily local life, this is a perfect fit for someone who loves adventure.
Opportunity: socialise and prepare dogs for adoption, feeding and walking the dogs
Location: Ubud
I can't imagine anything better than spending weeks – perhaps even months – looking after dogs who are awaiting their fur-ever homes.
Stray dogs are a big problem in Bali. Thousands of pups wander the streets, spreading health issues and struggling for food. This organisation takes in as many stray animals as possible and socialises them to trust humans. On this placement you can offer a lending hand in walking, feeding, cleaning and playing with the dogs until they are ready to be adopted.
Located in Ubud you can spend your off time visiting all the nearby must-see attractions, however with these cute pups I would never want to leave.
Is This the Best Backpack EVER???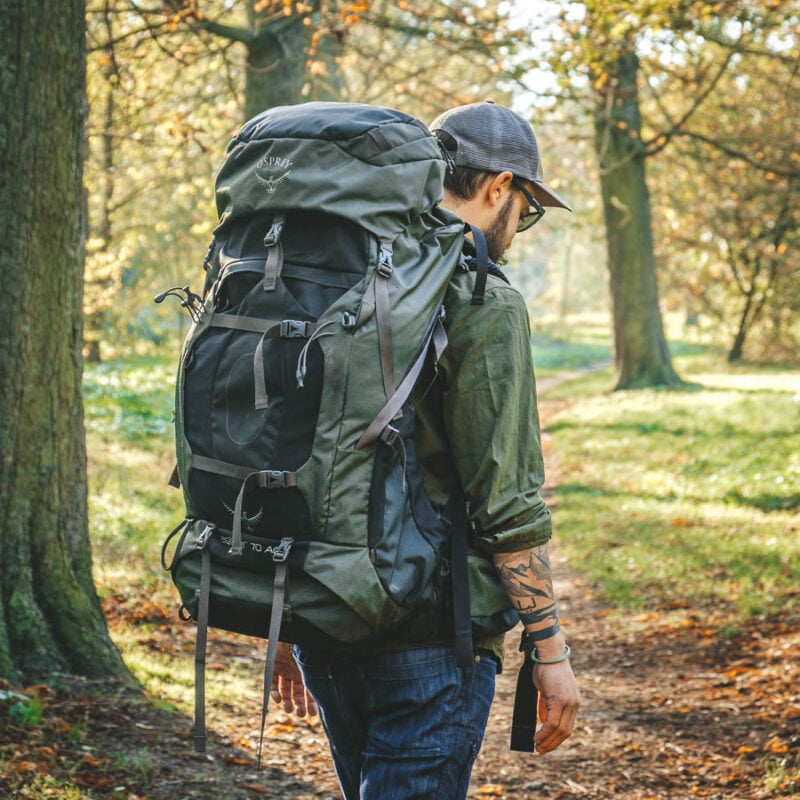 DIY Volunteering in Bali
If those projects didn't call to you, you don't need to be limited to an organised placement – find one yourself!
DIY volunteering can start with you heading to the island and seeing what's up. There are so many projects, NGOs, families and organisations that don't have the resources to advertise their volunteering programs. With your feet on the ground you can find options through word-and-mouth or just from your own experience.
Instagram is a great source for finding epic projects. Follow NGOs, projects that call to you, and aid programs that often call out for volunteers. This is also a great way to find free volunteering positions in Bali.
Whether you choose to support a local family, foster a local street dog to nurse them back to health, take a trash bag to collect plastic at sunset, or spend a few late-night hours fixing up the broken Canggu shortcut – volunteering is so much more than just an organised getaway.
Check out these epic organisations in Bali that are always looking for a helping hand (or two)..
Sungai Watch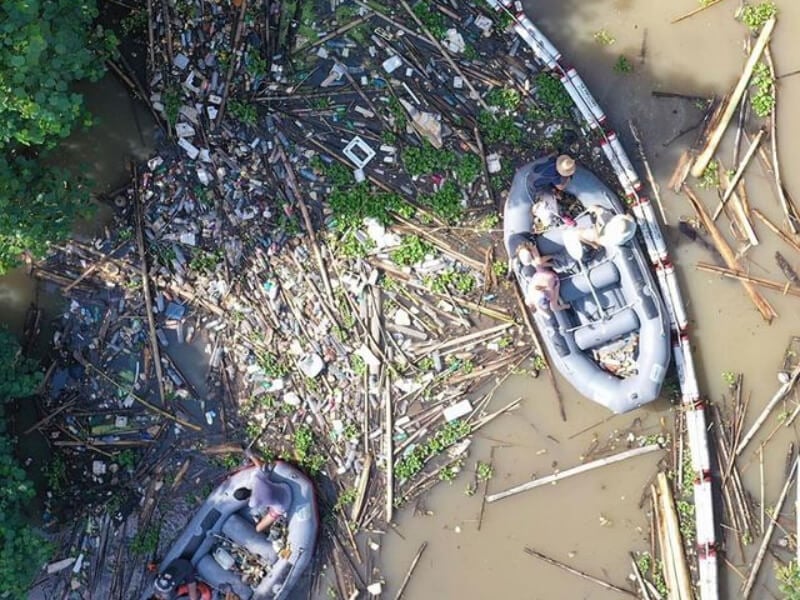 As I've mentioned a few times, plastic is a colossal problem in Indonesia, especially on the beaches of Bali. Sungai Watch has made it their mission to clear up rivers and creeks that lead into the ocean, stopping the problem before it reaches the open water. Using floating blockades across the waterways, they trap the plastic and trash to be collected by willing volunteers.
Enter, YOU!
You can just do it once, or you can dedicate lots of your own time to helping this program. If there is one cause worth your time in Bali, Sungai Watch is one of the best.
Once again, this organisation is putting in amazing work to help one of the island's most rife problems – stray dogs. Although they are not taking animals off the street, they are treating and sterilising street animals to stop the problem growing further.
A day helping out at the Bali Pet Crusaders could include answering emergency calls, cleaning out kennels, and organising mass sterilisation days. Animal lovers are sure to find this a fulfilling experience.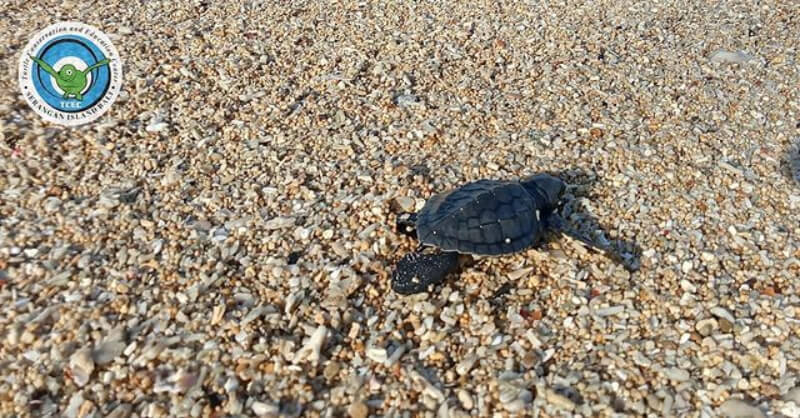 There are a few turtle conservation projects in Bali that are fighting against the consumption of turtle eggs and meat. Working with the locals, the organisations purchase turtle eggs and live turtles from the markets before they have the chance to be destroyed. Rearing young, releasing them back into the wild, and caring for injured animals is all part of the conservation plan.
Based in Serangan, this particular project is run by donations and with the kind help of volunteers just like you. Turtles are majestic and beautiful creatures that deserve the chance to thrive.
Working with kids will always be a meaningful experience, especially those that are less fortunate. Bali Street Kids Project is an orphanage, home and shelter for young children who have been dealt a hard hand in life. They also provide lessons and medical assistance to children of families who may not be able to afford education or health care.
Along with the necessities, this organisation provides moments of respite for kids with dance classes, art lessons and fun activities to get them out of the house. Volunteering at a project like this can take you out of your comfort zone to help teach lifelong skills to children.
DON'T DIE OUT THERE! …Please 🙂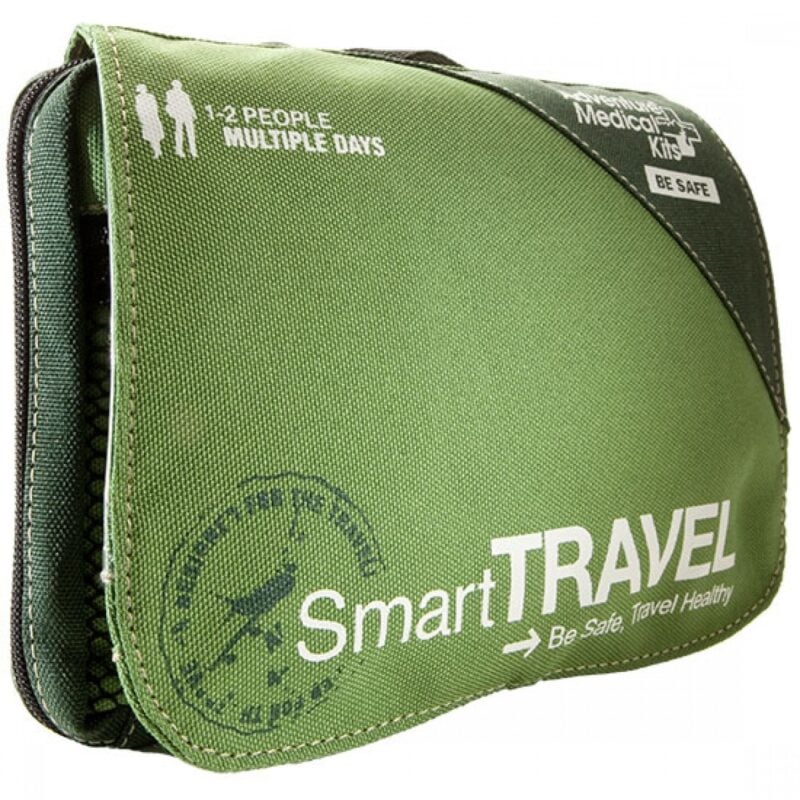 Things go wrong on the road ALL THE TIME. Be prepared for what life throws at you.
Buy an AMK Travel Medical Kit before you head out on your next adventure – don't be daft!
Buy on REI
What to Expect When Volunteering in Bali
Of course we can't give you a full breakdown of what your day-to-day life would be like, every volunteering experience in Bali is different. However, here are a few things you can expect.
Accommodation
Accommodation will vary between projects. If you are in the far North of the island it is likely you will have a more basic and local place to stay such as a guesthouse or homestay. Whereas projects in Ubud or the South could be more Western, but don't expect luxury.
Private rooms, shared dorms, shared bathrooms and communal spaces are the most common kinds of spaces.
However, if you are arranging your own accommodation for your volunteering mission, check out the area for guesthouses, hostels and homestays for affordable options. Or Airbnb may have a few spots close by to your project. It depends on your budget and preference.
Days Off
Organised placements with Workaway and Worldpackers are usually 20 hours per week, leaving you plenty of time to adventure the island and explore the must-see sights. Some projects will be happy to arrange tours for you to hit all the hotspots, but you can also take the time to wander yourself and find some real hidden gems.
If you've arranged your own volunteering experience, be sure to leave some time to head out and enjoy the beautiful setting!
Have spa days, hike the jungles, swim in waterfalls, shop in malls, suntan on beaches and climb mountains – Bali has it all!
A volunteering trip to Bali is a perfect time to find out why the island is so famous.
Getting Around
The most popular, and easiest, way to get around Bali is by motorbike. Rentals are widely available for those who are confident in their driving skills. However, taxis and bike-taxis (or GO-JEKs) are on hand if you don't want to tempt fate.
More local and far out areas won't have a lot of transport options, you can check with your host if they are willing to help you get around from time to time.
Do's and Don'ts
Finally, we have the do's and don'ts. These are our few tips and tricks to make sure you have the most fun and unforgettable volunteering experience.
Do choose a reputable and trusted organisation/project to dedicate your time to.
Do be honest with how much time and effort you are willing to offer to the project.
Do listen carefully to your role within the project and the jobs expected of you.
Do remain respectful of the locals and their culture.
Don't over promise and underdeliver on how much you are able to contribute.
Don't do anything you are not comfortable with. Raise the issue with the organisers and make a plan.
Don't forget about the reason for your visit and lose focus of your goal.
Final Thoughts
Now, that is one heck of a guide!
Volunteering is an incredible way to travel, giving back a little something to places that so openly host tourists and visitors. It can be a full time months long gig, or you can dedicate a few hours a week to your chosen project. There isn't just one right way to volunteer.
As long as you are willing to give your time and energy to make a cause better, you are doing everything right!
But don't forget to sort your travel insurance before you leave!
Month to month payments, no lock-in contracts, and no itineraries required: that's the exact kind of insurance digital nomads and long-term traveller types need. Cover yo' pretty little self while you live the DREAM!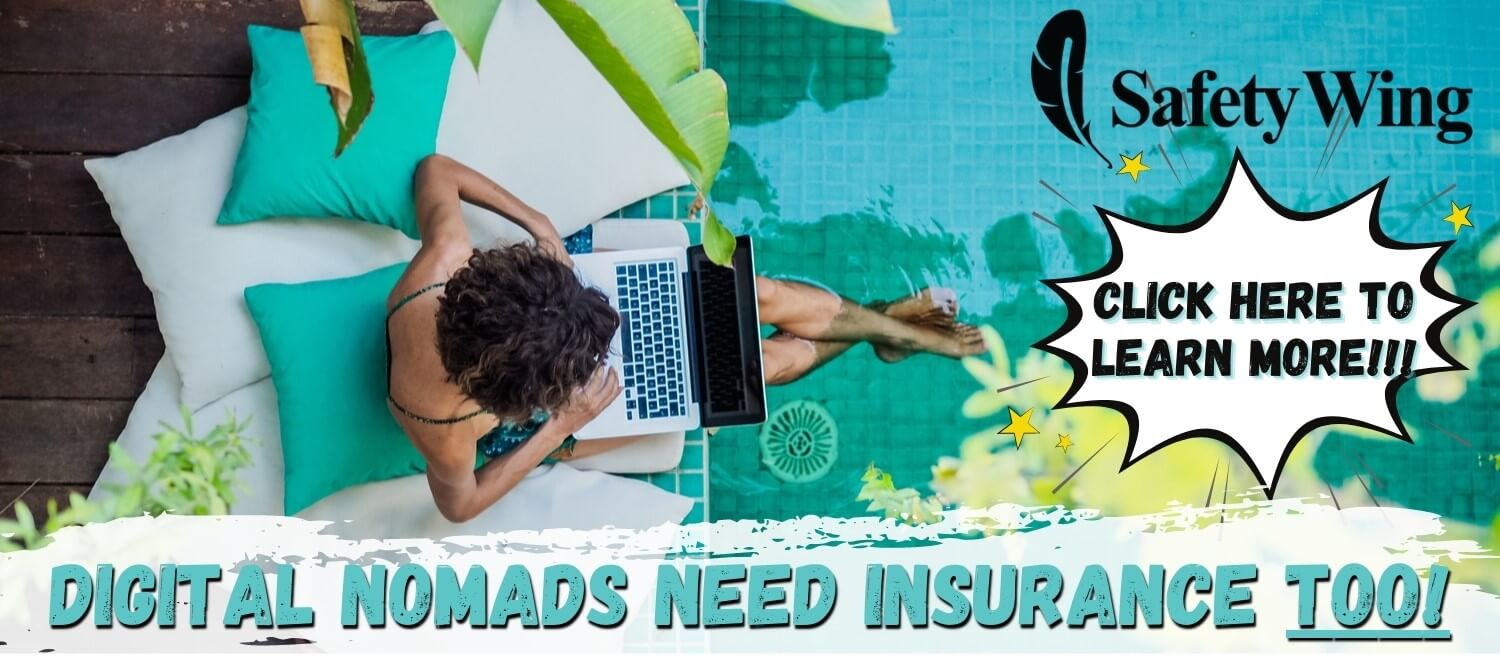 SafetyWing is cheap, easy, and admin-free: just sign up lickety-split so you can get back to work! Click the button below to learn more about SafetyWing's setup or read our insider review for the full tasty scoop.
---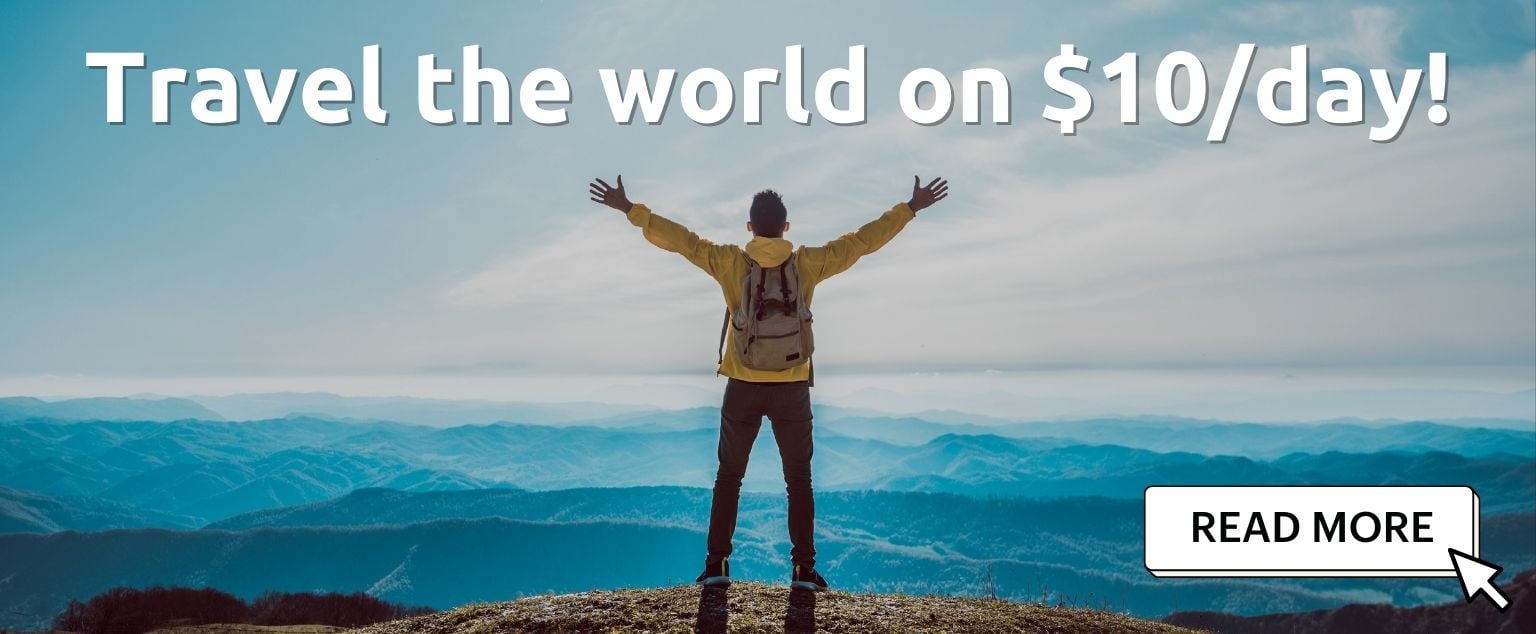 And for transparency's sake, please know that some of the links in our content are affiliate links. That means that if you book your accommodation, buy your gear, or sort your insurance through our link, we earn a small commission (at no extra cost to you). That said, we only link to the gear we trust and never recommend services we don't believe are up to scratch. Again, thank you!