Terraced rice paddies, lush forests, ornate temples, and idyllic beaches are all part of Bali's undeniable charm. This small island in the Indonesian archipelago offers a wealth of experiences to suit all travelers. Whether you're seeking a beach escape or a wellness retreat with yoga and meditation, you won't be disappointed.
Bali offers a wide variety of places to stay in a number of idyllic settings. From jungle treehouses to oceanside villas, there's a phenomenal range of unique accommodation in Bali.
As travelers are seeking more authentic and environmentally-conscious experiences, the number of places offering eco-conscious accommodation is on the rise. We've gathered a list of some of the best eco-lodges in Bali for a comfortable stay while having minimal impact on the environment.
In a Hurry? Here's Where to Stay in Bali for One Night
FIRST TIME IN BALI
Firefly Eco Lodge
This unique treetop experience places you in a woven bamboo 'nest'. With incredible views in every direction, Firefly Eco Lodge offers an experience you won't forget in an authentic Balinese setting among the rice paddies near Ubud.
Places to visit:
Ubud Monkey Forest
Elephant Cave
Tegenungan Waterfall
Is this amazing Bali Eco-Lodge booked for your dates? We've got your back with our other favorite properties below!

Unlock Our GREATEST Travel Secrets!
Sign up for our newsletter and get the best travel tips delivered right to your inbox.
Why Stay in an Eco-Lodge in Bali?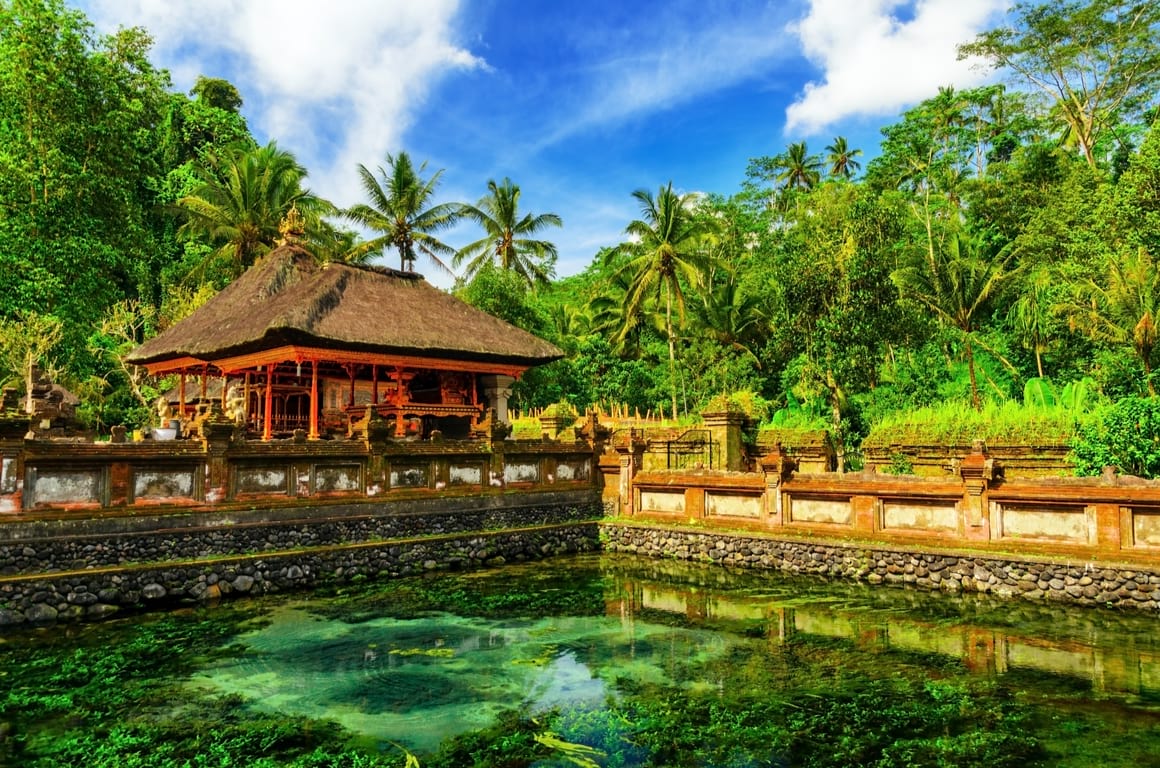 With so many fascinating places to explore in Bali, eco-lodges can offer you a truly unique stay in a magical setting. Whether you settle on a treehouse or a chic villa, you're guaranteed a comfortable stay. Staying in an eco-lodge is the best way to get close to nature while preserving the surrounding environment.
You'll also be uplifting and supporting local communities. Many eco-lodges in Bali purchase fish and produce from local sellers, and support local artisans as much as possible.
As a guest, you can rest assured that your stay at one of these amazing eco-lodges is having a positive impact on the environment and local communities. Traveling Bali doesn't need to have a negative footprint!
What is an Eco-Lodge?
An eco-lodge is an accommodation that employs sustainable and environmentally conscious practices. While the term is still relatively new, you may find different methods being employed at different lodges. But, as long as there's respect and a commitment to reduce the impact on the environment, the lodge can be considered 'eco'.
In addition to eliminating single-use plastics, composting organic waste, or using solar power, these lodges also commit to uplifting local communities by supporting local artisans, businesses and promoting Balinese heritage and culture.
Overall Best Value Eco-Lodge in Bali
Overall Best Value Eco-Lodge in Bali
Firefly Eco Lodge
> $
> 2 Guests
> Unique sleeping experience above the treetops
> Woven bamboo sleeping pod
Best Value Eco-Lodge in Bali
Best Value Eco-Lodge in Bali
Buana Ecofarm and Ecolodge
> $
> 2 Guests
> A nature lover's paradise
> Comfortable room in a Balinese-style house
Best Eco-Lodge for Couples
Best Eco-Lodge for Couples
The Mesare Resort
> $
> 2 Guests
> Tucked among leafy gardens and green hills
> Traditional Balinese huts built using local materials
Most Ecological Eco-Lodge in Bali
Most Ecological Eco-Lodge in Bali
Pondok Gede Eco-Lodge
> $
> 2 Guests
> Peaceful and sustainable retreat
> Neat and comfortable, great Wi-Fi
Best Eco-Lodge for Families Visiting Bali
Best Eco-Lodge for Families Visiting Bali
Sarinbuana Eco-Lodge
> $
> 2 Guests
> Activities for the whole family
> Beautiful retreat in the jungle
Best Eco-Lodge for Backpackers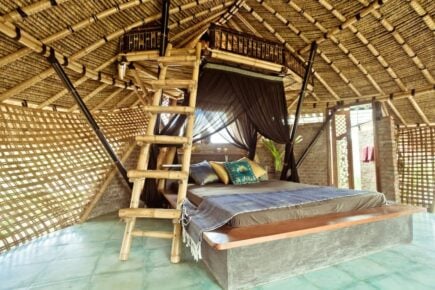 Best Eco-Lodge for Backpackers
Bamboo Eco-Cottage in Rice Fields
> $
> 4 Guests
> Traditional bamboo and palm-thatch hut
> Peaceful living among the rice fields
Amazing Luxury Eco-Lodge in Bali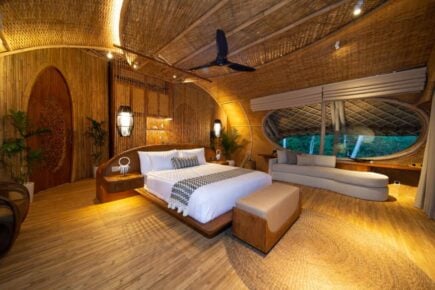 Amazing Luxury Eco-Lodge in Bali
Ulaman Eco Retreat
> $$
> 2 Guests
> Unique Balinese vacation villas
> Eco-conscious without sacrificing luxury
The Top 15 Eco-Lodges in Bali
Let's get into some of the best eco-lodges in Bali. Each one caters to a different travel style, but they are all committed to ecological practices.
Overall Best Value Eco-Lodge in Bali – Firefly Eco Lodge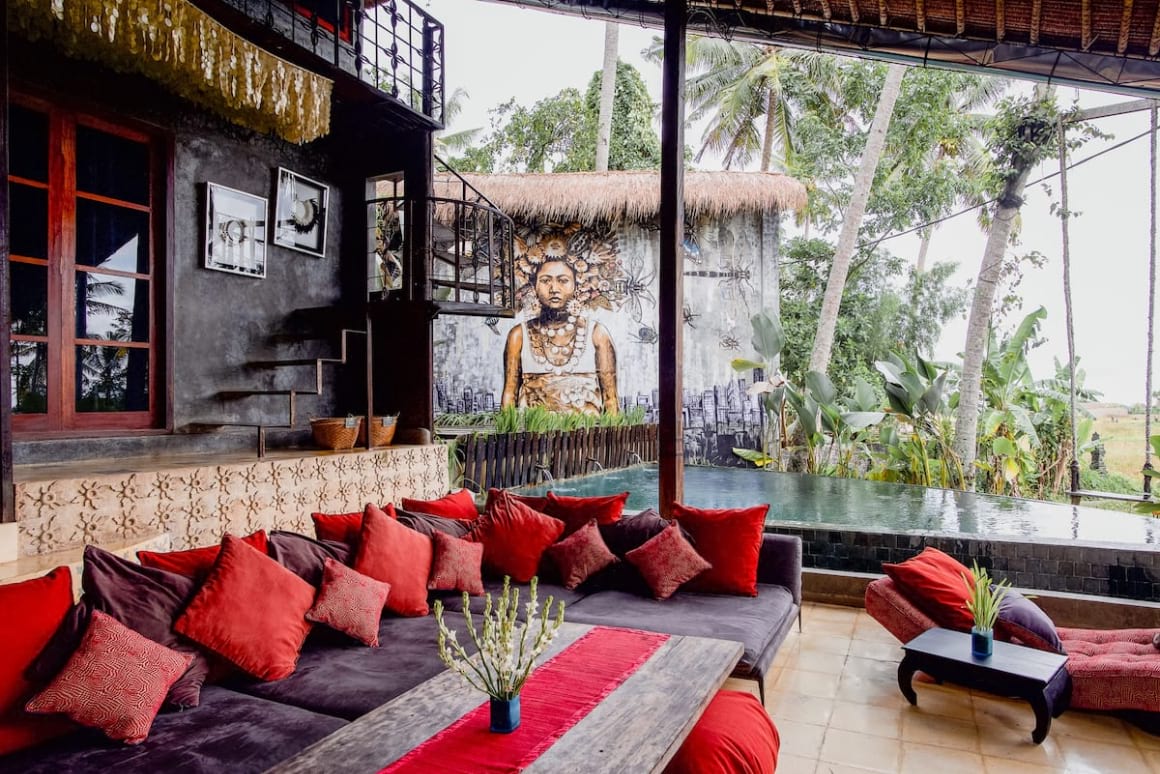 $
2 Guests
Unique sleeping experience above the treetops
Woven bamboo sleeping pod
Firefly Eco Lodge is an adventurous island experience. You'll be staying in a tall, woven 'birds' nest' sleeping pod way above the treetops, with amazing views in every direction.
The lodge is made from locally sourced materials using traditional methods. The loose weave on the sides of the pod allows a cool breeze in, eliminating the need for damaging air-conditioning. Guests who choose to dine at the lodge can enjoy meals made from fresh local produce.
The lodge is close to central Ubud, where you'll find various restaurants, shops, as well as yoga and meditation centers. Visit the various temples, markets, and museums around Ubud, or head towards the coast for a day on the beach.
This is a great place to stay in Ubud where you can rest assured you aren't having a negative impact on the environment.
Psssst…. Prefer to Stay in a Hostel?
Come visit Tribal Bali – Bali's first specially designed, custom-built co-working hostel…
Bali's most special backpacker hostel is finally open…. Tribal Bali is a custom-designed, purpose-built hostel – a place to work, rest, play and stay. A place to find your tribe and hands down the best place in Bali to hustle hard and make new friends…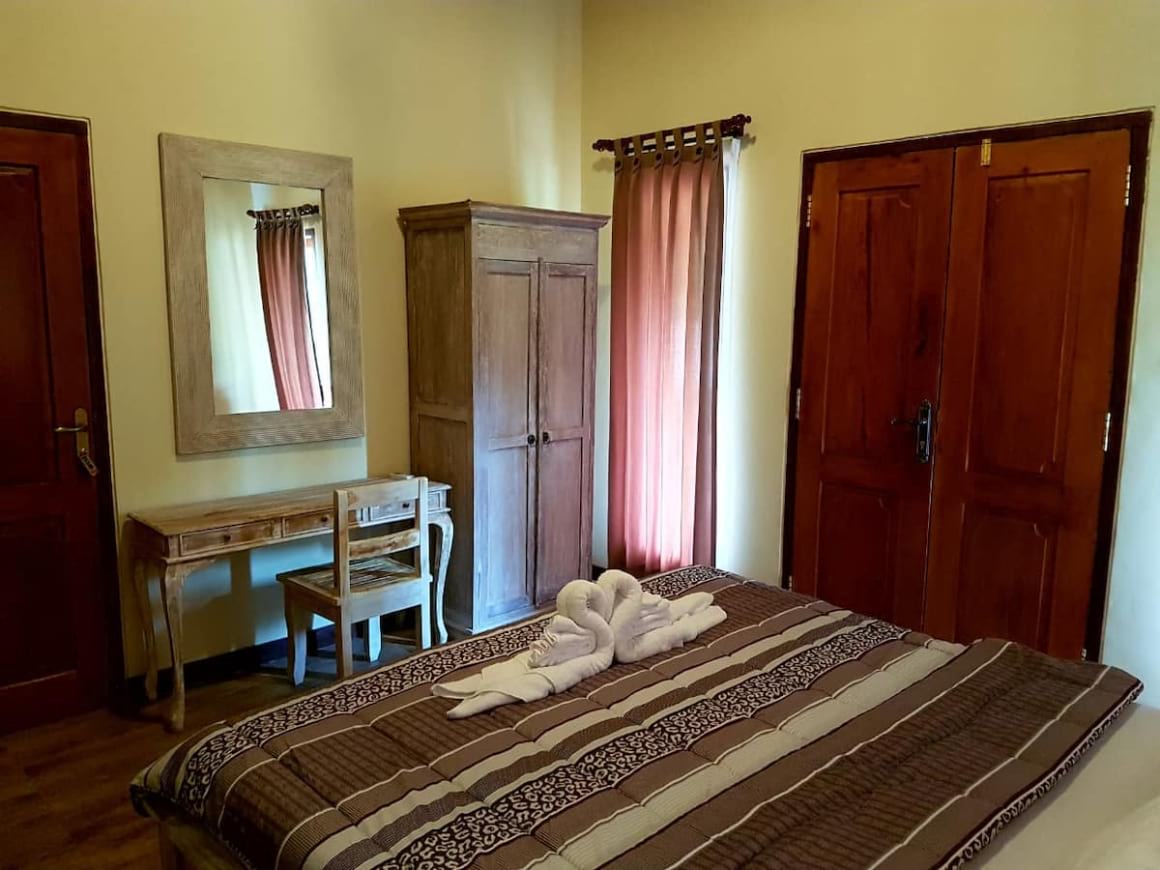 $
2 Guests
A nature lover's paradise
Comfortable room in a Balinese-style house
If you're visiting Bali on a budget, you can experience local life at this authentic eco-lodge. Each room is equipped with basic necessities, with hints of local decor, and furnishings that echo Balinese culture.
The lodge is located on a working farm that produces organic fruit and vegetables using eco-friendly methods. The farm also breeds fresh-water fish and other domestic animals, and contributes to the conservation of local wildlife.
There are yoga facilities at the lodge, as well as a small terrace where you can sit and enjoy the sounds of nature. It is located in the far North of the island with beaches close by, and scooters for hire to explore further afield.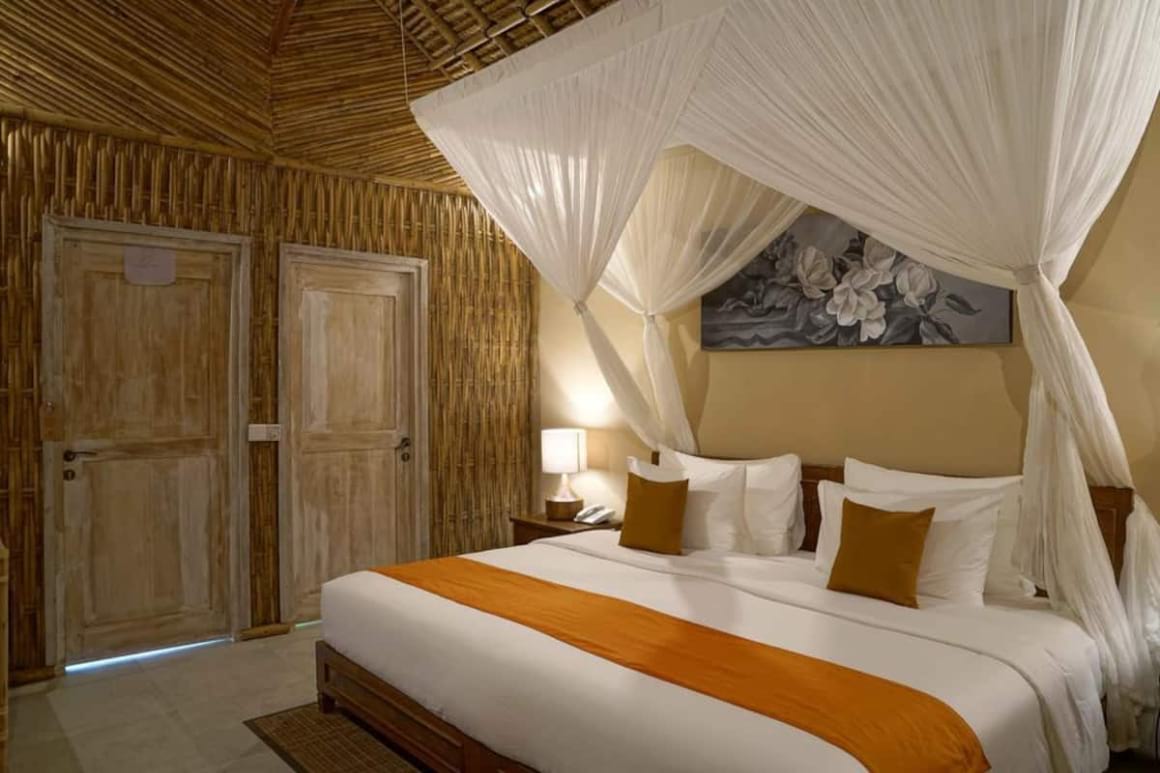 $
2 Guests
Tucked among leafy gardens and green hills
Traditional Balinese huts built using local materials
This Bali eco stay is rustic yet enchanting Mesare Resort, and located in the peaceful hills of Nusa Penida. Tucked among natural vegetation, the lodge offers a tranquil and serene location with sweeping views.
The cottages feature bamboo finishing, palm-thatched roofs, and wooden furniture all made from local materials. Delicious dishes are made from produce sourced from local growers and artisans.
Head out on day trips to explore Nusa Penida with a beautiful home to return to. Go snorkeling with manta rays, diving, and relax on the exceptional beaches. Enjoy revitalizing and replenishing couples' spa treatments or spend the day relaxing beside the swimming pool.
Another Eco-Lodge for Couples – Hideout Bali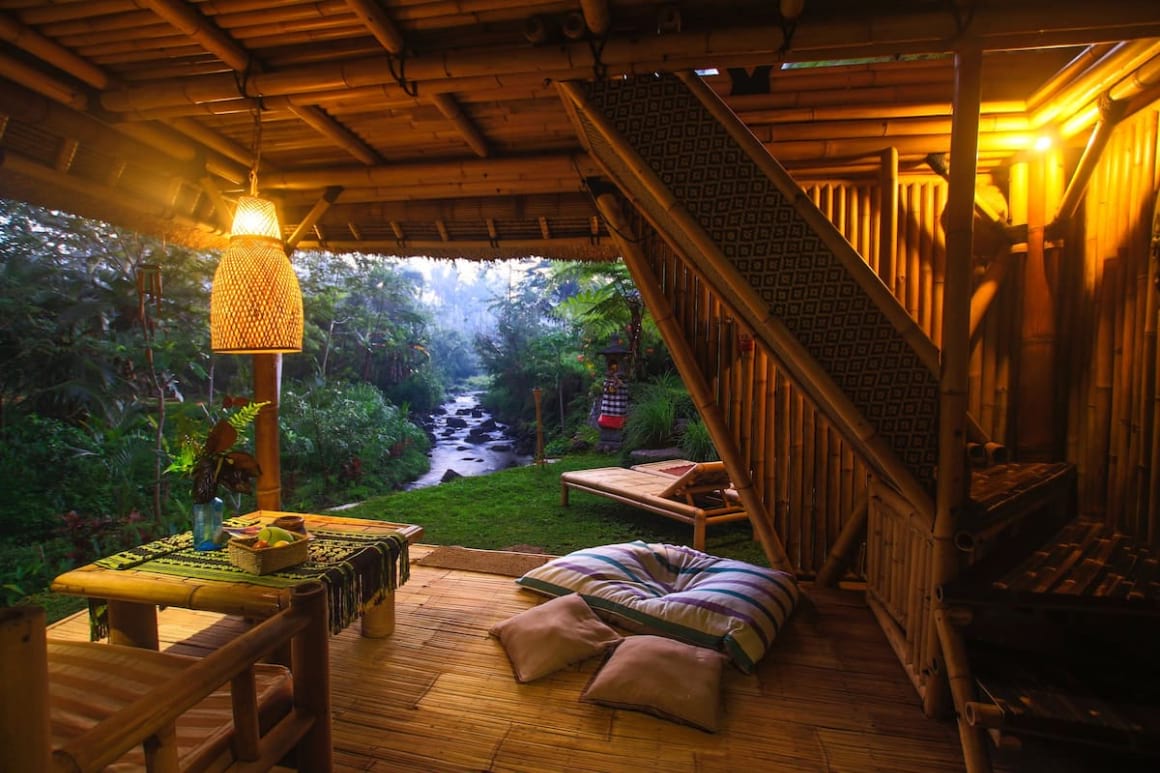 $
2 Guests
Unique experience for adventurous couples
Bamboo hut in the forests near Mount Agung
Enjoy a truly adventurous escape to a traditional Balinese village on the slopes of a hill, near Mount Agung volcano. The authentic Bali eco huts allow nature lovers to get up close and personal with Mother Earth.
Bamboo is known for its temperature-regulating properties, and is used to eliminate the need for air conditioning and fans. The huts are unobtrusive and blend in with the surrounding forest in true eco resort style.
The remote location means that your stay will be tranquil and relaxing. Explore the beautiful surroundings on walks and hikes, or use the scooter to head out past rice fields to nearby villages and temples. This resort supports the local community with jobs and purchasing from farmers.
An Eco-Friendly Traveller NEEDS an Eco-Friendly Backpack!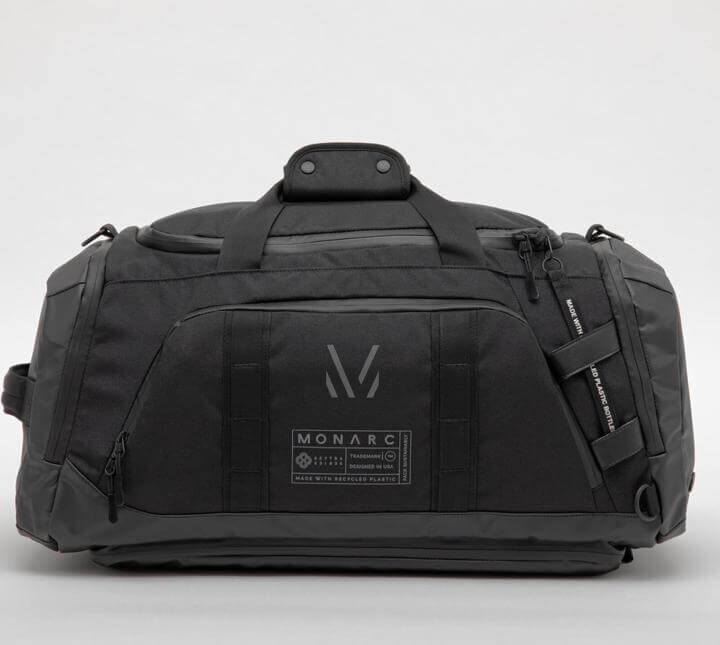 50 recycled plastic bottles – that's what goes into every Monarc Settra: the world's MOST SUSTAINABLE backpack.
Whether you're rocking duffel mode or backpack mode, if you're a traveller that gives a flying hoot about their environmental impact, then there's only one backpack you should consider – the plastic-negative Monarc Settra.
Learn More Now!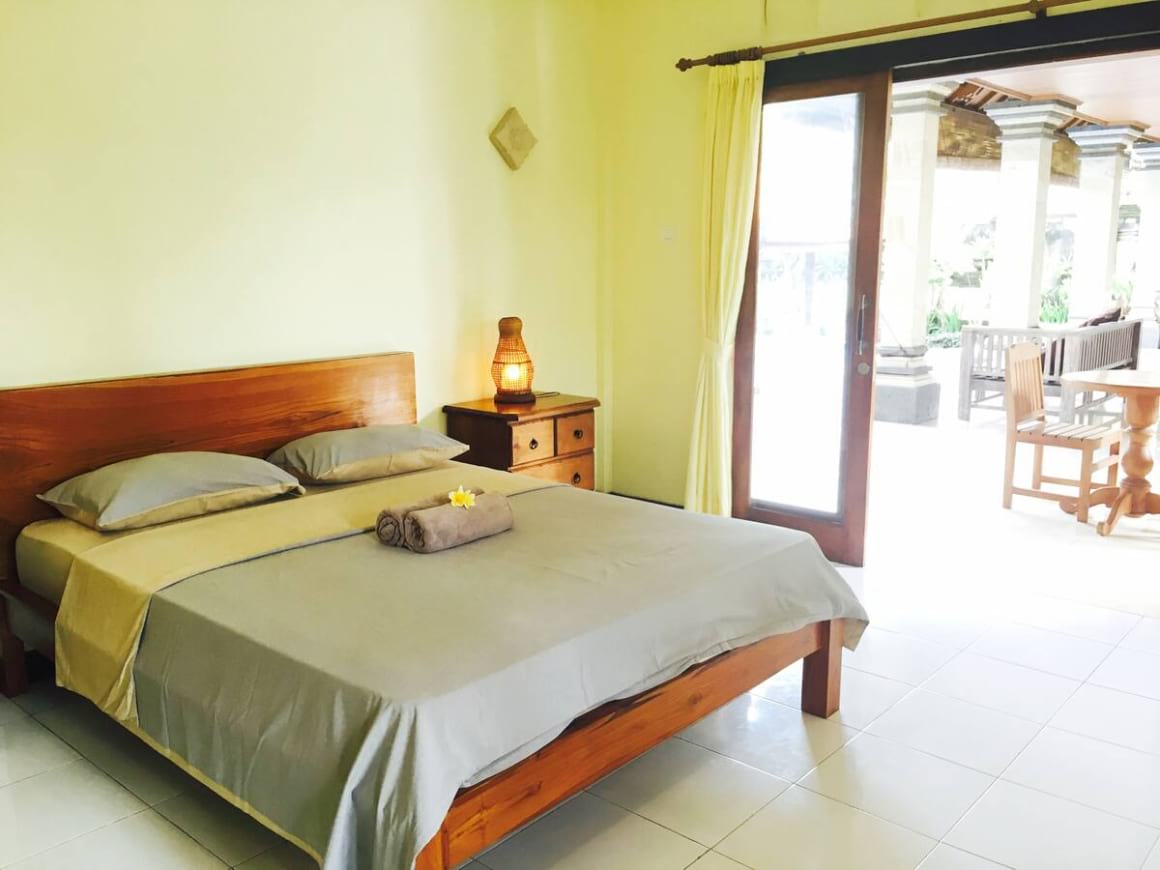 $
2 Guests
Peaceful and sustainable retreat
Neat and comfortable, great Wi-Fi
Hidden away in the bustling streets of Canggu, Pondok Gede Eco-lodge is close to the heart of the town, and its many restaurants. You can enjoy a family vibe in the comfortable home, perfect for digital nomads, solo travellers, and couples. Each of the four guest rooms is fully furnished and comfortable.
All the waste from the villa is recycled or composted. There's also an eco-friendly water filter where guests can fill up reusable water bottles instead of purchasing plastic ones. Toiletries and cleaning supplies are all environmentally friendly, and there's a solar heater to provide hot water.
Hang out at the villa and learn more about the many plants grown in the permaculture garden, laze beside the pool, or in a hammock. Canggu's vibrant nightlife, restaurants, and bars are all just a short drive away.
This is the best central Bali eco stay for those who don't want to miss out on the action.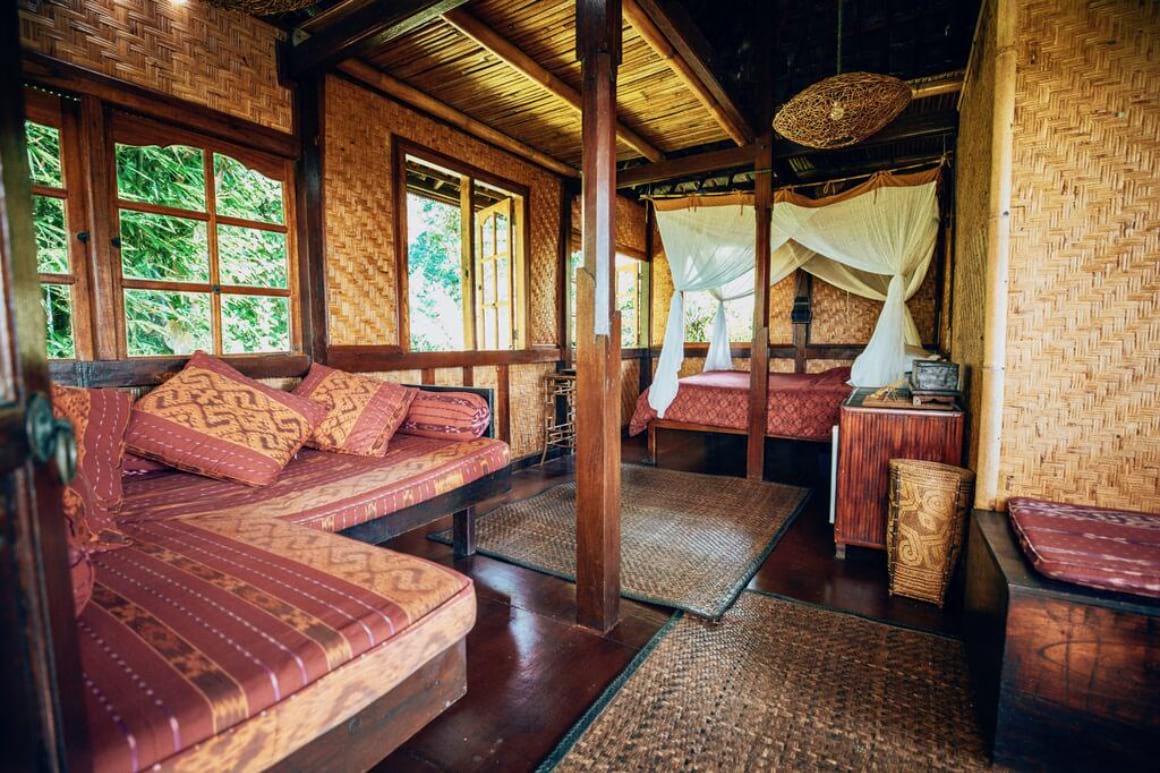 $$
Up to 5 guests
Activities for the whole family
Beautiful retreat in the jungle
Eco friendly hotels are just for the grown ups, here is one for the whole family!
This authentic Balinese eco resort is located on the jungle-covered slopes of Mount Batukaru in central Bali. From its perch on the slopes, Sarinbuana Eco Lodge offers gorgeous mountain and garden views. Rooms are built from natural materials, and feature a private bathroom and terrace.
The resort is committed to sustainability with water-efficient toilets and showers in all the rooms. Waste is recycled or composted, and all lighting is provided from energy-efficient bulbs. A large portion of the food provided at the resort is made from locally sourced produce.
To keep the entire family entertained, Sarinbuana Eco Lodge has a games room, playground, and a variety of exciting activities available. Go cycling or hiking, take a cooking class, or head out on a tour to learn about the local culture. The resort even has a spa that offers a variety of massages and wellness treatments to add some pampering to your eco retreat.
$
4 Guests
Traditional bamboo and palm-thatch hut
Peaceful living among the rice fields
This rustic Bali eco stay is near Ubud, and combines a bamboo hut with a modern bathroom and outdoor living area. The hut is partially open, blurring the distinction between indoor and outdoor for a truly close-to-nature experience.
Traditional food is prepared from fresh organic produce from the local community. The location of the eco hotel among the rice paddies means you'll encounter many local families, and can learn about the local way of life.
The surrounding area is great for walks, hikes, and cycling. Ubud's shops, restaurants, museums, and temples are also close by. Visit a spa for a massage or wellness treatment, or simply relax at the salt-water pool and enjoy the tranquil setting.
Sustainable living never looked so good.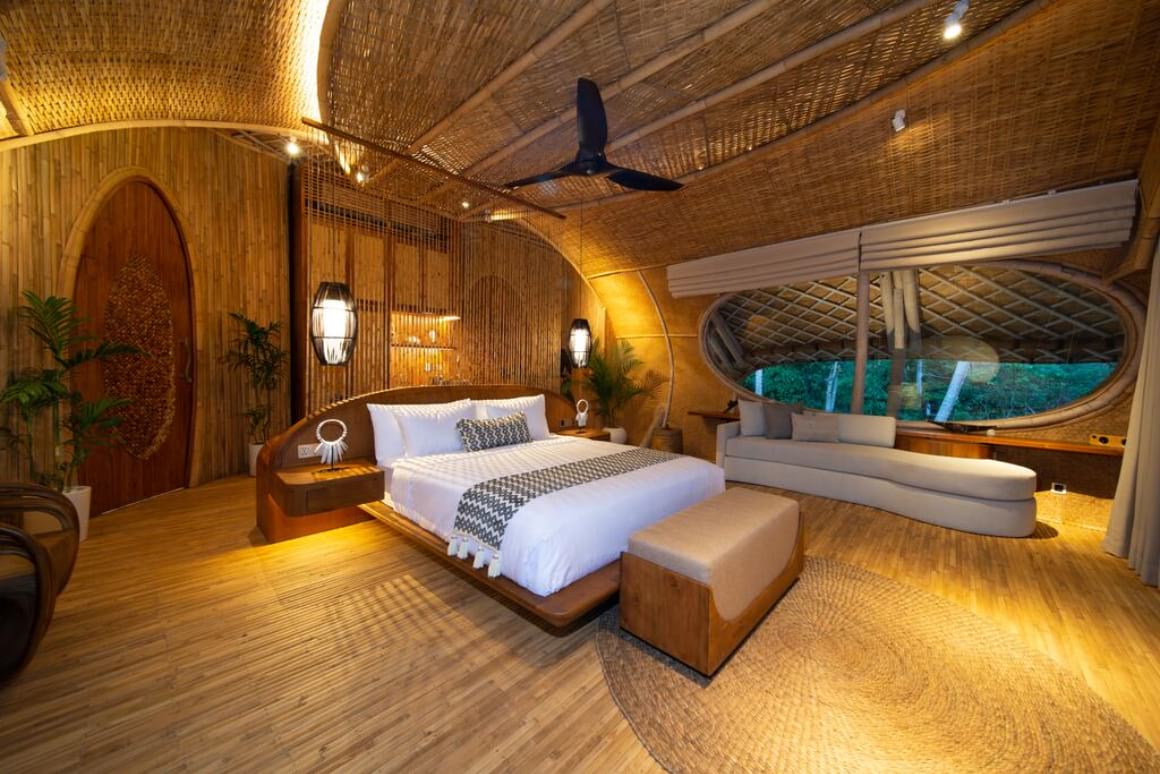 $$
2 Guests
Unique Balinese vacation villas
Eco-conscious without sacrificing luxury
This modern eco retreat hosts guests in some of the coolest villas in Bali! The resort is surrounded by untouched jungle and rice fields for a tranquil escape. Each unit features a distinct design, and includes a balcony, pool, and small terrace where you can relax.
The eco friendly hotel is built out of local materials and designed to leave the smallest ecological footprint possible. From the lush gardens and fruit trees, everything about the resort is purposefully designed to be gentle on the environment.
When you're not relaxing at the resort beside the pool, you can head out to explore the surrounding jungle on walks and hikes. Taman Ayun Temple is a short drive away, and the Secret Garden Village is about 25km from the resort.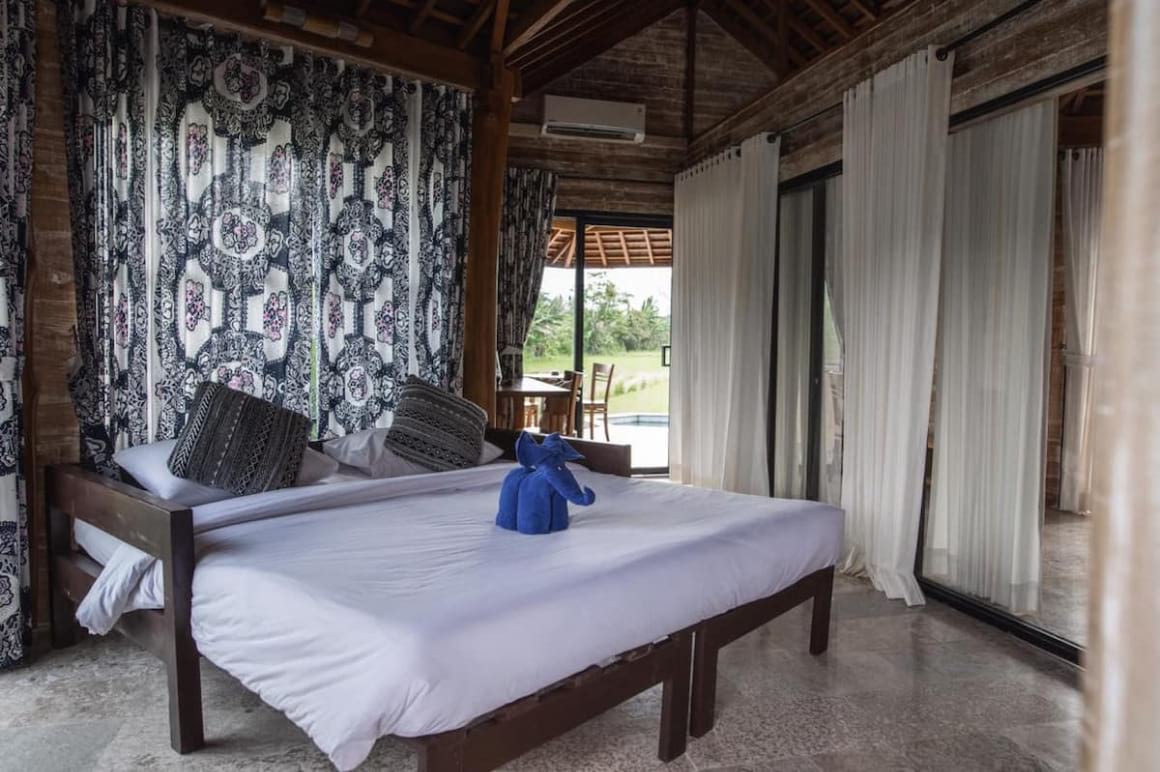 $
4 Guests
Luxurious wellness resort
Beaches, waterfalls, and jungles
Set in a private corner of East Bali, Sunrise Paradise is surrounded by jungle, and boasts mountain and ocean views. The wooden villa is fully equipped to provide a comfortable retreat, complete with a Jacuzzi, private garden, and a kitchenette. If you're wondering where to stay in Bali for a couple of days, this is the place to do it.
The eco resort has a gym and yoga shala, where you can revitalize your body and mind. Relax beside the pool and beautiful beaches nearby, or head out to explore nearby waterfalls. Nature lovers would have a ball!
Another Great Spot for a Weekend – Villa Bantes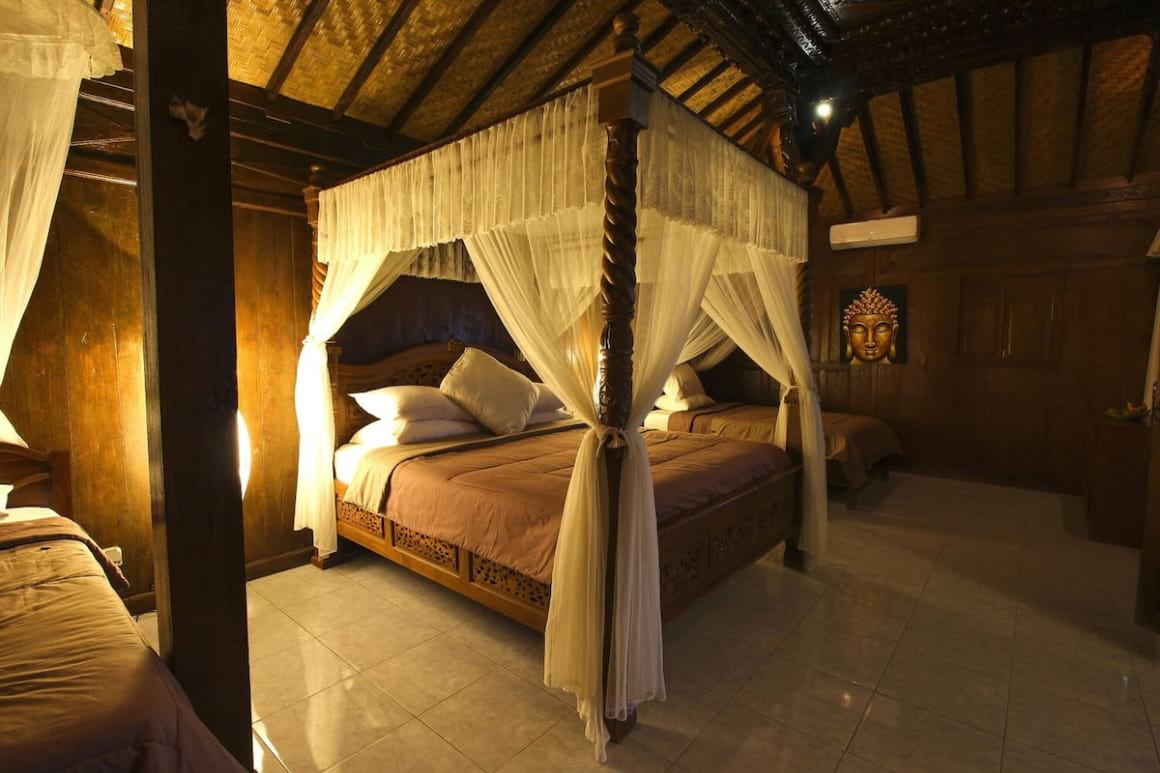 $
4 Guests
Unique Javanese house
Surrounded by fruit farms and lush gardens
This Airbnb in Bali is a hidden eco-paradise in a small village full of verdant fruit farms. It is made in a traditional Javanese style featuring local teak wood, bamboo, and stone.
There are spacious terrace areas, outdoor bathrooms, and a pool with an amazing view, the villa merges the in and outdoors. A traditional atmosphere meets modern conveniences to add to your comfort.
Explore the beautiful gardens where you'll find mango and cashew nut trees, or spend days relaxing beside the pool and enjoying the view. Trek to a nearby tropical fruit forest growing dragon fruit, or the village temple with a local guide, even head to Lovina Beach for an epic sunrise view!
$
2 Guests
Glamping tents on raised wooden decks
Authentic forest experience for nature lovers
This is unique glamping experience is the ultimate Bali eco stay, in a spacious tent on a raised platform. These tents offer a more luxurious experience than traditional camping, but still get you close to nature.
Tucked among coffee and clove plantations, you'll enjoy a tranquil stay and a simpler way of living. From healthy food to a more spiritual atmosphere in nature, Ekommunity Farmstay is for those seeking a more authentic experience.
Take a walk down to the waterfall by the river or enjoy some peaceful yoga and meditation on the deck. Scooters are provided should you wish to explore the village at Munduk and check out the local community.
A Stylish Eco Stay with an Epic Location – Eco Stone Cabin
$$
2 Guests
Rustic stone hut in a secluded location
Private access to a secret beach
This spacious stone bungalow features a private garden, plenty of privacy, and a balcony with views of the hillsides. Located in a secluded location, it is the ideal eco resort for those wishing to truly escape. From its perch high on the cliffs, the resort offers tranquil ocean views from the swimming pool.
Each of the huts are constructed from local stone. The thatched roof was made using traditional techniques, and materials that are locally sourced. Much of the wooden accents have been made using salvaged wood.
Visit the spa for some pampering, or relax and take in the spectacular views from the cliff-top pools. Stroll down to the hidden beach, rent a scooter and head out to Bali's famous beaches and surf spots.
$$
4 Guests
Simple, charming bungalow
Cliff side eco resort complex
Eco Village on the Cliff is located in a quiet spot, near world-class beaches. From its perch on the cliffside, the bungalow offers gorgeous views of the ocean from the swimming pool.
The village is entirely constructed using local Balinese materials. The gardens feature local plants, and are immaculately tended and cultivated to provide maximum privacy.
Relax beside the infinity-edge pool, head to the spa, or visit the hidden beach at Balangan. This beach is known as a top surf spot and offers golden sandy beaches. The nearby lagoon is perfect for snorkeling and swimming.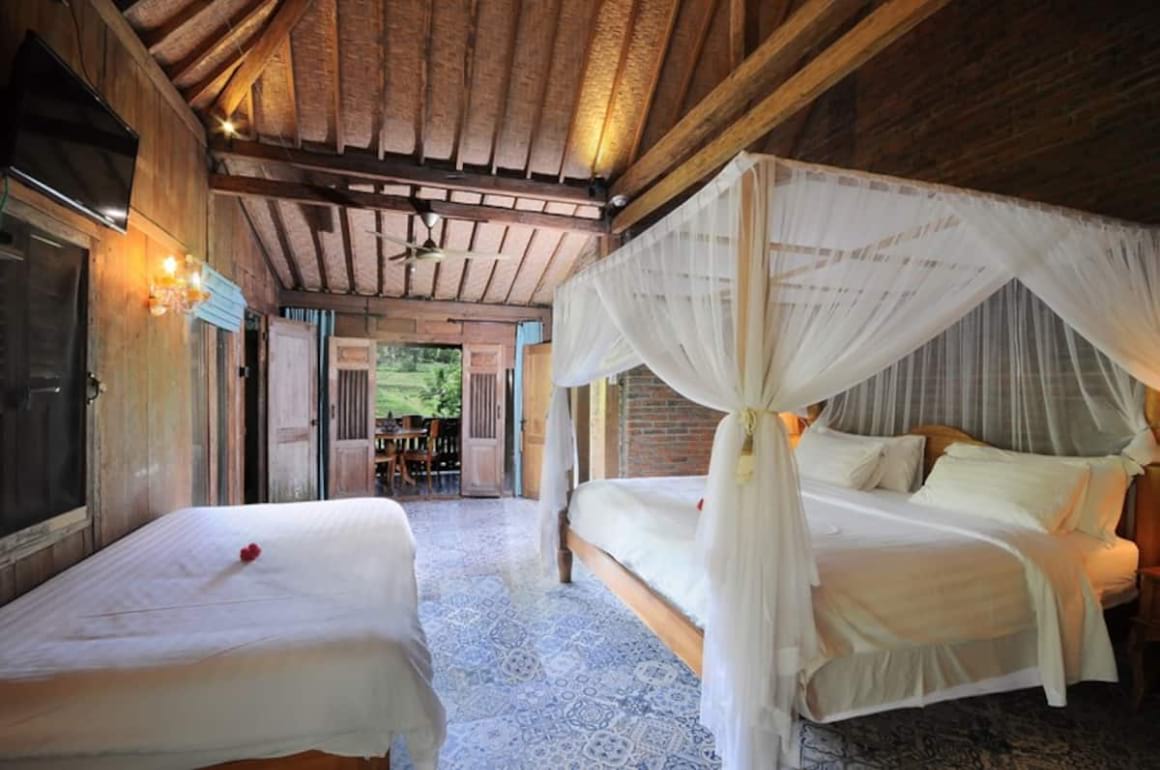 $
3 Guests
Eco-friendly retreat among terraced rice fields
Traditional farm life with modern conveniences
Sprawling terraced rice fields surround this traditional Javanese building made from teak and Balinese clay tiles. The Butterfly Room is a comfortable retreat that offers exceptional views of the rolling hills and fields.
The room is built to take advantage of the great weather, with additional cooling as an option in extreme conditions. Fruit trees dot the property, and guests can pick guavas, lemons, mangoes, papayas, and coconuts. If you're traveling with children, visiting the farm animals on neighboring properties makes for a fun day out.
At the property, you can relax beside the heart-shaped swimming pool or laze on the thatched day bed. You can also visit the vegetable garden to learn about the permaculture techniques used to cultivate crops.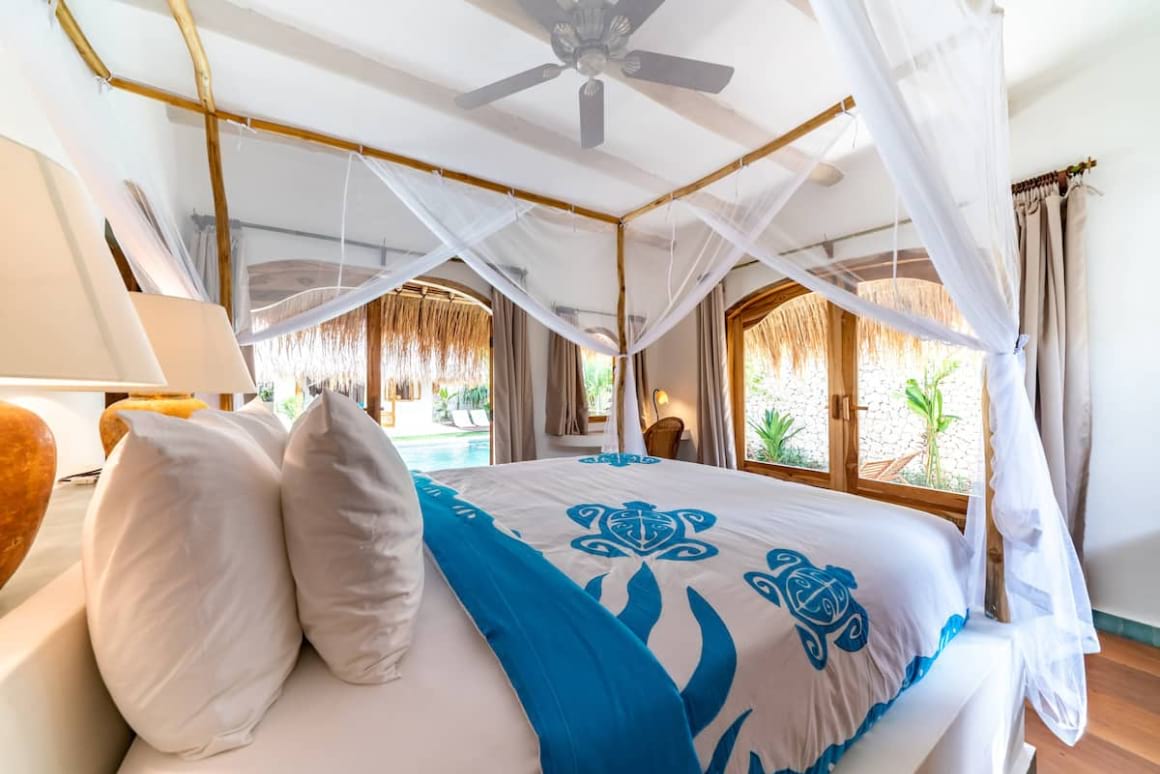 $$
6 Guests
Chic eco-villa ideal for remote workers
Fully equipped in a convenient location
Situated in a safe and quiet area, this accommodation in Uluwatu is located near top surf spots and beaches. It offers fast and reliable internet, making it ideal for digital nomads or remote workers. The house is fully equipped with modern conveniences for a comfortable stay.
The villa has an open-plan living area, allowing a through-flow of air to keep things cool. Local materials have been used in the construction from the thatch roof to the wooden support beams and furniture.
The surrounding area offers various hip restaurants and bars as well as some exceptional beaches. It's a good idea to hire a scooter to make getting around a little quicker. Head out to temples, enjoy some pampering at the spa, or take a yoga or Muay Thai class.
Don't Forget Your Bali Travel Insurance
ALWAYS sort out your backpacker insurance before your trip. There's plenty to choose from in that department, but a good place to start is Safety Wing.
They offer month-to-month payments, no lock-in contracts, and require absolutely no itineraries: that's the exact kind of insurance long-term travellers and digital nomads need.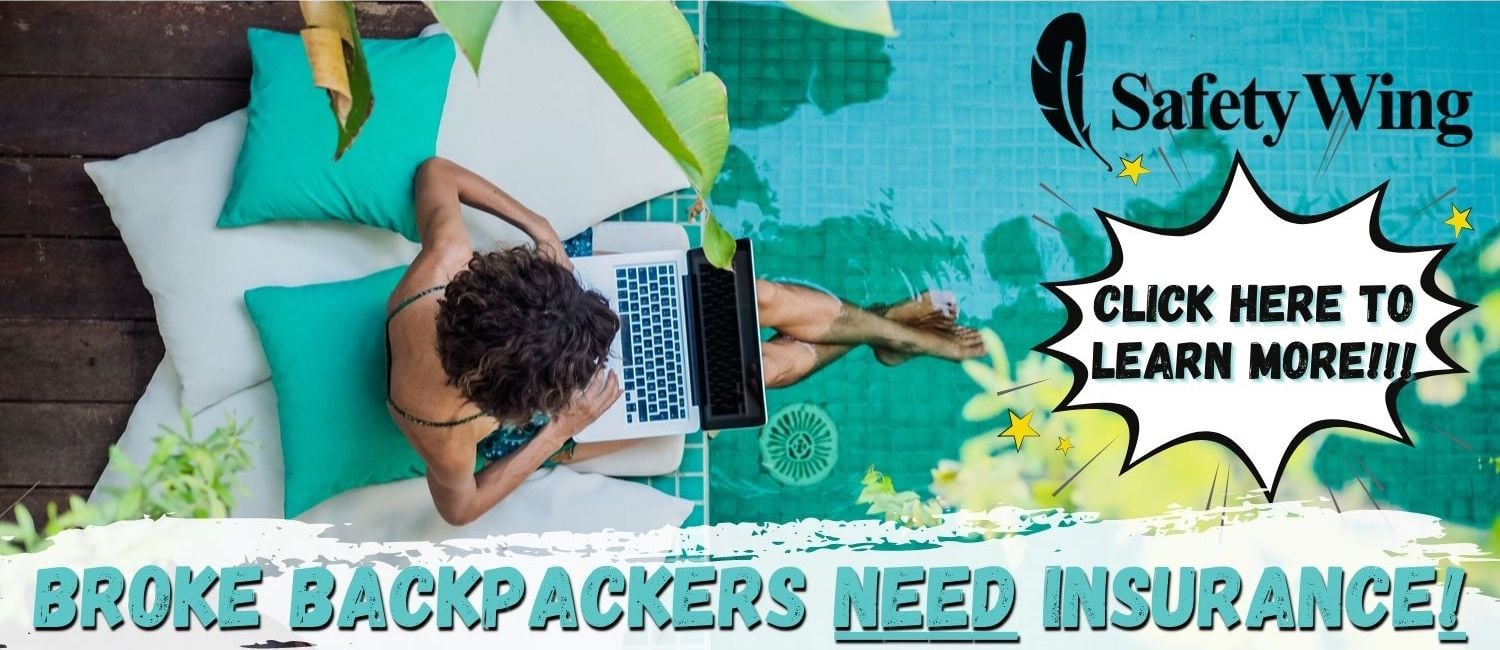 SafetyWing is cheap, easy, and admin-free: just sign up lickety-split so you can get back to it!
Click the button below to learn more about SafetyWing's setup or read our insider review for the full tasty scoop.
Final Thoughts on Bali Eco-Lodges
Bali is a popular destination for those seeking a spiritual retreat and is a hotspot for fitness holidays. The Balinese live a lifestyle that honors the natural resources of their home, and the eco accommodation options reflect this.
Now you've seen some of the best eco resorts in Bali, we hope you've been inspired for your next trip. With so many options, there's something to suit every traveler. Bali is pretty affordable, so you can make the most of this island paradise no matter what your budget.
Whether it's a simple beach hut, jungle tent, or a chic villa, you can stay comfortably while preserving the environment. Plus, you'll be uplifting local communities.
Before you get packing for Bali, you might want to consider getting some travel insurance. You'll be able to fully relax on your travels knowing that you'll be adequately covered if things don't go to plan.
---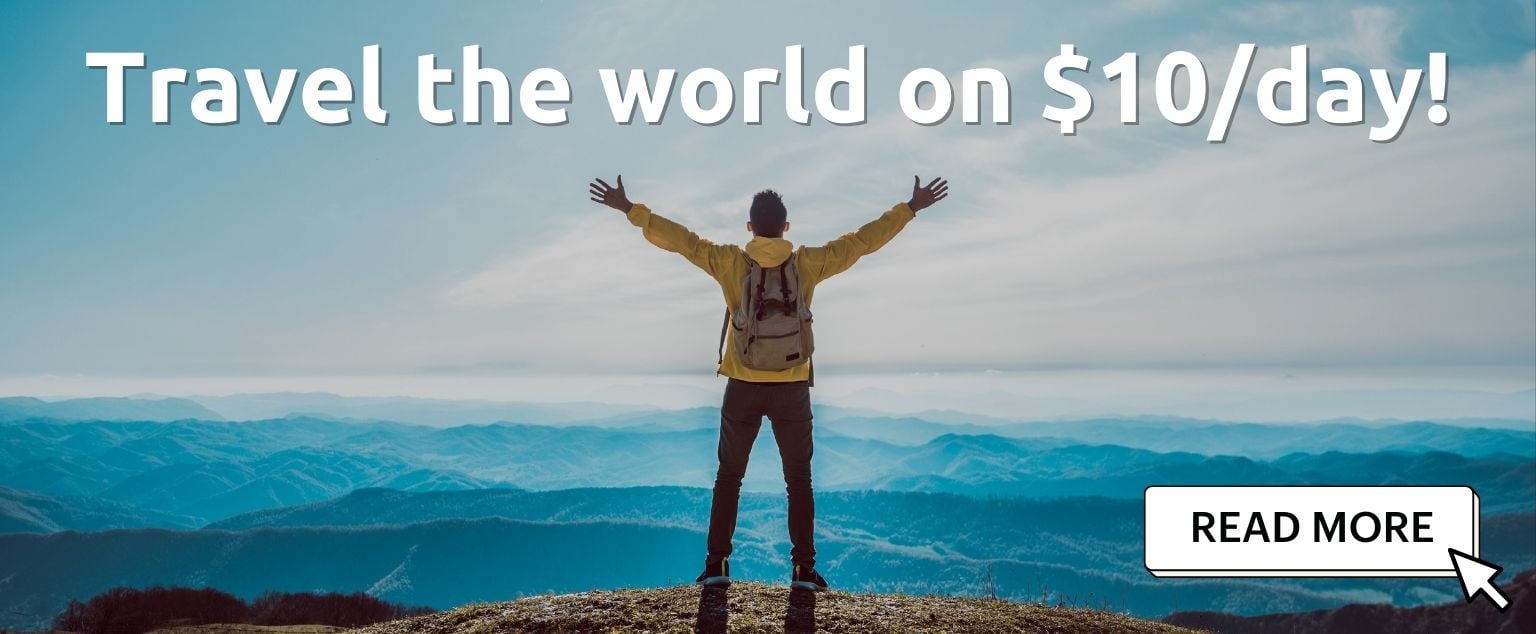 And for transparency's sake, please know that some of the links in our content are affiliate links. That means that if you book your accommodation, buy your gear, or sort your insurance through our link, we earn a small commission (at no extra cost to you). That said, we only link to the gear we trust and never recommend services we don't believe are up to scratch. Again, thank you!