Tired of cold winters and summers that no longer reach the heights of years past? Is the sheer banality of the everyday continuing to get you down? Are the well-kept secrets and hidden gems of your town becoming crowded with a log-jam of bandwagoners? It might be high time for you to switch things up.
What better way to do a complete 180, to abandon the worn path of regularity, than to pack your belongings and move to Indonesia?
Surround yourself with new sights, smells, and culture. Have the chance to expand your horizons in a country that will help you learn more about yourself. See your dollar travel further as you discover a delicious local cuisine that is simple, tasty, healthy, and cheap.
Now, moving to Indonesia isn't just a matter of booking a flight. After all, this is a life-changing decision. We're here to run you through the cost of living in Indonesia, as well as everything you need to know before diving in.
Why Move To Indonesia?
Living in Indonesia comes with the opportunity to slow life down, and enjoy the simple things that make you smile. From a low cost of living in Indonesia, amazing food, and vibrant but humble culture, moving to Indonesia will grant you a completely different way of life. However, there's also the potential for a culture shock.
Parts of Indonesia are incredibly popular with backpackers and tourists alike, particularly Bali, Lombok, and the Gili Islands. Travelers flock to Bali to either take part in spiritual and meditative retreats or to see the beers pile up on the southwest beaches.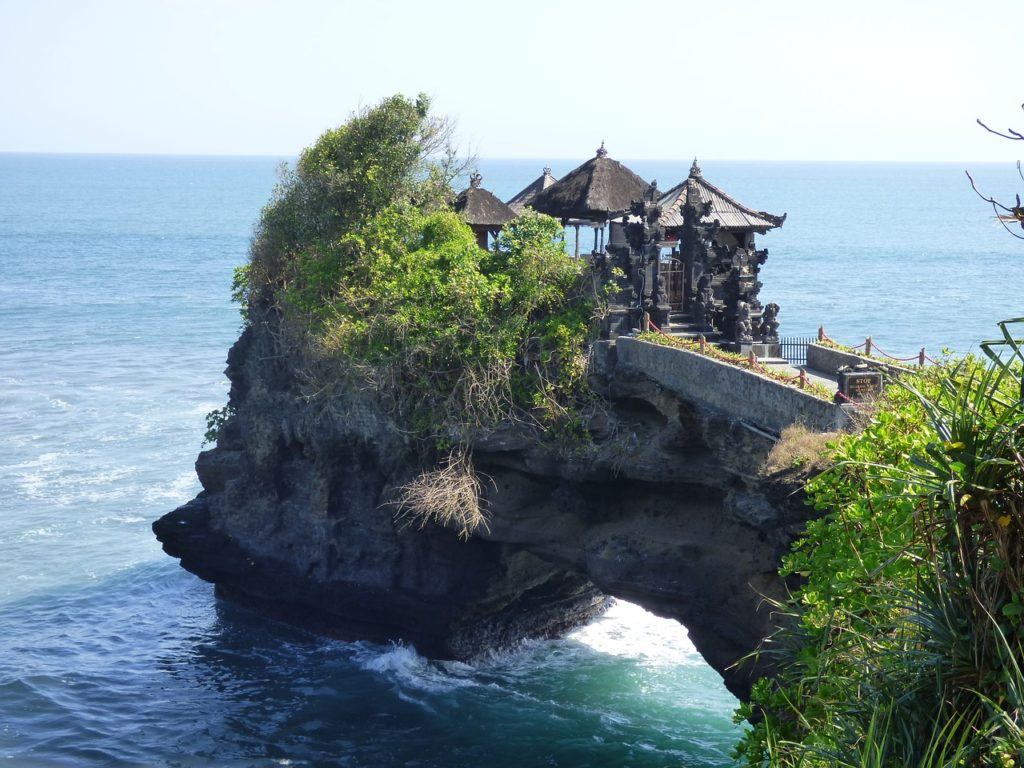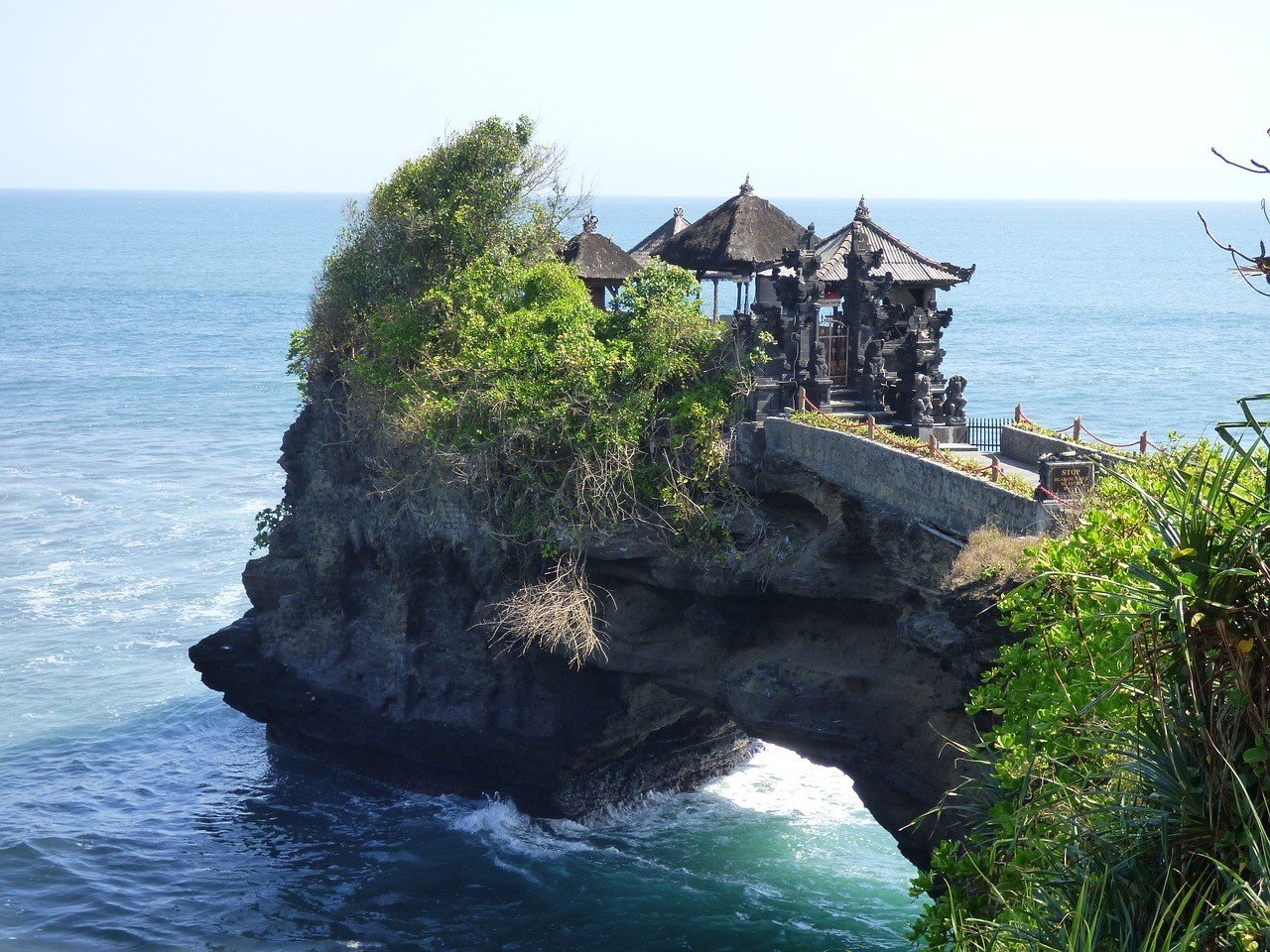 But this is all but one island of Indonesia, one of the largest archipelagos in the world. In total Indonesia is home to over 17,500 islands, of which 6,000 are uninhabited.
This provides you with an exceptional array of opportunities to get off the beaten path. There is a chance to see parts of Indonesia rarely talked about back home. Along with warm year-round weather and ever-friendly locals, there are many great reasons to move to Indonesia.
But to keep things fair and balanced, why not move to Indonesia? The big one is employment and finding a career that will pay you even similar to what you might make back home. Your initial budget may seem low, but once on Indonesian income, that 'cheap' villa may suddenly feel quite expensive.
Psssst…. Searching for your Tribe?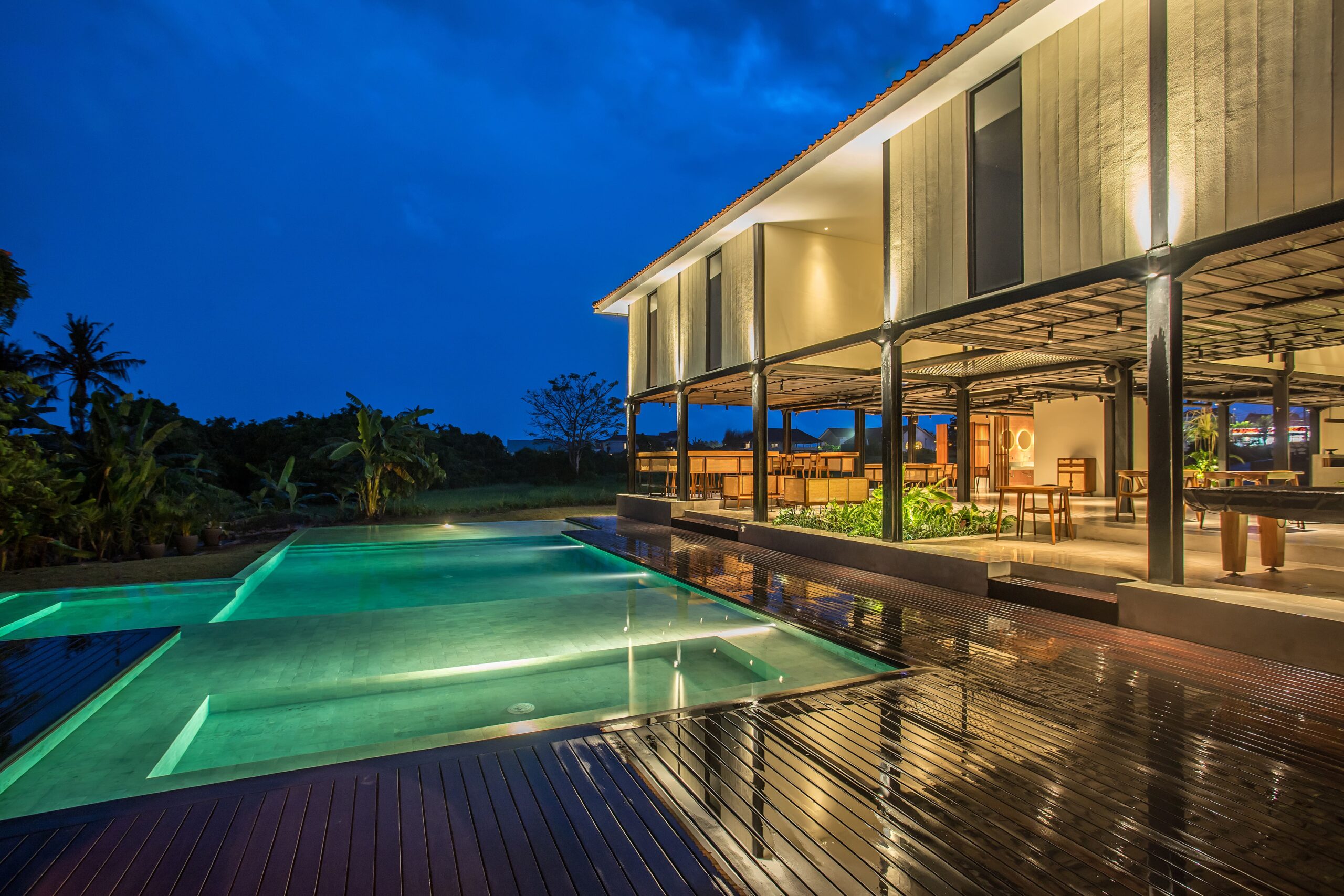 Tribal Hostel – Bali's first purpose-built co-working hostel and perhaps the greatest hostel in the world!
An ideal hub for Digital Nomads and backpackers, this very special hostel is now finally open…
Come on down and enjoy amazing coffee, high-speed wifi and a game of pool 😉
Cost of Living in Indonesia Summary
While your potential new home in Indonesia may have a reputation of being a cheap place to travel to, living there can throw up a different set of variables.
It is important to have an understanding of what moving to Indonesia will cost you and how much you will need during the initial months. Prices can still rise and fall here, especially if you choose to live further from Jakarta, Bali, and other major hubs.
The table below will give you a basic understanding of the cost of living in Indonesia. They're provided with the idea of a 'comfortable lifestyle' in mind and have been compiled for a variety of sources.
Cost of Living in Indonesia

| Expense | $ Cost |
| --- | --- |
| Rent (Private Room Vs Luxury Villa) | $280 – $1100 |
| Electricity | $60 |
| Water | $5 |
| Mobile Phone | $10 |
| Gas | $25 |
| Internet | $15 |
| Eating Out | $120 – $250 |
| Groceries | $125 |
| Housekeeper (less than 10 hours) | $100 |
| Car or Scooter Rental | $50 – $250 |
| Gym Membership | $30 |
| TOTAL | $900-2000 |
What It Costs to Live in Indonesia – The Nitty Gritty
Now that we have the basics down on the cost of living in Indonesia, let's start getting into more detail.
Rent in Indonesia
Even though you may be escaping the banality of the 'West', rent will still follow you to Indonesia. It will likely become the biggest part of your budget, although unlike back home it may not be streets ahead.
Depending on where you choose to settle in Indonesia, you will have a variety of options to choose from. These can include apartments in Jakarta, private villas in Bali, and small homes in Yogyakarta. Prices will vary in each place. Rent prices in Jakarta are 35% more than in Bali, which in turn is 40% more expensive than in Yogyakarta.
One of the real strengths of Indonesian cuisine and cost of living is that there is a real opportunity to eat out often. This will mitigate the need for proper kitchen spaces and open up a variety of living options.
On the cheaper end, you will have shared living spaces, which is quite common in smaller villages where infrastructure is less developed. However, the internet and health services can be unreliable and far between.
In the middle, you will have homestays and boutique accommodations. This can be a great way to live within popular parts of Indonesia without paying top dollar. You will be close to local restaurants, beaches, or mountains, and WiFi is more reliable. Also, in the event of an emergency, a trip to the local hospital or major airport is not a massive journey.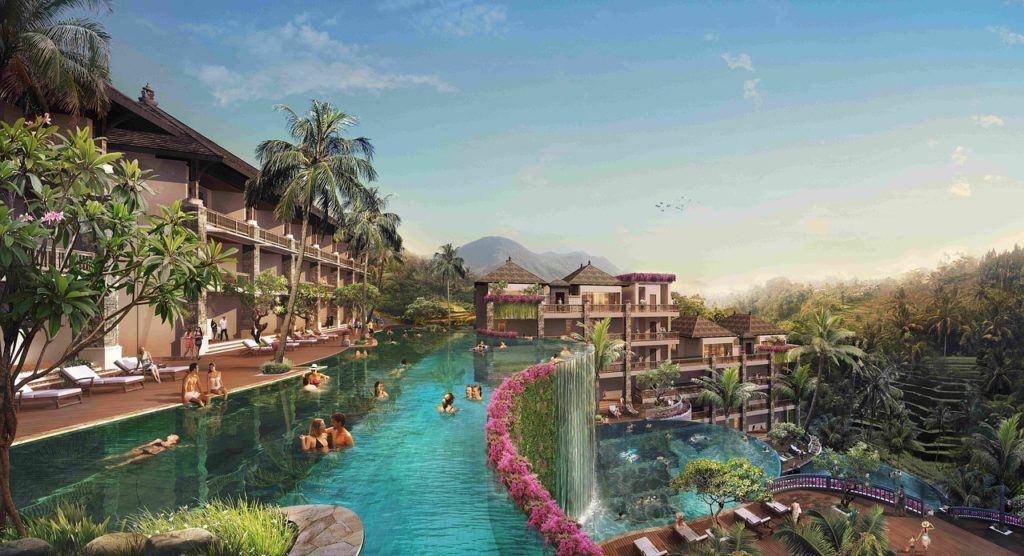 Moving to Indonesia provides the opportunity to live quite comfortably without breaking the budget. Apartment buildings become quite scarce outside of Jakarta, which is why most take up the opportunity to live in a private villa. This is even more apparent in areas with high tourism traffic.
You can save money by moving out of Jakarta and Bali to live in smaller cities and oceanside villages. However, the money you save may be mitigated by a drop in quality of living, employment opportunities, and purchasing power.
Finding your home can often be done from abroad, so you don't necessarily have to visit Indonesia to do this. Many of the 'higher end' homes aren't marketed for locals. They are hoping to attract travelers and expats alike for long-term stays.
This allows you to get a good idea of what to expect by searching online through Airbnb, Facebook groups like Bali Seminyak & Canggu Housing & Accommodation, and real estate sites if you intend on purchasing long-term leases.
Shared Room in Indonesia – $170
Private Apartment in Indonesia – $460
Luxury Villa in Indonesia – $1100
As much as there is a bevvy of accommodation online dedicated to those wanting to move to Indonesia, we reckon using your own eyes is still the way to go. When moving to a new place, the little things like nearby cafes, parks, and activities matter. So book a short term Airbnb before arriving and take the time to explore your new home before settling on a place to live.
Need a Crash Pad in Indonesia?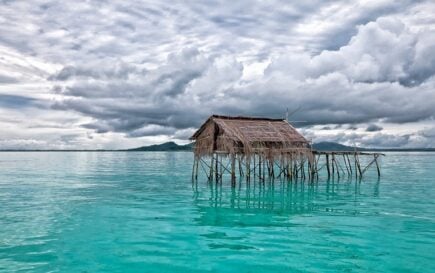 Need a Crash Pad in Indonesia?
Home Short Term Rental in Indonesia
Experience a taste of Indonesian living at this incredible villa in Bali! It's got everything you'll need and more, making it a great base from which to discover the island. It's an awesome place to stay while you find a permanent home in Indonesia.
Transport in Indonesia
Getting around Indonesia can be an adventure in itself. For anyone who is familiar with South East Asian traffic, you can come to expect something similar when living in Indonesia. That doesn't mean it is all terrible, after all, there is something about the way the chaos flows that makes a lot of sense.
For expats and travelers, taxis are often the main way to get around your new destination if you don't have your own vehicle. Taxis can be used for short trips and longer journeys out of town. They can often be unregulated so it is important to make sure the fare calculator is turned on or you negotiate your fare prior to departure.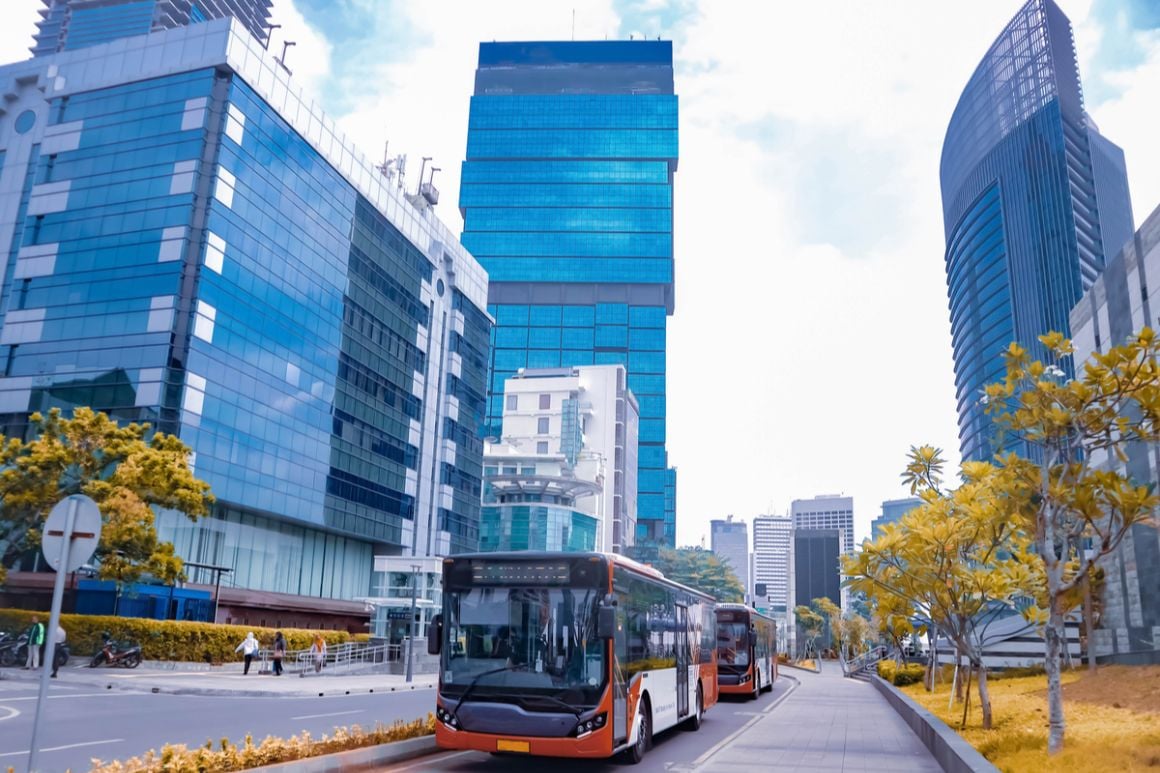 Buses in places like Jakarta and Yogyakarta are common and can be a cheap way to get around. Quality can vary, especially if you're someone that needs a cool air-conditioned drive home.
Due to cost, much of Indonesia gets around on the back of a scooter. It is not a rare sight to see a family of five smoothly making their way around town on one. It is likely that a scooter will be the best option for you as you can rent them for just a few dollars per day.
Just keep in mind that it may take a couple of days to get use to the ways things work. Especially when it comes to honking your horn, which is used quite differently to the 'West'.
Taxi Ride Airport to Jakarta/Canggu – $12/11
50cc Scooter Rental (per month) – $50
Food in Indonesia
Indonesian food is delicious, often healthy, and always flavorful and cheap. Wherever you are, there is likely to be a 'warung' flooding the streets with mouthwatering aromas. Indonesian food varies greatly as you move from one end of the country to the other. Complex spices with noodles and rice will be the base of the majority of your meals. From their creativity, home cooking and tradition will guide your chef's menu.
Inevitably it will be hard not to give in to temptation and eat out every day, especially when you see the prices dangling right in front of you. You will meet expats that never cook their own food. But as you settle it is important to keep track of your budget so you aren't forced to take the next flight home. A happy medium of eating out and browsing local markets for at-home meals is the way to go.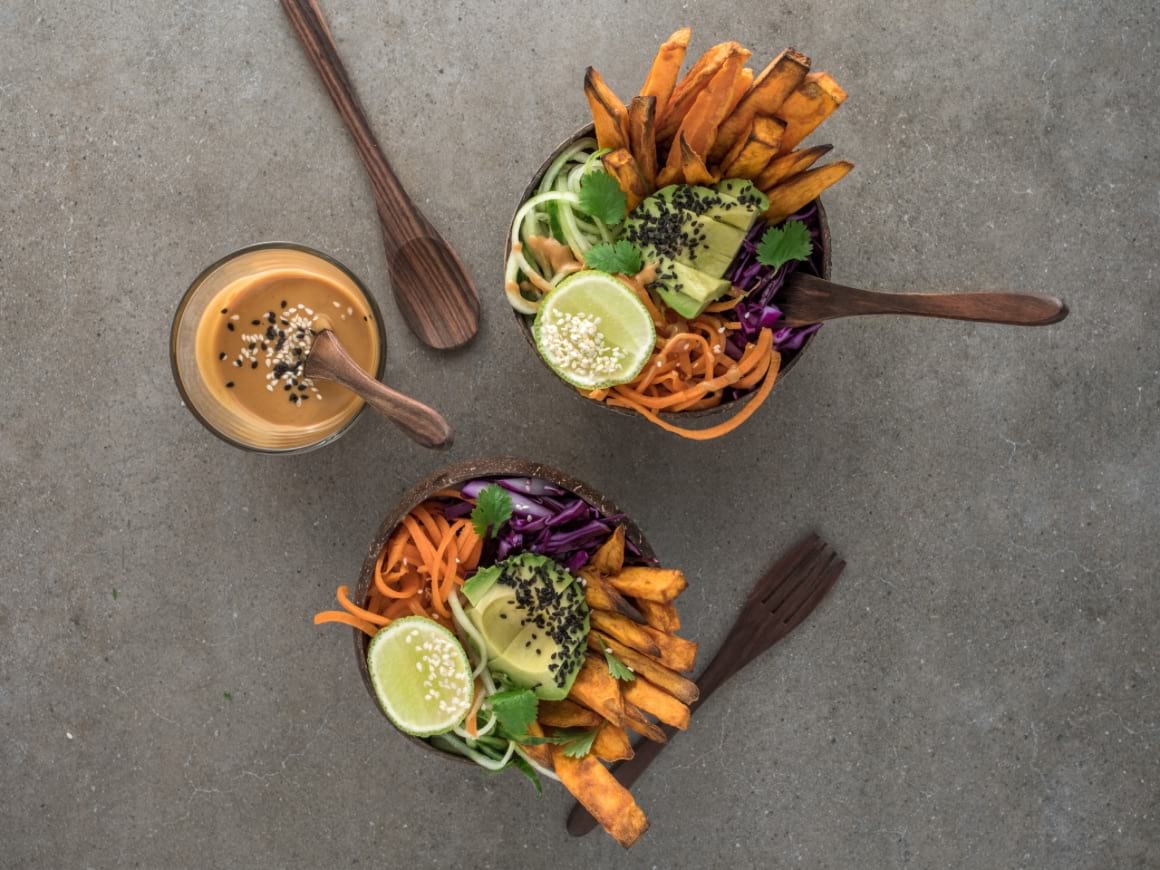 Eating out at local 'warungs' will come with cheap dishes such as Beef Rendang and Nasi Goreng which cost anywhere from $1-3. Western-style food is marked up considerably and you will be hit with a relatively hefty $10 meal.
Supermarkets are more common in larger population hubs, like Bali and Jakarta. Elsewhere, local markets are filled with homegrown fruits, vegetables, and fish. Keep in mind that imported delicacies like cheese, can easily blow out your budget.
Rice (1Kg) – $1
Eggs (dozen) – $1.50
Milk (1 litre) – $1.50
Bread – $1.20
Apples (1Kg) – $2.50
Bananas (1Kg) – $1.40
Tomatoes (1Kg) – $1
Potatoes (1Kg) – $1.30
Drinking in Indonesia
Once you've unpacked and have officially moved to Indonesia you may rush to grab a refreshing cup of water. Unfortunately drinking the tap water Indonesia, even in Jakarta, is not recommended.
So run down to your nearest convenience store and grab yourself some bottled water. For about 30 cents you can pick yourself up a to-go bottle. But keeping your fridge stocked with fresh water will soon become a habit.
When it comes to getting a cold pint of beer after a few hours wandering the beautiful but hot Indo streets, it'll come down to where you are.
Indonesia is a predominantly Muslim country. Outside of Bali (which is almost entirely Hindu) and Jakarta, villages and provinces have a limited or non-existent bar scene. It may come down to who you know.
Bintang, a popular Indonesian lager, can be found in supermarkets for $1.50. In bars and restaurants, you'll pay around $2 and $3.
Why Should You Travel to Indonesia with a Water Bottle?
Whilst there's a lot that we can do when it comes to traveling responsibly, reducing your plastic consumption is one of the easiest and most impactful things you can do. Don't buy one-use water bottles, don't take plastic shopping bags, and forget straws. All of this just ends up in landfill or in the ocean.
Keeping Busy and Active in Indonesia
Once you are settled in and getting used to living in Indonesia it is important not to lose sight of the reasons you made the move. That is to experience a new way of life, a different culture, and incredible scenery. Lucky for you, there is much to see and do that will keep you fit and active.
Depending on where you are in Indonesia you may be close to beaches, mountains, volcanoes and remote villages. Getting out and about shouldn't be too difficult.
Taking up surfing is popular with expats (Indonesia can be a cheap place to learn the basics). Alternatively, you can hire a guide to explore hiking trails, or simply ride to the next town and explore markets, new foods, and temples.
Gyms are more common in places like Jakarta, southern Bali, Yogyakarta, and Lombok. The latter three places are also well-known for yoga, meditative and spiritual retreats.
Here are some prices for common activities that'll keep you busy:
Surf Lesson (rental) – $7-$18 ($7)
Gym Membership – $30
Cooking Class – $30
Yoga Class – $11
Guided Walking Tours – $35-$60
Scuba Diving – $100
School in Indonesia
If you have made the move to Indonesia with your kids, you will be wondering what to expect when it comes to their education.
There are three types of schools you can consider, including public, private, and international. Public schooling will be the cheapest option however it will pose a strong language barrier and inconsistent quality depending on where you live in Indonesia.
Private schools meet and often exceed the public curriculum and occasionally use the International Baccalaureate (IB) system. These schools still mainly cater to local students, with foreign pupils making up a small part of the student body. However, private schools can be a more cost-effective way to complete schooling here.
International schools are the most common type of education for the kids of expats. International schools are based in Indonesia but their curriculum is accredited from a different country such as the USA or Australia.
This is the most expensive option however it will be most in line with what you would receive elsewhere. Prices differ because of curriculum, age, and location. For example, for a 12-year-old studying at an American international school in Jakarta, tuition fees hover around $13,500.
Is This the Best Travel Pack EVER???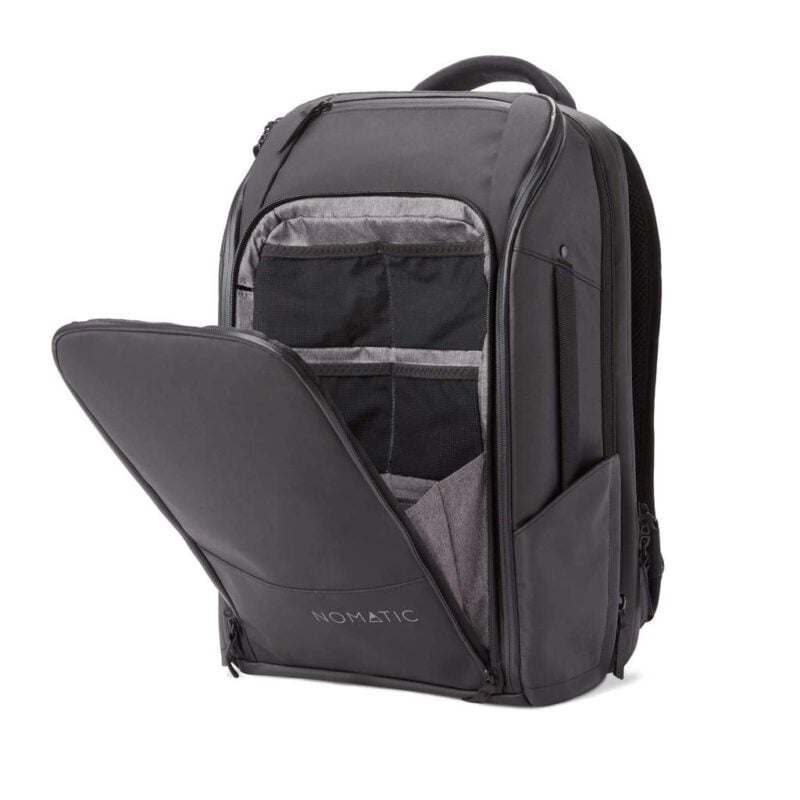 Medical Costs in Indonesia
Healthcare in Indonesia can leave a lot to be desired, especially if you are used to universal healthcare or having employment health insurance.
Even in the major city of Jakarta, medical infrastructure is a continuing issue for locals and expats alike. The Indonesian health insurance scheme aims to make basic medical treatment available to citizens and residents. However, not all hospitals have opted in, which can leave you with a long journey.
If you are working for an Indonesian company they must sign you up to the BPJS. This is a social health insurance that can also be used by members of your family at a 1% cost of your monthly salary.
The quality of this healthcare can come down to location, but overall it won't be the standard that you are maybe used to. For this reason, private health insurance will be your best bet.
You'll receive better quality amenities and care. Also depending on where you are living, public hospitals may have a few or no English-speaking staff compared to private hospitals.
Instead of stressing about this after you arrive, lock it away prior to arrival thanks to SafetyWing.
SafetyWing offer a monthly healthcare plan which covers Digital Nomads, expats, and long-term travelers. We have been using it ourselves for a while now and find them to provide great value.
Visas in Indonesia
Visiting Indonesia can be a pretty simple exercise if you ignore the airport chaos and long lines. Thanks to Visas on Arrival, travelers from a lot of countries can show up in Indonesia and get through immigration.
However, moving to Indonesia provides a different set of obstacles. The visa system is convoluted and often changing. For those looking to be in the country long-term, a visa will have to be arranged prior to your arrival and the bills can pile up quickly.
30-day tourist visas are the most common visas granted in Indonesia. If you can't bring yourself to leave, this can be extended for another month at a local immigration office.
The tourist visa won't allow you to work within Indonesia. However, it is a great way to explore your new home before making the official move.
For stays of up to six months, you can apply for a Social and Business Single Entry Visas. This visa can cost $300+ depending on the agency you go through. Keep in mind that you working online will technically be against the rules of your visa.
So, if you wish to work in Indonesia, your best bet is to find employment prior to moving. Your employer will then sponsor the work visa process, (and eventually KITAS).
If you are simply looking to live in Indonesia, there is a long-term residence visa is available called KITAS. This lasts for only a year but can be extended annually. You will need sponsorship which can be paid for through a visa agency.
Once you have lived in Indonesia for three years you can upgrade to a KITAP which will grant you permanent residency.
Banking in Indonesia
Whether or not you decide to open up a bank account in Indonesia will come down to what your plans are. If you work online it may not be necessary to change up what has been working for you.
But if you have arrived in Indonesia on a work permit, it will be one of the first things you will need to do. Opening an account isn't overly difficult and can be completed in a day. However only those with a KITAS visa can open a bank account.
As for general day to day payments, cards are only accepted in places like Jakarta and Bali hotspots. But even there you should carry around cash for transport and smaller restaurants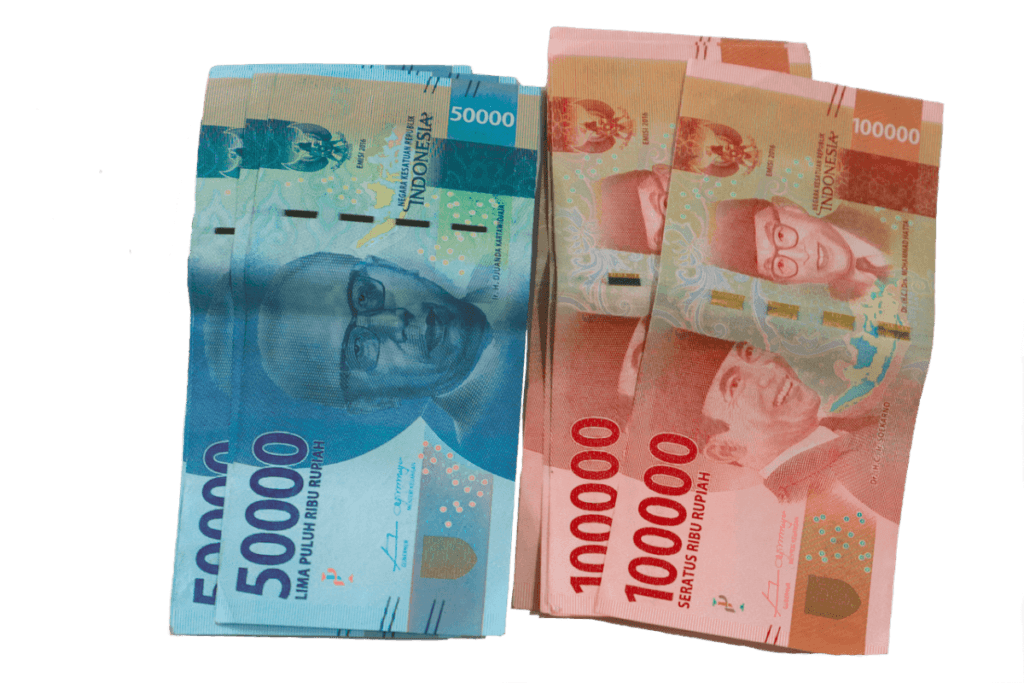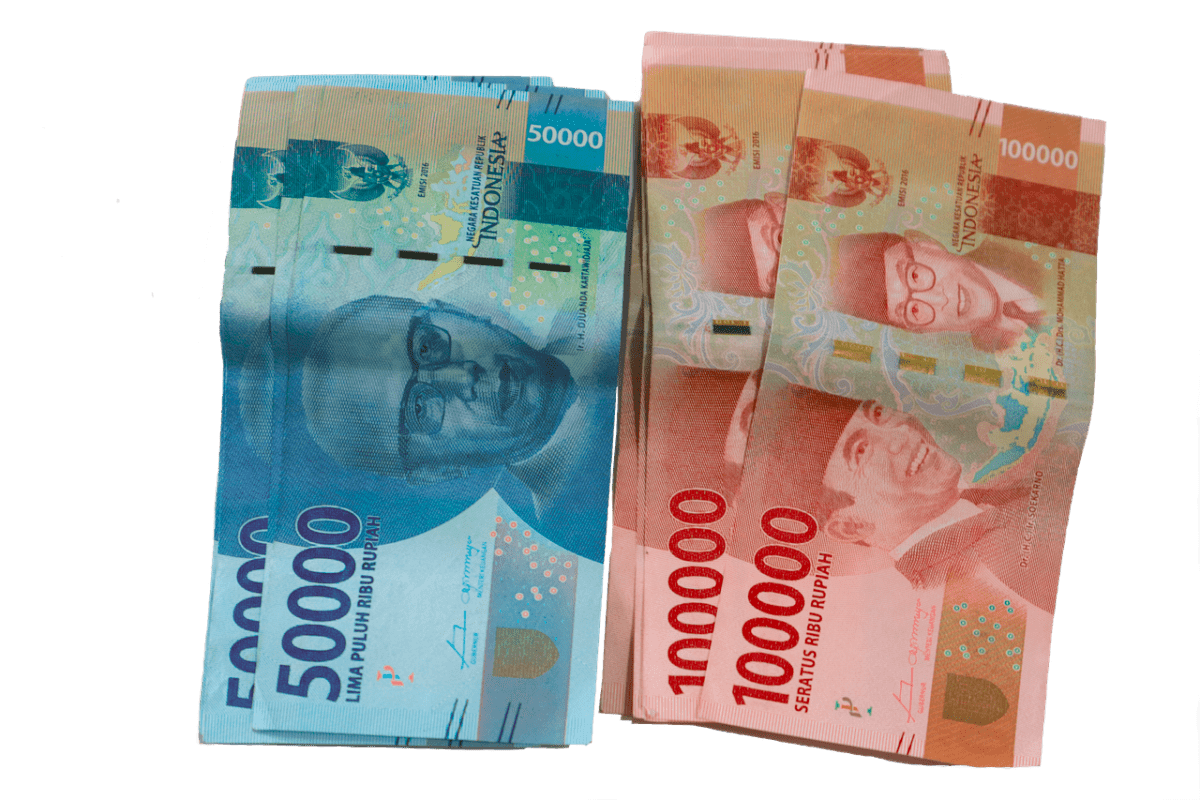 ATMs are common in major towns and cities, but again be prepared to spend time away from any cash points in more remote places.
Using your card from back home is a sure fire way to rack up a small fortune in fees. A way to avoid this without opening a local account is to use a travel card from Transferwise.
On the other side of the coin, Payoneer is a great way to transfer money between international accounts. All without paying fees.
Taxes in Indonesia
Taxes, oh taxes, they'll follow you wherever you go. Although for a brief second that Indonesian sun might let you feel free at last.
Once you have made your way to Indonesia and have started to work you are obligated to pay your local and federal taxes. If you are an employee, the big boss will take care of this. But if you have opened your own business, grab yourself an accountant who knows the local ins and outs.
If you are a digital nomad in Indonesia, or simply living here on your own means, you should still keep track of your taxes owed back home.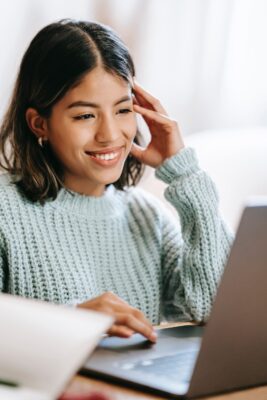 Earn $$$ ONLINE Whilst Travelling the World!
Keen to live the digital nomad dream while travelling the world? Who the hell isn't?
Teaching English online is a surefire method to earn a consistent income on the road. Work from anywhere, change some lives, and earn some dollaridoos while you do it!
Check out this detailed article for everything you need to know to start teaching English online.
Making your way to a new country and enjoying a fresh start does sound like a wonderful adventure. But like any major venture in life, it comes with its own fair share of unexpected turbulence: Hidden costs.
By its very nature, hidden costs are unpredictable and play in the shadows. This section is all about getting you thinking outside of the box, and helping you figure out the further costs of living in Indonesia that may not have crossed your mind.
Maintaining your comfortable 'Western' way of life can come at a price in Indonesia. Replacing electronics, such as headphones, chargers and phones, can be more than what you pay in Europe and North America.
High import taxes have been implemented to promote domestic purchases. However availability can be limited, which will make shipping in your new laptop for example, quite expensive.
Another cost that may have slipped your mind when considering moving to Indonesia, is what it might cost to go the other way? Will you have enough in the budget for a sudden return flight home? Unless you're from a nearby country international flights can be a hit of up to $1000 to your pocket.
Considering having a part of your budget set aside for the little gremlins that show up unexpected is always a good idea.
Insurance For Living in Indonesia
Indonesia itself is home to a famously happy population. It is one of the reasons travelers come back and sometimes never leave.
Indonesia is generally safe from violent crime. However, much of the population is quite poor which leaves room for opportunistic crime such as theft.
A common occurance is handbags being snatched as you ride your scooter. Place your belongings in a secure compartment before you begin your journey.
Scooter crashes also can happen to expats especially as they get used to the roads.
Month to month payments, no lock-in contracts, and no itineraries required: that's the exact kind of insurance digital nomads and long-term traveller types need. Cover yo' pretty little self while you live the DREAM!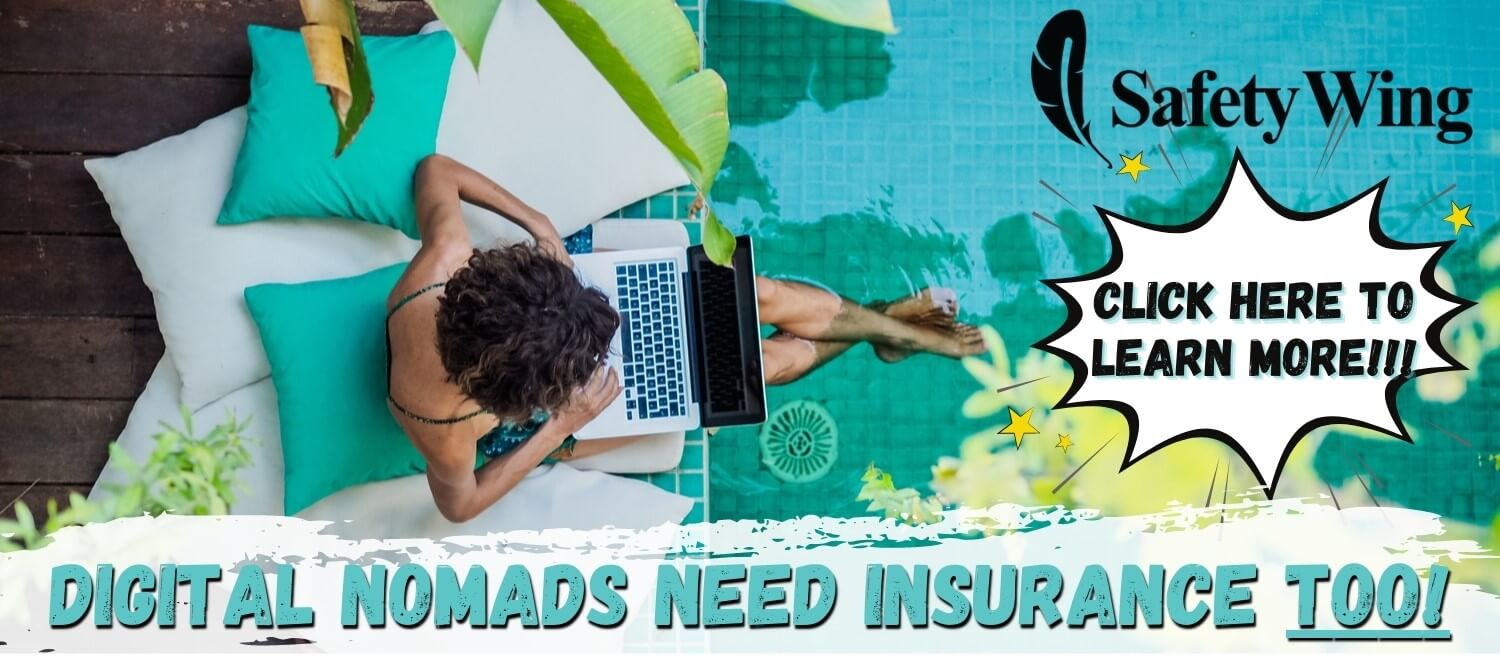 SafetyWing is cheap, easy, and admin-free: just sign up lickety-split so you can get back to work! Click the button below to learn more about SafetyWing's setup or read our insider review for the full tasty scoop.
Moving To Indonesia – What You Need To Know
Now that we have covered the cost of living in Indonesia, hopefully, you have a good idea of whether moving here is the right thing to do. If you are still on board, let's dive into what your next steps will look like.
Finding a Job in Indonesia
Prior to moving to Indonesia, you will have the opportunity to search for employment. Major fields include mining, construction, and agriculture. English teaching is another common industry for expats.
Due to government policies, companies that wish to hire expats need to show there are no locals who could fill these roles. This is why most employment tends to favor those with significant industry skills. For those that land a major role, international standard salaries are common.
Work visas to Indonesia are only granted through having an offer of employment. So it is unlikely you will be eligible for legal work if you have arrived on a non-work visa.
However, Indonesia is a haven for online work thanks to it's general low cost of living. For those who work online, you will be able to spend less and save more while living here.
Where To Live in Indonesia
Indonesia may look long and thin on a map, but it is actually a spacious archipelago home to the world's fourth largest population. Since an economic crisis in the 1990's, Indonesia has experienced consistent growth, lowered poverty rates, and an improved quality of life.
There are now more places to live in Indonesia that you will be able to call home. Whether you want to find your own slice of Indonesia or live in well-established parts of Bali and Jakarta, there is plenty of sunshine and good food waiting.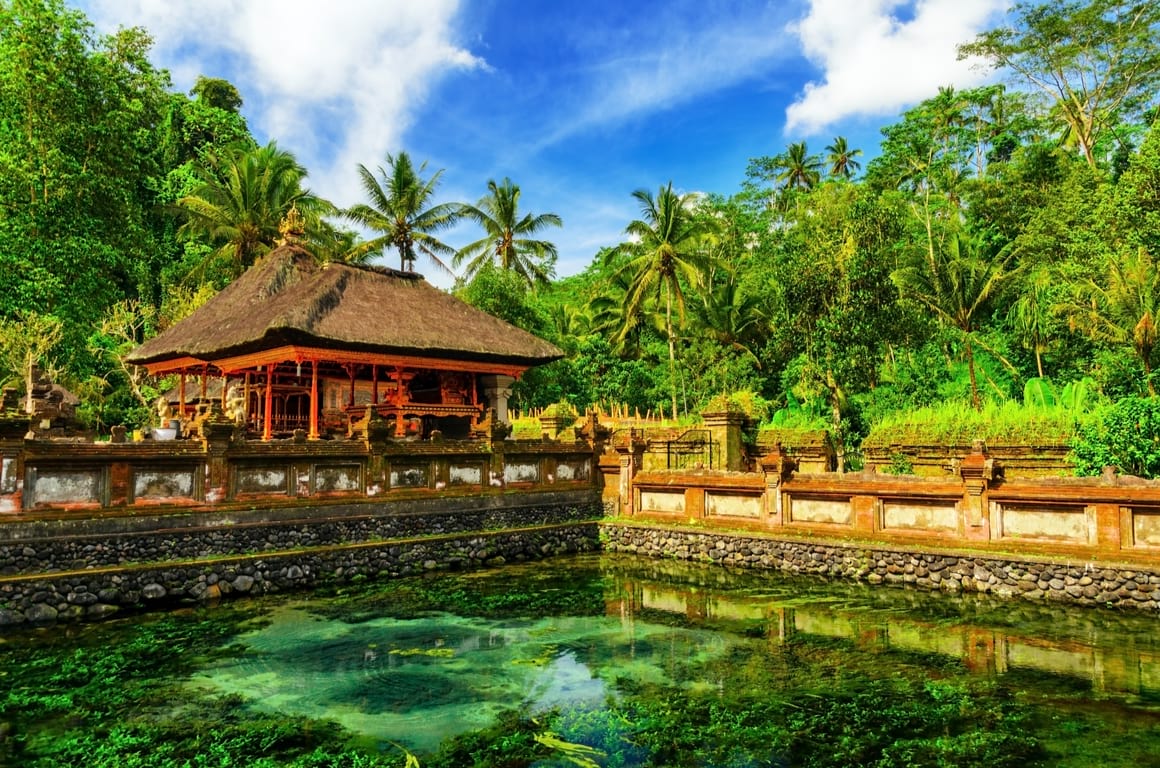 We recommend taking some time to think about where you want to live in Indonesia and make plans to explore these areas in person before making any decisions. Only you will know whether a place is the right fit once you've wandered its streets.
With that being said, we've provided an overview of four popular areas to live in Indonesia. They are major cities and islands that would make an excellent future home.
Jakarta
When it comes to breadth of employment opportunities, quality of education, and access to adequate healthcare, Jakarta is the place to live in Indonesia.
Jakarta is an urban sprawl that creates opportunities you won't find in sleepy country villages and along the surf coasts. Like any major city, there is plenty to do in Jakarta. Bars and nightlife rule the roost throughout the week for whenever you want to blow off steam.
Although staying in Jakarta can often feel a world away from the rest of Indoesia, you can still find it's delicious cuisine in the city's stret food and restaurants.
Public transport is strong, so you will be able to get around town relatively easily. However, like any major city, traffic can become a drawback.
For those that aren't moving to Jakarta for work, you may not find what you are looking for here. When travelers dream of Indonesia, they picture dense green hills dotted with temples, and waves that crash along shores. Jakarta is a different kind of Indonesian experience but one worth looking into.
Best Area for Jobs Opportunities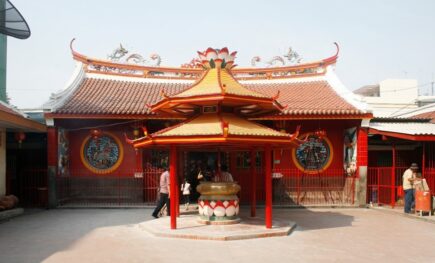 Best Area for Jobs Opportunities
Jakarta
This vibrant city is perfect for expats looking to live in a bustling city environment. Its various districts offer a bit of everything, including excellent nightlife and cultural attractions. However, don't go expecting that lush green scenery Indonesia is typically known for.
Bali
Living in Bali is a dream many hold close to their hearts. But is it all that it's cracked up to be? Well, yes. We think so.
Bali is home to so much of what makes us love Indonesia, from beautiful Hindu temples to a slow way of life, gorgeous weather, and great food.
Genuinely moving to Bali can come with its fair share of challenges. It isn't the place to move to and seek serious employment. There are many expats here, and almost all run a local business, work online, or simply live within their means.
If you are an entrepreneur or work online, Bali can be the destination of your dreams. The wifi is relatively strong and stable, you can afford to live comfortably and there is always something beautiful around the corner. Bali is also home to Tribal Hostel Bali, one of the best coliving and coworking hostels for digital nomads we've seen!
Canggu and Ubud are popular expat areas, with a focus on healthy living. Sanur is quiet which can be a nice escape from the busy areas of Kuta and Seminyak.
Denpasar is the islands capital, however it isn't the ideal place to to enjoy the best of Bali.
Best for Digital Nomads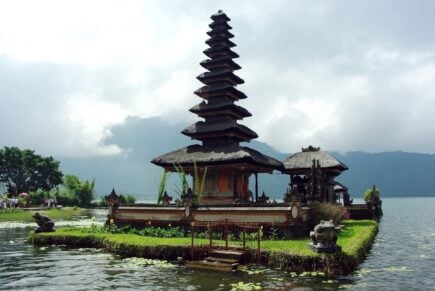 Best for Digital Nomads
Bali
Living in Bali is the dream for many – and can become a perfect reality for digital nomads. While it's sometimes considered a tourist trap, it's full of beautiful areas that are waiting to be discovered. Canggu and Ubud are popular locations for remote workers and are super affordable for Westerners.
Yogyakarta
Known by locals simply as Jogja, Yogyakarta enjoys a slow paced lifestyle endeared by locals and expats alike. The city is an education hub and is the home to Indonesia's oldest university along with mulitple colleges and academies.
Internet is strong and the overall cost of living here is less than in Jakarta and Bali. Which makes it a great place to set up a business or work online.
Jogja is also the second largest tourist destination in Indonesia, owing to it's beautiful Buddhist and Hindu temples. So along with being Indonesia's arts center, there is an ever changing gallery and exhibition scene to mix things up.
When it comes to getting outside and active, Yogyakarta has a welcome mix of mountains and oceans. The western end begins at the base of Mt. Merapi and stretched all the way down to the Indonesian Ocean.
Archeological sites and ruins dot the highlands beyond Yogyakarta making for excellent hiking and day trips from town. Swimming from the local beaches isn't recommended due to strong current, but they provide amazing views and fishing nonetheless.
Culture and Scenery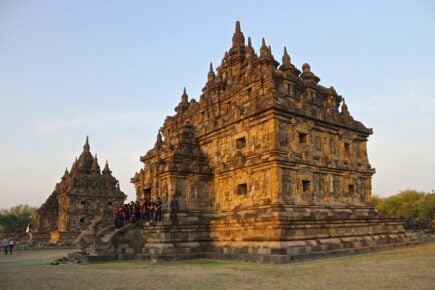 Culture and Scenery
Yogyakarta
Yogyakarta is the best location for art lovers and culture-vultures. Its lower cost of living makes it an attractive destination for expats and digital nomads. When you're not working, there are temples to explore and galleries to discover.
Lombok
Lombok is a combination of life in the majority of Indonesia with a little slice of Bali tucked in. Like the rest of the country, the majority of Lombok is Muslim, so you will see this in schools and every day life.
However owing to it's proximity to Bali, you will still find plenty of Hindu celebrations of the streets and temples tucked away in the forests.
Lombok has a beautiful coastline, which is a big attraction for newcomers. You'll find long beaches, great surf and colorful snorkeling. On the islands interior, wander along rice terraces and keep an eye out for waterfalls.
Living and working in Lombok does come with its fair share of challenges, so you'll need to take the good with the bad. The island is less developed than Bali and receives its fair share of power blackouts.
For these reasons internet can be unreliable, which is something to keep in mind if you have consistent deadlines. For those that plan on opening a new business, the slower pace of life can take some getting used to. People aren't in a rush and being late isn't a cardinal sin, so adjust your expectations.
Best Area for Surfing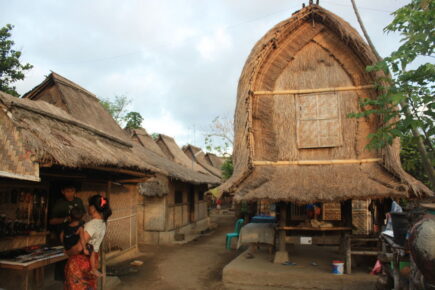 Best Area for Surfing
Lombok
Lombok is the place to go if you love surfing, snorkelling, and anything ocean-related. It's slightly smaller than Bali and has a lower cost of living, but is slightly less developed. The pace of life is slower here, so you can really sit back and take in the beautiful surroundings.
Indonesian Culture
Indonesia is majoritively Muslim. Yet due to it's many islands and the vast distance from one end to the other, the nation is one of the world's world's diverse countries.
Indonesians are very friendly, happy, and welcoming. In expat hubs like Bali and Jakarta, those that have moved to Indonesia can become a part of the local fabric.
However often without that religious background and participating in the many local traditions, it can be hard to truly assimilate. Expect to spend the majority of your social time with other expats.
Pros and Cons of Moving To Indonesia
Moving to a foreign country presents itself with many cultural differences. Visiting and living also are two separate ways of experiencing Indonesia.
It's always important to stay aware of the pros and cons. Here are some you should bare in mind:
Pros
Rich Culture – From temples to traditional celebrations, arts, festivals, and everything in between. The culture here is both deep and diverse.
Cheap – The cost of living in Indonesia is very low, so you'll be able to enjoy a few more of the 'finer things'. (Just don't go overboard!)
Weather – You'll never have to worry about being snowed in again. Even the rain here doesn't feel so bad.
Domestic Travel – There is so much to explore throughout Indonesia. This Inincludesluding far-flung islands, active volcanoes, and small developing villages.
Cons
Limited Work Options – For those in search of a local 9-5 gig, Indonesia is not the place for you.
Healthcare – Hospitals can be few and far between. They often have a lack of English-speaking staff and can provide inadequate care.
Corruption – Dealing with local police as you simply travel around town can take the shine off your new destination.
Importing Goods – Gone are the days of simply ordering something of Amazon. Imported products will be heavily taxed.
Living as a Digital Nomad in Indonesia
Over the previous decade, Indonesia has seen an influx of digital nomads who are taking advantage of the beautiful weather and cheap way of life.
Digital Nomads enjoy easy access to numerous major travel hubs in South East Asia. This helps those who have set up shop here, not feel so far away from the rest of the world.
In places like Bali and its nearby islands, the digital nomad scene is well established. Hotels, villas, and bungalows generally come with strong wifi, while more and more restaurants provide public internet. There is a huge collection of specially designed coworking spaces that welcome digital nomads to make it their own office away from home. Tribal is the TBB fave for its spacious design and amazing amenities.
There are a few hotspots that can be great for networking with other online workers. These are commonly found in Ubud and the ever-popular Canggu.
Internet in Indonesia
The internet quality within Indonesia varies greatly depending on where you decide to open your laptop. It is a country complete with thousands of islands, so it makes sense for infrastructure to vary greatly.
Indonesia overall has a slower internet speed than its neighbors in South East Asia. In fact, it often runs at 33% of the speed that you'll find in Singapore and Malaysia.
In major hubs like Jakarta, Bali, and Yogyakarta, you will find reliable internet at decent speeds. Internet prices will range from $15 – $25 per month. You can also expect rented properties to have internet included in the price.
Mobile Data plans in Indonesia are quite cheap and easy to pick up. This will help you roam the country without losing connection. Plans can be picked up for under $30 with a sim included.
The Future of the SIM Card is HERE!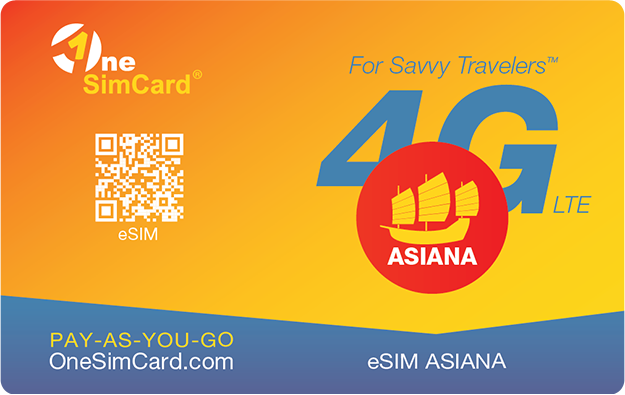 A new country, a new contract, a new piece of plastic – booooring. Instead, buy an eSIM!
An eSIM works just like an app: you buy it, you download it, and BOOM! You're connected. It's just that easy.
Is your phone eSIM ready? Read about how e-Sims work or click below to see one of the top eSIM providers on the market and ditch the plastic.
Buy an eSIM!
Digital Nomad Visas in Indonesia
Currently, Indonesia does not offer a digital nomad visa. However, news throughout the first half of 2021 suggests that it does have plans to introduce this visa in the future.
While you can't technically work on a tourist, social, and business visa, working online remains a grey area. This is particularly true if your clients are based within your home country.
If you feel your work will be a strong breach of your current Indonesian visa, then you should apply for a KITAS or a work permit to continue your online work.
Co-Working Spaces in Indonesia
Moving to Indonesia offers the opportunity to work from the comfort of your own private villa. It's a chance to escape the rat race and chaos of employment.
So why should you consider going to a co-work space? These spaces offer up superior internet while meeting like-minded people can keep you from losing motivation after too much cheap alcohol and time at the beach.
There are quite a few co-working spaces throughout Indonesia, including in the digital nomad hubs within Jakarta (CoWorkInc), Yogyakarta (Jogja Digital Valley) and Bali (Tribal)
Co-working spaces are an additional expense to add into your budget and should be considered before signing up.
Living in Indonesia – FAQ
Final Thoughts on Indonesia Living Costs
There is no doubt that the cost of living in Indonesia is low. Your dollar can go much further here than in many places throughout the world. It is a big part of what makes moving to Indonesia so tempting.
But life in Indonesia may not be for everyone. It comes with a lack of employment opportunities and visa difficulties, and it's important to weigh out the pros and cons. For those that take the leap, an exciting and unforgettable experience awaits.
---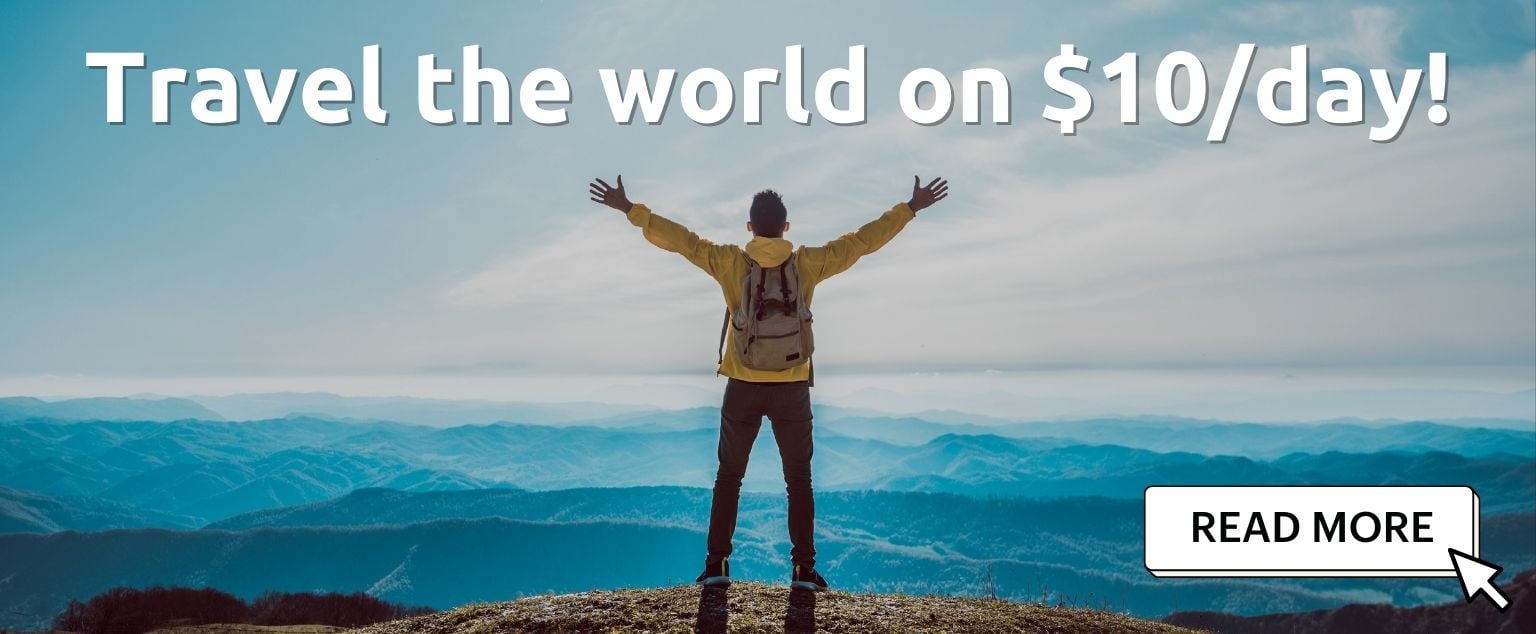 And for transparency's sake, please know that some of the links in our content are affiliate links. That means that if you book your accommodation, buy your gear, or sort your insurance through our link, we earn a small commission (at no extra cost to you). That said, we only link to the gear we trust and never recommend services we don't believe are up to scratch. Again, thank you!