Jakarta, the Indonesian capital, is a megacity that is alive and buzzing 24 hours a day. The locals always have a smile on their face and a positive outlook. You'll have one too when you hear about the world-class street food and coffee scene! Not only that, there's plenty to see across the different neighbourhoods too. Chinatown and Glodok show the city's colonial past, while Merdeka Square is a confident representation of modern Indonesia. Throw in some great nightlife and Jakarta is the complete package!
In this post, we'll take a closer look at the best places to visit in Jakarta. By the time you've ticked a few off, your smile will be as wide as one of the locals!
Need a place quick? Here's the best neighborhood in Jakarta:
BEST AREA IN JAKARTA
Mangga Dua
Mangga Dua is Jakarta's world-famous shopping hub. In fact, it's one of the largest shopping areas in all of Southeast Asia! From Mangga Dua Square where many big concerts are held to Mangga Dua Mall with its excellent retail store bargains, you'll have no shortage of things to do.
Places to visit:
Check out the concert hall lineup at Mangga Dua Square
Get a tattoo in Mangga Dua Square
Enjoy a seafood dinner in Gunung Sahari Street
These are the BEST Places to Visit in Jakarta!
Not only does Jakarta boast some kick-ass attractions, but also a myriad of accommodation options to suit every type of traveller. Be sure to check out the best places to stay in Jakarta and book yourself an Airbnb epic enough to match the level of epic you'll find in this list below!

Unlock Our GREATEST Travel Secrets!
Sign up for our newsletter and get the best travel tips delivered right to your inbox.
#1 – Kota Tua – A perfect place to visit in Jakarta if you're on a budget
Explore Jakarta's colonial downtown
Find some street food hot spots in Jakarta
Check out some interesting and unusual museums
Why it's awesome: Kota Tua is Jakarta's Old Town, and it's normally the first stop for tourists and travellers in town. This is hardly surprising – the oldest and most historic buildings from the Dutch colonial era are found here! The city's original downtown contains Dutch-style squares and plenty of history to uncover. At the turn of the century, the buildings were rapidly deteriorating, but many have been restored since and the area was declared a UNESCO World Heritage site in 2014. Explore the architecture and cool street food spots either on foot or by bike!
What to do there: Not sure how to see Jakarta's Old Town? Well, a good place to start is Fatahillah Square. This is slap bang in the middle of Kota Tua (what was once known as Old Batavia). Around the square, there are plenty of museums where you can absorb Jakarta's colonial history or find some quirky exhibitions. Many are low priced, and some are completely free! Highly recommended are the Jakarta History Museum and Fine Arts and Ceramics Museum, which are both self-explanatory. The Wayang Museum shows off Javanese puppets and dolls!
#2 – Merdeka Square – A great place to visit in Jakarta if you're travelling solo!
Take a break from Jakarta's traffic and chill
Stroll around one of the largest public squares in the world
Surrounded by some of the coolest landmarks in Jakarta
Why it's awesome: If you're travelling solo and you want to make some friends in Jakarta, you're bound to come across someone at Merdeka Square. After all, it's one of the largest public squares in the world and it's where the locals come to escape the city's hustle and bustle. Not to mention the stifling traffic, which is seemingly always gridlocked! The square is centered around the National Monument, standing at 132 metres high. There's an interesting museum at the base, but if you're unafraid of heights and want some great pictures then head to the observation deck at the top!
What to do there: As well as chilling in the square and visiting the national monument, there's plenty to do. Some of the most important points of interest in Jakarta surround Merdeka Square. You'll find the National Gallery, the Merdeka and Negara Palaces, and the National Museum, which we'll tell you more about later! Even with all these cool attractions, nothing beats escaping from busy Jakarta life and relaxing in the shade with your travel companion or alone with a book, watching the world go by! On weekend evenings, don't miss the spectacular fountain show complete with lights and music.
#3 – Taman Mini Indonesia Indah – A very cool place to go in Jakarta for a day!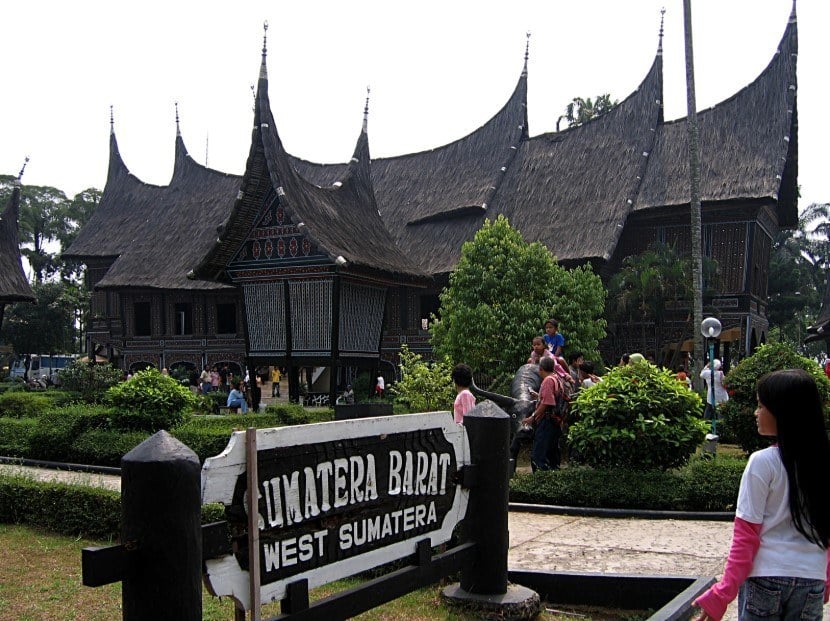 Explore full-scale house models from all over Indonesia
Let the kids choose between the water park and the space exploration museum!
One of the best places in Jakarta to spend a whole day
Why it's awesome: Running low on Jakarta vacation ideas? Head here, where they've thought of literally everything. The park's name literally translates to Beautiful Indonesia Miniature Park. The only thing they forgot was huge – it covers a massive area. But of course, it has to as it packs in parks, an IMAX cinema, a water park, and that's just for starters! This is the perfect place to go for the day with the family, or simply to have a quirky and relaxed adventure.
What to do there: Where to start! Get a dose of Indonesian culture by exploring the models of traditional houses from around the country. You can also take home some cool souvenirs, as there's a traditional handicraft market which sells clothing too! Then, move on to a mini re-creation of one of Indonesia's most important temples, Borobodur. Find somewhere to have a tasty and traditional lunch then head to the atrium in the afternoon, which houses 760 native birds! If you're still there in the evening (and why wouldn't you be), head to one of the regional houses for a free traditional performance!
#4 – Glodok Chinatown – A must-see for foodies!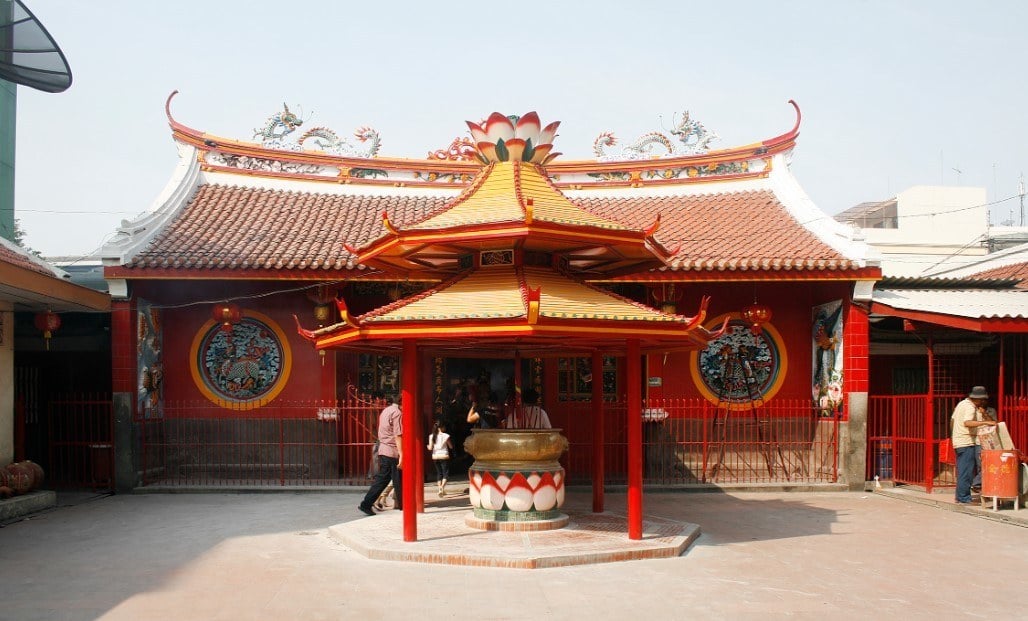 Explore one of the street food hotspots in Jakarta
Visit the Chinese temples of the area
Head to one of Jakarta's largest shopping centres.
Why it's awesome: Glodok may not be the most tourist-friendly destination, but it is home to some of the best places to eat in Jakarta. In our book, that definitely makes it worth a visit. Indonesian street food has a mishmash of influences, and one of the most important is Chinese. It's in Glodok that you'll find a number of street food stalls along the narrow pavements, as well as a range of Chinese restaurants which range from dingy and quiet to upmarket! It's hard not to find something delicious here.
What to do there: Eat, eat, eat! Whether it's grilled pork, fried duck, or delicious satay sauce, you'll find something to keep you sated. It's not all about food in Glodok though. The area is home to a number of quiet and peaceful temples, which don't have anywhere near the number of crowds as some of the more popular religious sites in Jakarta. They're a great place to relax and contemplate away from the hustle and bustle of the city. Glodok is close to Kota Tua, so you can easily combine both in a day trip if you fancy!
#5 – Dunia Fantasi (Ancol Dreamland) – Awesome place to visit in Jakarta with kids!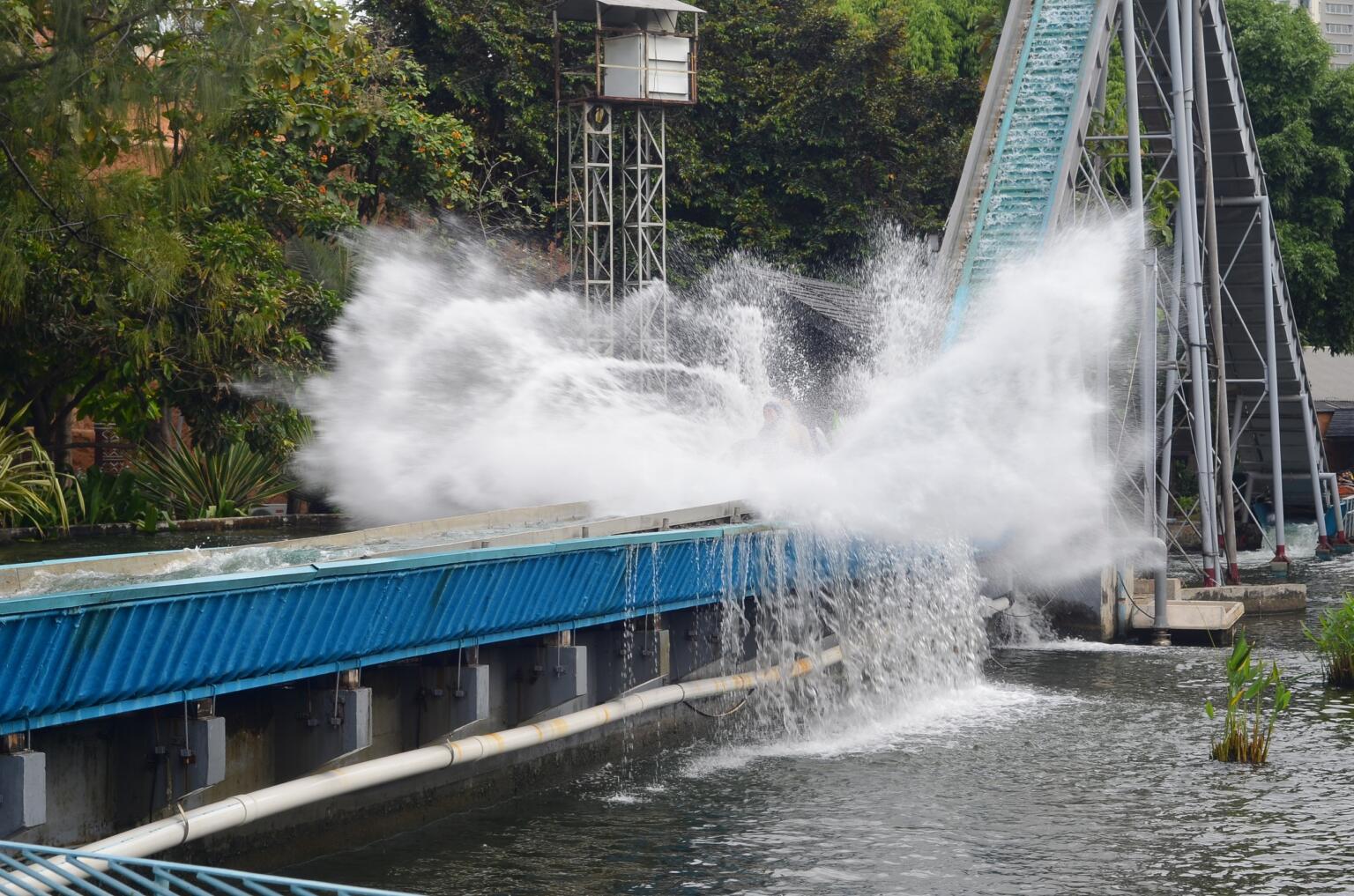 Take the kids to this internationally themed amusement park
Get views of Jakarta Bay from the top of rollercoasters
Jakarta must-do for the whole family
Why it's awesome: Sometimes cultural attractions can get a bit tiresome and heavy when you're travelling with kids, so why not mix it up and head to one of the most fun places in Jakarta – Ancol Dreamland! It'll put a face on the smile of the little ones with spinning teacups and Hello Kitty Dreamland, while even the surliest teen will have their indifferent frown re-arranged by the Hysteria vertical thrill ride! There are 9 new attractions planned at the time of writing (2019) so it's only going to get better by the time you arrive!
What to do there: First thing to do in the theme park is make a plan of the rides you don't want to miss and head to them first. You don't want to spend the day stuck in queues! As Jakarta can get hot and humid, we highly recommend the log flume ride to cool off. It's not all about rides at this cool internationally inspired theme park though. Head to Ancient Greece or Ancient Egypt without leaving the Indonesian capital and admire these fantastic recreations! When you fancy something a little more relaxed, see movies about Beautiful Indonesia at the on-site Kalila Adventure Animatronic theatre!
#6 – National Museum – A fascinating educational place to visit in Jakarta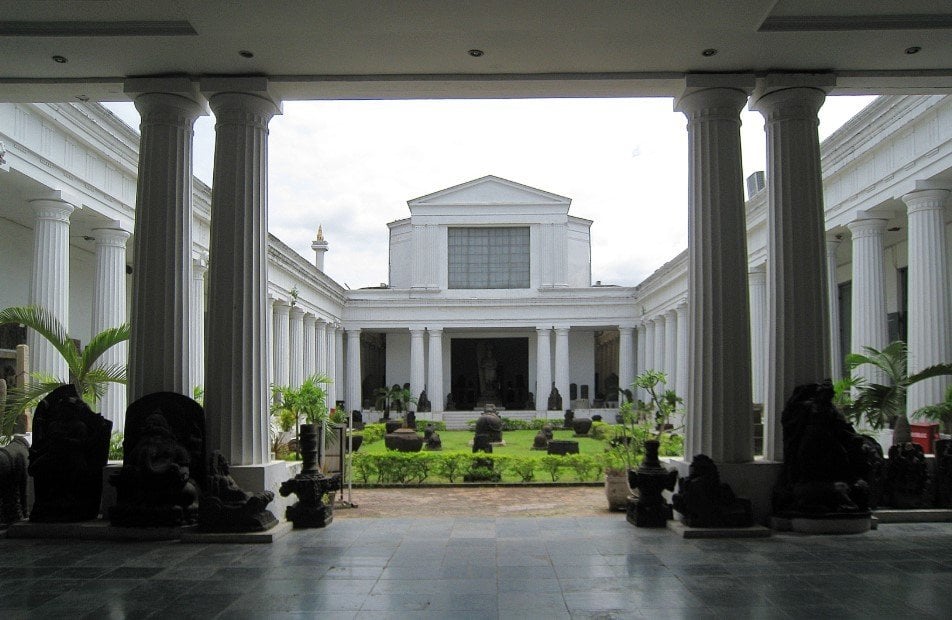 Learn about every aspect of Indonesian culture
Over 100,000 pieces exhibiting this country's rich heritage
One of the major points of interest in Jakarta
Why it's awesome: Just across from Merdeka Square is where you'll find one of the most impressive and important museums in South East Asia – the National Museum of Indonesia. Don't miss the beautiful elephant statue in the courtyard (it's kind of hard to if you go in really), which gives it the name it's known among locals – the Elephant building. The museum collection consists of more than 100,000 articles. These relate to art, agriculture, languages, and religion of the national and regional history of Indonesia. An unmissable Jakarta attraction!
What to do there: If you want to learn about the rich cultural heritage of Indonesia, there's nowhere better to go. Visit the top floor to see the impressive jewels and precious metal artifacts that belonged to the archipelago's rajahs and sultans. If you'd prefer to go further back in time, visit the exhibition of batik cloths from the 1st century AD which has been beautifully preserved! You can also find exhibits dedicated to the 700+ languages spoken across the island chain, a great way to find out more about local life.
#7 – Istiqlal Mosque – One of the most religious places to see in Jakarta!
Visit the biggest mosque in South East Asia
Take a guided tour and learn more about the architecture and symbols
One of the most famous places in Jakarta
Why it's awesome: Indonesia has freedom of religion, but the majority of one of the largest populations on earth follow Islam. In fact, almost 90% of the country's 260 million population are Muslim! So, it's fitting that you can find the largest mosque in South East Asia in Jakarta, and the 3rd largest in the world then. It can fit 20,000 people more than Barcelona's Camp Nou football stadium. You can find Istiqlal Mosque just a stone's throw away from Merdeka Square and opposite Jakarta's Catholic cathedral.
What to do there: Istiqlal Mosque is open to the public and it's possible to take a guided tour. This comes highly recommended as it enables you to learn more about Islam and also admire the intricate symbols and architecture. The designs not only reflect the principles of Islam but also represent scenes from Indonesian history too. A visit to the mosque can be tied in with a visit to Jakarta's other Historical House of Worship, and the attractions which surround Merdeka Square.
#8 – Suropati Park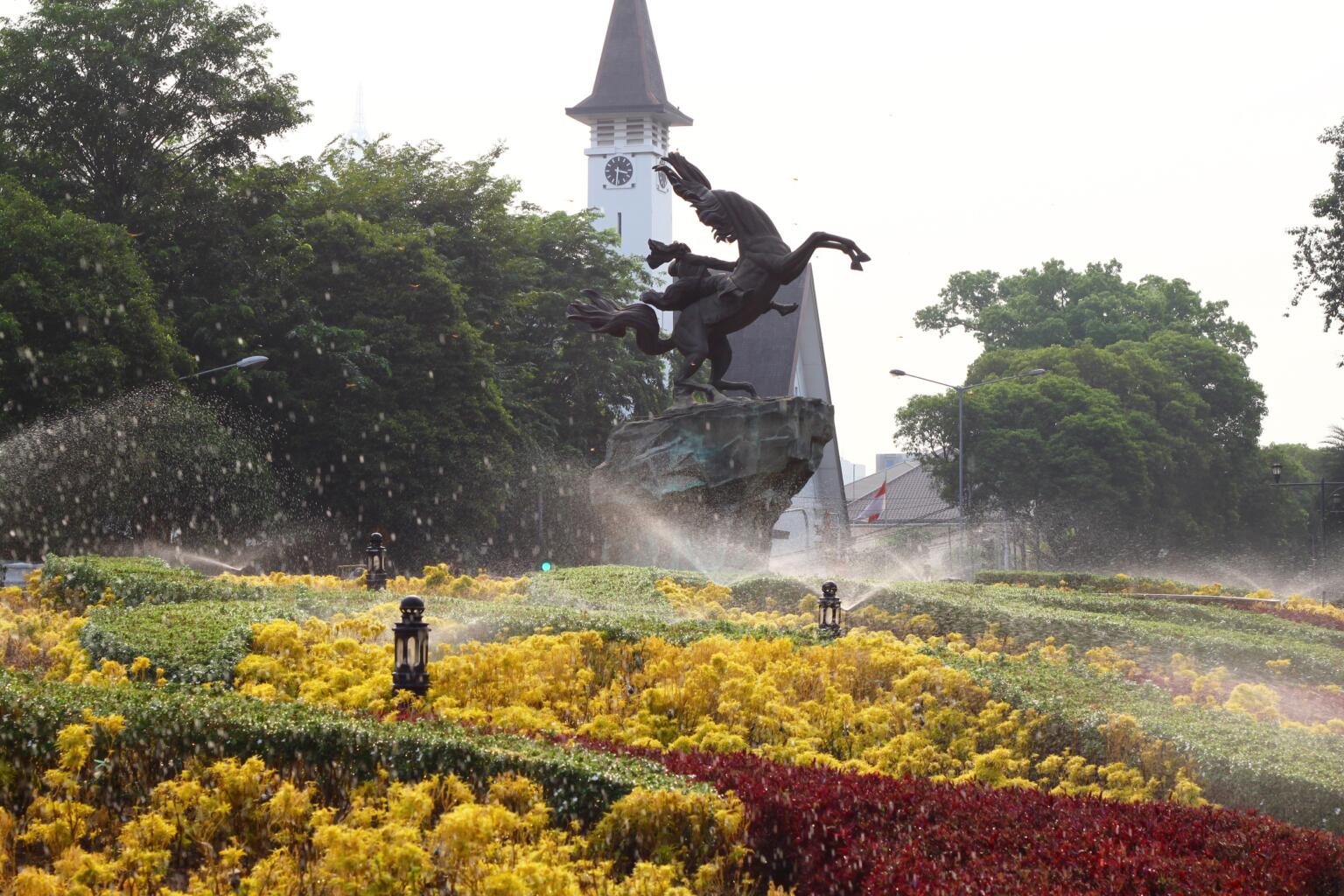 Escape the humidity for a natural and fresh breeze
Enjoy the mix of nature, art, and city life
A great place to meet cats when visiting Jakarta!
Why it's awesome: Originally beginning as a village green surrounded by mansions in the fancy Menteng residence, Suropati Park is now a favourite spot of tourists and locals alike who want to escape the traffic and noise of the concrete jungle. This is a great place to spend a lazy day after you've visited some of the busier landmarks in Jakarta. Lay down on the grass and pet one of the park's many cats, or listen to the music being made by groups of local friends on their acoustic guitars!
What to do there: As with most parks, there's plenty of choices depending on how active you want to be! If you've got a workout regime you're planning on keeping up during your holiday, this is a great spot for jogging or running. However, since it can get so hot and humid, we'd recommend avoiding it at midday! For a more relaxed morning or afternoon, check out the ASEAN monuments donated from neighbouring South East Asian countries!
#9 – Jalan Jaksa
Explore Jakarta's backpacker hub
Enjoy a mix of street food, cool cafes, and a variety of accommodation
Just a short walk from the best places in Jakarta
Why it's awesome: Now is a great time to head to Jalan Jaksa. It used to be full of flophouses and old rickety hostels, but the process of gentrification has brought it up to speed without losing its charm and character. If you're travelling in Jakarta on a budget, it's probably where you're going to end up – and you're probably going to love it! The area is about 1km south of the National Museum and Merdeka Square, so it's easy enough to walk or take public transport to see some of the top landmarks in Jakarta!
What to do there: Eat, sleep, and be merry. Jalan Jaksa is the perfect area to meet new friends if you're travelling solo since there are so many bars and cool hostels. It's a great base for visiting the city too. You can easily get to pretty much all of the other locations on our list on foot, and the ones you can't just a cheap journey away on public transport. If you're planning any day trips from Jakarta, pop around the corner to Gongdangdia Station. This connects you to Jakarta's main station where the island of Java is your oyster!
Is This the Best Daypack EVER???
#10 – Babakan Lake and the Betawi Cultural Village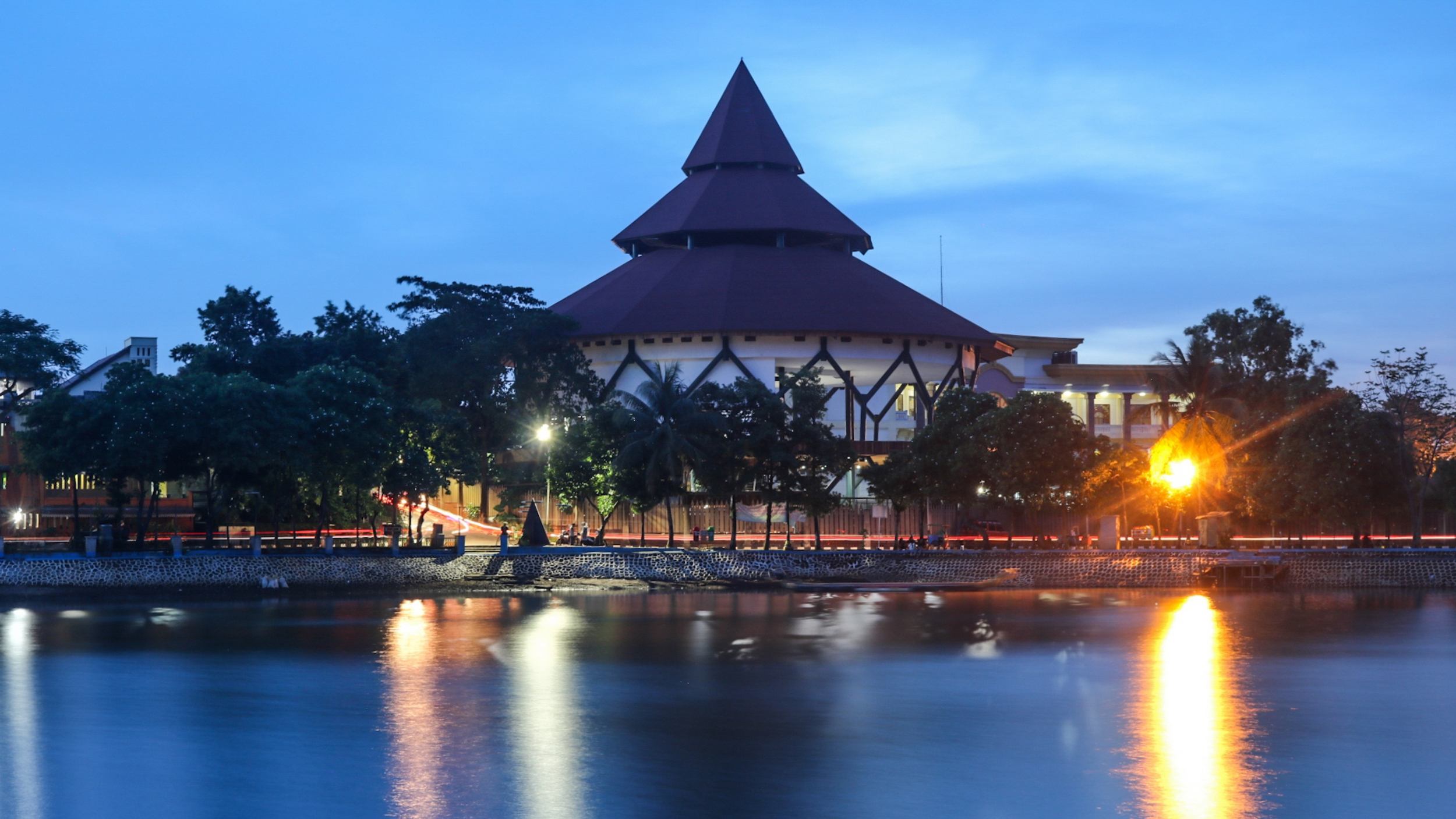 Learn about the indigenous Betawi Culture
Take a paddleboat out onto the lake
One of the best natural landmarks in Jakarta
Why it's awesome: Another perfect spot to escape from Jakarta's hustle and bustle. Not only that, you can experience a traditional cultural village and learn about the indigenous way of life in Jakarta's surroundings. Setu Babakan (Babakan Lake) is actually the centre of the village. This is probably best recommended as a day trip as it takes about an hour and a half to get to the village on public transport. Located in Southern Jakarta, it's more than 20km from Merdeka Square – but that shouldn't put you off!
What to do there: It depends when you visit really. All through the year, you'll be able to appreciate the traditional architecture of the houses and buildings here. You can also enjoy regular performances featuring dance, music, and masks celebrating Betawi heritage. Each Sunday, there are regular cultural performances. You can also head out onto the calm waters of the lake in one of the cool bird-shaped pedalos, or in a canoe. If you'd prefer to just view, you can do that from under the shade of papaya, banana, and rambutan trees!
#11 – Ancol Beach City – A great place in Jakarta if you love to shop!
Take part in FREE watersports!
Shop till you drop at one of Jakarta's biggest malls
Great place to take the family
Why it's awesome: The shopping and entertainment complex on the shores of Jakarta Bay is one of the best places in Jakarta for a fun day out. Spend the morning enjoying some retail therapy at a range of local and international shops, before taking part in some free water sports in the afternoon. So, if you're visiting Jakarta on a budget this is the perfect spot for some adrenaline-fuelled activities! Try out jet-skiing, banana boats, and for something a little more chilled, the Ancol Beach cruise!
What to do there: Shopping and water sports isn't quite enough? It's lucky that there's more going on here then, isn't it?! The shopping centre also has a concert stadium which has hosted multiple international stars. If you're feeling really brave, put your name forward for karaoke on the beach… don't worry, it's not at the concert stadium! Whatever you fancy doing, you're sure to find plenty of Jakarta vacation ideas in this place alone!
Get insured for your trip to Jakarta!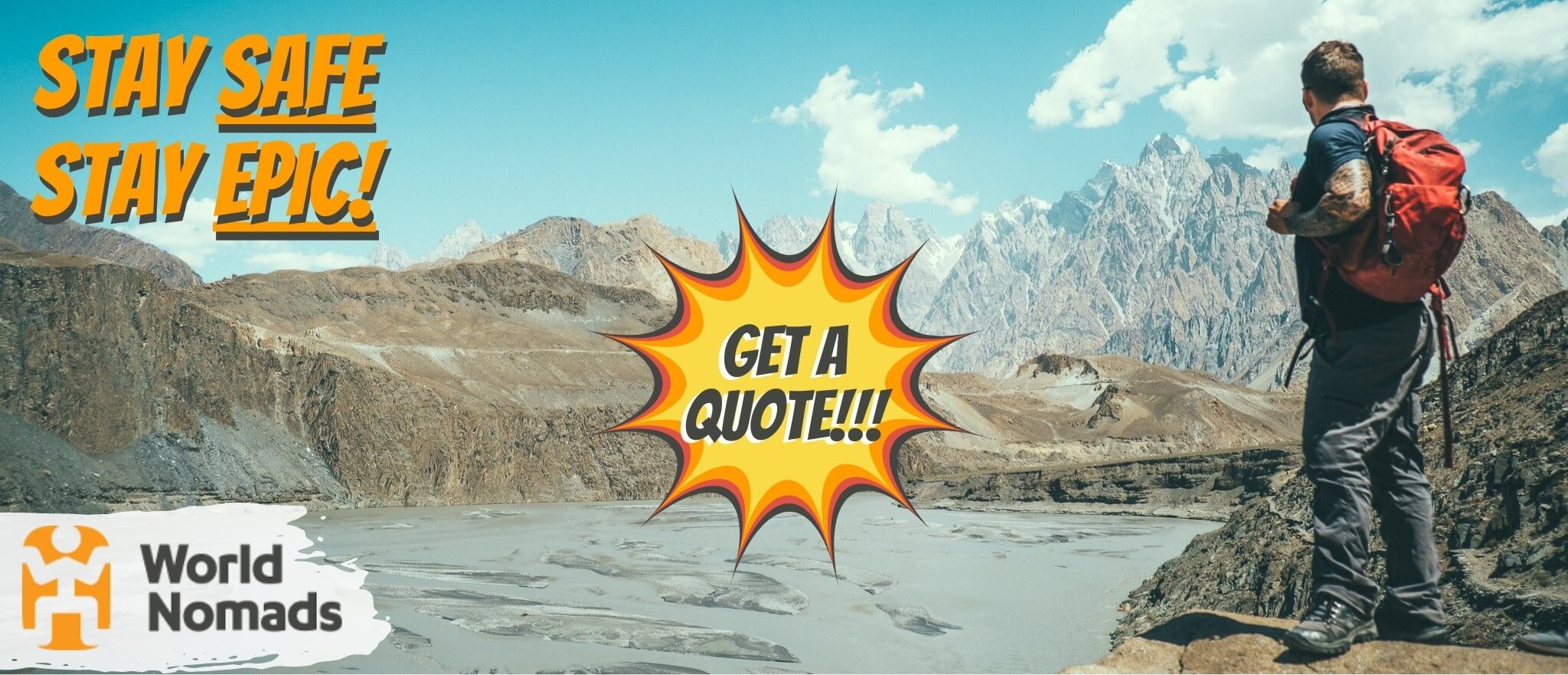 World Nomads' mission is to support and encourage travellers to explore their boundaries. They offer simple & flexible travel insurance, and safety advice to help you travel confidently.
They've been doing it since 2002 – protecting, connecting, and inspiring independent travellers just like you.
Get a quote below or read our in-depth review!
World Nomads provides travel insurance for travelers in over 100 countries. As an affiliate, we receive a fee when you get a quote from World Nomads using this link. We do not represent World Nomads. This is information only and not a recommendation to buy travel insurance.
FAQ on the Best Places to Visit in Jakarta
Find out what people want to know about the best places to visit in Jakarta
Final Thoughts
So, that concludes our list of the best things to do in Jakarta. We hope you've found our list a useful and informative guide to some cool, interesting, and even some unusual activities you can fill up your time within the Indonesian capital. Don't forget to take another look at our list of the best places to stay in Jakarta to get a good idea of what you can get for your budget!
More than all that, our list should help you to see Jakarta through the eyes of a local in some ways. After all, if you don't let the chaos get to you, and have a genuine passion for travelling, you can really get to know this incredible megacity.
All that's left is for us to wish you a fantastic trip to Jakarta, whatever you end up doing!
---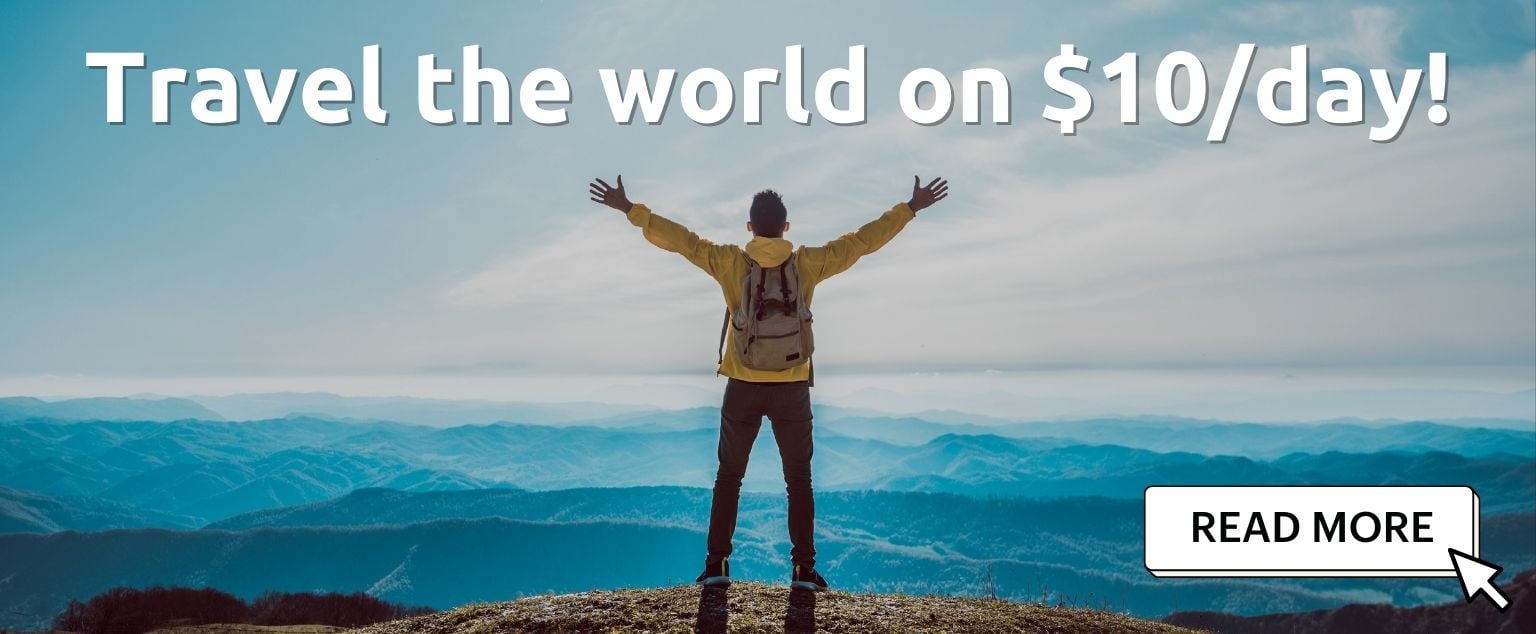 And for transparency's sake, please know that some of the links in our content are affiliate links. That means that if you book your accommodation, buy your gear, or sort your insurance through our link, we earn a small commission (at no extra cost to you). That said, we only link to the gear we trust and never recommend services we don't believe are up to scratch. Again, thank you!