My first trip to Egypt was not planned. In fact, my boyfriend and I didn't even have an Egypt itinerary – let alone a hotel reservation – when we stepped off the plane in Cairo. But tales of the Red Sea's world-class diving and my childhood fascination with Ancient Egypt's tombs and pyramids lured me into the purchase of an impulsive plane ticket.
A couple months prior, we were traveling in rural parts of East Africa with plans to go home at the end of the year. Before we could go home, however, we needed to buy our plane tickets — not an easy feat where strong Wi-fi is rarer than paved roads.
When we finally did find a decent connection, we hastily purchased tickets to get home before Thanksgiving (America's best holiday, thank you very much)… with a 3-week layover in Egypt of course. 🙂
After 36 hours of air travel and layovers + an 8-hour bus to Dahab, we couldn't help but think this better be worth it.
And it was. Dahab and the Red Sea ended up being one of our favorite places to dive. Luxor, Cairo, and the ancient tombs of past Egyptian Pharaohs did not disappoint. In fact, they left me speechless.
Something about Egypt felt untouched, even though millions of tourists have been traveling to Egypt for the past century to gawk at the Pyramids of Giza and what is left of Ancient Egypt.
It felt like we had been let in on a secret. Backpacking in Egypt, especially around the South Sinai region, felt wild and free.
Now, I can drone on about some epic stories from Egypt until I've maxed out this guide, but instead, I have written an in-depth kick-ass travel guide for backpacking Egypt with just about everything you need to know (that I didn't).
This guide includes itinerary advice, information on whether Egypt is safe to travel, firsthand (spoiler alert: it is), quick guides to my favorite places, and tips on Egypt's food, people, and culture!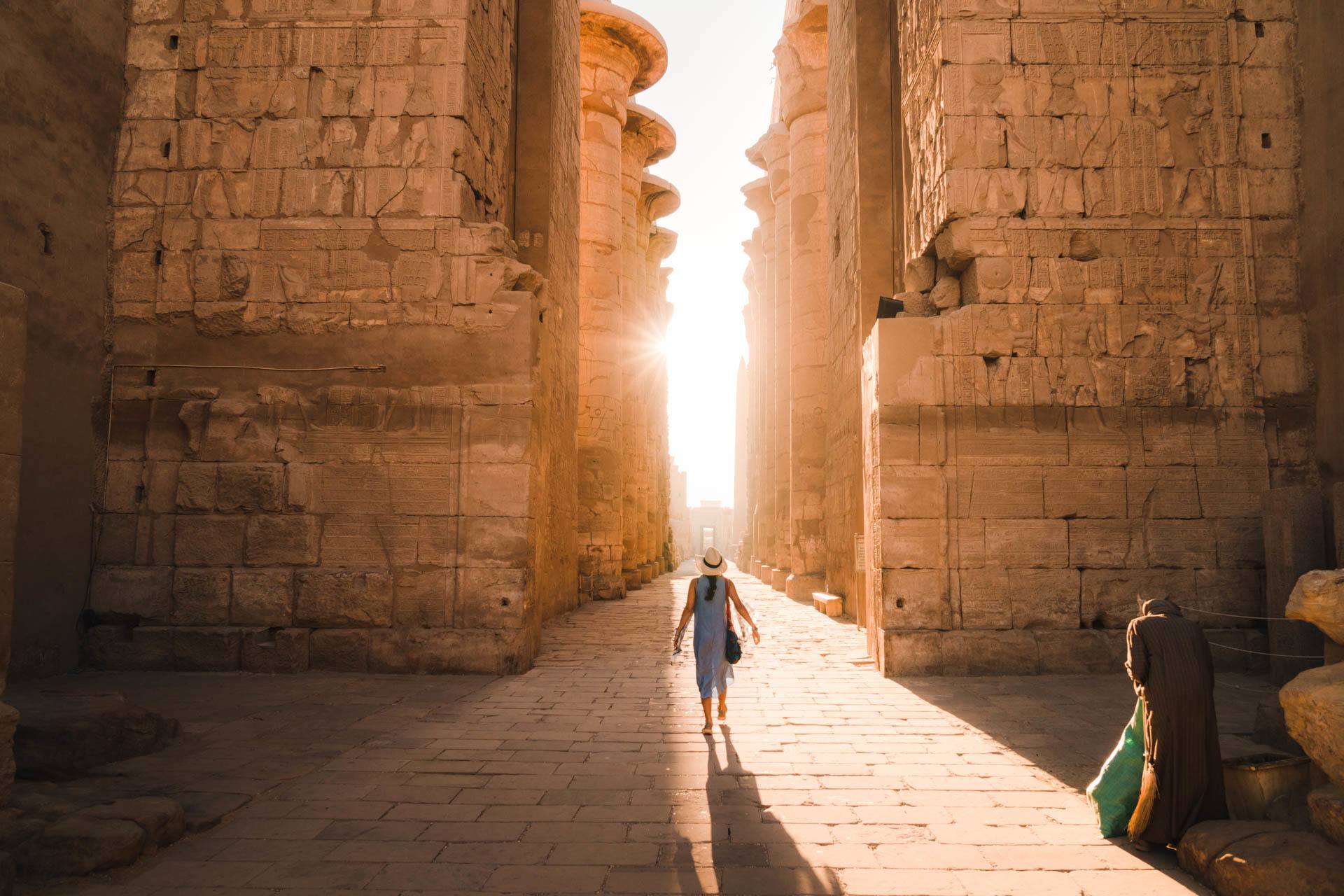 Why Go Backpacking in Egypt?
You will most likely travel through Cairo, as it's the gateway to Giza. The Pyramids of Giza are truly remarkable. You can't miss them when backpacking in Egypt, and I'm guessing you weren't planning on it…!
While the capital is quite polluted and chaotic there are some real gems here, including my favorite museum in the world. I say this with little hesitation.
Luxor is the world's largest open-air museum. I was in constant awe… visiting the Karnak Temple, Valley of the Kings, and Valley of the Workers with virtually no crowds around.
Go further South, and you will find other fascinating towns along the Nile, like Aswan, that are packed with Ancient Egyptian tombs and temples. As you go further south, you can expect fewer crowds.
Divers rejoice. There are few places in the world with such incredible diving at affordable prices. The Red Sea's reef is one of the healthiest in the world. Here's to hoping we keep it that way.
The most popular beach town is Sharm el-Sheikh, which was overrun by British vacationers pre-2014. There are some key dive sites nearby, but, backpackers, I suggest going 2 hours North to Dahab instead for a cooler bohemian vibe. I'll also cover some of Egypt's epic diving down south, where the marine life and pelagic are much larger.
Check out my Egypt itineraries below!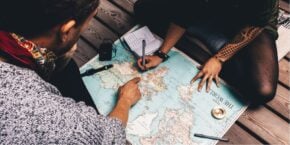 Heading Off-Grid? • Download This Guide as a PDF!
Sign up to The Broke Backpacker's EXCLUSIVE VIP AREA below and download our top backpacking guides as PDFs – go offline with peace of mind!
Below I have supplied a few Egypt itineraries and information on each of the destinations too. I highly suggest you narrow down your interests when backpacking Egypt.
We were there for over 3 weeks and didn't feel like it was enough time, mainly because we really enjoyed our time on the coast. I think you can see most of the sites in Egypt in 2 weeks, easily, but if you want to dive, then you may want a couple weeks just for the Red Sea.
I also suggest you travel beyond immediate highlights like the Pyramids of Giza. There is so much waiting to be explored in Egypt!
Backpacking Egypt 10 Day Itinerary #1: From Cairo to Abu Simbel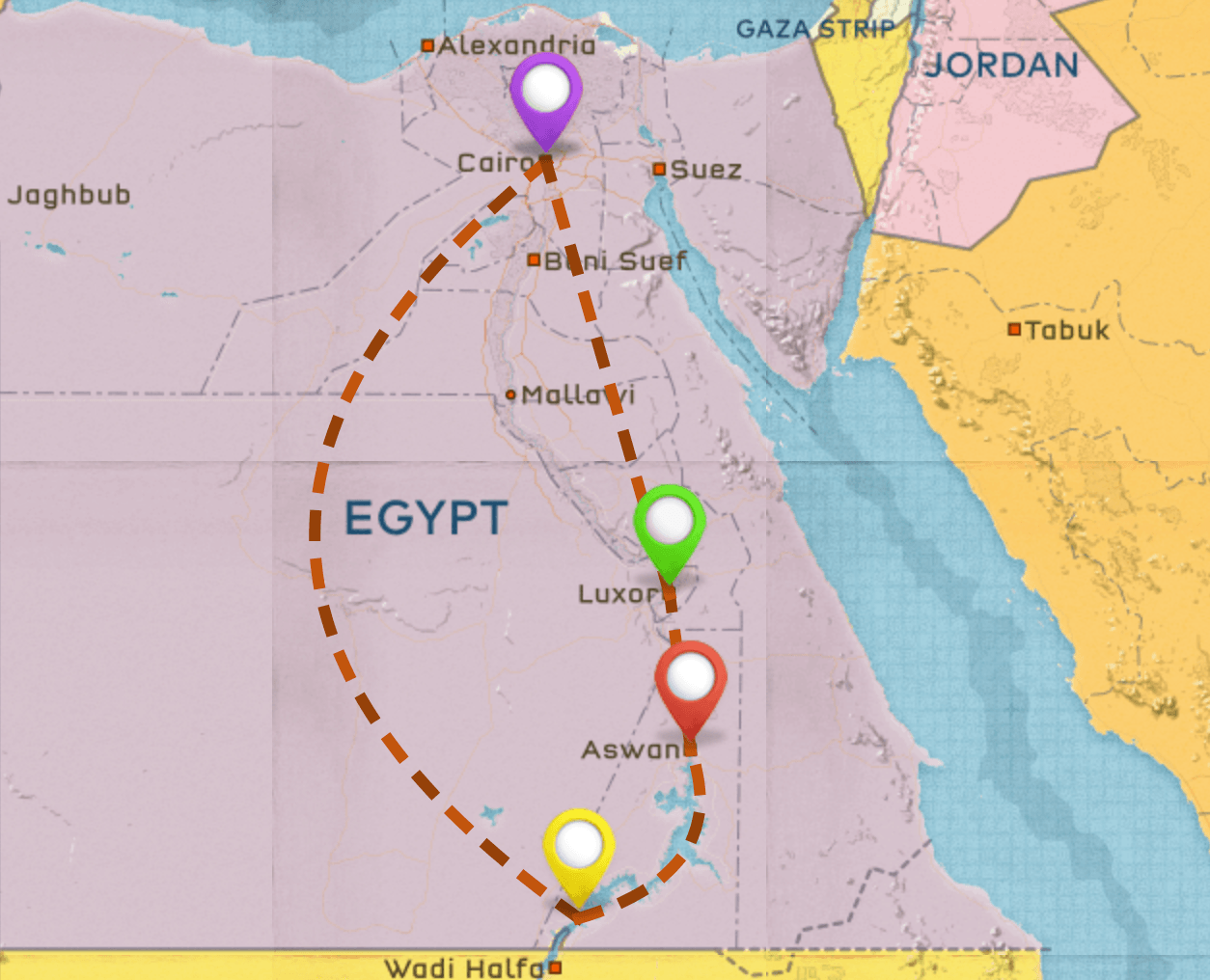 I put together this itinerary for those who are purely interested in visiting the Ancient tombs and temples of Egypt. Starting in Cairo, Egypt's capital, spend a few days getting acquainted with the bustling metropolis. Make sure to visit the Egyptian Museum, and pay extra to see the rooms with the mummies.
Spend a day visiting the Pyramids of Giza, and then catch a flight to Aswan on the Nile. Here, you will have endless temples to visit. You can also visit temples at Abu Simbel farther South. Queen Nefertiti's temple is the most famous.
Many people opt for a budget-friendly felucca (boat) or a luxury cruise down the Nile to Luxor, stopping at temples and tombs on the Nile along the way. Allot at least 3 days for this.
I suggest 2-3 days in Luxor itself. There is so much to do and see here. That said, you can see the highlights in two days by allocating one day to the West Bank and one day to the East Bank.
From Luxor, you can catch a night train or bus (or quicker, yet more expensive flight) back to Cairo for your international flight.
Backpacking Egypt 3 Week Itinerary #2: The Red Sea & Dahab
Realistically, if you are diving a bit, you can't hit every town on this itinerary, but it will give you some inspiration.
Make your way to the hippy town of Dahab. I'm a bit bias here as Dahab is one of my favorite places. At first, it seems a bit rough around the edges, but give it a day or two and you will meet some of the loveliest people – local Bedouins and travelers alike. There is a great, open-minded community here that welcomes everyone, and the diving ain't half bad either. Plus, you have the best access to the Blue Hole from Dahab, and plenty to do in the nearby mountains and desert.
(North of Dahab is the resort town Taba. The diving isn't as good here, from what I've heard, but it's still pleasant. Taba used to be frequented by a lot of vacationers, but a lot of that has died down due to recent events. If you want to explore Taba, go here before continuing south. You can also arrange travels to Israel and Jordan from Taba.)
Then make your way 2 hours South to Ras Mohammad Marine Park just outside of Sharm el-Shiekh. You can do day trips from Dahab, but it can be expensive and tiring. That said, if you're based in Dahab it's easy to get a group together and hire a taxi for the day. Some of the best dive sites are located here, like Thistegorm Ship Wreck.
It may also make more sense to base yourself in Sharm el-Shiekh or join a liveaboard.
From Sharm el-Shiekh you can catch an overnight bus to Hurghada or a catch a ferry, which leaves a couple times a week — Thursday and Sunday at the moment. Keep in mind, the ferry is more expensive than the bus.
I didn't spend any time in Hurghada, but I have heard the reef is sadly destroyed by over-development and poor environmental management. Rather, head further South to Marsa Alam for some epic diving and access to some of the best sites in the world. (Most require an advanced certification and over 20 dives at the minimum…)
You can also stop in the town of Safaga in between Hurghada and Marsa Alam. I haven't been there yet, but I have heard it's a low-key diving resort town.
Even though diving in the South of the Red Sea is more expensive, and the accommodation is much more rustic (think beach camps), the marine life is also generally larger, sharks are more common, and you have opportunities to swim with manta rays and sharks.
Backpacking Egypt 4 Week Itinerary #3: The Red Sea and Tomb Exploring
Ah, so you want to dive and explore the tombs. I did too. This is the best itinerary for first-time Egypt visitors, who also like to dive and go on a few rugged adventures.
As I said in the first itinerary. Start in Cairo, where you can spend a couple of days exploring the top attractions in Cairo. Take an 8-hour bus to Dahab. You can do this Egypt itinerary in 3 weeks, no problem, but I said 4 weeks since I predict you will want to spend more time in Dahab than you think. I know I did.
Not only are there plenty of dive sites to keep you busy, and the legendary Blue Hole – check out the diving section for more information – there are tons of cool overnight trips I will highlight later. You can take trips into the desert, to secret lagoons, hike in snowy mountains, and visit Mt Sinai, where Moses saw the ever-burning bush.
Next, head to Sharm-El Shiekh and Ras Mohammad Marine Park. This is a solid place to join a liveaboard or do some more diving. Grab a bus or ferry to Hurghada, and then make your way to Luxor.
Here, you can spend 3 days exploring some epic tombs and temples, like the Valley of the Kings, and Karnak Temple.
Make your way back to Cairo, where you can catch an international flight.
It is possible to complete this itinerary in reverse and end in the South Sinai region. There are international flights out of Sharm El-Shiekh, though they are mostly in/out of Turkey since the plane crash, which I will discuss later.
Backpacking Cairo
Egypt's capital city is crowded and polluted, but there are plenty of hostels in Cairo and it's a backpacker hub in Egypt. Cars will run you over if you're not careful. The dust will clog your nostrils. Get over all of this, and you can have a great time in this 22 million person city.
Now, I'm not a huge city person. I much preferred exploring other destinations in Egypt, but there are definitely some highlights in Cairo. For one, this is where you will base yourself to visit the Pyramids of Giza, which are every bit as impressive as you've read.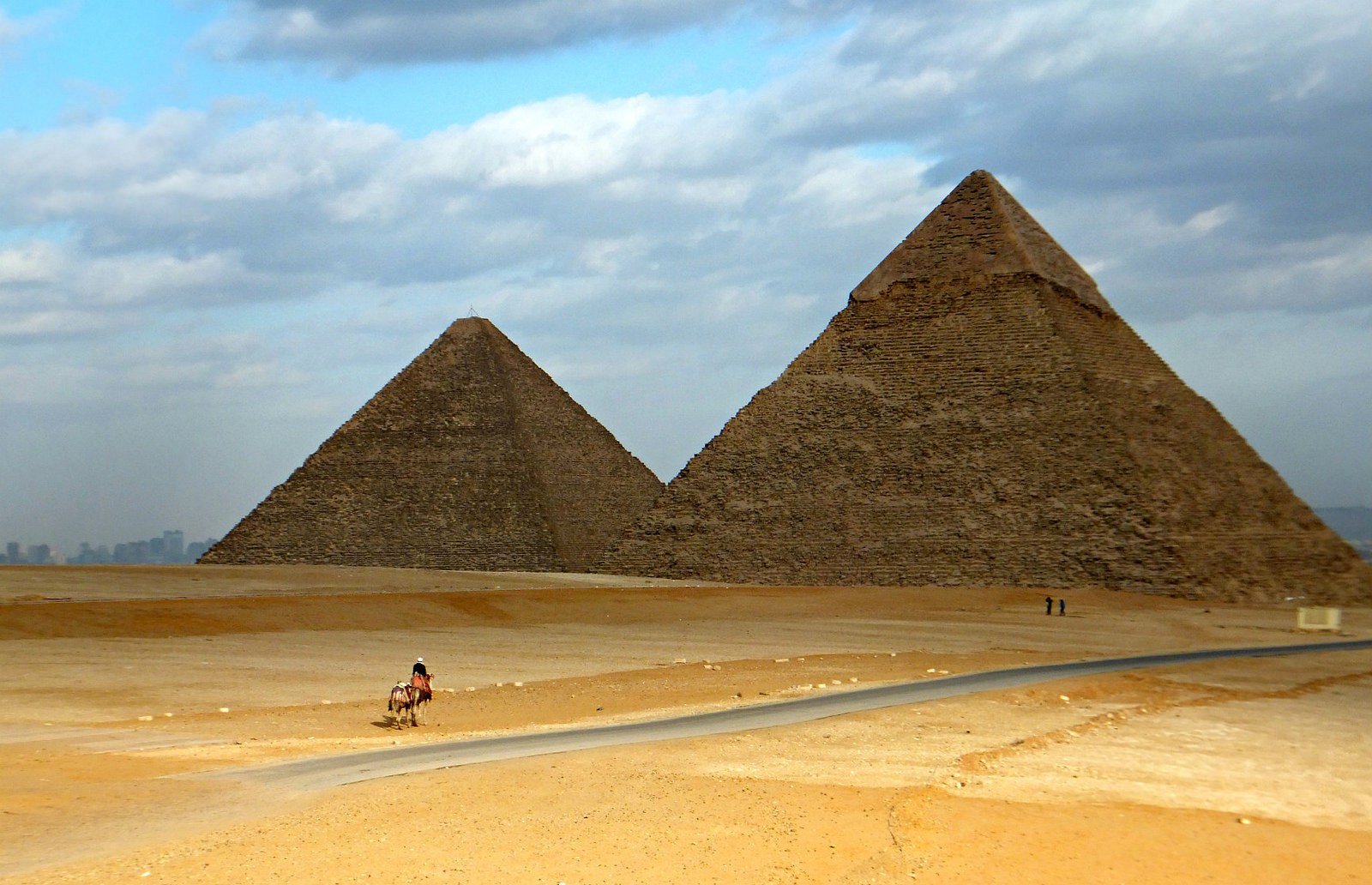 You also have to visit the Egyptian Museum, my favorite museum in the world. There are multiple floors full of Ancient Egypt artifacts, sarcophagus and more. There is a room dedicated to all of the treasures they found in Tutankhamun's tomb. And of course, you must pay extra to visit the mummy rooms… absolutely worth it.
Get your shopping done at Darb al-Ahmar for the winding souks and Souq al-Fustat for some hip Egyptian boutiques.
Additional reading – Check out Cairo's 5 best neighborhoods to stay in!
Day Trip to the Pyramids of Giza
The Pyramids of Giza are located in the city limits of Giza near Cairo. While some people like to stay close to the action, I don't think it matters per say since the entrance doesn't open until 8. I don't think it's possible to watch the sunrise at the Pyramids (we tried), but sunset is doable.
The Pyramids and Sphinx can be seen as a day trip, or even as half day flight layover in Cairo. If you only have a limited amount of time, I highly suggest booking a private tour. They aren't expensive – especially if you split the costs – and they can pick you up/drop you off at the airport.
A guide is worth booking if you want to learn more about the Pyramids. Talking to an Egyptologist about theories, the Pyramids' construction, and the Pharaohs and workforce who made them make the Pyramids even more interesting. For example, they are just now learning that it wasn't slaves who built the Pyramids, but an organized workforce, often farmers, who were out of work during the flood season.
All of the official guides have an Egyptology degree from a university too.
It's also a good idea to hire a guide if you do not want to be constantly bothered by other guides and salesmen at the Pyramids. Do your research and ask the right questions. A good guide can make your experience unforgettable.
Backpacking Luxor
Luxor is Egypt's open-air museum, the largest in the world in fact. This city on the Nile is oozing with history and archeological sites to visit. The city is split into two areas by the Nile River.
The East Bank is the more "modern" part of Luxor, and where the train and bus stations are. Most shopping is here as well. There are two unmissable sites on the East Bank: the Luxor Temple and the Karnak Temple. The later made famous as a James Bond location on the film "The Spy Who Loved Me".
The West Bank is much more spread out, and where you will find farmland and most of Luxor's sites. If you are an Egyptian fanatic, you can spend a few days just exploring this bank. Most people will be satisfied with 1-2 days, however. Make sure to visit the Valley of the Kings, Dier el-Bahari, and Medinet Habu.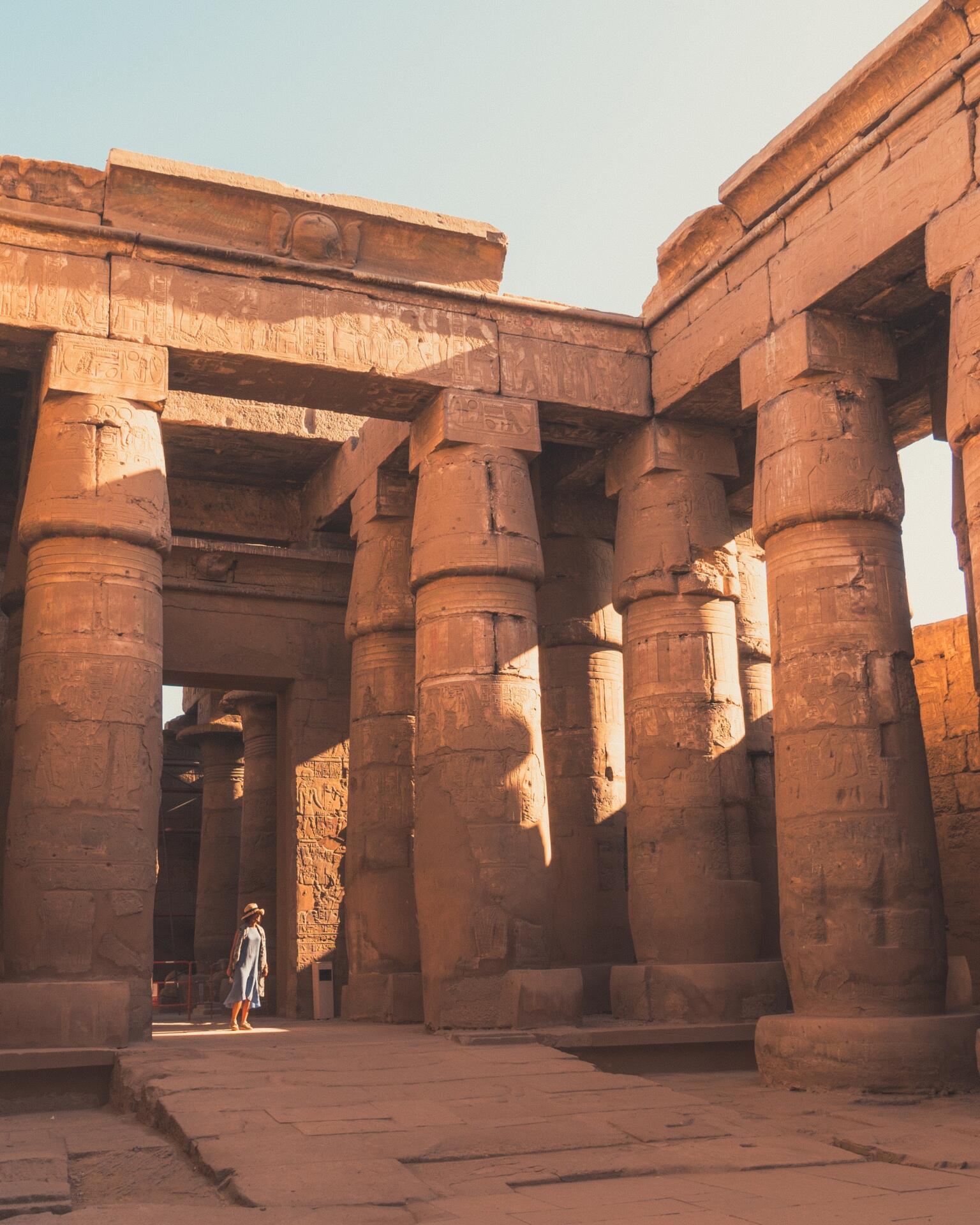 I wrote an in-depth Luxor Travel Guide here with more information.
If you want to visit multiple sites on the West Bank you will have to hire a taxi. Some people hire bikes, which can work if you are going to 1 site, or 2 near each other. I don't recommend biking in the summer though!
Backpacking Aswan, Abu Simbel, and the Nile River
If you plan to visit Aswan, Abu Simbel, and multiple cities along the Nile River, the most exciting way to do this is by boat on the Nile River! You can hire a cheap felucca boat, though make sure to shop around and get the best boat and price possible. You can also board a cruise, and other luxury boats.
By taking a boat you can stop at cities along the way.
Edfu is about 60km south of Luxor, and home to some lovely temples. Further south you can visit the quarries of Gebel Silsila, where they mined stone to build much of ancient Thebes (Luxor).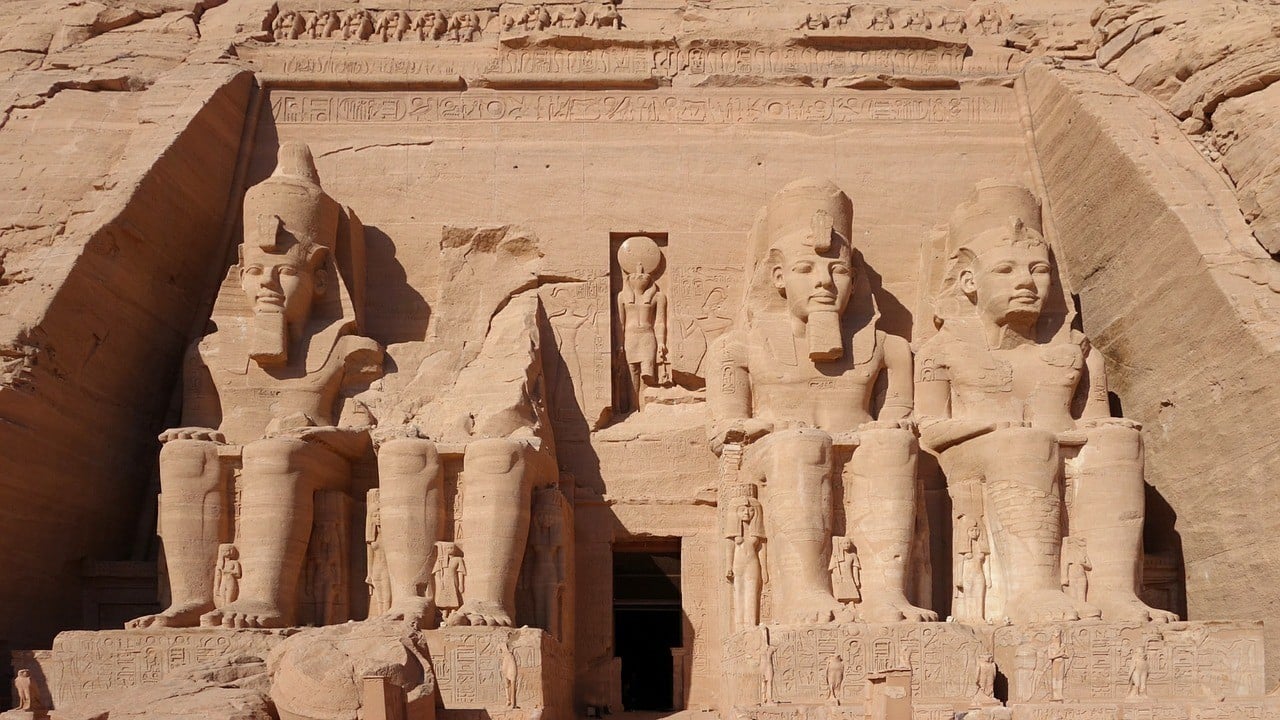 Afterward, you will reach Aswan, which has plenty of sites to visit. Abu Simbel is the farthest south, not far from Sudan's border. Here, you can visit the famous Great Temple of Ramses II.
You can easily get a bus or ride to Aswan and/or Abu Simbel from Luxor here if you forego traveling on the Nile River.
Travel CHEAP and Make a Difference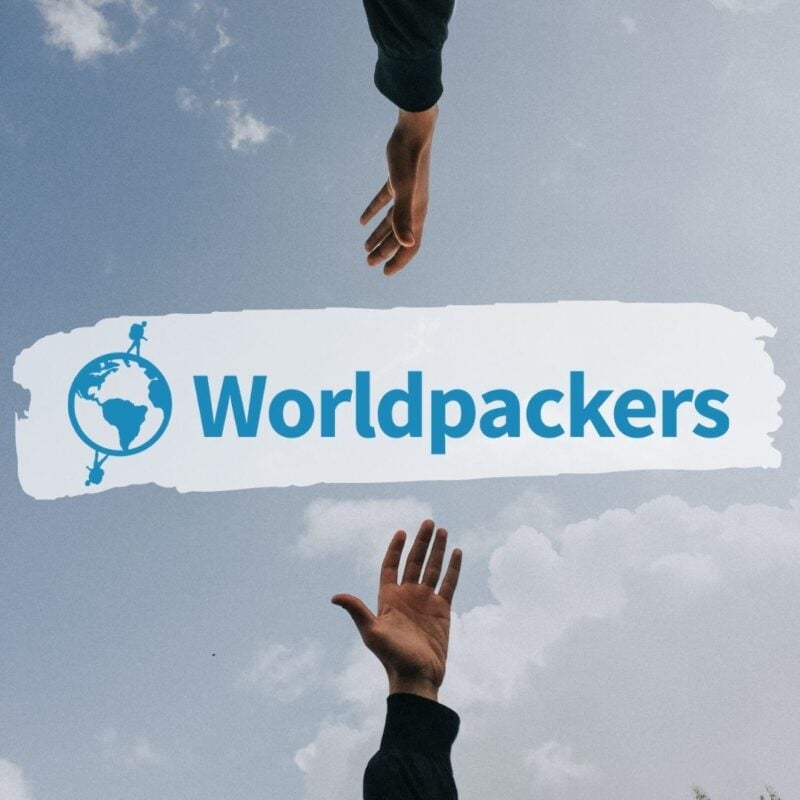 Worldpackers connects travellers with hostels, schools, NGO's and many more. Get free accommodation in exchange for volunteering a few hours a day. You won't just save serious $$$, you'll experience a different culture, cool projects, meet new people and integrate into the community in a different way.
Broke Backpacker readers get a $10 discount when you sign up. Use the discount code BROKEBACKPACKER. Plus, get 3 free months on your membership during their summer promo!
Travel well with Worldpackers
Backpacking Dahab
A bohemian, backpacker town on the Red Sea, Dahab is a great place to chill for a couple weeks. You'll meet plenty of travelers here, most of them diving – scuba diving and free diving. While the best diving is further south, Dahab is still home to some incredible dive sites and accessible reef.
I spent my days snorkeling just 10 meters off the shore spotting octopus, turtles, clown fish, and eels, etc. Dahab is specifically famous for its soft coral.
The most famous dive site in this area is the Blue Hole, one of four in the world. Just off of the shore this sinkhole suddenly falls 100 meters deep! Like the one in Belize, it's a sinkhole divers flock to. Unlike Belize, you don't have to boat to it, so you can swim in the Blue Hole for free…! Diving is around 35 euros with equipment.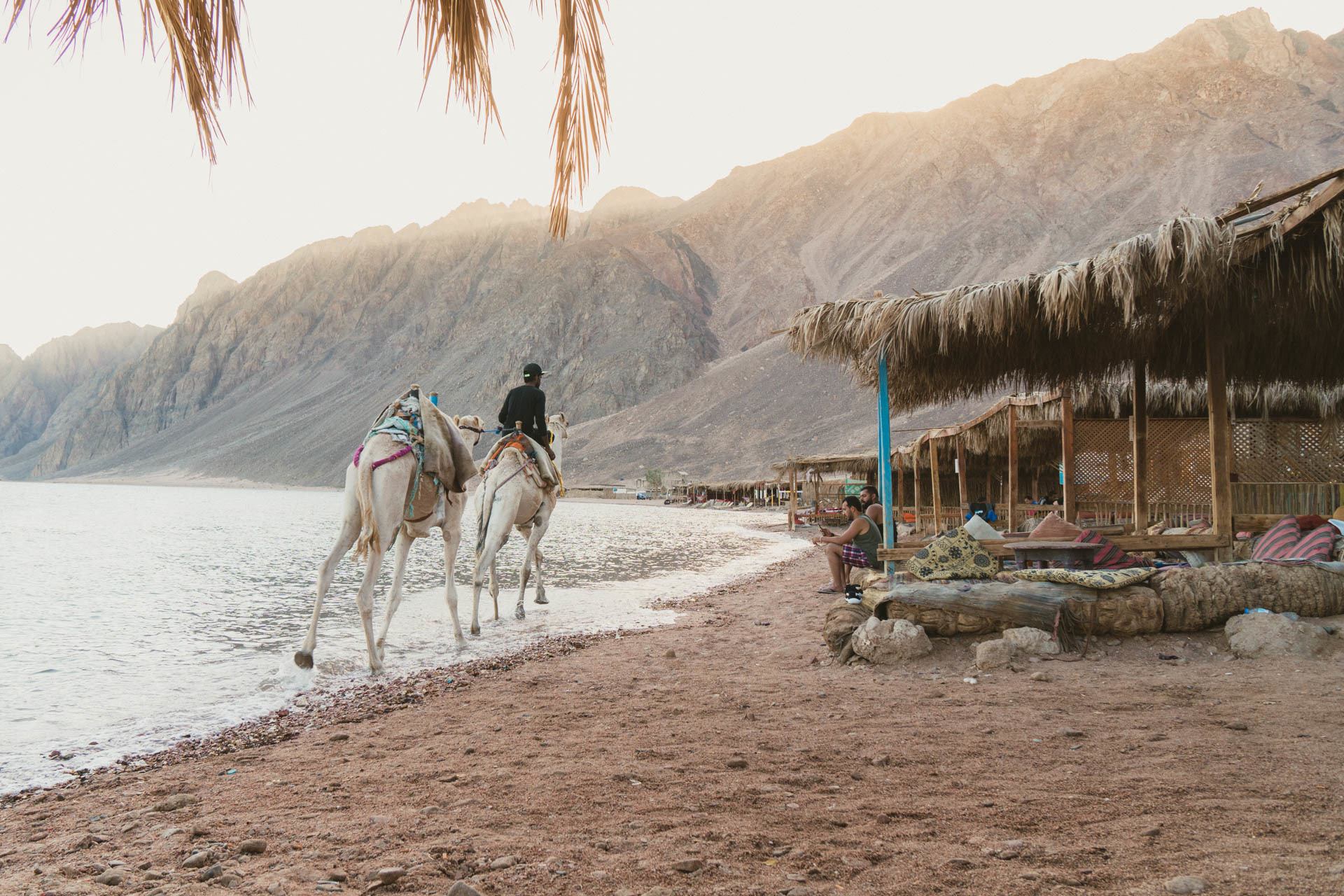 There is so much to do in Dahab. You can rent ATVs, go on a desert safari, summit Mount Sinai (where Moses received the 10 Commandments) and more. I wrote about all of it in my in-depth Dahab Travel Guide.
I will discuss safety around Dahab in the safety section, but I would like to say that I felt extremely safe in Dahab, despite all of the warnings. Most of the security issues are in the North Sinai region, not in the south.
Backpacking Sharm el-Sheikh
Near the southern tip of Sinai and bordering the famous Ras Mohammed National Park is this resort town. Sharm generally caters to European package vacationers, unlike Dahab.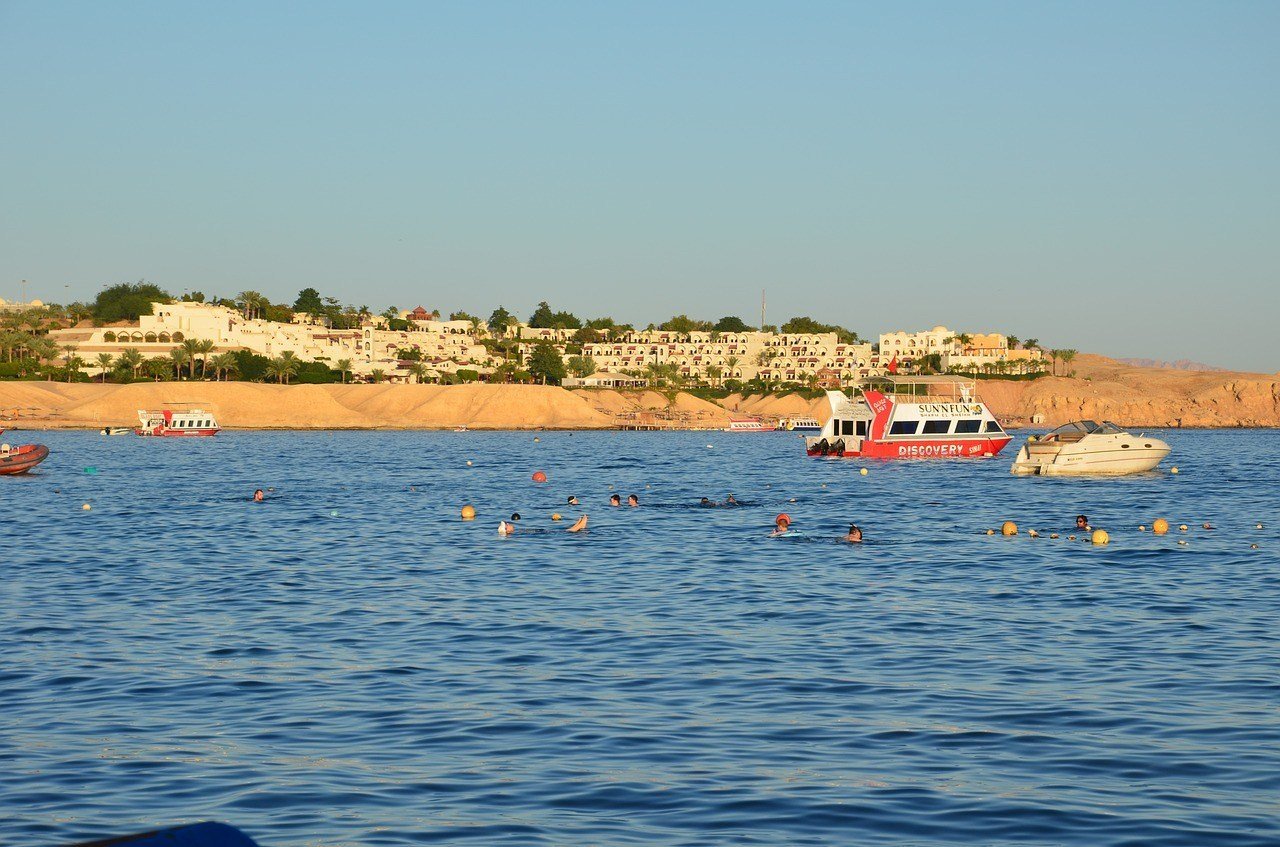 This kind of vibe may not be my cup of tea, but there is no denying how incredible the diving is near Sharm. Moreover, if you are looking for a resort that can set up your food, diving, and activities, this is the place for you.
Thistlegorm is the Red Sea's best wreck dive, and one of the best in the world! There are world renowned dive sites in Ras Mohammed National Park too.
Backpacking Marsa Alam
This is the closest base to the south-coast dive sites. If you're backpacking Egypt on a budget, you'll find Marsa Alam to be a wild, rustic, no-frills kind of town. You come here to experience some of Egypt's best dives without having to join a liveaboard.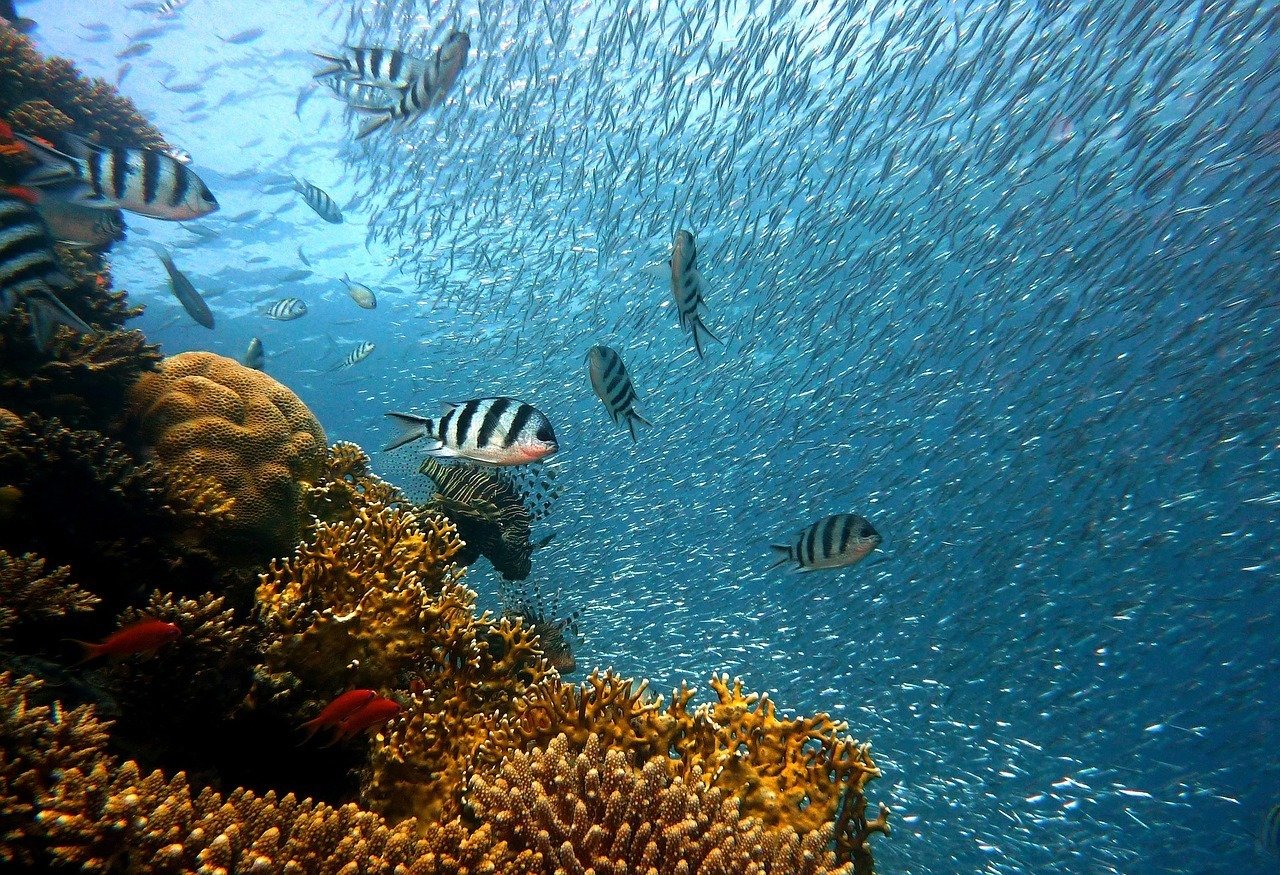 The reefs here have not been damaged like up north. That said, the winds and currents are much stronger here, so many sites are only available for experienced divers. Here, you will be able to see Manta rays, sharks, and turtles! You can also swim with Dugongs here!
Tip: There aren't many hostels here. Instead, find a beach camp for the cheapest stays in Marsa Alam.
Getting Off the Beaten Path in Egypt
Egypt is a big country and it's wonders are many. Getting off the beaten track is therfore, not as hard as it may at first seem.
Is This the Best Backpack EVER???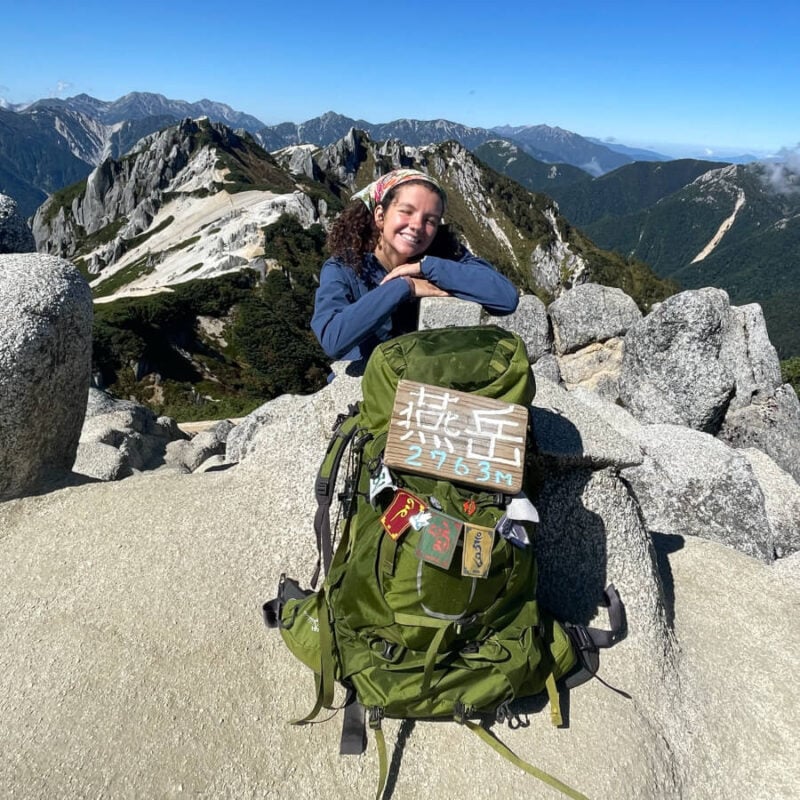 Top Things to Do in Egypt
1. Visit the Pyramids of Giza
Towering over the Cairo metropolis and deserts beyond, you will find the Pyramids of Giza and the Sphinx. No trip to Egypt is complete without visiting these pyramids.
2. Dive in the Red Sea
This is one of the most beautiful reefs in the world. it's so colorful and brimming with life. There were some dives where I think I could have cried, no joke! It's so much fun.
If you're on a real backpacker budget, you can snorkel at many of these places for free. I often did this in lieu of scuba equipment and had a blast.
Moreover, there is a huge free diving community in Dahab. I'll cover this in the Diving Section.
3. Tour around Luxor
Luxor is often called the biggest open-air museum in the world. This is because so many tombs and temples can be found here. Don't miss the Karnak temple, located in the middle of the city. It's unreal.
The Valley of the Kings is famous because of King Tutankhamun's tomb, but in reality, there are much more impressive tombs and kings that were buried there too.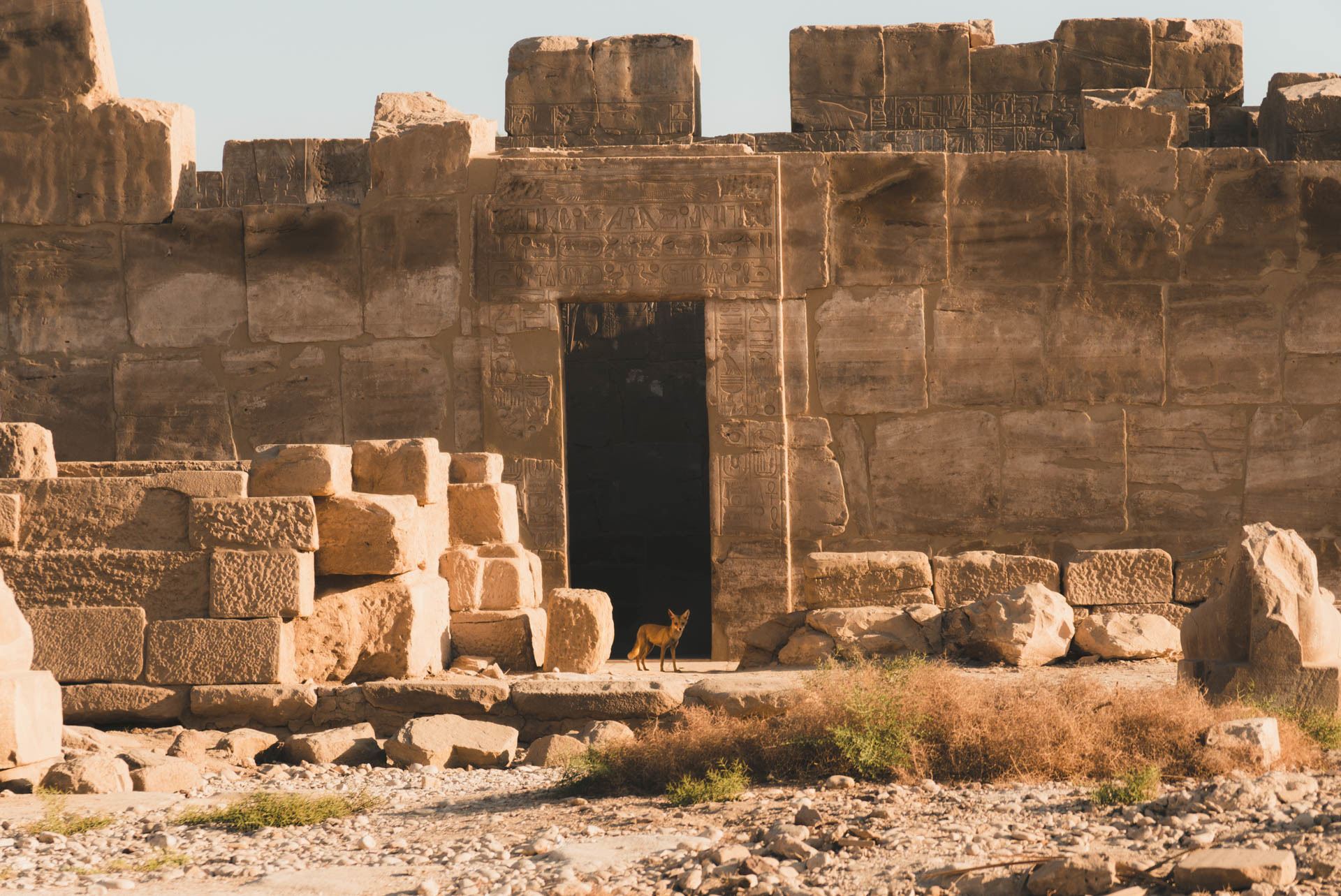 4. Cruise on the Nile River
I don't know about you, but Egypt's lifeline, the Nile River, has always fascinated me. I grew up learning it was the longest river in the world (a record that has been handed over to the Amazon River since).
Cruise on the Nile River past archeological sites, palmeries, and children playing on the banks. You won't regret it. You can simply board a Felucca for an hour sunset cruise, or spend multiple days drifting down the river. The choice is yours!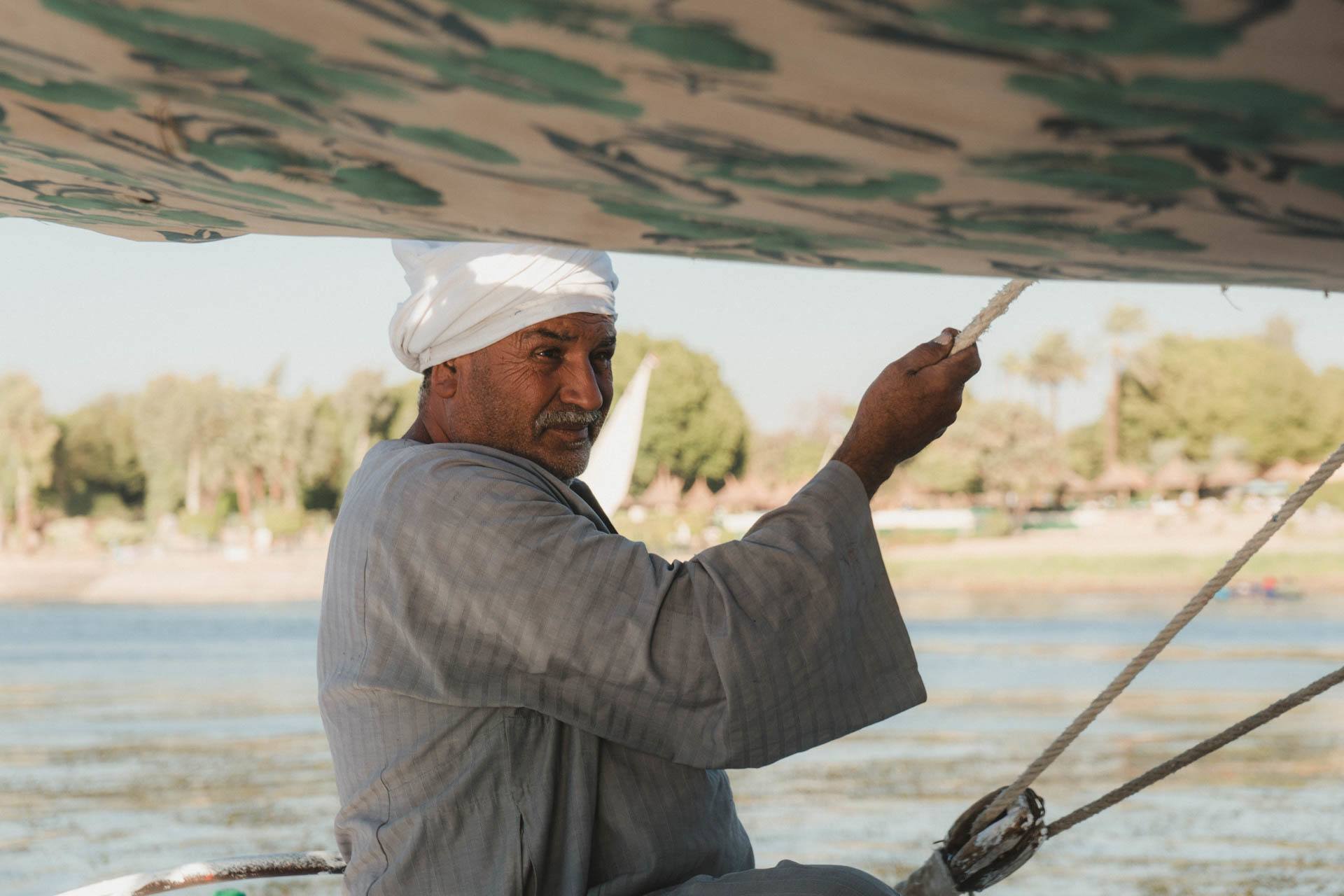 5. Explore the Desert
You have plenty of options to explore Egypt's deserts: the Western Desert, etc., and even the desert and mountains outside of Dahab are a treat. Always check safety concerns though. For instance, tourists are not allowed to visit the White Desert right now due to terrorist activity.
6. Shop til you drop
The Souqs in Egypt can be a bit hectic, like anywhere really, though I found them to be easier going than Morocco (not that that says much). That said, you will find some awesome deals if you haggle! Just be careful of fake papyrus and Egyptian cotton.
7. Visit the Egyptian Museum
Here, you can see all of the treasures found in King Tutankhamun's discovered tomb. You can also see dozens of real mummies, which was easily my favorite part. This museum is amazing!
8. Chill in Dahab
I could spend months chilling here. The people are incredibly friendly and laidback, and there are awesome snorkeling and diving just off the shore. You don't have to "chill out" though. There are plenty of awesome activities to do nearby, like visit the lagoons, ATV, dive, kitesurf, windsurf, and summit Mt Sinai.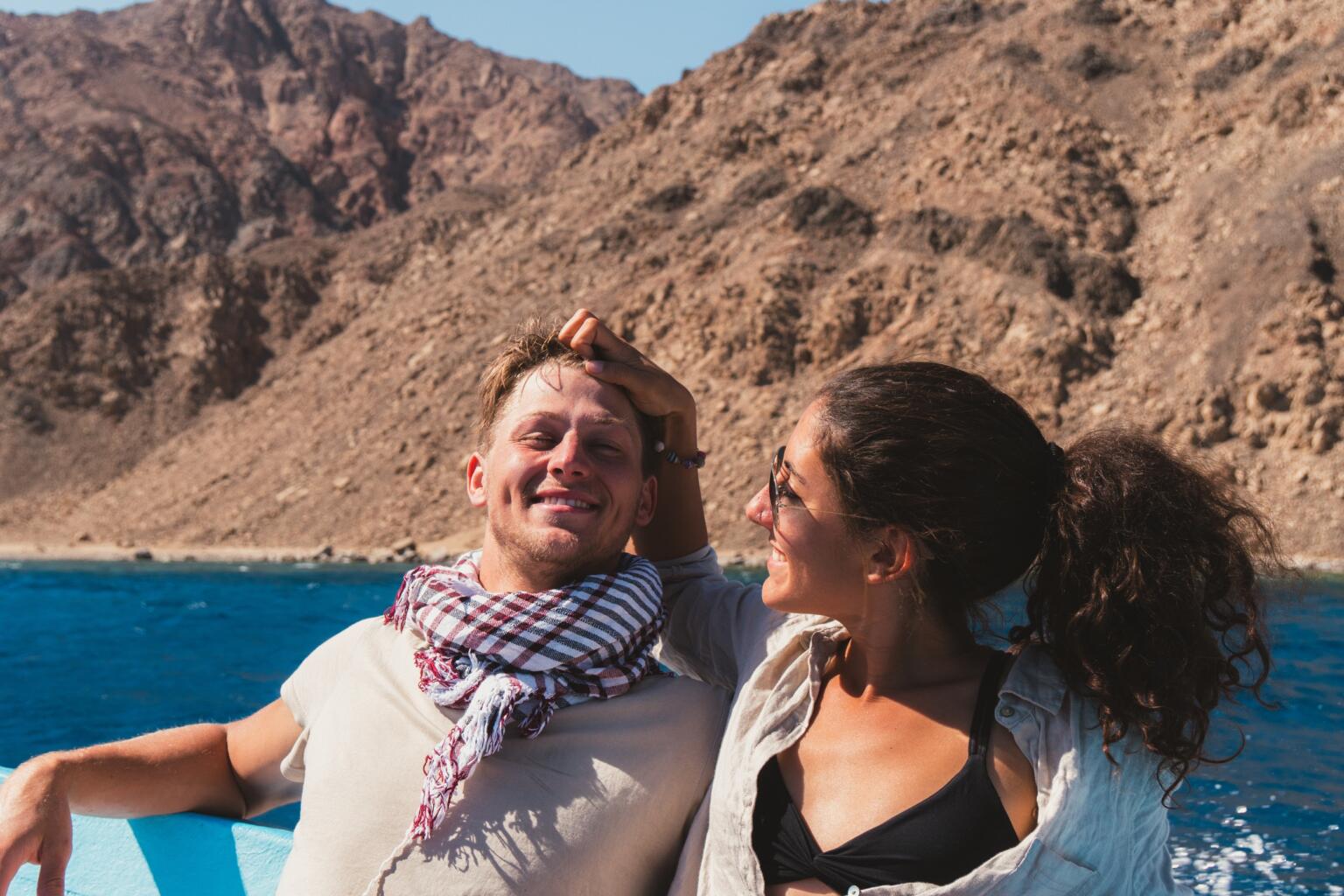 9. Go to Ras Mohammad Marine Park
Near Sharm el-Sheikh you'll find this incredible National Park. It is totally possible to hire a taxi, and head out with some friends and just snorkel, but many people come here on liveaboards or boat trips from Sharm el-Sheikh.
If you're scuba diving you cannot miss Thistlegorm, a sunken World War II carrier. It's one of the best wreck dives in the world!
10. Check out the Tombs down South at Abu Simbel
Not that Luxor is crowded at the moment, but Abu Simbel is even less crowded, and home to the impressive Ramses III Temple.
Small Pack Problems? 😉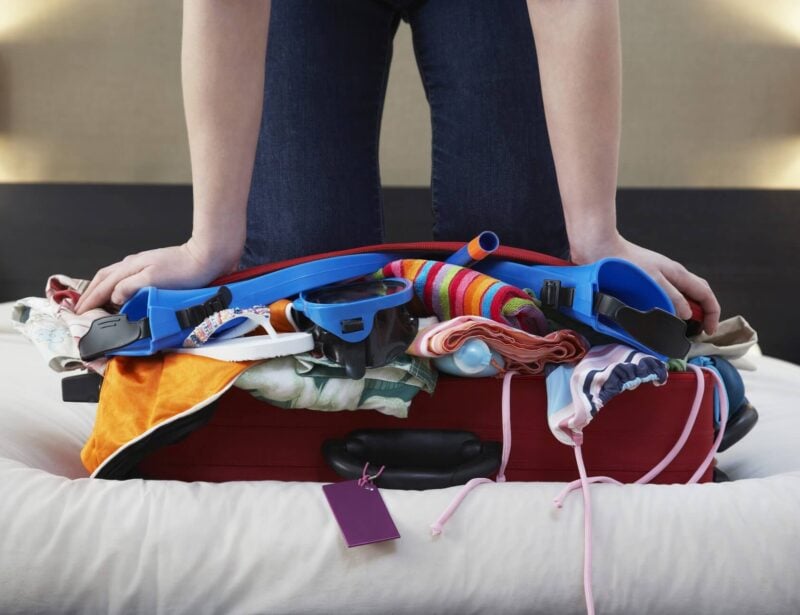 Wanna know how to pack like a pro? Well for a start you need the right gear….
These are packing cubes for the globetrotters and compression sacks for the real adventurers – these babies are a traveller's best kept secret. They organise yo' packing and minimise volume too so you can pack MORE.
Or, y'know… you can stick to just chucking it all in your backpack…
Get Yours Here
Read Our Review
Backpacker Accommodation in Egypt
You shouldn't have a problem finding budget-friendly accommodation in Egypt. That said, many hostels and beach camps – while backpacker cheap – are also extremely basic. Uncomfortable beds, rusty bathrooms, and occasional cockroaches are common. That's the price for $6 a night!
On the coast, I stayed at beach camp (in a room). The people were fantastic, and the food was cheap. In Cairo, we stayed at a hostel. It was clean, comfortable, and the staff was great.
There are hostels in the cities, though make sure to check out Airbnb too. I was traveling in Egypt with two other people, and getting our own apartment in Luxor was the best deal. After full days of sightseeing, it was nice to come home to our own rooms.
The Best Places To Stay in Egypt
Egypt Daily Budget

| Expense | Broke Backpacker | Frugal Traveler | Creature of Comfort |
| --- | --- | --- | --- |
| Accommodation | $5 – $10 | $15- $20 | $30 – $40 |
| Food | $3-$5 lunch | $5-$10 lunch | $10+ |
| Transport | $1.50 | $5 | $15 |
| Nightlife | $5 | $10 | $15 |
| Activities | $15-$20 | $25-$35 | $40-$100+ (more for scuba) |
Egypt Backpacking Costs
Egypt is one of the cheapest countries I have ever visited! You can backpack Egypt on a $10/day, but I suggest allotting $20 for the extra activities that make you want to travel to Egypt in the first place — visiting sites, museums, diving, etc.
A Daily Budget in Egypt
If you are visiting the Red Sea, you will want at least $50 a day when you are scuba diving regularly. A typical scuba dive starts at $35. If you are traveling farther by boat, dives can cost much more, but most places have package deals.
Money in Egypt
ATMs are widely available in the cities and tourist areas; however, bring extra cash when you are out traveling around. Cash is the best way to pay at outdoor markets, food stalls and many local eateries, bakeries, and public buses.
I rarely used my credit card in Egypt, but many stores and restaurants will accept them.
Travel Tips – Egypt on a Budget
Camp: Egypt can be a great place to camp near the beach or in the desert. Just watch out for the heat! Check out this post for a breakdown of the best tents to take backpacking. Or, if you're feeling really adventurous and want to save some cash, consider picking up a backpacking hammock.
Cook your own food: If you are on a tight budget, you can save money by cooking your own food – I recommend bringing a portable backpacking stove.
Eat Local Food: It's hard to beat falafels! Three-course meals at local restaurants were around $4.
Stay at Beach Camps: Beach camps are the cheapest places to stay on the coast. They are usually pretty basic, but what else do you need when you're diving and swimming all day!
Pack a travel water bottle and save money every day!
Why You Should Travel to Egypt with a Water Bottle
Plastic washes up on even the most pristine beaches… so do your part and keep the Big Blue beautiful
You aren't going to save the world overnight, but you might as well be part of the solution and not the problem. When you travel to some of the world's most remote places, you come to realise the full extent of the plastic problem. And I hope you become more inspired to continue being a responsible traveller.
Plus, now you won't be buying overpriced bottles of water from the supermarkets either! Travel with a filtered water bottle instead and never waste a cent nor a turtle's life again.
Save $$$ • Save the Planet • Save Your Stomach!
Drink water from ANYWHERE. The Grayl Geopress is the worlds leading filtered water bottle protecting you from all manner of waterborne nasties.
Single-use plastic bottles are a MASSIVE threat to marine life. Be a part of the solution and travel with a filter water bottle. Save money and the environment!
We've tested the Geopress rigorously from the icy heights of Pakistan to the tropical jungles of Bali, and can confirm: it's the best water bottle you'll ever buy!
View on REI
Read the Review
Staying Safe in Egypt
Let me preface this section by writing, yes, Egypt is safe to travel to. I had absolutely no safety concerns while backpacking Egypt.
Safety in Egypt varies region by region. There are definitely areas you do not want to travel to/places the Egyptian Government does not allow tourists to visit, i.e. North Sinai, the White Desert, etc.. It is always best to check recent advisories from your government embassy.
Egypt doesn't have the best reputation. There has been terrorist attacks and plane crashes in the recent decades. ISIS' Egyptian headquarters in North Sinai has wrecked havoc near the border, and recent revolutions scare tourists from visiting Egypt.
All concerns around these events are valid; however, I strongly believe that these events shouldn't deter you from traveling to Egypt.
The tourist areas in Egypt: Luxor, Aswan, Cairo, Dahab, etc. are totally safe, and heavily guarded by the armed police force.
As for the Sinai peninsula, every vehicle going in and out of this region is routinely checked by police. Our bus from Cairo to Dahab was stopped 4 times. Our baggage was checked twice.
Do not under any circumstance go to North Sinai, not that you could get there easily since this is a government no-go zone. 500km south, however, are a couple laidback beach towns/cities, like Dahab and Sharm el-Shiekh. Your government embassy probably warns you not to go here, but frankly I digress. I felt completely safe around here, far more secure than many Western parts of the world.
Keep in mind, there was a terrorist attack in Dahab in 2006, and one in Sharm el-Sheikh in 2005, but we live in a time where sadly acts of terror and violence happen in Western cities like London, or small town communities in Southern Texas, and people still travel to those places. Ultimately, you are the judge here.
Me? I felt completely safe as a woman in Egypt. In fact, I felt comfortable wearing my bikini to/from the dive sites in Dahab — though I wouldn't show skin like this in other areas of Egypt! Generally, the locals and travelers on the coast are quite relaxed and open minded compared to mainland Egypt. It's the radical groups in North Sinai that are causing trouble.
Remember to pay attention to the most recent news. By the time you read this, things may have changed! But when I visited Egypt just a few months ago, I felt safer than many other countries I've visited in the past.
For some more information, check out our dedicated guide to staying safe in Egypt; it's full of useful tips and up-to-date situations. While you're at it, pick yourself up a backpacker security belt to keep your cash safe on the road.
Sex, Drugs, and Rock 'N' Roll in Egypt
As a predominantly Muslim country, Egypt isn't the best place to party. There are a few bars here and there in the bigger towns and cities, but nothing to write home about. Bars do exist, and some cater exclusively to tourists. Outside the tourist areas, you'll find it pretty dry, and I'm not just talking about the weather.
Cairo does have a nightlife though. You will be able to find bars and clubs, but I personally didn't go out in Cairo.
Be sure to check out some of Egypt's festivals!
The towns along the coastlines have a more laid-back attitude towards drinking and drugs. Having a couple of beers after diving is normal. There are bars and places to dance on some nights.
Marijuana is grown in the mountains of Sinai, so you'll find Mary J and hash all over. While many people smoke, be careful carrying it on you. There are police check-stops everywhere, and you do not want to have to deal with bribing your way out of a prison sentence.
I also noticed harder drugs like Opium were pretty common in the Sinai region.
Travel Insurance for Egypt
ALWAYS sort out your backpacker insurance before your trip. There's plenty to choose from in that department, but a good place to start is Safety Wing.
They offer month-to-month payments, no lock-in contracts, and require absolutely no itineraries: that's the exact kind of insurance long-term travellers and digital nomads need.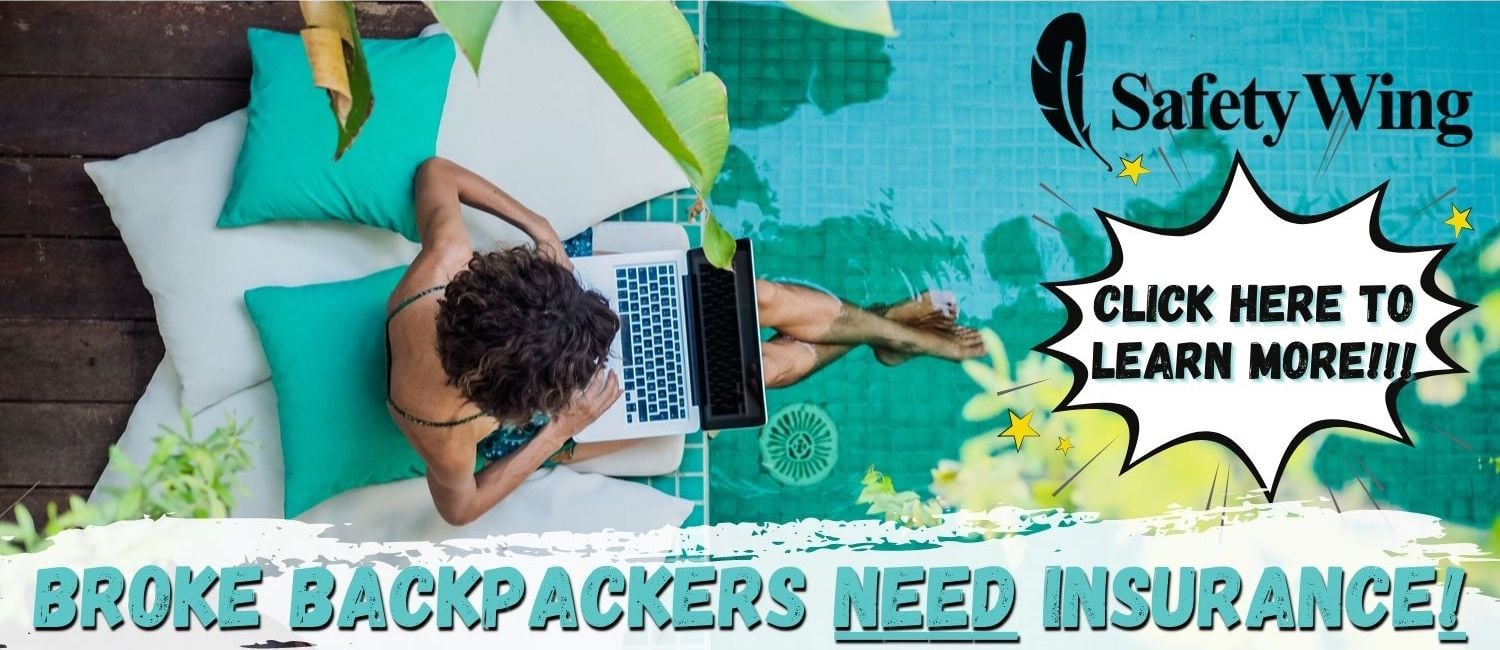 SafetyWing is cheap, easy, and admin-free: just sign up lickety-split so you can get back to it!
Click the button below to learn more about SafetyWing's setup or read our insider review for the full tasty scoop.
How To Get into Egypt
Most people will arrive in Egypt via Cairo's international airport. Make sure to bring USD to pay for your on-arrival visa! You can also fly into Sharm el-Shiekh from some European cities and Turkey, though many airlines have canceled routes into Sharm due to the terrorist bombing on the flight to Russia that flew over North Sinai.
There are a couple ways to travel overland or sea to Egypt. You can take a ferry from Jordan to Nuweiba in Egypt. It's also possible to cross from Israel and the Palestine Territories, and cross via Taba, but the rules here are constantly changing, so make sure this border is open before your trip.
Entry Requirements for Egypt
Most countries can get a 30-day visa on arrival. Customs only accept USD in payment! We were traveling before and didn't have USD, and it took hours to get an exchange before customs, so make sure to have USD!
If for some reason you need to organize a visa prior to arriving in Egypt – e.g. dipolamtic reasons, odd ports of entry, etc – then you can apply online using one of two options:
The official government web portal.
A third party visa service like iVisa.
Visiting Egypt soon? Don't risk having to sit on the floor or change your itinerary because you missed the last ticket at the station! Find the best transport, best time and the best fare with 12Go. And why not use what you've saved to treat yourself to a cerveza helada on arrival?
It only takes 2 minutes! Book your transport on 12Go now and guarantee your seat easily.
How to Get Around Egypt
Buses are the cheapest way to get around Egypt. Companies include Super Jet, East Delta, Upper Egypt bus, and GoBus in the North.
The train is also a great way to get around the major cities and towns outside of Sinai. The cars aren't all that modern, but it's comfortable enough. The deluxe buses, however, will be more comfortable. I recommend taking the train in/out of Cairo just to avoid the traffic.
There are plenty of domestic airports if you prefer to fly, but this isn't the best mode of transportation for the broke backpacker. EgyptAir is the only domestic carrier, so fares can be expensive. It's always good to check though!
I mentioned earlier that there is a ferry to cross the Red Sea from the Sinai region. The ports are in Sharm el-Sheikh and Hurghada, and ferries leave Thursdays and Sundays. Check times with a local tourism office!
Cairo has a metro system, which will be faster than buses. Traffic is awful in Cairo! A taxi to the Cairo airport is around $5 though, so if you give yourself enough time this is the most convenient way to get to the airport.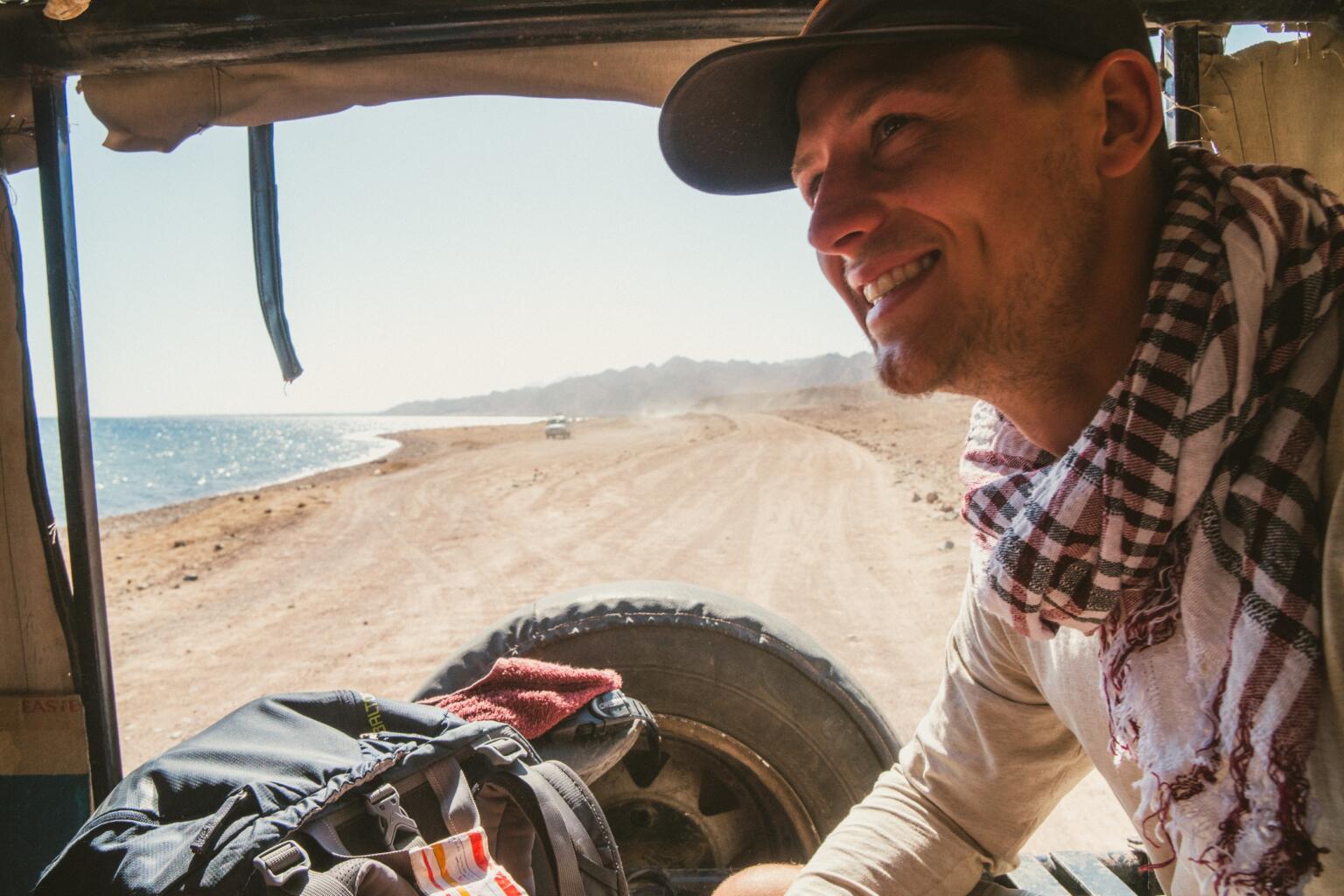 Hitchhiking in Egypt
Hitchhiking isn't common in Egypt. Buses are cheap enough, and aside from safety reasons, I wouldn't want to stand outside in the heat for that long.
For more information on hitchhiking check out this guide, as well as Will's post on hitchhiking 101.
Onwards Travel from Egypt
If you are traveling overland from Egypt, chances are you are going to Israel, or Jordan by boat. Many travelers do this, and Dahab and Taba are the best places to organize your onwards transportation.
I am going to assume you are not traveling onward to Libya or Sudan for obvious reasons.
If you are traveling onward by air, some of the cheapest countries to travel to are Turkey, Greece, Italy, and other parts of Europe.
Working in Egypt
Egypt is actually a popular destination for digital nomads as it offers low living costs and decent facilities. Of course, there are also opportunities for those seeking to work in architect, antiquities and Egyptology although competition is stiff.
The Future of the SIM Card is HERE!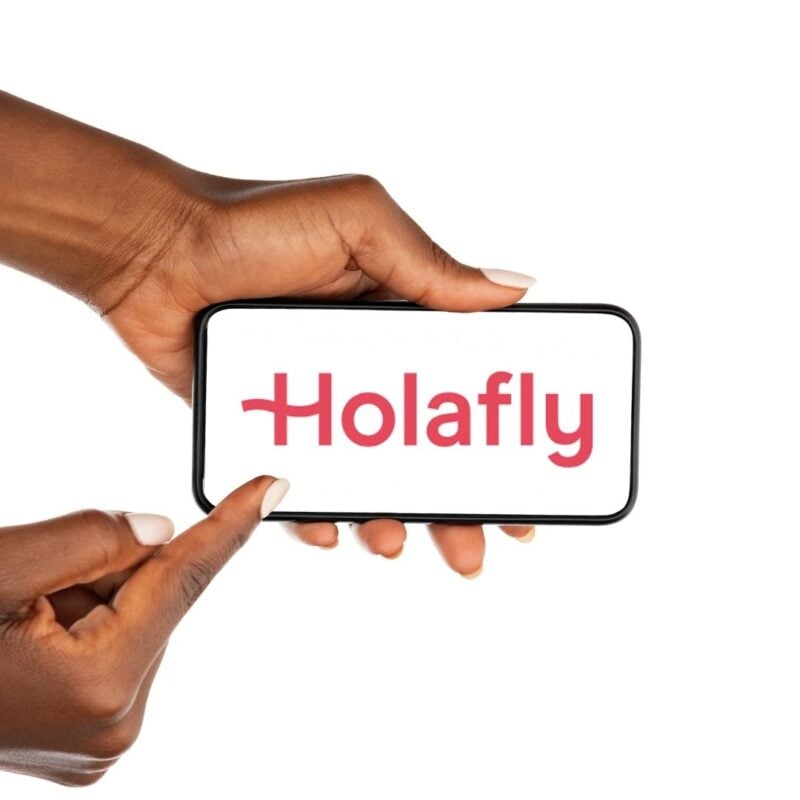 A new country, a new contract, a new piece of plastic – booooring. Instead, buy an eSIM!
An eSIM works just like an app: you buy it, you download it, and BOOM! You're connected. It's just that easy.
Is your phone eSIM ready? Read about how e-Sims work or click below to see one of the top eSIM providers on the market and ditch the plastic.
Grab an eSIM!
Work Visa's in Egypt
To work in Egypt, you will need a visa. There are different types of bias depending on the nature of employment. Note that Egypt does not have a digital nomad visa, and most nomads simply enter on a tourist visa.
Egypt's work permit application process is an arduous one.
Teaching English in Egypt
English teachers are welcome across the world and Egypt is no exception.
In order to teach in Egypt, you will require a teaching degree or certification such as TEFL, and at least two years of prior experience. The average salary for teaching in Egypt is $2,000 – $2,700 per month which goes pretty dammned far in the county – in fact you could live like a Pharaoh!
Volunteer in Egypt
Volunteering abroad is an amazing way to experience a culture whilst helping your host community. There are plenty of different volunteer projects in Egypt including teaching, construction, agriculture and pretty much anything.
Egypt is a developing country and is full of opportunities for backpackers to offer up some time and skills. Most programs are based near cities, primarily offering volunteering opportunities in social work or English teaching. Hospitality is another great area where you can provide a few hours each day in return for free accommodation! You'll need a volunteer visa for Egypt, and it's best to apply for one before arriving.
Our go-to platform for finding volunteering gigs is Worldpackers who connect travellers with host projects. Have a look at the Worldpackers site and see if they have any exciting opportunities in Egypt before signing up.
Alternatively, Workaway is another excellent common platform used by travellers searching for volunteering opportunities. You can read our review of Workaway for more info on using this terrific platform.
Volunteer programs run through reputable work exchange programs like Worldpackers and platforms like Workaway are usually very well-managed and reputable. However, whenever you are volunteering do stay vigilant, especially when working with animals or children.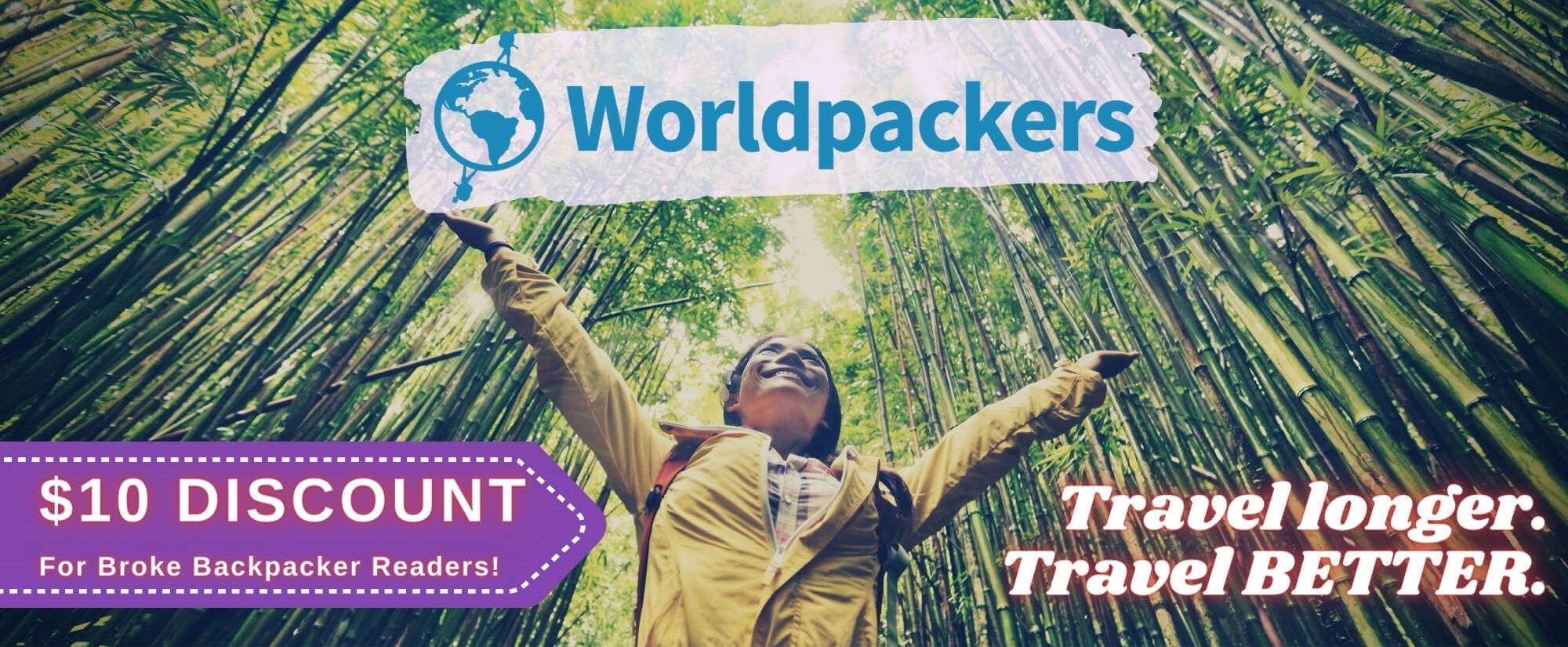 Worldpackers: connecting travellers with meaningful travel experiences.
What To Eat in Egypt
Food in Egypt is decent, most of it centers around stews, vegetables, rice, and Ta'amiyya (falafel). Chicken and lamb are always available too. Shwarma is a common fast food choice. Most Egyptians do not consume alcohol. Arabic chai and tea is much more common.
Shai is the most common tea, usually served hot with a little sugar. Arabic coffee is a thick, Turkish-style, which I personally loathe.
Mezze: This is a selection of hot and cold starters usually eaten with bread. Mezze can include Tahini, hummus, Wara ainab (vine leaves stuffed with rice and herbs), and Baba ghanoog (puree of grilled eggplant).
Kofta and Kebab: Minced lamb or beef that is skewered and grilled.
Chicken: This is also common, and you typically order chickens by the half. Hamam (Pigeon) is also really common…
Egyptian Culture
I've never traveled somewhere where I have met both the friendliest people and some of the pushiest. You will meet such pushy touts and guides because Egypt's economy depends on tourism.
After the plane crashes, the 2011 Arab Spring Revolution, and terrorist attacks that have targeted tourists, Egypt tourism plunged. The last 5-10 years have been rough for Egyptians. Egyptologists were out of jobs. Most people depend on tourism or hospitality to feed their families.
Over 86% of Egyptians are Muslim, and approximately 10% are Christian. 2.9% are Shia and the remaining 0.1% belong to other faiths. The majority of Muslims in Egypt are Sunni.
Community and family are the cornerstones of Egypt culture.
This is a male-dominated society. Things are definitely changing, and I noticed a very liberal attitude on the coast – as I keep mentioning – but mostly with women tourists. Most Egyptian and Bedouin women are still segregated and expected to stay at home.
On that note, the men I did speak with seemed to have more liberal views on women's role than their elders. We had dinner with our host's family in Luxor, whose daughters were working on their school work. I saw many younger women out-and-about, and as I said, the tides are changing.
Still, it is mostly men manning the shops, hotels, eating at restaurants, etc.
While traveling in Egypt, keep in mind there is a huge difference between Egyptians in Egypt, and the Bedouins in the Sinai region. Bedouins are nomadic tribes and shepherds who move around the desert and mountains in the Middle East. The people of Sinai do not consider themselves Egyptian.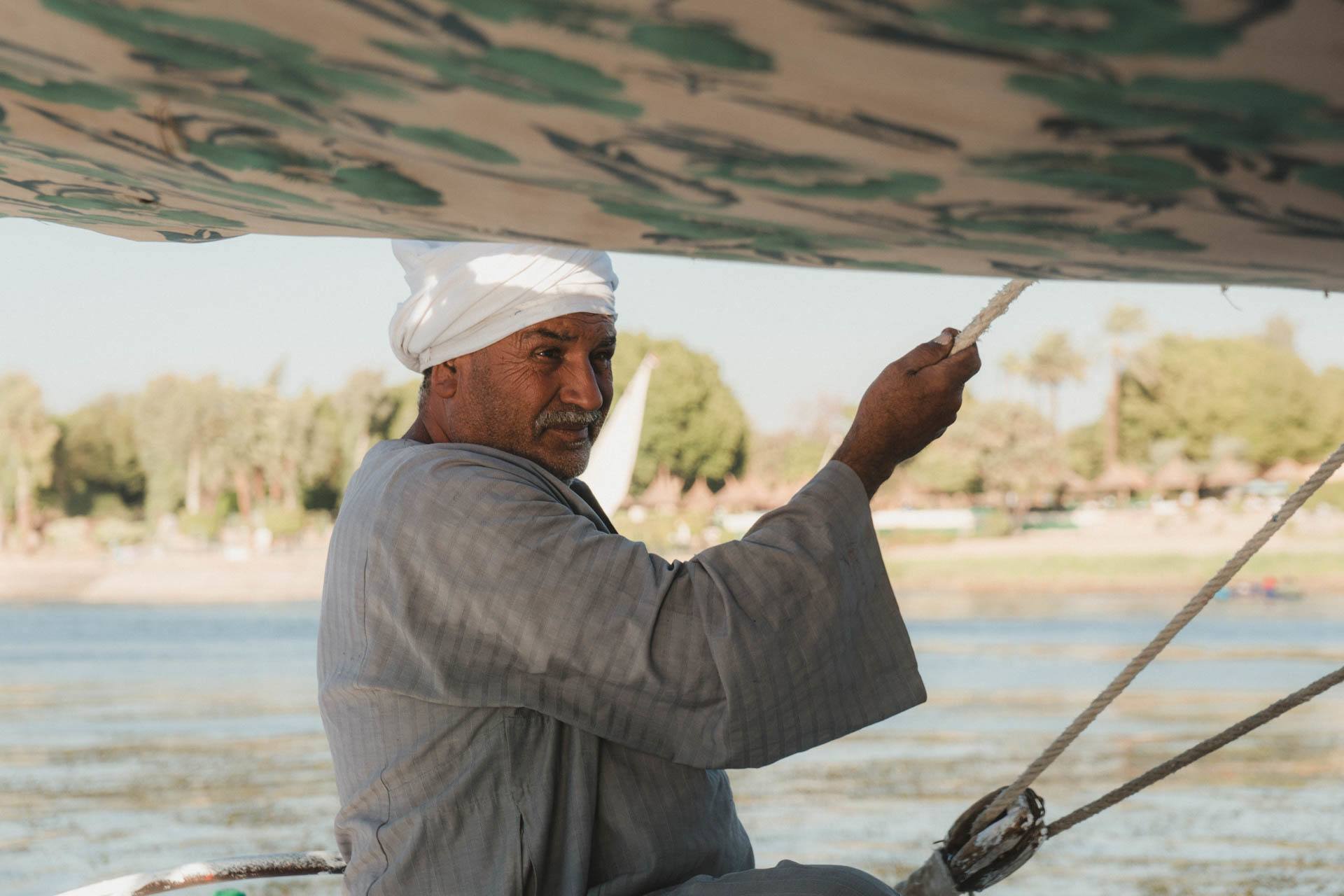 Useful Travel Phrases for Backpacking Egypt
Most Egyptians in the tourism business speak English, but it still helps to have a few Arabic travel phrases down. Most Egyptians do not speak English well. Below I have highlighted some helpful Arabic travel phrases.
Hello – Salam
My name is… – Ismi…
I'm fine – Ana bekhair
Thanks – Shukran
You're Welcome – Afwan
Yes – naam
No – la
No plastic bag – la kees minn al-blastik
No straw please – la qishat min fadlik
No plastic cutlery please – la sakakin bilastikiat min fadlik
Where is the bus station? – Aynataqaomahattat al hafelat?
How much? – Kamthamanoha?
Tea – shay
Books to Read on Egypt
Death on the Nile – The mystery book set in Egypt tells the tale of betrayal among newlywed couple on honeymoon in Egypt.
Sinai: Linchpin, Gaza's Lifeline, Israel's Nightmare – This book was just released in the US in November 2015, but it's not easy to get. This book covers the controversial area of North Sinai, the Egyptian headquarters of ISIS. This area is off-limits to reporters, civilians, etc.
Walls of Freedom: Street Art of the Egyptian Revolution – This book contains essays by Egyptian political analysts and graffiti artists, as well as plenty of graffiti pieces about the revolutionary events. This is a great record of what the people felt about the Egyptian revolution.
Lonely Planet: Egypt – This guide is jam-packed with itineraries, Egypt travel tips, etc.
A Brief History of Egypt
Egypt's history is rich and complicated. If you are visiting Egypt, you are most likely already interested in Egyptian history, and the infamous kingdoms along the Nile River.
Egypt was a polytheistic society for 30 or so centuries, meaning they worshipped many gods as you will see in their temples. Historians have broken up this time period into several dynasties separated by certain events. One thing remains continuant throughout Ancient Egyptian history, however: the Nile River was the lifeline for these kingdoms.
The First Dynasty is known for unifying Upper and Lower Egypt into a single kingdom. Lower Egypt is the delta of the river before it flows into the Mediterranean, and Upper Egypt is the river channel itself.
The New Kingdom's dynasty is known provides the bulk of the art and architecture (apart from the pyramids) that makes Ancient Egypt famous. Pharaohs of the New Kingdom created the great Karnak and Luxor temples and were buried in the Valley of the Kings. This kingdom spans three dynasties.
Egypt eventually transitioned from a polytheistic society to monotheism. At one point Egypt was controlled by the Byzantine Empire, and then the Arabs defeated the Byzantine. Christian communities remained strong in Egypt – especially in Cairo and Luxor – until the 600s when a newly united Arab force conquered Egypt gradually converted them to Islam.
Eventually, Europe's imperialism came into the picture. Napoleon conquered Egypt in 1798. But after a while, the French and British departed and left Egypt politically unstable once again.
There has always been tension between Egypt and Israel. Egypt fought alongside Palestinians in 1948 and lost. This is when Israel controlled the Sinai Peninsula.
In 2005, President Mubarak gave in to international pressure to transition the political system into a Western-style democracy, though many claim Mubarak did not win with a fair vote. Only 23% of voters showed up, and it is said that many others were intimidated from voting at the poles.
He remained unpopular, and on June 2011, President Mubarak resigned due to months of demonstrations. He lost the support among the Egyptian military, who was seen as the protector of the revolution.
The 2012 Elections confirmed the rise of the Muslim Brotherhood when Mohammed Morsi became Egypt's first democratically elected president. He pushed a pro-Islamist constitution and grant himself unlimited powers to suppress protests. By 2013, Egypt's economic crisis was only getting worse, and millions demanded his resignation. When the protests failed, the army stepped in during the 2014 revolution.
Now, the head of the military, Sisi was declared president, though he never wanted to be. Only time will tell what will happen next, but if Egypt's economy continues to struggle, we could see another revolution and resignation in the near future.
Some Unique Experiences in Egypt
DON'T DIE OUT THERE! …Please 🙂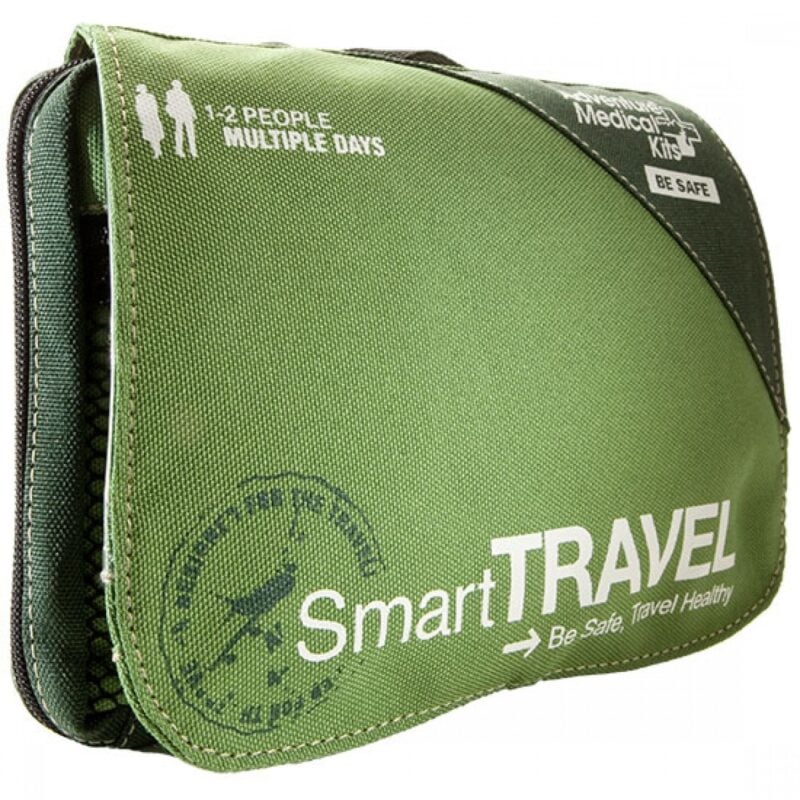 Things go wrong on the road ALL THE TIME. Be prepared for what life throws at you.
Buy an AMK Travel Medical Kit before you head out on your next adventure – don't be daft!
Buy on REI
Diving in Egypt
When most people think of traveling to Egypt, they picture deserts and archeological sites, but divers know the Red Sea offers some of the best reefs and diving in the world.
Rule of thumb: The farther north you go in the Red Sea, the smaller the fish. Fish are born around Taba and travel south. This isn't to say you can't have shark or large pelagic encounters up north. We even saw manta rays in Dahab! But they are more common in the south.
South Sinai (Sharm El-Shiekh and Dahab) have been frequented by Europeans in search of the sun for decades.
Some of the top sites in the South Sinai region include:
Blue Hole
Thistlegorm
Shark Reef
Straits of Gubal
Along the mainland coast, you will find diving hot spots in Hurghada and Marsa Alam.
Marsa Alam is the gateway for dive sites down south without a liveaboard. The most famous dive sites are:
Elphinstone Reef
Sha'ab Samadai
I highly suggest joining a liveaboard in Egypt. There are islands and remote dive sites that offer incredible experiences, and they can only be reached from a liveaboard! We didn't have the time or funds at the time, but I through my own research I can vouch that this is the cheapest place in the world to join a liveaboard (cheaper than Thailand, Mexico, and other diving hot spots for sure).
Joining an Organized Tour in Egypt
For most countries, Egypt included, solo travel is the name of the game. That said, if you are short on time, energy, or just want to be part of an awesome group of travelers you can opt to join an organized tour. Joining a tour is a great way to see a majority of the country quickly and without the effort that goes into planning a backpacking trip. However—not all tour operators are created equal—that is for sure.
G Adventures is a solid down-to-earth tour company catering to backpackers just like you, and their prices and itineraries reflect the interests of the backpacker crowd. You can score some pretty sweet deals on epic trips in Egypt for a fraction of the price of what other tour operators charge.
Check out some of their awesome itineraries for Egypt here…
Final Advice Before Backpacking Egypt
Despite news stories of civil unrest and terrorism, I knew I had to backpack Egypt. I had a few friends who had spent time in Cairo and dived in the Red Sea, and they couldn't stop raving about it.
And now I can't.
Let me tell you, Egypt is much more than just visiting the Pyramids of Giza. In Egypt, you will encounter world-class sites, friendly people, incredible scuba diving, trekking, beaches, and more.
This isn't to say Egypt doesn't have its challenges. There are police check-points, pollution, and dusty streets to choke on. But the challenges make this country all the more incredible.
---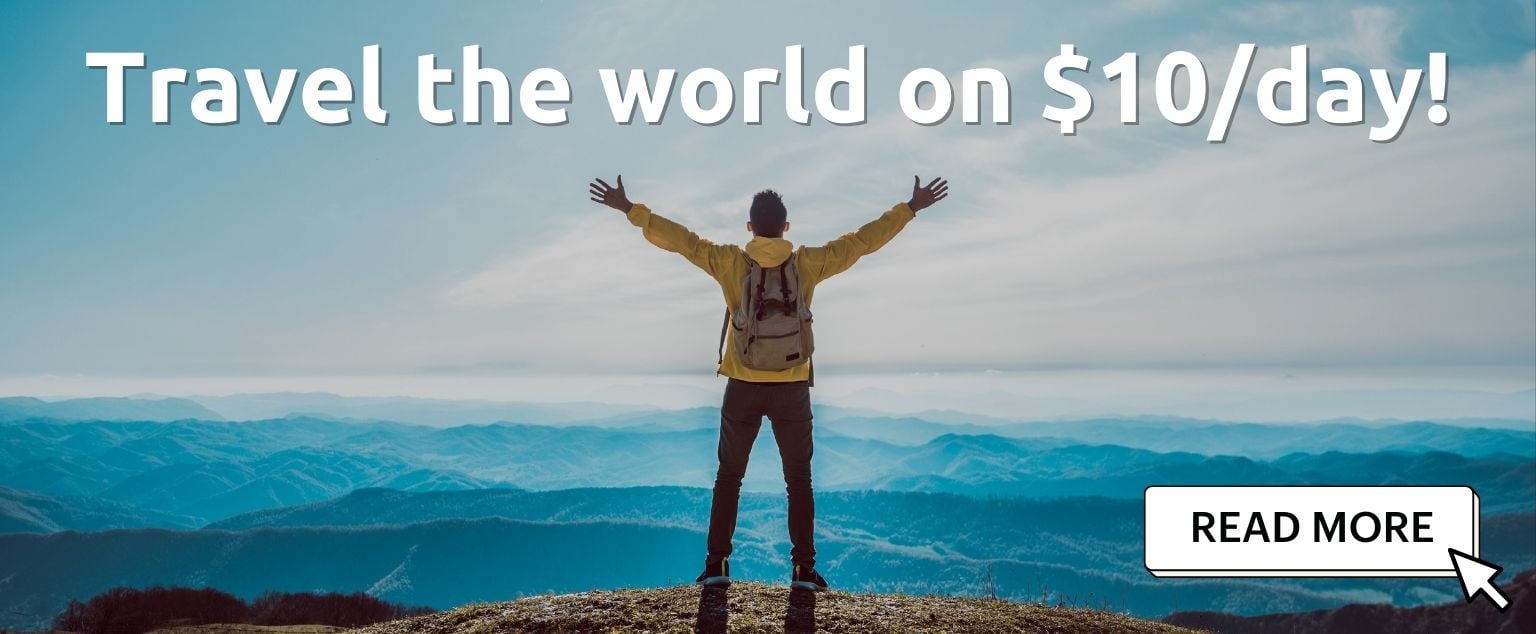 And for transparency's sake, please know that some of the links in our content are affiliate links. That means that if you book your accommodation, buy your gear, or sort your insurance through our link, we earn a small commission (at no extra cost to you). That said, we only link to the gear we trust and never recommend services we don't believe are up to scratch. Again, thank you!