Are you dreaming of walking like an Egyptian? Or maybe just sending some quality travel time getting to know Egyptian people and Egyptian lands? If you are, then I'm going to have to give you a huge virtual high-five because Egypt is amazing and I absolutely fell in love with everything Egyptian during my trip!
One thing that was difficult to figure out was where should I stay in Egypt during my trip. With so many incredible top places to stay in Egypt, deciding on everything from the best cities to stay into the actual hotels in Egypt was a real headache.
Since I already did the work myself, I'm happy to share my findings with you here on this Egyptian guide of all the best cities in Egypt and the lodging options there too.
Ready to uncover some of Egypt's secrets with me? Let's get right to unearthing these Egyptian travel know-how gems and jewels.
Quick Answers: Where is the Best Place to Stay in Egypt?
Map of Where to Stay in Egypt
Cairo – The Overall Best Place to Stay in Egypt
It likely comes as no surprise that Cairo is the overall best city to stay in Egypt. As the country's capital city, Cairo is Egypt's nerve center. With over 19.5 million inhabitants in just the city of Cairo alone, Cairo is a megacity, by far the largest in all of Egypt. Also, Cairo is set right on the famous Nile River, which winds through the sprawling city.
Obviously, the best thing to do in Cairo is to see the site of the Great Pyramids, and to get to pet a camel!
Visiting the Egyptian Museum simply cannot be missed. With ancient mummies and thousands of artefacts from the last 5,000 years, this museum isn't just another museum— it's truly jaw-dropping!
Make sure to spend some time exploring the Khan el-Khalili bazaar, and pick up all your favorite souvenirs, from lamps to jewellery to belly dancer outfits.
Best Places to Stay in Cairo
Cairo is truly a sprawling city, and it's important to keep in mind that there are two different parts of Cairo, Central Cairo and Greater Cairo. As the name implies, Central Cairo is close to all the action with neighborhoods like Downtown Cairo, Giza, and Zamalek. Greater Cairo is comprised of new developments that have sprouted up over the years that can be best described as the suburbs.
Since Cairo covers so much ground, it's better to stay close to the city center to easily explore the best that Cairo has to offer.
This Airbnb rental is for a beautiful room in an apartment sitting in the city center. The room has a view of the Nile below, which is certainly an incredible thing to wake up and see each morning! This stylish apartment has been lovingly decorated with a bevvy of handmade, Egyptian art pieces.
Holy Sheet Hostel sits right in the heart of downtown Cairo. It's under a 15-minute walk to some of the best attractions in Cairo like Tahrir Square, the Egyptian Museum, and the Abdeen Palace. It's a hostel with a laid back and chill atmosphere and is up to western standards.
While there are certain hotels in Cairo that ooze luxury, they will smash your piggy bank into a thousand tiny pieces! The Valencia Hotel is an affordably priced hotel that is less than 2,000 feet from the Egyptian Museum and sits right in the middle of Cairo's city center. Plus, you'll love being less than a half-mile walk from the Khan Al Khalili bazaar!
For more really cool hostels in Cairo, check our Best Hostels in Cairo guide!
Hurghada – Best Place to Stay in Egypt for Families
Hurghada spans across nearly 40 kilometers of Egypt's Red Sea Coast. This beach resort town is definitely where to stay in Egypt when traveling with your family. It's famed for incredible scuba diving and snorkeling spots, with spectacular coral reefs and an abundance of marine life. The kids will love watching the parrotfish and clownfish swim under the turquoise blue waters!
Offering travelers more than just the beach and the Red Sea, there are a few fun water parks in Hurghada that the kids are sure to love. You can also do more unique things like taking a hot air balloon ride or visiting the outdoor Sand City museum, where you can witness awesome sand sculptures! The Hurghada Grand Aquarium is also a wonderful place to spend a few hours with the kiddos.
Best Places to Stay in Hurghada
Hurghada is a beach resort town that stretches a wide swath of sand. Since nearly all accommodation options are placed beachside, staying close to the shoreline won't be a problem!
Golden Beach Resort is a family-friendly beachfront hotel that even has claimed part of the beach as private— for hotel guests only! This is one fancy hotel that is definitely worth the price tag. It's safe, secure, and has amazing amenities like tennis courts and it's own mini-golf course! Plus, the onsite restaurant even offers themed dinners, which the kids are sure to love.
Best Airbnb in Hurghada: Classy Sea View Apartment
This lovely two-bedroom apartment has a total of four beds in it, which makes traveling with the family a breeze. Enjoy a view of the Red Sea right from your own private balcony. Plus, this apartment also has a pool which guests are welcome to enjoy.
Best Guest House in Hurghada: Stella Makadi Chalets
The Stella Makadi Chalets is an awesome place to stay with kids! With an outdoor swimming pool, garden, and free bikes available to use the Makadi Chalets is the place to be. Plus, it's just 1,150 feet from Cleopatra Beach. Moreover, the chalet has a children's playground and is less than two-mile away from the Makadi Bay Water World.
El Gouna – Where to Stay in Egypt for Couples
El Gouna is a resort town that is nestled right next door to Hurghada. While Hurghada is where to stay in Egypt with your family, El Gouna is definitely the best city in Egypt to stay in with your significant other. Geared more towards adults, El Gouna has a more vibrant nightlife.
Don't worry though, there is still a long, sandy shoreline to relax on. El Gouna is known for having small islands just off the shore, and beautiful lagoons to explore. Not to mention the popular Mangroovy Beach, which is incredibly popular with the kitesurfers. Even if you and your significant other don't feel like giving kitesurfing a whirl, it's still incredible to watch those guys catch some epic air!
When in El Gouna, make sure to head to the Abu Tig Marina area to pick out your favorite restaurant and bar to hang out in. Also, the downtown area is called Tamr Henna Square and it has an abundance of chic cafes with lots of outdoor seating available so you never have to take your eyes off the water unless you're getting lost in your lover's eyes that is!
There is also plenty to do in El Gouna to keep you and your honey busy, from day biking, to jet skiing, horseback riding, to scuba diving, to golfing, you're sure to make wonderful memories in El Gouna.
Best Places to Stay in El Gouna
El Gouna is a very small resort down that exists almost in a bubble. Since it is such a small beach town, there aren't different neighborhoods to consider. It's all tightly packed together on the beach!
Best Hotel in El Gouna: Casa Cook
Casa Cook sits just 1.7 miles away from Marina Beach, a little bit inland from the beach. It's a hip, young hostel that looks like it's right out of a famous person's Instagram account. I'm serious— get ready to be impressed! This hotel has two restaurants, a pool, a fitness center, and a bar. There's even a spa to get a couples massages at! So if you and your sweetheart are willing to splurge a little, Casa Cook will surely treat you well.
The Three Corners Ocean View is a stellar beachfront resort that is set in the Abu Tig Marina. It's an all-inclusive resort that will truly knock your socks off. It's an adults-only hotel, so you will be surrounded by fellow adults who are there to make beautiful Egyptian memories too. This resort really goes above and beyond— they offer boat trips, team games, and even yoga classes.
Best Airbnb in El Gouna: Most Central Flat with Garden on a Lagoon
Get ready to be impressed because this Airbnb is gorgeous, and even better yet— it's affordable! It's a two-bedroom and one bathroom home that is just a quick two-minute walk to the beach. And the delectable Pasta e Basta Restaurant is less than a one minute walk away. You got that right, this is hands down the best Airbnb in El Gouna.
Cairo – The Coolest Place to Stay in Egypt
We already know that Cairo is the overall best city to stay in Egypt, but what makes it the coolest place to stay in Egypt? I'm so glad you asked.
With a colorful culture and nonstop energy, there are many bucket list attractions in Cairo and the city has an incredible vibe.
If you're ready to dazzle your taste buds, head over to Crave and order some Egyptian culinary delights like konafa.
Make sure to head over to the Zamalek district and explore the student-filled neighborhood. It's home to some of Cairo's best festivals, jazz clubs, art galleries, shops, and cafes.
It's a little quieter than the city centre, but it is still a great place to get the pulse on all things cool in Cairo.
Best Places to Stay in Cairo
Knowing where to stay in Cairo will help you get the best experience in Egypt. If you're looking to really get a taste of real Cairo culture, I think it's clear by now that Zamalek is where to go. Where exactly is Zamalek you ask? It's the northern part of the Gezira Island in the Nile River, connected by bridges to the mainland. Staying on an island is always super cool, especially when it's floating in the middle of the city!
Hello gorgeous! This Airbnb is positively pristine. This one bedroom and one bathroom apartment is yours for the taking, right in the heart of Zamalek. There is also a living room, dining room, and fully equipped kitchen. High-speed wifi is a huge plus! Even though the flat is perched on the seventh floor of the building, there is an elevator to use. So don't worry about the stairs. Plus, the warm and cozy Pub 28 is just a couple blocks away.
Egyptian night is a great value hostel in Zamalek situated directly opposite from the Egyptian Museum. There is a freshly baked breakfast prepared every morning which makes for such a warm, welcoming stay! Falafels and eggs, anyone?
The New President Hotel in Zamalek is right next door to the delectable Cairo Cellar Restaurant. There is also a Costa Coffee on the block if you're craving your morning latte. This hotel is crisp, clean, and completely modern. Rooms are spacious as well and are equipped with their own little minibars!
Aswan – Where to Stay in Egypt on a Budget
Aswan sits in the south of Egypt, right along the curves of the Nile River. Aswan is renowned for incredible archaeological sites, sprinkled on the peaceful islands dotting the majestic Nile River. Sites like the Philae Temple complex. Inside the temple complex dwells the incredible ruins of the Temple of Isis!
There is also Elephantine Island to visit on which the glorious Temple of Khnum sits. It's the largest island in the Aswan area and is known for brightly painted houses and for having two traditional Nubian villages to visit— Koti and Siou.
Definitely visit the Spice Market for some of the best shopping in all of Aswan. Lastly, you're going to want to spend some time meandering through the Botanical Gardens on Kitchener Island.
Best Places to Stay in Aswan
Staying along the bank of the Nile is a real treat here in Aswan. For a more expensive, but truly memorable experience, staying on Elephantine Island is a once in a lifetime experience!
David Hostel is very nearly the most budget-friendly hostel in the entire area. Offering both dorm rooms and single rooms, as well as complimentary breakfast and free laundry for all guests, you get a lot of bang for your buck at this hostel! Plus, you can enjoy the rooftop area for soaking up some sun or enjoying your morning tea.
Best Hotel in Aswan: Hapi Hotel
Hapi Hotel is a modern hotel that comes with the lowest price tag ever. You'll stay in comfort and ease and this hotel all without even flinching at the total on your receipt. Plus, there is a complimentary breakfast available daily, which is served from the top floor which offers a beautiful view of the Nile River below! Better yet, the delicious Crepiano restaurant is right next door.
Best Airbnb in Aswan: Magic Guest House
You simply won't believe the price of this Airbnb when you see it! It is a five-bedroom and five-bathroom house that sits on the West Bank of Aswan, overlooking the Nile. It's a funhouse, painted with lots of hieroglyphs and pharaohs. What's even more amazing is that the hosts pick you up from the airport or train station for free.
Luxor – One of the Most Unique Places to Stay in Egypt
Luxor dwells on the east bank of the magnificent Nile River in the south of Egypt. Luxor is the site of the ancient city of Thebes. Not ringing a bell? That was the pharaoh's capital city during the 16th through 11th centuries BC. Take that for unique!
Luxor definitely is one of the top places to stay in Egypt given its incredible history and surviving monuments. The Karnak Temple Complex is a fortified village that contains an impressive amount of temples, pylons, and chapels.
The other most famous ancient site in Luxor is the Royal Tombs of the Valley of the Kings and the Valley of the Queens. These tombs are true wonders of the ancient world.
Best Places to Stay in Luxor
Luxor is cut in half by the Nile River. Most of the famous sites and the best restaurants, cafes, and markets can be found on the West Bank side of the river. Stay on the West Bank to get the most out of your trip to Luxor!
This Airbnb truly does earn the right to have 'luxurious' in its name. It's a two-bedroom and one bathroom royal villa, that is an impressive mix of modern and traditional architecture and decor. There is a spacious outdoor pool, rooftop deck to sunbathe on, and a beautiful garden to enjoy.
A daily housekeeper will also stop by to keep this Airbnb pristine clean. I would be remiss if I didn't mention that the price per night is quite low. Don't worry about breaking the piggy bank with this Airbnb.
While this hostel uses the word hotel in its name, it is a blend of both types of lodging. With both dorm rooms and budget-friendly hotel rooms available, the Happy Land Hotel is truly a backpacker's paradise. Situated in the middle of Luxor, you'll be just a couple minutes walk to everything you need. You'll even be just an eight-minute walk to the Luxor temple.
El Mesala Hotel is a beautiful hotel that offers a panoramic view of the Nile. It sits directly opposite of the great obelisk of Luxor Temple. This hotel has an outdoor swimming pool and a rooftop restaurant, as well as a vast garden. The restaurant serves both traditional Egyptian food as well as European food. Lastly, there is a free shuttle to the airport!
Marsa Alam – Where to Stay in Egypt for Adventure
Marsa Alam is a stunningly beautiful resort town on the Red Sea. The crystal clear turquoise waters are incredibly fun to explore by snorkeling or scuba diving!
Marsa Alam has a U-shaped bay, called the Abu Dahab Bay, which is well frequented by sea turtles and manatees.
The El Naaba Lagoon is the perfect spot to learn how to kite-surf. If you've been eyeing that new adventure sport, Marsa Alam is definitely one of the best cities to stay in Egypt to learn.
Plus, the Wadi el-Gemal National Park sits just south of Marsa Alam and is an incredible place to explore. You might even spot rare species of wildlife like the Nubian Ibex and the Hyrax. On the other hand, it is almost guaranteed that you'll see camels and gazelles!
When travelling to Egypt, it can feel like an adventure awaits you around every corner. However, if you are seeking a hefty dose of adventure, then head on over to Marsa Alam to get your adrenaline pumping!
Best Places to Stay in Marsa Alam
When visiting Marsa Alam, it's almost guaranteed that you'll be staying right along the shoreline. These beachfront Egypt accommodation options promise relaxation, rejuvenation, and plenty of beach vibes!
Although the Rihana Guest House is listed on Hostelworld, it is run more like a bed and breakfast. No dorm rooms are available. However, there are plenty of affordable private rooms available. Situated just 100 meters from the beach, you'll be within a few minutes walk to the Egla, Asalaya, and Samadai bays.
Take advantage of this opportunity to stay at a world-class five-star resort for a bargain price. This resort promises guests a truly luxurious stay with a spa, sauna, outdoor pool, and a private beach. There is also an Italian restaurant, seafood restaurant, bar, and cafe on-site.
Best Airbnb in Marsa Alam: Charming Two Bedroom Apartment
This Airbnb is for a two-bedroom and one bathroom apartment that has a total of four beds inside. There is a hot tub and swimming pool available for guests to use, as well as a green garden to relax in. The apartment sits in the south of Marsa Alam, right in front of the beach!
Abydos – Where To Go in Egypt For Archeology Nerds
As one of the oldest cities in Egypt, Abydos is absolutely the best city in Egypt to visit if you are into archaeology. The earliest pharaohs of Egypt, during Egypt's first dynasty from 3000-2890 BC were actually buried in Abydos.
In fact, archaeologists have even found evidence of royal tombs that predate the first dynasty! Also, the city of Abydos was actually the center of the cult for Osiris.
When visiting Abydos, expect to see ancient wall and ceiling paintings, plenty of ruins, as well as the famous sculpted column work at the Temple of Seti I. The Temple of Seti I actually has seven temples to visit. Other highlights include the First Hypostyle Hall, the First Courtyard, and the seven Sanctuaries. Truly, this is one enormous temple complex that will certainly spark awe in visitors. It's very well preserved!
As one of the most important archaeological sites in all of Egypt, getting to bear witness to this truly ancient remains, ruins, and sites is an unforgettable experience to anybody who considers himself or herself a history lover or archaeology nerd!
Best Places to Stay in Abydos
As Abydos is a sacred historical site, there are not actually any accommodation options available inside the town itself. That being said, the closest city to Abydos is Luxor. Luxor lies just 162 kilometers away and makes for an easy day trip. There are lots of organized tour options to Abydos from Luxor, so you don't have to worry about renting a car if you don't want to!
This VIP apartment is a spectacular find in Luxor. It's a one-bedroom and one bathroom apartment that has an outdoor pool, rooftop terrace, and garden. From the terrace, you can bask in beautiful views of the Nile River. Several restaurants and coffee shops surround this charming Airbnb.
Al Salam Camp sits on the West Bank of the Nile in Luxor. It is a fabulous hostel to stay at a very affordable price tag. Favorite aspects of this hostel are that they offer home-cooked meals out of their family kitchen and have evening campfires at night time. They even arrange special activities like concerts and movies nights.
When planning on taking a day trip up to Abydos, the Pyramisa Hotel is the perfect place to base yourself. It's a big, bright, beautiful hotel right on the banks of the Nile. It has a tropical garden and outdoor pool and serves enormous international buffet meals at their onsite restaurant.
When staying in Egypt, travelers have truly incredible choices to choose from. From fancy resorts with private beaches to charming Airbnbs right on the Nile River, there are many unique places to stay in Egypt that mostly come at budget-friendly prices!
Best Hostel in Egypt – Egyptian Night – Cairo
Ready to stay in style at the Egyptian Night Hostel in Cairo? Operated a bit more like a bed and breakfast than a hotel, you will be served a delicious homemade breakfast each day of falafels and freshly cooked eggs. Moreover, this hostel is located in the vibrant Zamalek neighborhood, directly across from the Egyptian Museum.
This hotel is a true shining star, perched right on the West Bank of Luxor. It is actually directly across from the great obelisk of the Luxor Temple. Coming in at an incredibly low rate, you will be dazzled at all the amenities you will receive. From an outdoor pool to views of the Nile river, to a rooftop restaurant, to a free shuttle to and from the airport you are sure to appreciate staying here at one of the best hotels in Egypt!
Best Airbnb in Egypt – Most Central Flat with Garden on a Lagoon – El Gouna
Oh my goodness this Airbnb is a dream come true. It's a two-bedroom and one bathroom home that is bright, comfortable, and immensely stylish. It's also located directly at an El Gouna lagoon, with a private flowering garden. It's a gorgeous home that comes at a ridiculously affordable price! Don't miss out on this drool-worthy Egypt accommodation gem.
Books to Read While Visiting in Egypt
Here are some of my favorite books set in Egypt:
Death on the Nile – The mystery book set in Egypt tells the tale of betrayal among newlywed couple on honeymoon in Egypt.
Sinai: Linchpin, Gaza's Lifeline, Israel's Nightmare – This book was just released in the US in November 2015, but it's not easy to get. This book covers the controversial area of North Sinai, the Egyptian headquarters of ISIS. This area is off-limits to reporters, civilians, etc.
Cairo: The City Victorious – This book covers Cairo's history from its early beginnings of Pharaonic power to the urban jungle it is today.
Walls of Freedom: Street Art of the Egyptian Revolution – This book contains essays by Egyptian political analysts and graffiti artists, as well as plenty of graffiti pieces about the revolutionary events. This is a great record of what the people felt about the Egyptian revolution.
ALWAYS sort out your backpacker insurance before your trip. There's plenty to choose from in that department, but a good place to start is Safety Wing.
They offer month-to-month payments, no lock-in contracts, and require absolutely no itineraries: that's the exact kind of insurance long-term travellers and digital nomads need.
SafetyWing is cheap, easy, and admin-free: just sign up lickety-split so you can get back to it!
Click the button below to learn more about SafetyWing's setup or read our insider review for the full tasty scoop.
I hope that my guide of the top places to stay in Egypt was helpful and helped you make your decision on where you will be staying in Egypt!
Let me know if you have any questions or any stories to share in the comments below. I would love to hear from you.
Do you own or run a kick-ass hostel? Want to be featured on this list? Get in touch at [email protected]
---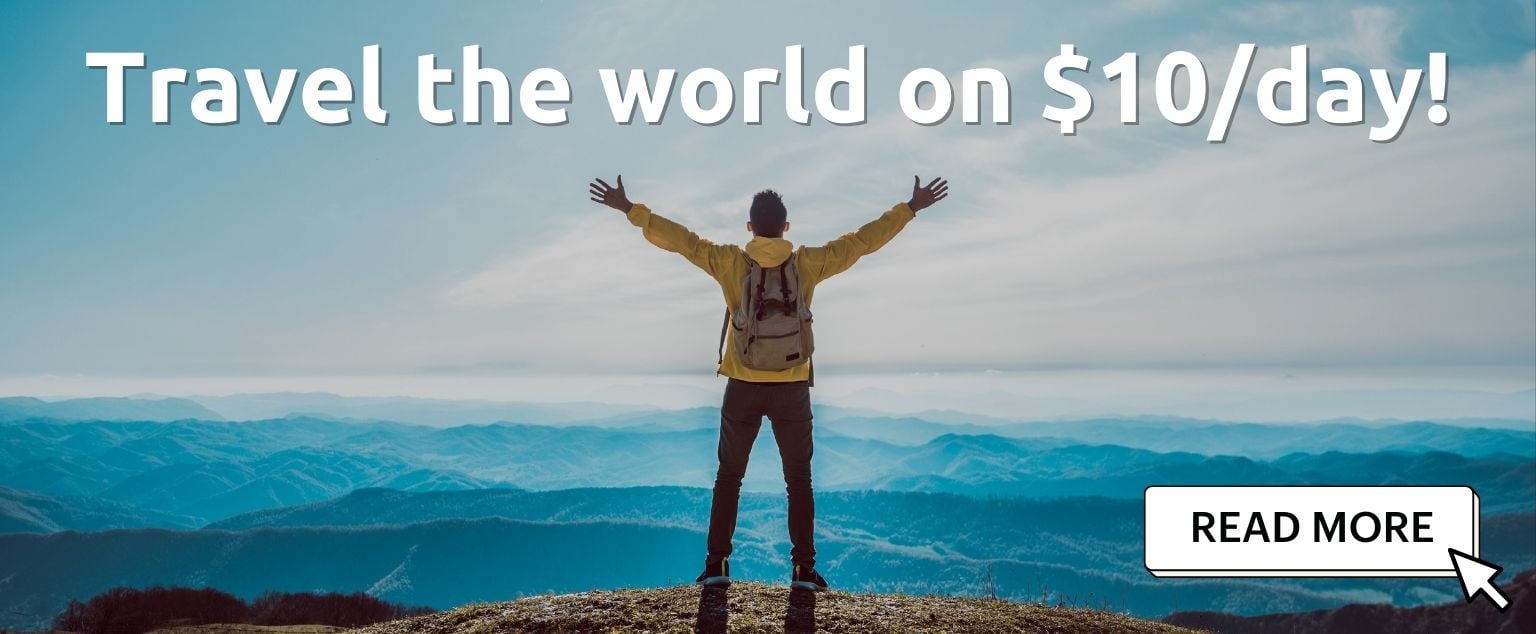 And for transparency's sake, please know that some of the links in our content are affiliate links. That means that if you book your accommodation, buy your gear, or sort your insurance through our link, we earn a small commission (at no extra cost to you). That said, we only link to the gear we trust and never recommend services we don't believe are up to scratch. Again, thank you!