Let's be upfront: perhaps no country on earth divides public opinion quite like Israel does.
It's not a big country, but there are a lot of beautiful things to see in Israel. It's an old land, older than even the biblical texts would have us believe. There are also ancient sites around Israel that perhaps carry more weight than we can ever comprehend.
That's what the last couple of months here have felt like; an attempt to comprehend the incomprehensible. There are a lot of beautiful places in Israel filled with majesty, and there is also a lot that hurts the heart. It's impossible to travel Israel without being confronted by these and it's taken me nearly two months of learning about the country and experiencing that spectrum to come to a conclusion…
That there is much beauty in Israel.
That's why I've written this guide to Israel's top places to visit: my top places to visit. It covers a bit of everything from Israel's religious places and historical sites, to its stunning natural landscapes, to its mind-bending otherworld. This list, I feel, gives Israel – and Palestine – a fair coverage.
I understand that discussing Israel is a political minefield and that you're sticking your toes in with the sharks and I respect that. But I also respect honesty and integrity and I'm gonna do my best to keep my digits intact! So without further digression, let's have a look at my choice of the best places to visit in Israel – the must-see sights and sites of the Holy Land!
Ready to embark on a little pilgrimage? That's great, but before you do, be sure to check out where to stay in Israel and book yourself an epic stay in accommodation worthy of your choosing. Then, continue on down to things to see and things to do in Israel from the river to the sea. Starting with the classic choice…
#1 – Tel Aviv – Expected top of the places to visit in Israel list.
Listen, I'm not in love with Tel Aviv. I did, however, find a 6 shekel falafel, a bouldering gym, stellar Airbnb's to stay in and dope exercise parks… oh, and the dumpster diving is on-point too! One way or another, 'The White City' has Israel's main international airport and everybody visits Tel Aviv regardless; it's the best place to go in Israel (or more appropriately, the only place) that offers this vibe.
Why it's awesome: The vibe I'm referring to is that modern, "liberal", hipster-chic, "Why everything gotta cost money!" feels. I kinda thought it felt like San Francisco but then a guy from San Fran said it felt more like a European millennial-bourgey city. I can't comment there so I'm just gonna say it's comparable to Melbourne except the people aren't quite as friendly.
But people love all those places? Exactly! What Tel Aviv offers, it brings in spades.
What to do there: Tel Aviv is the best place to visit in Israel for nightlife – no arguments there. Pubs, dive bars, speakeasies, live music, jam nights, clubs, techno, house, good genres of electronic music (psytrance), Hebrew poetry slams: it's all there!
There's sick street art, buskers, and espressos at every turn. The beaches are excellent (and the sunsets are even better) but you'll want to head north or south from the main hub to escape the crowds. Jaffa is the old town (which Tel Aviv has built around) and here things get more historical and Arabic in vibes.
Ultimately, there are some of Israel's tourist attractions in Tel Aviv but I'd say that, for most backpackers, Tel Aviv is the tourist attraction. People come here to live the Tel Avivian life and I'd also say that it's a must-visit place in Israel to gather the full-scope of the complexity of the country. Tel Aviv is also very safe (for the region).
#2 – Neve Sha'anan – A place of interest in Israel for seeking complexity.
Still very much a part of Tel Aviv, Neve Sha'anan is another world. Seen as the 'underbelly of Tel Aviv', it's become the home for Israel's many refugees, impoverished, and unwashed. Here you'll find many of Tel Aviv's low-class brothels, streetwalkers, and homeless muttering to themselves as they trawl for scraps. It's not a dangerous place in Israel, however; violent crime statistics are very low in the country.
Why it's awesome: It may not be everyone's vibe but I love it! Things are cheaper, the scope of cuisine is spectacular, and it's a delicious peek below Tel Aviv's mask of acceptance. Rough or not, this is multiculturalism in Israel at its finest and also it's a fantastic opportunity to see the dichotomy of the country.
What to do there: Eating is a great start! Authentic Sudanese, Eritrean, Chinese, Indian, Filipino, and more – a nice alternative to when the cheap falafel and hummus gets old (spoiler: it never does).
A walk around the neighbourhood on Friday night (the start of Shabbat) when the rest of the city begins to hibernate offers some of the most chaotic vibrancy. It really felt like stepping back into Asia.
I ended up uncovering the area because of my work reviewing Abraham Tours. It's definitely a tour I recommend and you can book through them or, even better, contact Rikki (she was the guide) to book directly: +972-52-217-6188. Whatever you choose to do, get Rikki: the girl knows her stuff – crazy insightful!
#3 – Jerusalem – A famous place in Israel of biblical proportions!
I don't really like Jerusalem either – sorry! It still stands as the most famous place in Israel to visit though – no contest. If Neve Sha'anan is another world, Jerusalem is another planet. Taking the one-hour drive from Tel Aviv to Jerusalem is enough to get culture shock.
Why it's awesome: Dude, it's Jerusalem! The city has had so many kingdoms within it, battles fought for it, and people who have died because of it (steadfastly avoiding the obvious Jesus joke). I don't usually link Wikipedia but this shit be bonkers! Whether you're looking for biblical sites in Israel, holy places to visit, or just history… well… it's Jerusalem! If your looking for the best hostels to stay in, Jerusalem has got a fair few of those too.
What to do there: It's the (disputed) capital of Israel and a big city; the vibe may be different to Tel Aviv but it still has all the offerings. Nightlife, markets, secrets, hustle and bustle – just with more funny hats! The Old City of Jerusalem is definitely one of Israel's must-sees.
Outside of that, I'd recommend just strolling Jerusalem's neighbourhoods and absorbing the feeling. Stepping from the new city to the old, the Jewish to the Muslim Quarter, or from a secular area to an Ultra-Orthodox neighbourhood all offer they're own level of inundation of the senses. Just be wary that you don't contract Jerusalem Syndrome – Jerusalem is crazy and I haven't met someone who disagrees yet.
I'm not gonna spend all post plugging Abraham Tours, but the 'Meet the Ultra Orthodox Tour' in Jerusalem was another of their's that I thoroughly enjoyed. It's for sure worth the consideration if you got the spare shekels.
#4 – The Dead Sea – Time for a fun place to visit in Israel!
It's a stone's throw from Jerusalem (and Tel Aviv – Israel is small) and it's the Dead Sea. You know, the sea so salty you can't sink in it! You can still drown if you're a dumbhead though.
Why it's awesome: C'mon, it's the Dead Sea; this was a childhood dream of mine since I was six! If you want to talk about unique places in Israel and must-see things, this is it (unless you've been to Jordan – shh).
What to do there: As my friend reminded my perpetually-moving mind when we were there: "Just lie back, close your eyes, and feel the water take your weight." Unless you have any open cuts on your body. Then you're in for a world of pain!
We went to Kalia Beach which, sadly, costs ($17). It's pretty much a day at the beach for Israelis – complete with the 'lowest bar in the world' – except with a bonus total exfoliation and searing agony of the eyeballs (AVOID).
If you want to find a free place to camp and dirtbag by the Dead Sea, they definitely exist, particularly in the south. People sleep out, build huts, and do them; I just never caught the name of one or followed it up. That's your adventure!
Ein Gedi is also near the Dead Sea and is another crazy beautiful place to visit in Israel for some nature goodness.
#5 – Nazareth – A popular place in Israel to praise Jesus.
Nazareth is definitely a religious place to visit in Israel for the lovers of Jesus but I'm skirting that because it's got nothing to do with why I love it. I came here after roughly two weeks in Tel Aviv and suddenly it felt like I could breathe again. Suddenly, I was in a place where the streets were quieter and the people weren't inexplicably rude for no reason. Nazareth is chill.
Why it's awesome: Nazareth is known as the "Arab Capital of Israel" and that changes the vibes rather significantly. The food also changes but only marginally.
The old city (as usual) is mega-pretty and it just so happens that my favourite hostel in Israel is there too.
What to do there: You'll find a lot of Israel's religious sites here pertaining to that Jesus feller ('Jesus of Nazareth' – makes sense); Nazareth is the starting point of the Jesus Trail too. It's not just Christian jazz though – there's a large Muslim population as well which means gorgeous mosques and echoing prayers at sundown.
For the Messiah-chasers, it's a top tourist destination in Israel. However, for those who aren't seeking biblical places to visit, it's just a chill refuge from the admittedly challenging nature of backpacking in Israel. The city is full of cats and friendly folk, there are mountains around Nazareth to wander up, and you can practice some Arabic!
Check out Abu Ashraf – the knaffeh is supreme – and Abu Salem too. The drinks are a tad expensive but the decor is intoxicating and people-watching old Arabic men shredding the shesh-besh (backgammon) board never gets old.
#6 – Bethlehem – Starting off the places to visit in Palestine list.
Since we covered Nazareth, we're visiting the West Bank with the next few entries and Bethlehem is a good start. It's still very much a top religious tourist attraction in Israel. I'd also say it's one of the best starting places to visit in in Israel and Palestine if you're ready to start the journey down the rabbit hole.
Why it's awesome: The birthplace of Jesus is a good start! Past that, there are a few more of Israel's sacred ancient sites and then there's the wall. The barrier wall between the West Bank and Israel (that also annexes Rachel's Tomb).
The wall goes by many names depending on your stance on the on the conflict and it's all thin-ice-politics but regardless, the wall is definitely a must-see thing in Israel both for the awesome art and what it represents.
What to do there: There's a whole host of the must-see biblical sites in Israel. The aforementioned Rachel's Tomb, The Church of the Nativity (built over Jesus's alleged birthplace), The Milk Grotto (ew)… That's just a small selection too.
The occupation wall is something else. It's covered in graffiti from the humorous to the downright sobering and even includes some work from Banksy – it's the real reason I recommend visiting Bethlehem. The art is spectacular, and the selfie-ops are tempting, but when you're trailing the wall just try to remember what you're actually looking at under the street art.
Read the stories posted on the wall and take a moment to feel the gravitas of Palestine.
#7 – Other Biblical Sites in Israel – Rounding off the holy places to visit in Israel.
Before we head deeper into the West Bank, let's round off the religious places to visit in Israel. To be fair, most of these are more places to visit in Palestine.
It's not my jam but neither is orange marmalade and my mum loves both orange marmalade and Jesus and she's the best! Let's take a look at the remaining must-see biblical sites in Israel for all the lovers of orange marmalade:
Jericho: Of the 'we made your walls fall down and then genocided the entire city' fame. Historically speaking, that probably didn't happen, but the ruins here are old and well predate any biblical events (except, arguably, Genesis 1:1). They're not super impressive but good for the archaeology/history buffs.
The Mount of Temptation: Presumed to be Mount Quarantania, this was where Jesus was tempted during a 40-day fast by Satan rocking up with a few delicately-rolled doobs and some Chocolate Fudge Brownie Ben & Jerry's ice-cream (biblical accuracy not guaranteed). Mount Quarantania is right above Jericho and the monastery constructed underneath is actually a super pretty place to visit in Israel.
Mount Tabor: Close to Nazareth and the supposed location of the Transfiguration of Jesus. It's also just a cool looking mountain!
Jordan River: And the Baptismal Site of Jesus Christ. For the record, I had a dunk, but it doesn't count as baptism if you do it to yourself.
#8 – The West Bank – Palestine – All important places to visit in Israel.
Ok, ready to do this? Let's go deeper.
Although there are some of Israel's popular places scattered around the West Bank (namely, the aforementioned biblical sites), travelling to the West Bank for Palestine itself is not high on the standard itinerary for Israel. Although some may worry that it's a dangerous place in Israel, my experience was that it's not.
If visiting the West Bank is not for you, then that's your choice and totally ok. BUT, you can't really say you explored the secrets of Israel unless you explored all of it. There are more than just Israelis living in Israel.
Why it's awesome: Look, there is definitely beauty in Palestine of the 'appeal to tourists' variety but that's not necessarily why travel there. I actually found it heartbreaking. For those that aren't used to travelling in developing countries, I imagine these feelings may only be compounded.
This is why I say that both Tel Aviv and the Palestinian cities and villages are both must-see places in Israel. The act of travelling only 70 km changes everything.
What to do there: Meet the people. The Palestinian places are safe in Israel and most people are not hostile in the slightest with tourists (yes, even Americans). You can potentially expect some India-esque moments to get some shekels off you so keep your smart traveller hat on. They're welcoming and warm and just really excited to talk, both about Palestine and the world at large that they'll never be permitted to see.
If you want to get out in the villages, then I that applaud that. Otherwise, for the city life, Nablus is a tad more chill than Ramallah but they're both going to give you a good understanding… plus the food is the best!
Also, the Palestinian kids really know how to throw down for a good night! Check Radio in Ramallah on Thursdays. That'll get you started, at least.
#9 – Hebron – An extremely important thing to see in Israel.
I counted this separately from the other places to visit in the West Bank because it deserves it's own entry. I met a traveller in Israel who enjoys seeking out alternative and darker places. I forewarned him that Hebron is heavy. Three days later I got a message:
Dude, this is fucking heavy…
Why it's awesome: Short of Gaza, this is the best place to visit in Israel to see the conflict at its most real. The city is divided into two sections one of which is H1 – the Palestinian side of the city. H1 sits behind walls, barbed-wire, and assault rifles brandished by the Israeli military. Inside is living standards much, much closer to a city in India than Tel Aviv.
It's not "awesome"; It's heavy and it hurts and, ultimately, I feel it's a must-see place in Israel. The only way to make up your own mind is to go there and I'm grateful I did. Broke Backpacker Senior Editor, Freeborn Aiden, also rates at is as the MUST SEE place in Israel if you want to even begin to understand the complexities.
What to do there: The main tourist attraction in Hebron is the Tomb of the Patriarchs, the supposed burial site of Abraham, Isaac, Jacob, and their respective wives. The tomb itself is split in half – a synagogue and a mosque.
Outside of that, I'd say, again, walk around H1 and meet the people. It won't take long before you're sitting and drinking coffee with a local.
This is the last Abraham Tour I'm mentioning. I did the Hebron Dual Narrative Tour and, although rushed (Hebron deserves more exploration), it's still an extremely insightful tour that aptly displays the dualistic nature of the situation. It's a recommendation.
Lastly, for these Palestinian areas, I think it's well worth finding accommodation with a local. That could mean a homestay, an Airbnb in a shared space, or even Couchsurfing is super possible! One way or another, I think you'll get way more from the experience doing that than from staying in a hotel.
#10 – Mitzpe Ramon – Back to the most beautiful places to visit in Israel!
Ok, that's it. Don't worry; the rest of the list is only the pretty shit! Topping that off is Mitzpe Ramon, one of the best places to travel to in Israel for sunsets and smoke!
Why it's awesome: Mitzpe Ramon is a town located on a ridge overlooking Makhtesh Ramon (Ramon Crater). I'll talk about the sheer stunning awesomeness of the Negev Desert and south Israel in a moment but suffice to say the outlook from the ridge is stunning!
Mitzpe Ramon has also become an epicentre for all things hippy in Israel. There's a lively little community built around music, art, and creative expression and, of course, find a hippy, find joints. To be fair, you'll find joints everywhere in Israel.
What to do there: Smoke joints…? Oh, other than that? Hiking, for sure!
Israel is actually super dope for hiking and Mitzpe Ramon is no different. You have a whole host of trails at your disposal and they're all blisteringly gorgeous! Just remember to take water… and a joint… maybe two.
#11 – Eilat and Southern Israel – My personal top place to visit in Israel (minus Eilat).
Ok, so I'm mostly going to skip over Eilat. The Red Sea is there which is rad but, otherwise, it's a resort town: it feels like Vegas and it's yukky and I don't like it. Diving in Eilat is also a thing. So why talk about Eilat? Because everything around it is spectacular!
Why it's awesome: The Negev Desert, the Red Sea, Sinai (in Egypt)… For me, southern Israel was the only part I found that was truly felt uniquely beautiful (including Mitzpe Ramon – yum) and it's the most beautiful place in Israel for me. The Negev Desert legit looks like Mars at times and the Red Sea is crazy pretty! Sunrise, sunset… it's all good!
What to do there: Consider Eilat just your base for the nature. You'll find parties there at night obviously, but it's way too flashy for my taste.
You've got some pretty dope hiking in the area though; Timna Park and the Red Canyon are both excellent or you can just disappear into the desert… on weekends. The rest of the time it's a firing zone for the military sooo maybe a no go.
It's also the Red Sea which means all things aquatic: there's diving in Eilat, snorkelling, paddleboarding, sailing… Pretty much anything that doesn't require waves!
You can also cross to the Sinai region in Egypt which is equally common for Israeli tourists. It's super beautiful but it's technically not a 'place to visit in Israel' so read our Backpacking Egypt Travel Guide for more info.
#12 – Kibbutzim or Moshavim – Both historical places in Israel and an escape.
There's a whole interesting history here with kibbutzim and the founding of the state of Israel, communities built on socialist ideals, and also just how things change over time. Long story short though, they started as agricultural communities built around communal living and work. The system has changed and restructured a lot in recent years, however.
Moshavim are similar but different. Still all about the agriculture and community but just a bit less about the socialist ideals!
Why it's awesome: Firstly, the vibe just chills out a whole helluva a lot more once you reach a kibbutz or moshav, especially outside the urban centre of Israel. They're agricultural communities which means nature, fresh food and veg, sometimes hippies and smoke, and an escape from the chaos!
The shared-lifestyles of these communities is really cool to observe. Israel has it's own twist on the whole 'lack of privacy' thing in Asia (yes, Israel is still Asia) and aspects of it I really enjoy.
What to do there: Farm work, mainly. Kibbutzim have a long-standing history of taking in travellers in exchange for work (the OG Workaway) and although the game has changed pretty substantially, you'll still find farms seeking volunteers.
Alternatively, just rock up and camp in the fields for a night. They're always super pretty and no one will really care as long as you don't step on any of their crops. Again, it's that 'lack of privacy' thing.
Any suggestions for best places to go in Israel for the kibbutz/moshav life? I spent some time in Kfar Yehezkel and the family vibes are high; here's their Workaway page and our review of Workaway with a sweet, sexy bonus deal inside. I also camped out at Ramot Menashe, Dafna is supposed to be dope, and Samar down near Eilat is full of alternative vibes.
#13 Haifa and Acre – Maybe not the best but still cool places to visit in Israel.
I lumped these two of Israel's famous places together because they're so close to each other. It's perfectly reasonable to stay at one and day trip to the other. It's like half-an-hour on the train.
Two seaport cities of mixed ethnic and religious distribution, there's relative harmony here. They're cities but they're more chill cities. I think it's the mountains nearby; mountain folk are always good.
Why it's awesome: You get the beach, you get less crowds than in the centre, and you get mountains too! It's literally the best of everything.
Although nothing like Tel Aviv, Haifa has grown as hub for younger Israelis and you'll find some cool stuff happening in the city. Hadar neighbourhood is a good start. Acre has a long history of being in a pretty strategic location so you'll find some cool old-world goodness there.
What to do there: A good daytrip from Haifa is the Mount Carmel National Park or you've also got the considerably impressive Bahai Gardens that overlook the city and port. (I didn't even know that the Bahai were a thing until I got to Haifa – super interesting!)
Acre stands as one of Israel's more historical places to visit with landmarks that date back to middle-ages and that whole Crusades shebang. There's the almost entirely Arabic old city which also means markets which ALSO means cheap coffee, tobacco, pita, and za'atar… Breakfast is served!
If it strikes your fancy, there are lots of volunteering options in Haifa with Worldpackers, a reputable organisation where you can lend a helping hand in exchange for accomodation. Check out our Worldpackers review to see if an immersive work exchange in Haifa fits your bill.
#14 – Golan Heights – For views and other must-see sights in Israel.
You want some nature? The Golan is full of it! Heading this far up north is much like heading all the way south: you're well outside the urban areas of Israel now.
The Golan Heights is the region occupied by Israel during the Six-Day-War in 1967 and up this way you'll meet many Syrian-Druze people many of which still hold no Israeli citizenship. Some are by choice, some are because of political tensions, it doesn't matter – the whole situation is messy. The point is, it's pretty!
What it's awesome: The Golan is a super beautiful place in Israel and a destination worth travelling too. Mountains and bits of greenery or, hell, you'll even get snow at the right time in the right places! There are villages around for sure, and Israeli settlements too (not unpacking that dynamite-laced Pandora's Box, thank you), but everything is much more spread out.
This one is for the nature.
What to do there: Odem is a good base. The Golan Heights Hostel is there which draws in a good vibe of traveller (you know the one I mean). For solo backpackers travelling in Israel especially, I'd say it's second only to Me'ever.
If you're there in winter, and got the cash to flash, Mount Hermon is the best place to go in Israel for skiing! And also the only! And I use the word 'best' very loosely because it's Israel and not exactly famed for skiing.
Or, if you're interested in the Syrian-Druze people and life, head to Madjal Shams below the majesty of Mount Hermon. Believe it or not, there's a dope little arts scene!
#15 – Sea of Galilee – The top attraction of Israel's Galilee region.
Yep, the Sea of Galilee (Kinneret) which is actually a freshwater lake (the Dead Sea is also a lake but shh). There's a number of Israel's other holy places to visit around the sea-lake given that this was kinda Jesus's stomping ground.
Why it's awesome: Just a big ol' pretty lake! There's not much to say really. Swimming, kayaking, chasing the Jesus Trail, and everything else is here! There are mountains around, nature, kibbutzim, and all kinds of goodies.
What to do there: Israel's main tourist attraction on the sea of Galilee is Tiberias, which, naturally because this is Israel, has a number of holy sites. Alternatively, you could just do what I suggest which is skip the sacred-city stuff (sacred-old-city burnout is synonymous to temple burnout in Asia). Instead, just explore around the perimeter of the lake and you'll find kibbutzim and other nice little pockets of prettiness to explore; HaOn is another good place to visit around Israel's lying scumbag "sea".
#16 – Hiking in Israel – Not a place to visit in Israel, strictly speaking.
Yep, so, this isn't so much a place to travel to in Israel as a thing to do but it's also one of my favourite things about the country (except, perhaps, for the abundance of cheap hummus and tahini). Israel is an extremely walkable country at the best of times (given how small it is) and the presence of a large variety of hiking trails only makes that better.
The Israel National Trail is the cross-country trek for those wanting the feather in their hat. Alternatively, just tackle stretches of it at your leisure.
There's no shortage of other trails around, like the Jesus Trail I mentioned or even just loading up Maps.Me is gonna present you with a wealth of options. Hell, if you see something on the horizon worth walking to and all that lays between you is the fields of a kibbutz or moshav, just go for it. Yay for socialist ideals!
You don't have to walk the whole damn country, but there's really no better way to get out and experience some of Israel's best places to see. You may also discover some of Israel's hiding secrets. Maybe, you'll even find the Messiah.
Dun dun dunnnnn.
Get insured before hitting up all the best places to visit in Israel!
World Nomads' mission is to support and encourage travellers to explore their boundaries. They offer simple & flexible travel insurance, and safety advice to help you travel confidently.
They've been doing it since 2002 – protecting, connecting, and inspiring independent travellers just like you.
Get a quote below or read our in-depth review!
World Nomads provides travel insurance for travelers in over 100 countries. As an affiliate, we receive a fee when you get a quote from World Nomads using this link. We do not represent World Nomads. This is information only and not a recommendation to buy travel insurance.
There are missiles, and terrorists, and enemies at our borders – won't somebody think of the children!
Na, look, honestly, travelling in Israel has not felt anymore unsafe than most other places I've been in the world. Of course, Iran just swore vengeance upon Israel and I'm still here for another 5 days so lucky I got insurance!
Remember, when you are traveling, shit can happen, and that's when you need insurance!
Find out what people want to know about the best places to visit in Israel
I think we did it: an honest and fair list of the top places to visit in Israel that has a bit of everything. Nothing too contentious was said (I think) and, best of all, you now have yourself a neat little guide to Israel's must-visit places!
It's not always an easy country to travel – at least, it wasn't for me. Things are jarring, many things are heartbreaking, and at times, it feels more illogical and chaotic than India. Just with nicer roads and better public transport.
Still, I can't say I'm not grateful for visiting Israel and backpacking around it. Some of Israel's places to visit will give you those wonderful sunset vibes. Some will be an excellent photo-op. Many will leave you with a lot to digest. Either way, you will learn and grow.
I said before and I'll say it again. There are many beautiful things in Israel. There are a lot of good people in Israel. And there is a lot worth making the effort for.
Just make sure you see all of Israel. See all the things to see in Israel and write your own story through your own experience. And let there be hummus.
---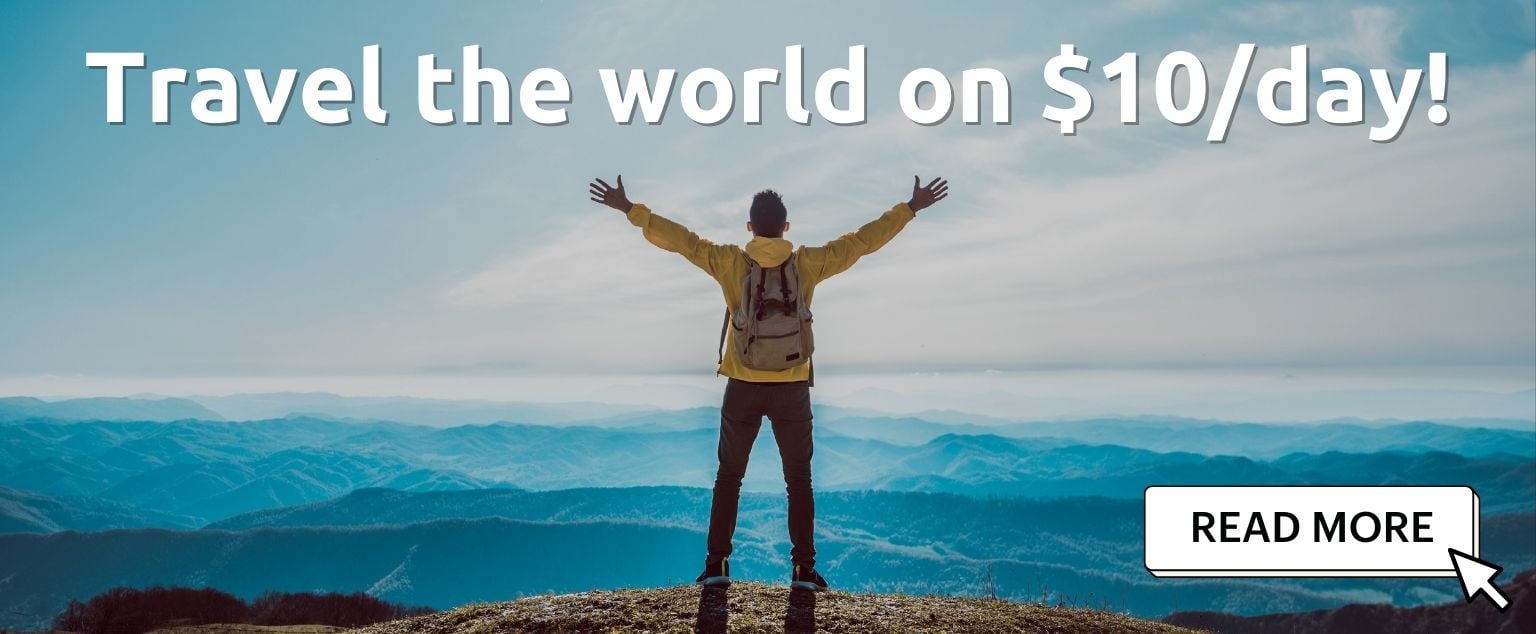 And for transparency's sake, please know that some of the links in our content are affiliate links. That means that if you book your accommodation, buy your gear, or sort your insurance through our link, we earn a small commission (at no extra cost to you). That said, we only link to the gear we trust and never recommend services we don't believe are up to scratch. Again, thank you!