Israel is a young country in an ancient land that is home to incredible holy places, geographical surprises, and cultural gems. Since Israel is also such a tiny country, totaling in just 8019 square miles, you should be able to cover a lot of ground while you're there— lucky you!
What isn't exactly a walk in the park is figuring out where to stay in Israel. Navigating the best areas to stay in Israel as well as the Israel accommodation scene can be taxing. Put your worries aside and say hello to our guide here of the top places to stay in Israel.
Ready to visit the Dead Sea or check out the Dome of the Rock? We're ready to hold your hand and guide you to exactly where you want to be!
Quick Answers: Where is the Best Place to Stay in Israel?
Map of Where to Stay in Israel
It probably comes as no surprise that Jerusalem is our top vote for the overall best city in Israel. Jerusalem has ancient religious significance to Judaism, Islam, and Christianity. It is also home to important religious sites such as Western Wall, Temple Mount, Dome of the Rock, the Church of the Holy Sepulchre, and al-Aqsa Mosque. As you can probably tell from that list of major religious sites, Jerusalem is one of the world's greatest cities and is packed with incredible things to do and to see, which can make it hard to know where to stay in Jerusalem.
If you can make it outside of the city, trek up to the Mount Olives, just outside of the Old City of Jerusalem. When you walk up this hillside you can soak up an unparalleled view of the city below! Also, at the bottom of the hill from Mount Olives is the Dominus Flevit Church which is certainly worth a quick visit. And then nearby is the Garden of Gethsemane which is where Jesus prayed the night before he was crucified.
Moreover, make sure to visit the Church of All Nations, the Tomb of the Virgin Mary, Via Dolorosa, and the City of David National Park to just name a few! Jerusalem is the best city to stay in Israel for a reason— it's brimming with exciting things to see.
Take a look at some of Israel's popular National Parks.
Best Places to Stay in Jerusalem
When staying in Jerusalem, you are definitely going to want to stay in the Old Town or as close to the Old Town as possible. Stick close to the top sites in Jerusalem and you'll find yourself immersed in some of the most picturesque neighborhoods that Jerusalem has to offer!
Abraham Hostel really is all that and a bag of chips. It offers guests awesome activities and a highly social environment. What kind of activities you ask? How about hummus cooking classes, pub crawls, yoga classes, and Friday Shabbat dinners for starters. This lively hostel sits a 30-minute walk from the Old City, but with a price tag this low as well as the epic activities they offer— it's worth the walk.
For more very cool hostels in Jerusalem, check out our Best Hostels in Jerusalem guide!
The Agripas Boutique Hotel sits right in the center of Jerusalem, just a few thousand feet from the historic Old Town. In fact, you'll be just a five minutes walk to the Mahane Yehuda Market. There is also complimentary wine, tea, and light snacks served Sunday through Thursday as a happy hour on the rooftop terrace.
Best Airbnb in Jerusalem – Best Jewish Quarter Apartment
Right in the heart of Jerusalem's Old City, this Airbnb is a rare find! As a private room in a charming apartment, you are invited to use all the common spaces. The best part of this Airbnb is that you can see the Western Wall right from the apartment's front door.
The Dead Sea is hands down one of the best areas to stay in Israel if you are traveling with your family. The Dead Sea is actually a salt lake that sits between Jordan and Israel in what is known as the Jordan Rift Valley. Also, the Dead Sea is the lowest place on Earth, dwelling a whopping 434 meters below sea level.
Besides seeing the Dead Sea itself, the Ein Geri Nature Reserve is amazing to hike through. It is filled with freshwater pools, waterfalls, and amazing animals like wild ibexes. The kids are sure to love seeing these dazzling animals in their natural habitats!
Staying connected in this area is a little more of a challenge since you can get out of range of hotel wifi super easily. Picking up a local sim card can keep you on the money at all times though!
Best Places to Stay in the Dead Sea
Most of the accommodation is found around the beach, however, there are some more budget-friendly options farther away from the shoreline near the Ein Geri Nature Reserve.
The Oasis Dead Sea Hotel is set right along the shore of the Dead Sea. The popular Ein Bokek Beach is just 600 feet away. If you and your family are wanting to take a break from the mineral waters of the Dead Sea, you can always take a dip in the indoor or outdoor swimming pools. This stunning hotel has a striking exterior design, and a glamorous feel inside. You and your family are sure to love staying in style!
Best Airbnb in the Dead Sea – Vacation Apartment
This Vacation Apartment is a two-bedroom and one bathroom private home that has gorgeous views of the Dead Sea right outside the front windows. Situated in the botanical oasis of Kibbutz Ein Gedi, you'll love having this home to yourselves. Plus, there's also six individual beds inside so if you happen to have more than a kid or two, this home truly is perfect for you!
Best Guest House in the Dead Sea – The Zimmer Belev HaKikar
This lodge is a great find and is entirely family-friendly! There is even a children's playground on site. However, this lodge does sit nearly 23 miles away from the Dead Sea, but given its relaxed atmosphere and clean, comfortable environment it's worth the drive to be a little farther away from all the action if you're worried about dealing with crowds.
Herzliya sits on the central coast of Israel, just 13 kilometers north of Tel Aviv. It's known for its hip, young culture as it's home to tons of start-ups. It's a very affluent community that is home to the rich, the famous, and the techies. It's where the tech companies like Apple, Amazon, and Microsoft have their branches.
What makes Herzliya one of the best places to stay in Israel for couples is that it has beautiful— and much less populated—beaches, a charming marina, and a nice swath of seafront restaurants and cafes. Plus, it's a great spot to go scuba diving or to learn how to surf. Also, the sunset views right on the Mediterranean really amp up the romantic vibes. Staying in Herzliya gives couples the privacy they desire, while still allowing them easy access to all the incredible sites in Jerusalem.
Best Places to Stay in Herzliya
Keeping in mind that Herzliya is only 21.6 square kilometers big, the best area to stay in Herzliya is west of the Highway in the neighborhood of Herzliya Pituach. This area is where the beaches and the best restaurants are found. If you head east of the highway, you'll be in a mainly commercial and residential area.
This luxury apartment is crisp, clean, and very modern. It's a one-bedroom and one bathroom apartment with a fully equipped kitchen. It sits just a one minute walk from the beach and from the best shops and restaurants in Herzliya. In fact, there is a great cafe right under the apartment that makes a mean cappuccino.
Rent this divine apartment for a dream couples getaway location. It's just over 100 meters from Acadia Beach, and the apartment itself has a restaurant, bar, and shared lounge on-site if you aren't in the mood for wandering far. Additionally, there is a complimentary giant buffet breakfast provided each morning for guests. Lastly, the popular Reef Diving and Surfing Club is just under a mile from the apartment, if you and your significant other are in the market for taking to the sea!
The Daniel Herzliya hotel lies directly on the beachfront. It's a luxurious hotel that has amazing leisure facilities from tennis courts to swimming pools to a gym! Also, absolutely all of the rooms offer stunning views of the Mediterranean Sea. Plus, you'll be just around a half a mile walk from the Arena Mall and from the Herzliya Marina.
Tel Aviv lies on the Mediterranean coast of Israel and is the most populated city in all of Israel. It is home to over 4,000 structures that have an international style of architecture, most predominantly in the Bauhaus style. So if you are an architecture lover, you're in for a real treat in Tel Aviv! There is also a vibrant street art scene found in the Florentin neighborhood.
Tel Aviv is a buzzing metropolitan city that has incredible nightlife, delectable gastronomic delights, and great beaches. As the coolest place to stay in Israel, it comes as no surprise that there are tons of amazing things to do and to see. The Suk HaCarmel market can't be missed, neither should the Shuk Hapishpeshim Market which is the best flea market in Tel Aviv! Try out your bartering skills and pick up everything from spices to food to unique souvenirs.
The Tel Aviv Museum of Art is also a real treat to visit, as is the Center for Contemporary Art. If you can squeeze it into your Tel Aviv travel schedule, try to catch a live dance show at the Batsheva.
Lastly, if you need a nice strong drink after a day of exploring Tel Aviv's neighborhoods, head on over to the Beer Bazar and quench your thirst!
Wonder if Tel Aviv is safe to travel? Find out in our Tel Aviv Safety Guide!
Best Places to Stay in Tel Aviv
The Florentin neighborhood is an awesome place to stay as it's home to Tel Aviv's creative class and has tons of unique venues. As the popular neighborhood of Jaffa sits right next door to Florentin, either neighborhood provides some of the coolest choices for lodging in Israel!
Florentine Backpackers Hostel Tel Aviv, is an amazing hostel right in the trendy neighborhood of Florentine, plus Alma Beach is just a 15-minute walk away. There are mixed and female-only dorms available, as well as private rooms. This lively social hostel provides 100% value for your money!
For more very cool hostels in Tel Aviv, check out our Best Hostels in Tel Aviv guide!
The Joseph Hotel TLV is an elegant and moody hotel that looks like it could have been the set of a movie. It's velvet furniture and dark green walls induce an exceptionally classy atmosphere. Sitting just 2,450 feet from Alma Beach in the fun neighborhood of Jaffa, you're sure to love your stay at this unique hotel!
Best Airbnb in Tel Aviv – Noga Suites
This studio apartment comes at a steal in the Florentin neighborhood, close to lots of art galleries, bars, restaurants, and museums. Everything you need is within walking distance. It's a great value Airbnb with lots of room to spread out.
First things first, I definitely want to mention that Tzfat goes by another name too, Safed. The names are used interchangeably, so don't be surprised if you encounter some information on Tzfat or Safed and it sounds the same— it's the same place! Tzfat sits in the Northern District of Israel and is actually the highest city in all of Israel.
Tzfat is one of Judaism's four holy cities and is the center of Kabbalah, Jewish mysticism in Israel. Filled with winding cobblestone streets, bright art galleries, and delightful mystical shops, Tzfat is a real treat. This Holy City is also home to ancient sites and sweeping panoramic views. If you're looking for one of the top places to stay in Israel for unique experiences at budget-friendly prices, Tzfat is for you!
Definitely make sure to visit the Tzfat Cemetery, a place of pilgrimage where tens of thousands of people visit to pray for divine intervention. Lastly, make sure to go to the food stall called the Lahuhe Original Yemenite to try authentic Yemenite delicacies like malawach, lachuchs, and jachnun!
Best Places to Stay in Tzfat
Tzfat is a small mountain city, so you won't ever be too far from the vibrant Old City. However, if you're really looking to save some money, if you stay a couple kilometers away and are willing to walk into the Old City, you will really save some extra dough!
The Kibbutz Inbar Country Lodging is a beautiful lodge, nestled right in nature. It gives guests sweeping views of the surrounding countryside. It's truly an idyllic hotel! Providing guests hearty and healthy vegetarian breakfast each morning, the Kibbutz Inbar Country Lodging is the best hotel to stay at to save some bucks while not sacrificing any amenities.
Best Airbnb in Tzfat – The Reznik Getaway
This affordably priced Airbnb is for an entire guest suite, a one-bedroom and one bathroom suite. You'll be situated near the Old City of Tzfat, just a minute walk to the city center. It's a beautiful studio that oozes luxury, yet comes with a budget-friendly price tag!
Best Hostel in Tzfat – Safed Inn
The Safed Inn sits right on the outskirts of Tzfat, but is still within a couple kilometers of the major attractions in the area. The Biriya Forest and Old Tzfat are both just three kilometers away. The Safed Inn offers both private rooms and dorm rooms. They also have a dry sauna and hot tub, which is great for relaxing after a long day exploring!
As we previously just discussed, Tzfat is a holy city perched on a hill. It is home to mystical shops, a vibrant artist colony, as well as great hikes! You're going to want to check the main tourist sites off your list like the Tzfat Kabbalah Center, the Artist Colony, the Abuhav Synagogue, and the Ari Ashkenazi Synagogue. Of course, there are more unique things to do like hiking Mount Canaan and going horseback riding at Bat Yaar Ranch.
If you're in the mood for something truly adventurous, you can travel just around nine miles away to and go river rafting at Jordan River Rafting! Or how about visiting the Tomb of Maimonides a mere 13 miles away?
In and around Tzfat there are plenty of interesting things to do and to see, which makes it one of the top places to stay in Israel for unique experiences!
Best Places to Stay in Tzfat
Staying as close to Old Town as possible means that you won't miss out on any of the best things that Tzfat has to offer!
Mendy's Accommodation is a sweet holiday home nestled right in the heart of the Old Town in Tzfat. With old stone walls and crisp white furniture, you'll be nice and cozy in this lovely home.
Best Hotel in Tzfat – Mol Hahr
Situated right in the Old Town, Mol Hahr is a beautiful hotel in the perfect location. Very close to the hotel are unique tourist attractions like the Tzfat Kabbalah Center, the Hameiri House, and Safed College. The Artist Colony is just a few minutes walk away too! The hotel itself is very charming, with sloping wooden beam ceilings and lovely private balconies.
Best Airbnb in Tzfat – Menucha's Home in Old City Tzfat
Amazingly, this Airbnb is in the middle of all the tourist sites, yet still feels secluded. It has a tranquil ambiance with a garden and pond, but is right in the heart of the Old City. To be exact, this Airbnb is situated right at the entrance of Metzuda Park, the absolute highest point in Tzfat. You will love this unique Airbnb with its peaceful atmosphere and lovely decor.
Eilat is in the south of Israel and is a port town right on the Red Sea. It's one of the best areas to stay in Israel if you're looking for adventure! Eilat is home to the Coral Beach Nature Reserve which has buoy marked underwater trails for scuba diving and snorkeling. Get ready to see millions of fishes! There is also the Dolphin Reef, which is known for having an abundance of dolphins swimming in the calm waters. Additionally, there are also fun water sports to partake in like parasailing, SUP, and banana boating.
If you need a break from exploring the underwater world, head on over to Timna Park for some mountain biking or hiking through the desert. The Eilat Mountains is a nature reserve that is home to incredible hiking through the picturesque canyons and mountains. Get ready to be amazed!
Best Places to stay in Eilat
When staying in Eilat, try to stay close to the beach to get the most out of your trip!
Best Airbnb in Eilat – Sweeping Views & Classy Apartment
This beautiful apartment is for a one-bedroom and one-bathroom apartment that actually has a total of four beds inside. It's just a five-minute walk to the beach and to the seaside promenade. The outdoors balcony offers sweeping views of the mountains and of the Red Sea. It's the perfect Airbnb in Eilat to kick up your feet and feel right at home.
Best Hostel in Eilat – The Shelter Hostel
The Shelter Hostel in Eilat is a fabulous hostel with chill vibes and peaceful surroundings. There are dorm rooms and private rooms available coming in at basement prices. With a community kitchen available, you'll love being able to whip up a snack when a craving sets in! Popcorn, anyone?
Best Hotel in Eilat – Rich Royal Suites
Don't worry that The Rich Royal Suites will break your bank— it certainly won't! Coming in at an affordable price, this hotel is a great find. It sits just a few minutes walk from the pebble sand Moriah Beach, the watersports-centric Kisuki Beach, and the golden sands of Neviot Beach. When staying at the Rich Royal Hotel, make sure to check out Ola Restaurant just down the block for a delicious meal!
Are you a lover of food and of all things delicious? If you are wondering where should I stay in Israel to experience the best food scene then look no further than Tel Aviv! The culinary scene in Tel Aviv is burgeoning and tons of different types of cuisine can be found all throughout the city. However, the true culinary roots of Israel always comes down to pita, falafel and shawarma. Make sure you check out Sabine Frishman and Miznon for some of the best traditional pita in Israel!
If you're craving a traditional Israeli breakfast, with a widespread of dips, salad, eggs, and bread, you're going to want to head over to Bread Story for a truly delicious meal!
I would be remiss if I didn't make sure to mention that you absolutely need to get into the coffee culture in Tel Aviv. Not a single Starbucks can be found in this city! Get ready to try a cafe ha'fooch at some hip coffee shops. I recommend trying Cafelix Coffee or Mae Cafe. Of course, The Urban Bakery is always a good choice.
Best Places to Stay in Tel Aviv
To get the most out of the culinary scene in Tel Aviv, stay in the trendiest neighborhood of Florentine, or in the nearby cool district of Old Jaffa that sits a little closer to the sea.
Get ready for a unique experience because this hostel is actually made up of caravans, trailers, and campers! You can stay in your own private camper right inside the city center. There are also dorm rooms available inside the main building, should you want a more traditional hostel experience. Situated just a ten-minute walk to the beach in the Florentine neighborhood, you'll love setting up shop in this spot. Also, this hostel also serves it's very own home-brewed craft beer.
Best Hotel in Tel Aviv – INTA Hotel
When you stay at the INTA Hotel, you'll be staying in style. This eclectic hotel is filled with bright art and bold accent walls. It's an adults-only hotel that has a fantastic terrace bar to kick back and chill out on. You'll love being right down the block from the Aroma Israeli Cafe and from the local French patisserie, Cafe Dellal.
Best Airbnb in Tel Aviv – Cozy Old Jaffa Loft
By definition, this Airbnb is pristinely clean. It's a one-bedroom and one bathroom private loft that is positively gorgeous and tastefully decorated. You'll be close to tons of delicious restaurants and to the beach as well!
There are so many incredible top places to stay in Israel that makes choosing just three quite difficult! We buckled down and made some tough calls. Here are our top three best places to stay in Israel.
Best Hostel in Israel – Abraham Hostel – Jerusalem
Abraham Hostel is a hostel that promises travelers unforgettable experiences. With a super lively social atmosphere, plus with awesome hostel events like hummus making classes, you're sure to never forget your stay at Abraham Hostel.
Best Hotel in Israel – Joseph Hotel TLV – Tel Aviv
The Joseph Hotel in Tel Aviv is one of the best hotels in Israel. It really could have been the set of a movie! It's elegant, classy, with gorgeous interior design. It's the perfect location for your stay, in the popular neighbourhood of Jaffa, just a five-minute walk to both the Flea Market and to the beach.
Best Airbnb in Israel – Sweeping Views & Classy Apartment – Eilat
This beautiful Airbnb dwells in the seaside city of Eilat. Right from your own private balcony, you can soak up the view of the mountains and of the Red Sea. It's a great, private apartment that provides guests all they could possibly need at an incredibly affordable price.
Books to Read While Visiting Israel
Six days of War – Though it lasted for only six days, the 1967 Arab-Israeli war never really ended. Every crisis that has ripped through this region in the ensuing decades, from the Yom Kippur War of 1973 to the ongoing intifada, is a direct consequence of those six days of fighting. Michael B. Orena's magnificent Six Days of War, an internationally acclaimed bestseller, is a comprehensive account of this epoch-making event.
I Shall Not Hate – Heart-breaking, hopeful, and horrifying, I Shall Not Hate is a Palestinian doctor's inspiring account of his extraordinary life, growing up in poverty but determined to treat his patients in Gaza and Israel regardless of their ethnic origin.
Let There Be Water – Let There Be Water illustrates how Israel can serve as a model for the United States and countries everywhere by showing how to blunt the worst of the coming water calamities
Khirbet Khizeh – A classic (if controversial) piece in Hebrew literature, this 1949 novella is penned by S. Yizhar, a soldier in the 1948 Arab-Israeli war. It's an easy read for it's length but not so much for its gutwrenching recount of a soldier's point-of-view on the brutality of that war.
Don't Forget Travel Insurance for Israel
World Nomads' mission is to support and encourage travellers to explore their boundaries. They offer simple & flexible travel insurance, and safety advice to help you travel confidently.
They've been doing it since 2002 – protecting, connecting, and inspiring independent travellers just like you.
Get a quote below or read our in-depth review!
World Nomads provides travel insurance for travelers in over 100 countries. As an affiliate, we receive a fee when you get a quote from World Nomads using this link. We do not represent World Nomads. This is information only and not a recommendation to buy travel insurance.
Israel is an incredible country filled with ancient history, holy sites, great scuba diving spots, and delectable cuisine! Whether you're looking to head over to the Dead Sea with your family or go on a culinary tour in Tel Aviv, we're sure that you will have an unforgettable trip. Hopefully, our list of the best areas to stay in Israel proved useful and provided answers to all the questions on your list!
Do you own or run a kick-ass hostel? Want to be featured on this list? Get in touch at [email protected]
---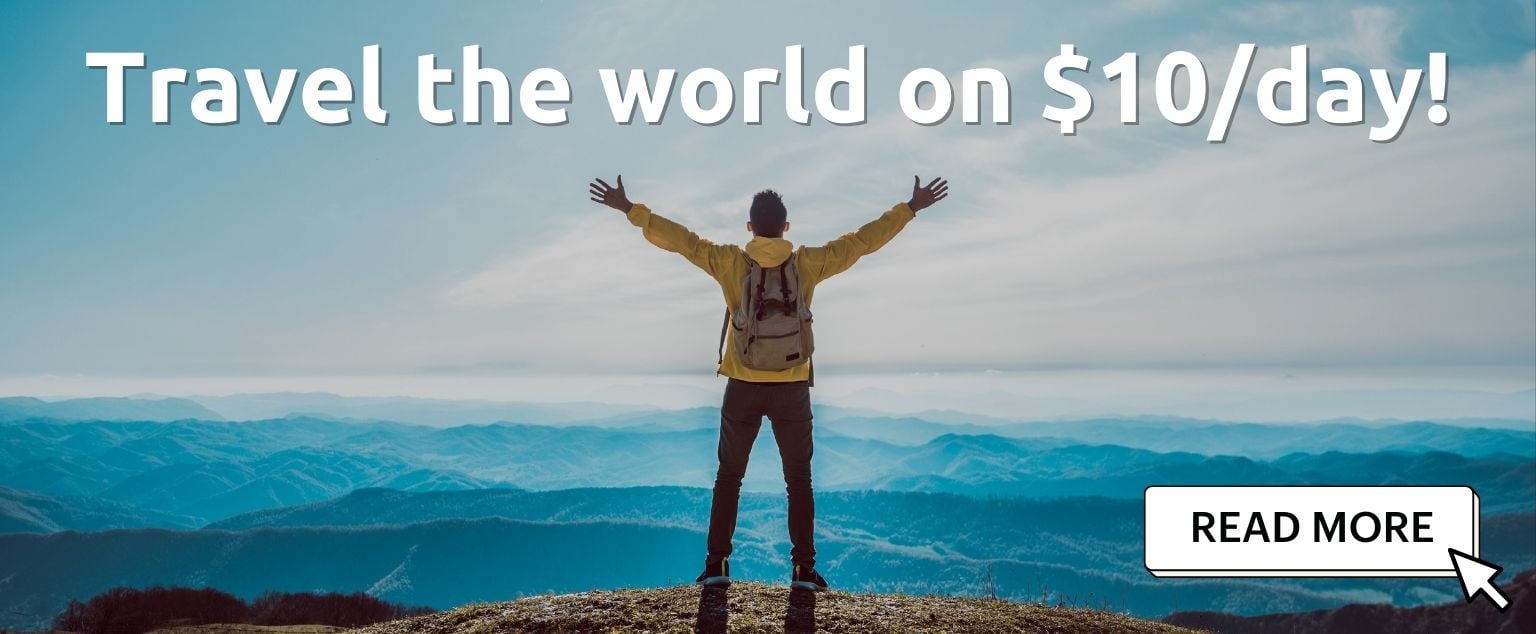 And for transparency's sake, please know that some of the links in our content are affiliate links. That means that if you book your accommodation, buy your gear, or sort your insurance through our link, we earn a small commission (at no extra cost to you). That said, we only link to the gear we trust and never recommend services we don't believe are up to scratch. Again, thank you!