Most people that visit Jordan just see Petra and then move on elsewhere. I'm here to tell you that there is so much more to do when you go to Jordan! The Jordanian wilderness is astounding and the capital, Amman, is far more vibrant than people think. Jordan deserves to be explored.
The good news is that Jordan is still a bit of a backpacker secret so you won't have to look too far to get off the beaten path and away from the hoards of tourists. It's easy to make your own adventure here!
Backpacking in Jordan was one of the best times of my life. The landscape is incredible and the locals are wonderful. Fuck, everything about this place was amazing for me.
This travel guide for Jordan is a collection of all the knowledge that I gained while backpacking there. In it, you will find tips on where to go and how to spend as little money as possible while backpacking Jordan. You will visit Petra, the Dead Sea, secret ruins, and much more along this journey.
So come with me. It's time we visited the spectacular sands of Jordan!
Why Go Backpacking in Jordan?
The following is a moment from my life while backpacking through Jordan:
Our Bedouin guide called me Shams, which means "the sun" in Arabic. He gave me this name because of the two girls that I traveled with. Their names were Alqamar and Najima – the moon and the star.
Together, we were the Sun, Moon, and Star of Jordan.
Each morning, I rose before dawn to climb the mountains of the desert. I was searching for that perfect view where everything could be seen. Reaching the summit, I exhaled a breath of relief as I arrived in time to greet the true Sun. Amusingly, I always imagined myself passing a symbolic torch to it.
During the day, our guide would lead us to the most beautiful places in the desert. We navigated narrow canyons and hiked over monolithic bridges. The sky was a perfect blue and empty aside from the waning moon that watched over us.
At night, the four of us slept outside and under the night sky. We admired the heavens for ages and were never cold – the blanket of stars above was all that was needed.
If you're not stoked about visiting Jordan, it's time to!
In the following sections, you will find three different itineraries for backpacking Jordan with a great depth of coverage. Over the course of these backpacker routes, you will experience much of what there is to do in Jordan. You will visit Petra, the Wadi Rum, travel along the King's Way, and so much more.
Best Itineraries and Routes for Backpacking Jordan
Below is a list of four travel itineraries for backpacking through Jordan. They vary from one week to 10 days in length and cover the majority of the top things to do in Jordan.
Backpacking Jordan 10 Day Itinerary #1: Jordan's Highlights
Those with more time on their hands will be fortunate to see Amman, the rapidly growing capital, plus most of the previously mentioned destinations. Chances are you will start your journey in Amman, either by flying in or crossing from Israel.
Stay in Amman and explore this dynamic city. Go hunting for graffiti and visit one of the many art galleries. Take day trips out to Jerash and the Dead Sea where you can float until your heart is content. Drop by Madaba if you're interested in seeing the Madaba Map, which is of great historical importance.
Head south to visit Petra and the Wadi Rum. Afterward, catch a flight back to Amman in Aqaba. If your international return ticket is via Aqaba, thanks for visiting Jordan! You'll be welcome back anytime.
Backpacking Jordan 5 Day Itinerary #2: The Dead Sea and Petra
Five days only? OK, strap in amigos, it's time for a whistlestop tour of two of the most extraordinary places to visit in Jordan!  On this 5-day itinerary through Jordan, we'll just be visiting two attractions: Petra, and the Dead Sea. This is a very common route for those who have been backpacking in Israel and want to get out for a few days.
Fly into Amman or cross the border at Allenby Bridge and head straight to the Dead Sea. Experience one of the most bewildering feelings in the world: weightlessness in the hyper salinated water.
Be sure and visit nearby Wadi Mujib or Wadi Numeira for some great hiking and canyoneering. These slot canyons are two of the top things to do in Jordan.
After the Dead Sea is Petra, which is one of the most admired places in the world! Enter the siq (canyon) and discover the "Rose-Red City." Stare in awe for as long as you like – everyone does that here.
Backpacking Jordan 7 Day Itinerary: The South of Jordan
This route is great for those who want to spend more time in the deserts of Jordan. It includes a visit spectacular Wadi Rum, the reefs of the Red Sea, and, of course, the always magnetic Petra.
Backpackers can arrive in either Aqaba or Amman. The former is better as you can get a free visa! See the Getting a Visa in Jordan section for more on this sweet deal. Those who have been backpacking in Israel can also enter via the convenient Wadi Araba crossing between Eilat (great for diving) and Aqaba.
Go diving in Aqaba and see some of the most colorful coral in Arabia. Trek in the Wadi Rum all day and then sleep under the stars. Drop by on a trip to Petra and see what all the fuss is about. All of this and more is covered in this itinerary!
Places to Visit in Jordan
Now that we've covered a few backpacking routes in Jordan, I'm going to go into detail about the places to visit in Jordan, and what you can expect to do!
Backpacking Amman
Amman is both the largest city in Jordan and its capital. Amman only receives a fraction of the tourists that Petra does, which is a shame because it really is a wonderful place to visit in Jordan.
In the last few years, Amman has undergone a lot of urban renewal in hopes of keeping up with its Arab neighbors. For this reason, there are a ton of things to do in Amman. From the Roman Amphitheatre to the booming Rainbow Street, there's something for everyone in this dynamic city.
Lovers of history will be very impressed by Amman. There are several ruins here dating back to the Romans. The most noticeable sight is the Citadel. Sitting atop Jabal al-Qal'a, this complex rises right in the middle of the city and is hard to miss. At the Citadel you will find archaeological sites like the Roman Temple of Hercules, and the Umayyad Palace. From the hill, the views of the city are unbeatable as well.
Other historical sites in Amman include the aforementioned Roman Theatre and the Mosque of King Abdullah I.
Amman has a vibrant art scene that cannot be denied. The Darat Al Funun is a "home for the arts and artists of the Arab World." Their story is fascinating and I encourage travelers to check it out. Nearby is the Fine Arts Museum of Jordan. The city is also full of stunning graffiti from local and international alike.
Finally, no trip to Amman is complete without visiting Rainbow Street and Jabal Al Weibdeh. Both areas are very bohemian and have lots of charming cafes and artists studios. Sip a coffee and people watch in these districts.
Backpacking Jerash
To the north of Amman at the border of Lebanon and Syria is the very impressive city of Jerash. Jerash is home to some of the grandest ruins in the Middle East. You'll have to pay a fee ($14) to enter the historical grounds but it'll be well worth it for history buffs.
There are Roman archaeological sites everywhere in Jerash. You could easily spend the whole day wandering around the arches and fallen pillars of this place. The Roman complex is complete with a forum, agora, nymphaeum, Hippodrome, temple – to Artemis specifically – and a theatre. These are staples of Roman architecture and you'd be hard-pressed to find a better-preserved site unless you were a time traveler.
Moving forward in history, about 10 miles outside of Jerash is Ajloun and its spectacular castle. Built in the 12th century, Ajloun Castle would become one of the most important outposts in Saladin's Sultanate. From the fortress, all of the surrounding lands could be protected and trade upheld. The castle itself is quite labyrinthian and preserved very well.
To be honest, both Jerash and Ajloun could be visited as day trips from Amman. Those on a tight travel budget for Jordan might prefer to do this because local accommodation can be expensive. This area is very beautiful though and some may see value in staying a few nights.
Camping in the woods around Ajloun is a great idea. The best camp around is in the Ajloun Nature Preserve, though it is considered "luxury camping." You can read more about the facility by clicking the link below. I suggest going with a group of people to split costs and save some cash.
Backpacking Madaba
Madaba is a sleepy little town with not a whole lot going on. You could walk around the whole city in less than a day. Its few significant historical sites plus prime location make it a worthy stop for anyone traveling to Jordan.
The most important attraction in Madaba is the Madaba Map. The map dates back to the 5th Century AD and is a (partial) mosaic of the Middle East.
This relic is compelling because it is the oldest known geographic mosaic in the world. It's portrayal of the Holy Land and Jerusalem also make it the oldest known depiction of either. Historians have placed great importance on this finding. The Madaba Map can be found at the Church of St. George.
Other places to visit in Madaba of particular interest include:
The Archaeological Park
The Museum
The Shrine to the Beheaded St John the Baptist.
Madaba really shines because of its location though. Its proximity to the Dead Sea makes it an excellent base for exploring the area. Accommodation prices in Madaba will be much cheaper than those around the Dead Sea as well.
If you do venture out to the Dead Sea, make sure you stop by the lovely Ma'in Hot Springs. The springs are warmed by thermal vents and full of healing minerals. The water is a gorgeous aqua color and it flows picturesquely via several waterfalls.
Also worth visiting in Mount Nebo, the place from where Moses saw the "Promised Land." This mountain is only ten minutes outside of Madaba and affords excellent views of the surrounding landscape. You can see all the way to the Dead Sea and even Jerusalem on a clear day. Taxis to the trailhead can easily be arranged in Al Muhafada circle.
Backpacking Petra
Petra is One of the Seven Wonders of the New World! These ruins are often the main reason many people go to Jordan backpacking in the first place.
Petra was once the capital of the ancient Nabataean Kingdom and sheltered nomadic Arabs for many centuries. Eventually, the city was conquered by various superpowers including the Romans and Saracens. Over the years, Petra was forgotten and would remain hidden until it's rediscovery in the 19th century.
What remains of Petra is a few archaeological sites that now act as tourist destinations in Jordan. The most well-known attraction is the Al-Khazneh or "Treasury." You may recognize its facade from Indiana Jones and the Last Crusade. The Treasury was once a mausoleum used by the Nabataeans.
Other sites include The Monastery, Roman Theater, Royal Tombs, and Street of Facades. There's enough to see that an itinerary for Petra could last several days. There are several hiking routes going in and out the area as well (see the Trekking in Jordan section).
Entry is expensive but the system is designed to put the greatest financial burden on making a day trip to Petra. Single-day passes are $125. Those staying overnight in Petra will actually pay less at around $70-$80.
Of course, Petra is a valid destination if you have a Jordan Pass (refer to the Getting into Jordan section for more on this).
Visiting the ruins at night is a popular activity and it'll even save you money – about $50 worth! Unfortunately, this option limits you to only seeing the Treasury and only on certain days: Monday, Wednesday, and Thursday.
Backpacking the Dead Sea
Though less visited than the Israeli side, the Dead Sea of Jordan is no less stunning!
The Dead Sea is the lowest place on Earth and one of the saltiest as well. It's so salinated that it's almost impossible to sink. People marvel at the buoyancy of the water and at how effortlessly they float – literally without trying. "Swimming" in the Dead Sea is for sure a weird experience and makes the trip worth it.
The high mineral content of the Dead Sea is also very therapeutic. Smother some mud on your skin for a healing bath!
There are a couple of cautionary steps that swimmers are suggested to follow in the Dead Sea:
Do not float on your belly as this will cause you to be very disoriented (you still totally can though and it's a lot of fun).
Don't put your head under, however, unless you've recently been experimenting with putting Tiger Balm in your eyes and your pain tolerance is excellent. You can still drown in the Dead Sea.
The water tastes like a fish's butthole – fair warning.
Just south of the Dead Sea are two of the most beautiful places to go to in Jordan – The Wadi Mujib and Wadi Numeira. These are gorgeous slot canyons that are very reminiscent of those in Utah and Arizona. You can go on one the best hikes in Jordan in the Wadi Mujib.
The Siq Mujib trail is a thrilling canyoneering route, sometimes through thigh-high water. You will navigate the canyon all the while marveling at the impressive sandstone formations. The Siq Numeira trail has similar geology to Mujib but far less water, which is better for aquaphobic people.
Backpacking the Wadi Rum
The Wadi Rum ismy favorite place to visit in Jordan! The desert landscape is absolutely astounding here. Striking mountains rise up from the ground in surreal fashion. The brilliant colors of the sand here are reminiscent of a painter's pallet. At sunset, the scene is transcendent.
Arriving into the Wadi Rum is straightforward. Ride the bus or hitchhike along the only highway in the area (the 15) until you reach the Wadi Rum turnoff. Sometimes there are taxis waiting to give you a lift. Otherwise, you'll have to hitch another ride. If you booked your accommodation ahead of time – which I highly recommend – you can arrange for a pickup. If you're coming from Petra, there are usually minibusses that will go all the way to Wadi Rum Village.
You'll have to register with the tourist office before entering the Wadi Rum, but this is a painless affair. Once you've passed this checkpoint, next stop is Wadi Rum Village. This is the final settlement before the desert. You can stock up on supplies here if you like.
Past the village is the Wadi Rum! Make no mistake: this desert is huge. It would very foolish to simply walk across it. I really suggest that you hire a driver as they'll know the best spots and get you there quickly. Drivers will often be available via your desert accommodation or by asking around town. Seriously, paying the extra money for this service is totally worth it, if not, mandatory.
With your driver, you can go just about anywhere in the Wadi Rum! Visit the remains of Lawrence of Arabia's old house. Navigate the narrow Khazali Canyon. The possibilities are infinite!
Backpacking Aqaba
Aqaba is the gateway to the stunning Red Sea! The Red Sea is famous for its cerulean water, which makes for great swimming and diving.
There isn't much to do in the sleepy town of Aqaba aside from seeing the local fort or museum. The city itself really only serves as a port and base for visiting the Red Sea.
There are a few beaches in the city but the best are down south towards the Saudi Arabian border. Hotel shuttle buses and taxis are the most convenient means of transportation. The former can usually be arranged even if you're not a guest of the particular hotel.
Arriving at the beach you'll notice a few things:
The beach can be quite stony.
Women are still wearing bikinis.
The water is perfect.
The second bit about the swimwear is notable because many travelers expect the more traditional Muslim garb. The beaches are private and have their own (casual) dress code so bikinis are welcome.
NOTE: The reason to mention Western-style swimwear is that because certain articles of clothing, like bikinis, are generally frowned upon at public beaches in Jordan. Thus, if you want to wear something like a bikini, you'll need to go to the private beachs and resorts to do so.
Beachgoers will have the unique opportunity of seeing four different nations at once. Across the Red Sea, you'll see Egypt and Israel, and to the south is Saudi Arabia.
There are several dive centers around these beaches. Visit one of them and book a diving trip. For more information on diving, see the Diving in Jordan section of this guide.
Going Off the Beaten Path in Jordan
Jordan is a pretty small country so you'd think that there would be very few secrets left. There is always a side to every country though that evades popular attention. The east of Jordan – near the borders of Iraq and Syria – is very rarely visited. Few backpackers actually make it to every site in between Amman and Petra as well because they're in such a rush to get to the latter.
As is always the case with taking the road less traveled, I strongly suggest renting a car in order to get around. Public transport is slow or non-existent in all of the below. Having your own ride will make getting around much easier and, for everything else, you always got your thumb.
Backpacking Eastern Desert
East of Amman, and well off the usual backpacking route, is the Eastern Desert of Jordan. The desert here doesn't really stand out – compared to the Wadi Rum at least – and there isn't much to do.
What this region offers though is a collection of remote desert castles. These buildings are among the top historical places to see in Jordan and do not suffer from larger crowds. Chances are you'll either be sharing the sites with only a handful of people or you'll have them all to yourself.
The main castles in the Eastern Desert are Qasr al-Hallabat, Qasr Amra, Qasr al-Azraq and Qasr al-Kharaneh. If you make it as far east as Qasr al-Azraq, it may be worth staying in the small town of Azraq. There is almost nothing to do in this settlement beside visiting the nearby wetlands. It does offer a nice base to see the ruins though.
I must warn some people that there is very little grandeur to these outposts. Bleak is the landscape and humble are the structures. They are important though. Lawrence of Arabia used Qasr Azraq as his own base to conduct several campaigns. These castles have stood the test of time and if you visit them, you may understand a little more about Arabia.
Backpacking Dana Biosphere Reserve
There is very little green in Jordan but that doesn't mean it's completely barren. Enter the Dana Biosphere Reserve – located in-between the Wadi Rum and Petra. This natural park is one of the most verdant areas in the country and is a welcome respite from the ubiquitous desert landscape.
The Dana is the most environmentally diverse place in Jordan. This park is characterized by several types of flora and fauna, as well as being subject to four distinct bio-geographical zones.
There over 200 species of bird in the Dana. In addition, several endangered species reside here including the Nubian ibex and kestrel. The geology is a mix of sandstone, limestone, and granite.
For these reasons, the Dana Biosphere Reserve is a great area for hiking in Jordan. Many who are backpacking through Jordan quickly skip this area, either out of ignorance or because of a lack of time. Such a pity! The Dana is one of the great experiences of Jordan and shouldn't be overlooked.
There are a number of ways to enjoy the Dana Biosphere. You can go for a walk (refer to the Trekking in Jordan section) or even mountain biking. Because of its location, you can even connect the Dana with Petra and/or the Wadi Rum via long-distance hiking!
Backpacking The King's Way
When visitors enter Jordan, they usually head straight to Petra and take the quickest route there – via a modern highway. In doing so, these people miss out on one the most scenic and culturally significant roads in Jordan: the King's Way.
The King's Way is an ancient highway dating back thousands of years to the origins of civilization in the region. Running from Syria to Egypt, it once was the primary means of trade in the area. The road was vital for the pilgrim's journey to Mecca. Several important events have purportedly occurred along this route including the Exodus of Israelites.
Nowadays, the King's Way is a relic. It twists and turns and follows the contours of the landscape in dizzying ways. Transport is obviously slow but this is no reason not to travel on it. By taking the King's Way you'll have more time to savor the scenery. Besides, the King's Way conveniently passes through many destinations that have already been discussed!
Starting in Madaba, you'll pass by the Dead Sea, Wadi Mujib, and Dana Biosphere Reserve before reaching its terminus at Petra. You'll also get a chance to see one of the most important historical sites in Jordan: Kerak Castle. Even though it's in ruins, Kerak is still one of the finest crusader castles in the Middle East.
If you're not short on time and want to see a more intimate side of Jordan, take the King's Way. How many people can say they walked the same path as Moses and the kings of the Holy Land?
Top Things to Do in Jordan
Below I have listed 10 of the best things to do in Jordan to get your ideas flowing for your next adventure! Just a short summary of the sexiest parts of the Jordan travel guide!
1. Visit Petra
One of the most popular places to visit in Jordan! Wander around the ruins and marvel at their brilliance. I will warn you, however, that there are a lot of stipulations with the fees for visiting Petra, so do your research!
2. Go Hiking in the Wadi Rum
The Wadi Rum is one of the most beautiful places in Jordan! See the desert that inspired the setting for films like Lawrence of Arabia and The Martian.
3. Hang with Bedouins
The Bedouins love hosting guests and dinners can be a huge affair. Watch as they bury a stove underground and cook using only the hot sand.
4. Take the Kings Way
Ditch the modern highway and take the antique King's Way. Transport yourself to a different era and travel in the footsteps of the rulers of old. It's easily the coolest way to travel around Jordan!
5. Float in the Dead Sea
Floating in the Dead Sea is a can't-miss experience in Jordan! Feel weightless in the hyper salinated water and then treat your skin to a healing mud bath.
6. Explore Ancient Ruins
There are so many historical places to visit in Jordan. The ruins of countless civilizations litter the ground in Jordan. Nabataean, Roman, Crusader – they're all here!
7. Hang with Bedouins Under the Stars
The night skies in Jordan are ridiculous! There are endless stars and – during the right season – a great view of the Galactic Center. Ask your local Bedouin guide about their favorite constellations.
8. Go Canyoneering in the Wadi Mujib
There are very few spots that can be compared to the epic canyons of Utah. The Wadi Mujib is one of them! Explore this amazing slot canyon, and be sure to bring backpacking-friendly waterproof gear.
9. Visit a Desert Castle
Jordan has some of the best-preserved desert castles in the Middle East. Visit one of the many ruins in the interior of Jordan or head to the Eastern Desert to see some remote fortresses.
10. Dive in the Red Sea
The Red Sea is the perfect place to go scuba diving! The water is clear, the reefs are kaleidoscopic, and the marine life is abundant. If you're going backpacking in Egypt, you can also experience the magical underwater world from there.
Backpacker Accommodation in Jordan
Allow me to introduce to you the various backpacker friendly accommodation options in Jordan. There are many lodging choices in Jordan, from hip hostels in the capital to quaint guesthouses in the villages, and even an option to stay in more unorthodox dwellings like traditional Bedouin tents or rock-cut caves.
Where to Stay in Jordan
Jordan Backpacking Costs
The best way to backpack Jordan on a budget is to do the following:
Travel around Jordan with a group to split costs and save money.
Try and get a free visa for Jordan or one that pays for entrance tickets.
Visit Jordan during the low seasons – summer/winter.
Couchsurf
Hitchhike
A comfortable budget while backpacking around Jordan would be around $25-$30 per day. This will get you a bed and plenty of food, and enough leftover cash to go drinking or sightseeing around Jordan.
Eating out is a very inexpensive affair in Jordan. Fair warning though, Jordan's restaurant culture is lacking: most Jordanians prefer home cooking over dining so cafe and restaurant food will be pretty basic. You'll survive but you won't get the full culinary experience.
Accommodation is usually affordable but certain destinations in Jordan can be expensive. Popular day trip spots, like the Dead Sea or Jerash, can be pricey if you want to stay overnight. There is definitely merit in paying extra money to sleep in these places but you'll have to decide for yourself if it's worth it.
Renting a car in Jordan is a very reasonable idea. If you have a large group of people, you can split costs and it'll probably be cheaper than buses or taxis. Most modern Jordanian roads are well-maintained and shouldn't be a problem. Older roads like the King's Way are trickier but still manageable. Leadfoots should be wary as well because there are many traffic cameras around.
If you wanted to see everything highlight that Jordan has to offer, you will have to pay for it. Hiring guides in the Wadi Rum, entry for Petra; all of these expenses add up. Popular places, like the Wadi Rum or Petra, will cost around $200 for the full – probably three-day – experience. A Jordan Pass can help with the entry fees but you're still paying for everything else.
A Daily Budget in Jordan
Money in Jordan
The official currency of Jordan is the Jordanian Dinar. As of March 2018, the conversion rate is 1 dinar=1.41 USD.
Technically, the Jordanian dinar is worth more than the dollar, but most everything in Jordan costs only a few notes. Don't feel bad for exchanging that crisp Benjamin for only a few bills – they'll go a long way.
Most cities in Jordan have plentiful ATMs and it should never be difficult to withdraw cash. Note that ATMs usually dispense twenty and fifty dinar notes. Since everything only costs a couple of dinar, breaking a bill can be tedious. Try to keep as much small change as possible.
Unsurprisingly, there are not many banks or ATMs in the middle of the Jordanian desert. Before venturing out into the wilderness, like the Wadi Rum or Dana, be sure to have cash on you. If you run out of dinar, many businesses will accept USD if forced to. Be sure and inquire about this with your local guide.
Top Tips for Visiting Jordan on a Budget
To keep your spending to an absolute minimum whilst backpacking Jordan, I recommend sticking to the basic rules of budget backpacking…
Camp: With plenty of campgrounds, Jordan is a great place to camp. You can often pitch a tent for much cheaper than staying in a guest house or, maybe, for free altogether. Check out this post for a breakdown of the best gear to take backpacking and sleeping out.
Cook your own food: If you're on a real tight budget, it's also worth taking a portable stove Check out this post for info on the best backpacking stoves.
Hitchhike: In Jordan, it is relatively easy to thumb a ride. Hitchhiking is an ace way to keep your transport costs down.
Pack a travel water bottle:  Save money – and the planet – every day!
Why You Should Travel to Jordan with a Water Bottle
Plastic washes up on even the most pristine beaches… so do your part and keep the Big Blue beautiful
You aren't going to save the world overnight, but you might as well be part of the solution and not the problem. When you travel to some of the world's most remote places, you come to realise the full extent of the plastic problem. And I hope you become more inspired to continue being a responsible traveller.
Plus, now you won't be buying overpriced bottles of water from the supermarkets either! Travel with a filtered water bottle instead and never waste a cent nor a turtle's life again.
Best Time to Travel to Jordan
Jordan is predominantly a desert climate. It has long, hot summers and cool, damp winters. The far north of Jordan is more Mediterranean and receives a greater amount of precipitation. Backpacking in Jordan is possible year round so long as you don't mind some extreme temperatures here and there.
Summer in Jordan (June-September) can be oppressively hot. Temperatures will usually rise above 100 F in the middle of the day.
Thankfully, this is a dry heat so you can escape it by staying indoors. Be sure to drink lots of water to avoid dehydration. Visibility in the summer is limited as a brownish haze settles over the landscape. This is the reason for the desert's pastel sunsets.
Winters can be quite cold in Jordan. Snow is not unheard of in the higher reaches of the nation – this climate zone includes Petra, the Dana, and the north of Jordan.
The cooler spring and autumn seasons are when the majority of tourists arrive in an attempt to beat the heat. It's the best time to go to Jordan in terms of the weather but prices will obviously be higher around these times. If you want to avoid the crowds and get a good deal, try backpacking around Jordan in the summer and winter.
To be honest, backpacking Jordan on a trip in the summer isn't the furnace that people make it out to be. Yes, it can get very hot in the Dead Sea and the middle of the desert. As I mentioned before though, you can escape the heat by simply finding some shade.
Festivals in Jordan
Many of Jordan's holidays are religious in nature. Some can involve gestures that seem intense to Western audiences but not every holiday involves sheer penance. There are several secular festivals in Jordan. These are more cultural in nature and usually feature music, art, and dance exhibitions.
Note that Muslim holidays follow the Muslim calendar, which is different from the Gregorian calendar. The main difference between the two is that the Muslim calendar is about a dozen days shorter than the Gregorian. This disparity is slight but it does cause the dates of Muslim holidays to jump around a little when they're transferred to a Gregorian calendar.
Aqaba Traditional Arts Festival (February) – Celebrates the culture of Bedouin communities. Includes art, poetry, and more.
Ramadan (May/June) – The great fasting of Muslims. Food and drink are only consumed at night.
Jerash Festival (July) – The largest cultural festival in Jordan. Celebrates all ethnic factions of the nation.
Al Balad Music Festival (July) – Showcase of traditional music of the Middle East. Held at the Roman Theater in Amman biannually.
Muharram (September/October) – Commemorates the martyrdom of Hussein ibn Ali. Celebrated through mourning, with Shias performing chest-beating and self-flagellation.
Baladk Street Art Festival (October) – Arts festivals showcasing local graffiti artists in Amman.
Rabi' al-awwal (October/November/December) – Celebrates the birth of Muhammad. Stories of the prophet are shared.
What to Pack for Jordan
On every adventure, there are six things I never go traveling without:
Staying Safe in Jordan
Well, it's the Middle East and that nearly always raises the same question on everyone's lips: Is Jordan safe to travel?
Jordan is not a desolate nation wrecked by war. Conflicts in neighboring Syria, Palestine, and Iraq are far away and effectively contained by the Jordanian military. At the end of the day, Jordan is a very peaceful place.
Backpacking Jordan and traveling around is very safe. People here are very open-minded and shouldn't be aggressive towards Westerners. Polarizing topics in the region, like homosexuality and sex before marriage, are actually accepted here, although at a hush-hush level. There is no reason to fear for your safety in Jordan any more than your own homeland.
For a few more safety tips while visiting Jordan, try:
Sex, Drugs, and Rock 'n' Roll in Jordan
Most of the nightlife in Jordan is centered around its largest metropolis, Amman. Elsewhere in the nation, people usually retire to bed early and villages can be empty after 8 P.M.
Even though Amman is still relatively conservative compared to some Western countries, it's still one of the most liberal in Arabia. Lots of Jordanians, particularly the younger ones, stay up well past sundown to seek out the thrills that may come after dark. There are plenty of things to do in Amman at night.
There is certainly a different side of Amman that comes out after the sun goes down. Late night cafes open up, the lights turn on, and the overall ambiance changes. Amman is still quite safe at night so explorers will have some freedom in their nocturnal wanderings. Meander through the streets and drop by whichever lounge suits you.
There are plenty of bars to choose from in Amman:
Off the Record – A speakeasy-themed cocktail bar that plays jazz music often.
Loft – One of Amman's trendiest rooftop lounges.
Studio 26 – Another great music venue that features funk and rock music of all varieties.
There's way more venues than just these three though. See if you can find the next popping spot.
Amman is not as debaucherous or hedonistic as it's infamous Lebanese neighbor – Beirut. Clubs are not really popular here and most people just like to mellow out in the lounges.
There are a couple of nightclubs in Amman in the city that draw solid crowds. One of the top party places in Amman is Eight Club. It features a good selection of Western beats but you'll still hear some local dance music mixed in.
Travel Insurance for Jordan
Traveling without insurance would be risky so do consider getting backpacker insurance sorted before you head off on an adventure.
I have been using World Nomads for some time now and made a few claims over the years. They're easy to use and affordable. They also let you buy travel insurance after leaving on a trip in case you do forget.
World Nomads' mission is to support and encourage travellers to explore their boundaries. They offer simple & flexible travel insurance, and safety advice to help you travel confidently.
They've been doing it since 2002 – protecting, connecting, and inspiring independent travellers just like you.
Get a quote below or read our in-depth review!
Getting Into Jordan
There are three ways to begin your trip to Jordan: by land, air, and sea.
Entry Requirements for Jordan
Visas for Jordan can be a complex affair because there are so many types.
For a simple tourist visa, there are three different versions.
One Month Visa (single entry) – around $56
Three Month Visa (double entry) – around $85
Six Month Visa (multiple entries) – around $170
Most nationalities can obtain a visa-upon-arrival in Jordan, but some countries have to apply for a visa prior to arriving though.
Note that Jordan no longer stamps passports at the Israeli border. This is to accommodate people who are worried that other Arab nations will reject them since they've visited Israel.
The Jordan Pass is a new form of entry authorization that is convenient and could save you a lot of money. A Jordan Pass essentially acts as a prepaid ticket to most of Jordan's tourist attractions. The kicker is this: if you stay in Jordan longer than three nights, your visa fees are waived.
This could be an awesome deal if you plan on staying in Jordan for several days, as a visa is $50+ and attractions can be upwards of $70 (Petra). Note that Jordan Passes must be bought online.
If you choose to use a Jordan Pass, you'll be given three options ranging from $100-$115.  These options differ only in the amount of time that you will be allowed to stay in Petra without extra fees.
Upon entering Jordan, you will present your Jordan Pass at customs and be charged nothing initially. When departing from Jordan, customs will check your Jordan Pass again and the length of your stay; only then will you be charged accordingly. Stayed in Jordan only two nights? Gotta pay for a visa. Three nights? Hooray! Free visa.
Free Jordan Visa
Aqaba is a special economic zone, which means that it deserves some extra attention. Because of its unique designation, there are actually a number of ways to get a free visa via Aqaba.
If you fly into and out-of Aqaba airport, you will get a free one-month visa. This means you can't leave Jordan by any other port unless you want to pay for a visa.
If you travel into Jordan using the Wadi Araba border crossing between Eilat (Israel) and Aqaba, you have the chance of getting a free visa, under certain circumstances. When crossing the border, you will initially be asked to pay for a "visa-on-arrival." However, these visa fees can be refunded depending on your length of stay in Jordan.
Here are the conditions:
Stay in Jordan for 2 nights and depart via Wadi Araba  – FULL REFUND
Visit Jordan for 1 night and depart via Wadi Araba – PARTIAL REFUND
Stay in Jordan for 3 nights or more – NO REFUND
Depart from Jordan via any port besides Wadi Araba – NO REFUND
All-in-all, this a great, albeit confusing, method to save some cash. The situation at Wadi Araba is also super convenient if you're coming from Israel and just want to spend a few days backpacking Jordan.
Remember that these visas only apply if you're entering Jordan via King Hussein International Airport or the Wadi Araba border crossing in Aqaba. Visa protocols in Jordan are always changing as well so be sure to check on their current availability before committing.
Traveling to Jordan During COVID Times
Compared to neighboring Isreal, which has just been getting rammed not stop for the past 6 months, Jordan has been relatively COVID-free. Granted, there has been a steep rise in new cases since Autumn 2020 but mortality rates are still low.
As of September 2020, Jordan has opened its border and allowed international travel again. You'll need to jump through a few hoops – filling out some documentation, perhaps going into a 7-day quarantine – but all-in-all Jordan is open for business. As it says on the country's official website "Jordan is ready to welcome you back."
So you know exactly what to do before traveling to Jordan, be sure to visit www.visitjordan.gov.jo – it outlines everything that travelers need to do in an easy manner.
How to Get Around Jordan
Buses are a common means of transport while backpacking through Jordan. There are two types that you should know about: the larger commercial ones and the minibusses.
The larger buses usually stick to the main route up and down the Desert Highway (15). This means that the larger buses are great for traveling to Petra but not so good if you want to go off the beaten path.
If you want to go somewhere more specific (remote), you'll have to rely upon the local minibusses. Note that these are much smaller and will usually leave only once they're full. Prices vary depending on the route.
Taxis are the most abundant form of transport in Jordan. They're convenient and somewhat affordable. Finding one with a meter is always preferred as there's less room for getting ripped off.
You can book a taxi for a long period of time, in which case you need to negotiate the price ahead of time. If you just hop in a taxi and start riding for hours, the driver's going to continually raise the price. When negotiating a price, know how to haggle hard. If you get a fair price, using a taxi can be convenient.
Hitchhiking in Jordan
Hitchhiking in Jordan is very common and totally safe. Even the locals do it! Jordanian people are extremely hospitable and will take time out of their day to help a stranger out. If you're standing on the side of the street, looking lost, they will pull over try to help before you even think about asking.
When looking for a ride, try to wave or point to the ground. Avoid sticking your thumb out; apparently, that gesture is used with prostitutes. Once you're offered a ride, just relax and be polite. Most drivers will be insistent upon getting you to your destination, even going so far as to enlist the help of another friend (I adore when this happens – so wholesome).
Be sure to be clear with the driver. Make sure he knows where you're going and that you're a hitchhiker traveling without much money. Many will expect a little bit of payment for their service. If you can't offer them anything, firmly explain this to them but a small tip isn't out of the question.
Onwards Travel from Jordan
Jordan has an open border with every country that it touches. Tourists are allowed through the majority of them.
Below is a list of Jordan's border crossings.
Working in Jordan
It is possible to find English-teaching jobs in Jordan and there is an active community of expats here. If you want to work in Jordan, teaching English is probably your best bet.
Of course, you'll need to go through the usual channels and get the proper certifications first. TEFL is the most popular teaching certificate provider.
TEFL courses open up a huge range of opportunities and you can find teaching work all over the world.  Broke Backpacker readers get a 35% discount on TEFL courses with MyTEFL (simply enter the code BACKPKR).
Digital nomads may also find Jordan a surprisingly comfortable place to base themselves too. Amman is becoming increasingly international although it's not NEARLY as young or dynamic as other Middle Eastern hubs like Beirut or Tel Aviv. This place is still raw (hipsters, get at it).
The internet in Jordan is actually quite good – most of the nation has high-speed. You can thank King Abdullah for modernizing the telecommunication network and sparing no expense.
TL;DR – finding a SIM card or Wifi shouldn't be a problem when backpacking around Jordan.
Volunteer in Jordan
Volunteering abroad is an amazing way to experience a culture whilst helping your host community. There are plenty of different volunteer projects in Jordan including teaching, construction, agriculture and pretty much anything.
Jordan's small economy and developing country status mean there are plenty of opportunities for backpackers to lend a helping hand. Language teachers are in high demand throughout the country, and there are numerous 'bread and board' opportunities in hospitality. Volunteers can also offer up skills in gardening, agriculture, and marketing. Unless you're from the Middle East, you will need a visa to volunteer in Jordan.
Our go-to platform for finding volunteering gigs is Worldpackers who connect travellers with host projects. Have a look at the Worldpackers site and see if they have any exciting opportunities in Jordan before signing up.
Alternatively, Workaway is another excellent common platform used by travellers searching for volunteering opportunities. You can read our review of Workaway for more info on using this terrific platform.
Volunteer programs run through reputable work exchange programs like Worldpackers and platforms like Workaway are usually very well-managed and reputable. However, whenever you are volunteering do stay vigilant, especially when working with animals or children.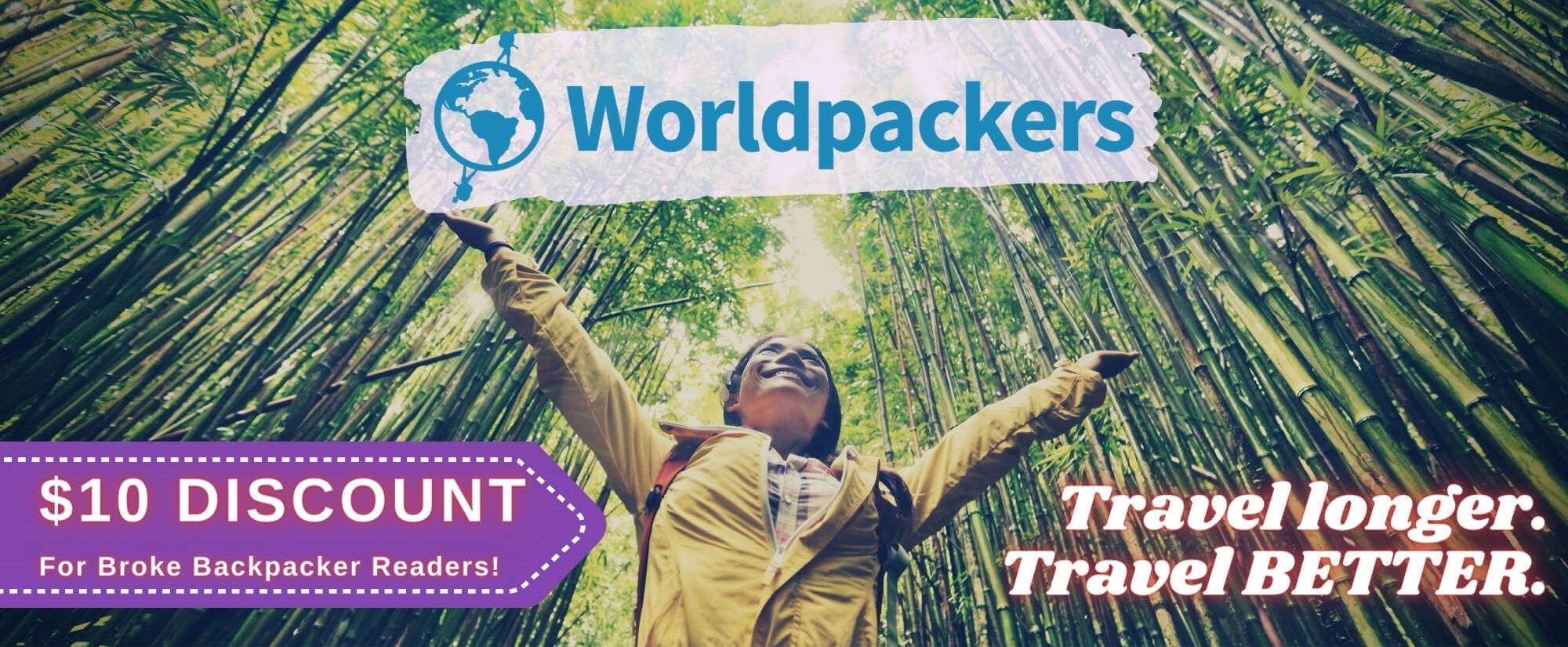 Worldpackers: connecting travellers with meaningful travel experiences.
What to Eat in Jordan
The food in Jordan is another very important aspect of Jordanian society. People gather around at meals to come together and share with one another. As mentioned before, Jordanian people take care of one another and this includes providing nourishment.
The best food is found in the local communities and not in the restaurants. If you have a chance to eat a traditional meal with a family, do it. It'll be the best food that you have while backpacking Jordan. There will be many opportunities to eat with Jordanians in the more intimate parts of Jordan like the Wadi Rum and the quieter neighborhoods of Amman.
Jordanian cuisine incorporates a lot of cooking from neighboring countries. Hummus, falafel, tabouli, and other Middle Eastern staples will be widely available in Jordan. Don't mistake these for traditional Jordanian food though. They are popular dishes but not rooted in the culture.
Most Jordanians eat mezze style, which is a form of communal dining. In mezze, everyone shares from a large selection of appetizers served simultaneously. After finishing the mezze, main courses will be served.
Popular Jordan Dishes
Jordanian Culture
Jordanians are some of the most hospitable people that I've encountered. They will take anyone in and ensure that all their needs are met. This kindness is extended to neighbors, backpackers, and anyone else.
Jordanian culture is built upon hospitality. Because the people live in such a harsh environment, it's imperative that they take care of each other. A Bedouin never knows when he'll be caught in a bad situation – either for lack of subsistence or shelter – so they must often turn to their neighbor. They'll ask for aid and, in return, they'll give assistance when it's called upon.
In my own experience, I find Jordanians to be very open-minded. Westerners have a tendency to label Arabic cultures as overzealous. This is not the case in Jordan. Jordanians are very accepting, regardless of religion or ethnicity. Many will express a great curiosity when it comes to foreigners. They will ask many questions – usually with a smile.
The overwhelming hospitality displayed by Jordanians doesn't mean tourists can act recklessly though. There are plenty of customs in Jordan that still need to be followed. You can learn about these taboos in the section Being a Responsible Backpacker.
You've probably heard the word "Bedouin" a lot by now too. Bedouins are nomadic Arabs that live in the desert and travel frequently. They are spread across all of Arabia and there is a very large population in Jordan. They have their own culture and are recognized by the Jordanian crown.
There is still some segregation amongst men and women in Jordan. The tradition has been a facet of the culture for thousands of years though and it isn't the backpacker's place to criticize the locals. This separation shouldn't affect foreign women as they are treated as "honorary men" while visiting.
Useful Travel Phrases for Jordan
The official language of Jordan is Arabic. Jordanians use a Levantine dialect, which is the same used by Palestinians, and some Syrians and Lebanese. The dialect is not too different from classic Arabic so conventional speakers should have no trouble understanding Jordanians.
English is widely spoken by younger Jordanians and those in the tourism industry. Some Jordanians who live in the more rural settings struggle with English but you should be able to get your point across. French and German are also common foreign languages.
Learning a little Arabic will definitely be beneficial while backpacking Jordan, especially if you plan on traveling to other Middle Eastern countries. Below is a list of ten common Arabic phrases that you should know. These phrases are going to look a little weird but the more you try to use them, the more fluent you will become.
Book to Read about Jordan
Check out all of these books set in Jordan below:
A Brief History of Jordan
Like the Petra of John Burton's poem, the history of Jordan is "half as old as time". The earliest evidence of Jordan's culture dates back over ten thousand years to the Neolithic Era. For the thousands of years to come, Jordan would be juggled between competing sovereignties. Jordan would witness the rise and fall of some of the world's greatest powers.
In antiquity, Jordan was present when the Kingdoms of Moab and Ammon ruled. On Jordanian land, the King of Ammon battled the House of David, which is spoken about in the Book of Kings. When the Romans came, the Nabateans were the kings of Jordan. They were defeated by the Roman Empire and their capital, Petra, was forgotten.
In the Middle Ages, Jordan was a part of the first Muslim dynasty, the Umayyad Empire. Like the Romans, the Umayyads fell. Then came the Abbasids – they faded away too. One power after another inhabited Jordan – the Crusaders, Saladin's Mamluks, and finally the Ottomans.
The Ottomans were cruel to the Jordanians. They neglected the people and treated Jordan merely as the halfway point to Mecca. Cities were abandoned until only the Bedouins remained. The Ottomans would be the last foreigners to rule Jordan.
During World War I, the Jordanians joined the Great Arab Revolt, led by the Saudi Kingdom of Hejaz, against the Ottomans. The United Kingdom supported them in hopes of destabilizing the opposing Turks. The revolting Arabs would be victorious by 1918.
The UK helped establish the first modern iteration of Jordan following World War I. By 1928, Jordan was fairly autonomous. In 1946, they were granted full independence by the English Crown under Abdullah I. Jordan was finally its own country.
Jordan in Modern Times
Jordan would be caught up in the turbulence that wracked the Middle East following World War II. Israel had just been created after a second partition of the region. Jordan united with other Arab nations against Israel in the Arab-Israeli War of 1948 and, in the aftermath, gained the West Bank.
Following the death of Abdullah I, his grandson, King Hussein, took the throne. Under Hussein, Jordan would become one of the most liberal Arab nations, especially during the 50s and 60s. By the mid-60s there was another armed conflict with Israel, the Six-Day War. Jordan would lose the West Bank to the Israelites.
For the next forty years, Jordan would be subject to mass protests, attempted coups, and collateral from extra-territorial wars. In the 90s, Jordan supported the Iraqi government under Saddam Hussein. The US promptly withdrew all aid to Jordan, resulting in severe economic hardship. In 1994, Jordan, along with other Arab nations, agreed to enter peace accords with Israel. They came to terms and ended a war that had lasted 46 years.
King Hussein died in 1998, and his son Abdullah II became ruler. Jordan has since continued its liberal policies and prospered under Abdullah II. There have been some bumps in the road for Jordan including political stagnation and unwarranted terminations. Continued public dissatisfaction with certain political entities would cause the people to join in the trans-Arab movement known as the Arab Spring.
No country is perfect. Jordan, like every modern nation, is fighting its own demons. Jordan stands out from the rest though. It promotes free speech and tolerance in a region that can seem radically conservative at times. Jordan has staggered some, yes, but its future is still bright.
Some Unique Experiences in Jordan
What to do in Jordan? Well… apart from everything else I just mentioned…
Soak it up! Jordan's tourist destinations are one thing but the people are another! Enjoy the beautiful sands of Jordan and be amongst its culture: it's certainly special.
Trekking in Jordan
Jordan is full of adventurous opportunities! You can go trekking, climbing, scrambling, and canyoneering throughout the country. I actually found the landscape in Jordan to be very similar to the American Southwest, which is one the premier outdoor areas on Earth!
There are several campgrounds in Jordan, mostly in the south around Petra, the Dana, and Wadi Rum. Most have tents that are already set up and ready to be occupied. These prearranged camps can be quite cheap.
It's always a good idea to have your own backpacking tent though as it's a great way to save cash, and I'd take a top quality sleeping bag too as it gets cold amongst the sands at night.
I always suggest getting a sturdy hiking backpack as well. My first backpack was a cheap one. Though it lasted a respectable amount of time, it would eventually be held together by duct tape and carabiners. Needless to say, it was far from waterproof.
Take my advice: invest in a quality backpack because by the end of your trip to Jordan, you'll be wearing it so much that it'll become an extension of your own body. You want the best.
Below is a list of Jordan's most famous trails!
Best Hiking Trails in Jordan
Diving in Jordan
As mentioned before, Jordan offers some of the best diving around the Middle East! All the dive sites are located in the south where the Red Sea meets with Jordan's only coastline. The most convenient base to dive from is the city of Aqaba.
There are more than enough dive centers in Aqaba. Most speak English; find one that looks good to you and reach out to them! As of March 2018, Dive Aqaba is even hiring interns for the 2018 season. Sound interesting?
Once you've found your favorite dive center, they can take you to one of many dive sites in the Red Sea. The Red Sea is known for the clarity of its water and the brilliance of the coral. Local marine life includes hawksbill turtles, moray eels, lionfish, blue-spotted rays, napoleon wrasses, and frogfish.
Diving is possible year-round though the water gets quite warm in the summer – over 80 F. Bring a thinner suit during the summer months.
Popular diving sites in Jordan include the following:
Diving Cedar Pride – One of the popular dive spots in Jordan. Refers to the sunken ship of the same name that you'll be exploring.
Diving Japanese Gardens – Very colorful coral garden. One of the best reefs in the area.
Diving Seven Sisters and the Tank – Sunken US military tank that is now covered in coral. Hosts lots of eels.
Diving Power Station – Unpredictable conditions but a dramatic drop off is well worth the wait. Popular with tech divers.
Rock Climbing in Jordan
Wadi Rum is a paradise for rock climbers. As one rockhound put: "It feels like the epicenter of the universe…the ultimate in adventure climbing." Having been there myself, I agree wholeheartedly.
The rock in the Wadi Rum is mostly sandstone. There are some soft spots though, so trad climbers should be cautious. I should mention as well that are no sport routes in the Wadi Rum – everything is pure. So trad is really the only way to go.
The known routes range from 5.5-5.13 in difficulty. The cracks, in particular, are near perfect. The following is a list of some of the best routes:
The Beauty – T 5.10
Wisdom Pillar – T 5.9+
La Guerre Sainte – S5.12b
Lionheart – T 5.10+
Merlin's Wand – T 5.10
So the Wadi Rum sounds like a good time, eh? It's probably overrun with dirtbags by now though. Why bother?
Nope. The Wadi Rum is empty. There is no one there.
Tourism in Arabia has been steadily dropping off in recent years. This is reportedly due to rising tensions in the Middle East. Consequently, the Wadi Rum is relatively undeveloped still in regards to climbing.
That is not to say that there is no climbing community in Jordan. Jordan actually has one the most dedicated climbing communities in all of Arabia. People care about climbing in Jordan and young Jordanians, who learned the sport from legends passing-by, keep the flame alive. Thanks, guys.
Final Advice Before Visiting Jordan
Jordanians are a forgiving people that usually look the other way when a foreigner acts rudely. Leniency aside, this is no excuse to act like a douchebag while backpacking through Jordan. You should still try and adhere to local customs and to be as polite as possible.
If you slip up, don't worry – no one's going to throw you in jail. The people of Jordan will appreciate you greatly though and show greater respect if you at least try. Here are few local etiquettes to be mindful of in Jordan.
Dress modestly to adhere to Muslim tradition.
Avoid public displays of affection.
Remove your shoes when entering a house or mosque.
Never present the soles of your feet.
Return greetings.
Avoid eating in public during Ramadan.
Don't talk shit about the King of Jordan.
Tours in Jordan have been criticized for their (poor) handling of pack animals including horses and donkeys in the past. Thanks to local activists, animal cruelty is severely limited these days but that being said, there are sometimes relapses. If you see someone abusing a creature, report it to the local park rangers.
By now, you've gathered by now, but I fell in love with Jordan. I fell in love with its striking landscapes and I fell in love with its striking culture. Most of all, I fell in love with the people.
It bums me out that people only make a short trip to Jordan. They go to Jordan for Petra and the Dead Sea (both spectacular in their own right) and then scoot on over somewhere else. Jordan deserves a greater backpacking adventure than that.
Because it's special.
Go see the sands. Go see the ancient lands. Walk amongst some of the oldest places on Earth and do it with an open heart.
If you're interested, be sure to check out some of the other biggest deserts in the world.
---
And for transparency's sake, please know that some of the links in our content are affiliate links. That means that if you book your accommodation, buy your gear, or sort your insurance through our link, we earn a small commission (at no extra cost to you). That said, we only link to the gear we trust and never recommend services we don't believe are up to scratch. Again, thank you!