Jordan has a lot going for it. Home to the ancient Nabataean city of Petra (a veritable wonder of the world) as well as the desert landscapes of Wadi Rum, there's much to see in this compact country. And that' before we even get to the biblical and medieval history.
Located on the Dead Sea, and with 16 miles of coastline on the Red Sea, Jordan is bordered by Saudi Arabia, Iraq, Syria, Israel and the Palestinian West Bank. Though benefiting from its location, Jordan also suffers from being in the middle of the most contentious area on earth.
It is therefore ok to wonder whether Jordan is as safe as some other destinations in the world.
However, we are here to tell you that you shouldn't be put off from visiting Jordan. Instead of scaring you, our epic guide to staying safe in Jordan is all about sharing all the tips and information you need to make sure you have not just a trouble-free time, but an amazing one!

Unlock Our GREATEST Travel Secrets!
Sign up for our newsletter and get the best travel tips delivered right to your inbox.
How Safe is Jordan? (Our take)
Compared to its neighbours, Jordan is practically an oasis for visitors. Well used to welcoming outsiders to its friendly towns, beautiful landscapes and jaw-dropping wonders, Jordan is safe to visit.
Relatively untouched by the conflicts and disputes that many other Middle Eastern countries are plagued by, Jordans problems instead seem to revolve around social issues within the country itself. These range from high unemployment and high inflation, to high levels of immigration.
One thing that isn't so high is its crime rate. Crimes affecting tourists mainly come in the form of pickpockets or opportunist bag thieves. But it's not all that common as punishment for theft is harsh.
However, scams are pretty common and visitors should know when to spot one.
Other than crime, respecting local traditions – including knowing how to dress inoffensively – is important for tourists to the country. As is respecting the weather: Jordan is a very hot country where heatstroke and dehydration could cause you serious harm.
To assess the safety of Jordan further, let's now dive into the facts and see what the statistics have to say.
There is no such thing as a perfect safety guide, and this article is no different. The question of "Is Jordan Safe?" will ALWAYS have a different answer depending on the parties involved. But this article is written for savvy travellers from the perspective of savvy travellers.
The information present in this safety guide was accurate at the time of writing, however, the world is a changeable place, now more than ever. Between the pandemic, ever-worsening cultural division, and a click-hungry media, it can be hard to maintain what is truth and what is sensationalism.
Here, you will find safety knowledge and advice for travelling Jordan. It won't be down to the wire cutting edge info on the most current events, but it is layered in the expertise of veteran travellers. If you use our guide, do your own research, and practise common sense, you will have a safe trip to Jordan.
If you see any outdated information in this guide, we would really appreciate it if you could reach out in the comments below. We strive to provide the most relevant travel information on the web and always appreciate input from our readers (nicely, please!). Otherwise, thanks for your ear and stay safe!
It's a wild world out there. But it's pretty damn special too. 🙂
Is Jordan safe? (The facts.)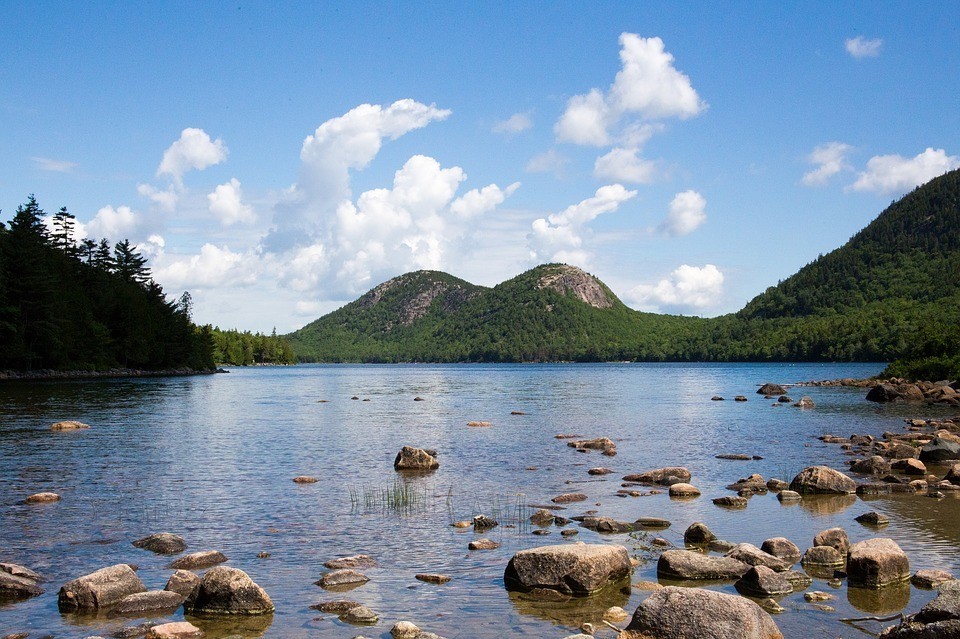 Jordan is a very popular tourist destination with millions of people making their way to the country every year without fail. In 2017, for example, 4.2 million people visited the country.
The authorities have set a goal of increasing the numbers of tourist to Jordan to 7 million by 2020.
The minster for Jordan's tourism said: "Jordan has proven to be a haven of peace in an area that is in turmoil."
Tourism is important for the country, contributing as it does currently to around 12% of the country's GDP. The government is aiming to double that contribution by 2022.
The country's economy was damaged both by the Arab Spring in the 2010s and by the financial crisis (beginning 2008). Tourism has fallen in general by around 66% since 2011 which is kind of unfair & illogical.
In the past, tourism did contribute to around 20% of Jordan's GDP, an indicator of just how much the decrease in visitor numbers has hit the country.
However, the government are trying to take a different stance in order to attract more tourists, and have invested significantly to maintain its image as a safe destination.
There is a high security presence in tourist hotels across the country. There are tourist police posted at major sights and there are metal detectors at hotels and public buildings, as well as high security checkpoints at border zones.
Aside from the fluctuation in tourist numbers, other figures can help paint a picture of Jordan as a country. For example, it is estimated by the World Bank that around a third of the country's 9 million-strong population consists of refugees from neighbouring Iraq, Palestine and Syria.
The crime rate in Jordan is relatively low. The homicide rate in 2017 was reported to be 1.4 in 100,000. It has risen and fallen over the years but shows a general trend of declining since 1991.
Reported robberies have also fallen, slightly, from 619 in 2005 to 593 in 2017.
To help further illustrate Jordan with statistics, its position on Global Peace Index (ranking the general peace of 163 countries) in 2019 was 77, joint with Angola and just above Rwanda (79). Jordan's position on this index actually improved on its 2018 rating by 20 places; according to the study, this was due mainly to improved relations with its neighbours.
Is it Safe to Visit Jordan Right Now?
With tourism rising and crime falling in general, it seems that Jordan is safe to visit right now.
The political situation in Jordan is also stable at the moment, however, it is important to note that protests and demonstrations do occur from time to time and can affect travel and security within the country.
For example, protests in downtown Amman often take place on Thursday evenings and Fridays after midday prayers.
Borders are currently in a somewhat fragile state. It is not advised to travel within 3 kilometres of the border with Syria, due to ongoing instability in the area. There has been a lessening of military activity in southern Syria, near the border, but there are still security threats; things can change at short notice. It is also not advised to travel near the border with Iraq.
On the whole, border areas at the moment can be sensitive and should be avoided.
Since 2016, there have also been a number of incidents related to attacks on shopping malls, hotels, tourist sights and other places where foreigners may gather.
All in all, though there are worries related to the surrounding areas, the overspilling of violence and terrorism, Jordan itself works hard to keep tourists and visitors to the country safe. All of the above may sound scary, but it seems attacks are rare in Jordan – the country is actually very much open for business when it comes to tourism!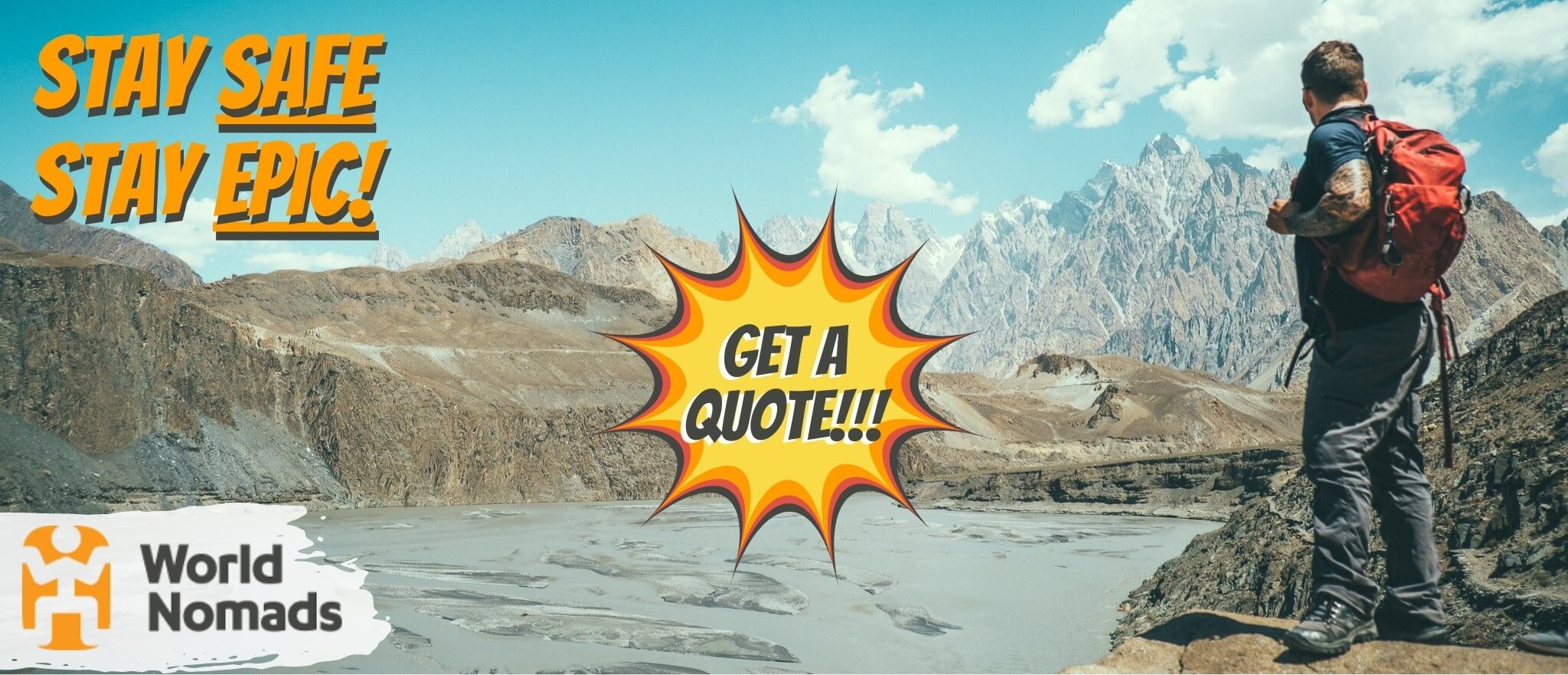 World Nomads' mission is to support and encourage travellers to explore their boundaries. They offer simple & flexible travel insurance, and safety advice to help you travel confidently.
They've been doing it since 2002 – protecting, connecting, and inspiring independent travellers just like you.
Get a quote below or read our in-depth review!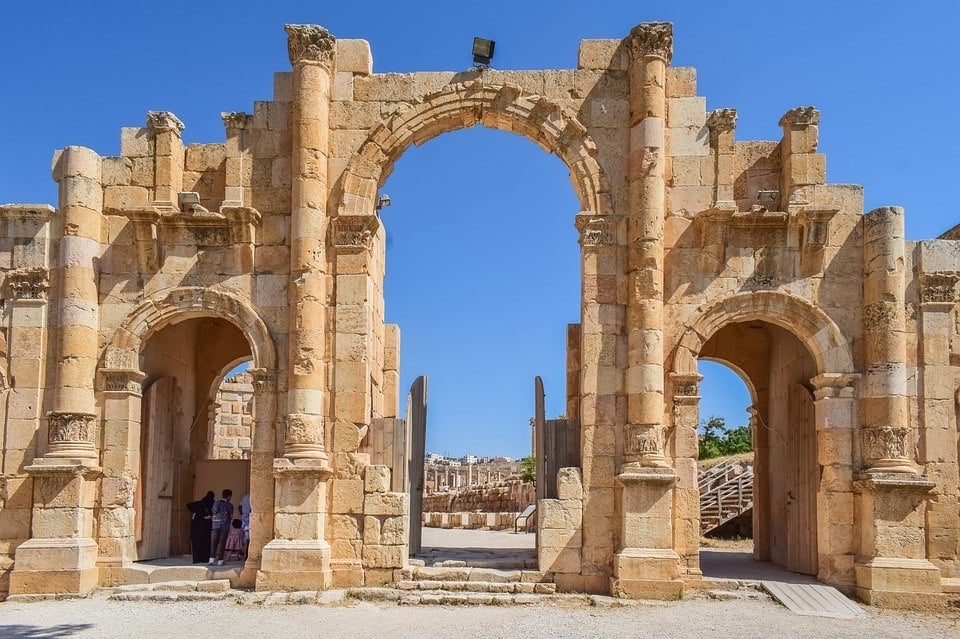 Jordan is a country with relatively low crime levels, some interesting cultures to soak up, and a handful of world-class sites to visit. It is no wonder that you are probably thinking about making a trip there. However, there are obviously some factors to consider when it comes to staying safe in Jordan, so we have rounded up a list of the best travel tips for travelling around this country safely and sensibly.
Look after your belongings – Though uncommon, pickpocketing and bag snatching does happen. Keep belongings close to you
Be alert – Low crime does not mean no crime, and Jordan is still not a theme park to wander around carefree. Be on the look out for shifty individuals
Keep your passport safe – Carry around a photocopy of it for ID instead of the real thing
Be culturally sensitive – Jordan is primarily a Muslim country and it is important to bear this in mind when travelling there. Everything from knowing about local laws and customs to dressing modestly will ensure you don't offend people
Avoid political discussions – Getting involved with anything political in nature may lead to misunderstandings and upset
Dress appropriately – Being a conservative country, even things like shorts are rarely worn by men and would seem outlandish in many areas; it's always best to cover up legs and arms for both sexes. If in doubt, take cues from the locals you see around you
Know when Ramadan happens – This can affect your travels, so plan your trip carefully
Watch out when out in more remote areas by yourself – Even as a pair or as a group without a guide, harassment (verbal or physical) can happen. Be careful when you are by yourself; research thoroughly; ask local advice
Female travellers should exercise greater caution – We have more information for women travellers later in this guide
Know your scams – There are many you should be aware of, from selling bogus antiques to rental car scams and money-grabbing taxis (more on that later)
Know how to haggle – Don't stand there with wallet in hand ,try to act like you are an expert on what you're buying and keep relaxed and don't lose your cool
Don't carry loads of cash with you – When you open your wallet to pay for something, people may be able to see the wad of cash that's in there and get the wrong idea…
Be careful going out partying – There's a thriving nightlife scene especially in Amman,. However, drunk foreigners can be much more vulnerable to being ripped off or worse
Don't do any drugs – Possession is a serious offence and can result in a lengthy prison sentence
Stay up to date with current events – Things can change quickly, especially in some areas of the country, so keep up to date of what's happening in Jordan before you travel
Use reputable tour companies and guides – Not all of them are legitimate; do research and only use top quality companies
This goes for dive/snorkel companies too – Safety standards may not be the same as in your home country; make sure the operator is legit and is PADI-recognised, for instance
Be prepared for outdoor activities – Wadi Rum, for example, can be brutal; appropriate clothing, provisions, and water are a must
Always check the weather before heading out into nature – Wadi, again, can see flash flooding from heavy rain, potentially cutting you off from transport
Do not visit Petra outside of visiting hours – These are very strict. Visiting outside of opening hours can lead to arrest and/or prosecution
Learn some local language – Not only will it mean being able to chat to a taxi driver, but learning to read Arabic script will help you see destinations on buses and order food, too
If you have an issue, go to the police – It is their duty to help you out
There are a lot of things to bear in mind when you go on a trip to Jordan, but in general, most visits to this Middle Eastern country are trouble-free. It is important to remember that, although safe, things can happen in Jordan. Try to stay alert and keep yourself and your belongings secure, ensuring that you are culturally aware as your travel around.
Keeping your money safe in Jordan
No matter where you are in the world, keeping your money safe is a big priority.
Losing some, or all, of what you're carrying with you can affect your trip, not only in the small terms of not being able to afford dinner that night, but also not even being able to continue your travels.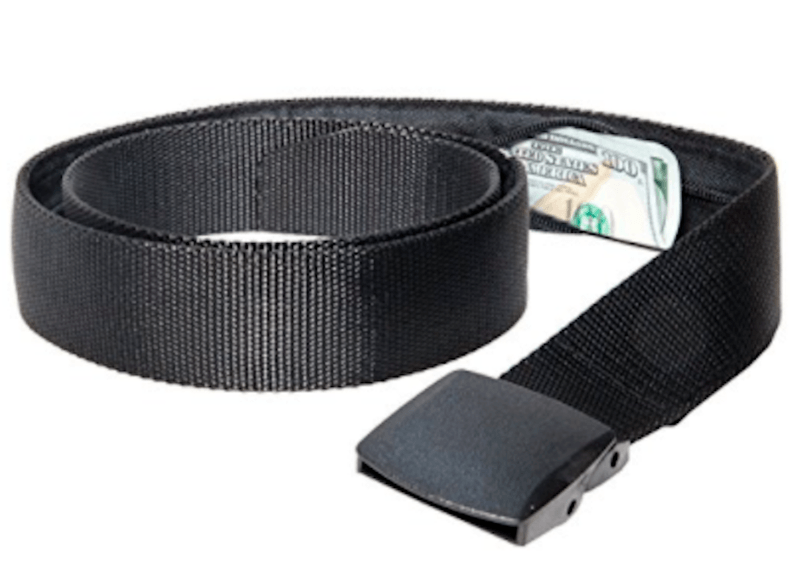 Keeping your money safe in Jordan is, likewise, something you should place a high priority on.
The best solution to keeping your money safe anywhere in the world has got to be a money belt. This simple solution means that potential thieves will simply not see your money.
The Pacsafe Money Belt is our best bet. It's affordable, it looks and acts like a belt, and it's sturdy – what more could you ask for out of a money belt!
Other money belts can be obvious under clothing and uncomfortable to wear. However, the Pacsafe Moeny Belt is instead just a regular belt that happens to come with its very own hidden zipper pocket. We love how simple this offering is, as well as how affordable and sturdy it is, too.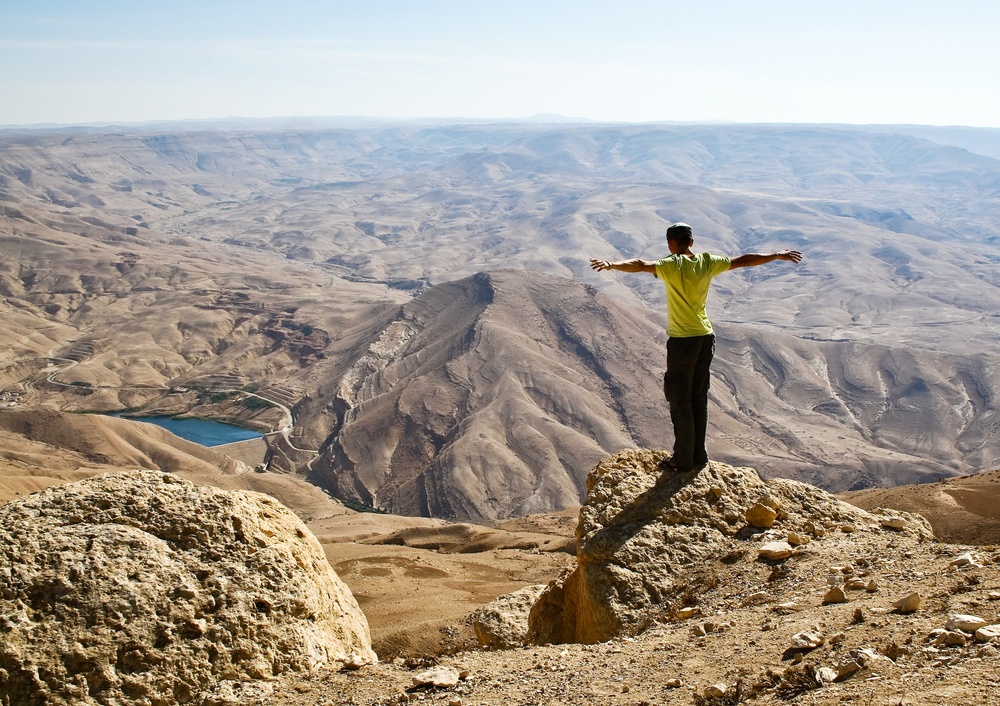 If you want to go on a solo trip to Jordan then go for it.
There are a wide variety of experiences to enjoy, warm, welcoming locals to connect with and some amazing sights to behold. Like solo travel in almost all of the world's countries, it can be challenging and rewarding in equal parts.
With that in mind, here are some tips and pointers on how to successfully travel solo around Jordan.
Choose your accommodation wisely. In places like Amman there are a ton of different hotels that cater to different travel types and budgets, but being a solo traveller you may want to stay somewhere that's more social, well connected to public transport and in a good location. Read reviews, see what other solo travellers have to say about the accommodation, and book accordingly.
Consider basing yourself in Amman. As a solo traveller without much time to spare, Amman actually works well as a place from which you can embark on day trips to practically all of Jordan's sightseeing hotspots; it is also a hub for other travellers who you can meet and mingle with.
Get involved in group sightseeing trips. Being by yourself, joining a group tour means you will be able to get to know other people while getting to see sights safely and without the headache of doing it by yourself. With numerous tour companies to choose from, make sure you choose one that is reputable and well reviewed.
Connect with locals. You can hit up Facebook groups such as Expats & Locals in Jordan to ask for advice or see information about potential meet-ups, and get to know a little bit more about the country you are visiting.
Get involved in an activity. Taking something like a cooking class, trying out diving, or perhaps heading out on a group hiking trip with a guide is a good way to meet and get to know like-minded fellow travellers.
Heading into nature by yourself for a hike is not generally a good idea. People have been to become victims or harassment, either verbal or physical, when out by themselves without a guide. Even couples or groups of foreigners without a guide could be at risk. It is always best to have a local with you.
Ask at your accommodation for local advice. Chances are they will be in the know regarding what areas are safe to walk around, the places you should be avoiding, places you should eat, and advice on hidden gems.
Have different ways to access your money. Keeping track of bank cards, cash and credit cards can be tricky, but it is a good idea to have a couple of different bank accounts complete with separate bank cards, in case one goes missing. An emergency credit card is also a good idea – just in case. Keeping all your cash in one place is not a good idea.
Do not party too hard. Being drunk and by yourself can really put you at risk of being a victim of crime, or not being able to get home safely.
It is not a good idea to isolate yourself. Travelling can be hard and it is easy to feel the strain sometimes, so keep in touch with people back home to talk it over, let them know you're safe and keep them in the loop with your travel plans. Don't forget: your friends and family will want to hear from you.
Try to travel light. If you plan on travelling around Jordan, having multiple heavy bags with you will lead you to be not just hot and sweaty, but also could put you at risk of being more of a target of petty crime. Related to this, do not leave your bag unattended, as if you are by yourself the only person who can be responsible for your bags is yourself.
Keep your phone charged and consider having a rechargeable battery pack with you. Heading out to explore for the day, or for a night out, with 20% battery on your phone is not a smart move.
Generally, solo travel in Jordan is possible and safe.
There is plenty of opportunities to get involved with other people, to join in tours or to attend meet-ups where you can make friends with locals and fellow travellers alike.
Since you will be relying on them so much, careful research of guides and tour companies is essential!
Is Jordan safe for solo female travellers?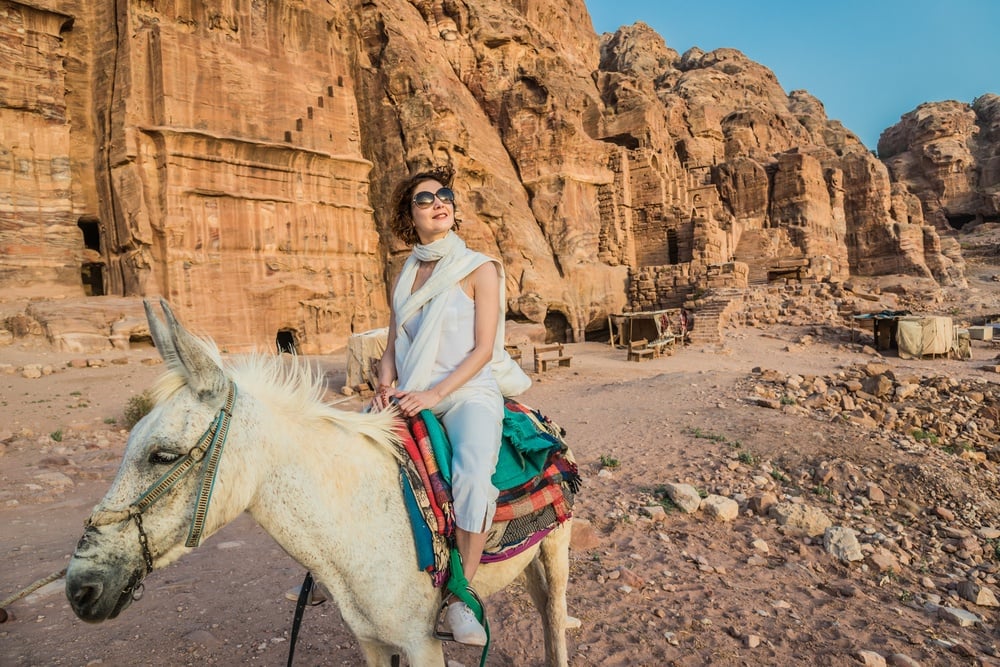 There are a fair amount of women who travel to Jordan by themselves and have an incredible time while they're there. Solo travel is a lot of fun, you get to travel at your own pace, you get to experience things the way you want to experience them, and just do exactly what you want to do.
However, there are times when travelling solo in Jordan that things can get tricky for women. Sometimes it's as small as unwanted attention, other times it can be more serious.
It's important to know how to keep yourself safe where possible in Jordan, so here are our trips for solo female travellers.
Understand that Jordan is a conservative Islamic country. This means that people may be surprised to see a woman travelling alone without a male companion. Being alone in itself may sometimes be seen as an invitation for men to accompany you. Men have little or no contact with women before they're married, so it can be too much for local men to come into contact with a lone woman.
Dressing appropriately is a must. This goes for men as well, but for women, covering up and being modest in dress is very important. In more rural areas this dress sense is essential, but even in towns like Amman, knee-length (at least) dresses and covering shoulders and upper arms is the done thing.
When at the beach, it is best to avoid wearing bikinis. A one-piece swimsuit is probably a better idea. You may also want to consider covering up further with a t-shirt and shorts, or a sarong or scarf that can be easily wrapped around you.
Unfortunately, coffee houses and bars are typically men-only hangouts. Going for more mid-range cafes and bars will usually mean that you feel more comfortable. The general rule of thumb is to see if other women, or families, are in the establishments you want to go in.
Street harassment does happen. Usually, it is more of an irritation than anything else. If somebody is being too persistent, consider making a scene – be firm, but do not lose your temper.
Do not be afraid to ask for help. Local Jordanian women will be happy to help you if you are not sure about what to do – even if you want to ask advice about taxis. Approaching a couple is fine, too. If a serious incident has happened to you, you should go to the police or the tourist police, or call 911 and ask for English speaking staff.
It is a good idea, when travelling on public transport, to sit next to women or a family. This means that you will be safer from both stares and groping.
Do not walk anywhere by yourself when in remote areas. Even in Petra or around Wadi Rum, any remote or isolated corners of these touristed sights may be risky for a woman by herself.
Consider using white lies. You may be seen as more respectable if you make up a partner, husband or family who is joining you later.
It is not a good idea at all to go out partying by yourself, even to a bar. You should find some people who you trust to go out drinking with.
You should research your accommodation carefully. Check out reviews from solo female travellers who have embarked on a trip around Jordan before you, and make sure to take into consideration the security measures and location at the accommodation you are thinking about.
Join a group tour. These are a great way to see the country and, much of the time, you will feel safer travelling as part of a group than by yourself. As with everything, research is key; only use the best quality tour, and avoid going out with a guide by yourself, opting instead for group tours exclusively.
Tell people where you are going if you are heading out to do something. You should notify your friends and family back home of your travel plans, your itinerary, what you're up to each day, and let them know if your plans are changing. It is much safer that somebody knows where you are than nobody at all, so do not go off grid.
Though travelling to Jordan by yourself as a woman may not seem like the best idea, it is in fact doable and many solo female travellers do have a great time here.
That said, joining tours where possible and booking into secure accommodation will mean that you have a successfully safe trip.
Is Jordan safe to travel for families?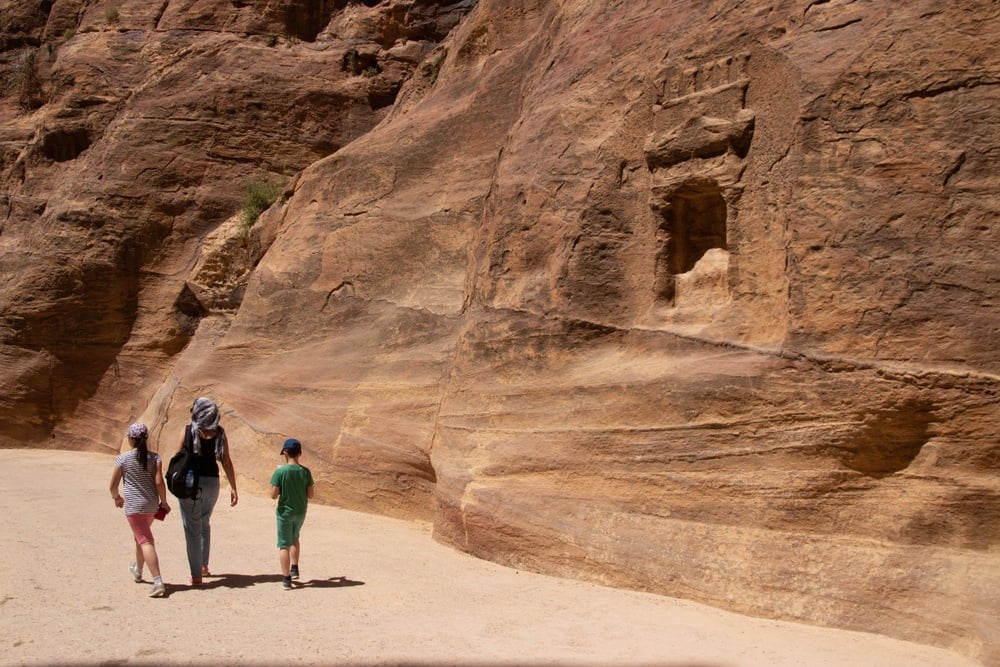 Children are absolutely adored in the family-centric society that is Jordan. Going on a family adventure to this Middle Eastern country will mean that get a unique insight into the country's culture through your children as they interact with local people.
Many children in Jordan have large families; it is also not uncommon to see children to be seen out late, playing together and even walking in the street unaccompanied.
There are also all sorts of captivating cultural sights to share with your children on your trip. From floating in the Dead Sea and going full Indiana Jones at Petra, to going on a wildlife safari in the Eastern Desert and meeting centurions in northwestern Jordan, there's a lot to fill your itinerary.
You can certainly expect a warm welcome, and for your family trip not encounter too many hiccups.
There are, however, not a whole host of child-oriented activities in Jordan, and children generally are expected to do as the adults are doing. Exceptions include the Children's Museum in Amman, which is a good place to get to grips with Jordanian culture, with interactive exhibits both in Arabic and English.
In restaurants, there are often family areas where you will be made to feel welcomed alongside other local families. However, things like baby changing rooms and highchairs are not the norm, even in restaurants. However, you will these sorts of amenities in classier establishments and other places such as large malls.
When it comes to packing, you can get things like nappies in big cities, but generally not outside of them. Therefore it is a good idea to stock up on those and anything else your children may need. Car seats are not easy to come by, so if you plan to travel by car you should bring your own with you.
Another thing to consider is the pavement situation – they are often crumbling and sometimes nonexistent. A pushchair may not be very useful in light of this, and smaller children and best carried in a sling or similar.
Breastfeeding is normal in public, but covering up with a shawl while doing so should be practised.
Note that the heat in Jordan can be unbearable for adults, so it can very adversely affect little ones. The hot summer months (mid-May to mid-September) may be too much for a family visit, so consider shoulder seasons; winter, on the other hand, can be too cold.
Temperatures can be higher than you are used to at any time of year, however, and exposure to the sun can be dangerous for children. You will be visiting places like Petra and Wadi Rum, for example, where it is hard to find shade. Keep out of the midday sun and consider visiting places such as these in early morning or mid-afternoon, making sure that you have sun hats and sunscreen.
Covering up from mosquitoes during the warmer months is a must, too. Have repellent on hand. Though malaria is not an issue, mosquito bites can still be very aggravating.
Children can also be more sensitive to stomach upsets from food than adults. Carrying hand sanitiser and sanitary wipes with you is a good idea. Think practically about foods you should avoid with children – dairy products, for example, should be approached with caution; ice cream served up in rural areas is best avoided, and be careful with fruits that have been pre-peeled.
When it comes to accommodation, there is a selection of hotels that will be perfectly suitable for families; those at the lower end of the price scale are not good for families. Think about larger hotels or resorts where children will be catered for, and which come with things like kids' clubs, swimming pools and onsite restaurants.
On the whole, Jordan is safe to travel with families; it could be an absolutely mind-blowing experience for all involved.
Unless you are very adventurous and experienced at doing so, it is probably best to not embark on public bus travel, self driving and solo jaunts to Petra, and opt for guided tours where possible.
Is it safe to drive in Jordan?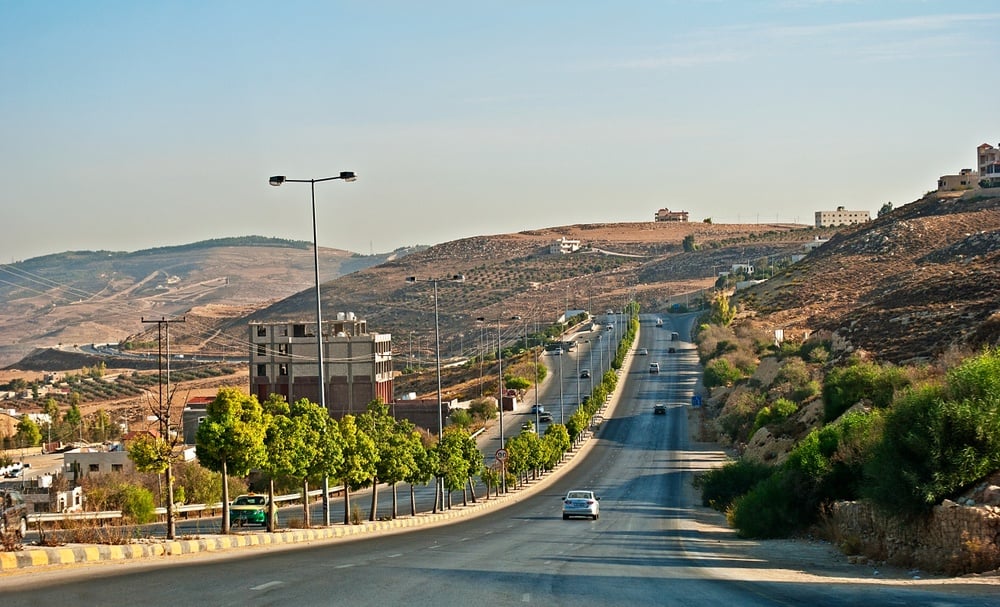 There are some pretty amazing road trips that you can do in Jordan. These offer some insane scenery to soak up and can be an awesome experience for all those looking for a slice of adventure.
While it is generally easy to drive around the country by yourself, there are a few things you should know.
Road conditions across the country vary quite significantly. It is normal to come across roads that are completely without signs; there can be a lack of warning for things like speed bumps, and accidents are frequent.
In fact, the World Health Organisation ranks Jordan 48th in the world for deaths related to road traffic accidents. The Desert Highway, for example, has had numerous fatalities in recent years; travelling with caution on long, remote roads like this is a must.
Take care when driving yourself around Jordan during the rainy season. There can be flood alerts, mainly in the Jordan Valley, which can mean that roads get closed and diversion be put in place – all at short notice.
Driving at night time is not advised at all. Not only are the roads unlit, but there is also the hazards of stray animals wandering across the road, as well as other risks like broken down vehicles and getting completely lost.
Be aware that the police do stop drivers to carry out random security checks. You may be asked to show your ID and other documents if you are st0pped by authorities. You should cooperate with police on these matters, especially when the road has been visibly blocked for protests or political demonstrations.
Occasionally, however, being a foreigner, you may just be waved through checkpoints without any hassle. It is still a good idea to have documentation on you at all times though.
Be on the alert for erratic driving. This includes a lack of indication, risky overtaking, U-turns and other suspect driving.
It is the law to wear your seatbelt, but you should be doing this anyway.
If you are going to be hiring a car, just make sure that the one will be hiring is up to scratch and seems roadworthy before you take it out. Make note of any damage that may be on the car already, so that you are not blamed for it later. Only use reputable rental companies to avoid getting scammed.
Note you do not need a 4X4 unless you are going off-road.
In conclusion, driving can be done in Jordan. It is not the scariest place in the world to drive, just make sure you take your time and plan way in advance to make sure your road tripping adventure goes off without a hitch.
Is Uber safe in Jordan?
Uber has recently announced that it has officially launched in Jordan – in the form of "Uber Taxi".
It is the first Middle Eastern country to welcome the ride-hailing app to its doors, with Uber buying out potential rival Careem in the process.
The Uber service here is basically Uber X, which involves hailing a taxi via the app – not a private Uber driver. This is not necessarily a bad thing, however, with benefits including being able to track your journey, reading drivers' reviews, not having to worry about language, and being able to pay in-app to avoid scams. With all that in mind, Uber is safe.
Are taxis safe in Jordan?
Taxis are a very popular way to get around Jordan, and they are generally safe to use, too.
There are a few things to note, however, in order to avoid any trouble.
In a country where there is not a very well developed public transport system, taxis pick up a lot of the slack and are sometimes the best option for getting around places.
There are two types of taxi in Jordan: Yellow and White.
Yellow taxis are much like you would expect a taxi to work. In Amman, they run on the meter and they are generally safe to use. When using a Yellow taxi outside of Amman, you should negotiate the fare before you get in.
You can hail a yellow taxi from the pavement, or arrange one through your accommodation first – the latter may be a safer option to know that you are getting a certified taxi.
By law, the driver must use the meter. If they refuse to do so, or say it's broken, then you should get out and find another taxi.
It is also a very good idea to always carry small change with you to pay your taxi fare. Sometimes drivers will not have – or claim not to have – change for the large bill you want to pay with.
Women travellers should sit in the back of taxis, while males can sit in the front if they like. In fact, men should sit in the front, as it is seen as polite to do so.
Then there are White taxis. Working a little bit like a bus, these run along pre-determined routes and are a much more local way to get around. They leave when full, they are crammed full of stuff, and can be an experience in themselves.
They cost twice as much as getting a minibus or local bus, because they are quicker, stopping less to pick up other passengers.
It is a good idea to have a bit of Arabic script skill, as Arabic words and numbers can indicate the route on the front of White taxis.
If you are a woman traveller in Jordan, getting a White taxi by yourself means you sit up front with the driver; this is the norm and accepted practice, with the back seats for men.
All in all, taxis are safe in Jordan. It is a normal way to get around and most taxi drivers will be friendly; you could even consider hiring a taxi that will be able to take you around for the day.
Is public transportation in Jordan safe?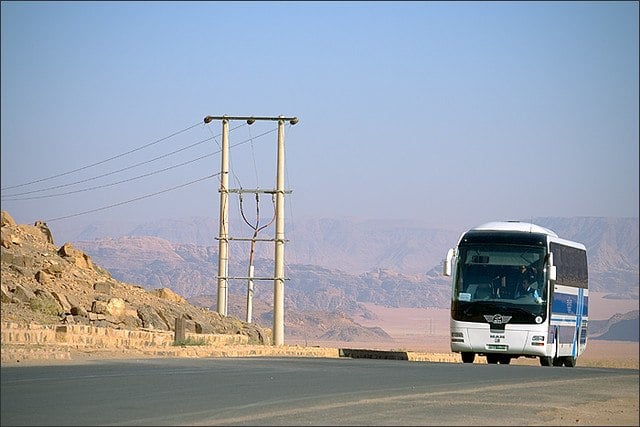 The public transport in Jordan is not as well established as you may think. Based primarily on buses, many people rely on taxis instead to get around.
However, buses are cheap and come in different varieties according to budget and where you want to get to.
Definitely a local way to get around, buses quite often do not run to any particular timetable. Quite often the buses will depart when they're full, pick up anybody who thumbs for a lift along the way, and stop whenever anybody wants to get off. They can be time-consuming as a result.
City buses in Jordan's two largest cities – Amman and Irbid – serve various routes around the cities and their suburbs. These sorts of buses are more chaotic than anything else and can be hard to figure out. They are cheap, however, and generally efficient once you know what you're doing. The bus stations themselves can cause more of a headache.
If you are going long-distance, you will probably find yourself in a 15-18 seater minibus, or a larger, air-conditioned coach.
The good news is that, unlike other places, the journeys are not too long and hard-going. Once the buses have actually departed, and you're on the road, bus travel is not so bad.
The minibuses leave when they're full and their routes can be tricky to figure out. It is a good idea to ask somebody at your accommodation to help you figure out your route on the public minibus.
You usually buy a ticket on the bus itself; because they leave when they are full, you may have to do some reshuffling on the bus after everyone's on board so that men don't end up sitting next to unaccompanied women, or vice versa.
If you want to travel in a little bit more style, there are the tourist buses. These large air-conditioned coaches – such as the Jordan Express Tourist Transport – zip tourists between Petra and other destinations.
The advantage of taking these modern coaches is that they are much more comfortable, more reliable and faster than the local buses.
You should make sure that you book in advance as you cannot buy a ticket on board. Go to a ticket office to book your ticket, book online, or your accommodation can sort out a ticket for you.
The best thing about these tourist buses is that they leave on time, follow a fixed schedule, and do not stop along the route to pick people up.
Train travel does exist in Jordan, with the occasional (if rare) Hejaz Railway offering a luxury insight into a historic narrow gauge railway. Once running from Damascus to Amman, sadly it is no longer possible to do that journey, however it is occasionally requisitioned by tour companies for specific luxury journeys within the confines of Jordan.
There is a plan in the works for a passenger route between Wadi Rum and Aqaba, but this has not yet come to light yet. For the moment, you are stuck with minibuses or otherwise.
Though limited, public transport tends to be safe in Jordan.
Bum bags aren't just for Adidas lads and super dads!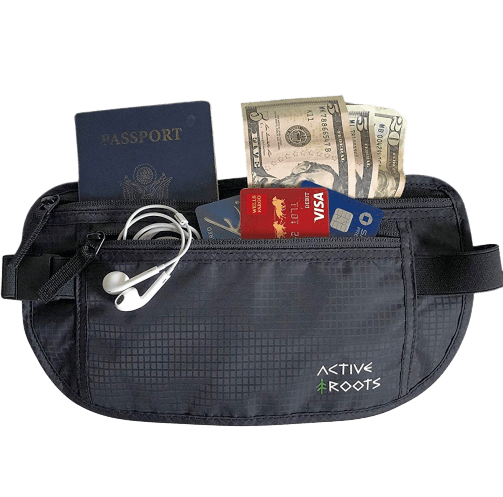 Seriously, once you enter the travel belt life, you never go back. You can NEVER overstate just how useful having all your most important valuables right around your waist is.
A full-sized travel belt stays tucked under your shirt and keeps your valuables – documents, passport cash, headphones, lip balm, illicit goodies 😉 – organised and on-hand for moment's notice.
Hide Yo' Money!
Is the food in Jordan safe?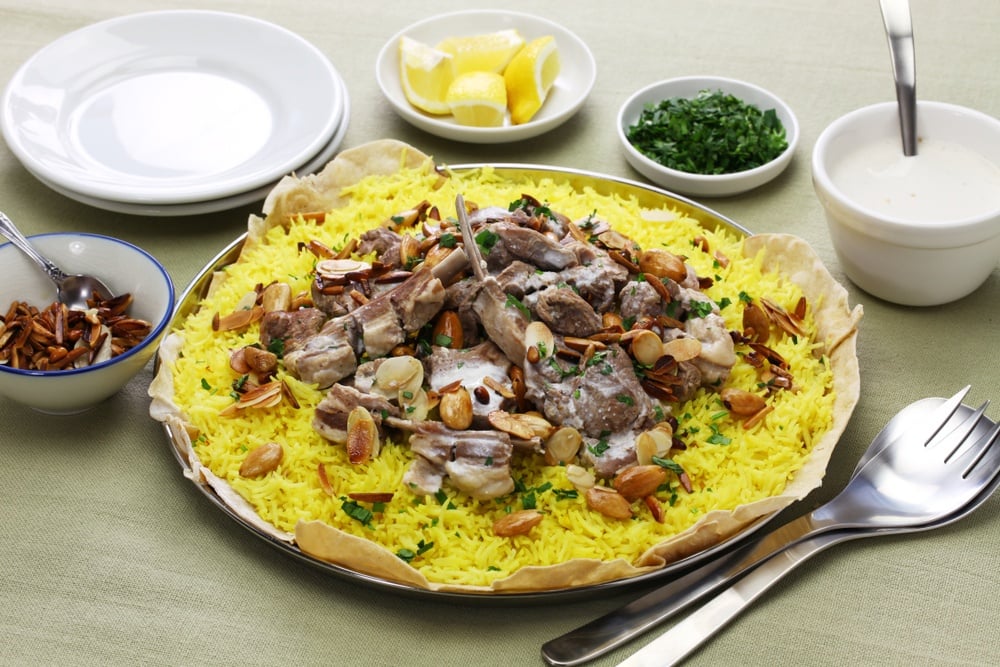 Food is an amazing part of travelling to Jordan. You get to sample an array of tasty traditional dishes, as well as dive into the international food scene of its capital city..
With falafel, hummus, Jordanian specialities and other Levantine delights to try, as well as bars, coffee shops and pubs, it's got a lot on offer your tastebuds. We have some pointers to make sure you do so safely.
It is a good rule of thumb to go where the locals go.
Lunch is the main meal of the day. Going for food after this or slightly before may mean that you don't get served up the freshest food going. Be prepared for lunch to take some time – and prepare to nap afterwards!
Do not be afraid of bedouin foods. It is rude to refuse to eat anything at all, so you should at least try when you are offered something to eat. Often consisting of rich stews that have been cooking for hours, bedouin food can be eaten at places like Wadi Rum.
Know that eating with your hands is normal. You should avoid using your left hand to eat, as that – in traditional Islamic culture it is used for, erm, something else! Often you will have some sort of bread to scoop things up with in place of cutlery.
With that in mind, it is important to keep your hands clean. As much food eating in Jordan is done with hands, many establishments will have somewhere in eyeshot for you to rinse your digits off before – and after – you tuck in.
Beware of the humble hotel buffet. Hotel breakfasts come in all shapes, sizes and qualities, and can be of a low standard in more budget-oriented accommodation. Though often relied upon by tourists to Jordan, buffets – with the trays sitting around and various people from around the world all in one place – can be hotbeds of germs. Be careful with how much eat at the hotel buffet.
Do not be afraid of street food. Trying out a simple street snack when in Jordan is a must. From shwarma stands to falafel vendors, there is much to try. Just make sure you go to one that has queues, or a crowd, in front of it; failing that, look to see if hygiene practises are being followed and that things are being cooked up freshly for your chosen snack.
A change in diet is a big part of what makes people sick on their travels around the world. With that in mind, it might just be a good idea to travel with anti-diarrhoea medication and rehydration sachetss.
On a similar note, be wary of seafood. Mussels, oysters, clams and other shellfish – particularly outside of Aqaba – may not always be the freshest. If it doesn't look, smell or taste right, do not eat it; getting food poisoning from seafood is not fun and can actually be dangerous.
There is no reason to be worried about the food in Jordan. In general, it is safe to eat from local, fast food street stalls where you can pick up a lamb shwarma wrapped in a flatbread, or get a shish tawook – minted chicken kebab – to snack on.
The important thing is to go to reputable places. Tourist traps with signs in English and touts trying to get you in should be avoided – usually. Instead, go where the locals go, ask your accommodation for recommendations, and limit the time you spend at the hotel buffet!
Can you drink the water in Jordan?
While it is said to be safe to drink the water in Jordan, if you are only there for a short while it may just be best to stick to bottled water.
Make sure that the seal on bottles has not been broken before you buy them.
Water can be boiled, however – 1 minute vigorously at low altitudes, 3 minutes at higher altitudes. You can also take a refillable bottle that comes with its own filtration or purification device.
Is Jordan safe to live?
Having the position as an "oasis" in a relatively troubled region, Jordan is actually a pretty safe place to live. It has fewer of the issues that affect neighbouring countries.
There are definitely some parts of life in Jordan that will require you to live a little differently however.
For example, it is not uncommon to come across protests taking place on Fridays, usually in solidarity with Palestinians. It is best to keep clear of these and avoid them in general. Similarly, it is best to not engage in discussing issues related to the protests.
When it comes to everyday security, however, Jordan does feel pretty safe. There is often a police presence on the streets of Amman, for example, as well as security in plain clothes posted around the city.
The capital definitely seems like a safer place than other places in Jordan. The police here are friendly and welcome to visitors and expats alike.
The strict laws enforced by the country mean that crime levels are, on the whole, fairly low. The most common issues you will have to deal with will be things like pickpocketing, but nothing that you should be too concerned about.
Traffic and transport, in general, may cause you a little bit of a headache, however. In Amman, with its growing population and undeveloped infrastructure and public transport network, things can move slowly in this regard.
The weather may take some getting used to. It can get very hot in Jordan, and living in such sweltering conditions could really affect you, especially if you are not used to heat.
Living in a conservative Muslim society, however friendly and open to foreigners, will still take some getting used to. The way you dress, the way you socialise, even the way you eat – and especially if you are a woman planning on making the move to Jordan by yourself – will have to be altered to fit the society of Jordan.
That said, there is an amazing nightlife in Jordan. Unlike many Muslim countries, people do like to let loose in Amman with some great bars and clubs. If you're into this sort of thing, then the capital could be a good option for you.
Keeping abreast of the regional news and aware of developing situations, tensions and disputes will be something you'll get used to doing, too.
All in all, a move to Jordan would not be an unsafe thing to undertake. Ensure you do research, get in touch with expat forums and Facebook groups, inquire as to safe neighbourhoods to live in, and places other than Amman that may take your interest, and make sure to visit before you move there.
The Future of the SIM Card is HERE!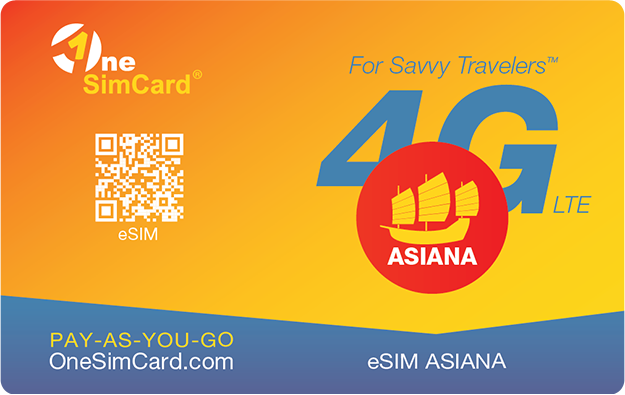 A new country, a new contract, a new piece of plastic – booooring. Instead, buy an eSIM!
An eSIM works just like an app: you buy it, you download it, and BOOM! You're connected. It's just that easy.
Is your phone eSIM ready? Read about how e-Sims work or click below to see one of the top eSIM providers on the market and ditch the plastic.
Buy an eSIM!
How is healthcare in Jordan?
Medical facilities in Jordan can vary, but are generally very good, particularly in Amman.
In the capital, you will have access to top, modern hospitals that are well equipped to treat a variety of medical conditions. Emergency treatment can also be accessed easily in Aqaba.
Outside of these two large urban hubs, facilities can be a little basic. Emergencies, major medical conditions and serious injuries will need to be treated in one of these two cities.
Regional hospitals can be found in Remtha, Madaba, and Zarqa. These offer a good level of care, but lack the facilities, service and equipment of facilities in either Aqaba or Amman. All towns will have some sort of basic health centre, which will vary in standard from town to town.
Make sure that you have adequate medical travel insurance to cover any mishaps or treatments you may need, and be sure to contact your insurance provider as soon as possible once you need to use them.
It will not be too hard to come across doctors who speak English as most will have studied abroad, and will be able to give you a well informed diagnosis in English.
Every town will have a pharmacy. These are called saydaliyyeh. The staff in these facilities can often speak English, and will have a fairly good stock of medication on offer. These should be the places you go first as the pharmacies can both give a consultation free of charge, and give out prescriptions for medicine you may need on the spot; they can also refer you to a doctor (doktoor) if needs be.
If you are in an emergency, dial 911 and ask for an ambulance, which will take you to the nearest emergency room at a hospital. These emergency rooms are called moostashfa.
While medical care across the country does vary, Jordan actually does have a very good level of medical facilities that should be able to treat most – if not all – ailments and emergencies.
Helpful Jordan Travel Phrases
The official language of Jordan is Arabic. Jordanians use a Levantine dialect, which is the same used by Palestinians, and some Syrians and Lebanese. The dialect is not too different from classic Arabic so conventional speakers should have no trouble understanding Jordanians.
English is widely spoken by younger Jordanians and those in the tourism industry. Some Jordanians who live in the more rural settings struggle with English but you should be able to get your point across. French and German are also common foreign languages.
Below is a list of ten common Arabic phrases that you should know. These phrases are going to look a little weird but the more you try to use them, the more fluent you will become.
Naäam – Yes
Laa – No
min faDlik – Please
Shukran – Thank you
Äafwan – You're welcome
Aläafw – Excuse me
Ismii… – My name is…
la kees minn al-blastik – No plastic bag
la qishat min fadlik – No straw please
la sakakin bilastikiat min fadlik – No plastic cutlery please
Anaa laa afham – I don't understand
Hal tataHaddath al'ingiliiziyya? – Do you speak English?
As-sal?mu ?alaykum – Peace be upon you (Hello)
FAQ about Staying Safe in Jordan
Here are some quick answers to common questions about safety in Jordan.
Final thoughts on the safety of Jordan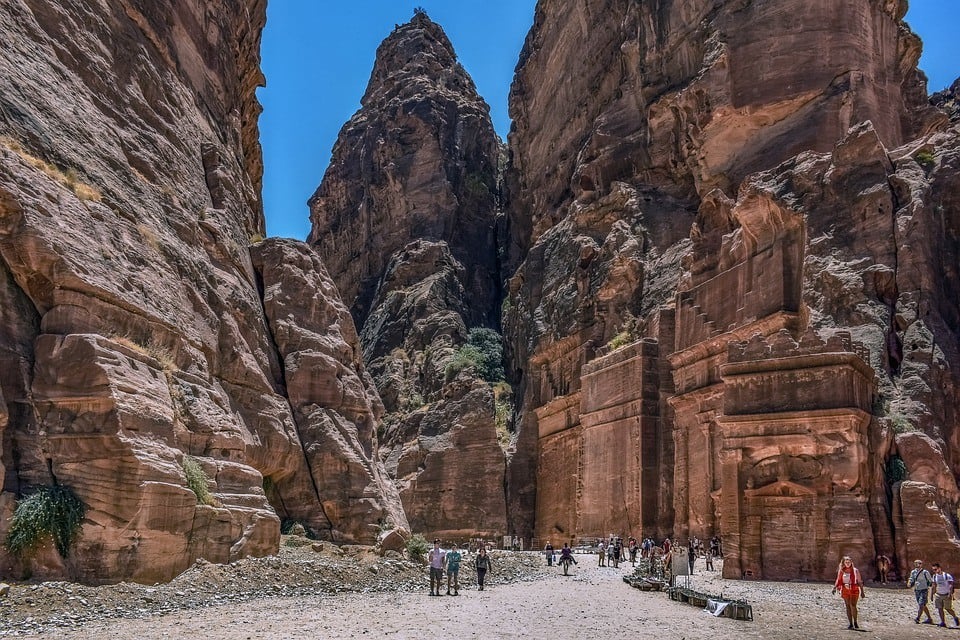 Jordan is often billed as an oasis of stability and peace in a region that is distinctly lacking in both and, for the most part, this is true. Away from border areas and the occasional protest, there will not be much evidence of regional disputes and conflicts in Jordan. This, coupled with a low crime rate and friendly people, make Jordan safe to visit – by yourself, on a tour with added luxury, either is totally doable.
---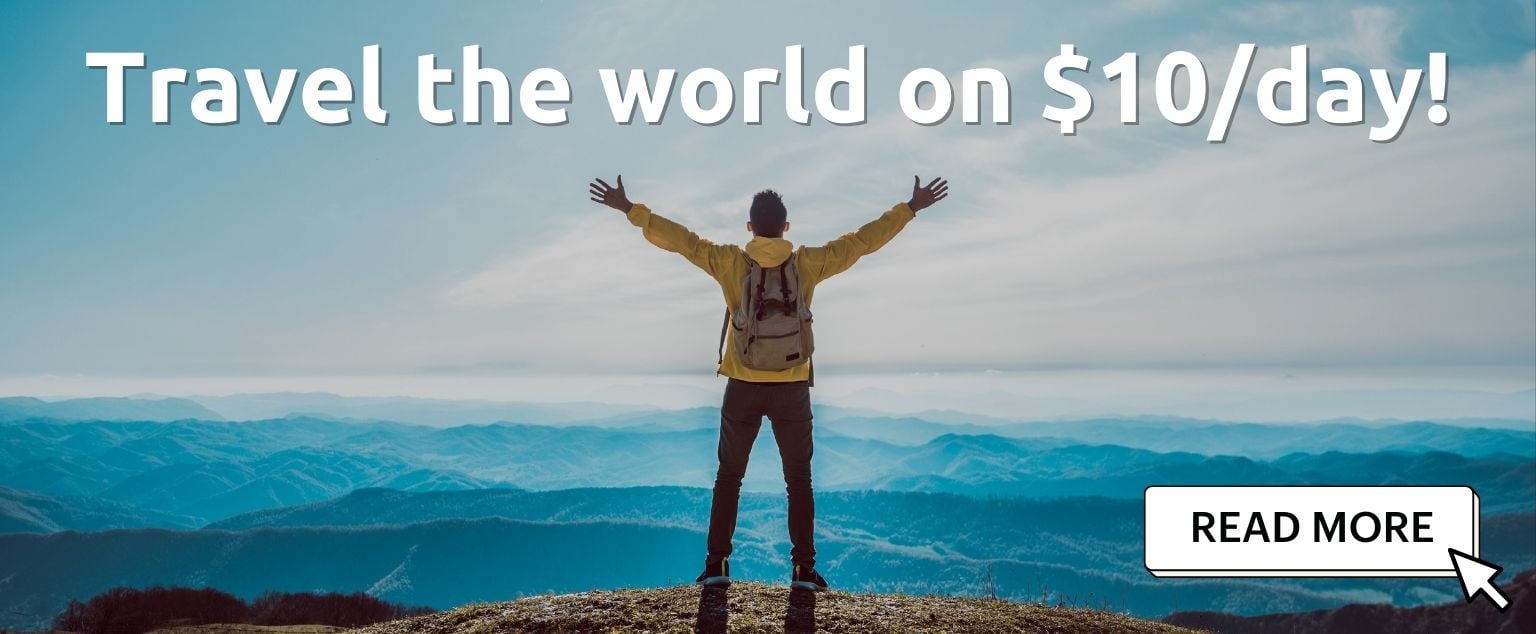 And for transparency's sake, please know that some of the links in our content are affiliate links. That means that if you book your accommodation, buy your gear, or sort your insurance through our link, we earn a small commission (at no extra cost to you). That said, we only link to the gear we trust and never recommend services we don't believe are up to scratch. Again, thank you!