'The Holy Land' that is today known as Israel is one of the most fascinating and sought after travel destinations in the world. It's a place of deep spiritual importance for people of Jewish, Muslim and Christian backgrounds and is made up of some of history's most significant sights.
You can float as if you're weightless in the Dead Sea, walk the historic streets of Bethlehem, and take in the vast desert landscape of the country. Foodies will be in their element indulging in delicious Israeli cuisine and party-goers will enjoy the epic nightlife in Tel Aviv.
There's a lot going on in Israel, right? In fact, the historic and cultural significance of Israel also makes it a place with many complex cultural and social issues.
The history of Israel's trauma, conflict and division still affects the country to this day. Many people are working to combat and alleviate the symptoms of these heavy issues all over the country.
Are you feeling called to volunteer in Israel? Let's take a look at what you need to know beforehand and the types of volunteer projects you can get involved in.

Do You Want to Travel FOREVER??
Pop your email in below to get a FREE copy of 'How to Travel the World on $10 a Day!'.
Top 3 Volunteer Projects in Israel
Hostel Help in the Israeli Desert
> Working in reception, cleaning, social media management, writing blogs
> Mitzpe Ramon
Organic Permaculture Farm
> Farm Work, Gardening, DIY work, Construction
> Hasharon park
Organic Farm and Cultural Project
> Farm work, Eco construction
> Mizpe Aviv
What You Need to Know About Volunteering in Israel
There's a huge range of ways you can volunteer in Israel. You might find yourself working on social projects to bridge the gap between Jewish and Arab communities, getting hands-on with traditional agriculture practises on a farm or even working with survivors of the Holocaust.
As well as having a variety of causes you can support, you can find a way to use YOUR skills to have the biggest impact.
If you're a creative whiz with all things words and videography, you can use those skills to help raise the profile of an organisation. If you've got a green thumb, there are sustainability projects that need extra hands. Do you see what I'm getting at here? There are projects for everyone.
Where can you track down these projects?
You can do some independent research and track down a project DIY style. This usually involves scouring the internet to find something that calls to you. More on that later!
Another option is to turn to platforms like Workaway and Worldpackers. These sites help link travellers up with local projects in countries all around the world. For me, using Workaway has facilitated some of the most impactful travel experiences of my life, from translating on eco-tours in the Colombian Amazon, working on a biodynamic mushroom farm in Brazil to taking care of dogs in a shelter in Thailand.
The range of projects on offer in Israel is bound to be tempting to even the most seasoned Workawayer.
Volunteering is about getting down and dirty to make a difference. If you are looking for an experience that is more light-hearted and adventurous, consider backpacking in Israel and leave the volunteer placements for those who really want them!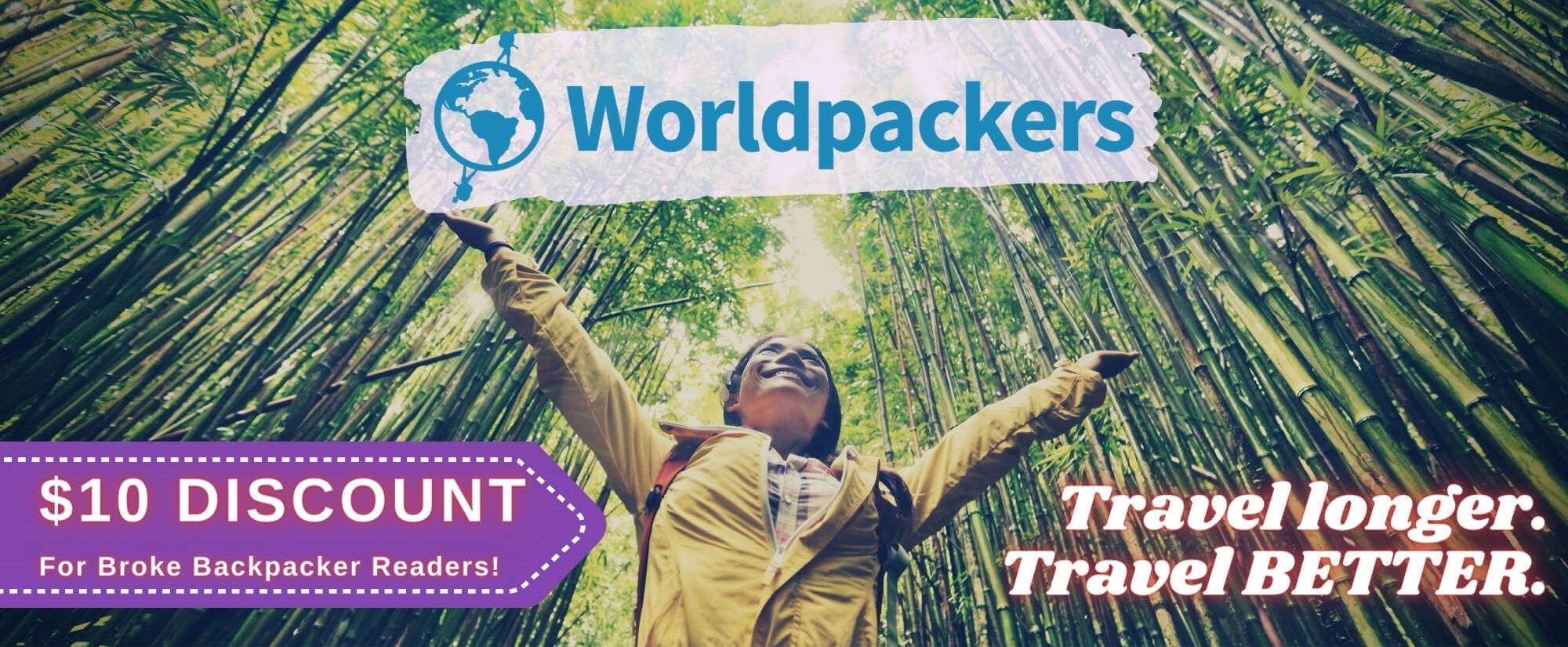 Worldpackers: connecting travellers with meaningful travel experiences.
Why Volunteer in Israel
Your reason for volunteering in Israel will be different from the next person. Perhaps you're intrigued to visit the country or maybe you have heritage that you want to connect with. They are all great reasons! If you're searching for more incentives, here are a few:
Cultural immersion: What better way to understand a culture than to spend time immersed in it? Sure, the tourist trail is fun, but that's not the most authentic way to connect to culture.
Leave your mark: By volunteering, you have the chance to have an impact and leave the project better off than you found it.
Learn Hebrew: Did you know that Hebrew is written and read from right to left as opposed to left to right like most modern languages? Learning languages is awesome. Maybe you want to learn Hebrew for religious reasons (it's an original biblical language) or to connect with Israelis while travelling. Either way, getting deep into the country is much easier when you speak the lingo.
Meet new people: You'll have the chance to meet so many people while you volunteer. Meeting people from different places and backgrounds helps us to expand our understanding of the world. Is that not one of the most amazing parts of travel?
Get inspired: There's a saying 'you are a product of your environment and the people you surround yourself with' – if you spend your time around people who do great things for other people and the planet, that's bound to have some rub-off effect.
Support important work: Many projects in Israel do not receive adequate government funding (if any) and rely on support from volunteers and donations to continue their important work.
Explore a beautiful, unique country: You could spend time by the Dead Sea, hiking through a vast desert or walking the historic streets of Jerusalem. Sure, you may be visiting to volunteer in Israel, but all these experiences and must-do Israel activities can be part of the package.
Before You Volunteer in Israel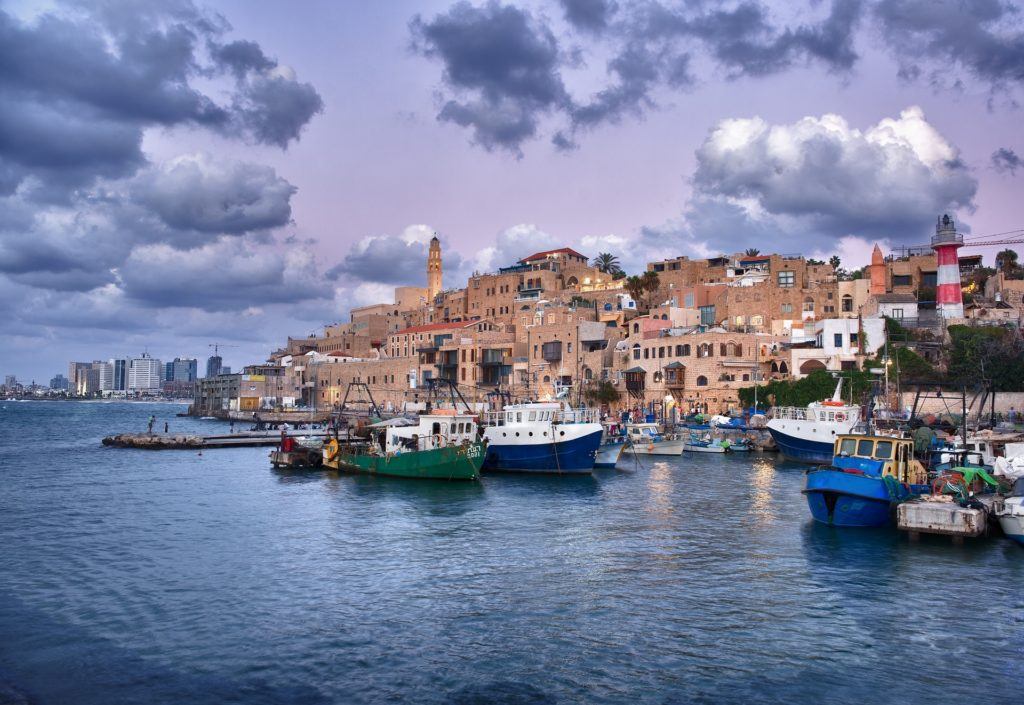 We won't lie to you, this isn't the fun bit! Every seasoned traveller knows that you've gotta look into the visa and vaccination requirements of a country before you pack up. Here's what you need to know about travelling to Israel!
Visas
If you plan to volunteer in Israel you will need a specific volunteer visa known as the B/4 visa. There's a chance that your volunteer organisation will have to apply for this visa on your behalf. Have a chat with the organisers to find out what you need to do to get started!
Vaccinations
There are quite a lot of recommended vaccines for travellers heading to Israel. The World Health Organisation (WHO) recommends vaccinations for hepatitis A, hepatitis B, typhoid, rabies, anthrax, meningitis, polio, measles, mumps and rubella(MMR), Tdap (tetanus, diphtheria and pertussis), chickenpox, shingles, pneumonia and influenza. That's a mouthful, isn't it?!
I wouldn't leave it up to the info you read on the internet. Your best bet for health-related stuff is to have a chat with a medical professional like a travel nurse or doctor to see what they recommend for you.
A COVID-19 vaccination is highly recommended for all travellers who qualify for vaccination, and may be necessary to enter the country.
Israel at a Glance
Currency – Israeli Shekel
Conversion – 1USD = 3.17 Israeli Shekel
Capital City – Jerusalem
Official Language – Hebrew
Costs of Volunteering in Israel
The cost of volunteering in Israel will vary considerably, with some programs charging a flat fee to cover the expenses of hosting volunteers (accommodation, food, administration) while others will ask that you chip in a daily amount.
Some people will get a bit surprised (or even annoyed) to learn they need to pay to volunteer. While you may not like it, it's just how the cookie crumbles. Consider it a donation to a good cause and a further extension of your goodwill and dedication to the project.
If you choose to sign up for a program through Worldpackers or Workaway, the signup fee will set you back $49 and $45 respectively. If you wanna slice a few bucks of that cost, you can use our code. Thank us later!
Of course, you'll have to factor in the cost of travelling to Israel, travel insurance, and spending money. We all have different travel styles, so that will differ a lot depending on if you're a budget traveller or a lover of life's finer things.
Choosing a Volunteer Project in Israel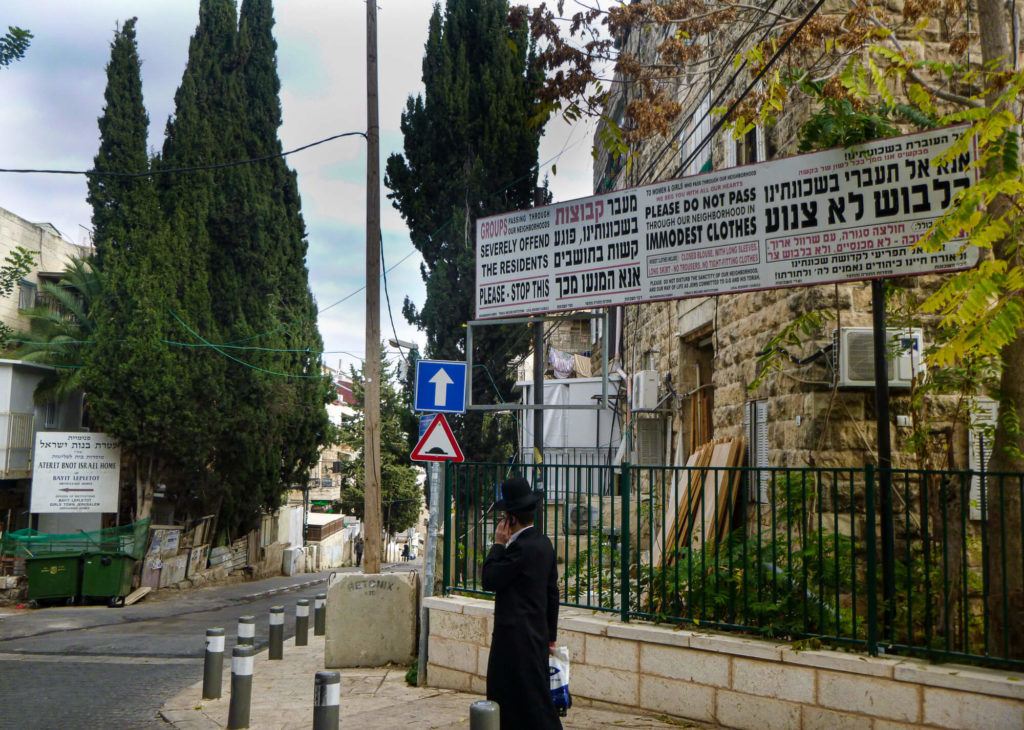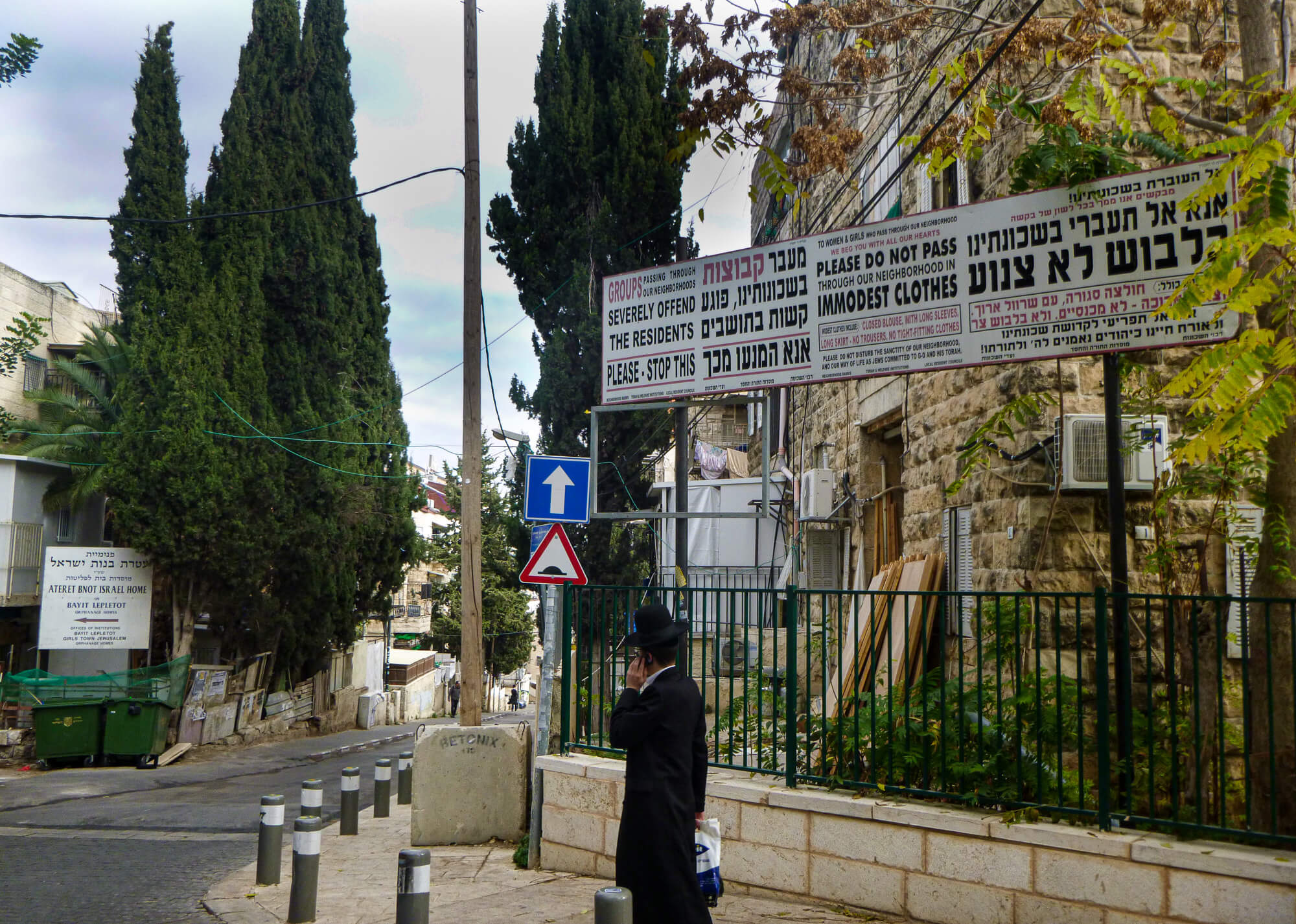 The best way to choose a volunteer project in Israel is to choose a cause that you can support with some of your skills. If you care about what you're doing, chances are you'll have a lot more fun and do your best work.
Of course, you can also try something you've never done before, but make sure you choose something that genuinely interests you. That's where the magic happens, and where you'll have the most meaningful and impactful time.
There's a huge range of volunteer projects in Israel.
You'll see a lot of projects on eco-communities and hostels. While some of these have an awesome social impact, if you want to work on a project with a more humanitarian focus you could consider the DIY approach. Here's a quick breakdown of some types of projects you'll find;
Kibbutzim/traditional farms – Kibbutzim are rural collective settlements that can be found all over Israel. They use traditional farming practises, and the produce is held in common within the groups.
Eco communities and sustainable farms – Have you ever dreamt of starting your own eco-community with your mates and living off the land? Me too mate, and many Israeli's have made this their reality. You can join them! On these projects, you'll get to experience community living and learn skills like permaculture, gardening, DIY construction and more.
Creative projects – Use your skills as a writer, photographer, artist or in marketing to support an NGO, business or hostel to help raise their profile.
Hostel, hotel and guest house assistance – Work on projects like these may involve working in reception, in a hostel bar, interacting with guests, running parties or pub crawls, cleaning, gardening or painting.
Community development and peace building – These projects involve community service like packing food packs for Israeli's who suffer from food insecurity, supporting Holocaust Survivors or community outreach programs to promote social cohesion.
Volunteer with Palestinians – Hear us out on this one. We are including this kind of project as the ongoing relationship between Israel and Palestine continues to perpetuate violence and inequality in the region. It's something that affects everyone, at varying levels.
It might be easier to shy away from the topic, but we chose to include it as it's an issue that affects people in Israel, whether Israeli, Palestinian or from another background.
For some context – Palestine and Israel are not the same states. Palestine is a state that comprises parts of modern Israel and the Palestinian territories of the West Bank and the Gaza Strip. The Israeli military has occupied Palestine since 1967, though Israel's claims to the territory are not recognised by the international community. This issue is very complicated and we encourage you to do your own reading to understand the nuances of the topic. The team at Vox do some good explainers!
Save $$$ • Save the Planet • Save Your Stomach!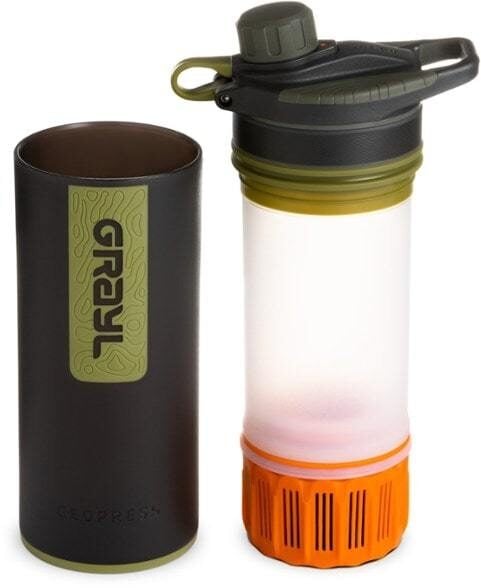 Drink water from ANYWHERE. The Grayl Geopress is the market's leading filtered water bottle protecting your tum from all the waterborne nasties. PLUS, you save money and the environment!
Single-use plastic bottles are a MASSIVE threat to marine life. Be a part of the solution and travel with a filter water bottle.
We've tested the Geopress rigorously from the icy heights of Pakistan to the tropical jungles of Cuba, and the results are in: it WORKS. Buy a Geopress: it's the last water bottle you'll ever buy.
Buy a Geopress!
Read the Review
Top Volunteer Projects in Israel
Let's take a look at some of our fave projects that are awaiting volunteers in Israel!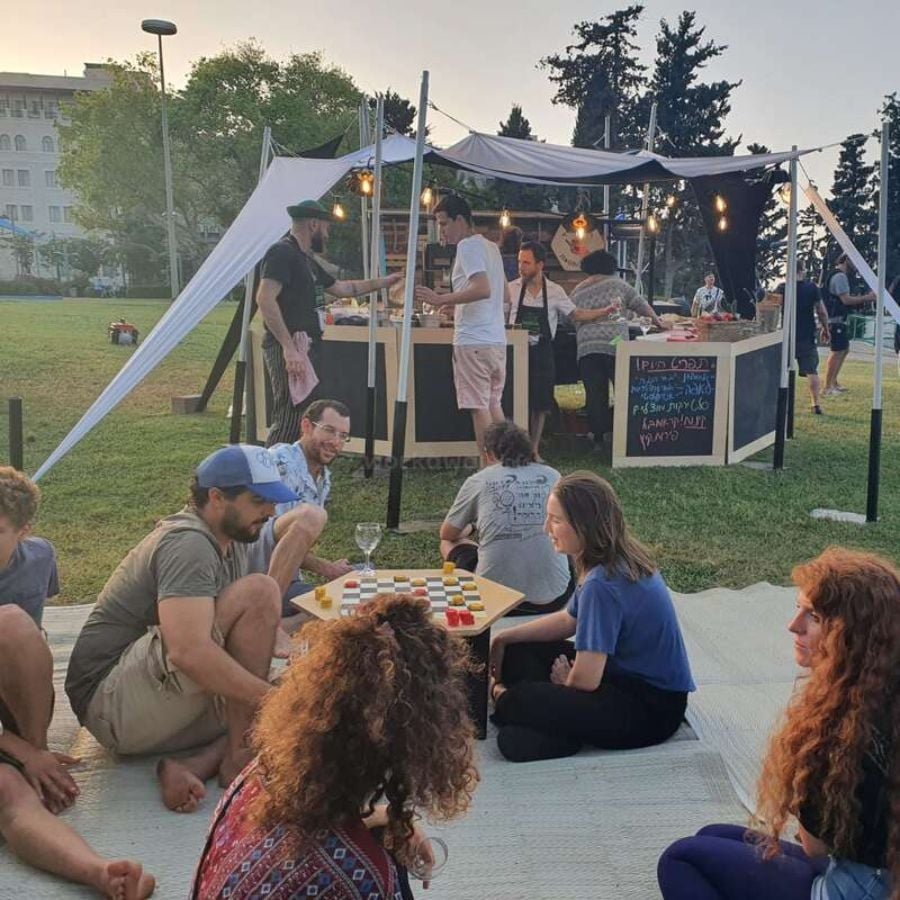 Opportunity: Rescue food, food preparation, kitchen assistance, and hostel work
Location: Haifa
Have you ever considered the issue of food waste, and how much perfectly good food is chucked into landfill each day? These folk have, and they've set up a food truck that is dedicated to educating their local community on the topic. As a volunteer with this organization, your role would involve assisting in rescuing food (dumpster diving for the win!), washing and preparing it, and assisting with events.
This project hosts volunteers in a local hostel. They ask that you spread your time volunteering with both their project and the hostel. Sounds like a pretty varied and exciting way to volunteer in Israel to me! According to previous volunteer reviews, it's an awesome experience too.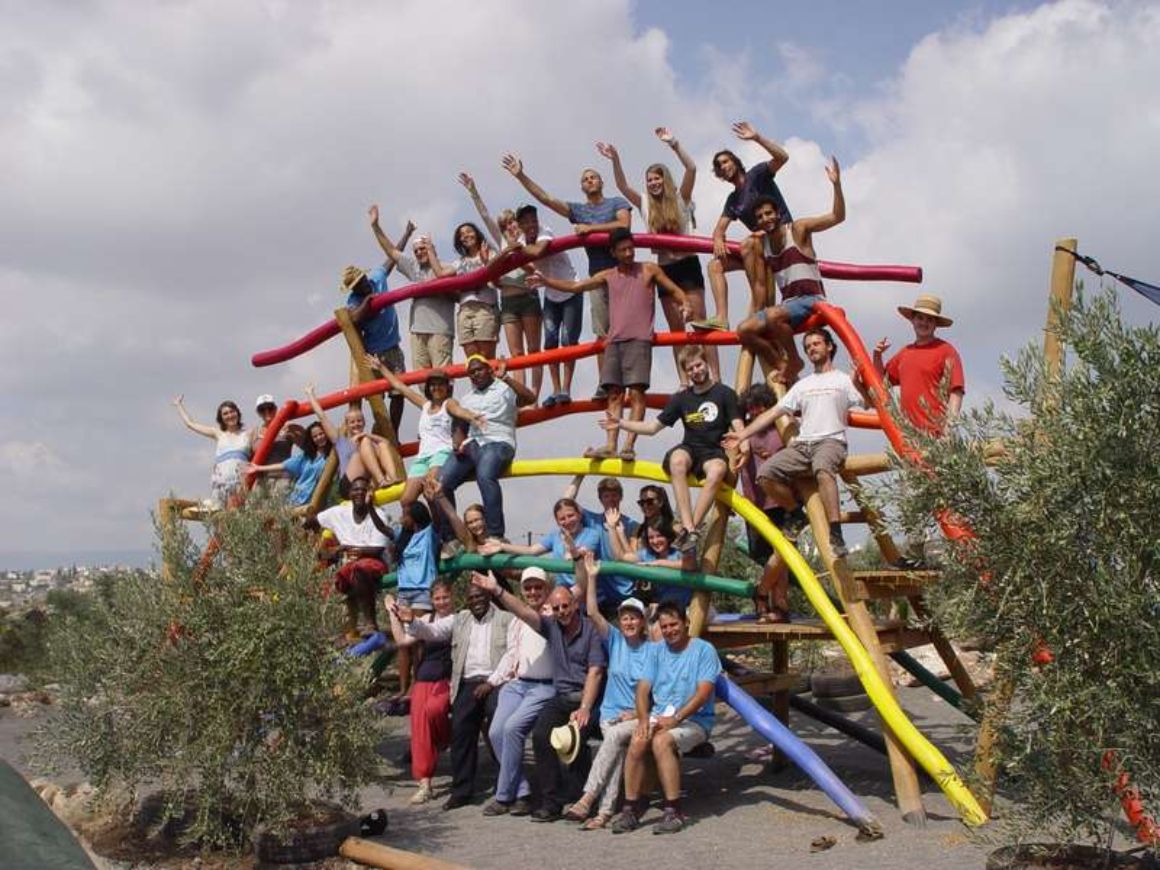 Opportunity: Farm work and co construction
Location: Mizpe Aviv
Of all projects that involve farm work, this is a unique one. It is a multicultural centre that practises traditional and sustainable agriculture. They are also an NGO that organise activities, and provide a safe and educational meeting place for both Jewish and Arabic residents of the area.
As a volunteer, your role will involve organic agriculture work in their orchard, ecological building and perhaps even the odd chance to walk the dog. All the while you'll gain special cultural insight into a movement working to bridge the gaps between Israel's Jewish and Arabic communities.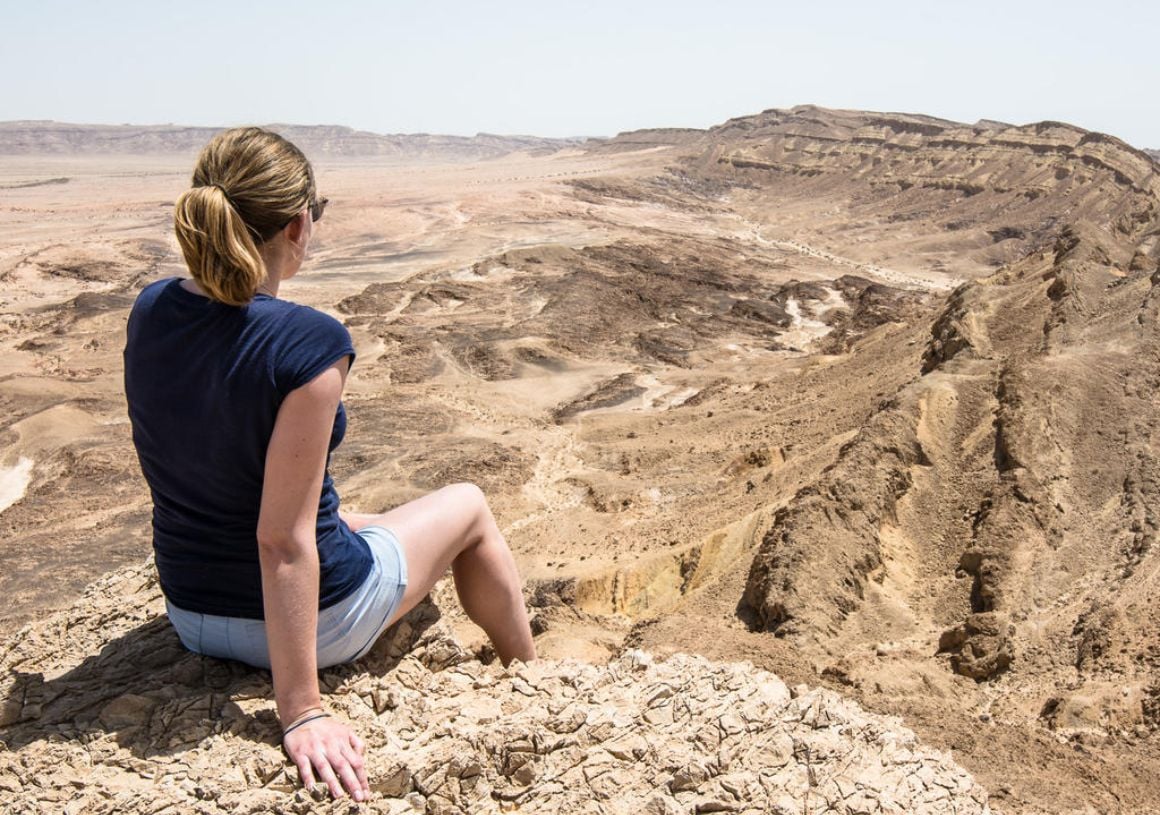 Opportunity: Working in reception, cleaning, social media management, and writing blogs
Location: Mitzpe Ramon
This hostel in Mitzpe Ramon is on the hunt for volunteers to assist in their reception – interacting with guests, cleaning, writing blog posts and social media management. You might even get to give hiking advice to other travellers, with an extra incentive to get out into the desert and have an adventure!
While hostel work isn't a project with social impact per se, this one is located in the heart of the desert, giving you a great opportunity to experience a unique part of the country, and meet cool people while you're at it.
Opportunity: Farm work, gardening, DIY work, and construction
Location: Hasharon park
Nature lovers, this organic permaculture farm 40 minutes north of Tel Aviv is calling! The project is a great opportunity to learn about, and get experience, with an established permaculture garden. As a volunteer, your role might involve tasks like weeding, harvesting, building mud structures, planting, DIY fixing or helping out with the events hosted at the property.
Tasks on the farm are diverse and sometimes even meditative. I mean, have you ever tended to a garden or fixed a fence with the sounds of birds in the background? The farm is in the middle of the vast Hasharon park, a calm and natural area with an abundance of wildlife and tranquillity. No experience with permaculture is needed, you just need to be open to learning, working and giving back to the land.
Is This the Best Backpack EVER???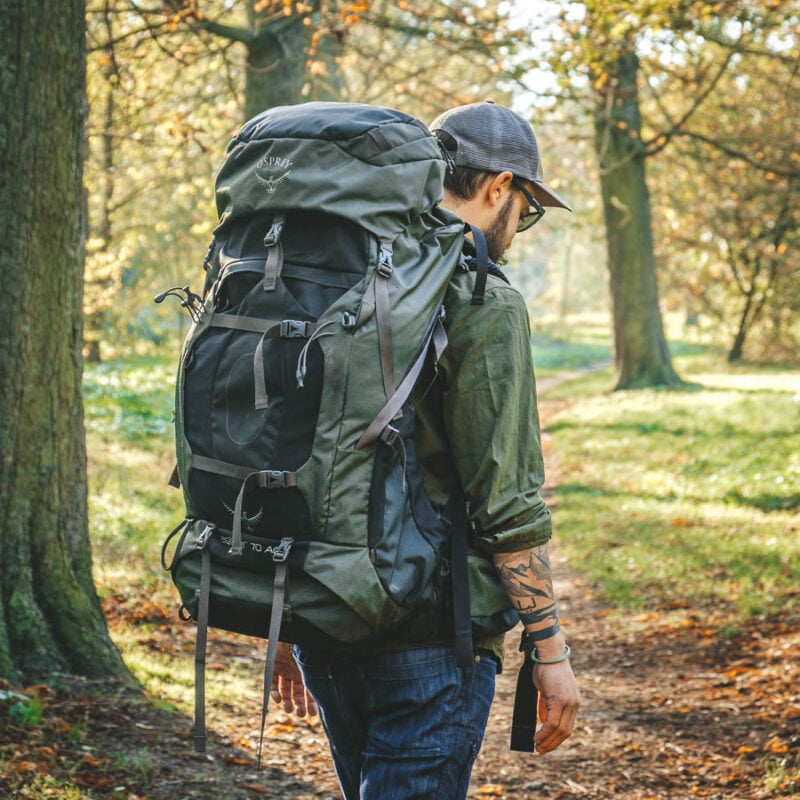 DIY Volunteering in Israel
We love Workaway and Worldpackers, but sometimes they don't have a project that is exactly what you're looking for.
Fear not, you can also use your research skills to find a volunteer project independently!
This approach is likely to cause a bit of an increase in your screen time. Yes, it's time consuming, but it's worth it if you end up finding a project that interests you.
The best place to start with finding your own volunteer placement is to think about the type of project that interests you. Are you at one with animals? Do children delight you? Are you looking for something that makes a lasting difference?
With a DIY approach, you'll likely find a range of third party agencies that help organisations find volunteers, as well as organisations themselves. Prices are higher with a third party – it makes sense though, as there are more costs to cover when you have a big team helping out.
One thing to keep an eye out for is projects that charge super-high fees to volunteers with the intention of profit, and not to put it back into the project. Make sure you always do some research before handing over funds.
Realistically, these projects are few and far between when you compare them to the genuine projects fighting the good fight, but it's worth knowing about so you can keep an eye out for them. Reading reviews on Google and using your head if something doesn't seem right is a good way to avoid getting hoodwinked!
Let's take a look at these impactful organisations working to make Israel a better place.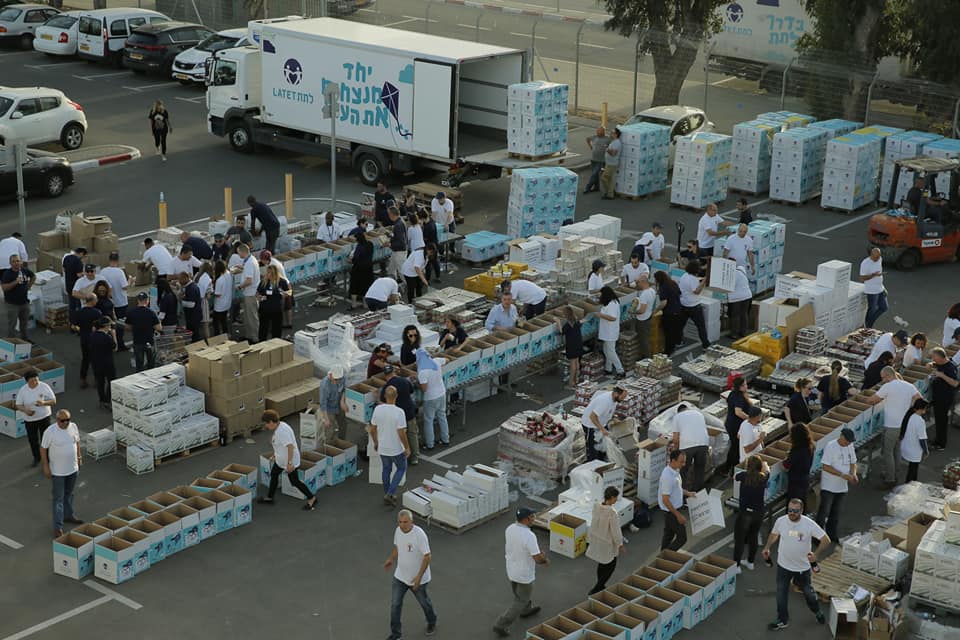 Latet, a Hebrew word translating to "to give", is a leading Israeli humanitarian aid organisation that assists needy populations. They run several projects that work to address inequality and welcome the help of volunteers from Israel and abroad. They also conduct research and release reports that shed light on the issues in Israeli society.
From there, they have created programs to bridge these gaps. Latet runs various programs, but let's take a closer look into two projects you can join as a volunteer in Israel. These projects have an invaluable impact and give you an incredible insight into Israeli culture.
Aid for Life – Supporting Holocaust Survivors
Latet reports show that 1 in 4 Holocaust survivors in Israel are living in poverty. That is a haunting statistic. Their Aid for Life program provides Holocaust survivors with a monthly package tailored to their needs. This aid includes a food box with necessities, funds for medical and paramedical attention when needed and social support through a volunteer who is paired with a survivor for weekly visits to combat loneliness and social exclusion.
This project aims to improve the quality of life of the survivors, and to allows them to live with the dignity they deserve.
Nutritional Security – Alleviating Hunger Among Families and Children
Food insecurity is a huge issue in Israel, that affects 18.2% of the population (25.5% of all children). To combat this, Latet acts as an umbrella organisation for 180 NGOs across Israel, and is the biggest national food bank in the country. They rescue and distribute food from retailers and manufacturers to these NGOs who redistribute it to people in affected communities.
This work ensures that families have their basic needs addressed. It reaches approximately 200,000 individuals per year, and as a volunteer, you can contribute to the important cause.
In more peaceful times, travellers have been encouraged to visit and volunteer to help integrate Palestinians with the rest of the world, and raise awareness of conditions in the region.
Due to the ongoing war between Palestine and Israel, it is not currently safe to visit the West Bank as a volunteer. Do some research into the current situation and see if things have changed since the time of writing, or consider volunteering remotely or outside of Palestine with this cause. Go Palestine runs several volunteering opportunities including teaching programs and social support for Palestinian refugees. If you're called to support their cause, get in touch and see how your skills can be put to use.
The Jerusalem Botanical Gardens is the largest botanical garden in Israel and the Middle East, and serves as a research and education centre. They work to protect the biodiversity of Israel, organise education programs on sustainability, and run cross-cultural programs that encourage Jewish and Muslim children to learn and play together. A volunteer group meets each Thursday, where volunteers can learn about gardening, urban nature and ways to make Jerusalem a greener city.
This is a good option for people who want to volunteer in Israel and don't have a lot of time, or for those who have relocated to Jerusalem and want to have a weekly connection to the community. They often update other volunteer programs on their site here. Have a look around the time you're going and see what you find.
DON'T DIE OUT THERE! …Please 🙂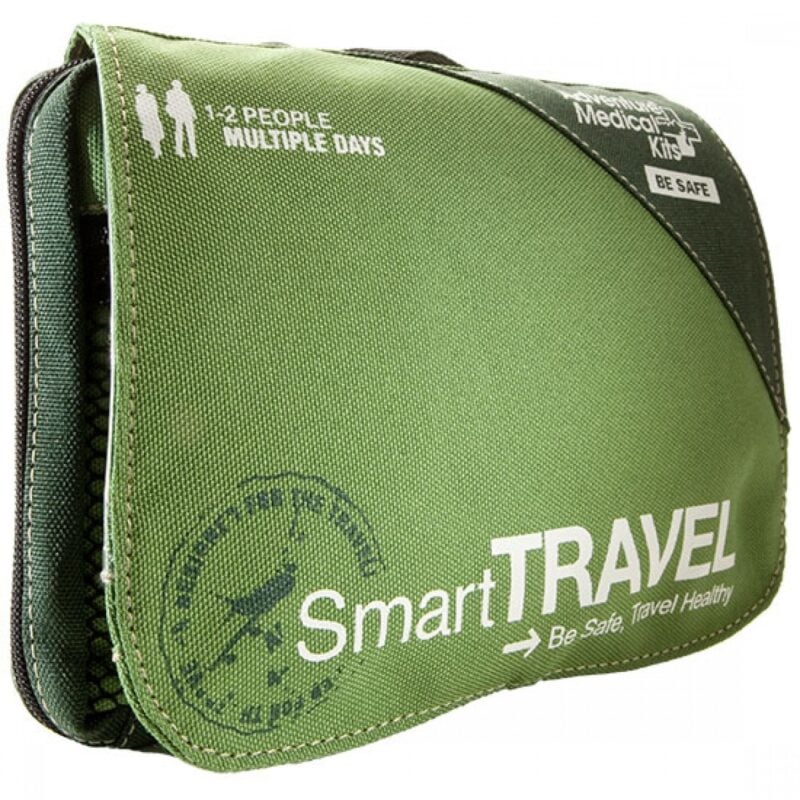 Things go wrong on the road ALL THE TIME. Be prepared for what life throws at you.
Buy an AMK Travel Medical Kit before you head out on your next adventure – don't be daft!
Buy on REI
What to Expect When Volunteering in Israel
I wish we could give you detailed answers of exactly what to expect when volunteering in Israel, but alas the answer to this varies big time from project to project.
There are some basics included, and questions you should consider before hopping on the plane.
Accommodation
When you're volunteering somewhere that provides accommodation, you can usually expect to share living quarters with other volunteers. This could be a dorm-like set up or even a tent on the property. You might hit the jackpot and get your own private room!
If your project doesn't organise accommodation for you, you can check out hostels in Israel, or ask your hosts for recommendations.
Days Off and Work Hours
Volunteers who find projects through platforms like Workaway and Worldpackers should expect to work anywhere from 15-30 hours per week. This varies between projects, but you will find the information outlined in the project description – if not, ask!
You'll likely get 1-3 days off per week, so you'll have the chance to mix up your routine and explore Israel! If your host is a local, don't miss the chance to ask for their suggestions of what you must see.
This might be different if you organise your volunteer project yourself. Your best bet is to ask your project organiser so you know what to expect.
Getting Around
Having a car is the easiest and fastest way to get around Israel. If you've got a license, you could look into hiring some wheels for your days off. The road conditions are good, and hire costs are pretty reasonable.
In terms of public transport, buses are the next best option to travel between cities. Depending on the route you plan to take, it may be worth booking in advance.
Do's and Don'ts
Do be respectful of local culture and practices – this probably goes without saying, I mean, I'm talking with a community of seasoned travellers, am I not?
Do say yes! Yes to new opportunities, food types, friendships, chance to learn etc. Volunteering in Israel is an amazing opportunity, don't be afraid of leaving your comfort zone.
Do educate yourself on the political nuances and history of Israel. I've mentioned that this area has a complex history and political dynamic. Don't be ignorant.
Do have fun! Yes, you're there to volunteer, but it doesn't mean you can't enjoy the experience!
Don't forget to ask lots of questions of your host before you arrive. Ask about things including expected work hours, accommodation, days off daily tasks etc.
Don't be lazy. Remember, you're there to help so make sure you do your fair share of work.
Don't be afraid to chat with locals. Israeli's are known to be chatty people who aren't afraid to speak their minds. Israeli's will likely appreciate that you speak your mind with them too. That makes for many opportunities for cultural exchange!
Don't get offended too easily. To continue from the last point, Israeli's are known to be opinionated and this can come across as harsh or abrasive to people of other cultures. Know that it's probably not personal.
Don't push your safety. Be sure you know where you are going, and don't walk around alone at night.
Final Thoughts
That's all from us folks! Hopefully, we've helped shed some light on the range of volunteer projects you can get involved with in Israel, and what you need to do to organise yourself.
Good luck organising and perhaps I'll join you there!
But don't forget to sort your travel insurance before you leave!
Month to month payments, no lock-in contracts, and no itineraries required: that's the exact kind of insurance digital nomads and long-term traveller types need. Cover yo' pretty little self while you live the DREAM!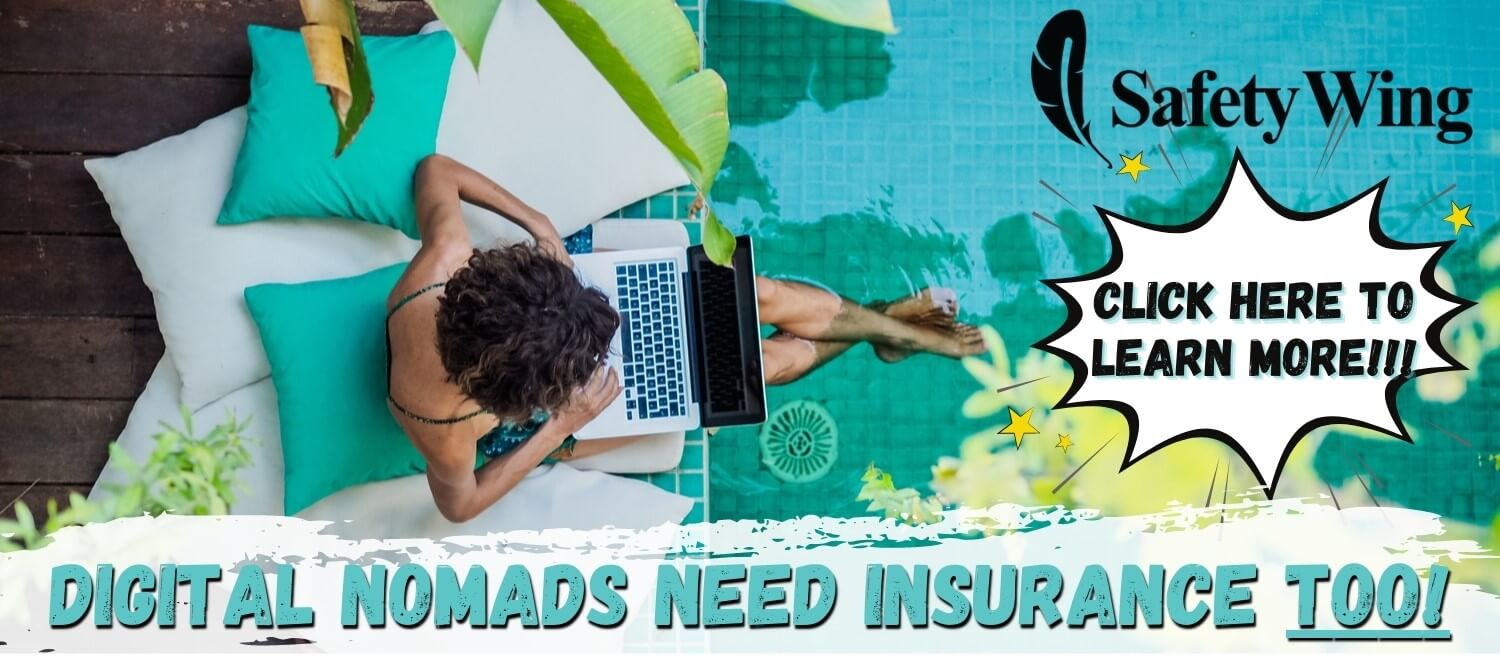 SafetyWing is cheap, easy, and admin-free: just sign up lickety-split so you can get back to work! Click the button below to learn more about SafetyWing's setup or read our insider review for the full tasty scoop.
---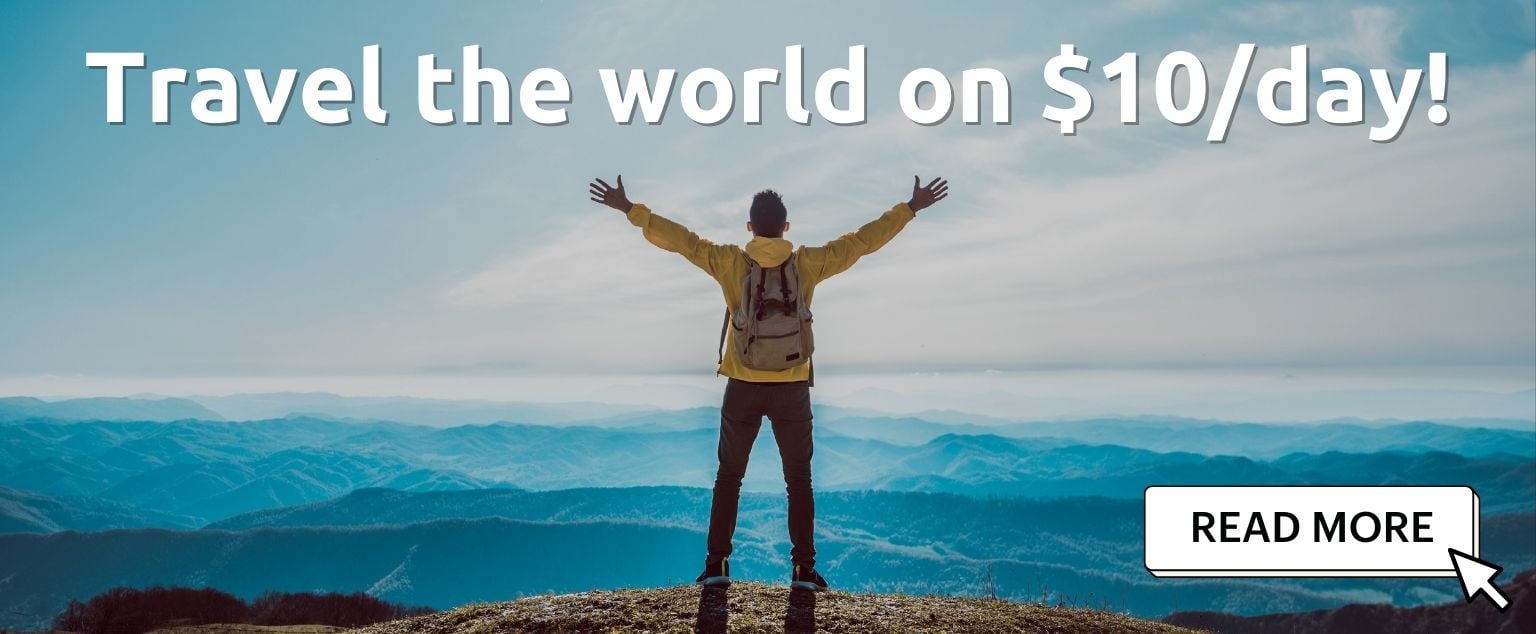 And for transparency's sake, please know that some of the links in our content are affiliate links. That means that if you book your accommodation, buy your gear, or sort your insurance through our link, we earn a small commission (at no extra cost to you). That said, we only link to the gear we trust and never recommend services we don't believe are up to scratch. Again, thank you!