One of my favourite things about traveling is that I suddenly have time to read. When I'm hitching, camping or backpacking around the world I often manage to read two or even three books a week.
Over the last year, I have put together a list of the best travel books to read when backpacking! Check it out and if you think I've missed any real gems then please do let me know in the comments box at the bottom of the page.
Many of these travel books are best read when you're actually in the country they are set in; for example, reading Shantaram in India is a really fantastic experience and you will get a lot more out of the book. Same goes for books about backpacking in general, they just seem to make the experience much more reflective.
And so, in no particular order, here we go with the 50 best books to read while traveling…
Jack Kerouac's seminal novel should be compulsory reading for all nomads, backpackers and folks who want to live off the grid. In 'On The Road' discover 1950s underground America as Kerouac hitches backwards and forwards across the states in search of Jazz, drugs, sex and the meaning of life. Definitely, one of my favourite books to read while travelling and one of the best backpacking books out there.
The Darien Gap is a place of Legend. The only break in the Pan-American highway, which runs from Alaska to the tip of South America. The gap is often seen as an almost impregnable strip of swamp, jungle and cloud forest inhabited by FARC gorillas.
This fascinating book tells the story of two unlikely travellers who team up and try to get through the gap from Panama to Colombia, on foot. After a gruelling journey, they are just hours from success when they are captured by FARC fighters and held prisoner in the jungle for nine months. Ok, so you might not want to literally follow in their footsteps but it's one of the most inspirational books about traveling the world.
The first book I ever read on India, Shantaram inspired me to book a one-way flight to Delhi and travel around India for 14 months. It might just be my favourite book about traveling around the world if I'm honest!
The book follows the possibly true, possibly exaggerated, story of an escaped Australian convict who finds his way to India where he falls in love, works for gangsters, fights the Russians in Afghanistan, gets imprisoned in Bombay, becomes a professional forger and an amateur doctor and experiences life in an Indian slum.
One of the best books to read while travelling in India, it is extremely well written and paints an accurate, although somewhat rosy, picture of life in India.
21st Century Mumbai is a city of new money and soaring real estate, and property kingpin Dharmen Shah has grand plans for its future. His offer to buy and tear down a weathered tower block, making way for luxury apartments, will make each of its residents rich – if all agree to sell.
But not everyone wants to leave; many of the residents have lived there for a lifetime, and many of them are no longer young. As tensions rise among the once civil neighbours, one by one those who oppose the offer give way to the majority, until only one man stands in Shah's way: Masterji, a retired schoolteacher, once the most respected man in the building.
Shah is a dangerous man to refuse, but as the demolition deadline looms, Masterji's neighbours – friends who have become enemies, acquaintances turned co-conspirators – may stop at nothing to secure their money. This is really one of the most poignant books to read while travelling in India, it changed how I viewed the country irreversibly.
Backdropped by the ongoing unrest of the Spanish Civil War, A Long Petal of the Sea offers a tale of love in the face of hardship, a complex cast of characters interwoven into the plot, and the daily struggle to survive. This was one of my absolute favourite reads of 2022 and an awesome bit of travel reading – another gem by Isabel Allende!
Need more India? I loved my 2 years in this country and Leon G Hewis similarly had an awesome adventure that began on this mysterious subcontinent.
His self-published travelogue-slash-thought-diary gives a refreshing look into South and Southeast Asia. He fully captures the feeling of being on the road and confronting new ideas and creatively working yourself out of situations you'd never encounter on your couch at home. If you're looking for a definative book about traveling the world and the experiences that come with it then this is the one.
This is the first travel book that tested the idea that a five-year old daughter makes for a decent travelling companion. A really interesting read on the now-defunct Indian state of Coorg, this book gives a fascinating insight into the origins of backpacker travel in India.
A fascinating, sometimes painful, read about Afghanistan under Taliban rule. The story follows the fate of two young boys, one of whom is able to escape to America whilst the other, of the Hazara minority group, is forced to stay behind.
One of the most inspirational books to read while travelling, I felt that this gave me a real insight into the little known women of Afghanistan and the events that have shaped the country over the last thirty years.
A tale of a mysterious tribe of Mexican Indians, the Tarahumara, who live hidden in canyons and are reputed to be the best long distance runners in the world.
This is THE book to read if you are interested in how the psychedelic movement began, squats, hippy culture or experimenting with LSD.
Follow Ken Kesey, author of One Flew over the Cuckoos Nest, as he leads his band of Merry Pranksters across America fermenting a revolution unlike any other. Definitely, one of the best books to read on the road.
This is THE book you want to read if you are headed into the Amazon. The book tells the tale of an eccentric British explorer, Percy Fawcett, who spent his life leading expeditions into the Amazon in search of the legendary lost City of Z.
The book recounts his life, his encounters with un-contacted tribes and his final expedition, from which he did not return.
In Indonesia Etc, Pisani weaves together the stories of Indonesians encountered on her journey with a considered analysis of Indonesia's recent history, corrupt political system, ethnic and religious identities, stifling bureaucracy and traditional 'sticky' cultures.
Fearless and funny, she gives a compelling and sharply perceptive account of a captivating nation.
A travel classic, these are the diaries of Che Guevara in which he travels around South America by motorbike. A book that is ALWAYS on the list of best books to read while travelling.
Hands-down THE best book you can read about Cambodia under the rule of the Khmer Rouge. Heartbreaking, beautifully written and historically accurate, this book will change how you perceive Cambodia forever.
The personal account of a young girl who was taken from her family and trained as a child soldier by the Khmer Rouge.
It's about an Irish writer volunteering in Nepal in the 1960's. The innocent Nepal she writes about it is the one which hordes of travellers each year are still trying to find but which is sadly now gone forever.
The inspiring autobiography of Bear Grylls in which he recovers from a broken back and goes on to become one of the youngest climbers to scale Mount Everest. One of the best books to read while travelling anywhere! It truly inspires you to challenge yourself.
A Buddhist monk takes up arms to resist the Chinese invasion of Tibet – then spends the rest of his life trying to atone for the violence by hand printing the best prayer flags in India. A Jain nun tests her powers of detachment as she watches her best friend ritually starve herself to death.
Nine people, nine lives; each one taking a different religious path, each one an unforgettable story. William Dalrymple is one of the best writers when it comes to offering an insight into Indian culture and I highly recommend reading everything he has written.
At the peak of European Imperialism, steamboat captain Charles Marlow travels deep into the African Congo on his way to relieve the elusive Mr Kurtz, an ivory trader renowned for his fearsome reputation.
On his journey into the unknown Marlow takes a terrifying trip into his own subconscious, overwhelmed by his menacing, perilous and horrifying surroundings.
When Daily Telegraph correspondent Tim Butcher was sent to cover Africa in 2000 he quickly became obsessed with the idea of recreating H.M. Stanley's famous expedition – but travelling alone.
Despite warnings that his plan was 'suicidal', Butcher set out for the Congo's eastern border with just a rucksack and a few thousand dollars hidden in his boots.
Making his way in an assortment of vessels including a motorbike and a dugout canoe, helped along by a cast of characters from UN aid workers to a campaigning pygmy, he followed in the footsteps of the great Victorian adventurers. This is an epic book for anyone, but it's epecially of of the best books to read while traveling alone.
The best account of an adventure expedition that I have ever read. Stranger in the forest recounts the humorous story of the author's travels in Borneo where he made lifelong friends with the Penan, jungle people who can catch fish with their feet, imitate the cry of the elusive barking deer, and survive in a fearsomely inhospitable environment.
With their help Hansen learned to hunt pigs, danced in the tribal rituals, discovered the eye watering nature of Penan sex aids and was given the ceremonial name "Rajah Kumis": King of the Moustache.
He conveys how he came face to face with himself in the patch of map marked "un-surveyed", and records the experience of living in a proud and ancient tribal community based on mutual respect. One of the most interesting books to read while travelling.
Award-winning foreign correspondent Eric Campbell has been stoned by fundamentalists, captured by US Special Forces, arrested in Serbia and threatened with expulsion from China.
He's negotiated dating rituals in Moscow, shared a house with a charismatic mercenary in Kabul and taken up smoking at gunpoint in Kosovo.
A hilarious and moving true story of trials and tribulations from a time before mobile phones ruined travel. Mark escapes dreary England in search of adventure and washes up in India with his buddy Sean in tow.
Together, they head into the mountains of Nepal on an ambitious trek but Mark is doomed from the start and embarks upon one of the longest survival journeys I have ever heard of… A rollercoaster ride of amusing cultural observations along the hippie trail, pure survival grit and living the nomad dream.
With the help of a Maratha nobleman, Mark Shand buys an elephant named Tara and rides her over six hundred miles across India to the Sonepur Mela, the world's oldest elephant market.
From Bhim, a drink-racked mahout, Shand learned to ride and care for her. From his friend Aditya Patankar he learned Indian ways. And with Tara, his new companion, he fell in love.
For many years, war made Sierra Leone and Liberia too dangerous for outsiders to travel through. Facing down demons from his time in Africa as a journalist, Tim Butcher heads deep into this combat zone, encountering the devastation wrought by lawless militia, child soldiers, brutal violence, blood diamonds and masked figures who guard the spiritual secrets of remote jungle communities.
For those of you not familiar with Bill Bryson, he is point blank one of the most amusing travel writers out there. In this tale of walking and woe, Bryson attempts to traverse the Appalachian Trail, one of the longest continuous footpaths in the world which crosses tangled woods and heady peaks.
When Richard Halliburton graduated from college, he chose adventure over a career, travelling the world with almost no money. The Royal Road to Romance chronicles what happened as a result, from a breakthrough Matterhorn ascent to being jailed for taking forbidden pictures on Gibraltar.
Paul Theroux's account of his epic journey by rail through Asia. Filled with evocative names of legendary train routes – the Direct-Orient Express, the Khyber Pass Local, the Delhi Mail from Jaipur, the Golden Arrow to Kuala Lumpur, the Hikari Super Express to Kyoto and the Trans-Siberian Express – it describes the many places, cultures, sights and sounds he experienced and the fascinating people he met.
Here he overhears snippets of chat and occasional monologues, and is drawn into conversation with fellow passengers, from Molesworth, a British theatrical agent, and Sadik, a shabby Turkish tycoon, while avoiding the forceful approaches of pimps and drug dealers.
After her husband died of cancer, 57-year-old Rosie set off to run around the world, raising money in memory of the man she loved. Followed by wolves, knocked down by a bus, confronted by bears, chased by a naked man with a gun and stranded with severe frostbite, Rosie's breathtaking 20,000-mile, 5 year, solo journey is as gripping as it is inspiring.
Rebecca West's epic masterpiece is widely regarded as the most illuminating book to have been written in the former state of Yugoslavia. It is a work of enduring value that remains essential for anyone attempting to understand the enigmatic history of the Balkan states and the continuing friction in this fractured area of Europe.
One of the first books I ever read about expedition-ing, I was inspired to start travelling and to get involved in trekking, climbing and rafting. Ranulph Fiennes has travelled to the most dangerous and inaccessible places on earth, almost died countless times, lost nearly half his fingers to frostbite, raised millions of pounds for charity and been awarded a polar medal and an OBE.
He has been an elite soldier, an athlete, a mountaineer, an explorer, a bestselling author and nearly replaced Sean Connery as James Bond. In his autobiography, he describes how he led expeditions all over the world and became the first person to travel to both poles on land.
He tells the tales of discovering the lost city of Ubar in Oman and attempting to walk solo and unsupported to the North Pole – the expedition that cost him several fingers, and very nearly his life.
A serious read for the serious explorer, packed full of practical advice on how to travel in some of the world's most dangerous places. Brace yourselves for one of the darkest books to read while travelling.
Another Kerouac classic, The Dharma Bums is a journey of self-discovery through the lens of Zen Buddhist thought. Essential reading for all aspiring explorers. Another MUST in the list of best books to read while travelling.
I read this whilst backpacking in Myanmar, it is beautifully written and enabled me to get a lot more out of my time in this stunning country. The story follows a quiet piano tuner, Edgar Drake, who is ordered by the War Office to travel to the jungles of Burma to tune a rare grand piano for an eccentric British officer renowned for his peace making methods in the war-torn Shan states.
In April 2008, Ed Stafford began his attempt to become the first man ever to walk the entire length of the River Amazon. Nearly two and a half years later, he had crossed the whole of South America to reach the mouth of the colossal river.
With danger a constant companion – outwitting alligators, jaguars, pit vipers and electric eels, not to mention overcoming the hurdles of injuries and relentless tropical storms – Ed's journey demanded extreme physical and mental strength.
Often warned by natives that he would die, Ed even found himself pursued by machete-wielding tribesmen and detained for murder.
A personal odyssey through war, friendship and craftsmanship along the old Silk Route. A fascinating travel book that illuminates the contemporary story of southwest Asia and offers a unique insight into the characters of warlords, presidents and sheikhs.
"The Wild Places" is both an intellectual and a physical journey, and Macfarlane travels in time as well as space. Guided by monks, questers, scientists, philosophers, poets and artists, both living and dead, he explores our changing ideas of the wild.
From the cliffs of Cape Wrath to the holloways of Dorset, the storm-beaches of Norfolk, the saltmarshes and estuaries of Essex, and the moors of Rannoch and the Pennines, his journeys become the conductors of people and cultures, past and present, who have had intense relationships with these places. One of the best books to read while travelling!
60 of the World's most extreme survival stories. One of the scariest but best books to read while travelling. Plus it has a foreword by Bear Grylls!
"Kon-Tiki" is the record of an astonishing adventure – a journey 4,300 nautical miles across the Pacific Ocean by raft. Intrigued by Polynesian folklore, biologist Thor Heyerdahl suspected that the South Sea Islands had been settled by an ancient race from thousands of miles to the east, led by the mythical hero Kon-Tiki.
He decided to prove his theory by duplicating the legendary voyage. On April 28, 1947, Heyerdahl and five other adventurers sailed from Peru on a balsa log raft. After three suspenseful months on the open sea, alone among raging storms, whales and countless sharks, they sighted land – the Polynesian island of Puka Puka.
Perhaps one of the most popular books to read while travelling, although not one of my personal favourites. Into the Wild follows the true story of Chris McCandless, a young man who walked deep into the Alaskan wilderness in search of enlightenment. They also made a movie about it!
After being jilted at his wedding, the author heads off on his two-year, fifty-two country, honeymoon…. with a brother he barely knows. What follows is a series of emotional, amusing and unexpected adventures as the author battles to overcome his loss and reconnect with his brother. One of the most heart wrenching books to read while travelling.
When he was almost sixty years old, worried that he might have lost touch with the sights, the sounds and the essence of America's people, Steinbeck took note of his itchy feet and prepared to travel. He was accompanied by his French poodle, Charley, diplomat and watchdog, across the states of America from Maine to California.
Moving through the woods and deserts, dirt tracks and highways to large cities and glorious wildernesses, Steinbeck observed – with remarkable honesty and insight, with a humorous and sometimes sceptical eye – America, and the Americans who inhabited it. One of the most honest books to read while travelling.
Santiago, a young shepherd living in the hills of Andalucia, feels that there is more to life than his humble home and his flock. One day he finds the courage to follow his dreams into distant lands, each step galvanised by the knowledge that he is following the right path: his own. The people he meets along the way, the things he sees and the wisdom he learns are life-changing.
A travel classic, Siddhartha is perhaps the most important and compelling moral allegory our troubled century has produced. Integrating Eastern and Western spiritual traditions with psychoanalysis and philosophy, this strangely simple tale, written with a deep and moving empathy for humanity, has touched the lives of millions since its original publication in 1922. Set in India, Siddhartha is the story of a young Brahmin's search for ultimate reality after meeting with the Buddha.
His quest takes him from a life of decadence to asceticism, from the illusory joys of sensual love with a beautiful courtesan, and of wealth and fame, to the painful struggles with his son and the ultimate wisdom of renunciation. Definitely, one of the most interesting books to read while travelling!
Shortly after her tenth birthday, Dervla Murphy decided to cycle to India. Almost 20 years later, she set out to achieve her ambition. Her epic journey began during the coldest winter in memory, taking her through Europe, Persia, Afghanistan, over the Himalayas to Pakistan, and into India. It's one of the most epic books on backpacking through europe and beyond.
A collection of short stories from over a decade of travel. This is no glamorous tale of #wanderlust, but a true and honest accounting of what it means to be a traveller.
Travelling across bush and desert, down rivers and across lakes, and through country after country, Theroux visits some of the most beautiful landscapes on earth, and some of the most dangerous.
It is a journey of discovery and of rediscovery — of the unknown and the unexpected, but also of people and places he knew as a young and optimistic teacher forty years before.
A great book to read while traveling the Americas because it corrects the incorrect history many were taught growing up.
Still have some questions? No problem! We've listed and answered the most commonly asked questions below. Here's what people usually want to know:
So there you go! A great list of the best books to read while travelling. For even more reading inspiration, check out my buddy Chris's new book What the Florida if you want to find the weird in Florida state!
My buddy James at Nomadic Note has put together another mammoth post on the best travel books to fuel your wanderlust, so check that out too if you're looking for more of the best books to take on vacation.
If there are any I might have missed out, tell me in the comments section!
---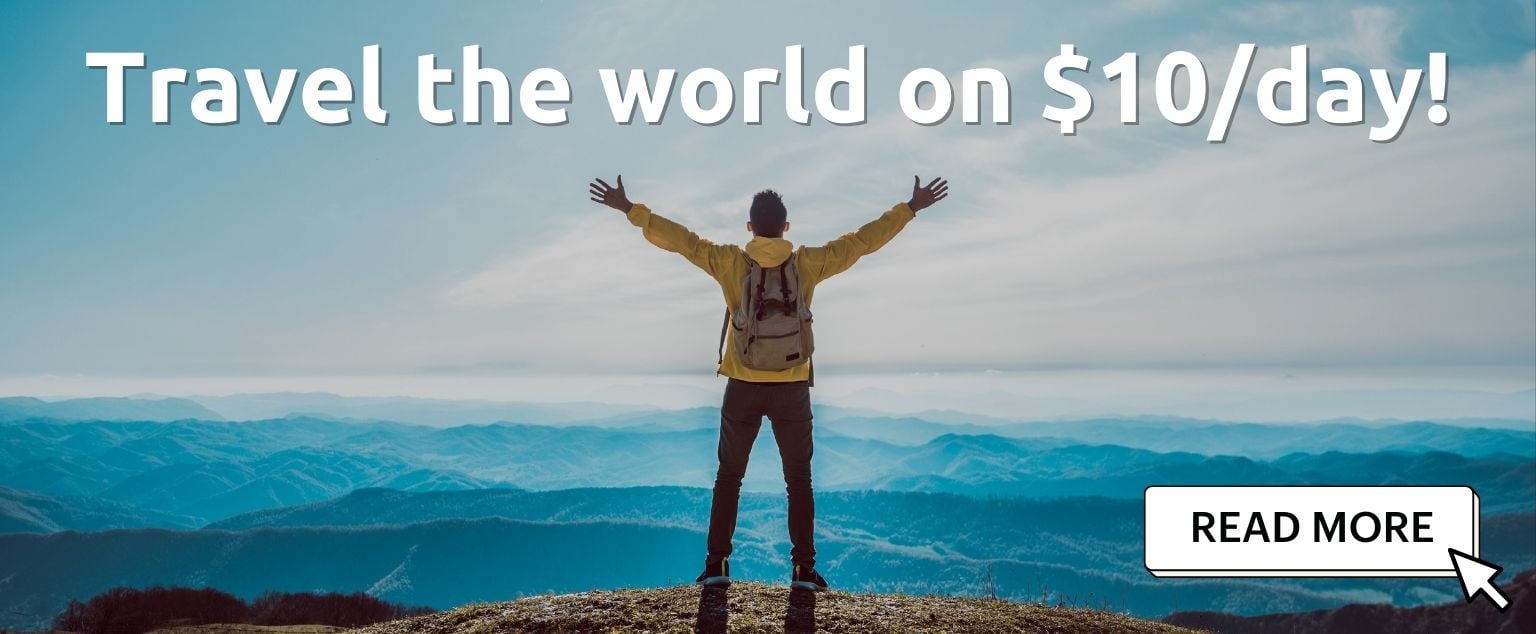 And for transparency's sake, please know that some of the links in our content are affiliate links. That means that if you book your accommodation, buy your gear, or sort your insurance through our link, we earn a small commission (at no extra cost to you). That said, we only link to the gear we trust and never recommend services we don't believe are up to scratch. Again, thank you!