Whenever you hear working holiday, you are sure to think of Australia. Everyone knows someone or knows someone who knows someone, who traded in their everyday life for better weather in the land down under!
Australia is famed for its incredible landscapes, awesome wildlife, and epic road trips. The party scene is pretty fun too! It is the ultimate place to experience life like never before, make loads of new friends from all over the globe, and learn about who you are.
You could find yourself road tripping the famous Great Ocean Road, dancing the night away on Bondi Beach, or learning to scuba dive on the Great Barrier Reef.
If you wanna do all this and more, keep reading to learn how to turn your short holiday into a working holiday in Australia.

Do You Want to Travel FOREVER??
Pop your email in below to get a FREE copy of 'How to Travel the World on $10 a Day!'.
Taking a Working Holiday in Australia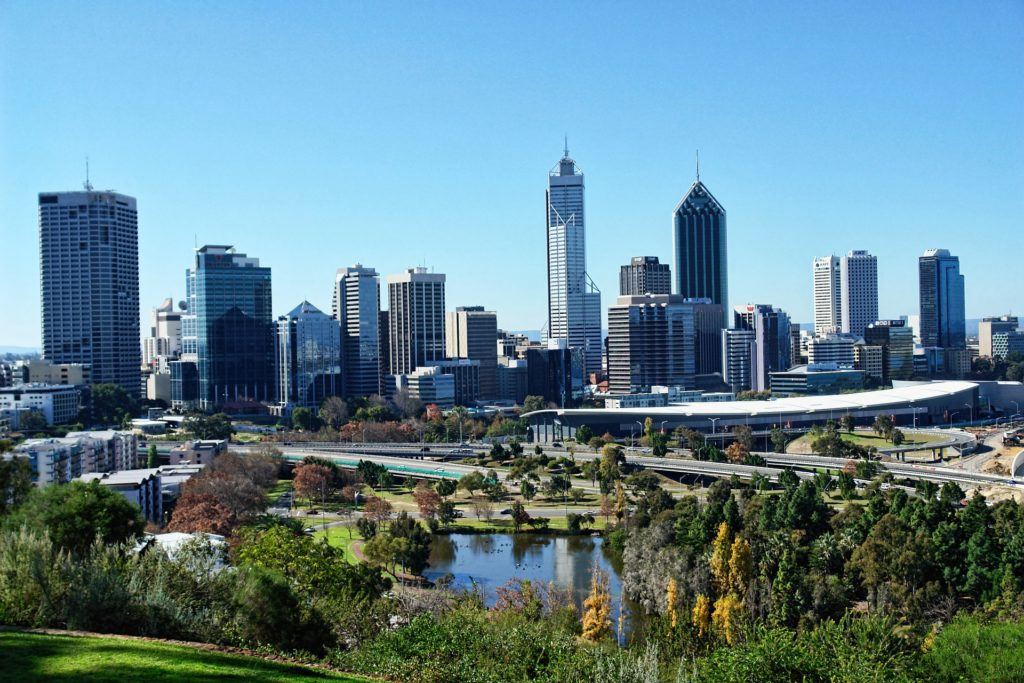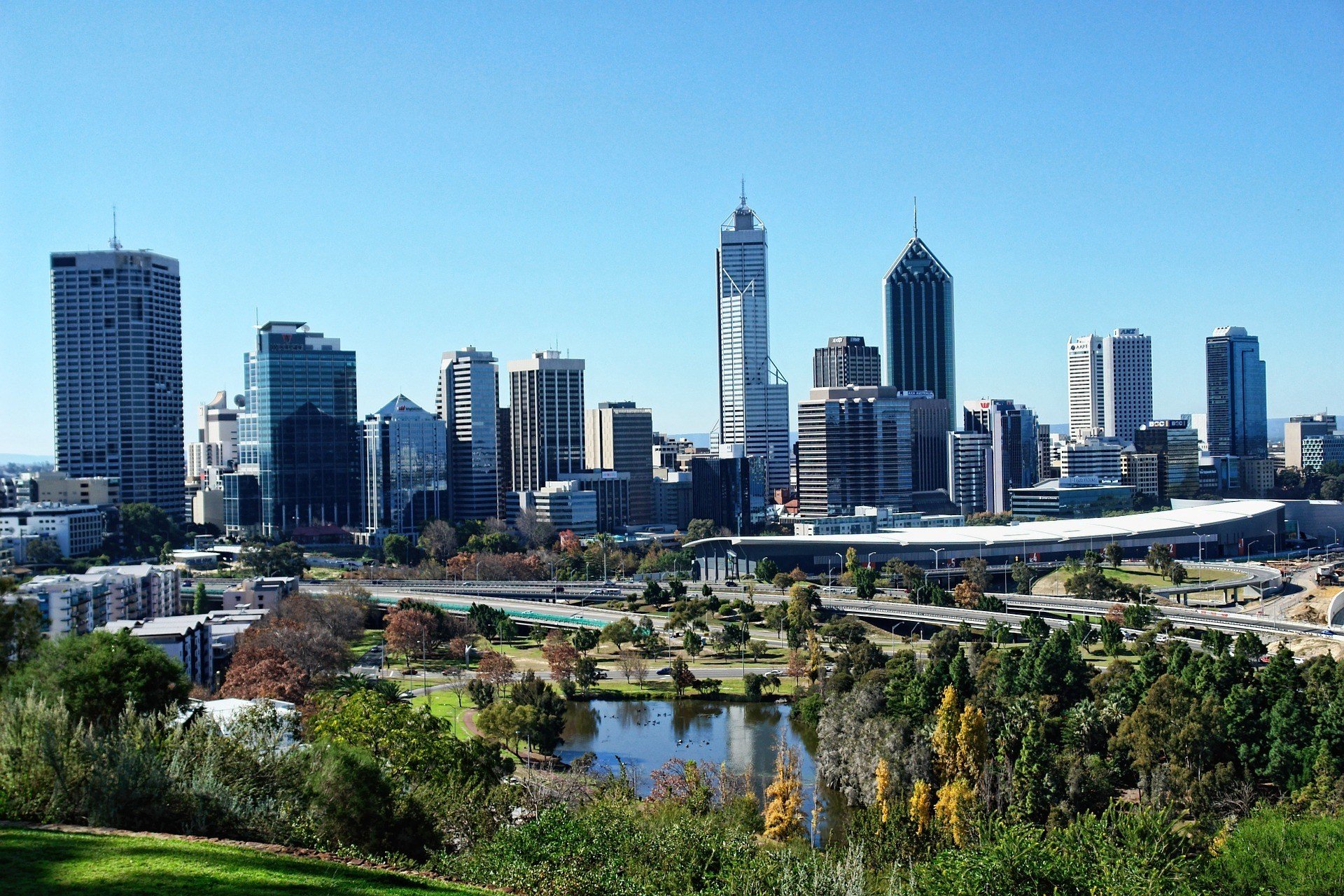 If you're aged between 18 and 30 (35 for some countries) and a citizen of an eligible country, then an Australian working holiday is within your reach! Don't limit yourself to thinking only students and people taking a gap year in Australia can enjoy the spoils of the country, oh no, if you're tired of your old 9-5 job back home or just want to change things up, this could be just what the doctor ordered.
A working holiday is perfect for people who are seeking a long-term vacation, but might not necessarily have the funds to make it happen. You'll be earning money from your cool new travel job, BUT, you'll get to spend your days off surfing, skydiving, lounging on the beach, and more! The thought of working while you are on vacation might not seem so appealing, but trust me when I say that if your vacation lasts up to a year or more… who cares?? A trip to Fraser Island for the weekend with your buddies is well worth working a few hours!
What kind of work am I talking about? Well, opportunities for travelers are in abundance in Australia. You could find yourself doing everything from working behind a bar, working in a ski resort (yes, you read that right!), or working as an au pair. The possibilities are ENDLESS! There are even internships for those of you who wanna bump up your CV for college or just in general, because why not?
Since there are so many work and volunteering options, it might get a bit overwhelming to choose what to do. But don't worry, we've got your back! Check out these two options…
Worldpackers is an online company that connects travelers with foreign volunteer hosts who then work in exchange for housing. That being said, Worldpackers does do more than just connect volunteers to hosts. It offers a plethora of additional resources, a great support network, a blogging platform for collaboration, and a whole lot more.
Sounds pretty rad, right? But wait, there's more!
According to their mission statement, Worldpackers is "a community based on collaboration and honest relationships that make travel more accessible to those seeking a profound cultural experience." They value environmentalism, authenticity, growth and working together above all else and make a great effort to provide the best experience possible.
And even better – Broke Backpacker readers get a special discount of $10! When you use our special hookup, it makes even more sense to pay. Just use this Worldpackers discount code BROKEBACKPACKER and membership is discounted from $49 a year to $39.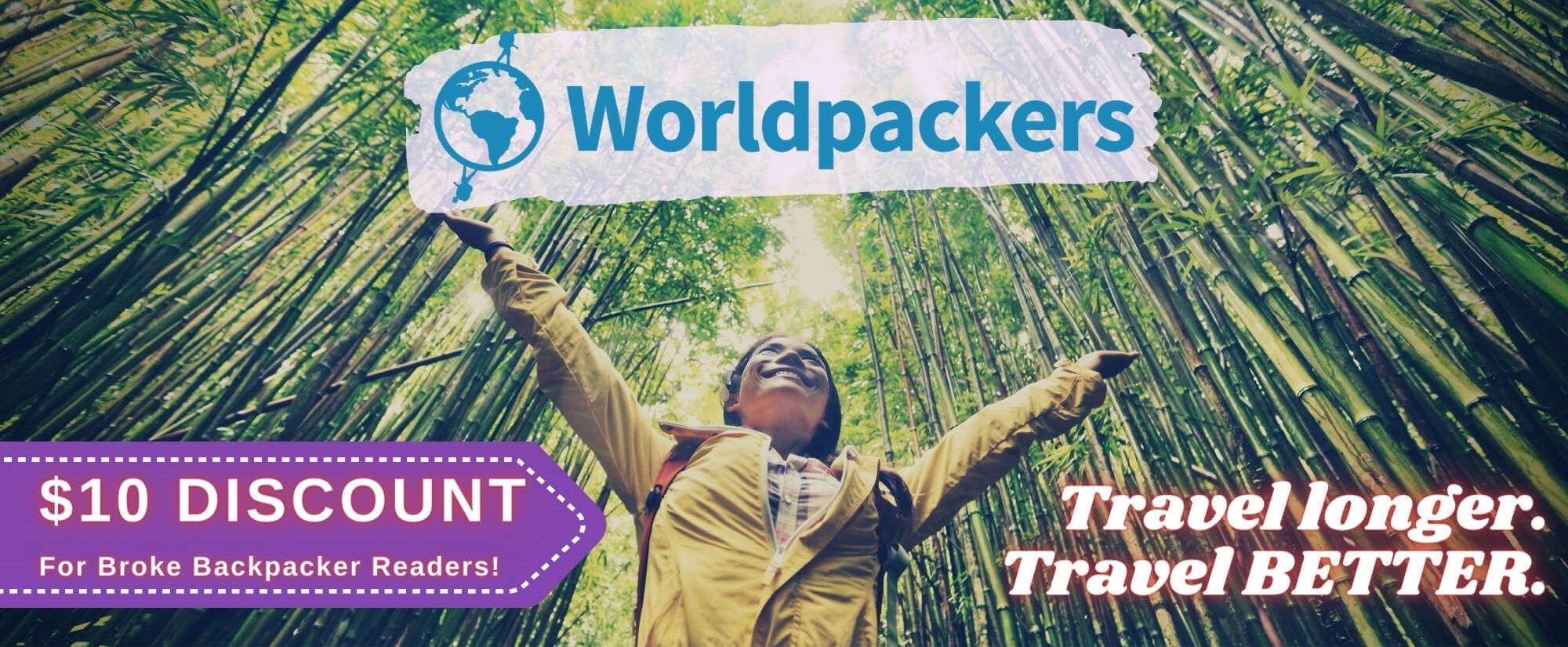 Worldpackers: connecting travellers with meaningful travel experiences.
Go with Global Work and Travel
Moving abroad might seem like a big step, but the great news is that agencies exist to streamline the whole process and help you find a job you love. We are all for Global Work and Travel (more on them later), as they are trustworthy, offer a load of assistance when it comes to organizing an Australian working holiday, and will make sure you have the best time possible.
It's got a bit of a different approach than Worldpackers, but it offers JUST as many amazing opportunities for travellers.
It provides working holidays, teaching abroad, volunteering, au pair and student internship packages. On top of that, the agency plans, sorts and assists with visa requirements, connections to local businesses, accommodation search and job interviews.
Most products even come with flights and basic medical insurance, a 24/7 Emergency line and payment plans.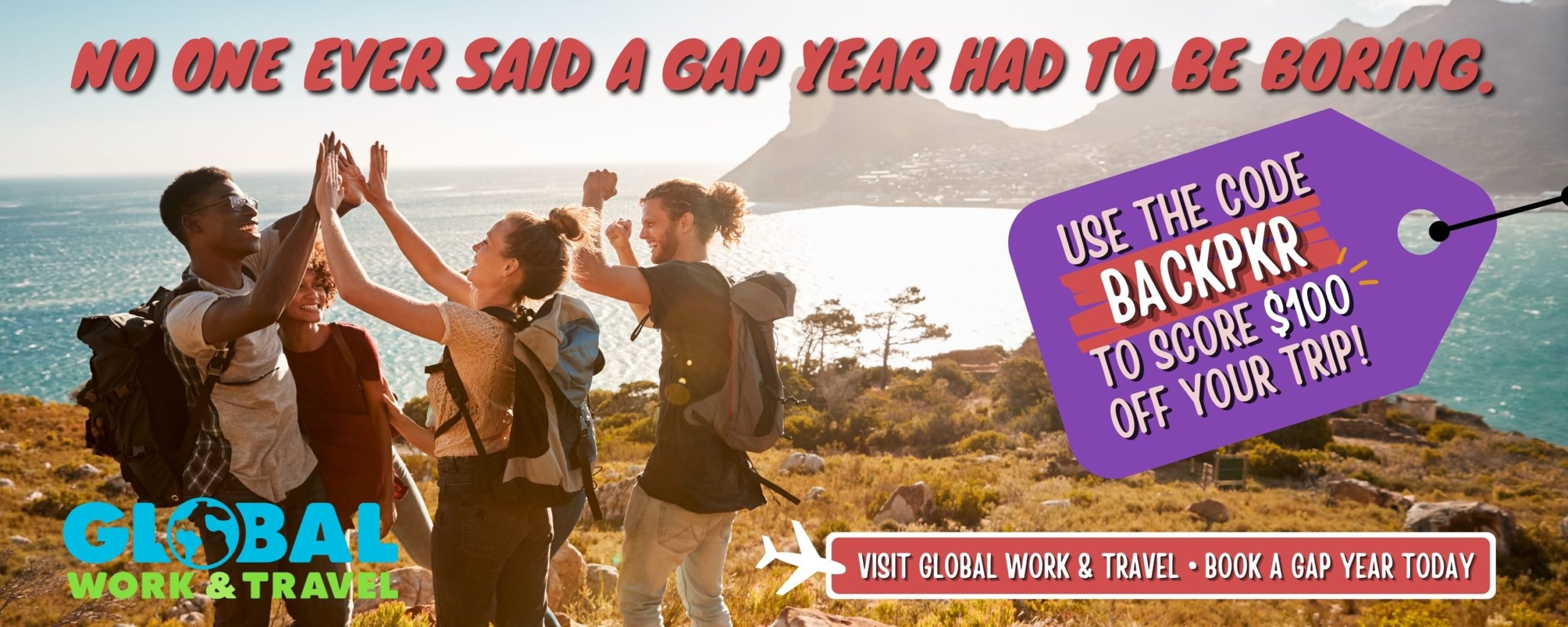 Top 5 tips for a Working Holiday in Australia
Okay, you're seriously considering uprooting your life and moving to Australia for a while. But what else is there to know?
It's not all work and play, there are some admin-type/general things you'll need to think about before heading out to make sure you have the best time ever. Here are my five easy tips to remember when it comes to working holiday jobs in Australia:
Getting the correct visa. If you are a citizen of an eligible country and aged between 18-30 (35 for French, Canadian, and Irish citizens), then getting an Australian working holiday visa (WHV) is a brilliant option for those wishing to travel around Australia long-term. You can either apply for a subclass 462 or subclass 417 visa. This may seem complicated, but which subclass you apply for just depends on what country you are from.
Knowing the duration of your stay. Roughly knowing how long you want to stay is a good idea from a planning perspective. If you only want to stay a couple of months, then maybe a tourist visa is better for you? Additionally, if you plan on extending your WHV for a second or even third year (more on this later), then make sure you don't have any commitments at home waiting for you.
Finding accommodation. As a backpacker's paradise and extremely popular with travelers, there are plenty of options when it comes to where to stay in Australia. If you find yourself working somewhere remote like a farm or pub in the outback, you might get free or steeply discounted accommodation somewhere nearby. In larger cities, you could try house sitting or consider finding some flatmates through online sites to keep costs low and make awesome friends!
Finding the right job. The beauty of having an Australian working holiday visa is if you don't get it right on the first (or even second or third) try, you can always move on and find something new. That being said, it's always nice to pick something you'd actually LIKE to do, so take your time in choosing and don't settle for anything that will make your trip miserable.
Exploring during your days off. Australia is over 7 million square kilometers – that's a whole lotta land to explore! The best way to get around will really depend on you. If you're in a bit of a squeeze time-wise, then flying around the country is the fastest (albeit most expensive) way to get around. For slow travel, taking the public bus is a great and cheap way to see the country, especially on the east coast. By far the best option, in my opinion, is to get a couple of friends together and either rent or buy a car/campervan. Gumtree is a great place to look for used vehicles and you'll often find that they're being sold by other travelers who have done the same as you!
The Future of the SIM Card is HERE!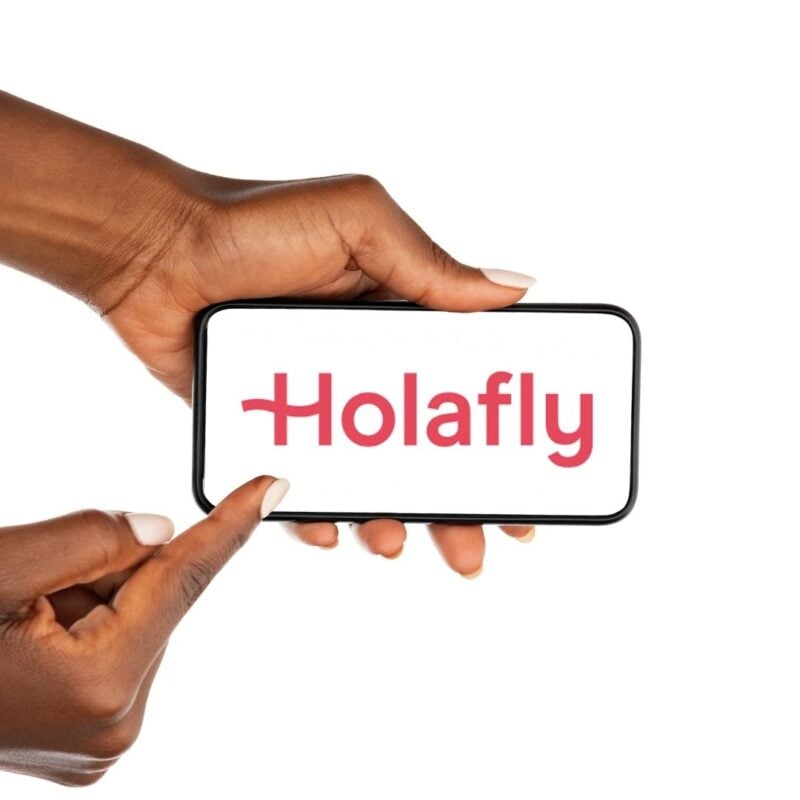 A new country, a new contract, a new piece of plastic – booooring. Instead, buy an eSIM!
An eSIM works just like an app: you buy it, you download it, and BOOM! You're connected. It's just that easy.
Is your phone eSIM ready? Read about how e-Sims work or click below to see one of the top eSIM providers on the market and ditch the plastic.
Grab an eSIM!
Australia Working Holiday Visas
As I mentioned earlier, eligibility and even the subclass of your visa will depend on your citizenship. Australia has a working holiday agreement with numerous countries, which I'll get into in just a mo, but it's always good to double-check for yourself on the Australian Government Department of Home Affairs website before your trip to get up-to-date information.
Under subclass 417, citizens from Belgium, Canada, Republic of Cyprus, Denmark, Estonia, Finland, France, Germany, Hong Kong, Republic of Ireland, Italy, Japan, South Korea, Malta, Netherlands, Norway, Sweden, Taiwan, and the United Kingdom are eligible.
For subclass 462 visas you must be from Argentina, Austria, Chile, China, Czech Republic, Hungary, Indonesia, Israel, Luxembourg, Malaysia, Peru, Poland, Portugal, San Marino, Singapore, Slovak Republic, Slovenia, Spain, Thailand, Turkey, USA, Uruguay, or Vietnam to apply.
Other conditions include being aged between 18-30 (35 for French, Canadian, and Irish citizens), having no dependents, and either having enough money to support yourself (around $5,000 AUD), and a booked departure flight OR proof of enough funds to purchase one. Anyone entering the country will also have to show proof of a COVID-19 vaccination or medical exemption certificate. You cannot apply if you have previously entered the country using this visa before (through either subclass 417 or 462).
The fee for an Australian working holiday visa is $495 AUD, and having one allows you to work and live in the country for up to 12 months. However, there is a possibility to extend for up to two more years! To do this, you'll have to apply for an extension for your second year after having completed three months of specified work. The same applies again to a third-year extension. This is a great way to remain in Australia long-term but bear in mind that some of the specified work is particularly gruelling and the hot weather can make it uncomfortable. Make sure you are physically up to the challenge, and if you're not, it's not the end of the world!
The first step in applying for your visa is to set up an account with the Australian Government Department of Home Affairs. Once you've done that, simply fill out the application online. You will need to pass a health care pass (usually a chest X-ray and medical exam) and a character assessment. They may also ask you to undertake/provide a background check.
This all sounds pretty simple, but some of us simply don't have the time. If that's the case, consider enlisting the help of Visa First. They can help with all the details while you do the fun part of planning your trip and all the awesome things you wanna do!
Or, if you are wanting to sign up for an all-in programme, Global Work and Travel will handle all the hard bits for you.
Insurance for a Working Holiday in Australia
Here at The Broke Backpacker, we always recommend that you get some good quality, reliable insurance. This makes sure you don't get yourself in a sticky situation should anything go wrong. We are BIG fans of WorldNomads and just LOVE their easy-to-navigate website, their 24/7 emergency assistance, and the range of activities covered by their policies! Scuba diving? Check. Surfing? Check. Sky-diving? Check. It covers just about EVERYTHING that a traveler needs.
ALWAYS sort out your backpacker insurance before your trip. There's plenty to choose from in that department, but a good place to start is Safety Wing.
They offer month-to-month payments, no lock-in contracts, and require absolutely no itineraries: that's the exact kind of insurance long-term travellers and digital nomads need.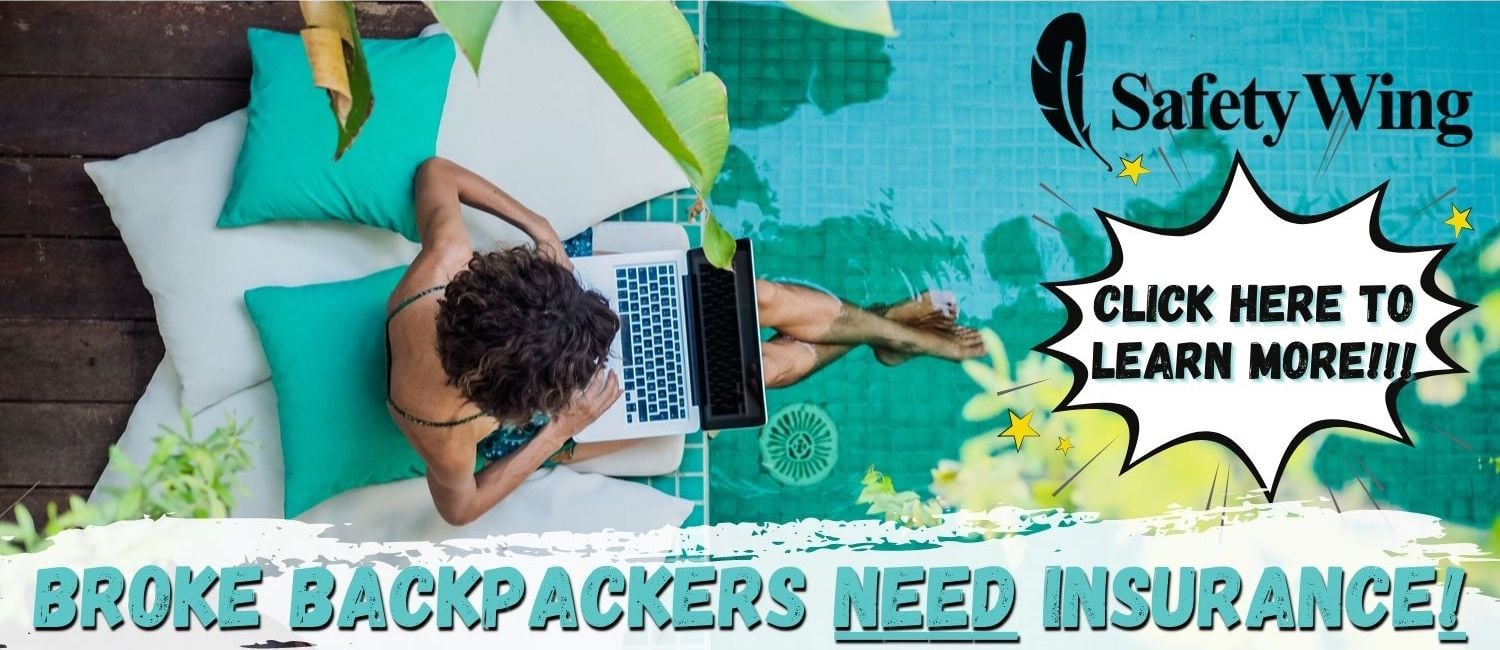 SafetyWing is cheap, easy, and admin-free: just sign up lickety-split so you can get back to it!
Click the button below to learn more about SafetyWing's setup or read our insider review for the full tasty scoop.
Working Holiday in Australia Budget
Right, time to get down to business. How much money do you really need for a working holiday in Australia? As you read earlier you'll need $5,000 AUD, and a round trip ticket or enough money for a departure ticket to apply for a visa. This sounds like a load of cash, but Australia can be expensive, and depending on what you want to do, you could find yourself eating into that pretty quick.
If you choose to live somewhere more urban, like eating out, and love going for trips away, then your holiday is going to be more costly. For example, rent in a shared house, transport, food, and activities in Sydney could cost you around $1,500 AUD a month (on a budget) but on the Sunshine Coast in Queensland, you'll be paying closer to $1,000 AUD. If you prefer to live alone, expect your cost of living to be much higher.
In far-out rural areas, expect the cost of rent to be way lower. If you're working in the middle of nowhere, often your employer will give you free accommodation, or you can stay at a nearby hostel for a really good price.
One of the great things about Australia is that while it can be a little expensive, especially compared to countries in SE Asia for example, the minimum wage is high! Even when working in a cafe or restaurant, you can still make enough money to live a good life and explore the country!
Working Holiday in Australia

| Expense | AUD$ Cost |
| --- | --- |
| Rent (Rural vs Central) | $570 – $1300 |
| Eating Out | $60 – 150 |
| Groceries | $180 – 250 |
| Car/Public Transport | $45 – $150 |
| TOTAL | $855 – $1850 |
Earning Money on a Working Holiday Visa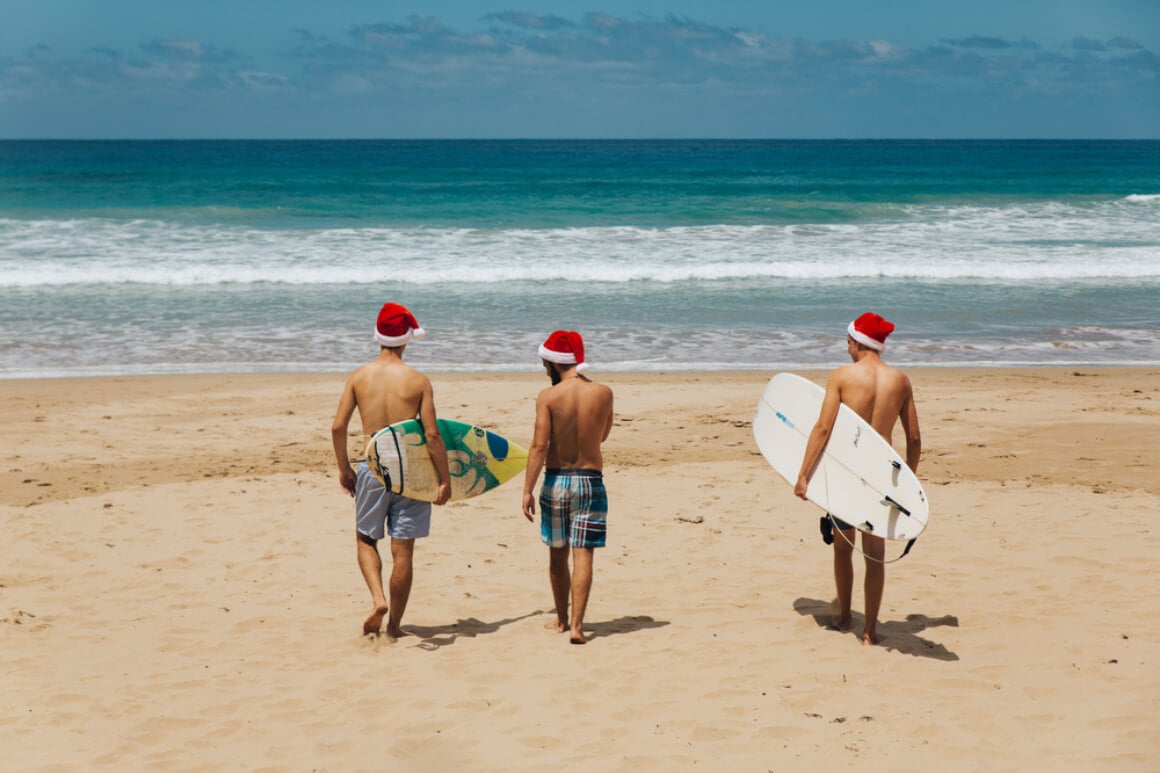 With an Australian working holiday visa, you can do all kinds of work – be it part-time, full-time, or even casually! Some of the most popular types of jobs for holders of a WHV in restaurants, bars, and hotels, in retail and sales, and as seasonal farmworkers (for those trying to obtain their second or third-year visas). There are limitations as to what kind of work you can do, but if you're using a second or third-year WHV, you can do any type of work! One thing to note is that you are only permitted to keep a work contract for up to six months with the same company or business.
Since you'll be living and working in Australia, you'll have to do some adulting and sort out your finances. Unfortunately, it isn't as easy as turning up, finding a job, and making some sweet cash. You will need to apply for a tax number, which will be required by your employer. You can apply online with the Australian Tax Office. The taxation rate for travelers is a flat rate of 15% on earnings of up to $45,000 AUD. Your employer will automatically deduct this from your paycheck.
The employer will also pay 9.5% of your pre-tax income into a superannuation scheme A.K.A "super" as part of a retirement savings scheme. The good news is if you leave Australia and plan to never go back, you can access the money via Departing Australia Superannuation Payment (DASP). However, you should note that the tax on the DASP scheme is 65%. You will need your visa details and tax number to be able to apply.
Once you arrive, you are going to need a local bank account. Some banks give you the option to do it online before you arrive, otherwise, go to the bank of your choice and set up an appointment. ANZ bank is a top choice if you plan to move on to New Zealand, as it is also available there. We recommend using an international money transfer service like Wise or Payoneer to get the best rates!
Pre-planned Working Holiday Jobs with Global Work and Travel
If you're not one to DIY things, or you'd rather let someone else take the reins so you can relax a little, agencies like Global Work and Travel are the way to go. They not only help you with finding a job, they also offer visa assistance, help you with a bank account, and much more!
The kinds of things you could end up doing on a working holiday in Australia are working in sales, working in the tourism industry, working as an au pair for a local family, getting a kick-ass internship, the list goes on, and on and on.
Au Pair in Australia
Not sure what exactly an au pair does? Don't worry, you're not alone! They are basically live-in nannies who look after the children, help with the household chores, and can occasionally do some cooking. Being an au pair is a number one choice for anyone who absolutely adores kids, has a lot of patience and would enjoy living with a local family. You will get room and board (YAY free meals), plus a salary of between $200-250 AUD for working a 30 hour week.
One tough aspect of au pairing is that you may get really attached to the family and struggle saying goodbye. But, this doesn't stop it from being one of the most rewarding working holiday jobs in Australia. You will be pushing yourself out of your comfort zone, and will probably learn a load of new skills. Since you'll be spending a big chunk of your time with your host family, finding people you mesh well with is really important. Not only this, but make sure you're happy with other aspects of the job, like where you will be located, the age of the children, and what you'll be expected to do around the house.
Au pair work is easy to find, either online before you get there using job boards, or even on the ground through online ads or backpacker noticeboards. If you're not too keen on doing the scouting yourself and/or are worried about the whole process, using an agency like Global Work and Travel is a fantastic way to secure an au pair job in Australia, with some extra security, to put your mind at ease. They will match you up with the perfect family before you arrive, exchange profiles and even host video calls to make sure it's a good fit. If it doesn't work out for some reason, GWaT will be there to assist you.
The GWaT au pair package includes finding you a host family, setting up a pre-family agreement, and even access to an online au pair course so you know roughly what to do on your first day. Their au pairs are expected to work for 25-35 hours a week, earning between $200 – $350 AUD per week. You'll usually be given two days off a week to explore and meet up with friends. Another awesome thing about this working holiday programme is that they organize meet and greets with other au pairs in the area so you can make friends and share your experiences (LOVE it).
Their locations are in Sydney, Melbourne, and Brisbane. All great locations to base yourself for an amazing Australian adventure. You'll need to be between 18-35 years old, be a citizen of an eligible country, and have had no criminal convictions in the last five years to apply. Contracts are 6 and 12 months long.
Interning in Australia
An internship is a 10/10 way to spice up your CV, college application, or just to gain some experience in your chosen industry. Sadly, the world of internships is fiercely competitive, since they are often essential in landing jobs after graduation in most fields (1-3 years of experience for an entry-level job??? Madness). What does this mean for you? It means sending your CV out anywhere and everywhere, and acknowledging that you are competing with locals for these positions so you may not have the best of luck.
That doesn't mean it's impossible though! A good place to look is on career websites, or you could even take a more direct approach and go straight to companies that interest you with your CV. This takes a lot of work, and you may not even be guaranteed to find anything.
A great sure-fire way to secure an internship is to go through an agency or internship operator. Global Work and Travel is one such agency (can you tell that we dig them?) that offers a TOP working holiday internship!
They will assist you in finding a structured internship with one of their many, reputable partner organizations. There are so many fields to choose from, even if you think what you wanna do is so obscure that they couldn't possibly help you, you should still check them out! From volcanology, forensic science, even game development… these guys can hook you UP.
You'll be given a dedicated trip coordinator to help answer any queries you may have, assist you with perfecting your CV, give you visa guidance, and more. If the deal wasn't already sweet enough, you'll get a four night stay in a hostel anywhere in Australia, on them, so you can check out some of the sights. Following the WHV internship rules, placements are between 3 and 6 months long.
Work in Australia
Maybe internships or being an au pair isn't your thing. You actually want to WORK in Australia. This is the most popular way to spend your Australian working holiday (aside from traveling of course!). It is the perfect situation for anyone to be in, you're somewhere new and exciting, and you've got a way to keep the $$$ rolling in. It's ideal.
Since there is such a huge backpacker culture in Australia, finding an entry to a mid-level job is super easy. Looking for something once you're on the ground is what most people do, and since you normally* can't work for the same employer for more than 6 months, you could find yourself job hunting mid-way through your trip. It's honestly great because you can move to a totally new destination if you've grown tired of where you were. Or stick around and try your hand at something completely new! (* The 6 month rule has been relaxed until 31 December 2022).
The idea of having to work while you're on vacation may not be appealing to some, but as I said earlier, it is great for long-term travelers because you can stick around for way longer. Try not to get too caught up with the whole working aspect of things as you will have loads of time during your days off to explore. You could even take a whole month off in between jobs to road trip across Australia if you wanted!
If you want to have a job secured before you arrive (for peace of mind) then we highly suggest looking at a working holiday programme. I'm going to name-drop one last time (don't hate me) but Global Work and Travel has a SICK "work in Australia" package. These guys really are top-notch and will have you covered with guaranteed interviews with their partner organizations that pay at least $18.93 AUD/hour. What's more, when it's time to move on to another job, you can just tap into their database of partners and score interviews with them too!
You'll have a dedicated trip coordinator who will guide you through the whole process and a personal travel concierge to plan your flights, insurance, and add-ons. When you arrive you'll have a private driver waiting to pick you up plus four nights covered at a top-rated hostel on the Gold Coast, before you move closer to your job.
There's a tonne of other bonuses too, like passes to a local Australian wildlife sanctuary on the Gold Coast, a day trip to either Byron Bay or the Gold Coast's spectacular rainforests, even a Great Barrier Reef weekend getaway. You'd be mad not to take them up on this offer!
DIY Working Holiday in Australia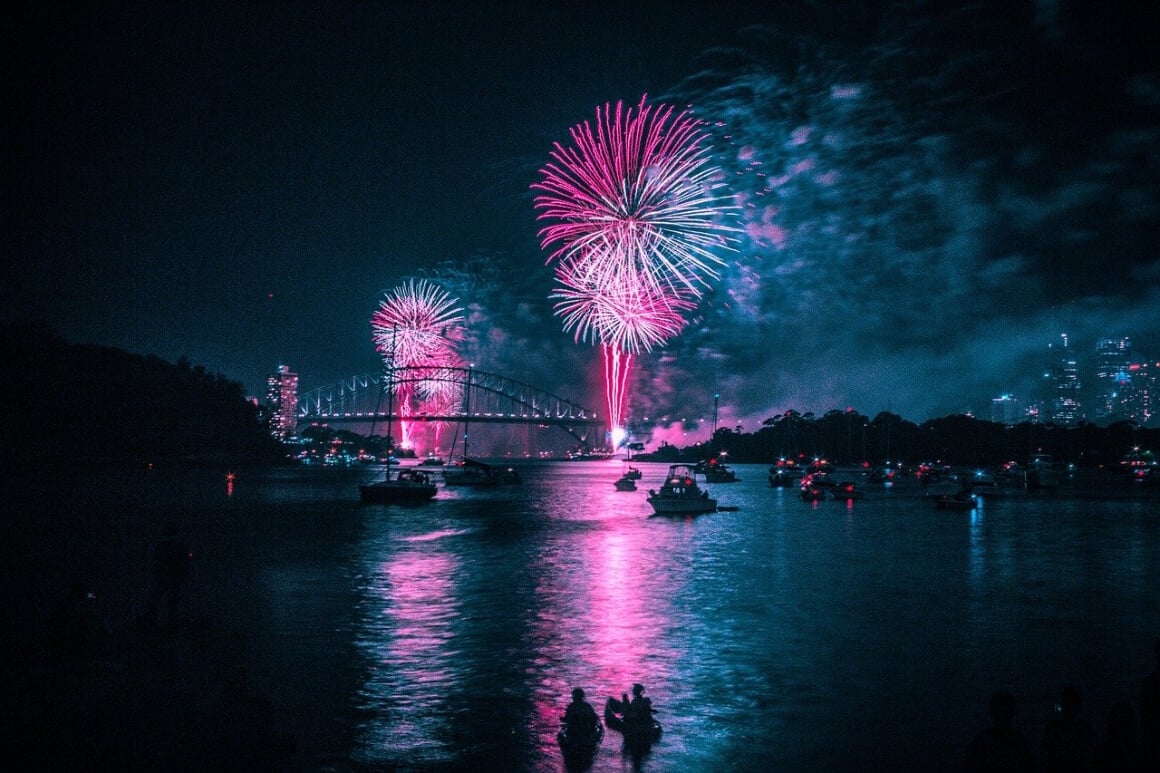 I've already mentioned how easy it is to DIY your Australian working holiday (I know countless people who've done it). It is ideal for you adventurous folks out there who don't mind rocking up to a place with no plan, just a whole lot of flexibility.
You will be in charge of sorting out your own visa, flights, and bank account, plus make sure you have enough savings in the bank in case you don't find the right job in the beginning. It's also a good idea to read up a little on the tax situation so you know roughly how everything works over there.
Due to the huge Australian backpacker culture, you'll be able to find a job pretty much anywhere there are jobs to be had! You could try to land a job before you arrive by looking online or asking any friends who are already out there if they know of any vacancies.
For on-the-ground job seeking, there's a tonne of sites with listings, but even by going door to door to bars, cafes, restaurants, etc. could score you a job. The majority of jobs you'll find will be minimum wage, but whether you're a cashier, a barista, or housekeeping in a resort, you'll earn more than enough to get you by.
For a different kind of experience, you could look into places that exchange accommodation and possibly meals for your help. If this sounds like a good deal, check out WWOOF, Worldpacker, and Workaway, for some next-level opportunities helping out on organic farms, hostels, and around people's homes.
Final Thoughts
I cannot recommend an Australian working holiday enough. Not only do I know so many people who've literally had the time of their lives (kinda jealous tbh), but it's just the most amazing opportunity to live and work in a different country. You will find yourself in situations that will challenge you, help you to grow, and change you, all while making some lifelong friends and incredible memories.
Become a certified Aussie, working and living with locals, munching down meat pies and Vegemite like it's nobody's business. What's more, you can use this chance to really SEE Australia. I'm talking about the Great Barrier Reef, Daintree Rainforest, Whitsunday Islands, and much more… you'll have so much time to see and do it all.
I am positive that whatever you choose, whether it's DIY-ing your working holiday like a boss or seeking out the help of a trusted agency, this year (or two, or three) will be something that you'll remember for a long time to come!
---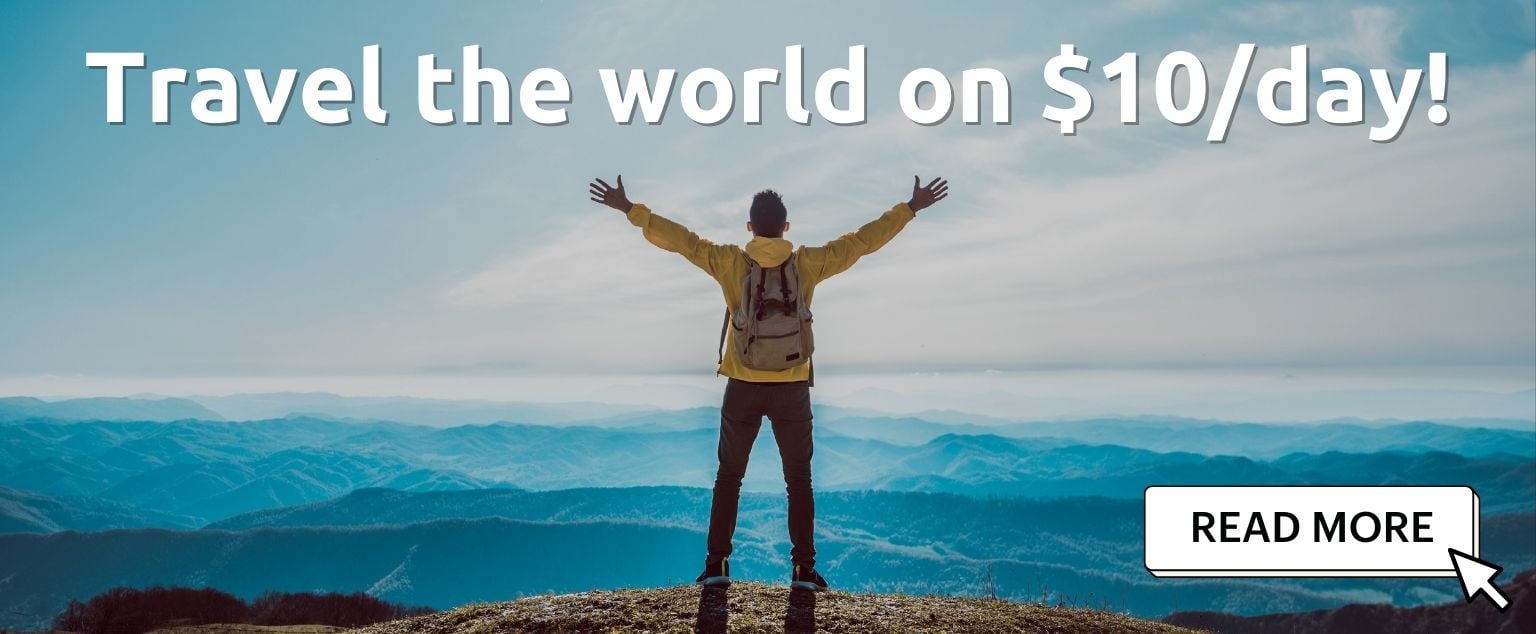 And for transparency's sake, please know that some of the links in our content are affiliate links. That means that if you book your accommodation, buy your gear, or sort your insurance through our link, we earn a small commission (at no extra cost to you). That said, we only link to the gear we trust and never recommend services we don't believe are up to scratch. Again, thank you!