If you're coming to visit Bosnia-Herzegovina then you will certainly find yourself in the capital Sarajevo.
Sarajevo is small for a capital city and has plenty to offer backpackers in term of fun things to do.
There are some nice museums, interesting mosques, a beautiful old quarter, fine open air markets, and even some pretty hip cafes.
The backpacker scene in Sarajevo is still on the rise. As a result, there are nowhere near as many backpacker friendly accommodation options in the city as there are in other European capitals.
That is exactly why I wrote this guide to the best hostels in Sarajevo for 2021!
Get all of the insider information regarding the best places to stay in the city.
Whether you are looking for the best party hostel in Sarajevo, a comfy private room, or just a place to sleep cheap, this list has got you covered.
The goal is for you to find the right spot quickly and easily, so you can get back to preparing for your Sarajevo backpacking adventure.
By the end of this guide you will have your hostel sorted and your questions answered.
Let's dive right in…
Quick Answer: The Best Hostels in Sarajevo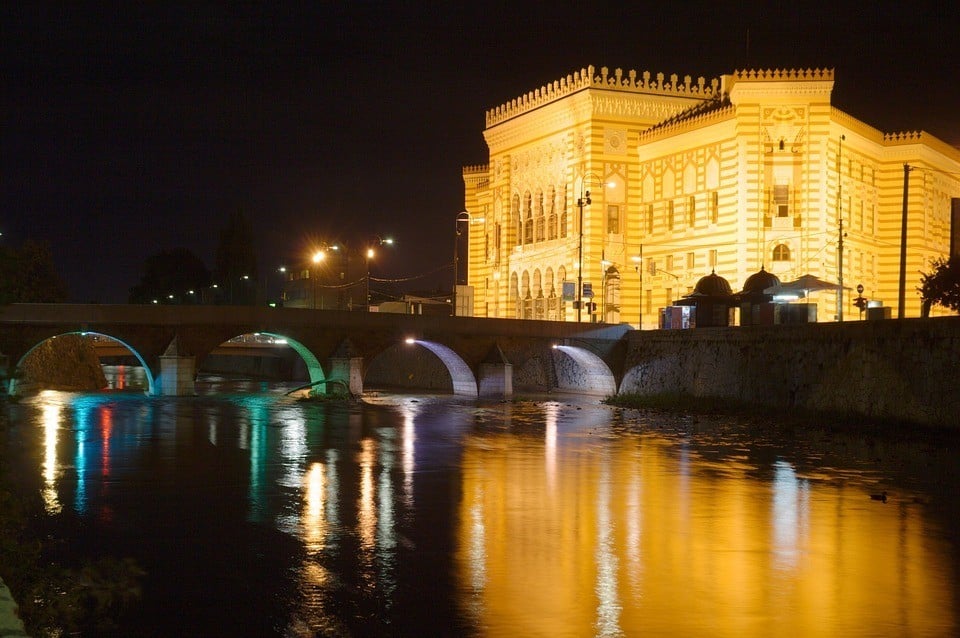 The 10 Best Hostels in Sarajevo
Overall Best Hostel in Sarajevo – Hostel Check Inn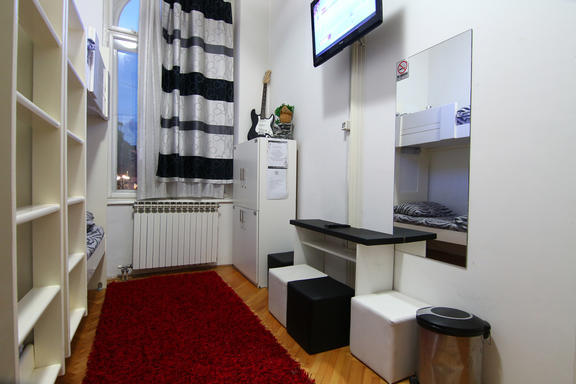 $
24-Hour Reception
That Location
Cafe
Check Inn. How original. But behind the simple name is the overall best hostel in Sarajevo. Don't believe us? Ok, so, the dorms are a little… umm… cosy, and the common room isn't… really… well it's not much to speak of, but the LOCATION here is incredible. Right near bars, restaurants, and all the hotspots of Sarajevo's old town. And that PRICE too, wow – it's literally one of the cheapest places to stay in town. So whilst facilities-wise it may not be the best hostel in Sarajevo 2021, but with its awesome combo of location and price, and super friendly and helpful staff, it can't be beat!
Best Hostel for Solo Travellers in Sarajevo – The Doctor's House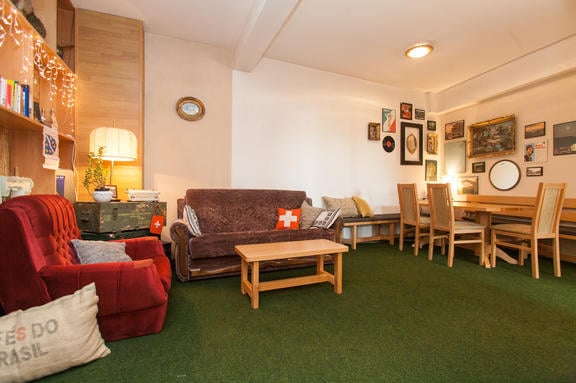 $$
Free Tea & Coffee
Common Room
Self Catering Facilities
Not… quite sure on the whole Doctor's House name. Maybe we're missing something, but we don't get it. However we do get why this is such a well recommended hostel in Sarajevo. The staff (who are also world travellers) are super nice, which sets a precedent for a great sociable atmosphere; the whole place is clean and modern but set in an old house, the views from the terrace across the city are IMMENSE, they make their own beer, offer walking tours of the city (which are really good – bakeries are involved, so they're gonna be good), and loads more. Best hostel for solo travellers in Sarajevo, definitely.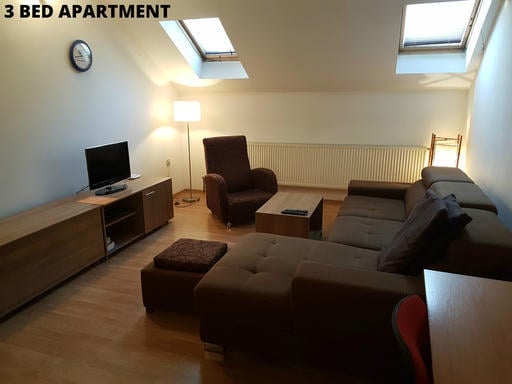 $
Free Towels
24-Hour Reception
Luggage Storage
Well, you can tell by the name of this place that it's got a pretty good location, being in the city centre as it is. And its prices are very nice too, which is why we reckon this is the best cheap hostel in Sarajevo. Inside it's all pretty warm and friendly, with a great chilled yet social vibe. Not a party hostel, but at the same time it can get lively. Depends who's there we guess! But yeah, it's got orthopaedic mattresses meaning the beds are suuuper comfy, a decent and cosy common room, generally nice decor, accommodating staff. You get your money's worth at this budget hostel in Sarajevo, basically.
Best Cheap Hostel in Sarajevo #2 – Residence Rooms
$
Cafe
Common Room
Towels Included
Residence Rooms is… somewhat basic, but then again it's somewhat historical. We're not sure whether to be like, ugh this is so old-looking, or more like, wow this is so cool and retro! Y'know? It's a tricky one. But we reckon, since it's a hostel, it's alright either way. And for the price, pfft, who cares? It's one of the cheapest in town. And it's centrally located. And the family who runs it are really lovely. And, if you were wondering, the building is 105 years old. Overall it feels like a real Bosnian home, which is cool, so this is definitely a recommended hostel in Sarajevo.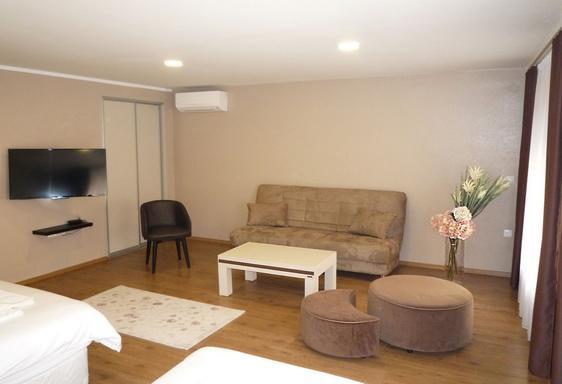 $
Towels Included
Self Catering Facilities
24-Hour Reception
It's really really nice and it's also really really quite cheap, which makes for a great combo for a budget hostel in Sarajevo. The not exactly originally named Travellers Home is set in this beautiful old building, so inside as you might imagine it's pretty homely and comes with period features like high ceilings and huge windows, that sorta thing. Nice touches like plug sockets and individual lights for each bunk make it feel like someone has actually thought about where you're gonna be staying rather than sticking a load of bunks in a room. Feels homely.
Best Hostel for Couples in Sarajevo – Hostel Kucha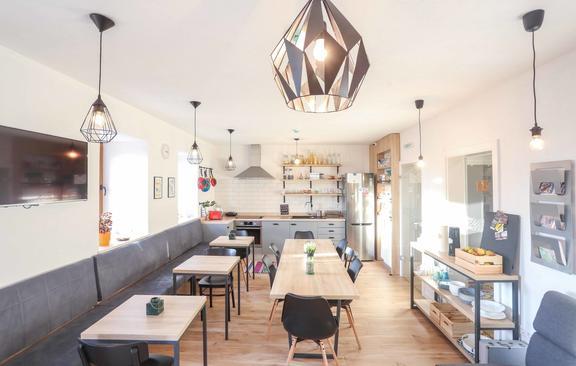 $$$
Stunning
No Curfew
Free Breakfast
Literally idyllic. Perfect design-magazine-esque surroundings, stylish furniture, muted colour palette of pale wood and pastels, nothing garish, all of it deliciously minimalist and modest – the perfect place for a couples' getaway. You want somewhere that's basically pretty swanky but without killing your budget, and we reckon we've found the best hostel for couples in Sarajevo in Hostel Kucha. Ugh, it's totally a dreamy place. Very Instagrammable. Coolest hostel in Sarajevo, 1000%. And if that wasn't enough for this top hostel in Sarajevo, the staff are also excellent. Dorms are on the pricier side (relatively, anyway).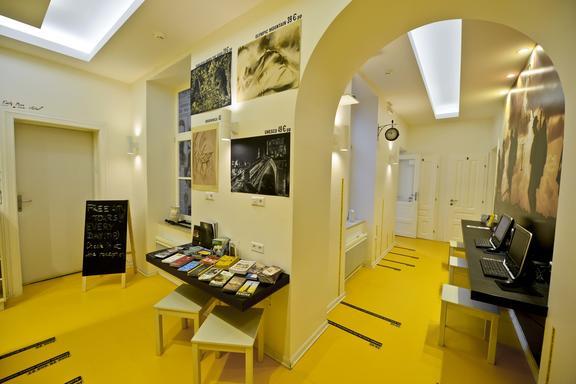 $$$
Free Breakfast
Pub Crawls
24-Hour Reception
Nice history reference in the name – this place gets extra points for that. And not only that, but it also gets extra points for being the best party hostel in Sarajevo. Pub crawls, general indoor parties held weekly where guests mingle and meet and make merry, all that kinda stuff, it's all facilitated by the awesome staff at Hostel Franz Ferdinand. Now, all this fun doesn't come cheap – it's one of the more expensive hostels in Sarajevo – but it's all nice and modern here, very boutique-y, and there's a free breakfast. So, party on.
$$
Free Breakfast
Common Room
24-Hour Security
Cute, stylish, not overly expensive – that's how we like our private rooms, and that's how they come at Hostel Vagabond. Though the name suggests otherwise, there's actually no murals or inspirational quotes on the walls here, no communal guitar, no tie-dye or bean bags – it's just a lovely looking place decorated by someone with taste; wooden beams stand out against the white painted ceilings, the kitchen is nicely modern, there's a bit of mismatch furniture going on in the common area. The location is also perf and close to all of the top things to do in Sarajevo. For these reasons we say, yes, this is the best hostel with a private room in Sarajevo.
Things DO go missing sometimes…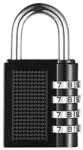 Psst! Heading to a hostel? Don't forget to pack a padlock! It's well worth having one so you can secure your locker and protect your stuff!
More Best Hostels in Sarajevo
Want to stay in the party district or maybe somewhere more laidback? Decide on where to stay in Sarajevo before booking your hostel.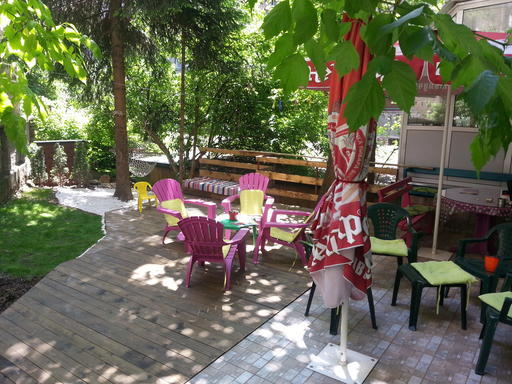 $$
Tour Desk
Common Room
Bicycle Hire
Far from being the coolest hostel in Sarajevo (lime green walls in one of the dorms, for instance), Balkan Han Hostel is a highly recommended hostel in Sarajevo because of its warm, friendly atmosphere, the welcoming nature of the staff (especially the owner), the cleanliness and comfort of its rooms and dorms, and for the onsite bar that has a sociable yet chilled atmosphere. The bar is a good place to pregame before you hit the town in search of Sarajevo's best nightlife (or daylife). It's a good one. Though it's a little bit pricey, even for a top hostel in Sarajevo, it's a solid option. If you like music there's not only a guitar but a bongo drum and a keyboard here. But do you really wanna be that person?
$$
Rooftop Bar
Swimming Pool
Free Breakfast
This youth hostel in Sarajevo doesn't exactly win any awards for creativity in naming a hostel (that doesn't mean you should go naming it in the 'Adjective Animal' pattern, please), but it is a top hostel in Sarajevo for its awesome owners, who are very nice people. It's also not a bad location (10 min walk to the old town) – be warned that there is a hill here, so if that poses a problem for you… well, yeah. It's a pretty nice place in general though, it's clean, it's basic, it does everything a hostel should do really, and moreover: it's cheap. Perfect for anyone on a budget.
Is This the Best Travel Backpack EVER???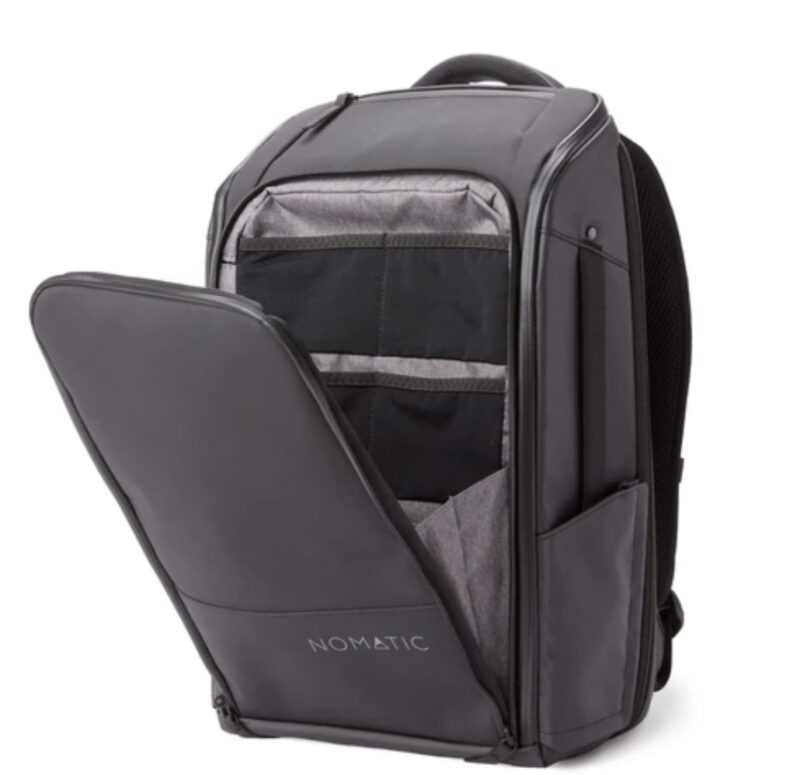 What to Pack for your Sarajevo Hostel
Pants, socks, underwear, soap?! Take it from us, packing for a hostel stay is not always quite as straight forward as it seems. Working out what to bring and what to leave at home is an art we have perfected over many years.
Check out our definitive Hostel Packing list for our top packing tips!
Why you should travel to Sarajevo
Well guys, you have come to the final chapter is the saga of best hostels in Sarajevo 2021.
Like any city with an up and coming backpacker scene, finding the top hostels in Sarajevo can be hard as the locals are still figuring out the whole hostel game.
After reading this guide you are now prepared to find the best hostel in Sarajevo for your own traveling needs.
Backpacking in Sarajevo is bound to be a great experience, heavily aided by the fact that some pretty cool hostels exist in this city.
The hidden hostel gems of Sarajevo have now come out of the wood-work and lay before you.
Booking an awesome hostel is easy when all of the options are clearly on the table!
All of the best hostels in Sarajevo are on the menu. You just have to order up the right one for YOU.
Feeling conflicted on which hostel is actually the best hostel in Sarajevo? Not sure which one to go with? No worries…
When in doubt, I typically recommend that you just book my overall top pick for best hostel in Sarajevo: Hostel Check Inn. Good luck guys!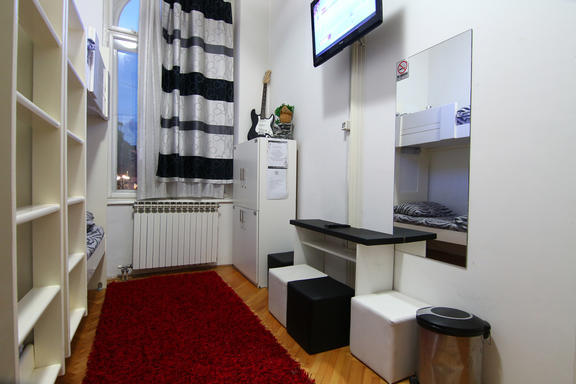 FAQ about Hostels in Sarajevo
Here are some questions backpackers ask about hostels in Sarajevo.
Travel Safety Tips for Sarajevo
And don't forget Travel Insurance! We've put together a roundup of Travel Insurance for backpackers – check it out here, or if you're low on time, get a quote from World Nomads, our favorite travel insurance provider.

Over to you
By now I hope our epic guide to the best hostels in Sarajevo has helped you choose the perfect hostel for your adventure!
If you think we've missed anything or have any further thoughts, hit us up in the comments!
---
Find out how YOU can support the site.
We work hard to put out the best backpacker resources on the web for free! It's all about helping out our tribe of awesome backpacker readers (that's you!). Please visit the link to find out how you can help keep the site going 🙂
For the sake of transparency, some of the links in our content are affiliate links. This means that if you book your accommodation, buy a piece of gear, or sort your insurance through our link, we earn a small commission at no extra cost to you. We only link to stuff that members of the Broke Backpacker team has actually used and never endorse products or services that are not up to scratch. Thanks for your support!