Considered Colombia's ultimate backpacker beach town, Palomino is the sort of place that changes your plans for the better. The beachside location is the perfect place to enjoy the chilled-out nightlife, get some good grub, and partake in various land and sea adventures, such as tubing in the jungle (say what!) There's no better time than now to experience Palomino before everyone else finds out about it!
Lounge and enjoy a cocktail on the beach while looking at the unrivalled vistas of the snow-capped mountain ranges of the Sierra Nevada de Santa Marta. Bloody unbeatable! See the most spectacular sunsets, and enjoy the variety of eateries and bars with lively music in the evenings. Sounds pretty awesome right!?
The great thing about Palomino is that it's budget-friendly and you can save even more on your trip if you opt to stay in friendly and fun hostels in the area. Easy on the pocket and super social, hostels are often the best places to meet people who share the same mindset. You'll be spoilt for choice when it comes to hostels in Palomino because there's plenty!
Quick Answer: Best Hostels in Palomino

Do You Want to Travel FOREVER??
Pop your email in below to get a FREE copy of 'How to Travel the World on $10 a Day!'.
What to Expect from Hostels in Palomino
Travellers who have been to Palomino have certainly heard about the 'Palomino curse', once you arrive, they say you'll never want to leave. So clearly Palomino is somewhere that should be high on your list when backpacking in Colombia. The only danger is you extending your stay longer but don't worry as plenty of Palomino hostels for all budgets, so you won't regret spending a few days, weeks or even months here! Another great thing about Palomino is that is relatively off the beaten track for how amazing it is!
Hostels are known to be easy on the pocket, they don't cost as much as hotels because most of the time you'll find yourself sharing a dorm with other travellers as well as bathrooms. Thankfully, some of the best hostels in Colombia are right here in Palomino.
However, this doesn't mean that you'll be left wanting if you decide to stay in hostels. Hostels have plenty of common areas where you can relax and socialise with others such as the games room, terraces, and dining areas. The socially-charged atmosphere is something unique to hostels and one of the main reasons we love them!
In addition, hostels are often managed by travellers who know exactly what other travellers like and need. Hosts often go above and beyond to make sure that guests are comfortable and are having a great time. There are often heaps of excursions, tours, and parties organised by the hostel too. Suffice it to say that you will have endless opportunities to meet other people from all over the globe, get insider tips, and swap a few travel stories about your time in Colombia and beyond.
If you don't fancy sharing a room with some randos, you can spend a little extra on private rooms. Most private rooms come with ensuite bathrooms but they are still cheaper compared to hotel rooms and come with other social benefits.
If saving money is first on your agenda, opt for shared dorm rooms. Make sure to select those with individual security lockers for peace of mind whenever you are out.
Private rooms – $60 to $90
Dorm beds – $10 to $20
HOSTELWORLD is the perfect place to go if you're in search of the right hostel in Palomino. Countless choices are on the website, but make sure to read the descriptions carefully, go through the pictures, and read the reviews section to ensure you have the right accommodation before booking.
Best Hostels in Palomino
Hostels in Palomino offer a wide range of options, from the small and intimate to large properties ideal for groups. Charming, quaint, and built with the environment in mind, stay in one of them for an unforgettable time in Palomino.
Best Overall Hostel in Palomino – Palomino Sunrise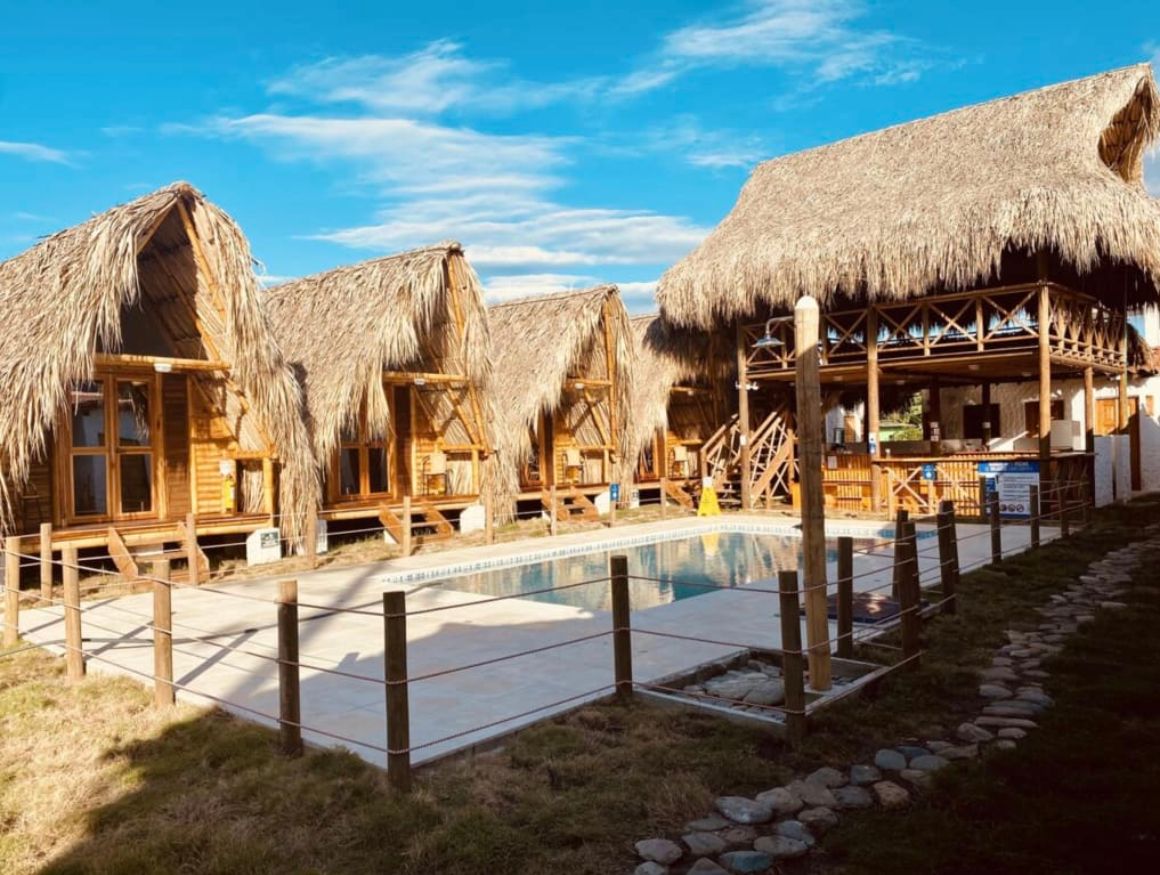 $
Free breakfast
Near the beach
Bar and restaurant on-site
Located just 500 meters from Palomino Beach, it's easy to see why several backpackers consider Palomino Sunrise a great hostel to stay in. The property is stylish and modern yet manages to stay true to the area's beach vibe.
The private and dorm rooms all have views of the swimming pool and are all ecologically designed to resemble huts but we're not talking about shabby huts here. Stylish, comfortable, and convenient, they are guaranteed to make your stay pleasant. Not only is the space near the beach, but it is also just a few minutes walk away from the main road. It's a lot peaceful compared to other hostels in the area having more of a laid back rather than party vibe.
The continental breakfast that's included in the rate is a great bonus. Not only is it a great way to save money, but it's an ideal way to set up for the day. Don't forget that you can also order good grub from the on-site bar and restaurant if you don't like venturing far for lunch or dinner.
Why you'll love this hostel:
Fast Wi-Fi
Room service
Tours/Travel Desk
Bicycle hire
Check with the Tours and Travel Desk about activities for guests so you can make the most of your stay in Palomino. The staff here know all the ins and outs about what to do around Palomino and will help you make the most of your time here.
After a day of activities, head to the sun terrace, the perfect place to unwind and relax. The integrated natural surroundings make it one of the best eco hostels in Colombia and a chilled out place to hang out.
A faster way to go about town is to hop on a bicycle courtesy of the bicycle hire on the premises. Another way is to drive and you need not worry about parking as it's free. Before you click the 'Book Now' button, keep in mind that only guests 18 and above are allowed on the property.
Most Affordable Hostel in Palomino – Freesoul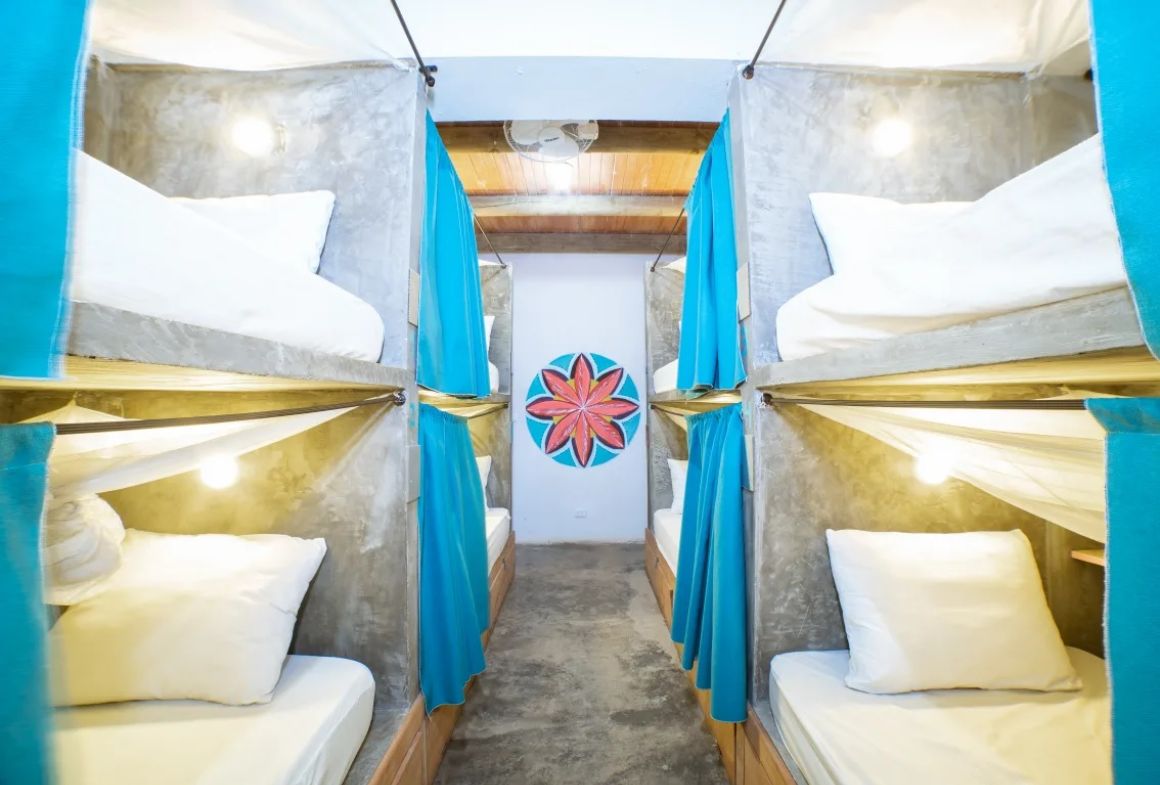 $
Free breakfast
Close to everything in town
Various classes for guests
Freesoul is the perfect place for backpackers and travellers who are looking to save a little money without sacrificing comfort and fun, it's one of the best Palomino hostels if you're on a tight budget. The space is located just a few steps from the beach and is surrounded by restaurants, so you never have to look far to grab excellent and authentic Colombian food.
Breakfast is served free in the morning and they also offer vegan options too, so everyone is catered for. Coffee is served free all day! After a hearty breakfast, head down to the beach or explore the town and meet the locals.
What better way to socialize with other guests, exchange ideas and learn a few things at the same time than by attending various classes, such as salsa and Spanish. There are also movie nights now and then. Check with the staff for more information about their tours and travel offerings.
Why you'll love this hostel:
Lockers
Book exchange
24-hr security
Shuttle bus
Each bed in all shared rooms comes with its own locker where you can stash your things and not worry about them. Aside from lockers, each guest is provided with a mosquito net, reading light, ample plugs for gadgets, and curtains for privacy.
Bookworms can rejoice as they can leave books they have already read and get new ones for their onward trip on at the book exchange. There is never a shortage of entertainment during downtime, the games room is there with plenty of DVDs and board games.
Currency exchange, bicycle hire, laundry facilities, and Wi-Fi are all available at this fun and modern hostel.
Epic Hostel for Digital Nomads in Palomino – Bella Flor Hostel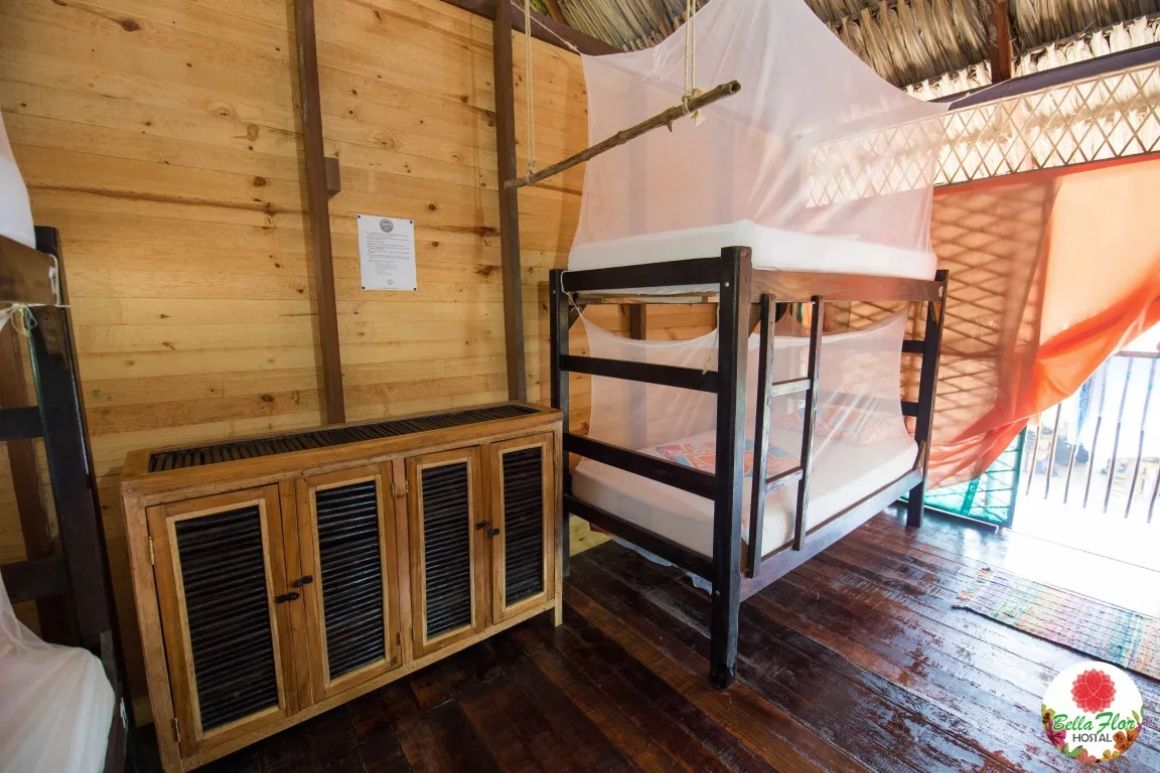 $
Free breakfast
Games room
Furnished kitchen
Located near the centre of town, Bella Flor is only 2 minutes away from all the action. Just a short walk from the premises and you'll find yourself within the vicinity of bakeries, bars, pizzerias, local shops, and restaurants. Aside from the beach, the hostel is within proximity of an Indian Reserve, mountains, and local nature reserves.
Owned and managed by a Colombian family who fell in love with Palomino and decided to leave the hustle and bustle of the city behind, Bella Flor is a peaceful place for backpackers and travellers to stay. The daily rate is inclusive of mouth-watering breakfast and guests who would like to prepare their own meals can use the fully furnished kitchen.
Entertainment and socialisation are never a problem as the common areas are wide open and have various games, a TV, all kinds of music, and books as well as your fellow travellers to hang with.
Why you'll love this hostel:
Free Wi-Fi
Laundry facilities
Restaurant on-site
24-hr security
The hostel offers both private rooms and dorm rooms. Dorms have a maximum capacity of four so it's easier for guests to get to know and connect with each other. All the rooms have excellent views of the beautiful garden and are equipped with wall fans and mosquito nets. Rooms are not only cleaned daily, each guest receives fresh and clean linen upon check-in and can use the laundry facilities.
The on-site restaurant serves delicious breakfast and lunch with freshly-cooked meals and a variety of juices. For dinner, guests will have to venture to town, but that's all part of the fun! Wi-Fi is available and fast throughout the property so digital nomads can meet their deadlines and do their work without worries.
Best Hostel with Private Rooms in Palomino – Coco Sankala Hostel
$
Free breakfast
Close to the main road and beach
Garden with views of the mountains
Like many of the hostels in Palomino, Coco Sankala makes it a point to use local products in the design and architecture of their hostel. The eco-friendly property uses bamboo and does an excellent job of blending the material with the surroundings whilst looking after the planet.
The hostel's common areas such as the garden have some magnificent views of the snow-covered Sierra Nevada mountains, hang out in a hammock and take it all in. The hostel is not that big, it can only accommodate a maximum of 20 people but this guarantees an intimate experience and more personal interaction between guests and the hosts. There's even a small library on site for the guests to share.
Breakfast is free and guests who want to prepare their own meals can easily do so in the shared fully-equipped kitchen but those who don't want to bother with cooking can just order their meals at the café on-site. Situated just between the village and the beach, the hostel is just 6 blocks away from the main road if you fancy heading out for food.
Why you'll love this hostel:
Cafe
Free parking
Free Wi-Fi
Laundry services
The cosy space offers both private and shared rooms. The private rooms come with double beds, mosquito nets, a hammock, and a private bathroom. The hostel has only two types of dorms, one with 4 beds and another with 8 beds. Each dorm room comes with lockers, fans, mosquito nets, and a private bathroom. The smaller dorms are perfect for small groups of mates travelling together.
Parking and Wi-Fi are free, as well as the laundry services. Guests are encouraged to ask the staff for recommendations when it comes to the best places to visit in the area. They will be more than happy to share tips with you.
Hostel for Large Groups in Palomino – Tiki Hut Hostel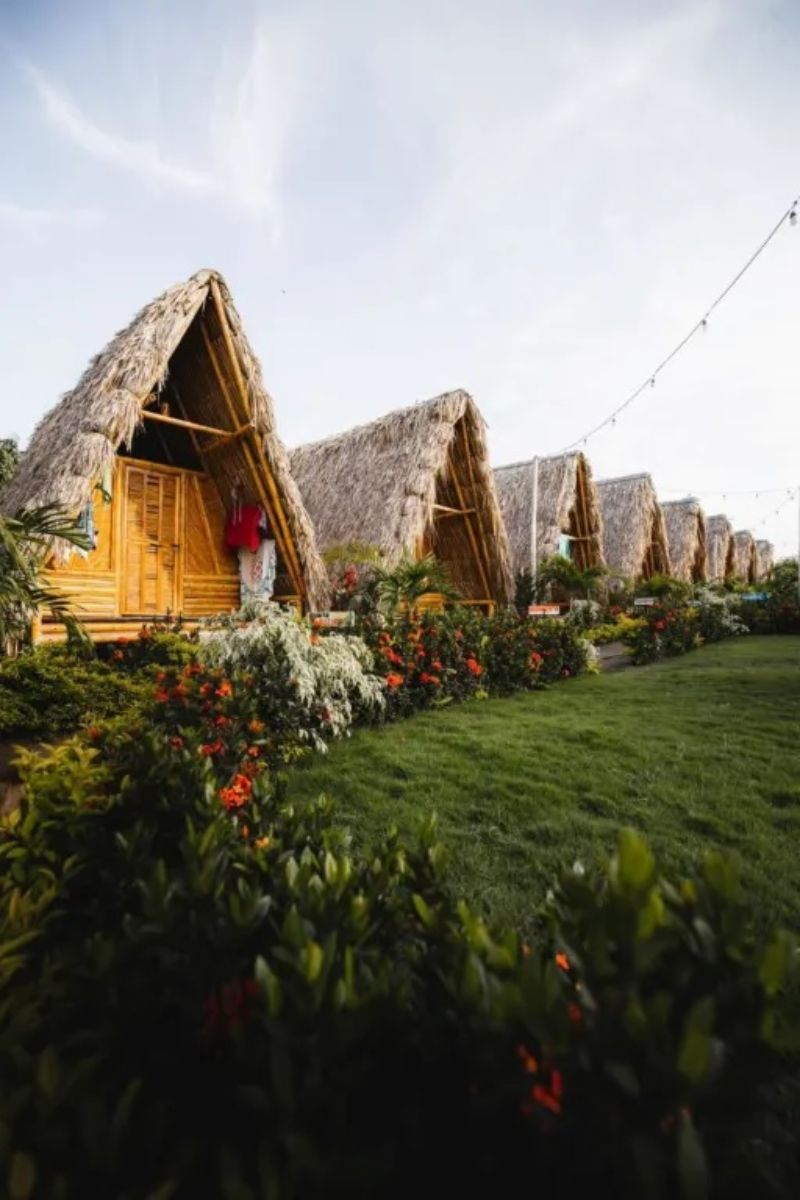 $
Swimming Pool
Outdoor terrace
Within proximity of the beach
Tiki Hut Hostel is the perfect place for large groups looking for cosy, comfortable but inexpensive digs in Palomino. The cabins are made with natural materials that are locally grown such as guadua and boba cane which make the architecture not only interesting but beautiful and environmentally sustainable.
Located just 100 metres from the popular Palomino beach and just a kilometre from the main road, guests won't have a hard time reaching some of the most popular spots such as the San Salvador and Palomino Rivers.
The hostel boasts a swimming pool, Jacuzzi, and large green spaces where guests can kick back and relax. The hostel's restaurant is an awesome spot and serves delectable local dishes and the bar is known for its epic cocktails and unbeatable vibes. I mean, which other hostel has a bar, pool and jacuzzi bro!?
Socialise with fellow travellers over a game of pool, foosball,beer pong and a variety of board games. Or why not just spend the evening chatting away with each other at the bar and swapping a few anecdotes from your travels.
Why you'll love this hostel:
Laundry facilities
Internet access
Free Wi-Fi
Bar and restaurant on-site
All private rooms come with ensuite bathrooms. The biggest shared dormitory can accommodate a maximum of ten people, perfect for large groups travelling together who would like to stay in a single room. Groups feel right at home without spending excessive amounts of money. Speaking of saving money, although breakfast is not included in the daily rate, it's available for a small fee.
Don't hesitate to ask the staff for information on activities and tours as they are more than happy to help guests organise their trip and have the best time possible here.
Is This the Best Backpack EVER???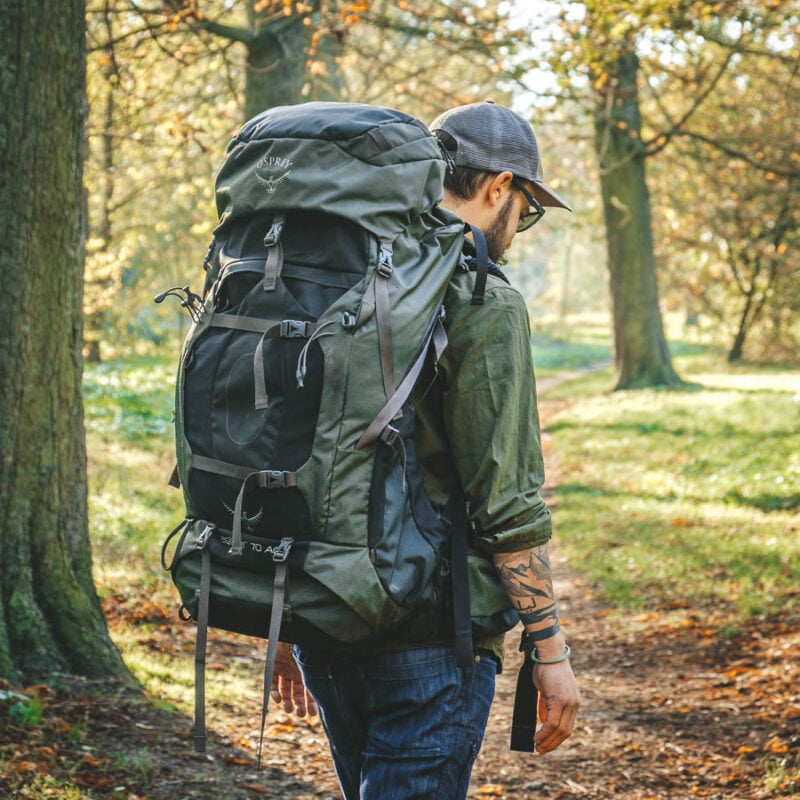 Other Hostels in Palomino
Great Dorm for Couples in Palomino – Casa Chapolin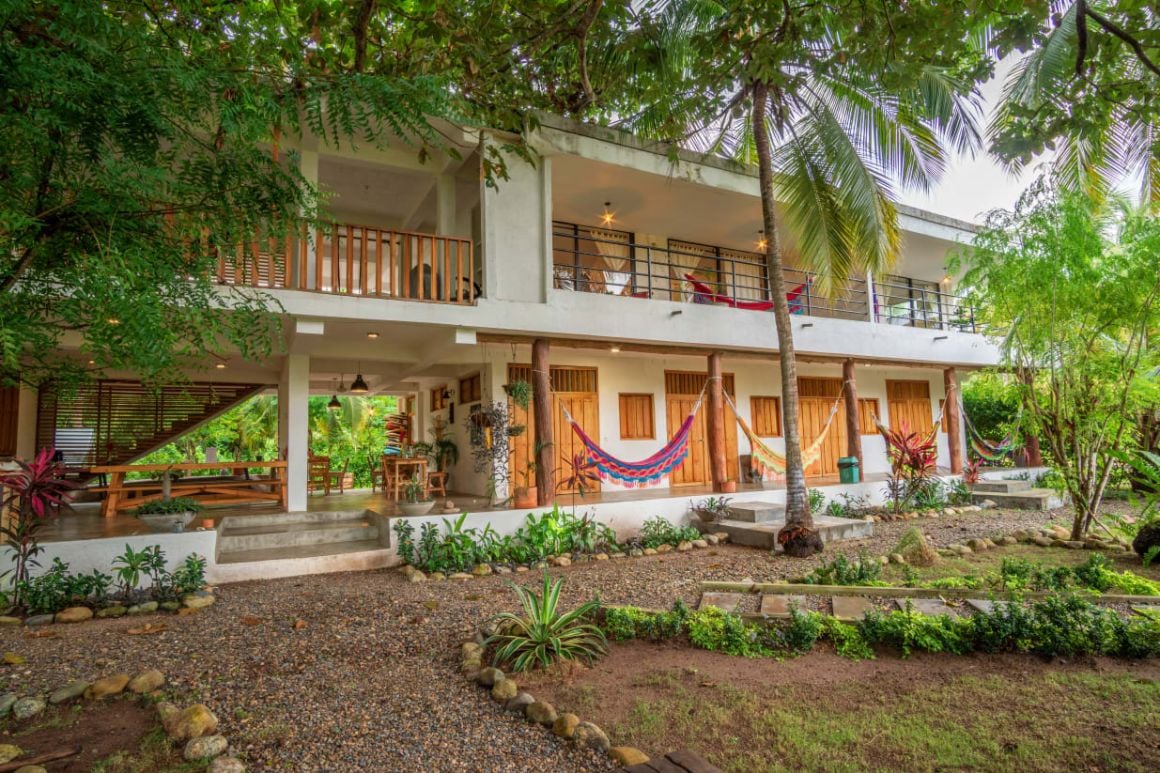 $
Free breakfast
Fitness center
Next to the beach
Located on Palomino's quiet side, the property is just a minute away from the beach, perfect for couples who can't get enough of the sea and sand. The hostel is run by a family of surfers so guests can get the inside scoop on where surf spots are without having to jostle for room with everyone else.
The daily rate is inclusive of free breakfast so that's even more savings for guests. The family does their best to serve freshly-baked bread with the all-you-can-eat breakfast daily but the star of the meal is the crepes. The property comes with a fitness centre located near the garden, so you need not worry about missing your fitness regimen even while you're travelling and enjoying the seaside town. That also makes it great for those of us travelling and working long term.
The outdoor terrace is a relaxing space where guests can enjoy a cup of tea, flip through the pages of a good book, or even plan their next destination. Speaking of books, there is a book exchange on the property where you can get new reads and leave old favourites behind for the next person to enjoy.
The cosy space is just a short 10-minute walk to the main street where you'll find a plethora of restaurants and shops but you need not go far for hearty meals as Casa Chapolin has a café and restaurant on-site.
Why you'll love this hostel:
Airport transfers
Book exchange
Free Wi-Fi
Parking
The property offers both private and shared rooms, so there's something for everyone. The private rooms are perfect for couples who would like to enjoy privacy without breaking the bank. Luxury suites are available for those who want to splurge a bit. This means you can have the best of both worlds with luxury, privacy and all the social elements of hostel life.
The hostel owners do their very best to protect the environment and that is why they don't use plastics and there's no air-conditioning on the entire property, but other modern amenities such as Wi-Fi, BBQ, and laundry facilities are available for guests.
Hostel with a Pool/Jacuzzi in Palomino – Kanta Sana
$
Free breakfast
Security lockers
Tours/Travel desk
Kanta Sana is a place that you can call home whilst travelling the world. Theunique architectural features of the hostel showcase the natural surroundings in the most beautiful way. Kanta Sana also boasts a large swimming pool for guests to enjoy. The hostel is located just across the way to a garden that is home to various trees, including mangoes, coconuts, and other fruit trees.
The campfire and the grill are excellent places to socialise with other backpackers, exchange a few travel stories, and perhaps a few insider tips on the most rad places to surf or sample the best Colombian dishes. Guests need not look very far if they are in search of the best seafood because the on-site restaurant offers the freshest catch of the day, as well as vegetarian dishes. Of course, included on the menu are some of the most popular Caribbean cocktails too.
Located centrally, Kanta Sana is just a few minutes walk from the beach and the main street. The tours and travel desk is always open for those who want to inquire about activities. Don't forget to stash your things in the security lockers and help yourself to free city maps when heading out so you can navigate the town easily.
Why you'll love this hostel:
Bicycle hire
Outdoor terrace
Luggage storage
Bar and restaurant on-site
All the rooms on the property are located on a covered bamboo platform built around two mango trees. Essentially, guests are sleeping in a big treehouse. pretty sweet! The big shaded terrace nearby is ideal for chilling, reading a book, or enjoying a drink in peace.
Mouth-watering breakfast is served free daily, so it's a great way to fill up. Hire a bike from the hostel and head into town and explore for the day after you've had your fill.
Another great feature for guests who would like to explore the area before they check-in and long after they have checked out is luggage storage.
Best Hostel for Solo Travelers in Palomino – La Natura Hostel
$
Ideal location
Outdoor swimming pool
Security lockers
La Natura Hostel is the perfect place for the more adventurous and younger crowd known for its chill and laid-back vibe. It's in the heart of Palomino, surrounded by the sea, mountains, and the jungle. Ideally located, the hostel is just a short walk to the beach whilst retaining those jungle vibes making you feel surrounded by nature… hence the name!
La Natura has plenty of common areas where guests can hang out with each other such as the outdoor swimming pool and terrace. The hammocks near the mango trees are the best places to lie down, relax, and chill after a day of exploring the town and beyond.
Security lockers are free for guests to use and as a further security measure, La Natura is equipped with door code entry for peace of mind.
Why you'll love this hostel:
Laundry facilities
Fully-equipped kitchen
Free Wi-Fi
Free parking
Guests can choose from mixed dormitory rooms with a capacity of 6 or 10 people as well as having the option of private double ensuite rooms. Each of the beds in the dorm room comes with a wall fan and mosquito net. Laundry, tea, and coffee making facilities, 24-hr drinking water are all free for guests to use. In addition, meals can be prepared in the fully-equipped kitchen and enjoyed in the dining area.

Our GREATEST Travel Secrets…
Pop your email here & get the original Broke Backpacker Bible for FREE.
Another hostel with a pool/Jacuzzi – Dreamer Palomino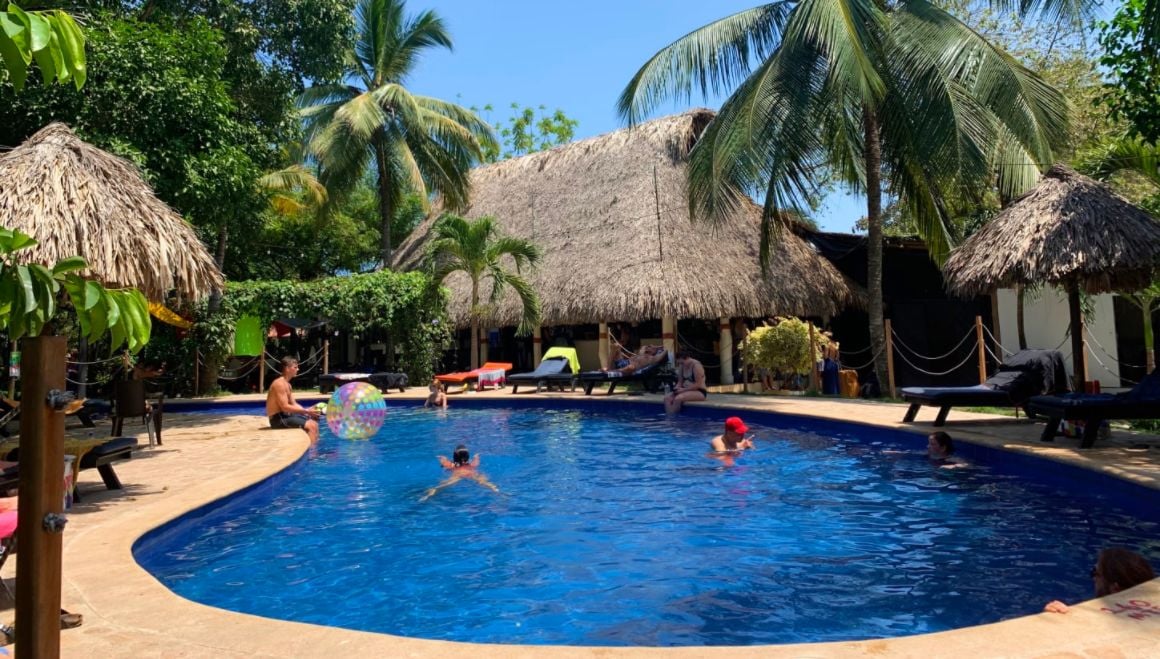 $
Bar and restaurant on-site
Games room
Direct private beach access
Dreamer Palomino is a backpacker's home away from home and is located in a plot of land that has direct private beach access. The guys here know exactly how to make your time comfortable and memorable as it was built by travellers with a unique understanding of what fellow travellers need. Guests are guaranteed a time to remember with the outdoor swimming pool, hammocks, and shared terraces. There's never a shortage of areas to meet other travellers and get to know them better either.
The hostel offers various activities such as yoga classes, Spanish classes, exotic fruit tasting, and Colombian coffee sampling for an exciting stay. Buffet breakfast is served daily at an extra cost so guests can wake up to a feast of delicious food. Lunch and dinner are served in the on-site restaurant and a few tasty things you can look forward to are homemade pasta, pizzas, regional seafood, and the freshest juices.
Hit the sack early if you've had too much action for the day or join other backpackers in a game of pool, karaoke or how about busting some moves on the dancefloor if you really want to embarrass yourself!
Why you'll love this hostel:
Laundry facilities
BBQ
Book exchange
Free parking
Speak to the tour desk if you need assistance arranging an unforgettable tubing experience on the Palomino River or if you need help arranging transportation to Tayrona Park – the best location for horse riding, hiking, or swimming at Cabo San Juan.
The hostel offers complimentary Wi-Fi, parking, BBQ, and laundry facilities, book exchange, and luggage storage for convenience and peace of mind. We did say it was built by travellers for travellers!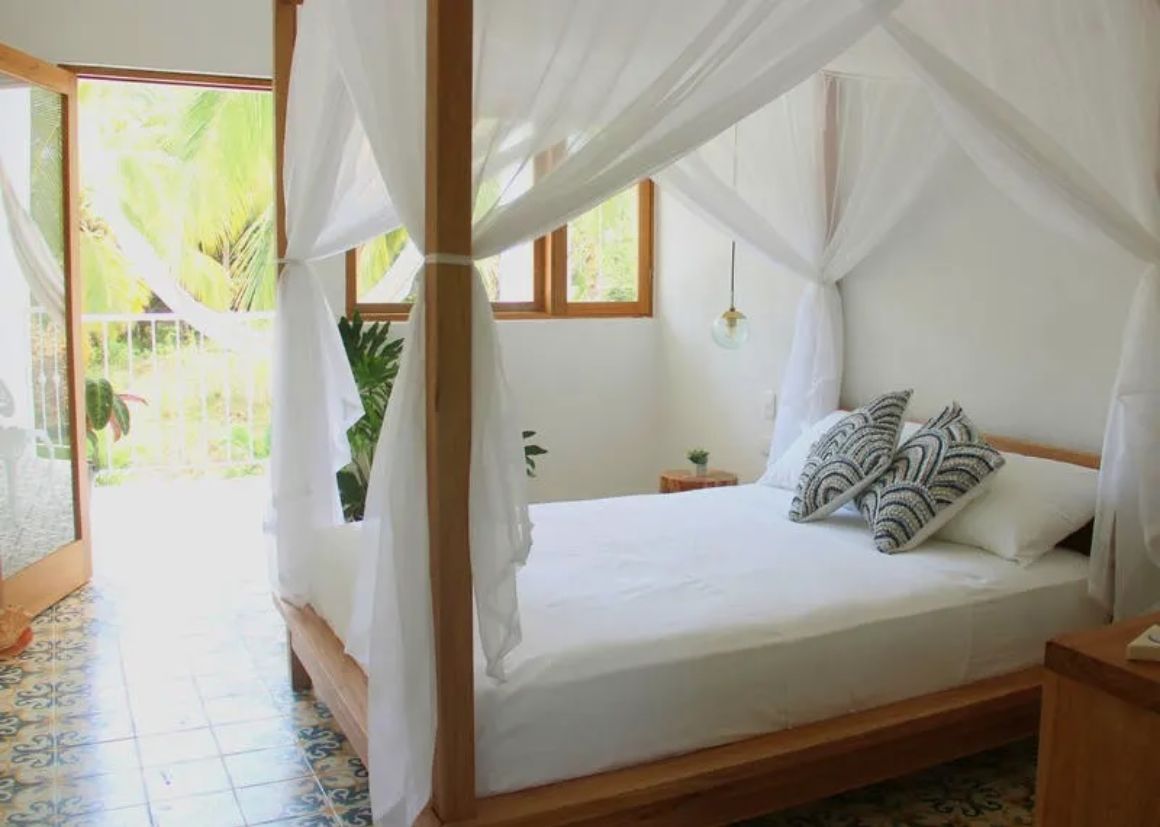 $
Free breakfast
Walking distance to the beach
Close to bars and restaurants
Casa del Pavo Real is the perfect retreat for couples staying in Palomino being ideally located in lush green gardens filled with mango trees and coconut palms.
It's just a short 4-minute walk from the beach, perfect for a romantic stroll with your other half. Guests are always within arm's reach of bars and restaurants so you can enjoy an evening out together over a meal and some drinks.
Meals areserved at the big family table for a more personal experience, including the awesome free brekkie. This gives guests a great opportunity to mingle with others and make new friends. Those who need some recommendations about activities and places to see in the area can approach the friendly and knowledgeable staff. at any time.
Why you'll love this hostel:
Swimming pool
Airport transfers
Currency exchange
Air-conditioned rooms with balconies
Guests stay in air-conditioned double rooms with private bathrooms with views of the beautiful garden. Instead, those on a budget can opt for the air-conditioned 6-bed dorms that come with security lockers and reading lights. You can even stay in your own private bungalow, perfect for a romantic holiday.
No matter what type of room guests choose, they can use the swimming pool, so chuck a towel in your bag and dive right in!
Don't worry if you forgot to exchange your cash for the local money at the airport as there's a currency exchange on the premises. Airport transfers are available for a fee so approach the staff if you'd like to use the service.
Palomino Hostels FAQ
Travel Safety Tips for Palomino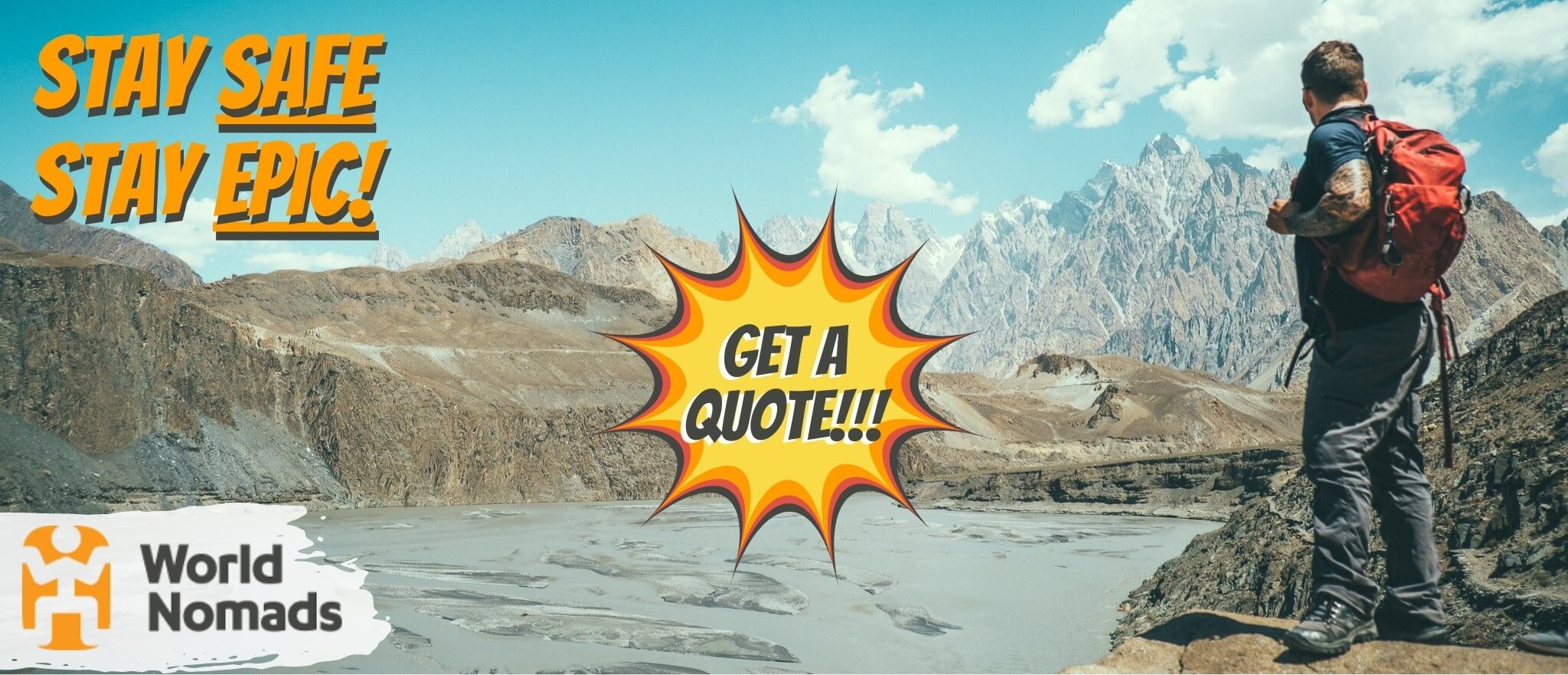 World Nomads' mission is to support and encourage travellers to explore their boundaries. They offer simple & flexible travel insurance, and safety advice to help you travel confidently.
They've been doing it since 2002 – protecting, connecting, and inspiring independent travellers just like you.
Get a quote below or read our in-depth review!
World Nomads provides travel insurance for travelers in over 100 countries. As an affiliate, we receive a fee when you get a quote from World Nomads using this link. We do not represent World Nomads. This is information only and not a recommendation to buy travel insurance.
Final Thoughts
Palomino is a hidden paradise with a hippy vibe, perfect for relaxation and respite from the demands of city life. It offers so much more than just tubing down the river and it deserves to be more than just a stopover on the way to La Guajira.
So remember to shove a pair of budgie smugglers in your backpack when you're packing for Colombia and get ready to have the time of your life in Palomino!
There are plenty of things to do, try, and see, but it doesn't mean that you should just throw caution to the wind and go over budget. Fortunately, Palomino offers plenty of hostels for travellers, there's always one suitable for you regardless of your budget. It's also one of the safest places in Colombia too, so you're guaranteed a great time.
Hostels in Palomino come at reasonable prices and if you're still thinking about which one to book, you should opt for Palomino Sunrise. Without a doubt, it's the best in the area for us. You'll enjoy free breakfast and the swimming pool, plus it's near the beach too.
---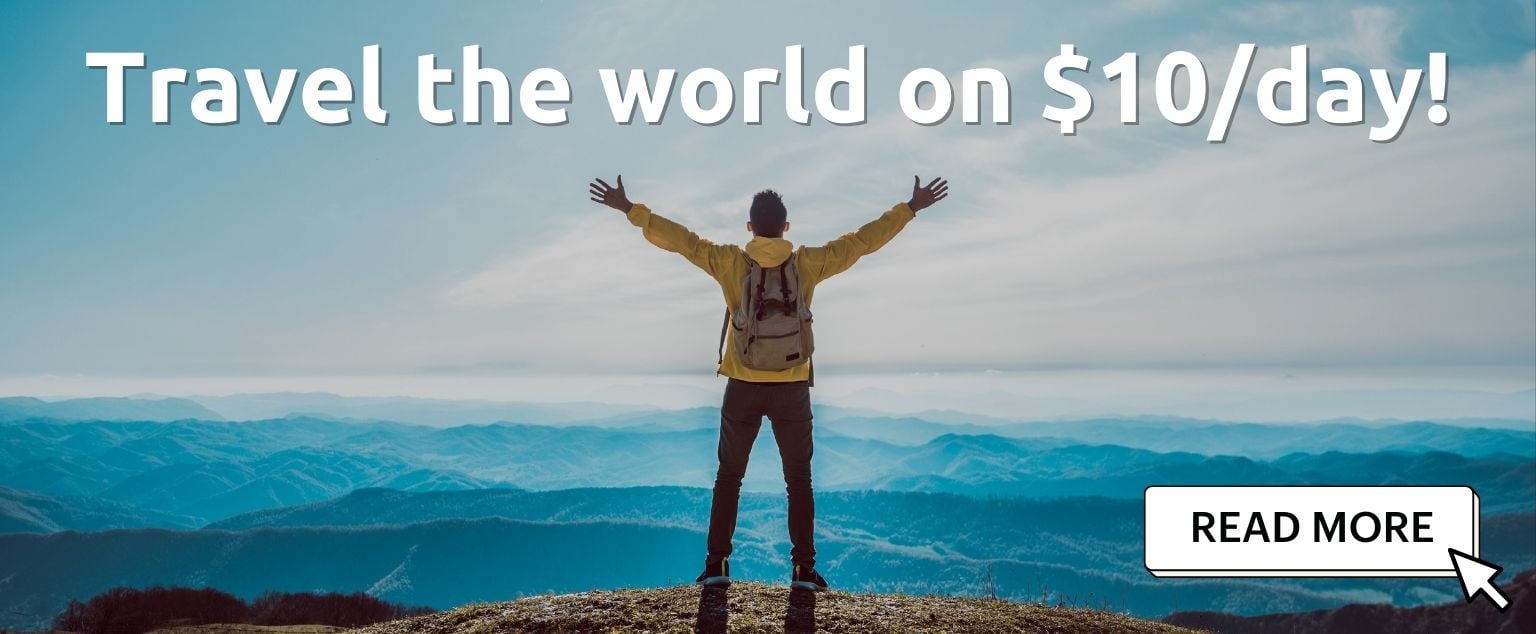 And for transparency's sake, please know that some of the links in our content are affiliate links. That means that if you book your accommodation, buy your gear, or sort your insurance through our link, we earn a small commission (at no extra cost to you). That said, we only link to the gear we trust and never recommend services we don't believe are up to scratch. Again, thank you!