When you think of Japan, you probably don't imagine tropical islands. However, that's just because you haven't been to Okinawa yet. These islands lie midway between Japan and Taiwan and are the historical seat of the Ryukyu Dynasty. The largest island, Okinawa, is home to the islands' capital of Naha – kind of like a tropical Tokyo. There are 16 more which can be reached by plane or boat.
As well as history, a unique culture, and tasty cuisine, many travellers come here to explore the beaches in Okinawa. Unlike other beaches in Japan, these tropical stretches of white sand boast azure waters that make you feel like you're in Hawaii. While a number of these beaches in Okinawa are resort-style and would suit families due to their large number of activities, some on the smaller islands offer a truly secluded paradise where you can spend days without being disturbed.
In this post, we'll take a look at five of the best beaches in Okinawa. Not all are on the main island, but that just means you'll get to see more of this lesser-visited part of Japan (at least by foreign tourists – Okinawa is a hugely popular summer holiday destination for the Japanese)!

Unlock Our GREATEST Travel Secrets!
Sign up for our newsletter and get the best travel tips delivered right to your inbox.
The best thing about Okinawa is that it's a year-round destination. However, if you're visiting specifically for the beaches, make sure to come between March and October, when they're officially open. If you're planning on only visiting the main island, up to five days is enough time to see the main attractions in Okinawa and have some well-earned rest and recuperation on the beach too.
Some other things to note: March and April are a good time to visit if you want to avoid the crowds. Temperatures are pleasant, but the water can be a little cold! If you want to celebrate the festivities of Japan's Golden Week, visit in May; this is one of the busiest times of the year. It can also be more expensive, so it's not a good time for budget travellers.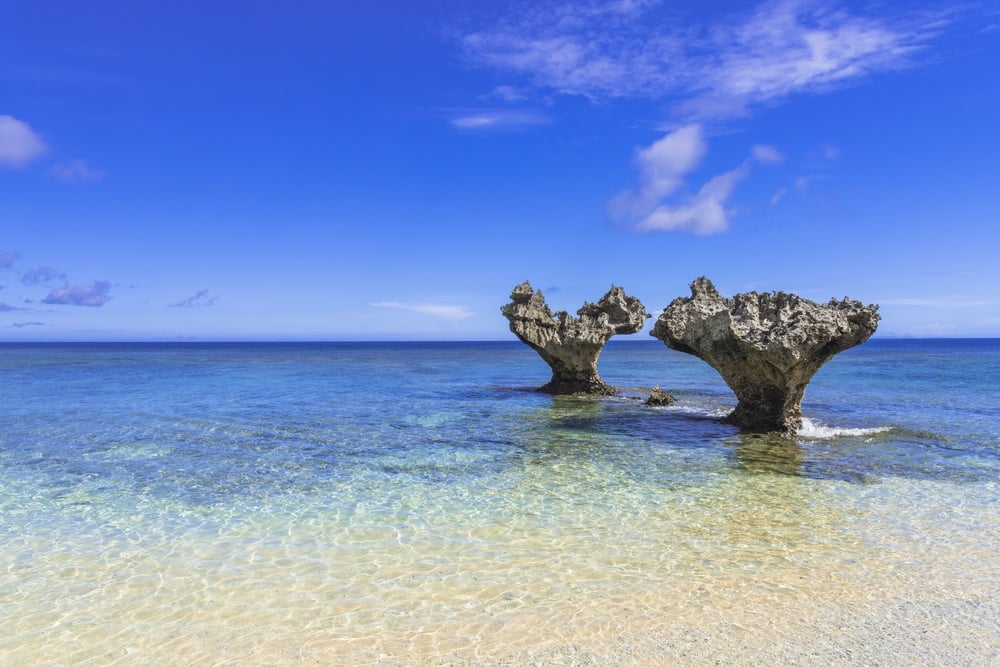 Snorkellers or divers may not mind the rain of May and June, but sunbathers might miss out on beach time due to the rainy season. Visit from July to August for the hottest weather and high season, but do be aware that from July to October, Okinawa can be hit by typhoons. This often leads to flight and ferry cancellations.
You can fly to Okinawa from most major Japanese cities. There are also international flights from Taipei, Seoul, Shanghai, and Hong Kong.
Most Popular Beach in Okinawa | Manza Beach
Who It's For: Families and friends who are looking for adventure will love all that's going on at Manza Beach in Okinawa.
Don't Miss: The stunning nearby lookout point of Cape Manzamo. Seeing the waves crash into the rocks at sunset is quite the sight.
Although it's part of the InterContinental Manza Beach Resort, anyone can visit this beach freely. There's a 300 meter stretch of sand where you can lay your towel down before going for a dip in the calm blue waters.
Several activities are on offer here, including parasailing and diving, so it's no surprise that people come from all across the island to get a taste of this fabulous beach.
An entire house just 10 minutes from the beach, it would suit a family or group of friends. Check out the view of Manza from the roof terrace!
You'll struggle to find a hostel near Manza Beach. It's worth the half-hour drive from this modern hostel in Chatan though!
Happy to splash the cash? The Manza Beach Resort is a luxurious 5-star option right on the beach. Take advantage of a spa and tennis court, as well as views from floor to ceiling windows.
With room for nine guests, suddenly that price tag is looking more affordable. Experience the best of both the sea and the mountains at this gorgeous Okinawa cabin.
Okinawa Water Park
If you're travelling with kids, they'll hardly let you miss this inflatable ocean park. There's no age limit on one of the most fun attractions in Okinawa! [image credit]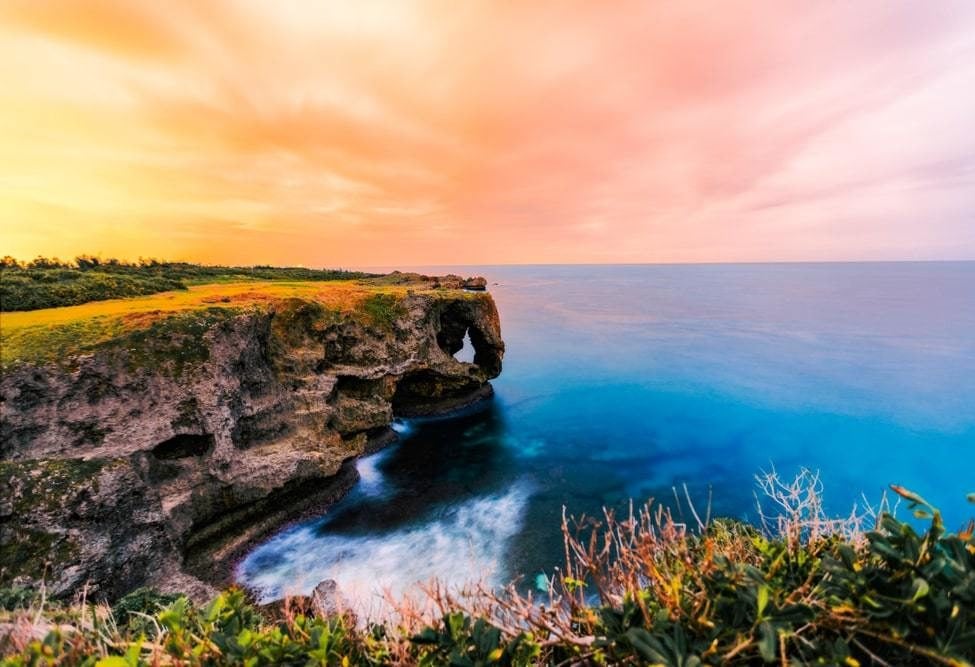 Cape Manzamo
A stunning sunset spot, this rock formation offers spectacular views of the East China Sea and Manza Beach. [source: Ghing (Shutterstock)]
Nabee Beach Seafood Restaurant
Try a spot of classic Okinawan cuisine at this sublime seafood restaurant! [image credit]
Okinawa Water Park
If you're travelling with kids, they'll hardly let you miss this inflatable ocean park. There's no age limit on one of the most fun attractions in Okinawa! [image credit]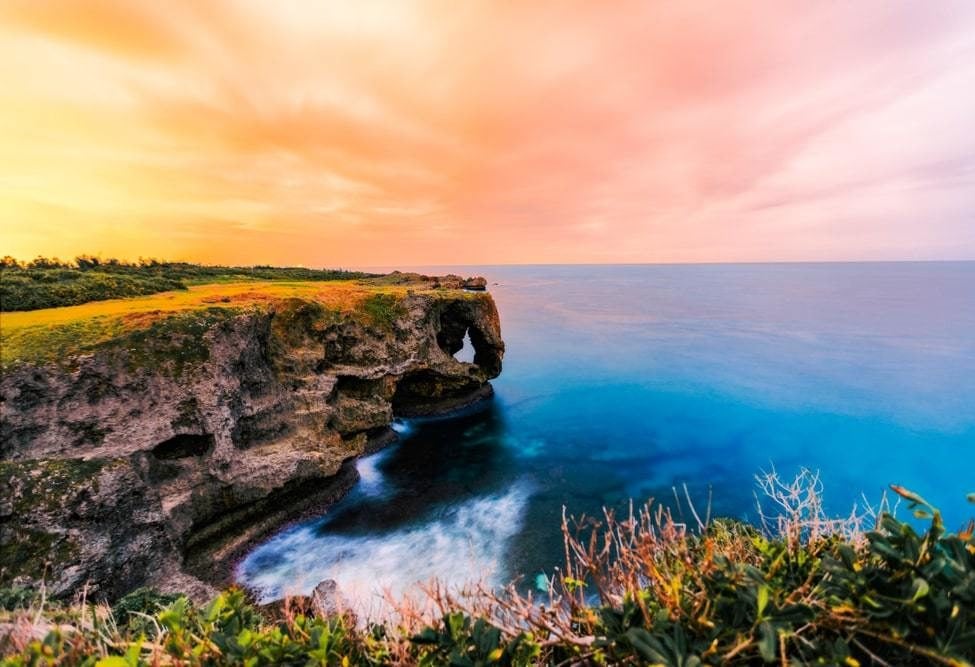 Cape Manzamo
A stunning sunset spot, this rock formation offers spectacular views of the East China Sea and Manza Beach. [source: Ghing (Shutterstock)]
Nabee Beach Seafood Restaurant
Try a spot of classic Okinawan cuisine at this sublime seafood restaurant! [image credit]
Best Beach For Swimming in Okinawa | Emerald Beach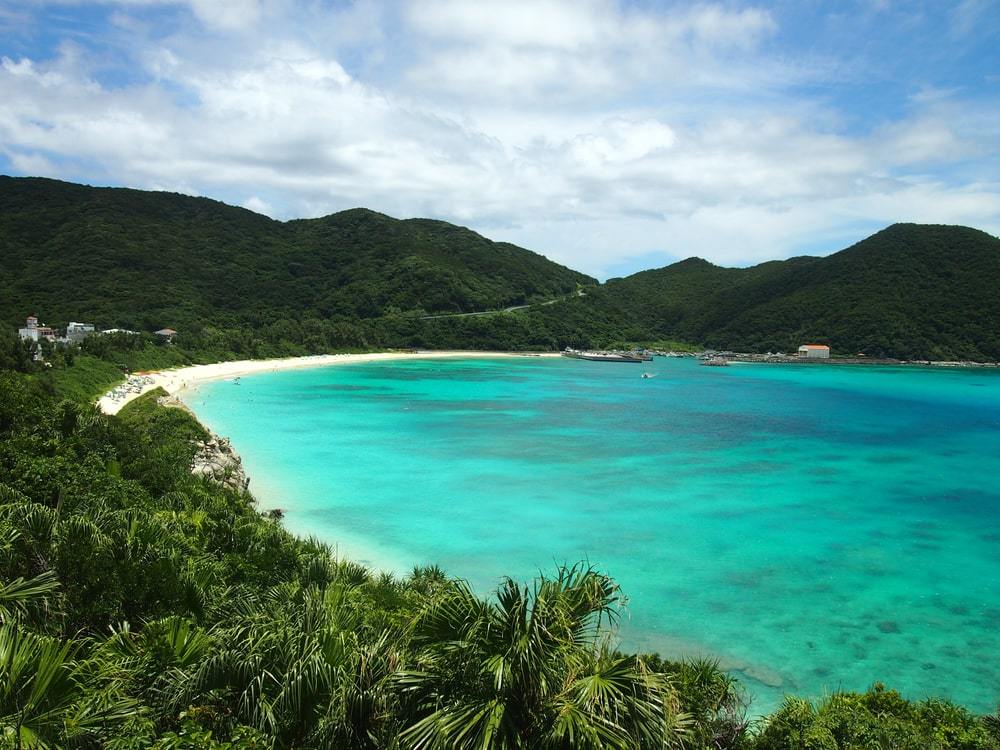 Who It's For: This one ticks a lot of boxes since it's divided into three parts. There are areas for playing, resting, and viewing. Families will enjoy the beach and nearby activities.
Don't Miss: Okinawa Churaumi Aquarium, one of the best aquariums in Asia.
If you can get past the fact that this place isn't a natural beach, you'll have a wonderful time in some of Okinawa's clearest waters. You'll also see why the beach gets its name, with the turquoise and emerald waves lapping against the shore.
Emerald Beach was created as part of the Ocean Expo Park on the tip of the Motobu Peninsula. There's a direct shuttle from Naha Bus Terminal.
You've seen boxy cars in Japan, well now get ready for a boxy house. This unique shipping container cottage has a small wooden deck where you can enjoy the sea breeze.
Have you even stayed in Japan if you haven't slept on a futon atop a tatami mat? Hostels are scarce on the Motobu Peninsula, so it's a half-hour drive if you stay here.
Right next to the Ocean Expo Park and Emerald Beach is the three-star Centurion Hotel. Splash out extra for an ocean view room to admire the island of Iejima.
This beautiful private hut gives a taste of traditional Japan with its tatami mats and futon beds. It's the perfect relaxation space, and it's shockingly inexpensive!
Okinawa Churaumi Aquarium
Visit one of the most impressive aquariums in Japan, which boasts over 26,000 creatures. It's one of a few aquariums in the world that has whale sharks. [image credit]
Oceanic Culture Museum and Planetarium
Be blown away by fascinating displays on the history and culture of Okinawa and the rest of the Pacific before admiring the night sky in the planetarium theatre. [image credit]
Nago Pineapple Park
A small theme park which deals in all things pineapple. Yes, you heard that right. And now you want to go, don't you? [image credit]
Paddle Board
Try the world's fastest-growing board sport with this beginners' SUP class.
Cycling Tour
Stop off for some time in the shade with locals on this cycling tour of Nakijin Village.
Kayaking
Snorkel at a coral reef before enjoying a traditional Okinawan meal on this kayaking adventure!
Small Pack Problems? 😉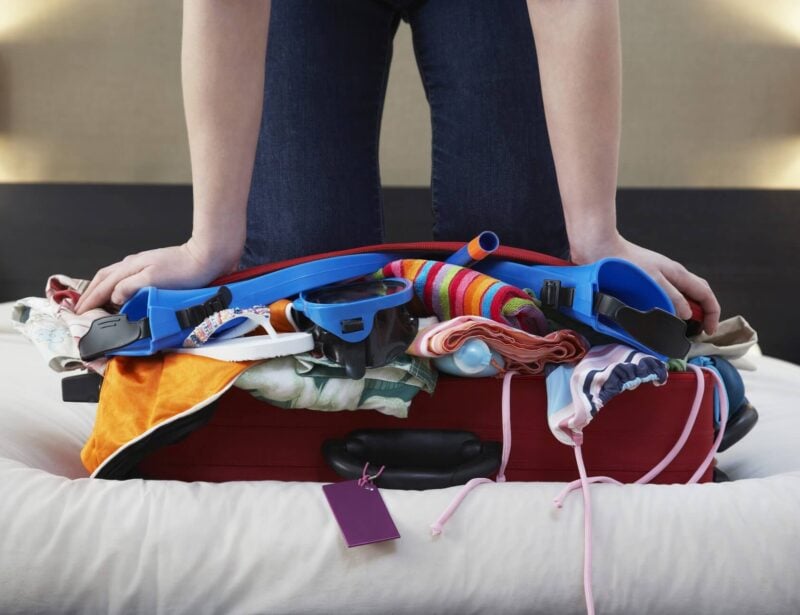 Wanna know how to pack like a pro? Well for a start you need the right gear….
These are packing cubes for the globetrotters and compression sacks for the real adventurers – these babies are a traveller's best kept secret. They organise yo' packing and minimise volume too so you can pack MORE.
Or, y'know… you can stick to just chucking it all in your backpack…
Get Yours Here
Read Our Review
Most Beautiful Beach in Okinawa | Furuzamami Beach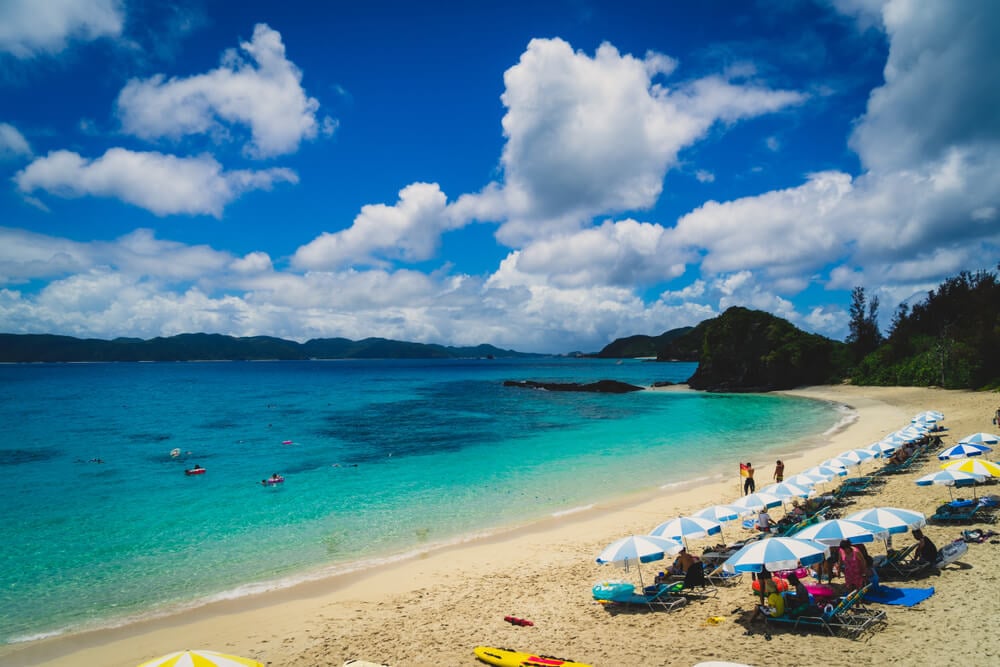 Who It's For: Day trippers to Zamami Island looking to try snorkelling, diving, and kayaking.
Don't Miss: Panoramic views of the East China Sea from one of the islands many viewpoints and miradors.
For those who want to get off Okinawa's main island, Furuzamami Beach is a great option and is one of our favourite beaches in Okinawa. This stunning stretch of sand is around an hour from Naha (which is one of the best places to stay in Okinawa) by a high-speed jetfoil.
On the southwest corner of Zamami Island, you're able to snorkel, dive, and kayak. You can swim in some areas, but others are off-limits due to coral conservation. Want more than a day trip? You can camp here or stay in one of the accommodations listed below.
If you're planning a day trip to Furuzamami Beach, check out this awesome hostel in Naha. It's near the ferry port so you can make an early start to Zamami-Son.
There are some resorts on Zamami-Son, but if you're looking for an affordable hotel, Guesthouse Iyonchi is your best bet.
Want an authentic experience of Okinawa life without breaking the bank? This homestay offers an unforgettable experience that few of your mates will have had!
Takatsuki-Yama Observation Deck
Get a view across Zamami-Son and the surrounding islands from the Takatsuki-Yama Observation Deck.
Zamami Village Peace Monument
Explore the first landing site of the Battle of Okinawa.
Marilyn's Statue
Take photos of the statue of Marilyn – a dog waiting for her lover to come back from Aka Island to play with her.
Snorkeling
See Okinawa's underwater residents with a swimming and snorkelling trip in Kerama National Park.
Underwater Photography
Want some really incredible memories of your diving trip? This underwater photography course should do the trick.
Whale Watching
Have a whale of a time watching, err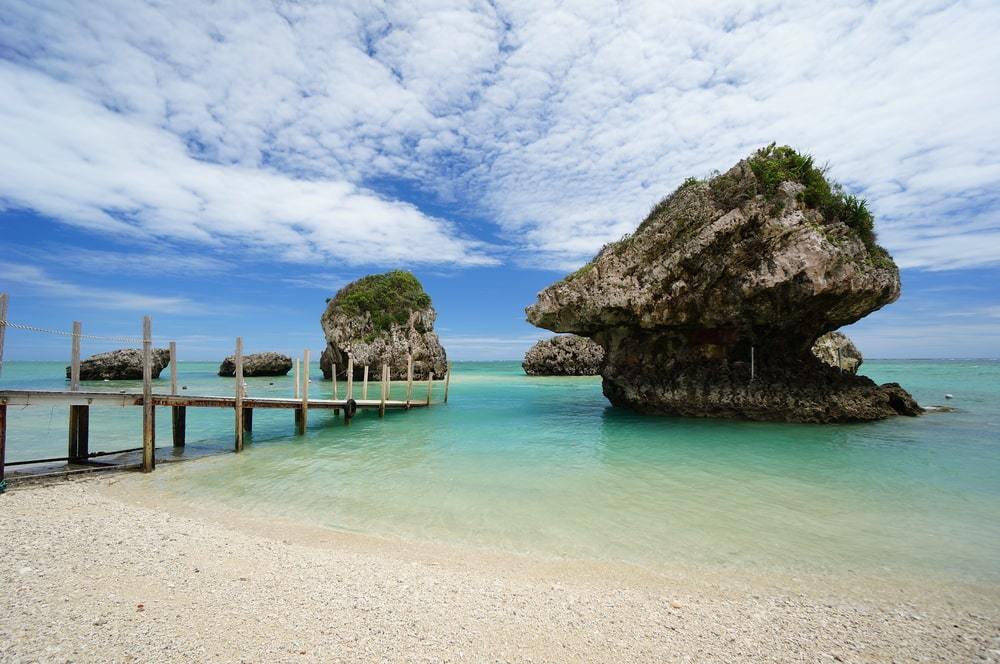 Who It's For: Tourists who want to escape the crowds without straying too far from capital Naha.
Don't Miss: Capital Naha. It may not boast the best beaches in Okinawa, but its historic attractions are a must for history buffs.
On the southeastern shore of Okinawa's main island, this is one of the easiest beaches to get to from Naha and nearby Nanjo. While many of Okinawa's beaches offer the same white sands and turquoise waters of Mibaru, they haven't got the unusual rock formations that stand in the water.
Why not take a glass-bottomed boat to see the nearby reefs – they're filled with bright coral and are a hive of activity.
The indoor camping set up of this lovely house means you'll be able to enjoy the great outdoors… even in rainy season!
In a convenient location by the bus terminal and station, Santiago Guesthouse is one of the best hostels in Naha. And it's less than half an hour from Mibaru Beach.
A distinctive and modern building in Nanjo. Rooms have private balconies that overlook a garden.
Make the most of the beach and the forest at this Japanese tiny house, also in Nanjo.
Okinawa World
Sample snake liquor in an underground cave packed with stalactites and stalagmites. [source: TayHamPhotography (Shutterstock)]
Shuri Castle Park
Admire traditional Okinawan gusuku architecture at Shuri Castle Park – restored in 1992. [source: Sean Pavone (Shutterstock)]
Makishi Public Market
The islands' cuisine is legendary; where better to try it than the "Kitchen of Okinawa".
Bar Hopping
You've spent the day at the beach, now see what Okinawa has to offer at night with this bar-hopping experience.
Sushi-Making Class
Learn where to put the wasabi in a sushi-making class.
Is This the Best Daypack EVER???
Quietest Beach in Okinawa | Yonahamaehama Beach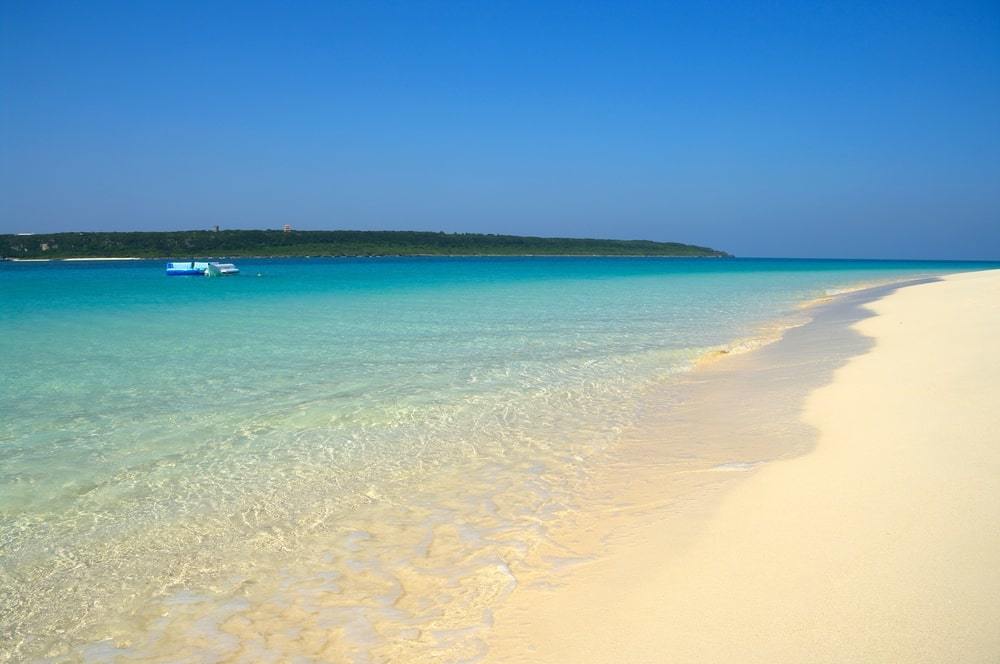 Who It's For: Anyone looking to explore the Yaeyama Islands and has dreamed of having a tropical beach all to themselves.
Don't Miss: Sunsets from Yonahamaehama Beach. They're absolutely stunning!
Miyakojima is the most easterly of the Yaeyama Islands and it's one of the best beaches in Japan. It's here you'll find Yonahamaehama Beach, one of the best beaches in Okinawa. This paradise beach stretches for 7km and is said to have the whitest sand in the Pacific. Well worth the flight to Miyako Airport from Naha!
One of the more affordable hotels on an island full of expensive resorts, Marine Lodge Marea is right by the Yonahamaehama Beach. Take your first diving lesson in their indoor pool!
Families with young children will love this house as pre-schoolers go free. The beach is around 10-15 minutes away by car.
Stay with a local who'll pick you up from the airport to make your trip all the more comfortable. Bike and car rental available for exploring the island.
Kuruma Ohashi Bridge
Get a view of the beach from the Kuruma Ohashi Bridge, which connects Miyakojima to neighbouring Kurumajima. [source: 7maru (Shutterstock)]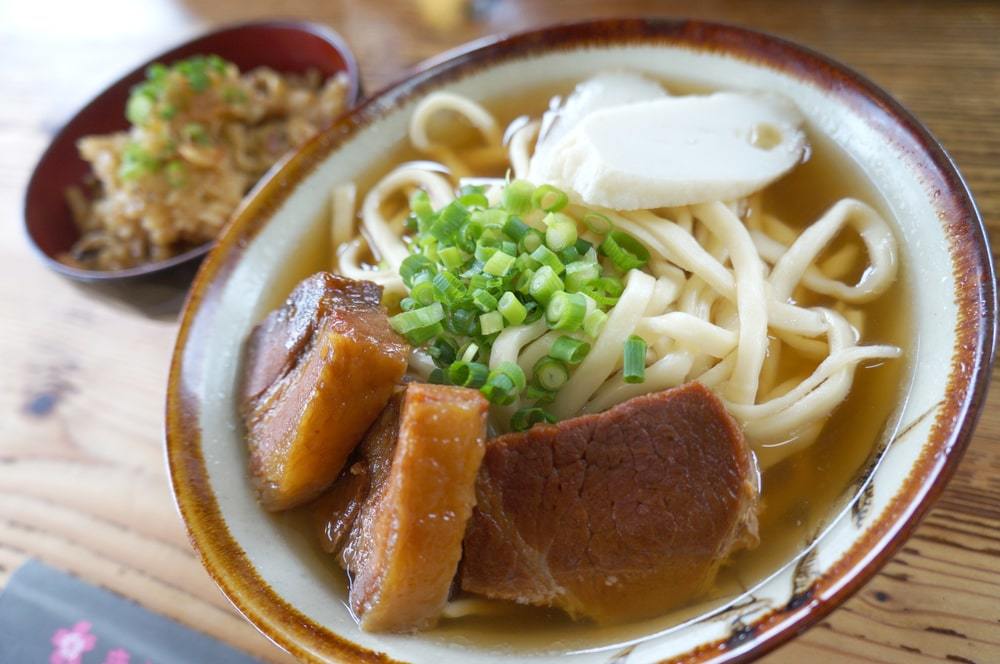 Miyako Soba
Taste Miyako Soba, the island's signature dish, at one of many traditional restaurants. [source: YMZK-Photo (Shutterstock)]
Botanical Garden
Discover plants and trees at Miyako City's Botanical Garden.
Coconut Crabs
Search for coconut crabs on this hike with a local.
Miyakojima Starry Sky Tour
Count the stars above Miyakojima on this night tour.
Fly Board
Get some air on a fly board!
Don't Forget Travel Insurance for Bali
ALWAYS sort out your backpacker insurance before your trip. There's plenty to choose from in that department, but a good place to start is Safety Wing.
They offer month-to-month payments, no lock-in contracts, and require absolutely no itineraries: that's the exact kind of insurance long-term travellers and digital nomads need.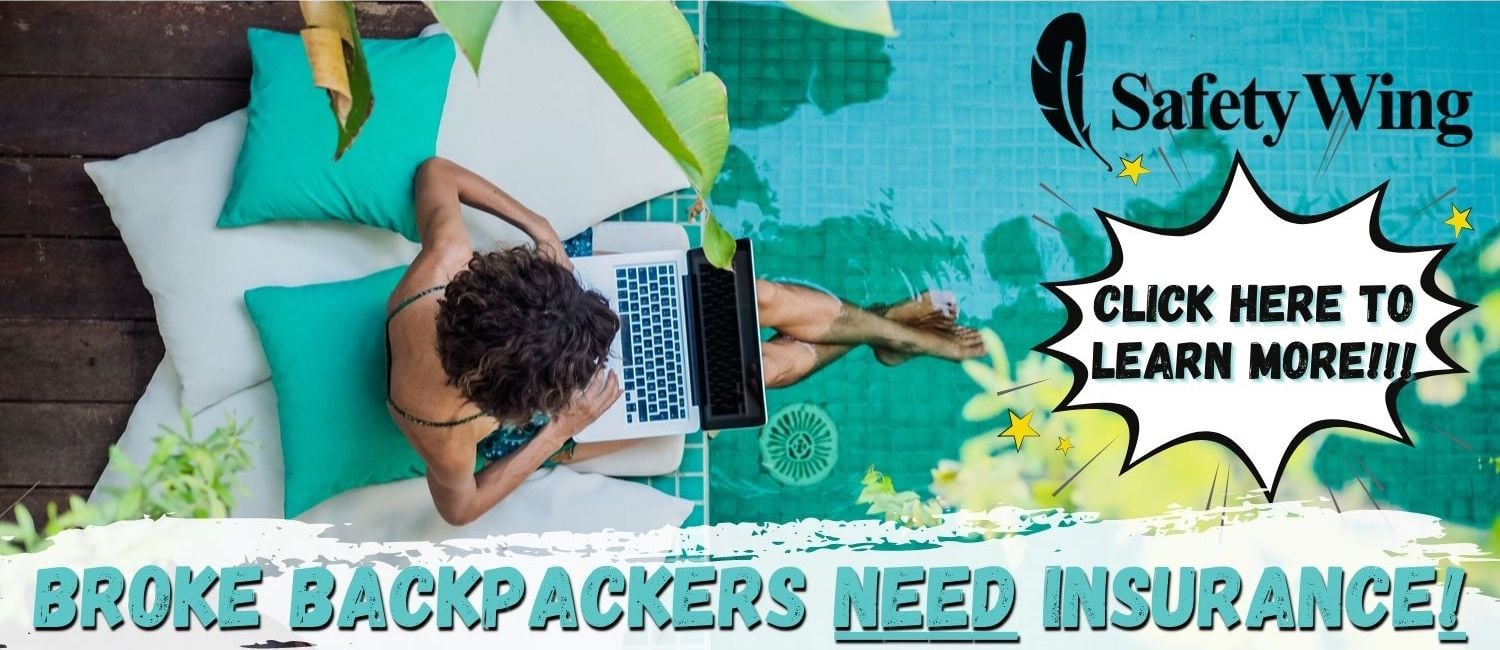 SafetyWing is cheap, easy, and admin-free: just sign up lickety-split so you can get back to it!
Click the button below to learn more about SafetyWing's setup or read our insider review for the full tasty scoop.
Okinawa Packing List
1. Travel Water Bottle: Always travel with a water bottle – it'll save you money and reduce your plastic footprint on our planet. The Grayl geopress is a true behemoth amongst water bottles acting as a purifier AND temperature regulator – so you can enjoy a cold red bull, or a hot coffee, no matter where you are.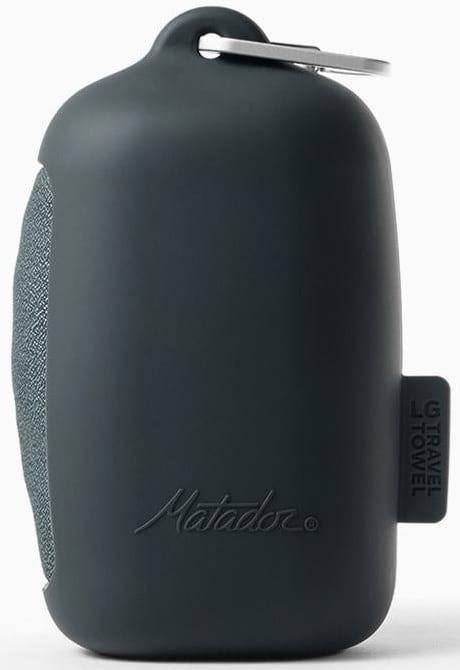 2. Microfibre Towel: It's always worth packing a proper towel. Hostel towels are scummy and take forever to dry. Microfibre towels dry quickly, are compact, lightweight and can be used as a blanket or yoga mat if need be.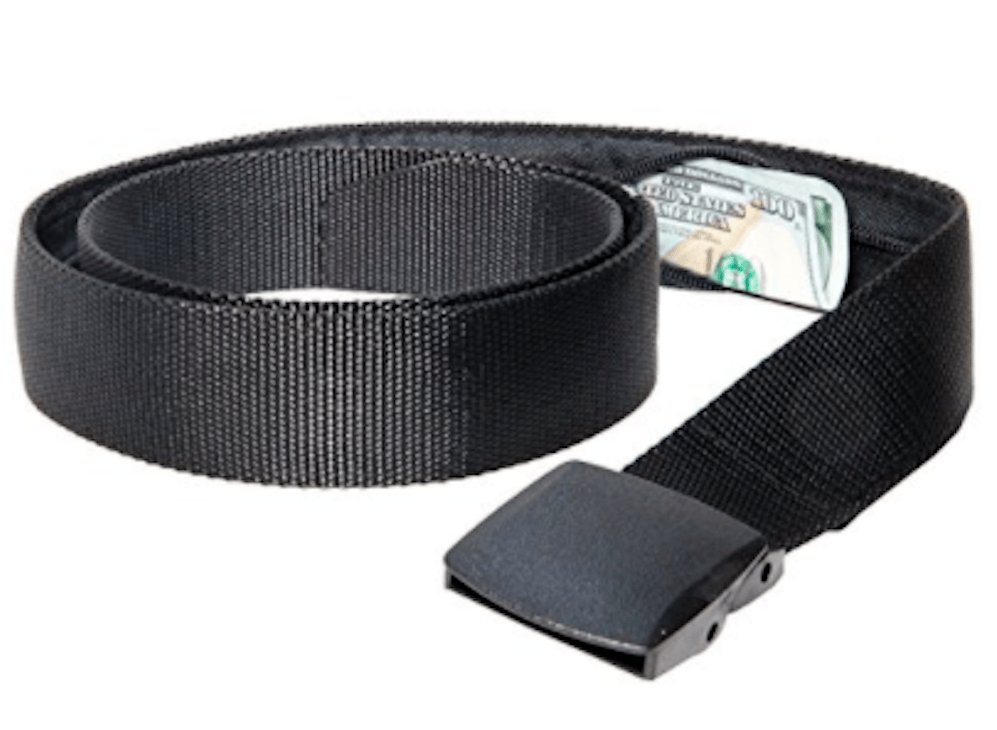 3. Security Belt with Hidden Pocket: I never hit the road without my security belt. This is a regular looking belt with a concealed pocket on the inside – you can hide up to twenty notes inside and wear it through airport scanners without it setting them off. This is hands down the best way to hide your cash.
4. Camera or Cell Phone Camera Accessories: One thing's for sure – Okinawa is a picturesque destination! Get perfect shots from your phone using clip-on-lenses with wide-angle, close-up and optical zoom. With the ability to turn travel pictures from basic to professional, this universal lens sits neatly over any phone camera and comes with a durable, travel-friendly case!
5. International Adapter: Okinawa outlets accommodate typical US two-pronged plugs, but for electronics that have three prongs or if your plugs are of a different variety, you'll need an adapter. Save yourself the hassle of trying to track down an adapter at your destination and paying twice as much than planning ahead by buying one online.
Final Thoughts on the Best Beaches in Okinawa
Now that you know more about the best beaches in Okinawa, you can start to plan your trip. Though the islands might look small on a map, some of the beaches are quite far apart – even those on the main island! However, if you've got plenty of time, that shouldn't be a problem – and it's well worth fitting as many as you can into your trip.
Whether it's the family-friendly atmosphere of Manza Beach with its scores of activities, the seclusion of Mibaru Beach, or having an enormous stretch of sand to yourself at Yonahamaehama Beach, you're sure to find a place that you'll love in Okinawa.
While you're on the islands, make sure to enjoy the unique cuisine here and historical sites like Shuri-Jo Castle. This stunning archipelago is one of Japan's must-visit destinations – especially while it's still a bit of a secret. We hope you have a great trip!
---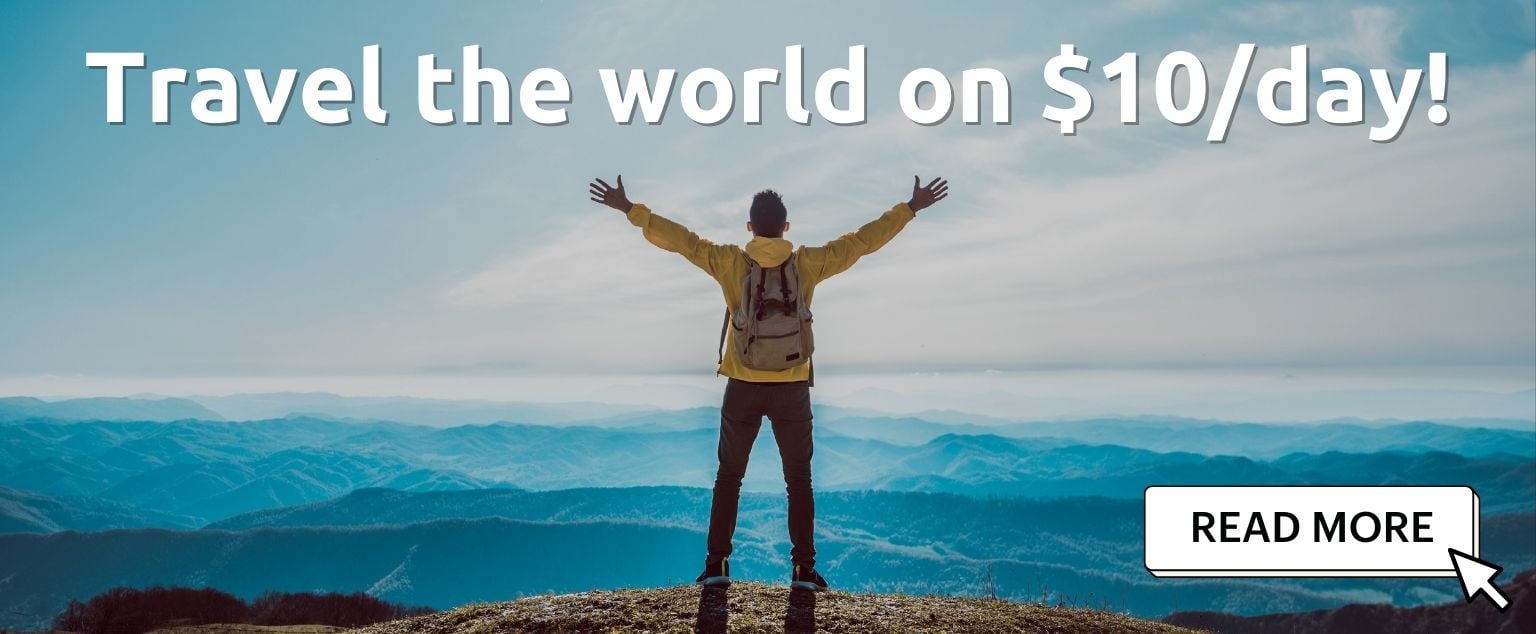 And for transparency's sake, please know that some of the links in our content are affiliate links. That means that if you book your accommodation, buy your gear, or sort your insurance through our link, we earn a small commission (at no extra cost to you). That said, we only link to the gear we trust and never recommend services we don't believe are up to scratch. Again, thank you!