Okinawa is one of the Eastern Hemisphere's hidden paradises. When it comes to adventures such as snorkeling, water buffalo tours, and sunsets from the beach, there are not many tropical getaways in the South China Sea better than here!
Commonly known as the "Okinawa Prefecture", this archipelago is made up of over 160 islands. Due to this, outdoor activities are in no short supply, and you can guarantee a scenic trip.
Some of the most unmissable things to do in Okinawa come from island-hopping. Whether its visits to the Ishigaki and Zamami islands or exploring the many smaller, uninhabited islands, Okinawa, Japan, is diverse, to say the least.
Come with us as we take you from island to island, showing you the variety of Okinawa activities on offer here. From romantic strolls on the beach to night-time adventures and everything in-between.
Book your flights, pack your bags, and get ready to have a tropical holiday unlike any other! Here are some of the most popular and unique things to do in Okinawa Prefecture, to get you amped!
Top Things to Do in Okinawa
From snorkeling to spelunking, get ready for a lot of outdoor fun! Here are some of the most essential things to do in Okinawa.
Snorkeling at the Blue Cave is one of the most fun things to do in Okinawa, hands down! The Blue Cave itself is situated on the main island of Okinawa and is the most famous snorkeling spot in the area.
For those who have never experienced snorkeling before, not to worry! You'll be well trained and educated in the art of diving after a visit here.
Before any snorkeling is done, you're briefed on the tides, how to use a snorkel, and safety measures to follow at all times. Safety is number one at the Blue Cave, followed closely by some spectacular photos of indigenous fish, the large cavern, and its crystalline water.
2. Take a Visit to Naha's Colorful Shuri Castle
A visit to Shuri Castle is one of the most popular things to do in Okinawa! It boasts a history that goes back to the Ryukyu Kingdom of Ancient Feudal Japan, as well as more modern history during WWII.
After the Battle of Okinawa, the castle was almost destroyed. It was only in 1992 when the outer exterior was finally restored. Today, it's the sight of the University of the Ryukyus, as well as being a UNESCO World Heritage site.
A walk around its grounds will give you a great sense of Japan's history. From its involvement during WWII, the ancient history of the Ryukyu Kingdom. Well worth it if you're interested in Ancient Okinawan heritage.
FIRST TIME IN OKINAWA
Nago
Nago is a city located in the northern part of the main Okinawa island. It is a popular destination for visitors to the archipelago and a great place to stay for your first visit to Okinawa.
Places to visit:
Encounter tropical marine life at the Busena Marine Park
Take the kids out to see wildlife at the Neo Park Zoo
Discover pineapples under a new angle at the Pineapple Park
For more Places to Stay, check out our full Okinawa Neighborhood Guide!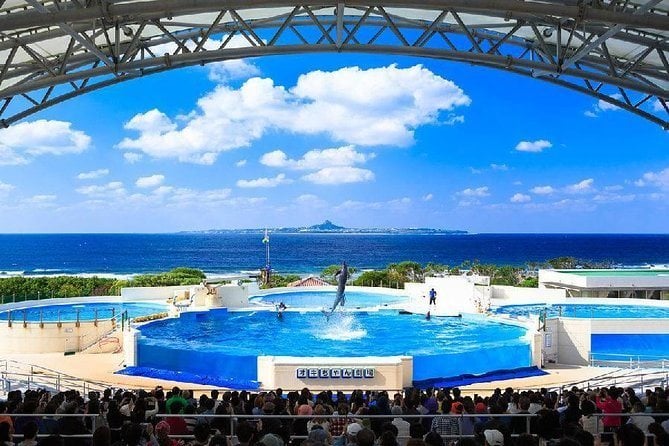 Churaumi Aquarium is one of the unmissable things to do in Okinawa, Japan. One of the best family activities in the area, this aquarium sees hundreds of thousands of visitors every day.
Its emphasis on conservation and the reintegration of endangered sea creatures makes it increasingly attractive and supported. Here you'll find manta rays, dolphins and the huge whale shark!
Throughout the day there are shows and exhibits available for your viewing. The aquatic shows and exhibits come thick and fast, with the Ocean Expo Park boasts a wide variety of talented and interesting creatures.
It also has the first-ever successfully bread Manta Alfredi!
Next to mainland Okinawa, Taketomi is one of the best places to visit in the Okinawa Prefecture. Known as one of the prime resort locations in this archipelago, Taketomi is a tropical paradise!
As we mentioned above, inter-island travel is very common within a cluster of islands, and next to Okinawa Island, Taketomi is the next most frequented spot. With its beautiful beaches and healthy marine life, it's not hard to see why!
Culture and tradition abound here, with their famous Water Buffalo Carts and Local Markets selling the same products since the start of the decade!
With the best beaches in Prefecture, it's no wonder it's one of the best spots around.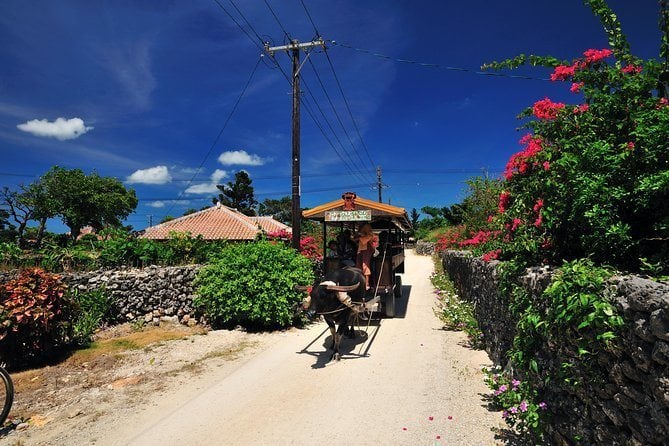 In the Okinawa Prefecture, ancient Japanese culture has remained relatively untouched, due to its detachment from the mainland. To experience this still active culture through observing the locals and their daily practices is an honor and privilege.
One of the must-try cultural activities in the area is to travel the islands via Water Buffalo Cart. These ancient, mythical beasts are very close to Japanese heritage and lore!
They have grazed in the fields and labored with the locals for years, whether it be pulling plows or carts. To go on a buffalo cart is to travel as the locals have since their early days. A must for any traveler looking to get that authentic local experience.
6. Go Whale Watching off the Coast of the Kerama Islands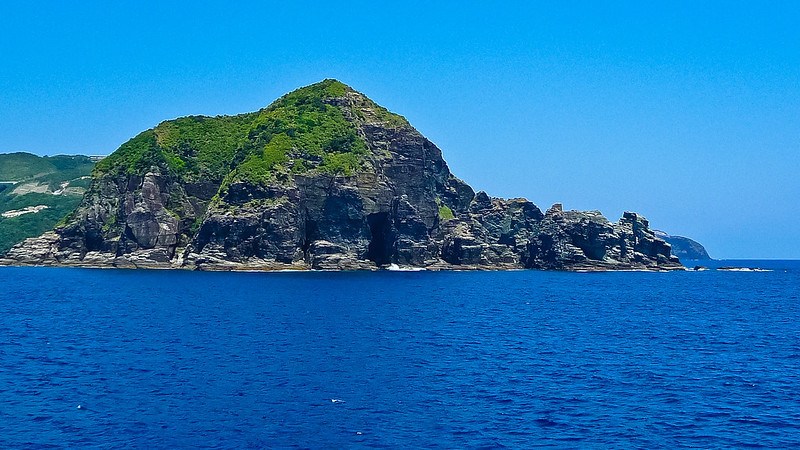 Due to its location within the East China Sea, as well as the Greater Pacific Ocean, the Okinawa Prefecture sits directly in the path of some whale migratory patterns!
The most common whale for watchers to site during their expeditions are the humpback whales, however, it's not uncommon for a variety of these "elephants of the sea" to be seen. Peak migration is between January and March, so book wisely! Whale watching is a great addition to any Okinawa itinerary.
If you're looking to refine your options regarding where to launch from, the Kerama Islands are probably your best bet. They have a great track record of seeing some incredible sightings out on the great blue.
Small Pack Problems? 😉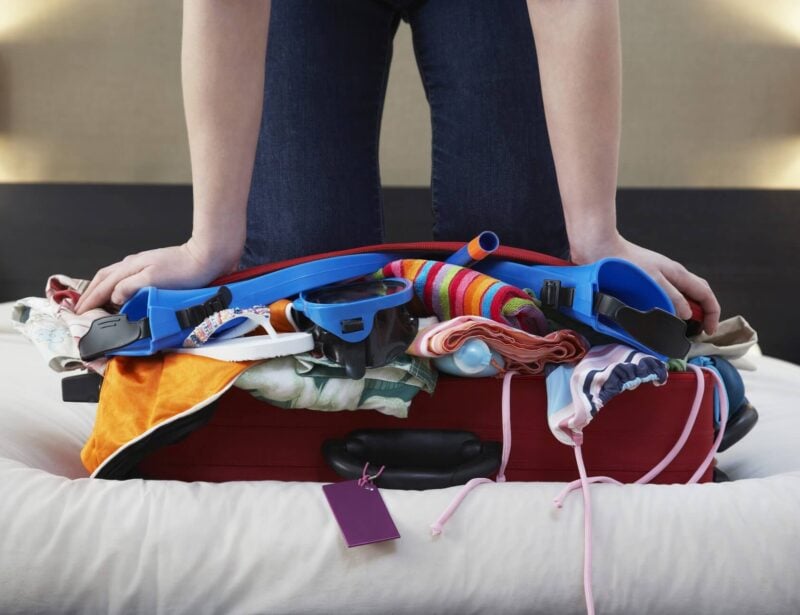 My missus travels with all her clothes in ziplock bags: don't be like my missus. UP YOUR PACKING GAME!
Packing cubes for the globetrotters and compression sacks for the real adventurers – these babies are a traveller's best kept secret. They organise yo' packing and minimise its volume too so you can pack MORE.
Or, y'know… you can stick to ziplock bags.
View Our Fave Cubes
Or Check Out the Sacks!
Unusual Things to Do in Okinawa
As Okinawa things to do go, almost every things are in some way unusual. However, we've found the most unique things to do in Okinawa just for you!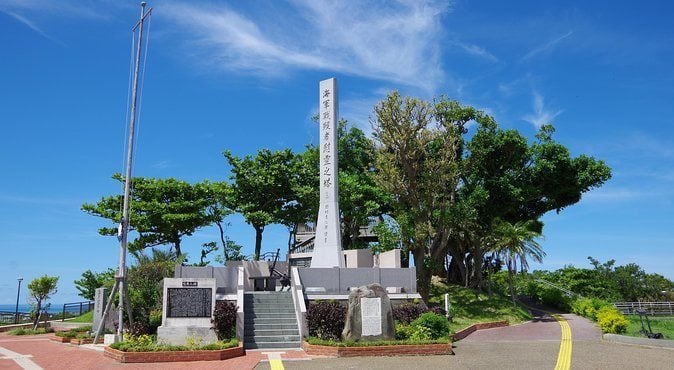 In 1944, during the height of WWII to the retaliation of the Allied forces, Okinawa was one of the primary naval operations sectors across Japan. This tunnel network was built as a fortification against that retaliation.
Half a mile long, this network of tunnels was once designed to withstand heavy bombardment from naval assault. Today, it stands as a memorial for those who lost their lives during the war, and as an advocate for peace!
Now, the walls that are lined with reinforced steel are also lined with pictures of some of the acting officers who died here. There are memoirs and exhibits throughout the network, making for an informative and appreciative walk.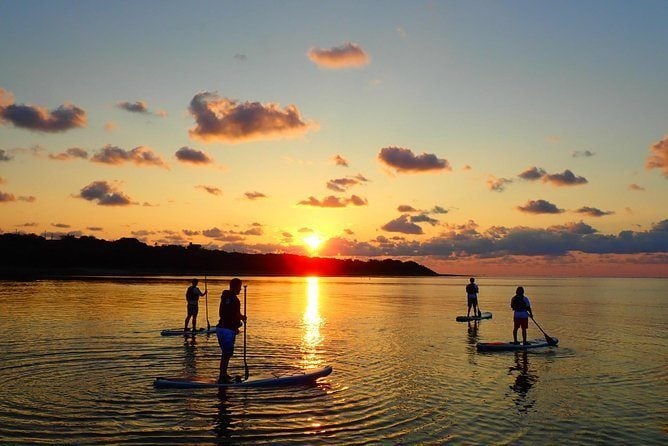 In paradise, you can imagine that sunrises and sunsets are some of the most beautiful sights you'll see. And, you're not wrong!
So, why not hire out a standing canoe, make your way into the reef-protected bay, and catch a spectacular Okinawan sunrise on the still water. Sounds like tropical heaven, right?
You'll be met with the early morning chorus of the indigenous birds along with the gentle lapping of waves upon the shore, and you'll feel like you're in a book. If experiencing this tropical paradise in its most unfiltered state your goal, then this is a must-do in Okinawa for you.
9. Explore the Local Okinawan Cuisine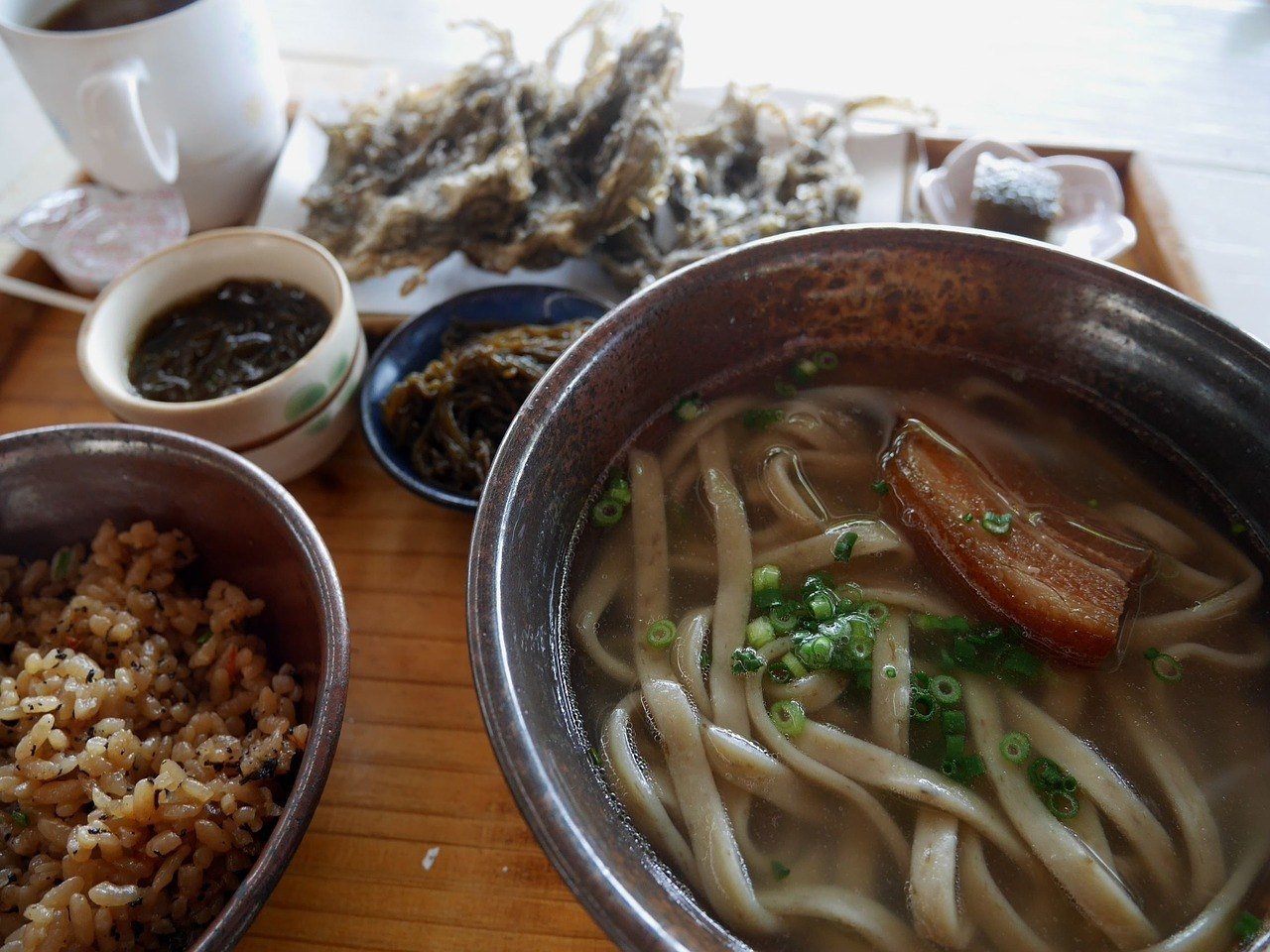 Common knowledge usually tells us that Japanese cuisine is best appreciated on the mainland. However, Okinawa boasts some of the most unique foods across all of Japan, not found anywhere else!
Make an effort to go try noodles on Yaeyama Island. As unique items go, Yaeyama offers a "soba" not found on any of the other islands (made of white wheat).
Another great spot, if you're interested, is the Makishi Markethuri. Located in Okinawa City, this market holds the nickname of "The Kitchen of Okinawa". The market is as old as WWII and offers some seriously unique dining options. Try the preserved sea snakes, if you dare!
Safety in Okinawa
Things to do in Okinawa alone are made more preferable and enjoyable by the fact that the Prefecture is as safe, if not more so than mainland Japan.
Violent and petty crimes are at near-zero levels. Locals are more than happy to leave their properties unlocked and open due to this. Although it's always wise to keep vigilant in populated areas such as Naha, Okinawa is as safe as safe can be!
Check out our roundup of the best travel insurance.
Travel with peace of mind. Travel WITH a security belt.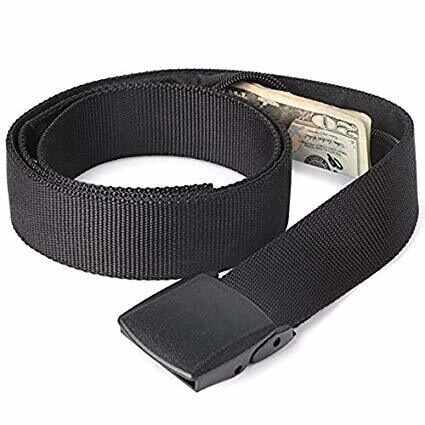 Get your cash stashed with this awesome Pacsafe money belt. It will keep your valuables safe no matter where you go.
It looks exactly like a normal belt except for a SECRET interior pocket perfectly designed to hide a wad of cash or a passport copy. Never get caught with your pants down again! (Unless you want to.)
Hide Yo' Money!
Things to do in Okinawa at Night
With its vibrant tropical attractions, it's no surprise that Okinawa's nightlife is just as vibrant. Here are a couple of things for you to do after the sun sets!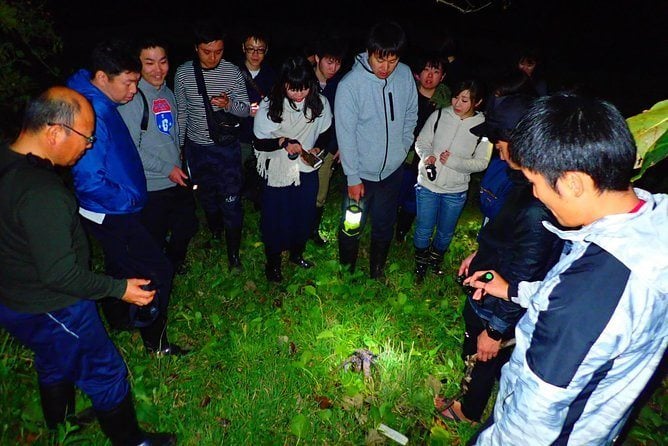 One of the most unique things to do in Okinawa is to catch an evening boat to the island of Ishigaki and go nighttime creature spotting. The island hosts a bunch of tropical creatures not seen at all on the mainland!
Ishigaki is home to some of Okinawa's best natural experiences. As the sunsets, you can make your way onto its shores and begin your exploration, in search of the iconic Coconut Crab!
However, searching for crabs is not the only attraction here. Once a couple of hours have passed, turn your torch off, and peep the light show. Behold, the Milky Way Galaxy with its millions upon millions of stars, unlike you've ever seen them before!
11. Have Fun Bar Hopping in Naha
Naha is the capital city of Okinawa and in turn, is also its hub for all things nightlife. Although not as bright as Tokyo's, Naha's nightlife is still as vibrant and attractive as you could want.
The city is split into groups of suburbs that make for varied festivities and socializing. It all depends on what you're looking for!
Kokusai Dori is Naha's main tourist street, with lots of shops, restaurants, and bars. Great for if you want to be where other internationals are. In comparison, the Sakurazaka and Matsuyama areas are good for a more local scene.
Sakurazaka is good for those looking to frequent a more bar-centric, with lots of izakayas, where Matsuyama is more focused on clubs.
Where to Stay in Okinawa
Looking for a specific place to stay? These are our highest recommendations for places to stay in Okinawa.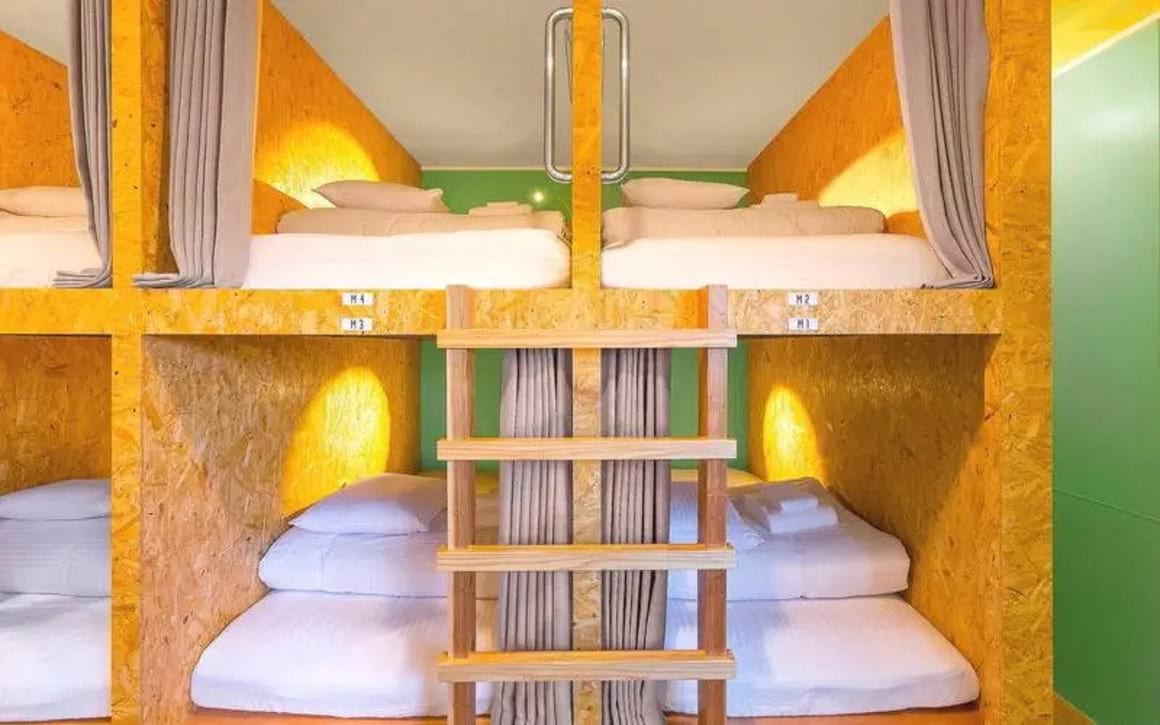 Seawall Hostel is located on Okinawa's main island and offers budget accommodation next to the beautiful sea. The hostel offers both private rooms with a shared bathroom and bunk beds in dorm rooms. The beds have their own reading light and a dark curtain for privacy. Free wifi and a free parking are available for guests.
If you love hostels, you should check out our list of the coolest hostels in Okinawa!
Just minutes from this beach is this little apartment that is absolutely THE spot you want to stay for the first time visiting the city! Lounge around the leather couches or get cozy with a cup of matcha overlooking the little town of Nago! Don't miss the beautiful sunsets from this place located in the heart of the city.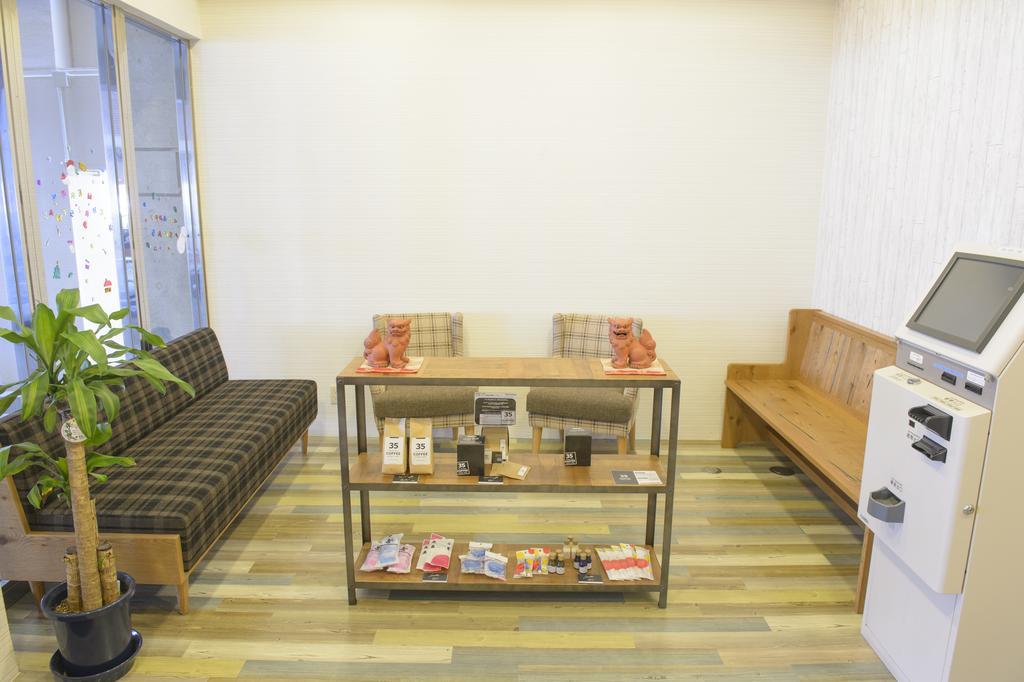 Hotel Stork Naha offers simple but comfortable rooms in the capital of Okinawa, Naha. The rooms feature a loft bed, a private bathroom, air conditioning and a desk area. The hotel also provides a free wifi connection and guests can use a shared kitchen at their convenience. Soft drinks can also be consumed for free.
Romantic Things to Do in Okinawa
As a tropical resort, you can't get much more romantic than sunsets on the beach! Here are a few more romantic things to do in Okinawa for couples.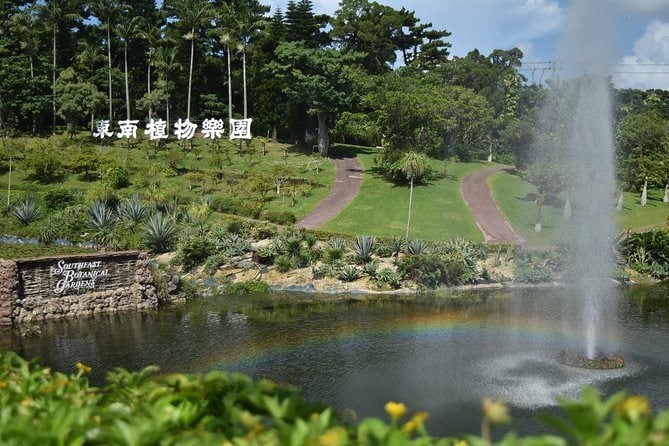 This is most likely the most beautiful natural spots on all of Okinawa Island! As nature reserves go, you probably won't find many as unique as the Southeast Botanical Gardens, with its unique Dragon Blood trees dominating the area.
There are over 1,300 types of plants here, from the mighty Baobab to the ever-present lotus flowers. Bring your loved one here for a memorable stroll and admire the local foliage that makes for a scenic walk.
With its petting zoo and onsite activities to keep you busy if you get bored, you'll most likely find that the iconic Alexander palm trees and unruffled birdlife make for the perfect afternoon in paradise!
13. Catch a Cruise to Zamami Island
Only fifty minutes from mainland Okinawa via express ferry, Zamami Island holds the disputed title as having the "most beautiful beach in the world". The whole island is a designated national park, including the surrounding ocean, and is thus in pristine condition.
Known as the "Kerama Blue", you can enjoy a perfect day away from the popular sites with your significant other, and explore the fresh terrain of both land and sea. Furuzamami is the beach in question and has to be your first stop for a moment of appreciation as it's one of the best beaches in Okinawa.
From there, the island is your playground! Snorkel in the ultra-clear waters, get a view of the land on Mt. Takatsukiyama or watch the island's celebrated sunset from Marilyn's Statue.
Best Free Things to Do in Okinawa
The nice thing about visiting Okinawa is that it has a natural beauty that doesn't cost a cent to see! Here are some of the best things to do in Okinawa on a budget.
14. Fukushu-En Park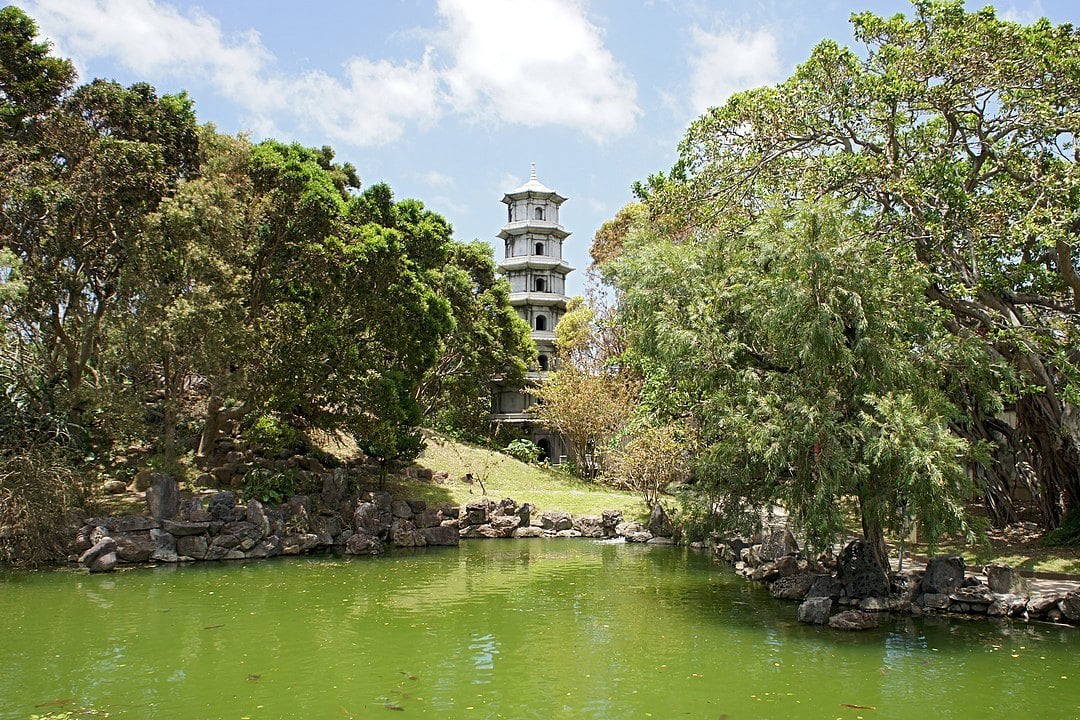 Also known as the "Shikina-En Garden", Fukushu-en Park was built in 1992 to celebrate the strong alliance Naha City and China's Fuzhou City had maintained for 70 years.
The park boasts a large area with repurposed subsections. Today you can find there two be four sections of the park, each representing a different season. All centered around the beautiful koi ponds with their large inhabitants of turtles.
The gardens are immaculately maintained, with two large koi ponds being kept pristine. The peaceful alliance that brought this garden into existence, today reflects the same peace. A walk here is perfect should you wish to experience the "zen" the Japanese often refer to!
Is This the Best Daypack EVER???
15. Okinawa Peace Memorial Park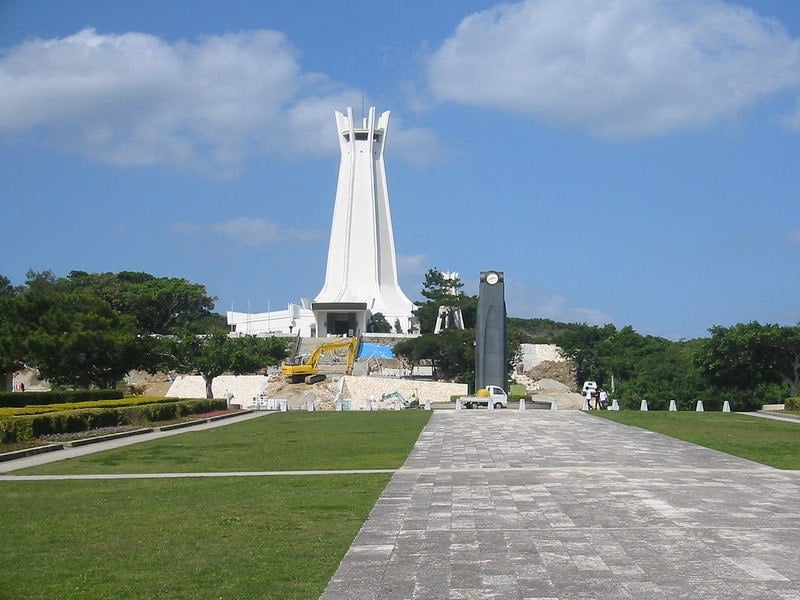 Finally, it would not be a proper Okinawa to-do list without a mention of its revered memorial park. Okinawa has a scarred history of conflict, especially during WWII and the Battle for the Pacific.
Today, sitting atop the Mabuni Hill, above the rest of the city, sits the Okinawa Peace Memorial Park. Here, where the last battle in Okinawa took place, now stands erected "Cornerstones of Peace".
On each of the 32 memorial stones are written the names of those who lost their lives during the battle here. Although today it is a memorial park, families will come here on weekends to enjoy the gorgeous surroundings, as well as pay their respects to the fallen.
Books to Read in Okinawa
Lonely Planet Japan Travel Guide – It's always worth having a Lonely Planet packed away, plenty of useful info on routes and where to go.
A Geek in Japan: Discovering the Land of Manga, Anime, ZEN, and the Tea Ceremony – Comprehensive and well informed, the book covers a wide array of topics with numerous photographs, providing a lively digest of the society and the unusual culture of Japan.
Kaffka on the Shore – When you talk about Japanese literature, Murakami is the first name that comes to mind. A master craftsman of words, this guy is one of the coolest writers in the genre of magical realism. This book is an elegant and dreamlike masterpiece.

Unlock the The Broke Backpacker's GREATEST Travel Secrets!
You pop your email here, and we promise to send you only travel content that's actually relevant — sounds like a pretty good deal to us!
Things to Do with Kids in Okinawa
Okinawa tourist attractions don't only revolve around beach resorts and long walks. There are also some great activities for both you and your kids to enjoy!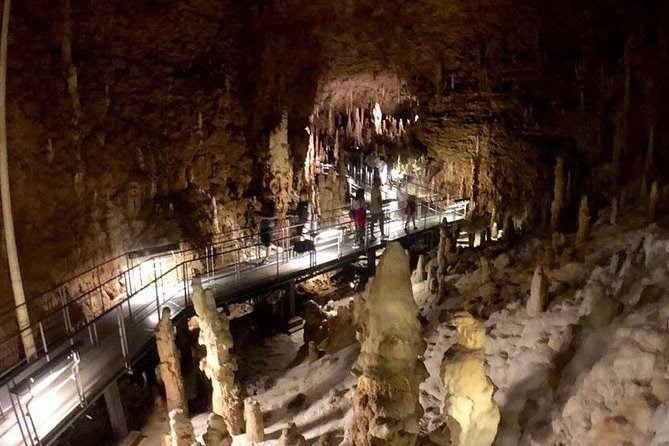 Okinawa World is one of the best spots in the area for kiddies and adults to go to, to appreciate the Okinawan culture. As theme parks go, it balances the events and activities with the exhibits very well, with its good mixture of things to see in Okinawa, as well as things to do.
One of its main attractions is its 300,000-year-old limestone cave. Discovered in 1967, Gyokusendo Cave stretches three miles underground, from end to end. Its filled with thousands upon thousands of stalagmites and stalactites, and makes for an eye-opener!
Alongside this, the theme park's Kingdom Village, with its craft-making, and Habu Park, with its snake museum, are great for keeping your little one entertained!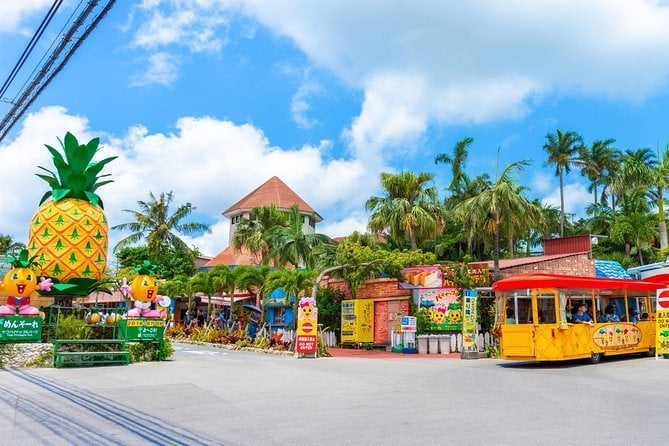 Picture this: fields and fields of pineapples, blossoming out of the ground, with a bright yellow Pineapple cart cutting through them, with a mock pineapple on its roof!
This is what awaits you at the famous Nago Pineapple Park. This theme park is pineapple wild! Everything here is pineapples, from its pineapple fields with their freshly grown pineapples to the pineapple foods and pineapple-themes rides.
Nago park may sound eccentric (and it is), but it's also uniquely Okinawan and makes for a great time with the kids. You'll be surprised what you can make with pineapples!
Day Trips from Okinawa
If you're spending more than 3 days in Okinawa, you're going to need a few more activities to add to your 3 day Okinawa itinerary. Here are our favorite day-trips from Okinawa, that we're sure you'll love.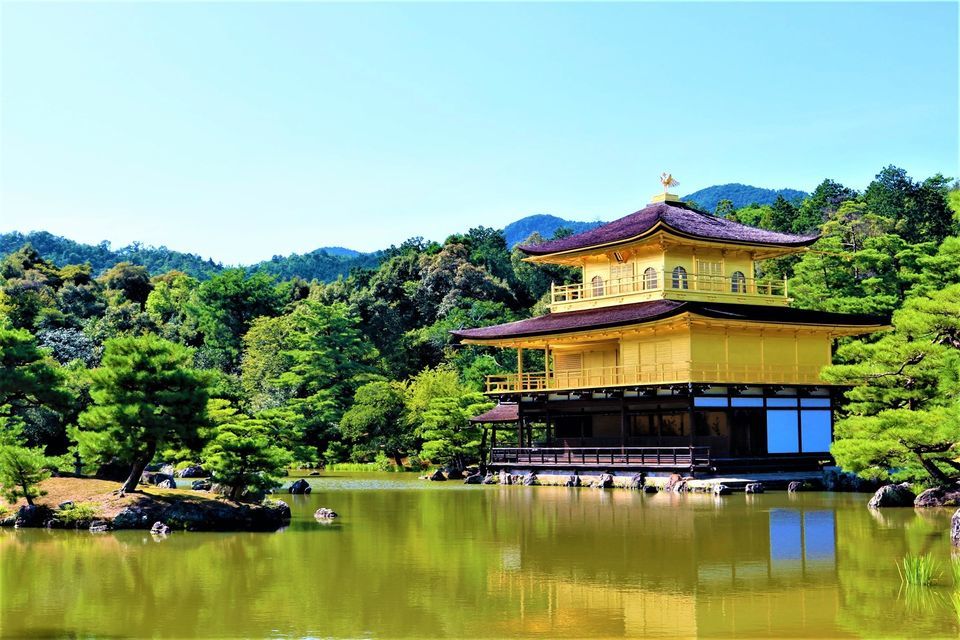 While this tour takes place on Japan's mainland, it's an important tour that will help you understand Japan a whole lot better!
This 9-hour tour excludes the time you'll spend traveling from Okinawa. You'll get the chance to see some incredible historical landmarks, indulge in a tasty Japanese style lunch and explore some of Japan's most mystical temples.
Be sure to take your camera along for the day-trip as you'll see some stunning views along the way. You'll also get the chance to stop off at any location you feel drawn to, to snap you few photos before continuing on your tour.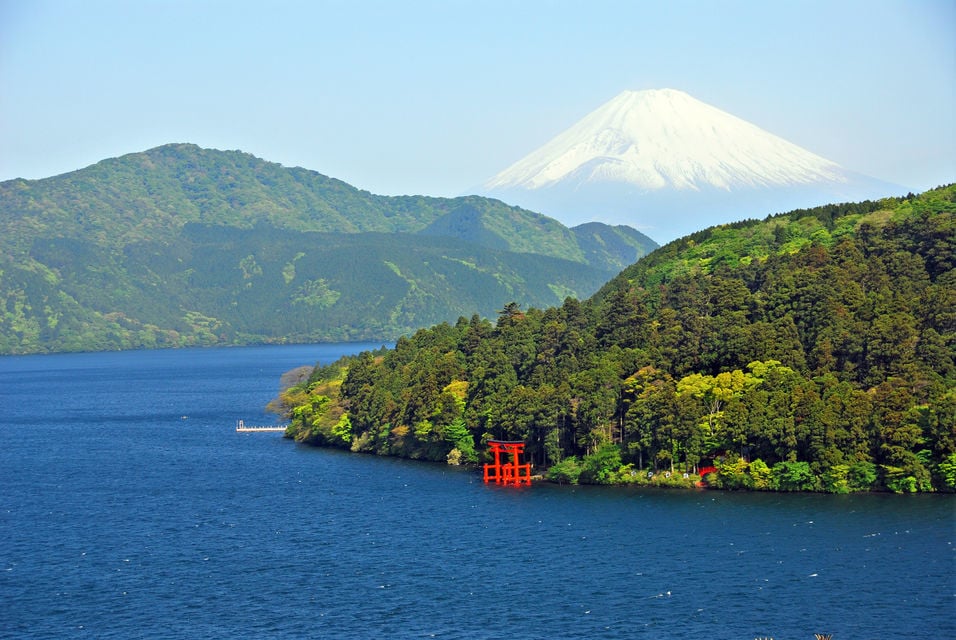 This day trip also takes place on Japan mainland, but it's well worth the trip!
You'll start your trip with a visit to Mt Fuji and experience its splendor. You'll stop at the entrance to climb the mountain and make your way up the path. You'll have access to one of the mountains most epic viewing points to stop and take photos before heading to a buffet lunch with breathtaking mountain views.
You'll then head out on a cruise on Lake Ashi, which also offers spectacular views and incredible photo opportunities.
Temples Tour to Kamakura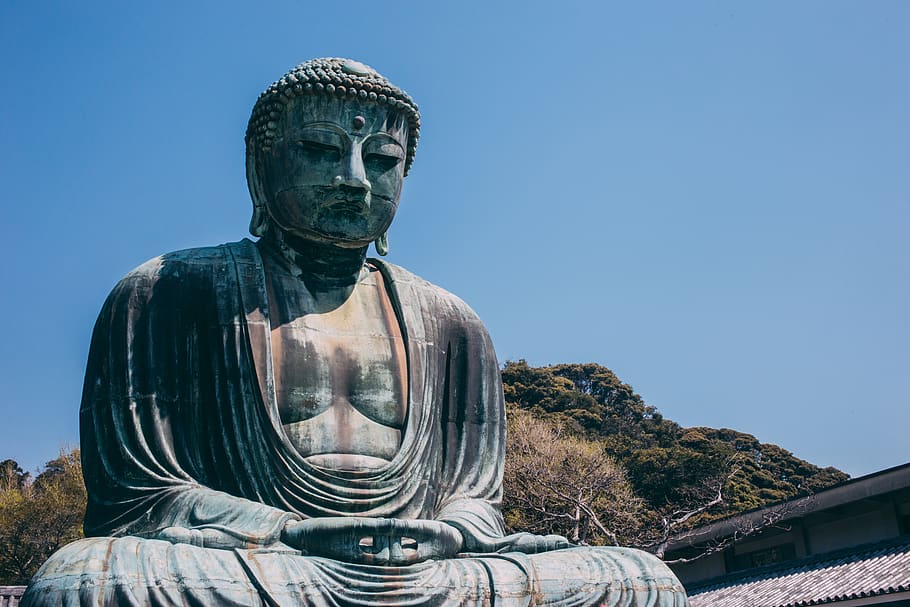 On this 10-hour tour, you'll have to visit Japan's mainland to explore some of the many religious temples in the country.
You'll visit Japan's ancient capital – Kamakura, and visit the cities most iconic Buddha statue. As well as a variety of old temples and sacred buildings.
Along the way, you'll visit many traditional buildings and learn about the history of the samurai. You'll also get the chance to stop off for lunch at one of Japans best seaside restaurants and enjoy incredible ocean views.
You'll then get the chance to undergo a kimono makeover and walk away from the tour with your very own traditional kimono. It really is a day trip not to be missed.
Save $$$ • Save the Planet • Save Your Stomach!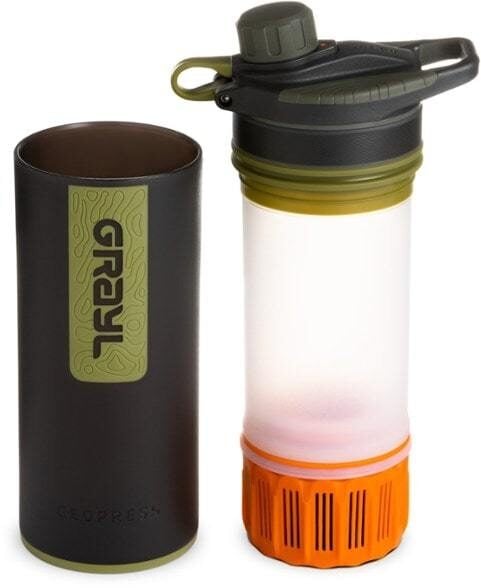 Drink water from ANYWHERE. The Grayl Geopress is the market's leading filtered water bottle protecting your tum from all the waterborne nasties. PLUS, you save money and the environment!
Single-use plastic bottles are a MASSIVE threat to marine life. Be a part of the solution and travel with a filter water bottle.
We've tested the Geopress rigorously from the icy heights of Pakistan to the tropical jungles of Cuba, and the results are in: it WORKS. Buy a Geopress: it's the last water bottle you'll ever buy.
Buy a Geopress!
Read the Review
3 Day Itinerary in Okinawa
Day 1 – Explore Mainland Okinawa
Your first day in Okinawa Prefecture should undoubtedly be spent exploring the main island, and more specifically Naha, the capital city of Okinawa. There are many sites across the city, but visits to Shuri Castle and some of Okinawa's many WWII memorial sites and parks.
A stroll through the city is the best way to become accustomed to the locals and their culture. You'll find many small shops selling traditional wares and merchandise. Okinawa is a highly traditional society, and thus you can expect a rich cultural experience.
For the evening take a visit to the famous Makishi Public Market, and get a taste of the unique Okinawan cuisine!
Day 2 – See the Greater Okinawan Mainland
On day two of your Okinawa expedition, you should take a look at getting up the Okinawan mainland, towards Nago. Whether it be catching one of the local buses or trains, the hour and a half ride north will give you the chance to see what Okinawa has to offer.
From its stunning beaches to its rural, Japanese towns, you'll see a more authentic side to Okinawa. Stops at Kouri Island and Warumi Bridge are a must on your way!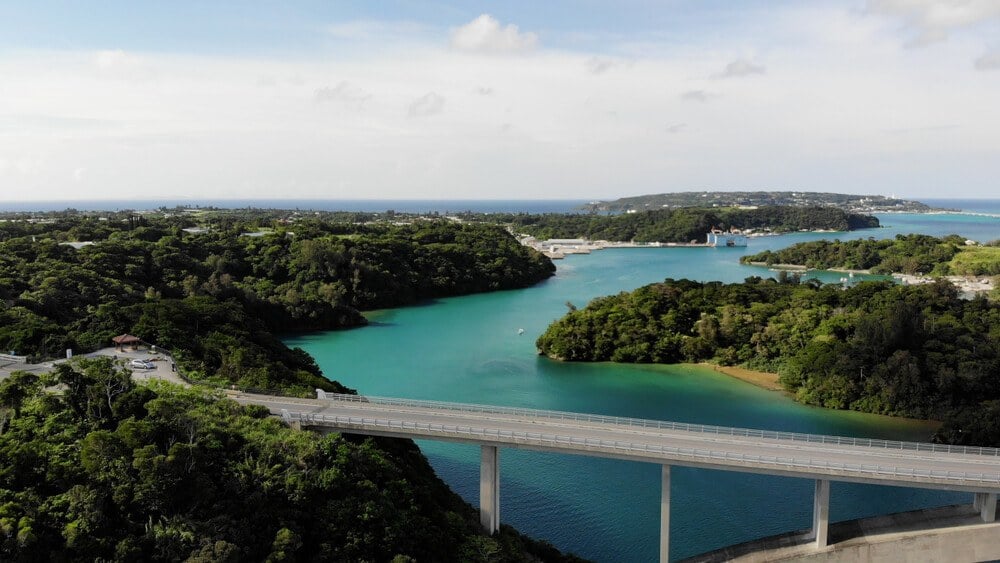 In Nago, a visit to the Churaumi Aquarium will be the highlight of your stay, and most likely take up most of your midday.
For the afternoon, finish your day natural wonders with a stop at Cape Manza and it's beautiful rock formations. Try to stay for the sunset!
The trip back to Naha will give you a much-needed chance to rest after a busy day out and about!
Day 3 – Time for Island Hopping
Your final day will be spent exploring the "Great Blue" surrounding Okinawa mainland, and learning why they call it an archipelago.
Catch one of the many express ferries out of Nago and make your way to the Kerama Islands. Here, you'll find Zamami Island, the "Eden of Japan".
You could rent a one-speed bike to explore the small island or walk its tropical terrain. Either way, you should make your way Ama beach. Host to the most concentrated selection of sea turtles, this beach offers a great opportunity to snorkel.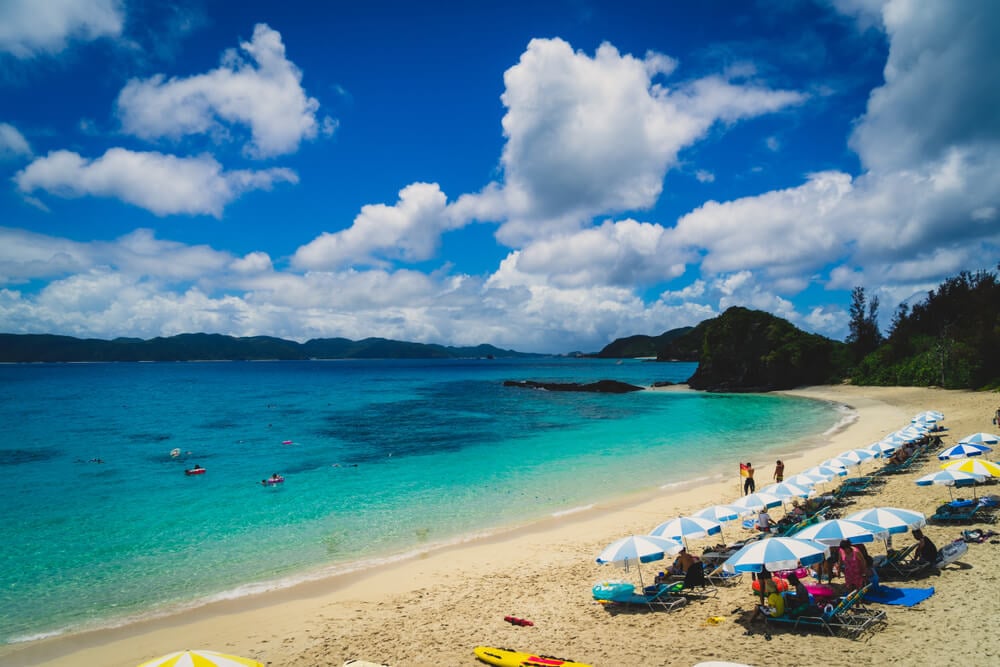 Once you've been saturated by the locals and their small fishing village, you can test your walking skills to visit one of the best beaches in the world, Furuzamami Beach. We can honestly say, you won't believe your eyes when you see it!
Swim in the tropical water, take as many pictures as you want, and catch a boat ride out to beyond the reef for whale watching and boat dives. This last day is for you to experience paradise in Japan's tropical getaway!
Don't forget your travel insurance for Okinawa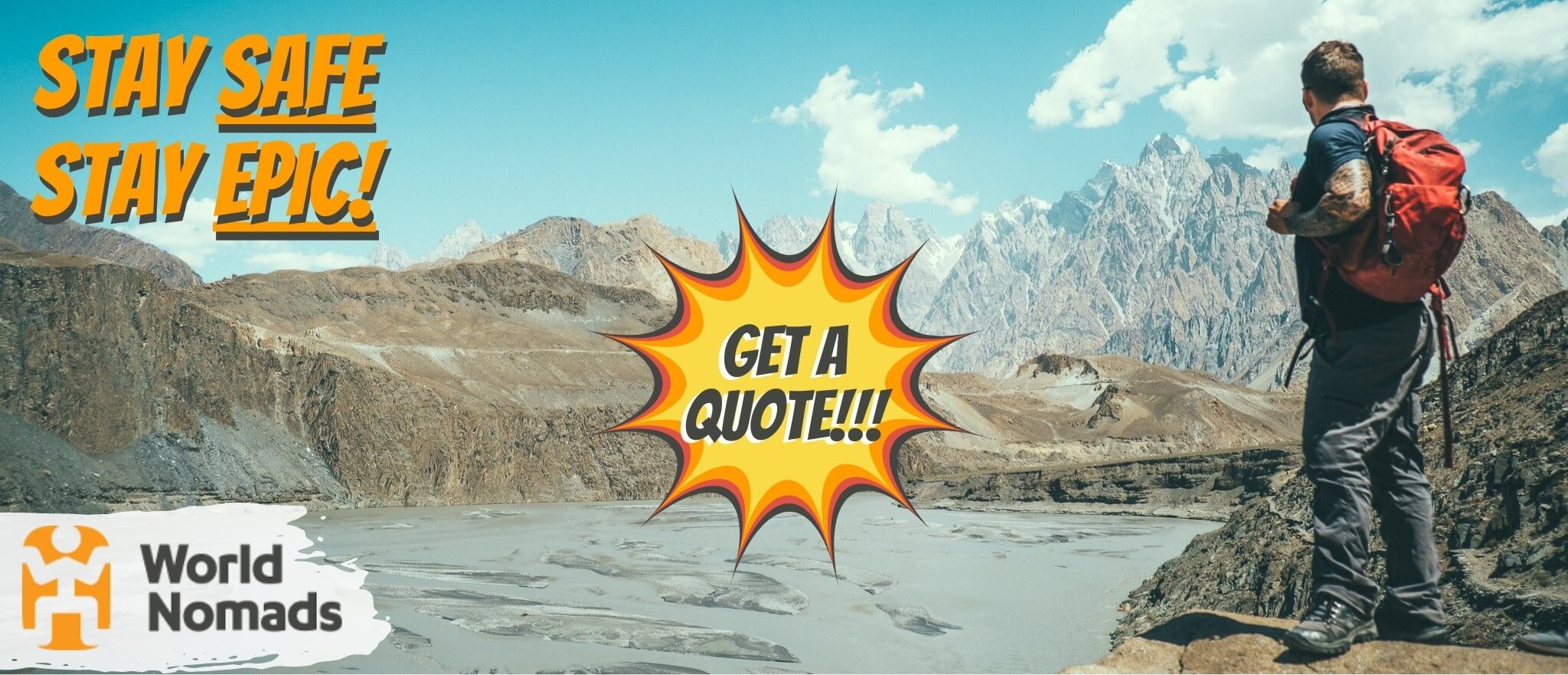 It's good to get lost sometimes, but it's also good not to get too lost. There are people that want you home in one piece.
There's one travel insurance provider The Broke Backpacker trusts for all his wildest shenanigans… World Nomads!
Click the button below to get a quote on your insurance or read our in-depth review of World Nomads' coverage. And then… let the shenanigans begin. 😉
FAQ on Things to Do in Okinawa
Here are some quick answers to common questions about what to do and see in Okinawa.
Conclusion
Okinawa is becoming increasingly popular with internationals. This can be attributed to either its relatively unknown yet highly attractive tropical attributes or rather the recent spike in popularity to visit Japan.
Either way, Okinawa has turned into a must-see when looking for tropical getaways. With its immaculate beaches, pristine coastline, and magnificent cultural heritage, you can find some of the most adventurous things to do in Okinawa Island!
There are so many attractions you can choose from when considering what to do in Okinawa, but too many choices isn't necessarily a bad thing in this case! So, when it comes to looking for Okinawa points of interest, we hope we've given you some great starting suggestions.
---
Bye for now, but not forever!
If you want MORE top-tier Broke Backpacker content like this, then sign up for our weekly newsletter below to get the latest and greatest!
And for transparency's sake, please know that some of the links in our content are affiliate links. That means that if you book your accommodation, buy your gear, or sort your insurance through our link, we earn a small commission (at no extra cost to you). That said, we only link to the gear we trust and never recommend services we don't believe are up to scratch. Again, thank you!