You'll find Japan near the top of most travellers' bucket lists. This incredible nation is like nowhere else on earth, blending the ultra-modern with the ancient and traditional. Electric city nightscapes, mind-blowing cuisine, and ancient temples are just some of the things that attract tourists to the Land of the Rising Sun.
It's easy to get around too, with one of the most efficient public transport systems in the world.
While Japan might not immediately spring to mind as a beach destination, you might be surprised. Since this is an island nation, it makes sense that it boasts some of Asia's best beaches.
Whether you want to find your own secluded spot, enjoy jaw-dropping views of Mount Fuji, or try a range of water sports, there's a beach in Japan for you.
In this post, we'll take a look at seven of the best beaches in Japan. It'll help you plan your trip, and hopefully, you'll find some off-the-beaten-track spots to rest and recover from the breakneck pace of life in Tokyo and Osaka. Let's check them out!
When to go to beaches in Japan
The great thing about travelling to Japan is that it's a year-round destination. However, if you're planning to visit its beaches, that's not the case. Japan's high season is during April, May, and August, when the weather is hot and humid (but not stifling). Many festivals take place during this time and in the spring months, the cherry blossoms are out – and they're stunning. However, this is the most expensive time to travel to Japan.
Visiting in June and July is generally okay for the beaches, but the temperatures can be unbearably hot and humid. If you can stand that, make sure to bring plenty of sun cream. Another potential risk during these months is that your beach day can be ruined by the heavy rain!
One of Japan's best beach destinations is Okinawa, southwest of the main islands. This small archipelago has several of Japan's most adored beaches, and the best time for visiting varies from the mainland. Beaches are open from March to October; the earlier in the season you go, the more reliable the weather will be. You can also avoid the crowds if you're there between March and April!
Most Popular Beach in Japan | Shirahama Beach
Who It's For: Travellers who want an easy change of scenery from the capital and don't mind a busy beach.
Don't Miss: Shimoda's very own Mount Fuji. One of 58 mountains across Japan named Fuji, Shimoda's is the lowest. At less than 200 metres, you can now say you've climbed Mount Fuji too!
Confusingly, Japan has two Shirahama Beaches – one in Shizuoka Prefecture, and another in Wakayama. We're talking about the first one. The beach town of Shimoda is home to several beaches, and Shirahama is the most popular. It's just 2-3 hours from Tokyo by train, so it's not impossible to make a day trip here from the capital. There are lots of places to eat and drink, and it can get quite crowded in the summer. The blue waters are great for a paddle and overall, it's one of the best places to stay in Japan!
Where to Stay
Where to Go
What to Do
Space for six in this Shimoda Beach hotel means you can keep your costs down and spend the extra cash on activities at the beach and tasty seafood. Great for a group of friends!
While you won't find a hostel in Shimoda, A Million Roses is a budget beachfront accommodation option. There's a shared lounge and garden if crowds on the beach get too much.
Mixing Western and Japanese interior design, this classy hotel by the ocean is worth splashing the cash on. Breakfast is included in the price.
For really big groups of friends or family, rent this house with space for up to 12 guests. Splitting the cost multiple ways means it's not as pricey as it first seems.
Shimodakaichu Aquarium
See penguins, earless seals, and dolphins at this floating aquarium located in a shallow ocean cove. Awesome if you're visiting with kids!
Shimoda Harbor Boat Tour
Take a round trip at the city's harbour on the famous 'Black Ship'. The 20-minute cruise is on a replica of the Susquehanna that Perry sailed into Japan in 1854.
Shimoda Park
Those who plan their visit to Shirahama Beach in Japan will be able to see the Hydrangea Festival in nearby Shimoda Park [source: Princess_Anmitsu (Shutterstock)]
Take in the Scenery
Admire the views of the Izu Islands and the Amagi Mountains from the Shimoda Ropeway.
Learn About the Cuisine
Head to Nishiizu on the Izu Peninsula to visit a 'bonito' factory. The essential ingredient in Japanese cuisine!
Most Beautiful Beach in Japan | Yonaha Maehama Beach
Who It's For: Visitors to Okinawa (specifically the Yaeyama Islands) who want a stunning tropical beach all to themselves.
Don't Miss: Sampling Okinawan Cuisine. Okinawans are among the longest-living people in the world, and the diet is a part of that!
Part of the Yaeyama Islands, Miyakojima is the most easterly of this part of Okinawa. Yonaha Maehama Beach is said to be the most beautiful beach in all of Japan, and it's hard to argue. These white sands are billed as the whitest in the Pacific, stretching for seven kilometres alongside perfect turquoise water. It's well worth the effort to get here from mainland Japan as there are so many awesome things to do in Okinawa, but this one will need some pre-planning.
Where to Stay
Where to Go
What to Do
Make the most of free airport pick up and stay in a local homestay. Get tips from your hosts on how to explore the island before renting a bike or car – that's if you don't spend all day at the beach.
Ishigaki Guesthouse HIVE is on nearby Ishigaki Island. Luckily, it's less than five minutes from the ferry terminal so you can use it as a base to explore the Yaeyama Islands.
An inexpensive option among the luxury resorts of Miyakojima, Marine Lodge Marea is ideal for beginner scuba divers who'd prefer to learn in the safety of the hotel's indoor pool than the open ocean.
Less than a quarter of an hour from the beach, this traditional Japanese house is ideal for families with young children. Pre-schoolers go free, and there's space for five guests.
Explore the Gardens
Find some shade in Miyako City's botanical gardens, where you can see a range of plants and trees.
Check out A Viewpoint
Head to the Kuruma Ohashi Bridge, connecting Miyakojima to neighbouring Kurumajima. From here, you'll get a scale of how big the beach is!
Feast on the Local Food
Sample traditional Okinawan cuisine. Any of the authentic Japanese nearby that serve Miyako Soba will do the job.
Go Hiking
Take a hike with a local to get up close and personal with coconut crabs.
Star Gaze
Count the stars in the clear night skies on this after dark tour of Miyakojima.
Enjoy the Water Activities
Learn a new sport and get some serious air as you try fly boarding.
The Best Travel Backpack?!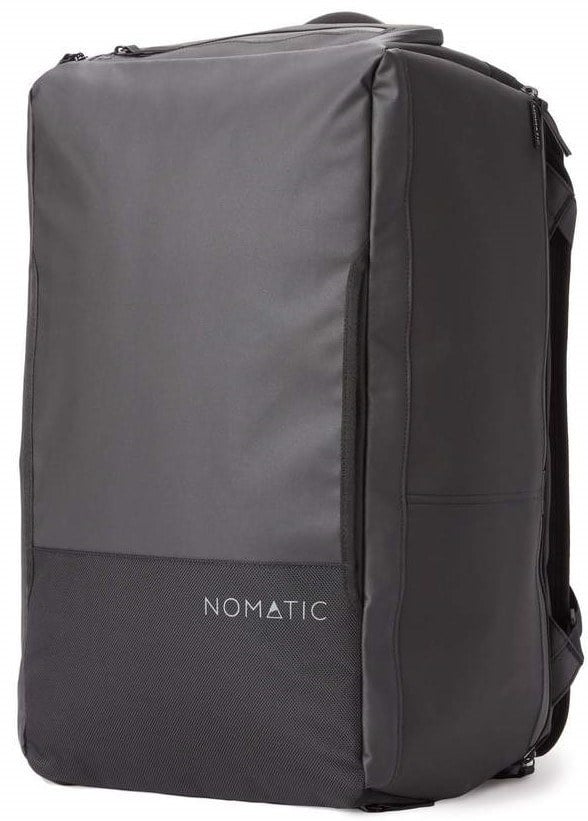 Pssssst! Not picked the perfect travel backpack yet? The Broke Backpacker team has tried out over thirty backpacks this year! Our favourite carry on backpack is the Nomatic Travel Bag.
Read our full review!
Best Beach in Japan for surfing | Irino Coast
Who It's For: Adventurous surfers who want to get well off the beaten tourist trail in Japan.
Don't Miss: The Sunabi Museum. The locals consider it to be a natural art gallery. It really is that beautiful!
In the quiet fishing village of Kuroshio, you'll find one of the most beautiful beaches in Japan. The prefectural national park is four kilometres long and is where you'll find epic blue skies against the backdrop of thick pine forests. It's part of the 88 temple pilgrimage in Shikoku, and you'll often see pilgrims here. Photographers are bound to love the place!
Not only is it an absolutely stunning beach, but this stretch of sand is great for surfers, too. What's the catch? Well, it's not easy to get to, and there are few places to stay right on the doorstep. Should that put you off? Absolutely not.
Where to Stay
Where to Go
What to Do
Stay in a nearby village with a Japanese family to get a real authentic slice of Kochi life. You can sample a traditional "hamayaki" BBQ with your hosts.
There are a few hostels in the nearby town of Shimanto, but this budget hotel is a great alternative. There's also a TV to keep you entertained after a long day of surfing!
If you're backpacking Japan, check out our guide to the best hostels in Japan where you're bound to meet other travellers!
Always wanted to stay in a traditional Japanese ryokan? Shimanto no Yado has breakfast and dinner included, as well as the use of a private onsen.
Right by the Shimanto River, one of the cleanest in Japan, surrounding yourself with nature is the ideal accommodation to disconnect and switch off from the world.
88 Temple Pilgrimage
One for long term travellers. Taking the Shikoku 88 temple pilgrimage will see you stop on this beach. Sixteen temples are in Kochi Prefecture. [source: Benedikt Bogner (Shutterstock)]
Sunabi Museum
The art exhibition on the Irino Coast is packed full of awesome exhibits. One of the best-known is the t-shirts blowing in the wind; however, you'll also see sculptures and plants poking out of the sand.
Watch for turtles
Across Japan, sea turtles lay their eggs between May and August. See this magical event on the Irino Coast to take home unforgettable memories!
Kochi prefecture, where you'll find the Irino Coast, is famous for its sake. It'd be a shame not to taste some while you're in the area!
Quietest Beach in Japan | Jodogahama Beach
Who It's For: If you like picturesque scenery, Jodogahama Beach is for you. It's great for swimmers too.
Don't Miss: The Hiking trails which lead to picturesque viewpoints
Jodogahama means "pure land beach". The most northerly beach on this list, it's located in the Iwate prefecture. It can get a bit cooler up here, so summer is definitely the best time to visit. You're sure to be bowled over by how stunning this place is: white rock formations are separated from the sand by cool blue water just begging you to take a dip. It's one of the best swimming beaches in Japan, too! There are also some incredible hiking trails in the area and it's a bucket list destination in Japan.
Where to Stay
Where to Go
What to Do
This private room in nearby Otsuchi is near bus stops and local conveniences, so it's a good place to base yourself on a budget. The property can sleep up to five guests.
Cheap accommodation in and around Miyako is uncommon. One of the most affordable hotels you'll find is Omiya, and breakfast is included in the price.
The closest hotel to Jodogahama Beach, this place is excellent for families. It's a ryokan (traditional Japanese inn), so breakfast and dinner are included, as is use of the onsen.
Another incredible ryokan near Jodagahama Beach, this place is pretty pricey. However, the room comes with a private onsen bath, and some look out over the coast.
Jodogahama Visitor Centre
The Jodogahama Visitor Centre is where you'll find a free museum about the rock formations at the beach. You can pick up maps for the hiking trails too.
Janome Main Shop
Try seafood dishes at the best seafood restaurant in Minako.
Sanriku Tetsudo Railway
Take this stunning railway line along the Pacific coast of Iwate Prefecture. There are Japanese-style carriages on winter weekends and public holidays.
Take Part in Local Traditions
Exploring Iwate Prefecture? Experience making mochi and local life in the town of Ichinoseki.
Family-Friendly Beach in Japan | Tottori Sand Dunes
Who It's For: Families who want to have a wide range of activities on offer. Adrenaline junkies might be swayed by sandboarding!
Don't Miss: Is that really a camel on the beach? You bet it is. Even if you don't want to ride it, it's quite the sight!
Not strictly a beach, Tottori has the largest dunes in Japan. They create a barrier around 16 kilometres long between the Sea of Japan and the mainland. The reason it's so great for families is the sheer amount of activities on offer here. Take camel or horse rides along the beach or enjoy views from a chairlift and observation deck. For those seeking an adrenaline rush, try sandboarding or paragliding!
Where to Stay
Where to Go
What to Do
Don't fancy staying in Tottori itself? Morosoye is further east, and it's a great chance to stay in a Japanese home. There are some onsen nearby for resting those muscles after a day on the dunes.
In the centre of Tottori Town, find out more about the great activities on offer. Beds are capsules, so you still get your own privacy – even in a dorm!
It might be five miles away from Tottori Sand Dunes, but free bicycle rental means you'll arrive there in style. A great base for enjoying the town's restaurants and bars in the evening!
This luxurious house might be expensive, but can you put a price on being able to run straight out onto the beach in the morning?!
Tottori Dunes Sand Museum
The only open-air museum in Japan that exhibits sculptures made of sand. The sculptures must be seen to be believed!
Sakyu Observation Deck
Get incredible views across the dunes without the tiring climb.
Rakudaya Camel Rides
Take a camel ride across the dune. Most common between December and February.
Learn about the history of this lesser-visited Japanese region with a trip to the remains of Tottori Castle.
Go Surfing
Take your first surfing lesson. It's not at Tottori Dunes themselves, but nearby in the same prefecture.
Explore the Stunning Attractions
Head west to discover the magic of Tottori Flower Park Botanical Garden.
Best Black Sand Beach in Japan | Miho no Matsubara Beach
Who It's For: Anyone who wants one of the most iconic views in Japan – Fuji rising over a black sand beach.
Don't Miss: Walking and cycling on the Miho Peninsula – the beach is lined by pine trees.
You've all seen it – that view of Mount Fuji rising out of the clouds behind a blue sea. That view? It's from Miho no Matsubara Beach, one of the best beaches in Japan. It's not only the views of Fuji that make this place so special though; it's also the black volcanic sand. Located on the Miho Peninsula near Shizuoka City, the beach is lined by pine trees. There's plenty to see and do in Shizuoka Prefecture too!
Where to Stay
Where to Go
What to Do
Sample traditional Japanese food at this traditional home. If you're missing your pet, this is a great place to stay, as there's a room next to yours just for the cats!
Right by the west exit of JR Shimizu Station, this budget hotel is a great base for visiting Miho no Matsubara Beach.
Another ryokan with tatami mat floors. This one has breakfast included – and just look at that private onsen bath.
Right in the centre of the city and just 2 minutes from the JR Station, this is a great base for your Shizuoka adventures.
Tokai University Marine Science Museum
Relax your mind and body with a couple of hours exploring this aquarium – part of Tokai University.
S-Pulse Dream Plaza
Try a spot of shopping before seeing the port from above on the Ferris wheel. There's a sushi museum in there too!
Verkehr Museum
Meaning transport or interchange in German, this museum deals in the history of Shimizu Port.
Go Fishing
In nearby Yaizu Port, improve your fishing skills and hopefully get the first catch of the day.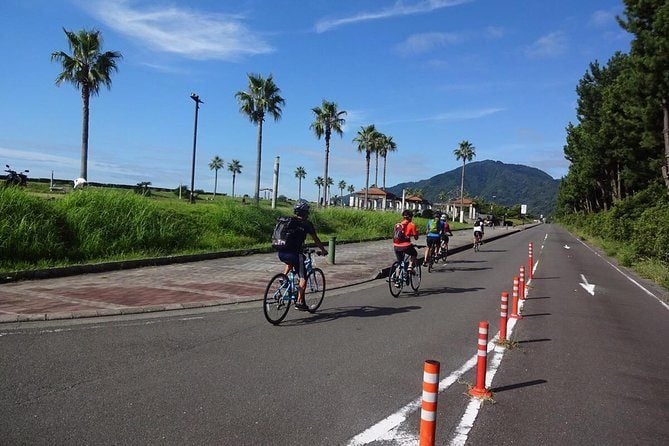 Cycle Tour
See the city by hybrid bike and get more views of Mount Fuji without tiring your legs out too much.
Explore the Quirky Side to Japan
See a classic Japanese animé come alive at Chibi Maruko-Chan Land.
Best Sandbar in Japan | Amanohashidate
Who It's For: Day-trippers from Kyoto looking to see a stunning and unique Japanese site
Don't Miss: The views from Amanohashidate View Land and Kasamatsu Park.
Said to be one of Japan's three scenic views (one of the others is Fuji from the beach above), Amanohashidate is not quite a beach. Meaning bridge to heaven, it's actually a sandbar across Miyazu Bay rather than a beach. It's an easy day trip from Osaka and Kyoto, and you should be able to make the most of the sandbar and surrounding attractions in half a day, with some extra time to relax. Cycle across the sandbar or view if from above!
Where to Stay
Where to Go
What to Do
With room for up to seven guests, groups of friends and family will be delighted with this traditional Japanese house. Your host lives next door and can help you with anything you need.
Just ten minutes from Amanohashidate, this youth hostel has bike rental for exploring the local area.
This ryokan overlooks the land bridge and Wakasa Bay. It has hot spring baths on-site and traditional Japanese seafood meals.
A little further out into Miyako District, this will allow you to explore the countryside of Northern Kyoto Prefecture as well as the sandbar.
Chionji Temple
One of the three most important temples in Japan dedicated to the Buddhist god of wisdom and intellect, this peaceful temple has fan-shaped fortunes hanging from pine trees. [source: mTaira (Shutterstock)]

Kasamatsu Park
On the opposite side of the Amanohashidate Bridge, this peaceful spot offers more views of the sandbar. Get there with a chairlift or cable car. [source: Windyboy (Shutterstock)]
Amanohashidate View Land
Look upside down through your legs to see the sandbar appear as if it's floating in heaven. There's a theme park too!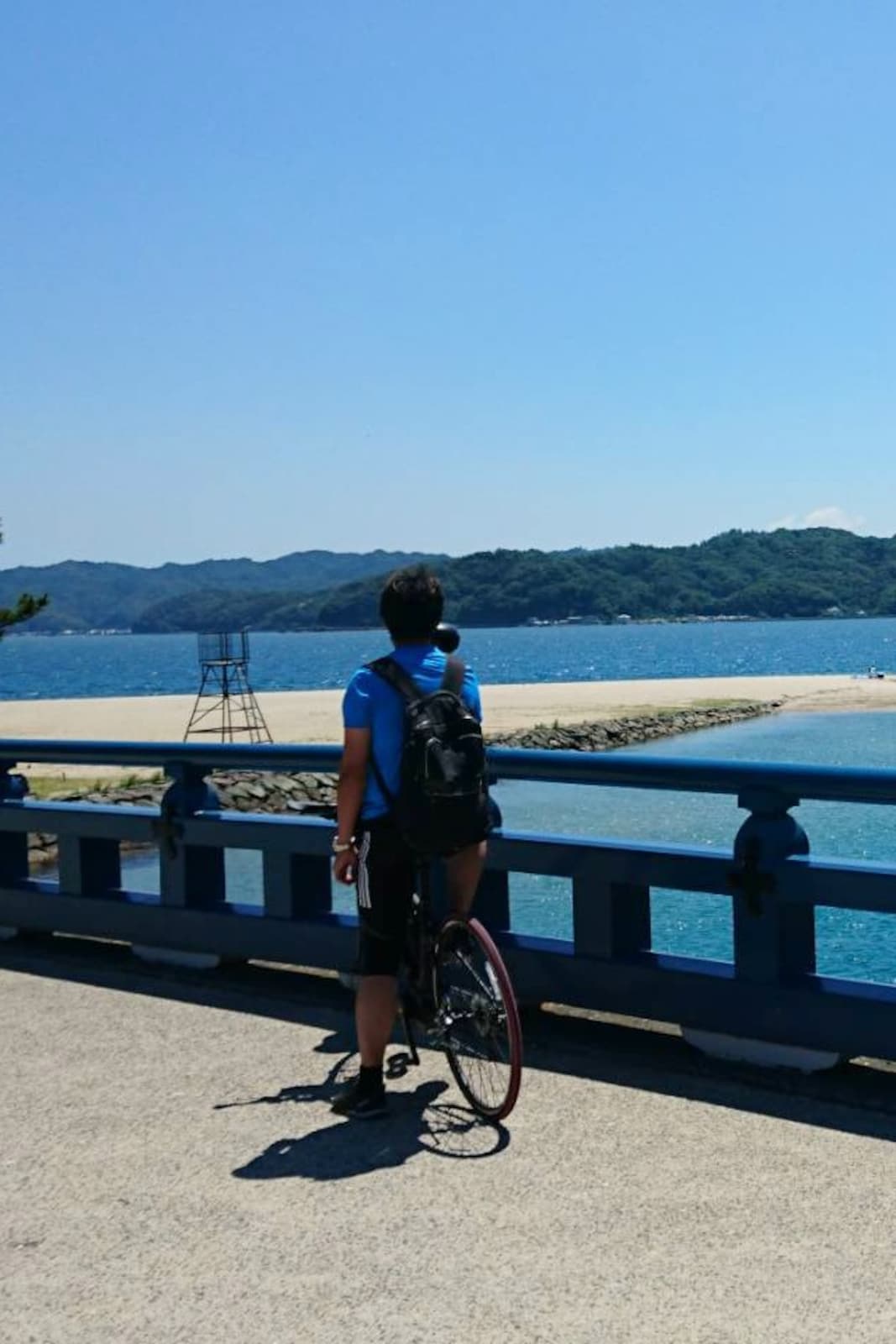 Go Cycling
Cycle across the Amanohashidate sandbar before heading to a craftsman's house, where you'll learn to wrap furoshiki.
Take a Day Trip
Visit Amanohashidate and other Northern Kyoto attractions on a day trip from Kyoto.
Don't Forget Travel Insurance for Japan
Shoutout from Will – The OG Broke Backpacker: Have fun on your backpacking adventure, but please do get insurance – take it from someone who has racked up tens of thousands of bucks on an insurance claim before: you need it.
As a wise man once said, if you can't afford travel insurance, you shouldn't be traveling! Presenting The Broke Backpacker's top recommendation: World Nomads!
Getting an estimate from World Nomads is simple – just click the button or image below, fill out the necessary info, and you're on your way!

Japan Packing List
1. Security Belt with Hidden Pocket: I never hit the road without my security belt. This is a regular looking belt with a concealed pocket on the inside – you can hide up to twenty notes inside and wear it through airport scanners without it setting them off. This is hands down the best way to hide your cash.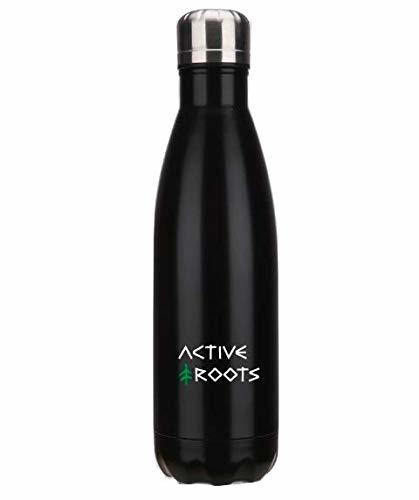 2.Travel Water Bottle: Always travel with a water bottle – it'll save you money and reduce your plastic footprint on our planet. AR bottle are tough, lightweight and maintain the temperature of your beverage – so you can enjoy a cold red bull, or a hot coffee, no matter where you are. For every AR bottle sold, we donate 10% to PlasticOceans.org – an initiative to reduce plastic in our oceans!
3. Microfibre Towel: It's always worth packing a proper towel. Hostel towels are scummy and take forever to dry. Microfibre towels dry quickly, are compact, lightweight and can be used as a blanket or yoga mat if need be.

4. Headtorch: Every backpacker should have a head torch! A decent head torch could save your life. If you want to explore caves, unlit temples, or simply find your way to the bathroom during a blackout, a headtorch is a must. Currently, I'm using the Petzl Actik Core rechargeable headlamp – an awesome piece of kit! Because it's USB chargeable I never have to buy earth polluting batteries.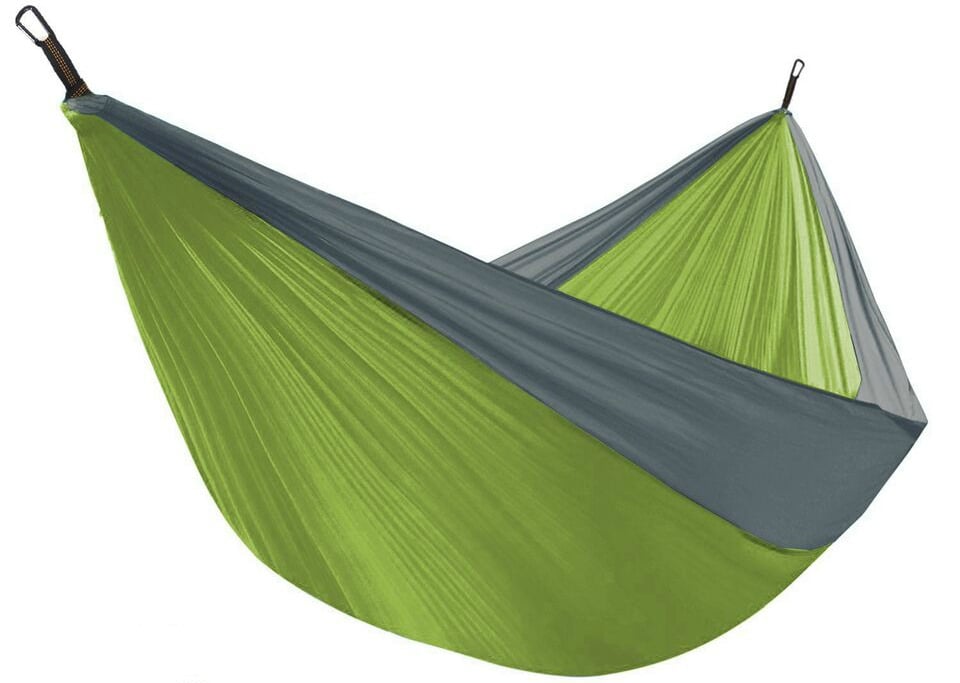 5.Hammock: Taking a tent backpacking is not always practical but hammocks are lightweight, cheap, strong, sexy (chicks dig hammocks) and allow you to pitch up for the night pretty much anywhere. Right now, I'm rocking an Active Roots parachute hammock – it's light, colourful and tough.
6. Toiletry Bag: I always travel with a hanging toiletry bag as it's a super efficient way to organise your bathroom stuff. Well worth having, whether you are hanging it from a tree whilst camping, or a hook in a wall, it helps to have quick access to all your stuff.
Final Thoughts on the Best Beaches in Japan
Now that you know more about the best beaches in Japan, it's time to start planning your trip. Remember that even if a beach seems far away on the map, there's likely to be a bullet train that goes nearby, where you can switch to local transport – unless you're in Okinawa, of course! This transport can be expensive so check out this guide to work out your budget for Japan.
Japan has some of the most varied beach landscapes in the world. One day, you could be scaling the dunes of Tottori, the next, cycling across the Amanohashidate Sandbar, before rounding off your beach adventures with a view of Mount Fuji from the black sands of Miho no Matsubara. All of that broken up by combining the ancient and modern in cities like Nara and Kyoto, or hiking in the Japanese Alps.
When it comes to a vacation, there's nowhere quite like Japan. That's reflected in the choice and quality of its beaches. We hope you have a great trip to one of the most fascinating and exciting countries in the world!
Yay for transparency! Some of the links in this post are affiliate links. This means that if you book your accommodation through the site, The Broke Backpacker will earn a small commission at no extra cost to you. Your support helps me keep the site going.
---
Need More Inspiration?
A self-proclaimed travel-yoga-freak, Mathilde Magnier is French, raised in Brussels, and spent most of her adulthood in Sydney. Prior to working for The Broke Backpacker, Mathilde was working in the tech industry for a few years. She plans to spend most of 2020 balancing wellness and la Vida Loca in Central and South America.
You can connect and follow her journey on Instagram!